Make your breakfast or brunch that little bit more special with these Egg & Bacon Puff Pastries. Egg, bacon and cheese encased in puff pastry – what's not to love?!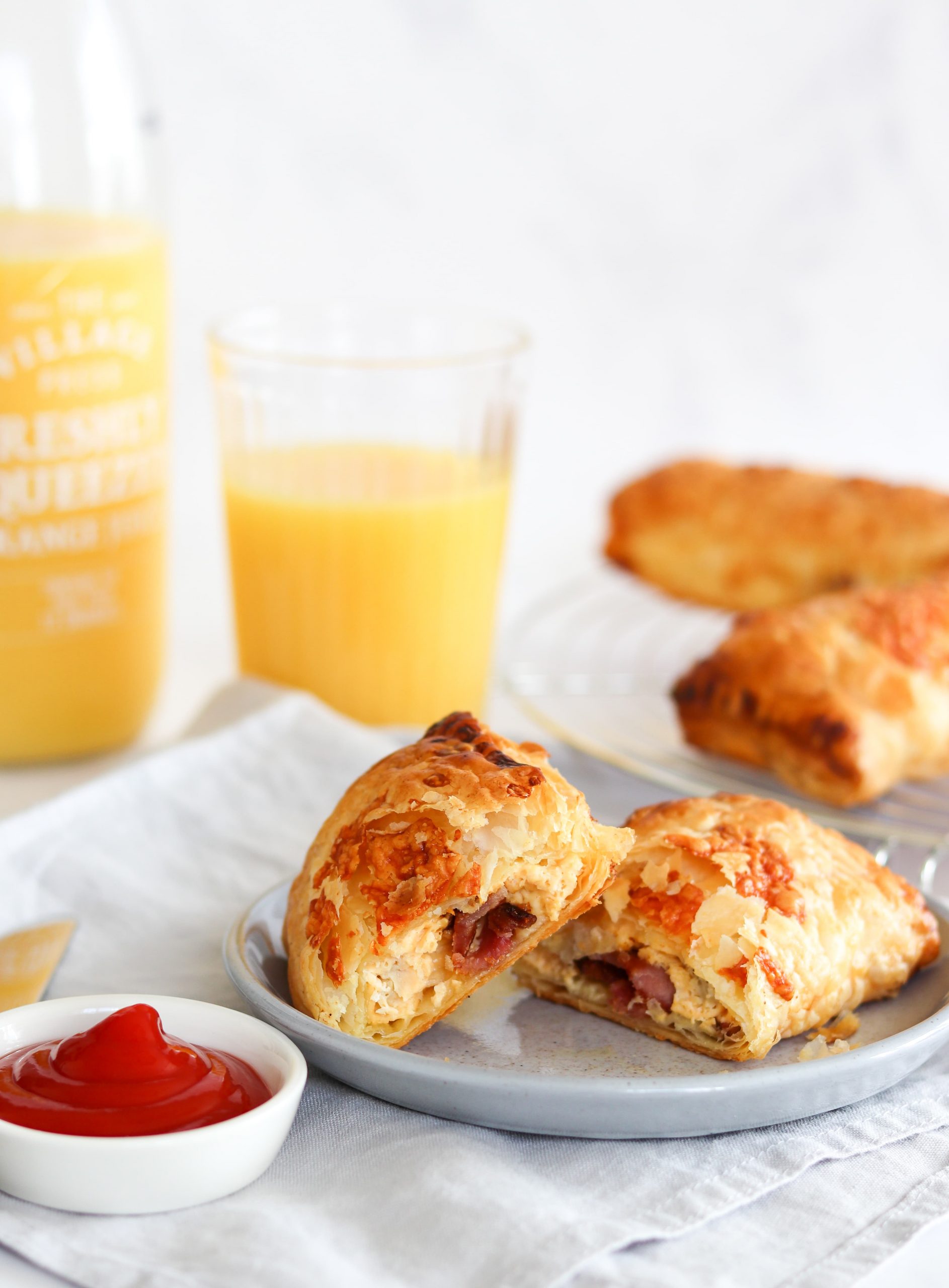 egg & Bacon puff pastries make the perfect breakfast or brunch
These pretty little parcels make the perfect breakfast or brunch; especially at the weekend.
We tend to have a bit more time at the weekend so lazy breakfasts and brunches are ideal. These Egg & Bacon Puff Pastries are simple to make and are a bit different to your standard weekend brunches.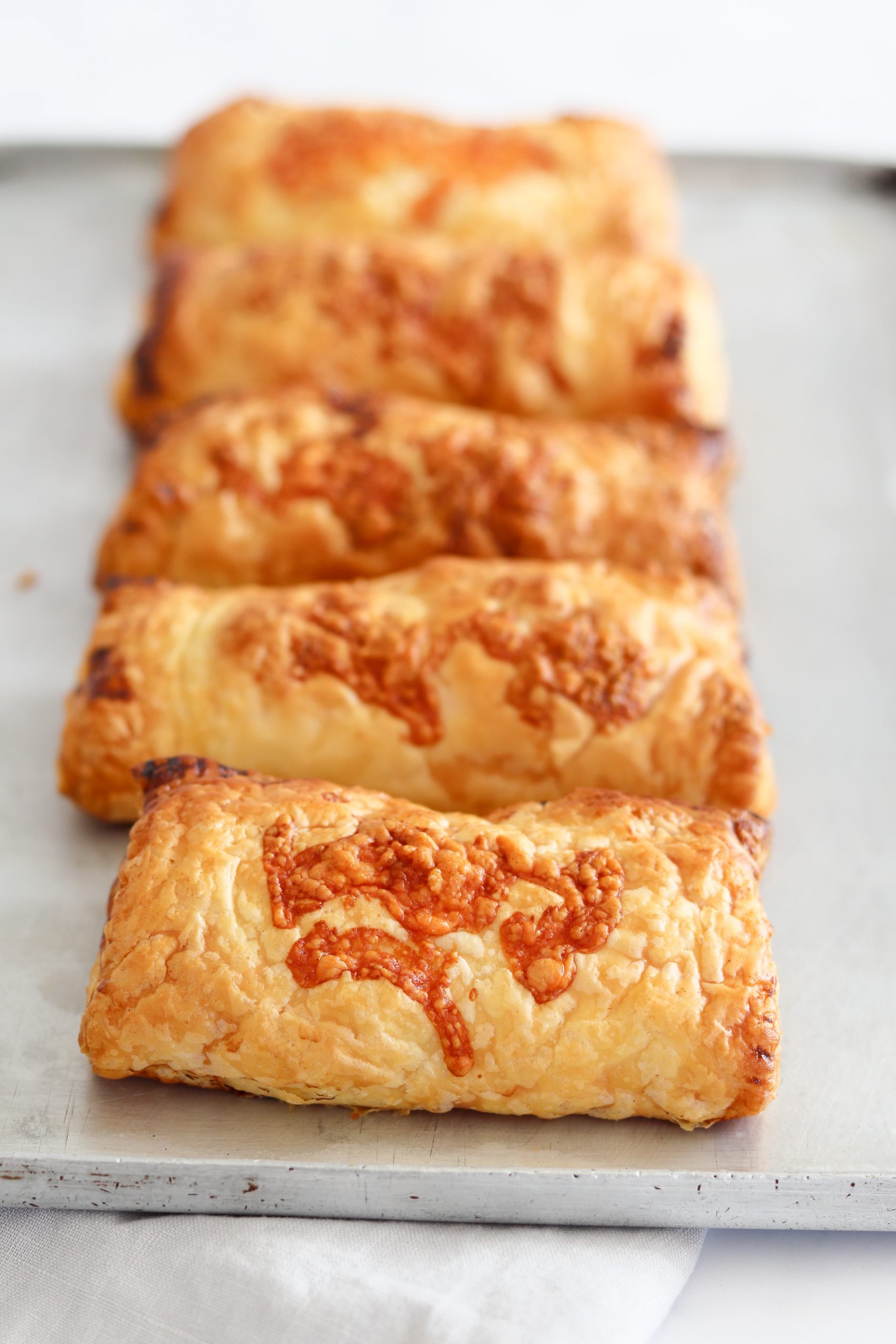 a portable breakfast
One of the great advantages of these Egg & Bacon Pastries is that they are easily portable. You could easily make these for hungry children to eat on the way to school or partners to eat on their commute to work.
As long as they are eaten fairly soon after baking they will be lovely and warm. But as long as you don't mind cold egg they could be eaten a little longer after being baked.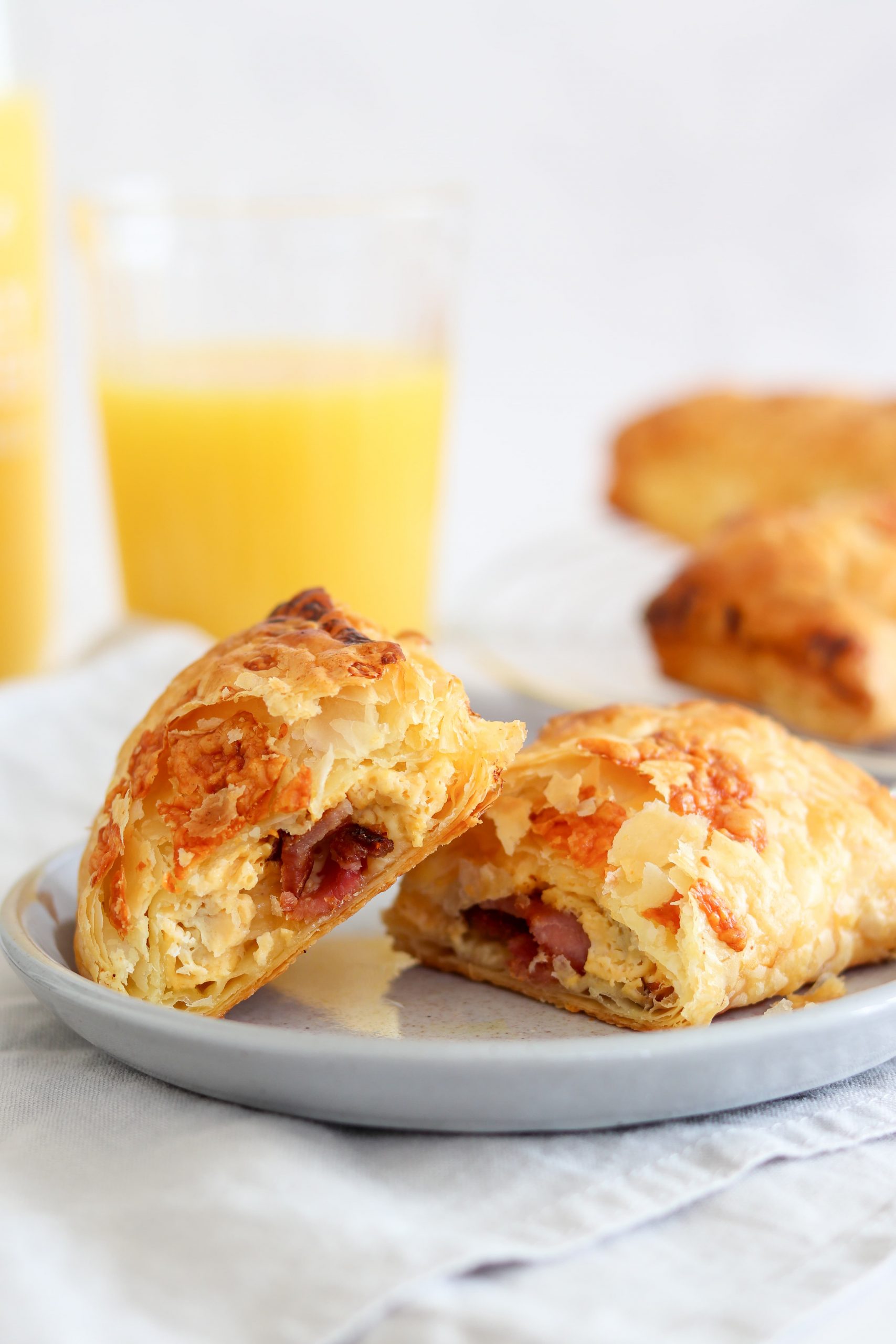 Is using shop bought ready rolled puff pastry cheating?
I certainly don't think so! Why over complicate things if they don't need to be?! A lot of people, chefs included; buy ready made pastry.
I take it a step further and use ready rolled puff pastry because it is even easier and saves time. Also because I am really awful when it comes to rolling out pastry.
For a recipe like these Egg & Bacon Puff Pastries, you need a perfect rectangle. It makes it so much easier to keep each pastry identical and to also have even edges.
Of course you can make your own puff pastry or buy the blocks if you prefer.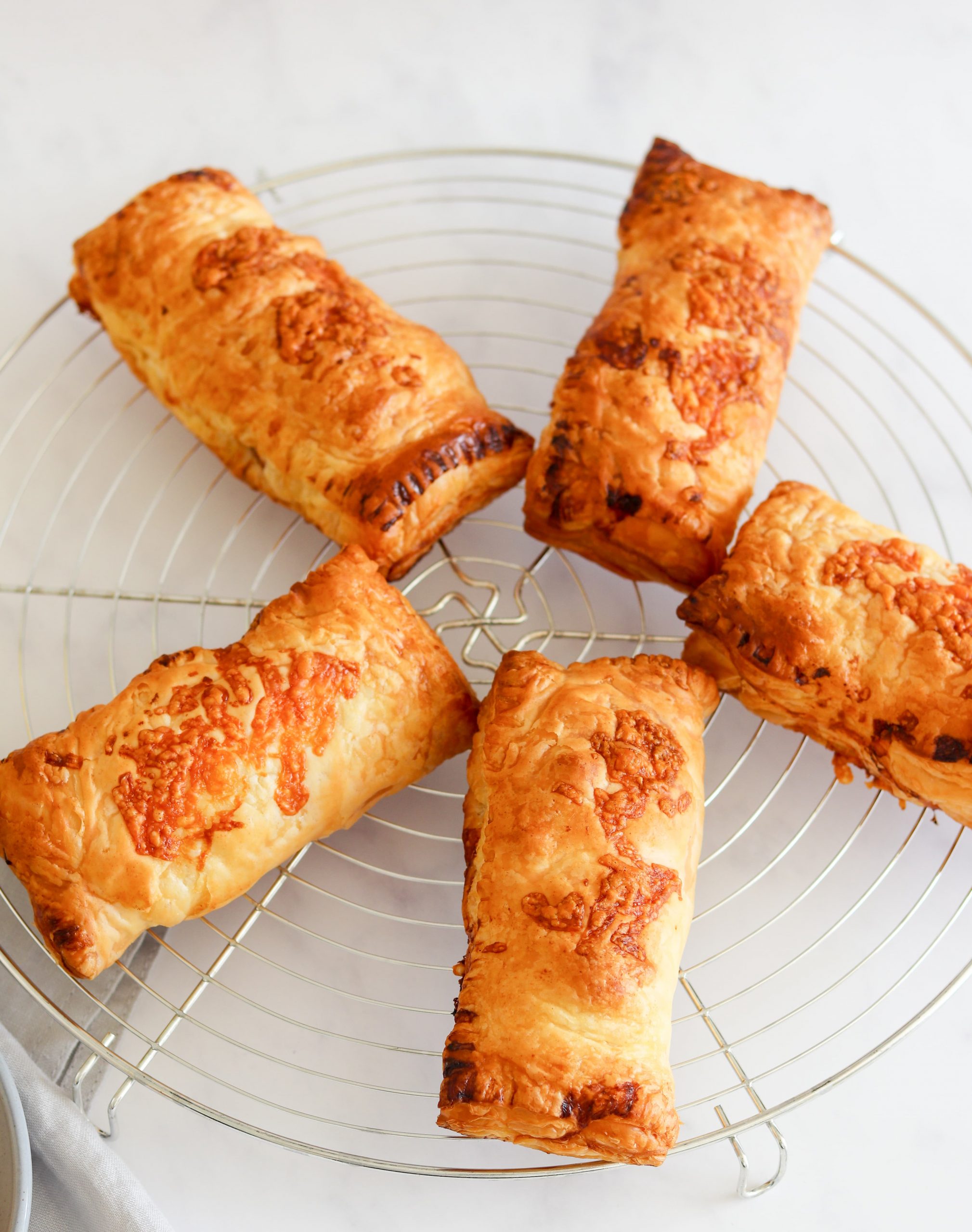 which eggs and bacon to use
When it comes to eggs, I always recommend using free range eggs. I also think it is worth spending a little bit more to buy the golden yolk eggs; but that is personal preference.
You can either use three large eggs or four medium eggs for this recipe.
My favourite bacon to use thick cut smoked back bacon. You could use whichever bacon you like the most.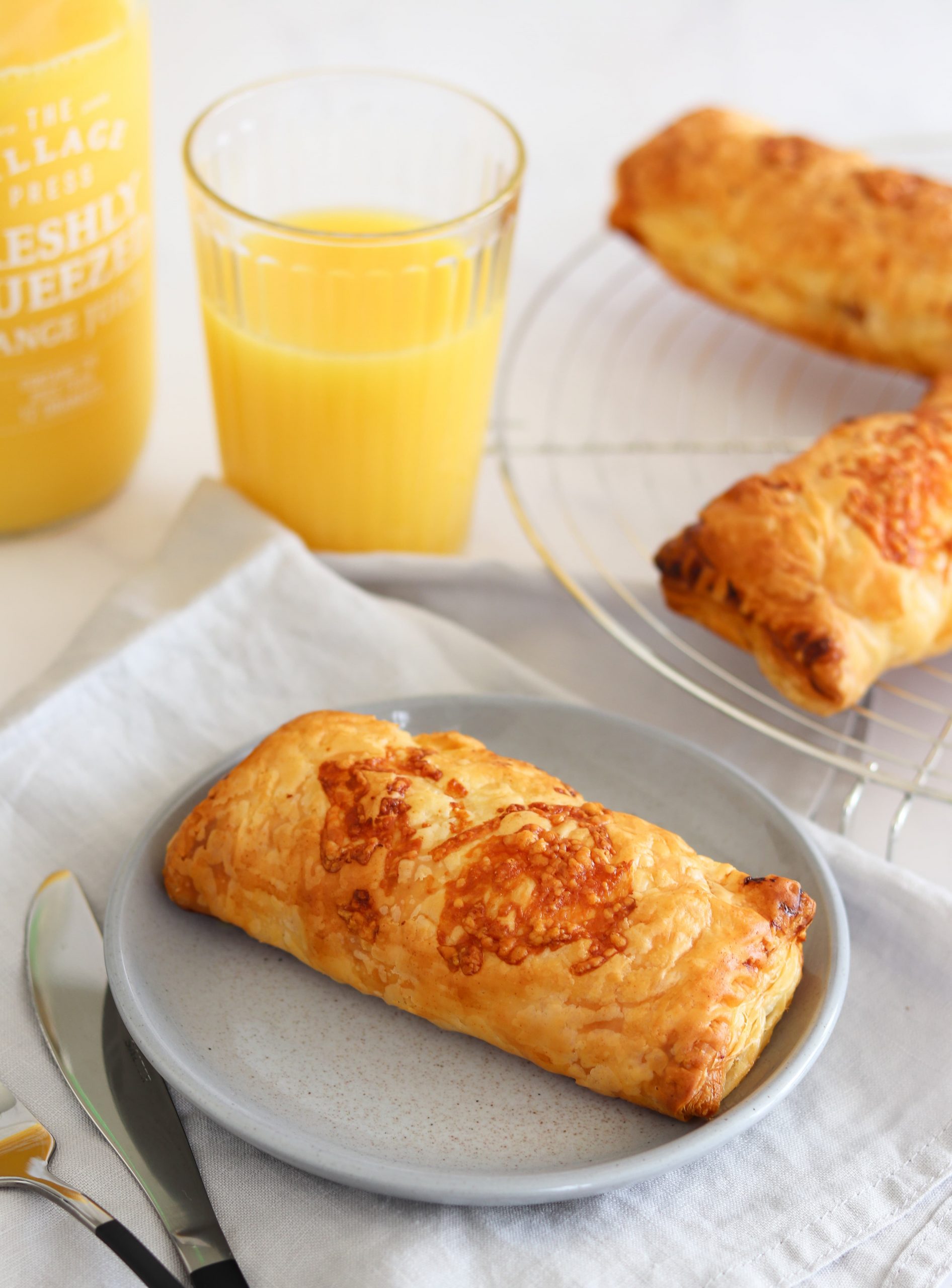 do not overcook your eggs!
The most important step of this recipe is to not overcook your scrambled eggs!
When I make scrambled eggs, I prefer them slightly wet anyway. However I know a lot of people like them to be completely dry.
You want to make sure the scrambled eggs are still wet with a lot of moisture left. This is essential because they will cook further when they are baked inside of the pastry.
If you cook your eggs too much in the pan, when they cook again in the oven there is the chance they will discolour. When eggs overcook they can turn a slightly grey colour.
Although this is still perfectly fine to eat, it obviously doesn't look particularly appealing.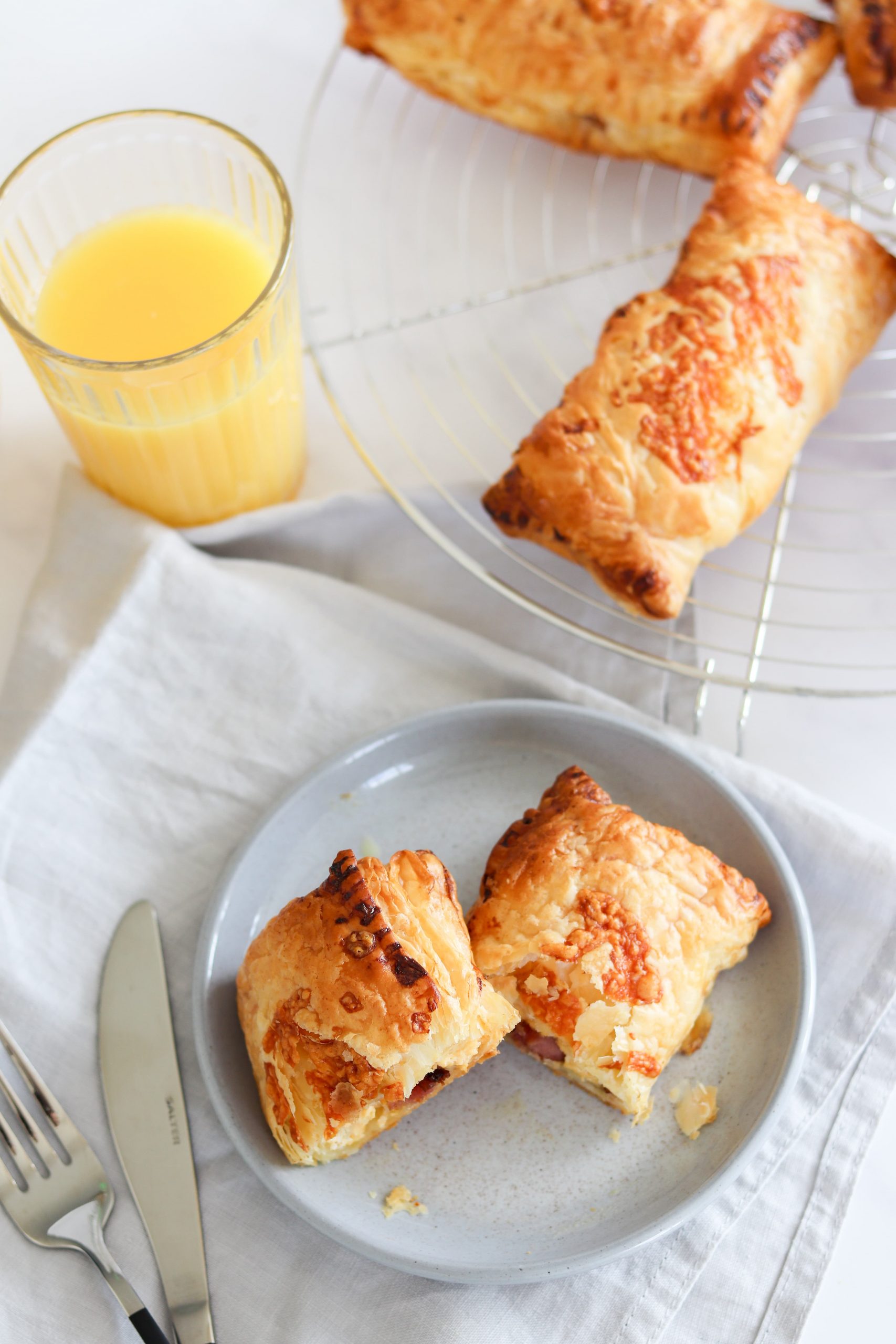 the secret is in the assembly
It really is all about the assembly!
Make sure you put the bacon under the eggs as they protect the sharp edges of the bacon from piercing through the puff pastry.
Try not to get over excited and add too many fillings to the pastry because you'll struggle to close it! This is already the only slightly nerve wracking part of this recipe.
When I am folding the pastry over to cover the filling, I gently stretch it to give it a little bit more reach to easily meet the other edge of pastry.
Also don't worry if they look a bit rustic before they are baked. Puff pastry has a way of always looking delicious once baked!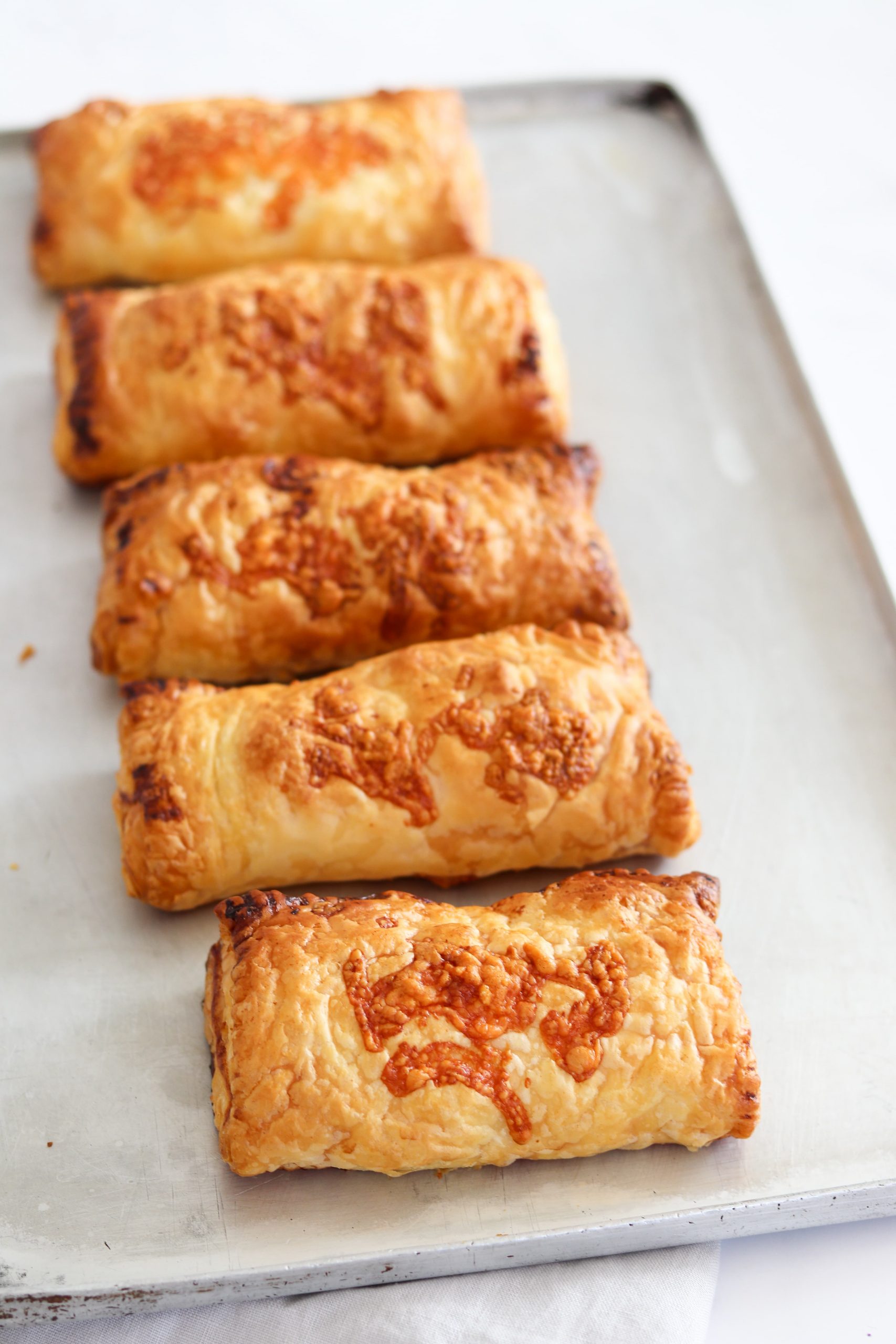 how to make these vegetarian or vegan
These pastries can easily be made vegetarian or vegan.
You can use vegan bacon or sausages instead of the meat versions. Alternatively you can leave these out altogether and add extra vegetables.
Mushrooms would work really well in these pastries. I would cook them briefly with some salt and pepper before cooling them and adding them to the pasties.
If you want to make these vegan, there are lots of vegan egg alternatives available that you could use to make scrambled eggs. Also you can use plant based milk to glaze the pastry.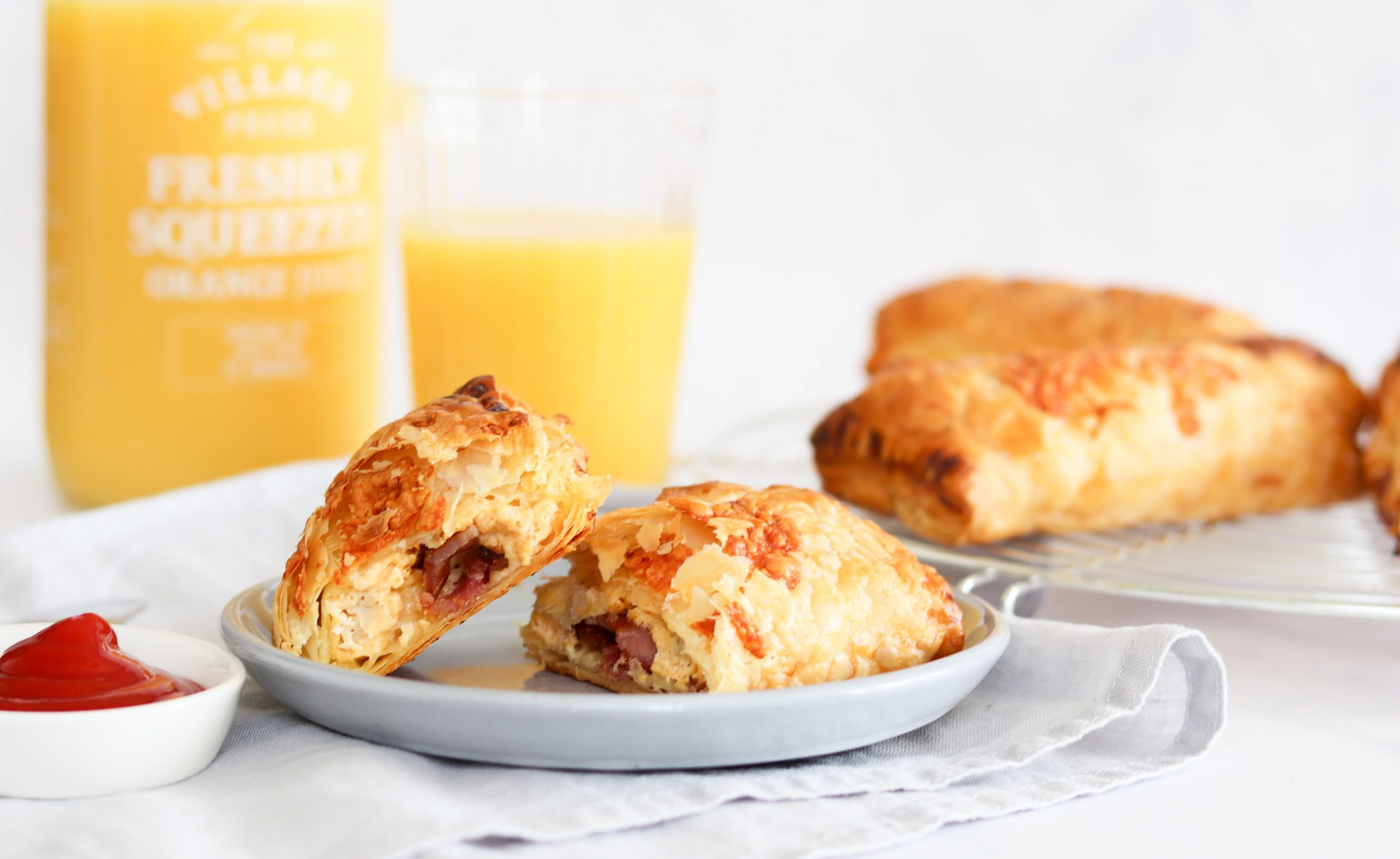 can these be made gluten free?
Absolutely! These are incredibly easy to make gluten free just use gluten free puff pastry instead. It is more commonly found in the freezer than with the fresh pastry so make sure you check there!
how to serve these egg & bacon puff pastries
These are great served just as they are. Well with some ketchup if you want my honest answer!
You could also turn these into a full meal by adding some baked beans, grilled tomatoes or mushrooms for example.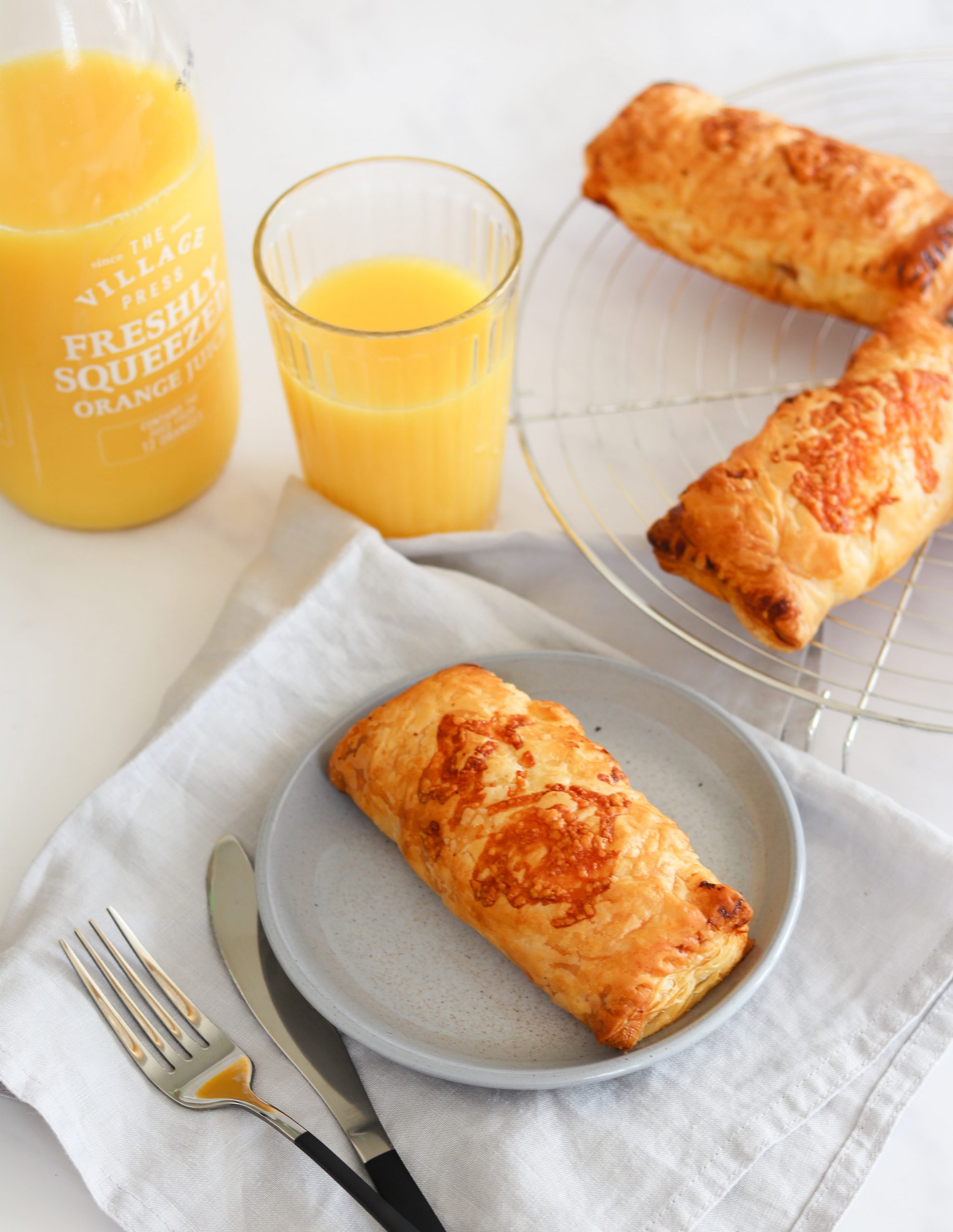 how long will these pastries last?
These Egg & Bacon Puff Pastries can be kept in an airtight container in the fridge for up to two days.
Personally I would reheat them before eating them. The quick way to do this is in the microwave but the pastry will become soft rather than crisp.
For the best results, I would reheat them in the oven for a few minutes until they are heated through.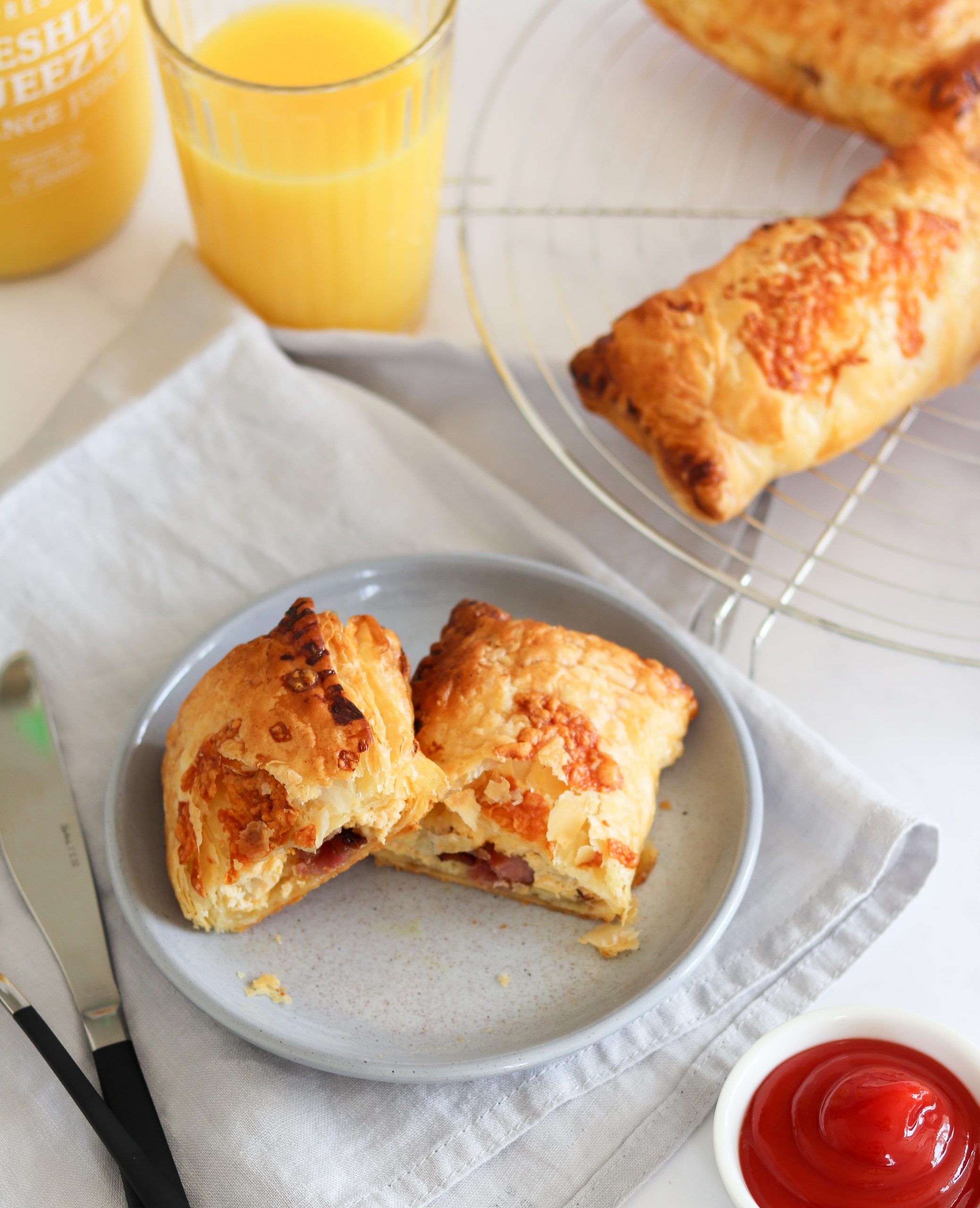 can these egg & Bacon puff pastries be frozen?
Yes they can be frozen.
Assemble the pastries and put them onto a baking tray but don't brush them with milk. Put the in the freezer for 30 minutes until they become firm. Then you can put them into a container or bag and freeze for up to one month.
When you want to cook one, take it from the freezer and brush it with milk and sprinkle with cheese. Bake it for 10 minutes longer then the recipe states below.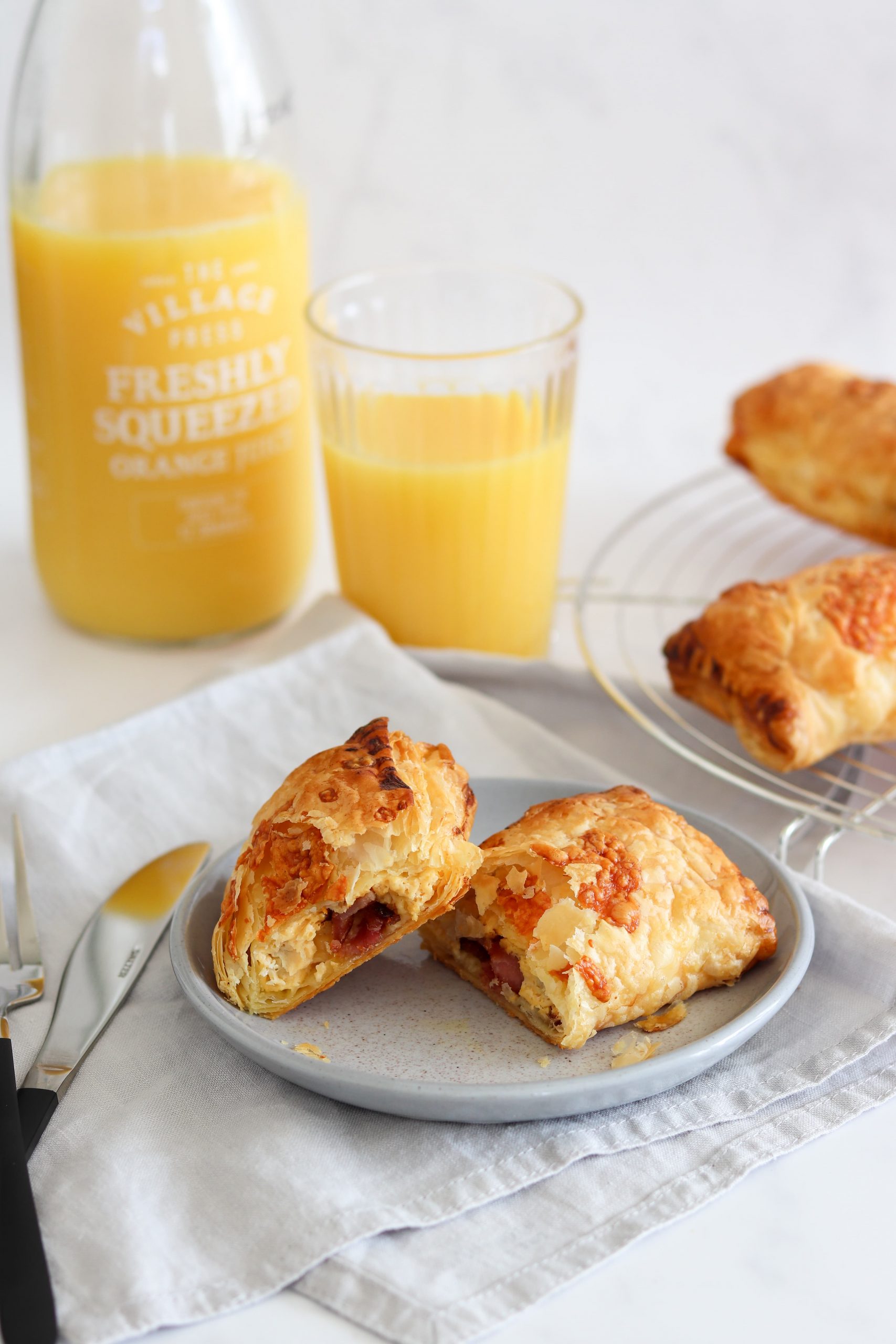 other recipes that you might like
Pin for later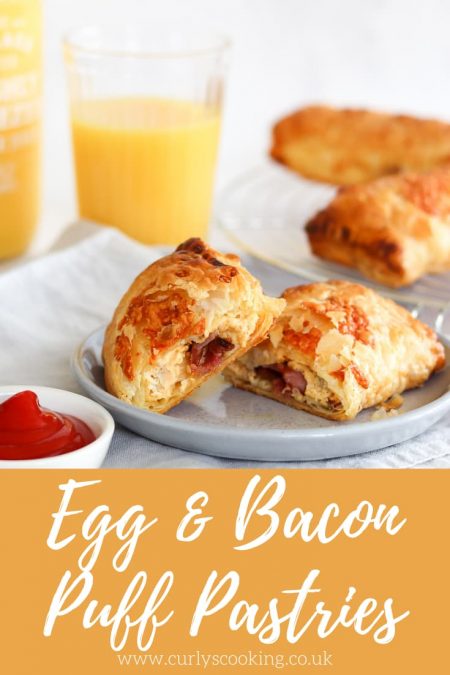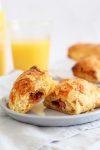 Egg & Bacon Puff Pastries
Make your breakfast or brunch that little bit more special with these Egg & Bacon Puff Pastries. Egg, bacon and cheese encased in puff pastry – what's not to love?!
Ingredients
375

g

puff pastry

ready rolled

4

rashers

smoked bacon

3

large

eggs

1

tbsp

milk

pinch

salt

pinch

black pepper

1

tbsp

butter

40

g

cheddar cheese

grated
To finish
2

tbsp

milk

10

g

cheddar cheese

grated
Instructions
Start by cooking the bacon until it is your preference of crisp either in a frying pan or on a baking tray in the oven. Set aside to cool

Break the eggs into a jug along with the milk and salt and pepper, whisk to combine

Melt the butter in a pan over a low heat. When melted add the eggs and stir regularly making sure you stir the eggs at the bottom of the pan. Cook until the eggs are nearly cooked but still wet. Set aside

Preheat the oven to 180°C (fan assisted, 200°C non fan). Unroll the ready rolled puff pastry and cut into 6 equal squares

Scatter the filling cheese on one half of each of the squares

Cut up the cooled bacon and add this on top of the cheese

Finish by spooning the eggs on top of the bacon. Brush the edges of the squares with milk

Carefully fold the empty side of the puff pastry square over on top of the filled side. You can stretch the pastry slightly before folding it over to make it easier. Press together to seal with a fork

Transfer the pastries to a baking tray sprayed with oil. Brush the tops of the pastries with milk before scattering with cheese

Bake in the oven for 20 minutes until golden brown
Recipe Notes
Make sure your eggs are still wet before you add them to the pastry.
Keep in an airtight container in the fridge for up to 2 days.
Nutritional information is given as a guide only and can vary.
Nutrition Facts
Egg & Bacon Puff Pastries
Amount Per Serving
Calories 436
Calories from Fat 279
% Daily Value*
Fat 31g48%
Cholesterol 108mg36%
Sodium 269mg12%
Potassium 86mg2%
Carbohydrates 29g10%
Protein 10g20%
Vitamin A 278IU6%
Calcium 89mg9%
Iron 2mg11%
* Percent Daily Values are based on a 2000 calorie diet.
Linking to