If you're looking for a delicious and filling brunch dish, my Chorizo Breakfast Burrito is for you. Packed with tasty vegetables, chorizo and a slight spice, this is the perfect way to start your day.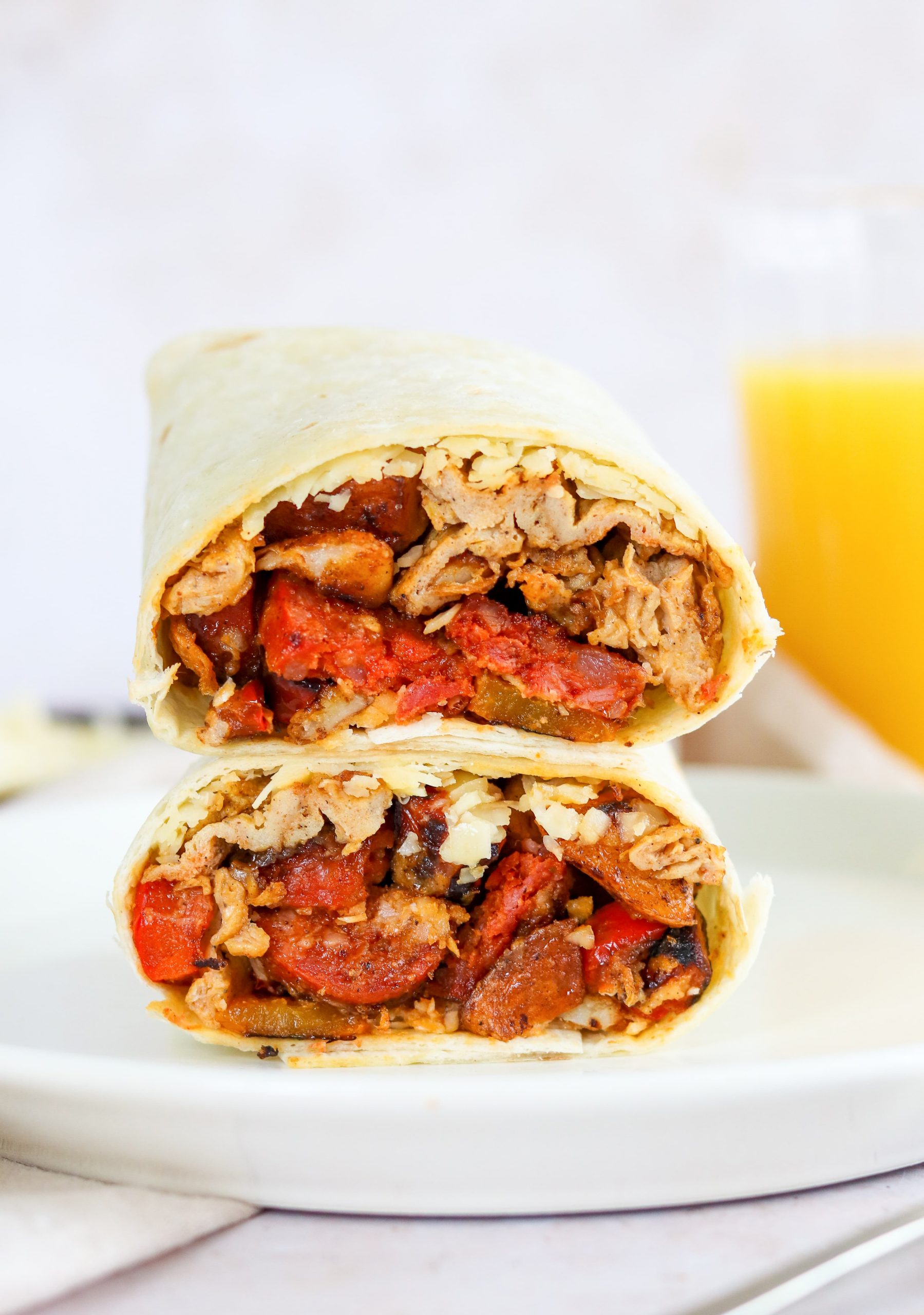 What is a breakfast burrito?
As the name suggests, a breakfast burrito is a burrito filled with ingredients typically eaten at breakfast.
Burritos are a large flour tortilla which encloses a variety of ingredients. Common ingredients to find in a burrito would be rice, beans, salad, sour cream and guacamole. Unless it is a vegetarian burrito, some form of meat is often included.
For my version of a breakfast burrito, I have replaced the rice with potatoes and added eggs and chorizo. Salad isn't typically eaten at breakfast so instead I used peppers.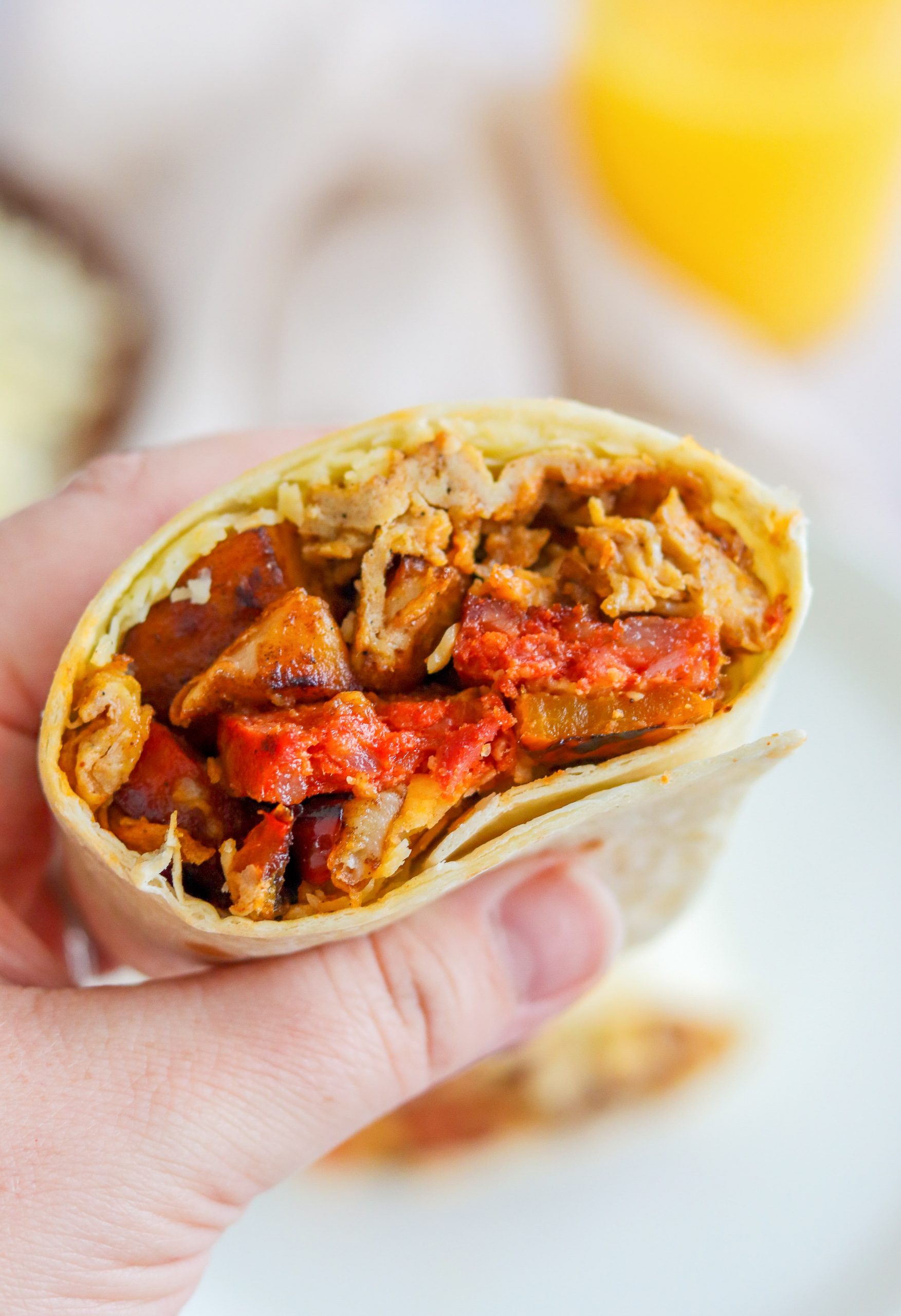 The perfect weekend brunch
During the week I think a lot of us reach for quick and easy breakfast options such as cereal or toast. At the weekend, we all have a little bit more time to spend making a breakfast or brunch that is delicious.
This isn't a recipe I recommend making as a regular breakfast, but for a brunch dish every so often it is great! It takes a bit longer to make than something like a bacon sandwich, but in my opinion it is well worth it.
This is why I tend to eat this breakfast burrito as brunch as it is quite filling. But feel free to eat it for breakfast or at any time of day.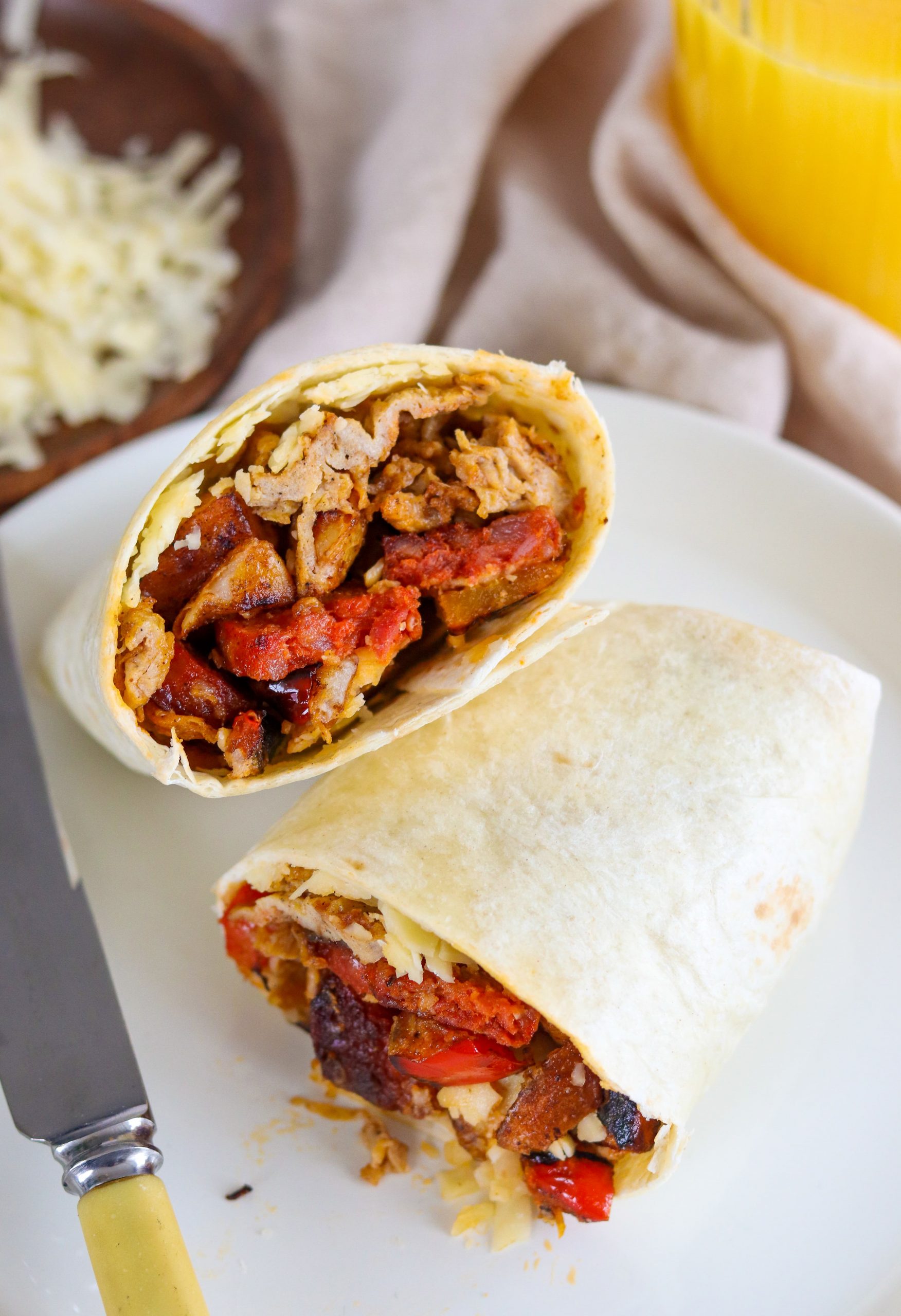 Which chorizo is best to use?
I know this Chorizo Breakfast Burrito has Mexican influences, but I always use Spanish chorizo rings when making it.
Mexican chorizo is delicious, but it isn't something that is readily available to buy here in the UK. Spanish chorizo can be found in all supermarkets so is super easy to find.
It tends to come in two options – normal or spicy. I personally buy the spicy version but this is up to you.
It is worth mentioning that it does come with a paper casing which needs to be removed before you slice and cook it. I just run a sharp knife down the length of the chorizo and then you can easily peel it off.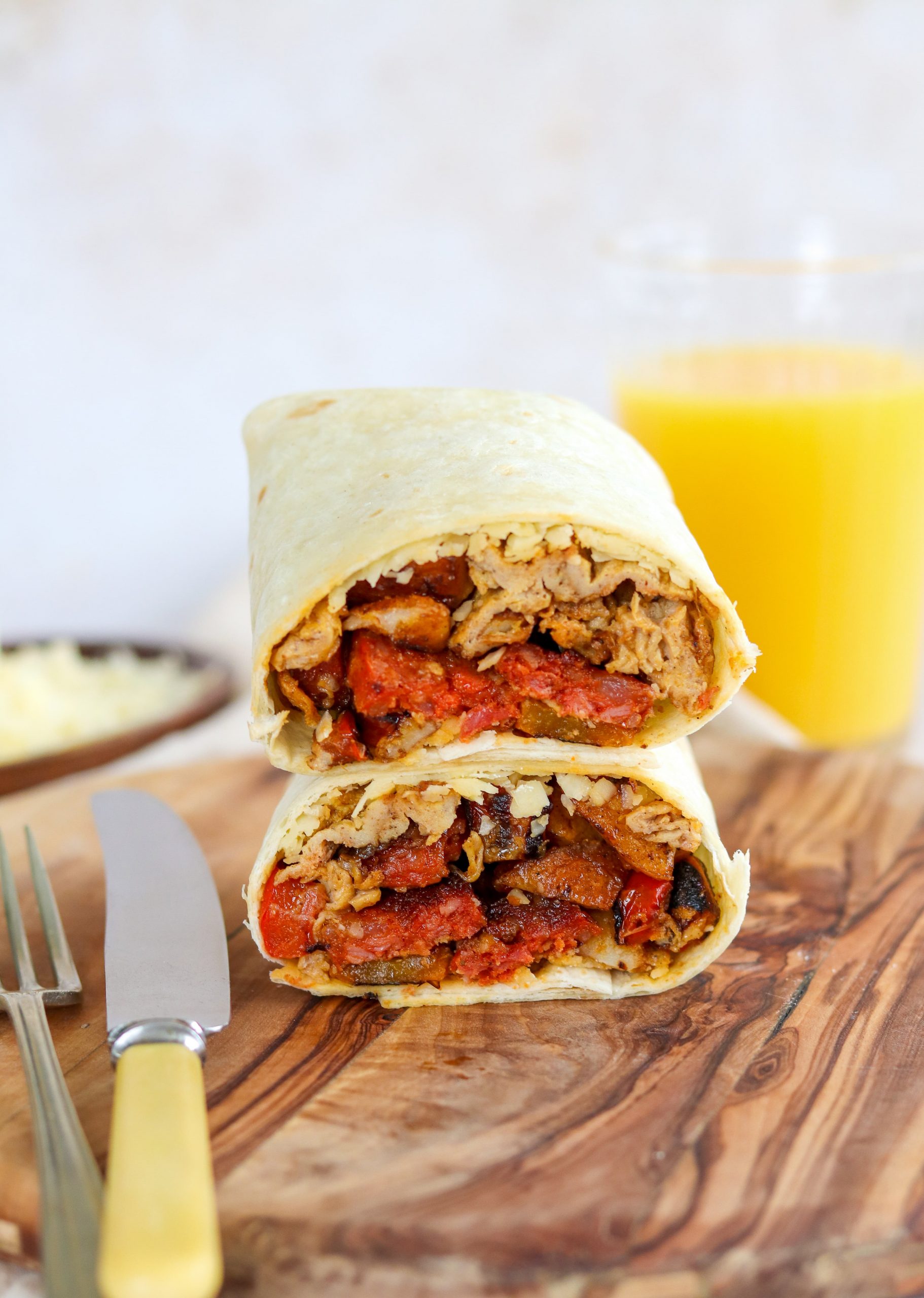 Is this breakfast burrito spicy?
I consider this Chorizo Breakfast Burrito to be quite mild. That is a deliberate decision because I thought people wouldn't necessarily want something spicy as the first meal of the day.
My favourite chilli powder to use is ancho chilli as it has a lovely sweet heat that is relatively mild. If you were looking for something a little bit spicier chipotle chilli powder would be a good option.
Obviously you can use the standard mild and hot chilli powders you can buy in all supermarkets and they would work just as well.
If chilli for breakfast or brunch just really isn't your thing, absolutely leave it out. Likewise if you do like a bit of spice, add as much chilli as your heart tells you to.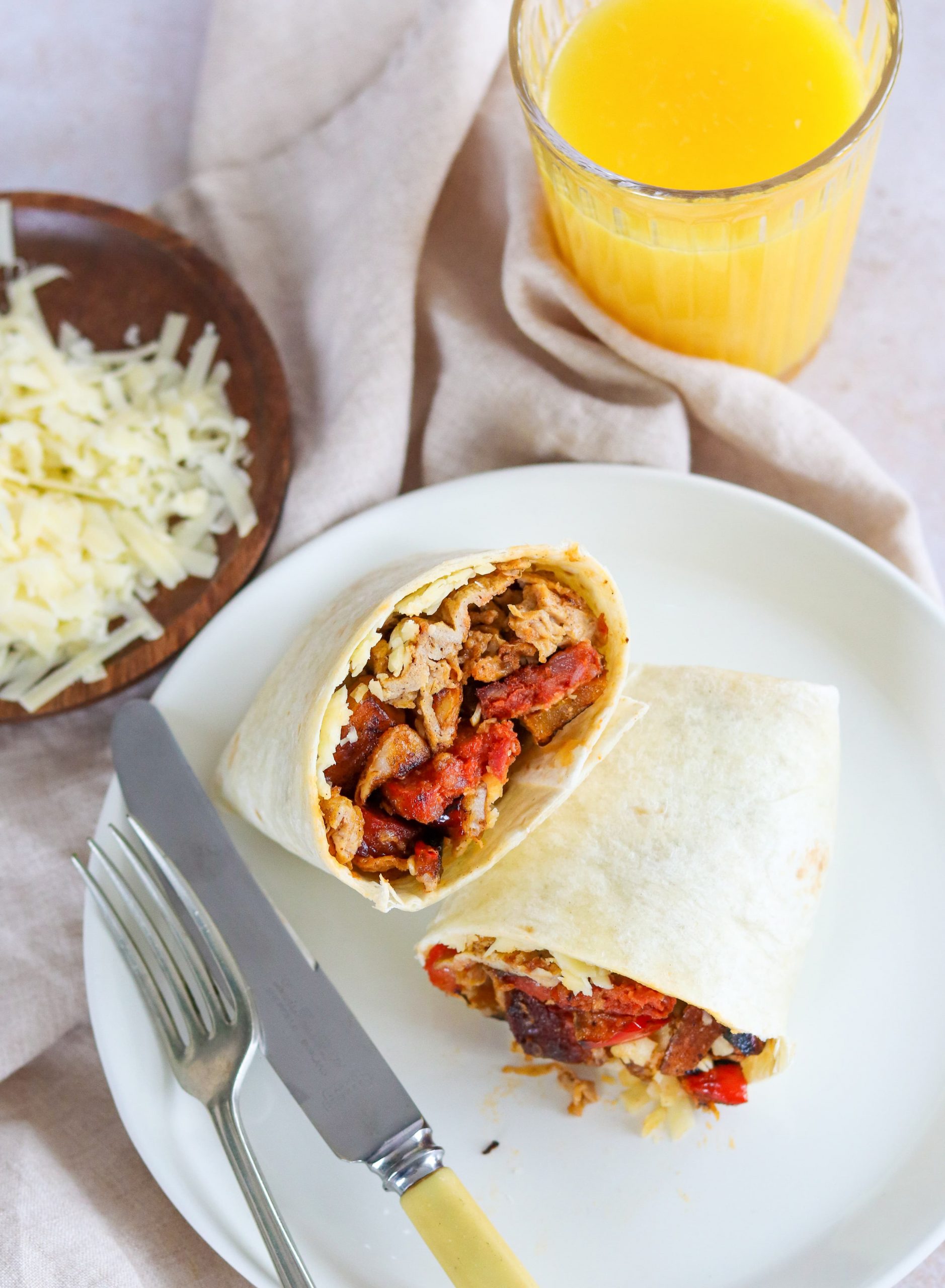 Adapt this Chorizo Breakfast Burrito to your taste
This burrito is made to be adapted. For example onions and mushrooms would go really well with the other flavours.
You could also add more eggs and less potato if you want the eggs to be a more prominent ingredient. Or leave the potatoes out altogether if you prefer.
Instead of making a burrito, you could use smaller tortillas and use the filling to make breakfast tacos or do something similar to my Cheese & Bacon Breakfast Quesadillas.
I think guacamole would be a delicious addition to this burrito or some sliced avocado if that is easier.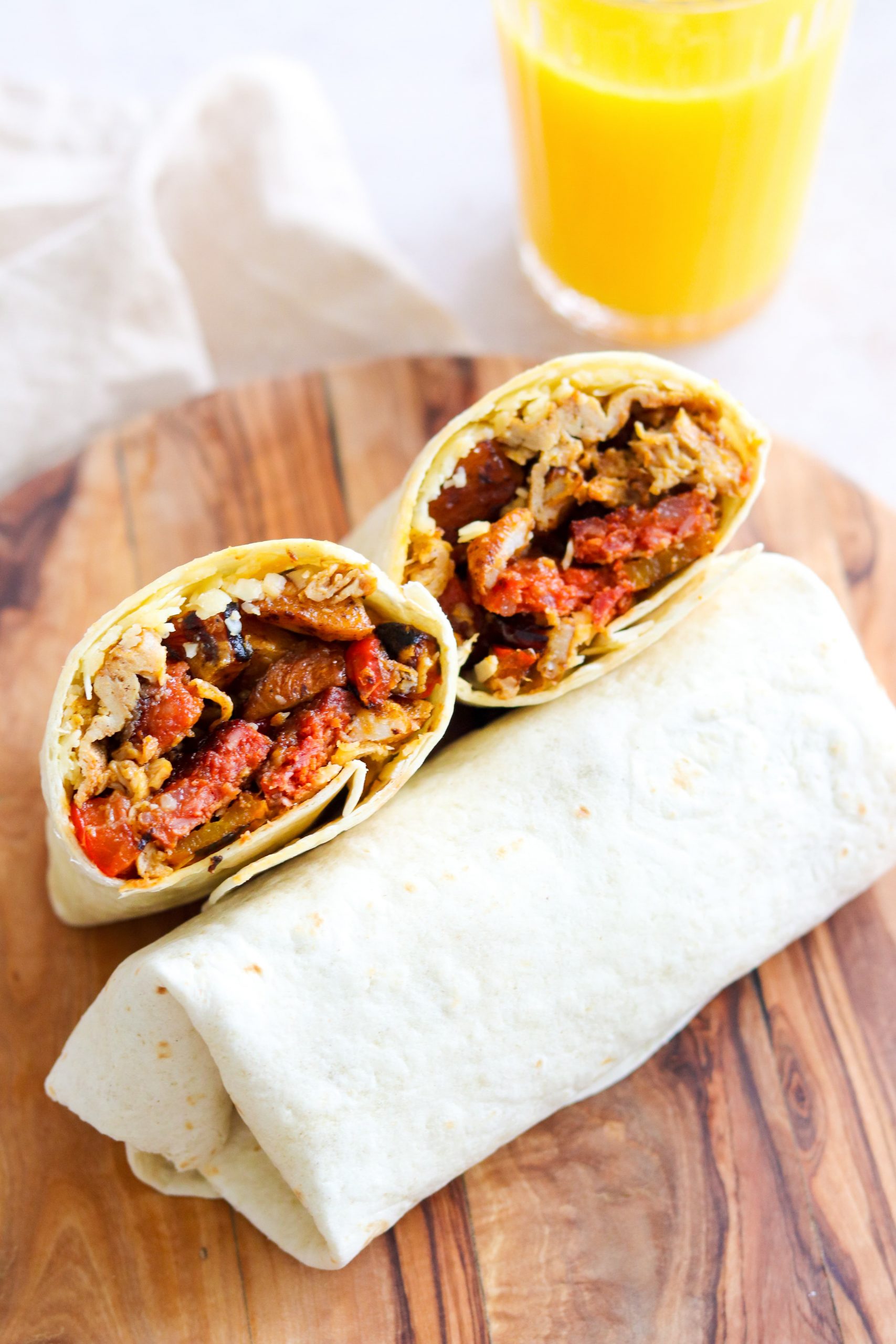 How to wrap your burritos
The trickiest part of making a burrito is wrapping it. This tends to be because if you're anything like me you try to overfill it.
So my first tip would be to not try and cram in as much as you can because it will only end in tears and possibly a ripped tortilla.
When it comes to rolling the burrito, I fold over the left and right side. Then whilst keeping hold of the sides, fold up the bottom and roll it over the fillings. Tuck it in on top of the fillings and continue to roll to the top of the tortilla.
If you want to secure the burrito even more, place it seam side down in a pan on medium heat. This will stop the burrito unravelling and also helps melt the cheese.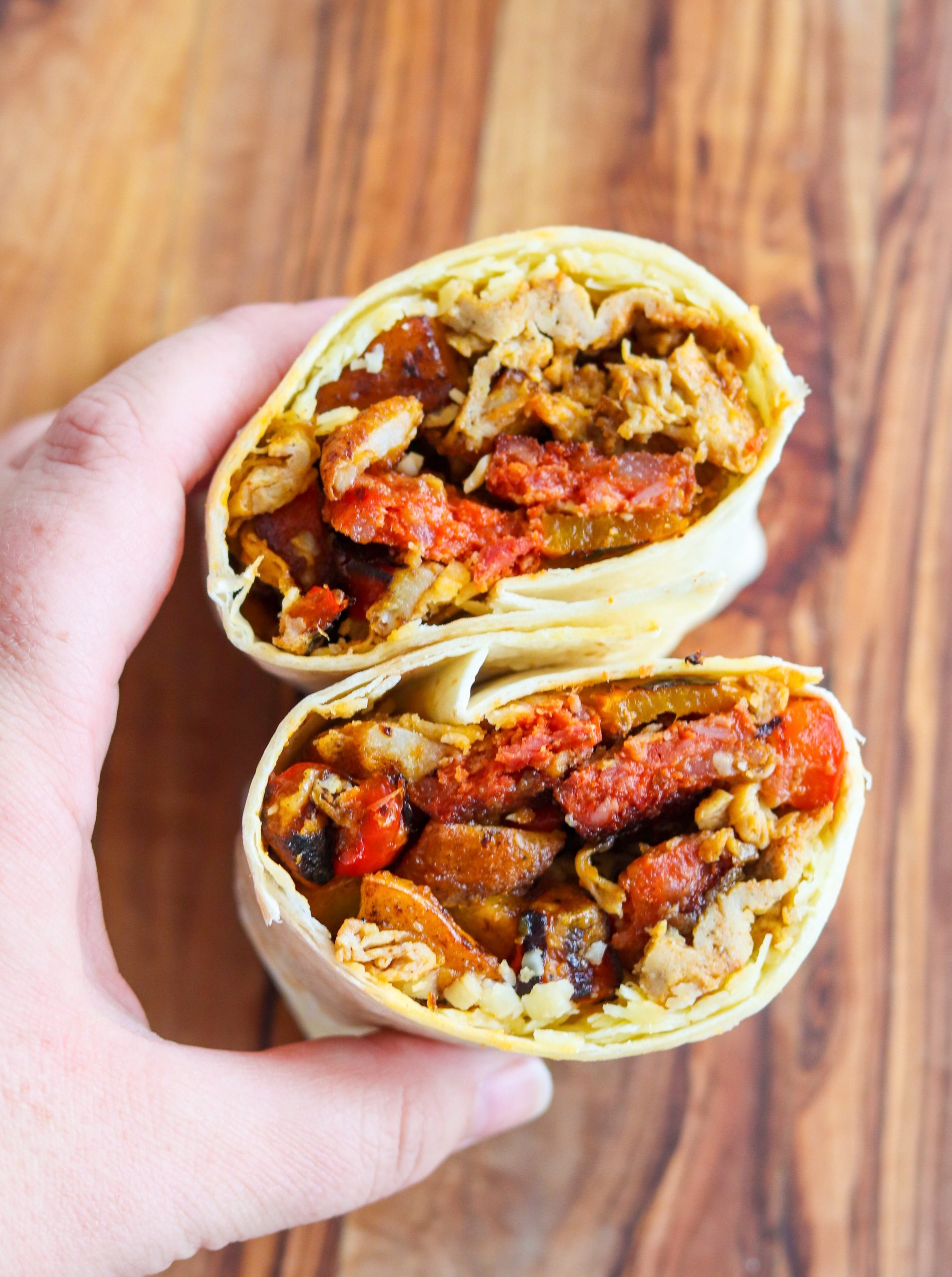 How to make breakfast burritos gluten free, vegetarian or vegan
As long as you make sure the chorizo you are using is gluten free, the only other ingredient you need to change are the tortilla wraps.
Gluten free tortilla wraps are readily available in large supermarkets. They are occasionally slightly smaller than standard wraps so your burrito might have to be a little smaller.
To make these breakfast burritos vegetarian, you can either leave out the chorizo altogether or use a vegetarian alternative.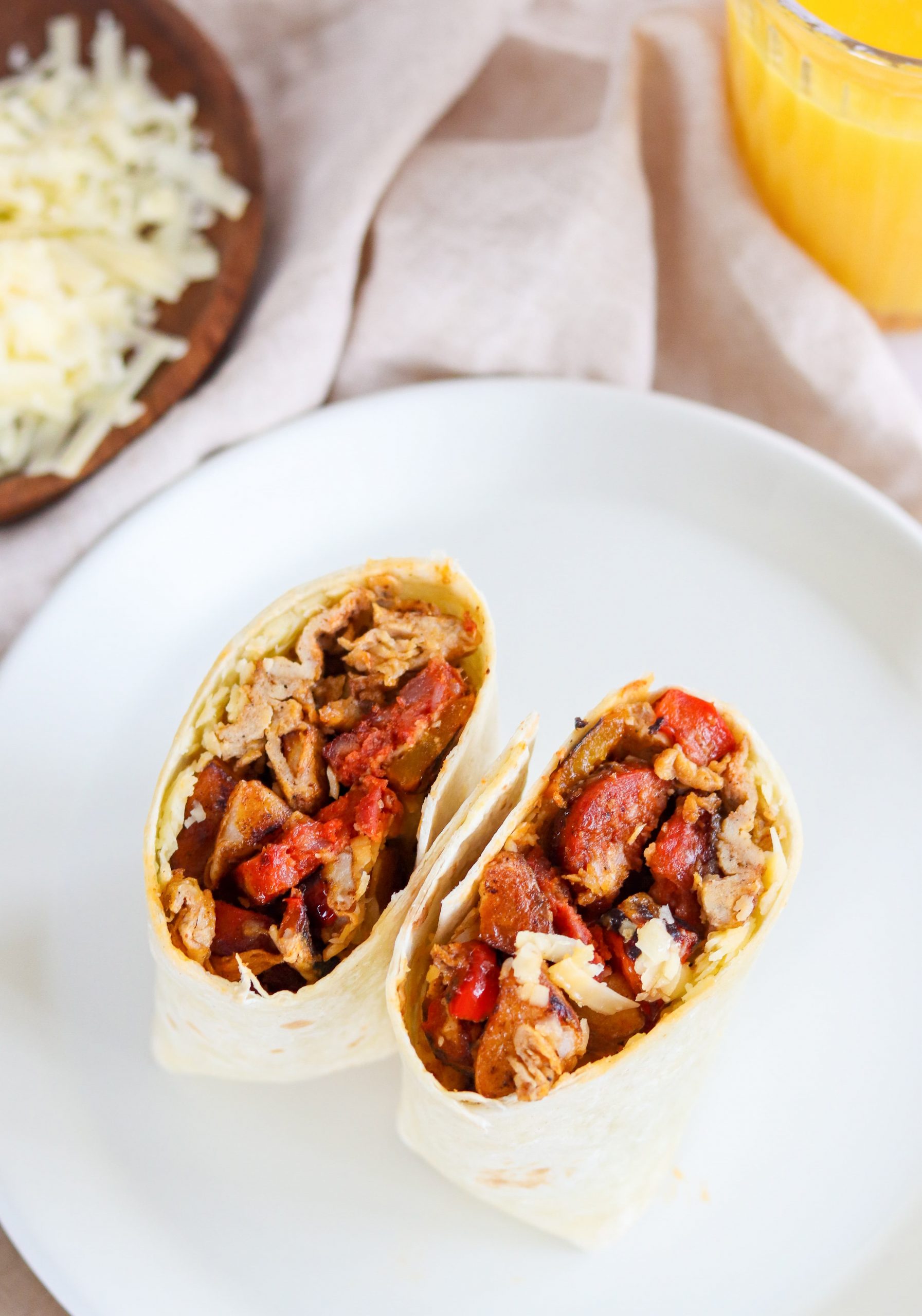 A few swaps need to be made to make these burritos vegan. Leave out the chorizo or swap for a vegan alternative.
When it comes to the eggs I will not pretend to be knowledgeable about vegan egg options. But if you are vegan I am sure you will have your favourite option. The milk in the recipe is to go with the eggs, so that can just be left out when you make your vegan eggs.
Finally you then just need to swap the cheese for a vegan cheddar style cheese.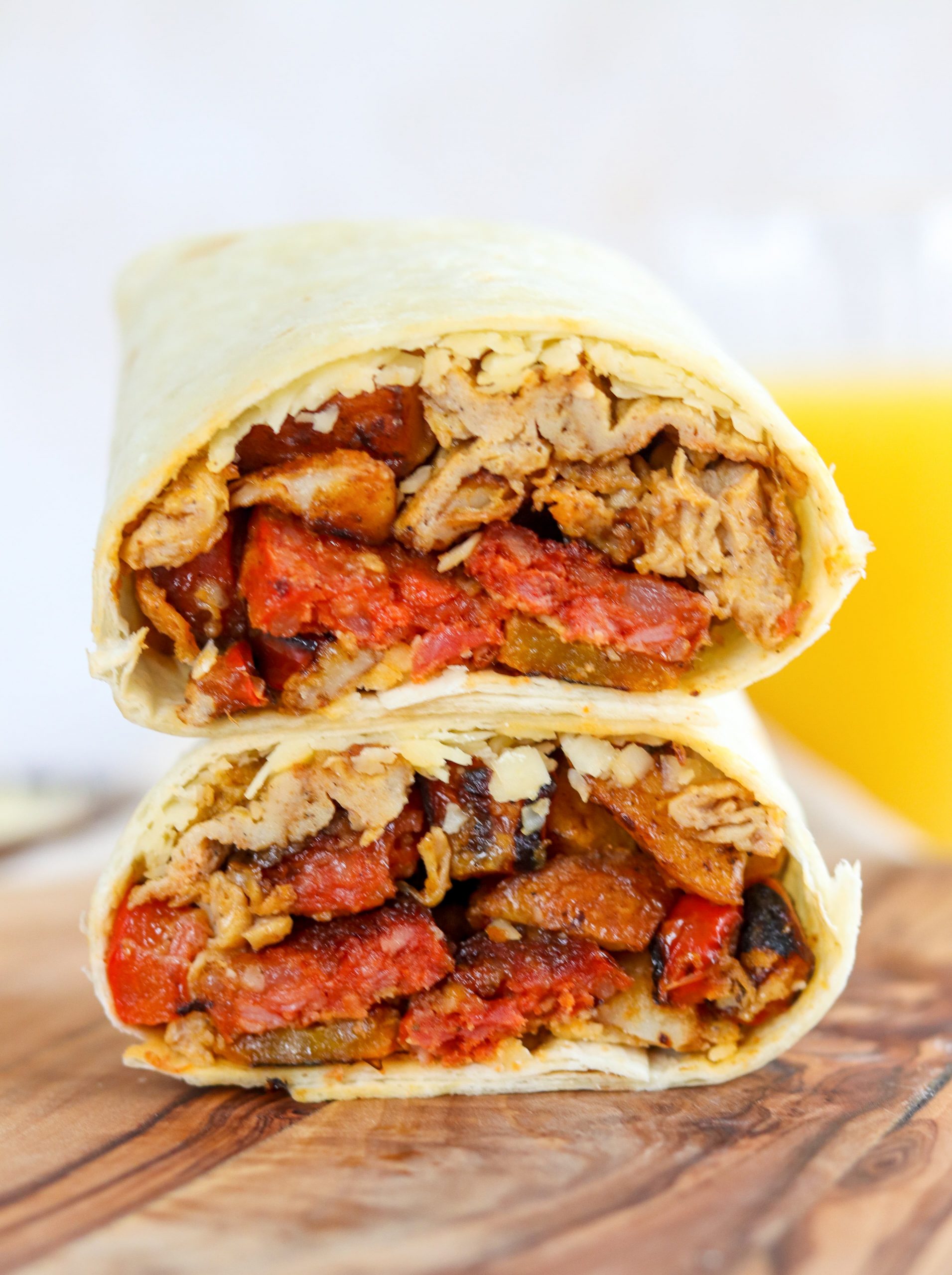 Other recipes you might like
Pin for later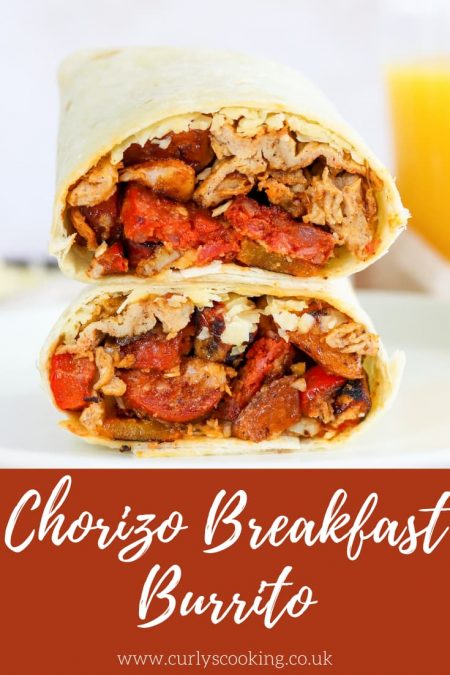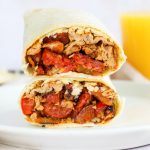 Chorizo Breakfast Burrito
If you're looking for a delicious and filling brunch dish, my Chorizo Breakfast Burrito is for you. Packed with tasty vegetables, chorizo and a slight spice, this is the perfect way to start your day.
Ingredients
2

large tortilla wraps

1

potato

diced (approx 300g)

1

large pepper

diced

150

g

chorizo

sliced

4

eggs

1

tbsp

milk

½

tsp

chilli powder

¼

tsp

sea salt

pinch

black pepper

½

tbsp

vegetable oil

60

g

grated cheese
Instructions
Cut 300g potato into cubes keeping the skin on. Put in a pan of boiling salted water for 5 – 10 minutes or until just soft

Meanwhile in a frying pan, heat ½ tbsp vegetable oil and add 1 pepper, diced. Cook for approximately 5 minutes on a medium high heat

Drain the cooked potatoes and add them to the peppers. Cook for 10 minutes until they are slightly crispy

Cut 150g chorizo into slices and add to the pan and cook for 5 minutes until golden and crisp

Mix 4 eggs in a bowl with 1 tbsp milk, ½ tsp chilli powder, ¼ tsp salt and pinch pepper

Turn the pan down to a low heat and add the eggs. Keep stirring until the eggs cook which should be around one minute. Turn the heat off straight after the eggs are no longer liquid

Lay a tortilla wrap on a board and then add one quarter of the 60g cheese to the centre

Add some of the filling making sure you keep it in the centre

Fold the left and right side of the tortilla in, then fold the bottom over the filling and tuck in. Roll until the seam is on the bottom

An optional way of sealing the burrito is to place it seam side down in a pan over a medium heat for a minute or so. This also helps melt the cheese more
Recipe Notes
Nutritional information is given as a guide only and my vary.
Nutrition Facts
Chorizo Breakfast Burrito
Amount Per Serving
Calories 843
Calories from Fat 423
% Daily Value*
Fat 47g72%
Cholesterol 426mg142%
Sodium 1553mg68%
Potassium 889mg25%
Carbohydrates 16g5%
Protein 40g80%
Vitamin A 976IU20%
Vitamin C 12mg15%
Calcium 312mg31%
Iron 7mg39%
* Percent Daily Values are based on a 2000 calorie diet.