This Strawberries & Fresh Cream Cake is the perfect cake to celebrate strawberries when they are in season. The fresh cream makes this cake even more indulgent and easily served as a dessert.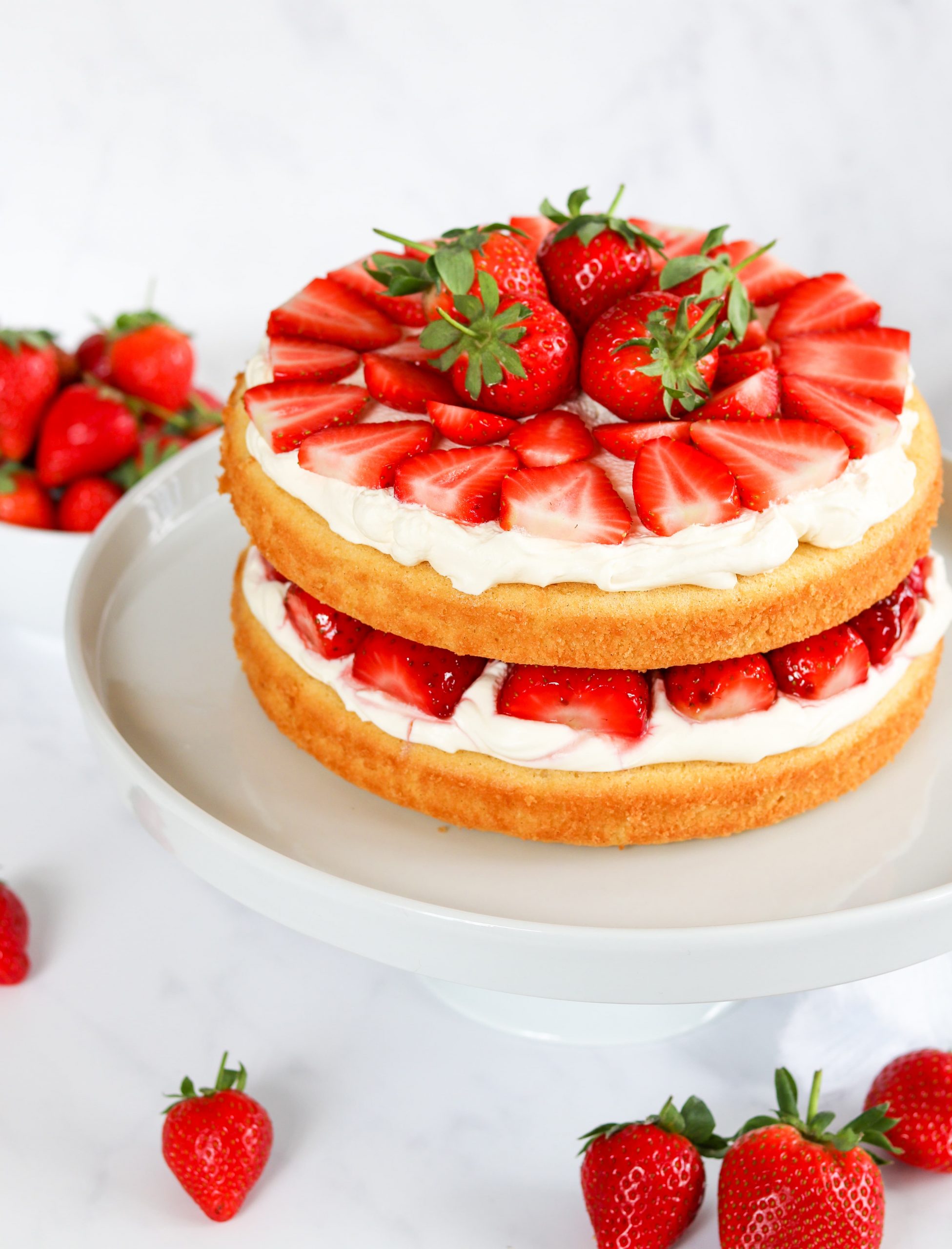 Strawberries & Fresh Cream Cake – a British classic
There are few cakes that I think of being quite so British than a Strawberries & Fresh Cream Cake.
In basic terms, it is a classic Victoria Sandwich cake filled with fresh whipped cream and delicious strawberries. Such a simple cake but completely delicious.
The softly whipped cream and juicy strawberries are the perfect combination sandwiched between fluffy, vanilla flavoured sponges.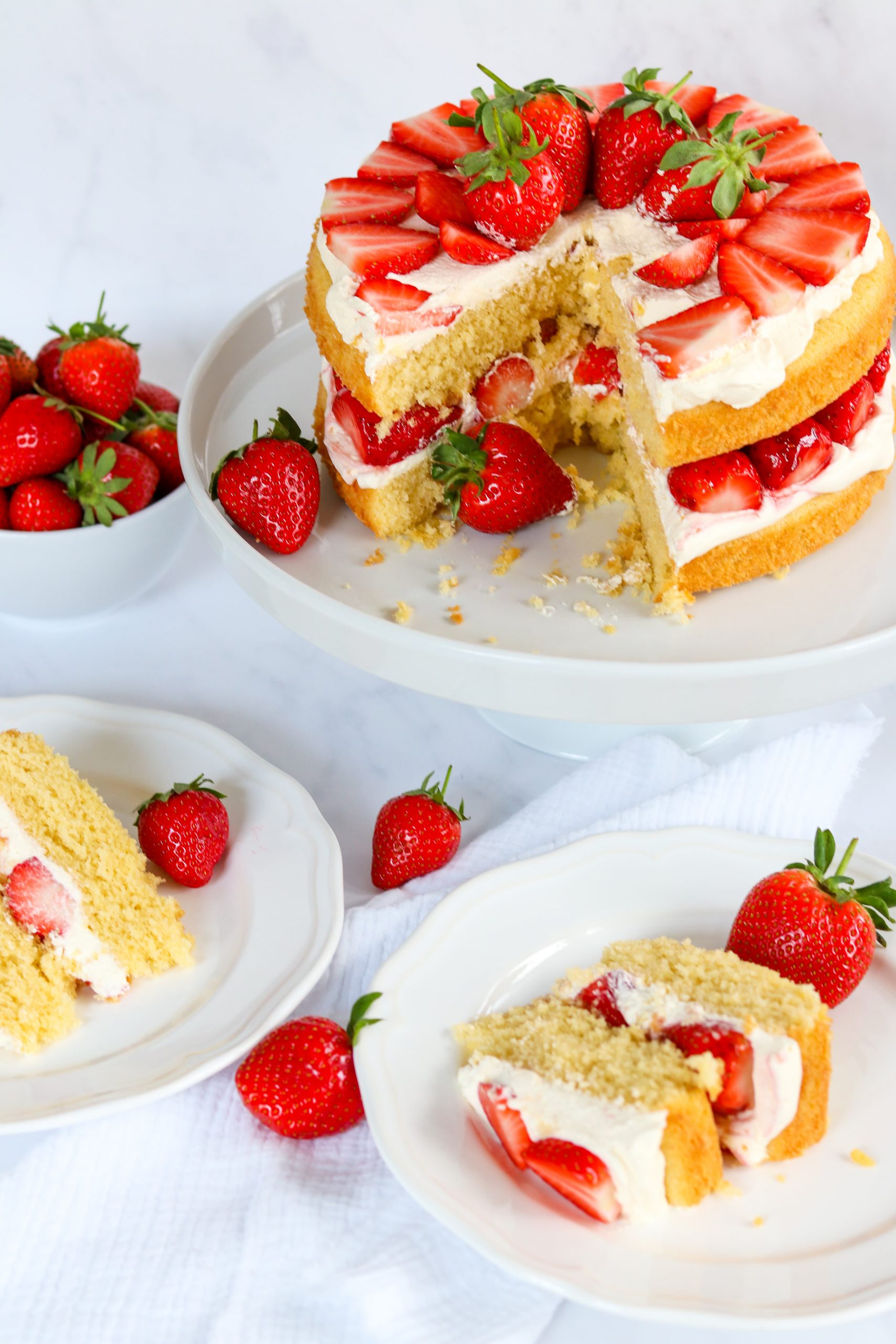 Elevating the Victoria Sandwich
A Victoria Sandwich is a universally known classic cake. It is a recipe that most people know off by heart and a go-to recipe for many people.
Traditionally, Victoria Sandwiches are simply filled with strawberry jam and sprinkled with caster sugar. It is also commonly filled with buttercream.
Adding vanilla to the sponge and fresh cream and strawberries really elevates this cake to the next level. There really is no better cake to enjoy when strawberries are in season.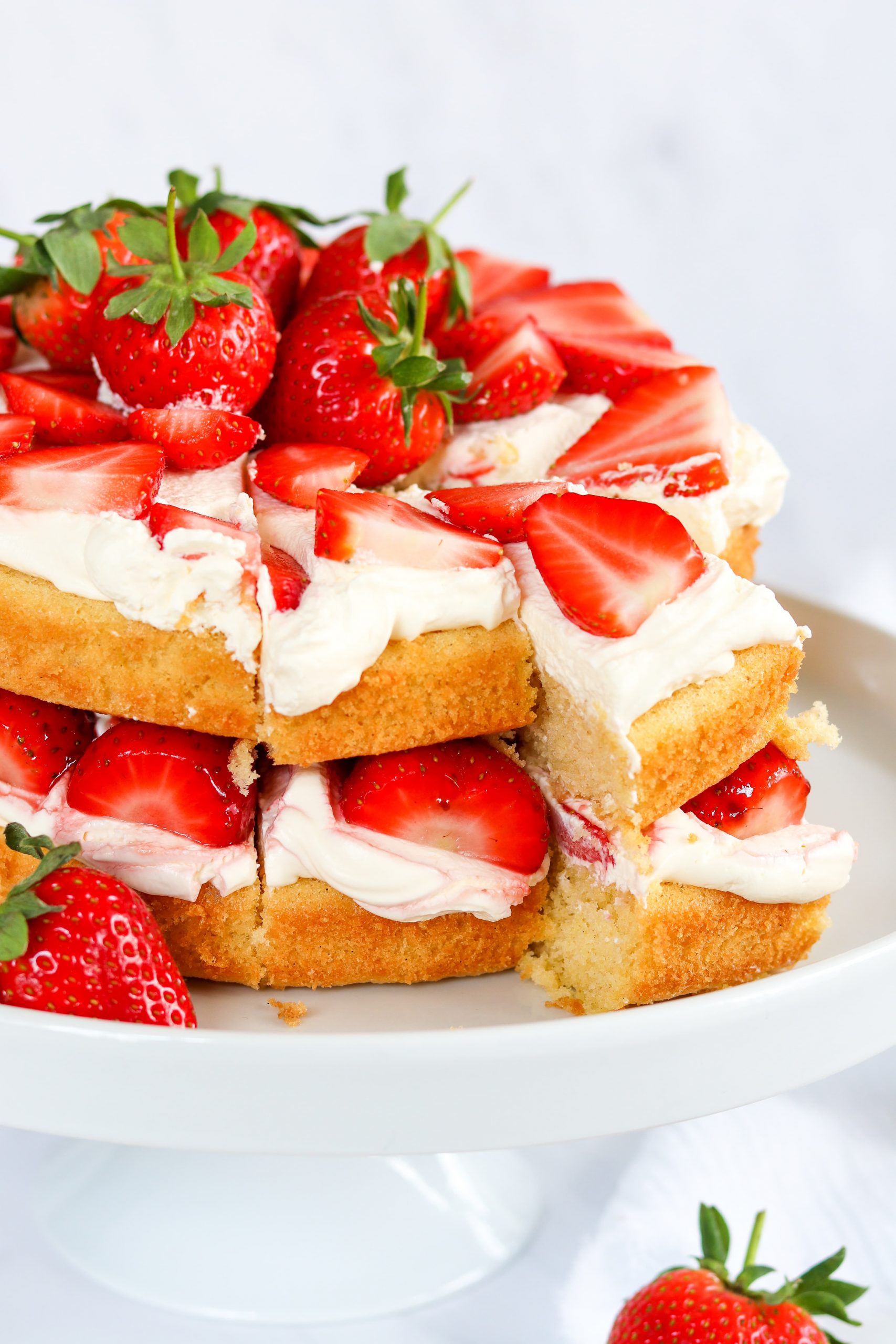 When are strawberries in season?
Although strawberries are available all year round, they are always tastiest when they are in season. They are much more flavoursome and sweet when they are in season.
Here in the UK, strawberries are in season from late May until September. Peak season is considered to be June and July.
In the US, the strawberry season seems to be a lot more varied depending on where you're located.
You can of course still make this cake outside of strawberry season, but you do run the risk of the strawberries being a little tart or lacking in flavour. Obviously this isn't guaranteed to be the case but it is worth mentioning.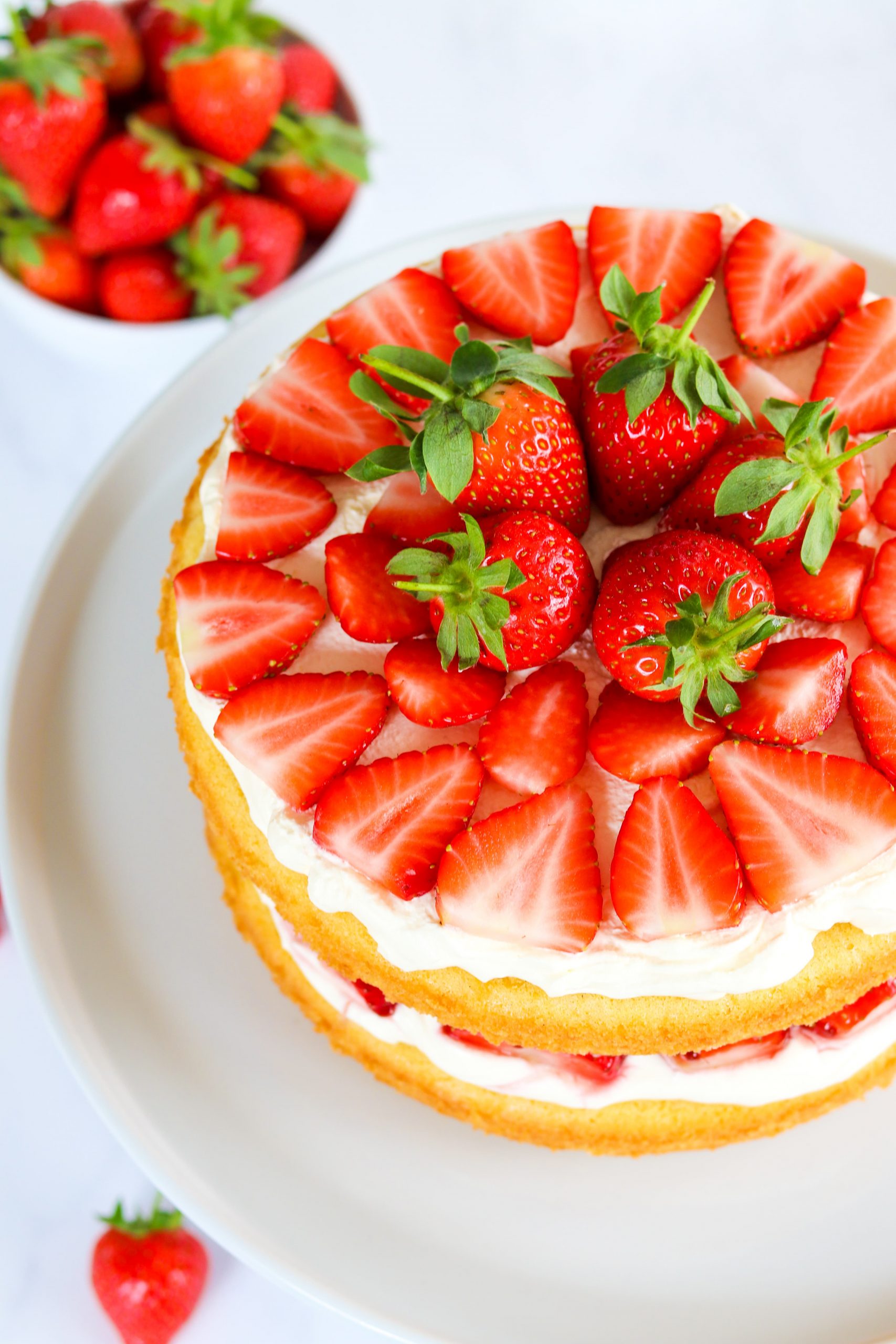 Margarine or butter?
You can use either margarine or butter to make this Strawberries & Fresh Cream Cake. Both will work just as well so it is down to personal preference.
I tend to use margarine because you can use it straight from the fridge as it tends to be quite soft. This is definitely an advantage because I seem to always forget to get butter out of the fridge in time to soften.
If you do prefer to use butter, you really do need to make sure it is softened before starting to make the cake. When it is softened, it mixes so much easier and faster with the sugar.
If the butter is still a bit cold, it will take a lot longer to cream with the sugar and you could end up with lumps of butter still.
Don't be tempted to blitz your butter in the microwave to soften it because you really don't want melted butter!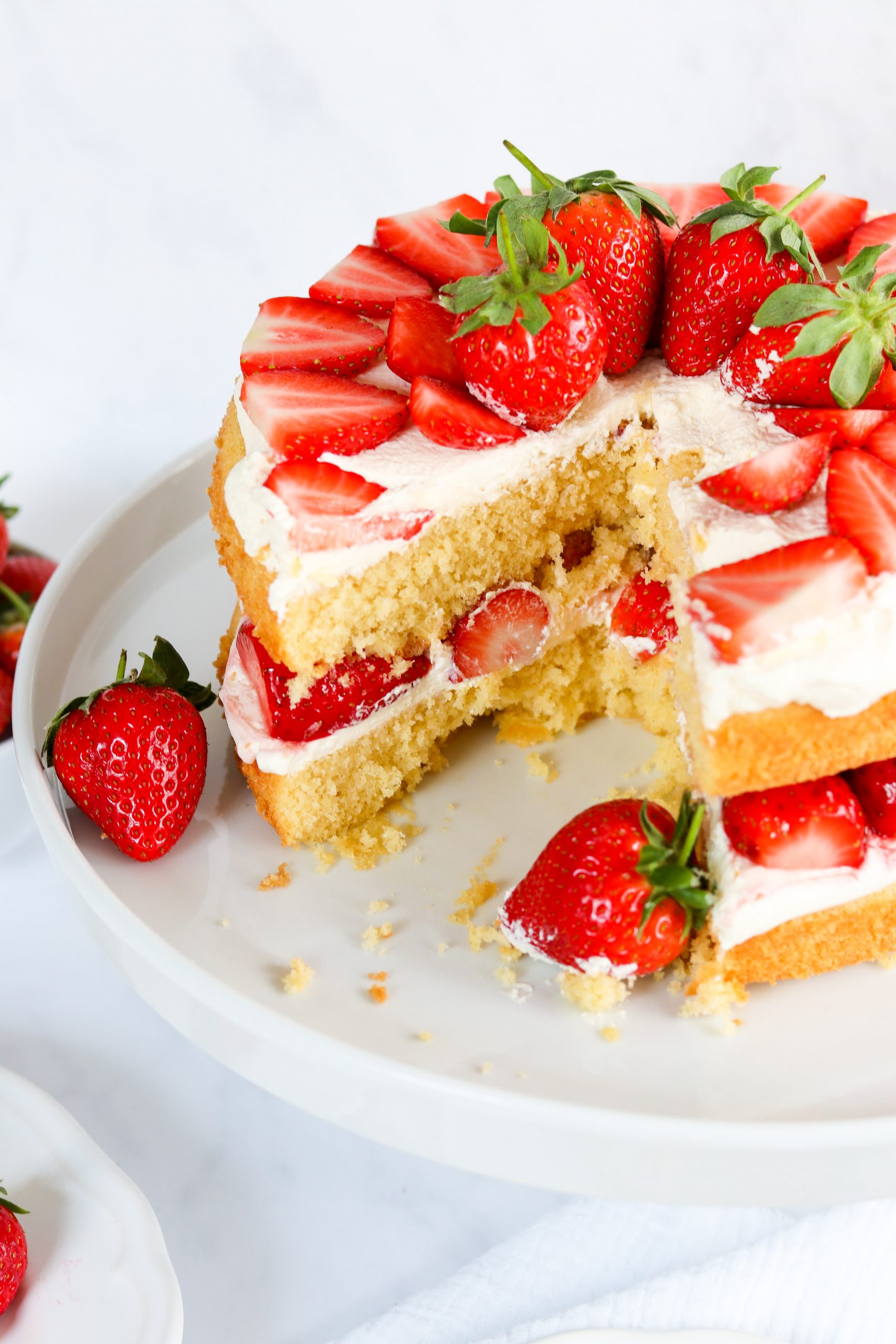 Which cream is best to use?
Double or whipping cream are what you will need for this cake.
I tend to use double cream as this is what I usually buy. However it is harder to find outside of the UK. It has a high fat content which makes it perfect for whipping.
The only disadvantage of using double cream is that it is easier to overwhip. I always recommend keeping an eye on your cream as you whip it so you reduce the risk of overwhipping.
Whipping cream or heavy cream is more widely found and would work perfectly for this cake.
I wouldn't recommend using single or UHT cream for this recipe as they do not whip very well.
Why coat the strawberries in jam?
This might seem slightly unusual but I definitely don't recommend missing this step!
The jam gives the strawberries a nice shine. Most importantly it also gives them a bit of extra sweetness. This is especially helpful if your strawberries aren't as sweet as you might want them to be!
I only added the jam to the strawberries in the middle layer, but you can add them to the strawberries on top too if you like.
You can of course use your favourite shop bought jam, but homemade jam would be even tastier.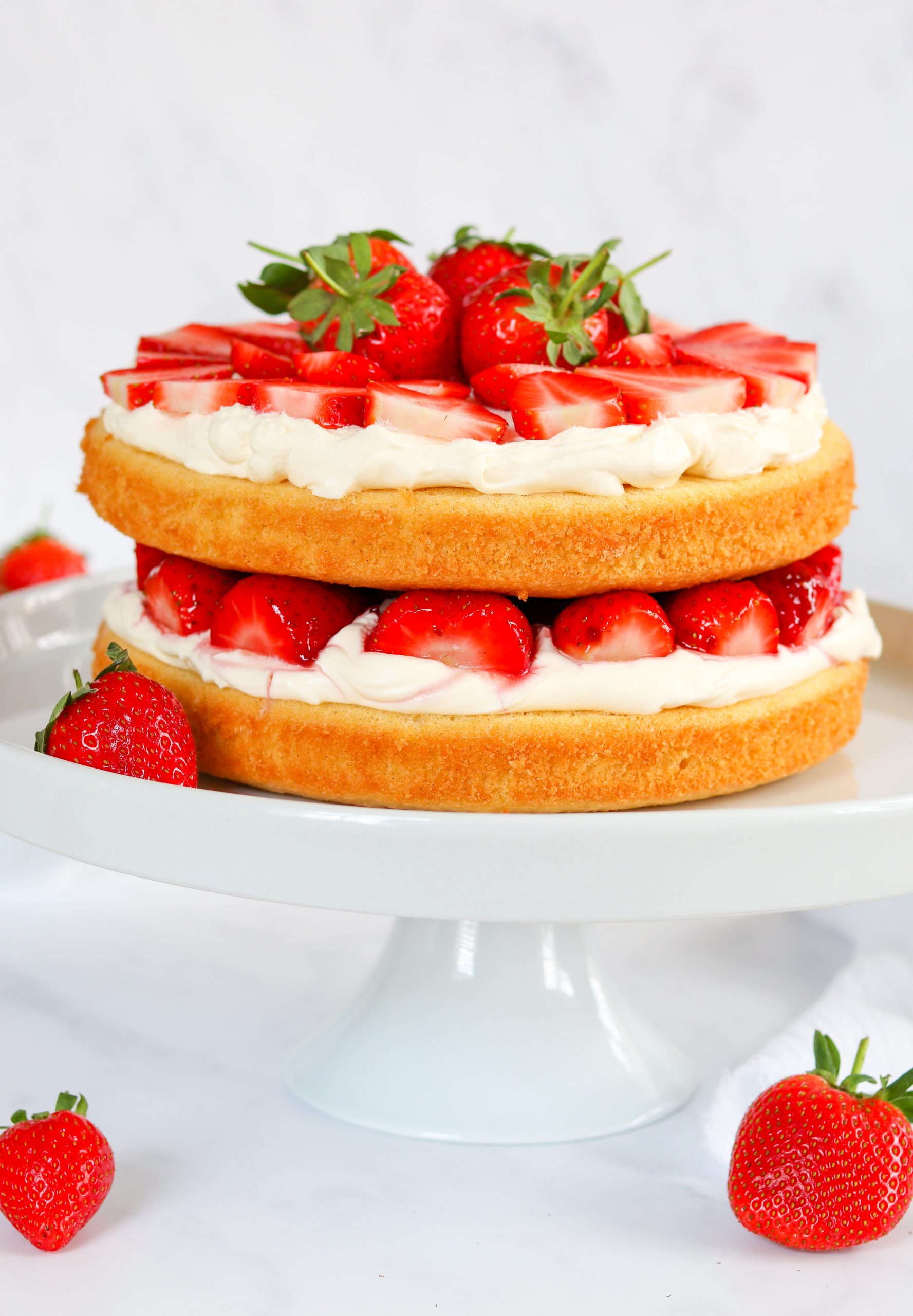 which vanilla is best to use?
You can use either vanilla bean paste or vanilla extract for this cake.
I prefer to use vanilla bean paste because I love it's flavour and also the little black flecks it adds to the cake. It is a little more expensive than vanilla extract but as it is concentrated you need to use less.
If you would prefer to use vanilla extract, I would double the amount in the recipe.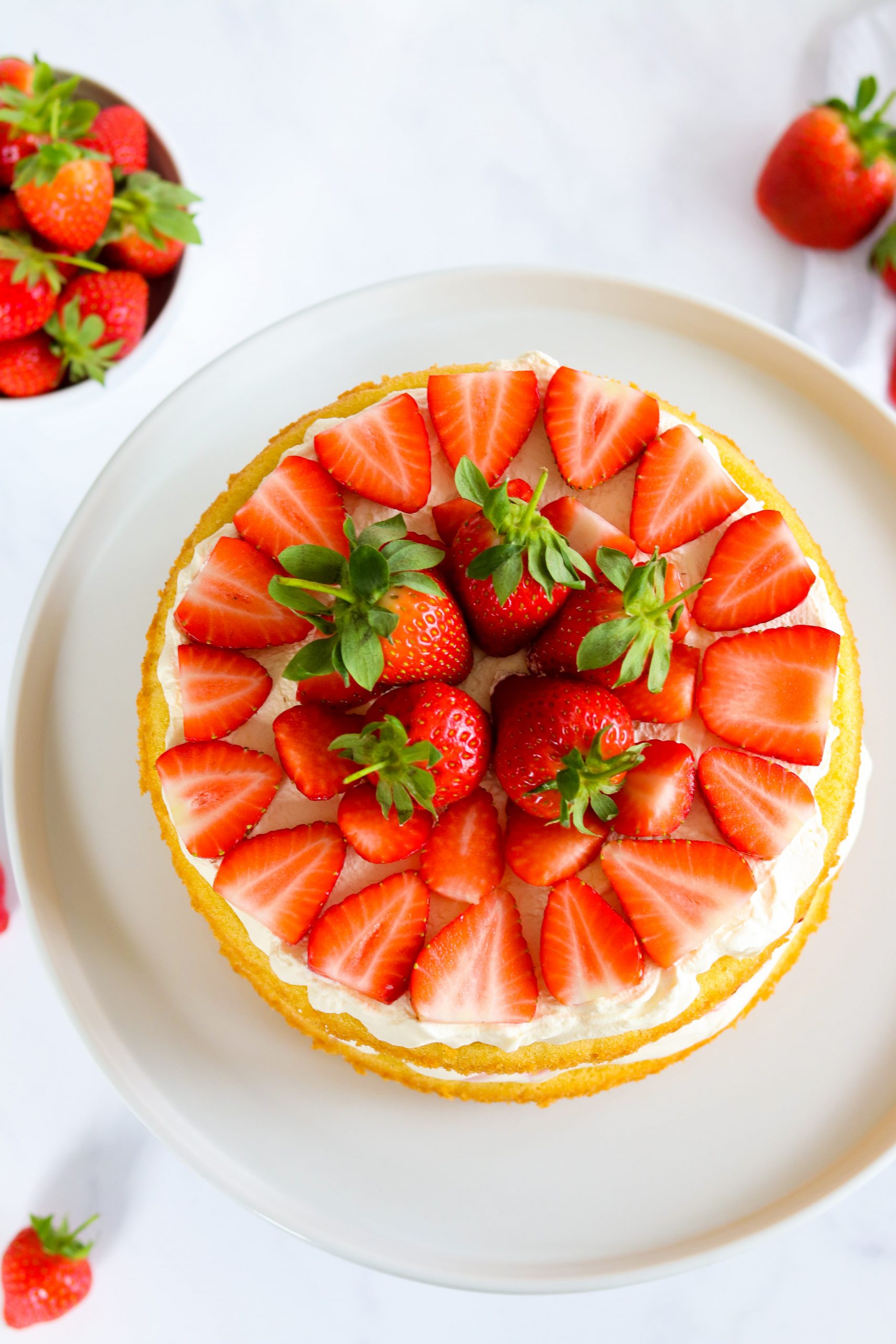 Whichever vanilla you decide to use, try to buy a good quality vanilla. If you can, aim to buy pure vanilla extract as this has very few ingredients and doesn't have any additives or preservatives. This is usually brown in colour.
I would avoid using vanilla essence or flavouring if you can. These are more artificial in flavouring and won't give you as good a flavour.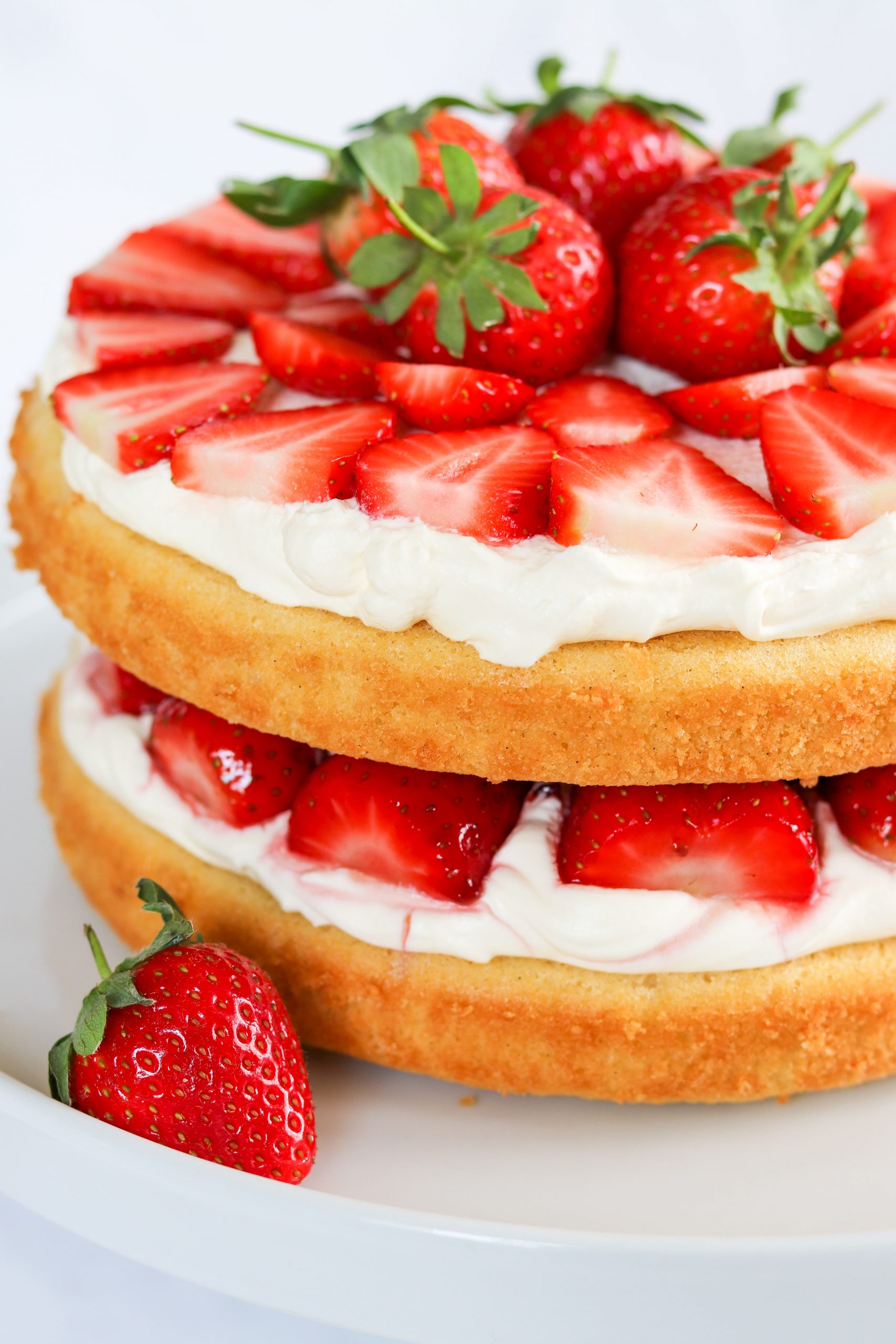 How to decorate this Strawberries & Cream cake
You really can get as creative as you like when it comes to decorating the cake – it is your cake afterall!
I like to cut the strawberries in half and arrange them quite neatly. This makes it look extra pretty when you cut into the cake. You could slice the strawberries and arrange them more casually if you prefer.
When it comes to the final layer, you can be as neat or rustic as you like! I sliced some strawberries and arranged them around the outside. I then left some whole strawberries in the centre.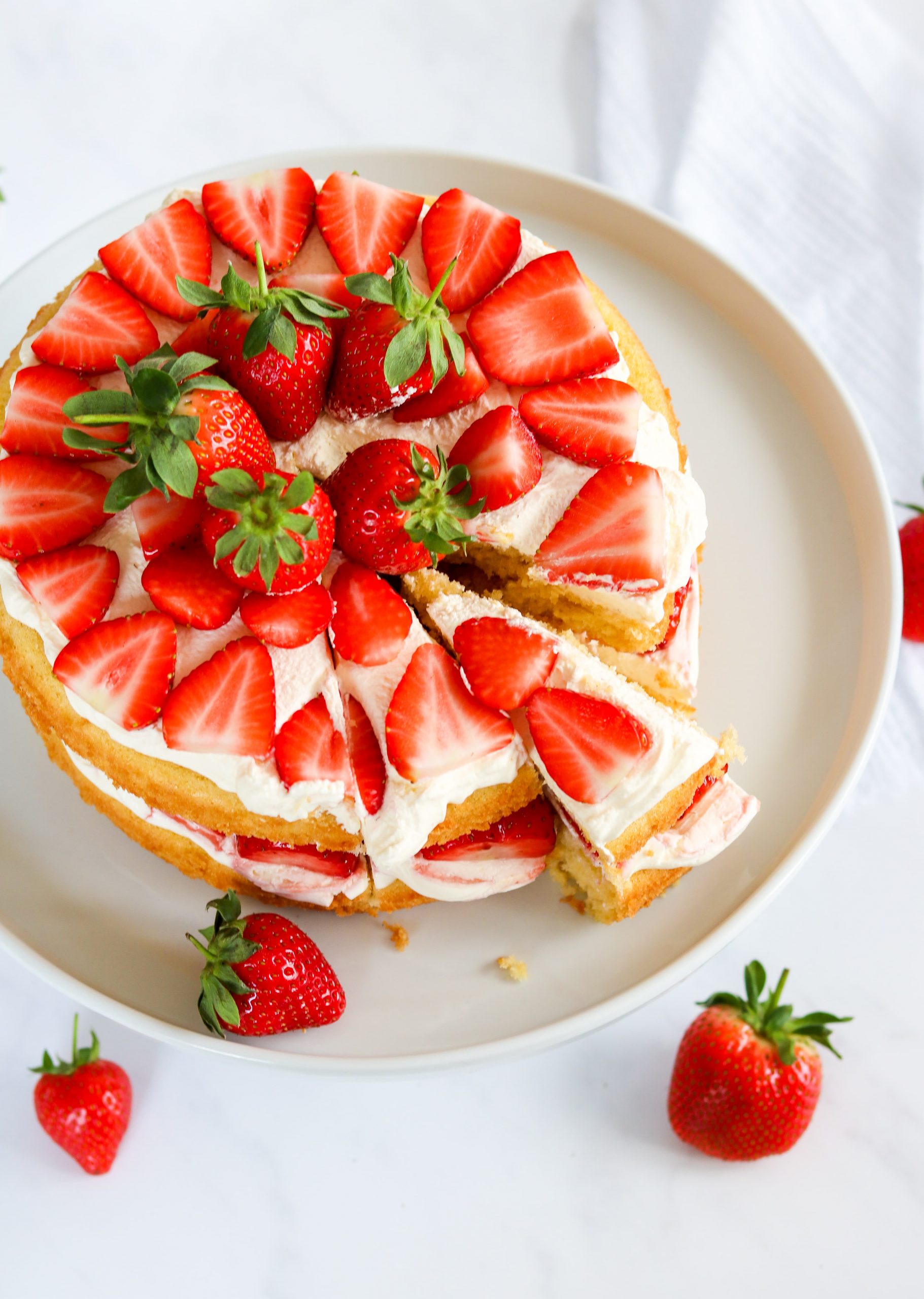 how long will this cake keep for?
As this cake has fresh cream in it, you must keep it in the fridge.
It will keep in the fridge in an airtight container for 2-3 days. The juice from the strawberries might start to seep out slightly but this won't affect the taste at all.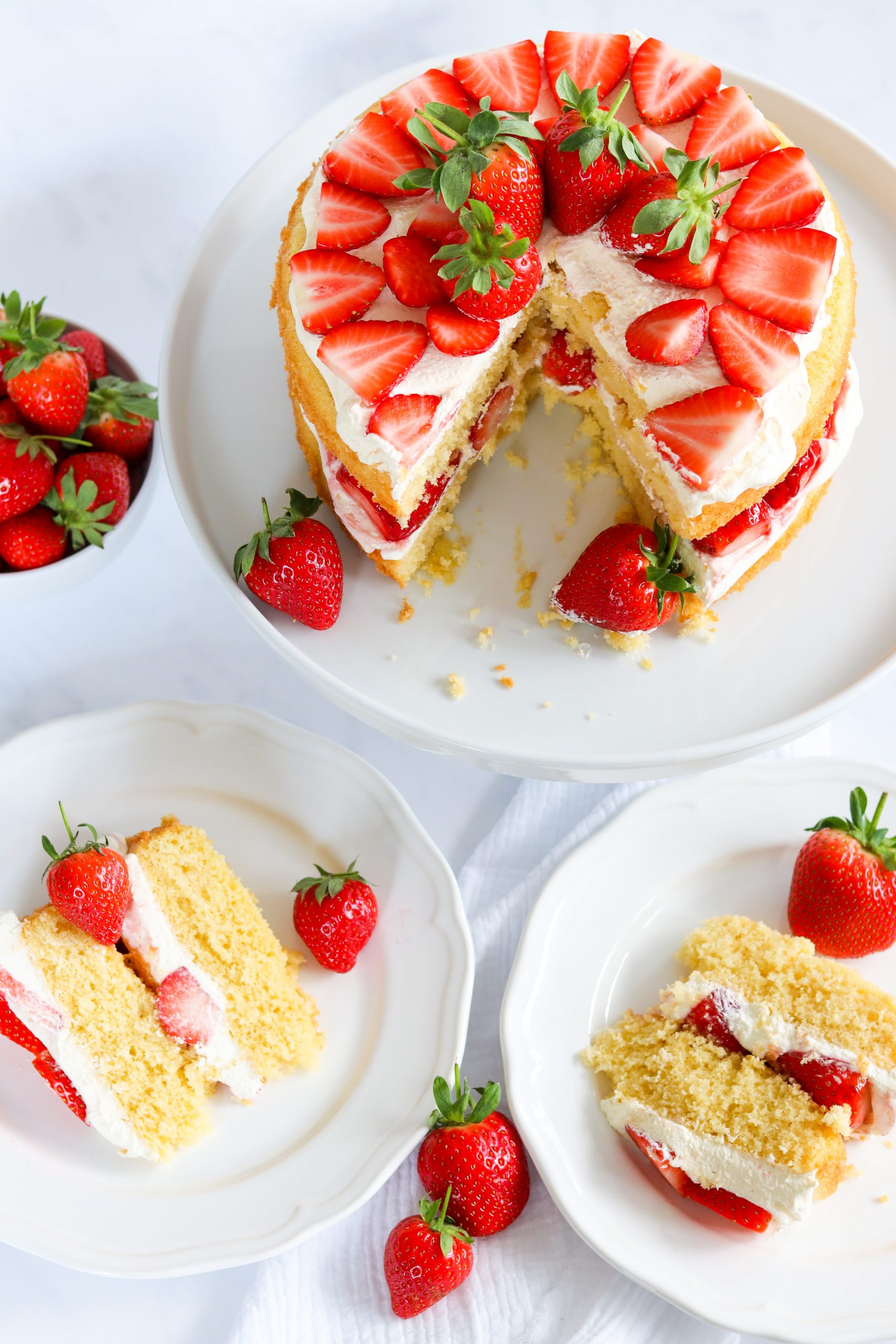 Other recipes you might like
Pin for later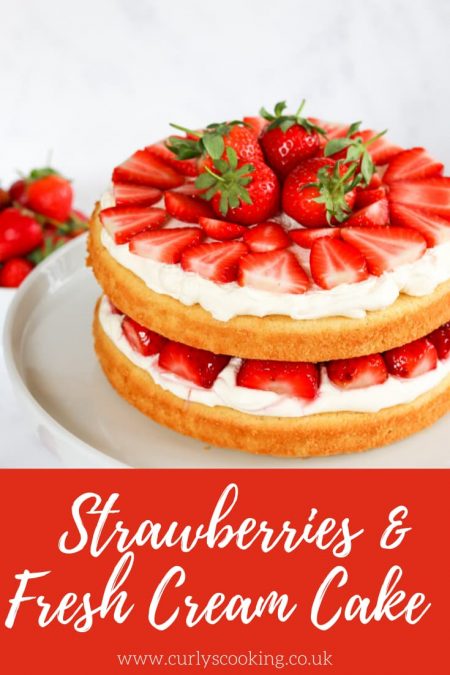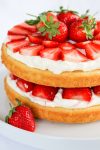 Strawberries & Fresh Cream Cake
This Strawberries & Fresh Cream Cake is the perfect cake to celebrate strawberries when they are in season. The fresh cream makes this cake even more indulgent and easily served as a dessert.
Ingredients
For the cake
225

g

margarine

225

g

caster sugar

4

eggs

1

tsp

vanilla bean paste

225

g

self raising flour
To decorate
300

ml

double cream

550

g

strawberries

20

g

strawberry jam
Instructions
Preheat the oven to 160°C (fan assisted, 180°C non fan) and line two loose bottomed 8" sandwich tins

Add 225g margarine and 225g caster sugar to a bowl. Beat for 5 minutes or until they are pale and fluffy

Crack in 4 eggs and add 1 tsp vanilla bean paste. Mix until combined

Add 225g self raising flour and mix until the ingredients are just combined

Divide the mix between the two tins and bake for 18-20 minutes until a cocktail stick comes out clean

Leave the cakes to cool for at least 30 minutes in the tins before removing from the tins and leaving to cool completely on a wire rack

Hull roughly 200g strawberries and cut them in half. Mix them in a bowl with 20g strawberry jam until they are coated

Once the cakes are completely cool, whip 300ml double cream until it forms soft peaks

Place one of the cakes upside down on your serving plate. Add half of the cream to the cake and spread out evenly

Line the cut strawberries coated in jam on top of the jam

Add the second cake upside down on top of the strawberries. Spread with the remaining cream

Arrange the remaining 250g strawberries on top of the cream however you like. I sliced some of the strawberries and placed them round the edge and left some whole in the middle
Recipe Notes
Keep in an airtight container in the fridge for 2-3 days.
Nutritional information is given as a guide only and may vary.
Nutrition Facts
Strawberries & Fresh Cream Cake
Amount Per Serving
Calories 346
Calories from Fat 198
% Daily Value*
Fat 22g34%
Cholesterol 76mg25%
Sodium 179mg8%
Potassium 118mg3%
Carbohydrates 33g11%
Protein 4g8%
Vitamin A 963IU19%
Vitamin C 23mg28%
Calcium 35mg4%
Iron 1mg6%
* Percent Daily Values are based on a 2000 calorie diet.
Linking to