Thick, creamy and comforting soup with the delicious flavours of your favourite curry. This Creamy Vegetable Curry Soup is quick, easy and packed full of vegetables and flavour.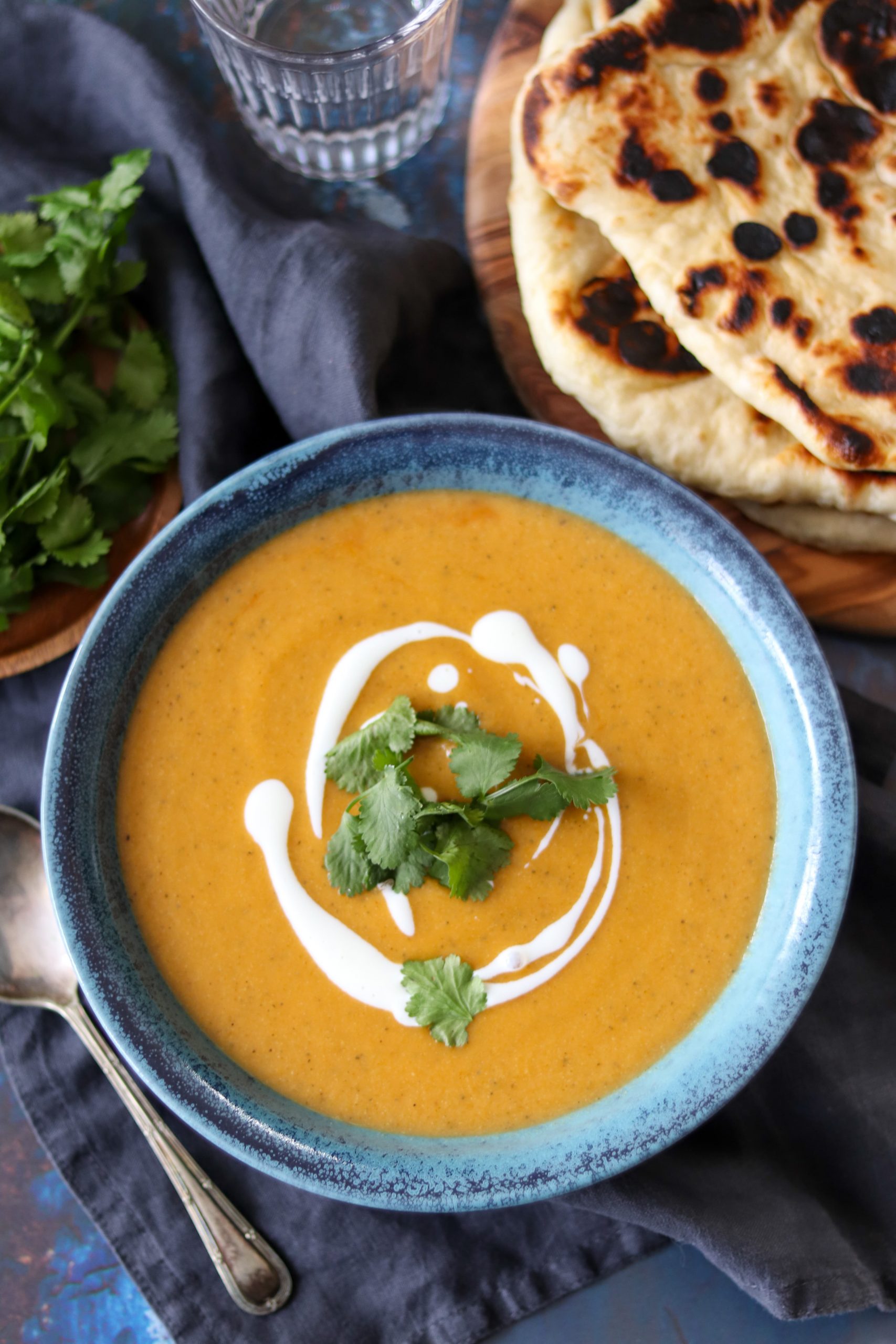 Homemade soups are so much nicer than shop bought
I do love a good soup. But as I've mentioned before, I am very fussy about soup. This is why I much prefer to make it myself rather than buy it. Making it yourself means you can control what is in it so it can be a healthy and delicious meal.
Shop bought soups often include additives to help increase their shelf life. By making them yourself you can make sure they are as fresh and healthy as they can be. It is also a great way of utilising vegetables that are looking a little sad.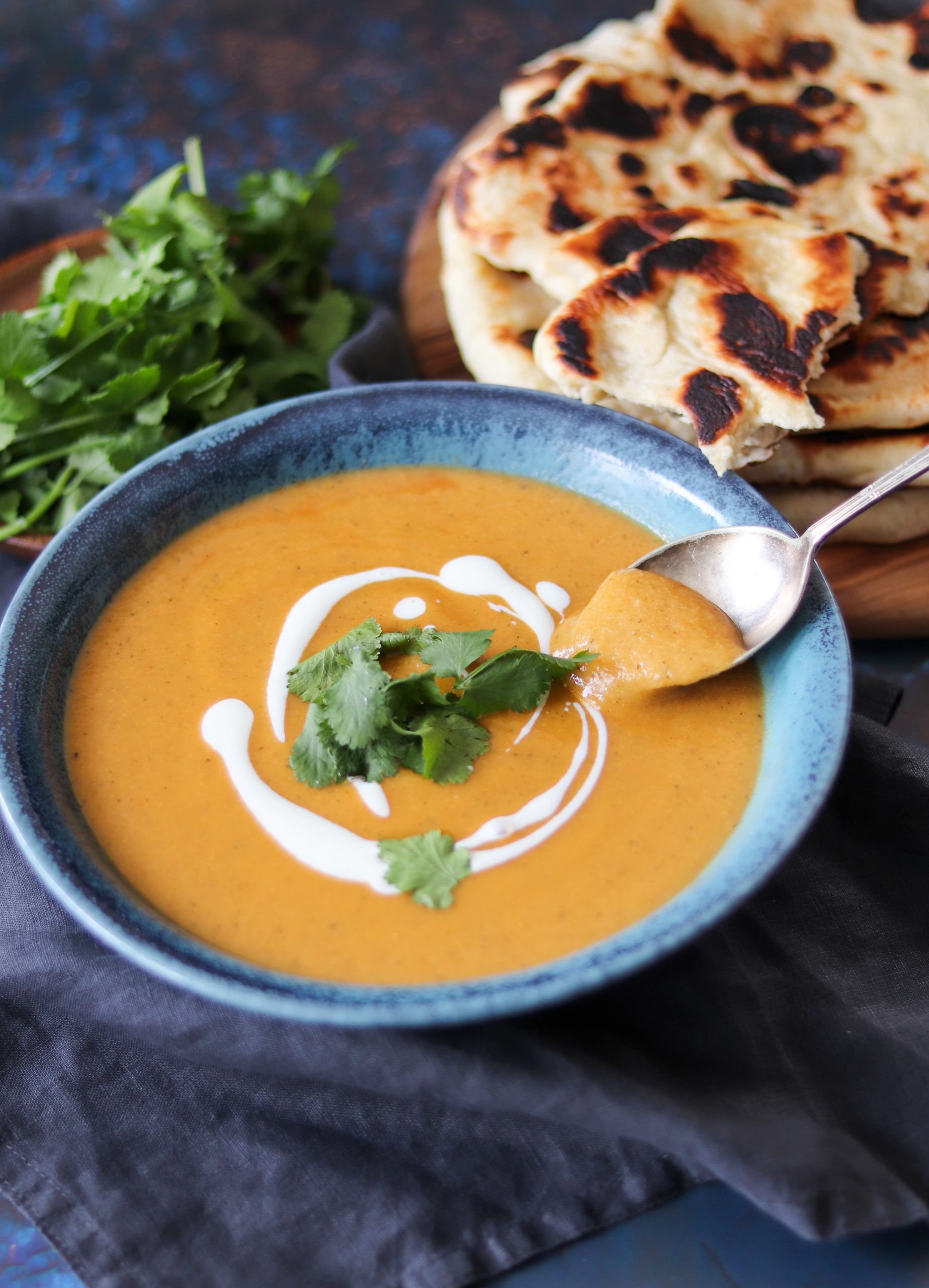 Creating a soup with some spice
I wanted to make a soup that included some spice. This is because the rest of the soup recipes I have made are quite subtle in flavour. My inspiration behind this recipe came from my Vegetable & Red Lentil Curry.
I feel that in winter we tend to stick to comforting recipes like stews and casseroles which can sometimes lack a bit of spice. This soup still provides you with the comfort that you need, but a bit of spice too which makes it a welcome change.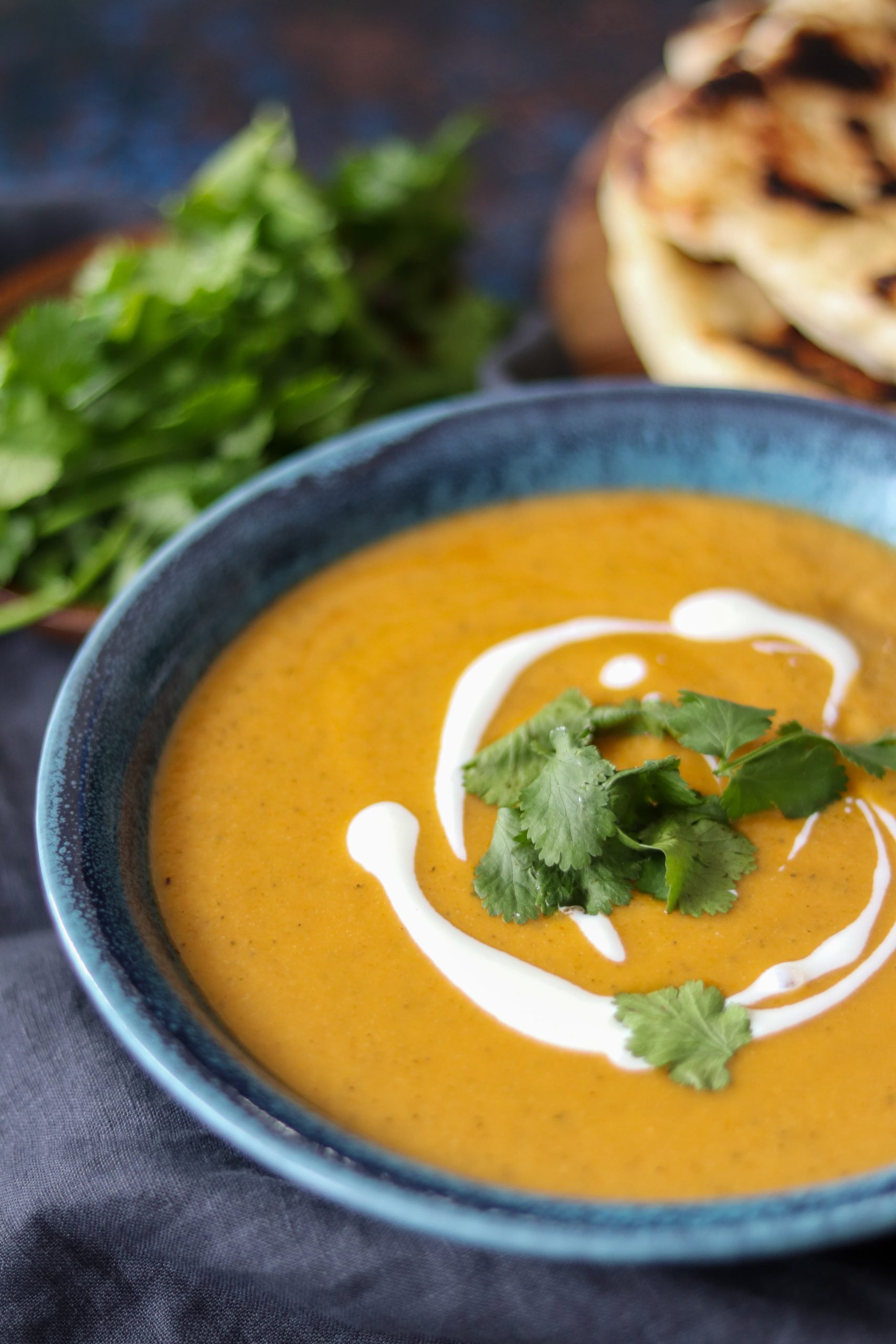 Using a shop bought curry paste
For this soup, I just use a shop bought curry paste. They are great for when you want to keep cooking quick and easy.
You can use whichever curry paste you like for this soup. I tend to use tikka curry paste because it isn't too spicy but something like a balti curry paste would work well too.
If you would like to keep it really mild you could use a korma curry paste.
Which vegetables are best to use?
You can use all sorts of vegetables for this soup. It really is meant to be adapted to which vegetables you have in the fridge.
I would recommend keeping the potatoes as they add the thickness and creaminess to the finished soup.
I usually add courgettes and cauliflower but you could add green beans, mushrooms, broccoli, carrots…the list really is endless!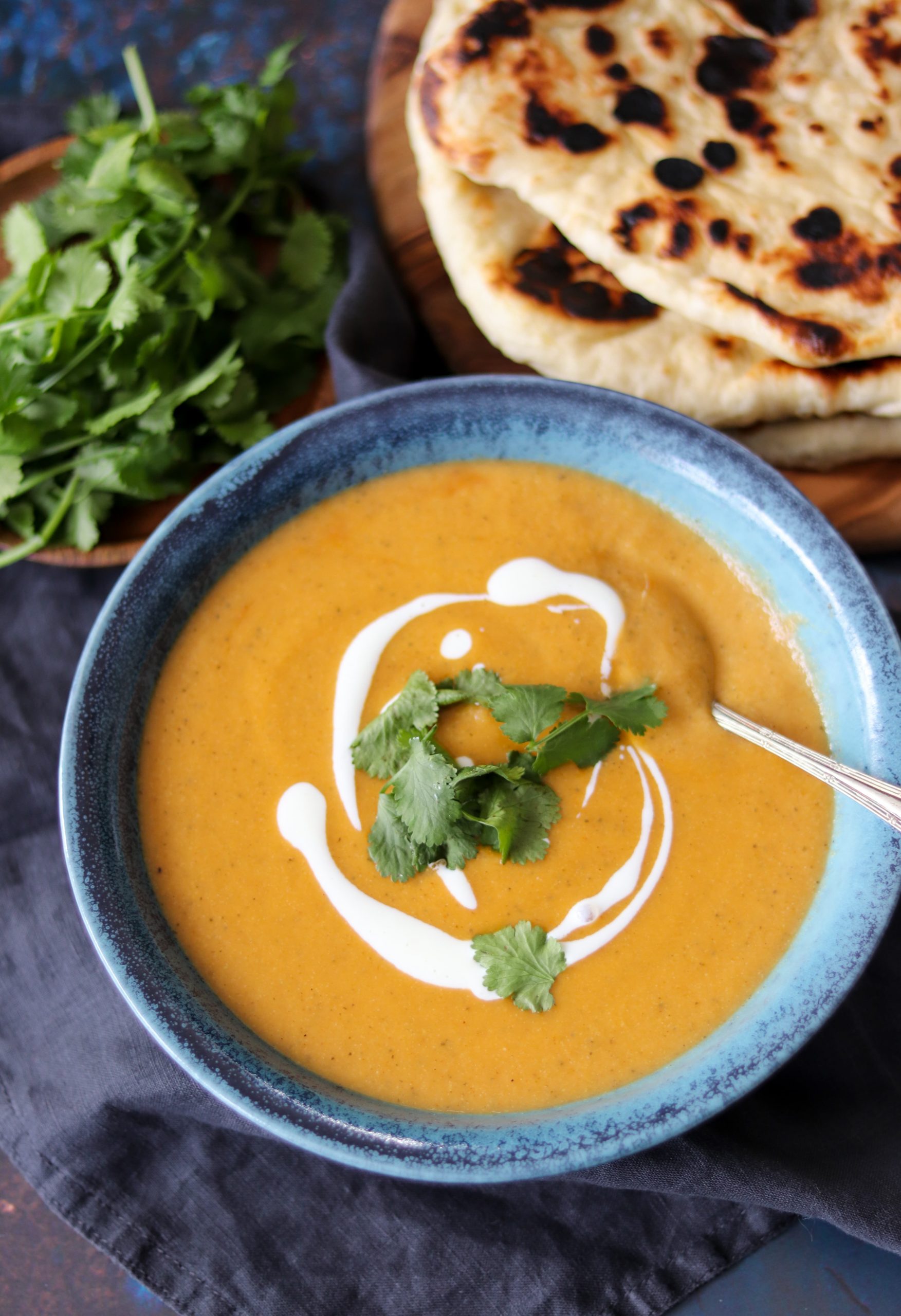 A creamy but healthy soup
The potatoes in this soup help naturally thicken it as well as providing a creamy texture. If you did want to make the soup slightly thinner, you could add roughly 100ml more stock.
Personally I like this soup being thick because it fills me up more which is always a good thing when its cold!
I use semi skimmed milk for this recipe but if you wanted to be more indulgent you could use whole milk. You could also add some cream too but I wouldn't add more than 100g or so and then the rest milk so it isn't too rich.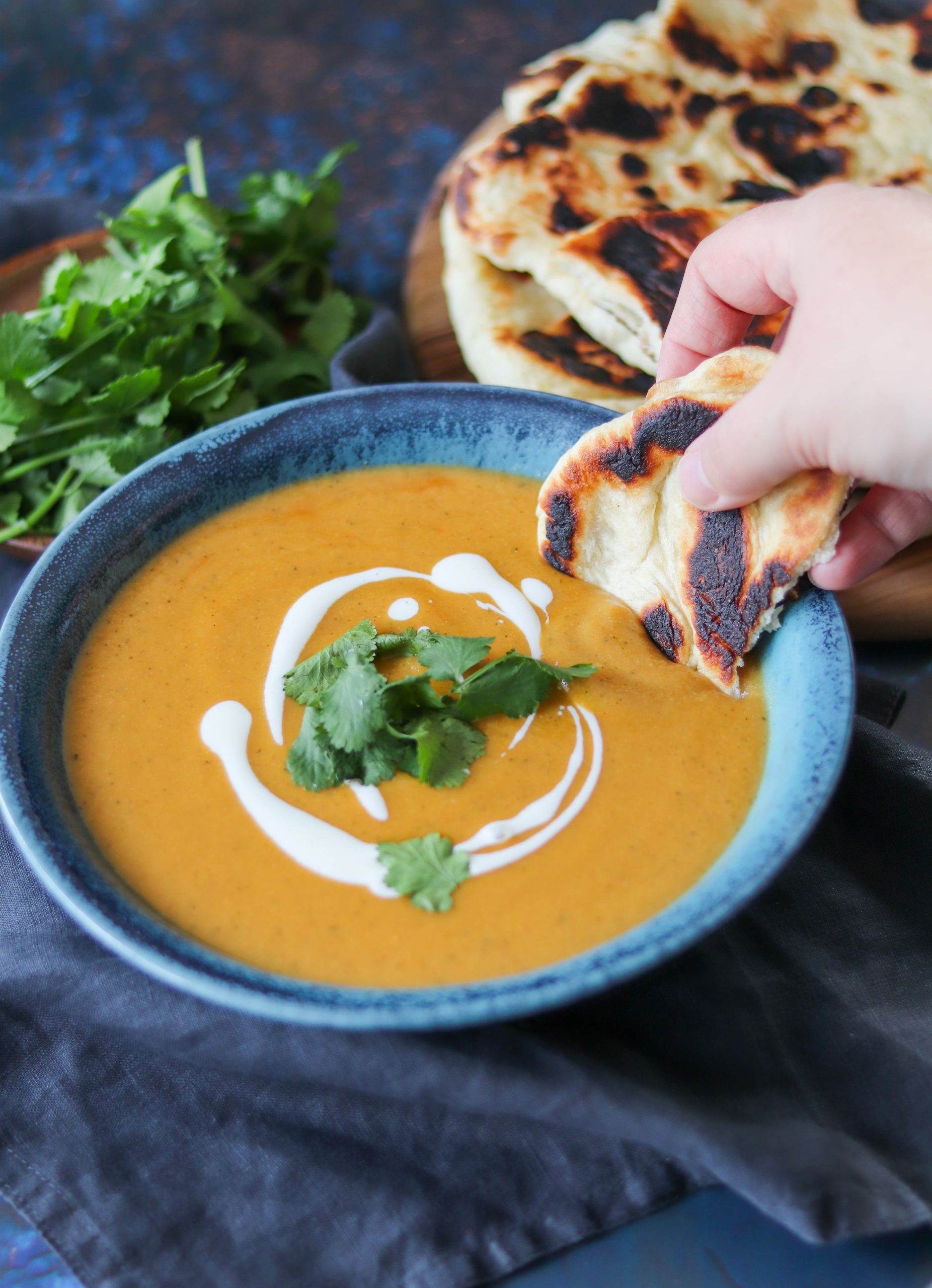 How many portions does this soup make?
The quantities in the recipe below make enough for three large portions of soup. The very simple reason for this is that is all of the ingredients that I can fit in my soup maker!
If you wanted to make a larger batch of soup, you can easily do this in a pan.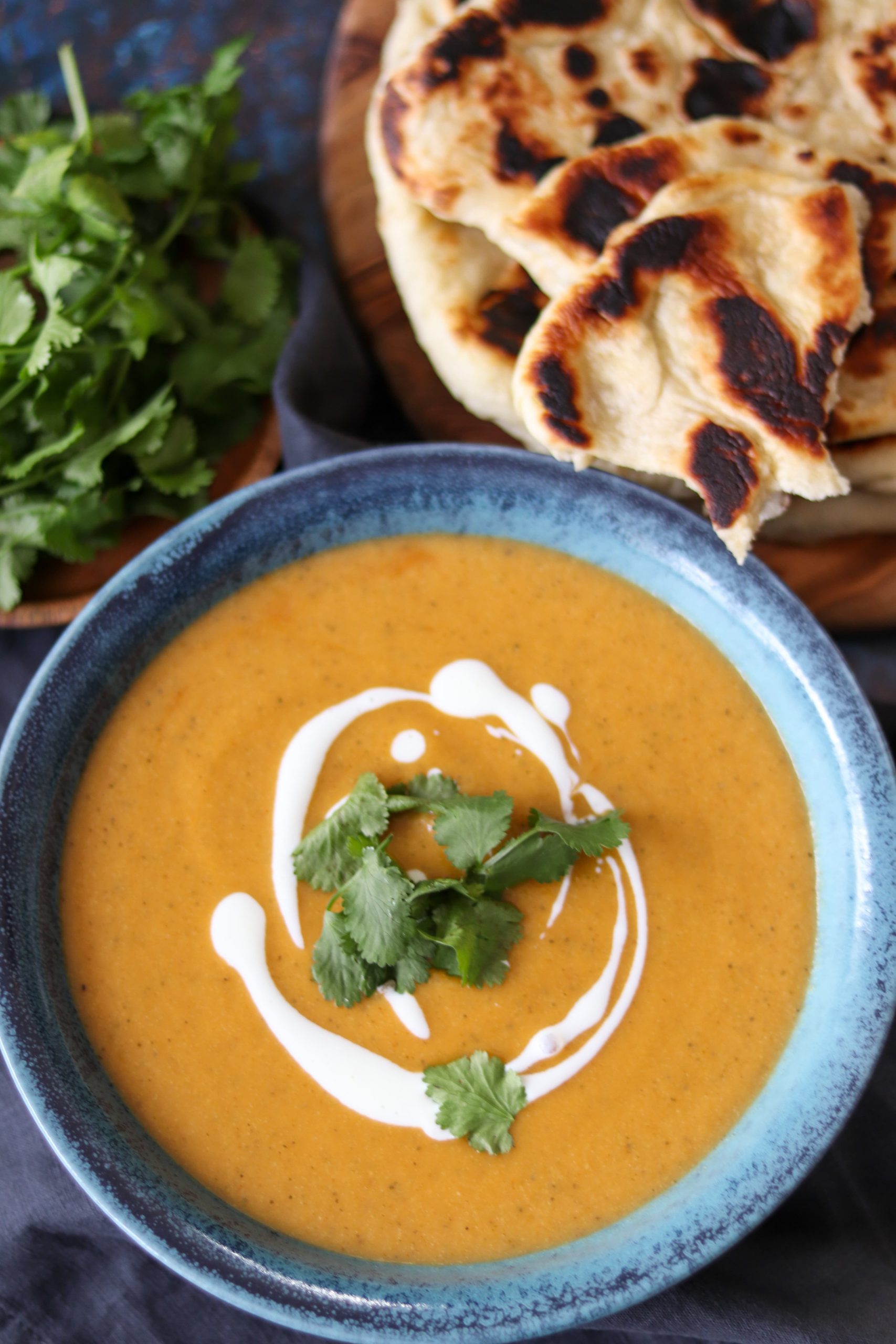 Can I still make this soup if I don't have a soup maker?
Absolutely! It is just as simple.
Start by sweating off the onions in the oil for a couple of minutes before adding the curry paste and tomato puree. Stir the curry paste through before adding in the chopped vegetables. Coat with the curry paste before adding the stock and the rest of the ingredients.
Cook until all of the vegetables are cooked through. Either use a stick blender to blend the soup or add it to a blender. I like this soup to be completely smooth.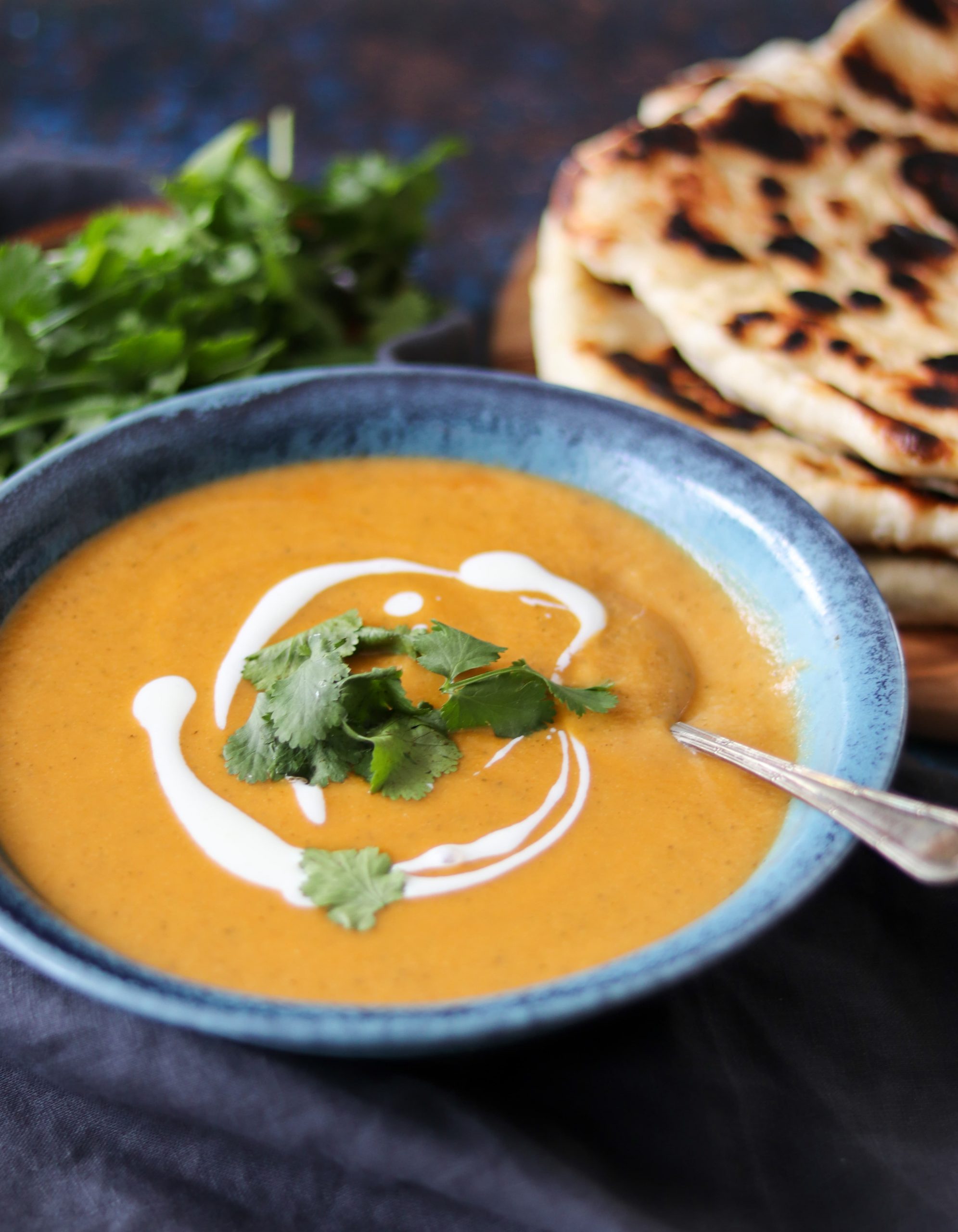 What to serve this creamy vegetable curry soup with?
Bread is essential when you are eating soup. For this soup, I really love to serve it with Homemade Garlic Naan Bread. It is the absolute perfect bread to dip into this Indian inspired soup.
I also like to serve it drizzled with some plain yogurt or cream and sprinkles with some coriander. Well that's how I serve Mr Curly's – no coriander for me!
You could also add some left over cooked shredded chicken if you wanted to make it into an even heartier meal.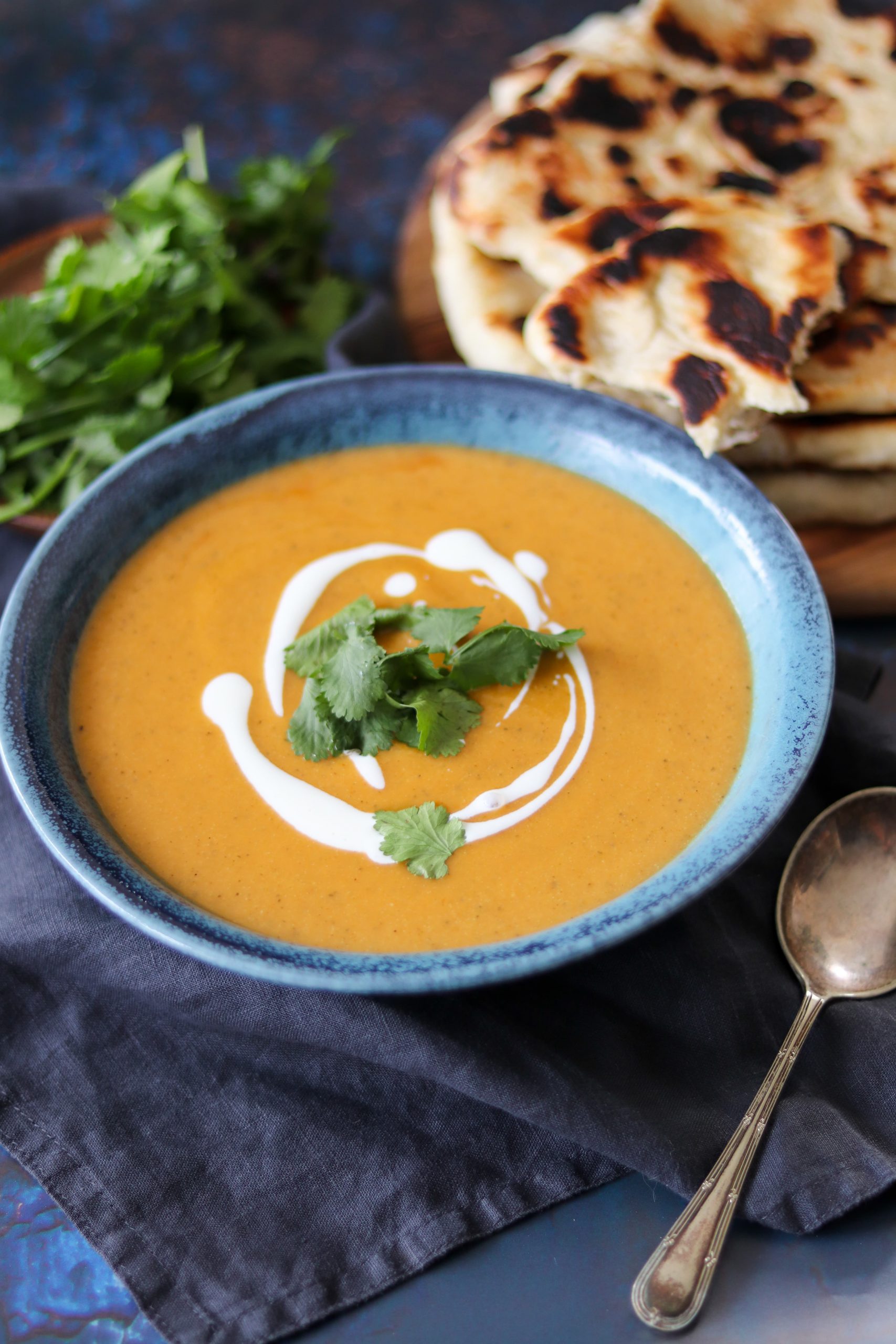 Can this soup be made vegan?
Yes, very easily! Instead of the standard milk, you could use plant based milk. Coconut milk would also work really well for this soup.
This recipe is already vegetarian and gluten free, but make sure you check the jar of curry paste to make sure if you are catering to these diets.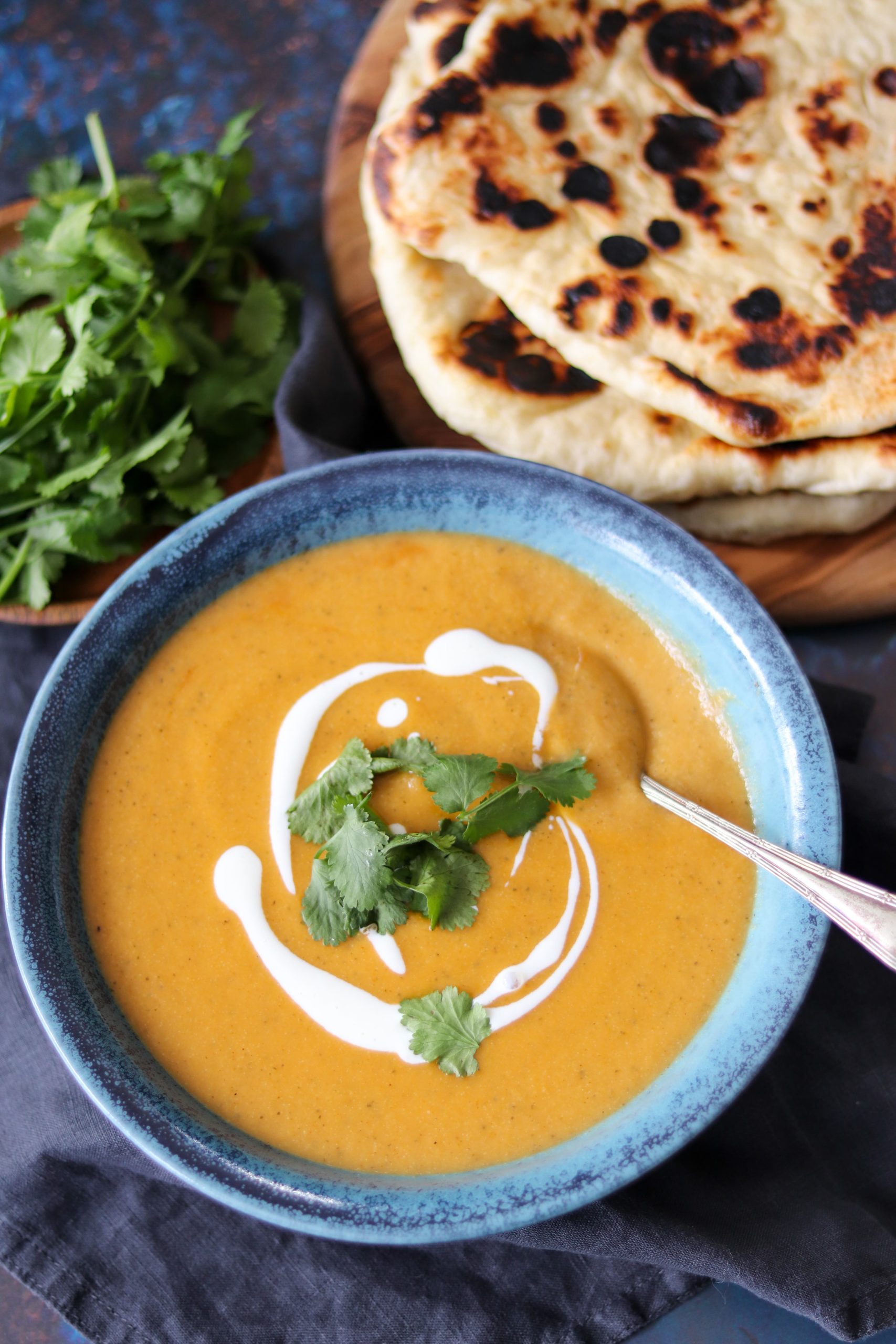 Can this soup be frozen?
This Creamy Vegetable Curry Soup freezes really well. I like to freeze it in individual portions which are great for lunches.
Make sure you freeze the soup within two hours of it finishing cooking. Take the soup out of the freezer a few hours before you want to eat it. Leave it in the fridge to defrost.
I like to reheat my soup in a pan on the hob because I can see whether the soup has become too thick or thin and adjust more easily. Make sure the soup is piping hot before serving.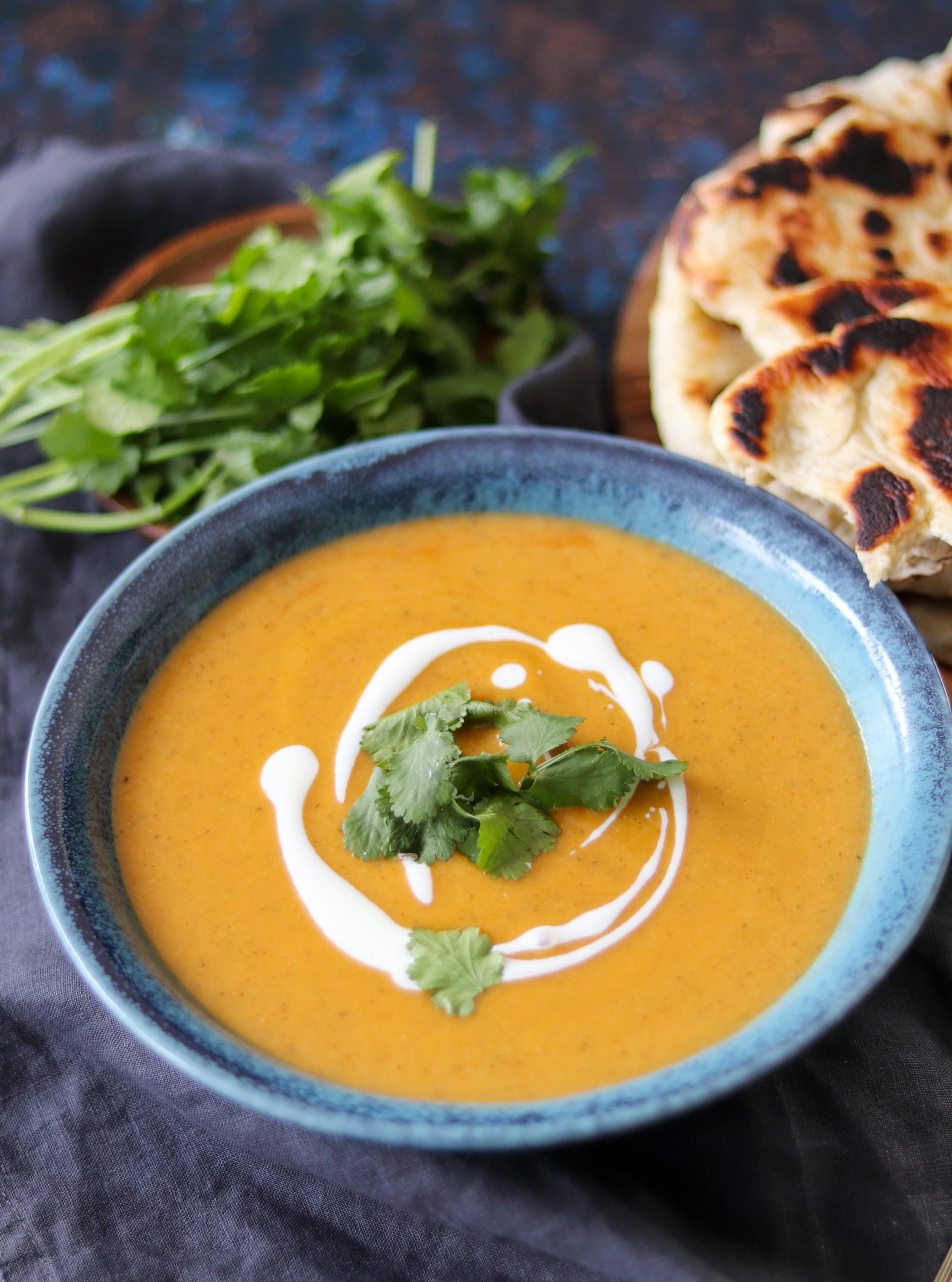 Other recipes you might like
Pin for later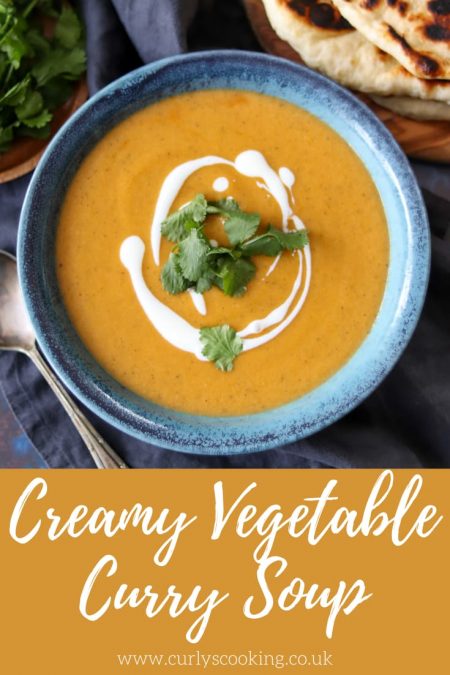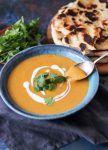 Creamy Vegetable Curry Soup
Thick, creamy and comforting soup with the delicious flavours of your favourite curry. This Creamy Vegetable Curry Soup is quick, easy and packed full of vegetables and flavour.


Ingredients
¼

tsp

sunflower oil

1

small onion

diced

2

tbsp

curry paste

(I used Tikka)

300

g

potatoes

peeled (2-3)

200

g

courgette

(1 large)

300

g

cauliflower

(1 small)

200

ml

milk

500

ml

vegetable stock

1

tsp

sea salt

¼

tsp

black pepper

1

tbsp

tomato puree
Instructions
Dice the onion and add it to your pan/soup maker along with the curry paste and oil. Stir the onions until they are coated in the curry paste

Peel the potatoes and dice them into small pieces. Slice the courgettes and break the cauliflower into small florets. Add all of the vegetables to the pan/soup along with the rest of the ingredients

If using a soup maker, set to the smooth setting and leave the machine to do the work. After the cycle has finished, taste to make sure the soup is perfectly smooth; if there are still small lumps, turn it on to run another cycle

If using a pan, cook until the vegetables have softened and then blend with a stick blender or in a liquidiser. Assuming you have cut the vegetables quite small this should take around 20 minutes
Recipe Notes
Nutritional information is given as a guide only and my vary.
Nutrition Facts
Creamy Vegetable Curry Soup
Amount Per Serving
Calories 179
Calories from Fat 36
% Daily Value*
Fat 4g6%
Cholesterol 7mg2%
Sodium 1518mg66%
Potassium 997mg28%
Carbohydrates 26g9%
Protein 8g16%
Vitamin A 2199IU44%
Vitamin C 73mg88%
Calcium 152mg15%
Iron 4mg22%
* Percent Daily Values are based on a 2000 calorie diet.
Linking to