What this Vegetable & Red Lentil Curry lacks in beauty it makes up for in taste! Deliciously comforting curry packed with loads of vegetables makes this a tasty and healthy all in one dinner.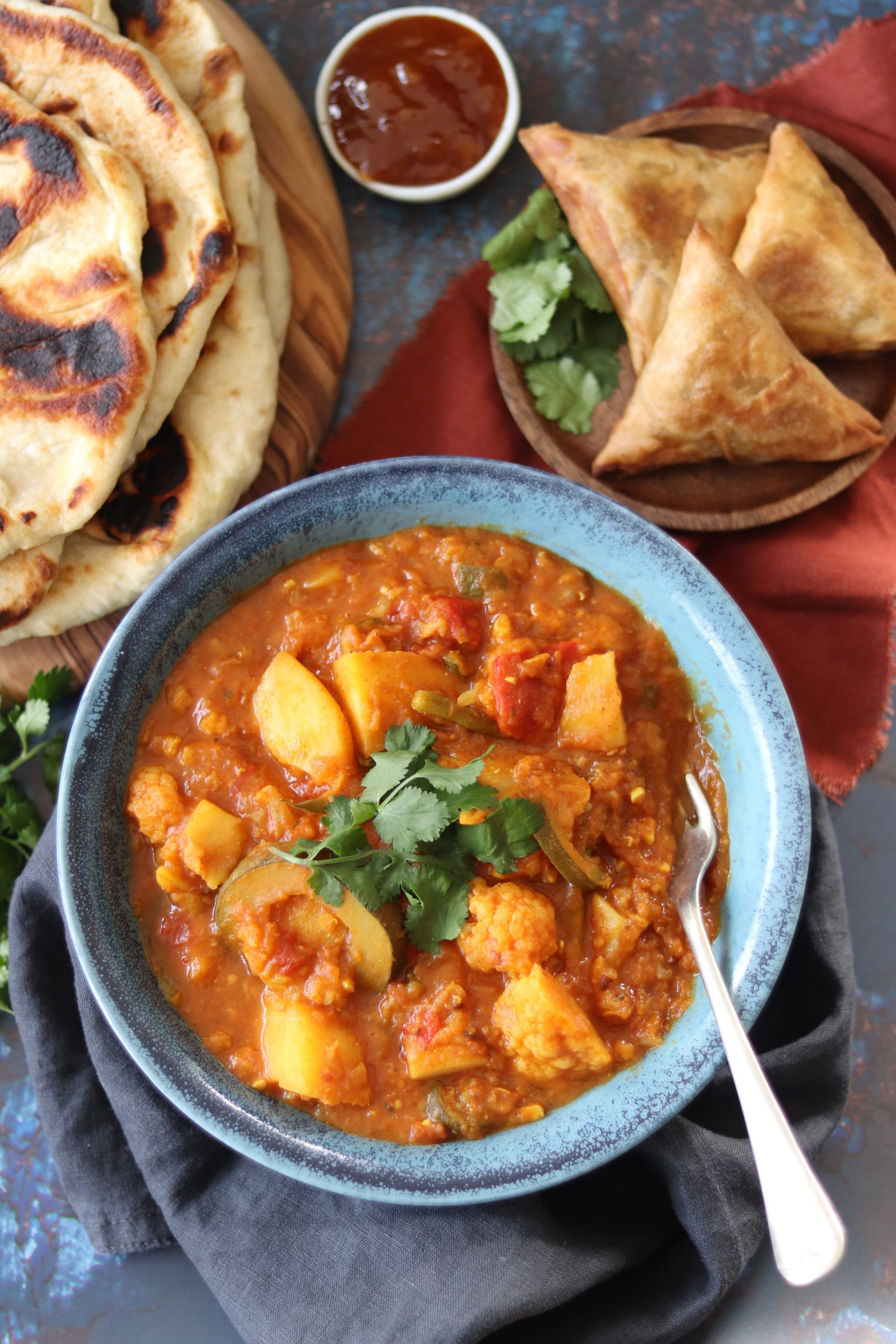 An extremely flexible vegan recipe
This Vegetable & Red Lentil Curry is so flexible and really lends itself to being adapted to what vegetables you like and how spicy you like it.
It is a perfect meal to make when you have a few vegetables left over in your fridge that may not be at their peak freshness but you want to use them instead of letting them go to waste.
This is one of my favourite ways of cooking – having a look at what you have in the fridge and cupboards that needs using up and creating something delicious. This curry is the perfect dish for this type of cooking.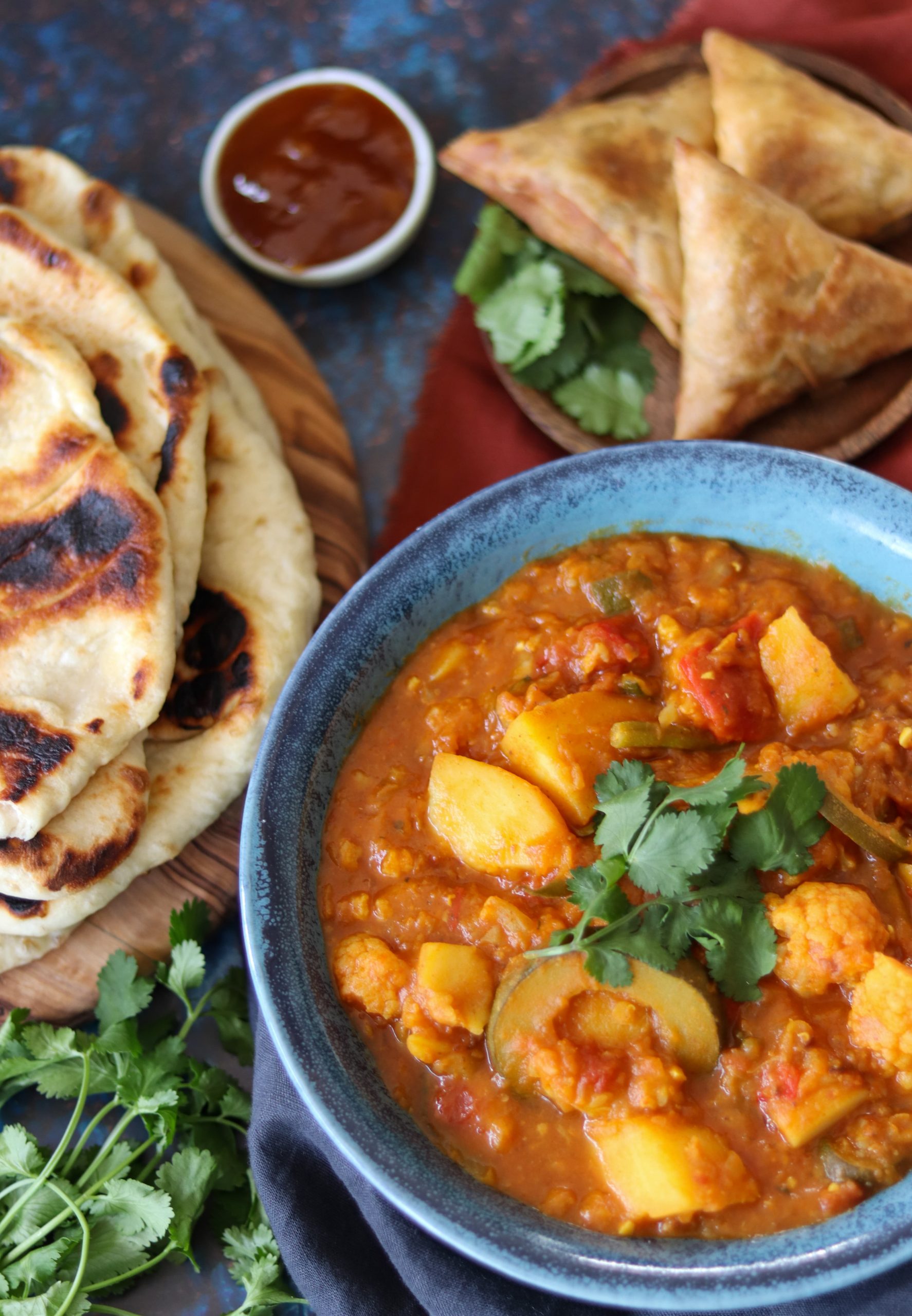 Which vegetables work well in this Vegetable & Red Lentil Curry?
You can use whatever vegetables you like, but for me the staples are potatoes, courgettes and cauliflower. My Mum used to make this for us and those were the vegetables she always used.
Although these are the staple vegetables for me, you can add any number of other vegetables that you like. Peppers and green beans are vegetables I almost always have in the house so I like to add these.
I've also added in fresh tomatoes just because I have had them to hand. You could add sweet potato if you fancy it or spinach right at the end of cooking.
It really is so flexible not only with the vegetables you can use, but also because the quantities of each are also really flexible.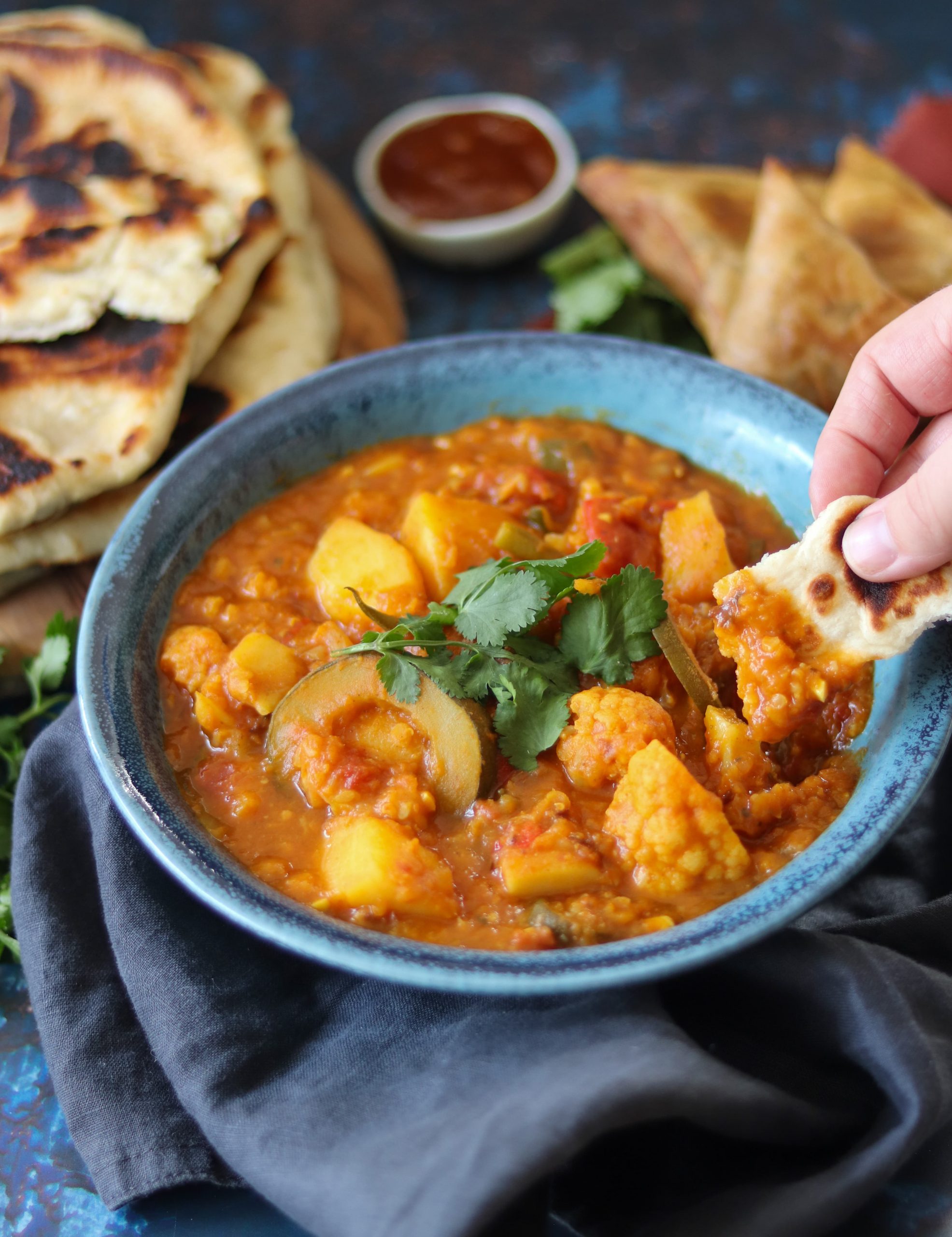 Advantages of cooking with lentils
Lentils are not something I have eaten or cooked with previously. So they were on my list to use more in cooking.
Lentils work so well in this curry because not only do they help bulk out the dish and make it more filling; they also help thicken the curry too!
They are a great ingredient to have in the cupboard that can be added to this curry as an inexpensive way to help it stretch further.
Some people rinse their lentils before adding them to the dish. This isn't something I tend to do, but you do just want to give them a quick check over to make sure there is nothing unexpected in there.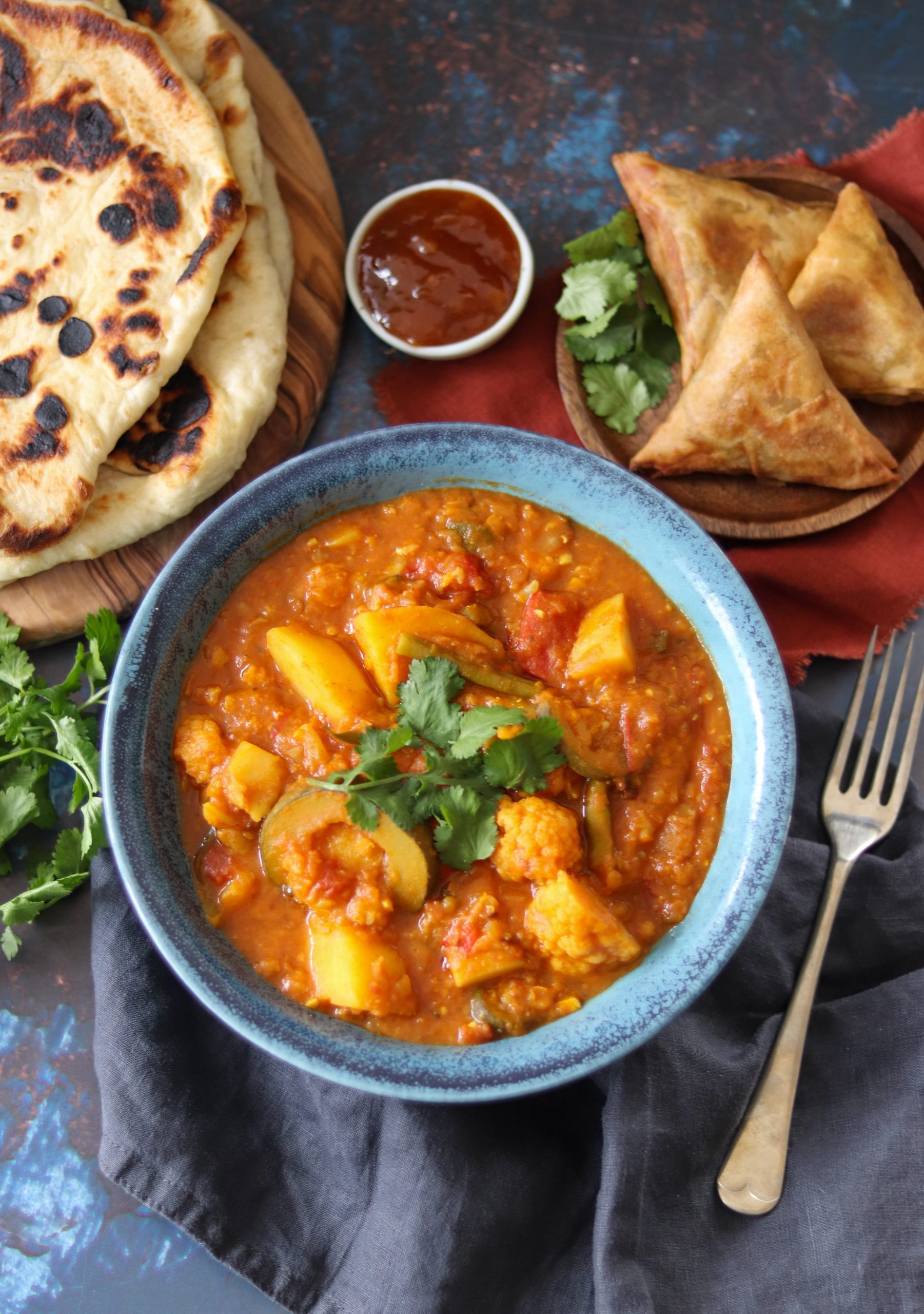 Do you need to wash the lentils before adding them to the curry?
It is recommended that you give them a quick wash before adding your lentils to the curry. This gets rid of any dust or dirt that may have found their way into the lentils.
It isn't the end of the world if you forget, but definitely something to try and remember.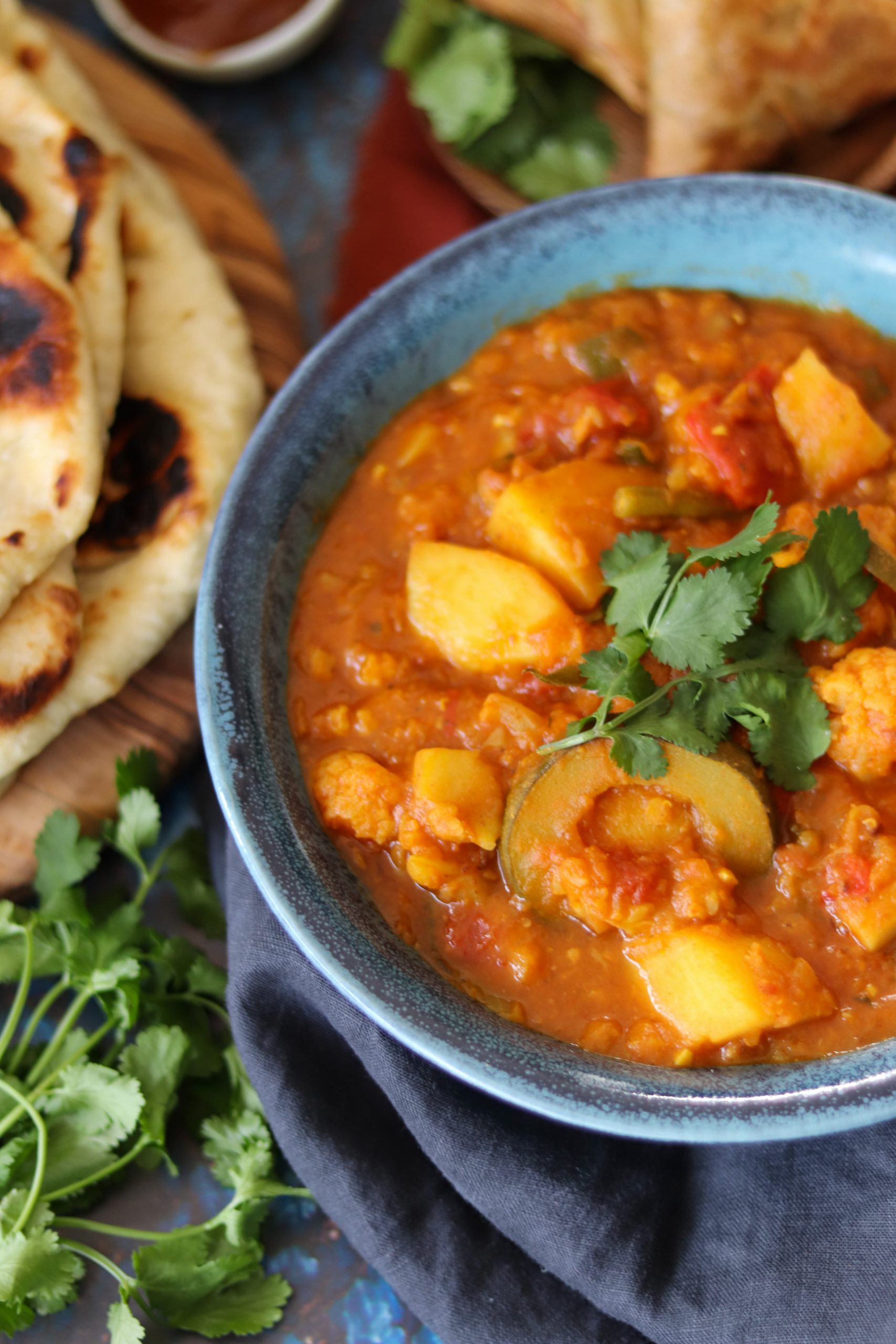 How spicy is this curry?
This curry is relatively mild, however this does largely depend upon the curry paste that you use.
I tend to use a Tikka or Balti curry paste as these are usually considered to be a medium spice level. I think these are a good spice level for the whole family to enjoy.
However if you would like to make this curry really mild, use something like a Korma curry paste.
If you do prefer a bit more spice you can Madras curry paste. You could also add a chopped chilli or chilli powder if you wanted to add more spice.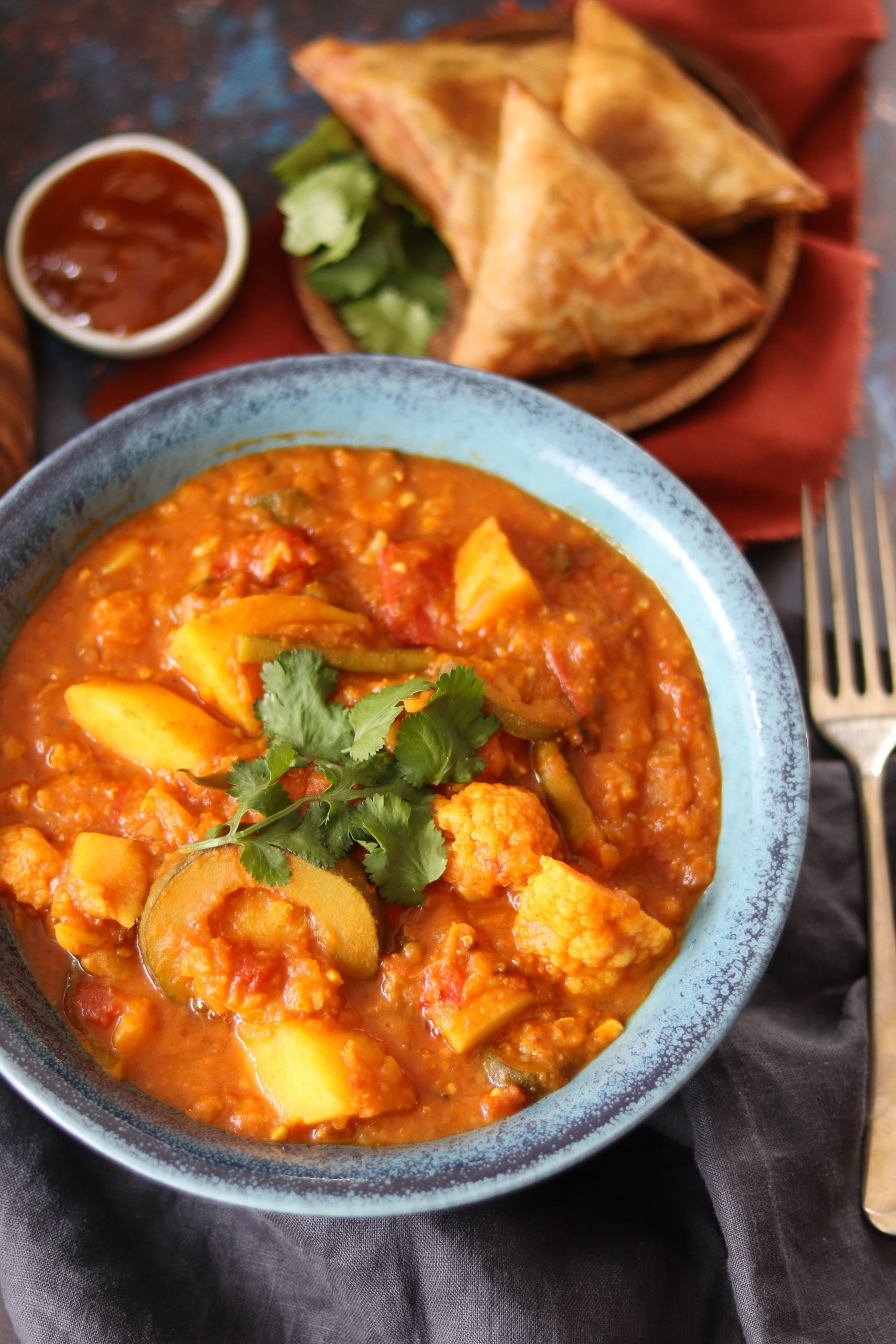 suitable for lots of different dietary needs
This Vegetable & Red Lentil Curry is not only vegetarian but vegan and gluten free too! I love dishes like this that naturally cater to a lot of people's diets.
Just make sure that you check your curry paste to check it meets your dietary needs first.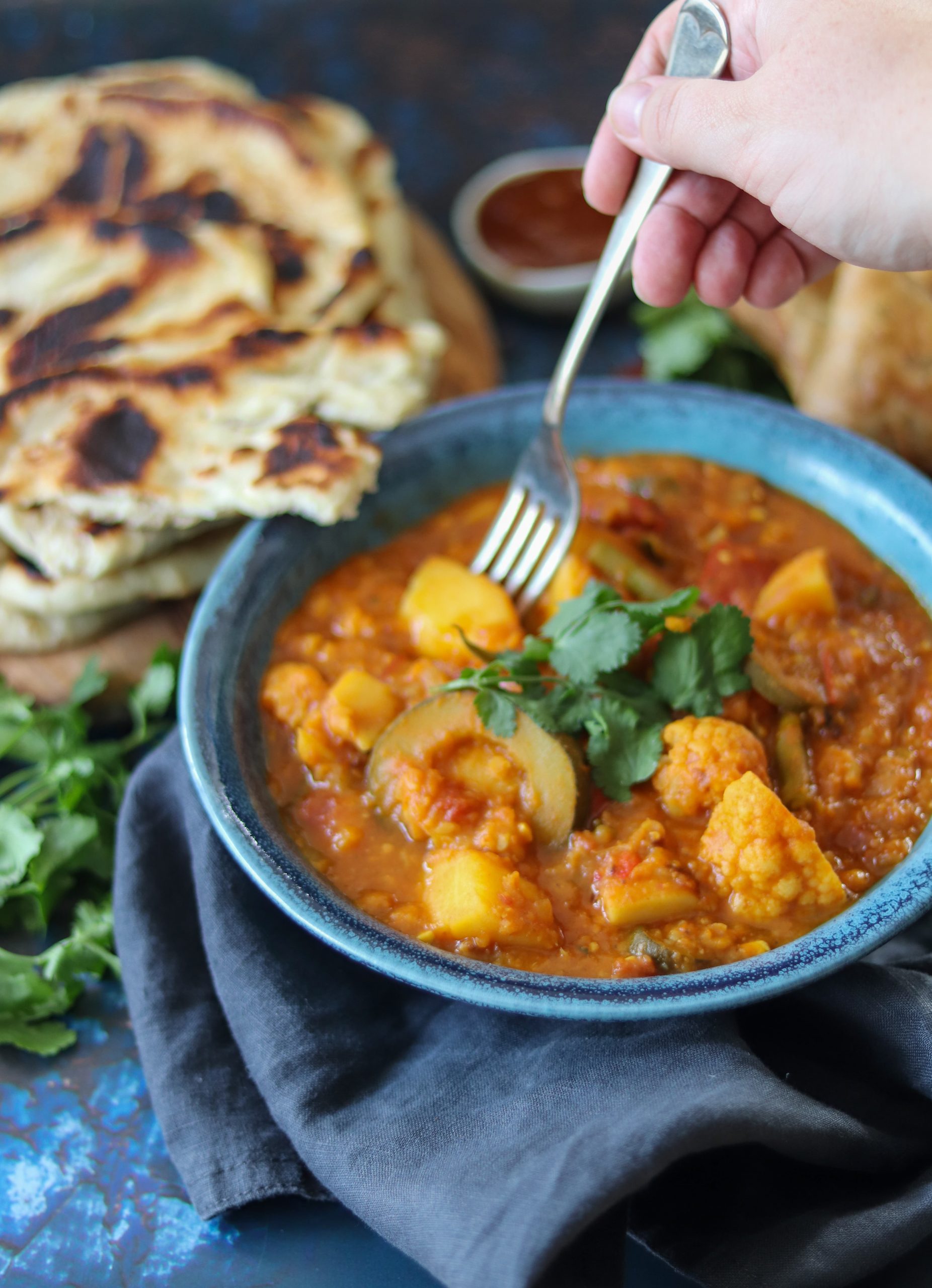 Catering for a crowd
This Vegetable & Red Lentil Curry is the perfect meal to cook when you are catering for a crowd.
I often use my biggest pan and fill it to make a huge batch of this curry. It is a recipe that can be turned to a low heat and cooked really slowly without much intervention.
It is also easily reheated too so you could cook it in advance and heat it through when your guests arrive.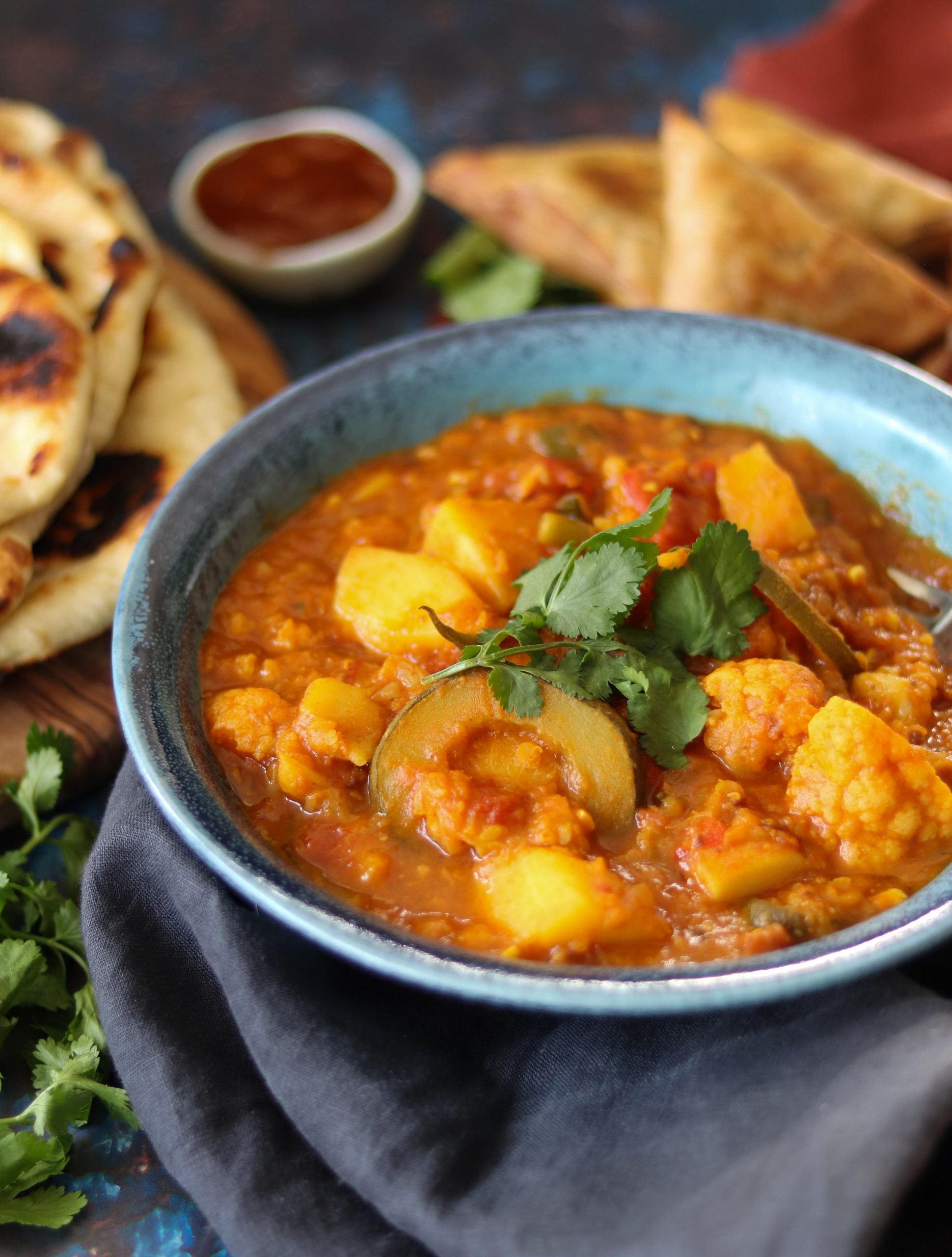 Does this Vegetable & Red Lentil Curry Freeze well?
Another great thing about this recipe is you make a big batch and freeze it.
I freeze it in dinner sized portions for a quick week night dinner; but also individual lunch sized portions which are perfect for me to defrost and take in to heat at work.
When you defrost the curry, leave it to defrost in the fridge for 8 hours or overnight. I like to reheat it in a pan so I can see whether it needs a splash of water; but you can reheat it in the microwave. Make sure it it piping hot before serving.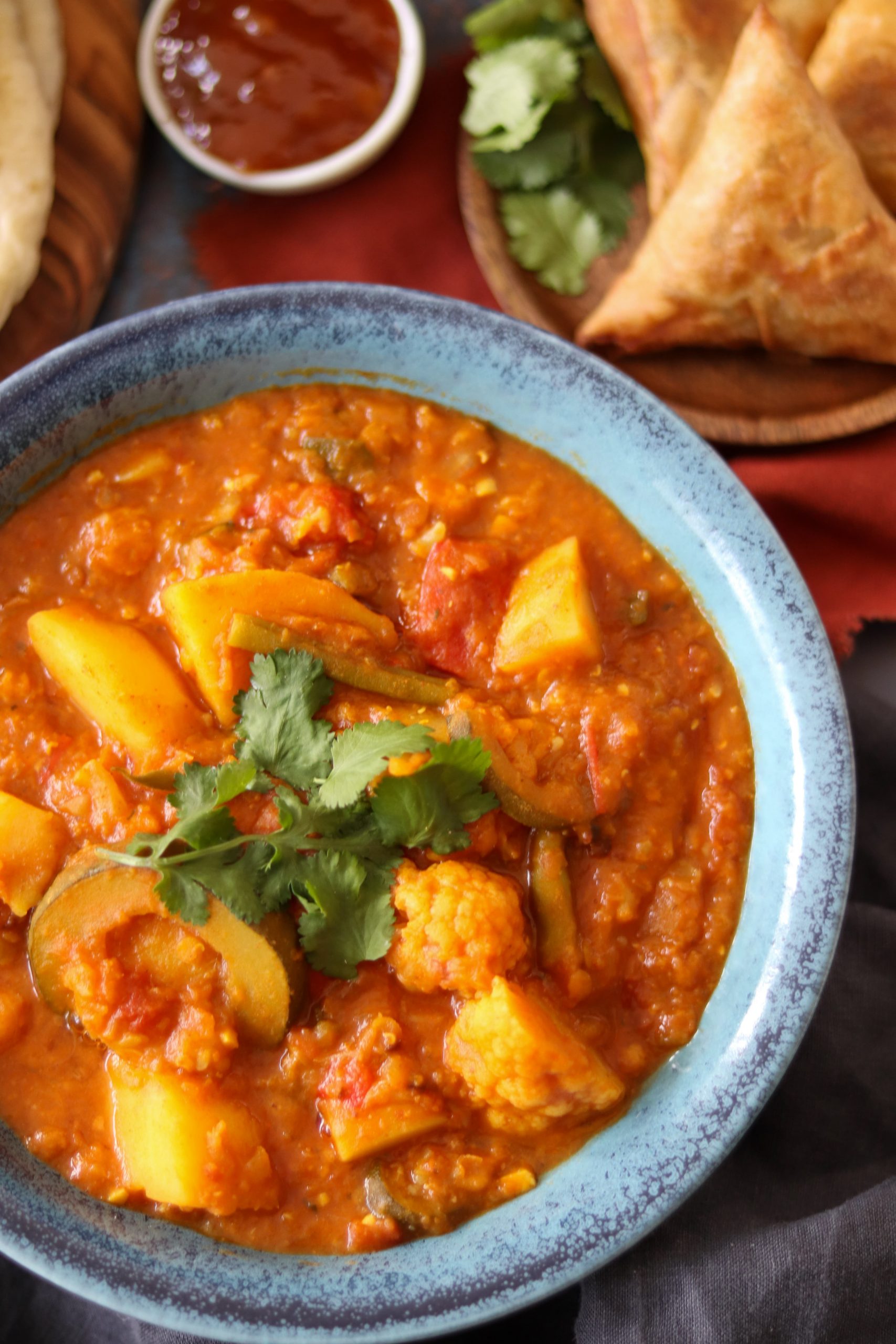 What to serve with this curry
I always serve this Vegetable & Red Lentil Curry with mango chutney because I think it is one of the most delicious condiments ever made!
As you have the potatoes, you don't necessarily need rice. I do like to serve it with some poppadoms to dip into the delicious and comforting soft vegetables in the curry.
I would definitely recommend making Apply To Face's Homemade Naan Bread. Once you make them you will keep finding excuses to make them again!
You could also serve some Air Fryer Chicken Tikka alongside the curry if you don't want to keep the meal meat free.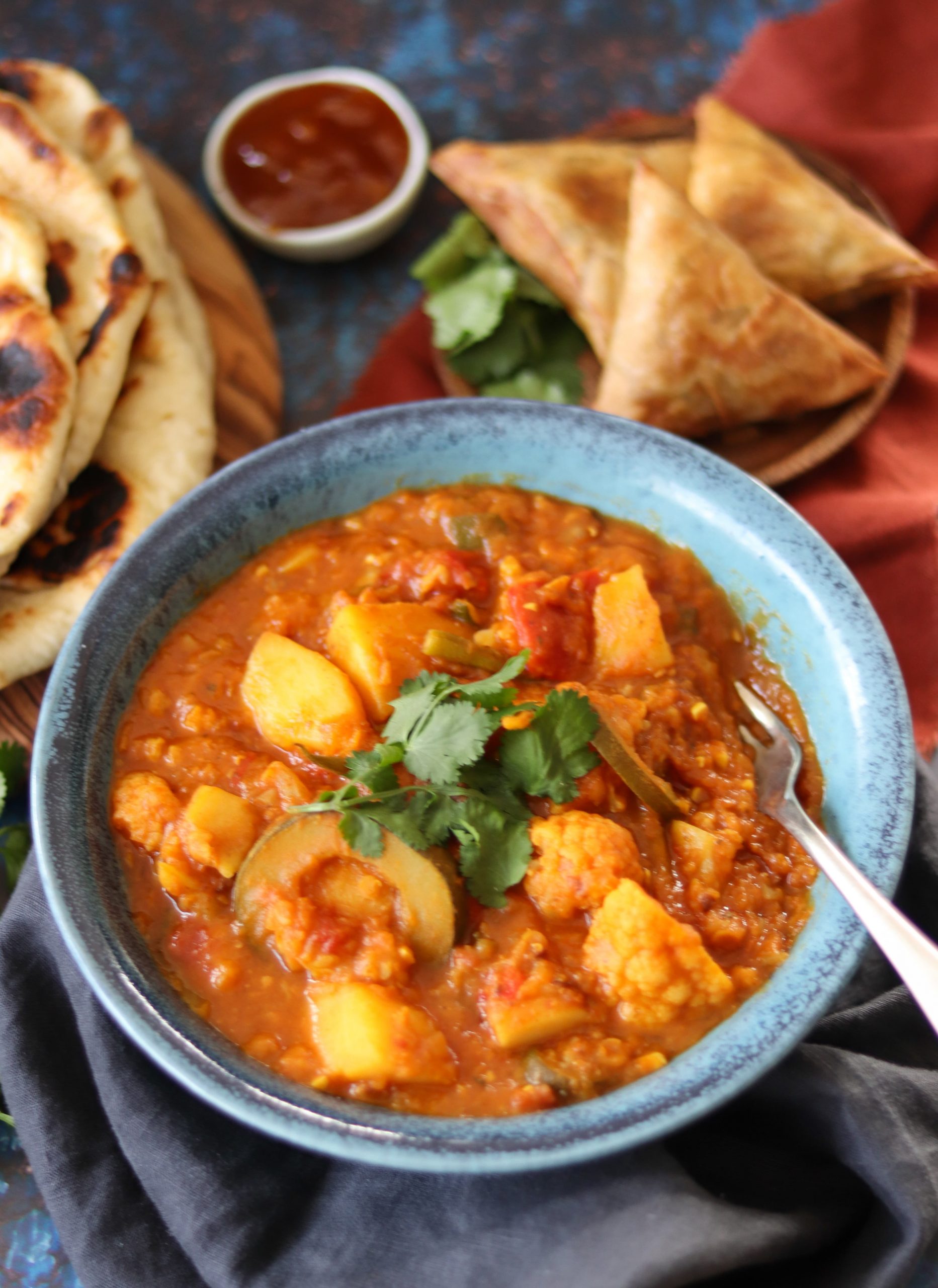 Other recipes you might also enjoy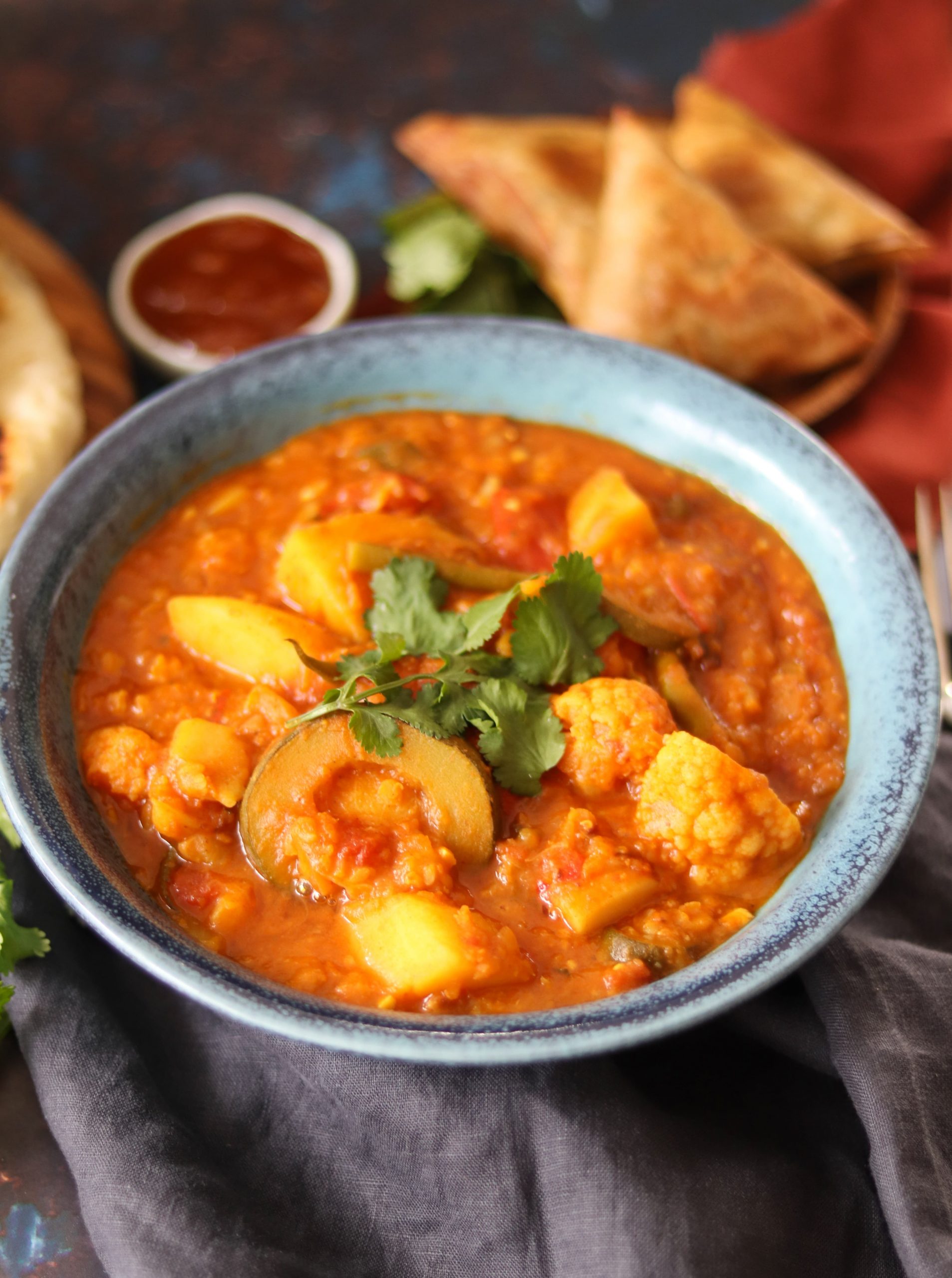 Pin for later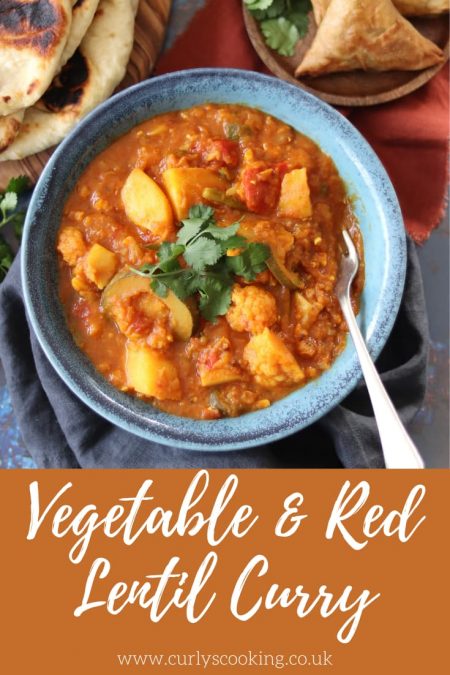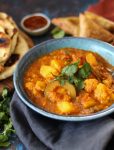 Vegetable & Red Lentil Curry
What this Vegetable & Red Lentil Curry lacks in beauty it makes up for in taste! Deliciously comforting curry packed with loads of vegetables makes this a tasty and healthy all in one dinner.
Total Time
2
hours
30
minutes
Ingredients
2

tsp

vegetable oil

1

large

onion

diced

4

tbsp

curry paste

3

cloves

garlic

minced

500

g

potates

peeled and cut into chunks

400

g

courgette

sliced

1

cauliflower

cut into florets

1

large

pepper

cut into chunks

250

g

green beans

2 x 400

tins

chopped tomatoes

1

tbsp

tomato puree

800

ml

vegetable stock

250

g

split red lentils

rinsed in cold water

1 ½

tsp

sea salt

½

tsp

black pepper

chopped fresh coriander
Instructions
Add the oil to a large pan over a medium heat. Once the oil has warmed, add the onion and garlic and allow to sweat for a couple of minutes stirring occasionally to make sure it doesn't burn

Add the curry paste and stir to coat the onions

Add all of the vegetables and stir again to coat them in the curry paste. Add the tomato puree, tinned tomatoes, vegetable stock, lentils, salt and pepper

Let the stock come to the boil and then reduce the temperature to medium and allow to gently bubble away covered with a lid

Stir the soup every 20 minutes or so to make sure the curry isn't sticking to the bottom of the pan. If it is sticking or becoming too thick before the vegetables and lentils are cooked, add some water

Cook for around 2 hours or until all of the vegetables and lentils are soft and the stock has reduced and thickened

Serve sprinkled with coriander
Recipe Notes
Add up to 500ml more water throughout the cooking process if needed.
Nutritional information is given as a guide only.
Nutrition Facts
Vegetable & Red Lentil Curry
Amount Per Serving
Calories 296
Calories from Fat 27
% Daily Value*
Fat 3g5%
Sodium 1384mg60%
Potassium 723mg21%
Carbohydrates 18g6%
Protein 4g8%
Vitamin A 2750IU55%
Vitamin C 79.9mg97%
Calcium 84mg8%
Iron 1.7mg9%
* Percent Daily Values are based on a 2000 calorie diet.