Quick, really tasty and packed full of flavour. My Mexican Eggs are great for brunch, lunch or dinner and is one of my go-to quick meal favourites.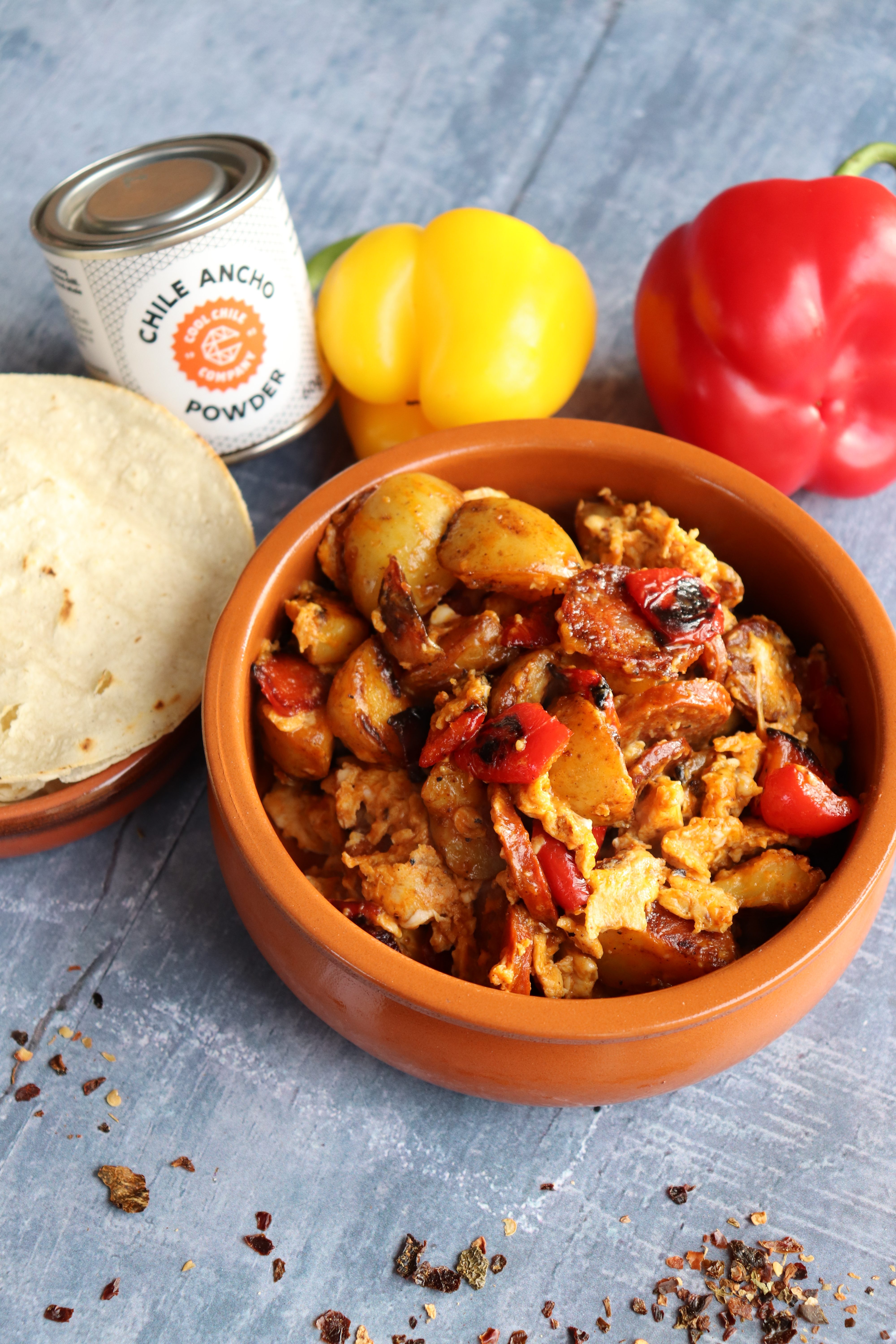 This is the first recipe I think of making when Mr Curly is away and I'm cooking for one. That isn't because he doesn't like it, it's because I think of it as a special treat just for me. You may think that sounds silly, but this is seriously good and you'll understand once you've tried it.
I came up with this recipe when I was thinking of something I could cook for dinner one night when Mr Curly was out. The majority of the time, we eat together so meals are generally frozen in portions for two; whether that is a dish made and ready to reheat, or chicken breasts. Because of this, I tend to look in the fridge and see what I can make from what I have.
These are all ingredients I more often than not have in my fridge and cupboard. I made it up as I went along and it turned out exactly as I wanted and I now make it every time Mr Curly is away.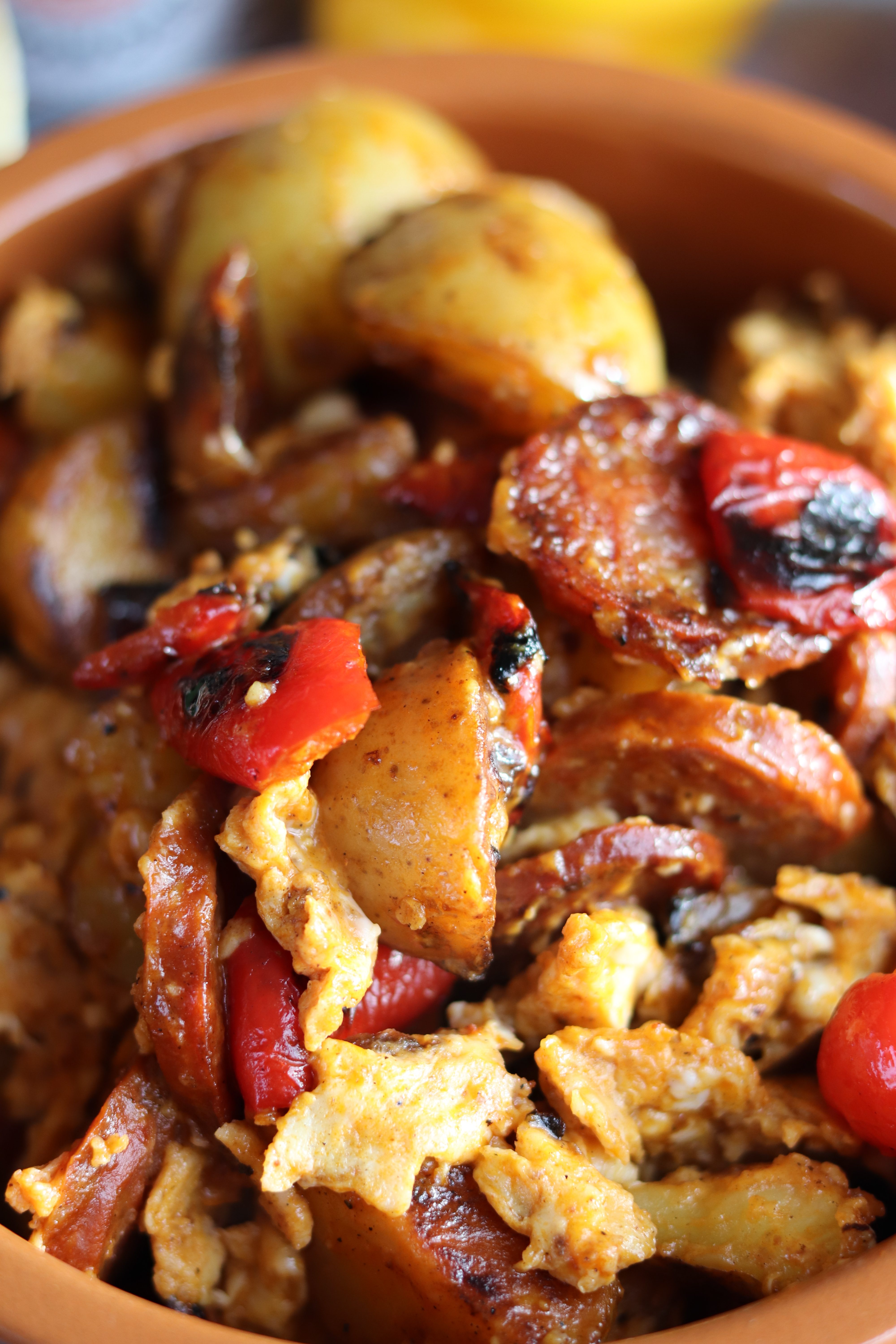 A great thing about this recipe is you can tweak it to your taste. If you don't like your food very spicy, only add a small amount of chile; but if you like it with a bit of heat, add more. I have also used a selection of chile powders which I get from the Cool Chile Co, but if you do not have them, you can just use whichever chile powders you have in your cupboard.
This recipe is delicious at any time of day and makes a great brunch, lunch or dinner dish. I love it as it is, but you can also eat it with a tortilla. I usually allow two eggs per person, but feel free to tweak this. For example you could reduce the potato and add another egg is you fancied. Obviously you can make this dish vegetarian by leaving out the chorizo, but you may need to add a little extra oil as you won't have the oil from the chorizo.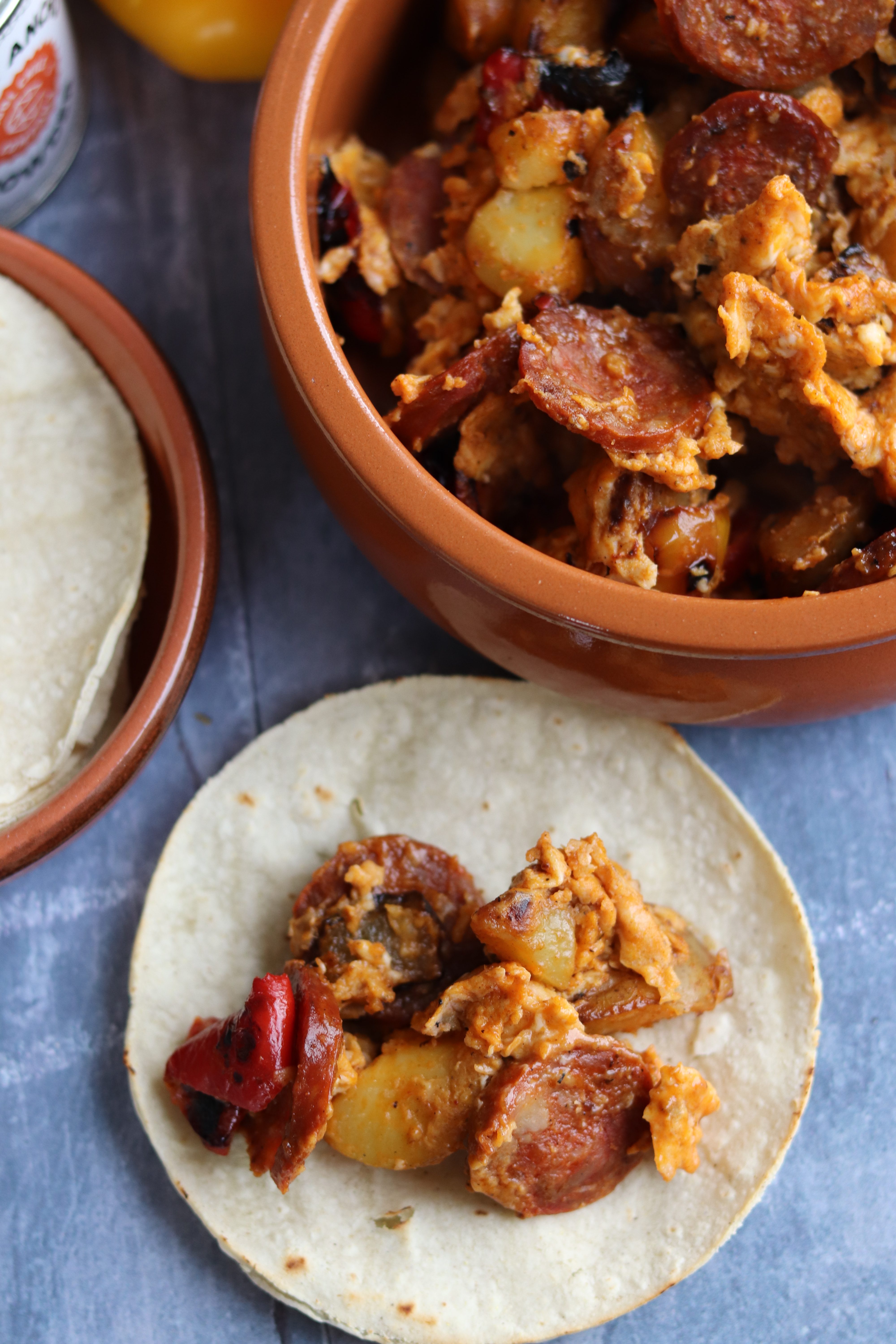 Serves 2
300g potatoes, diced
200g peppers, diced
130g chorizo, sliced
4 large eggs
¼ – ½ tsp chile powder (I used a combination of ancho, chipotle and pasilla chile)
2 tsp sunflower oil
½ tsp sea salt
1 tbsp milk
Clean the potatoes and dice them into roughly 2cm pieces – don't worry about peeling them
Boil them in salted water until they are just soft
While the potatoes are boiling, de-seed and dice the peppers into roughly the same size as the potatoes
Add 1 tsp oil to a large frying pan on a high heat and add the peppers. Cook until the peppers start to blacken
Once the potatoes have softened drain them and add them to the peppers along with another tsp of oil
Reduce the temperature to medium high and allow the potatoes to crisp up
Cook for around 10 minutes, stirring often to make sure one side doesn't get too brown
Peel the chorizo and cut into thin slices
Turn the pan down to a medium heat and add the chorizo. Let the chorizo crisp slightly but watch it because it can burn quickly
Crack the eggs in a jug or bowl and add the milk, salt and chile powders and whisk together
Turn down the heat to the lowest setting and add the egg mixture. Make sure you scrape all of the chile powder out of the jug because it has a habit of sticking to the side
Cook for a minute stirring to keep the egg moving
As soon as the egg starts to come together and look like scrambled egg, turn off the heat and the heat left in the pan will continue cooking the egg
Pin for later
Linking to