My Garlic & Lime Chicken Thighs are crisp and packed full of the delicious flavours of garlic and lime. The tasty marinade does all the work for you and you can just sit back and enjoy.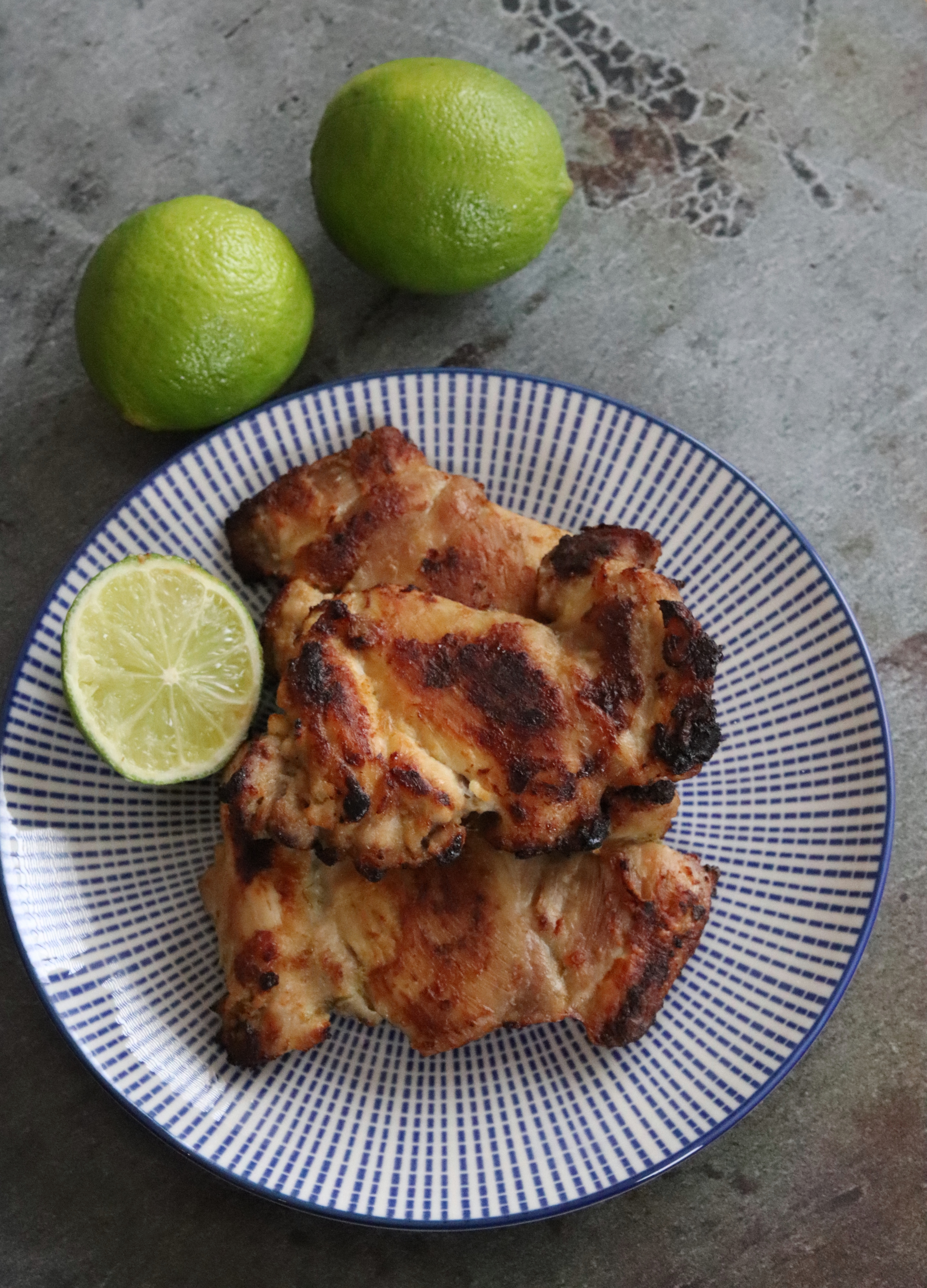 These Garlic & Lime Chicken Thighs are my version of a recipe my Mum used to make us. This recipe takes minimum effort and makes such delicious chicken so it is a win win!
I confess, I am a chicken thigh kinda girl. Whether it's roast chicken or any other chicken, I prefer the dark thigh meat. It always seems to be more moist and has more flavour than the white breast meat. Having said that, I do not like eating thighs on the bone which is why I always choose to debone the thighs before cooking.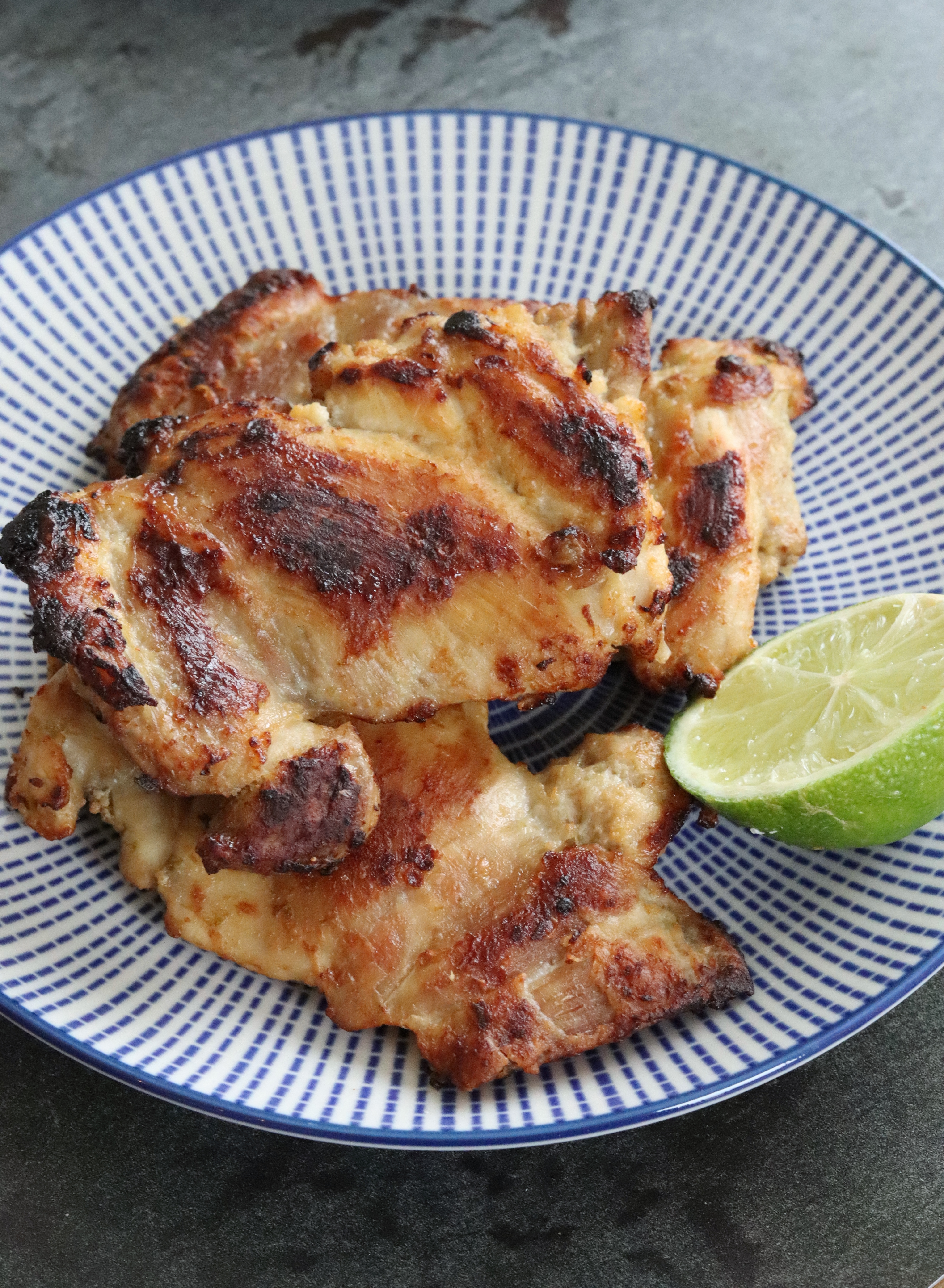 This recipe is so versatile you can use whatever cut of chicken you prefer – on or off the bone. Whether you are remove the bones yourself or you buy them already deboned; make sure you thoroughly check all of the bones have been removed as sometimes there is the odd stray small piece of bone. Also remember if you are using chicken on the bone, you will need to cook the chicken for longer to make sure it is completely cooked through.
If you would like even more delicious flavours for your Garlic & Lime Chicken Thighs, buy chicken thighs with the skin still on. This crisps up when cooking and has the tasty flavours of the marinade which makes it even better. However, if you are trying to keep this recipe as healthy as possible like I did, remove the skin and you will still have yummy chicken.
The longer this chicken marinates, the more flavour the chicken will take on. I recommend preparing this chicken in the morning and leaving it in the fridge for around six hours. If you leave it for longer than this, the lime juice could start to 'cook' the chicken so it may start to turn white.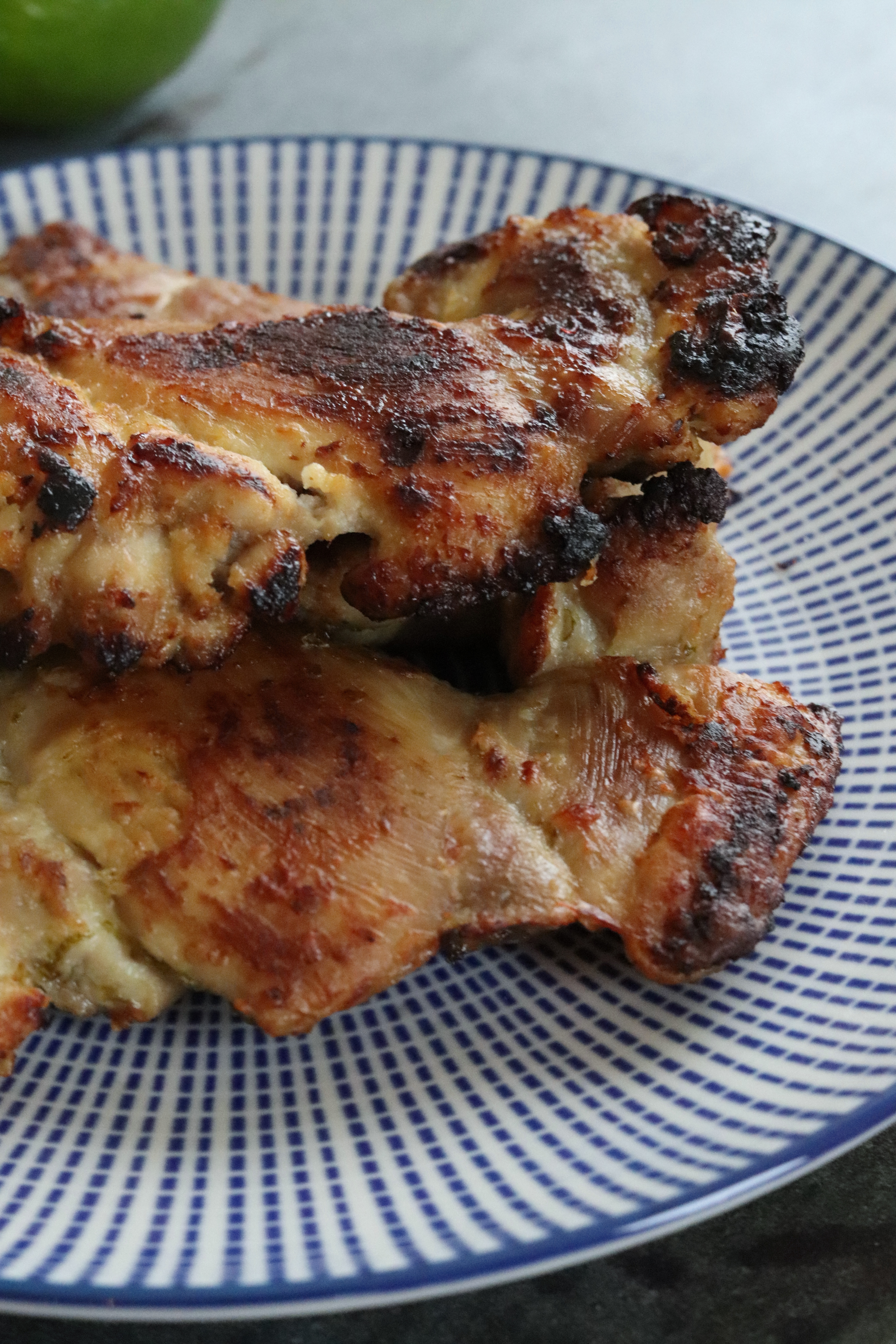 I love cooking these Garlic & Lime Chicken Thighs on the BBQ where you can get lovely char marks and crisp the chicken up. But as the British weather is incredibly unpredictable, you can bake this in the oven just as easily. This also means you can enjoy the chicken all year round.
Eat these Garlic & Lime Chicken Thighs hot or cold; either is very tasty. They can be served in so many different ways but I like to make a lightly spiced lime mayo that mirrors most of the flavours in the chicken. The chicken and lime mayo go really well with some salad in a flat bread which is one of my favourite ways to eat them.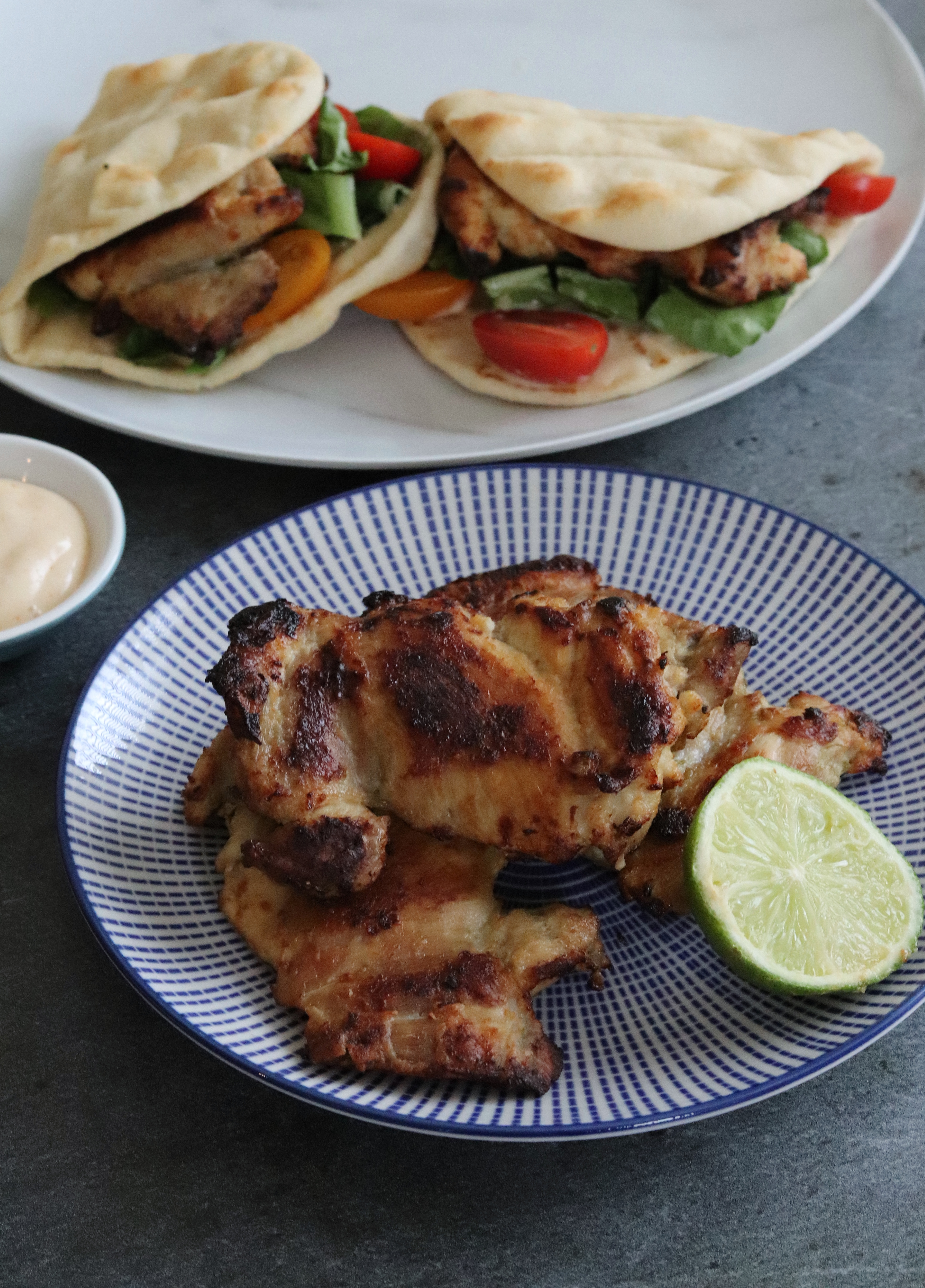 Serves 2
500g chicken thighs, deboned
Zest of 2 limes
2 tbsp lime juice
3 tbsp olive oil
1 tsp sea salt
2 – 3 garlic cloves, minced
Lime Mayo
50g light mayonnaise
¼ tsp garlic, minced
Pinch of sea salt
1 tsp lime juice
Pinch of chile powder (I used chipotle)
Debone the chicken thighs if they aren't already and add them to a dish or a seal-able sandwich bag
Add the rest of the marinade ingredients to the chicken and mix thoroughly. Allow to marinate for up to 6 hours
Cook on the BBQ or in an oven set to 190ºC (fan assisted 210ºC non fan) for 20-25 mins turning half way
For the lime mayo, mix all of the ingredients together in a bowl and serve with the chicken
Pin for later
Linking to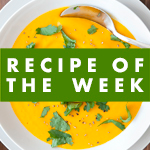 Fiesta Friday cohosted by Lizet @ Chipa by the dozen and Jhuls @ The Not So Creative Cook