Meringue Kisses are really easy to make and look so pretty. They are great in a dessert but also to add something extra special to a celebration cake.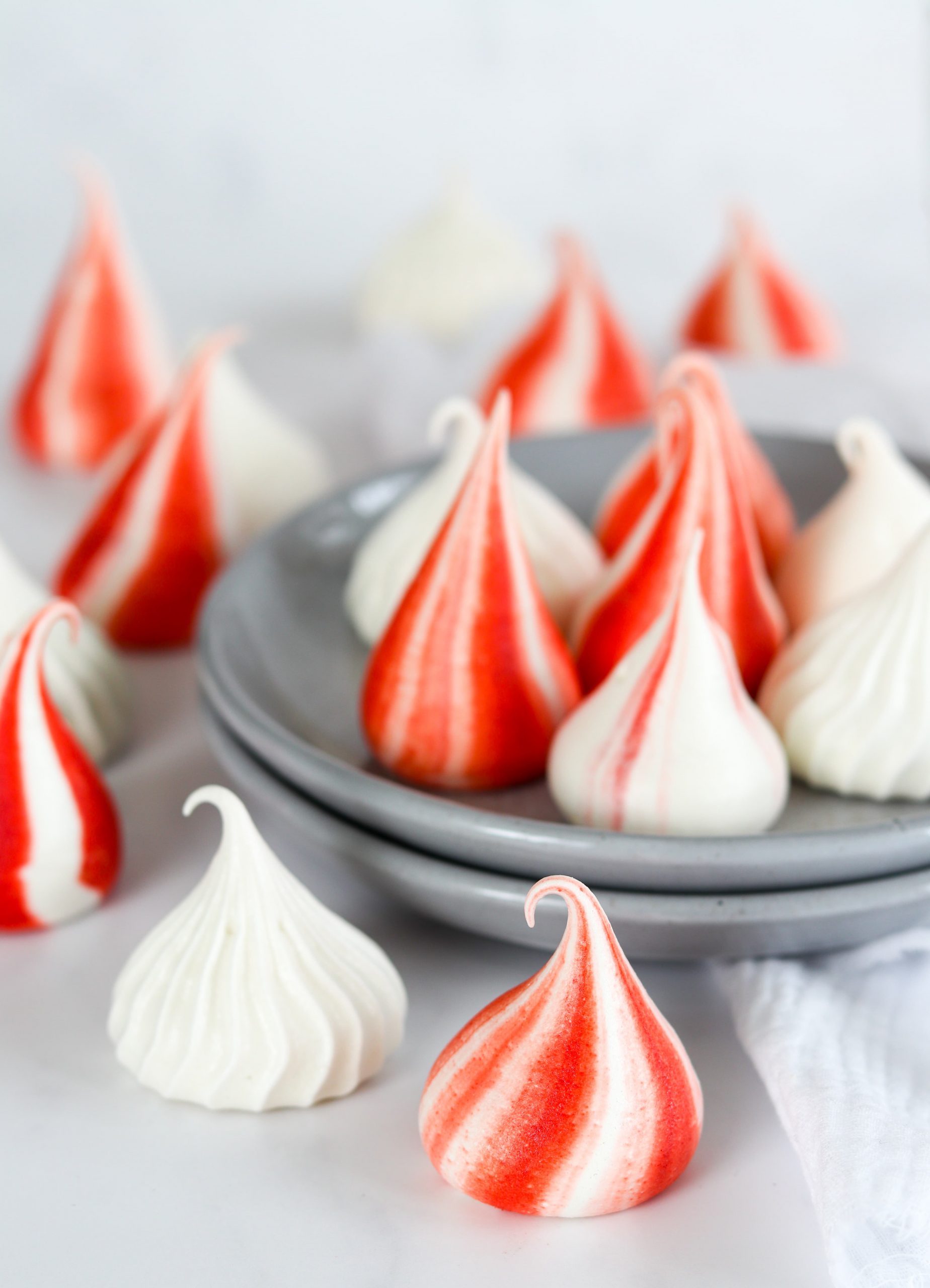 Making meringue kisses for the first time
I have admired Meringue Kisses for a few years now. I know that sounds weird, but I love how cute they look but have never made them. Finally I bit the bullet and decided to make them to decorate the Raspberry & Mascarpone Layer Cake I made for my sister's birthday.
As it was the first time I made them, I followed a recipe. I don't know whether I was doing something wrong, but they didn't turn out great. They were yellow in colour and tasted like the sugar was burnt.
I don't know whether this was because the recipe called for heating the sugar in the oven before adding it to the egg whites, or whether it was because the oven temperature was quite high; or a combination of the two!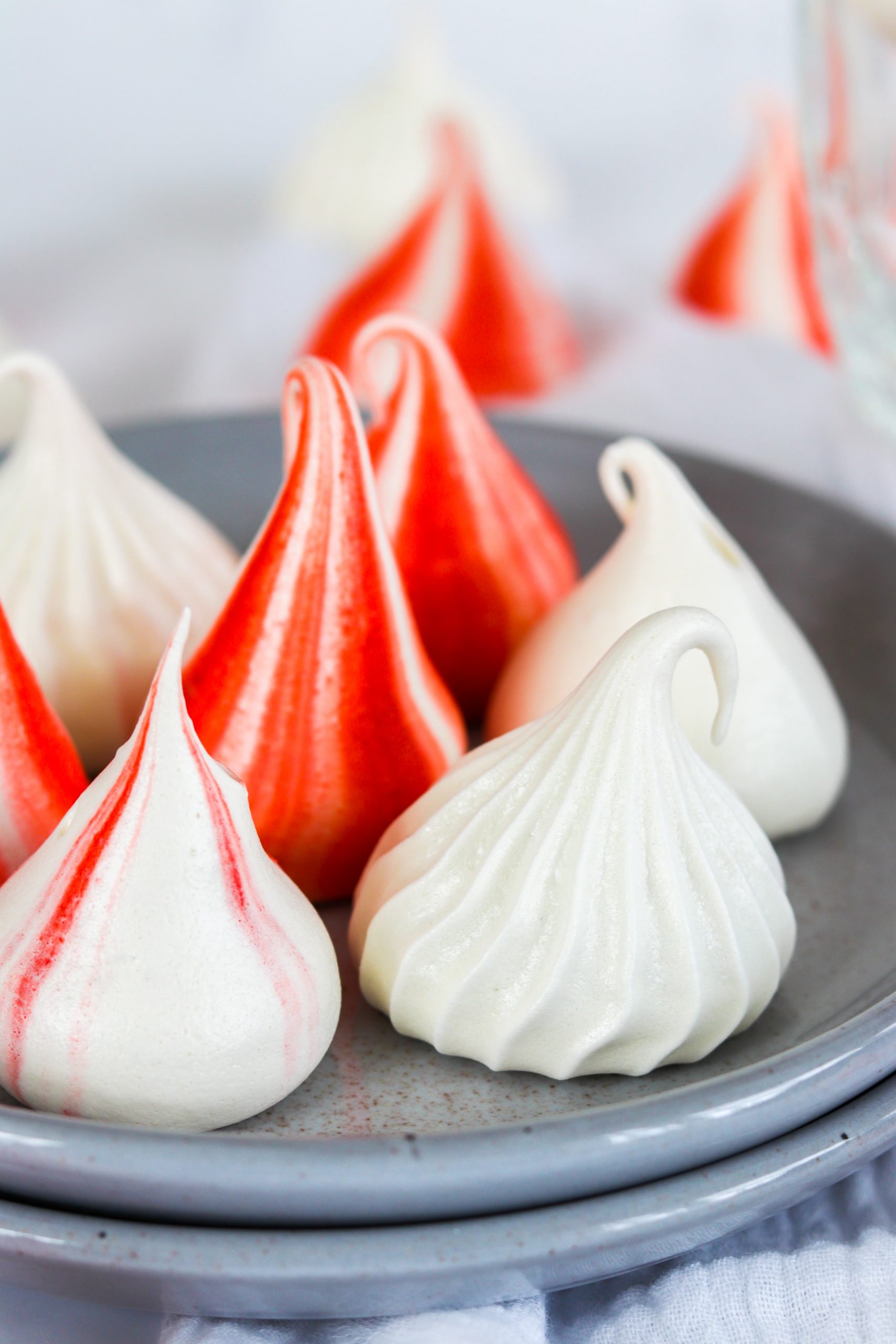 Tapping into my sister's Meringue Kisses knowledge
My sister didn't know I was making the for her cake, so I showed her my failed attempt. At the time I didn't realise she had secret meringue knowledge!
She used to work in a school and had the pleasure of a term of making meringues in food tech. I showed her the recipe I had used and she said they had tried lots of recipes and the best ones didn't heat up the sugar and cooked the meringues at a far lower temperature.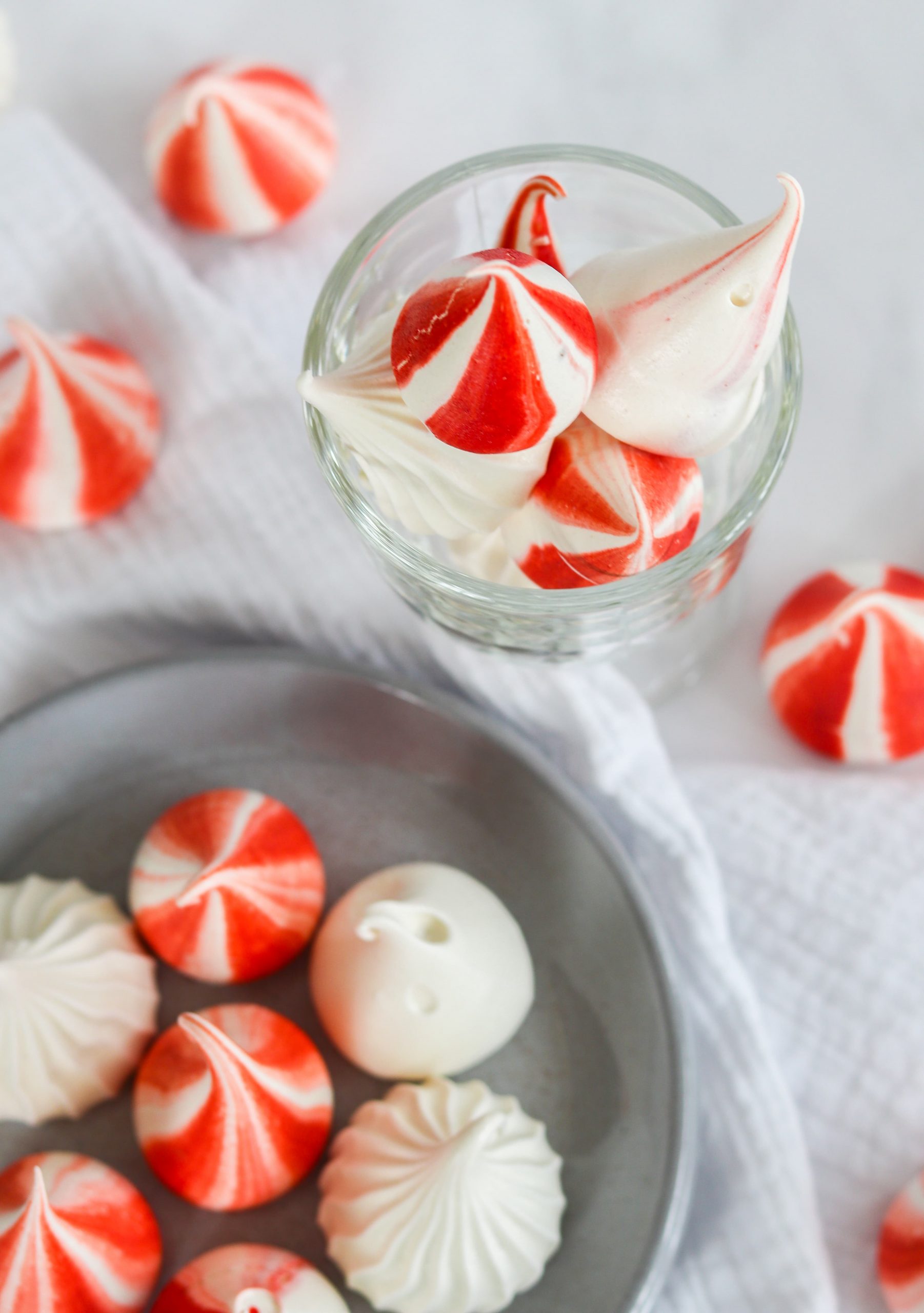 Creating my own recipe
So with my sister's help, I ditched the recipe and came up with my own. It's not ground breaking stuff, but this recipe works really well for me and produces the incredibly cute Meringue Kisses I was looking for.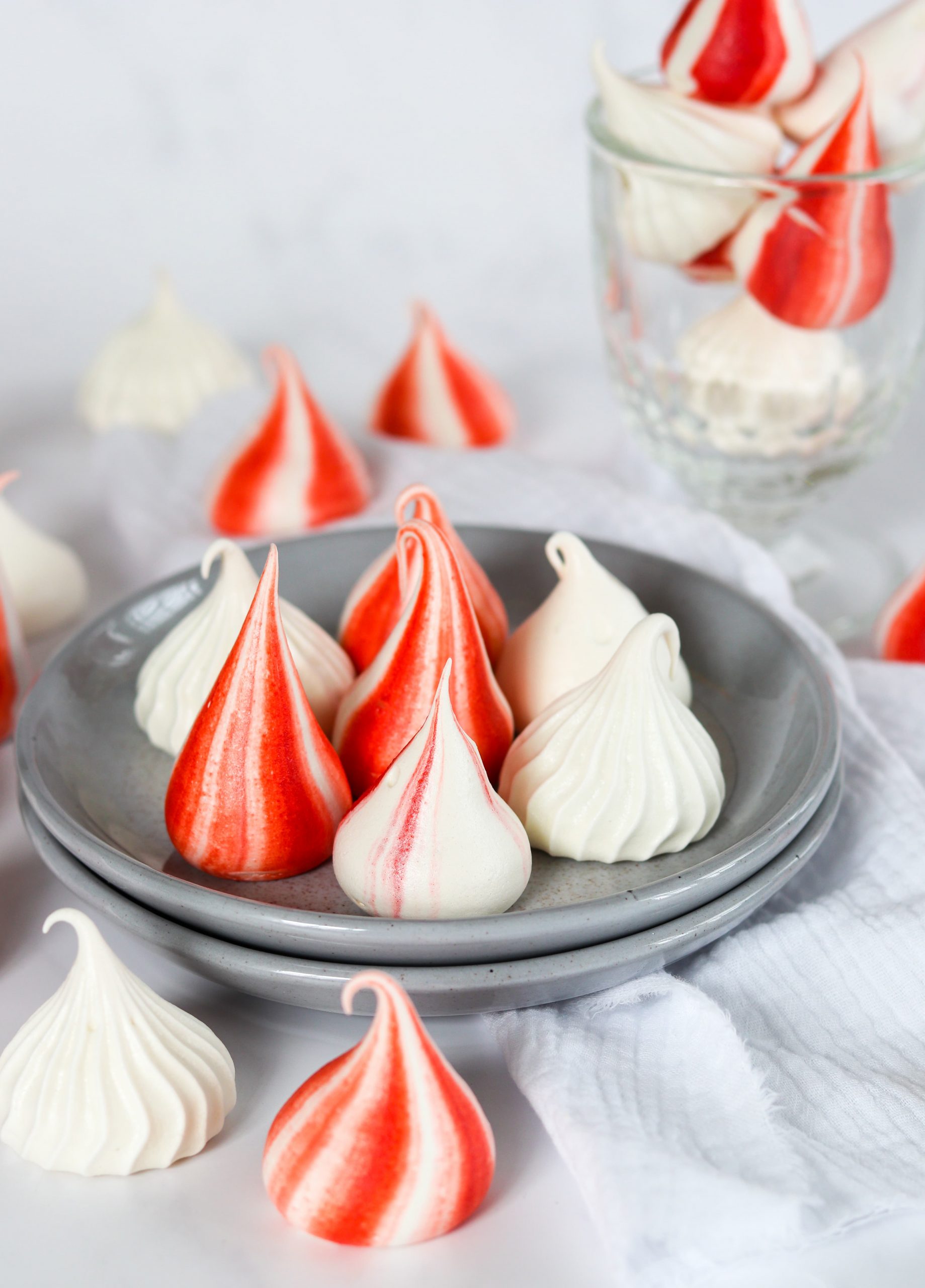 Which colour to make your Meringue Kisses
An advantage of these Meringue Kisses is that you can make them any colour you like incredibly easily. You can either stripe them like I have, or mix the food colouring gel into the meringue to get a completely coloured kiss.
You can also leave out the food colouring and have white kisses which look lovely.
I would recommend using gel food colouring and not the standard ones you can buy in most supermarkets. The gel food colouring has a much brighter colour and is a lot easier to paint because it is thicker.
You can easily buy gel food colouring online and it is increasingly being stocked in larger supermarkets. I tend to use Wilton or Sugarflair brands which are available online.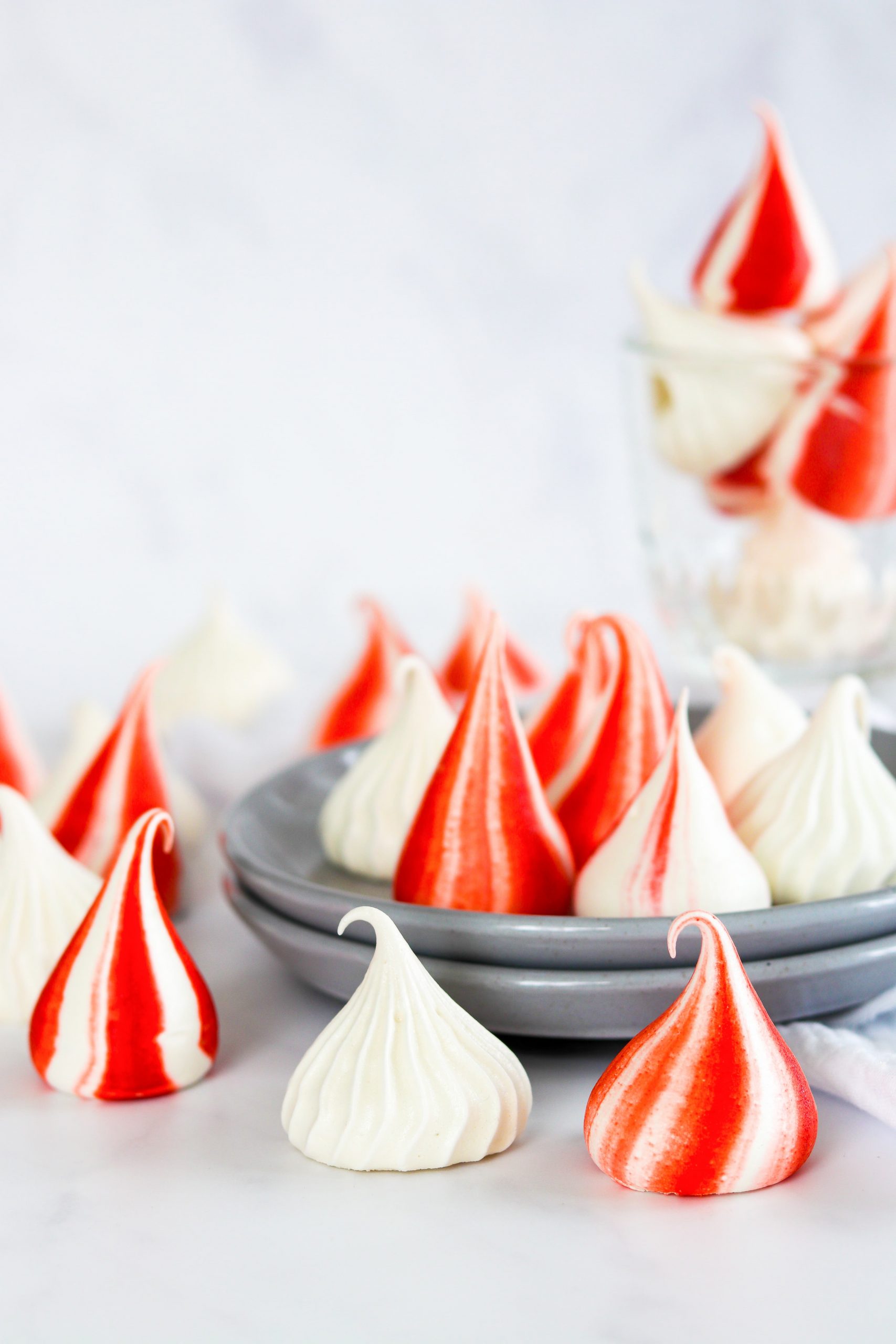 Tips for perfect Meringue Kisses
I always keep my eggs at room temperature, but if you keep them in the fridge take them out to warm up to room temperature before you make your meringues.
Cold egg whites will take a lot longer to whisk so starting with room temperature eggs will definitely be a benefit.
Also make sure all of your equipment is extremely clean before you start. If there is a speck of grease this will affect how well the egg whites whisk.
When you are adding the sugar to the beaten egg whites, make sure it is completely combined before moving on to the next stage. The sugar needs to be dissolved into the egg whites to create the best Meringue Kisses.
You can test when the sugar is dissolved by rubbing a small amount between your finger and thumb. If you can still feel grains of sugar you need to keep mixing.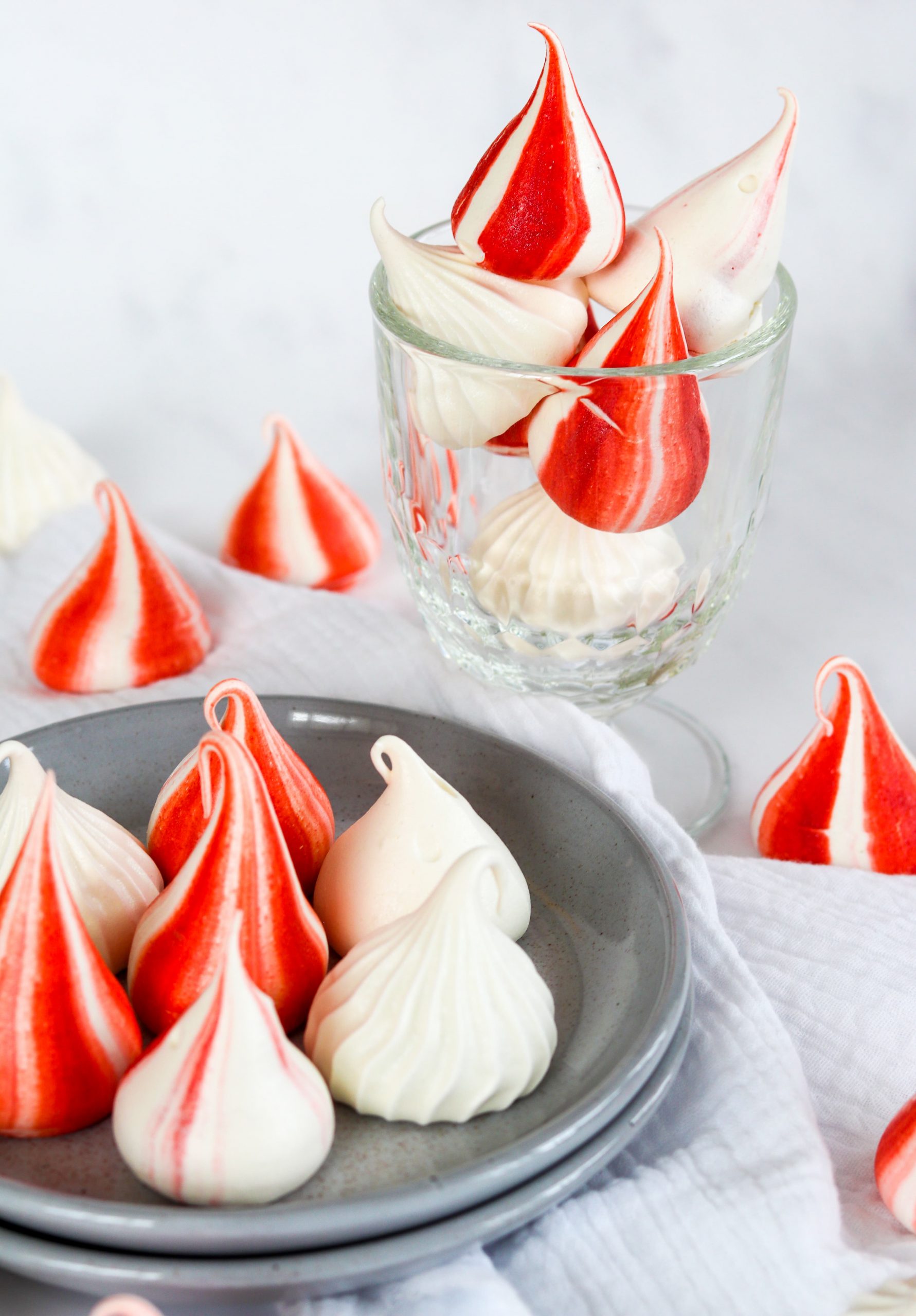 Why did my Meringue Kisses crack?
The two most common reasons for meringues cracking is the oven temperature being too high or the egg whites being beaten too quickly.
This recipe requires a low oven temperature so as long as your oven is accurate this shouldn't be an issue.
To try and reduce the risk of your meringues cracking make sure you whisk them on a medium speed. This may take a few minutes longer but will hopefully result in a prettier meringue.
If your meringues do crack, the chances are it won't be all of them though. They still taste as delicious but might just not be the best looking.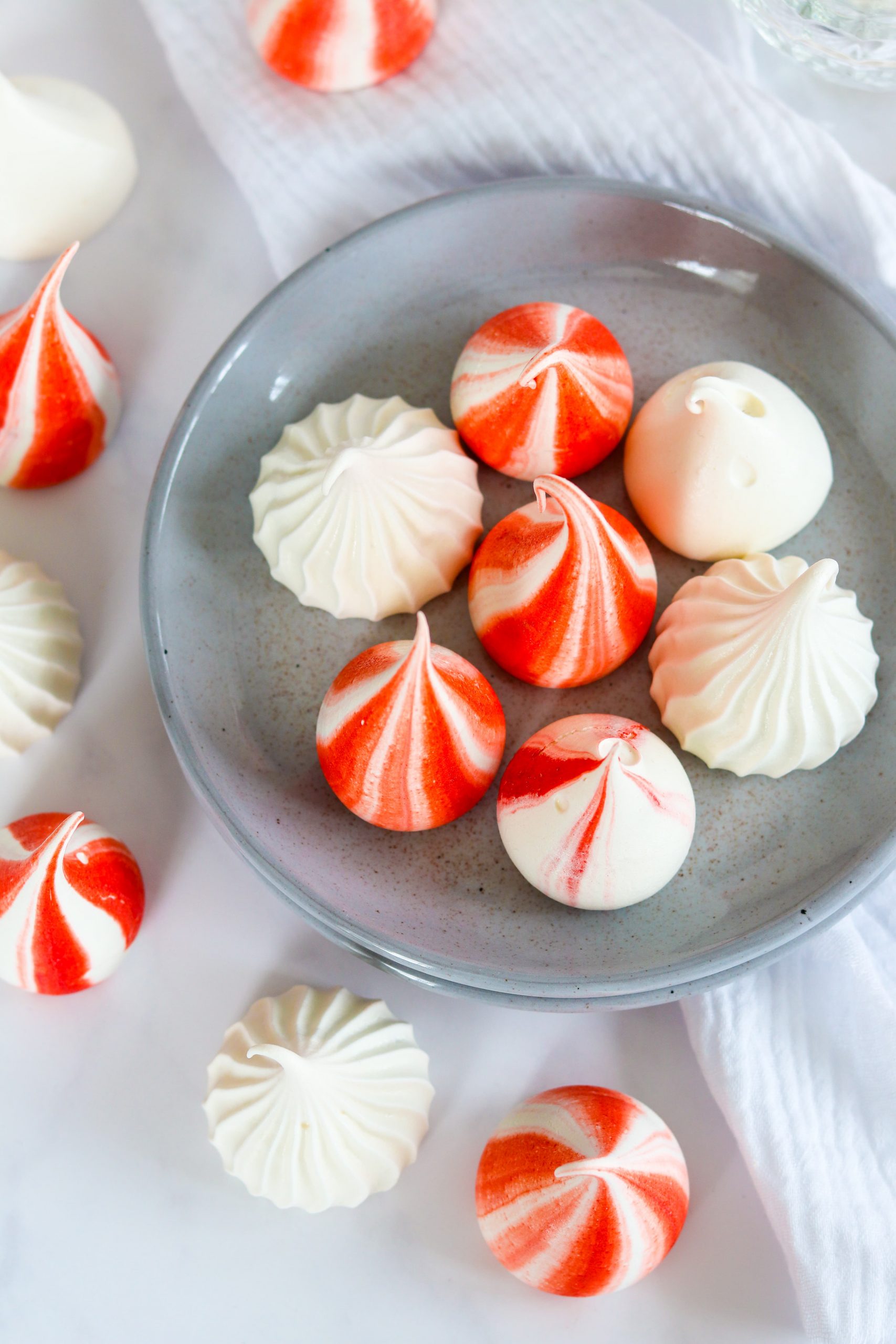 Why did my meringues weep?
If during cooking your meringues weep (get droplets of clear liquid) on them, don't panic. Although they might not look the most appealing, they are still perfectly edible!
Meringues usually weep when the sugar has not dissolved properly into the egg whites. This is why I always recommend testing whether you can still feel the sugar by rubbing it between your finger tips.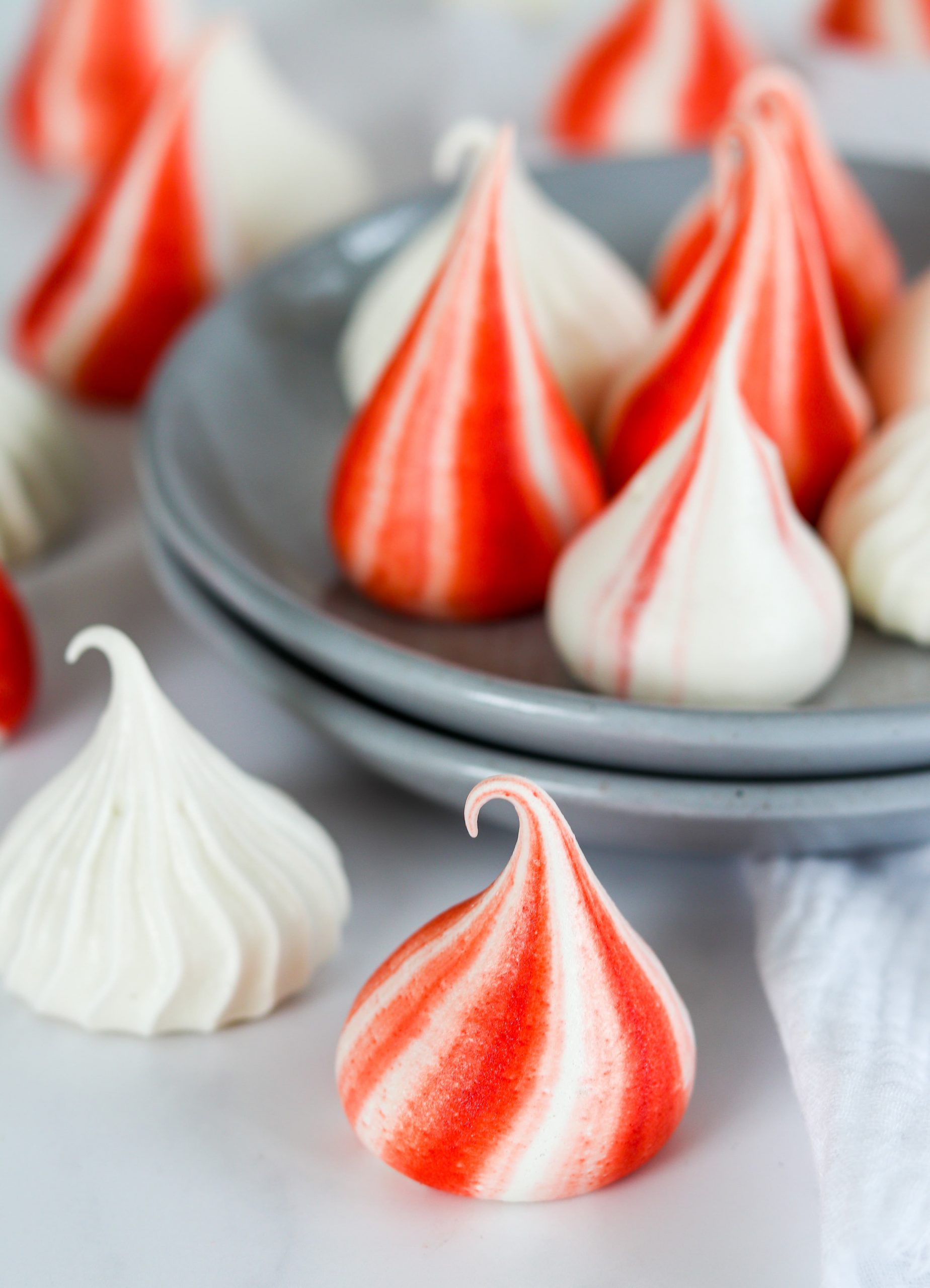 do you need a piping bag to make meringue kisses?
Using a piping bag will make these meringue kisses easier to make. However if you don't have these, you can definitely still make them.
Instead of a piping bag, add the meringue to a large ziplock bag. Push the meringue to one of the corners and snip the end off. Then you can squeeze the bag like you would a piping bag to create the meringue kisses.
A piping bag is easier to paint the food colouring at regular intervals, but you can definitely still achieve a lovely look using a ziplock bag.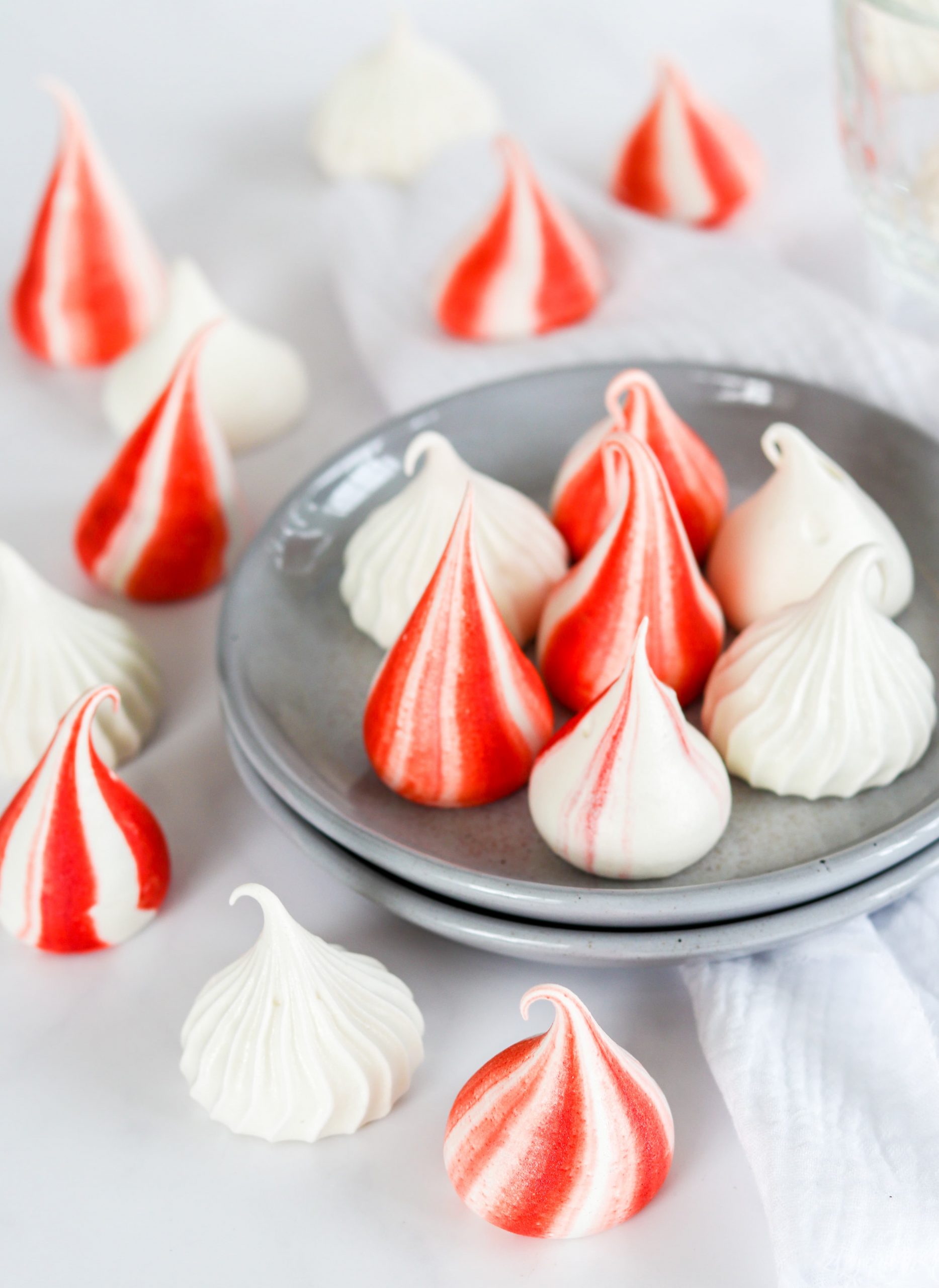 use piping tips to create different patterned meringue kisses
Standard circular meringue kisses are really lovely and something everyone can achieve because you don't need a piping tip.
I do however like to use a round piping tip when I am making meringue kisses because I find this easier.
However you can use whichever piping tips you like to create different patterned meringue kisses. One of my favourite tips to use is 4B which gives the meringue kisses little ridges.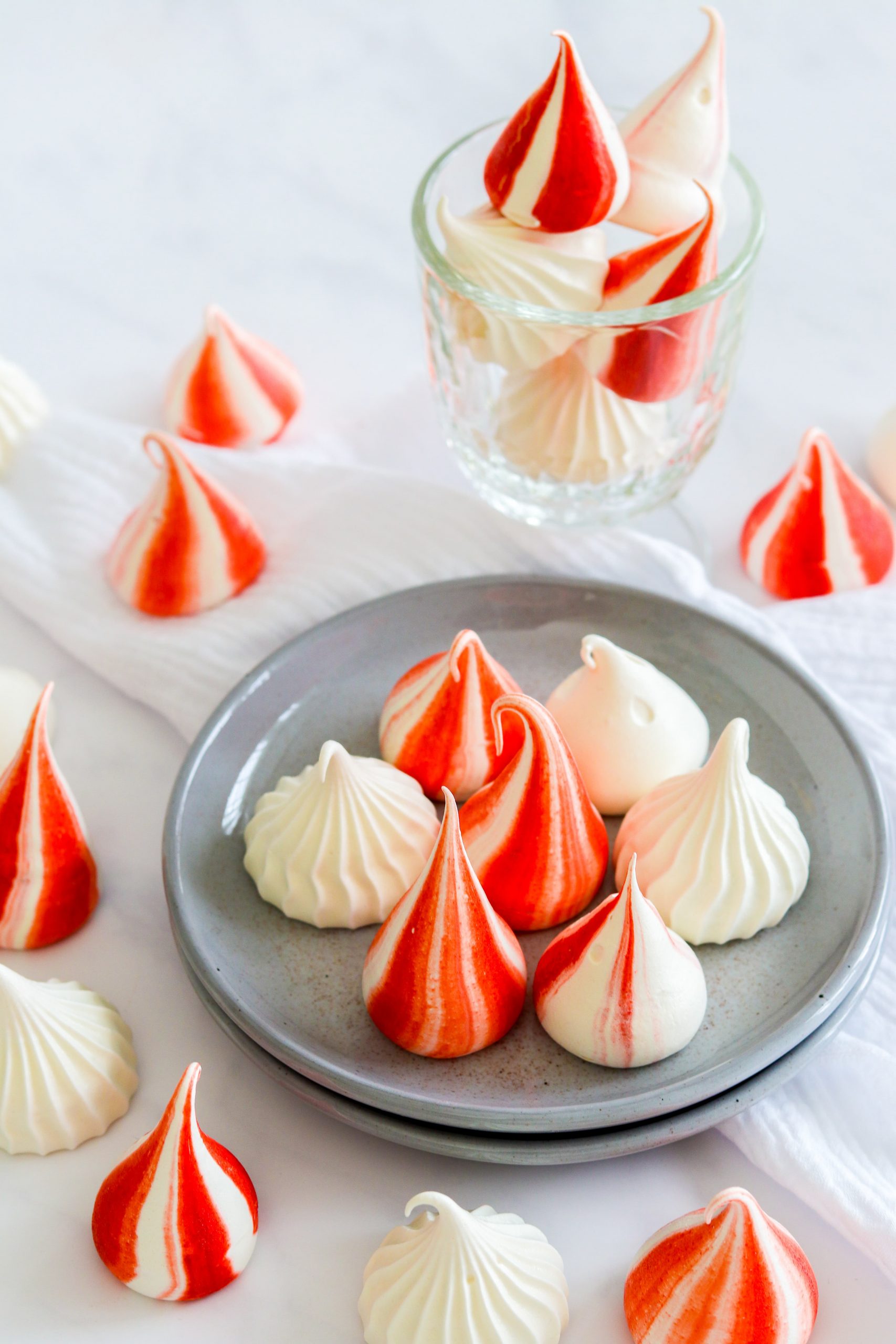 How long do meringue kisses keep for?
You can keep Meringue Kisses in an air tight container for up to two weeks.
Meringues soak up any moisture so you want to make sure they are kept somewhere cool and in a container that is definitely air tight.
If air does get to them then they start to become softer. They still taste good but they don't have the crispness you would associate with meringues.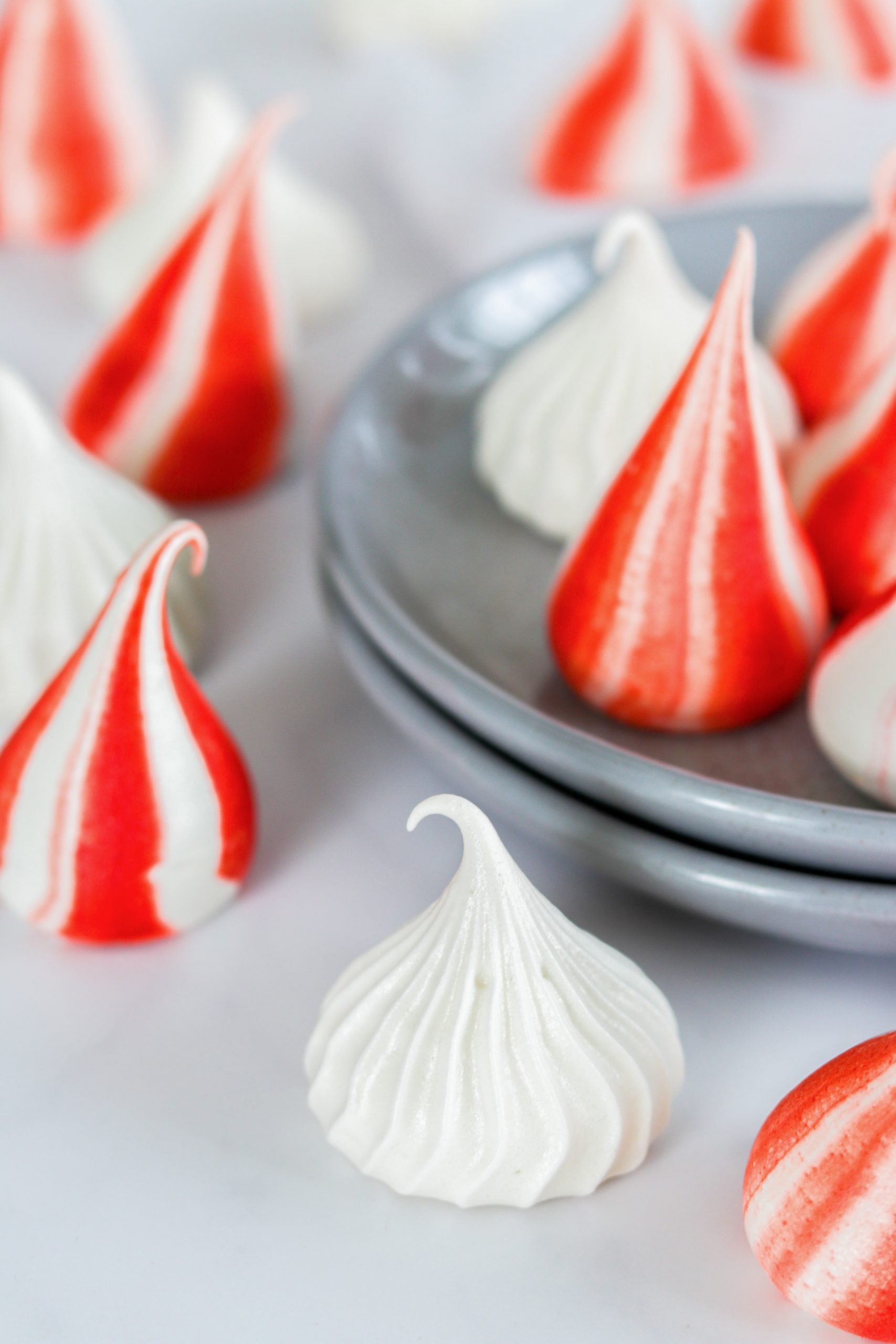 How to serve these meringue kisses
A great way to use these Meringue Kisses is in Eton Mess. The Meringue Kisses are mixed with softly whipped cream and fresh strawberries; a delicious summer dessert.
As I mentioned before, they also make a great decoration for cakes and cheesecakes. They elevate a cake to being that little bit more special.
If Meringue Kisses aren't for you, why not try my Raspberry & Lemon Curd Meringue Nests.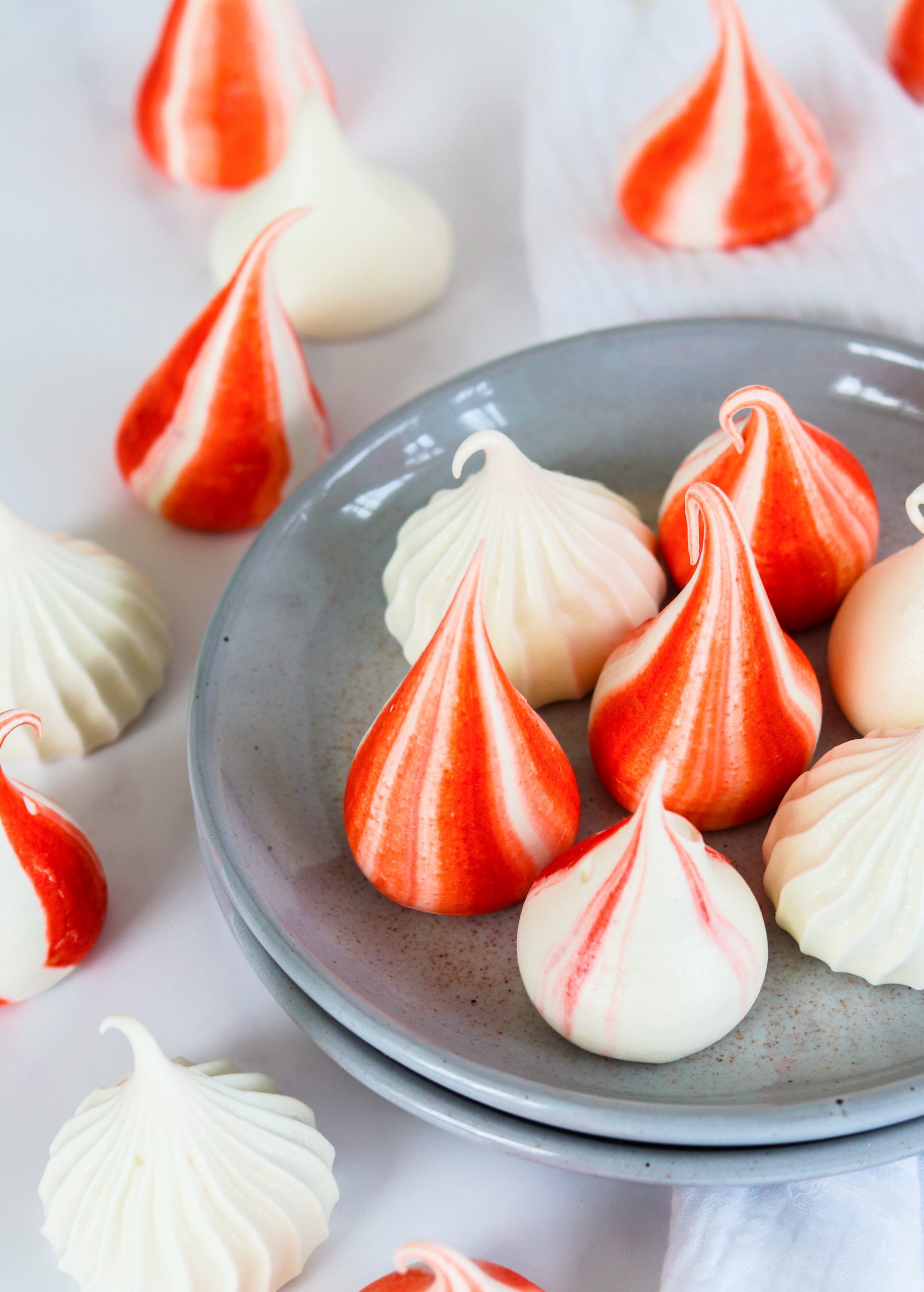 other recipes you might like
Pin for later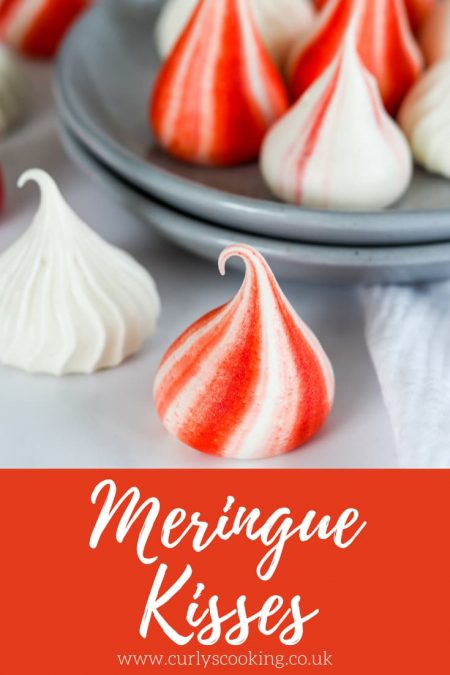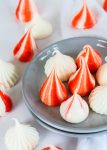 Meringue Kisses
Meringue kisses are really easy to make and look so pretty. They are great in a dessert but also to add something extra special to a celebration cake.
Total Time
1
hour
20
minutes
Ingredients
70

g

egg white

(roughly 2 medium eggs)

140

g

caster sugar

Gel food colouring
Instructions
Preheat your oven to 100ºC (fan assisted or 120ºC non fan)

Make sure you have a very clean bowl before cracking in the egg whites. You must not get any of the yolk in the bowl

Whisk the egg whites until stiff at a medium speed – you will be able to hold the bowl over your head when they are stiff enough

Add the sugar gradually, a large spoonful at a time

After all of the sugar is added, keep whisking for five minutes until the egg whites are glossy and smooth. If you rub a small amount between your finger and thumb, you shouldn't be able to feel the sugar grains. If you can whisk for a bit longer

Line two baking trays with parchment paper and use a small dab of the meringue to stick the paper to the baking trays

Turn a piping bag inside out over a large glass. Using a food paint brush, paint the gel food colouring in stripes down the inside of the piping bag

Carefully turn the piping bag back the right way and spoon in the meringue mix

Cut off the tip of the piping bag and pipe the kisses onto the prepared trays. Squeeze lightly on the piping bag slowly puling up before quickly lifting off to create the tip

Bake in the oven for 50 – 60 minutes until the meringue kisses lift off the parchment paper. If they don't lift off easily, put them back in the oven for a few minutes
Nutrition Facts
Meringue Kisses
Amount Per Serving
Calories 144
% Daily Value*
Sodium 29mg1%
Potassium 28mg1%
Carbohydrates 35g12%
Protein 1g2%
* Percent Daily Values are based on a 2000 calorie diet.