Juicy burgers smothered in delicious cheese and topped with crisp bacon. These have to be pretty special to claim to be the Ultimate Bacon Cheese Burgers and they really are.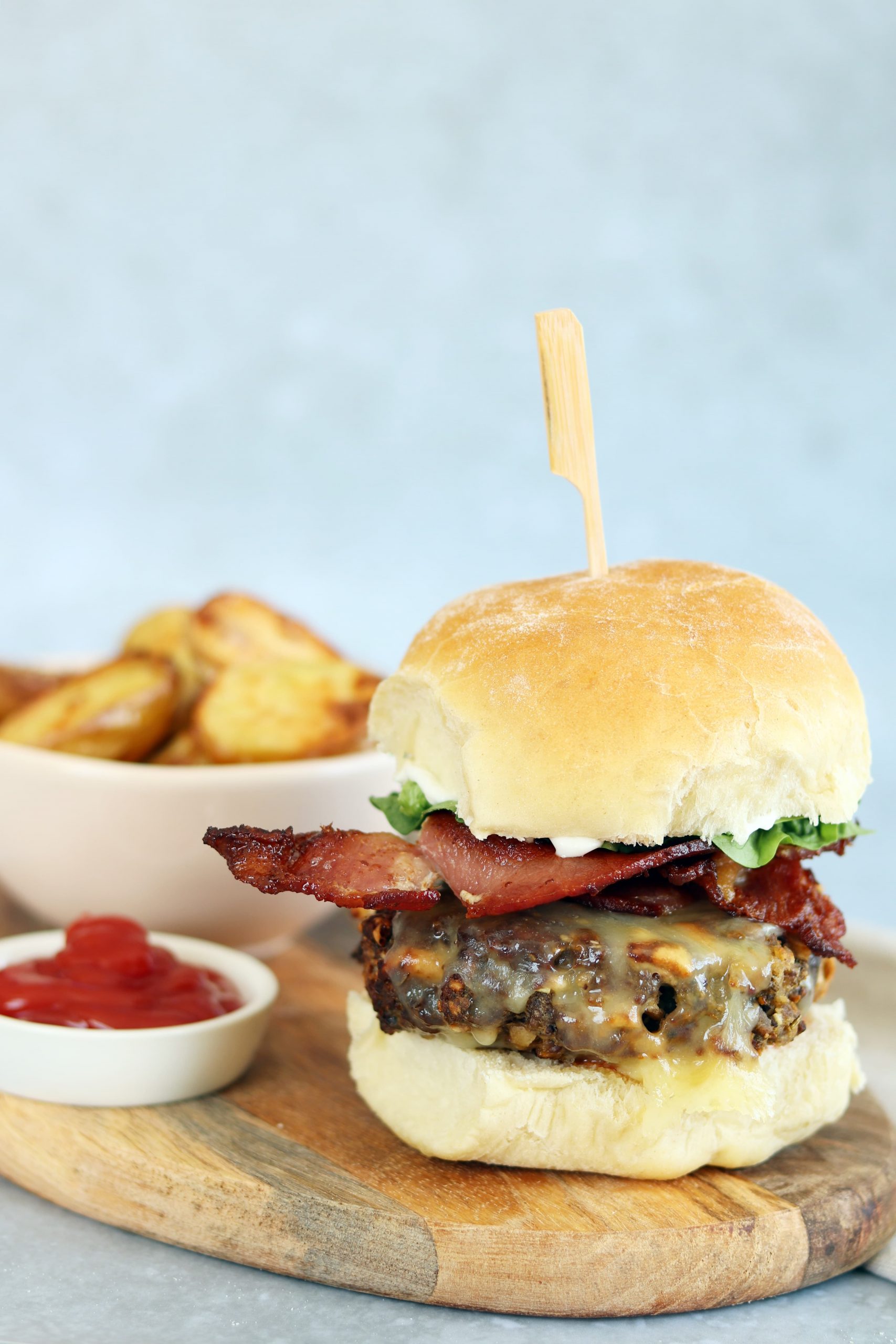 What makes these Ultimate Bacon Cheese Burgers?
Calling something the ultimate is a bold claim. I realise this. But I really do believe these Ultimate Bacon Cheese Burgers have earned their name.
I have been making these for years now. Every time I make them for someone knew, they always love them. Even people that tell me they don't usually like beef burgers have really enjoyed these.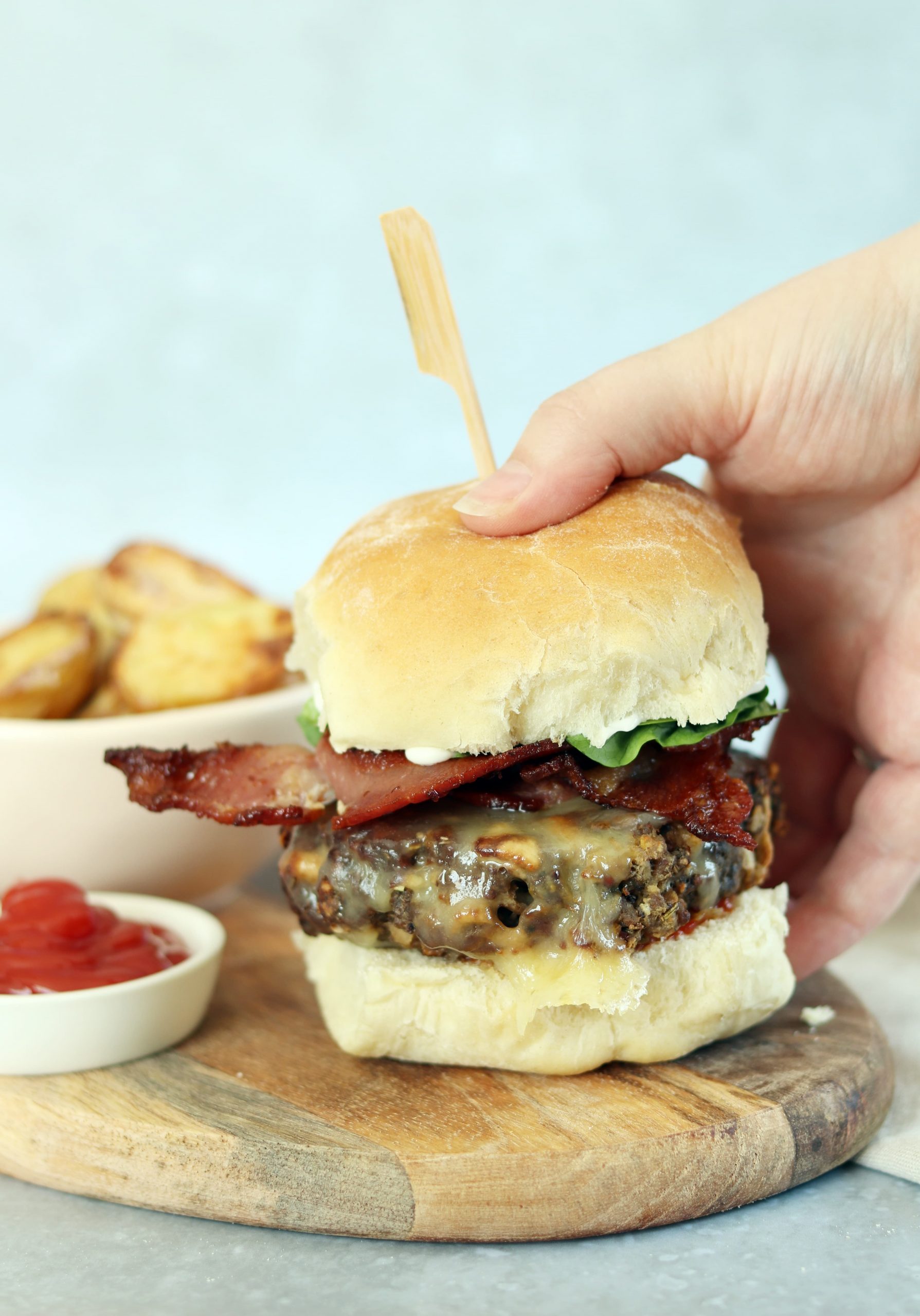 Why homemade burgers are the best
I think homemade beef burgers are the best you can have. They always taste far better than shop bought ones in my opinion.
A lot of shop bought burgers have onion in them. Personally I couldn't think of anything worse!
You also know exactly what is in these burgers because you have made them yourself. This also allows you to tweak the recipe to your preferences and what you have in your cupboards.
I like to use wholegrain mustard because it is my favourite. However if you prefer a different type of mustard, add that instead.
The same with the herbs. Add what you like and have in your cupboards.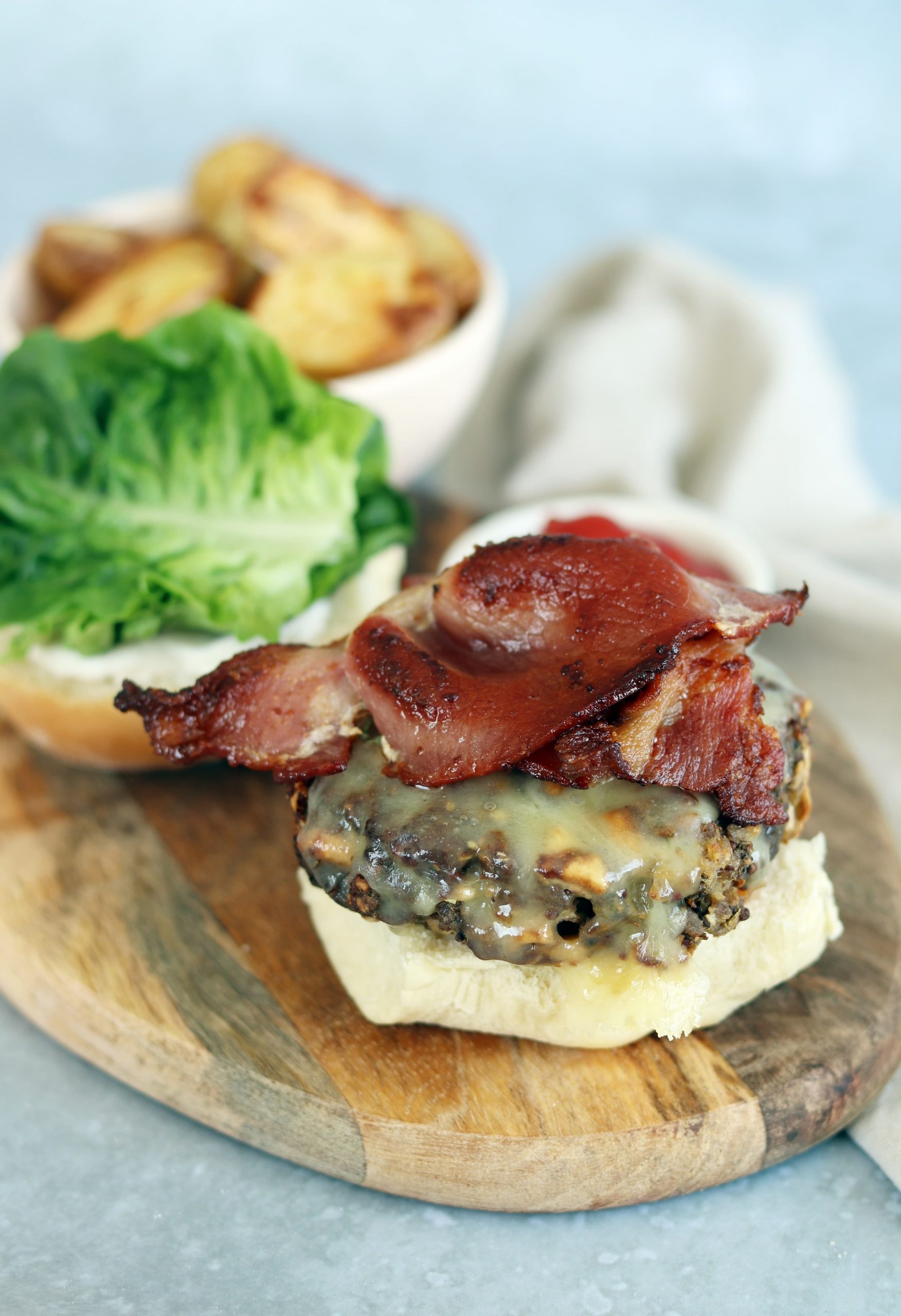 Crackers in burgers?!
The 'bits' in these burgers are crackers. That is the question I get asked the most about these Ultimate Bacon Cheese Burgers.
I saw it in a Jamie Oliver recipe years ago and gave it a go. I've been making them like this ever since.
I use cream crackers which are those square shaped standard crackers you get in the supermarket. Reduced fat cream crackers work just as well.
If you don't have these in your cupboard, you could use any plain flavoured crackers.
You could use a food processor to whizz the crackers up if you wanted. I think it is just as easy to bash them up with the end of a rolling pin.
You don't need the crackers to be really small, and they don't all have to be uniform.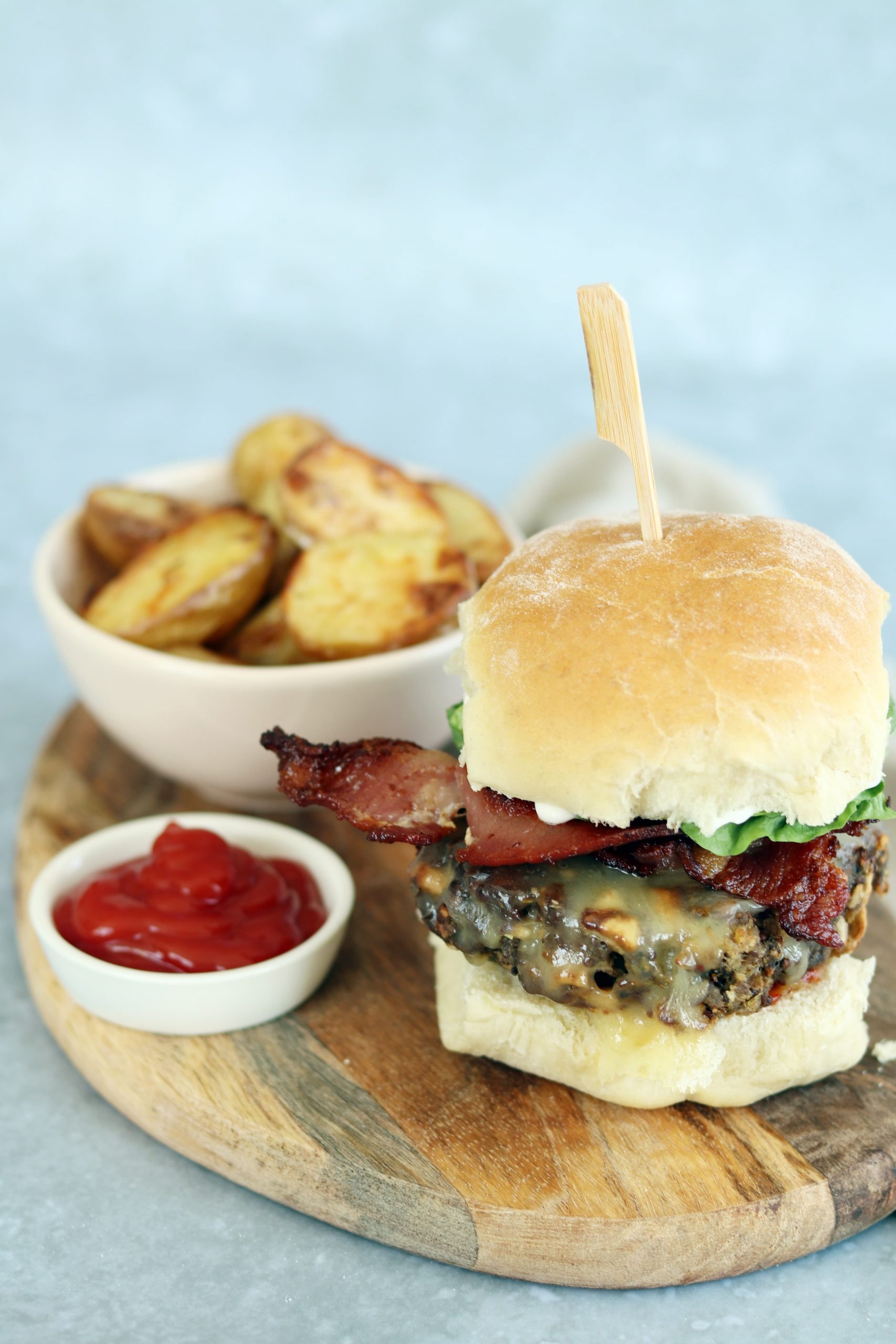 How is best to cook these Ultimate Bacon Cheese Burgers?
You can cook this burgers, in the oven, on the BBQ or even in a frying pan if you like. However you choose to cook them, turn them half way through to ensure even cooking.
A couple of minutes before the burgers have finished cooking, add your choice of cheese and allow to melt.
A top tip is to spread a little bit of English mustard on top of the burger before adding the cheese. I don't typically like English mustard, but this adds a really delicious flavour.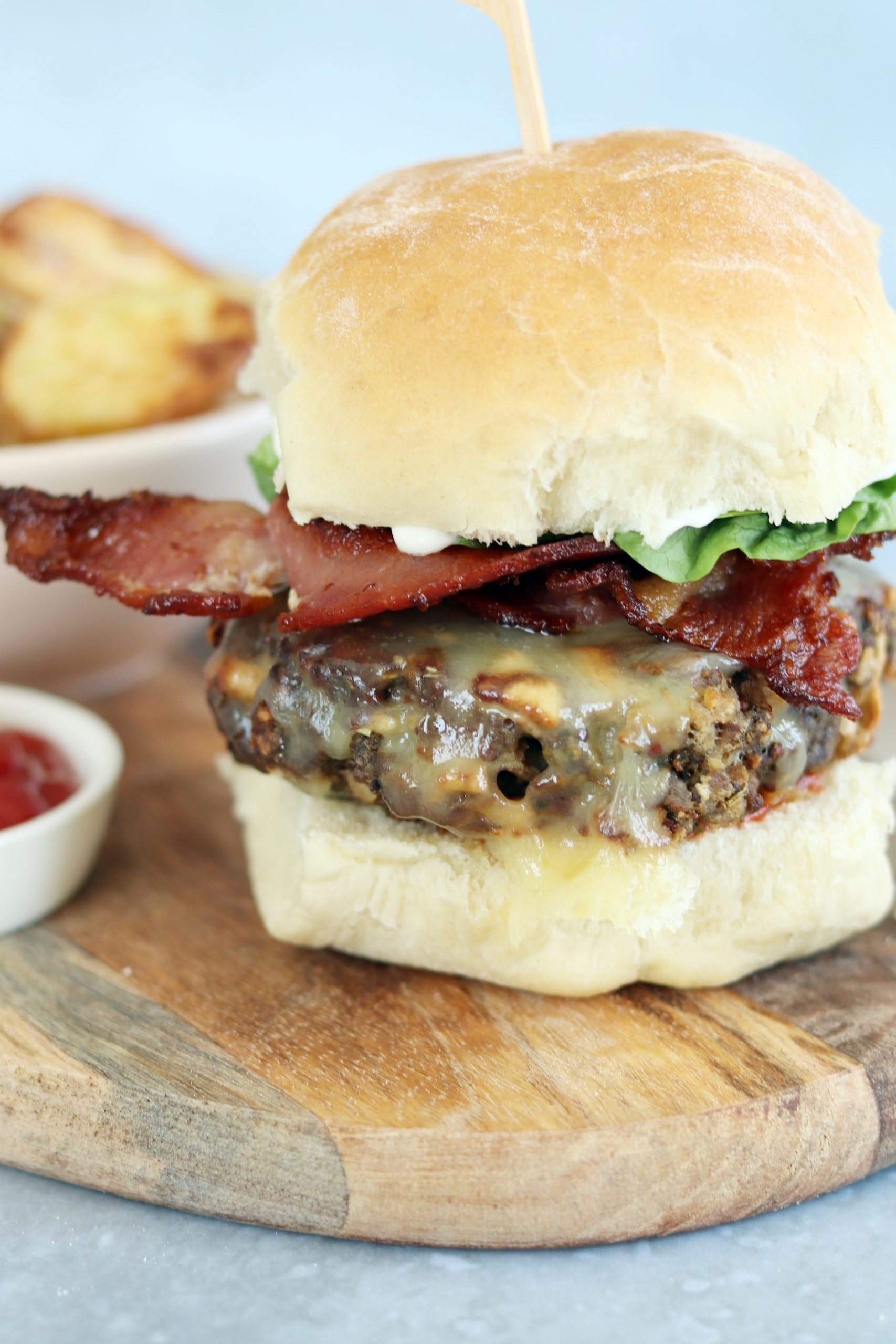 How to serve the Ultimate Bacon Cheese Burger
I have a confession – I don't always make these with bacon and cheese! More often than not I do add the cheese but the bacon is an added luxury for a treat.
These burgers are delicious just as they are, with or without a bun. Serve them with whatever you would usually have in your favourite burger – lettuce, tomato, onion.
I like to serve these in my homemade Bread Rolls and Air Fryer Chips or Baked Chipotle Wedges. My Coleslaw and Creamy Mustard New Potato Salad are also perfect accompaniments; especially if you are serving these as part of a BBQ.
My honey mustard mayo is the perfect sauce to eat with these burgers.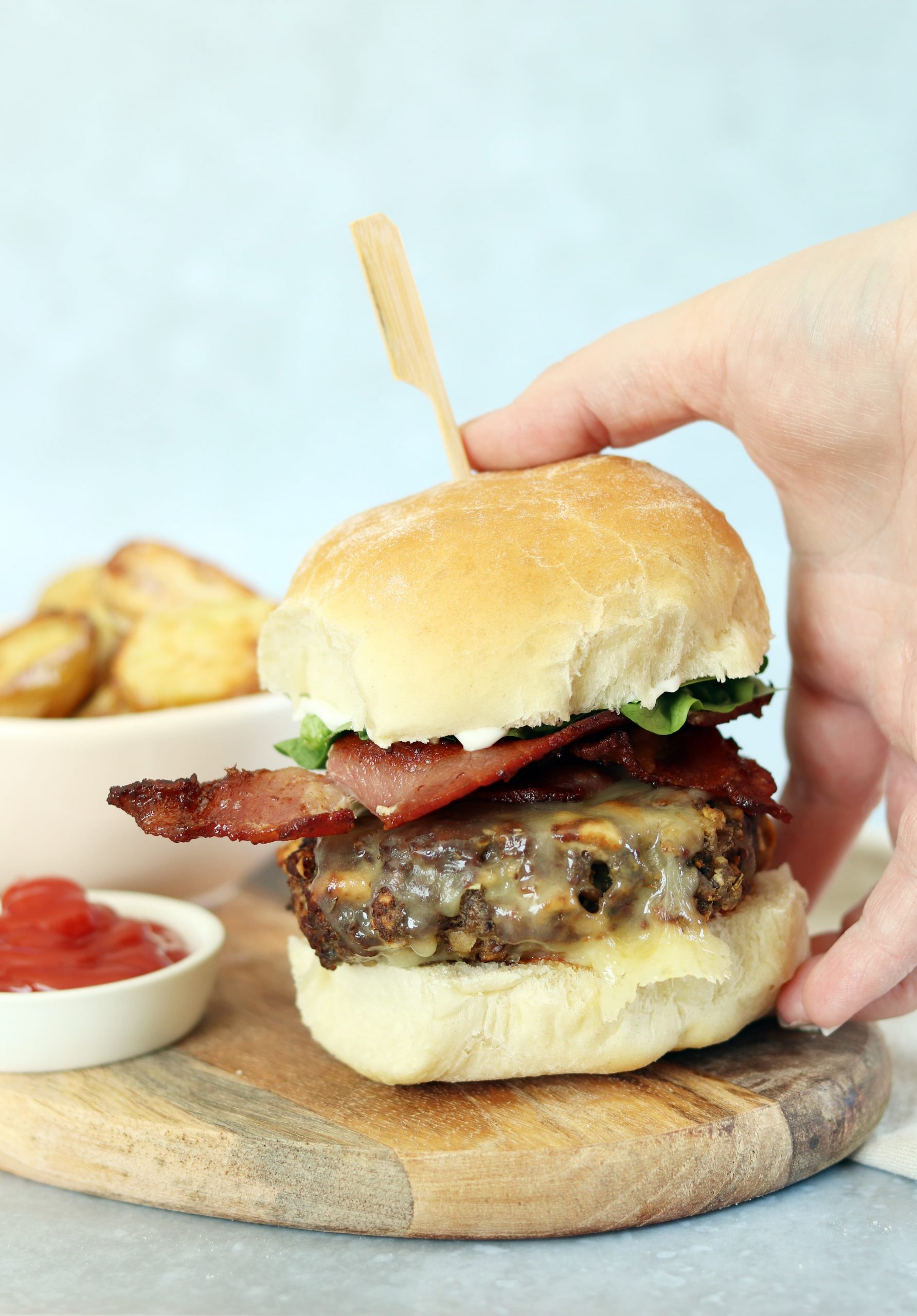 How is best to shape these burgers?
You can shape these with a burger press or by hand. The burger press ensures they will cook evenly because they will the the same thickness. However shaping them by hand makes then look lovely and homemade and you can make them to the size to fit your bun!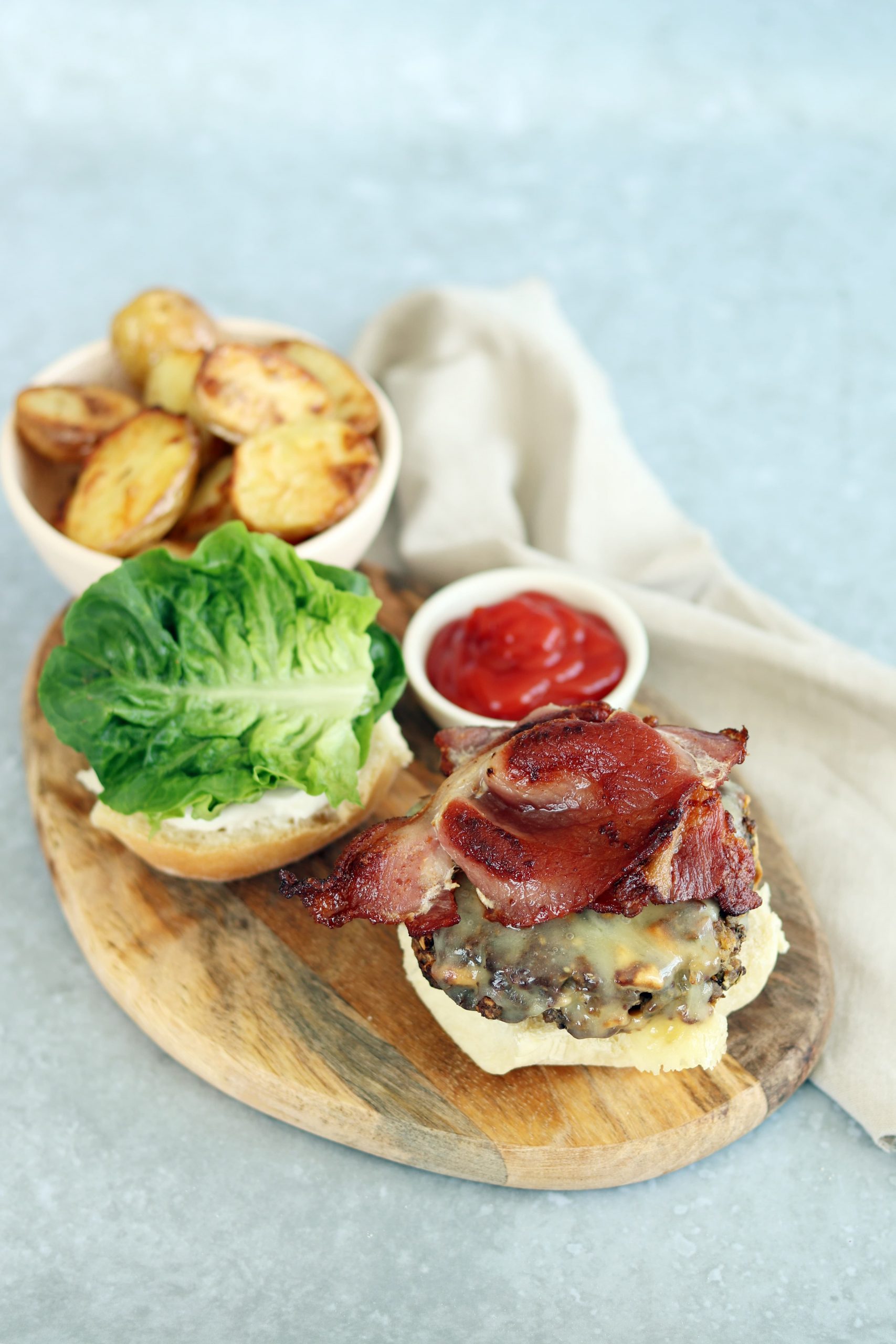 Can these burgers be frozen?
Absolutely. I have made these Ultimate Bacon Cheese Burgers for countless family BBQ's. They can be made up to a day in advance and kept in the fridge. They can also be frozen raw.
Defrost them in fridge when you want to eat them for at least 8 hours or overnight.
If you're freezing them they do have a tendency to stick together. This is fine if you are doing to defrost them all at once. However if you just want a couple, stop them sticking together by putting a square of baking paper in between.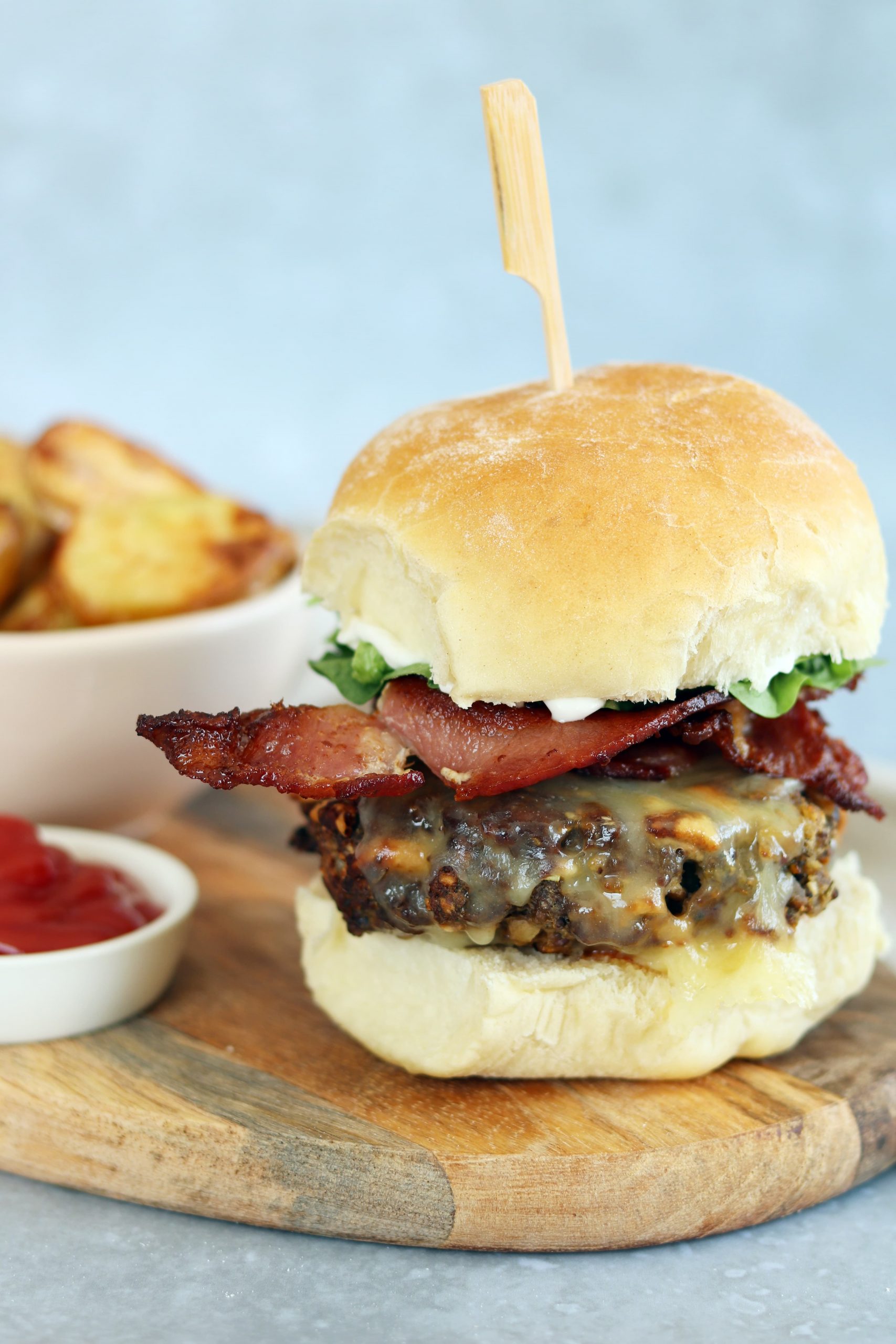 Other recipes you might like
Pin for later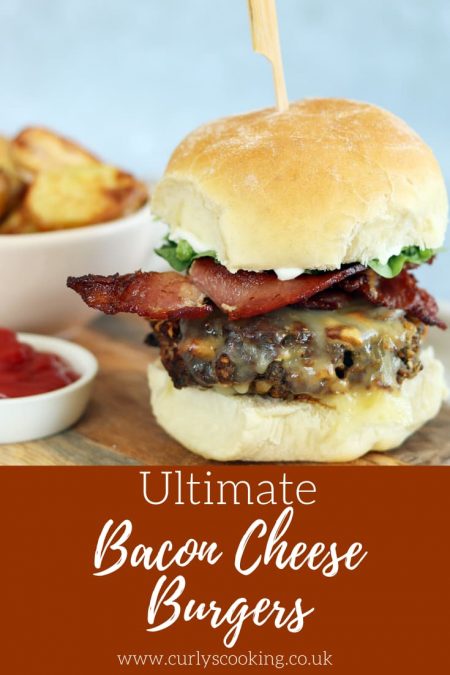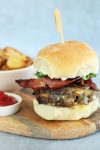 Ultimate Bacon Cheese Burgers
Juicy burgers smothered in delicious cheese and topped with crisp bacon. These have to be pretty special to claim to be the Ultimate Bacon Cheese Burgers and they really are.
Ingredients
For the burgers
500

g

beef mince

I use 5% fat

1

egg

12

cream crackers

crushed

1

tsp

Worcestershire sauce

1

tsp

oregano

1

tbsp

wholegrain mustard

1

tsp

mixed herbs

½

tsp

sea salt

1

tsp

thyme

1

tsp

mustard powder

Few twists of black pepper
To finish
8

rashers of bacon

4

slices

of cheese

4

buns

Salad of choice

lettuce, tomatoes etc

Sauce of choice
Instructions
Crush the crackers in a large bowl with a rolling pin. You don't want fine crumbs at all, some texture is what adds to the burger

Add the rest of the ingredients to the bowl and mix thoroughly to combine making sure all of the ingredients are mixed. I find it easiest to do this with my hands

Divide into four portions and shape into patties. You can shape the patties by hand or by using a burger press.

If cooking on the BBQ; on a high heat they should need about 7 minutes per side. If cooking in the oven set it to 180ºC (fan assisted, 200ºC non fan) for approximately 20 minutes, turning half way through

When the burgers have a 5 minutes left, start cooking your bacon. You can cook this on the BBQ, in the oven or in a frying pan

Once the burgers have cooked, add the slices of cheese and put back in the oven so the cheese can melt. This shouldn't take more than a minute

Assemble the burgers by slicing the buns, adding your chosen sauce followed by the burger, bacon and finally the salad
Recipe Notes
Nutritional information is given as a guide only and my vary.
Nutrition Facts
Ultimate Bacon Cheese Burgers
Amount Per Serving
Calories 682
* Percent Daily Values are based on a 2000 calorie diet.