Easy Flatbreads are quick and simple to make and incredibly delicious! Once you have realised how easy they are you'll be making them all the time!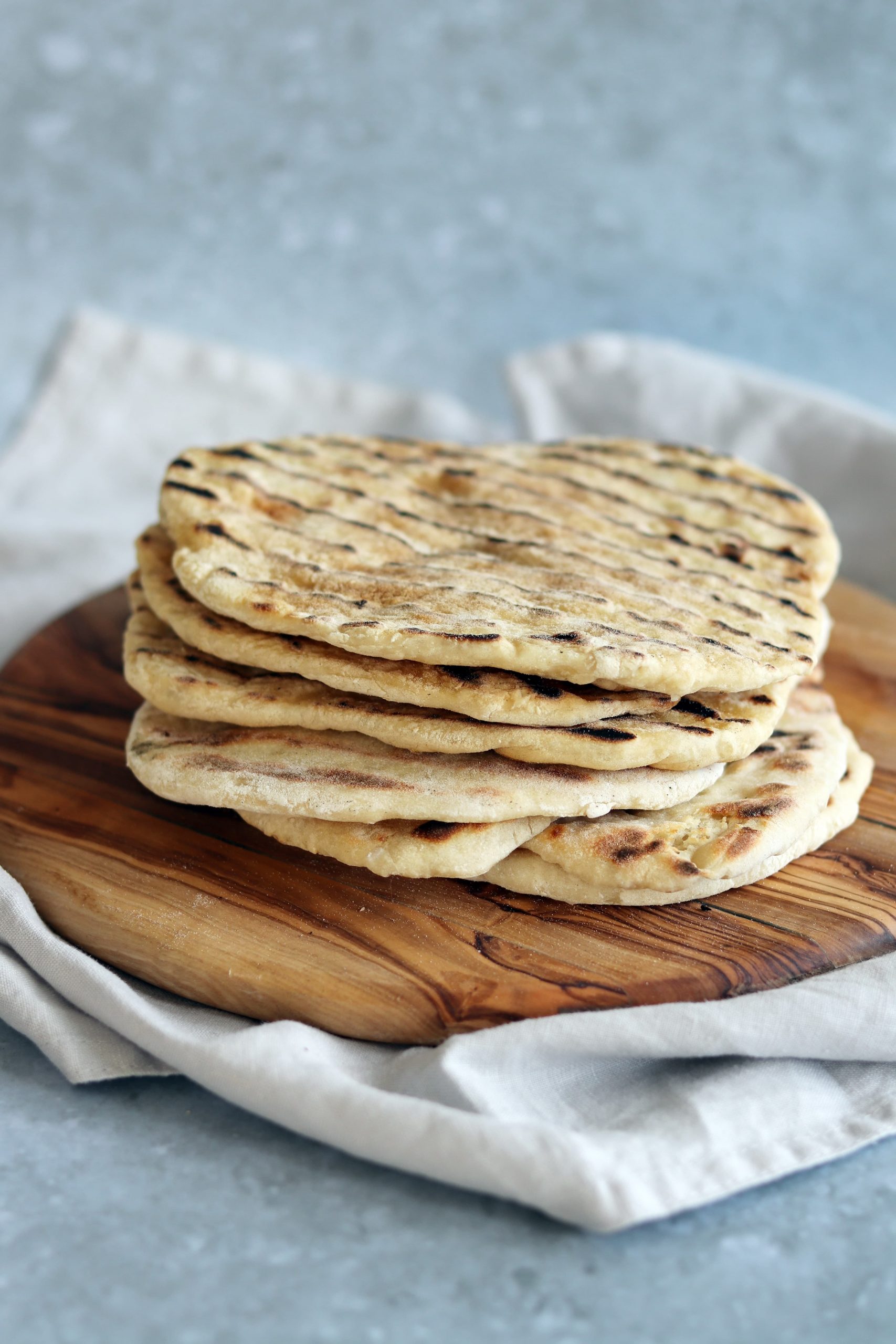 Flatbreads are so easy to make!
Up until recently, I hadn't made flatbreads before. With the current situation and the lack of yeast; I decided it was time to give them a go.
I tried Jamie Oliver's recipe and was so impressed. The below recipe is his with a few minor tweaks. Jamie uses self raising flour but I use plain. Both work really well.
They are so easy, so quick and so incredibly delicious! You don't need to be a bread baking expert to make these beauties. You have to give them a go!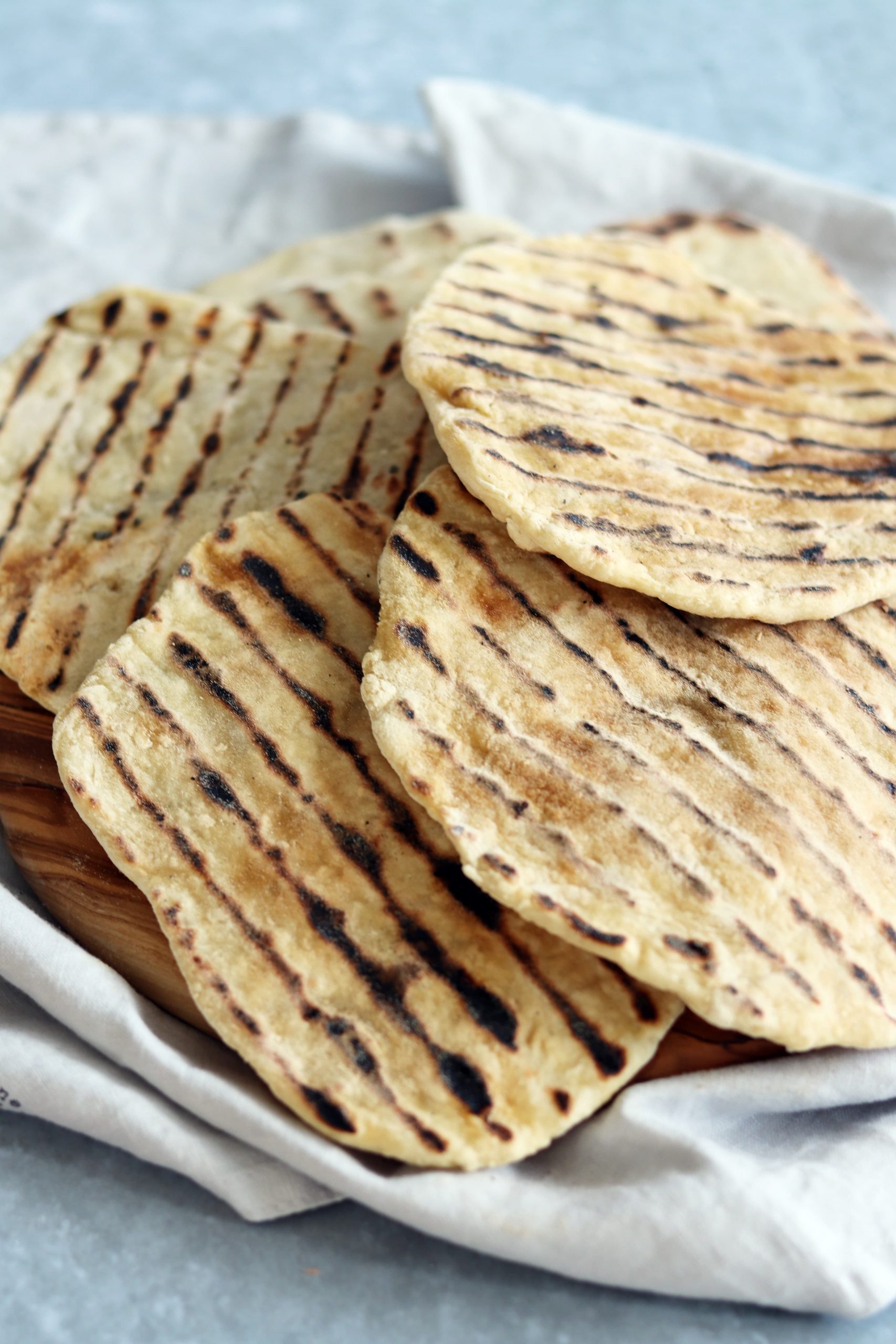 How many flatbreads does this recipe make?
Well the simple answer to this is as many as you'd like. Jamie's recipe says 12 but they look quite small.
I like to make 8 flatbreads with this amount of dough. This is because I often fill these Easy Flatbreads so I like to make sure they are big enough for this.
I have also made 4 even larger flatbreads when we were having gyros. So feel free to make your flatbreads as small or large as you like.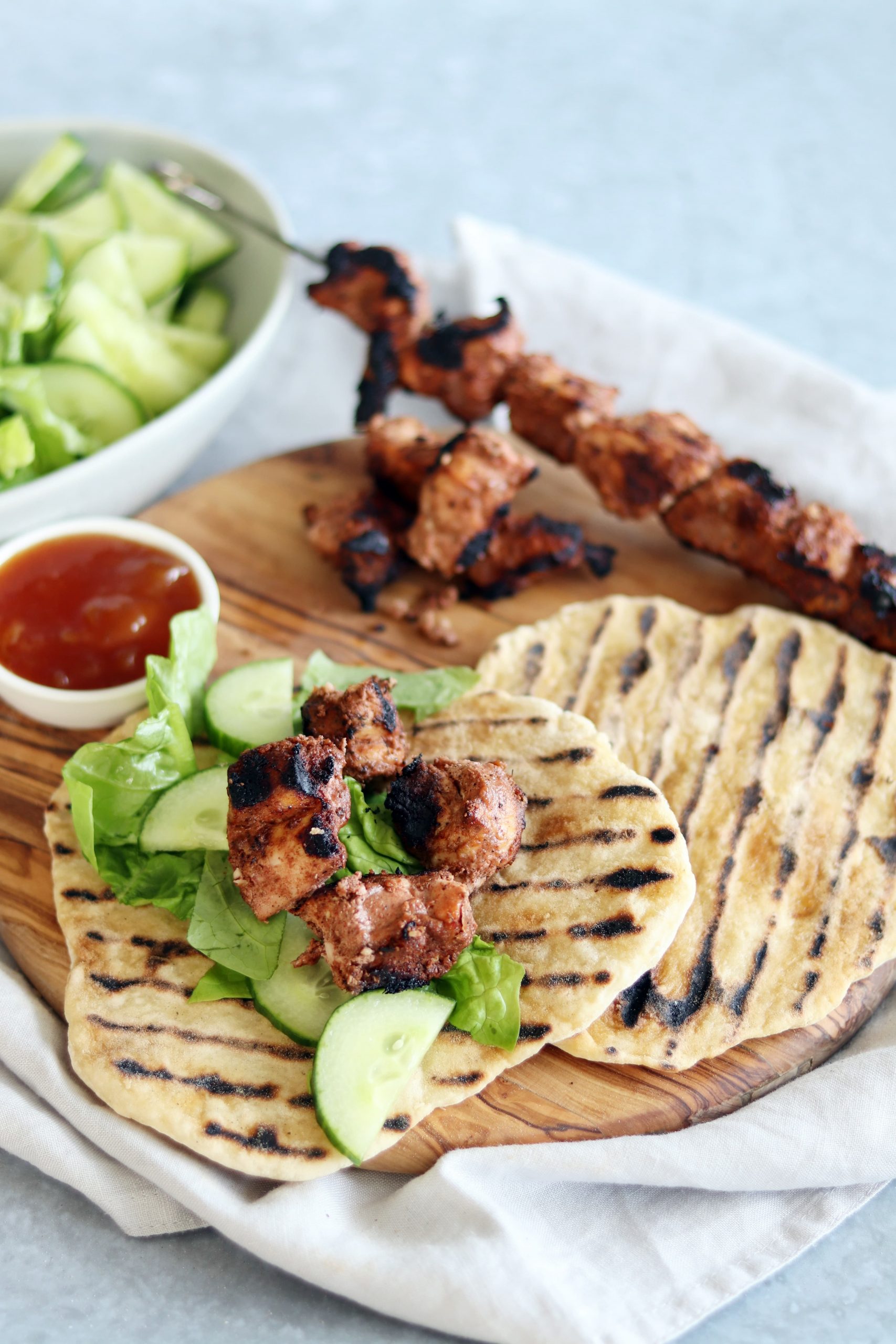 which yogurt is best to use?
Jamie's recipe says to use natural yogurt. Wherever possible, I use fat free or low fat yogurt.
I have used fat free Greek style yogurt every time I have made these and it works absolutely perfectly.
Use whichever yogurt you have to hand – as long as it is plain that is!
How long will these flatbreads keep?
I tend to prefer to make as many flatbreads as you are going to eat that day. Bread is always best fresh and these are delicious warm from the griddle.
If you do have a few leftovers, store them in an airtight container and reheat them in your griddle/pan. They may be a bit less flexible than when they were freshly made but they are still tasty!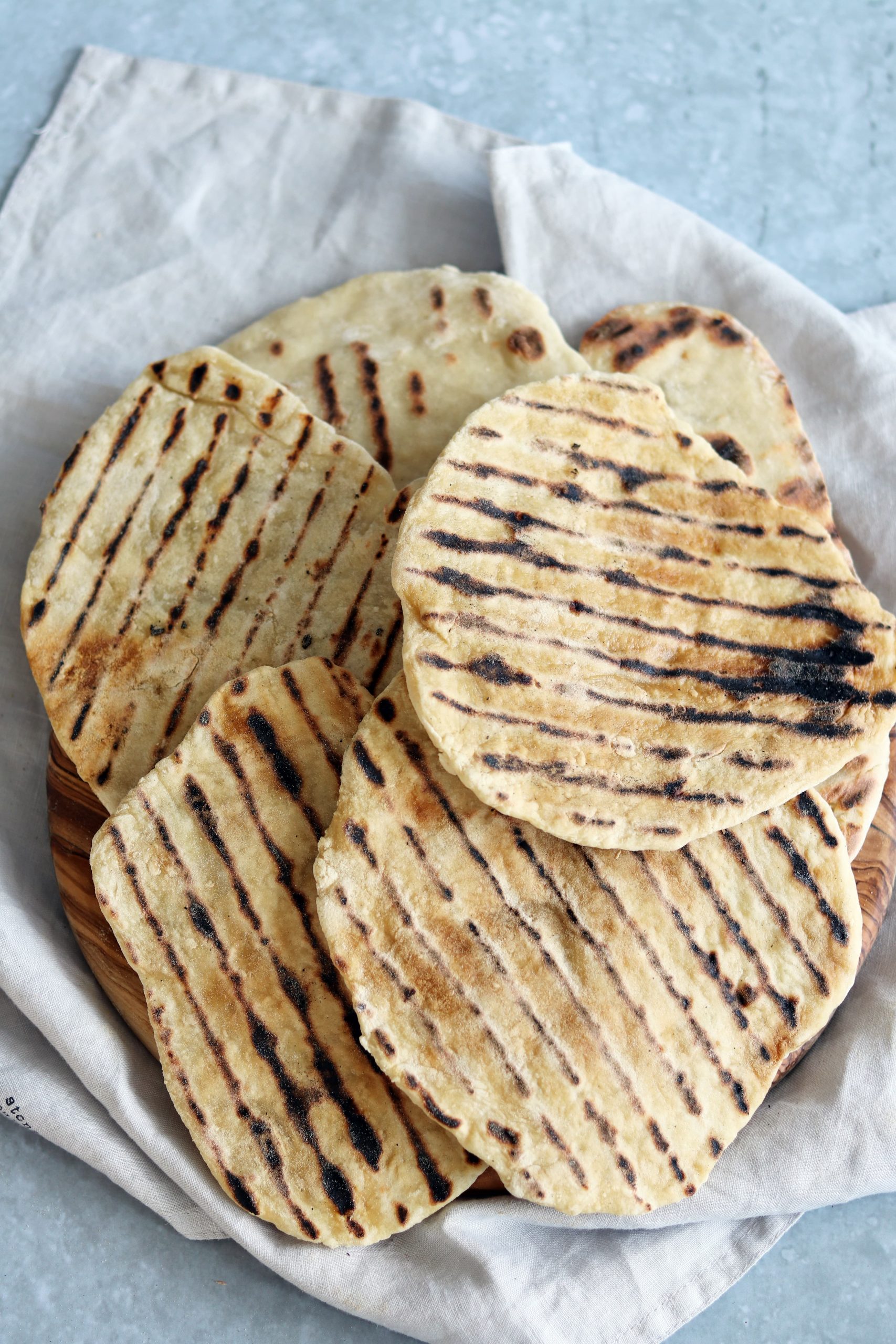 Can I still make these without a griddle?
Yes absolutely! Using a griddle is fantastic because you get the lovely marks.
However you can definitely make these in a normal frying pan. Instead of dark charred lines you will probably get some brown spots instead. Equally as lovely!
Try cooking the flatbreads on the bbq
If you're serving these as part of a BBQ, I would definitely recommend cooking them on there.
Cook them at a high temperature, watching for when they bubble. Turn them over once they bubble and cook for a minute or so on the other side.
Depending on the size of your BBQ, you can cook more than one at a time.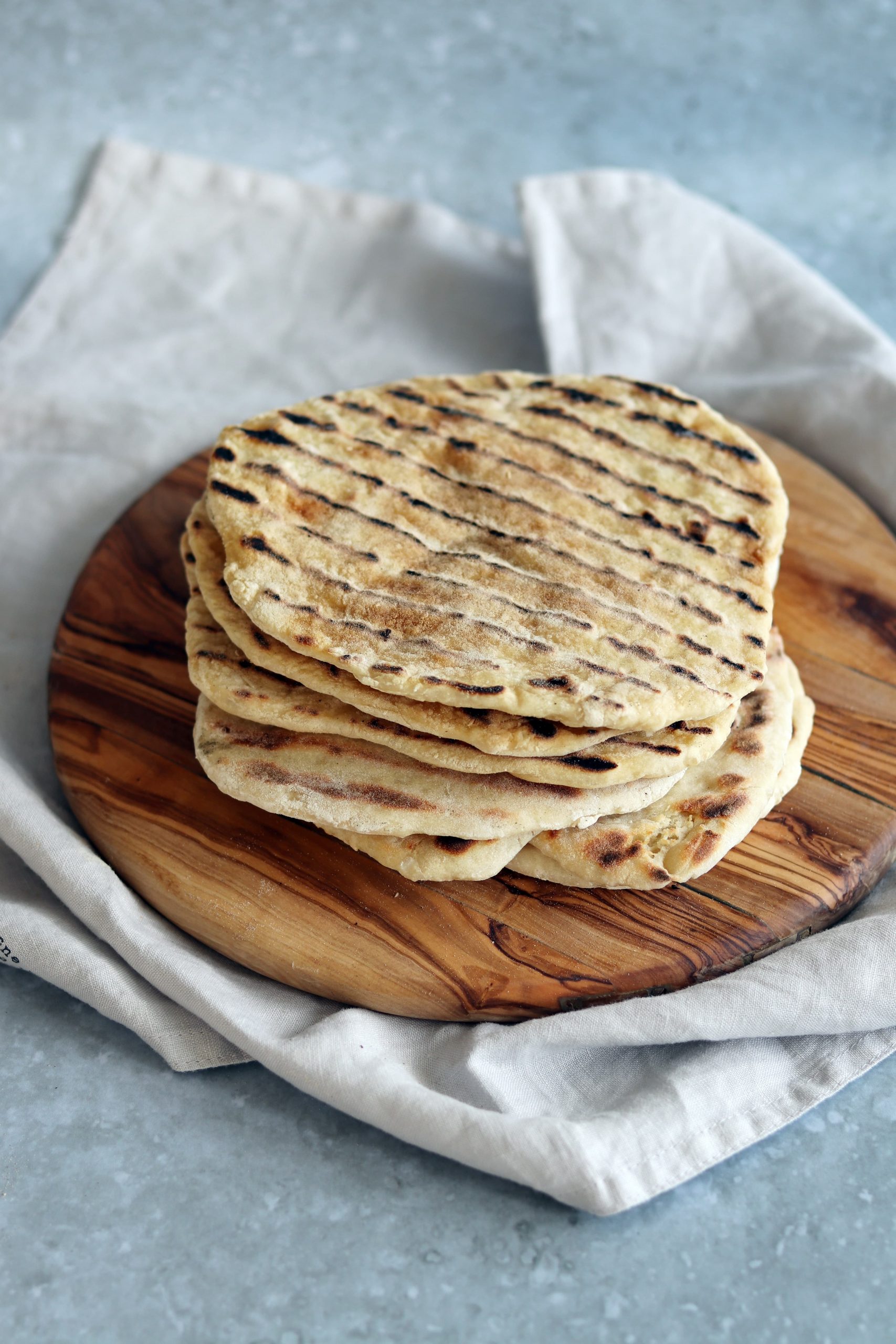 Cook the flatbreads in advance and keep them warm
You don't need to cook these flatbreads at the last minute. You can cook them in advanced and keep them warm.
I cook them and keep them warm in a tortilla warmer but a chapatti warmer or anything similar would work really well.
You could also wrap them in a clean tea towel. Make sure you wrap them thoroughly because they will start to harden if they aren't wrapped well.
Easy flatbread cooking tips
Flatbreads are typically reasonably circular, but they definitely don't have to be! If your rolling pin skills aren't great just use you hands to push the dough into whichever shape you like.
You might think that low and slow is the way to cook these flatbreads. You would be wrong! A high heat gives you a lovely char to the outside and makes sure the inside is cooked perfectly.
Place the flatbread on the griddle pan on a high heat. Leave it there until you start to see bubbles. Have a peak to see whether the dark lines or patches have started to appear. If so flip using tongs.
If the flatbread is still looking pale, leave them for a few more seconds before flipping.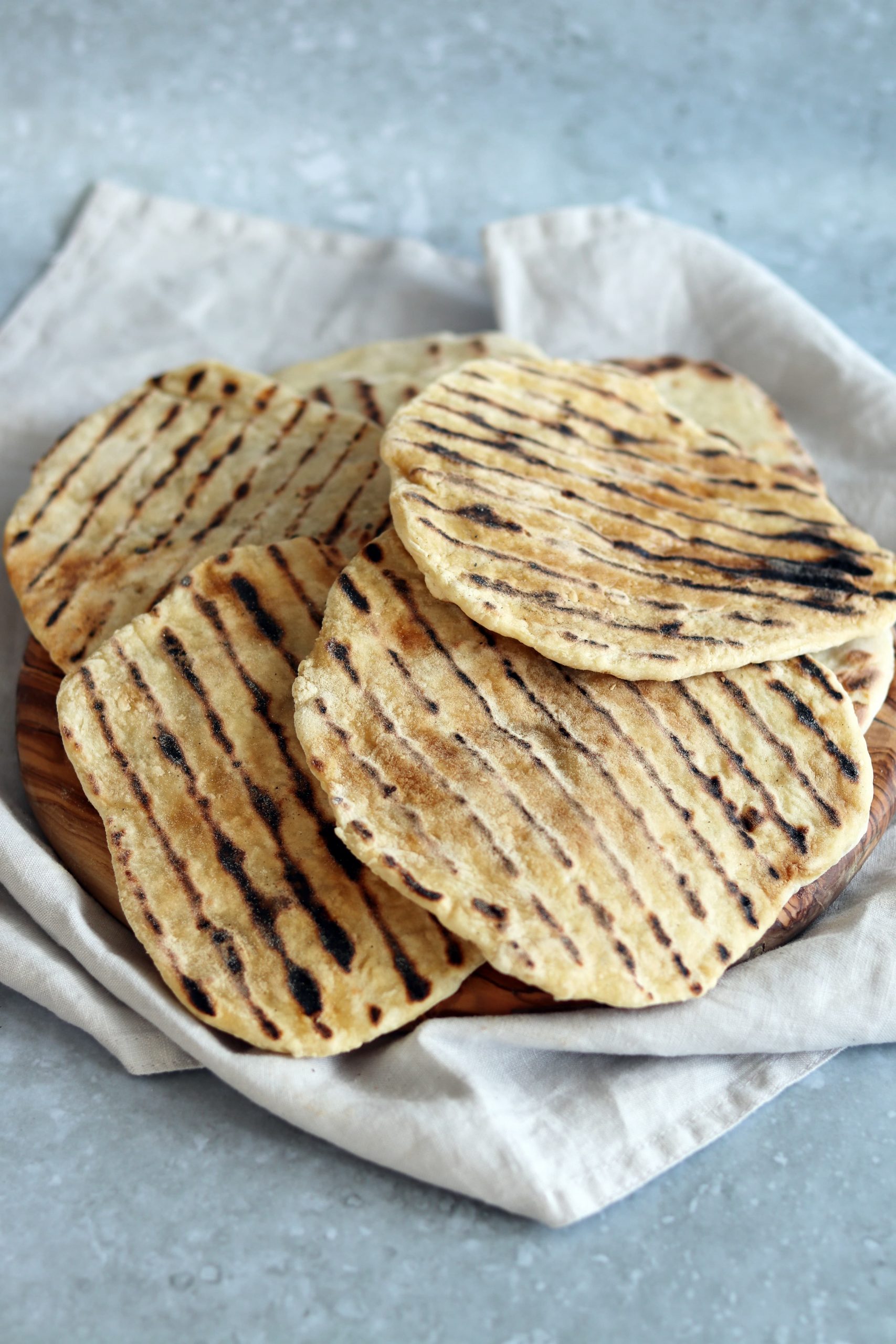 What to eat with these flatbreads
There are so many ways you can eat these delicious flatbreads.
Some of my favourites are to make gyros with them. If you haven't heard of these they're a Greek dish. It is a flatbread stuffed with marinated meat, salad and fries. So delicious!
I also like to eat these stuffed with my Skinny Chicken Tikka and salad or use them for my Quick Pulled Pork.
They also make a great addition to a mezze platter. This can include charcuterie, vegetables and hummus.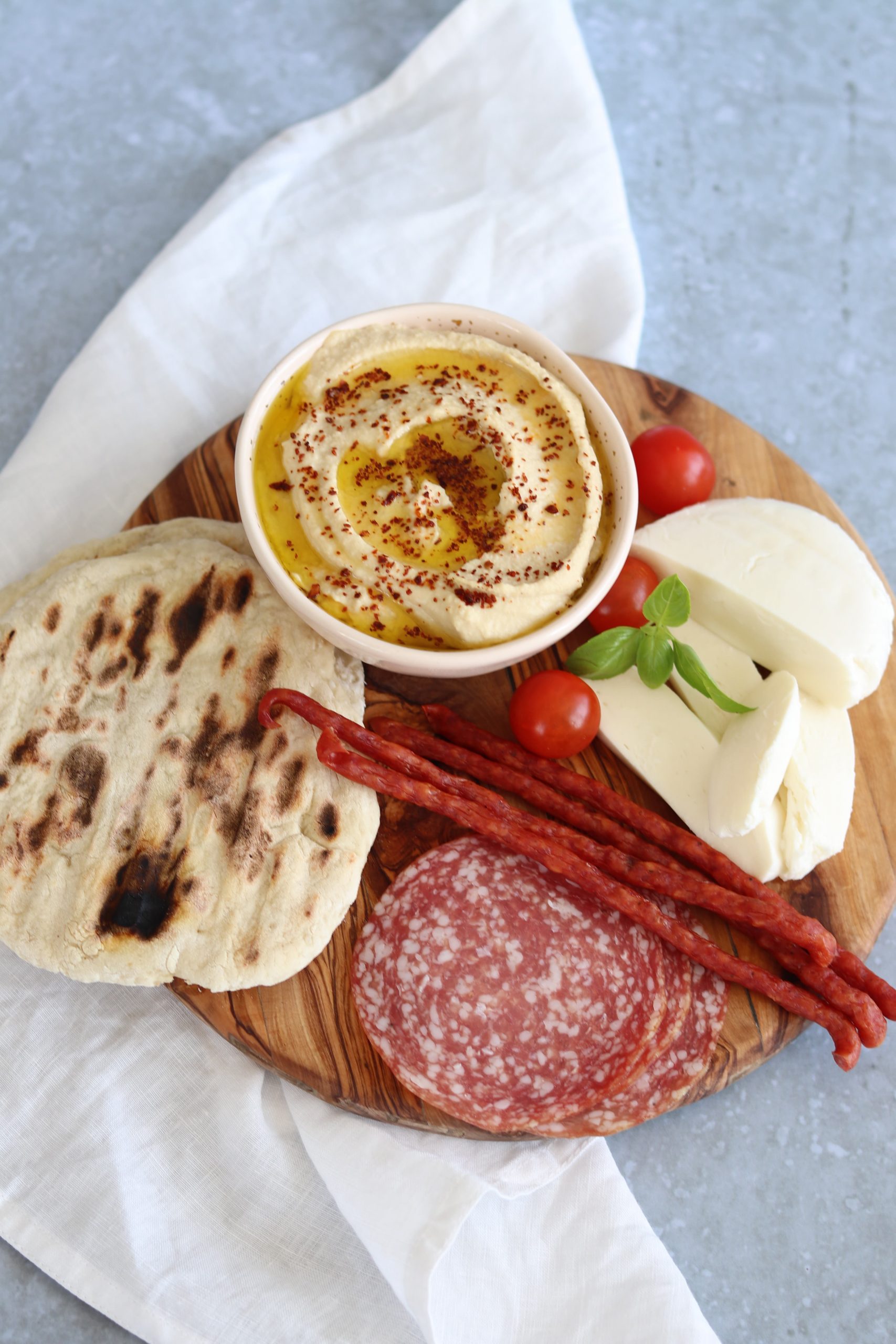 Other recipes you might like
Pin for later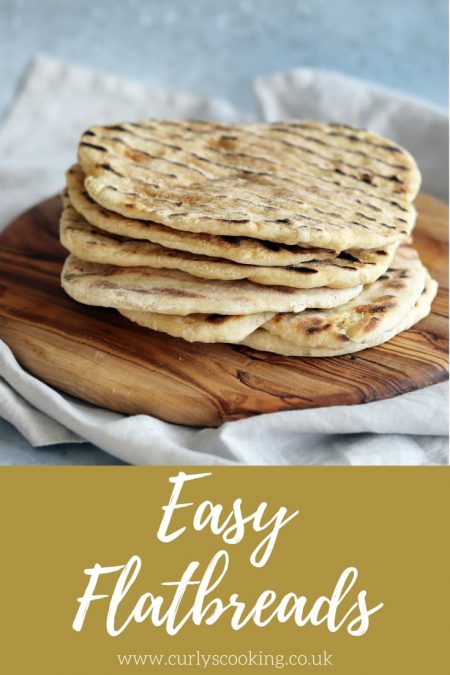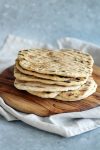 Easy Flatbreads
Easy Flatbreads are quick and simple to make and incredibly delicious! Once you have realised how easy they are you'll be making them all the time!
Ingredients
350

g

plain flour

plus extra for dusting

1

tsp

baking powder

½

tsp

sea salt

350

g

non fat yogurt
Instructions
Add the flour, baking powder and salt to a clean work surface. Make a well in the middle

Add the yogurt into the well

With your hands, begin mixing the flour with the yogurt. Keep kneading until all of the flour has been incorporated

Keep kneading the dough until it is smooth and soft – this should only take a couple of minutes. Use more flour to stop the dough sticking if needed

Once smooth, cut the dough into 8 pieces

Dust the surface and rolling pin with flour. I pat each portion of dough into a rough circle before rolling it out to 2-3mm in thickness. Repeat with all balls of dough

Heat a griddle or frying pan on a high heat. Cook each flatbread in a dry pan for 1-2 minutes on each side. When bubbles start to appear and you can see griddle marks, you are ready to turn

Keep the flatbreads warm under a tea towel or in a tortilla warmer until ready to eat
Recipe Notes
Nutritional information is given as a guide only and my vary.
Nutrition Facts
Easy Flatbreads
Amount Per Serving
Calories 184
Calories from Fat 9
% Daily Value*
Fat 1g2%
Cholesterol 1mg0%
Sodium 180mg8%
Potassium 222mg6%
Carbohydrates 37g12%
Protein 7g14%
Vitamin C 1mg1%
Calcium 121mg12%
Iron 2mg11%
* Percent Daily Values are based on a 2000 calorie diet.