Deliciously charred chicken thighs with a gentle chilli warmth. This Ancho Chilli Chicken is great cooked on the BBQ or an air fryer which makes it perfect for anytime of year.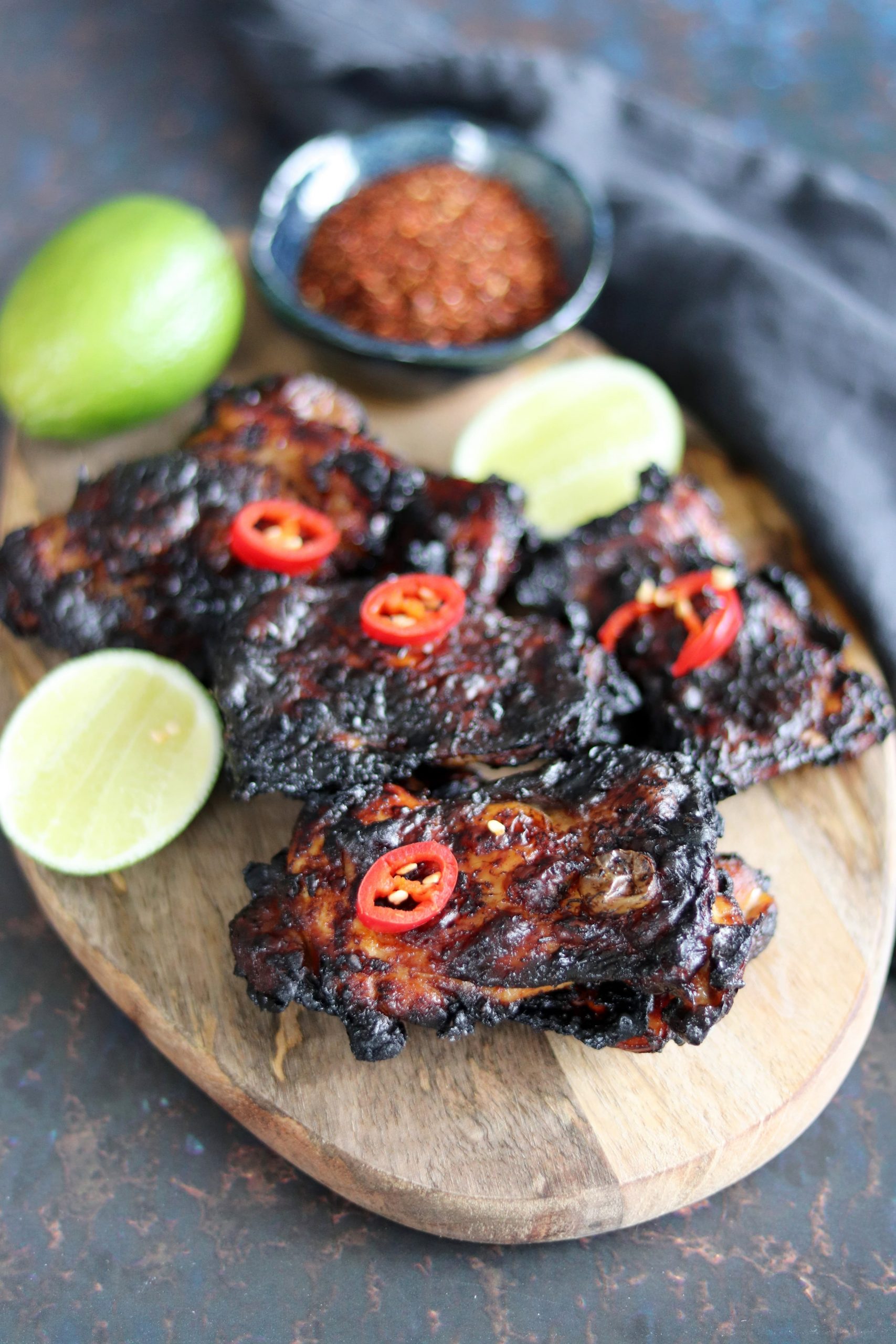 Inspired by Mexican Flavours
I love Mexican food so any opportunity I have to use those flavours, I take it!
It is quite common in Mexican cuisine to use citrus juice in marinades. Carnitas are one of my favourite authentic Mexican recipes that incorporates orange juice.
Chillies are an integral part of Mexican cookery and are some of my favourite ingredients to play around with.
The citrus and chilli don't overpower the dish but work together to create a delicious flavour.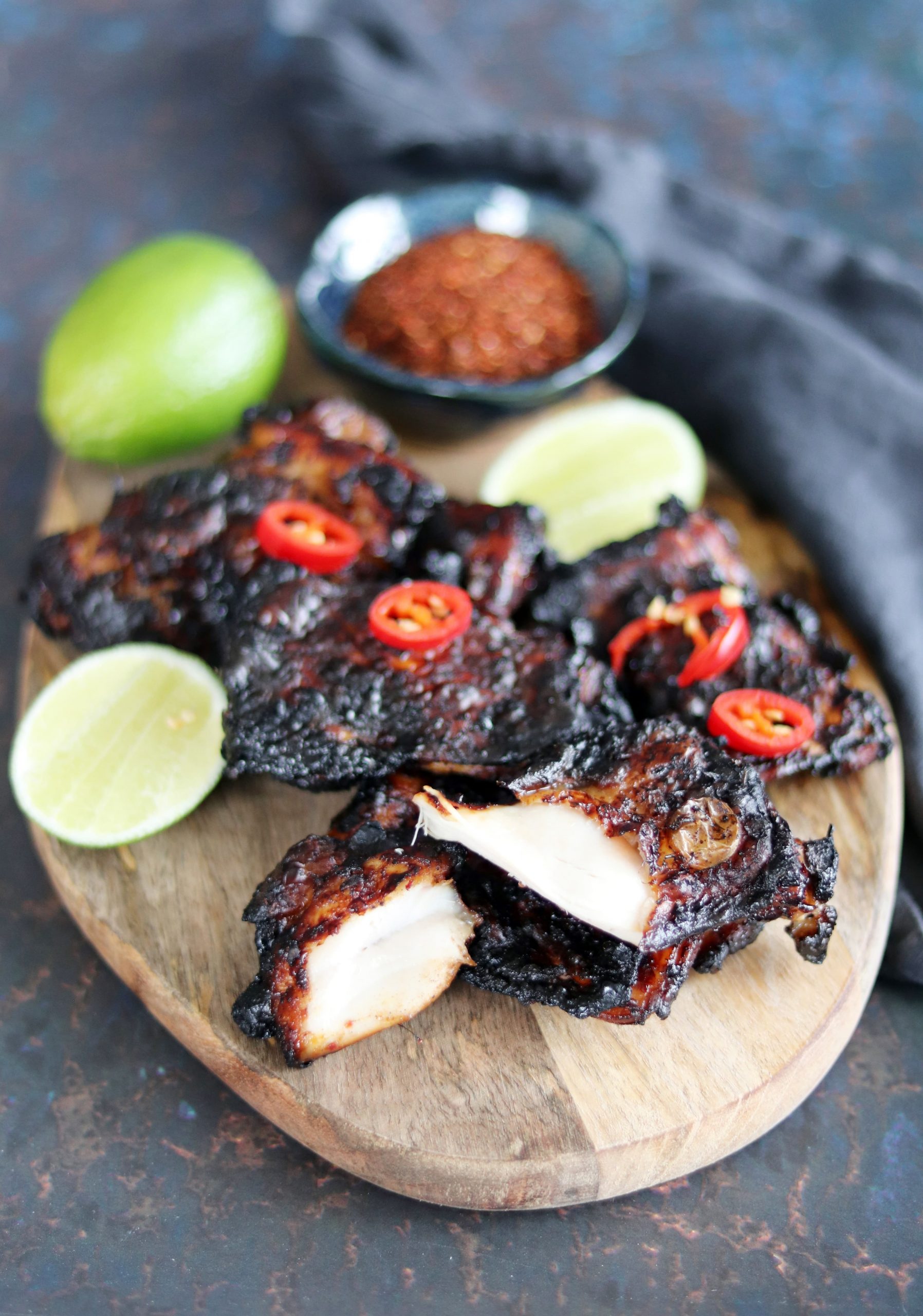 What are ancho chillies?
Ancho chillies are the dried version of poblano chillies. Poblano chillies are usually harvested when they are green.
However ancho chillies are the dried version of the poblano peppers that have been allowed to ripen. When the chillies ripen, they become sweeter which mellows out their mild flavour.
This is why ancho chillies are deep red whereas poblano chillies are green.
Ancho chillies can either be soaked whole or used in flakes or chilli form. They have a smoky, sweet flavour. They are mild to medium in heat.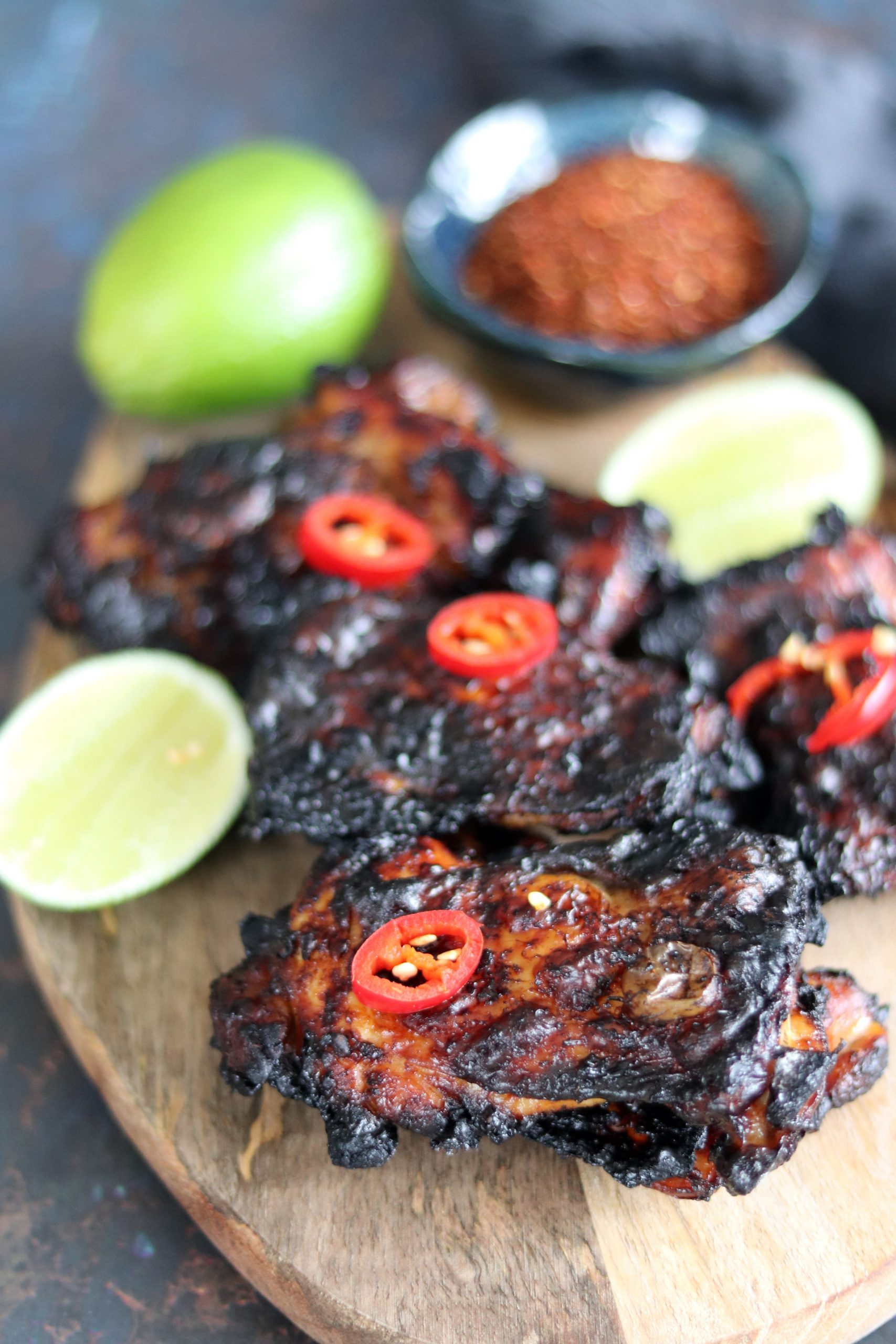 Can I still make this if I can't find ancho chillies?
Yes you definitely can. Use two teaspoons of whatever chilli powder you do have and one teaspoon of smoked paprika to replicate the smokiness of the ancho chilies.
Ancho chilli powder and flakes have become a lot more widely available in recent years. You should be able to find them in most large supermarkets so keep your eyes peeled for them!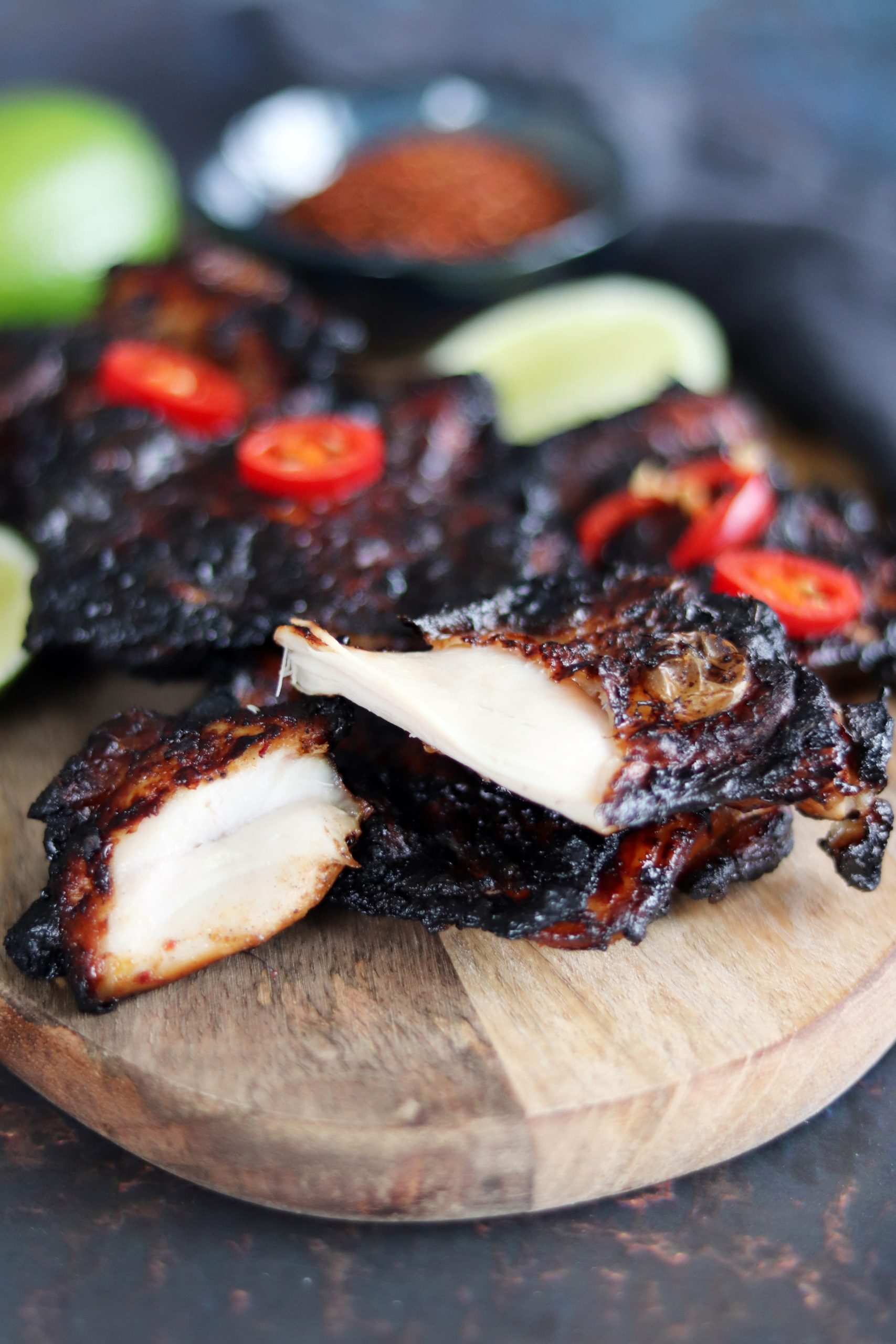 Chillies don't NECESSARILY mean heat
Lots of people would assume that this would be quite a spicy dish because of the amount of chilli powder, but even with 3 teaspoons this recipe has a gentle warmth and isn't overly hot at all.
The chillies work with the citrus in the marinade to create a subtle heat that isn't overly spicy at all.
As with most recipes, you can always reduce the chilli powder if you prefer a mild flavour.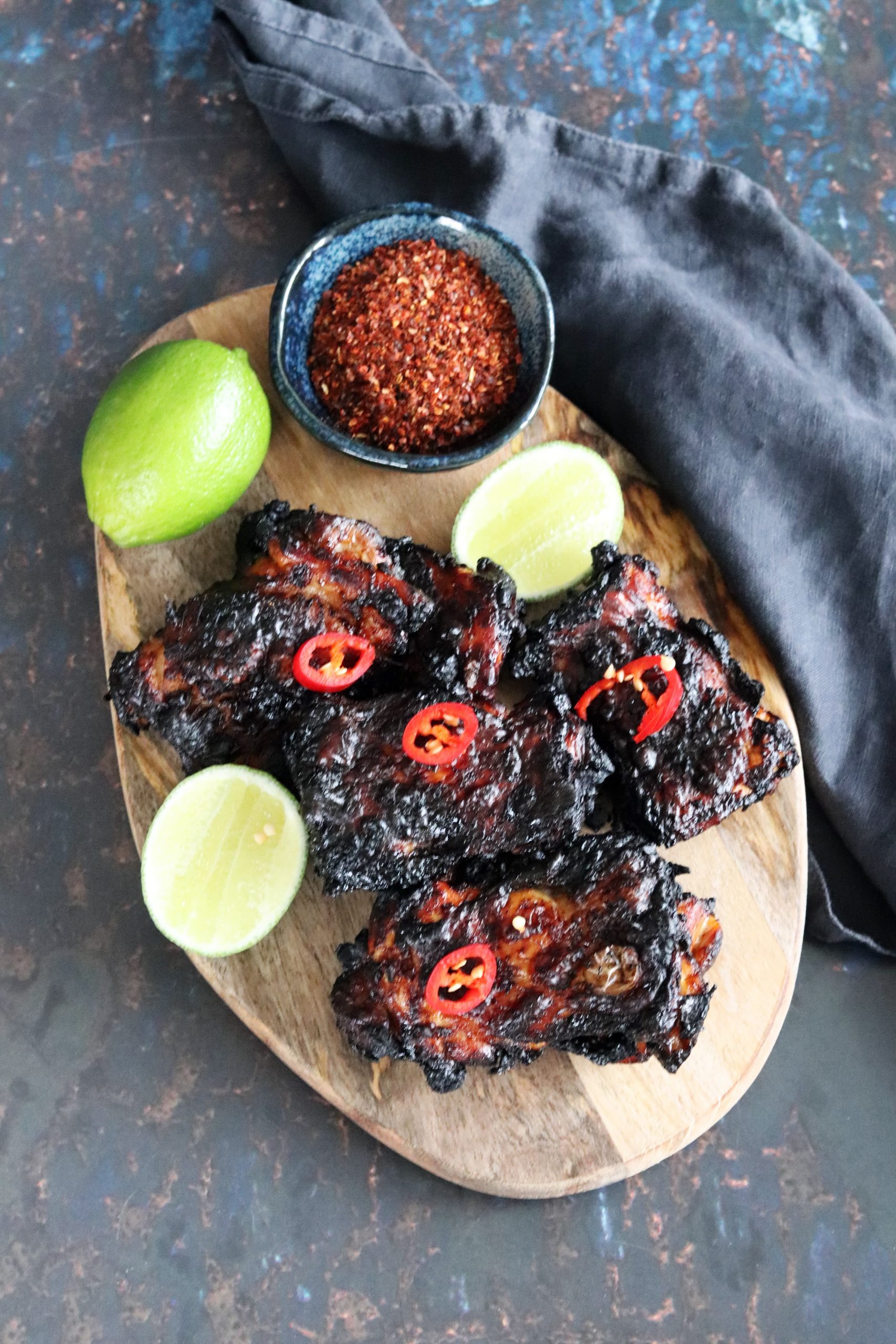 Which cut of chicken is recommended to use?
I personally prefer to use chicken thigh for this recipe. You can use chicken thigh fillets that have the bone and skin removed or chicken thighs that have the bone and skin intact.
I prefer to remove the bone from chicken before cooking because I am a bit fussy about eating chicken on the bone. However this is personal preference.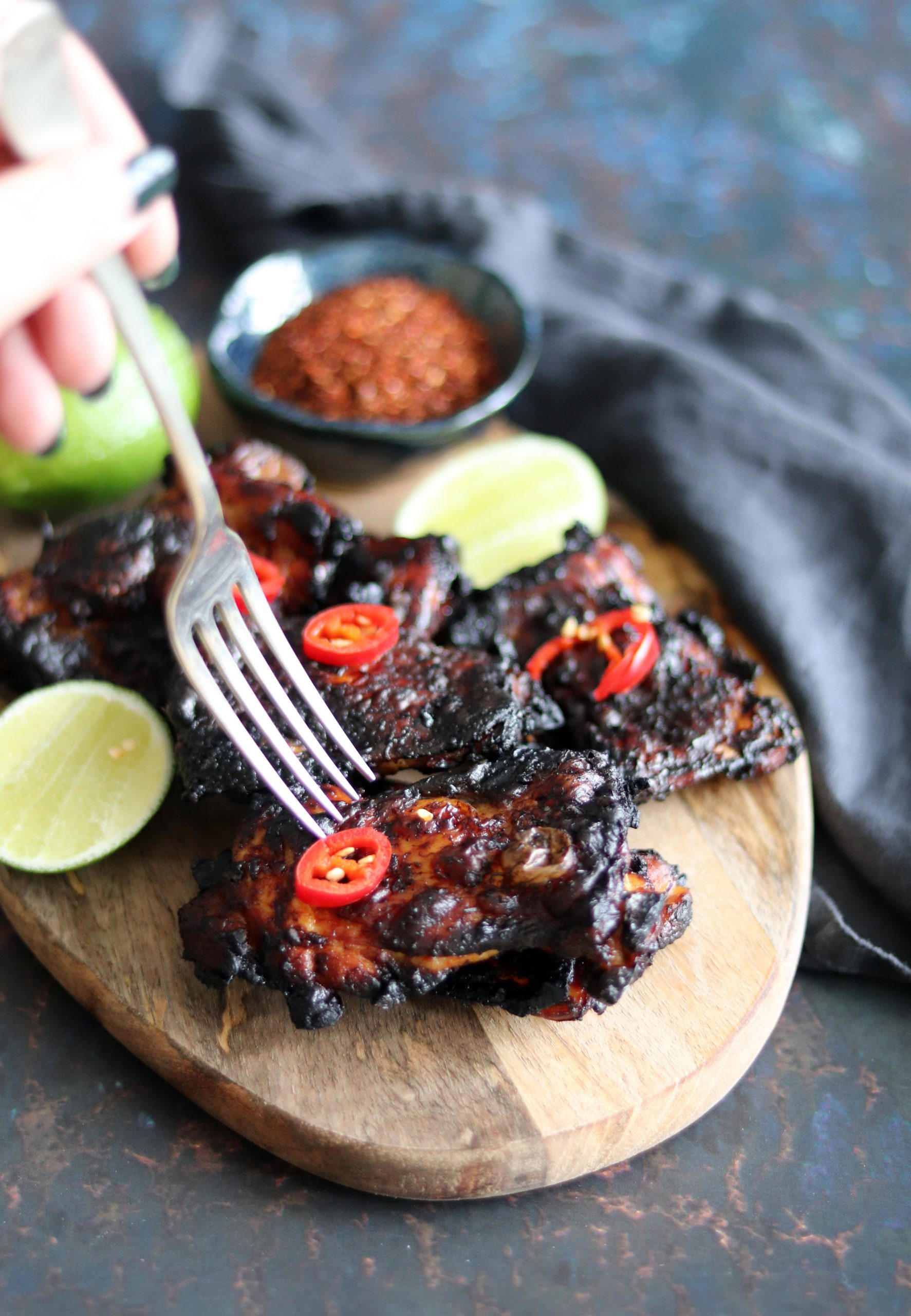 If you are using chicken thighs with the bone in, these will take longer to cook. If you are cooking them on the BBQ, you may want to cook the in the oven first and then finish them on the BBQ. This way you can ensure they are cooked through.
You can use chicken breasts for this Ancho Chilli Chicken, just be careful as it is easier to overcook breast meat.
A great idea would be to spatchcock a whole chicken and double the quantities below so you have enough to cover the whole chicken. You would struggle to fit this in an air fryer though!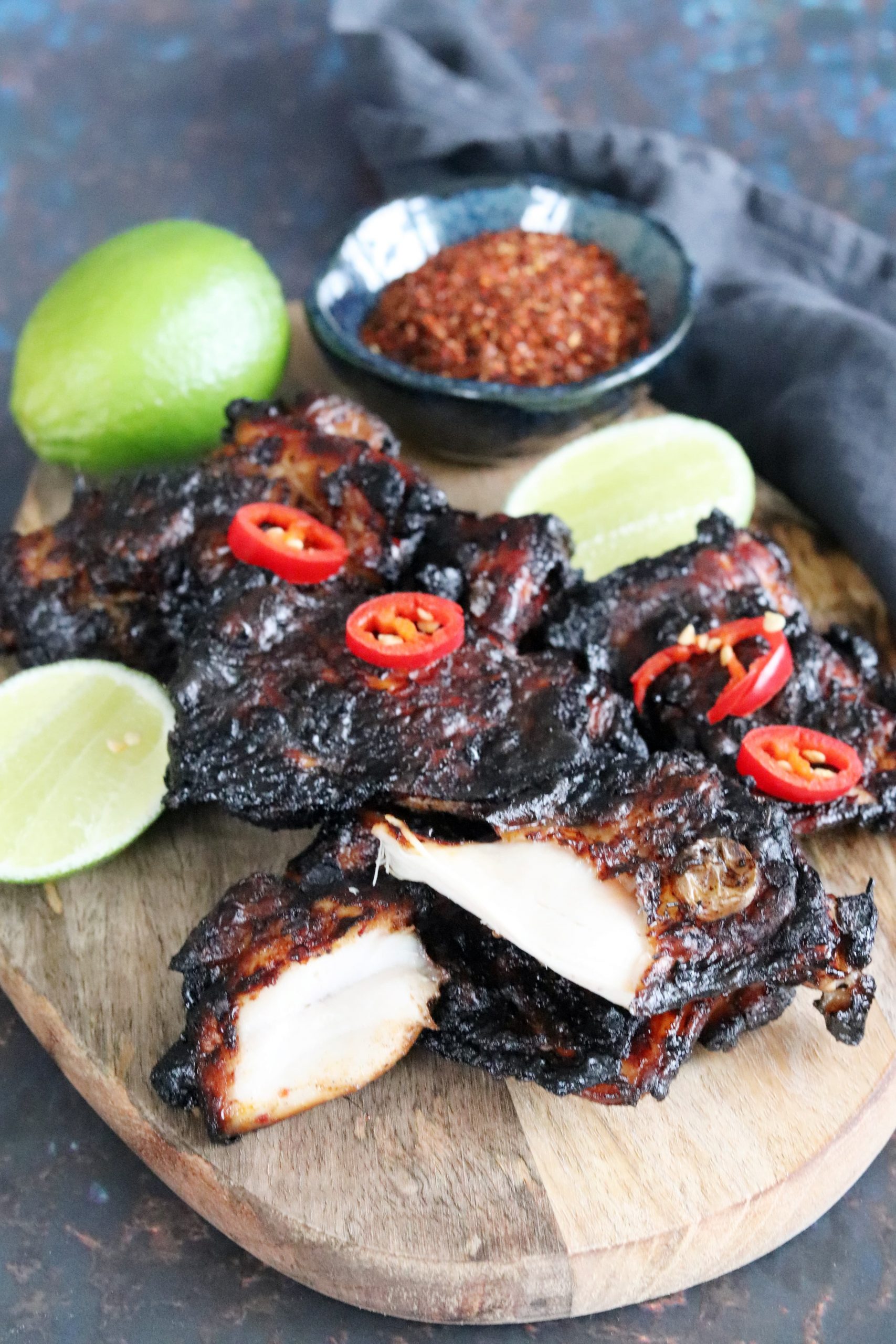 How is best to cook this Ancho Chilli Chicken?
This Ancho Chilli Chicken is great because you can cook it in a number of different ways.
You want to get a lovely crisp skin to your chicken thighs whilst keeping the meat juicy.
My favourite ways of cooking it are either on the BBQ or in my air fryer. The BBQ gives them a delicious charred flavour that is fantastic.
Make sure your BBQ isn't too hot and the outside gets crisp but it isn't cooked all the way through! With any meat, if you are unsure whether it is cooked, use a food thermometer or cut it in half to check it is thoroughly cooked.
If you are cooking these in an air fryer I would recommend cooking them on 190ºC for 20 minutes. Place them in skin side up so this gets lovely and crisp.
If you don't have a BBQ or air fryer you can cook them on either a griddle pan or in the oven. In the griddle pan they will take around 5-7 minutes on each side. In the oven cook them at 180ºC for 20-25 minutes until they are cooked through.
Whichever way you decide to cook them they will be delicious!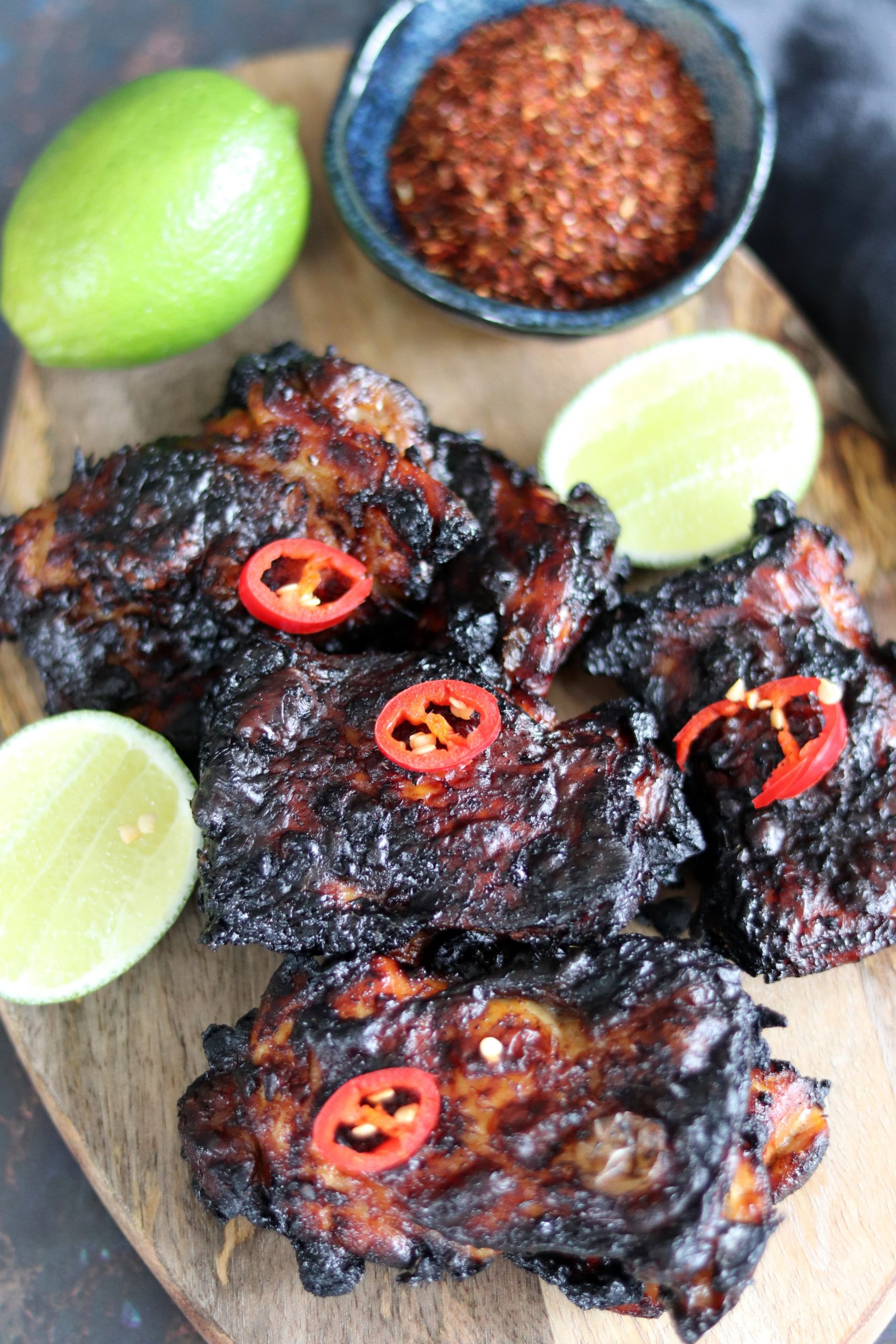 What is recommended to serve with this Ancho Chilli Chicken?
These thighs are so versatile and can be served with anything you fancy. Rice or sweet potato with a nice salad and maybe even my Mexican Sweetcorn Salad would make a very tasty dinner.
Alternatively you could add them to a Flatbread with salad for a great lunch idea. These are delicious hot or cold, so I would recommend making more than you want to eat for that meal and saving the rest for yummy leftovers.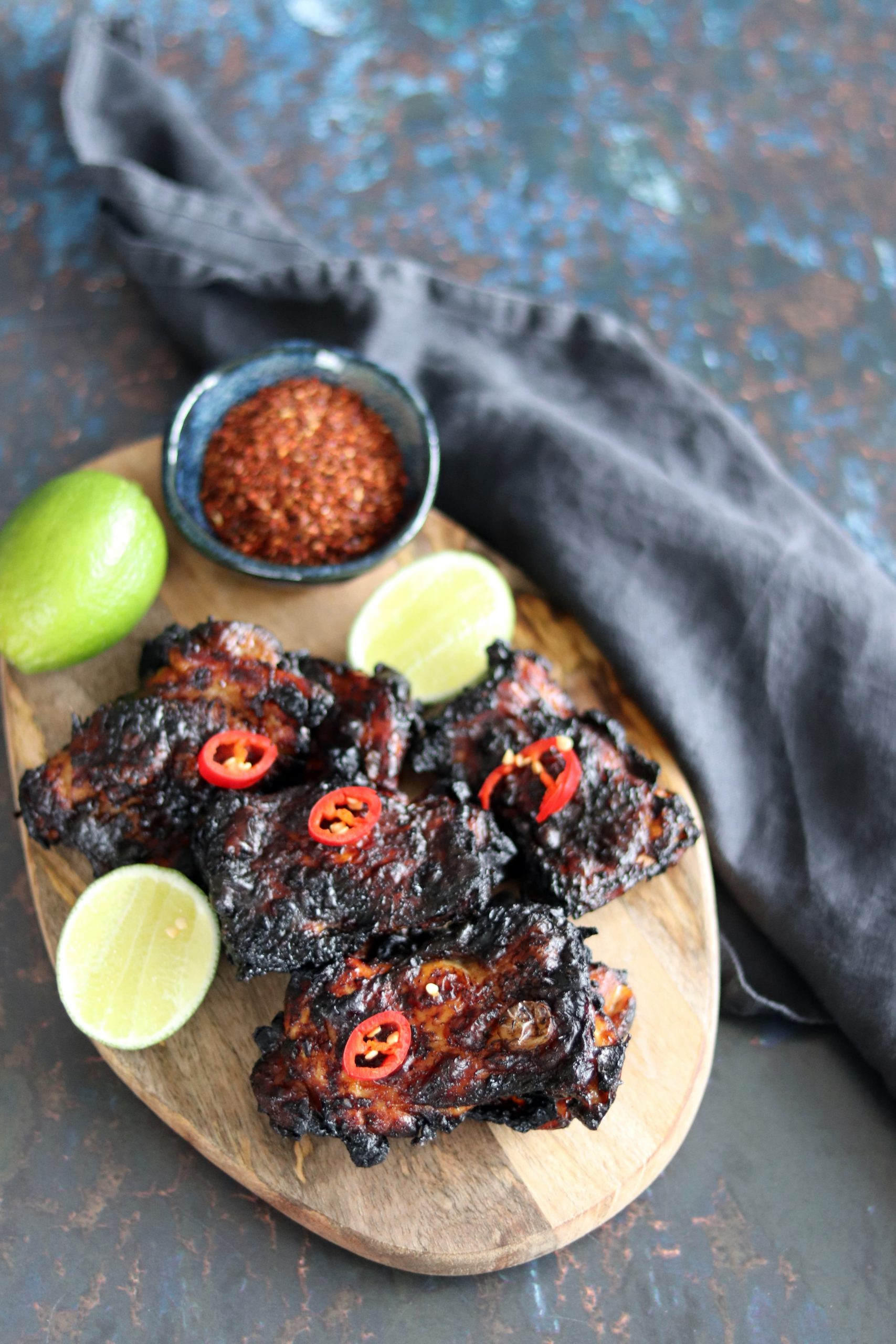 Other recipes you might like
Pin for later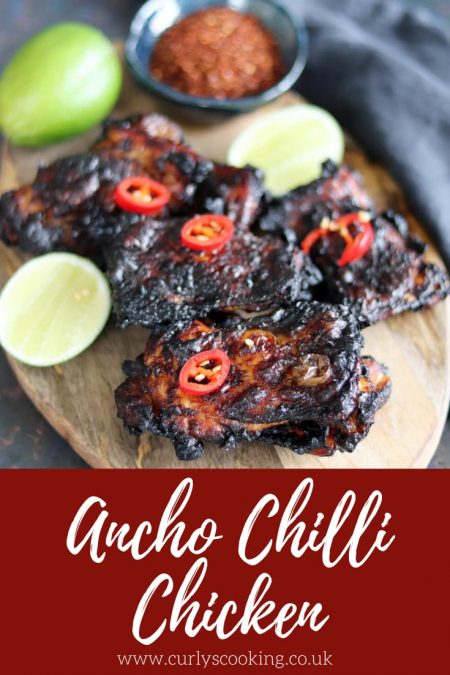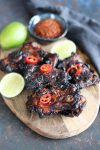 Ancho Chilli Chicken
Deliciously charred chicken thighs with a gentle chilli warmth.This Ancho Chilli Chicken is great cooked on the BBQ or an air fryer which makes it perfect for anytime of year.
Ingredients
500

g

chicken thighs

de-boned

125

ml

orange juice

2

tbsp

honey

60

ml

fresh squeezed lime juice

1

tbsp

sunflower oil

2

tsp

ancho chile powder

1

tsp

ancho chile flakes

3

cloves

garlic

chopped

1

tsp

salt
Instructions
Whisk together the orange juice, lime juice, honey, oil, chilli powder & flakes, garlic and salt in a bowl

Add the chicken thighs and leave in the fridge to marinade for at least 2 hours but ideally over night

Take the chicken out of the marinade and cook in a griddle pan, air fryer or a BBQ for around 5 minutes on each side or until the chicken is charred and cooked through
Recipe Notes
Nutritional information is given as a guide only and my vary.
Nutrition Facts
Ancho Chilli Chicken
Amount Per Serving
Calories 484
Calories from Fat 297
% Daily Value*
Fat 33g51%
Cholesterol 163mg54%
Sodium 927mg40%
Potassium 463mg13%
Carbohydrates 18g6%
Protein 28g56%
Vitamin A 609IU12%
Vitamin C 22mg27%
Calcium 28mg3%
Iron 1mg6%
* Percent Daily Values are based on a 2000 calorie diet.
Linking to