Crisp choux pastry filled with deliciously soft whipped cream, topped with Nutella and roasted hazelnuts. These Gluten Free Nutella Choux Buns are pretty amazing.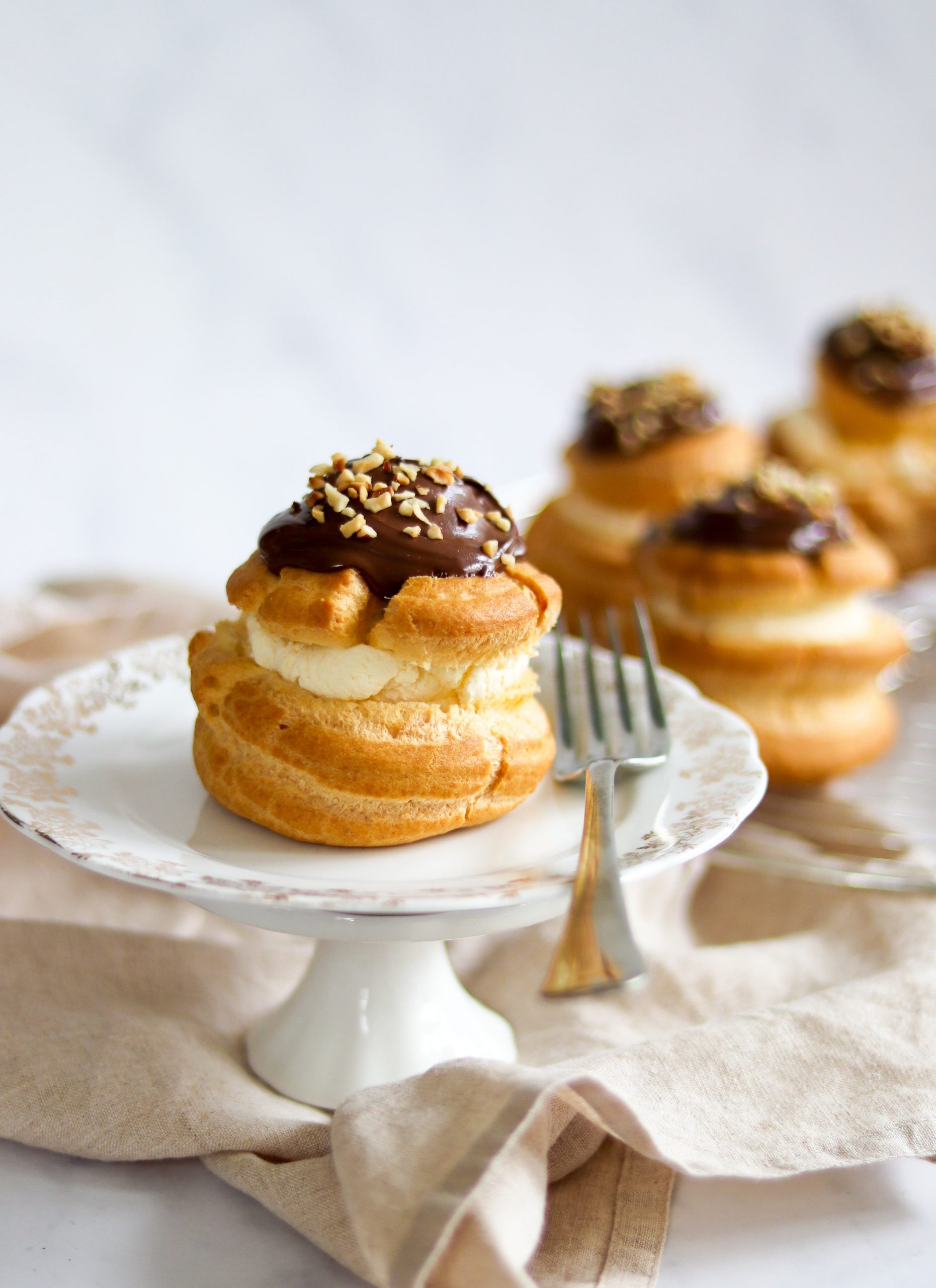 What are choux buns?
Choux pastry or pâte à choux is a form of pastry made using flour, water, butter and eggs. Instead of using a raising agent, it relies on the high moisture content to steam the pastry as it bakes.
Classic ways of using choux is for eclairs, profiteroles or choux buns. Choux buns are simply put a larger version of profiteroles. You would just eat one choux bun whereas you would eat multiple profiteroles.
They are also often called cream puffs in the US.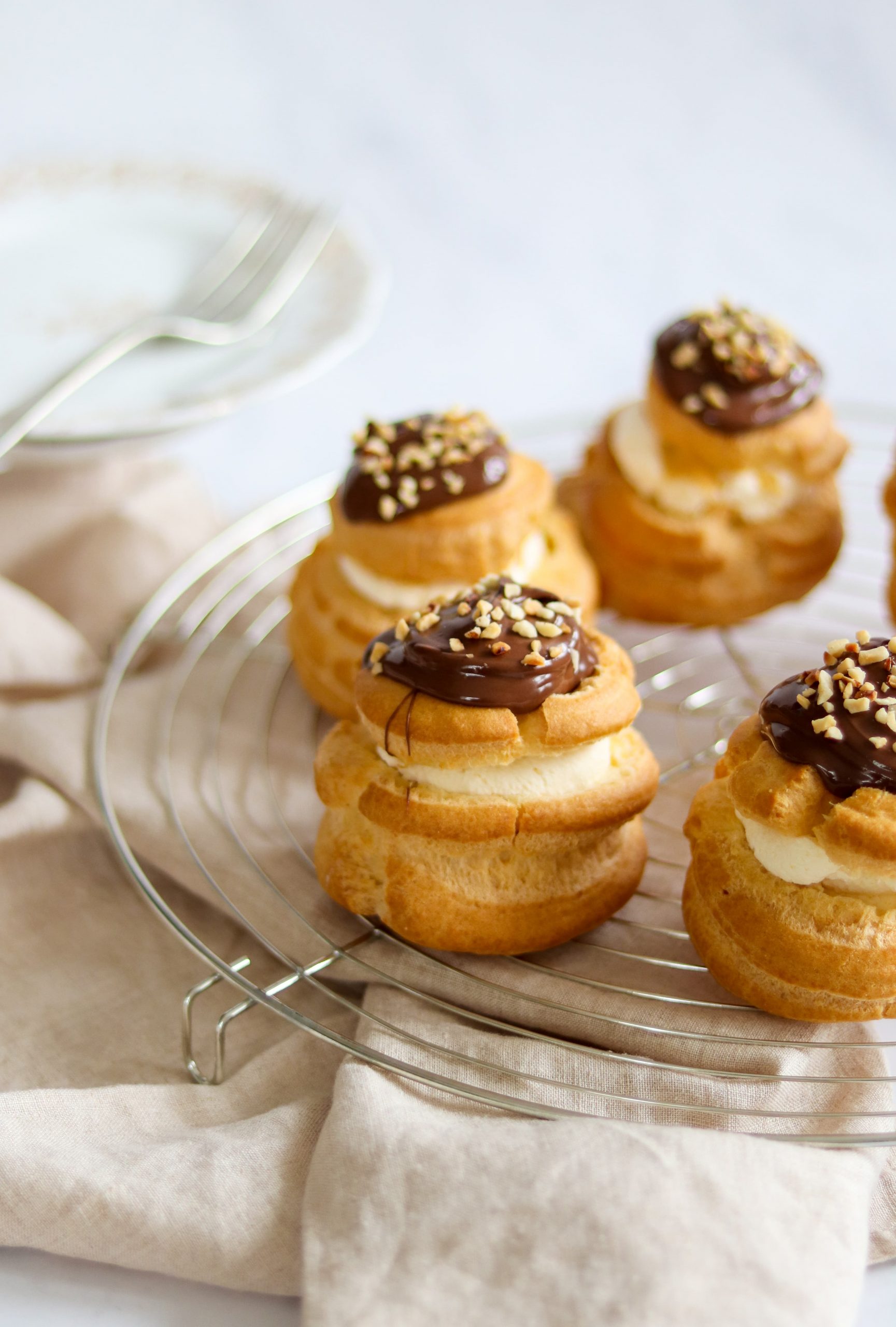 Why make these Nutella Choux Buns Gluten Free?
I first made these for a weekend in the Cotswolds with my lovely Uni friends. One of my friends has coeliac disease so whatever I made had to be suitable for us all.
I adapted Glutarama's éclair recipe for these Nutella Choux Buns. She has so many delicious gluten free recipes I knew her choux pastry would be no different.
If you are familiar with gluten free food, it sometimes doesn't taste quite like its gluten containing counterpart. The great thing about making these Gluten Free Nutella Choux Buns is that no one could taste any difference.
These buns are great to make so that everyone can enjoy the same dessert.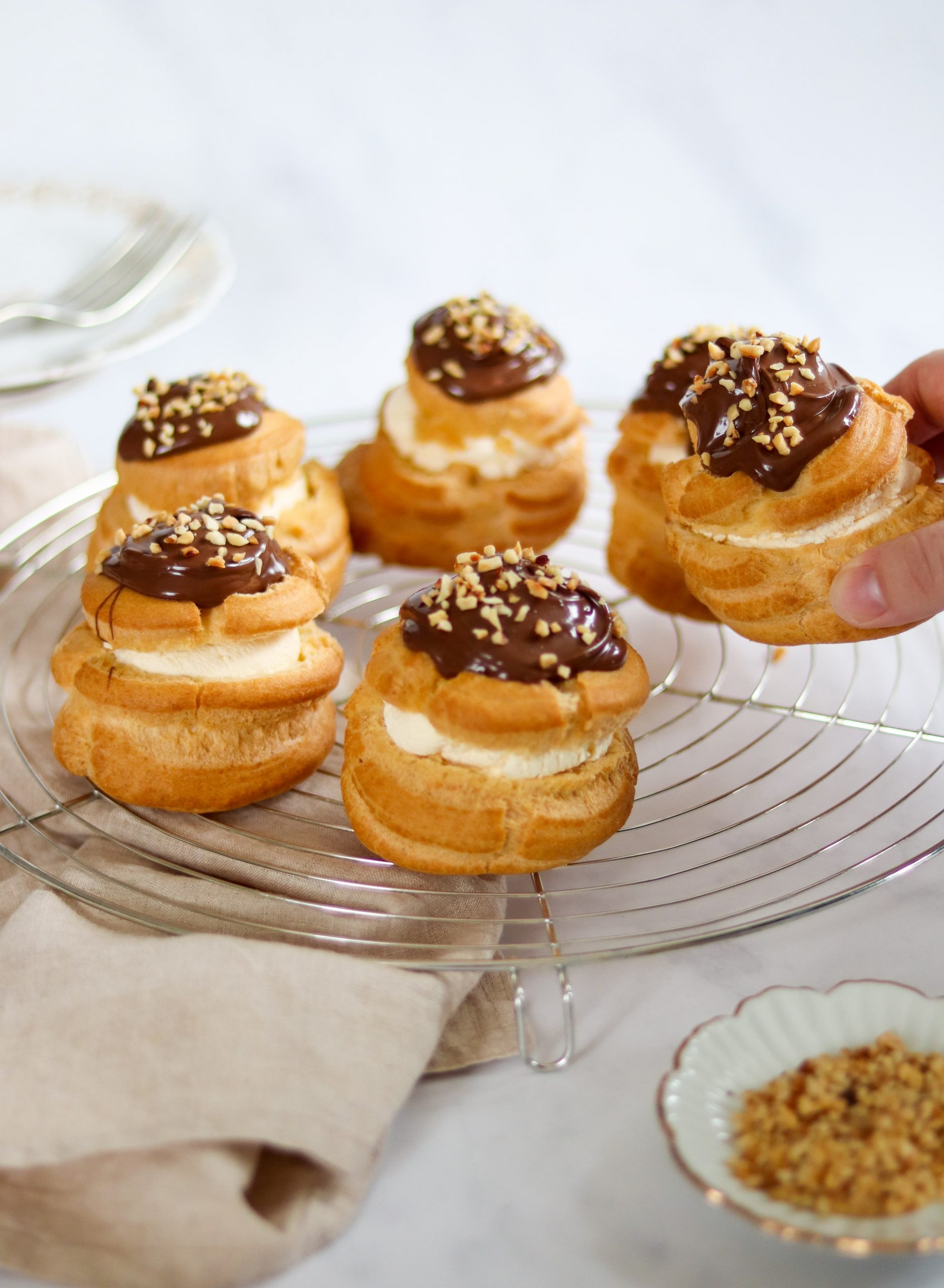 Nutella topped deliciousness
I am a massive fan of Nutella and use it in baking whenever I can.
I did realise a few years ago that Nutella includes palm oil. However they have since changed their recipe and now only use sustainable palm oil.
If you don't want to use any products that include palm oil, then Gü have a delicious palm oil free version.
You could also just use melted chocolate if you prefer.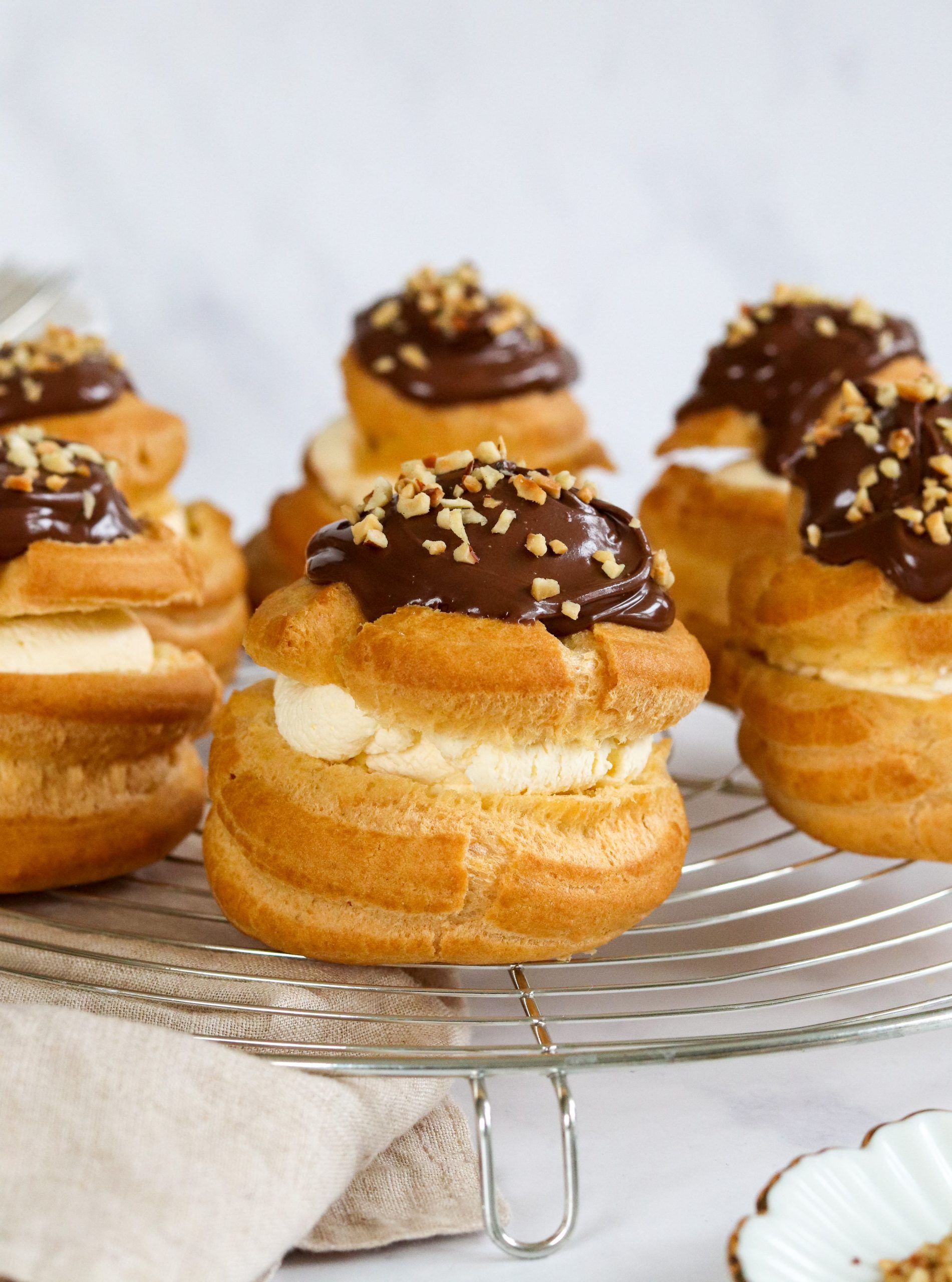 WHICH HAZELNUTS ARE BEST TO USE?
I prefer to use roasted hazelnuts because they have a nice toasty flavour.
You can buy these toasted and chopped from most supermarkets which is very convenient.
If you would prefer you can buy them whole and roast them in the oven for ten minutes or so until they smell toasted and delicious. You can then chop them or blitz them in a mini food processor.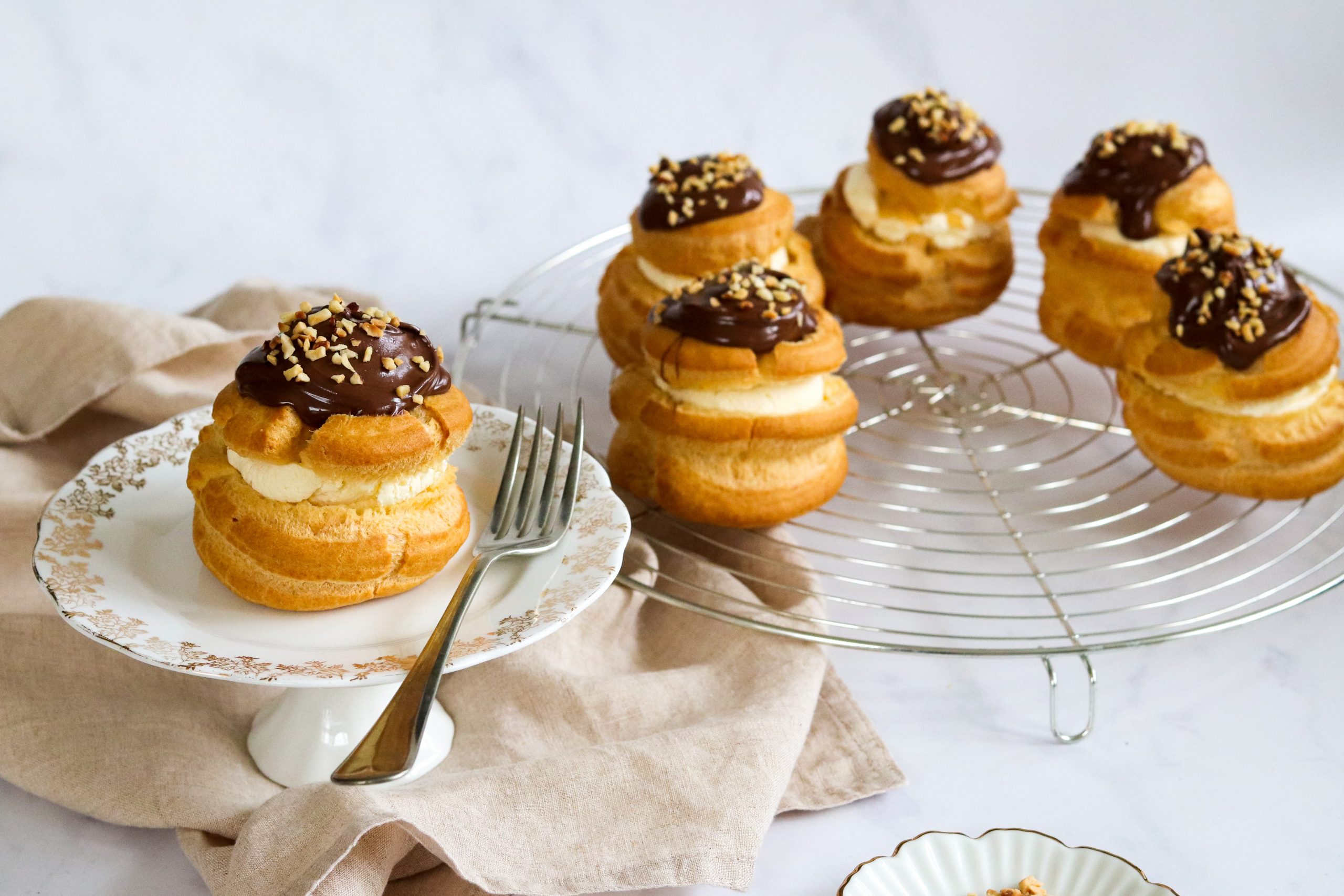 Which cream is best to use?
You can use double or whipping cream for these choux buns. I tend to buy double cream (heavy cream) through habit, but you can use either.
Double cream has a higher fat content and is easier to overwhip because of this. So if this is something you are worried about, use whipping cream.
Whichever cream you decide to use, make sure you keep an eye on it as cream is easy to overwhip. It can change from liquid to butter in seconds so you definitely need to watch it.
I prefer to whip cream on a low speed so you can hopefully see when it is about to change easier.
I wouldn't use single cream for this recipe as you won't get the volume needed.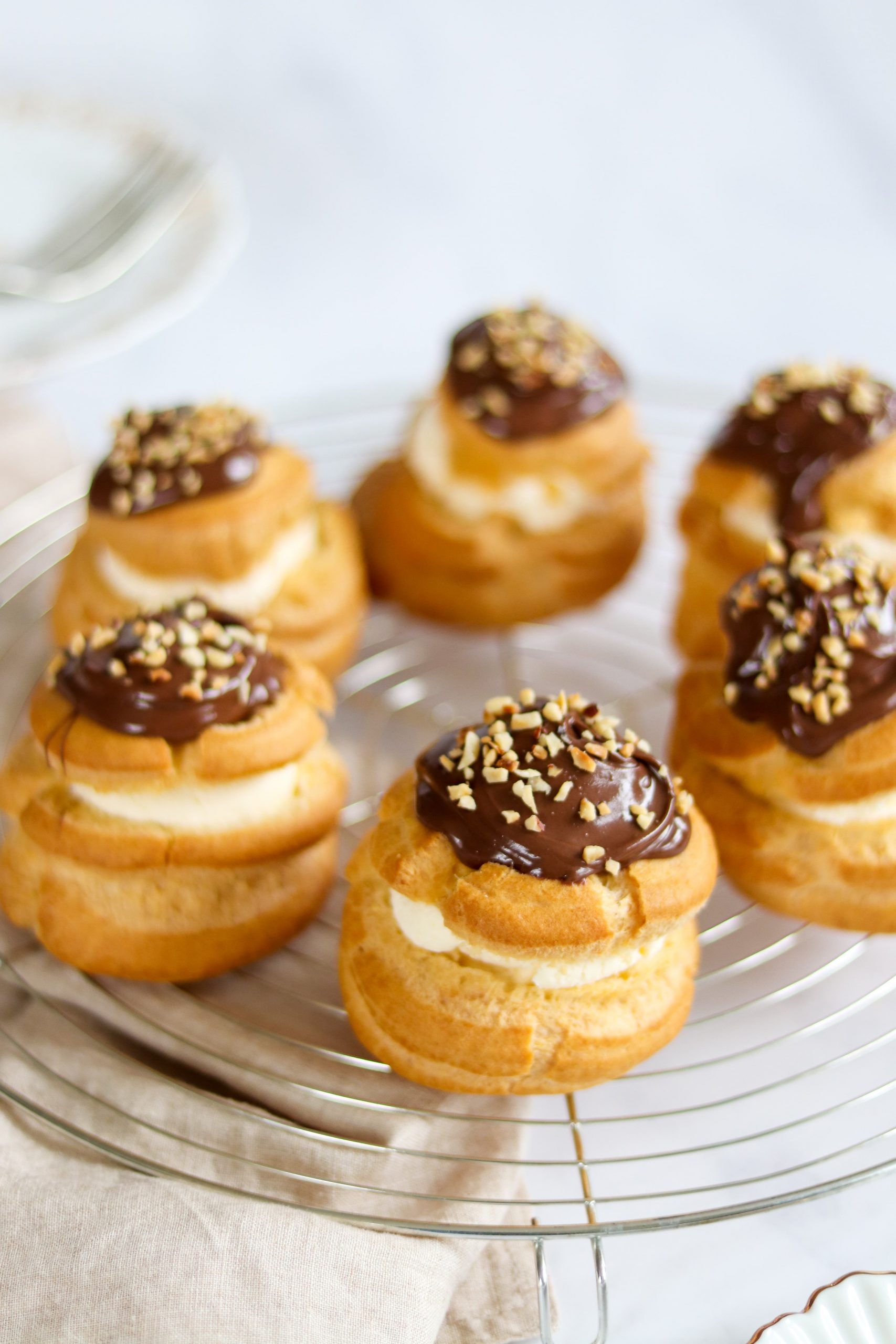 Choux pastry tips
Make sure you let the flour, water and butter mix cool for at least 15 minutes before adding the eggs. If the mixture is too hot the eggs will start to cook which isn't what you want!
Don't panic if your choux pastry looks a little strange when you start adding the eggs. Just keep mixing and it will come together just fine.
After you have baked the choux buns for 25 mins, cut them open. If they still seem a little stodgy inside, just put them back in the oven for a further 5 minutes with their lids off so they can dry out.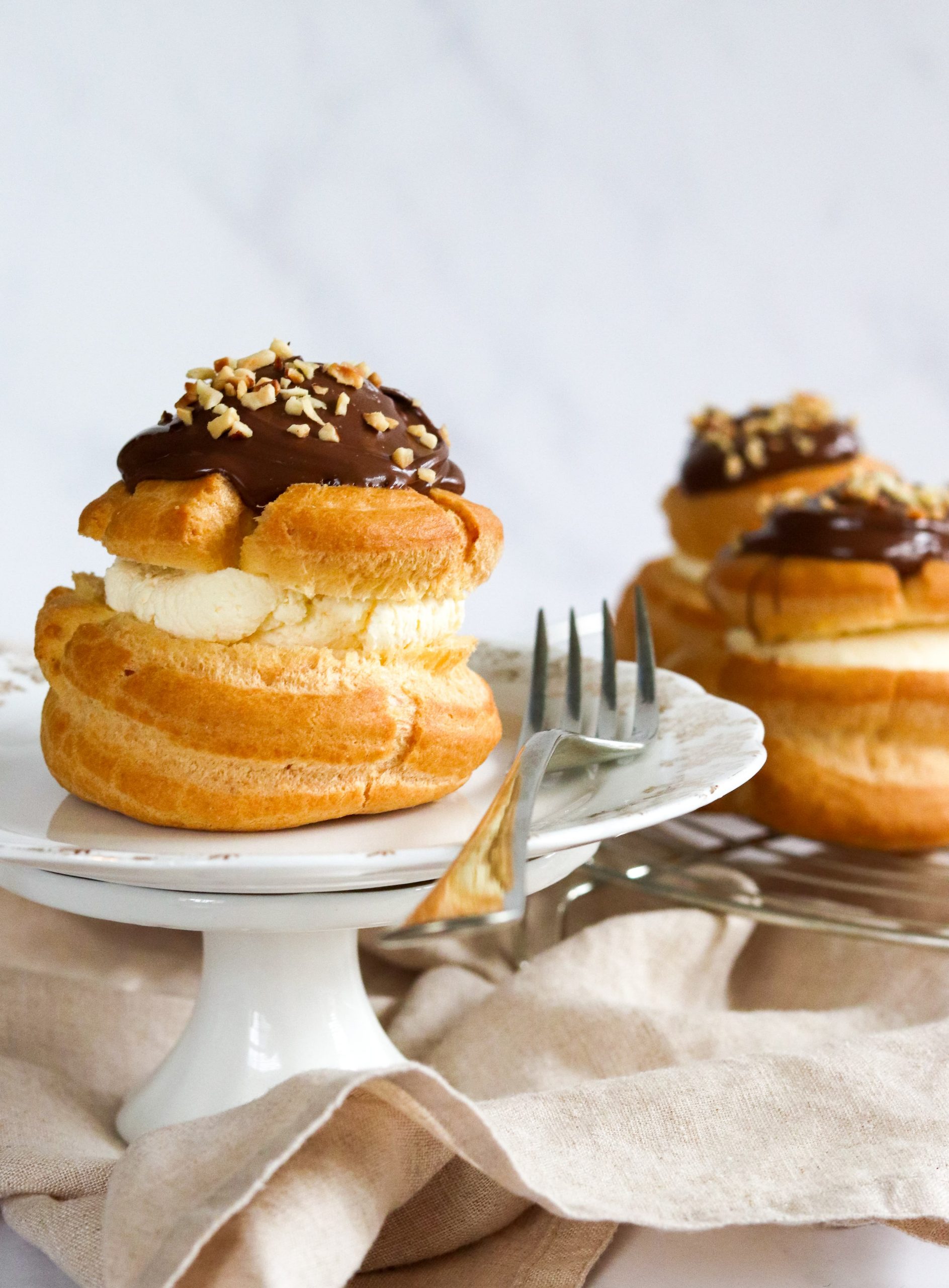 Don't panic if your piping isn't perfect!
Personally, I think that gluten free choux pastry is harder to pipe than standard choux. Well this is what I tell myself because I struggle to pipe it as neatly!
It really doesn't matter if you aren't the best at piping. Choux Buns are allowed to look rustic! Plus you're covering them in Nutella later so don't stress yourself out about perfect piping.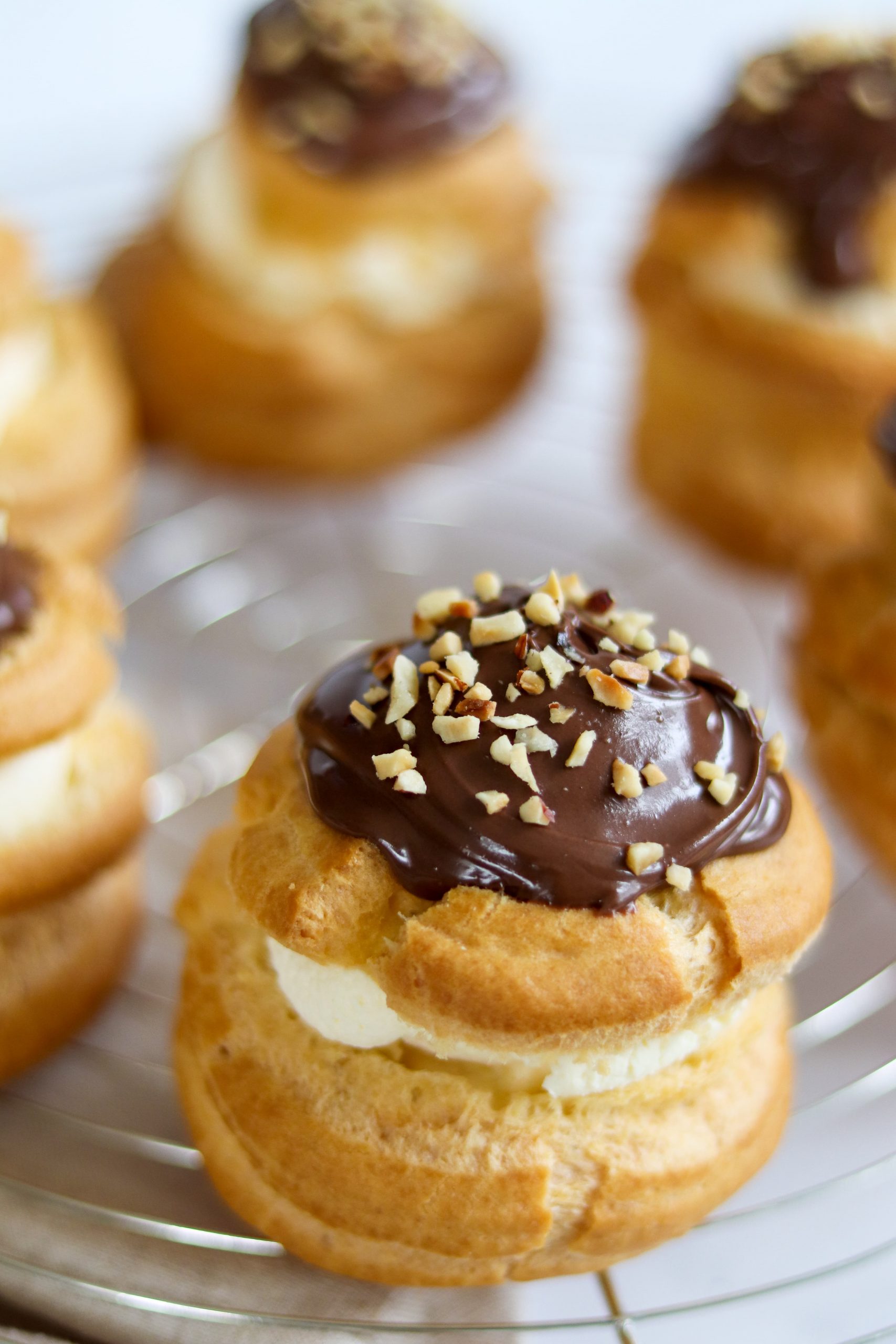 What to do if you don't have a piping bag and/or nozzle
Don't panic, you can still make these beauties!
Just add the mixture to a sealable sandwich bag. Squeeze the choux pastry to one of the corners and snip it off so you have a hole approximately 1cm wide. Then you can just squeeze the choux out as normal.
If you do have a piping bag, but not a round nozzle, just snip the end of the bag off.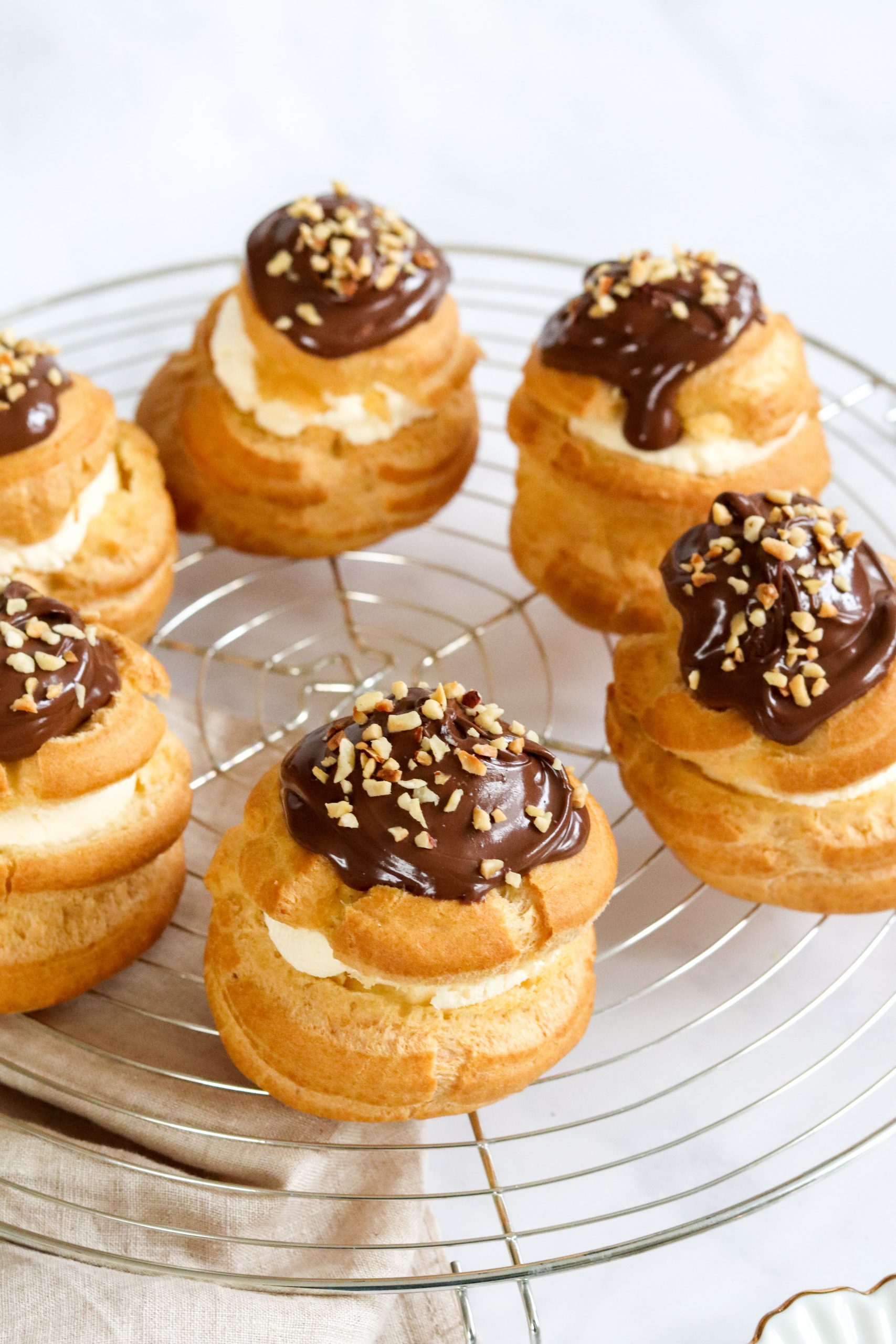 How long will these choux buns keep for?
Choux buns are usually best eaten on the day they are baked. Keep them in an airtight container in the fridge and they will keep to the next day.
If you would like them to last longer, you can freeze them once they have cooled for up to three months.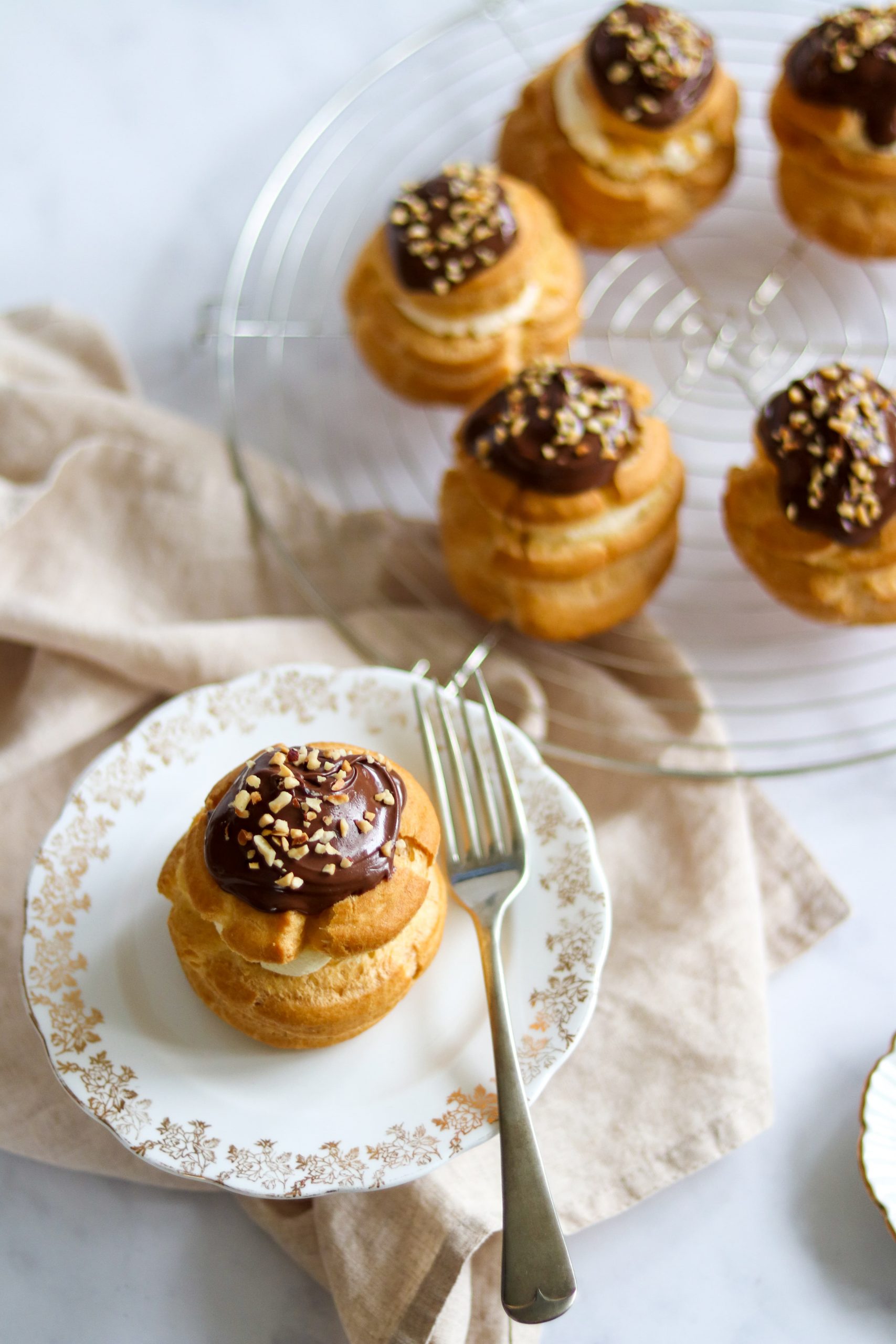 Other recipes you might like
Pin for later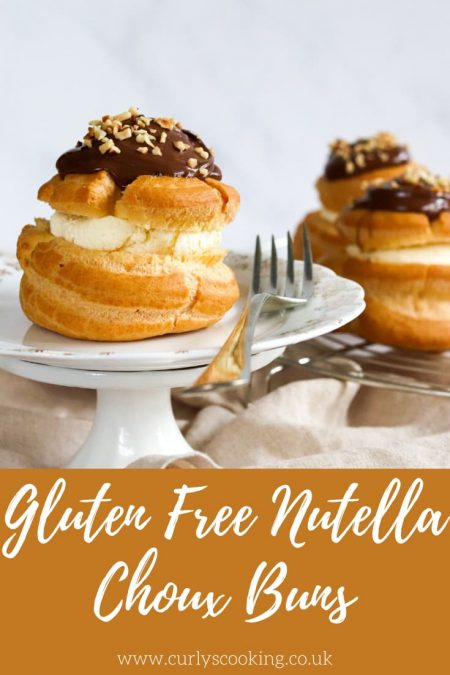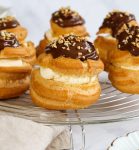 Gluten Free Nutella Choux Buns
Crisp choux pastry filled with deliciously soft whipped cream, topped with Nutella and roasted hazelnuts. These Gluten Free Nutella Choux Buns are pretty amazing.
Ingredients
For the choux pastry
130

g

butter

130

ml

water

200

g

gluten free flour

4

large

eggs
For the filling & topping
300

ml

double or whipping cream

(heavy cream)

150

g

Nutella

20

g

chopped toasted hazelnuts
Instructions
Add the butter and water to a pan and bring to the boil

Take off the heat and add all of the flour and then stir quickly to combine making sure all of the flour is mixed in

Leave to cool for at least 15 minutes so the mixture isn't too hot when you add the eggs

Whilst waiting for the mix to cool, line two baking trays with baking paper and then set aside. Preheat the oven to 200ºC (fan assisted or 220ºC non fan).

Beat the eggs and add them roughly one egg at a time making sure you stir quickly after each addition and making sure each egg is combined before adding more

Spoon the mix into a piping bag with a large round nozzle. Pipe large circles of the mix onto the prepared baking trays

Bake in the oven for 25 minutes making sure you don't open the door

Allow them to cool for a few minutes before cutting them open. If they are a little bit stodgy inside, put them back in the oven for another 5 minutes so they full crisp up

Leave to cool whilst you make the filling. Whip the cream until it it forms soft peaks and then pipe into the bottom half of each choux bun

Melt the Nutella for approximately 30 seconds in a heatproof bowl in the microwave, you're just looking to get it a bit easier to spead

Add the tops of the choux buns back onto the cream filled bottoms and then spread with the Nutella before finally sprinkling with the toasted hazelnuts
Recipe Notes
Choux buns are best eaten on the day they are baked, if not the day after.
Nutritional information is given as a guide and may vary.
Nutrition Facts
Gluten Free Nutella Choux Buns
Amount Per Serving
Calories 411
Calories from Fat 153
% Daily Value*
Fat 17g26%
Cholesterol 93mg31%
Sodium 125mg5%
Potassium 85mg2%
Carbohydrates 22g7%
Protein 5g10%
Vitamin A 420IU8%
Calcium 41mg4%
Iron 2mg11%
* Percent Daily Values are based on a 2000 calorie diet.