Comforting and easy but most importantly this Sausage & Mustard Tray Bake is delicious. This recipe is really adaptable so you can use up any vegetables you have in your fridge.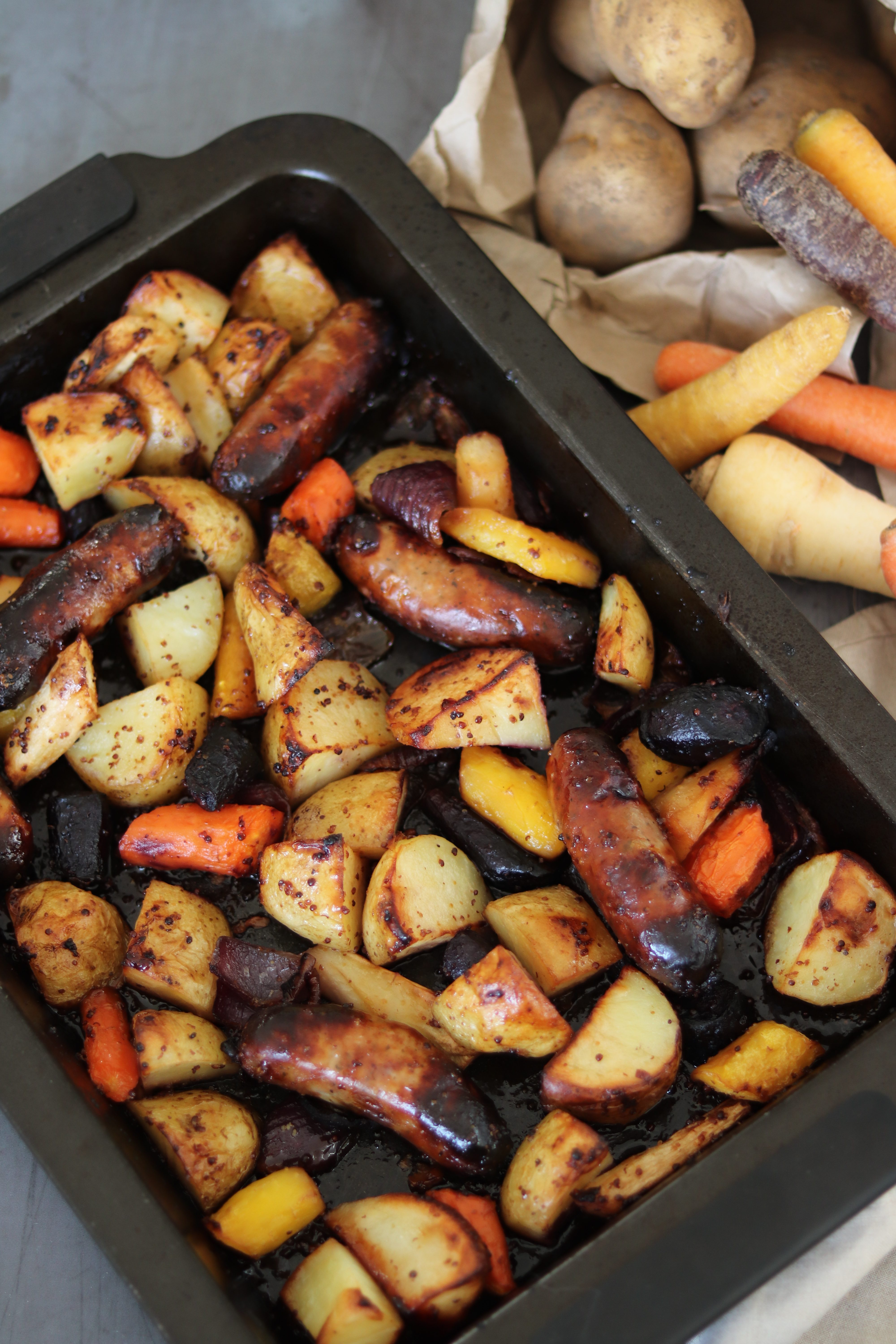 We're at that time of year now when we all look for a warm and comforting meal to come home to in the evenings. Sausages and roasted vegetables are such essential winter ingredients that can be made into so many tasty dishes.
Apart from the tasty ingredients, the other advantage to this recipe is how easy it is. All you need to do is peel and cut some vegetables, mix a sauce, give it a stir and put it in the oven.
You can then carry on with your evening duties, whether that is washing, ironing or something that is actually exciting; without having to be tied to your kitchen.
Can I use different vegetables?
This recipe is incredibly versatile and really allows you to add vegetables that you like or happen to have lurking in the fridge. I would recommend using potatoes as a standard ingredient and then adapting the other vegetables.
As well as changing the vegetables you use, you can easily change the quantities too. If you're trying to eat less carbs, reduce the number of potatoes and add more of something else.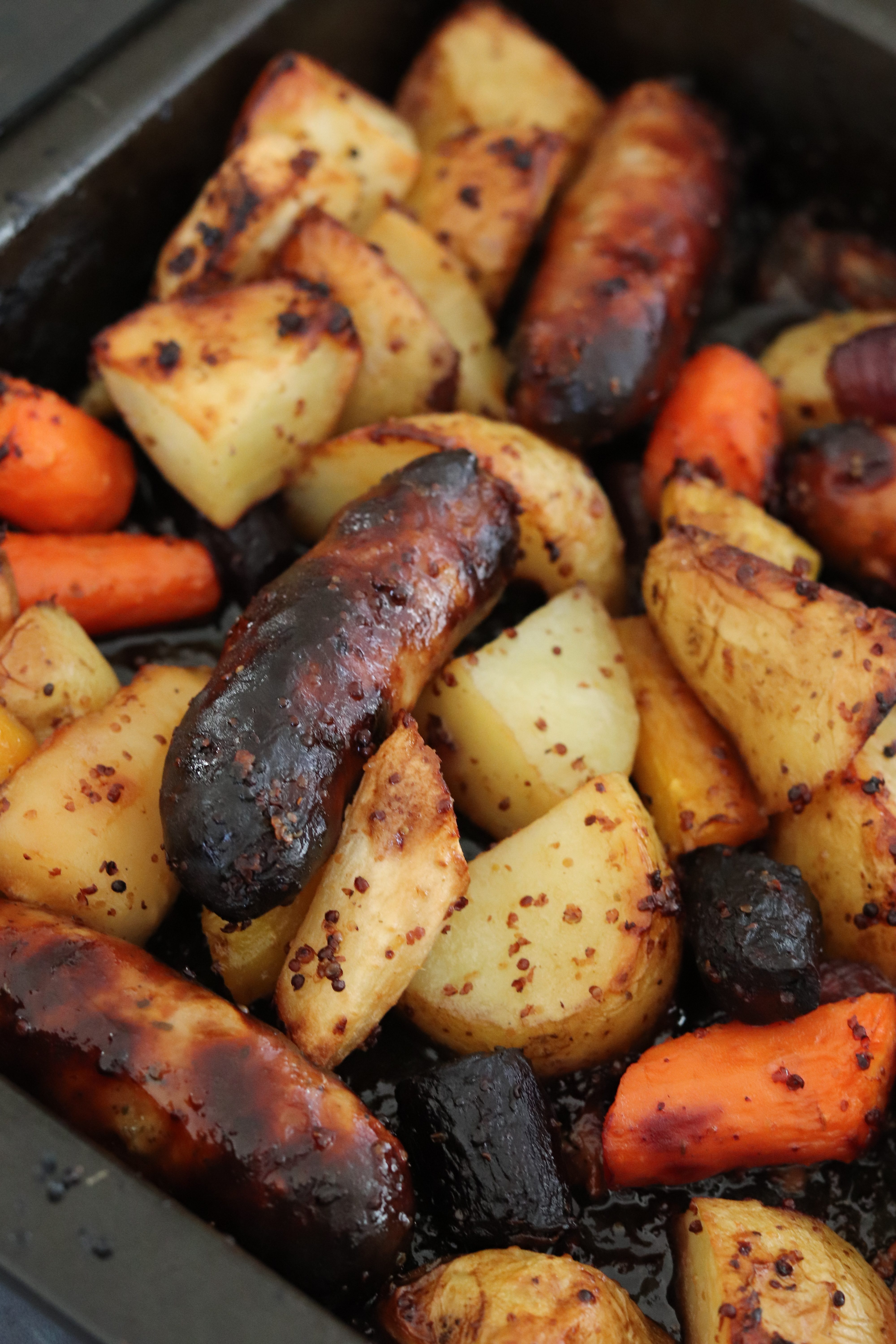 A great addition to add at the moment would be pumpkin or squash as it is in season and is a good way to use up any leftover pumpkin you have from Halloween.
I'm not a fan of Halloween so I don't buy pumpkins to carve like a normal person, I buy them to eat and a few mini ones to look pretty and then eat.
I'm not sure why, but people seem to eat sausages on Bonfire Night. So this would be a perfect dish as it is simple and can feed quite a few people easily without having to prepare anything additionally, everything is in the one tray in the oven.
I love sausages to be dark and crispy because I think this gives them the best flavour. If you don't like them this brown, turn the temperate down slightly after 20 minutes or so and you should get less colour on your sausages but still ensure your vegetables are cooked through.
Types of sausages
I have used my favourite pork and apple sausages in this recipe. That is just because I absolutely love them, but you can use whatever sausages you fancy.
I'm amazed every time I go to the shops because I see different flavours of sausages each time. If you're watching your calories, Heck sausages are low in fat and gluten free.
If you're vegetarian, Linda McCartney sausages could be used instead. I would just add them half way through the cook instead of at the start.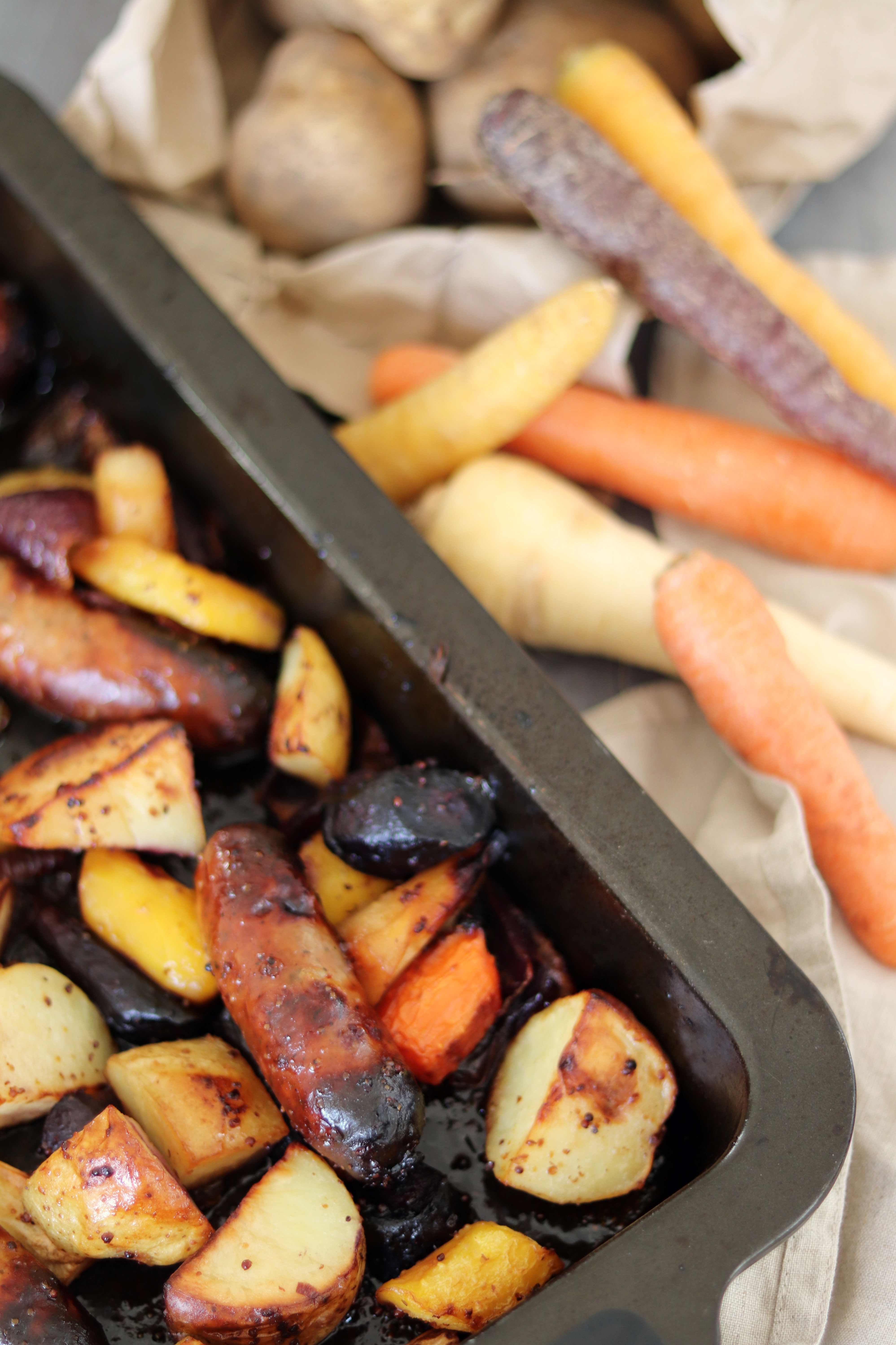 Other recipes you might like
Pin for later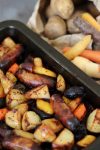 Sausage & Mustard Tray Bake
Comforting and easy but most importantly this Sausage & Mustard Tray Bake is delicious. This recipe is really adaptable so you can use up any vegetables you have in your fridge.
Total Time
1
hour
5
minutes
Ingredients
3

potatoes

approx 450g

1

red onion

2

carrots

approx 200g

2

parsnips

appox 200g

4

sausages

1

tbsp

olive oil

1

tsp

heaped wholegrain mustard

1

tsp

sea salt

¼

tsp

black pepper

1 ½

tbsp

runny honey
Instructions
Preheat the oven to 190ºC (fan, 210ºC non fan)

Peel the carrots, parsnips and onions. Cut all of the vegetables into similar sized pieces and add them to an oven proof dish

Add the sausages to the dish and prick them with a sharp knife a couple of times

Mix the olive oil, honey, salt, pepper and mustard together in a dish and then pour over the sausages and vegetables. Mix all of the ingredients together until everything is coated

Cook in the oven for 40-45 minutes until the sausages are browned and the vegetables are cooked through and also browned. Stir the vegetables and turn the sausages over half way through the cooking time
Recipe Notes
Nutritional information is given as a guide only.
Nutrition Facts
Sausage & Mustard Tray Bake
Amount Per Serving
Calories 725
* Percent Daily Values are based on a 2000 calorie diet.