This is the real deal.
I have tasted more than my fair share of Chicken Chow Mein over the years, so when I say this tastes exactly like the best Chicken Chow Mein you have tasted; you can trust me! This tastes so delicious there aren't enough ways for me to rave about it!
Ever since I can remember, Chicken Chow Mein has been one of my favourite things to eat. As I've grown up, my favourite things to eat have changed but Chicken Chow Mein has always remained up there.
I have to have it anytime we have a Chinese takeaway or go to a Chinese restaurant because it is hands down the best part of a Chinese meal for me.
Around ten years ago, we started going to a Chinese restaurant for my Grandad's birthday on Christmas Eve. Before we started going there, my Mum used to make my Grandad a duck dish as it was one of his favourites. After a few years of this, Mum quite rightly decided cooking a big family meal the day before she made a huge Christmas roast was a bit much. That's when it was decided that we would go out, but to a Chinese restaurant so my Grandad could still get his duck.
Unfortunately my Grandad isn't with us any longer, but we still all make every effort to go back to that same restaurant each year. We always seem to be the loudest table in the restaurant who are also one of the last to leave. It is definitely one of my favourite family traditions.

Each year we order their special set menu. This in itself is quite amusing trying to explain that we would like the chicken and beef in black bean separated. My sister isn't keen on the beef so she asks for them on separate dishes. Personally I think it's the way she tries to explain it that causes the confusion! Their set menu does have one issue. No Chicken Chow Mein. So obviously we have to order this as an extra!
I do love a Chicken Chow Mein, but we all know you can't keep ordering takeaways or eating at restaurants all the time. So other the years I have attempted numerous different chow mein recipes with each bringing nothing but disappointment. That is until now.
I don't remember exactly how I stumbled across The Woks of Life blog, but I am so pleased I did! It's a blog run by a family who all come up with delicious authentic Chinese cooking. I was initially skeptical after being let down by Chicken Chow Mein recipes so many times before. But the step of frying the noodles was something I hadn't seen before and was what convinced me to give it a go. Oh my goodness it was amazing. The flavours are exactly what you want from a Chicken Chow Mein.
I have adapted their Cantonese Soy Sauce Pan-Fried Noodle recipe to create my Chicken Chow Mein recipe. I've tweaked the sauce slightly an added chicken.
There are a few tips you really should stick to when making this recipe. Firstly it is essential to get the correct ingredients. They're not very expensive and can easily be found at your local Chinese supermarket, or even in the world food aisle of large supermarkets. If you are able to go to a Chinese supermarket I would definitely recommend doing so as things seem very reasonably priced and also you can pick up some great things you wouldn't find in standard supermarkets. The other thing to remember is to keep your wok/pan hot. Whack it up as high as it will go!
Usually when I have a Chinese meal, I have a few different dishes. One because they are tasty and two because I am greedy! However when I make this Chicken Chow Mein I have this as my whole dinner. This links back to my greediness – it tastes so good I don't want just a small portion, I want to eat the whole lot!
This is a great way of using up leftover roast chicken, but if you don't have any leftover chicken do not panic! Just cook a chicken breast in the oven at 180ºC for 15-20 minutes until cooked through. Leave to cool for 10 minutes or so until it is cool enough to shred and then you're ready to make the dish!
serves 4 as a side dish / 2-3 as a main dish
3 tbsp light soy sauce
2 tbsp dark soy sauce
½ tsp salt
½ tsp sugar
1 tsp sesame oil
3 tbsp shaoxing wine
4 tbsp sunflower oil
200g chicken, cooked and shredded
3 spring onions, finely sliced length ways
300g beansprouts
230g chow mein or egg noodles
Put the shredded chicken in a bowl along with the soy sauces, salt, sugar, sesame oil and shaoxing wine. Stir until the chicken is completely coated and leave to one side
Slice the spring onions length ways as finely as possible and set aside. Cook the noodles as per the packet's instructions – usually in boiling water for around 3 minutes. Drain the noodles
Heat 2 tbsp of oil in a pan on high heat. Once the oil starts to shimmer you will know its nice and hot. Add some of the noodles to the pan making sure they are in one layer – you will need to do this step a few times as you don't want to overcrowd the pan. Leave the noodles to become crisp on one side for 3-4 minutes before turning and repeating the process on the other side. Once the noodles are crisped on each side remove them from the pan and repeat until all of the noodles are crisped. Use another tablespoon of oil when you run out of oil in the pan
Once all of the noodles are crisped, add the final tablespoon of oil to the pan followed by the spring onions. Stir fry for a few seconds before adding the noodles back to the pan making sure you break up any clumps of noodles
Add the chicken and beansprouts making sure you add any sauce that hasn't soaked into the chicken
Cook for a couple of minutes stirring continuously until the beansprouts are softened slightly. Serve and devour!
Linking to: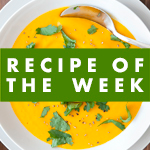 Pin for later