The perfect quick and easy no-bake treat. These Peanut Butter Chocolate Rice Krispie Bars are seriously addictive and there isn't a marshmallow in sight! You'll find yourself constantly fighting the urge to whip up a batch.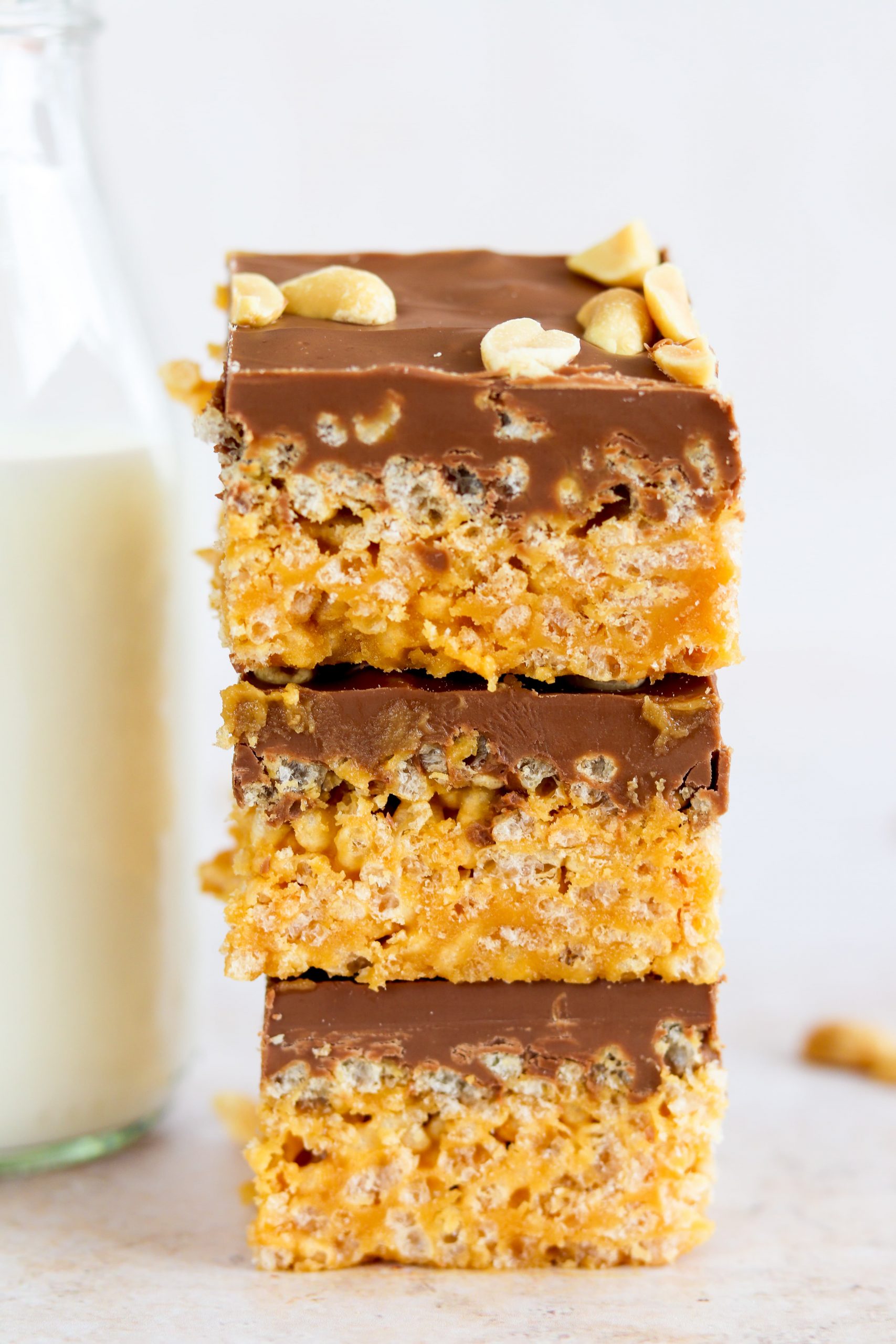 What are Peanut Butter Chocolate Rice Krispie Bars?
I think I have done a pretty good job of keeping the mystery out of what these are with their name. But just in case, these are peanut butter flavoured rice krispies topped with a layer of chocolate and peanut butter and then sprinkled with peanuts.
Chocolate and peanut butter are meant to be together and the rice krispies make these treats a little lighter. Or maybe that is just what I tell myself when I eat more than one…These bars are actually a new take on my No Bake Chocolate Peanut Butter Bars.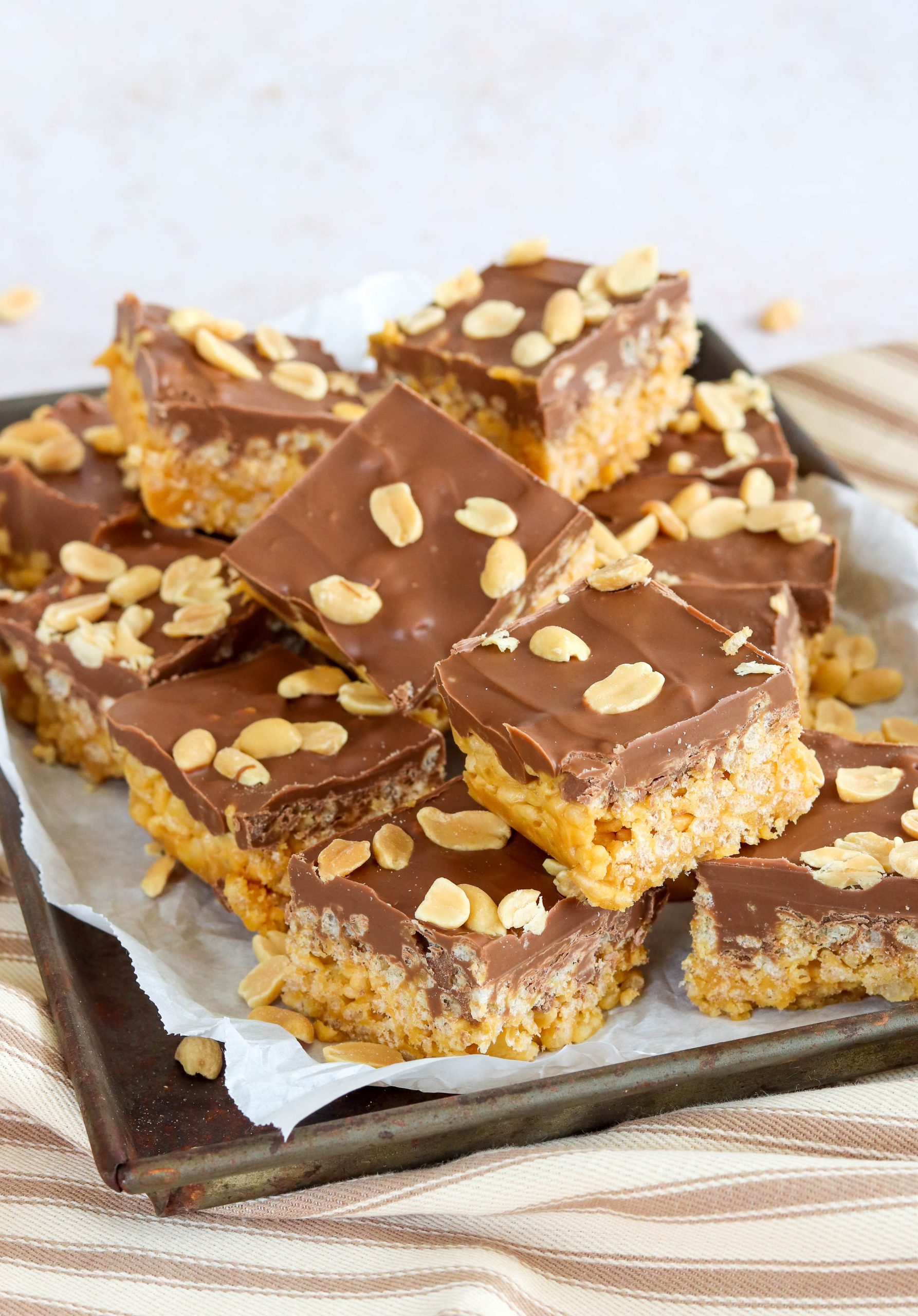 Why are these rice krispie bars different to others?
I will not even try to pretend that this is an original concept for a recipe. There are quite a few different recipes out there but mine does have a big difference!
The other rice krispie bars recipes use marshmallows to 'glue' the rice krispies together. You won't find a single marshmallow in mine!
I use a combination of butter, golden syrup and peanut butter which means no marshmallows are needed! If you can't get golden syrup where you live, you can use honey or maple syrup.
But why is it an advantage to not use marshmallows? Well it makes these Peanut Butter Chocolate Rice Krispie Bars naturally vegetarian. You can of course buy vegetarian marshmallows, but they aren't as easy to find as standard ones.
And butter, golden syrup and peanut butter are things I always have in my house whereas large quantities of marshmallows are something I don't tend to have.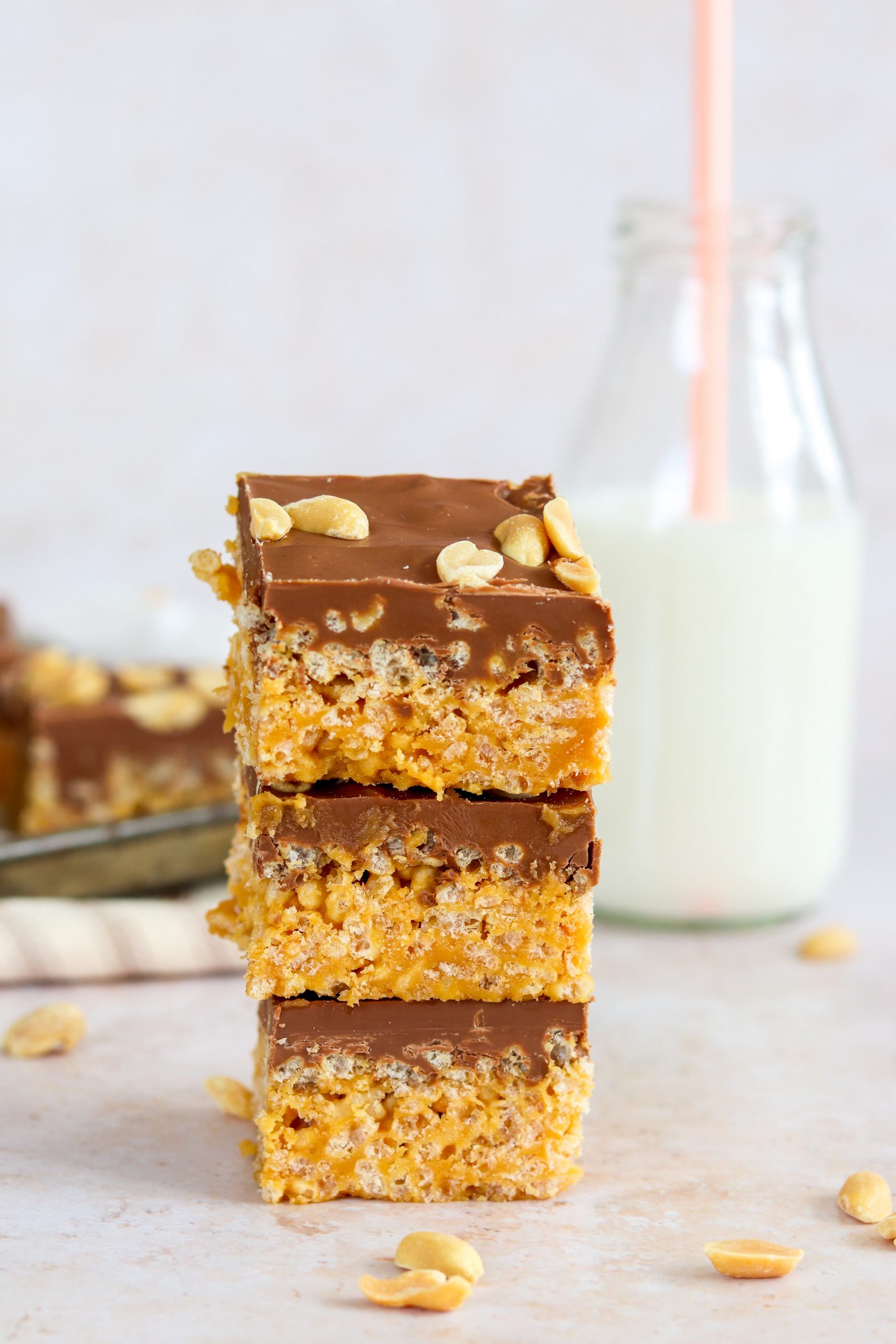 The perfect no-bake treat
There are times when we want something sweet and delicious, but want it to be easy and something that doesn't involve the oven.
These Peanut Butter Chocolate Rice Krispie Bars are just that. The hardest this recipe gets is melting ingredients in the microwave, some stirring and smoothing out.
This makes them perfect for when you don't want to spend hours in the kitchen or when it is a bit too hot to want to.
The real hardest part is waiting for them to chill in the fridge!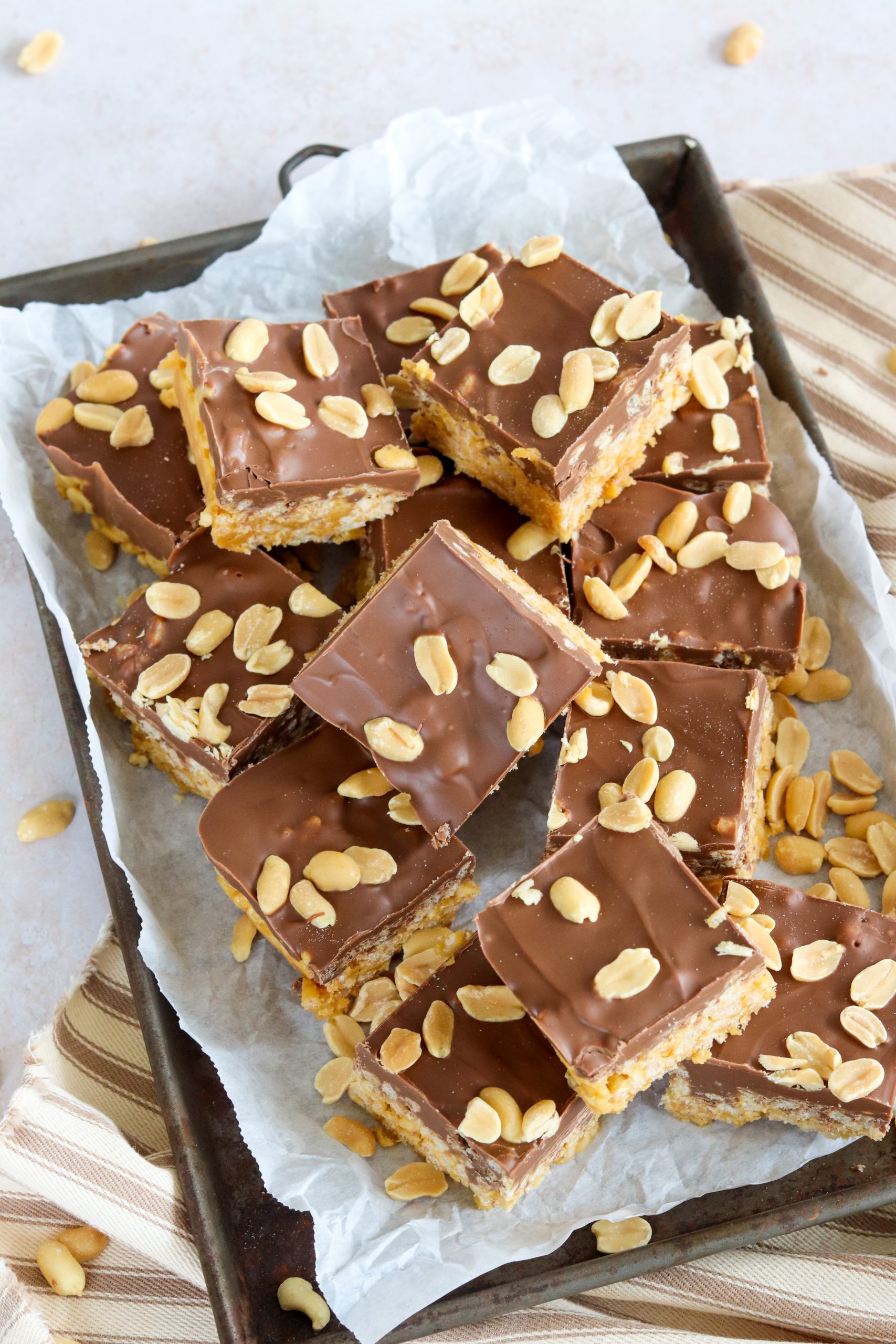 which peanut butter is best to use?
Sorry to all the passionate peanut butter fans out there, but I tend to buy supermarket own brand peanut butter.
I don't think the fancier peanut butter options would greatly improve these Rice Krispie Bars, but please do feel free to use whichever you like.
Now to the age old question – smooth or crunchy? Personally I like to use smooth for these bars. I like the chocolate and peanut butter layer to be as smooth as possible.
You can definitely use crunchy peanut butter if you prefer, it will just obviously be less smooth!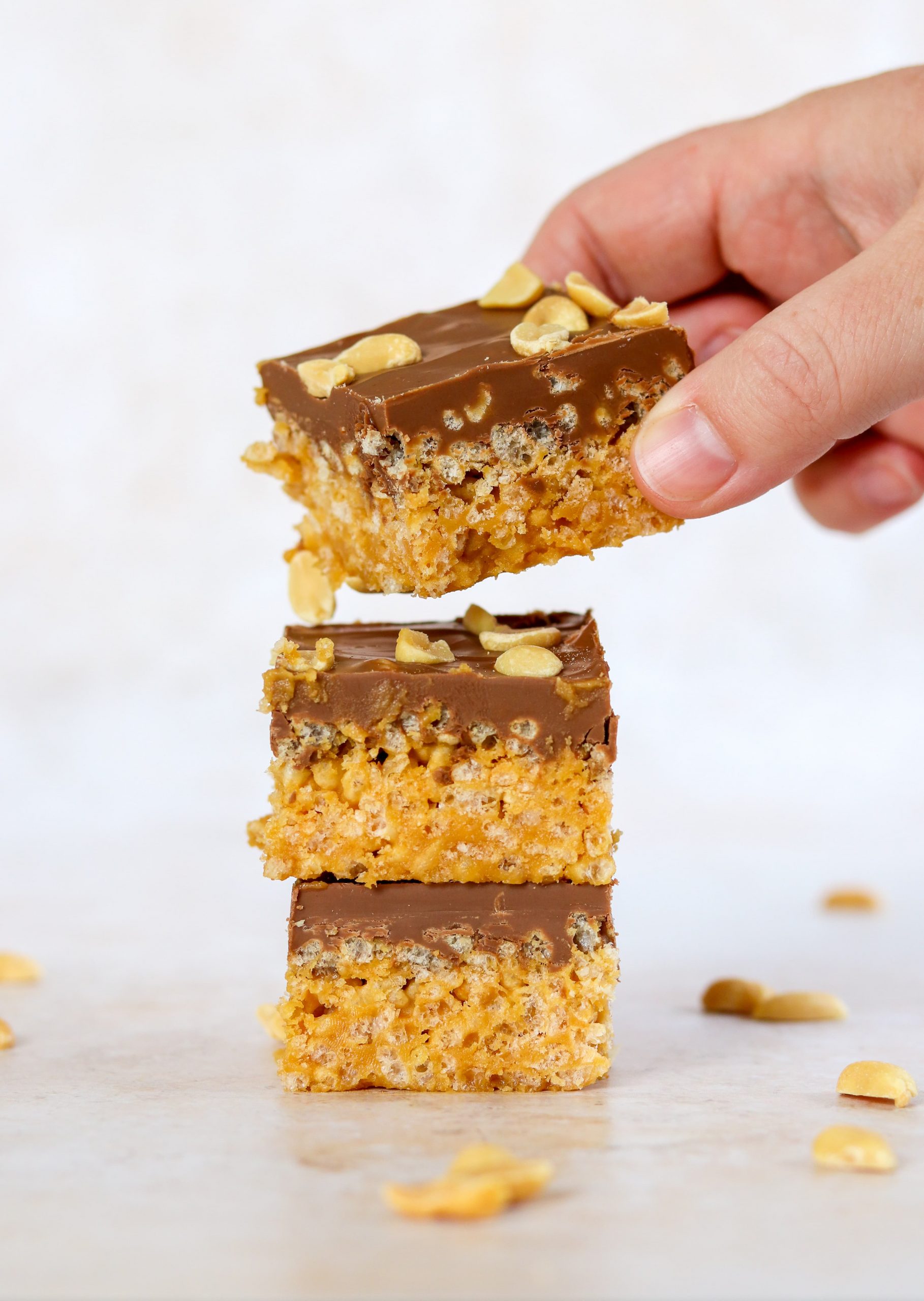 which chocolate is recommended to use?
I prefer to use milk chocolate because that is my go-to chocolate of choice.
Dark chocolate would work really well and would tone down the sweetness if that is a concern. You could also use a combination of milk and dark chocolate which would also work really well.
I wouldn't recommend using white chocolate personally, but I'm not the biggest fan. You could definitely try it because peanut butter and white chocolate do go well together.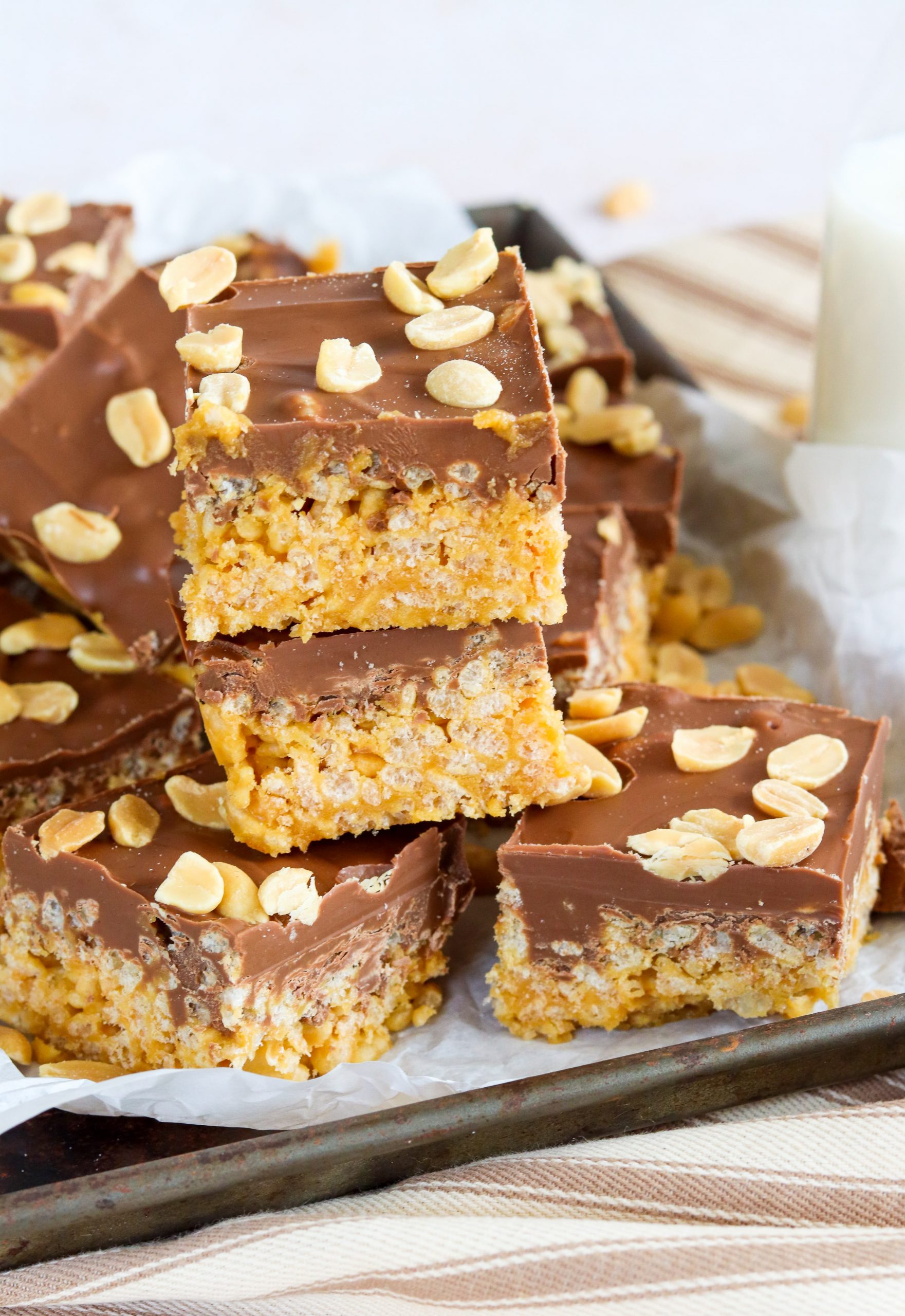 Salted or unsalted butter?
I do usually recommend using unsalted butter in baking. However these Peanut Butter Chocolate Rice Krispie Bars are somewhere you could use salted butter.
The combination of salt and chocolate is one of my absolute favourites like in my Salted Chocolate Chunk Cookies.
In this recipe, you do get that salty and chocolate fix with the salted peanuts sprinkled on top of the chocolate layer. If you are using salted butter you may want to consider using unsalted peanuts so it isn't too salty.
If you aren't a bit fan of salt and chocolate, you can definitely use unsalted peanuts instead.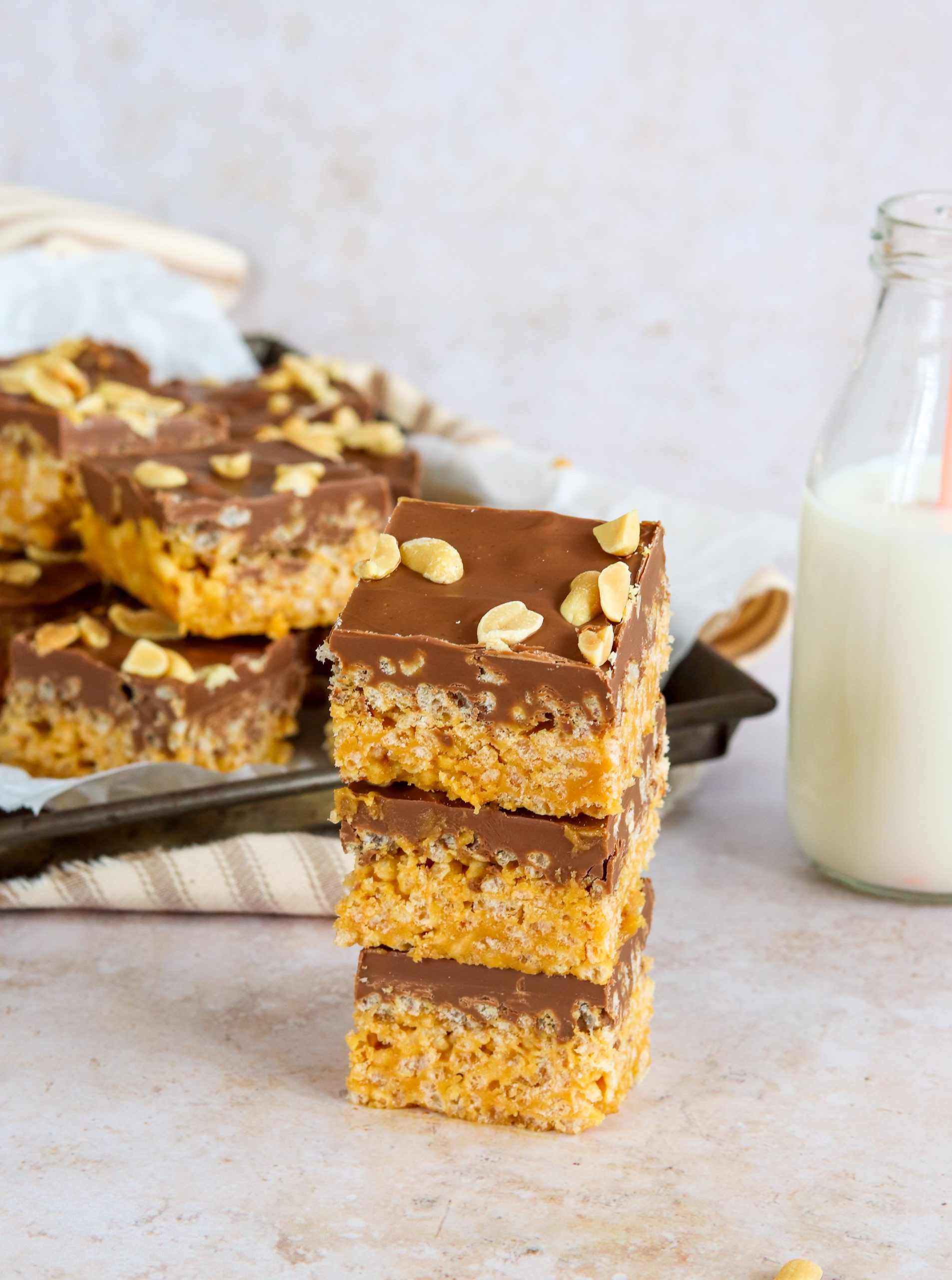 how to make these rice krispie bars gluten free and vegan
To make these tasty treats gluten free you first need to find gluten free rice crispies. These seem to be quite readily available in most large supermarkets.
You also need to make sure the chocolate you use is gluten free, but everything else is suitable.
A few changes need to be made to make these suitable for vegans, but they are all simple enough.
Unfortunately, the branded Rice Krispies aren't vegan. They contain a form of Vitamin D that is derived from animals. The 'free from' options you can buy are dairy and milk free but also not vegan.
If you do want to make these vegan, you would just need to find a suitable vegan alternative. If you can't find something like rice krispies, a vegan cornflake or similar would also work.
You could also need to substitute the butter for a vegan alternative. I would recommend the blocks which are closer to butter rather than the margarine if possible.
You would also need to use dark chocolate which is naturally vegan or your favourite vegan chocolate.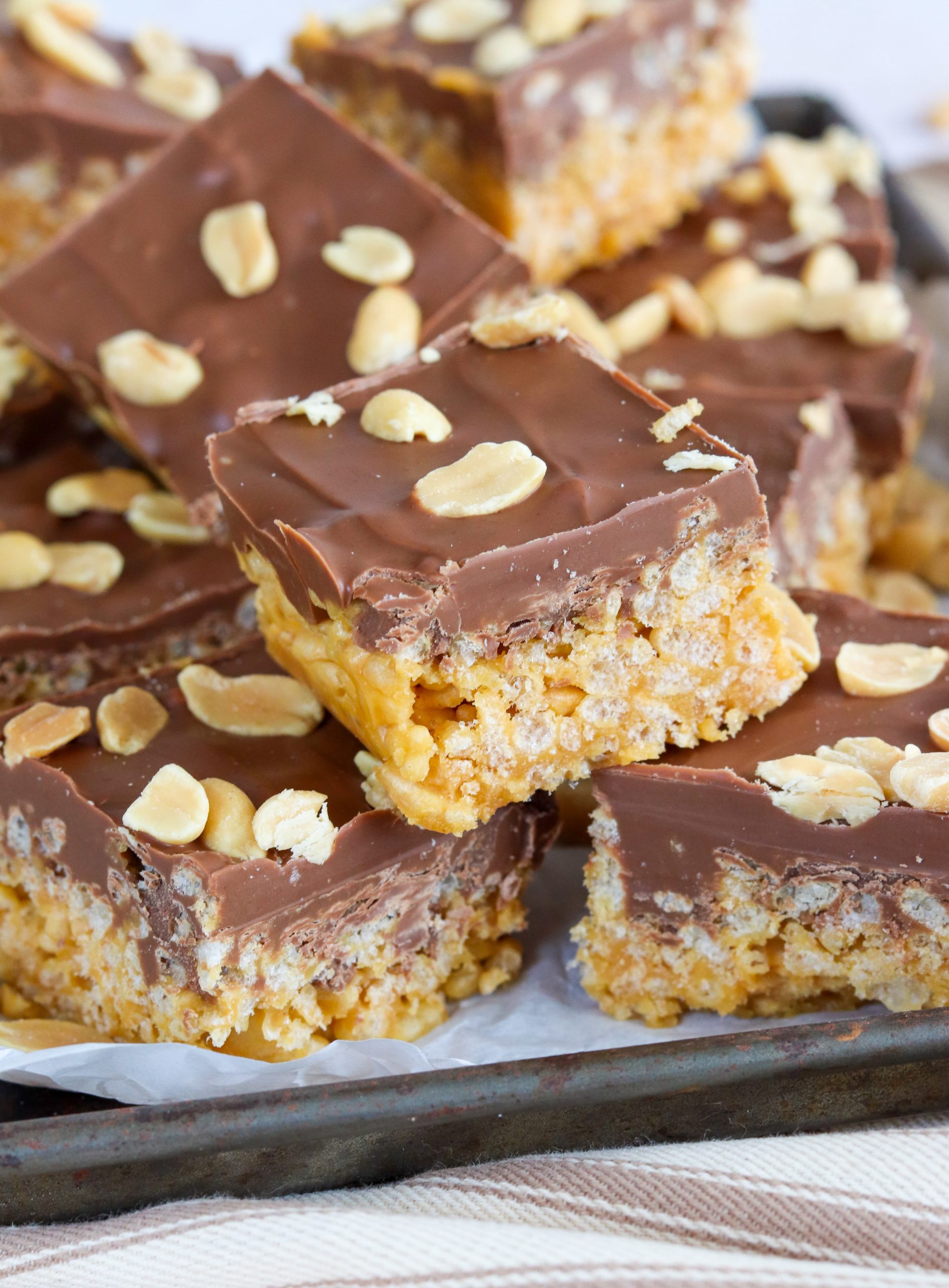 how long do these peanut butter chocolate rice krispie bars keep for?
You can keep these bars in an airtight container in the fridge for up to a week. They keep really well.
I would definitely recommend keeping them in the fridge because when they start to get warm the chocolate can melt and the rice krispie layer doesn't stay as stuck together!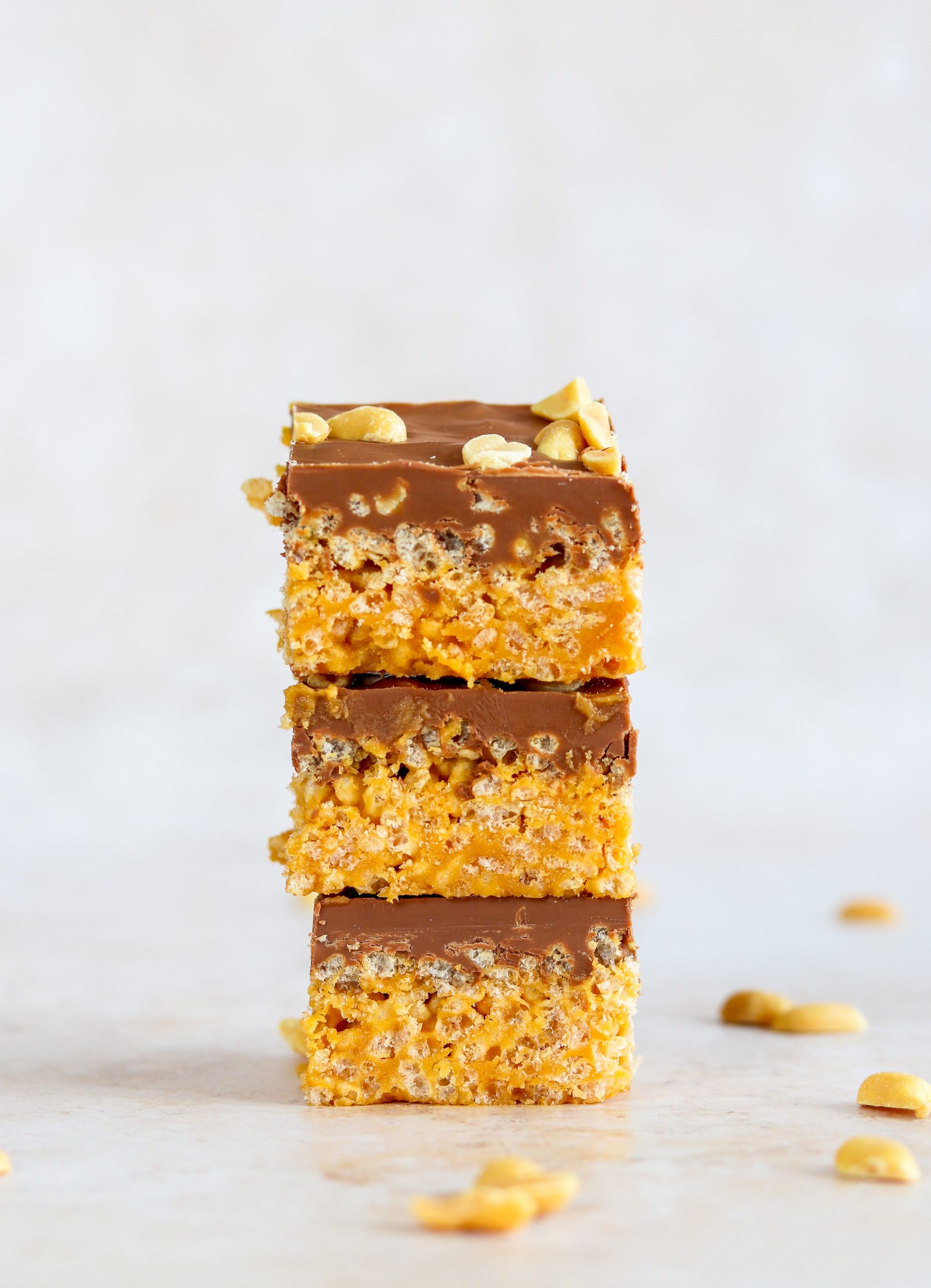 How many rice krispie bars does this make?
That definitely depends on how big you want the bars to be! I aim to cut them into between 20-24 bars. It does seem to vary each time depending on how I feel!
You can cut them smaller so they are a more suitable size for children to have as a treat. And likewise you can cut them into huge slices if that is what your heart is telling you to do!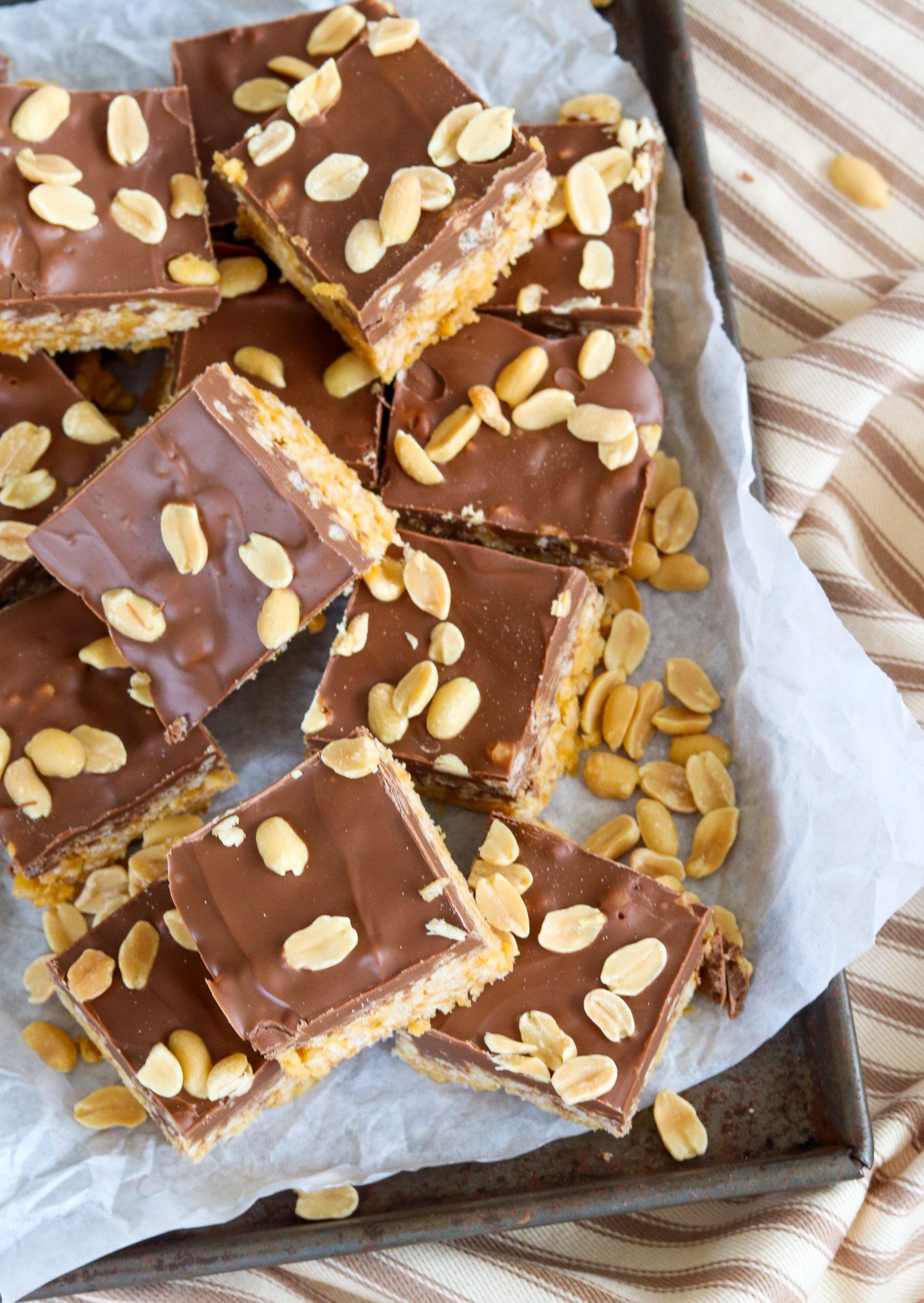 other recipes you might like
Pin for later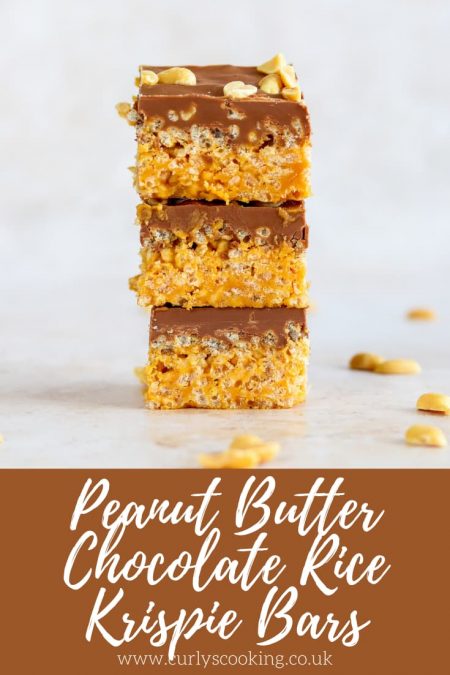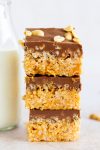 Peanut Butter Chocolate Rice Krispie Bars
The perfect quick and easy no-bake treat. These Peanut Butter Chocolate Rice Krispie Bars are seriously addictive. You'll find yourself constantly fighting the urge to whip up a batch.
Total Time
3
hours
20
minutes
Ingredients
80

g

unsalted butter

170

g

smooth peanut butter

80

g

golden syrup

100

g

rice krispies
For the topping
300

g

milk chocolate

70

g

smooth peanut butter

25

g

salted peanuts
Instructions
Line a 20x20cm square tin with baking parchment and set aside

Add 80g unsalted butter, 170g smooth peanut butter and 80g golden syrup to a heatproof bowl

Melt the ingredients in the microwave using short bursts of power and stir in between each burst

Once fully melted, add 100g rice krispies and stir until fully coated

Tip the rice krispies into the prepared tin and smooth out

Break up 300g milk chocolate and add it to a heatproof bowl along with 70g smooth peanut butter

Melt the ingredients in short bursts in the microwave stirring between until it is smooth and silky

Spread the melted chocolate and peanut butter over the top of the rice krispies to form an even layer

Sprinkle with 25g salted peanuts and leave to set in the fridge for 3 hours or overnight

Once the rice krispie bars have chilled, cut them into squares and serve
Recipe Notes
Keep in an airtight container in the fridge for up to 7 days.
Nutritional information is given as a guide only and may vary.
Nutrition Facts
Peanut Butter Chocolate Rice Krispie Bars
Amount Per Serving
Calories 206
Calories from Fat 117
% Daily Value*
Fat 13g20%
Cholesterol 9mg3%
Sodium 99mg4%
Potassium 141mg4%
Carbohydrates 21g7%
Protein 4g8%
Vitamin A 433IU9%
Vitamin C 3mg4%
Calcium 10mg1%
Iron 2mg11%
* Percent Daily Values are based on a 2000 calorie diet.