Deliciously soft cookies studded with milk chocolate chunks and sprinkled with sea salt. These Salted Chocolate Chunk Cookies will soon become your favourite.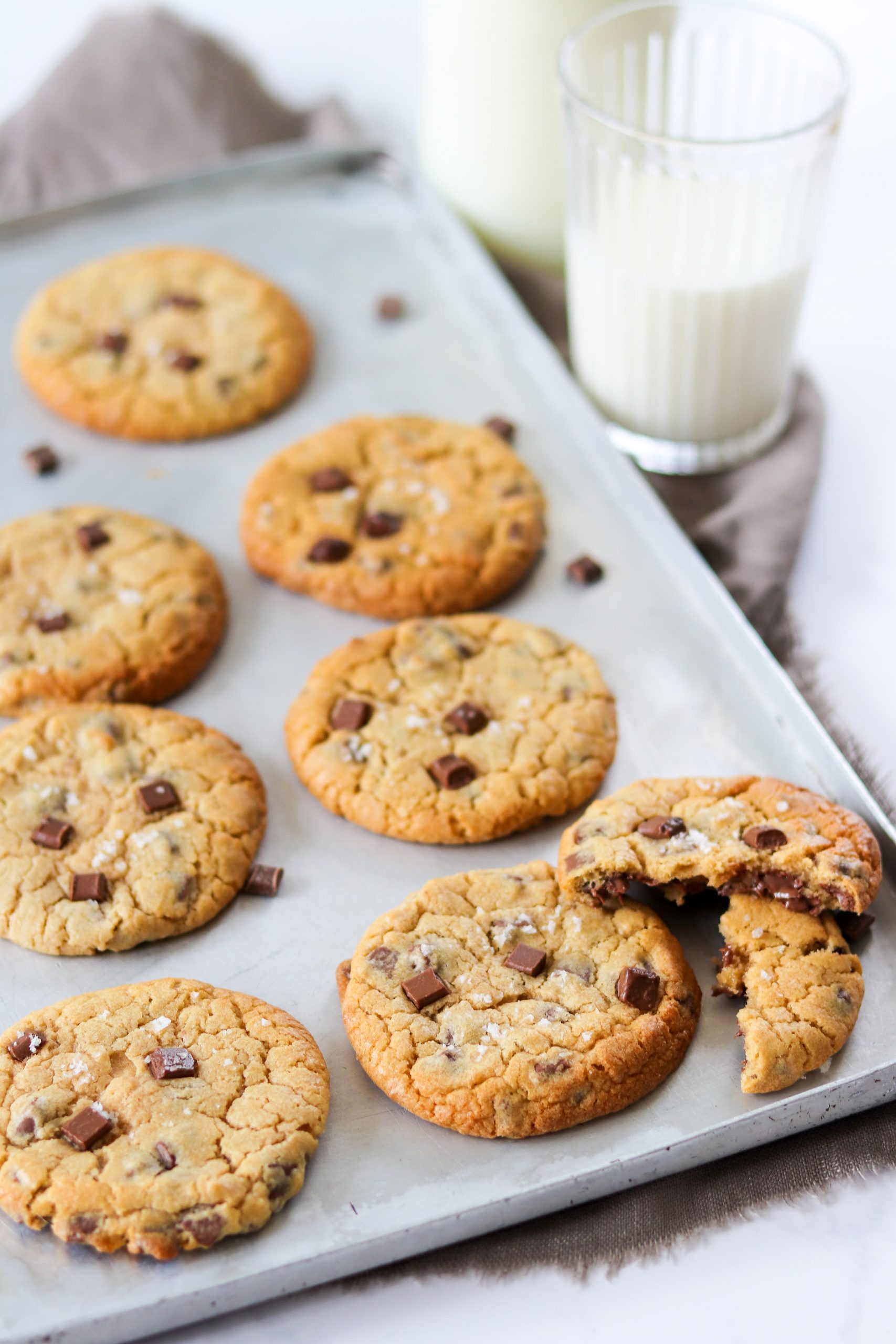 salt and chocolate – the perfect combo
I don't know about you, but I absolutely love chocolate and salt together.
One of my favourite treats is to make salted popcorn and eat it with some milk chocolate. Definitely not the healthiest of snacks, but it is so delicious.
You can also buy bars of chocolate with sea salt in them which I think is so good!
If you haven't tried chocolate and sea salt together you really have to! But if you already love the combination you will definitely want to try my Salted Popcorn & Pretzel Rocky Road.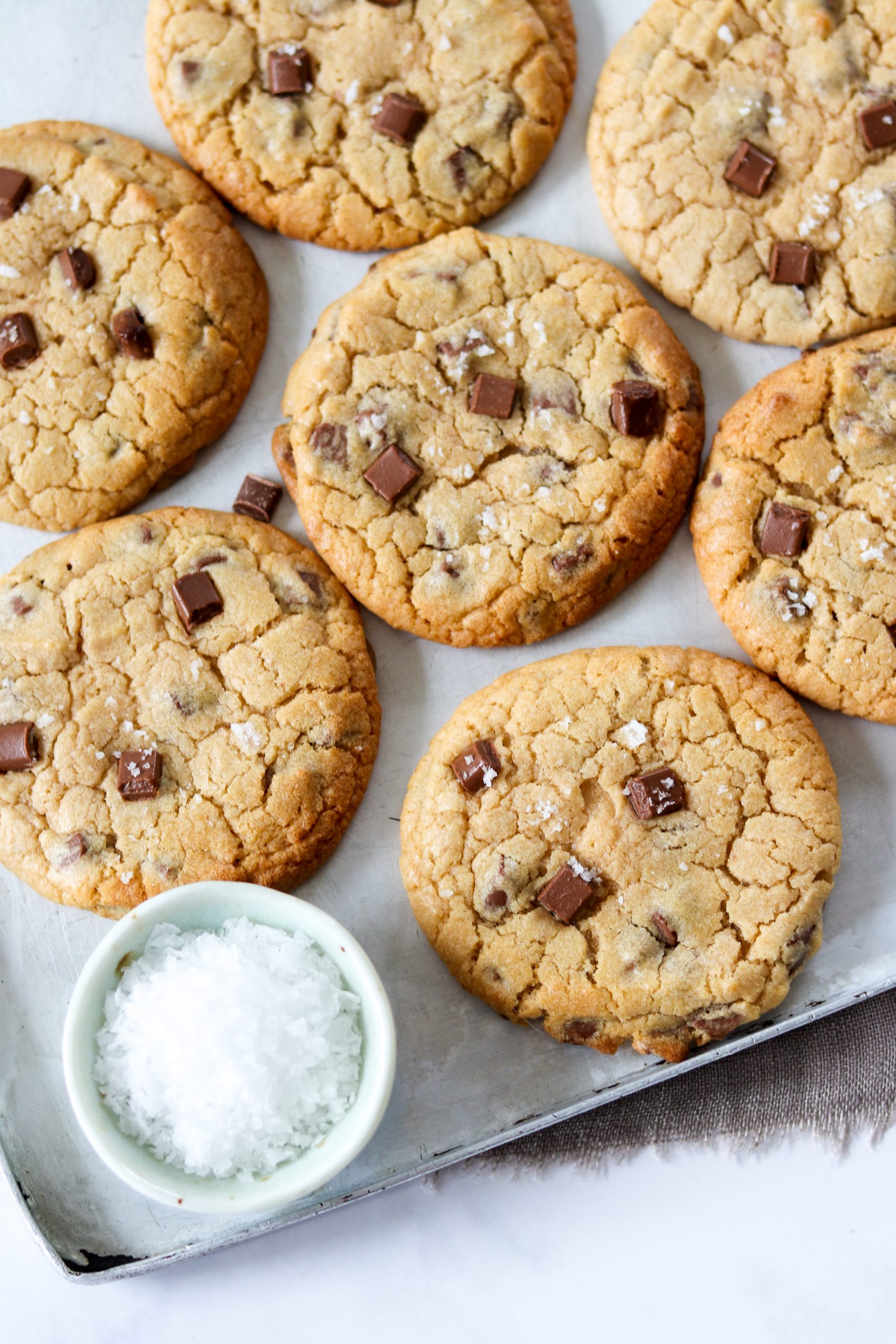 do you prefer a soft or crisp cookie?
I am most definitely a soft cookie person. A deliciously soft cookie with a slight chewy edge – what's not to love?!
I've just been thinking about the cookie recipes on my blog (and there are a few!); and I can't think of any that aren't soft cookies.
If you do prefer a crisper cookie, bake them for 2-3 more minutes. But remember the cookies do firm up as they cool so don't bake them until they are firm or else you will end up with a hard cookie!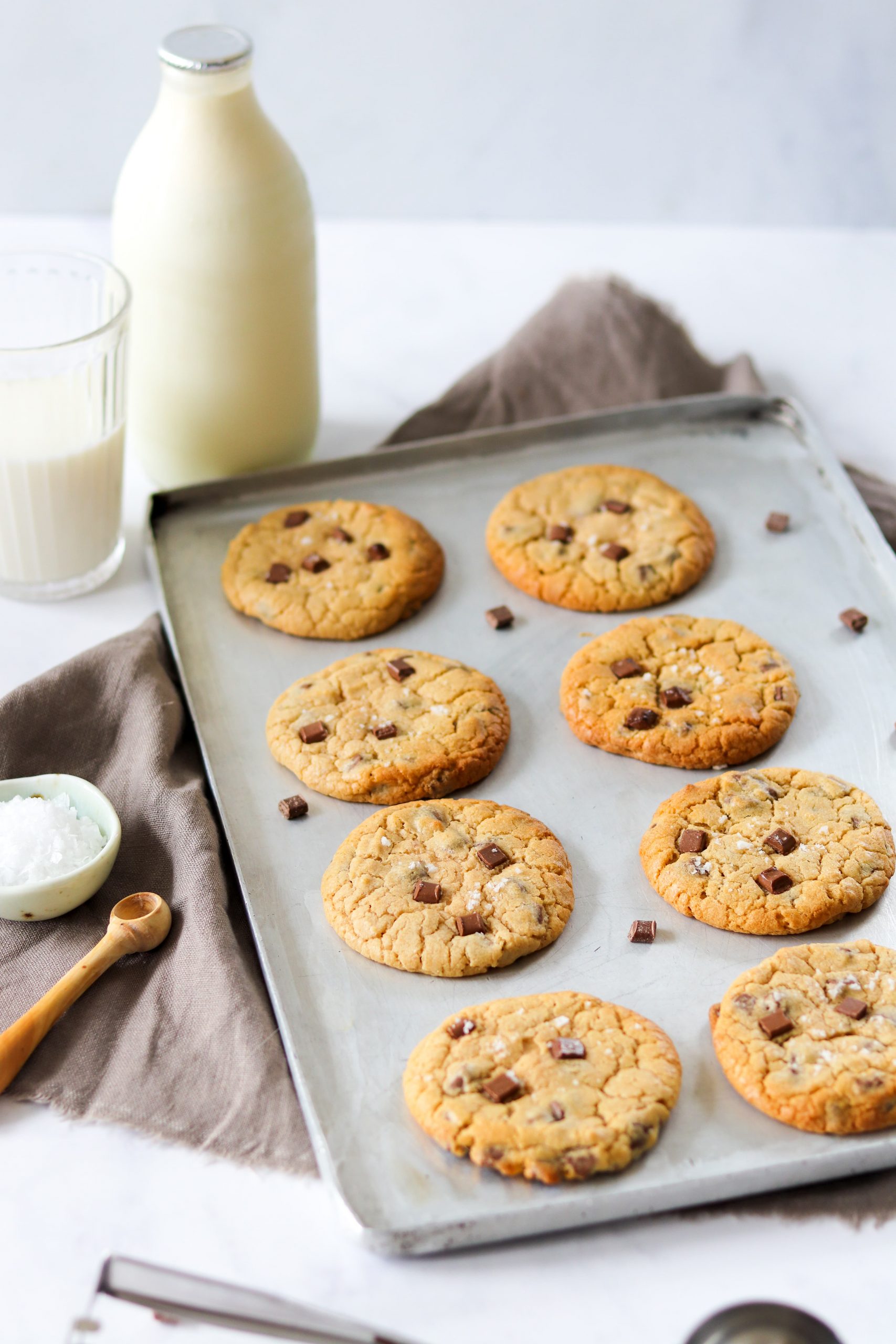 which chocolate is recommended to use?
I prefer to use milk chocolate for these cookies because that is my favourite. You could very easily use dark chocolate as this works well with salt.
I'm not sure how white chocolate would taste with the sea salt but by all means give it a go!
I have used chocolate chunks for these cookies but you could easily use chips instead. If you don't have chunks or chips, you can also just cut up a bar of chocolate.
These cookies are very versatile so use whichever chocolate you have.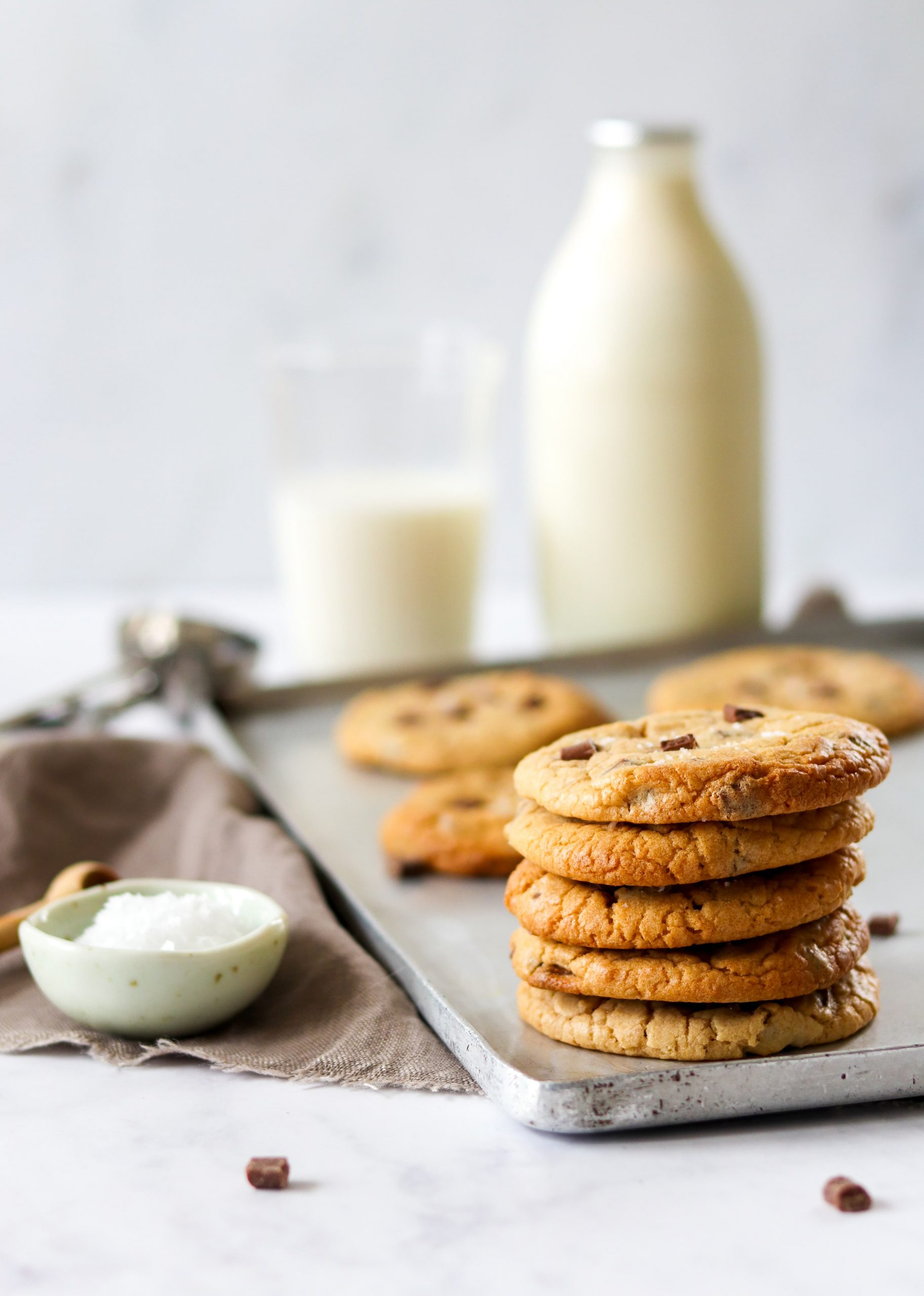 which types of salt are needed?
You need two different types of salt for these Salty Chocolate Chunk Cookies.
To add into the cookie dough, you need table salt. This is the fine salt that most people are aware of. This is the salt I tend to use in baking as it is really fine and is easily incorporated.
For the sprinkling of salt on top of the cookies I could recommend using sea salt flakes. These aren't too chunky like rock salt would be and have a lovely flavour.
If all you have is table salt you can add a sprinkle of this to the top of the cookies. But the flavour will definitely be better with sea salt flakes; and it looks nicer!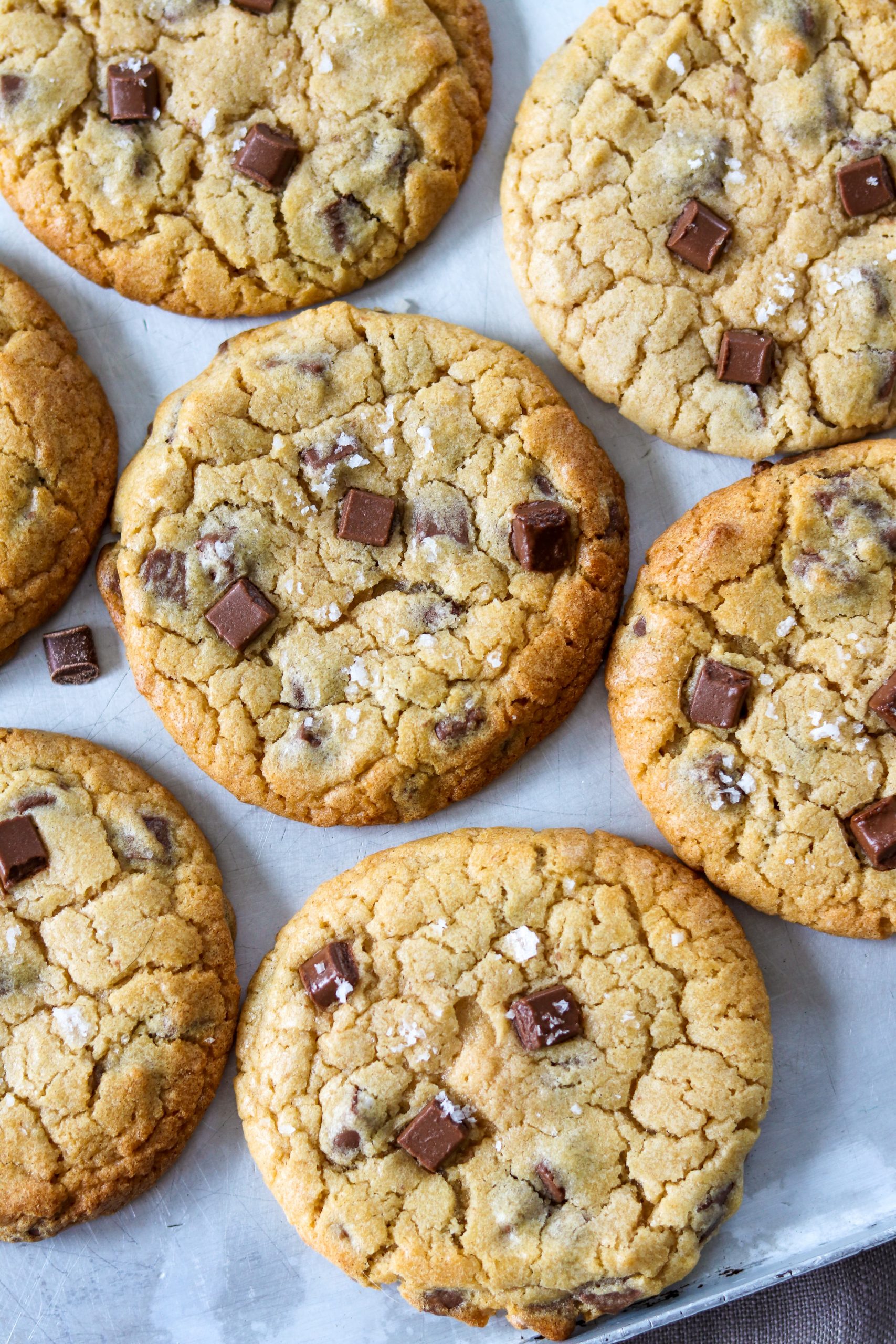 How much salt do you sprinkle on top?
If you are new to the whole chocolate and salt combo; or you aren't the biggest fan of salt, make sure you start with a small amount.
If like me you really like salt and chocolate, you can add a small pinch to each cookie.
But don't be too heavy handed because you definitely don't just want to taste salt and nothing else!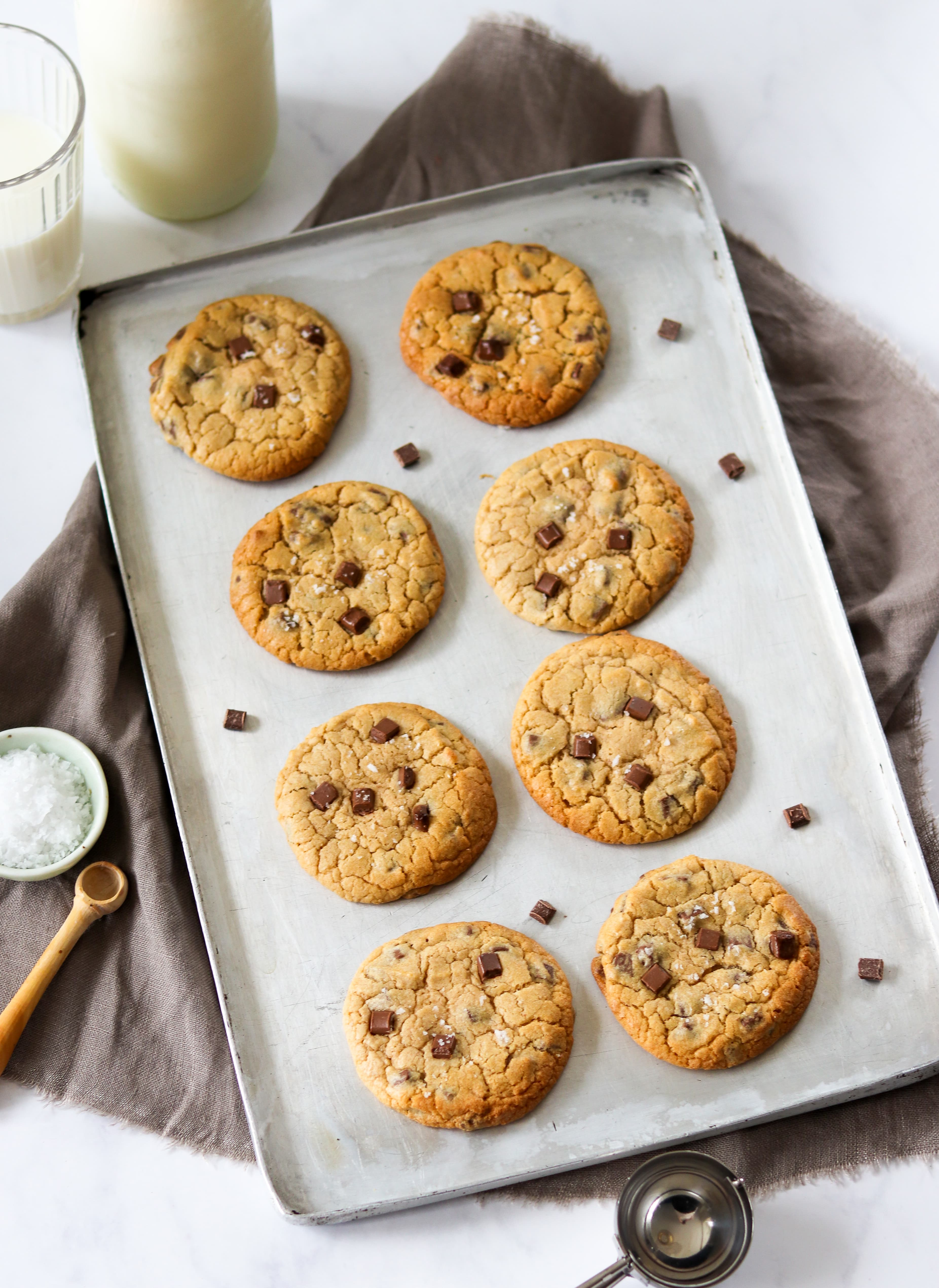 how many cookies does this recipe make?
That depends on how big you make your cookies.
These Salted Chocolate Chunk Cookies are bigger than my Chocolate Chip Cookies and therefore you make less. For these cookies I use a 1½ inch mechanical scoop which makes 18 cookies.
If you use a smaller scoop like I do in other recipes you can make up to 30 cookies.
Just remember that if they are smaller, they will take less time to bake. For a soft cookie they should be done after 7-8 minutes.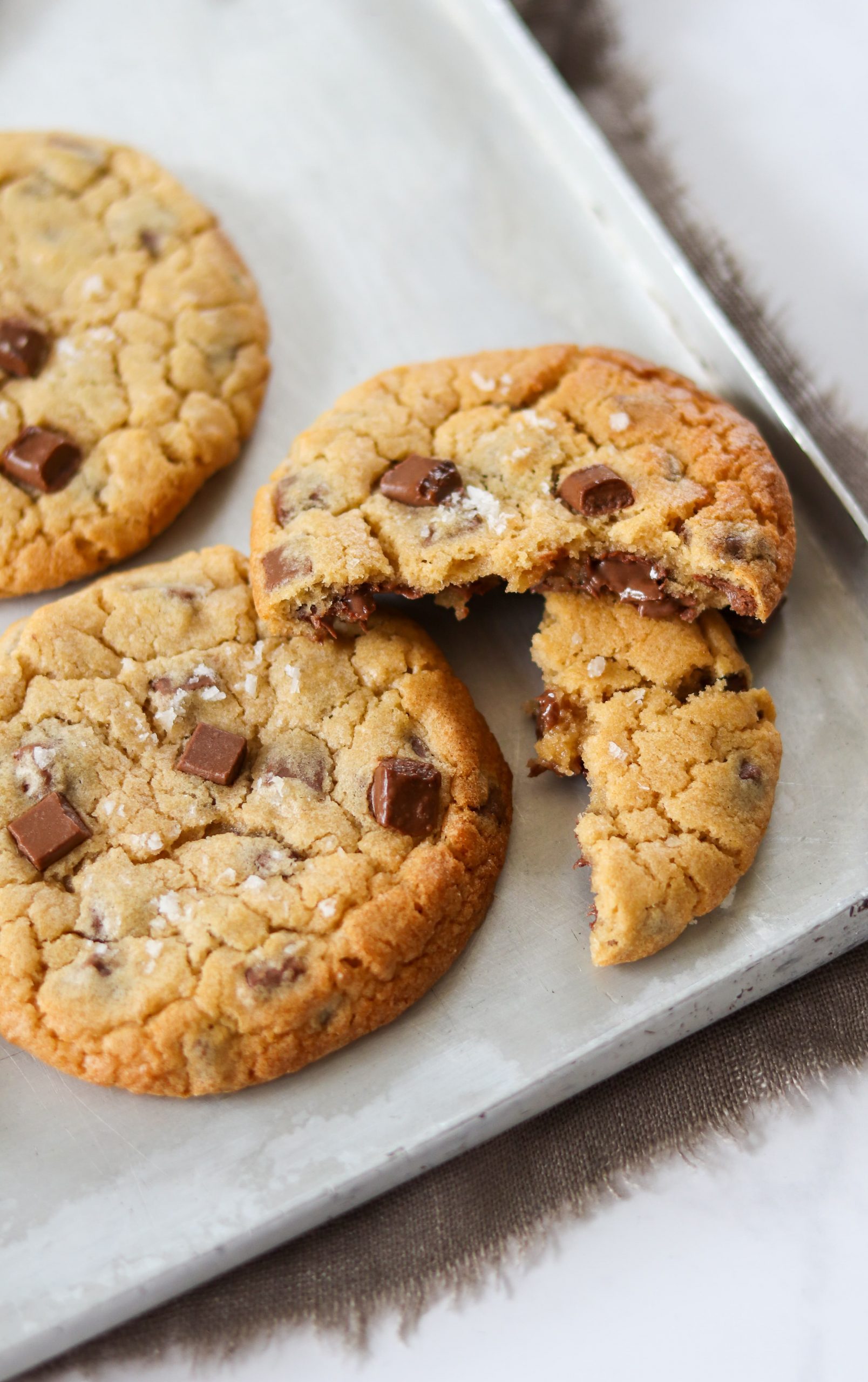 margarine or butter?
As with a lot of my bakes, I use margarine for these Salted Chocolate Chunk Cookies. This is simply because it is softer and easier to cream with the sugars.
I'm impatient and I don't like to wait for my butter to soften before I can bake!
You can definitely use butter instead of margarine for these cookies. Just make sure it is softened or else it will be more difficult to cream.
If you are going to use butter, I would make sure you use unsalted butter as you are adding salt to the recipe. If you only have salted butter, do not add the table salt to the cookie dough.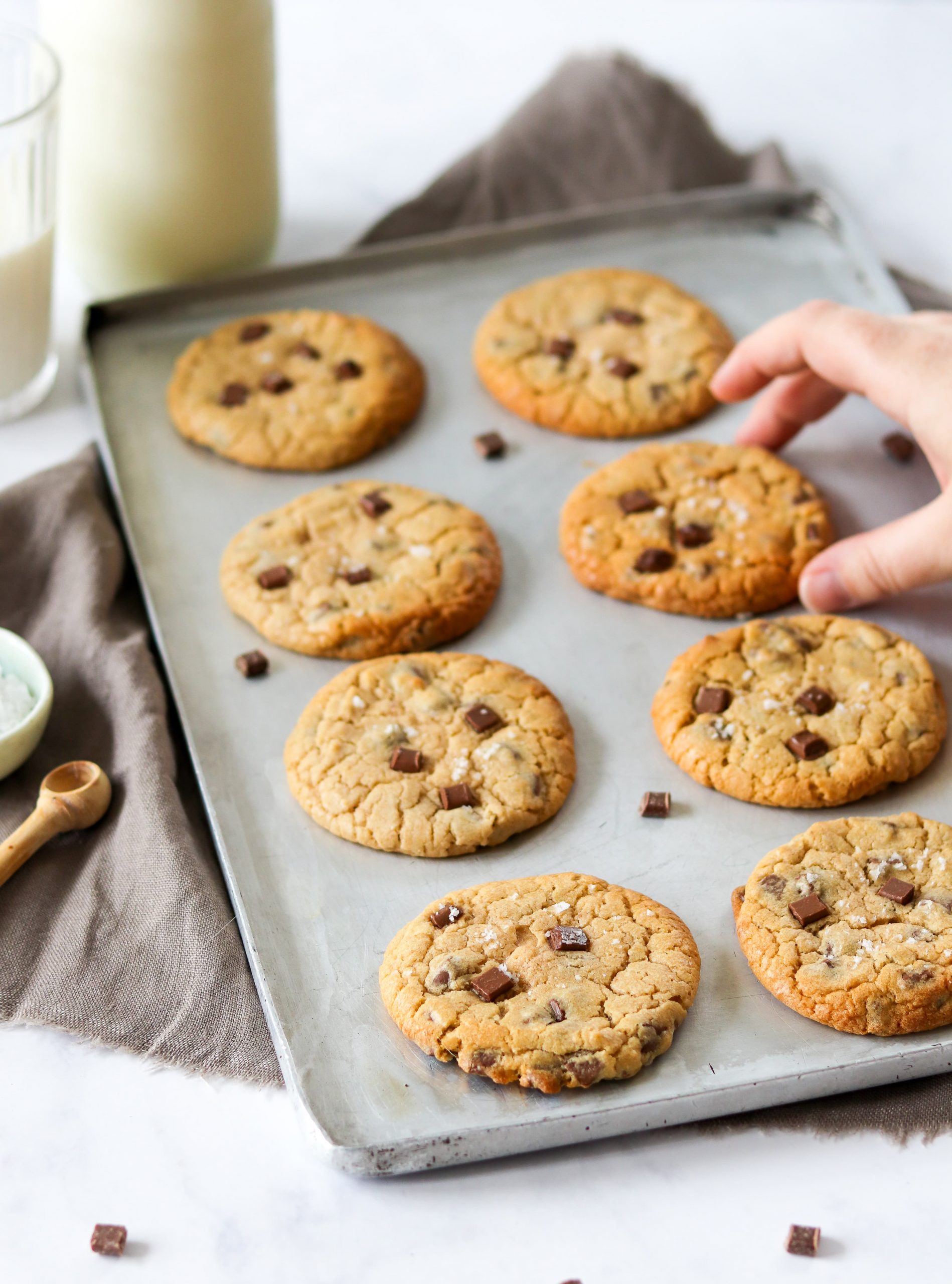 how long will these cookies keep for?
These Salted Chocolate Chunk Cookies will keep for 4-5 days in an airtight container.
As they get older they do become a little less soft so bear this in mind.
If you don't want to eat the whole batch in a few days then I would recommend freezing some for another time.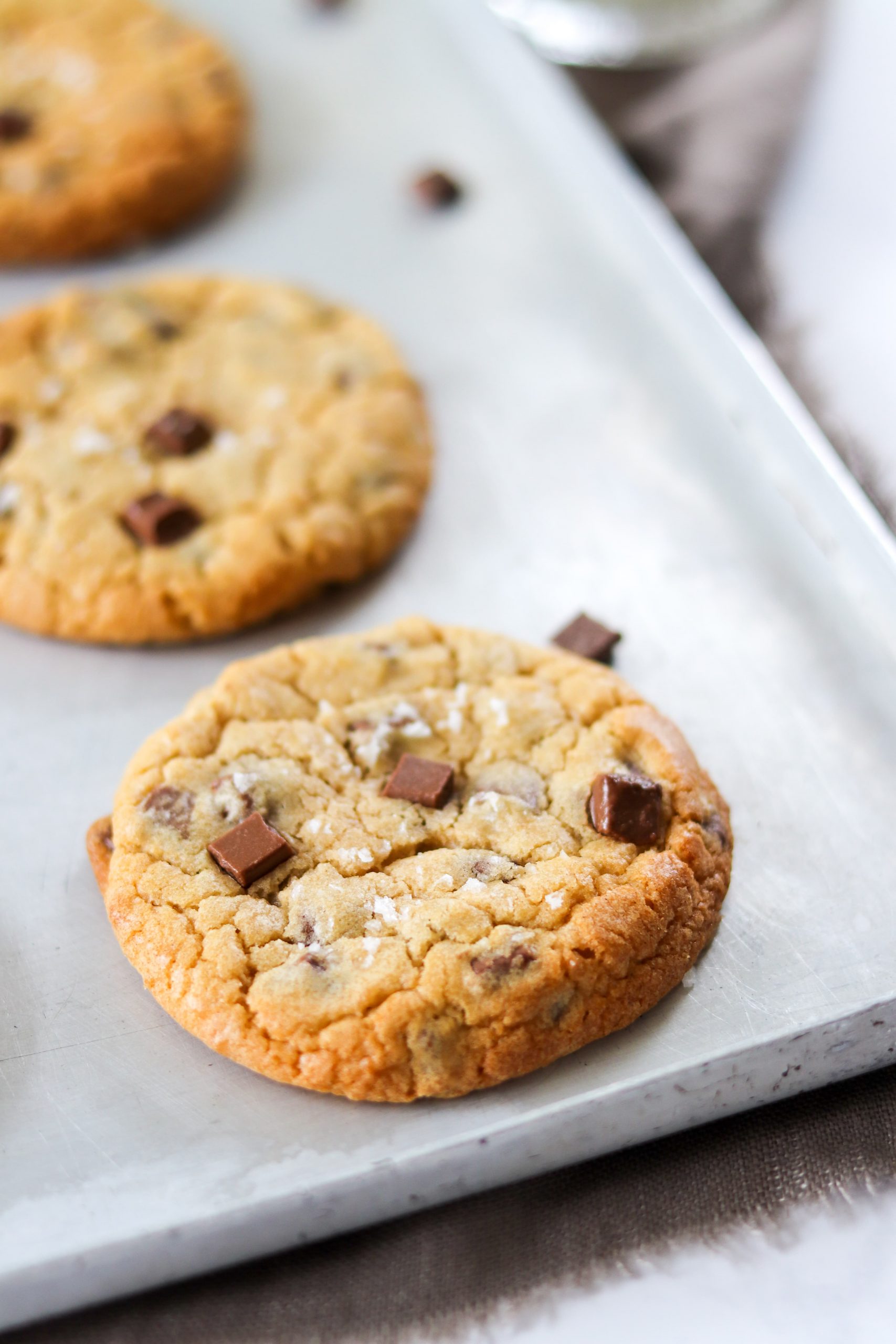 how to freeze the cookies
One of the reasons I love cookies so much is how easily they are to freeze.
If you want to freeze the cookies, make them as the recipe states below. Place them on a baking tray – you don't have to leave much of a gap between them, just enough so they aren't touching.
You can add the additional chunks to the top of the cookies before you freeze them, but I would recommend sprinkling them with salt just before you bake them.
Then put the baking tray in the freezer for around one hour until the cookies have become firm.
When they are firm, you can take the cookies off the baking tray and transfer them to a bag or container until you need them.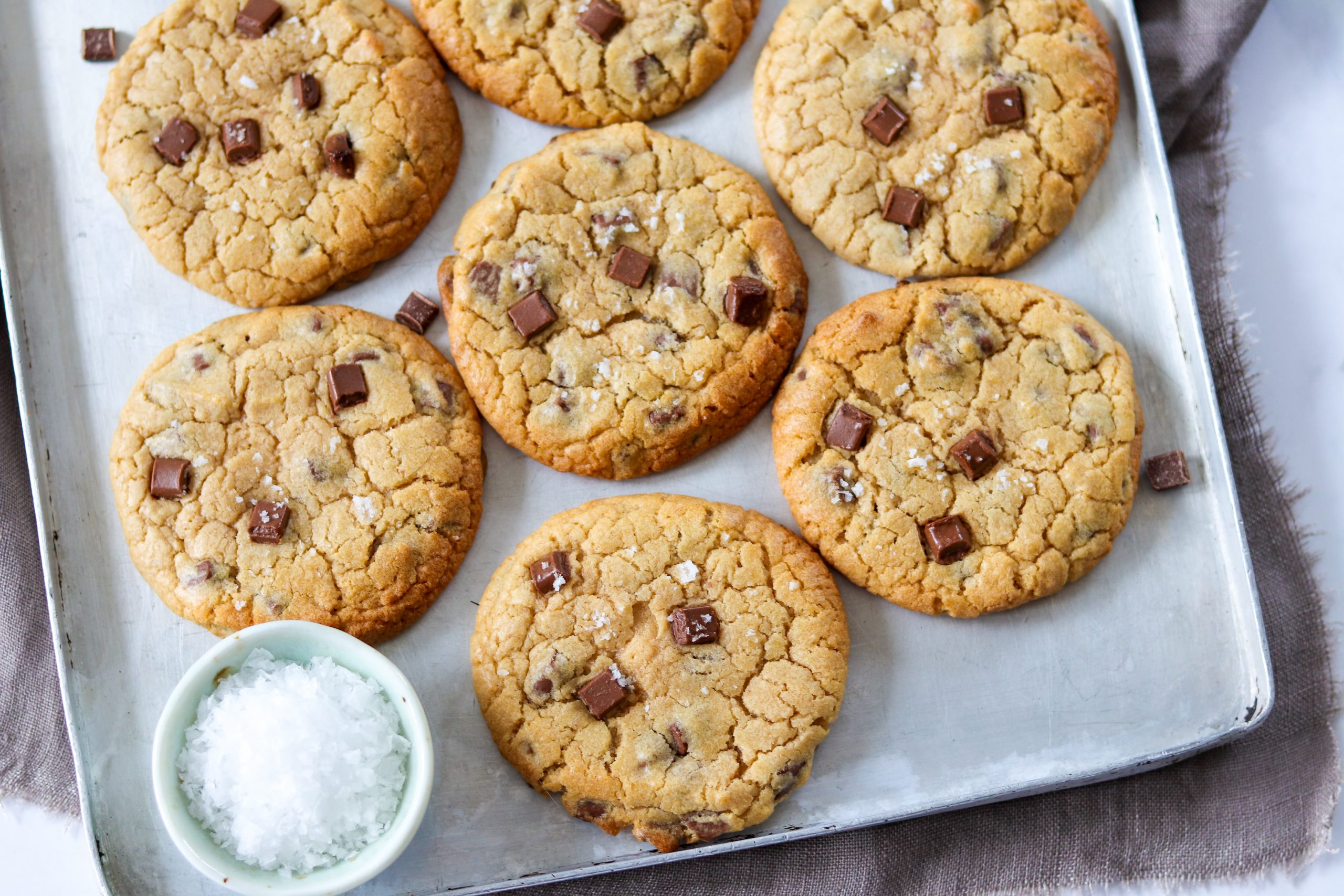 When you want to bake them you have two options. You can put them on a baking tray – making sure you leave room for them to spread; and bake straight away.
They will take up to five minutes longer than the recipe states if you bake them this way and you need to keep an eye on them.
If you aren't feeling confident with this method, leave them to warm up slightly for 10-15 minutes before you bake them. This way they should only need 10-11 minutes until they are baked to perfection.
I love freezing cookies because you can grab out a couple of cookies and have freshly baked cookies whenever you want. Who doesn't want that?!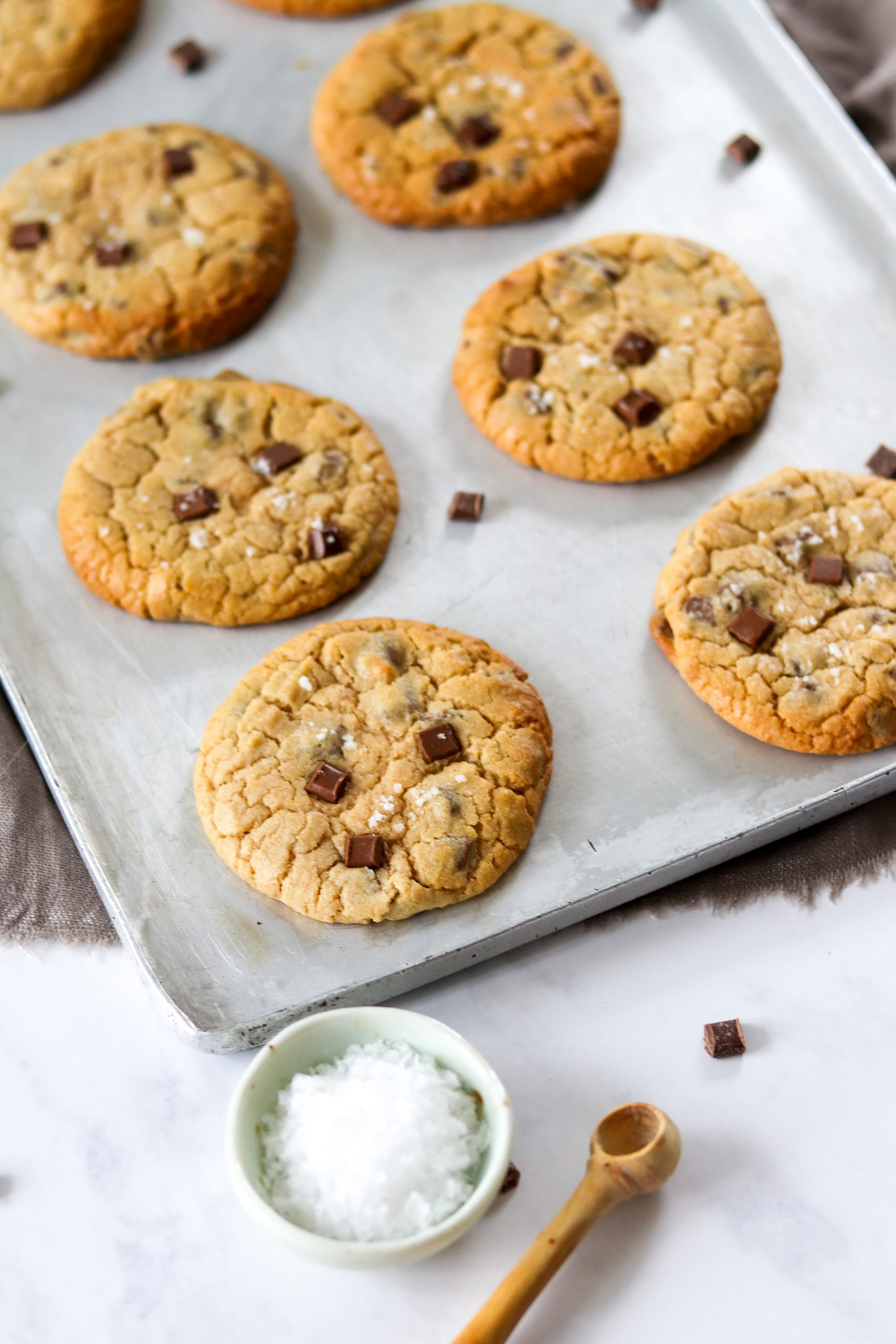 other recipes you might like
Pin for later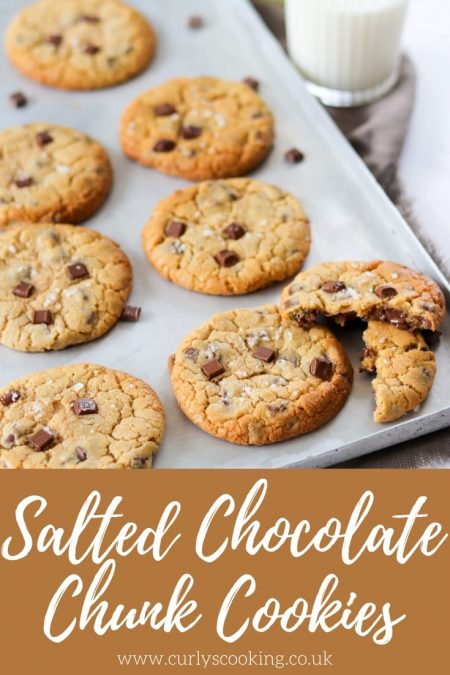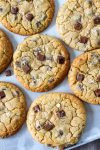 Salted Chocolate Chip Cookies
Deliciously soft cookies studded with milk chocolate chunks and sprinkled with sea salt. These Salted Chocolate Chunk Cookies will soon become your favourite.
Ingredients
125

g

margarine

125

g

caster sugar

1

egg

½

tsp

fine salt

1

tsp

vanilla extract

225

g

self raising flour

175

g

chocolate chunks
To finish
25

g

chocolate chunks

½

tsp

sea salt
Instructions
Preheat the oven to 180ºC. Line baking trays with greaseproof paper or silicone liners and set aside

Cream the butter and the sugars together until light and fluffy

Add the egg and vanilla and mix until combined

Add in the flour and salt and then add the chocolate chunks and mix

Shape into balls and place them on the lined trays making sure there is plenty of room between each ball

Add a few extra chocolate chunks to each cookie and sprinkle with sea salt

Bake for 7 minutes until light brown

Take them out of the oven and leave them to cool on the tray for 20 minutes or so before moving them to cool completely on a wire rack
Recipe Notes
I use a 1½ inch mechanical scoop to form the cookies.
Nutritional information is given as a guide only and may vary.
Nutrition Facts
Salted Chocolate Chip Cookies
Amount Per Serving
Calories 190
Calories from Fat 90
% Daily Value*
Fat 10g15%
Cholesterol 10mg3%
Sodium 200mg9%
Potassium 82mg2%
Carbohydrates 22g7%
Protein 3g6%
Vitamin A 266IU5%
Calcium 12mg1%
Iron 1mg6%
* Percent Daily Values are based on a 2000 calorie diet.
Linking to