Spicy, simple and oh so delicious. These Mexican Street Corn Quesadillas are the perfect vegetarian meal, easily made into a Mexican feast!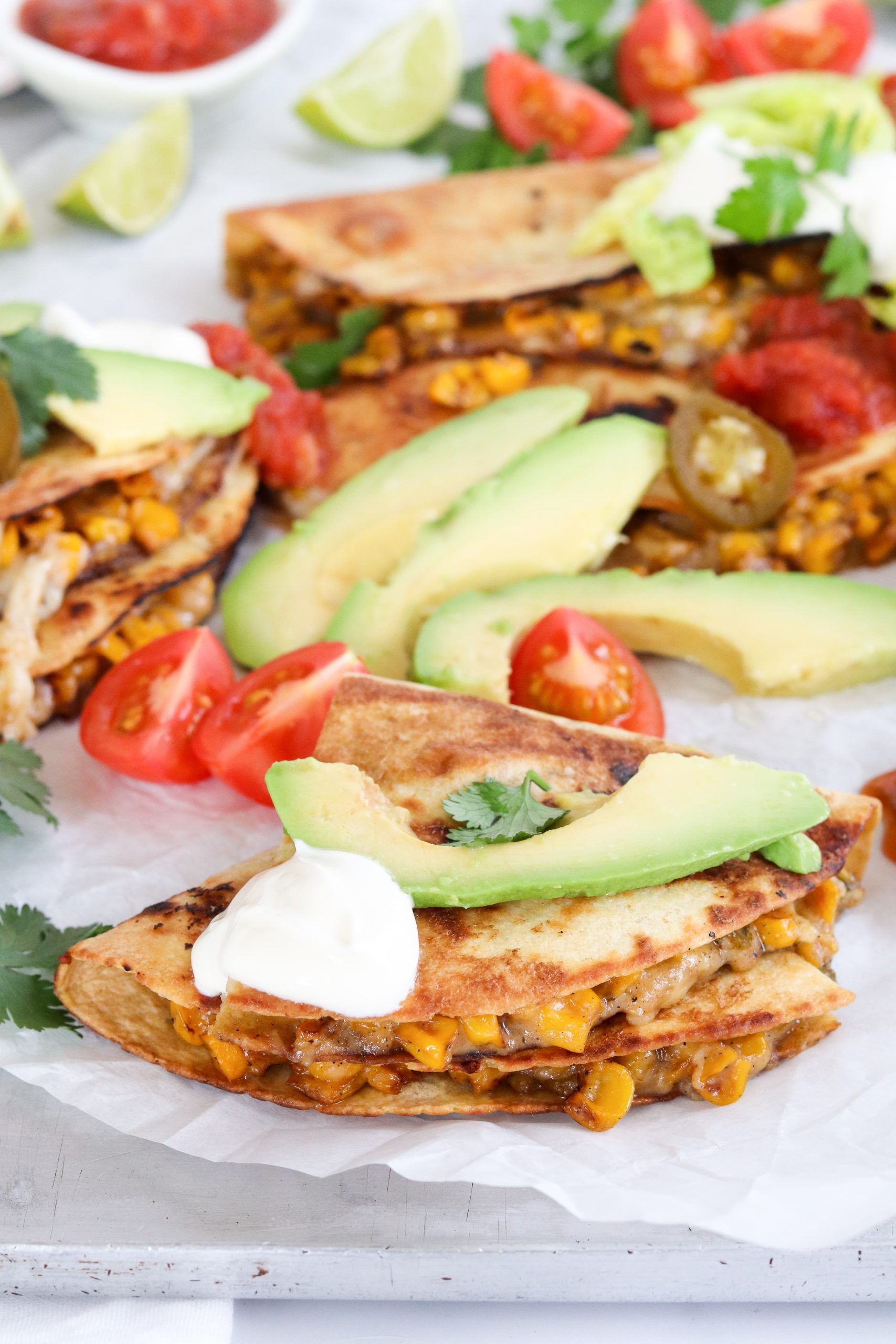 What are Mexican Street Corn Quesadillas?
The idea behind these quesadillas is very simple. They are basically my Mexican Sweetcorn Salad with lots more cheese encased in a corn tortilla.
Elotes are a popular Mexican street food. They are charred corn slathered with mayo and topped with cheese, chilli and lime.
The filling for these quesadillas are all the flavours you would expect from Mexican street corn, just in quesadilla form.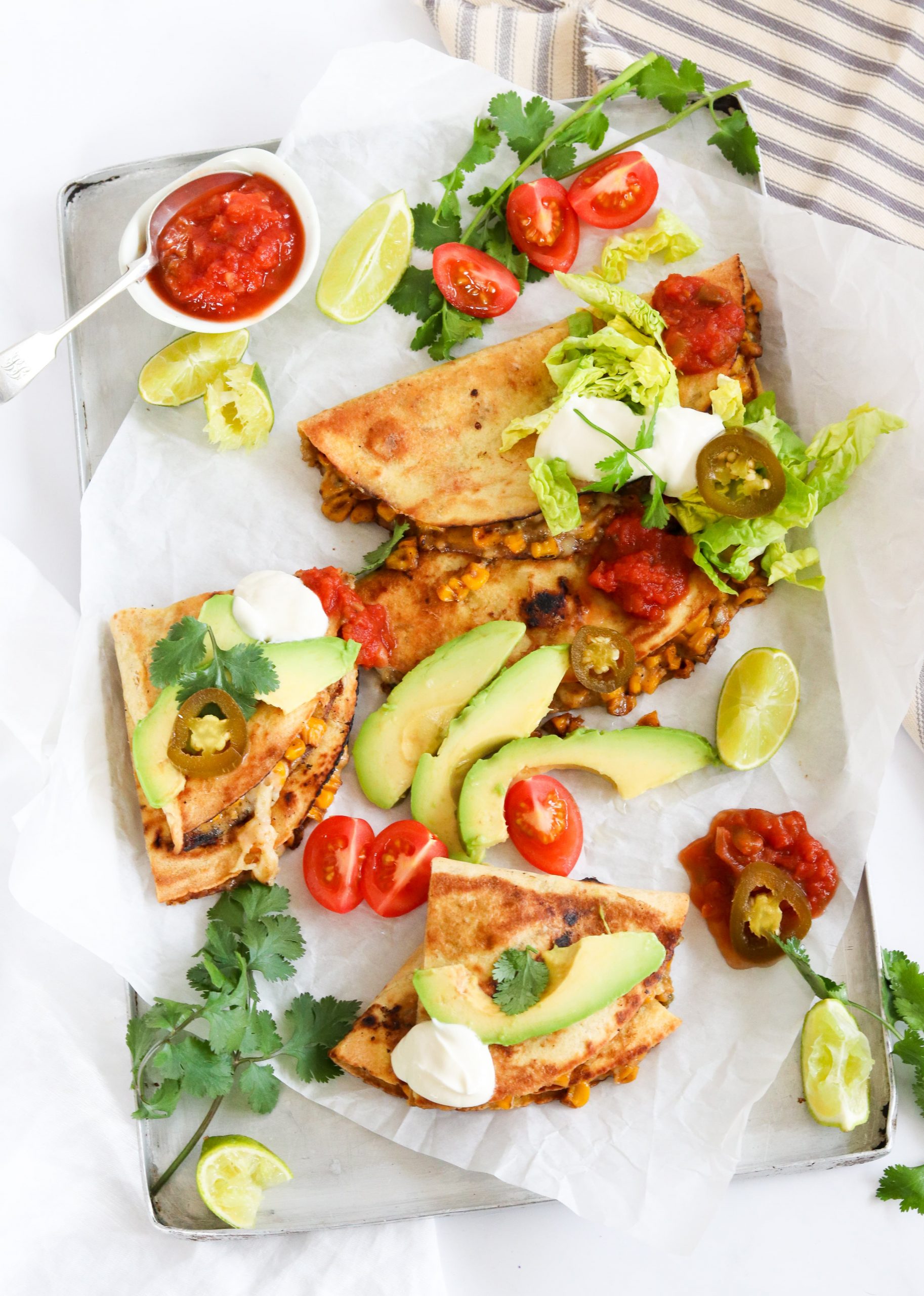 What are quesadillas?
Quesadillas are a traditional Mexican food that are also popular in the United States.
They are made from tortillas filled with a number of fillings which can be meat and/or vegetables. However quesadillas always include cheese. This is essential!
Although the inspiration behind these Street Corn Quesadillas is a traditional Mexican dish, I wouldn't like to say they are completely authentic. But they are delicious!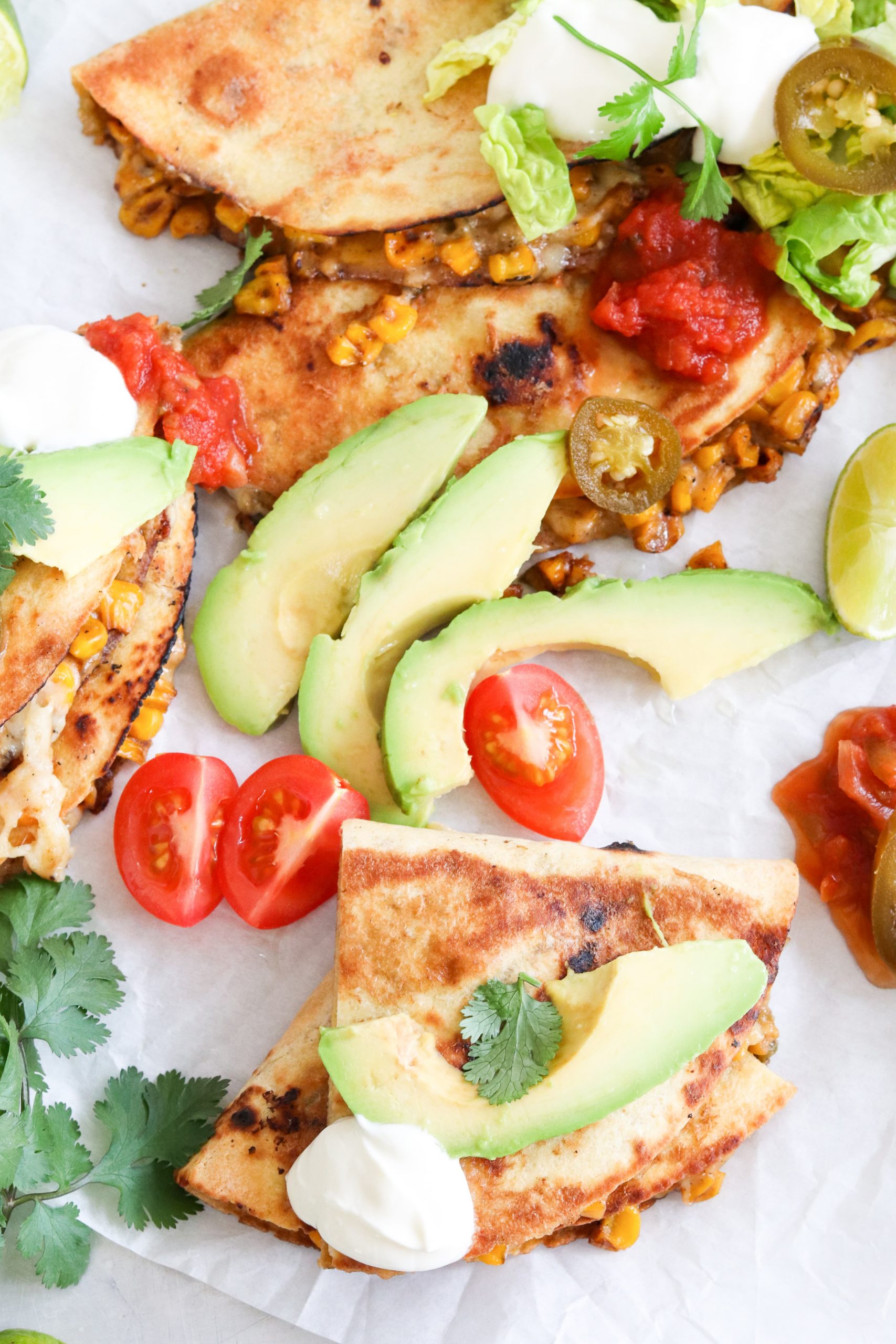 Which sweetcorn is recommended to use?
I am an absolute die hard tinned sweetcorn fan. And I'm afraid it has to be with added sugar and water. It also has to be the big brand for me too; which is not like me!
So I would always use tinned corn for these quesadillas but you can definitely use frozen or fresh corn instead.
With frozen corn you won't need to defrost it, you can cook it straight from frozen which is handy.
You can also use fresh corn, although this is slightly more effort as you have to cut it from the cob. You can either grill the corn while it is still on the cob and then cut the kernels off; or cut the kernels off before charring.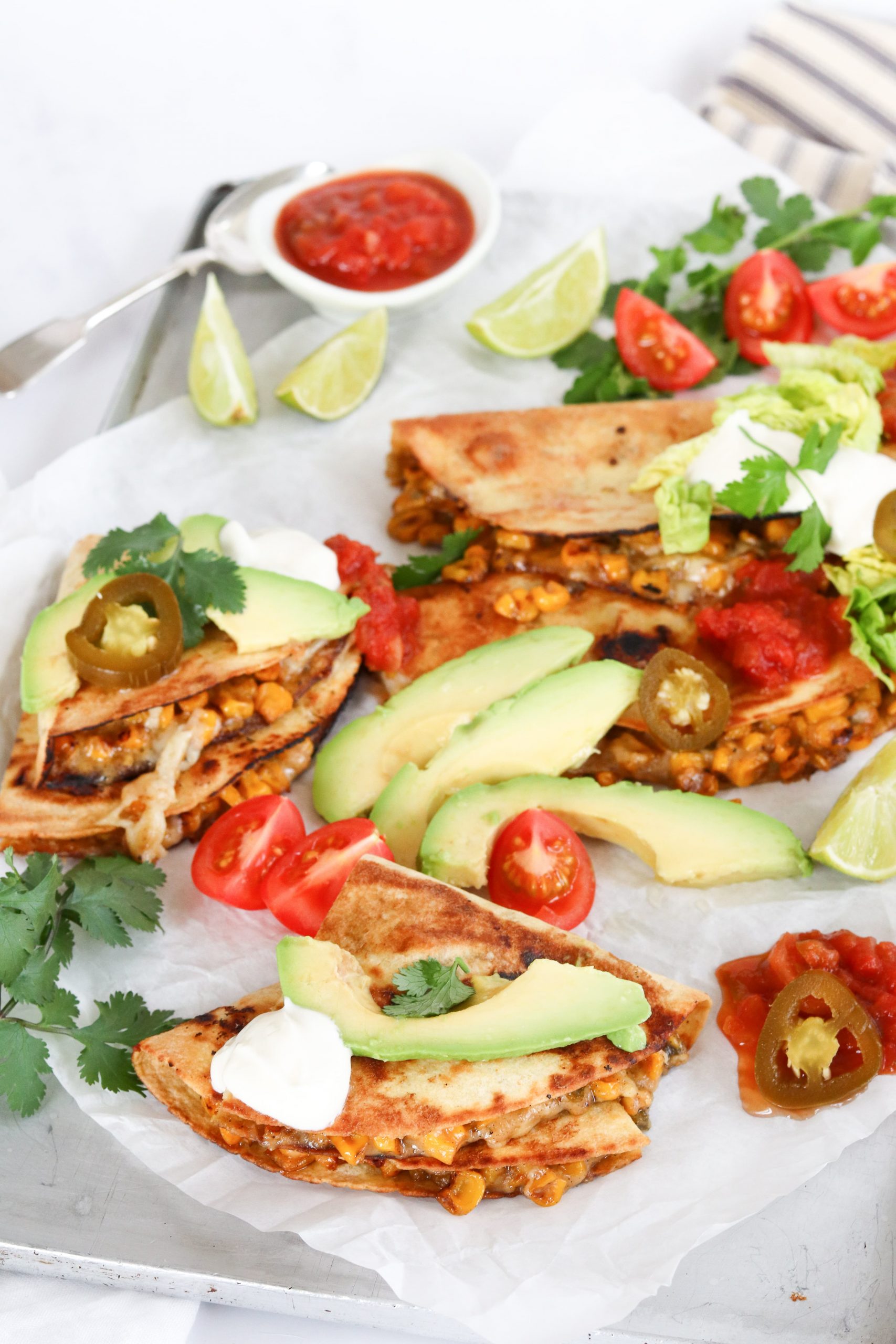 which tortillas are best to use?
I like to use 100% corn tortillas for these Mexican Street Corn Quesadillas.
The first reason for this is that corn tortillas are made using masa harina which is a corn flour. This is traditionally what tortillas are made from. As the filling for these quesadillas is sweetcorn, it makes sense that the tortillas are made from corn too!
I also like to use corn tortillas because they are naturally gluten free which is an added bonus.
Here in the UK, corn tortillas only seem to come in small sizes. I think these actually work really well for quesadillas. If where you live you can buy larger corn tortillas, by all means you can use them.
You can use flour tortillas if you prefer.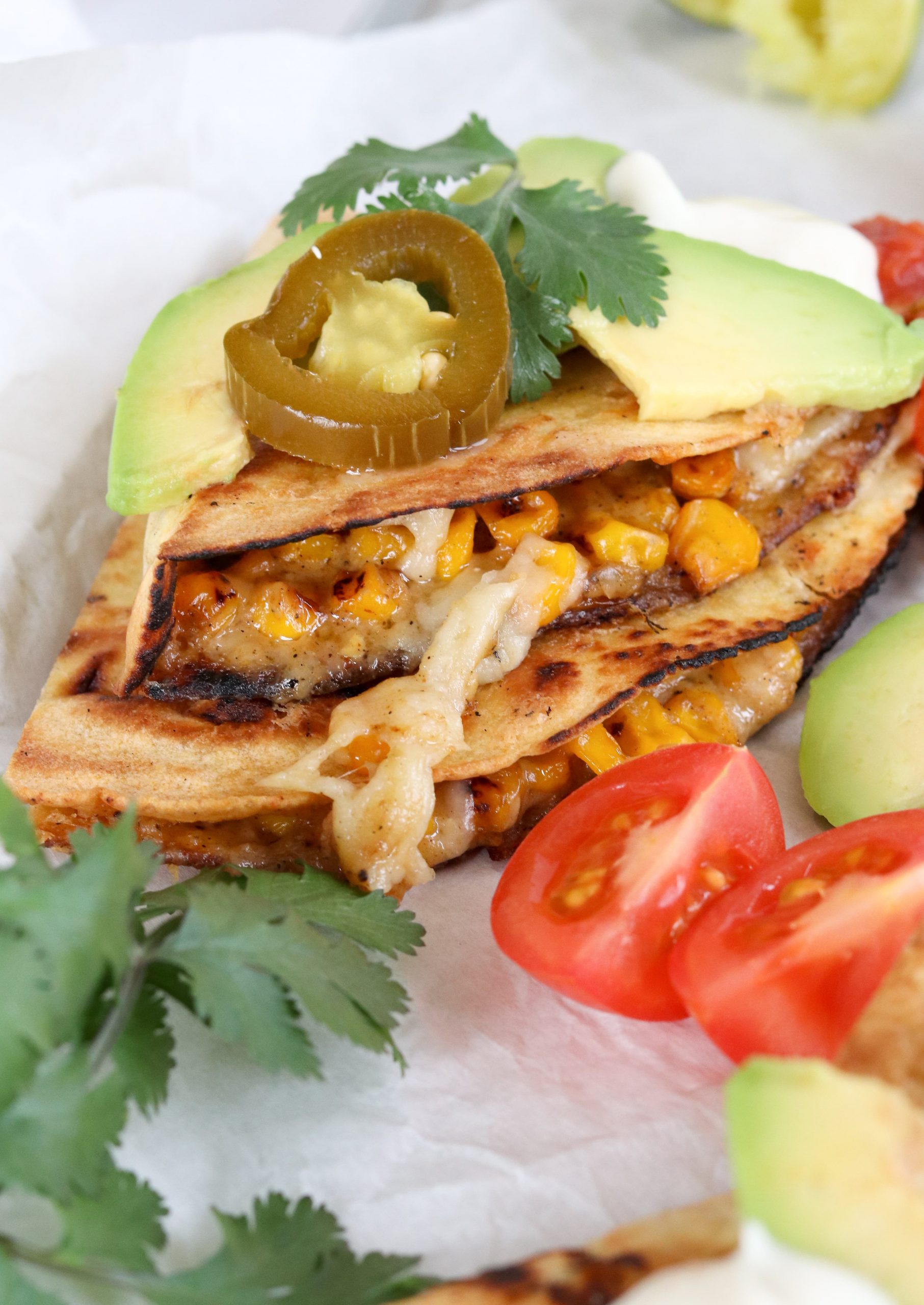 how spicy are these quesadillas?
Most recipes I develop are relatively mild because I like them to appeal to as many people as possible. But occasionally I like to throw in a recipe with a bit more spice, like my Spicy Korean Pork Stew.
These Mexican Street Corn Quesadillas are definitely not mild. This largely depends on how spicy your jalapenos are. Not all jarred jalapenos are created equal and some are hotter than others.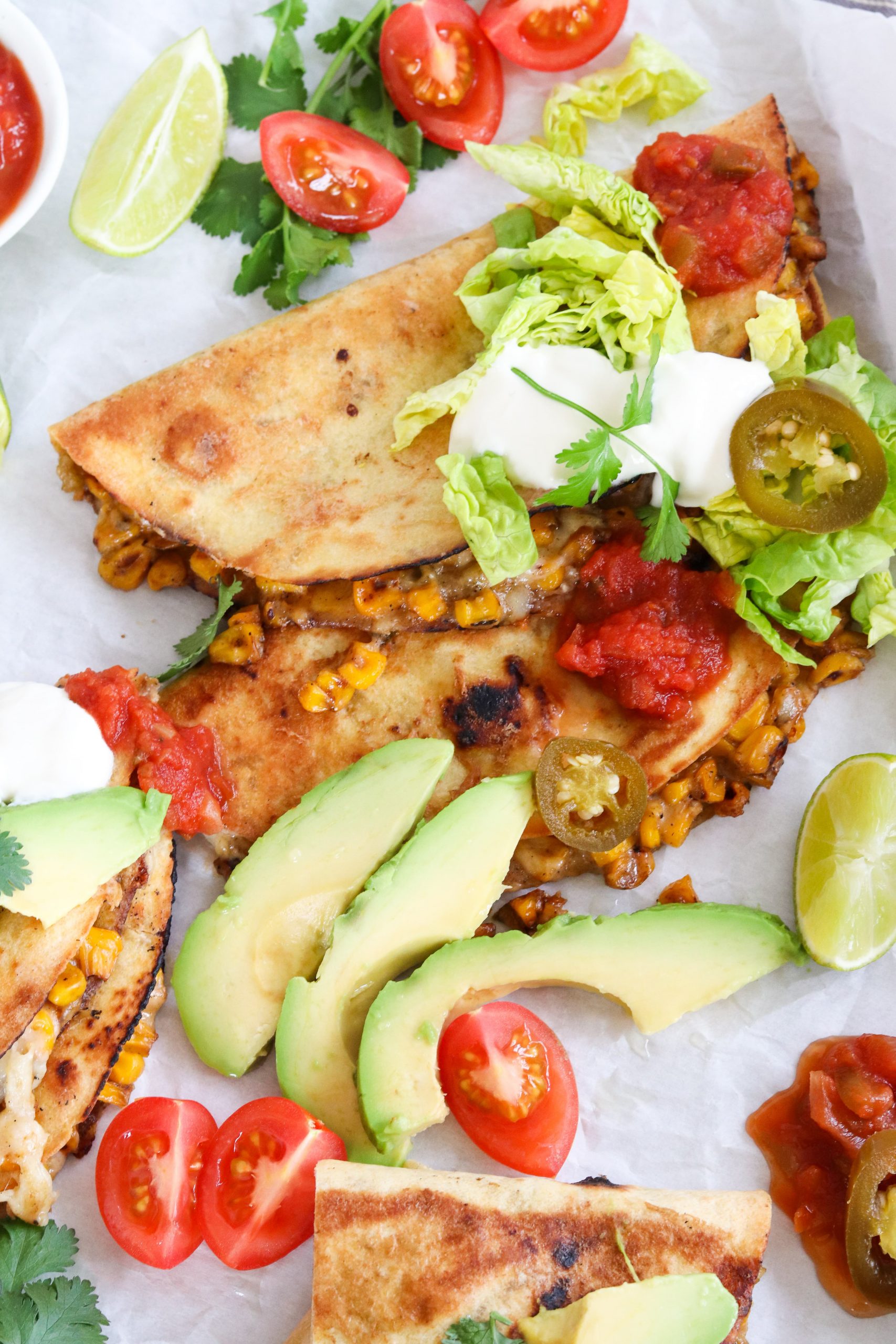 I would always recommend adding a couple of jalapenos and tasting the filling before deciding if you would then like to add more. You can always add, but it is much harder to take away!
I do also add ancho chilli powder to the quesadilla filling. This bring less heat than the jalapenos, but provides a smokiness which I really like.
If you would prefer to make these mild, you can leave the jalapenos out altogether or only add one or two.
These are your quesadillas so tweak them to your preferences.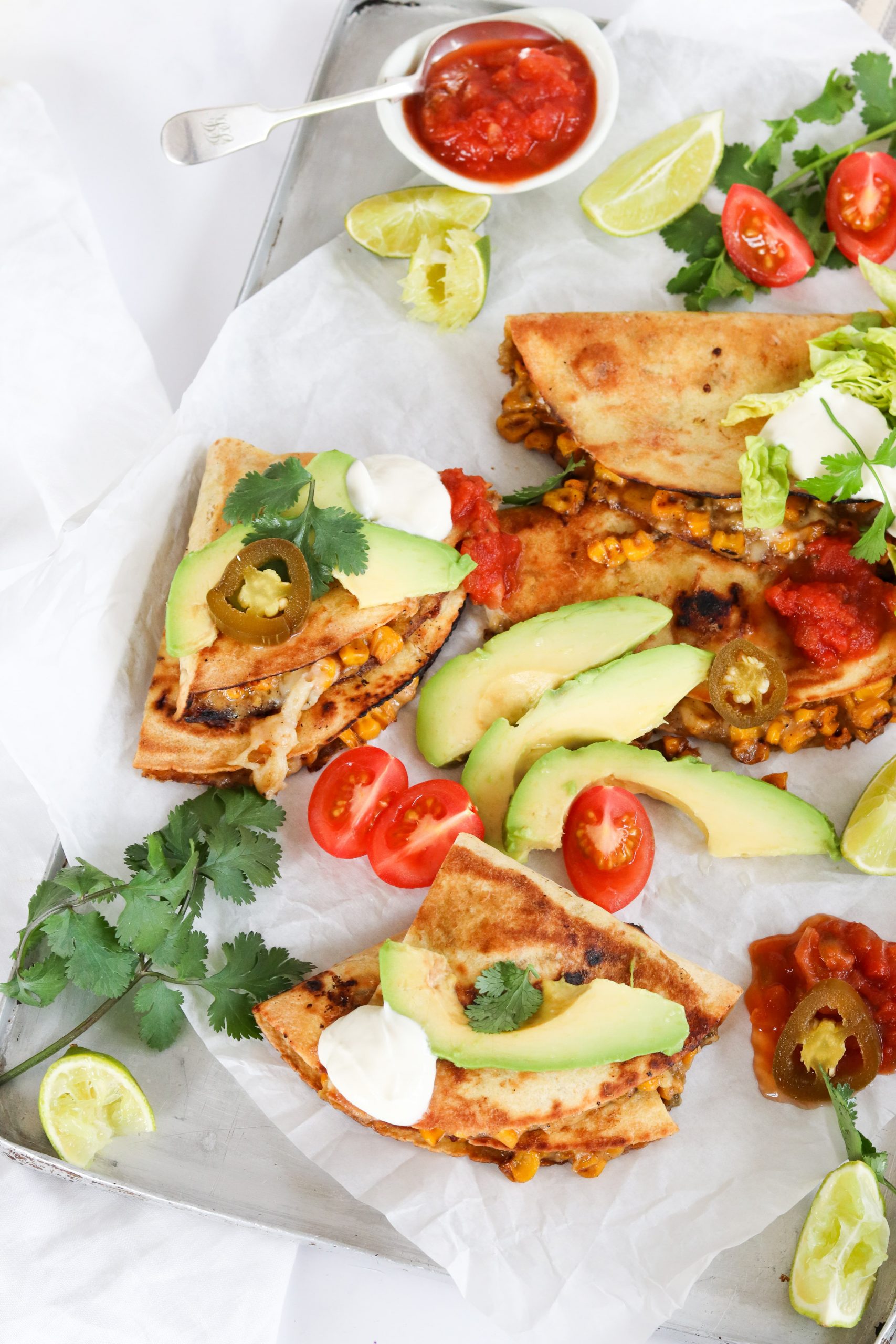 Why spread the quesadillas with mayonnaise?
This might sound a little unusual, but it really does work! I have seen people spreading mayo on cheese sandwiches before grilling them so thought I would give it a go for these quesadillas.
The filling has mayo in it so it made perfect sense to me!
Mayonnaise gives the quesadillas the perfect golden brown colour when they're grilled. It also gives the quesadillas an extra creamy flavour.
I use light mayonnaise because this is what I always have in the house, but you can use whichever you have.
You can also leave it off altogether and just grill the quesadillas in a dry pan if you prefer.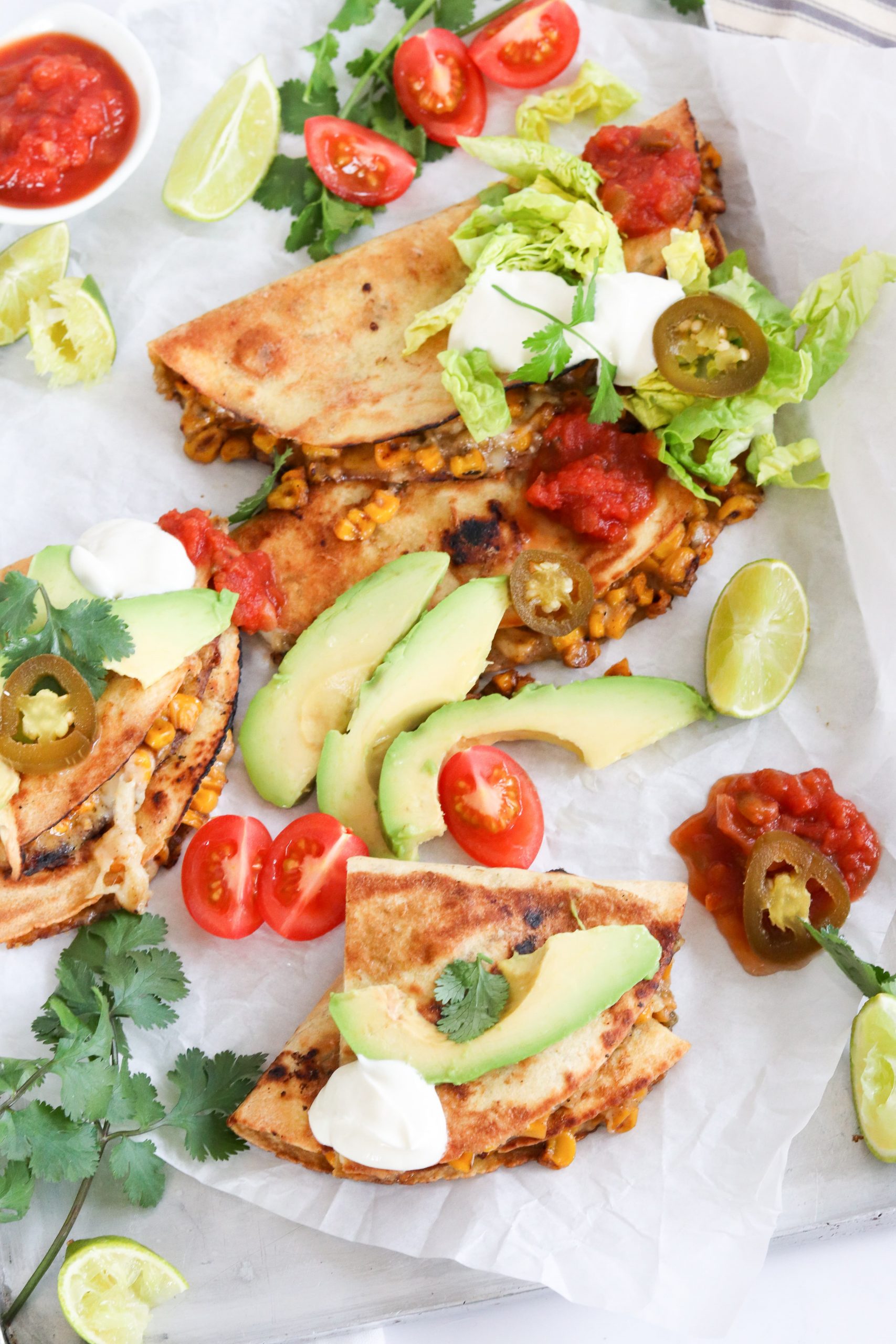 How to heat the tortillas
I really like to warm the corn tortillas directly on the flame of my gas hob. This warms the tortillas and makes them more flexible; but it also chars them slightly which gives them a lovely flavour.
Watch the tortillas because they only take a few seconds each side to get a lovely colour.
If you do not have a gas hob, you can do this in a dry frying pan over a high heat.
Once you have heated them, I like to add them to a tortilla warmer so they stay warm while I am assembling the quesadillas. As they cool they start to become a little more brittle.
If you don't have a quesadilla or chapatti warmer, wrap them in a clean tea towel.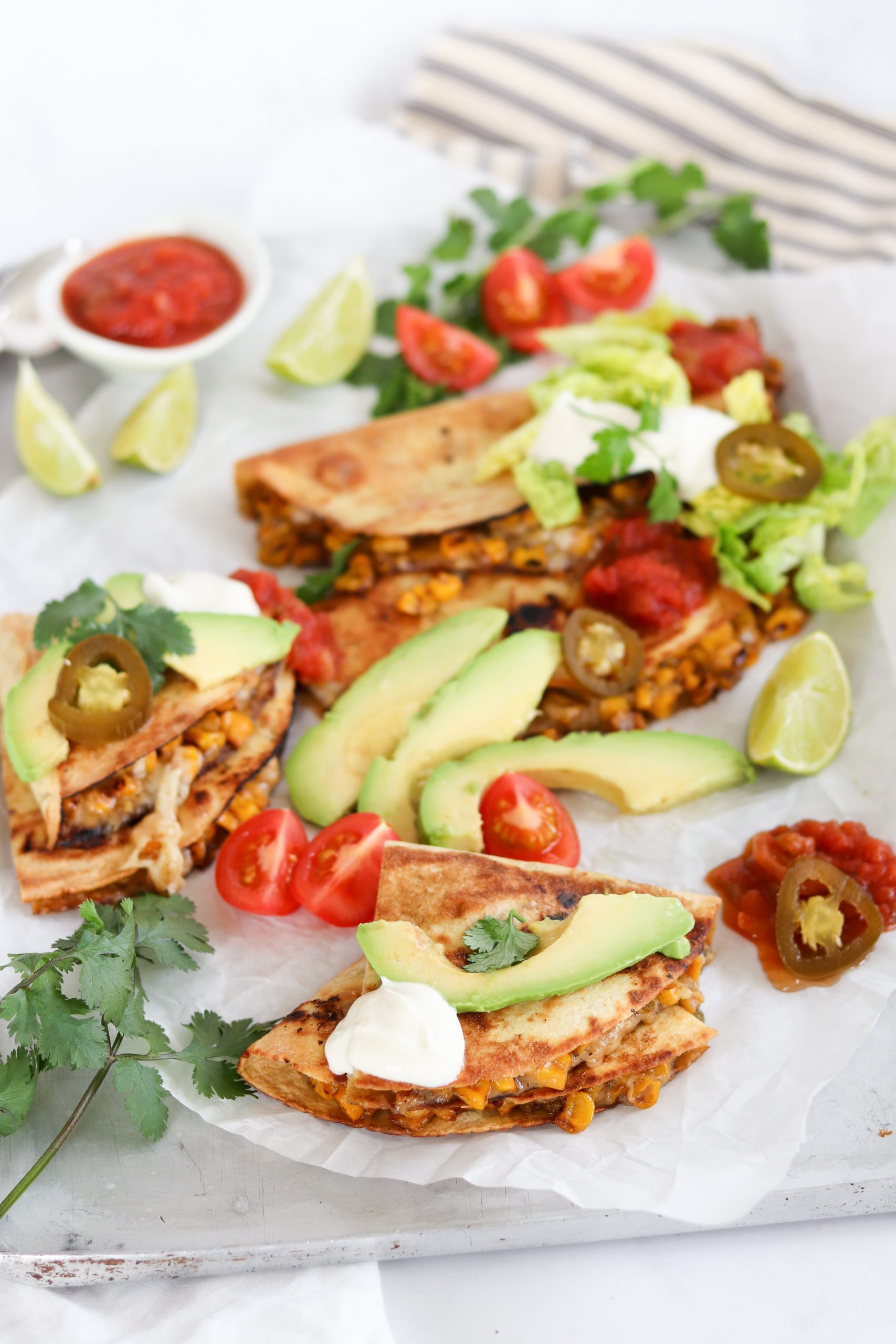 How to make these Mexican street corn quesadillas vegan
These quesadillas are easily made vegan. Tortillas are generally vegan but it is always worth checking.
You then just need to swap the mayo for vegan mayo which is readily available in most supermarkets. And then you will just need to use your favourite vegan cheese that melts really well.
These quesadillas are naturally gluten free and vegetarian. It is worth checking the ingredients of the tortillas however as some corn tortillas can still have wheat in them which wouldn't make them gluten free.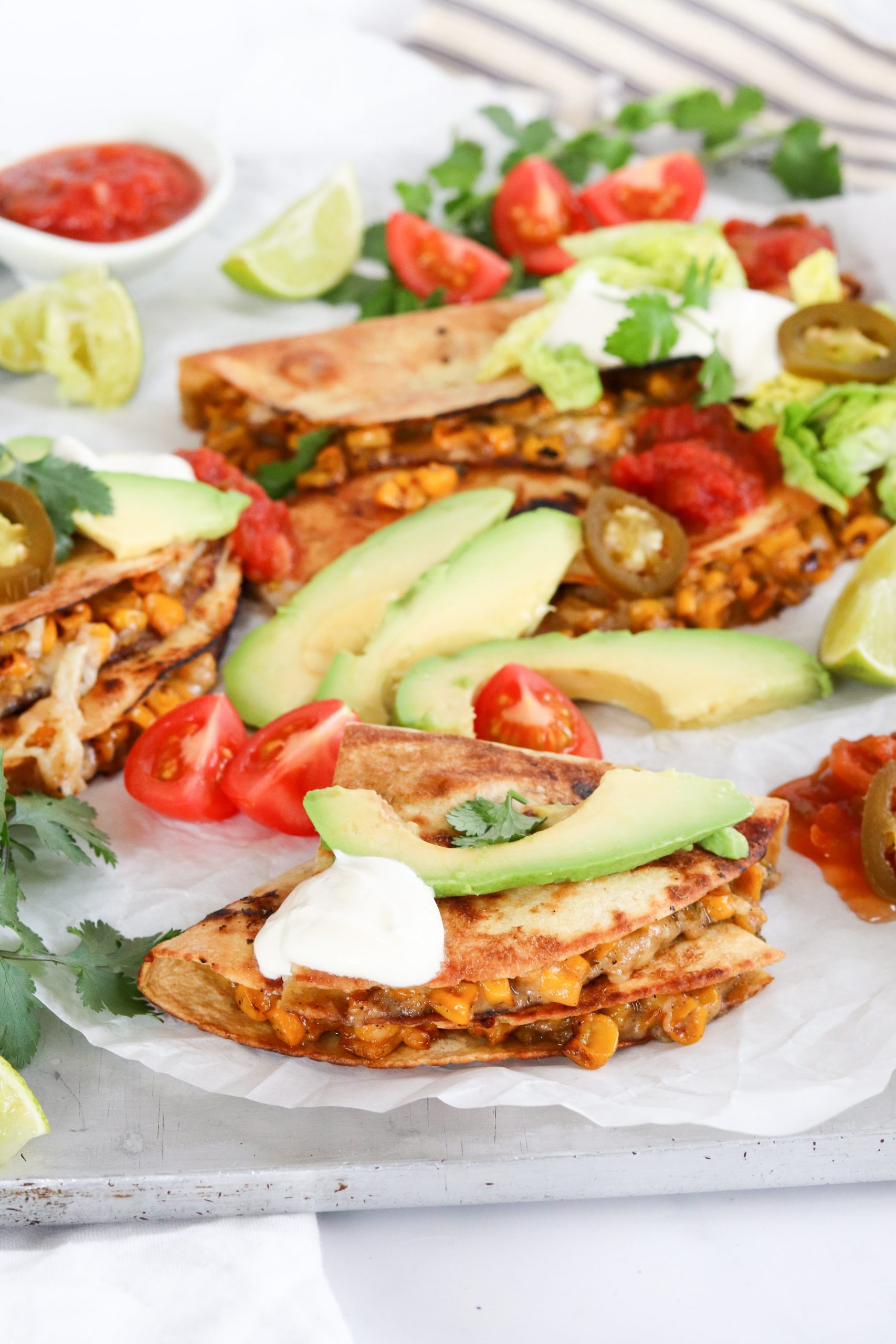 How long do these quesadillas keep for?
These quesadillas really are best served as soon as they're cooked. As they cool they start to become softer and are harder to eat.
If you do have any leftover, I would recommend keeping them in the fridge for up to 24 hours. I would then reheat them either in the oven or in a pan.
If you wanted to get ahead, you can prepare the filling and keep it in the fridge for up to three days. Then when you are ready to eat, you can assemble the quesadillas and cook them fresh.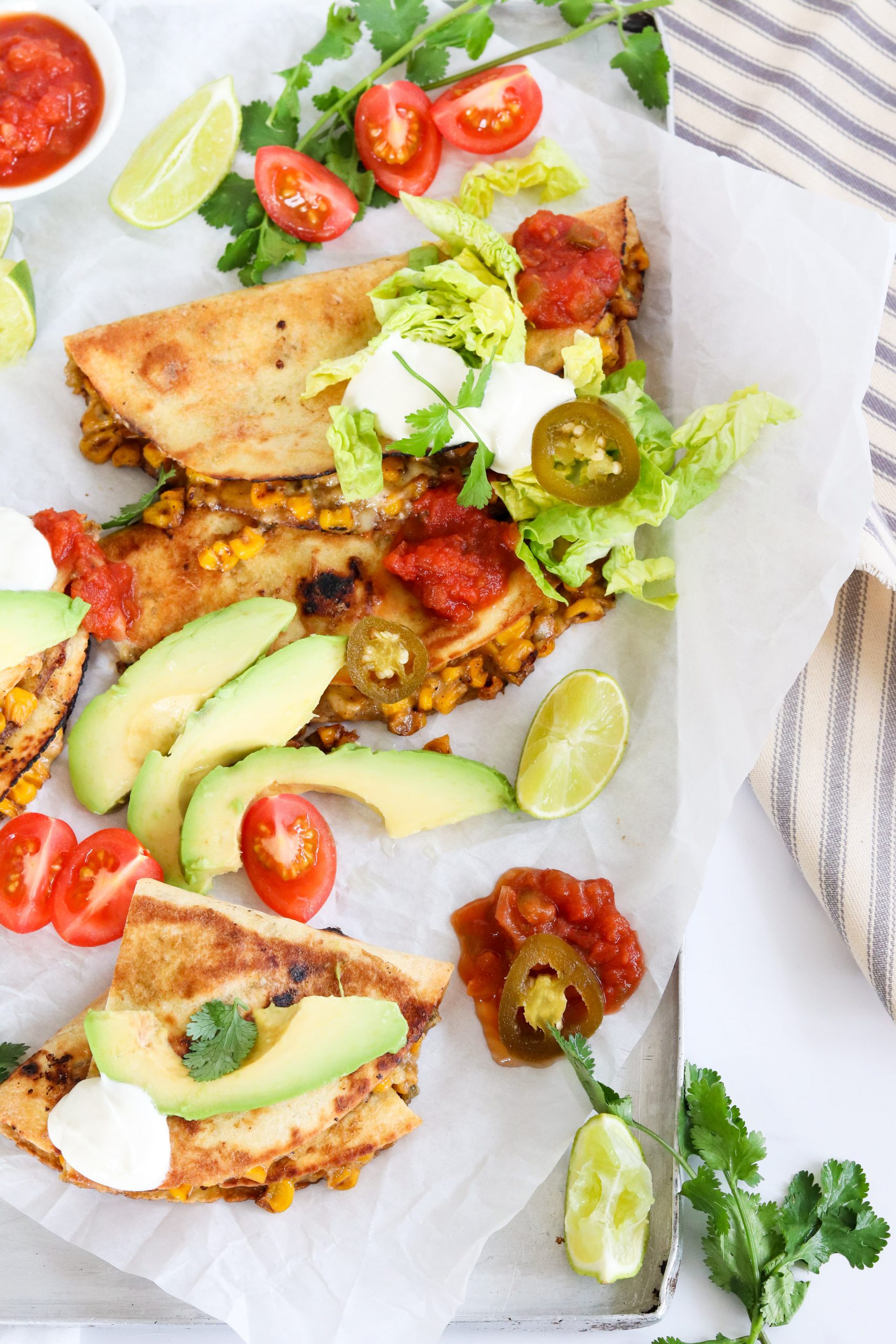 What to serve with these quesadillas
Quesadillas make the perfect lunch, but you can also turn them into an absolute feast with lots of other delicious additions.
Chunky Guacamole would be the perfect addition to these quesadillas. The creaminess of the guac would help cool down the spice from the quesadillas.
Salsa is also a delicious accompaniment. You could make my Pineapple & Corn Salsa for something a little different. Or a classic Tomato Salsa would work really well.
I think these quesadillas would be delicious with Carnitas. You could also add leftover Carnitas to the filling before adding it to the quesadillas. Now that would be delicious!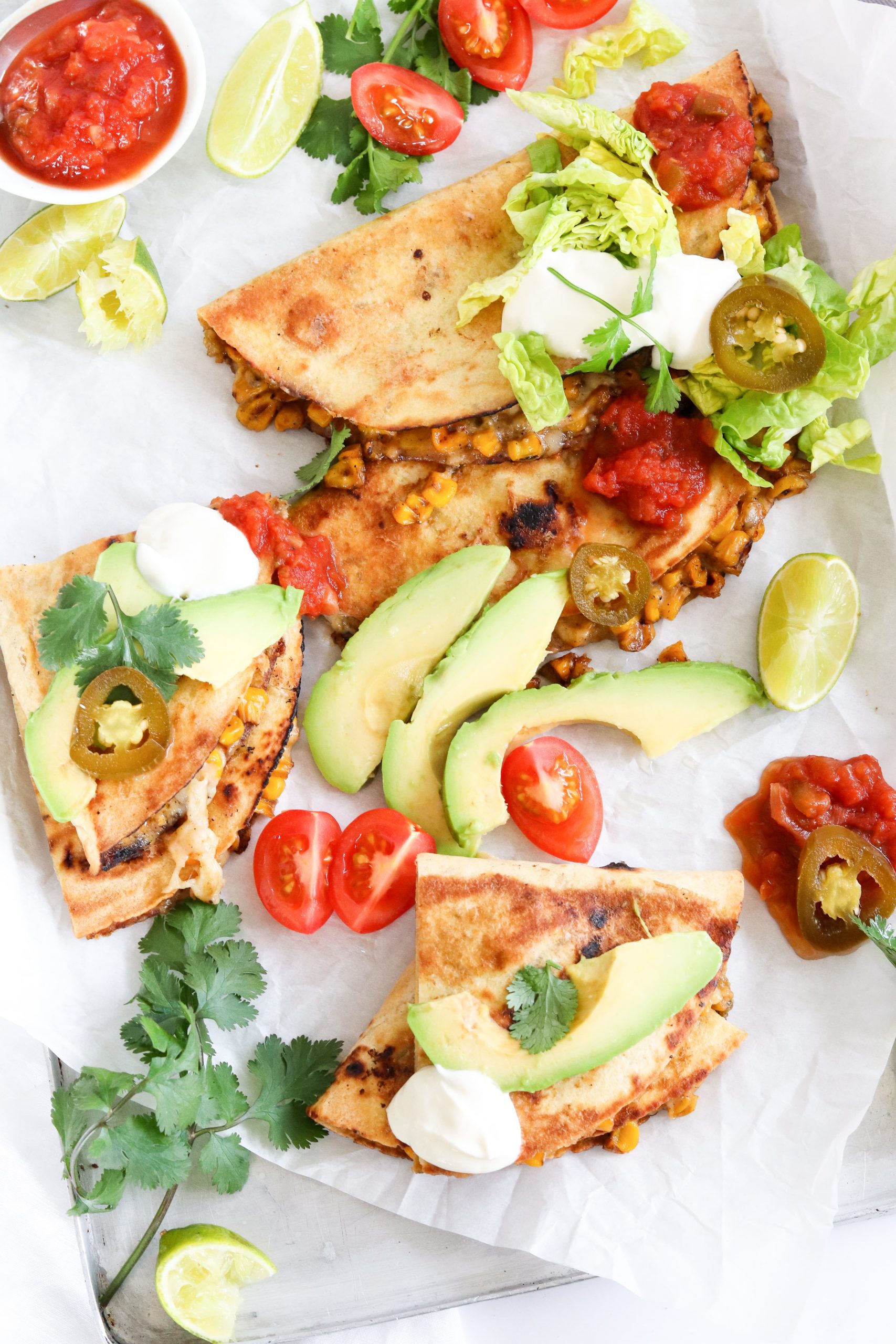 Other recipes you might like
Pin for later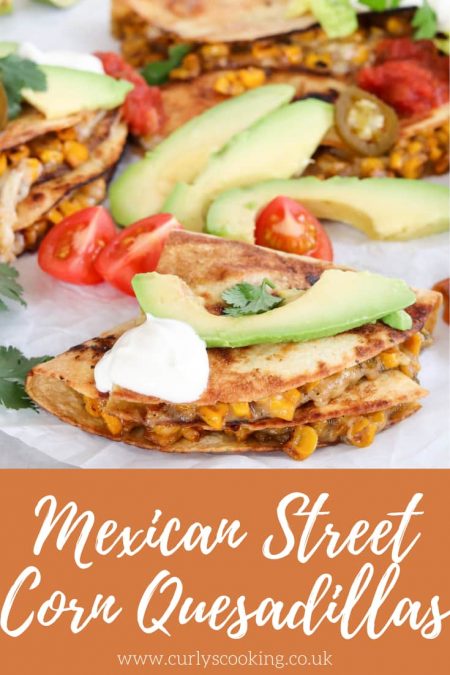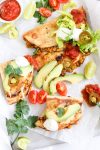 Mexican Street Corn Quesadillas
Spicy, simple and oh so delicious. These Mexican Street Corn Quesadillas are the perfect vegetarian meal, easily made into a Mexican feast!
Ingredients
340

g

tin of sweetcorn

drained (285g drained weight)

½

tsp

sunflower oil

50

g

light mayonnaise

½

tbsp

lime juice

40

g

sliced jalapenos in brine

chopped

¼

tsp

sea salt

¼

tsp

ancho chilli powder

120

g

cheddar cheese

grated
To assemble
4

small

corn quesadillas

20

g

cheddar cheese

grated

50

g

light mayonnaise
Instructions
Add ½ tsp sunflower oil to a frying pan over a medium high heat. Add 285g corn to the pan and cook for 5 minutes or until it starts to char

Once the corn is charred, add to a bowl along with 50g light mayonnaise, ½ tbsp lime juice, 40g sliced jalapenos in brine, ¼ tsp sea salt and ¼ tsp ancho chilli powder. Mix to combine

Add 120g grated cheese and stir to combine. Set aside

Heat 4 corn tortillas directly over the fire on a gas hob or in a frying pan to warm through and char slightly

Divide the corn mixture and spread over half of each of the 4 corn quesadillas. Sprinkle 20g grated cheese over each quesadilla and fold over

Spread the outside of each quesadilla with 50g light mayonnaise

Fry in a pan for 1-2 minutes on each side until golden brown and the cheese has melted. Serve with your favourite toppings
Recipe Notes
Nutritional information is given as a guide only and may vary.
Nutrition Facts
Mexican Street Corn Quesadillas
Amount Per Serving
Calories 385
Calories from Fat 162
% Daily Value*
Fat 18g28%
Cholesterol 41mg14%
Sodium 549mg24%
Potassium 44mg1%
Carbohydrates 3g1%
Protein 9g18%
Vitamin A 369IU7%
Vitamin C 1mg1%
Calcium 254mg25%
Iron 1mg6%
* Percent Daily Values are based on a 2000 calorie diet.