Summer is not complete without a tasty potato salad. Simple and delicious; this Creamy Mustard New Potato Salad will become a staple at any BBQ or potluck.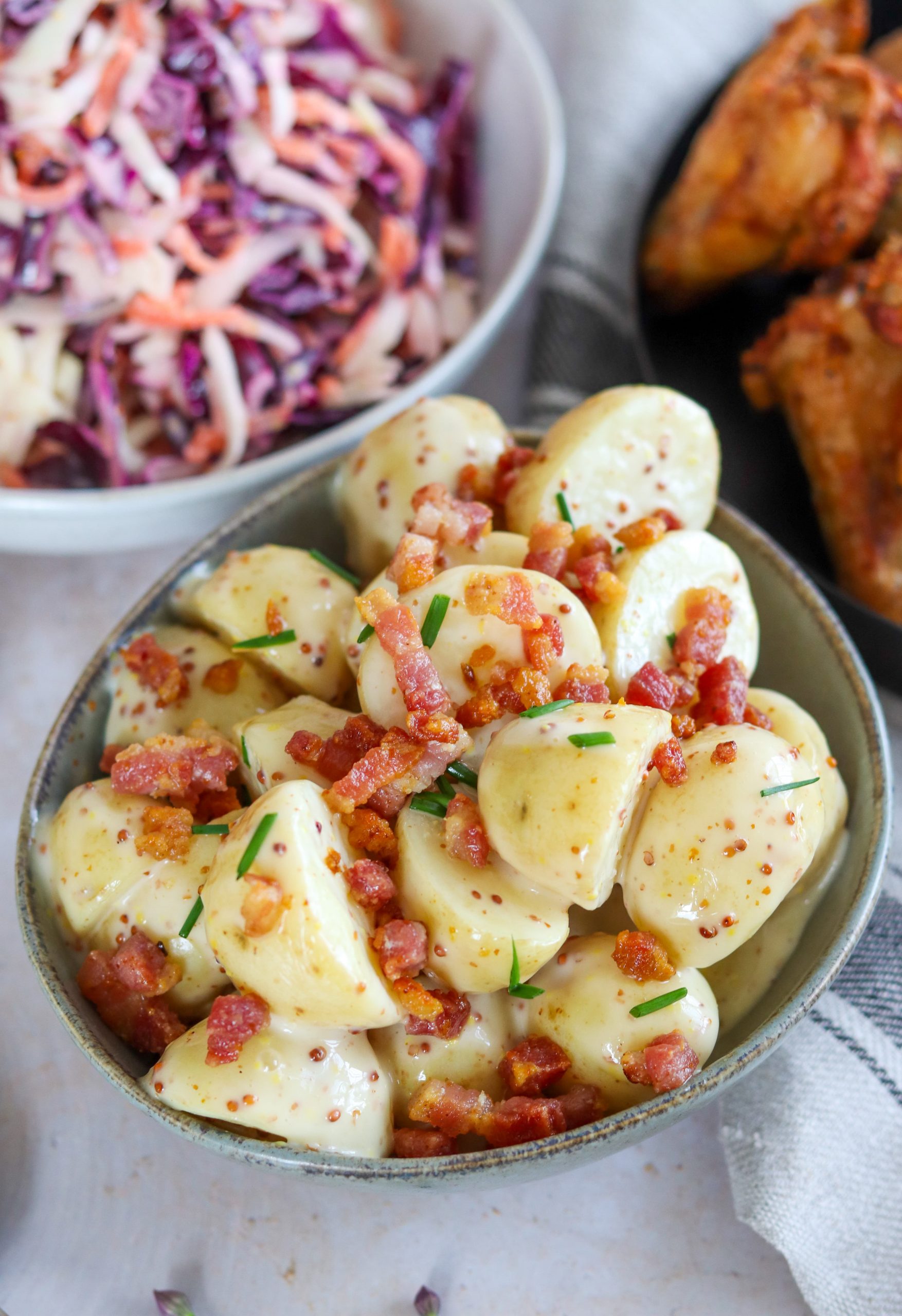 Creamy Mustard New Potato Salad is better than shop bought options
I'll let you into a secret, I don't like shop bought potato salad. There is just something about it that doesn't taste right to me.
So the only way I can enjoy potato salad is to make my own; which is what I do!
I much prefer this Creamy Mustard New Potato Salad to shop bought versions because you can control what goes into it and tweak it to your taste preferences.
Once you have made this, don't blame me if you don't want to buy shop bought potato salad again!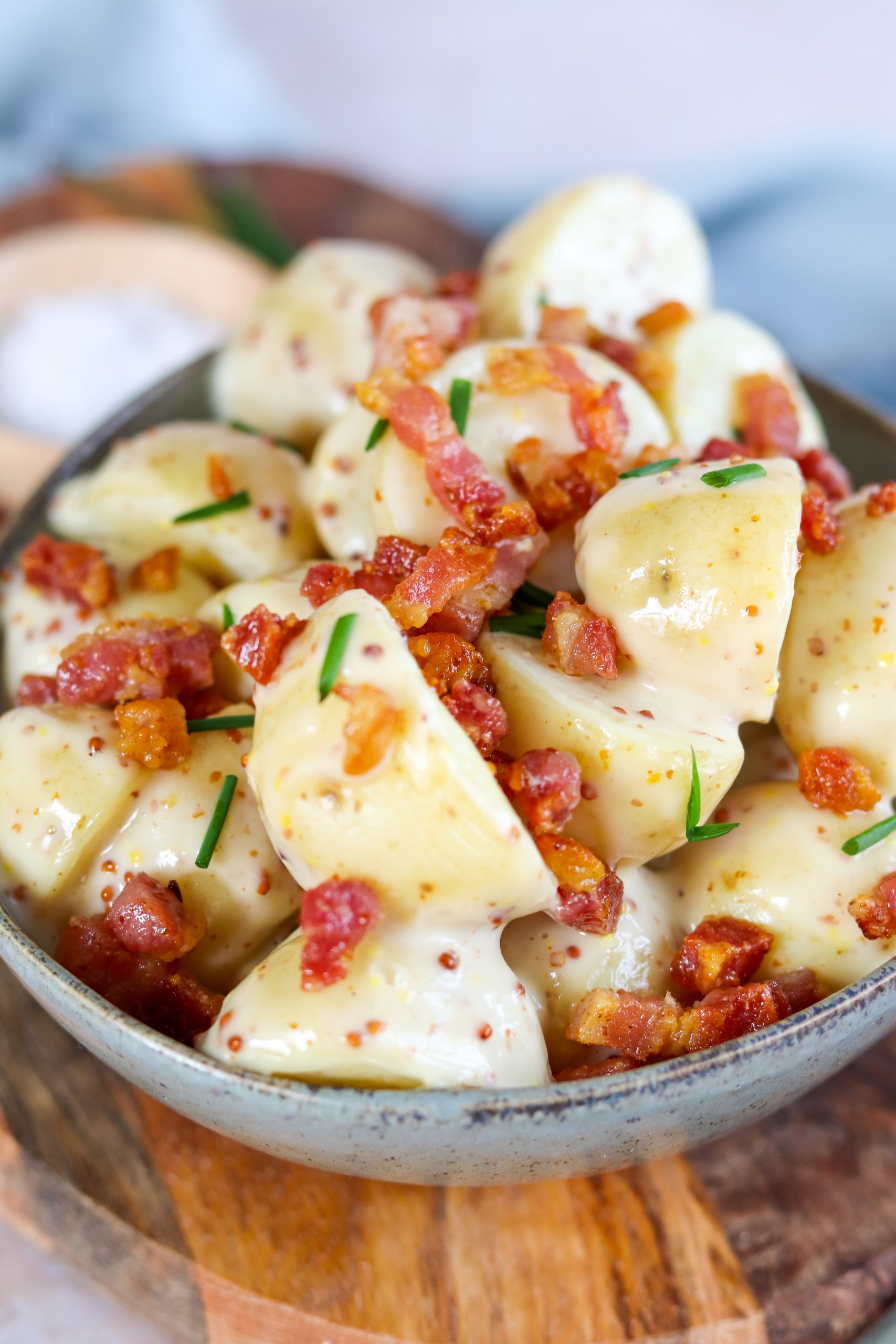 Which new potatoes are best to use?
I always prefer to use new potatoes for a potato salad because you don't have to worry about peeling them and the majority of varieties have the waxier texture you are looking for.
Here in the UK, new potatoes are in season from April to July. However you can buy them year round. New potatoes are sometimes labelled as just 'new potatoes'. However they are also labelled according to their type.
Here are some types of new potatoes that would work well for this Creamy Mustard New Potato Salad:
Jersey Royals – some of the most well known new potatoes in the UK. They are a unique potato with a subtle nutty flavour grown on the Island of Jersey in the English Channel.
Charlotte – these are another popular new potato in the UK often used for making potato salad
Anya – another nutty flavoured potato with a longer, more knobbly appearance
Baby – this is a generic name given to small new potatoes. As the name suggests these are quite small so you may decide to leave them whole
Salad – another generic term for new potatoes. Charlotte potatoes are often labelled as salad potatoes
Fingerling – these are varieties of potatoes more commonly found in the US. They are longer and knobbly similar to Anya potatoes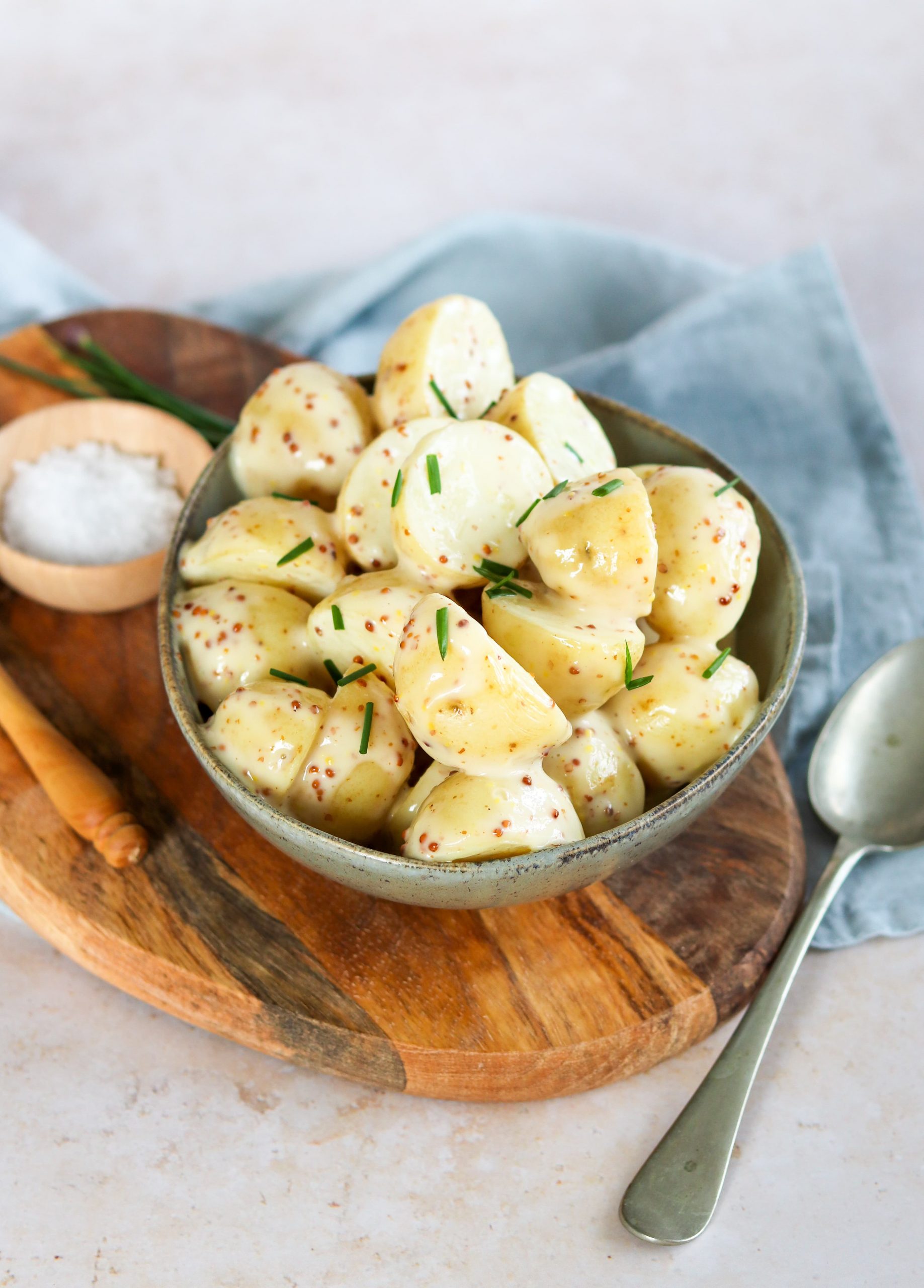 Which mayonnaise is recommended to use?
You can use whichever mayonnaise you usually buy for this Creamy Mustard New Potato Salad. There are so many options and brands out there, use your favourite!
I usually buy light mayonnaise so this is what I choose to use in my potato salad. You could definitely use regular mayo.
Extra light mayo is definitely an option if this is what you would usually have, but I find it doesn't have as much flavour as the higher fat alternatives. But it is definitely personal preference.
If you wanted to make this potato salad extra special, you could make your own Mayonnaise.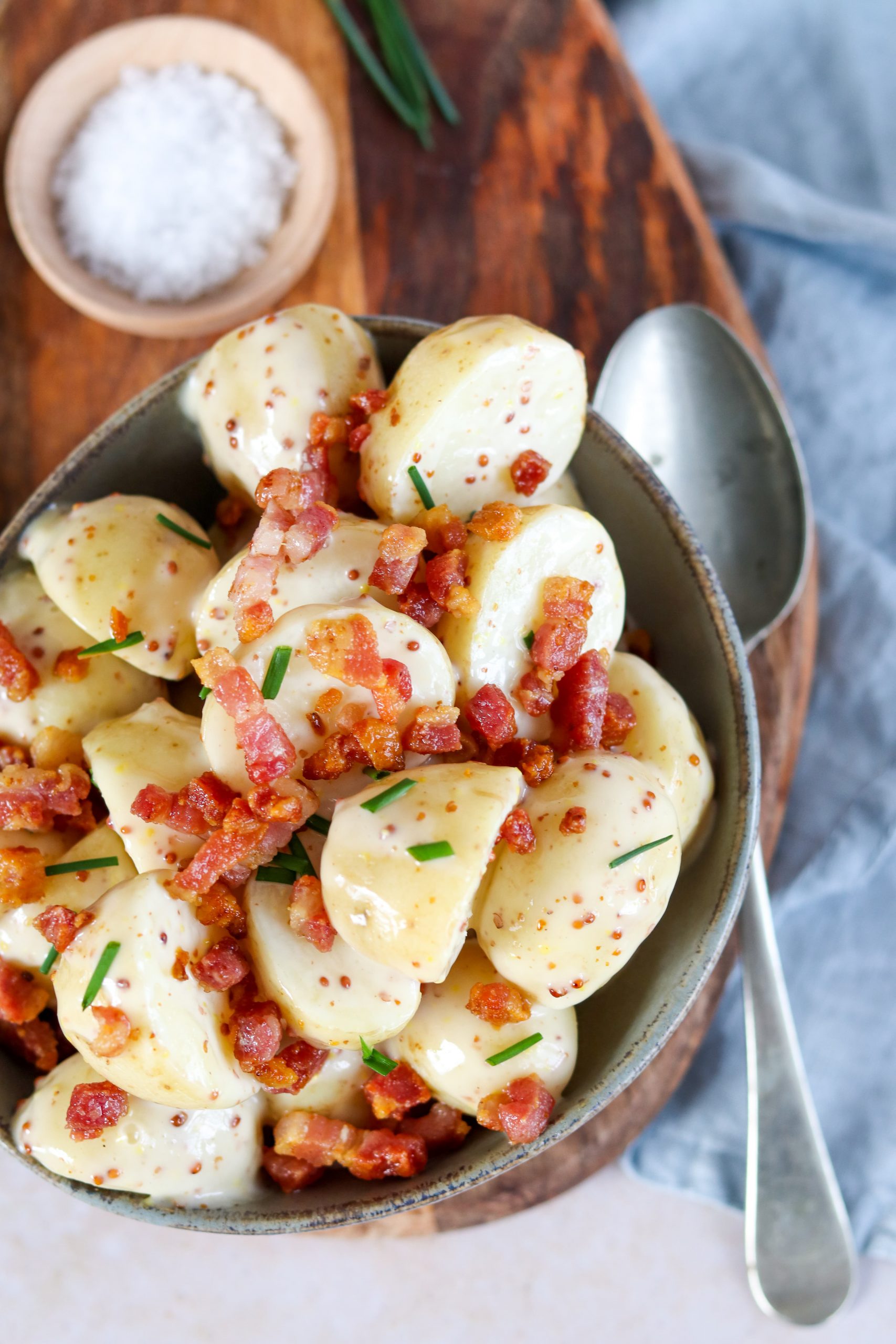 Which mustard is best to use?
My favourite mustard in general is wholegrain (granary) mustard. I think it has a more subtle flavour than some of the other types and I like that you can see the mustard seeds.
You could use Dijon mustard as an alternative but as it is a little stronger I would recommend adding a bit less. I would then taste the sauce and add a bit more if you want. You can always add more but you can't remove it once it's added!
English mustard is stronger still, so the same applies. Add a small amount and see how it tastes and then you can add a bit more if you like. This principle applies to whichever mustard you use.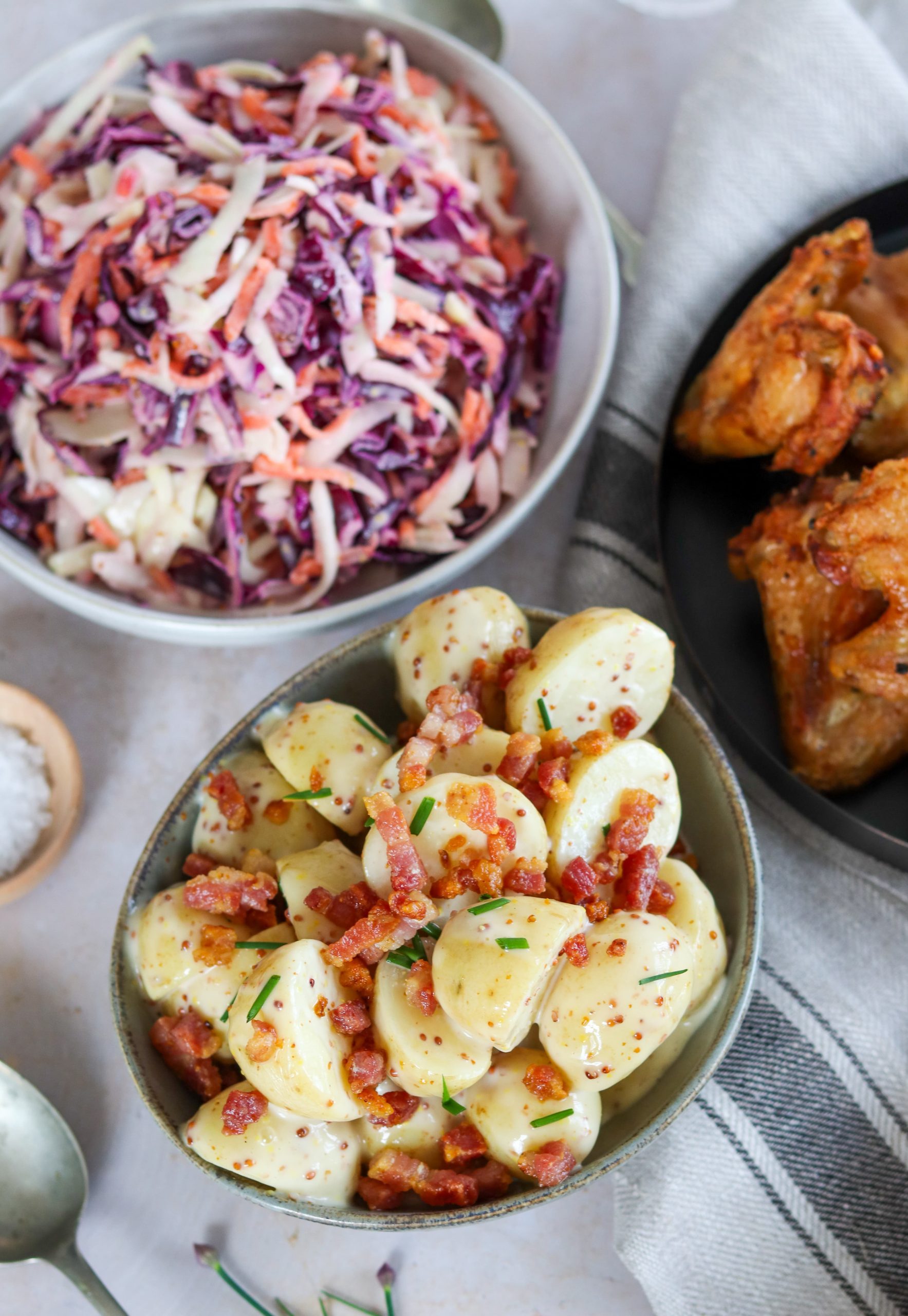 Adding bacon makes this potato salad even tastier
Bacon makes everything better! Well unless you are vegetarian or vegan obviously.
Crispy bacon works so well with the new potatoes, mayonnaise and mustard. Not only does it add a lovely flavour but it adds a bit of texture and crunch.
I always prefer smoked bacon as in my opinion it has more flavour. I also use bacon lardons which makes it even easier because they are the perfect size and no additional prep is needed.
If you don't eat pork, you can absolutely use beef, turkey or lamb bacon. If you are vegetarian or vegan, you can use veggie bacon or crispy onions.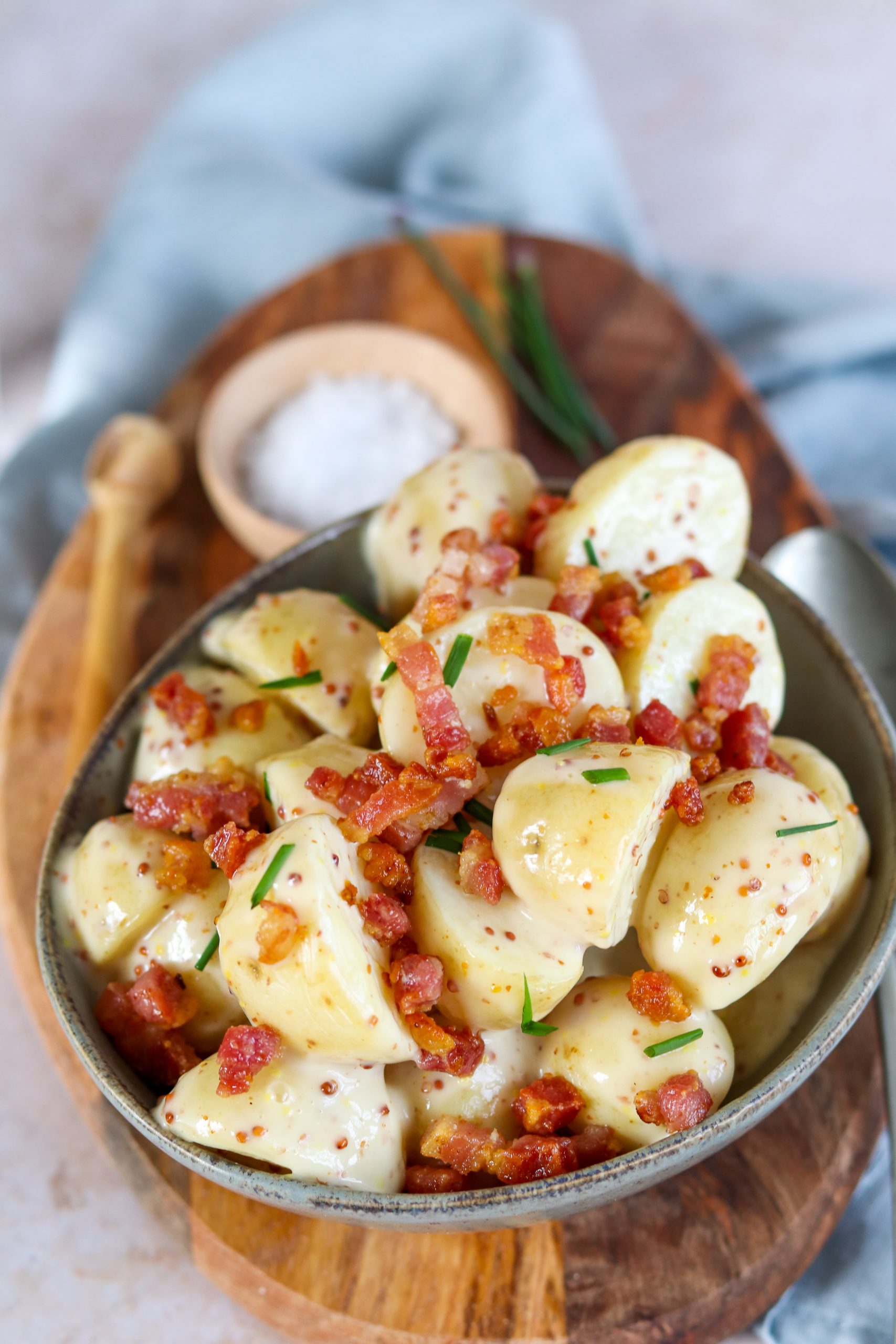 How to make this potato Salad vegan
This Creamy Mustard New Potato Salad is naturally gluten free. If you leave off the bacon it is also vegetarian.
To make it vegan, you would just need to swap the mayonnaise for your favourite vegan alternative.
I mentioned it above, but instead of standard bacon, you could use vegan bacon to add some texture to the potato salad. If you don't like meat substitutes you could add some crispy onions.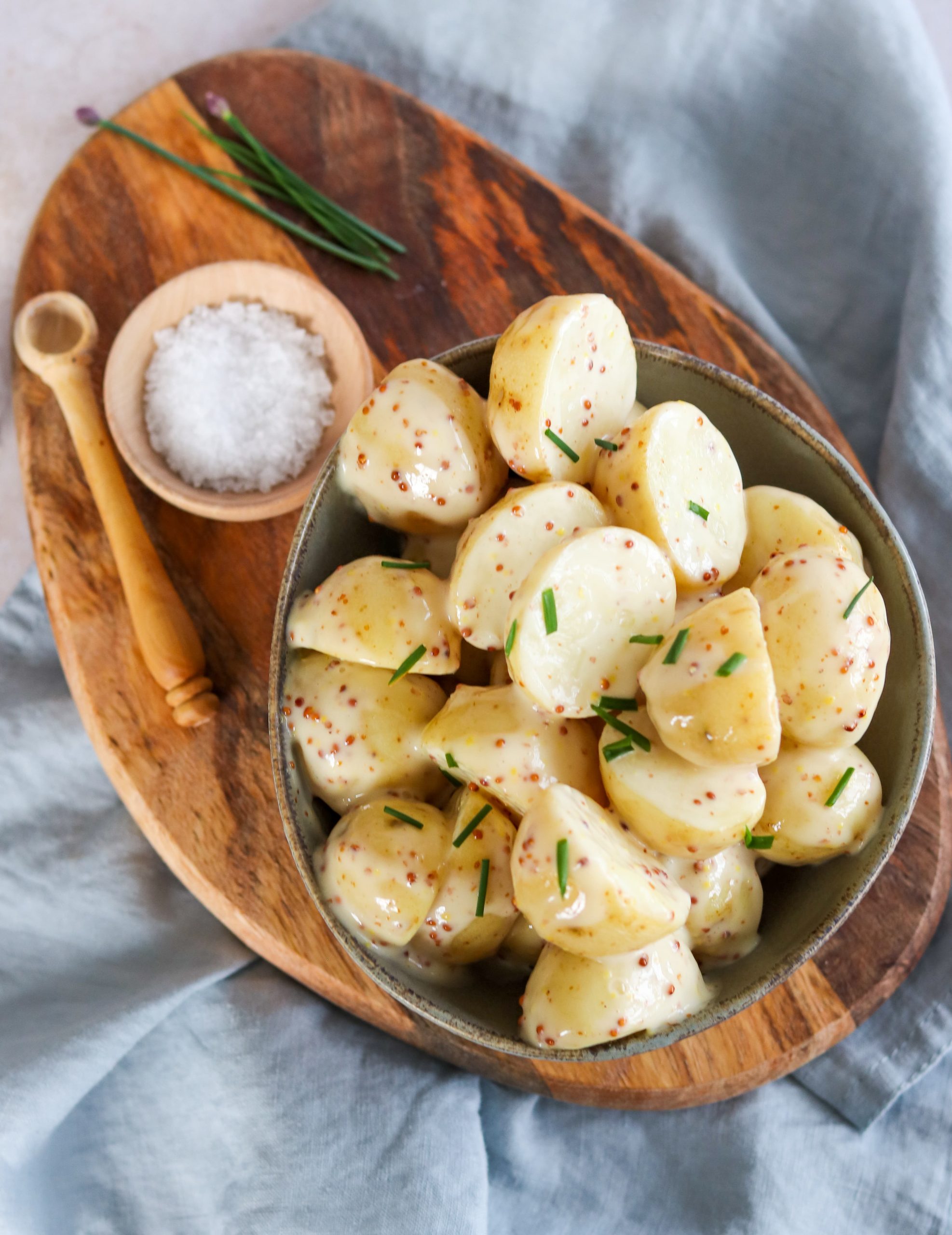 how to serve this creamy mustard New potato salad
This potato salad screams out to be part of any summer BBQ or picnic along with my Coleslaw. It is also the perfect dish to take to a party or potluck.
This potato salad would be perfect served alongside my Korean Chicken Wings, Garlic & Lime Chicken Thighs or Ancho Chilli Chicken.
If you're going to be making my Ultimate Bacon Cheeseburgers, Herby Turkey Burgers or Easy Traybake Halloumi Burgers; you definitely need to make this potato salad!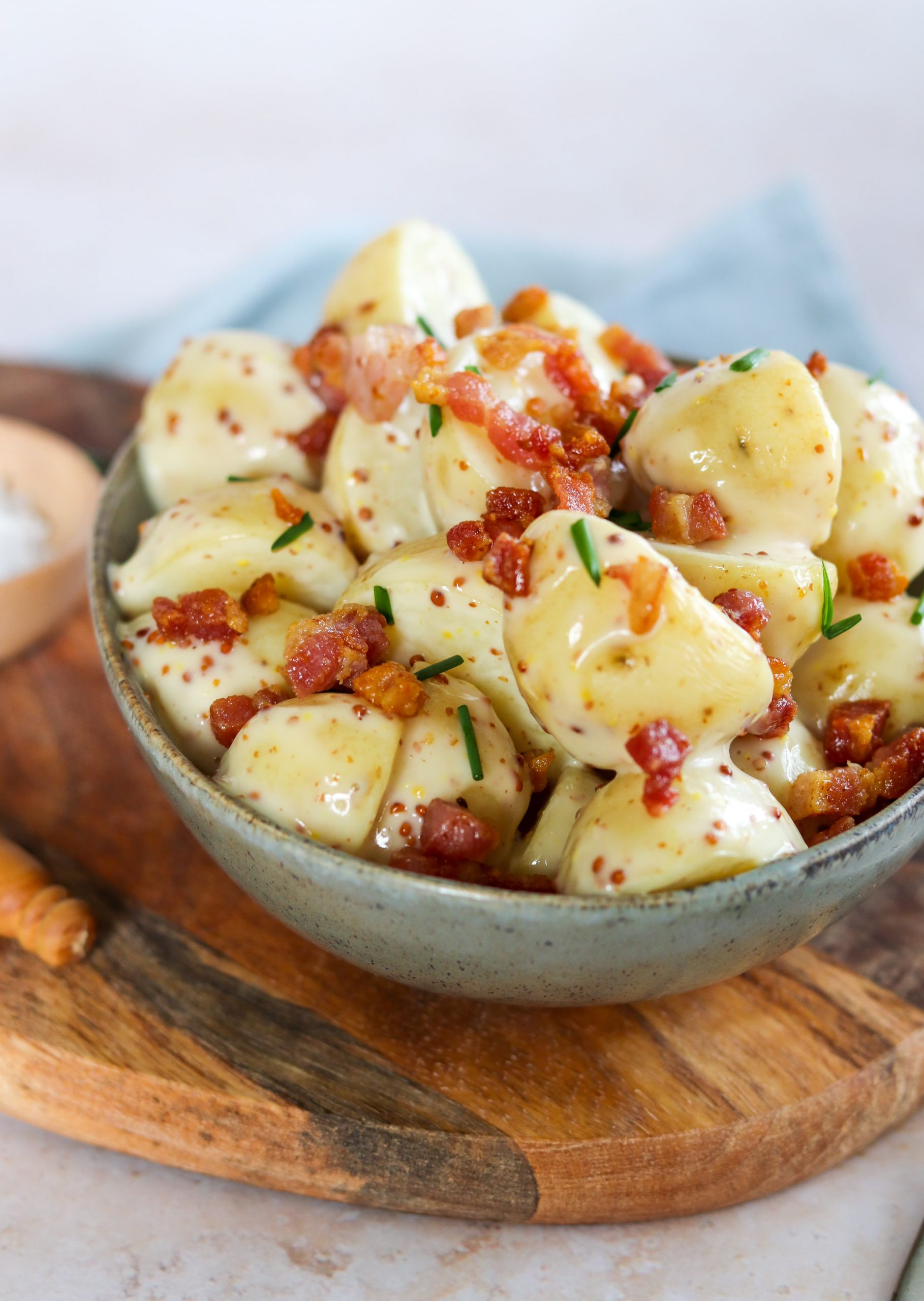 How many people does this serve?
If you are having this as a side dish, I would say this Creamy Mustard New Potato Salad would serve four people.
However if you are serving this as part of a BBQ or potluck where there are multiple dishes and options to choose from; it would probably serve more people.
It is very easy to scale up or down to serve more or less people depending on how many people you are catering for.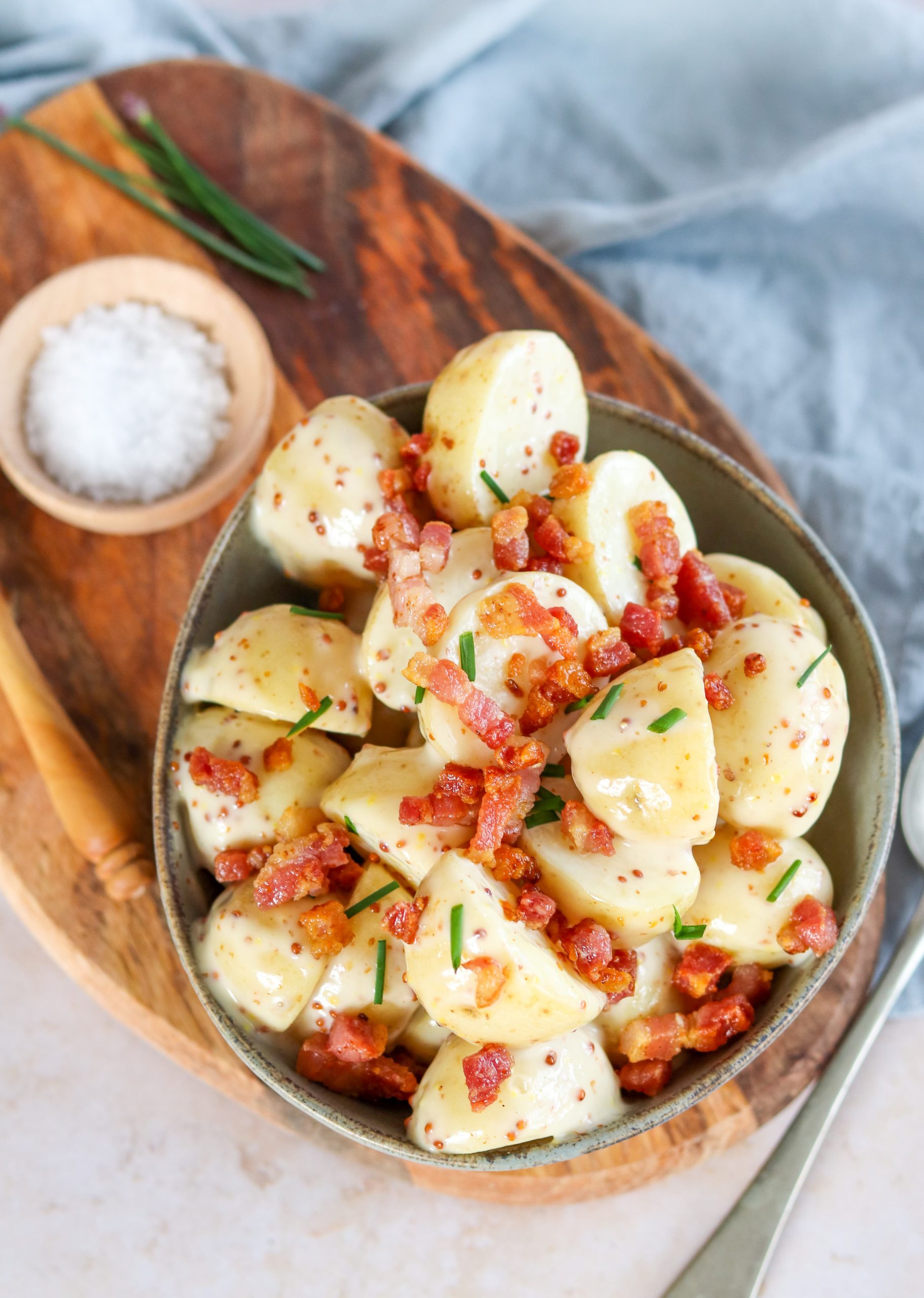 How long does this potato salad keep for?
Once made, this potato salad will keep in an airtight container in the fridge for 2-3 days.
It is definitely something you could make in advance and keep in the fridge for a few hours or until the next day when you are ready to serve. I wouldn't add the bacon and chives until you are ready to serve.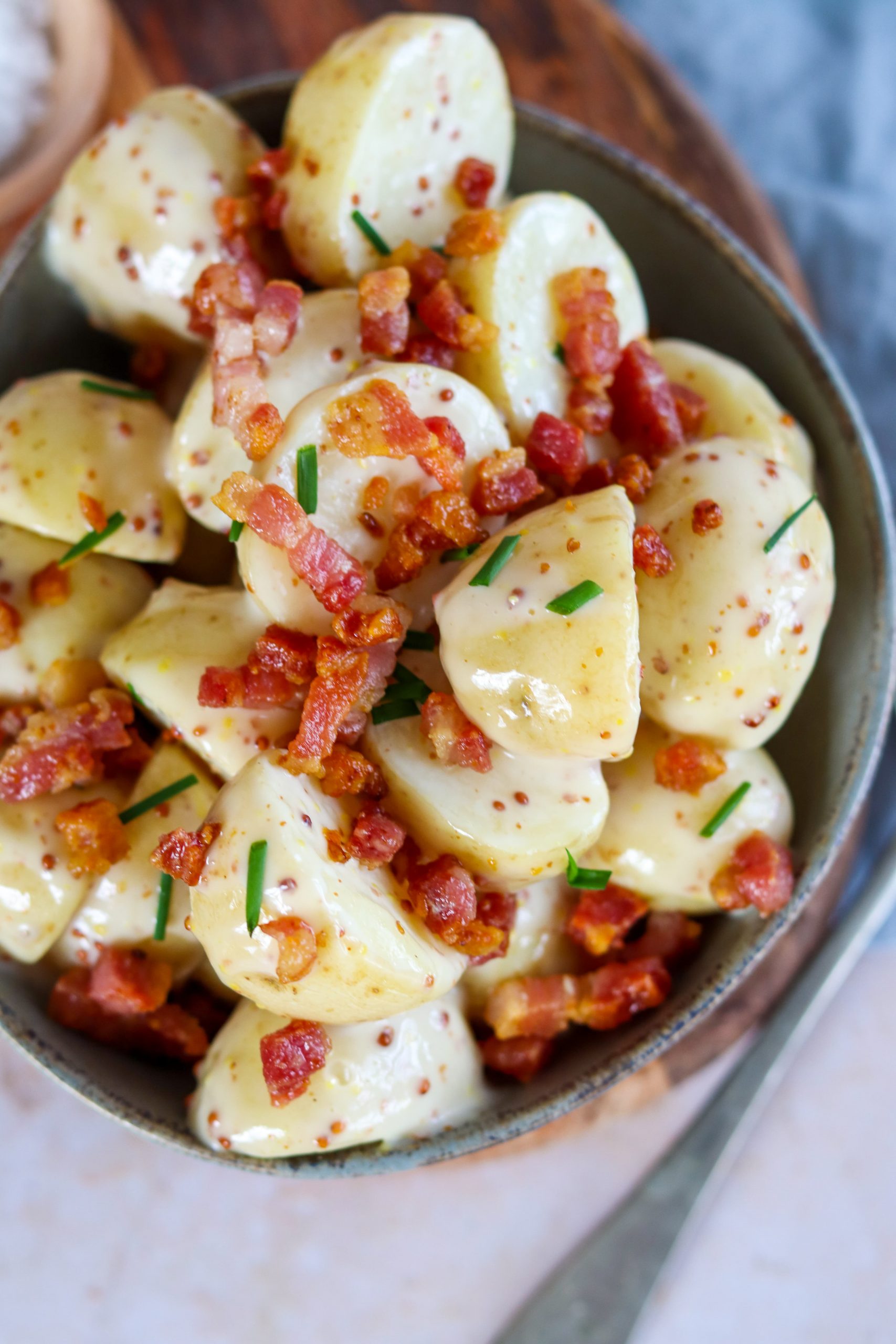 Other recipes you might like
Pin for later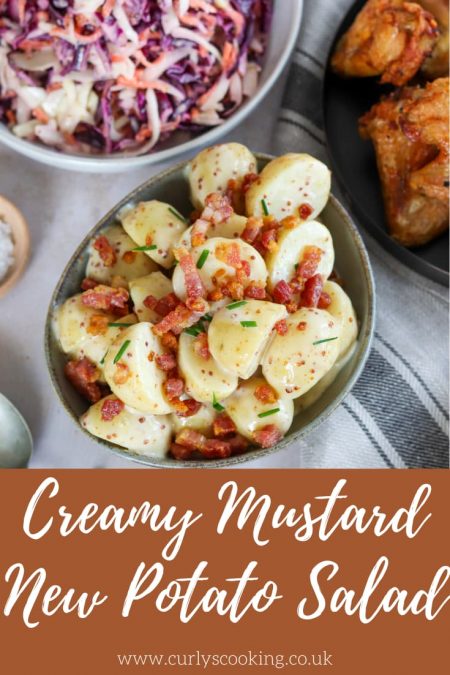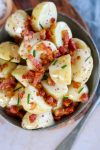 Creamy Mustard New Potato Salad
Summer is not complete without a delicious potato salad. Simple and delicious; this Creamy Mustard New Potato Salad will become a staple at any BBQ or potluck.
Ingredients
500

g

new potatoes

½

tsp

table salt

100

g

light mayonnaise

½

tbsp

wholegrain mustard

1

tsp

sea salt

1

tsp

cider vinegar

1

tbsp

runny honey
To finish
100

g

bacon lardons

smoked

1

tsp

chopped chives
Instructions
Cut 500g new potatoes into bitesize pieces and add them to a pan

Add ½ tsp table salt to the pan along with enough boiling water to just cover the potatoes. Cook for 8-10 minutes or until a knife is easily inserted into them

While the potatoes are cooking, add 100g smoked bacon lardons to a frying pan and cook until crisp. Set aside

When cooked, drain the potatoes and add them back to the hot pan. Toss them around so the heat from the pan dries them. Set aside

Add 100g light mayonnaise, 1 tbsp runny honey, ½ tbsp wholegrain mustard, 1 tsp sea salt and 1 tsp cider vinegar to a bowl or jug and mix to combine

Mix the potatoes in the sauce so they are completely coated

Serve sprinkled with the bacon lardons and 1 tsp chopped chives
Recipe Notes
Keep in an airtight container in the fridge for 2-3 days.
Nutritional information is given as a guide only and may vary.
Nutrition Facts
Creamy Mustard New Potato Salad
Amount Per Serving
Calories 235
Calories from Fat 54
% Daily Value*
Fat 6g9%
Cholesterol 4mg1%
Sodium 1087mg47%
Potassium 540mg15%
Carbohydrates 29g10%
Protein 3g6%
Vitamin A 21IU0%
Vitamin C 25mg30%
Calcium 19mg2%
Iron 1mg6%
* Percent Daily Values are based on a 2000 calorie diet.