A quick and easy side dish which only takes 10 minutes in the pressure cooker! This Pressure Cooker Red Cabbage with Apple is perfect for the festive season but also year round.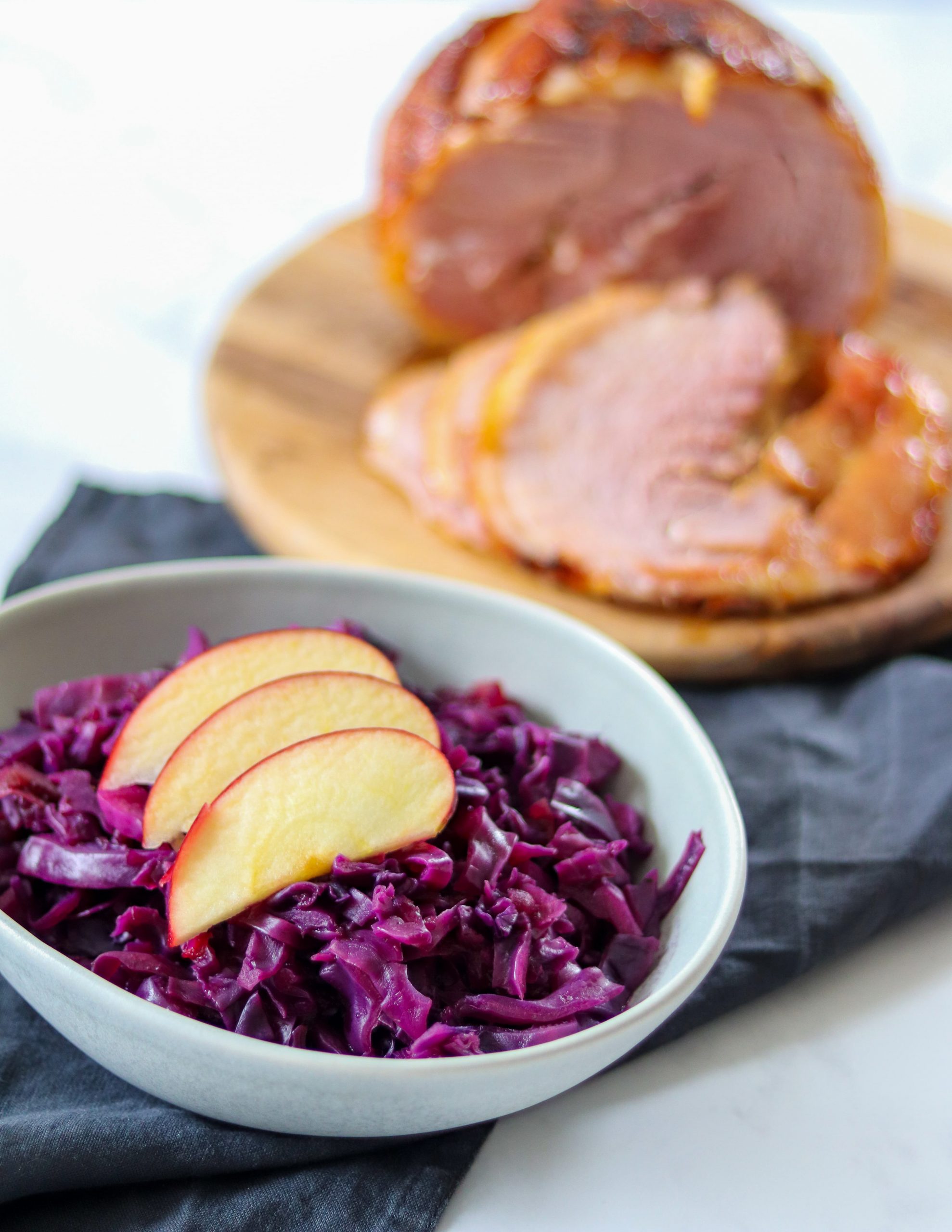 A pressure cooker version of a classic
Red cabbage is a very popular side dish, especially during the holiday season. It is the perfect accompaniment to grilled or roasted meats. It is also particularly good with cold cuts of meat.
Traditionally, red cabbage recipes are braised. They slowly cook the cabbage for hours until it becomes soft and tender.
A pressure cooker is a great way to speed the whole process up without compromising on flavour.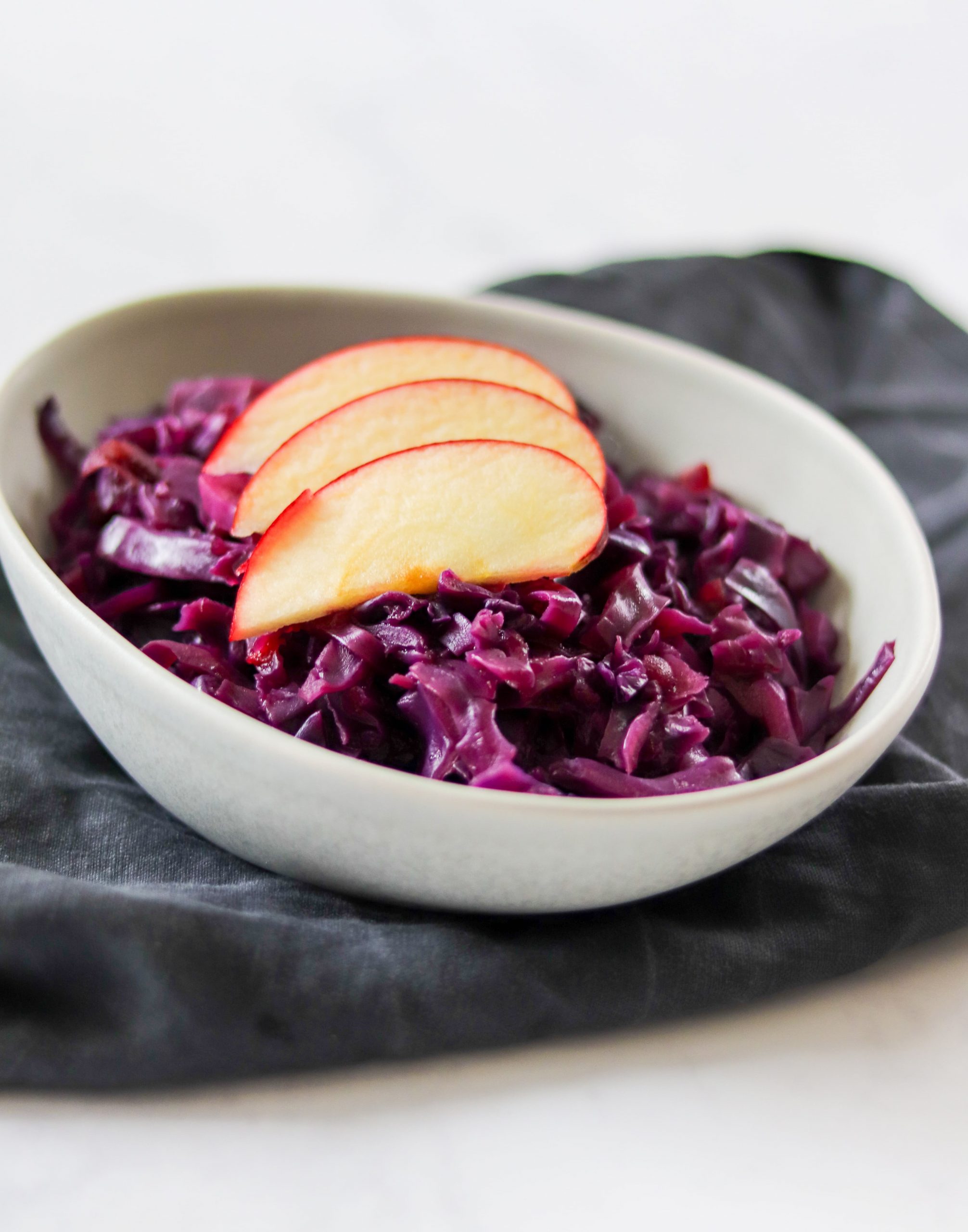 advantages of pressure cooking
I must admit, when I first got my Ninja Foodi, I was a bit apprehensive about using the pressure cooker function.
I remember my Mum using her stove top pressure cooking growing up and steam billowing out of it like an erupting volcano. But as long as you are careful and keep your hands away from the steam, it is a great way of cooking.
Electric pressure cookers are much safer these days though. This is because you can't open them unless the pressure is at a safe level.
As I mentioned already, pressure cooking drastically reduces the time this cabbage takes to cook.
It also means you don't have to come back to the pan on the hob and stir it every so often to make sure it isn't sticking. Once all of the ingredients are in the slow cooker, that's it done.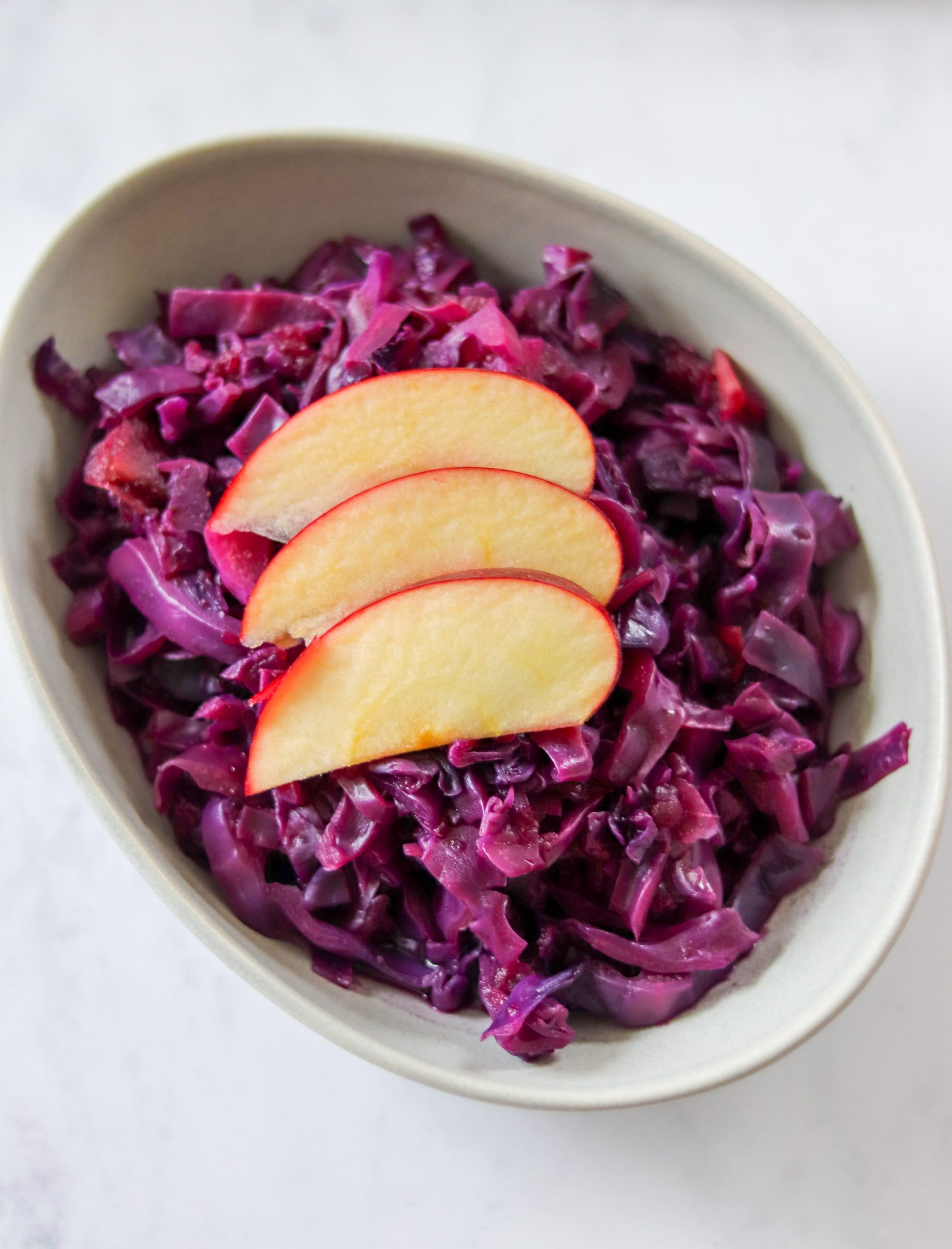 How to prepare the cabbage
I like to use a medium sized cabbage which does make quite a few portions.
Remove any outer leaves of the cabbage that don't look so good and then cut it into quarters. Then remove the core from each quarter.
Slice the red cabbage fairly thinly but it doesn't matter too much. This is quite quick and easy to do so I do this by hand instead of getting my food processor out.
You can obviously use a larger red cabbage if your pressure cooker is big enough!
I also slice the red onion but I slice this more finely than the cabbage.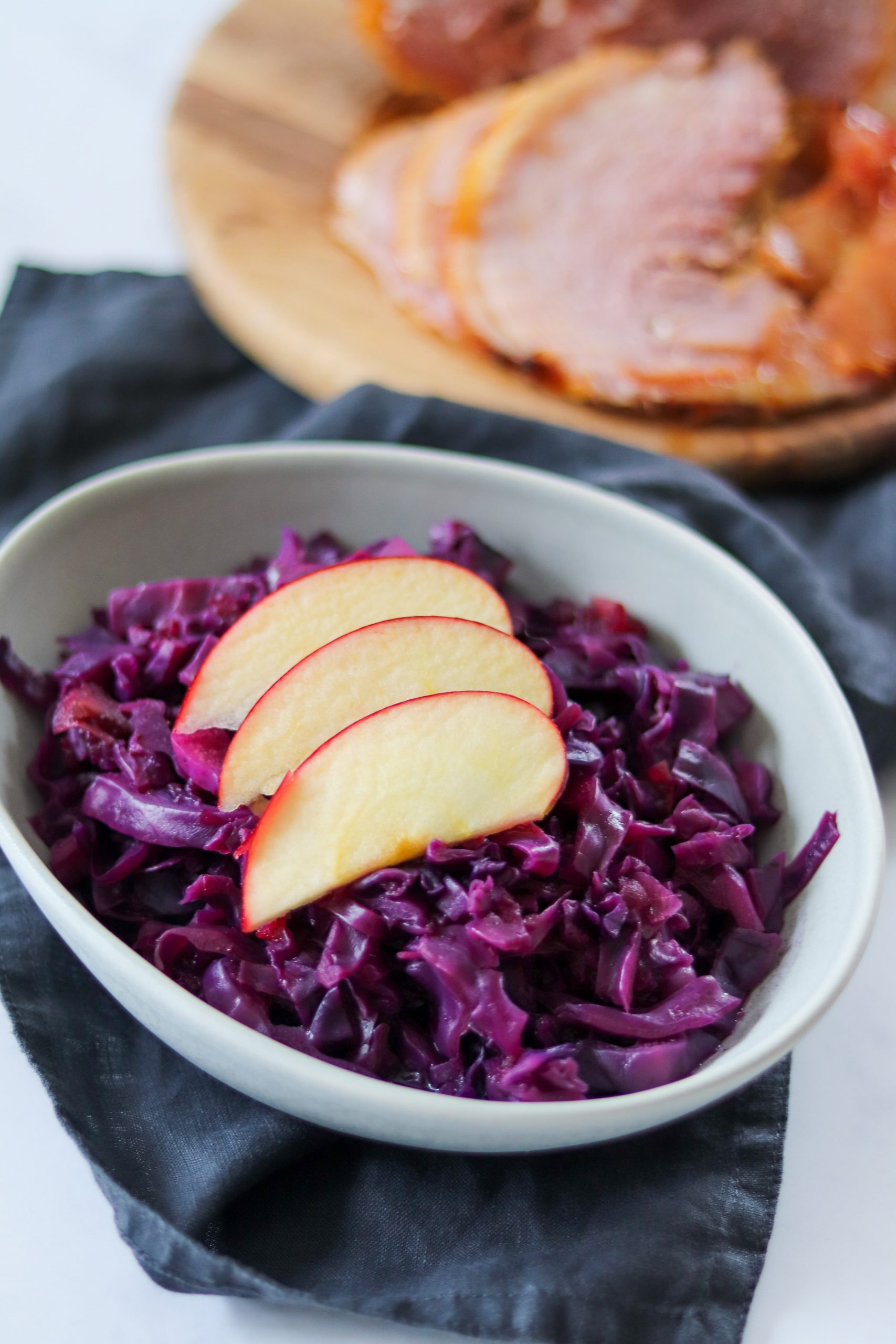 Which apples are recommended to use?
You can use any red apple that you'd like.
I like use something like a Gala or Jazz apple as these have a nice sweetness.
I wouldn't use a green apple personally because they can be a little more tart which isn't what you are looking for in this recipe.
I remove the core and then dice them into roughly a 1cm dice.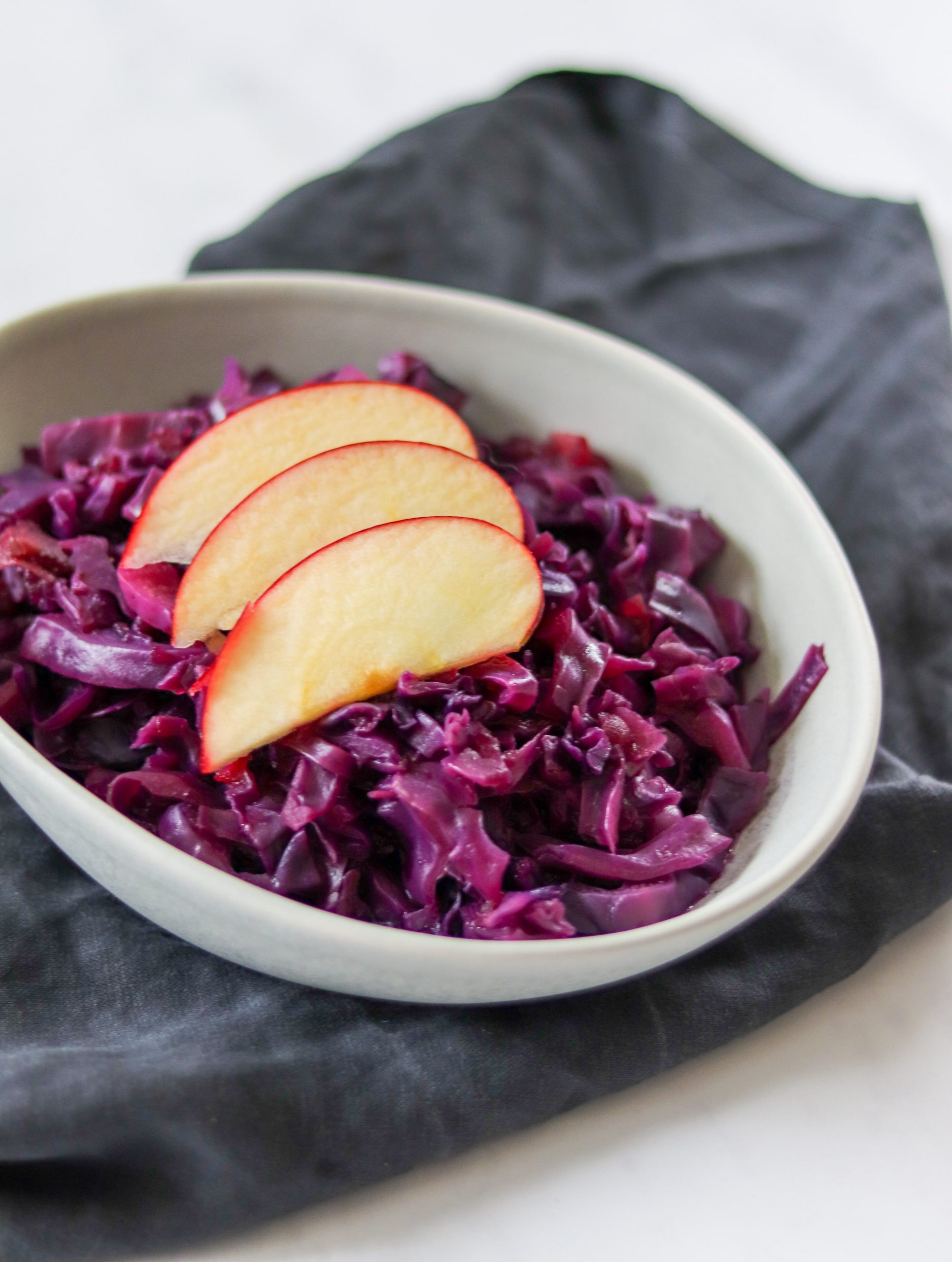 Subtly Spiced and delicious
This Red Cabbage with Apples is the perfect mix of sweet and subtly spiced.
When I say spiced, this isn't spicy. Cinnamon, nutmeg and mixed spice add a lovely festive feel to this red cabbage.
It is only subtle and doesn't overpower the cabbage, but you can add more of any of the spices if you want to.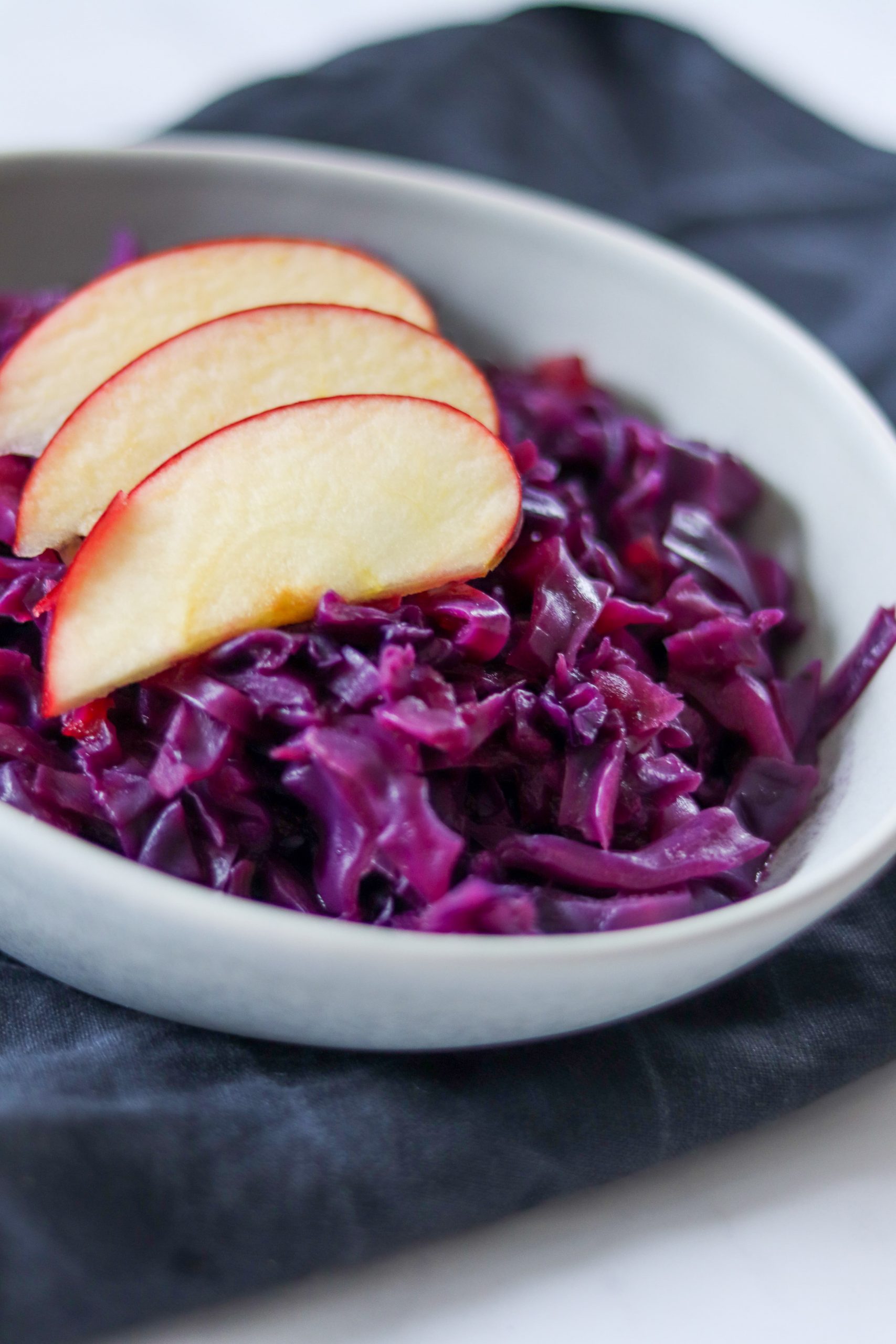 how long does this take to cook?
Once your pressure cooker has built pressure, this Red Cabbage with Apples only takes 10 minutes to cook.
This doesn't factor in the time it takes for your pressure cooker to build pressure though. As there are so many different pressure cookers out there, it is hard to say specifically how long this will take.
Mine takes approximately 10-15 minutes I would say. But I have honestly not timed it.
So yes this recipe does take longer than 10 minutes to cook from start to finish, But it is still far quicker and easier than traditional braised red cabbage recipes.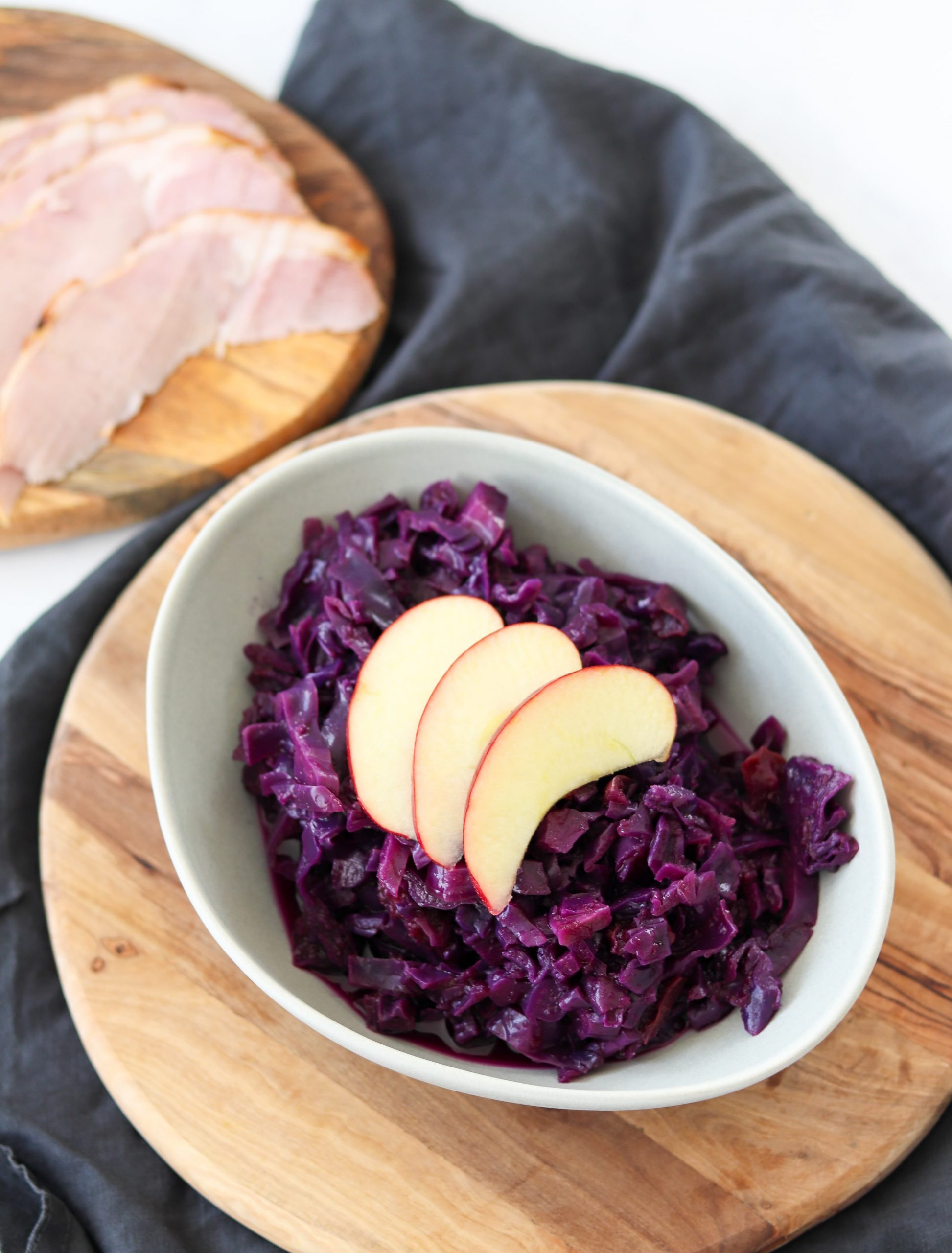 can this red cabbage be made without a pressure cooker?
If you don't have a pressure cooker you can still make this Red Cabbage with Apple.
I would recommend using a large pan and cooking it over a low heat for 2-3 hours with a lid on. Make sure you stir it every so often to make sure it doesn't stick to the bottom of the pan.
If after an hour and a half there is too much liquid, take the lid off and keep cooking until the liquid has reduced.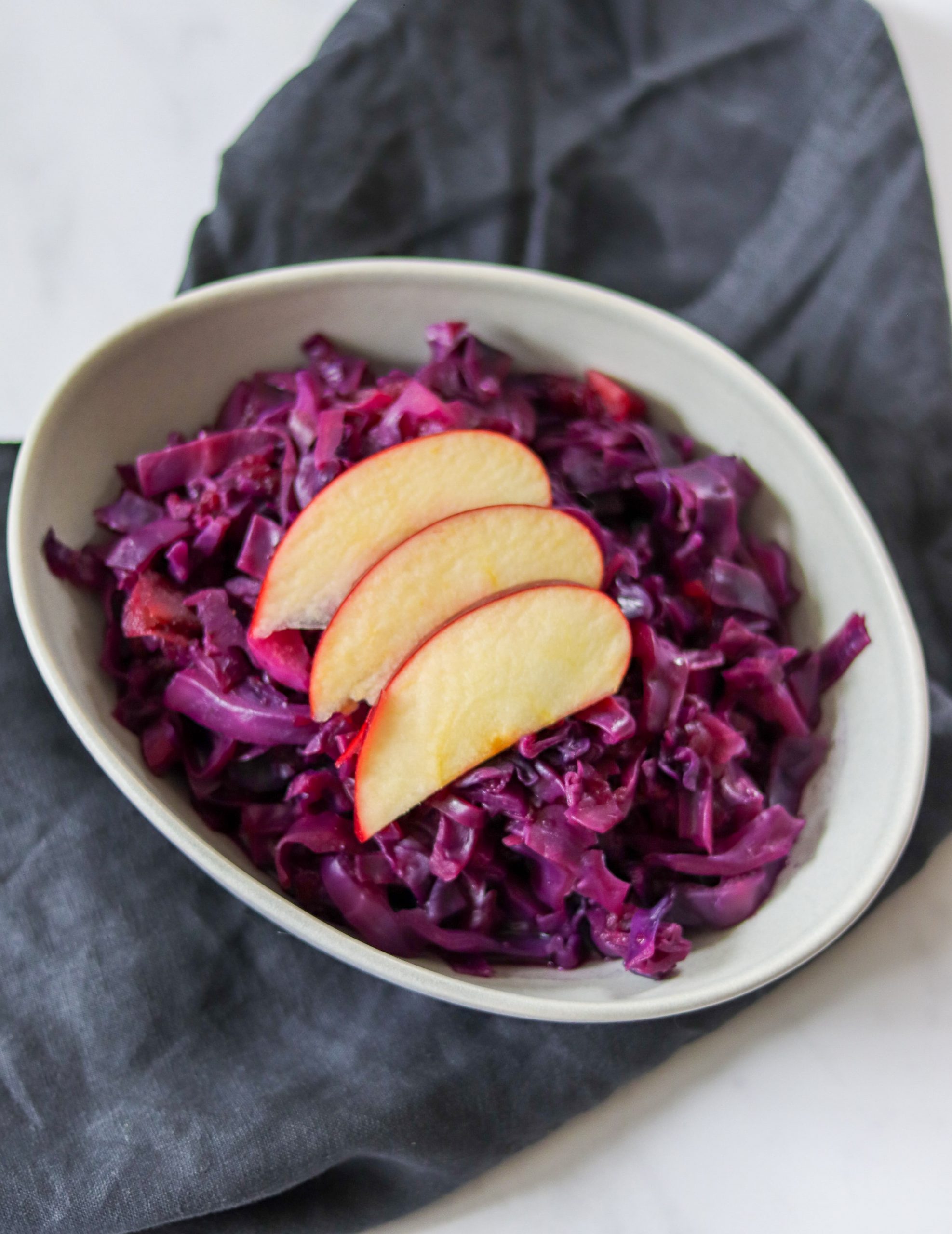 what to serve with this red cabbage with apple
This Pressure Cooker Red Cabbage with Apple is delicious with so many different meals.
As I said before, it is the perfect addition to any roast dinner; especially a Christmas or New Year meal. I particularly like to serve this red cabbage with my Honey Glazed Ham.
The cabbage is perfect served warm with cold ham and Bubble and Squeak. I don't think any Boxing Day cold turkey spread is complete without some red cabbage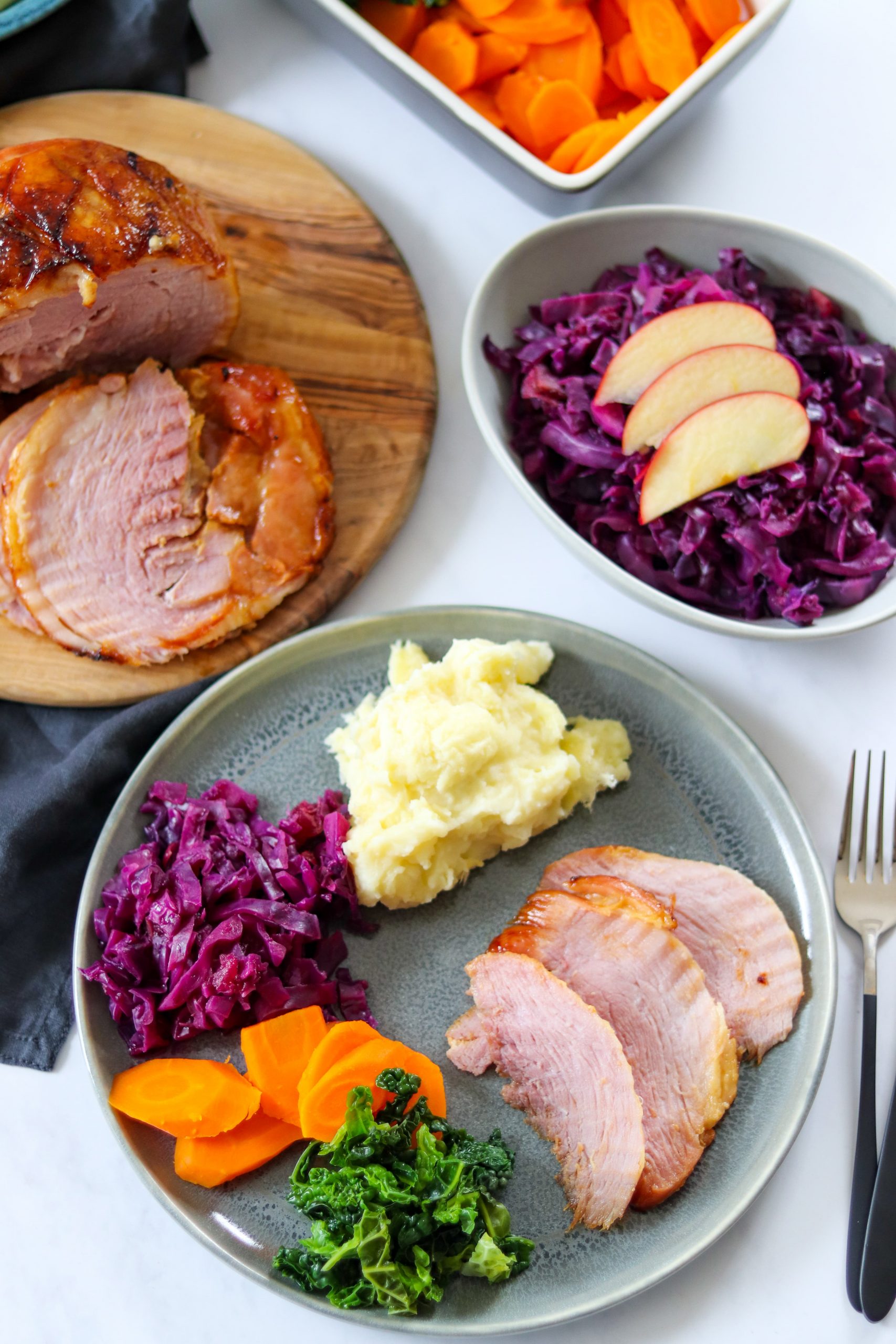 can this red cabbage be frozen?
Yes, it freezes really well.
I often make the quantities as below and freeze it so I have red cabbage on hand whenever I want it.
Make sure you freeze it within two hours of it finishing cooking. It will keep in the freezer for up to three months.
Defrost it in the fridge for around five hours or overnight. I reheat it on the hob over a low heat but you can reheat it in the microwave if you prefer. Make sure it is piping hot before serving.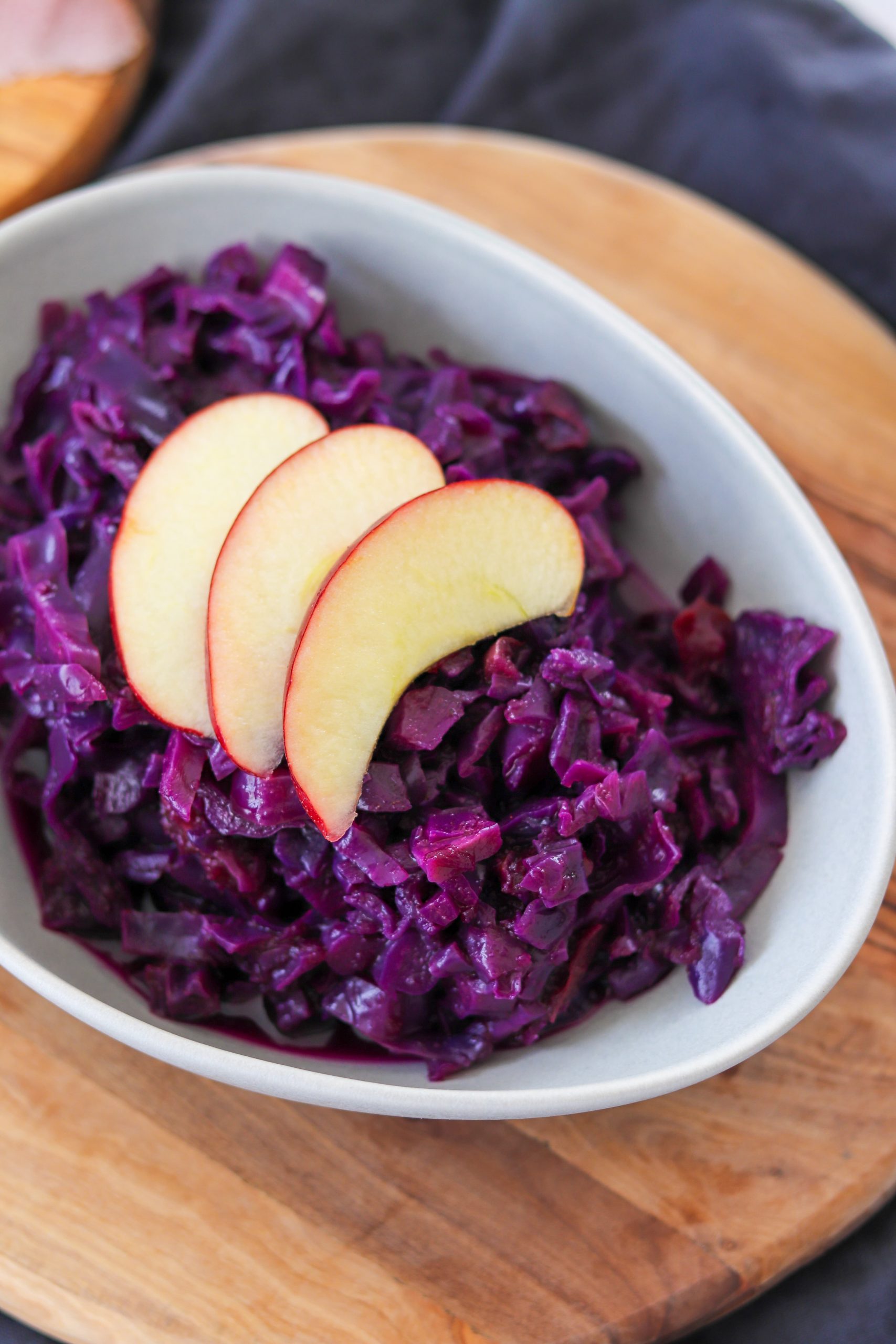 Is it suitable for different dietary requirements?
This Pressure Cooker Red Cabbage with Apple is naturally gluten free, vegetarian and vegan.
This makes it an absolutely perfect dish for when you are entertaining as you don't have to make any tweaks or changes to make it suitable for a lot of diets.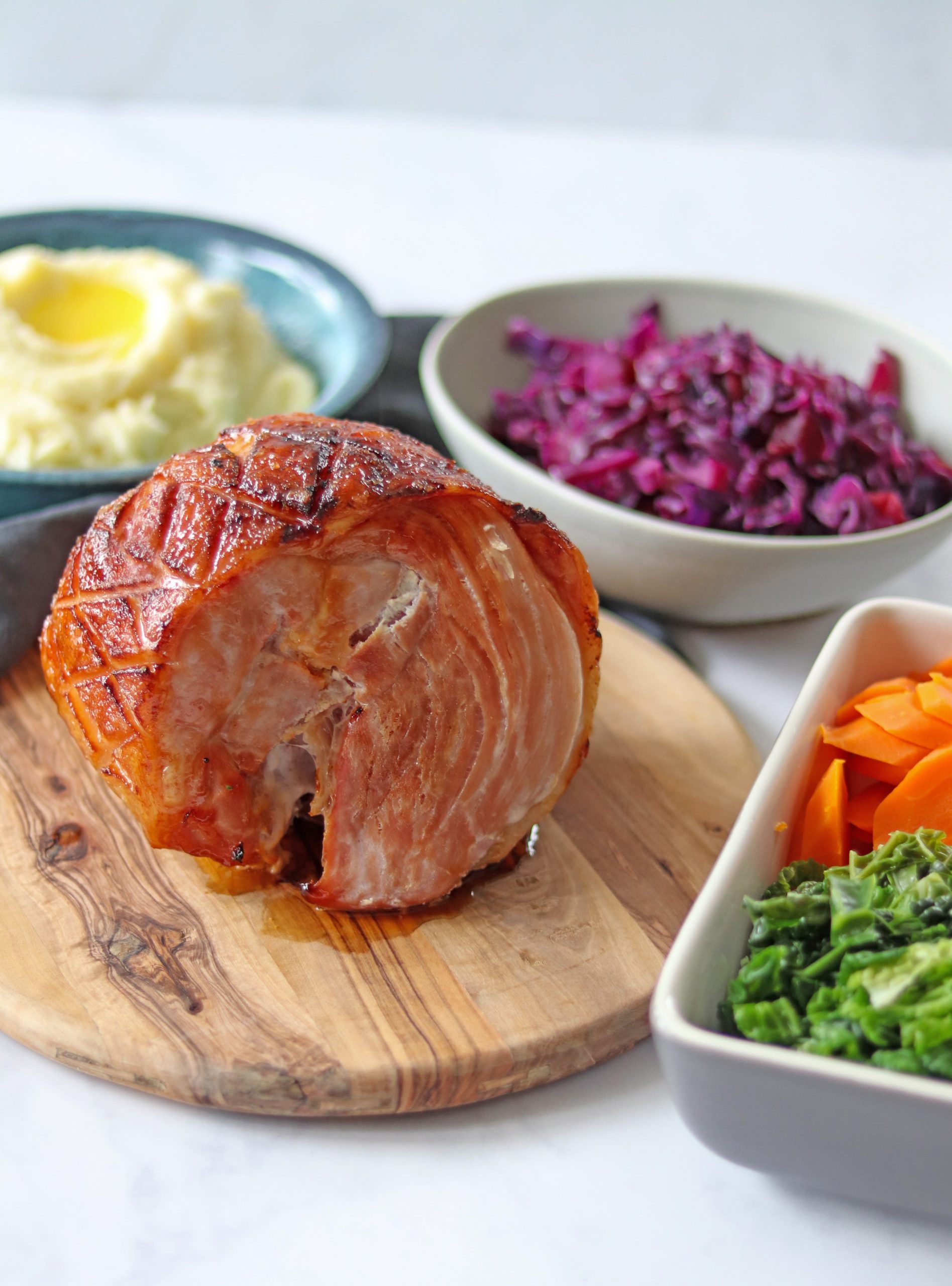 other recipes you might like
Pin for later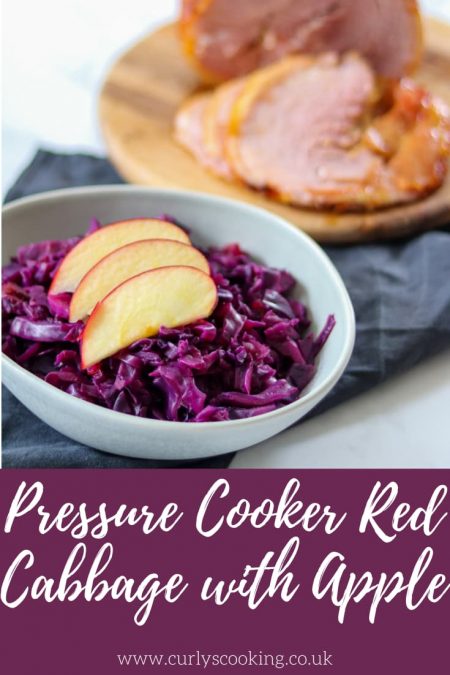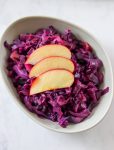 Pressure Cooker Red Cabbage with Apple
A quick and easy side dish which only takes 10 minutes in the pressure cooker! This Pressure Cooker Red Cabbage with Apple is perfect for the festive season but also year round.
Ingredients
1

kg

red cabbage

2

red apples

1

small

red onion

3

tbsp

light brown sugar

½

tsp

garlic granules

¼

tsp

ground cinnamon

¼

tsp

mixed spice

¼

tsp

ground nutmeg

3

tbsp

red wine vinegar

1

tsp

sea salt

250

ml

water
Instructions
Remove the outer leaves of the cabbage and cut out the core. Thinly slice it and add it to the pressure cooker

Core and dice the apples and add them to the pressure cooker along with the rest of the ingredients

Stir it all together and set the pressure cooker on high for 10 minutes

Once the time is up, carefully manually release the pressure. Stir and serve
Recipe Notes
Keep in an airtight container for up to two days.
Freeze for up to three months.
Nutritional information is given as a guide only and may vary.
Nutrition Facts
Pressure Cooker Red Cabbage with Apple
Amount Per Serving
Calories 87
Calories from Fat 9
% Daily Value*
Fat 1g2%
Sodium 329mg14%
Potassium 378mg11%
Carbohydrates 21g7%
Protein 2g4%
Vitamin A 1420IU28%
Vitamin C 74mg90%
Calcium 66mg7%
Iron 1mg6%
* Percent Daily Values are based on a 2000 calorie diet.
Linking to