The perfect summer staple. Everyone needs a great Coleslaw recipe and this one is perfect for people not keen on onions. Bring on the BBQs and potlucks!
coleslaw, but without the bad bit
Ok so that might be going a bit far, but this coleslaw is perfect for onion avoiders like me!
I have never hidden my dislike for onions. If they are cooked and not so obvious I don't mind them, but raw onions are not for me. I know a few people aren't keen on raw onions either so this is perfect for them.
Onions are commonly found in lots of Coleslaw recipes and they can really divide people. So now you can cater to everyone and make my Coleslaw which doesn't have any!
You can of course add onion if you would like; red, yellow or spring onions would all work.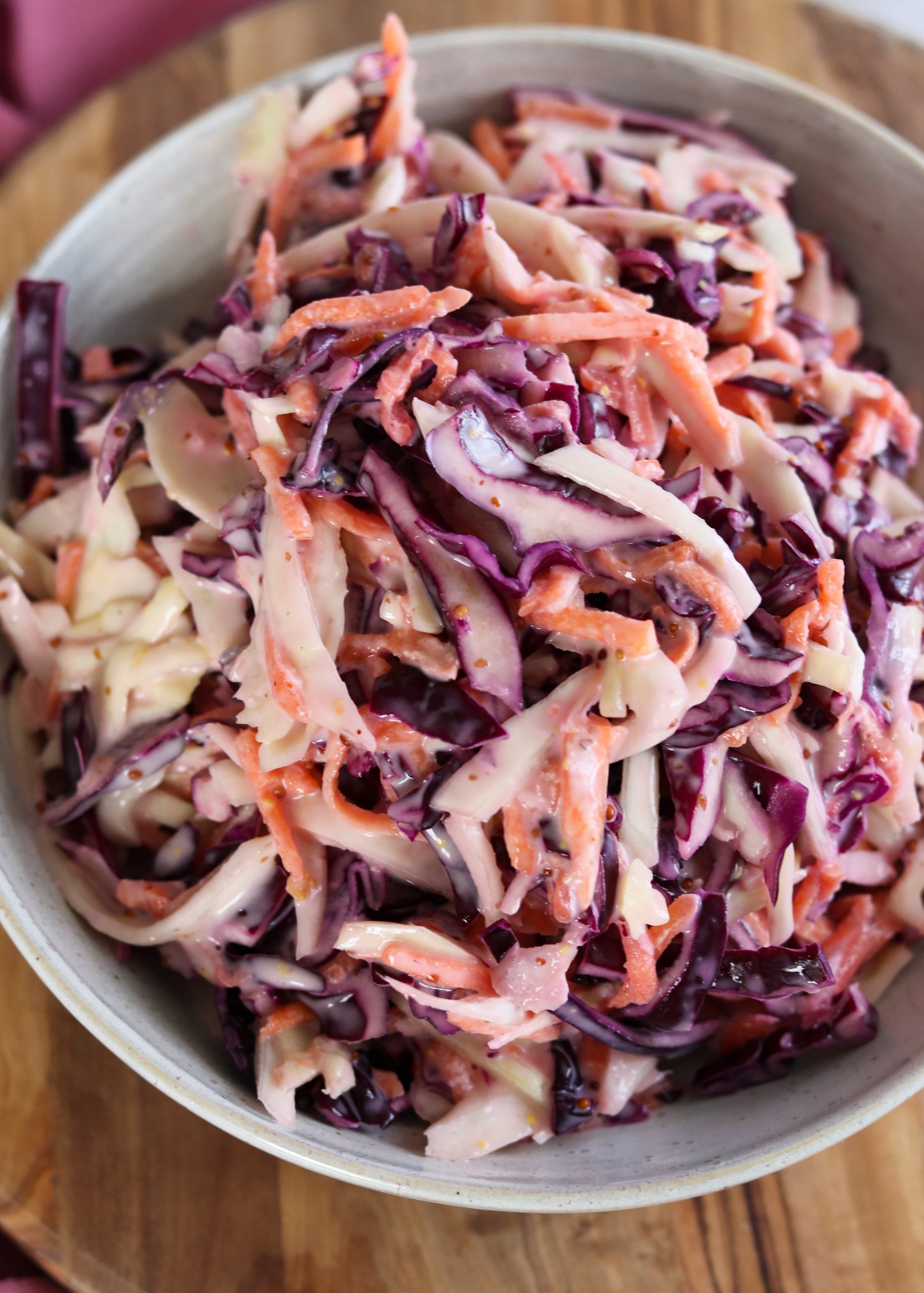 once you've made your own coleslaw you won't buy it again
There are certain foods in life that are undeniably better homemade. I haven't found a shop bought coleslaw that I like – probably due to the onions!
Making your own coleslaw is so simple and you can adjust the taste to your preferences. It is also really inexpensive to make!
This recipe easily makes enough for eight people and is really easy to increase. Coleslaw usually comes in fairly small pots which are a fraction of the size of what this recipe makes. So this is absolutely perfect for family parties and potlucks.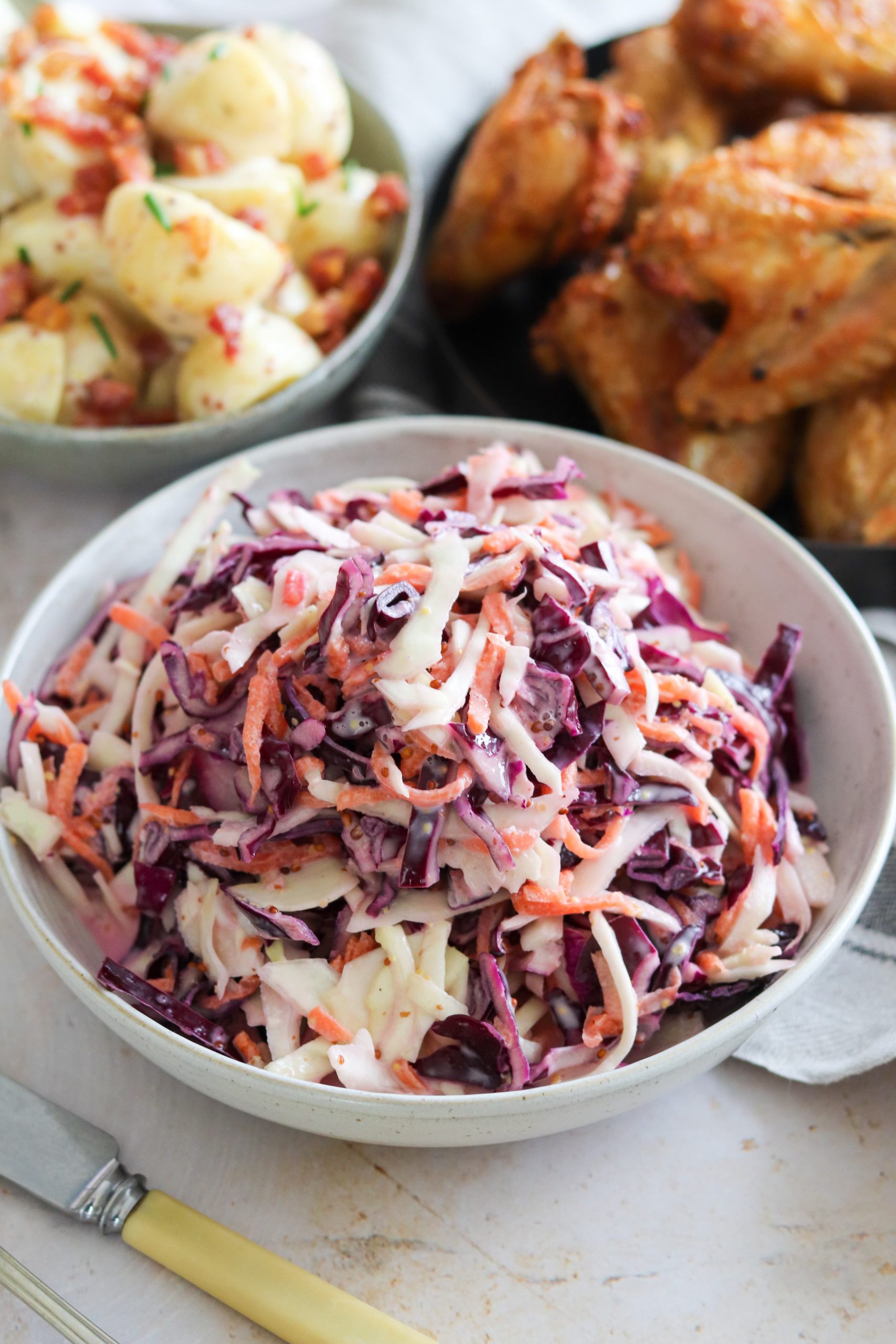 How to prepare the vegetables
If you have a food processor with a shredder attachment, it will make the prep for this Coleslaw incredibly easy. All you have to do is peel off any outer leaves of the cabbage that don't look so great and then cut out the core.
Then cut the cabbage into wedges so they fit in the feeder and the food processor does all of the work for you.
If you don't have a food processor, it is still simple to shred the cabbage with a knife. It is an easy enough job, but it will take a little bit longer.
I would finely shred both the white and red cabbage with a knife and then use a course grater for the carrots if you don't have a food processor. It is definitely easier to grate the carrots than try and shred them with a knife.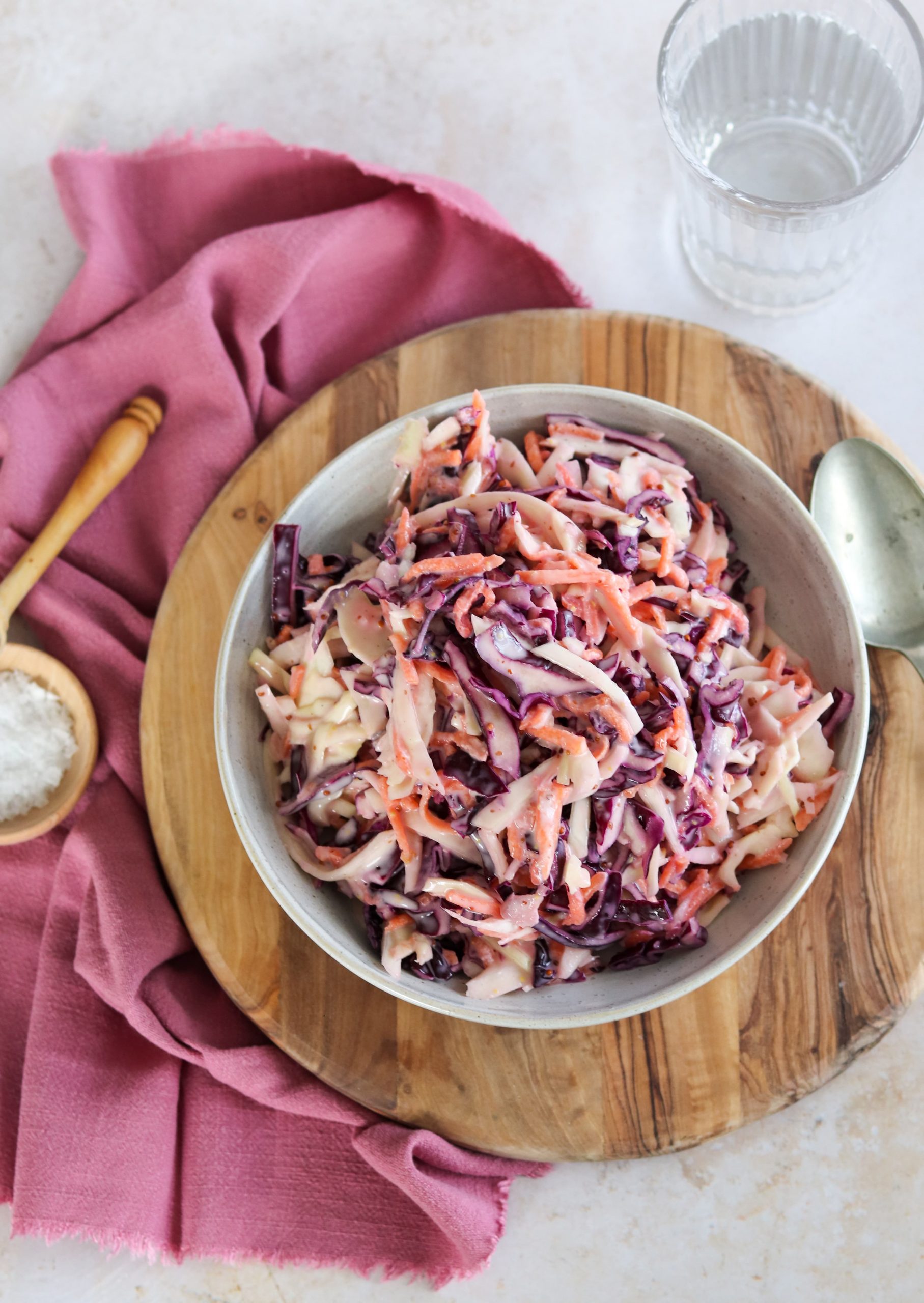 Which mayonnaise is recommended to use?
You can use whichever mayonnaise you usually buy for this Coleslaw. There are so many options out there, use your favourite.
I usually buy light mayonnaise so this is what I choose to use in my coleslaw. You could definitely use regular mayo.
Extra light mayo is definitely an option if this is what you would usually have, but I find it doesn't have as much flavour as the higher fat alternatives. But it is definitely personal preference.
If you wanted to make this coleslaw extra special, you could make your own Mayonnaise.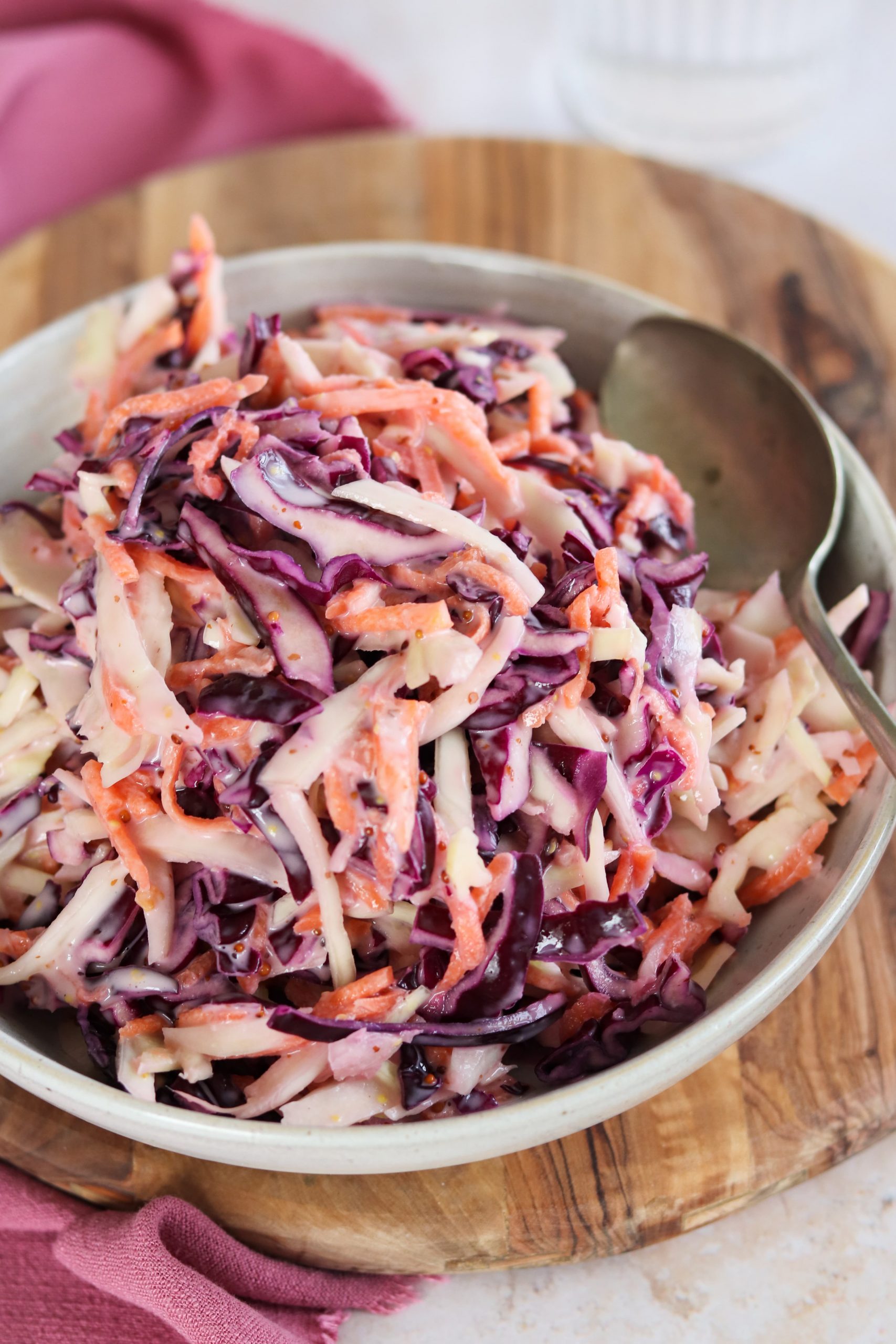 Which mustard is best to use?
My favourite mustard in general is wholegrain (granary) mustard. I think it has a more subtle flavour than some of the other types and I like that you can see the mustard seeds.
You could use Dijon mustard as an alternative but as it is a little stronger I would recommend adding a bit less. I would then taste the sauce and add a bit more if you want. You can always add more but you can't remove it once it's added!
English mustard is stronger still, so the same applies. Add a small amount and see how it tastes and then you can add a bit more if you like. This principle applies to whichever mustard you use.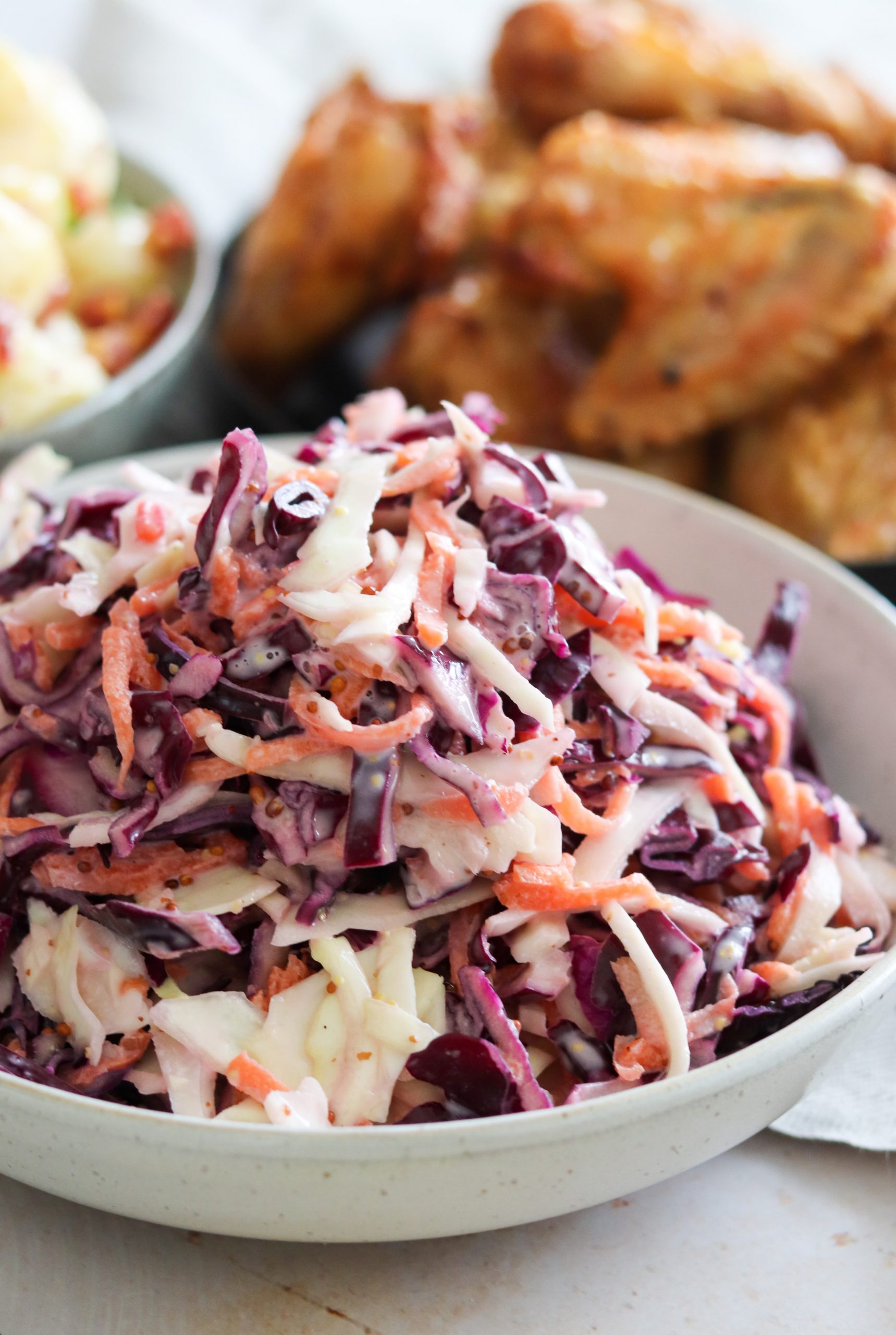 how to serve this coleslaw
I don't know who doesn't eat Coleslaw during the summer. It is the perfect accompaniment to so many meals. BBQs, potlucks, family parties; this is the perfect dish to make – alongside my Creamy Mustard New Potato Salad of course!
Coleslaw would be the perfect side to Korean Chicken Wings, Garlic & Lime Chicken Thighs or Ancho Chilli Chicken.
It is also the perfect addition to my Ultimate Bacon Cheeseburgers, Herby Turkey Burgers or Easy Traybake Halloumi Burgers. Serving this coleslaw in a Bread Roll with Slow Cooker Pulled Pork would be another delicious option!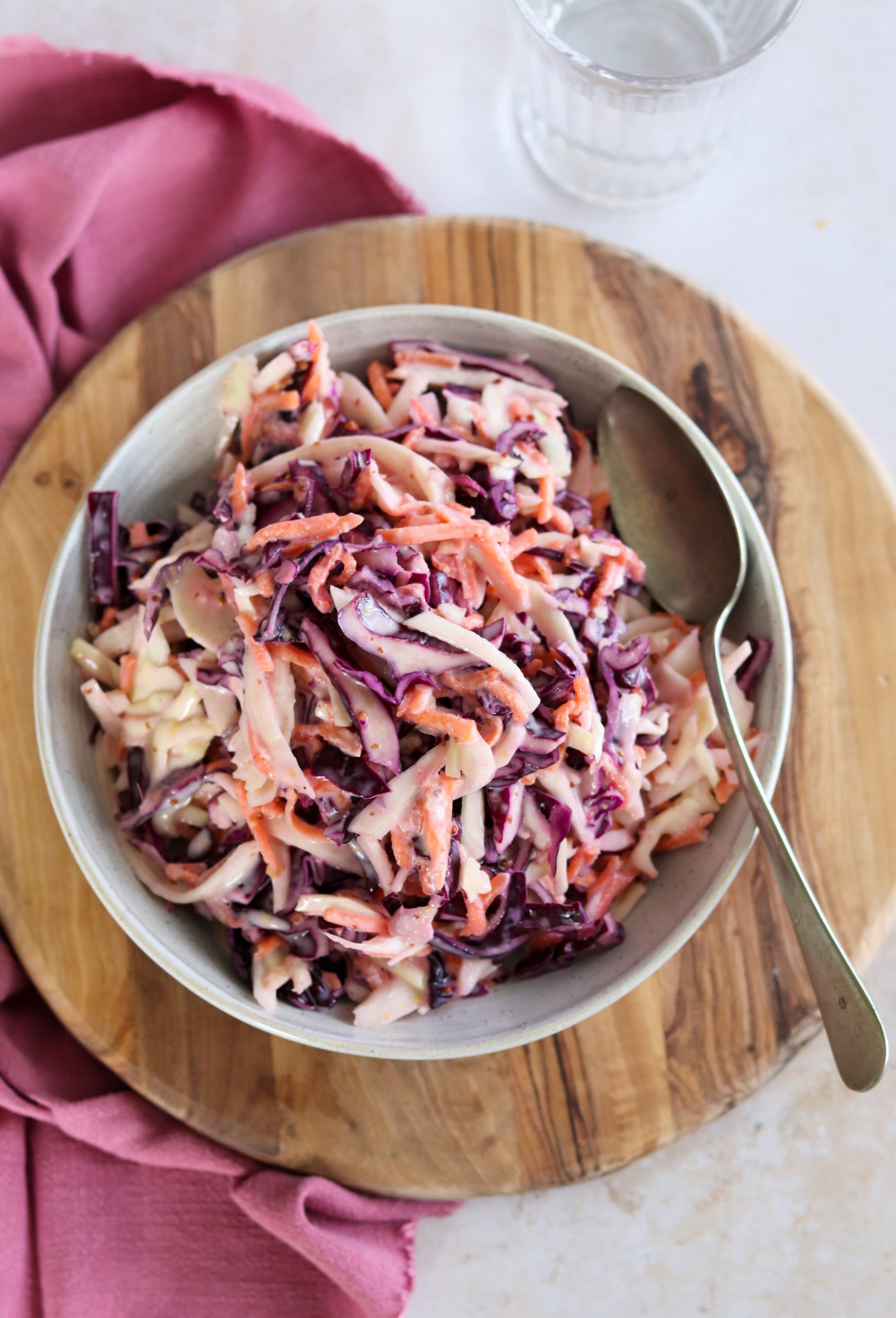 How many people will this serve?
This is quite a generous portion of Coleslaw, but how many people it serves will depend on what you are serving it with.
I think this would feed at least eight people as a side dish. However if you are serving it as part of a BBQ or potluck where people are having a little bit of everything, it will serve more people.
It is incredibly easy to either increase or reduce the amount of Coleslaw you make. You can also play around with the the quantities of each ingredient. If you want to add more carrot and less cabbage, go for it.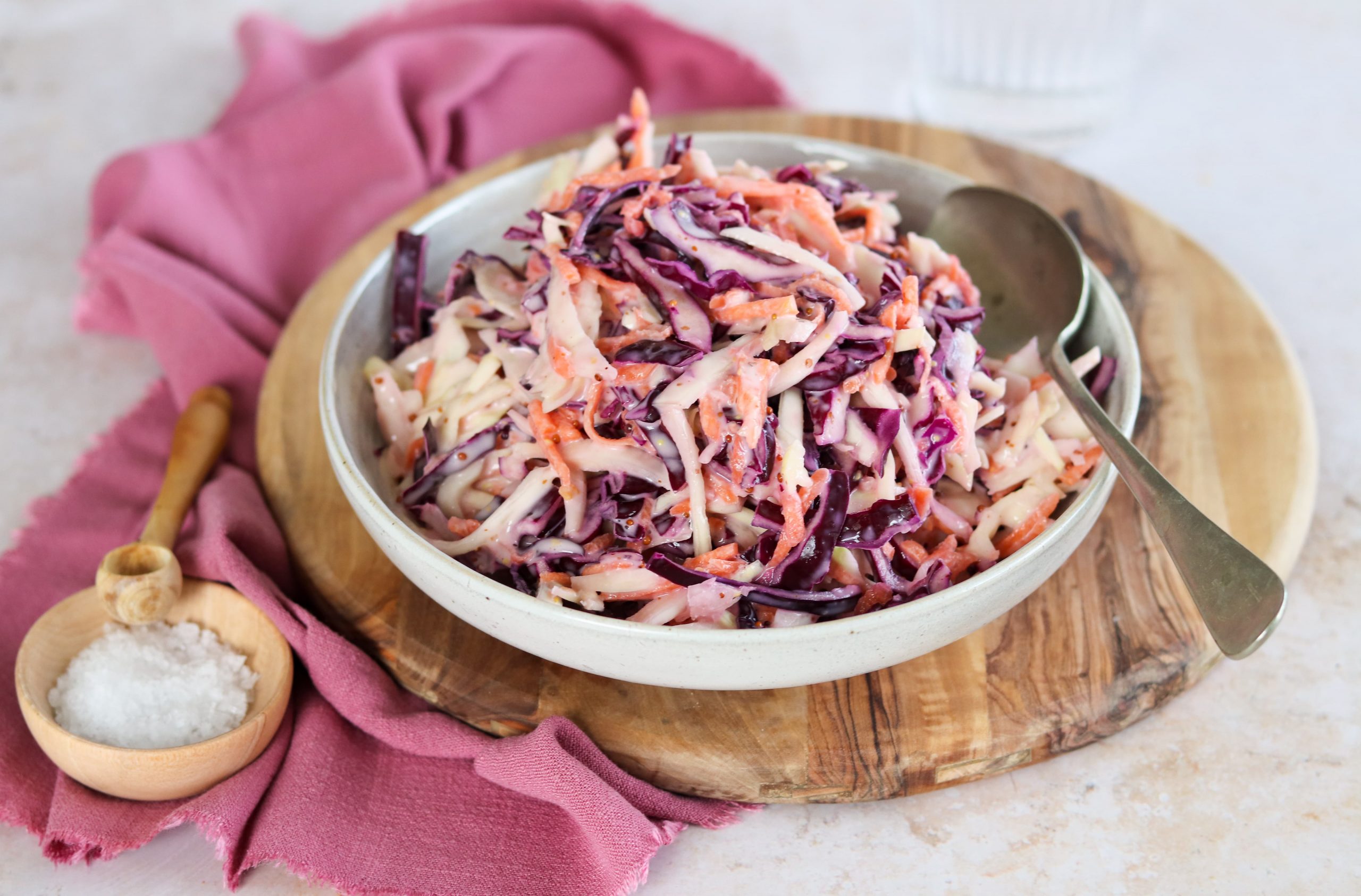 How long will this coleslaw keep for?
If you keep this Coleslaw in an airtight container in the fridge, it will be good for up to four days.
The longer it sits for, the moisture comes out of the vegetables slightly. This makes the sauce a bit thinner. If this isn't for you, just use tongs to serve it so you can leave some of the sauce behind.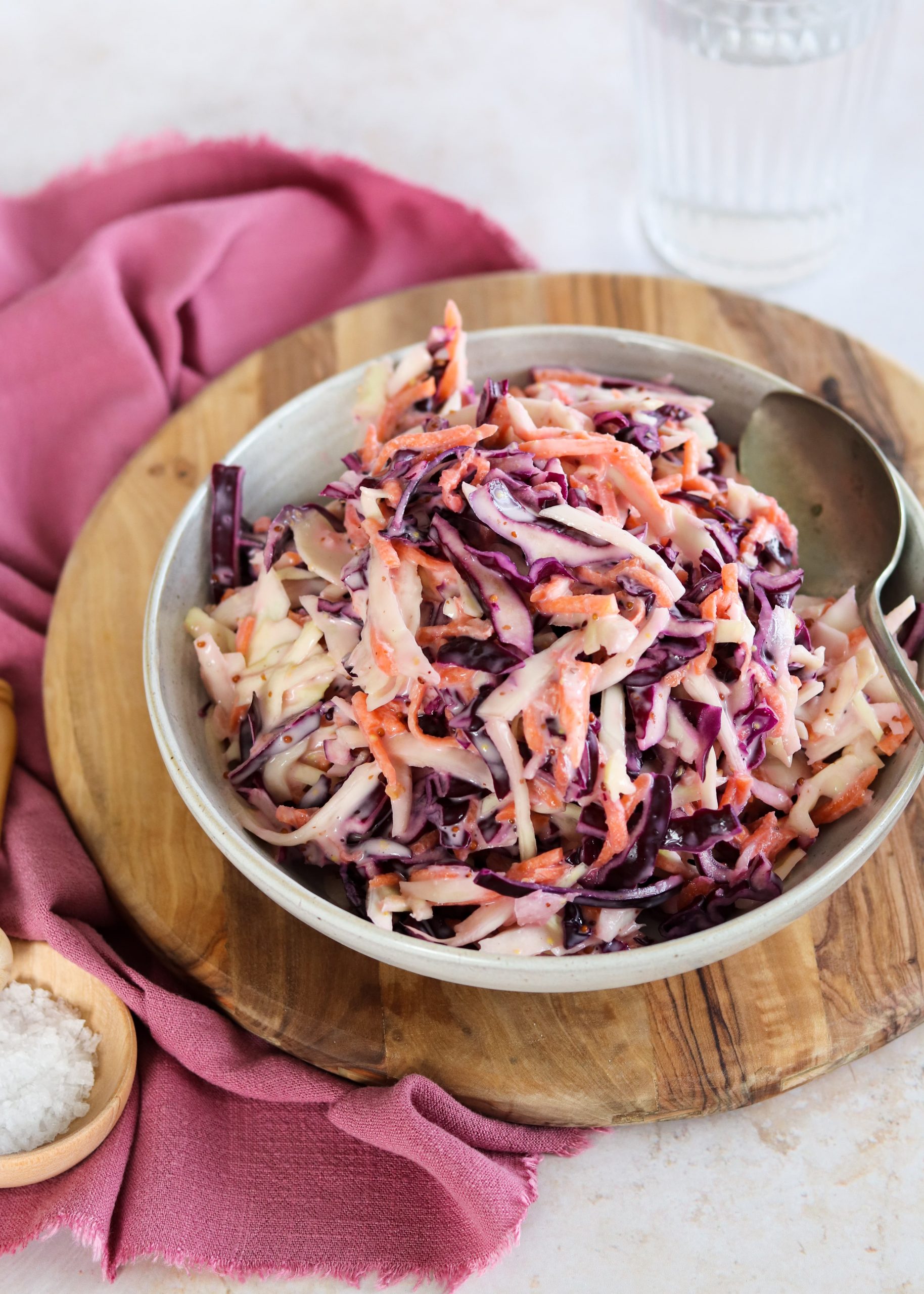 Other recipes you might like
Pin for later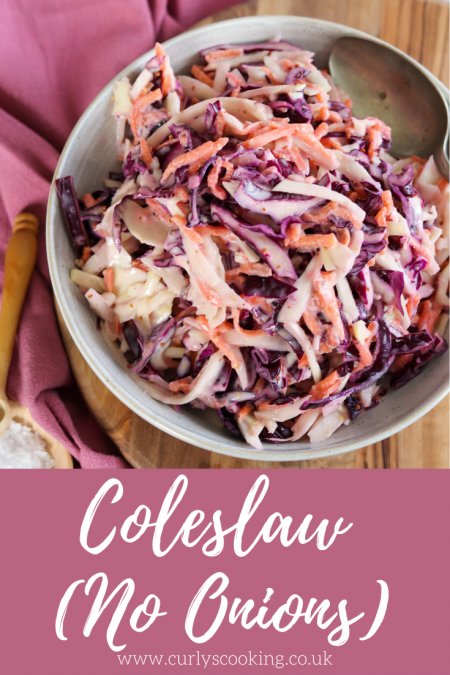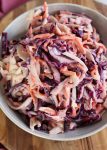 Coleslaw (No Onions)
The perfect summer staple. Everyone needs a great Coleslaw recipe and this one is perfect for people not keen on onions. Bring on the BBQs and potlucks!
Ingredients
350

g

white cabbage

½ medium cabbage

250

g

carrots

350

g

red cabbage

½ medium cabbage

200

g

light mayonnaise

1

tsp

sea salt

2

tbsp

cider vinegar

1

tbsp

runny honey

1

tbsp

wholegrain mustard
Instructions
Shred 350g white cabbage, 250g carrots and 350g red cabbage and add to a large bowl

In a small jug or bowl mix together 200g light mayonnaise, 1 tsp sea salt, 2 tbsp cider vinegar, 1 tbsp runny honey and 1 tbsp whole grain mustard

Pour the dressing onto the shredded vegetables and mix thoroughly
Recipe Notes
Keep in an airtight container in the fridge for 3-4 days.
Nutritional information is given as a guide only and may vary.
Nutrition Facts
Coleslaw (No Onions)
Amount Per Serving
Calories 107
Calories from Fat 54
% Daily Value*
Fat 6g9%
Cholesterol 4mg1%
Sodium 540mg23%
Potassium 295mg8%
Carbohydrates 13g4%
Protein 2g4%
Vitamin A 5771IU115%
Vitamin C 43mg52%
Calcium 51mg5%
Iron 1mg6%
* Percent Daily Values are based on a 2000 calorie diet.