Subtly spiced and packed full of flavour, this Slow Cooker Chicken Tagine is so delicious. Simple enough to be a midweek meal, but special enough to also be the perfect dinner party main.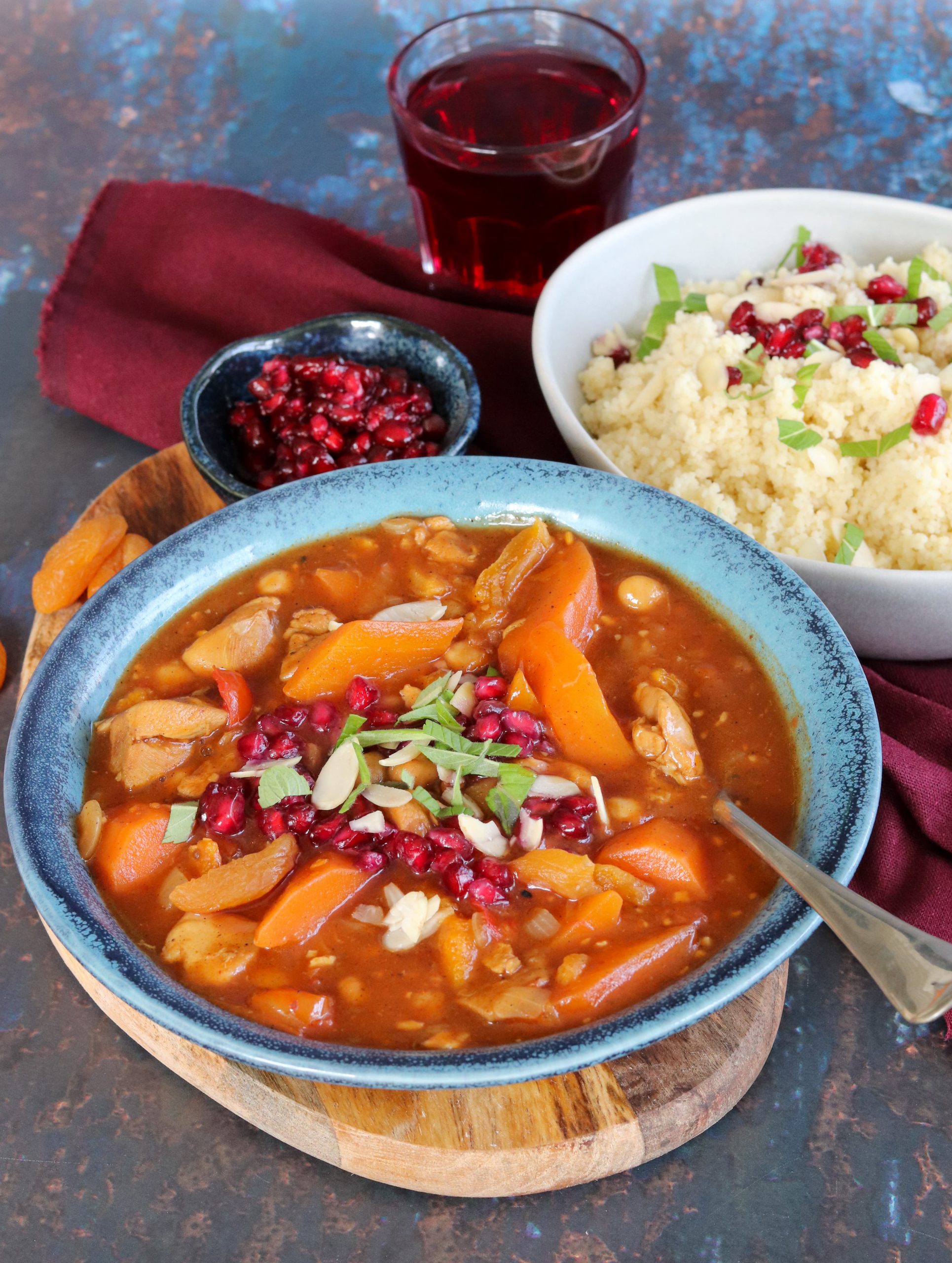 What is a tagine?
A tagine or tajine, is a Maghrebi dish named after the clay pot it is traditionally cooked in.
Maghrebi cuisine is from the North East of Africa. Algeria, Libya, Mauritania, Morocco, and Tunisia are countries that make up this region.
Tagines are a traditional method of cooking in Morocco. They are an clay pot with a round bowl shaped base with a high, cone shaped lid. The cooking pot and what is cooked within it are both called a tagine.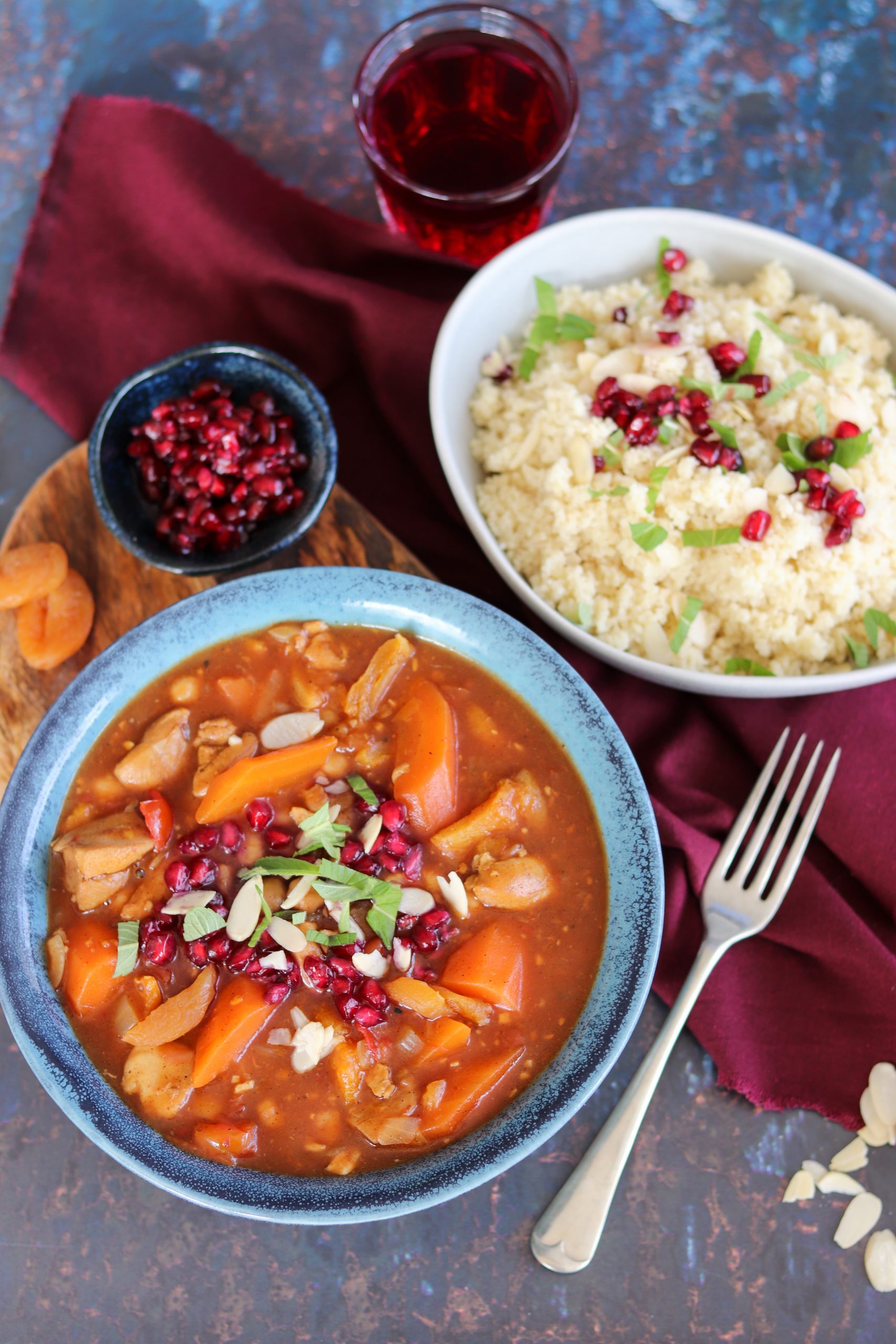 Can you cook a tagine without the traditional clay pot?
Yes I think you can. Sorry if Moroccan's disagree with this!
I think it is unrealistic that all of us will have room in our kitchens to store a cooking pot that is only used for one type of dish.
The shape of the tagine allows steam to rise into the cone and then condense and fall back into the dish. I think a slow cooker is a much more simple version of this. Steam rises to the lid of the slow cooker and then drips back into the food.
A slow cooker is a lot more common in most people's kitchens and therefore an easier way for most of us to make this tasty dish.
Another reason I like to use a slow cooker is because it mirrors the method of cooking commonly found in tagines.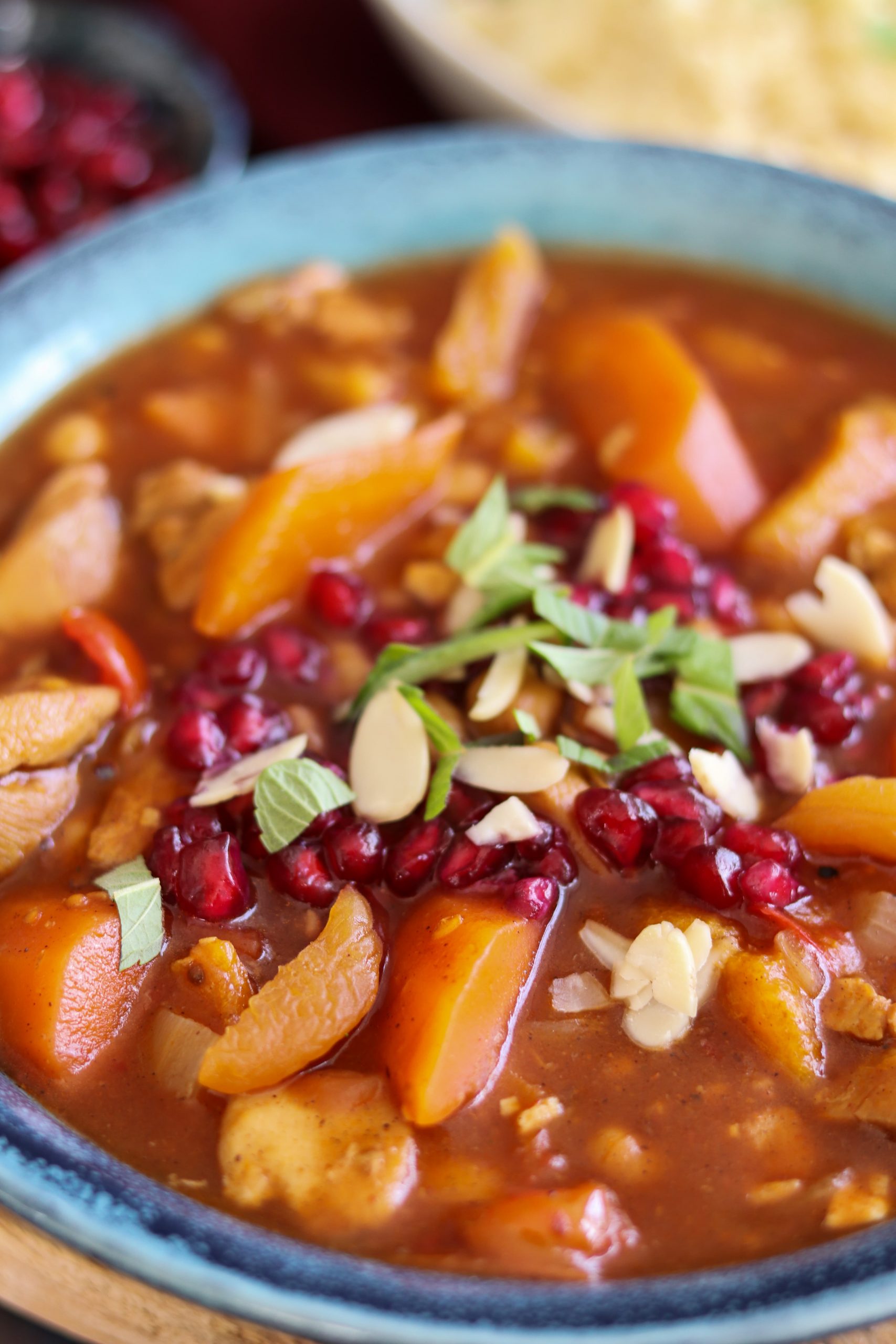 What is ras el hanout?
Ras el Hanout is a spice mix commonly found in Morocco, Algeria and Tunisia. In Arabic it translates to 'head of the shop' meaning the best spices available.
Each spice blend will be slightly different. However common ingredients are cardamom, cumin, clove, cinnamon, nutmeg, mace, allspice, dry ginger, chili peppers, coriander seed, peppercorn, sweet and hot paprika, fenugreek, and dry turmeric.
Ras el hanout is available to buy in most large supermarkets. You'll find it in the jars of spices – you don't have to go to the worldwide aisle like you might have had to in the past.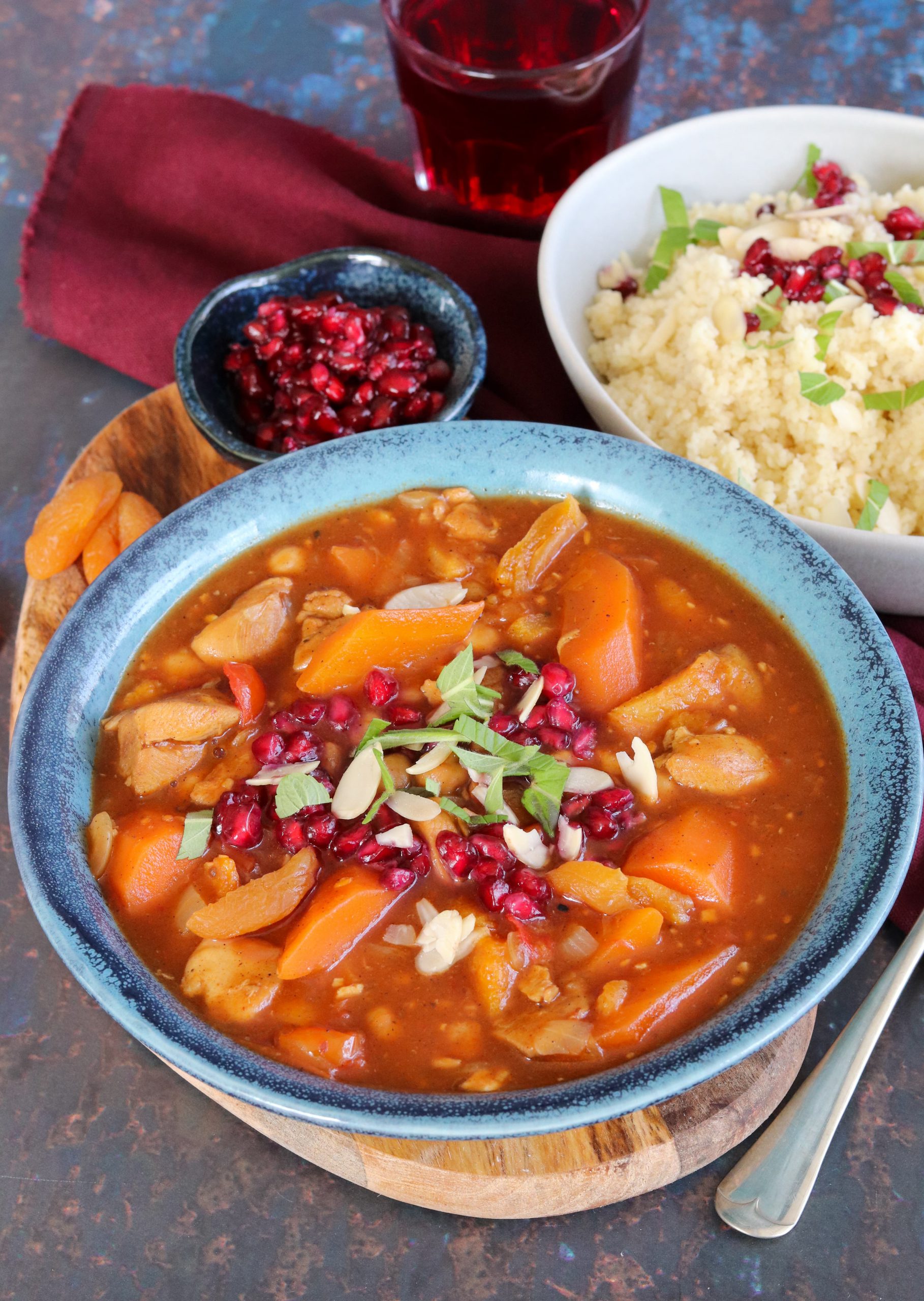 which cut of chicken should be used
My got to cut of chicken for slow cooking is boneless and skinless chicken thighs. They have a little more fat than chicken breasts and are generally more moist.
This is great for when you are slow cooking because the chicken is less likely to become dry.
You can definitely use chicken breasts if you prefer but you might wish to consider reducing the cooking time a little to keep the chicken moist.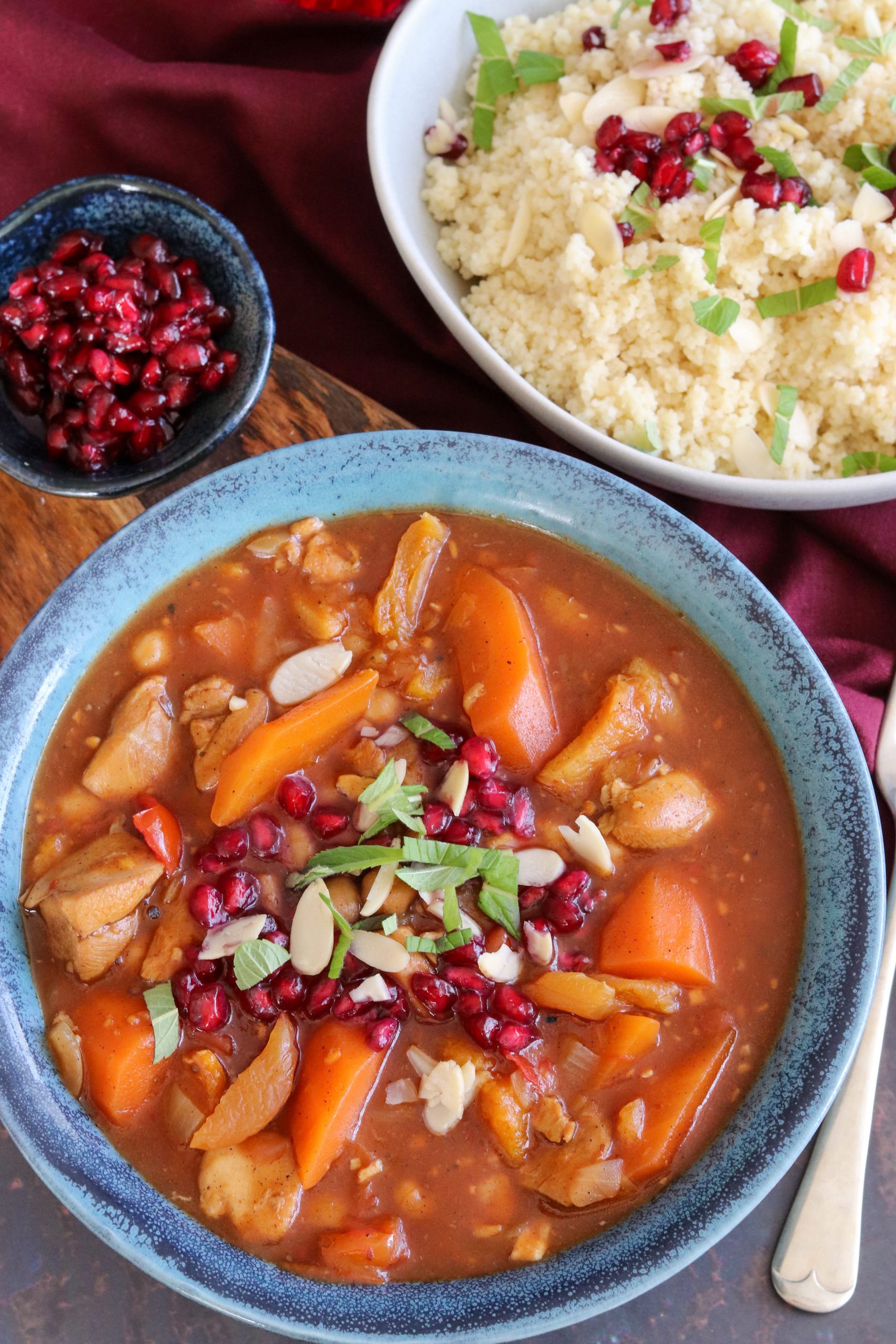 can this chicken tagine be made vegetarian/vegan?
This Slow Cooker Chicken Tagine is naturally gluten free but it can also be made vegetarian and vegan friendly with a couple of tweaks.
To make it vegetarian and vegan you can leave out the chicken and swap the chicken stock to vegetable stock. You then have the choice to add a meat substitute if you would like. I don't think you would need to brown this like with the chicken in the recipe though.
If you don't want to add a meat substitute, I would recommend adding more vegetables. Something like butternut squash or sweet potato would work really well for this tagine.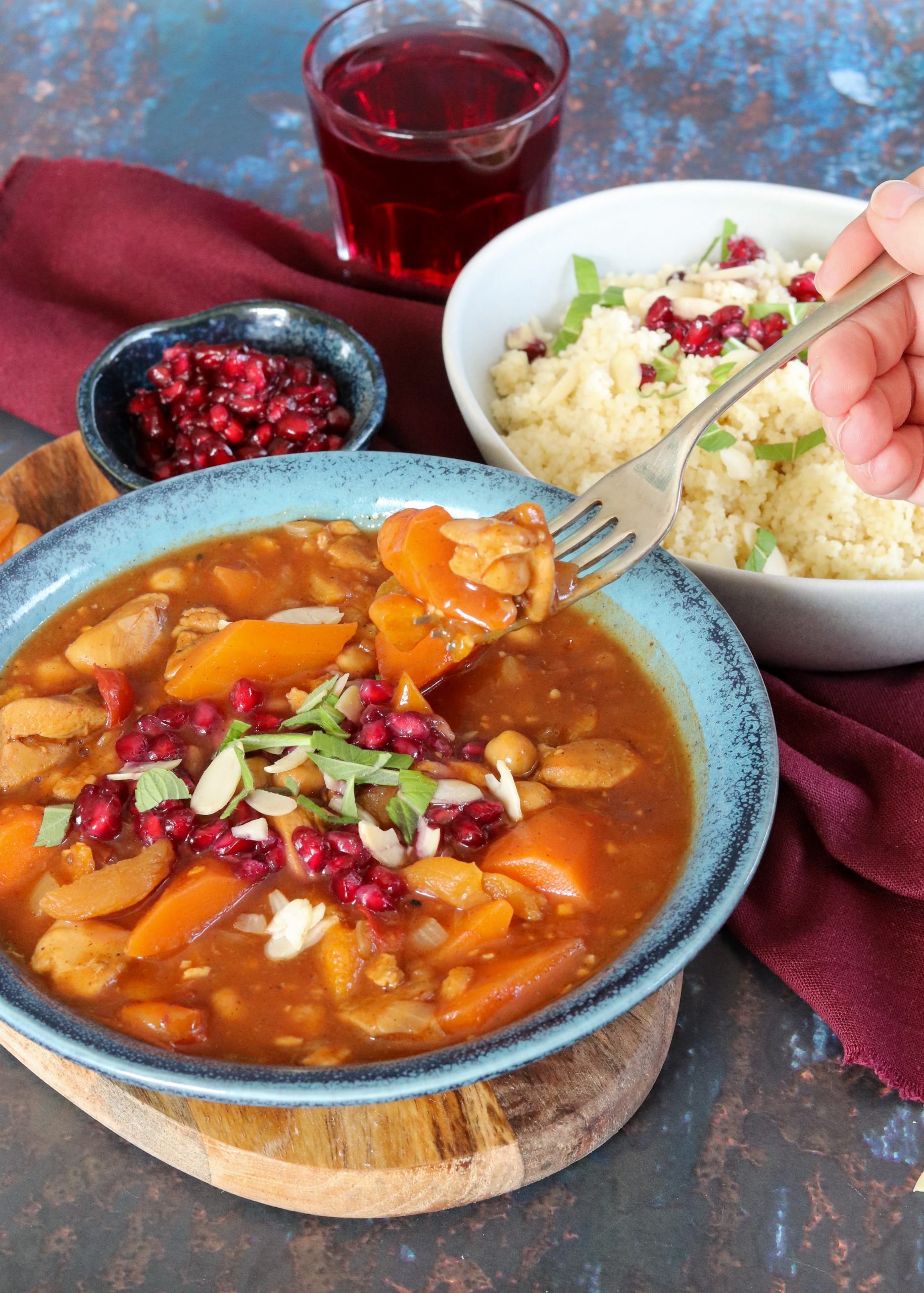 How long does it take to cook?
You can decide whether you would like to cook this Chicken Tagine on low or high depending on when you would like it to be ready.
If you choose to cook it on high, this will take 5-6 hours. And then if you want to cook it on low, you can cook it longer for around 7-8 hours.
There is enough liquid in the recipe below so that the tagine will not dry out whichever timings you use.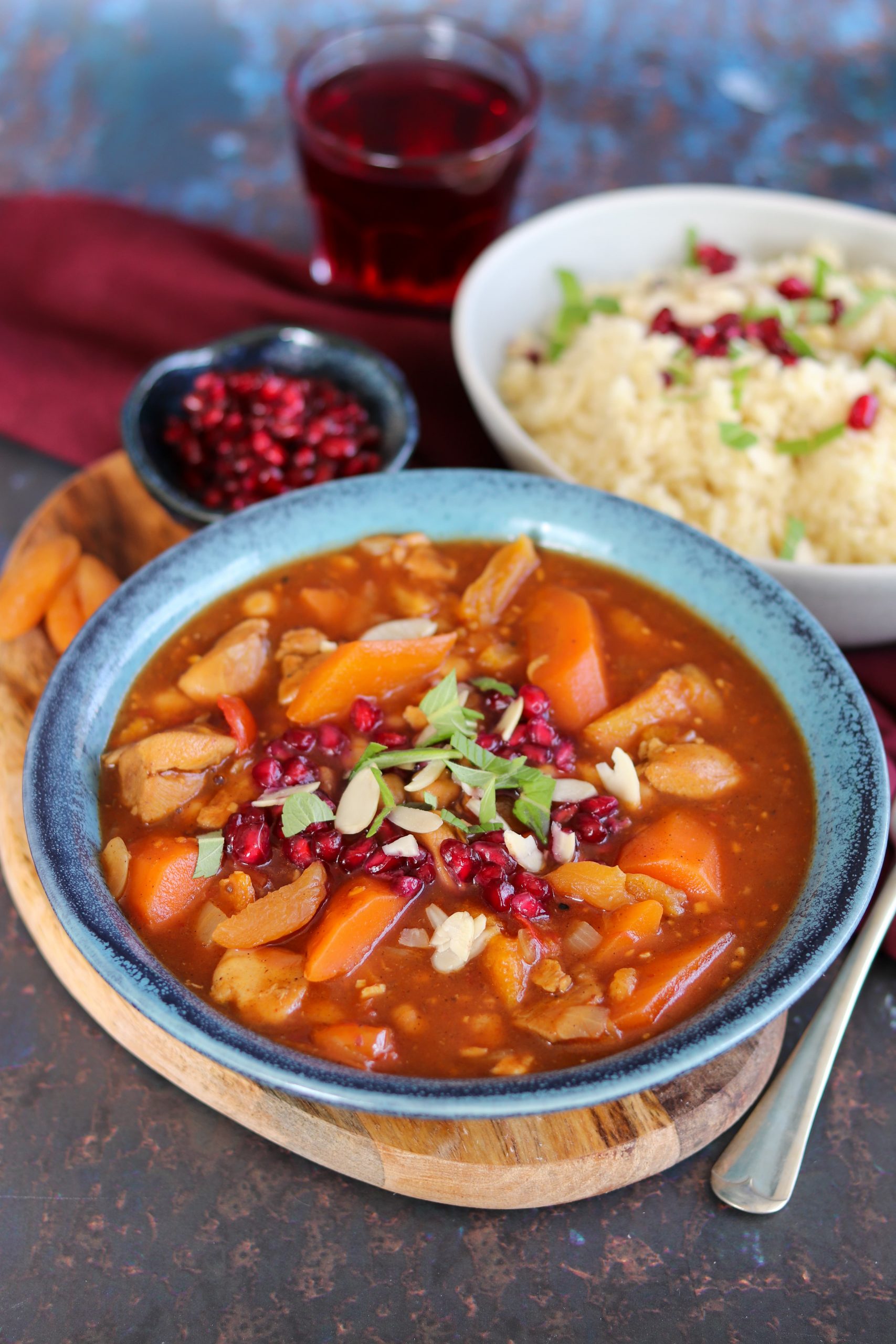 How many people does this serve?
The quantities below serve four people but this can easily be increased.
A very quick way to increase the number of servings would be to use more vegetables to bulk it out. If you wanted to add more chickpeas and carrots, this would easily feed more people without them feeling like there isn't enough chicken.
Obviously you can add more chicken if you are feeding a lot more people.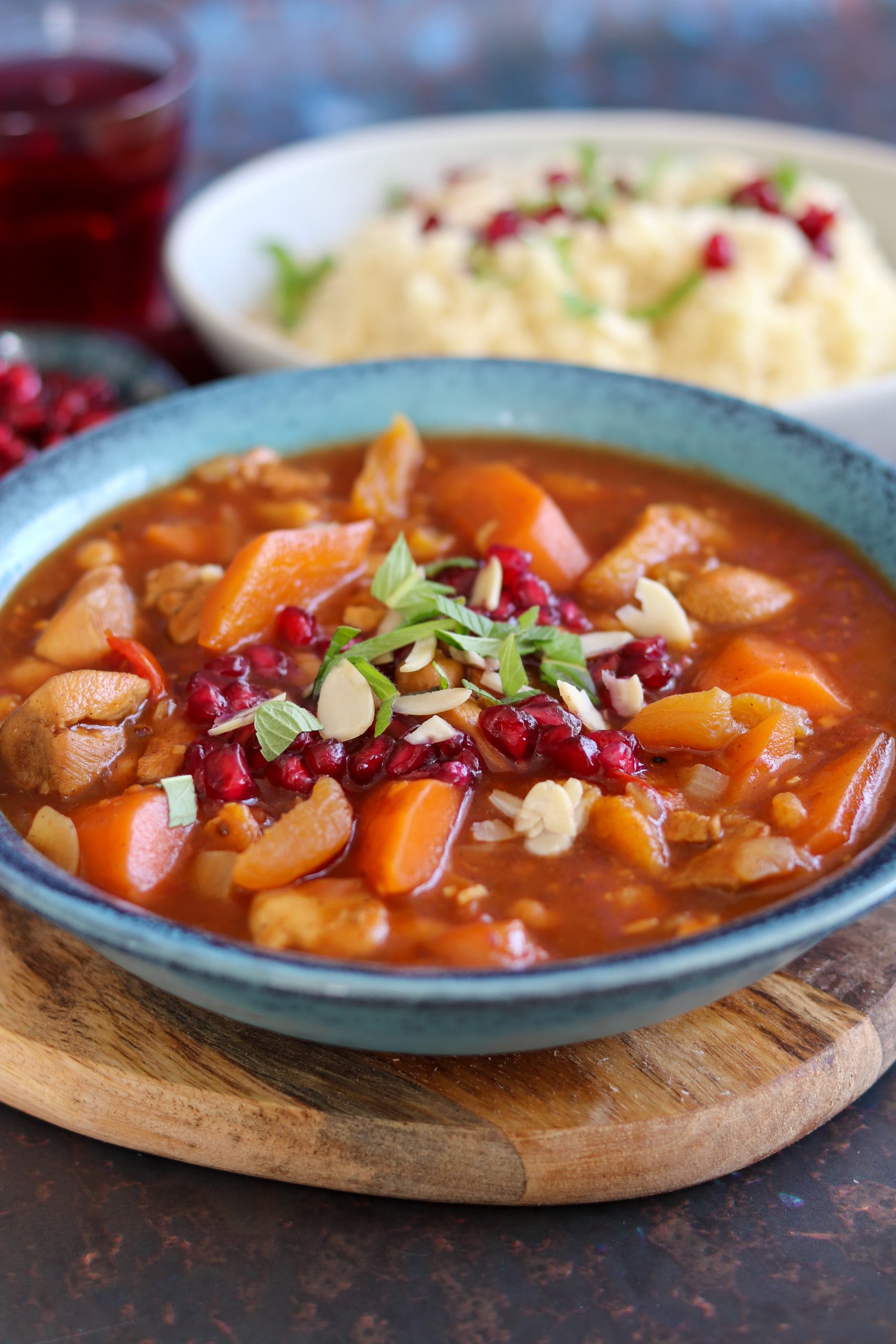 can you freeze this slow cooker chicken tagine?
This tagine freezes really well and is great for batch cooking.
Make sure you freeze any leftovers within two hours of it finishing cooking. It can then be frozen for up to three months.
When you defrost the tagine, put it in the fridge for eight hours or overnight. I prefer to reheat food in a pan on the hob as I can easily see whether it needs a splash more water or the sauce needs to reduce more.
Make sure the tagine is piping hot before serving.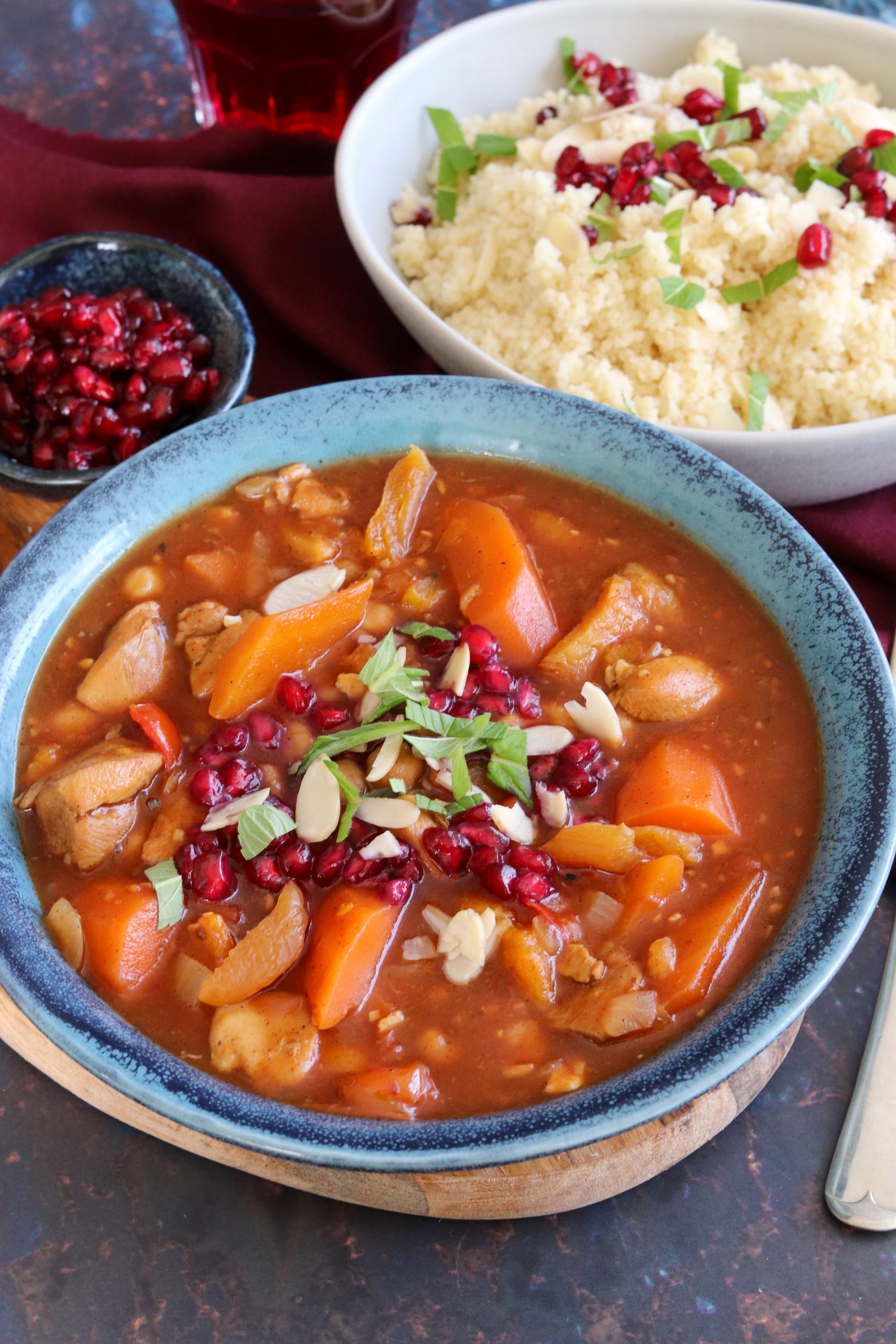 what to serve with this tagine
I like to serve this Slow Cooker Chicken Tagine with some simple couscous. I then like to sprinkle the couscous and tagine with mint, flaked almonds and pomegranate seeds. These add some amazing crunch to the finished dish.
You can obviously buy whole pomegranates and remove the seeds; however buying pots of pomegranate seeds is an easier option. The larger supermarket chains stock these; sometimes even in their smaller stores. My Sainsbury's local stocks them for example.
If you want to add even more carbs, you can serve some crusty bread to dip into the delicious sauce.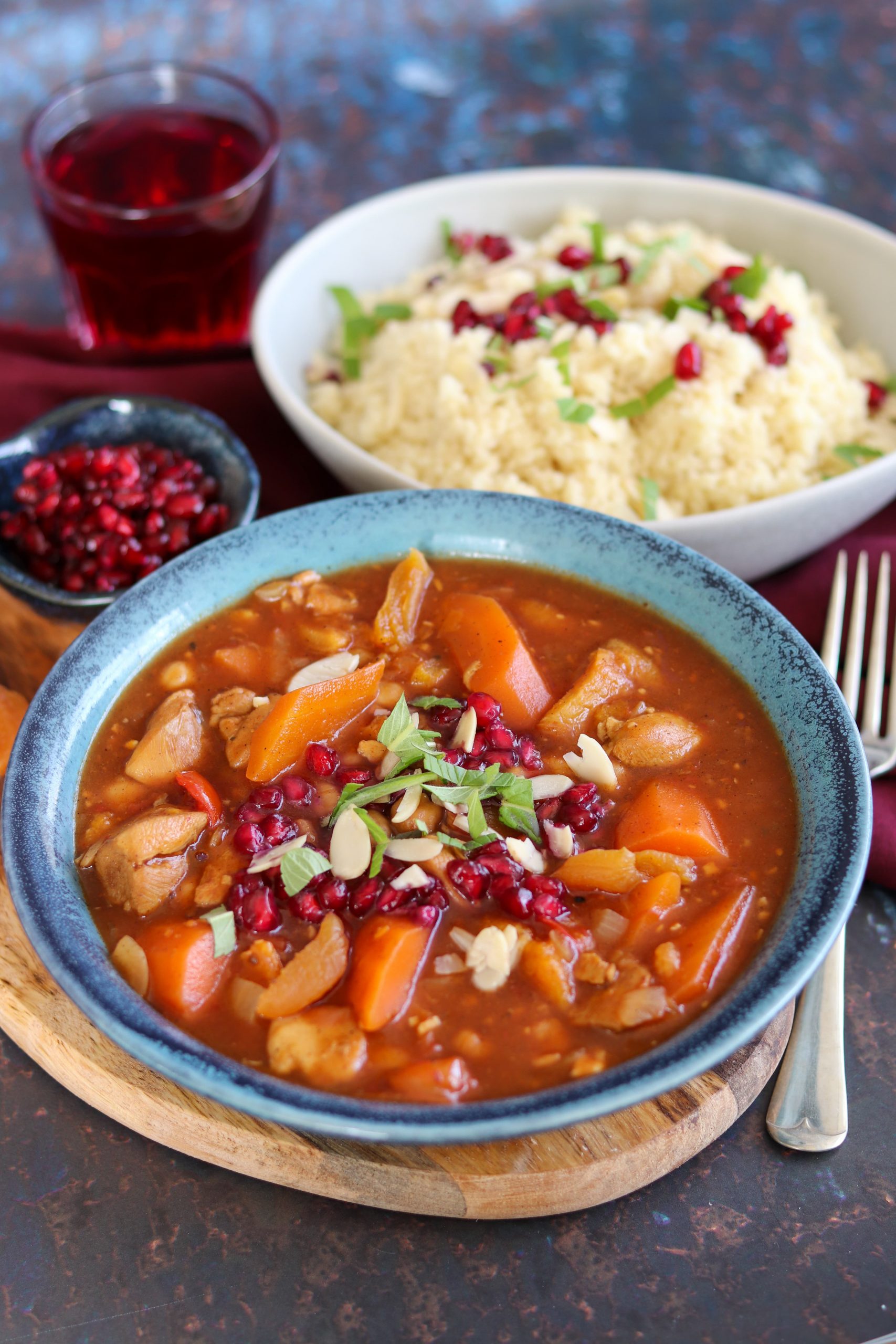 other recipes you might like
Pin for later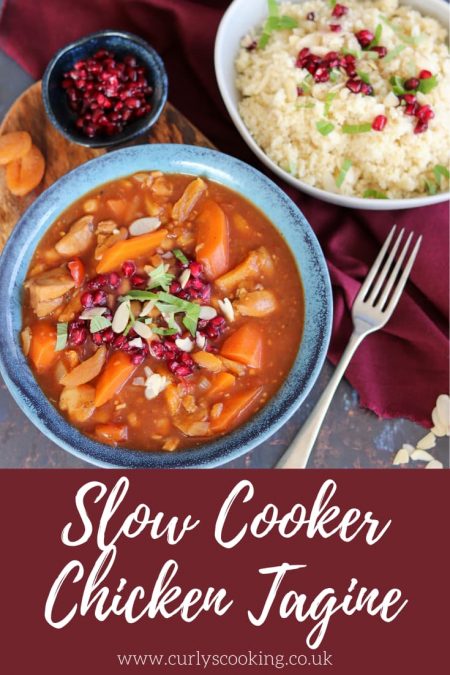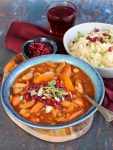 Slow Cooker Chicken Tagine
Subtly spiced and packed full of flavour, this Slow Cooker Chicken Tagine is so delicious. Simple enough to be a midweek meal, but special enough to also be the perfect dinner party main.
Total Time
6
hours
30
minutes
Ingredients
1

tbsp

vegetable oil

500

g

chicken thighs

boneless and skinless

1

onion

diced

3

carrots

large chunks

2

tbsp

Ras el Hanout

1

tsp

ground tumeric

1

tsp

sea salt

400

g

tinned tomatoes

400

g

chickpeas

drained and rinsed

500

ml

chicken stock

1

tbsp

tomato puree

150

g

dried apricots

sliced
Instructions
Remove the skin and bones from the chicken thighs if they haven't already been removed. Cut into chunks

Heat the oil in your slow cooker if it is able to be used over direct heat. If not, heat the oil in a pan. Add the chicken and cook for 5 minutes until slightly browned

Cut the carrots in half lengthways and cut into large chunks. Add the chicken to the slow cooker if it isn't already along with the carrots and onion

Add the Ras el Hanout, tumeric and salt and stir through

Add the tinned tomatoes, chickpeas, chicken stock, tomato puree and dried apricots

Cook for 5-6 hours on high or 8 hours on low

Serve with couscous scattered with mint, pomegranate seeds and flaked almonds
Recipe Notes
Nutritional information is given as a guide only and may vary.
Nutrition Facts
Slow Cooker Chicken Tagine
Amount Per Serving
Calories 667
Calories from Fat 261
% Daily Value*
Fat 29g45%
Cholesterol 126mg42%
Sodium 902mg39%
Potassium 1362mg39%
Carbohydrates 65g22%
Protein 35g70%
Vitamin A 9182IU184%
Vitamin C 7mg8%
Calcium 145mg15%
Iron 6mg33%
* Percent Daily Values are based on a 2000 calorie diet.
Linking to