Amazingly moist gammon with a deliciously sweet and crisp crust. You will all be fighting for the end piece! This Honey Glazed Ham is one of my favourite things in the world to eat.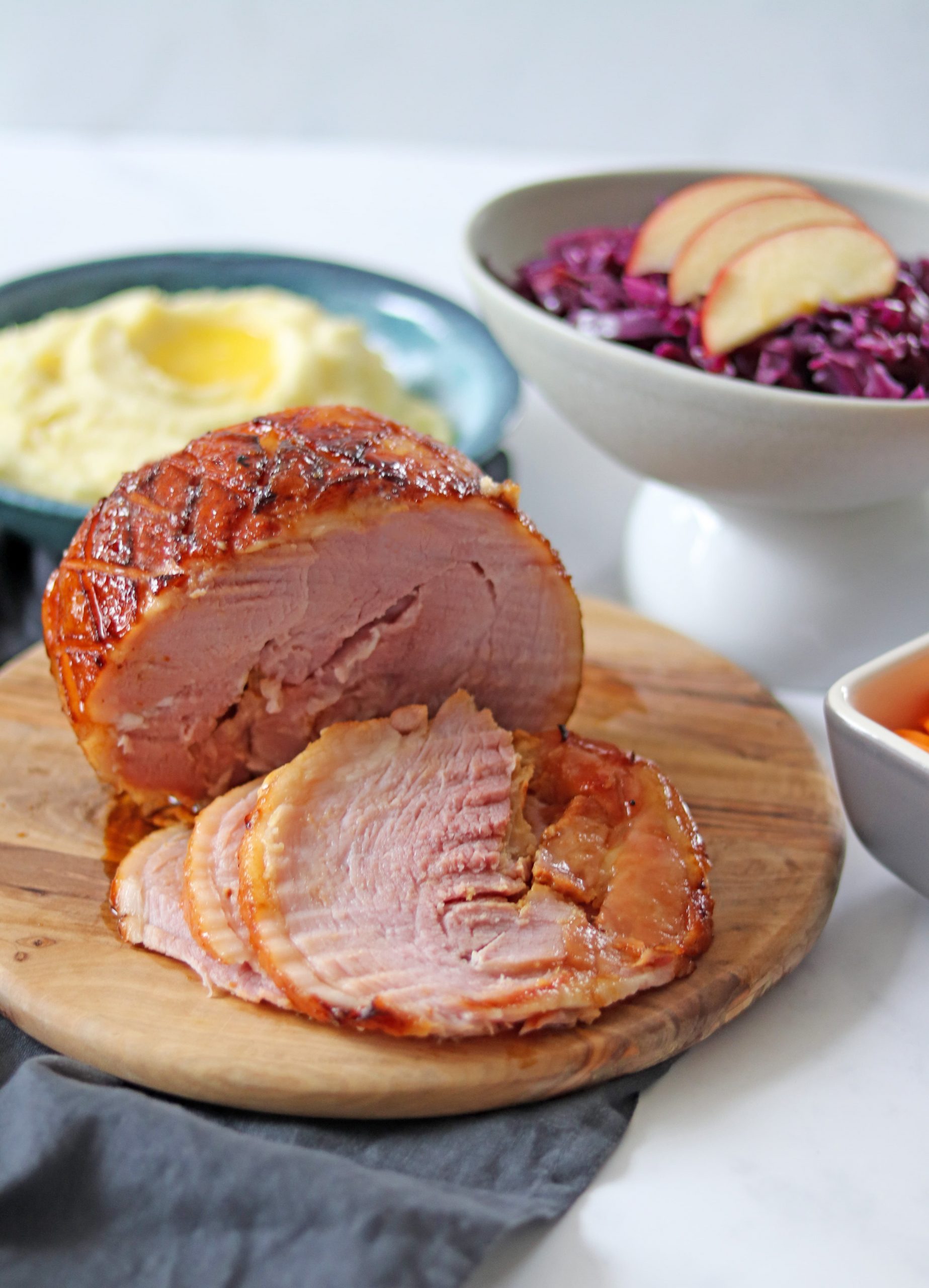 Honey Glazed Ham is a family tradition
As with a lot of families, we always have ham around Christmas – traditionally on New Year's Day. My Grandad used to come and stay with us for Christmas and New Year.
He would always bring a huge ham with him. My Mum always used to joke that he wasn't allowed to come and stay with us if he forgot the ham.
I remember looking forward to her New Year's ham all year. As soon as my Mum had finished cooking the ham I would loiter in the kitchen waiting for the chance to sneak a slice.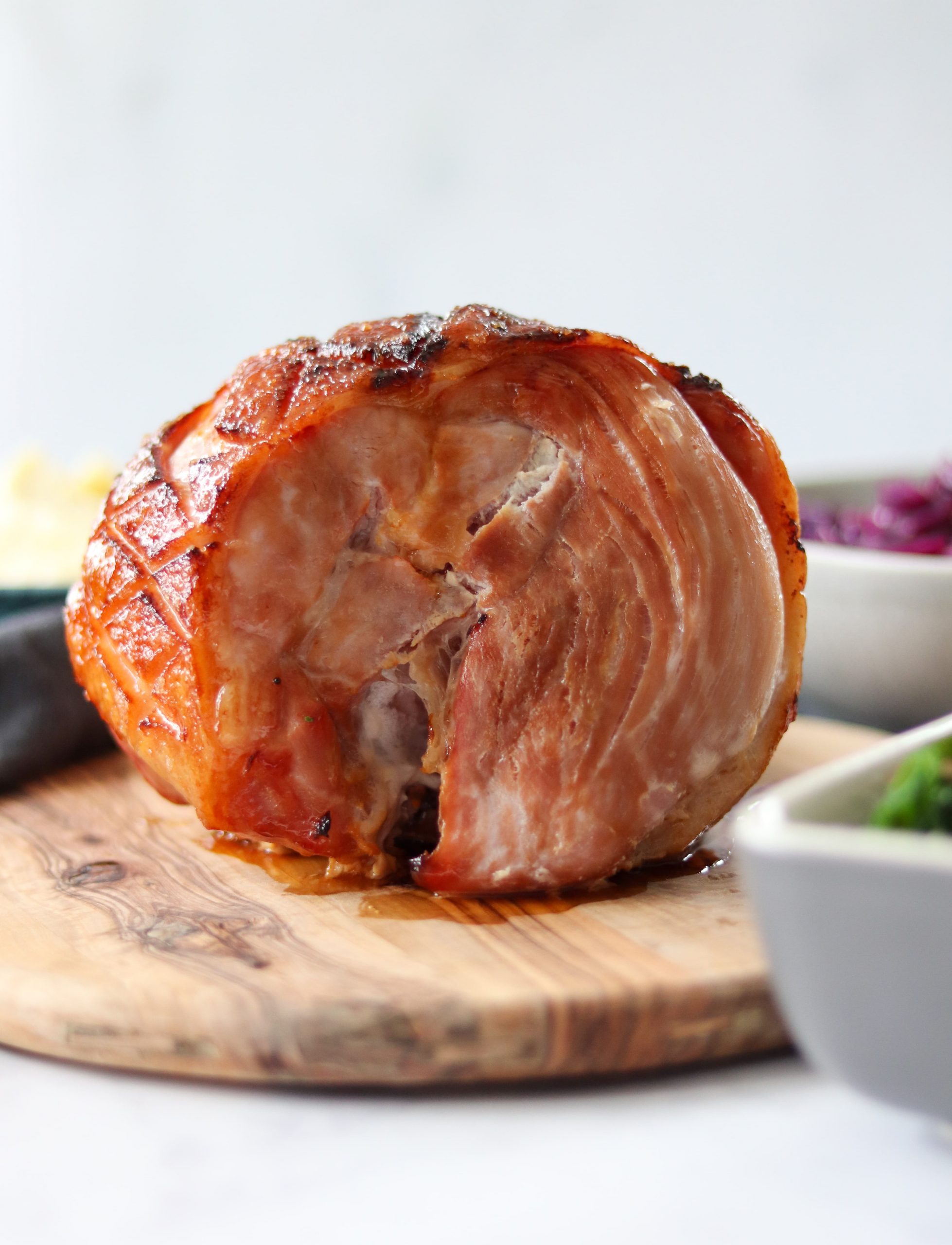 Which ham is best to choose?
When it comes to buying ham, they come either smoked or unsmoked. As with bacon, I don't think there is any reason why you wouldn't buy smoked ham. Personally I think it has a much nicer flavour.
However if you really don't want to use smoked ham, you can buy unsmoked.
You want to try and find a ham with a good layer of fat on the top. This seems to be a little harder to come by these days! It takes a little bit more hunting to find them but they are out there.
If you can't find a ham with an even layer of fat, buy the best one you can.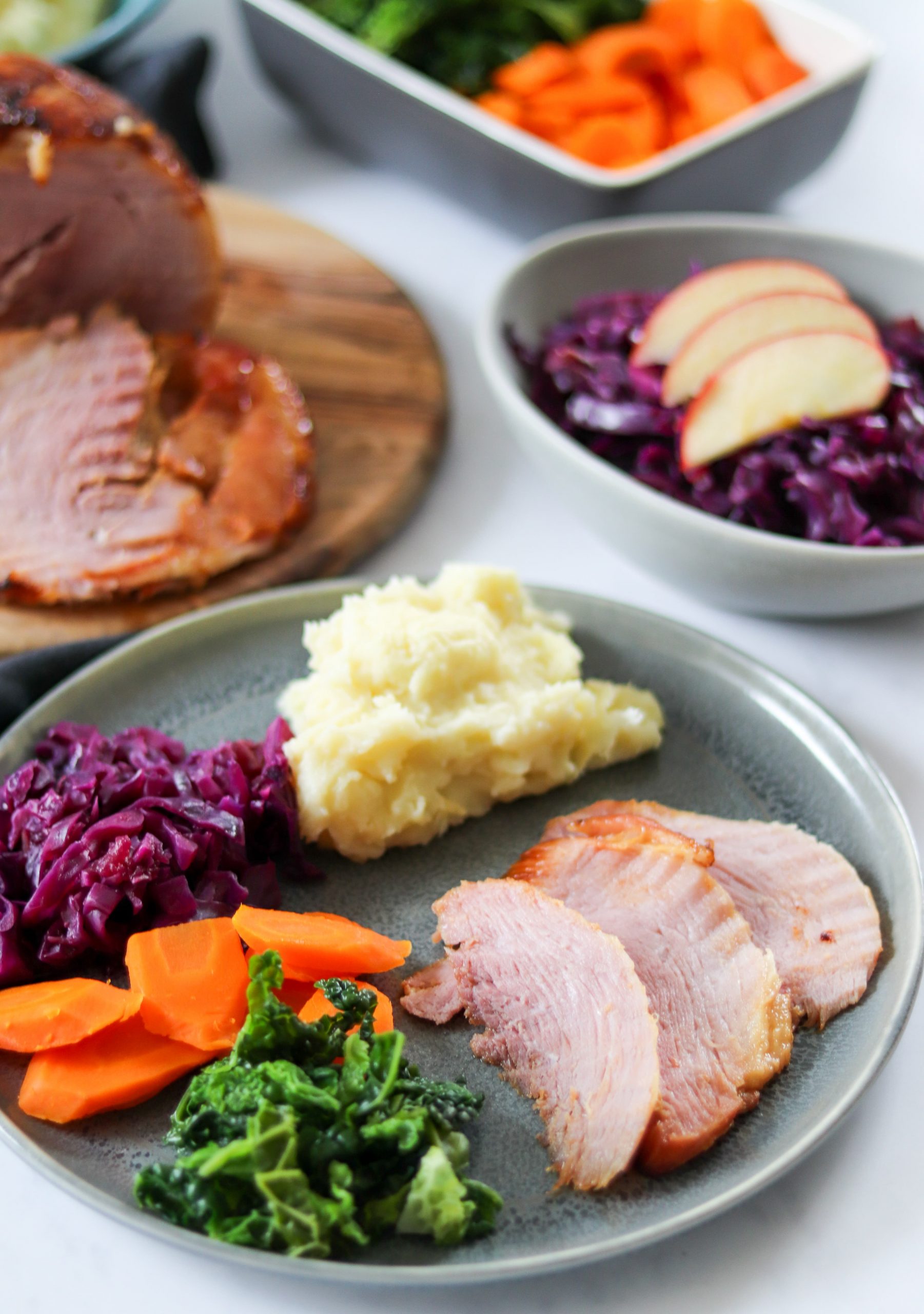 Do you have to boil the ham before you bake it?
The hams I tend to use are between 1.3 and 1.5kg in weight. As they are small, I don't think they need boiling before they are baked.
Most ham comes with instructions of how long to cook it on the packaging. Alternatively your butcher will be able to advise you.
Baking a ham of these size is still moist and delicious. It also means you are cutting down on the extra step of boiling the ham.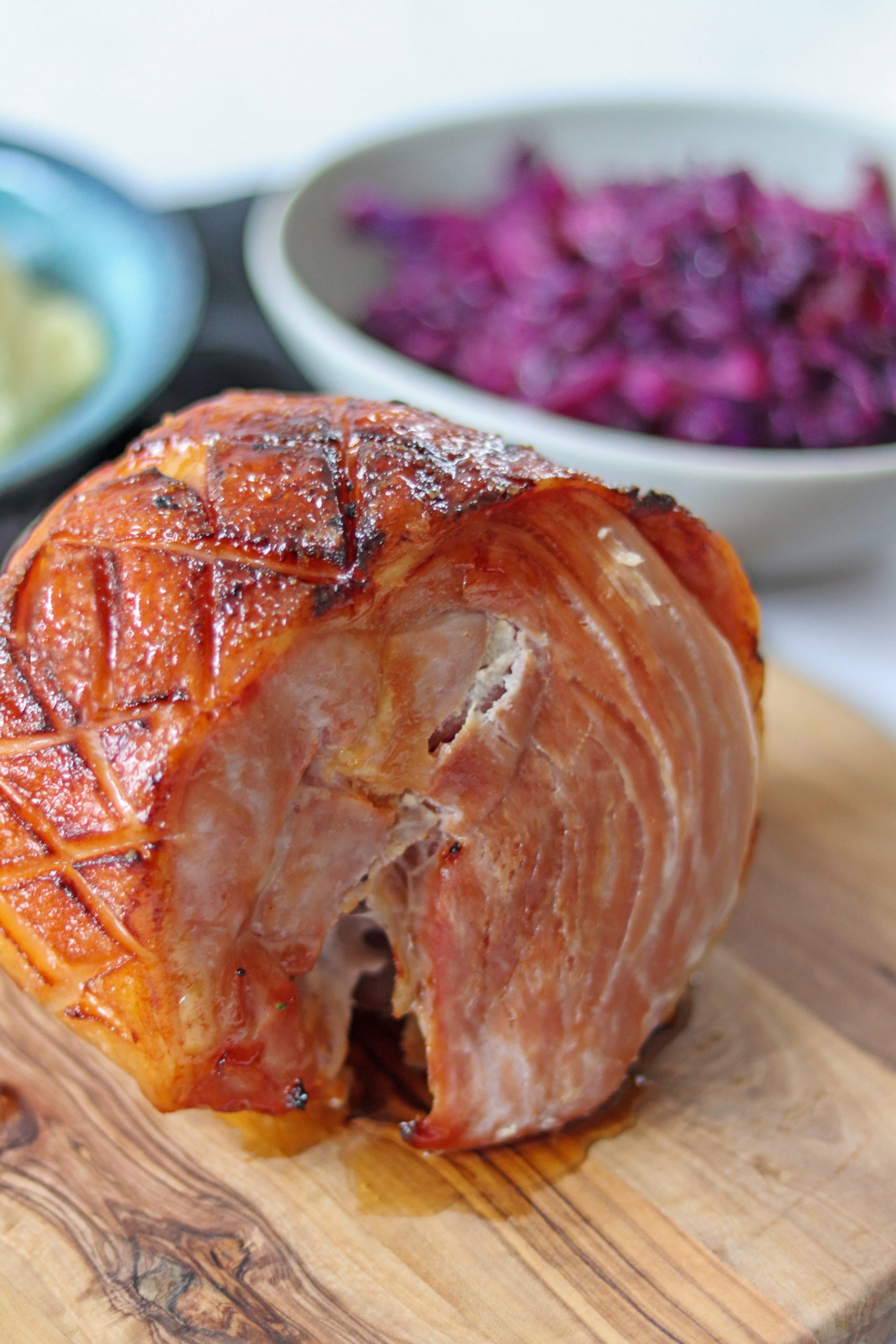 Can you use a larger ham?
Yes of course. My Mum used to cook a much larger ham in those days. She would boil it before putting it in the oven and finishing with the glaze.
If you are cooking a ham that is more than 2kg then I would recommend boiling it before you bake it. Most hams come with the instructions of how long to boil them on the packaging.
You would then coat the boiled ham in the glaze and bake it for thirty minutes or until it was golden and delicious.
Depending on how much larger your ham is than the one in my recipe, you will need to increase the glaze quantities. My advice if you're not sure is to always add a little more rather than be stingy!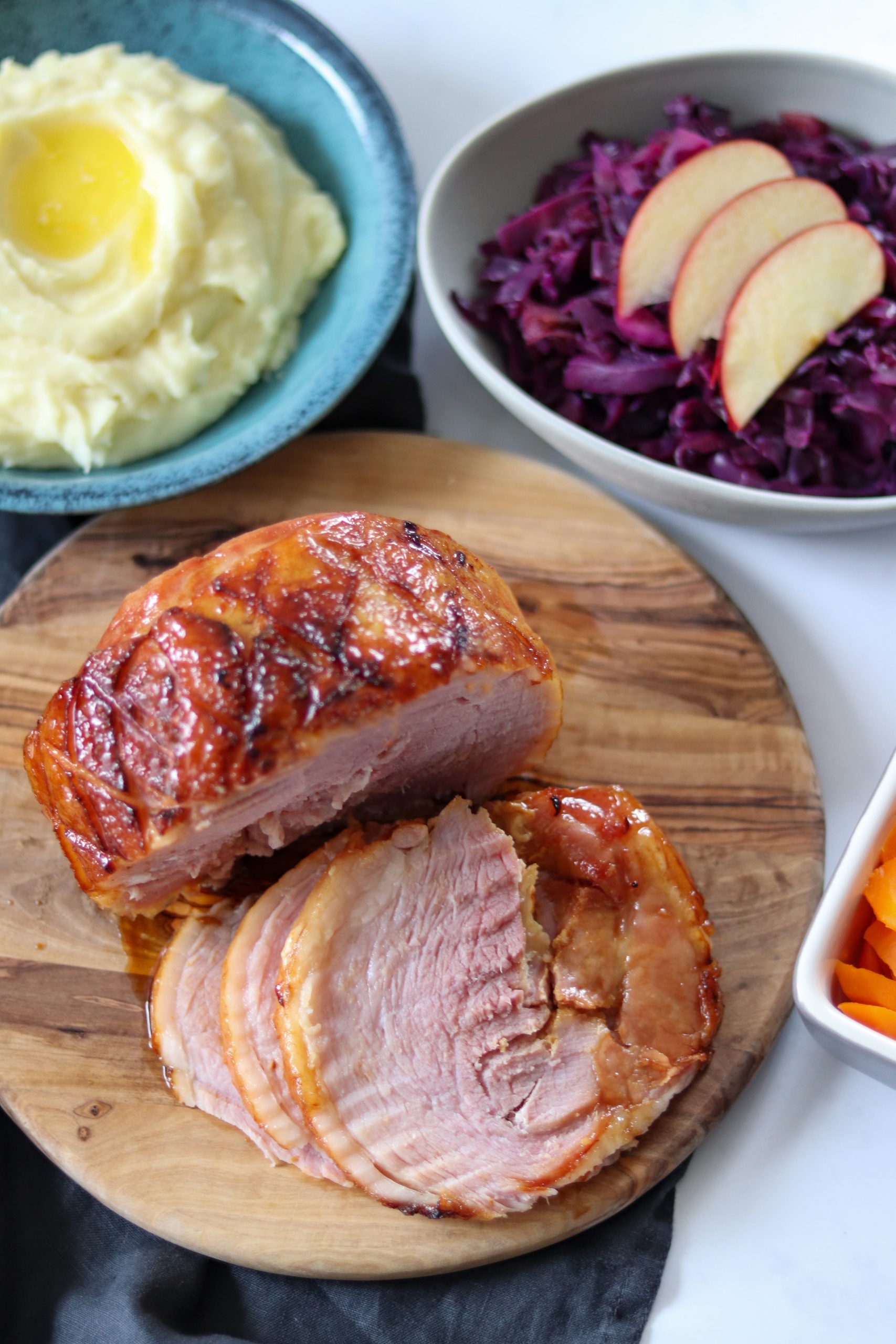 which honey is recommended to use
You need to use a clear, runny honey for this Honey Glazed Ham. Set honey wouldn't be very easy to mix with the sugar.
I wouldn't bother using something a bit fancier like Manuka honey. These are usually more expensive and have delicate flavours.
I don't think you would be able to taste the difference in this recipe so I don't think it would be worth the extra expense.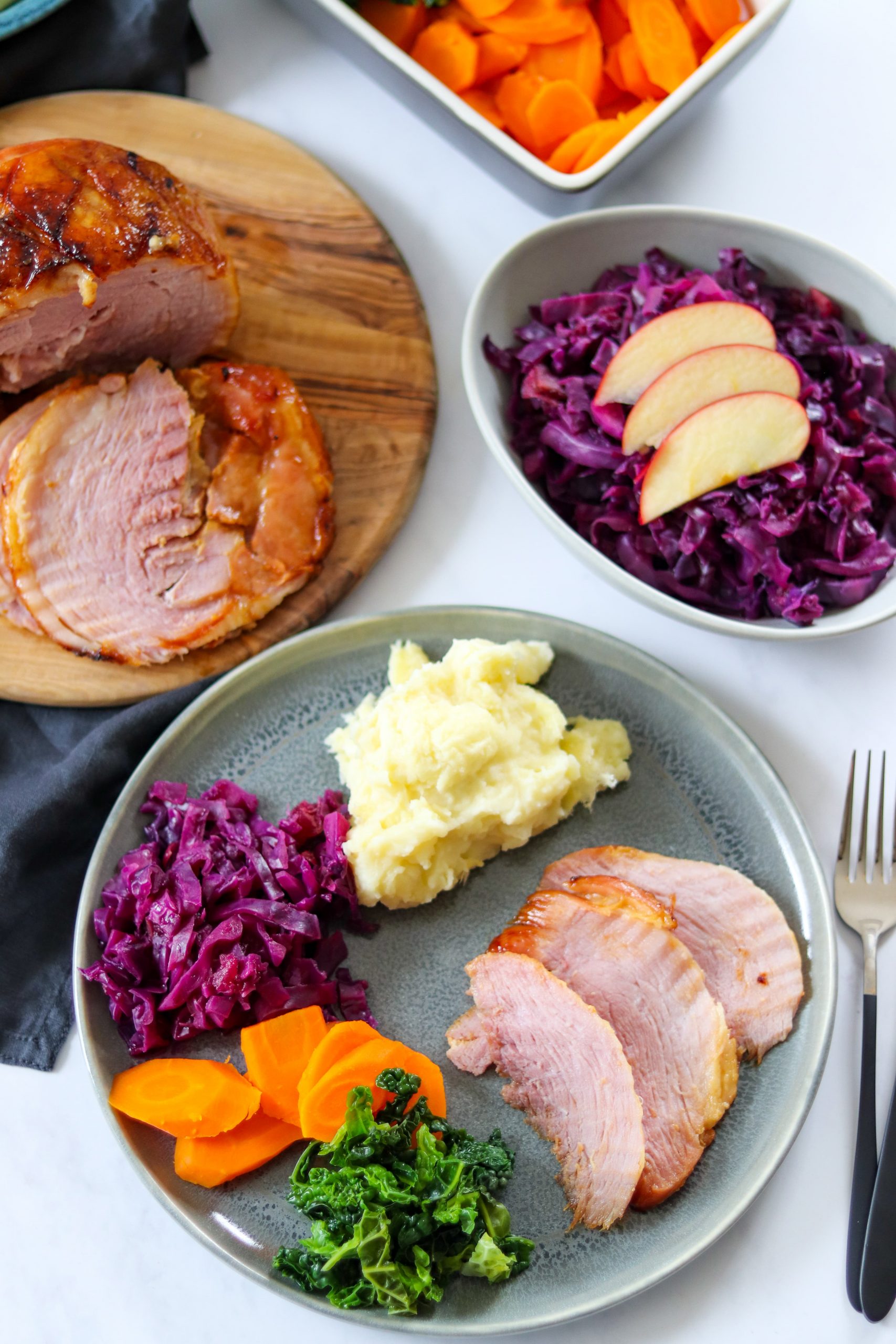 Use a foil roasting tin
I am very conscious about my impact on the environment. I try to use reusable options wherever possible. But in this instance, I really would recommend using a disposable foil tray to cook this in.
I used to line my roasting tins with foil but the honey and sugar mix always seemed to manage to seep under the foil.
This would then burn and stick the foil to the roasting tin. So after far too many times scrubbing my roasting tins to within an inch of their lives, I now use the disposable foil trays.
Make sure you wash the foil tins so that they can be recycled.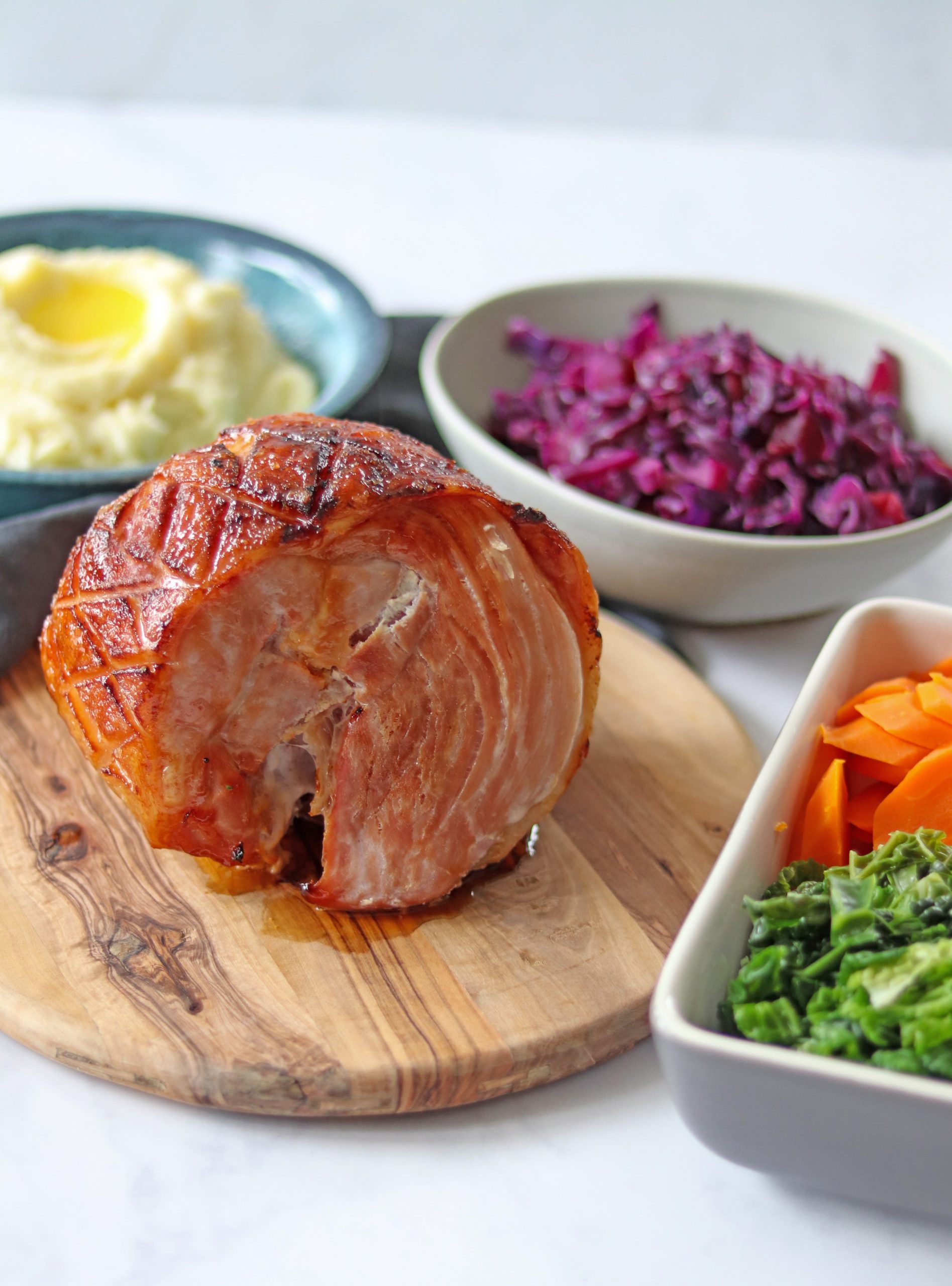 What to serve with this Honey Glazed Ham
My Mum always served creamy mashed potatoes, carrots and sweetcorn with her Honey Glazed Ham which is what I tend to do.
I do like to serve some additional vegetables of tenderstem broccoli or Pressure Cooked Red Cabbage (recipe coming soon) though.
You could also serve my Potato & Thyme Stacks or Roasted New Potatoes if you would prefer.
If you want to add even more pork to your meal, my Brussels Sprouts with Bacon & Garlic would be the perfect choice.
It would also be a great addition to any holiday meal. It would be perfect as part of the main meal or cooked in advance and eaten cold as part of a buffet.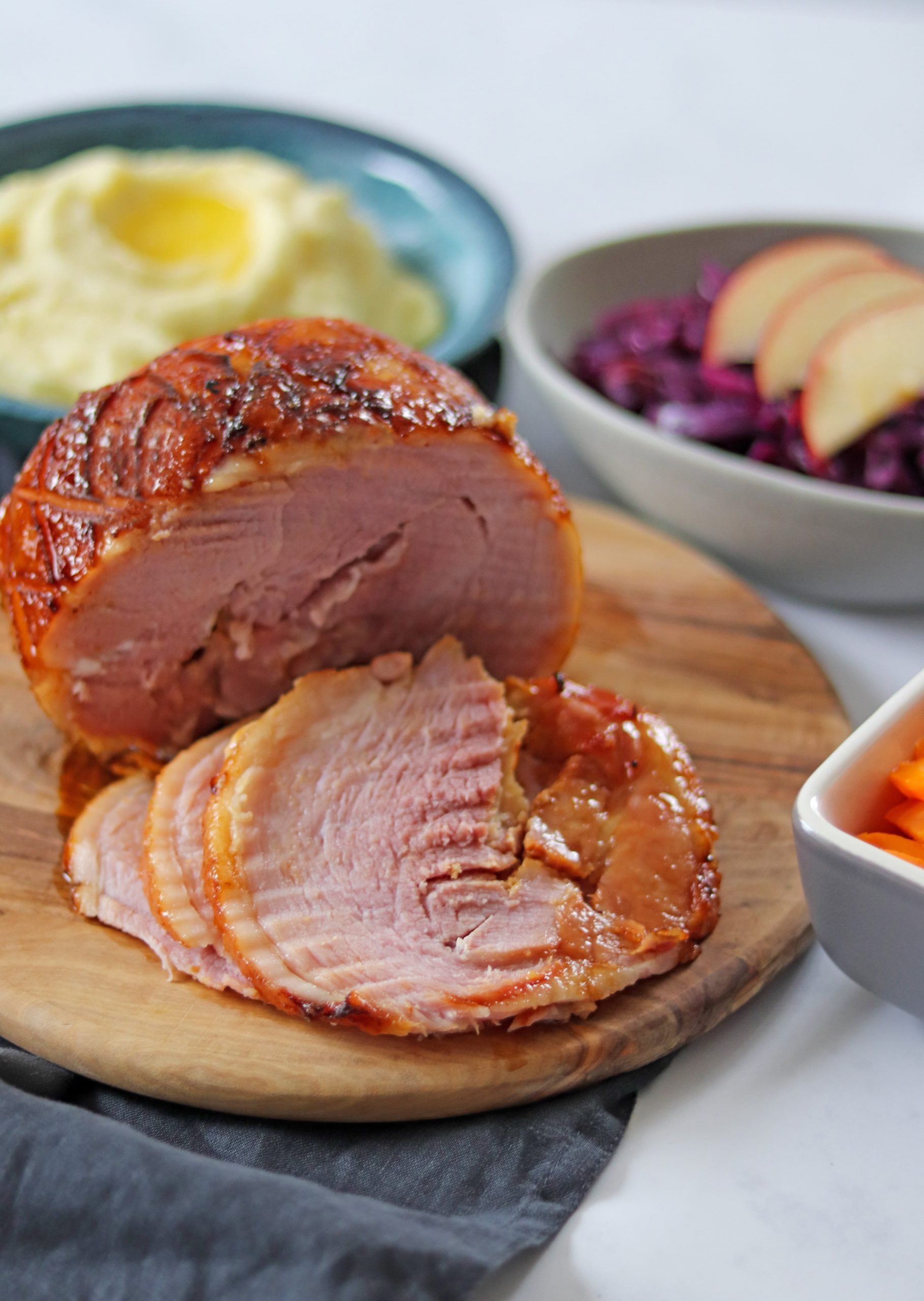 Make sure there are leftovers!
You definitely need to make sure there are plenty of leftovers when you make this ham. It is as delicious cold as it is hot.
There is nothing better than cold Honey Glazed Ham, Bubble & Squeak and a fried egg. Or you can serve it with chips, either homemade or frozen.
Leftover ham will keep in the fridge for up to three days. However if it lasts longer than one day without being eaten you will be doing very well!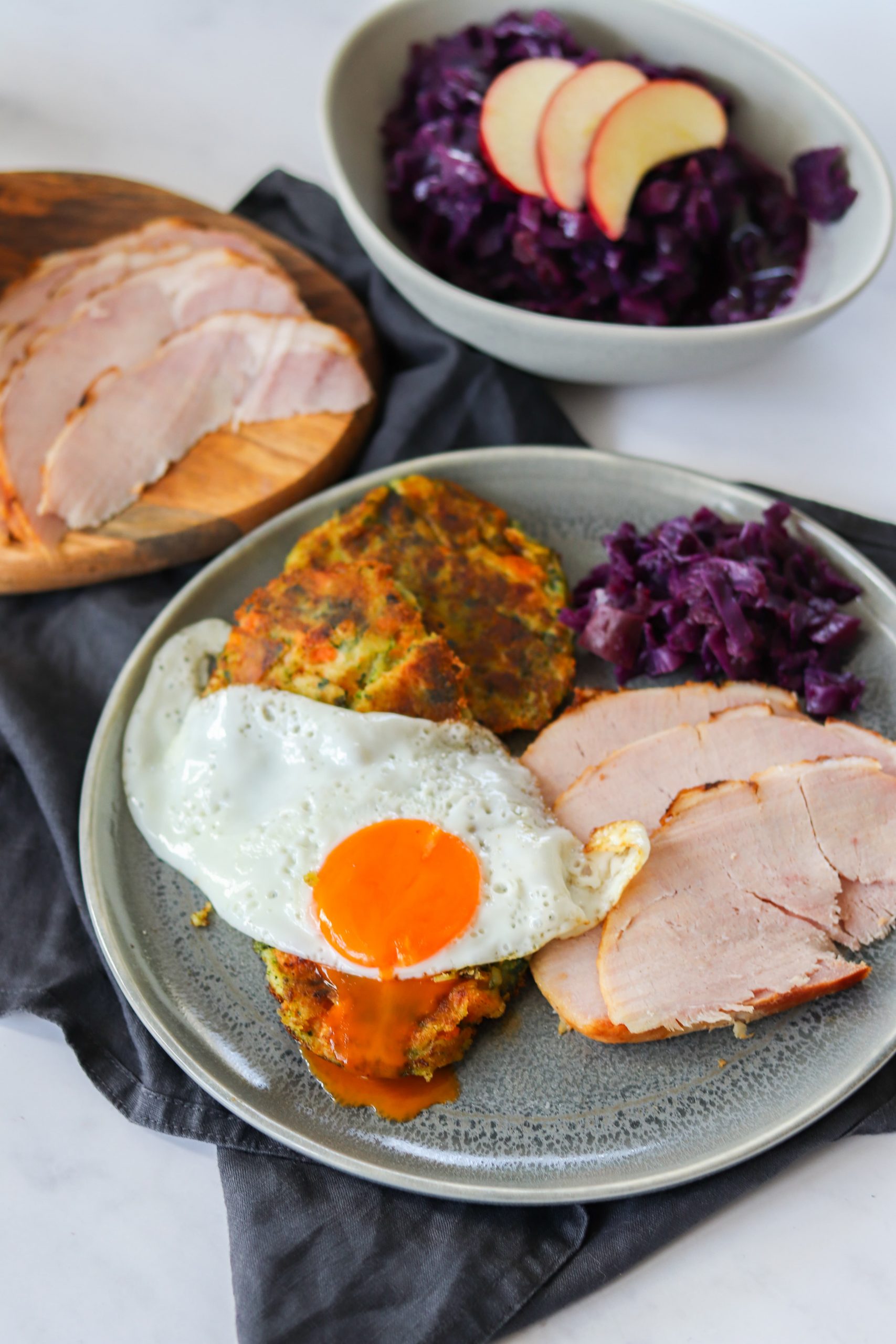 Other recipes you might like
Pin for later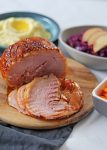 Honey Glazed Ham
Amazingly moist gammon with a deliciously sweet and crisp crust. You will all be fighting for the end piece! This Honey Glazed Ham is one of my favourite things in the world to eat.
Cook Time
1
hour
45
minutes
Ingredients
1.5

kg

smoked boneless ham joint

50

g

demerara sugar

70

g

clear honey
Instructions
Unwrap the ham joint and place it on a disposable foil tray and cover with foil. Cook the joint for 30 minutes less than the time specified on the cooking instructions. The temperature is usually specified on the packet but would be around 180°C (fan assisted, 200°C non fan)

When the joint has 30 minutes left of cooking time, remove it from the oven and dispose of the foil

Cut off the rind and the majority of the fat leaving a couple of millimeters. Score the fat with a knife diagonally one way and then the other

Mix the sugar and honey together in a bowl and then pour over the fat of the ham. Put the ham back into the oven uncovered for the remaining 30 minutes of cooking

Take out of the oven and allow to rest for a few minutes loosely covered in foil before carving
Recipe Notes
Nutritional information is given as a guide only.
Nutrition Facts
Honey Glazed Ham
Amount Per Serving
Calories 472
% Daily Value*
Potassium 6mg0%
Carbohydrates 17g6%
Iron 0.1mg1%
* Percent Daily Values are based on a 2000 calorie diet.