Crispy bacon with charred sprouts with a delicious hint of garlic, my Brussels Sprouts with Bacon & Garlic is not a boring side dish.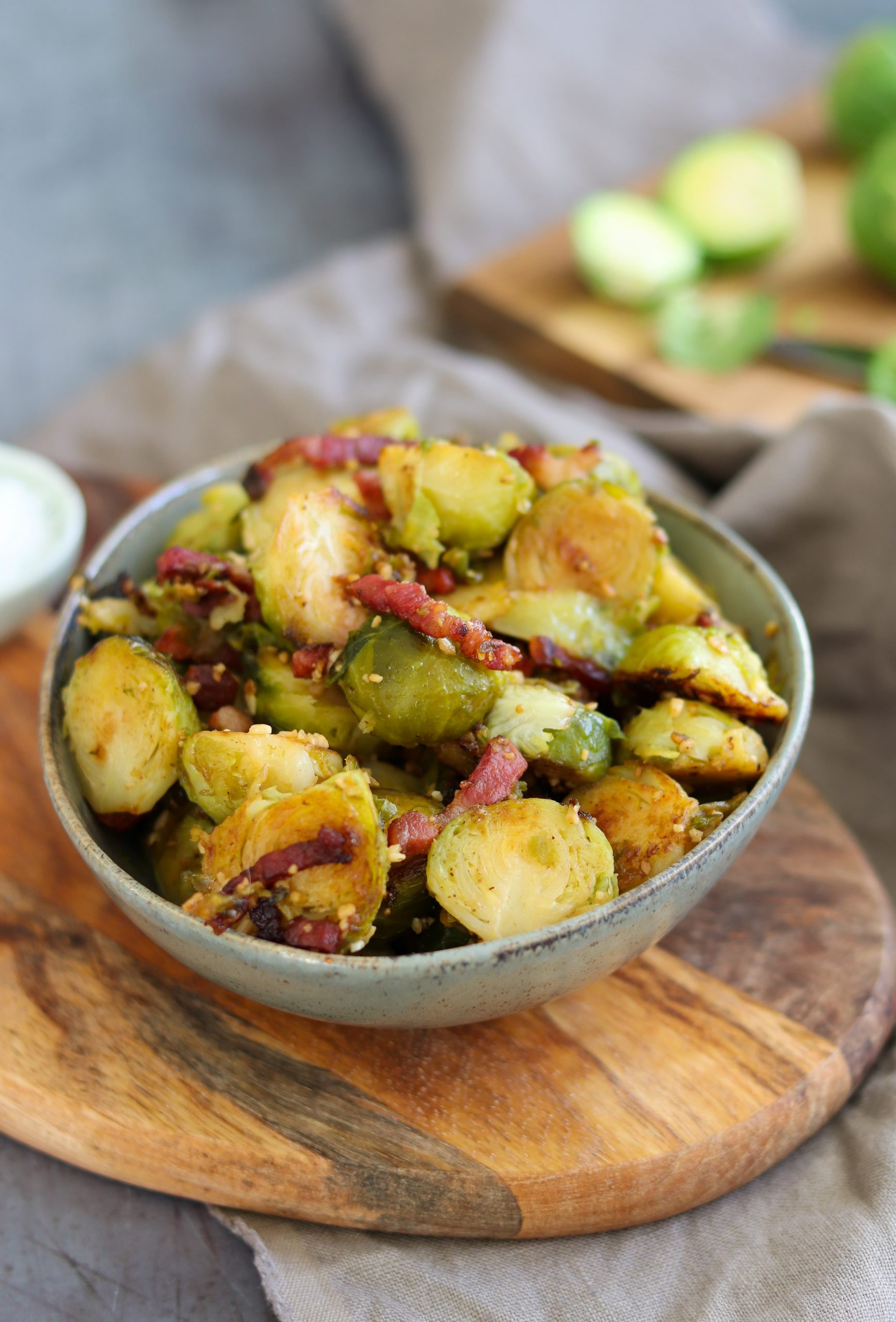 Are you a brussels sprout lover?
Brussels sprouts have quite a bad reputation here in the UK and a lot of people don't seem to like them. Like a lot of people in Britain, I used to only eat brussels sprouts at Christmas. They were put on my plate so I didn't have much choice and I had to eat them.
When we have them at Christmas, they are usually just boiled so they aren't the most exciting vegetable. I have never disliked them as much as other people, like my sister; but they weren't something I particularly looked forward to.
If you make these you'll be able to convert everyone!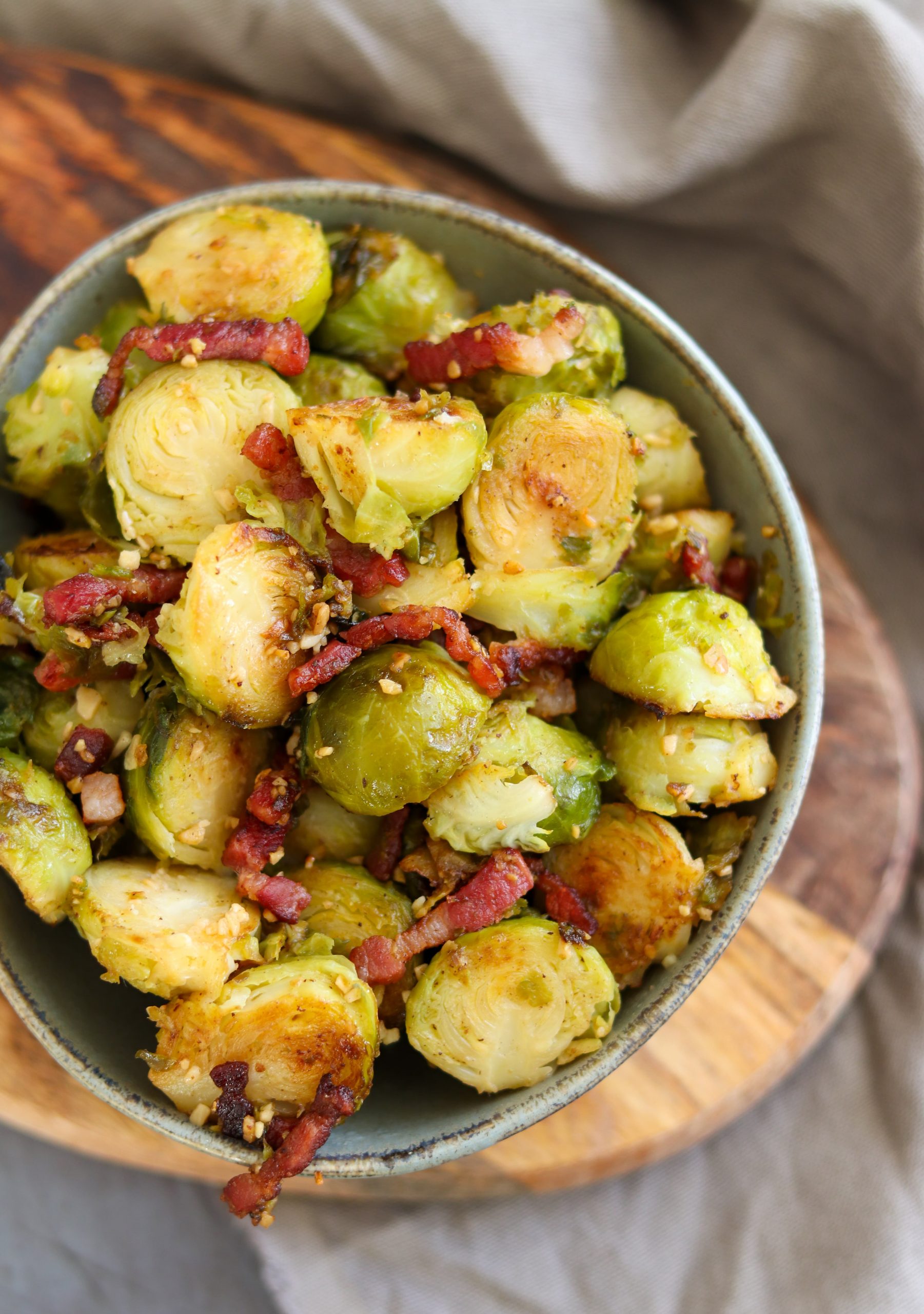 Brussels and bacon are a classic combination
Brussels sprouts and bacon is a well known delicious combination. The two work so well together and the bacon really elevates the sprouts. Also frying the sprouts is a very important step.
Even without the bacon, frying the sprouts makes them so much tastier. I like my bacon to be crisp and also for my brussels sprouts to get crisp and charred too.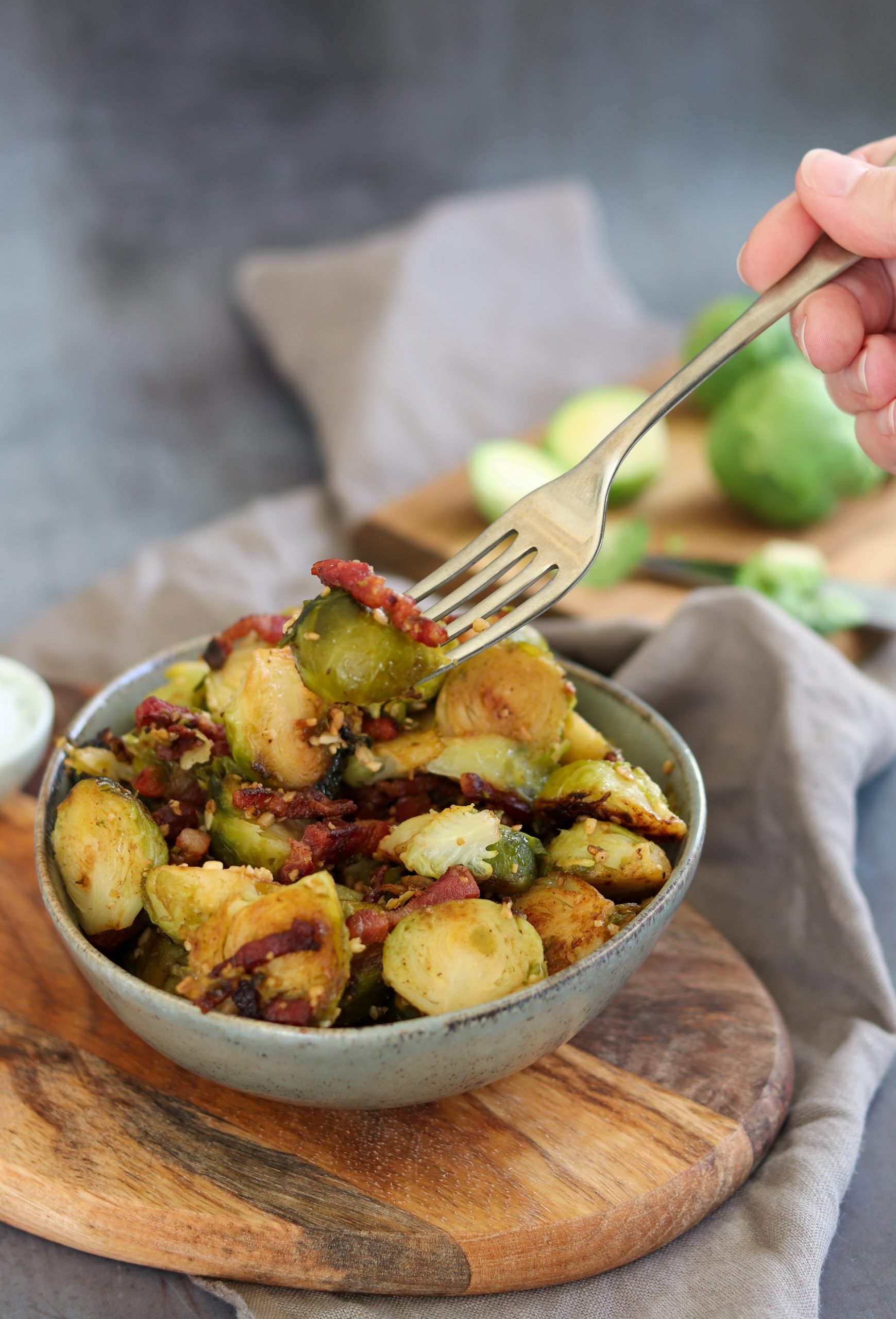 How to prepare brussels sprouts
You can buy brussels as they are, trimmed or on a stalk.
However you buy them, I would cut off the bottom and remove any limp looking leaves.
I have made these as the recipe is below by cutting the sprouts in half and also shredding them. If you want to skip the parboiling stage you can spread the sprouts and cook them straight in the pan with the bacon.
I do prefer to cook them as I have written in the recipe though. They keep their texture more like this which is what I like. You can also get them a little charred which is really nice.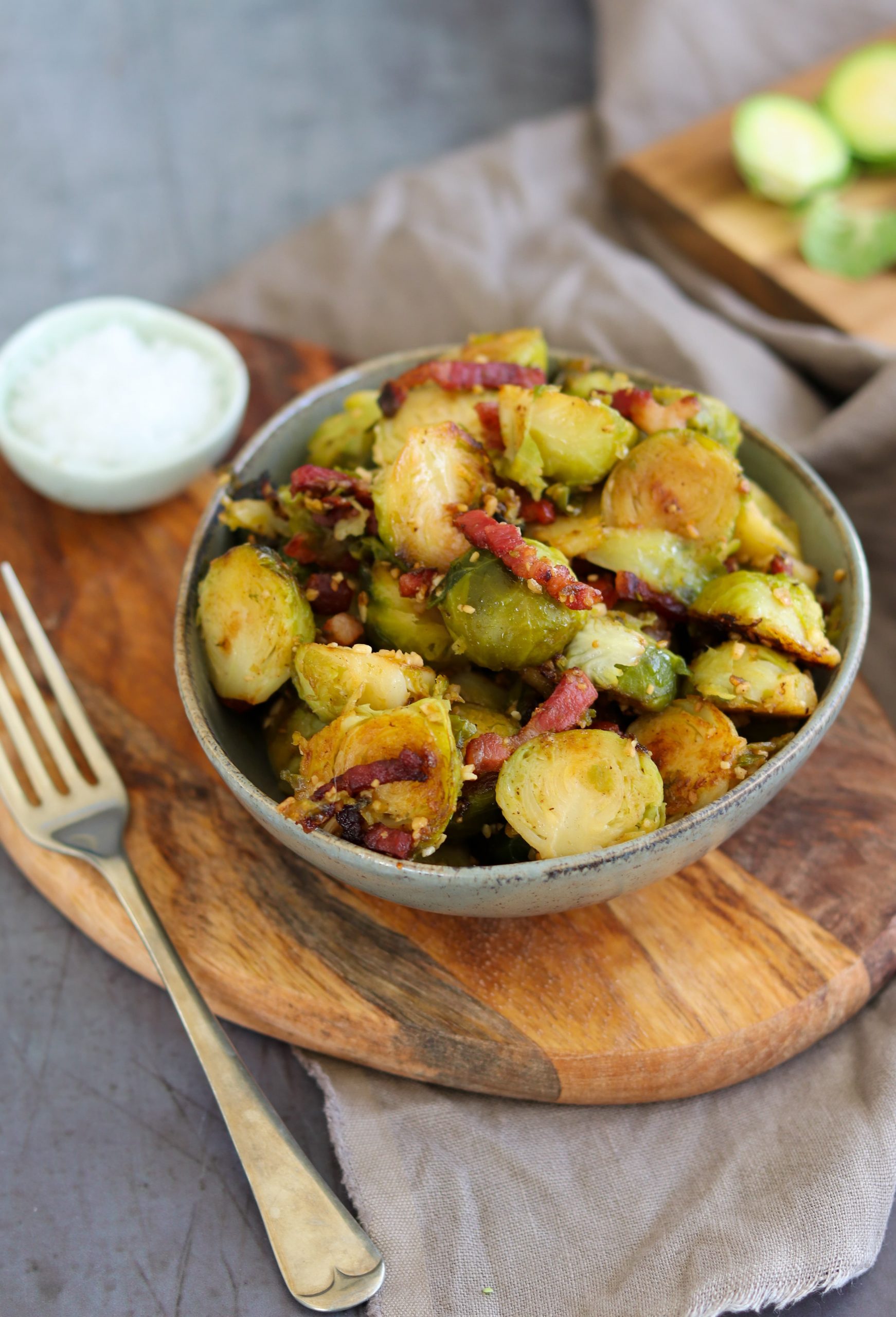 Can you use frozen brussels sprouts?
If you like frozen brussels sprouts you can absolutely use them. Personally I don't think they taste as nice but that is just my opinion.
If you are using frozen sprouts you obviously can't cut them before you parboil them as they are too hard.
Just cut them in half once you have parboiled them and carry on with the rest of the recipe.
Which bacon is recommended to use?
As with all bacon, I recommend using smoked because this is my preference. You can obviously use unsmoked if you would prefer.
I like to use bacon or pancetta lardons because they have already been cut into strips for you.
You could use streaky bacon, back bacon or bacon medallions and slice it into lardons yourself.
If you don't eat pork, you could use turkey bacon instead.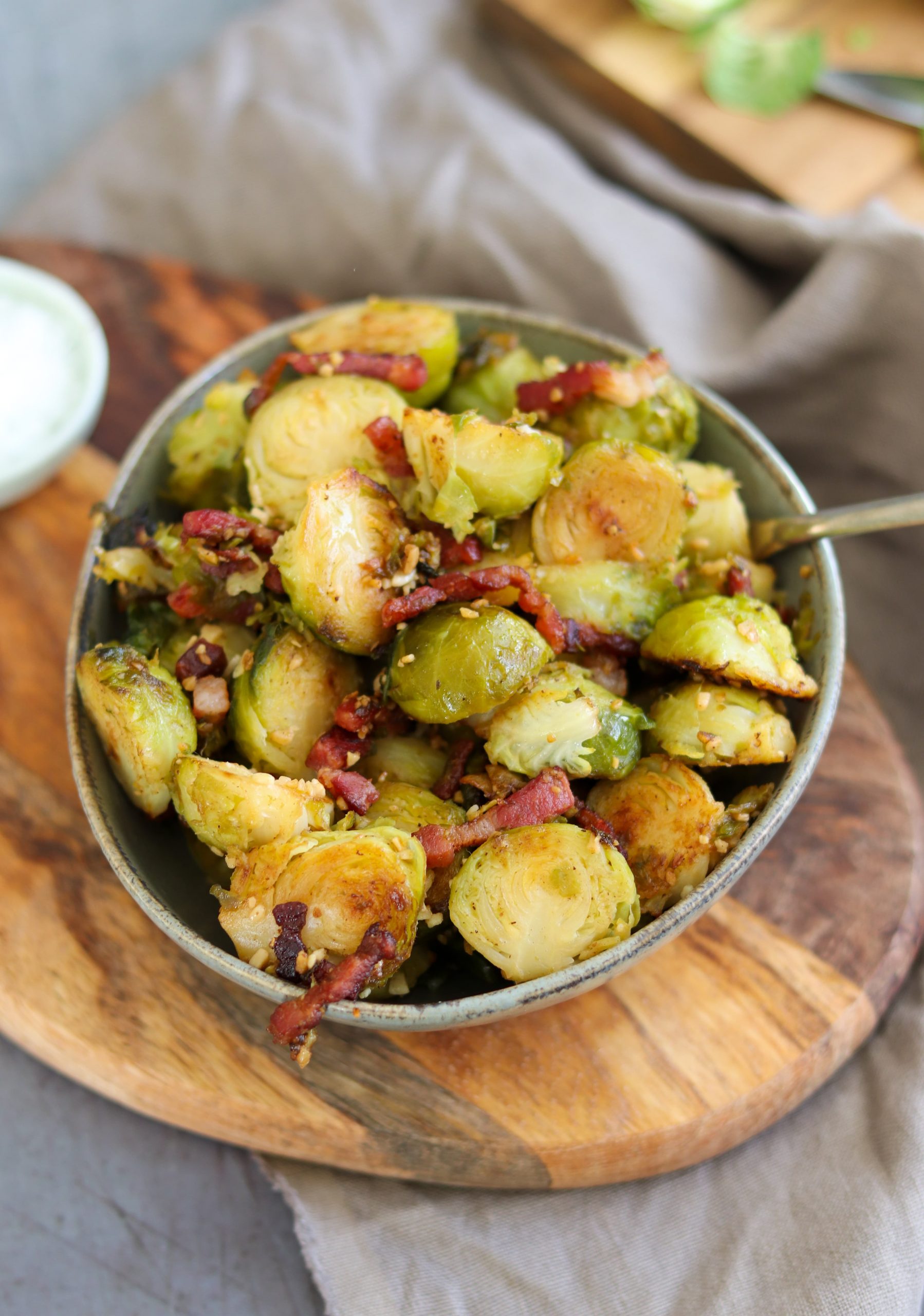 Brussels Sprouts with Bacon & Garlic make great leftovers
I have become so obsessed with these Brussles Sprouts with Bacon & Garlic that I make them weekly. It has also got to the stage that when I go on holiday, I look forward to making them as soon as I get home.
I also often try to make extra so I have leftovers for the next day. However this is rarely successful because Mr Curly loves them as much as I do. This means we usually end up eating them all and there are no leftovers!
If you do manage to keep some for the next day, you can reheat them in the microwave until they are piping hot.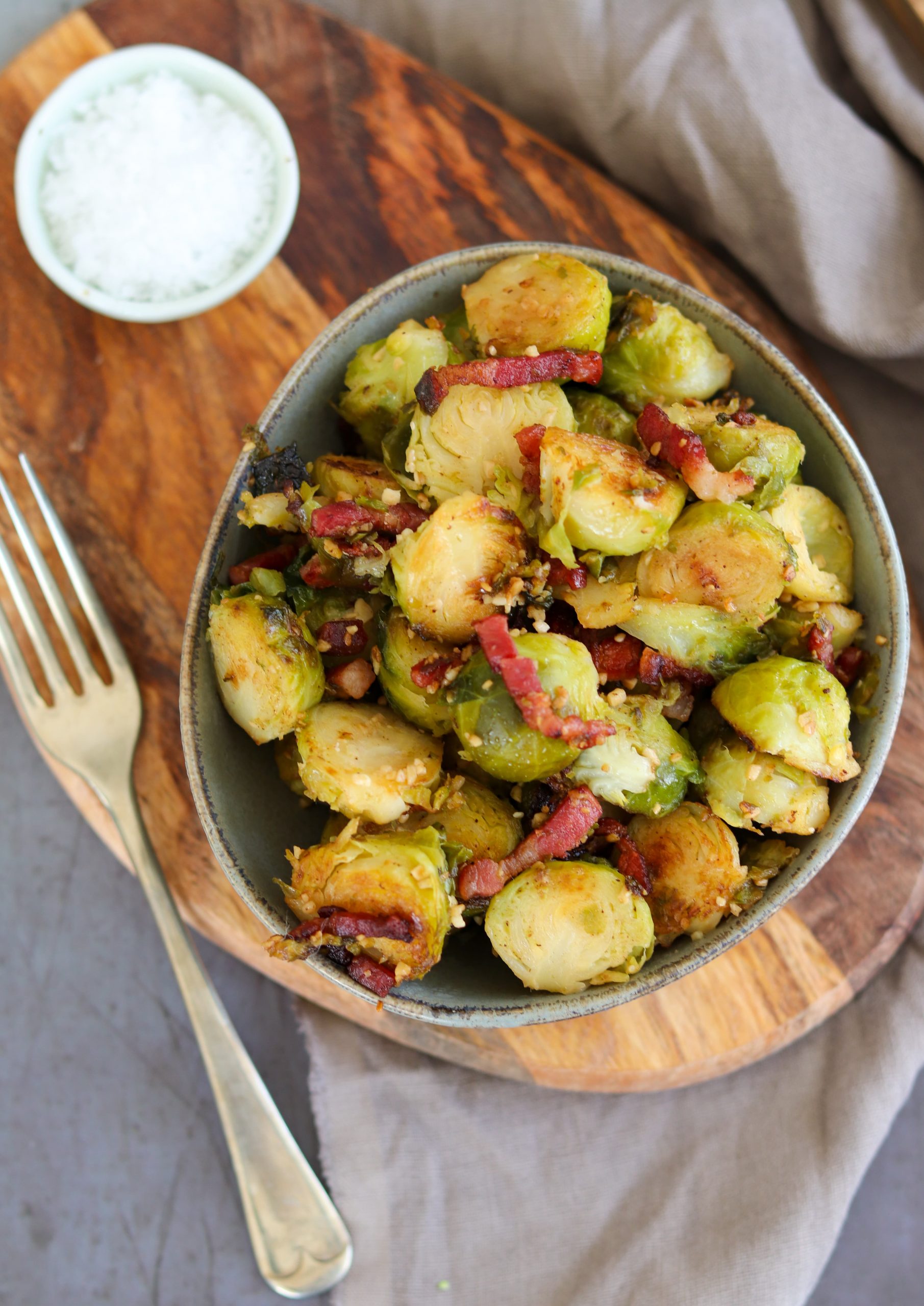 How many people does this recipe serve?
The recipe below can feed four people but I regularly use more brussels sprouts for just the two of us!
I would always recommend using more brussels than you think because they will be so popular!
You can easily add more sprouts without having to add more bacon. The bacon is there to flavour the brussels more than compete with them as a main ingredient.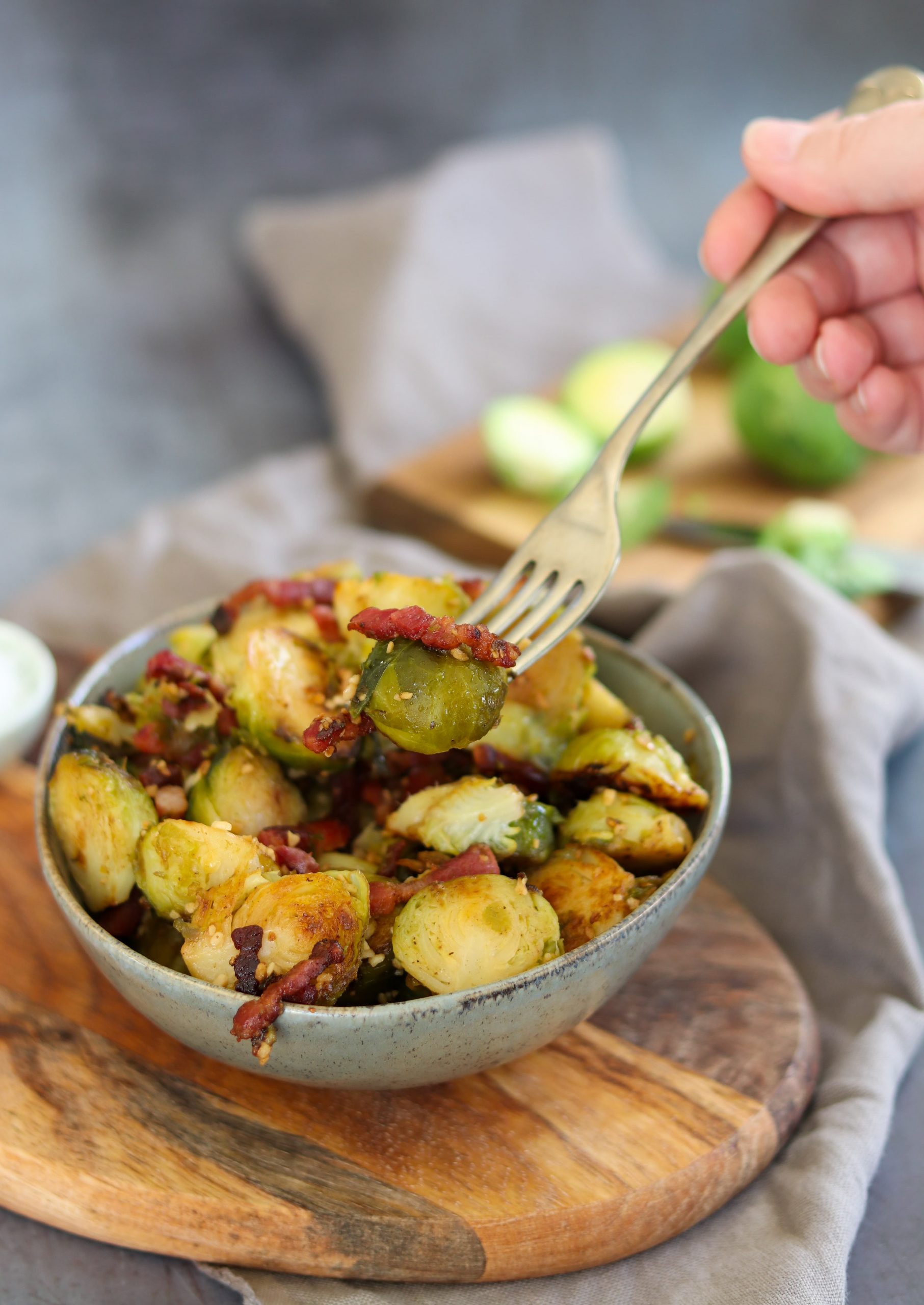 Can you prepare the sprouts in advance?
Yes you definitely can.
The most time consuming part is trimming the sprouts and cutting them in half. You could easily do this the day before. I would choose to keep them in a pan of water so they don't start to dry out.
You could also par boil them the day before and leave them in the fridge overnight. The next day you then just need to add them to the pan with the bacon and heat them through.
You could also cook these brussels sprouts in the air fryer. They're delicious cooked this way and it frees up from on your hob.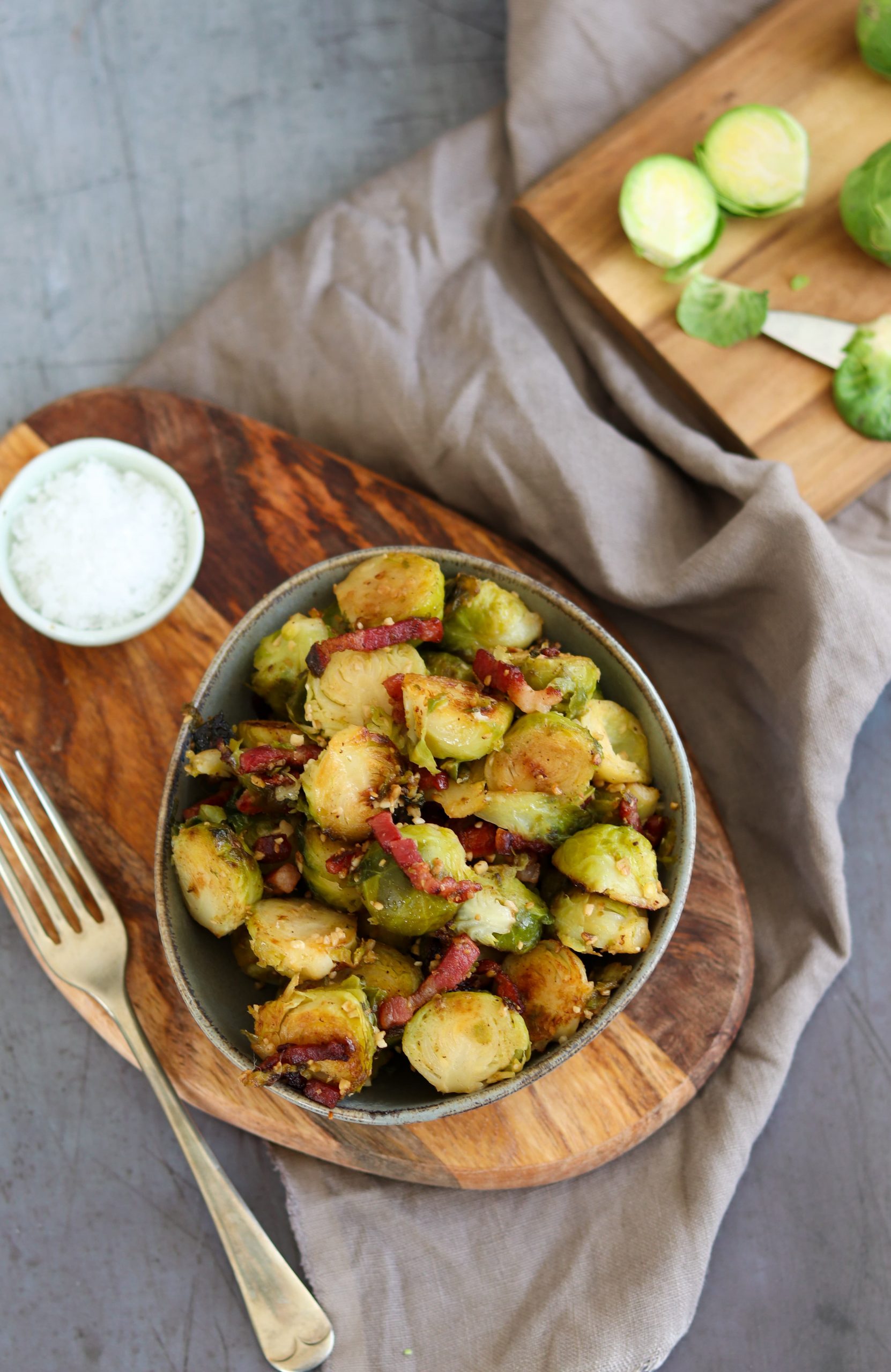 What to eat these Brussels Sprouts with Bacon & Garlic with
These go so well with so many dishes! They are particularly good with some grilled meat. I like to serve them with a pork chop, Roasted Parmesan Tenderstem Broccoli and Potato & Thyme Stacks.
And it goes without saying that these are essential as part of your Christmas Dinner spread! If you're having a roast turkey or chicken then you have to have sprouts. Or is that just a British tradition?
If you are serving them as part of a roast, you might want to use slightly less garlic. I love garlic, but you don't want it to overpower the rest of the roast.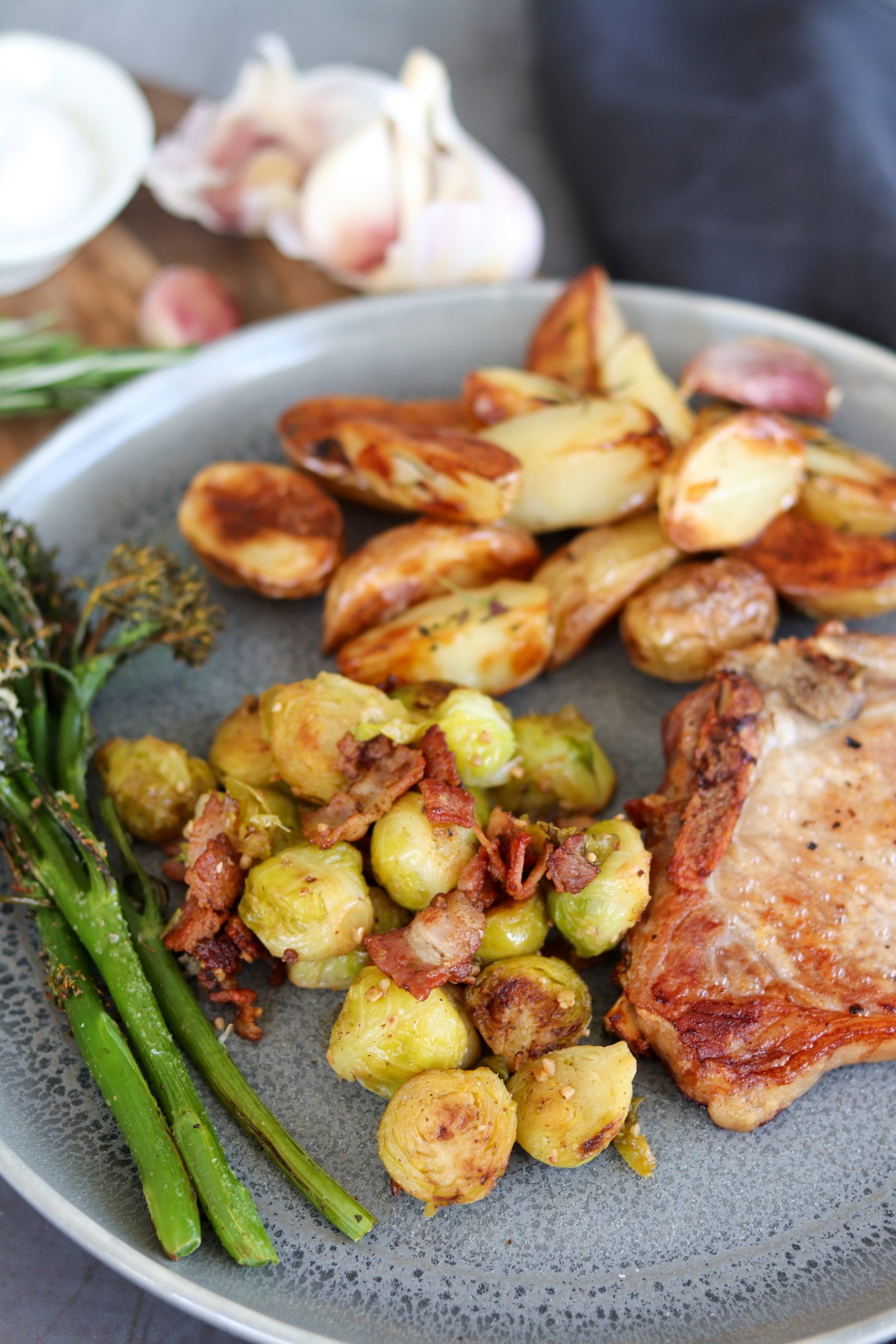 Can these sprouts be made vegetarian and vegan?
To make this recipe suitable for vegetarians and vegans, you just need to swap out the bacon. I do recommend replacing it rather than just leaving it out.
You can use vegetarian/vegan bacon which will add the smoky flavour pork bacon gives.
If you didn't want to use meat replacement products you could chop up some chestnuts instead.
This recipe is naturally gluten free.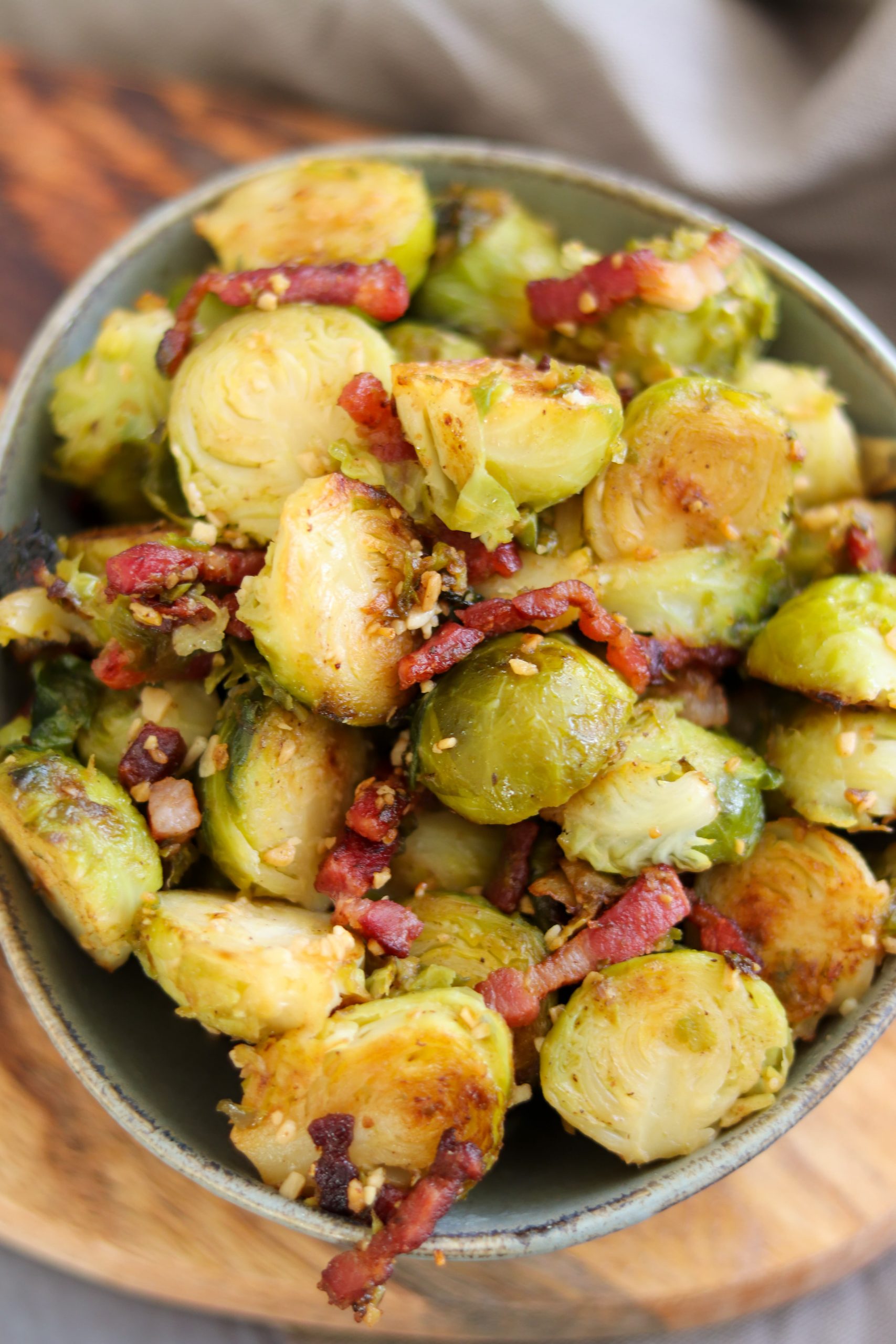 Other recipes you might like
Pin for later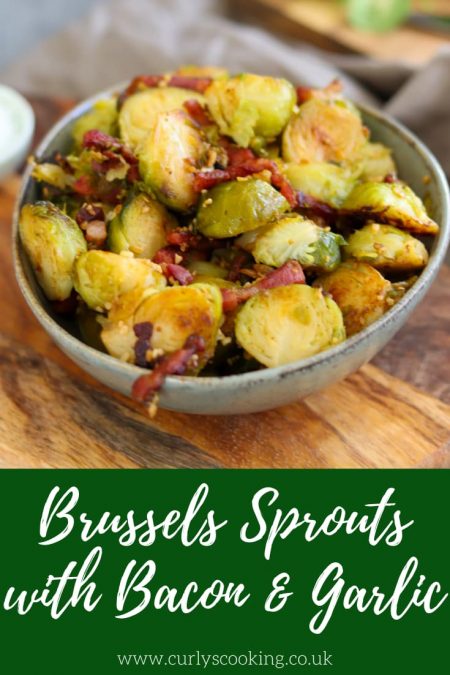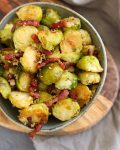 Brussels Sprouts with Bacon & Garlic
Crispy bacon with charred sprouts with a delicious hint of garlic, my Brussels Sprouts with Bacon & Garlic are not a boring side dish.


Ingredients
500

g

brussels sprouts

200

g

bacon lardons

2

cloves

garlic

minced

½

tsp

sea salt

1

tbsp

sunflower oil
Instructions
Trim the sprouts and get rid of any outside leaves that don't look great. Cut each sprout in half and cook in salted boiling water for around 10 minutes so the sprouts are just cooked but not soft. Drain the sprouts and set aside

Cook the bacon in a frying pan on a high heat until crisp

Add the sprouts to the bacon along with the oil and stir occasionally

Once the sprouts have started to get crisp, turn down the heat to medium and add the garlic and allow to cook for a five or so more minutes
Recipe Notes
Nutritional information is given as a guide only and my vary.
Nutrition Facts
Brussels Sprouts with Bacon & Garlic
Amount Per Serving
Calories 149
Calories from Fat 36
% Daily Value*
Fat 4g6%
Sodium 613mg27%
Potassium 486mg14%
Carbohydrates 12g4%
Protein 4g8%
Vitamin A 943IU19%
Vitamin C 107mg130%
Calcium 55mg6%
Iron 2mg11%
* Percent Daily Values are based on a 2000 calorie diet.