These Quick Sausage Rolls are as the name suggests; quick. They're so quick and easy that you could have a freshly baked sausage roll ready in no time!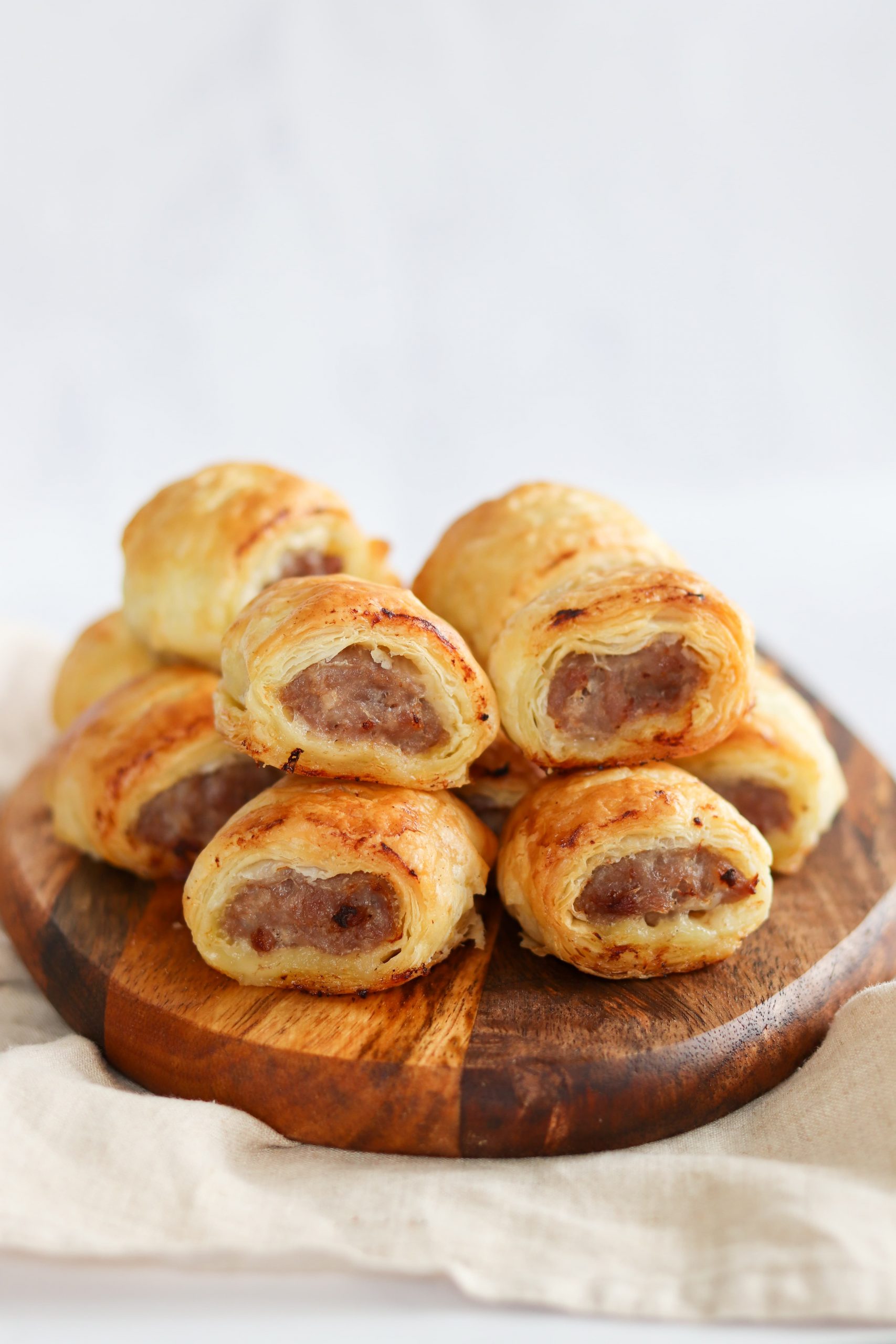 Who doesn't love a sausage roll?
There are few things tastier than a freshly baked sausage roll. The fantastic thing about them is you can make them very quickly and easily.
Sausage Rolls can have all sorts of fancy flavour combinations. But the classic is a good quality pork sausage wrapped in deliciously flaky puff pastry. Freshly baked they are irresistible.
Making Quick Sausage Rolls
If you were to make sausage rolls from scratch, they would be anything but quick. Most people don't have the time to season sausage meat themselves let alone make their own puff pastry!
My aim was to make my Quick Sausage Rolls as easy and fast as possible because you should still be able to eat tasty food even if you don't have a lot of time.
You can cook these sausage rolls even quicker if you use an air fryer.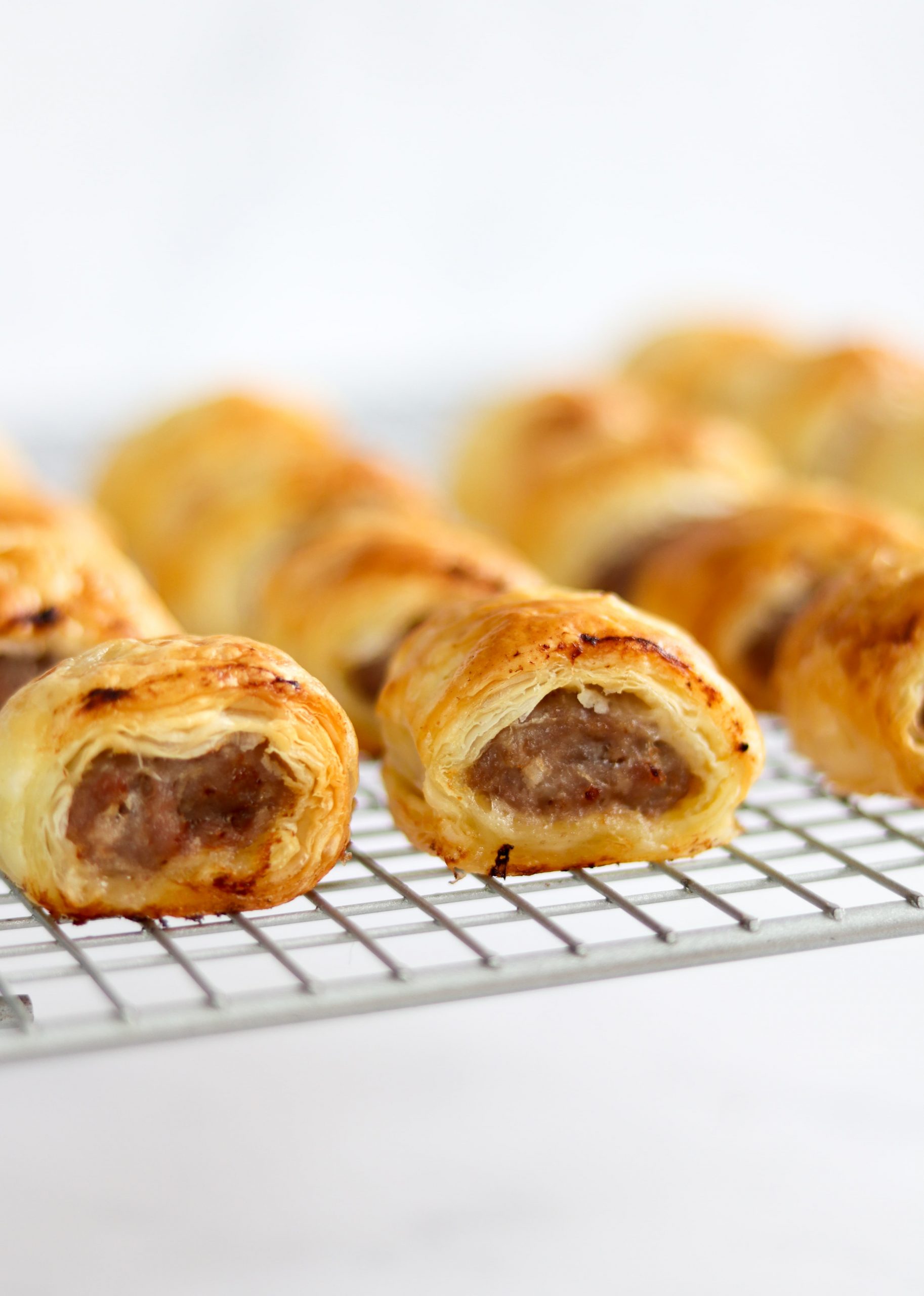 Is it cheating to use shop bought puff pastry?
Absolutely not! Puff pastry is something I have heard a lot of chefs admitting they buy. There are some ingredients which aren't always necessary to make and puff pastry is one of them in my opinion.
Shop bought puff pastry is so quick and convenient. Far easier than making your own pastry from scratch.
It also means you can make a batch of these Quick Sausage Rolls in minimal time. Perfect for an impromptu picnic or party over the Christmas period.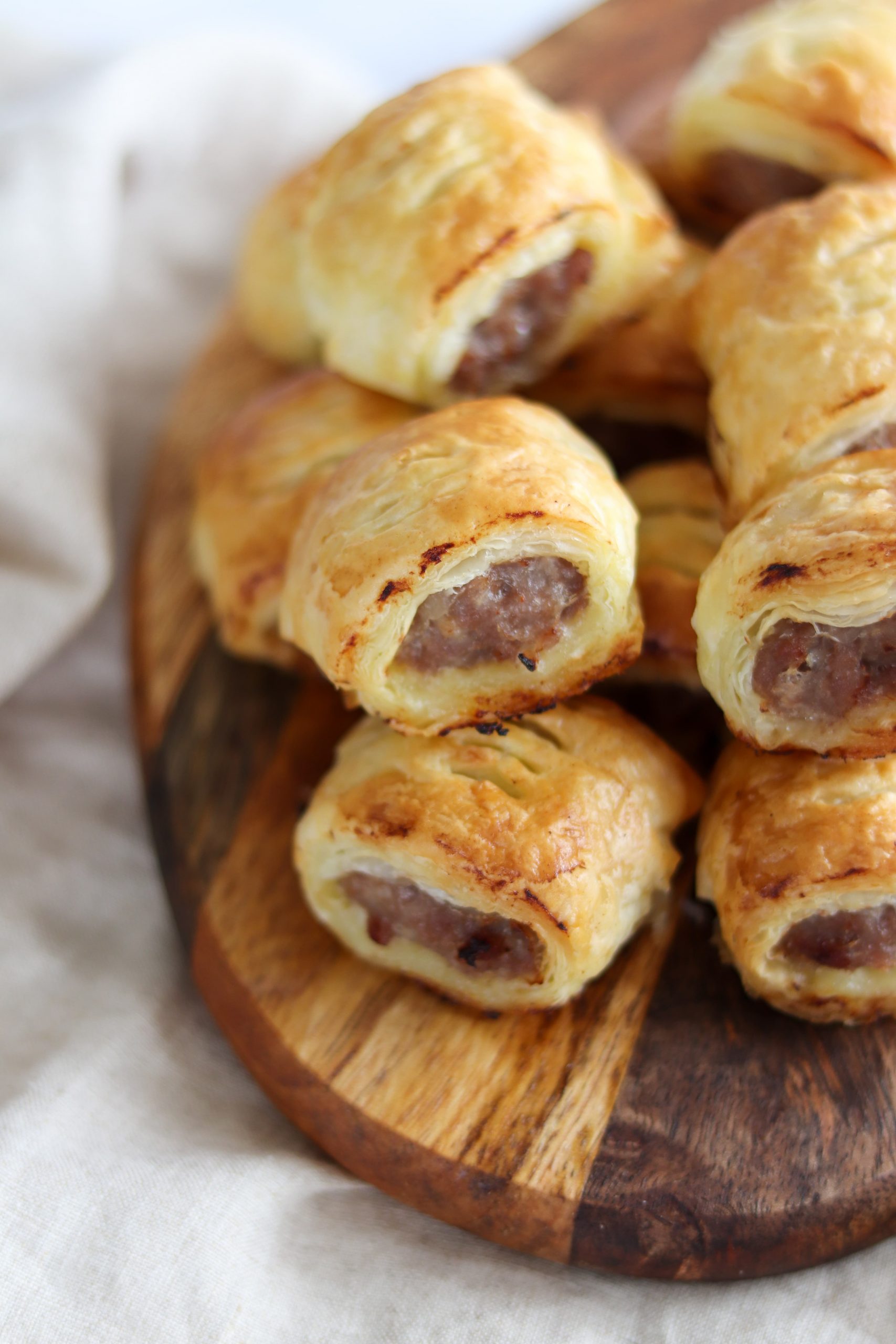 Why not use ready rolled pastry?
With this recipe I go a step further than just buying the pastry, I buy ready rolled puff pastry. Yes this may seem a little lazy, but it is also a time saver which is what this recipe is all about.
It is also good for me because for some reason I haven't mastered the art of rolling pastry into a rectangle yet!
Can you use light puff pastry?
Yes you can use light puff pastry. I have used light puff pastry many times to make these Quick Sausage Rolls.
However it is definitely worth mentioning that light puff pastry is a little trickier to work with. As it has a lower fat content, it is a bit softer.
As it is a bit softer and flexible, I would recommend working as fast as you can.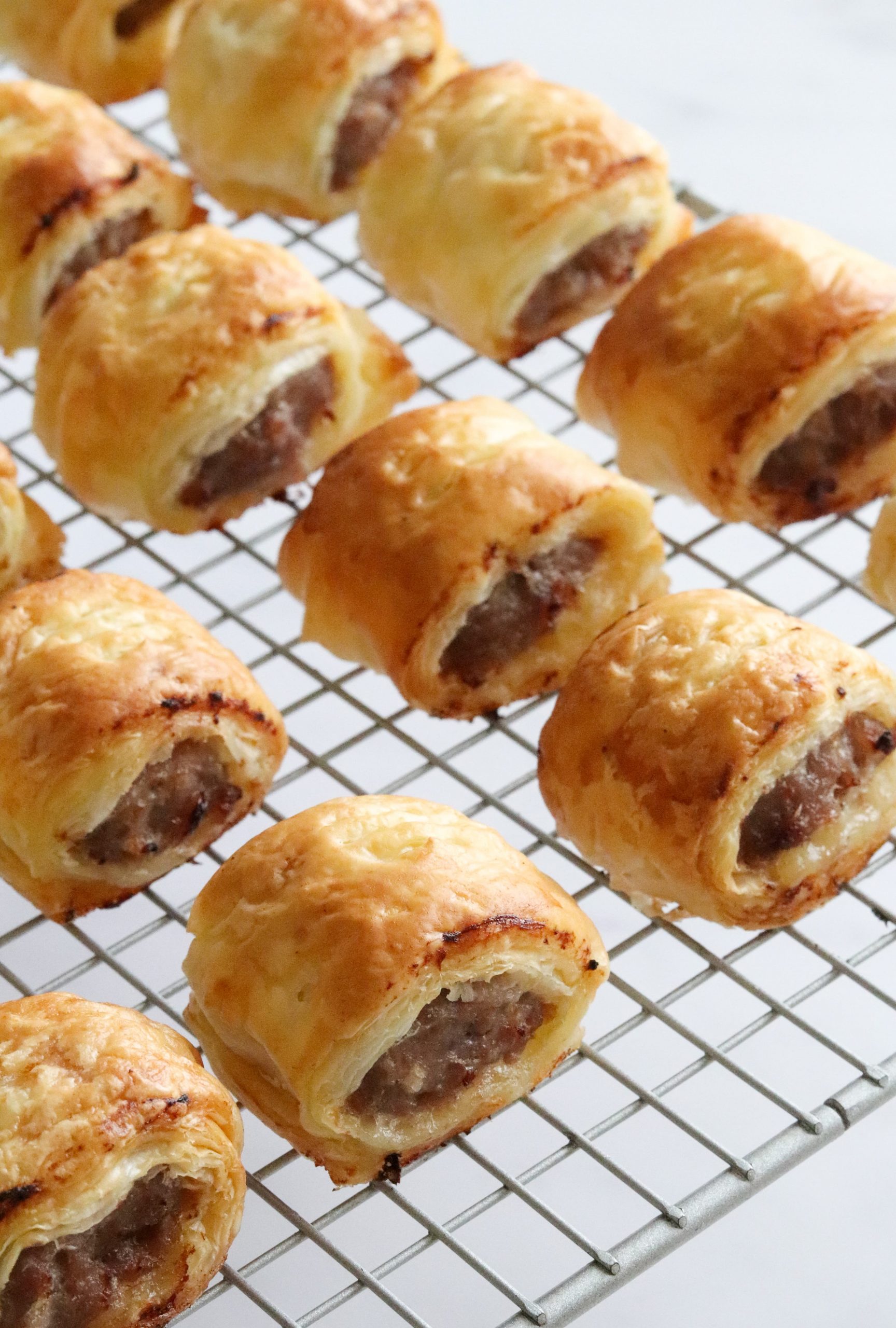 Using sausages to make these sausage rolls even quicker to make
Another shortcut to make these Quick Sausage Rolls is to use sausages and remove the casings from them. This has the advantage of the sausage meat being already seasoned and in the right shape for the sausage rolls.
You then don't have to worry about shaping the sausage meat as it has already been done for you. You just need to stretch them slightly so they fill the length of the pastry.
Sausages also tend to have a higher quantity of pork than sausage meat which means there has been less extra ingredients added. This makes for even tastier sausage rolls!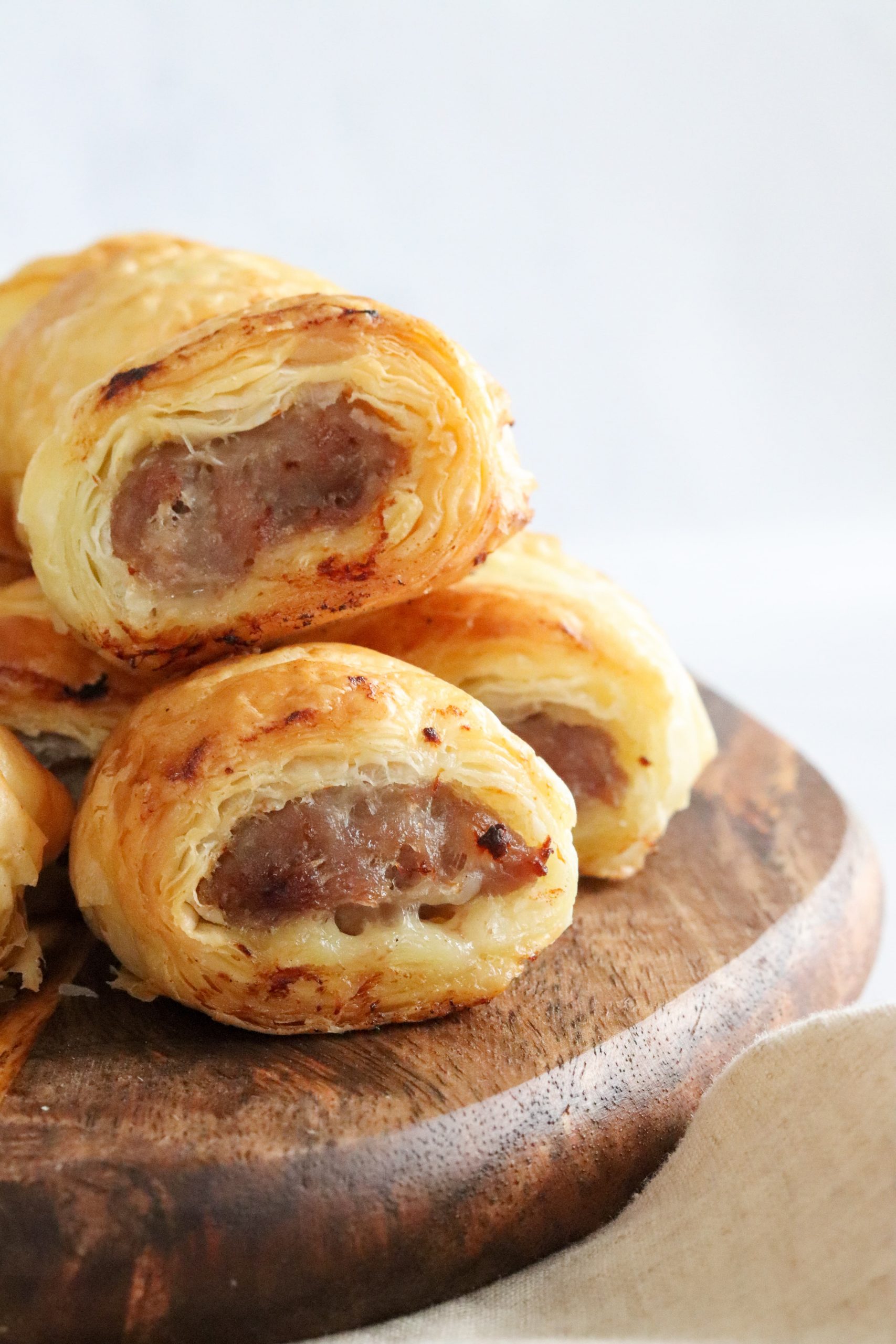 Which sausages are recommended to use?
These Quick Sausage Rolls rely on the flavour from the sausages to make these extra tasty.
Therefore I recommend using a high quality pork sausage with a high pork content. You will be able to taste the difference in the finished sausage roll!
I tend to use plain pork sausages, but if you wanted to use something with a little more flavour you could. A Cumberland or Lincolnshire sausage would also work really well.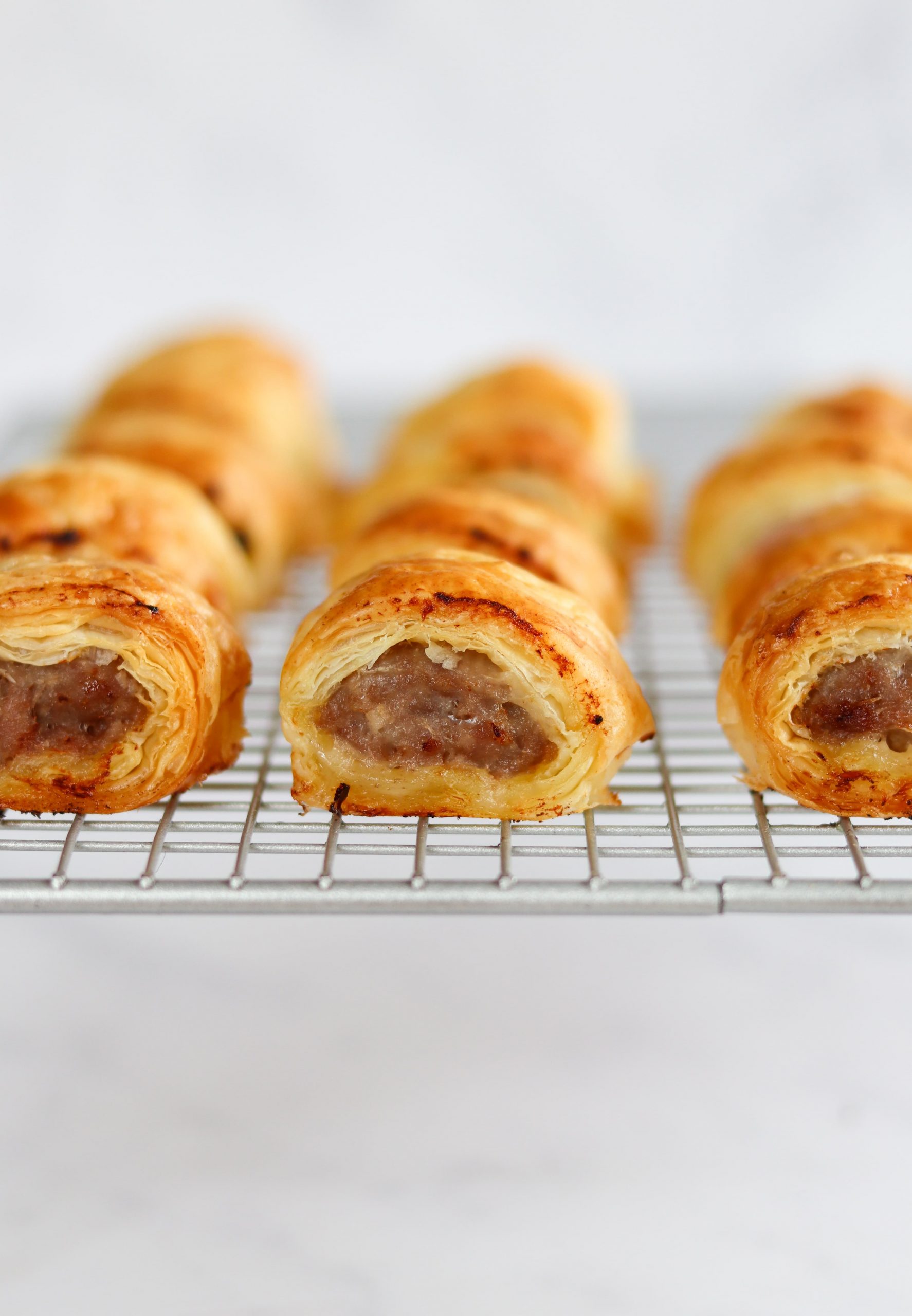 How many sausage rolls does this recipe make?
It can make as many or as few as you would like.
If you are making these to eat as part of a main meal, you would probably want to cut them a lot larger. I would recommend cutting each line into three so you would have six in total.
I like to make these Quick Sausage Rolls for picnics and parties. Because of this I like to make them smaller so they are more a couple of bites sized.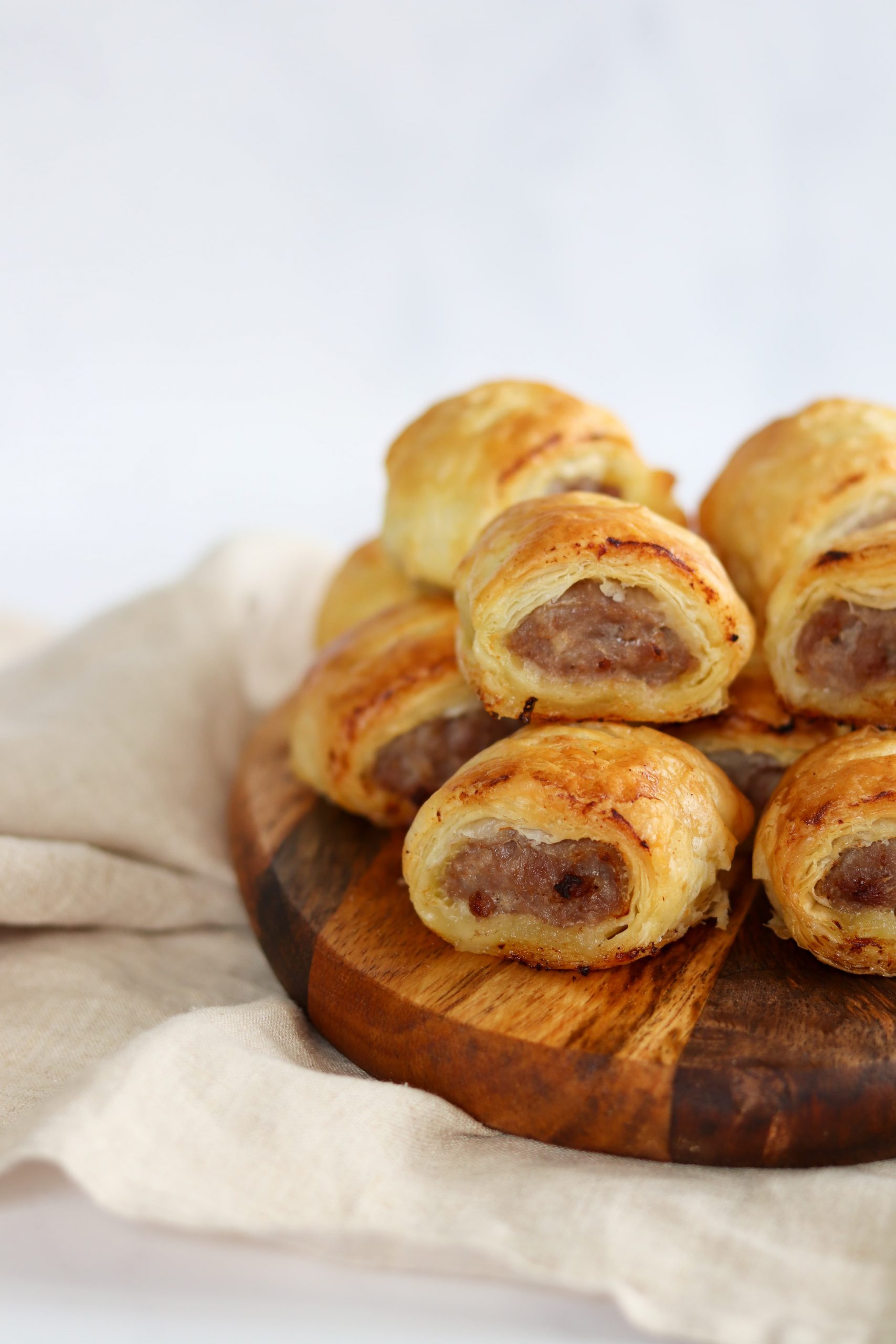 Can you freeze these Quick Sausage Rolls?
Yes, this is a great way to make them in advance.
Follow the steps below but don't brush them with the milk. At this stage, place them on a baking tray and put them in the freezer.
Once they have frozen, you can then transfer them to a container until you want to bake them.
Then when you want to cook them, take them straight from the freezer onto a tray. Then brush them with milk as per the original recipe. Then when it comes to cooking, bake them for 30 minutes.
Make these sausage rolls gluten free
Sausage rolls are really easy to make gluten free.
You can readily buy gluten free puff pastry in most supermarkets. A lot of sausages are already gluten free, but make sure you check the ingredients to make sure.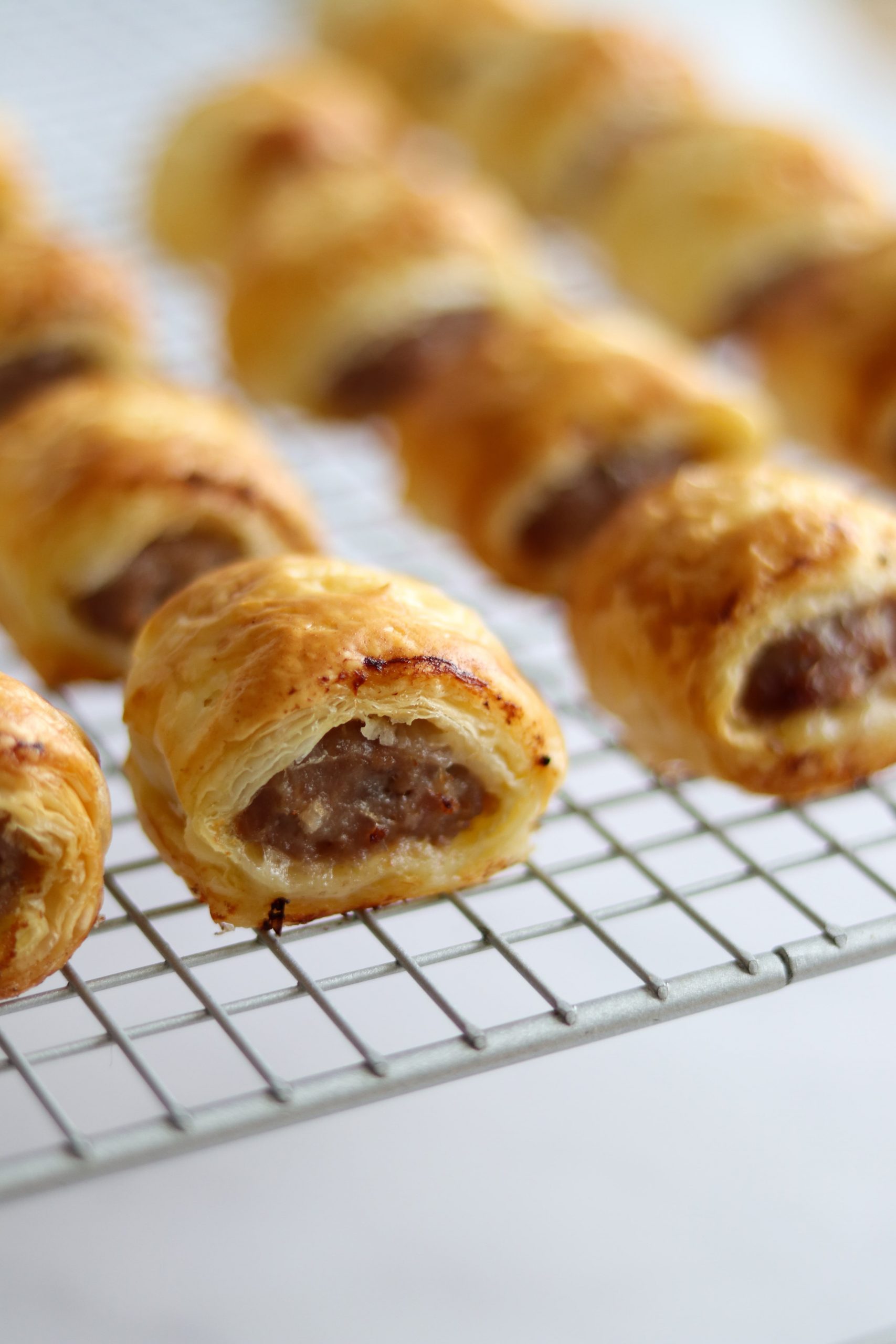 How long will these sausage rolls keep for?
You can cook these sausage rolls in advance and keep them in an airtight container for 3-4 days.
If you would like them to be warm, you can reheat them for 5-10 minutes in the oven set to 180ºC. I wouldn't recommend reheating them in the microwave as this will make the pastry become a bit soft.
Can I add different flavours to these sausage rolls?
Of course! These Quick Sausage Rolls are perfect for adding more flavours too.
My Mustard & Sage Sausage Rolls and Pork & Apple Sausage Rolls are a great example of adding a few delicious ingredients to emphasise the flavours.
If you are looking for something a bit different, my Turkey & Cranberry Sausage Rolls. They are perfect for Christmas!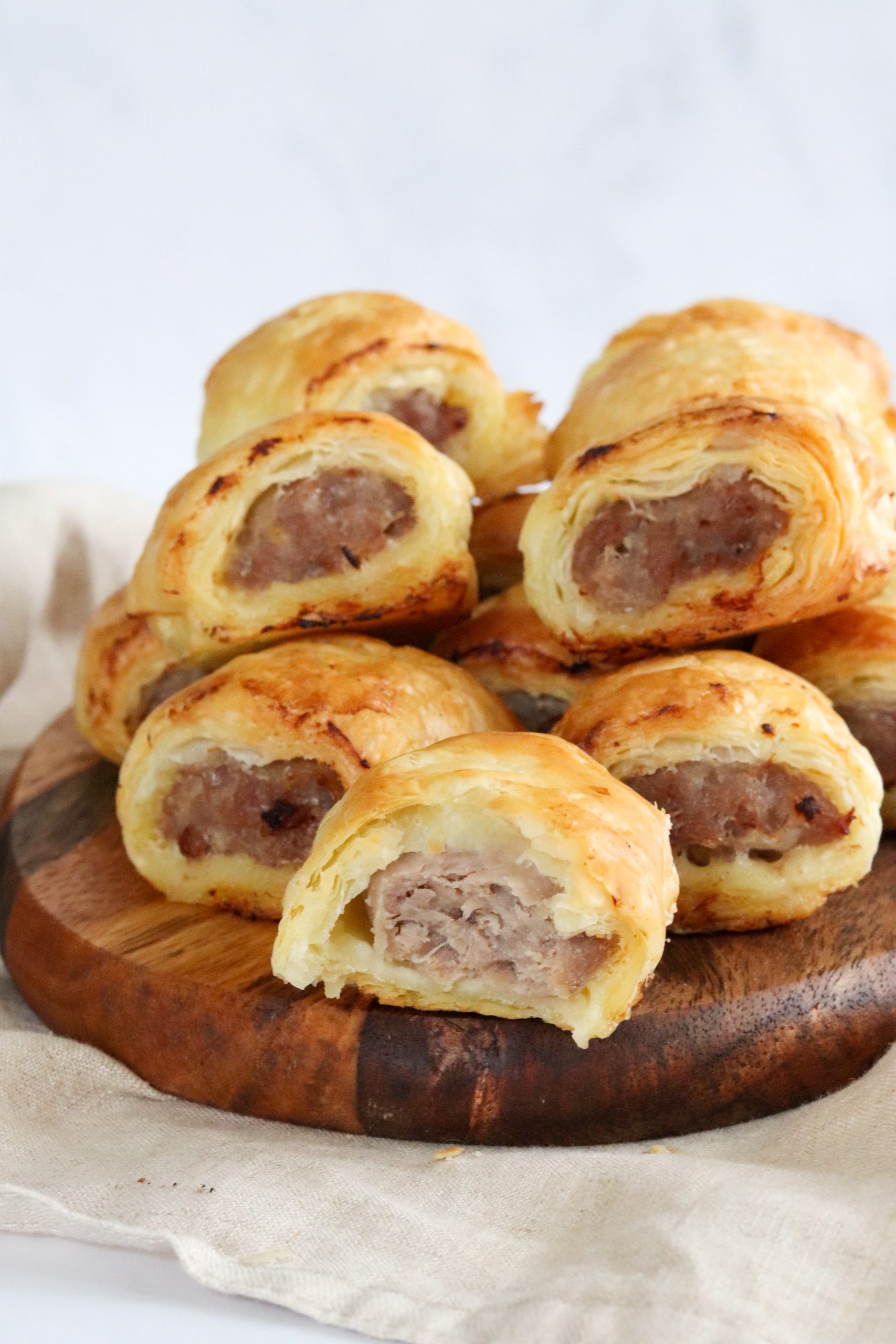 Other recipes you might like
Pin for later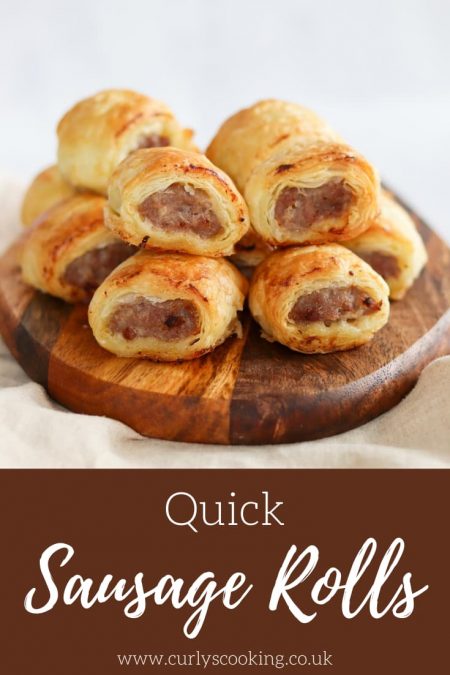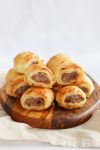 Quick Sausage Rolls
These Quick Sausage Rolls are as the name suggests; quick. They're so quick and easy that you could have a freshly baked sausage roll ready in no time!
Ingredients
400

g

sausages

(6 sausages)

375

g

ready rolled puff pastry

2

tbsp

milk

spray oil
Instructions
Preheat the oven to 190°C (fan assisted, 210°C non fan) and line a baking tray or spray with oil

Cut the pastry in half lengthways so you have two long thin strips

Remove the casings and line three sausages along the centre of each strip of pastry. Squeeze them slightly so they fill the length of the pastry

Brush one of the long edges of pastry with milk and roll the long side of pastry closest to you tightly under the sausage and then keep rolling so the sealed edge is on the bottom

Cut the sausage rolls into lengths as big or small as you like and put them on the baking tray

Brush the sausage rolls with some milk and make a few cuts with scissors across the top

Put them in the oven for 20 minutes until golden brown
Recipe Notes
Keep in an airtight container in the fridge for up to 3 days.
Nutritional information is given as a guide only and can vary.
Nutrition Facts
Quick Sausage Rolls
Amount Per Serving
Calories 148
Calories from Fat 45
% Daily Value*
Fat 5g8%
Cholesterol 15mg5%
Sodium 128mg6%
Potassium 52mg1%
Carbohydrates 1g0%
Protein 3g6%
Vitamin A 15IU0%
Vitamin C 1mg1%
Calcium 3mg0%
Iron 1mg6%
* Percent Daily Values are based on a 2000 calorie diet.
Liking to