Not only is this Apple Traybake with Yogurt Sponge absolutely delicious, it's pretty too! With an incredibly moist sponge topped with beautiful layers of apple, this has quickly become one of my favourite cakes.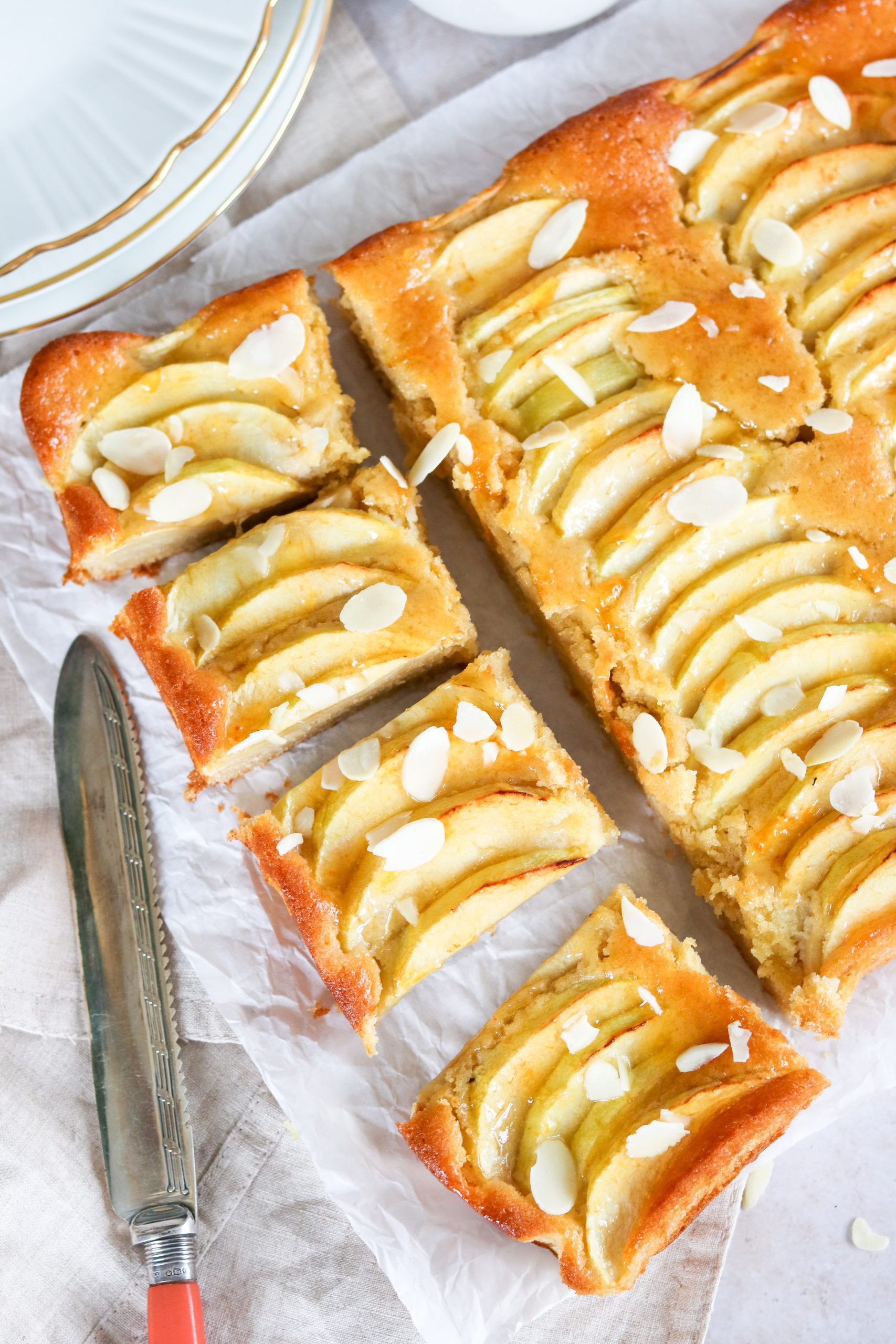 what makes this apple traybake special
I had the most amazing apple cake when I was in Scotland last year and knew I had to recreate it. When I came home I started doing some research and couldn't easily find anything similar to what I had eaten.
There are lots of apple cakes out there, but a lot of them include spices such as cinnamon or nutmeg. Renditions of the Dorset Apple Cake also seem to be very common.
But this Apple Traybake with Yogurt Sponge is different! The deliciously moist sponge is topped with neatly arranged sliced apples. The apricot jam glaze finishes off this cake perfectly. The flavours are simple but work so well together to make the most delicious cake.
I cannot recommend this cake enough. Throughout the development of this recipe, it has become a firm favourite with my family.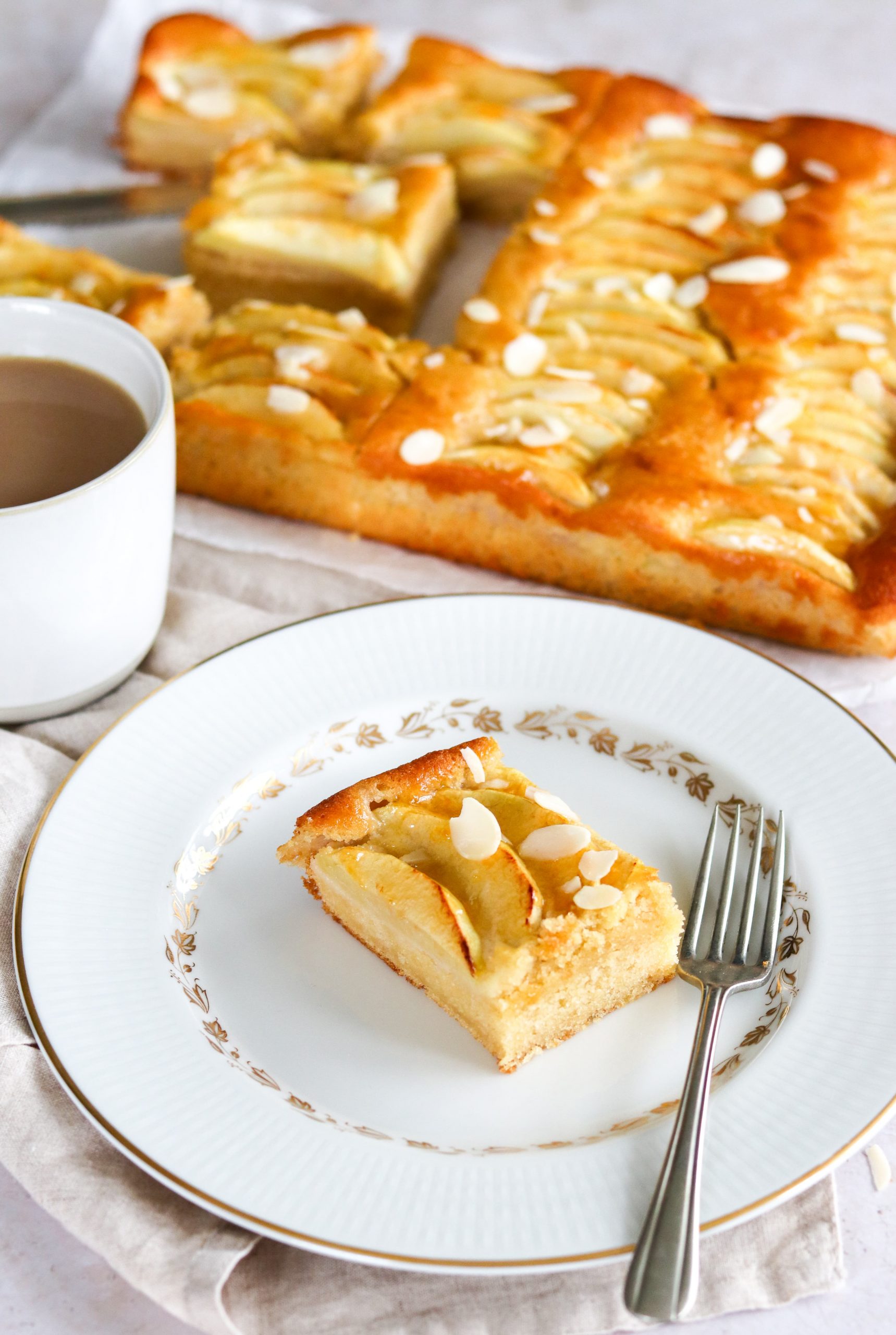 which apples are best to use?
I have made this cake with both cooking and eating apples and both work brilliantly.
I tend to use Bramley apples (cooking apples) because they are larger and you can get nicer slices from them. Their slightly tart taste also works well with the sweetness of the cake and the glaze.
Granny Smith, Gala or Fuji apples would all work too as they hold their shape.
I wouldn't recommend using windfall apples (early season apples that fall from the trees); because you are likely to have to cut off imperfections which wouldn't leave you with nice slices.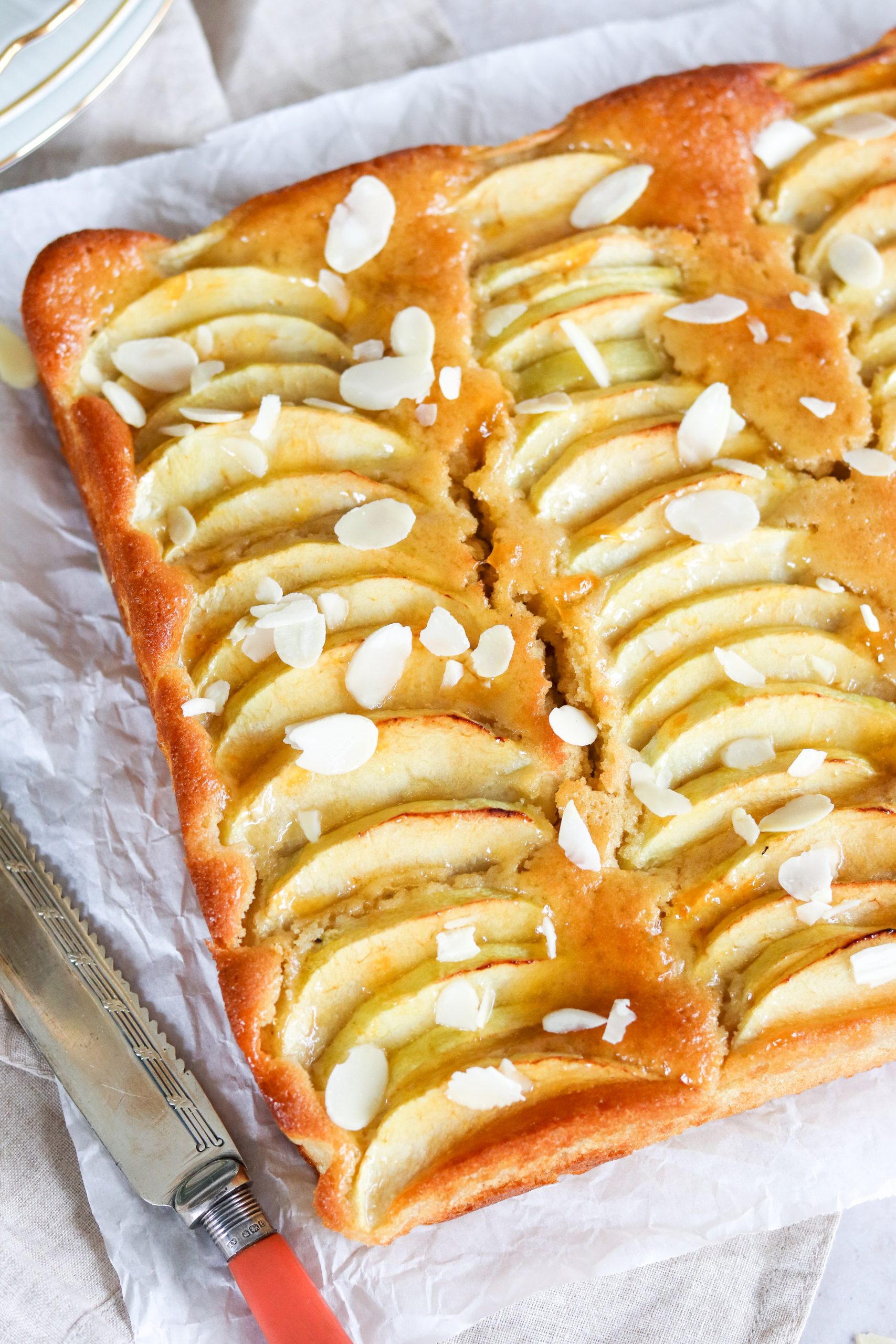 why use yogurt in cakes?
I love adding yogurt to cakes. Cakes with yogurt are slightly more dense than really fluffy cakes like Vanilla Cupcakes. Although cakes with yogurt might not be as fluffy, they are really moist and delicious.
I think the yogurt cake works as a great base to the apples because they don't sink too much into the cake and it supports them during baking.
You can use whichever plain yogurt you like. I have used both natural yogurt and Greek yogurt as well as fat free versions of both. They all work really well and I haven't been able to notice any differences.
Check out my Raspberry & Vanilla Swirl Sheet Cake and Blackberry Crumble Loaf Cake for other tasty cakes using yogurt.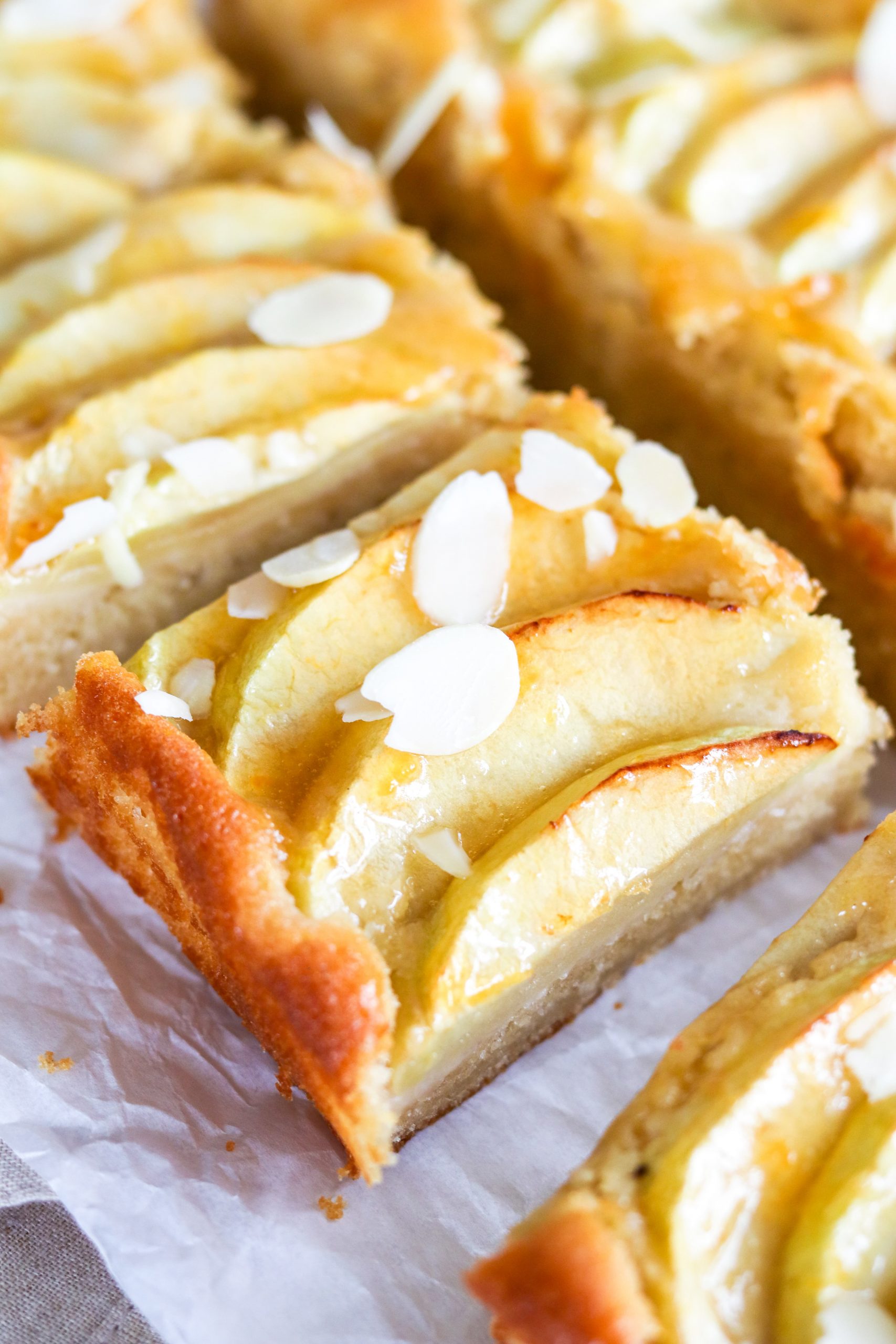 how to prepare the apples
You will need to start off with 850g of apples. These need need to be peeled and cored and you should end up with approximately 500g of useable apple.
If you haven't already, cut each apple in half. Each half then needs to be cut into even slices around 3-4mm in thickness.
You want them to be thick enough so they hold their shape, but you don't want them to be too thick so they don't cook through, or prevent the cake from baking underneath.
I just use a good sharp knife to cut the apples into slices, but you can also use a mandolin. Adjust it so you have the right thickness and then always be careful with your fingers!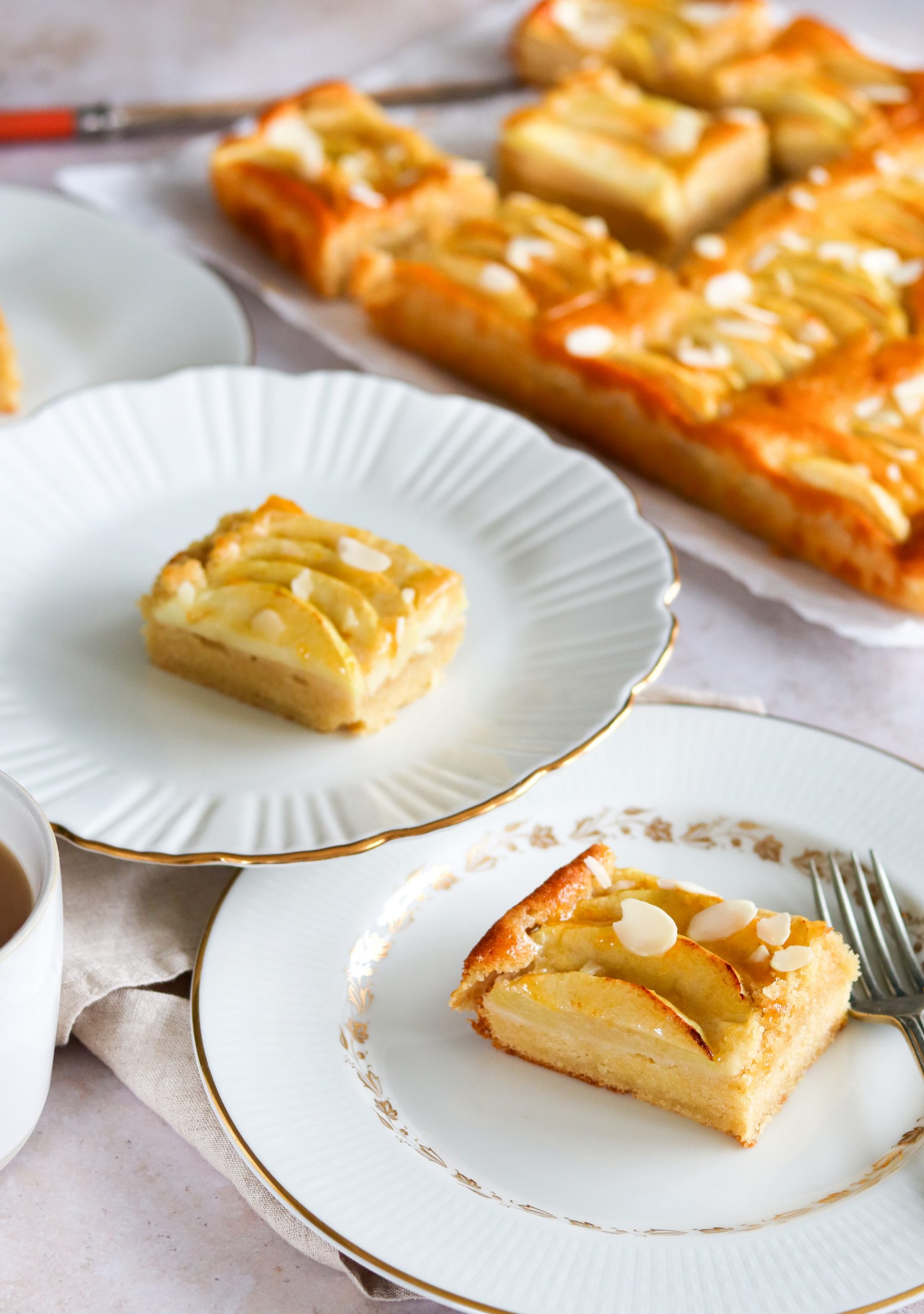 is the glaze essential?
Don't skip the glaze! It really adds the finishing touch to this apple cake. And it's super simple so there are no reasons to leave it off.
To make the glaze, all you need to do is heat apricot jam together with some water. It doesn't matter whether the apricot jam you use is smooth or has chunks. You can just avoid any chunks of apricot jam when you brush it over the finished cake.
You can of course make your own Apricot Jam, but I must admit I do tend to just buy a good quality jam from the shop.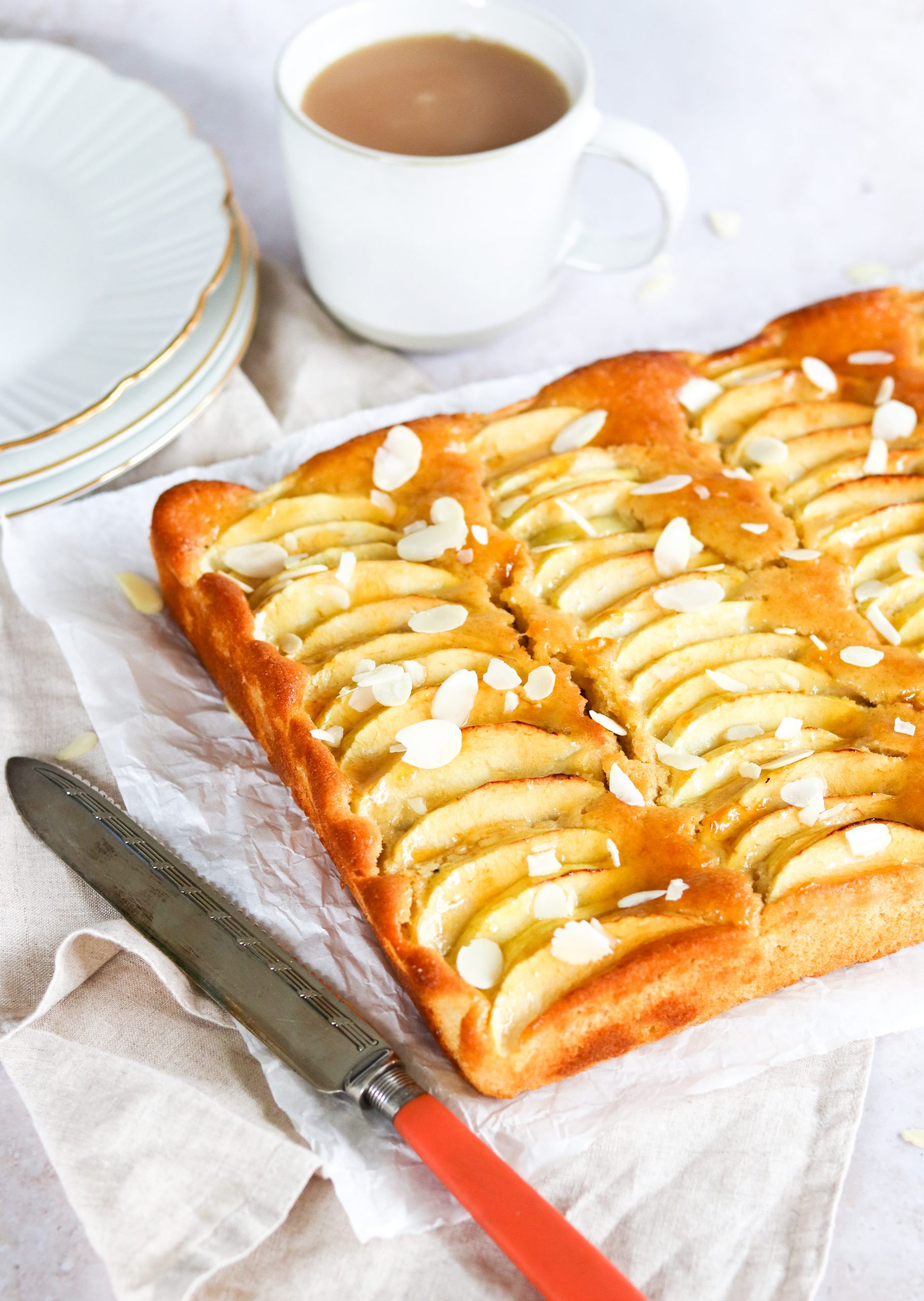 an apple bake with no cinnamon
It is well known that apples and cinnamon are a fantastic combination. Personally I love the flavours together, but that doesn't mean cinnamon is the only flavour I want to pair with apples.
It is sometimes tricky to find an apple recipe that doesn't include cinnamon. This is annoying if you don't like cinnamon or just prefer to try different flavours.
In this cake, I use vanilla as a complimentary flavour to the apple. It works really well and is a breath of fresh air from all of the cinnamon and apple bakes.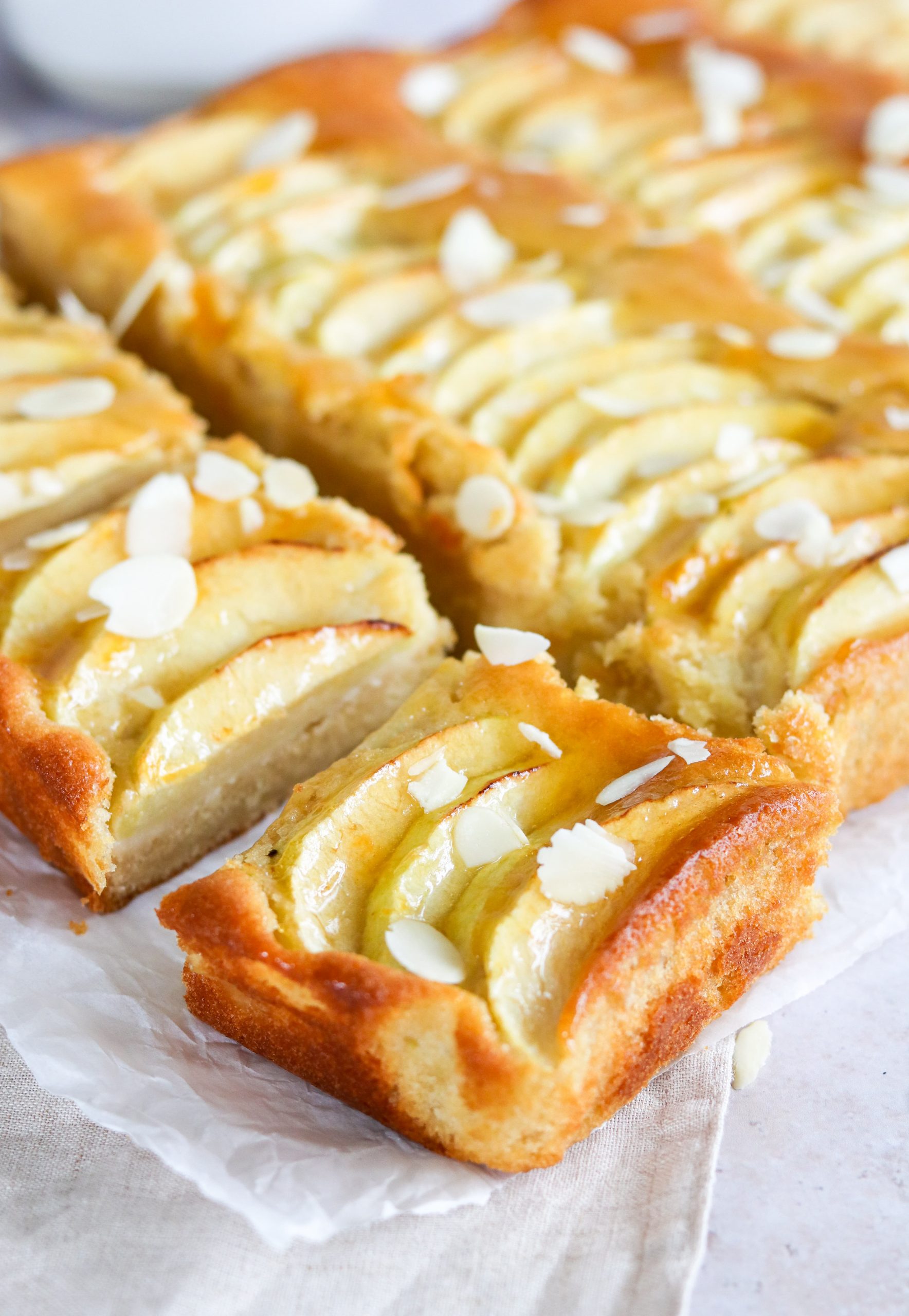 turn this traybake into a dessert
This Apple Traybake is perfect to enjoy at any time of day. I have been known to eat this for breakfast, but it is great as an afternoon snack with a cup of tea or coffee.
But it is also great turned into a dessert. I think it would be really good if it was slightly warmed through and then served with cream, custard or ice cream.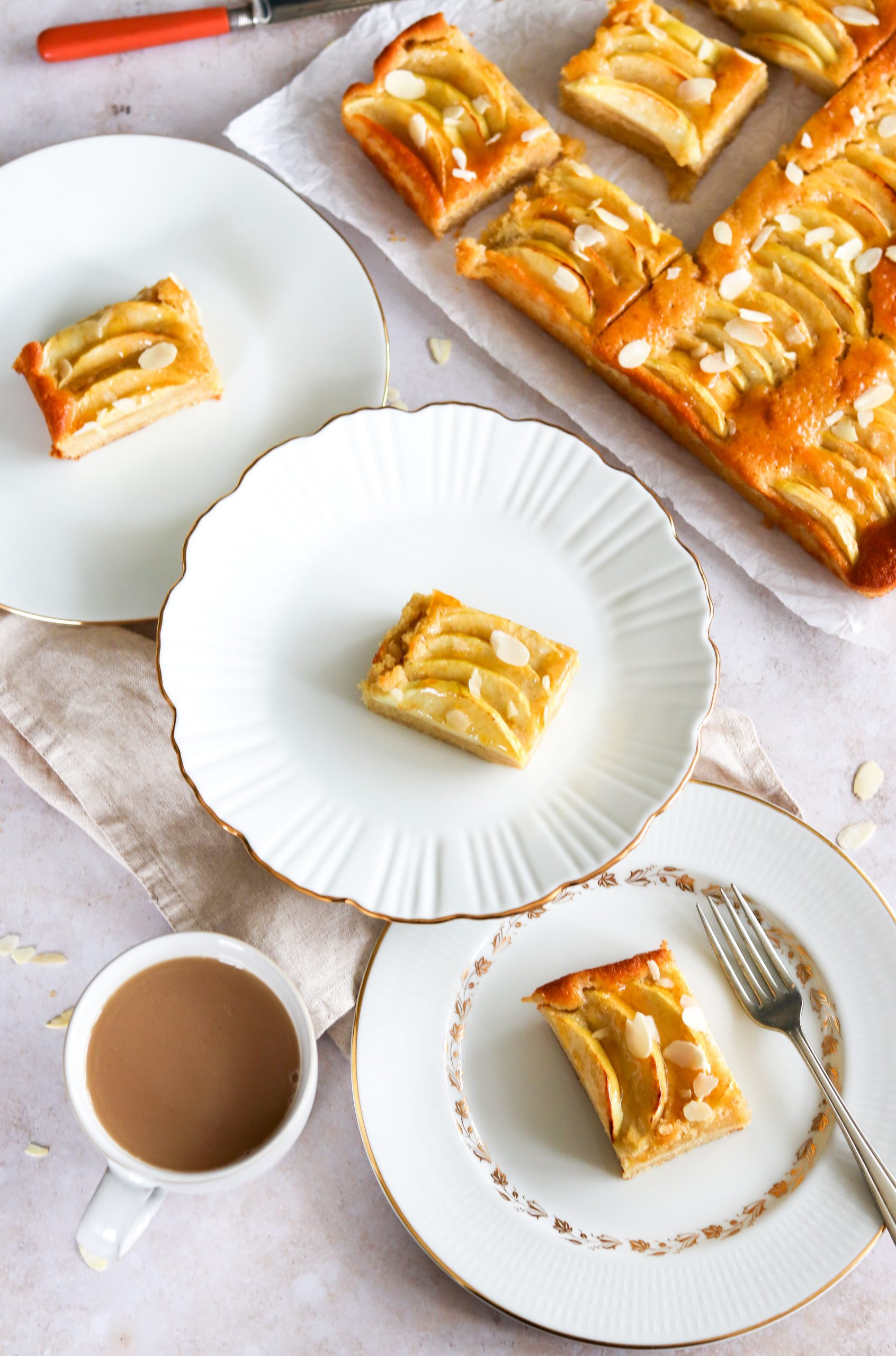 how many people will this apple traybake serve?
That definitely depends how big you cut the slices! I tend to cut this cake into sixteen slices because I think this is a good size for a snack.
But that doesn't mean you shouldn't cut the cake into smaller or bigger slices. If you wanted to add some of this cake to a children's lunchbox you might want to cut it into smaller slices.
Whereas if you were serving this cake as a dessert I would recommend a larger slice.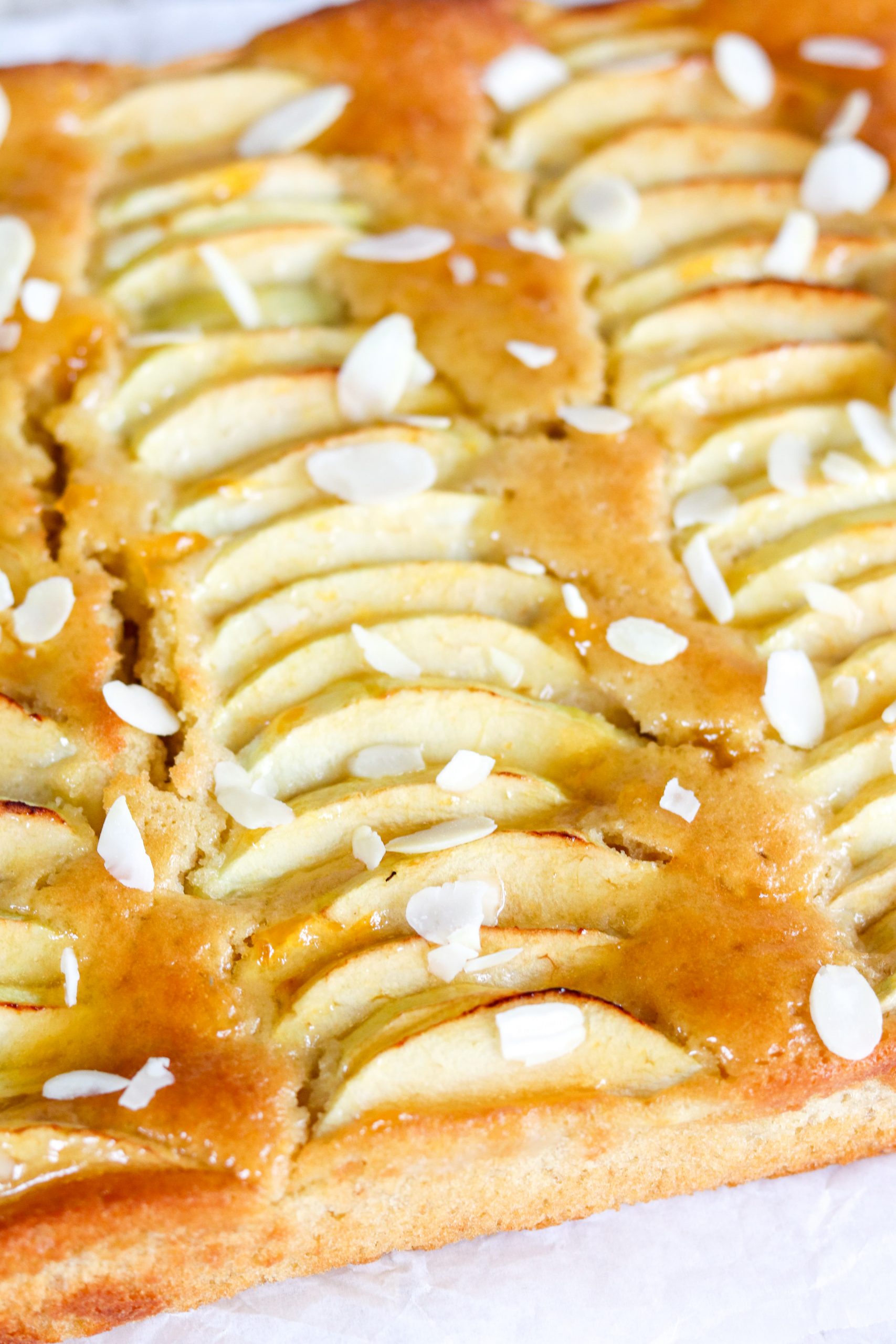 how long with this cake keep for?
The yogurt sponge in this apple cake helps keep it lovely and moist. It will keep in an airtight container for 4-5 days.
I haven't attempted to freeze this cake so I don't know if this would work well. I am not sure how successful it would be because of the apple and the glaze.
If you wanted to give it a go, make sure you wrap it thoroughly and freeze for up to one month.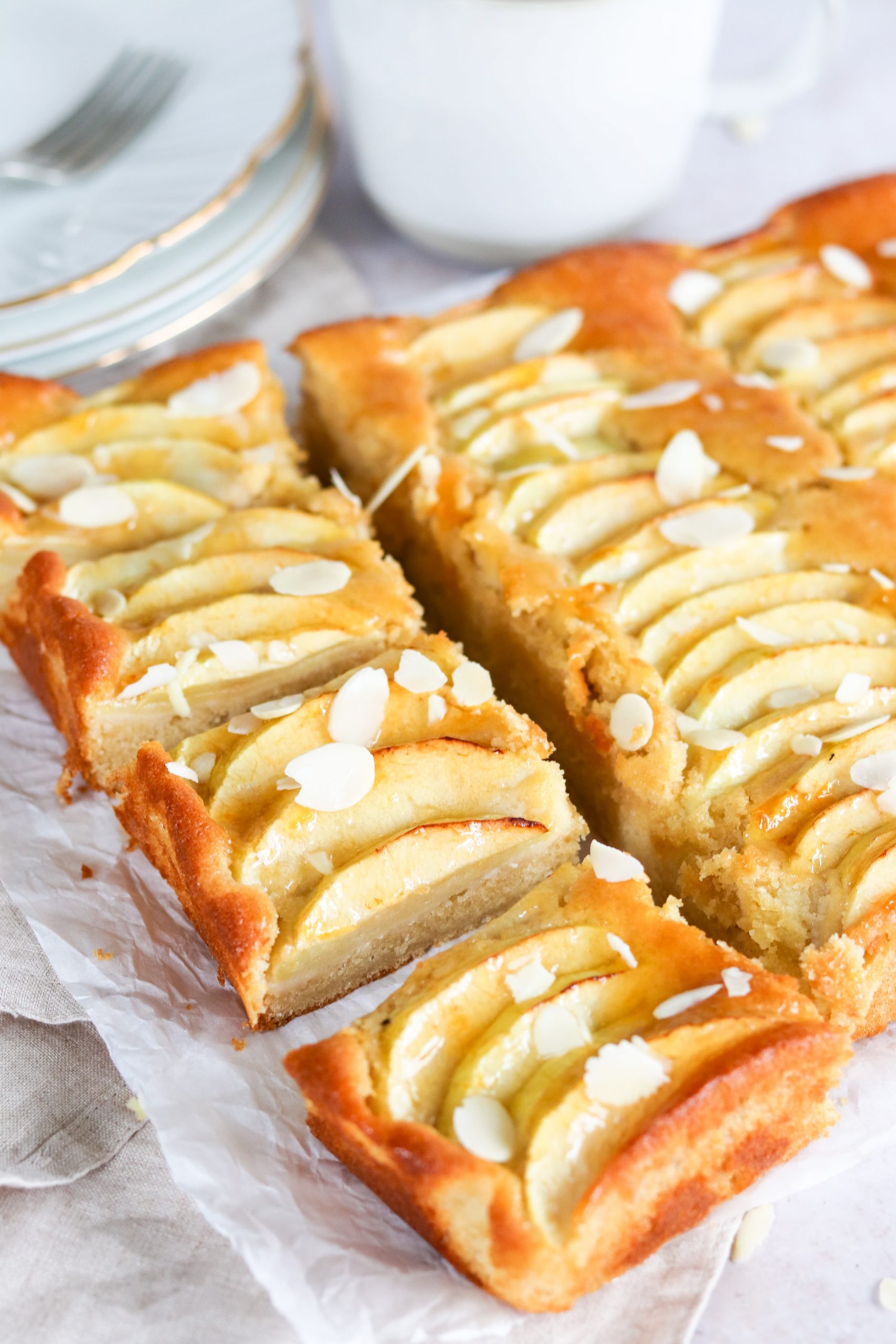 other recipes you might like
Pin for later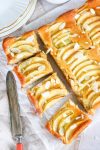 Apple Traybake with Yogurt Sponge
Not only is this Apple Traybake with Yogurt Sponge absolutely delicious, it's pretty too! With an incredibly moist sponge topped with beautiful layers of apple, this has quickly become one of my favourite cakes.
Total Time
1
hour
5
minutes
Ingredients
For the cake
250

g

margarine

250

g

caster sugar

250

g

self raising flour

150

g

low fat Greek yogurt

4

eggs

½

tsp

baking powder

1

tbsp

vanilla extract

500

g

Bramley apples

500g once peeled & cored, 850g whole apples

1

tbsp

lemon juice
For the glaze
100

g

apricot jam

2

tbsp

water

1½

tbsp

flaked almonds
Instructions
Preheat the oven to 160°C (fan assisted, 180°C non fan) and line a 20x26cm (8×10") traybake tin

Beat the 250g caster sugar and 250g margarine together

Add 150g Greek yogurt, 1 tbsp vanilla extract, 4 eggs, 250g self raising flour and mix until combined

Spoon the cake mix into the prepared tin and smooth until level. Leave to one side

Peel and core 850g Bramley apples which should give you approximately 500g of apple

Cut the apples in half and slice them so they are roughly 3mm in thickness. Add these to a large bowl with 1tbsp lemon juice and toss to coat them

Line the apple slices along the cake mix so they slightly overlap

Bake for 30-35 minutes or until a cocktail stick comes out clean. Leave the cake to cool in the tin for at least 10 minutes before turning out and allowing to cool completely on a wire rack

Once the cake has cooled, make the glaze. Add 100g apricot jam and 2 tbsp water to a small pan

Heat the glaze over a low heat for 2-3 minutes until glossy

Liberally brush the glaze over the top of the cake making sure all of the apples are covered

Scatter the cake with flaked almonds
Recipe Notes
Nutritional information is given as a guide only and may vary.
Nutrition Facts
Apple Traybake with Yogurt Sponge
Amount Per Serving
Calories 289
Calories from Fat 126
% Daily Value*
Fat 14g22%
Cholesterol 41mg14%
Sodium 170mg7%
Potassium 91mg3%
Carbohydrates 36g12%
Protein 4g8%
Vitamin A 654IU13%
Vitamin C 2mg2%
Calcium 33mg3%
Iron 1mg6%
* Percent Daily Values are based on a 2000 calorie diet.