This Ravioli Lasagne is a simple and healthier version of the Italian classic. All of the delicious flavours you'd hope for in a lasagne but without all the effort!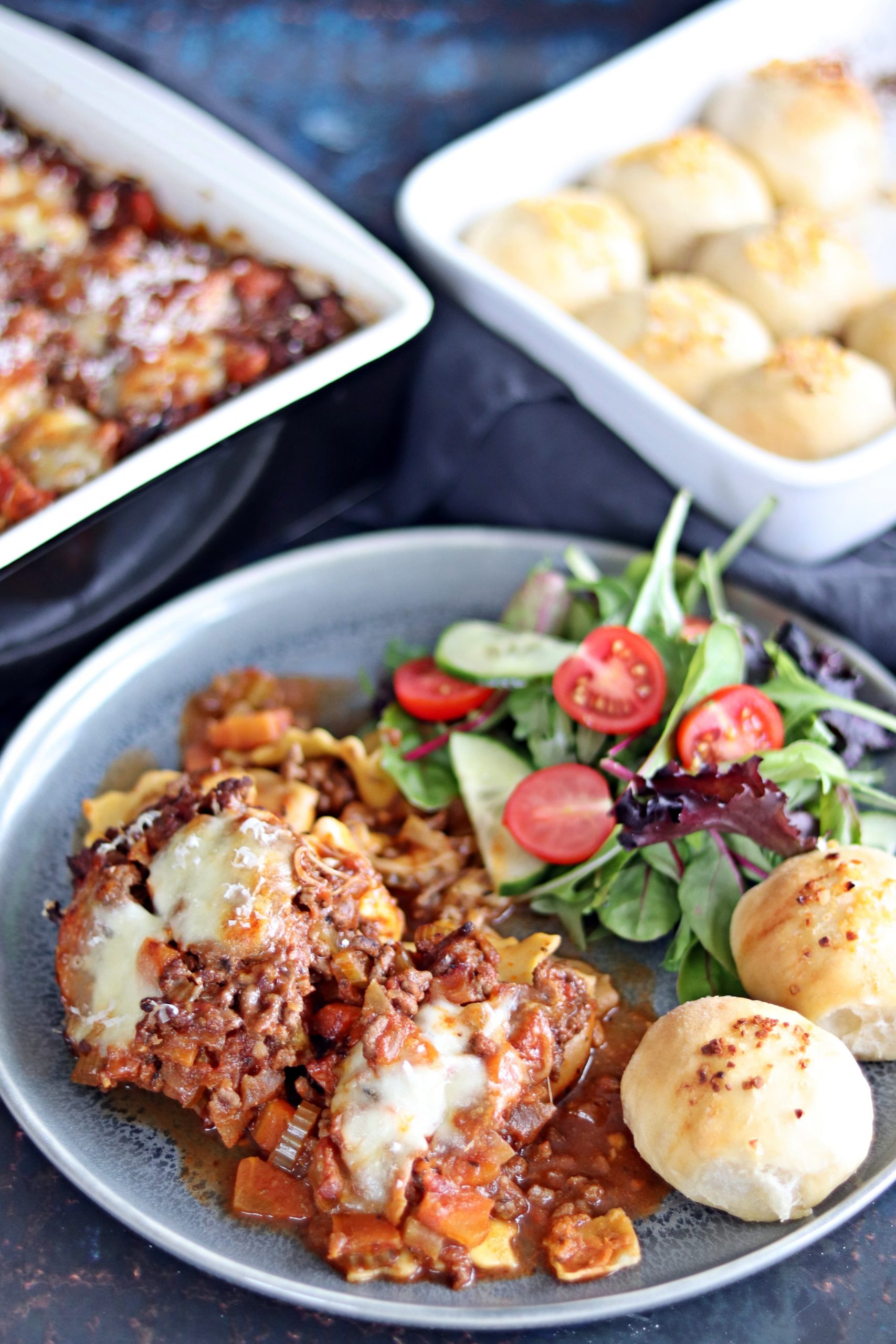 Ravioli lasagne – A twist on an Italian Classic
Everyone has heard of lasagne. A classic Italian recipe of rich bolognese layered with pasta sheets and a cheesy white sauce.
Although I love lasagne, it is a little bit time consuming. Well that is if you're making the sauces from scratch, which I personally always do.
This Ravioli Lasagne takes all of the delicious flavours from a traditional lasagne, but is easier and quicker to make.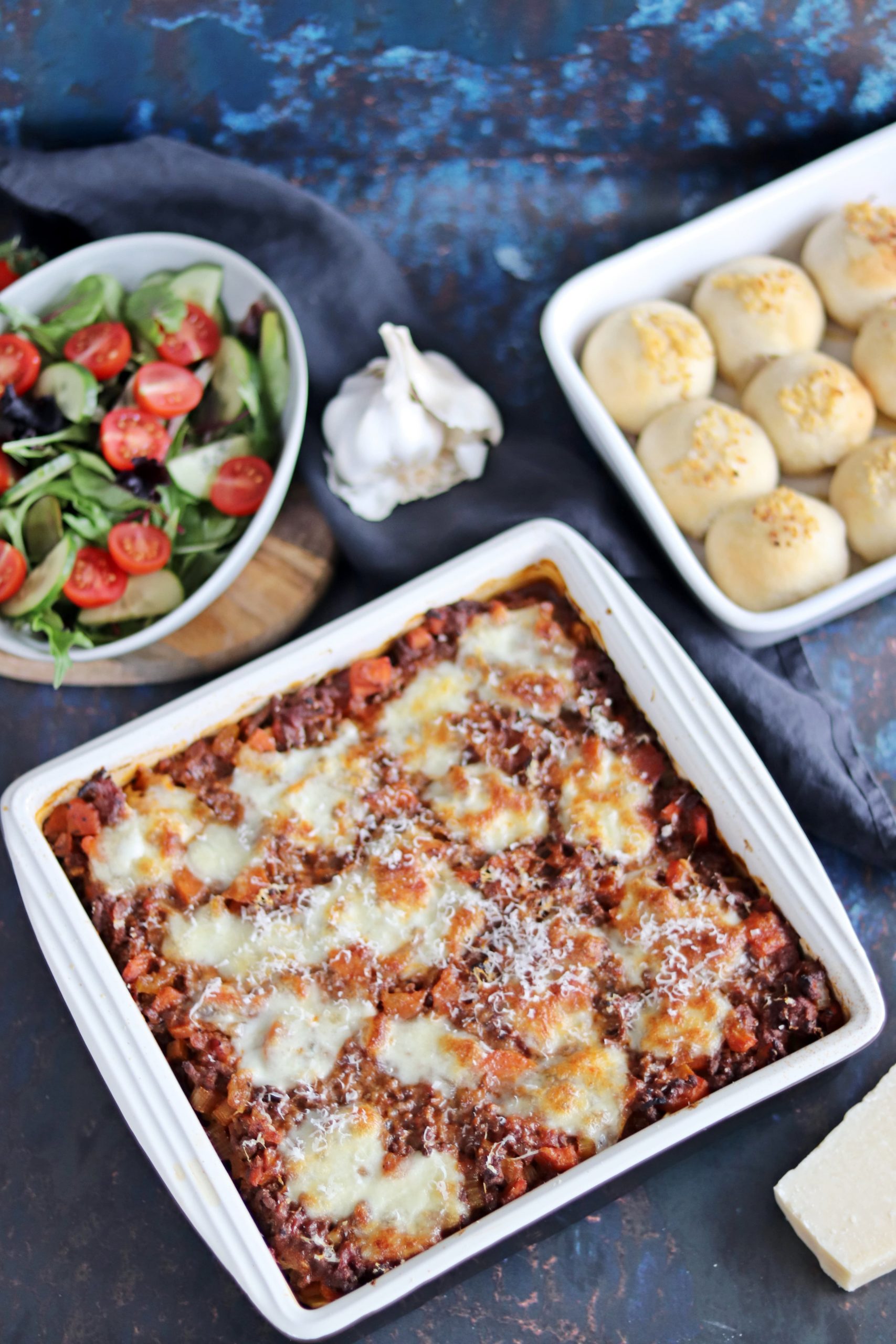 Healthier swaps without compromising on flavour
We all love lasagne, but it isn't one of the healthiest recipes.
There is nothing wrong with that, however this Ravioli Lasagne has one big change that makes it a little bit healthier.
It doesn't have the cheesy white sauce. Now before you cry out in disappointment, you really won't miss it. Instead, there are layers of Parmesan and mozzarella that melt to provide the cheesiness we all want.
This is not only healthier, but also a lot quicker. Instead of having to make your own white sauce and grate in a load of cheddar; you just tear some mozzarella and sprinkle on some Parmesan. Job done.
Which beef mince is best to use?
For recipes like this Ravioli Lasagne, I like to use 5% fat minced beef. You are adding so many other flavours to the recipe that extra fat isn't needed.
20% fat ground beef tends to be the most cost effective and then very slightly increases until you get to the 5% fat. However the price between the two is roughly £1 so not a massive jump.
If you can afford to buy good quality 5% fat minced beef then I would recommend doing this. If not, once you have browned off the meat, skim off any fat that comes out of the meat.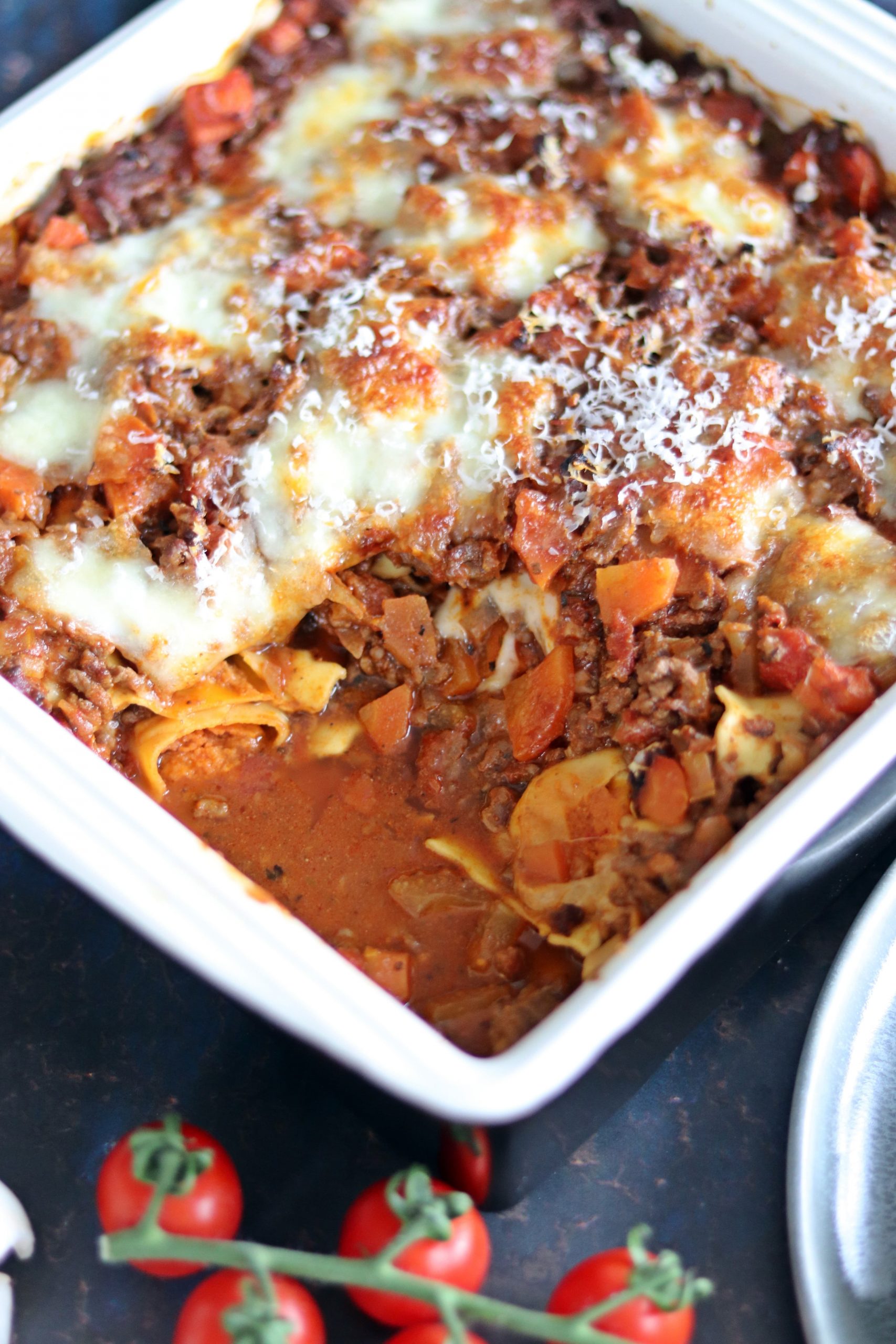 Which Ravioli is best to use?
You can use whatever type of fresh ravioli you think will compliment the flavours of the dish.
I like to use beef and red wine ravioli or pancetta and tomato; something along those lines. If you are looking for meat filled ravioli, I would stick to beef or pork.
You could also choose cheese filled ravioli if you would prefer to increase the cheesiness further.
Although this recipe is Ravioli Lasagne, I won't be upset if you use tortellini. After all they are both filled pasta. Whichever you can find will work just as well in this recipe.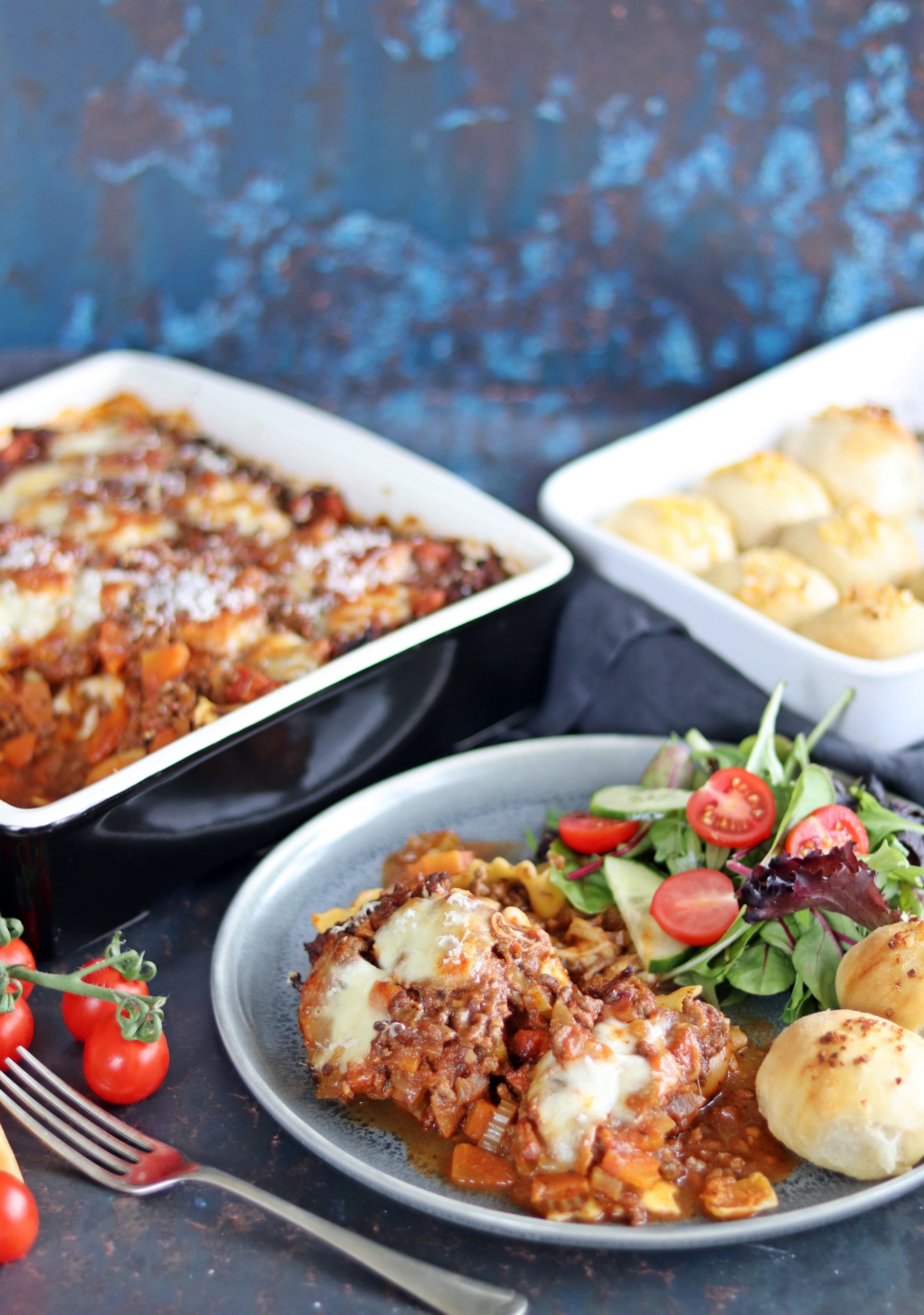 Why add the Parmesan rind?
When cooking the bolognese sauce, I like to add in the Parmesan rind. You just put it in the sauce along with the bay leaf and it releases delicious flavour into the sauce.
Just make sure you remember to take it out when you remove the bay leaf before assembling the lasagne.
I may not be making a bolognese when I finish a block of Parmesan, so I keep it for later. If you are going to use it fairly soon, you can keep the rind in the fridge. Otherwise I freeze it to use at a later date.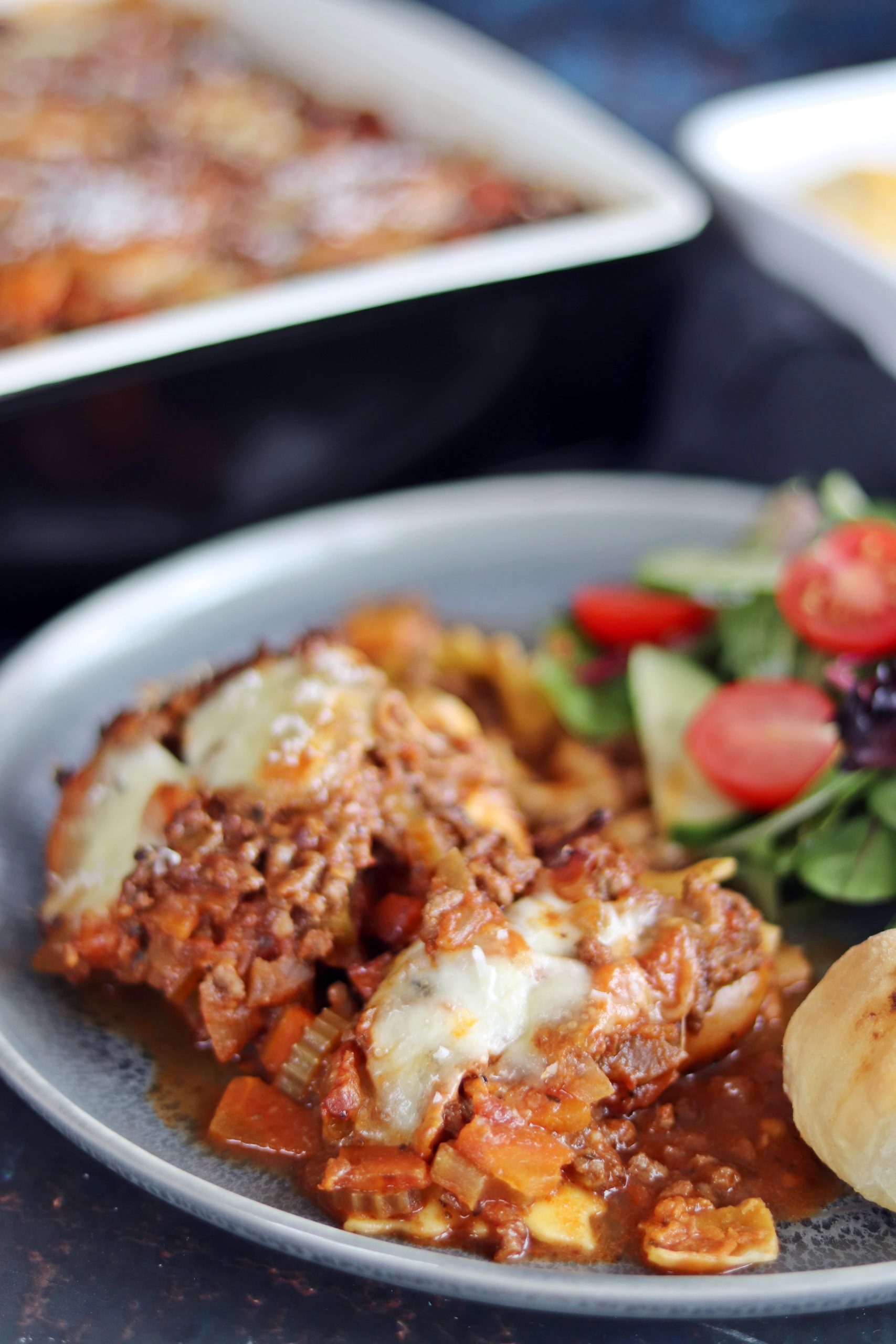 How to layer the Ravioli Lasagne
It doesn't really matter which layer you start with. I like to end with the bolognese sauce so the pasta is covered in sauce and doesn't get crisp in the oven.
Don't worry if the ravioli doesn't completely cover the base of your dish, it doesn't matter if there are gaps.
If you want to make it even more cheesy and delicious, you could completely cover the top with cheese.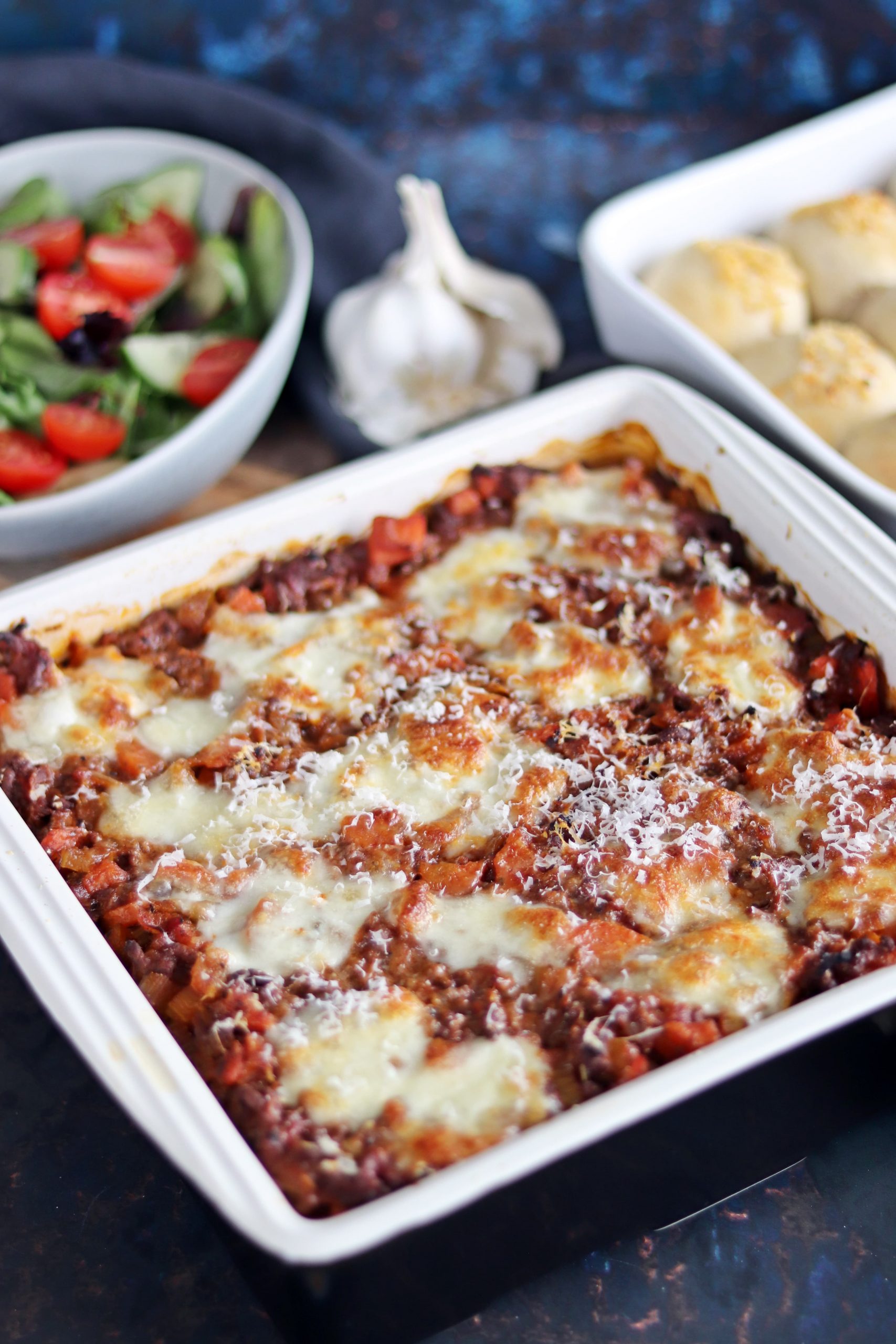 Can this ravioli lasagne be made vegetarian?
You can definitely make this Ravioli Lasagne vegetarian.
Start by replacing the beef mince with your preferred meat free mince. There are so many options you can buy these days that you will be spoilt for choice!
Instead of the Oxo cubes, use vegetable stock. You can use vegetable stock cubes to keep this easy.
You can very easily use vegetarian ravioli as a replacement. Spinach and ricotta is a popular flavour combination that would work well.
Lastly, you would need to swap the Parmesan. Parmesan isn't suitable for vegetarians as it contains rennet which is an animal product. Instead you can use a a vegetarian alternative, or cheddar if you would prefer.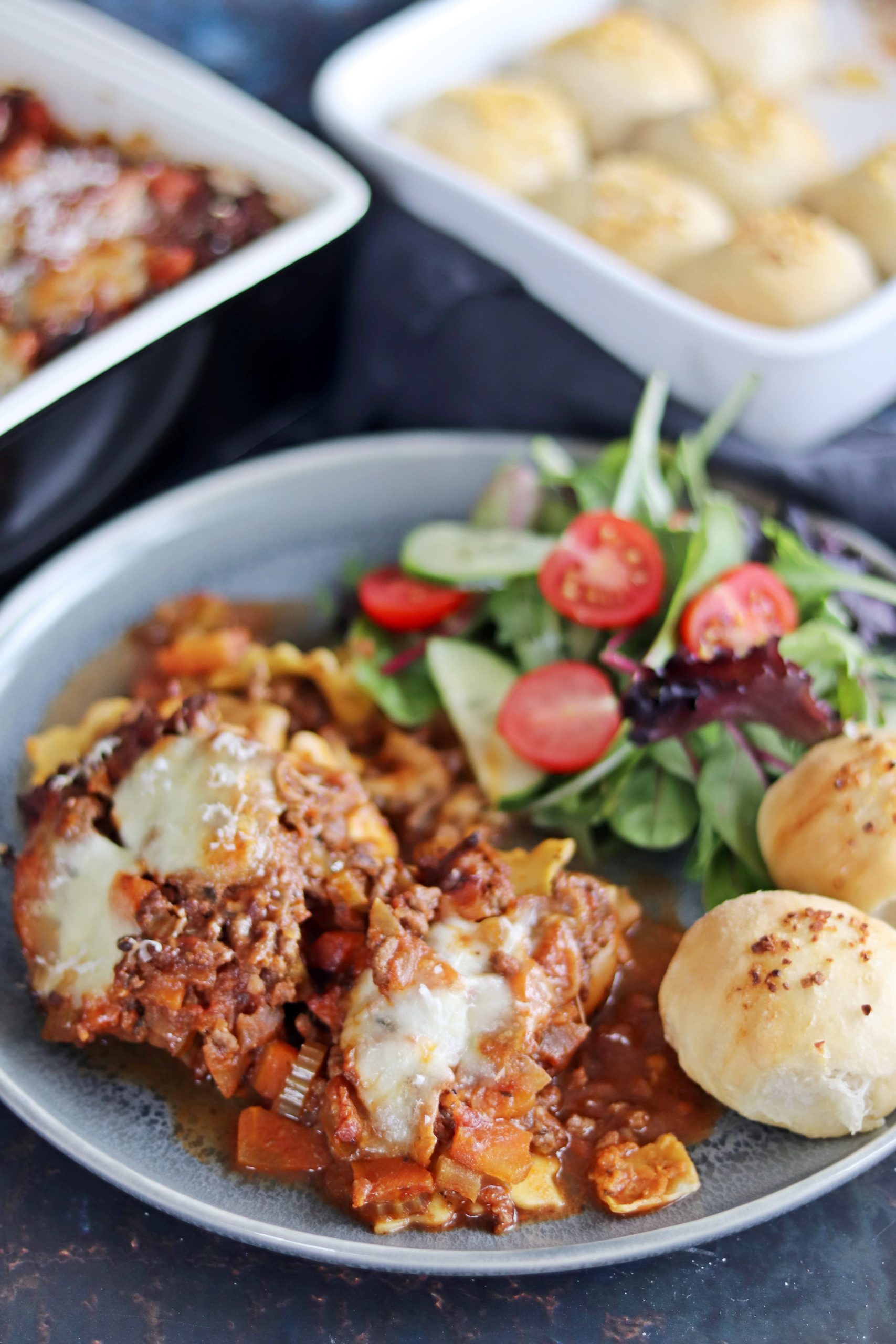 What to serve with this Ravioli Lasagne
I like to serve this Ravioli Lasagne with a simple salad with my Balsamic Tomato Salad (recipe coming soon!).
This is a delicious meal in itself, but if you want to make it even more special I would recommend making my Garlic & Parsley Dough Balls or Air Fryer Garlic Bread to go with it too.
If you are making the dough balls, you could easily stretch the recipe to feed six people.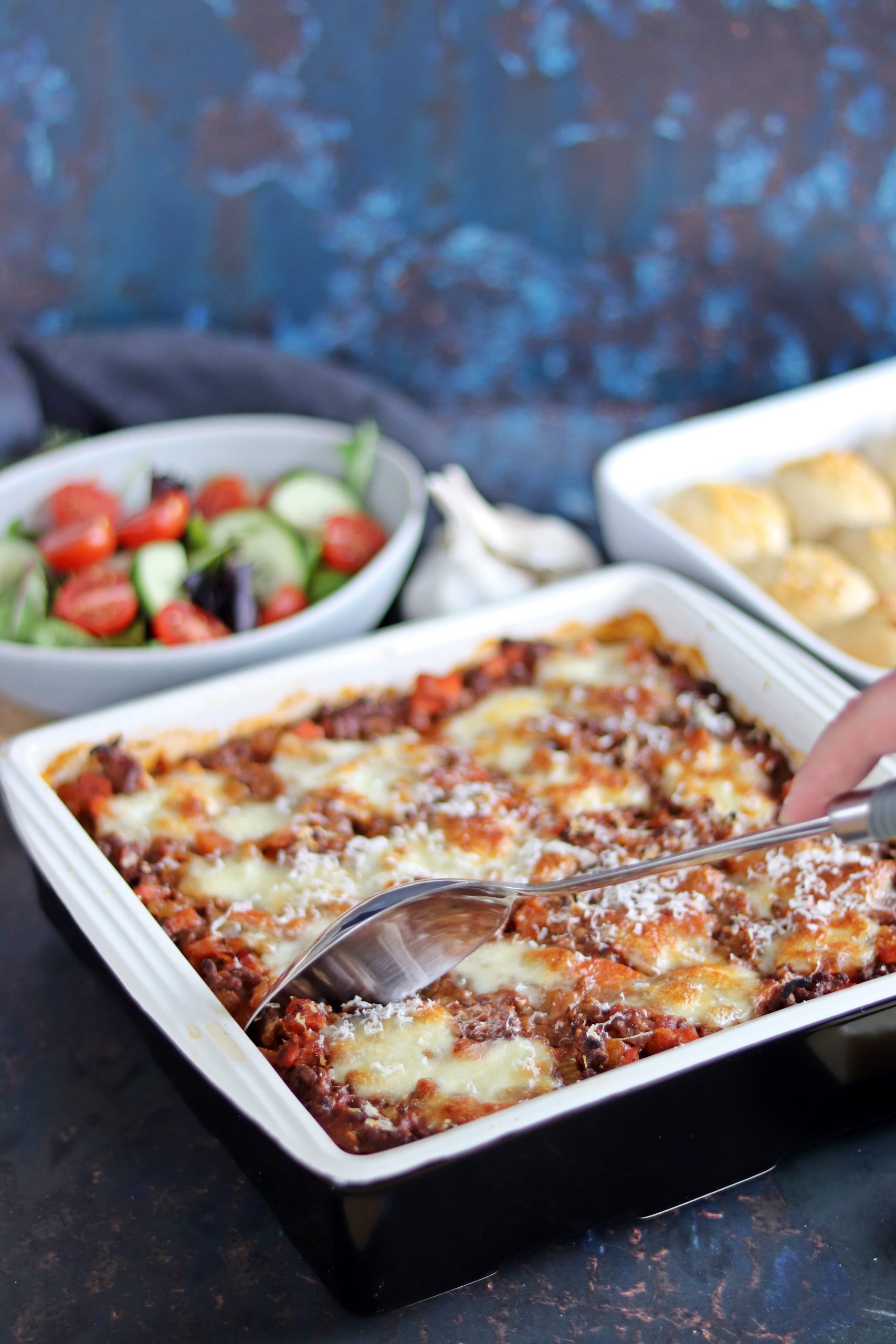 Does ravioli lasagne make good leftovers?
The recipe below makes four large portions – the best kind if you ask me!
I often make the quantity below for Mr Curly and I just so I know I have lots of leftovers. You can keep this Ravioli Lasagne in an airtight container for two days.
I am not usually a fan of reheating leftovers in the microwave, but I do for this recipe. Just make sure it is piping hot before serving.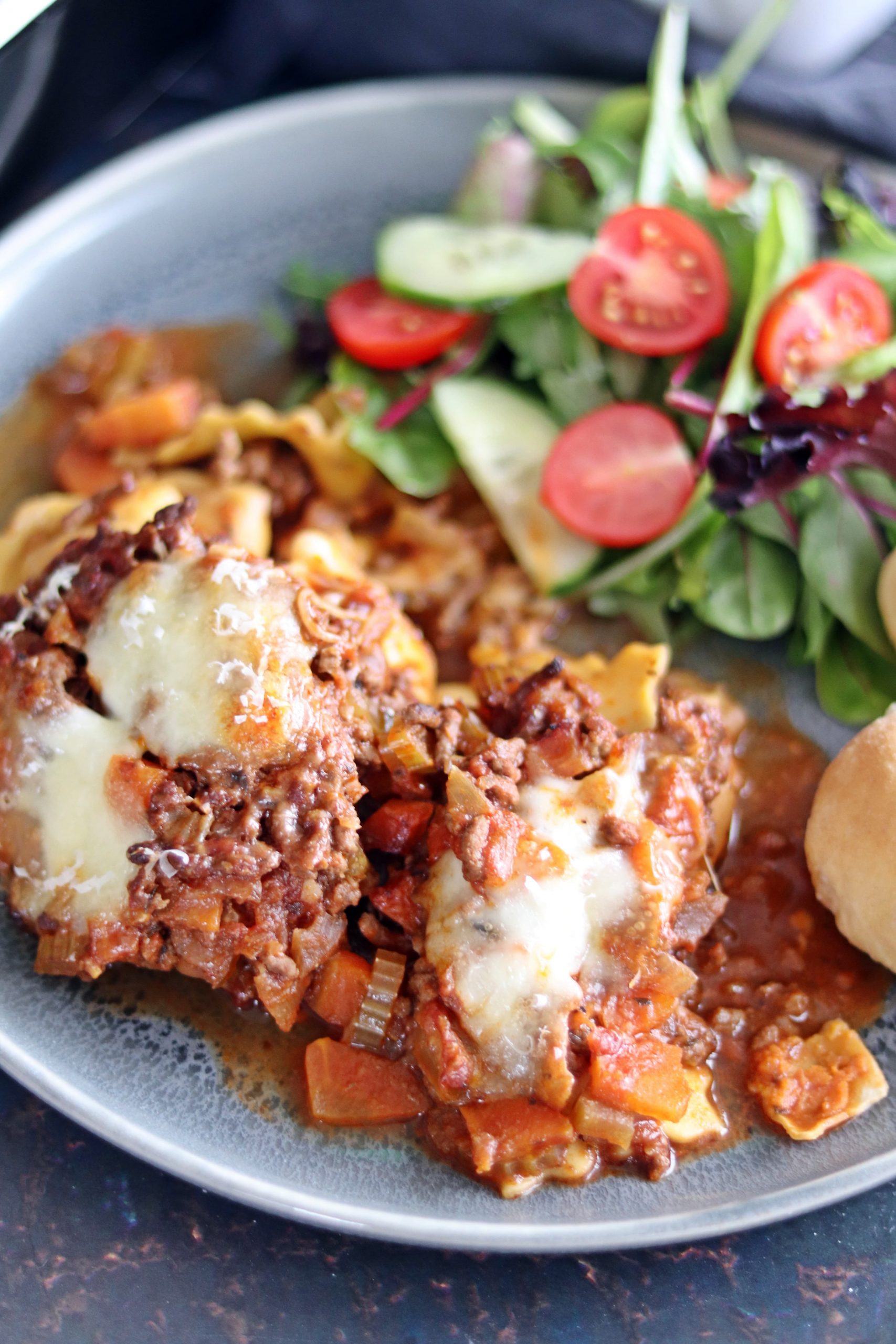 Can I freeze this?
If you want to freeze this Ravioli Lasagne, I would recommend doing this before it is cooked. I don't like the texture of cooked pasta once it is cooked so I would avoid freezing it once cooked.
Before freezing, assemble the lasagne in an oven proof dish. When you want to eat it, defrost it in the fridge overnight or for at least 8 hours.
Then when you are ready to cook you can bake it following the directions below.
You can make the bolognese in advance and freeze this if you would like. This would make it even easier to assemble on a busy weeknight.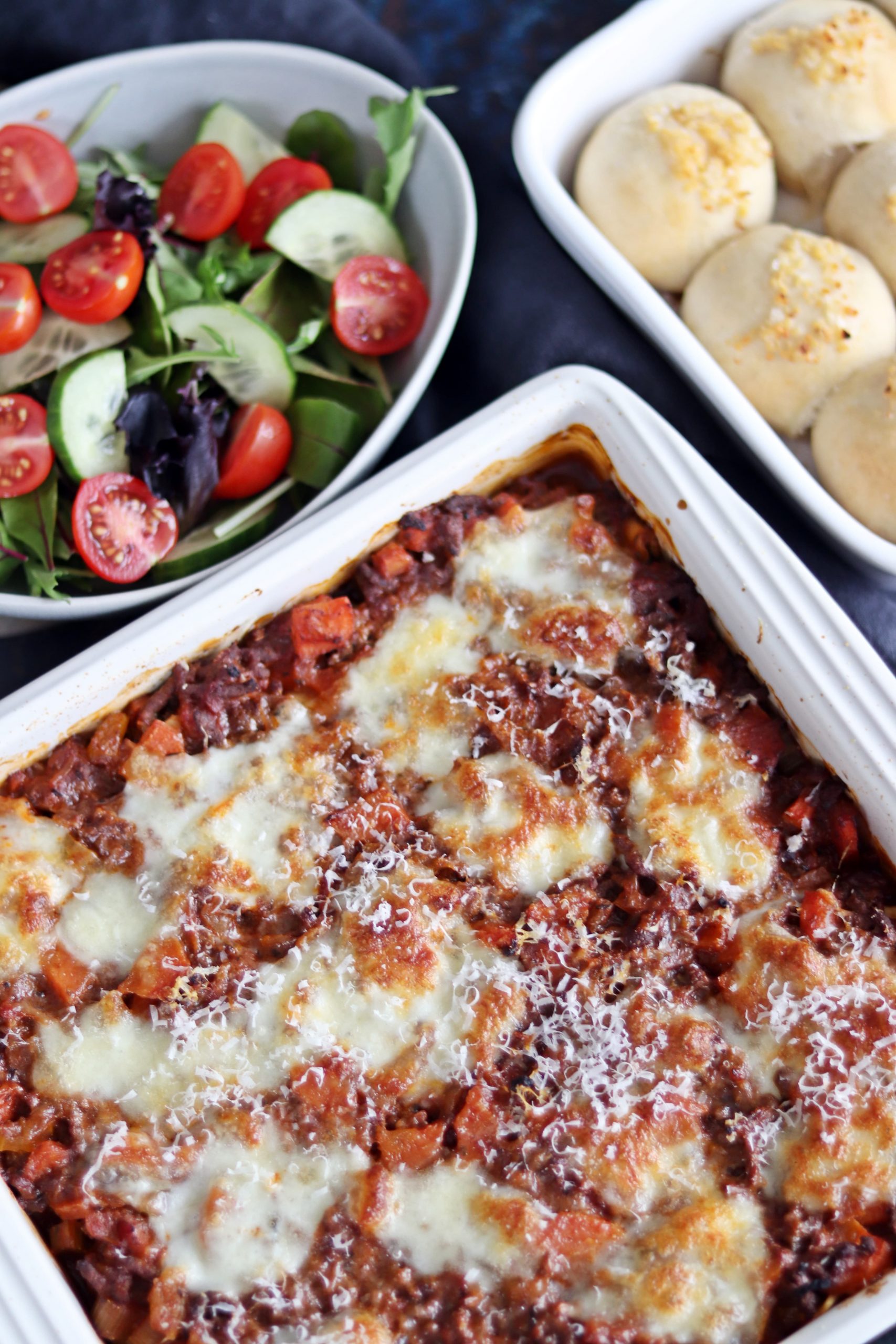 Other recipes you may like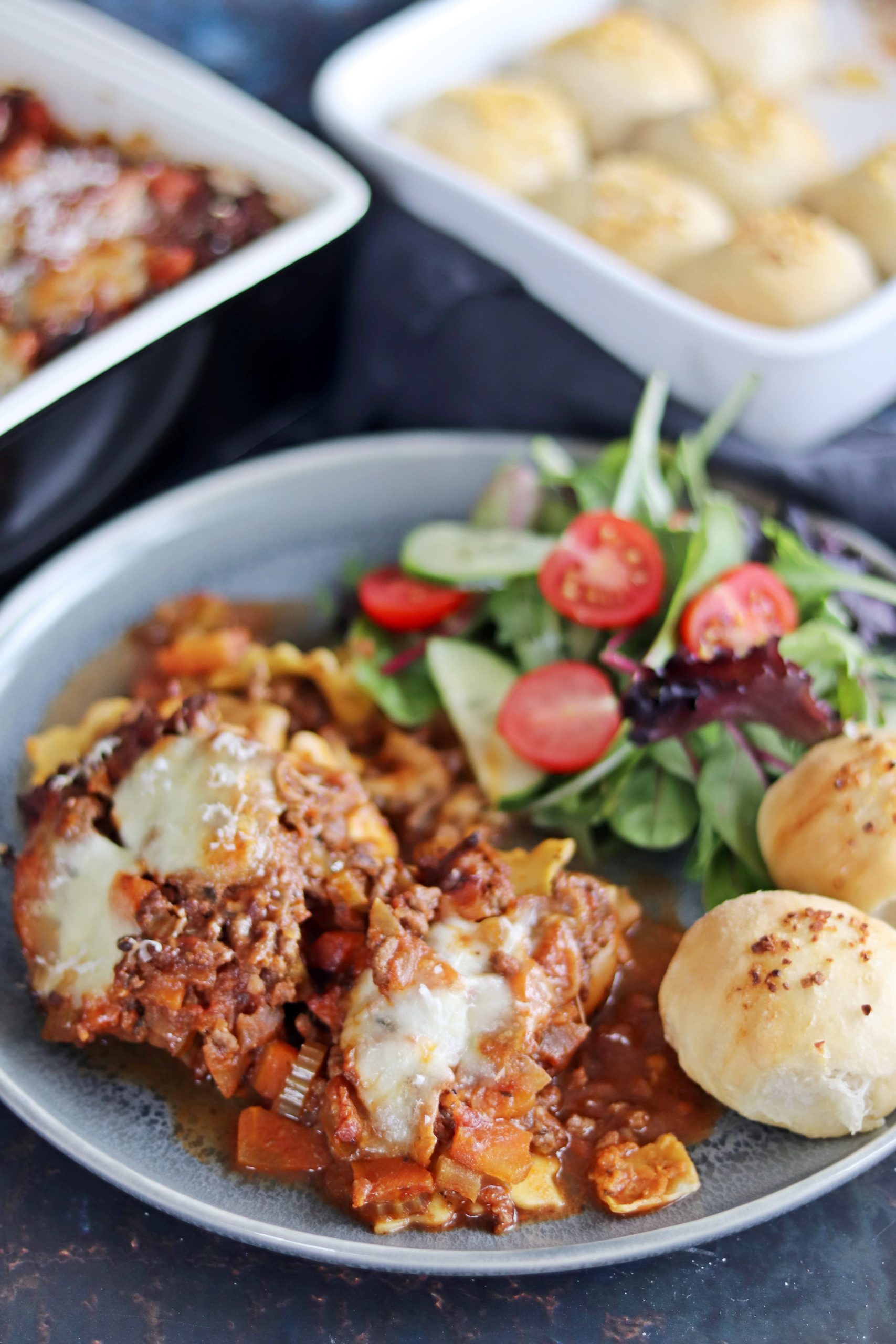 Pin for later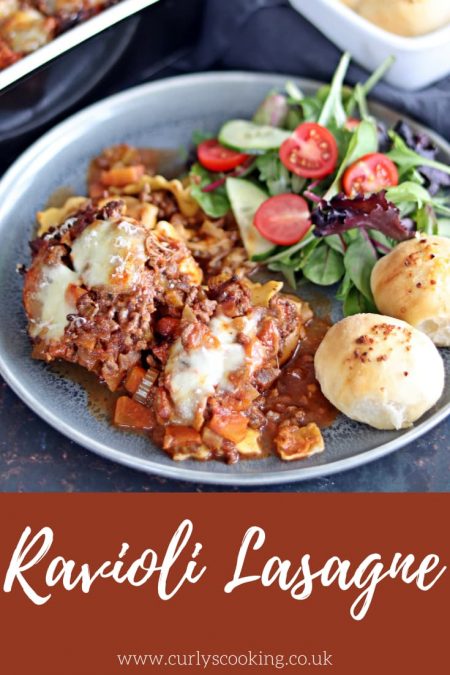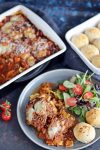 Ravioli Lasagne
This Ravioli Lasagne is a simple and healthier version of the Italian classic. All of the delicious flavours you'd hope for in a lasagne but without all the effort!
Ingredients
500

g

lean mince beef

(5% fat)

1

onion

diced

3

cloves

garlic

minced

300

g

carrots

diced

2

sticks of celery

diced

2

tbsp

tomato puree

1

tbsp

Worcestershire sauce

½

tsp

mustard powder

½

tsp

dried thyme

½

tsp

dried oregano

½

tsp

rosemary

chopped

½

tsp

pepper

1 ½

tsp

salt

1

bay leaf

1

tin of plum tomatoes

2

Oxo beef cubes

700

ml

water

½

tsp

olive oil

400

g

ravioli

420

g

low fat mozzarella

40

g

parmesan

parmesan rind

(optional)
Instructions
Put a pan on a medium heat and add the oil. Once hot, add the onion and garlic and cook for a couple of minutes until the onion starts to soften and go translucent, but not brown

Add the mince and using a wooden spoon, break the mince up. Stir until all the meat is browned

Once browned, add the celery and carrot. Add the tomato puree and stir before adding the herbs, Worcestershire sauce, mustard powder, salt and pepper

Add the tinned tomatoes and then fill the empty tin with water from a recently boiled kettle – be careful as the tin will be hot, add it to the pan and stir

Crumble in the Oxo cubes and Parmesan rind (if using) let is simmer for a minimum of 20 minutes, stirring occasionally. You can leave it on a low heat to blip away for a few hours, just make sure you add some more water if it starts looking dry

The liquid should have reduced so that it coats the meat but isn't too wet – you don't want too much liquid as it will be too wet when you bake it

Preheat the oven to 180°C (fan assisted, 200°C non fan) while you assemble the lasagne

Remove the bay leaf and Parmesan rind (if using)

Using a large oven proof dish (roughly 23x23x5cm), layer the base with half of the ravioli

Then cover with half of the meat mixture

Sprinkle half of the mozzarella and parmesan over the meat and pasta and then repeat using up the rest of the ingredients

Bake in the oven for 20 minutes until the cheese is melted
Recipe Notes
Make sure the sauce just coats the mince before layering in the dish. If the sauce is too wet the overall dish will be a little runny.
I recommend using beef, pork or cheese filled ravioli.
Keep leftovers in an airtight container in the fridge for up to two days.
Nutritional information is given as a guide only and can vary.
Nutrition Facts
Ravioli Lasagne
Amount Per Serving
Calories 898
Calories from Fat 342
% Daily Value*
Fat 38g58%
Cholesterol 206mg69%
Sodium 2489mg108%
Potassium 888mg25%
Carbohydrates 57g19%
Protein 72g144%
Vitamin A 13153IU263%
Vitamin C 9mg11%
Calcium 1016mg102%
Iron 15mg83%
* Percent Daily Values are based on a 2000 calorie diet.