My Sausage, Mustard & Basil Pasta is deliciously creamy and packed with tasty flavours with a subtle chile kick. A quick and yummy dish which is healthier than you may think.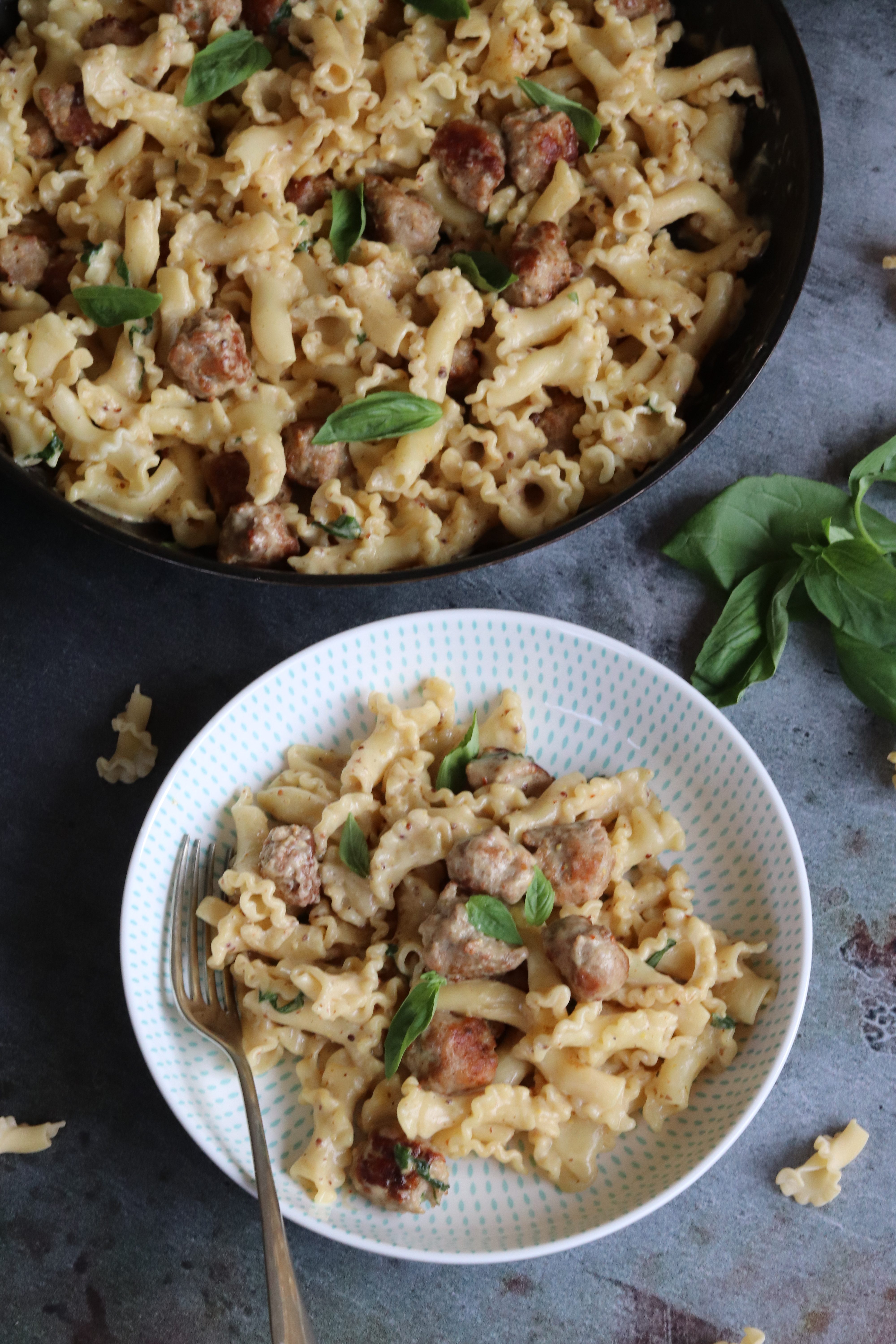 As I've mentioned before, one of my first cookbooks as a child was 'Real Food' by Nigel Slater. This Sausage, Mustard & Basil Pasta recipe is inspired by one of his recipes in the book. I used to make his recipe all the time and it is very tasty. However it does have one slight negative; double cream. Oh and wine. The cream and wine make the recipe indulgent and delicious, but aren't the best if you are trying to reduce the calories.
In a bid to make this recipe healthier, but not lose flavour; I have adapted it to use a cheeky healthier sauce. You will have seen this trick in my Skinny Creamy Chicken Sausage Pasta and Skinny Fajita Chicken Pasta recipes. The cream cheese mixture adds creaminess to the sauce without having all of the calories double cream has. You also don't miss the wine because the stock helps remove all of the delicious sticky sausage off the bottom of the pan.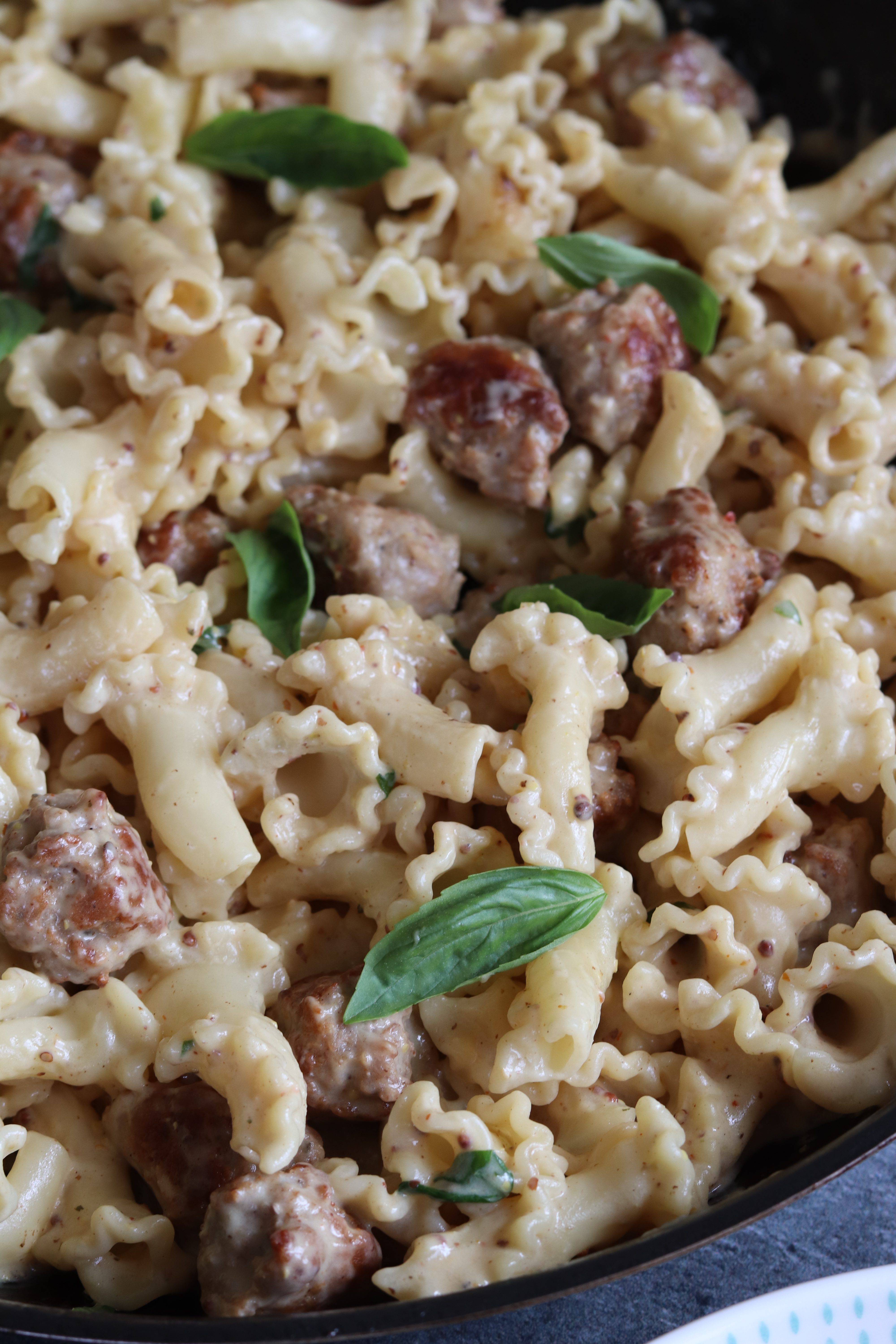 I was very happy with the end result and didn't miss the cream and wine at all. That says a lot coming from me because double cream is one of my weaknesses. My Mum says I take after my Grandma with my love of cream because we could both drink it if that was socially acceptable (and obviously wasn't quite so unhealthy!).
Mr Curly also gave this the thumbs up saying it had just the right level of spice for him, not too spicy but he could definitely taste the chile. Obviously chile flakes vary in heat so I would always recommend adding less and tasting the sauce before adding anymore. Also if you are making this Sausage, Mustard & Basil Pasta for children, depending on their heat tolerance I would maybe just add a pinch or leave it out altogether.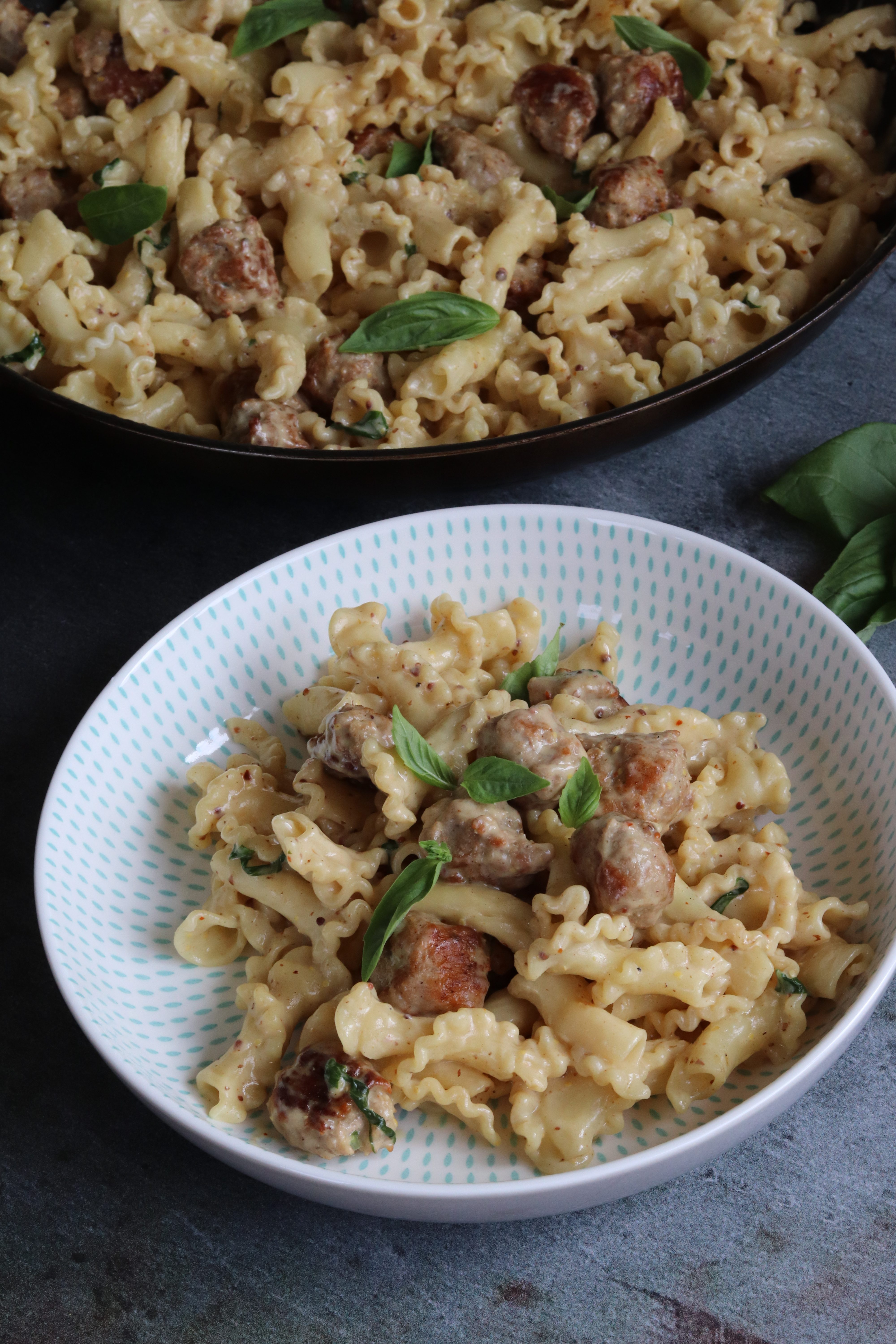 Nigel Slater did suggest using spicy Italian sausages in his original recipe, but I decided to use good quality pork sausages in mine. This is because it is harder to judge how spicy the sausages would actually be and you can't reduce their heat. By using plain pork sausages, this gives you the flexibility to build up as much heat as you would like.
You can use whatever pasta you like for this recipe. I must admit I did get lured in by the pretty Gigli pasta when I went to the supermarket. I really liked it's frilly pattern which I thought made the dish look a little bit more special. Obviously this recipe will be just as delicious with any pasta shape. Wholemeal pasta is also a good recommendation, but this leads to another confession of mine. I don't tend to buy wholemeal pasta often because I don't think supermarkets offer a good enough range of pasta shapes! Yes I realise this sounds like a silly reason, but I like to use a variety of pasta shapes because penne every time you eat pasta would be a little boring in my opinion.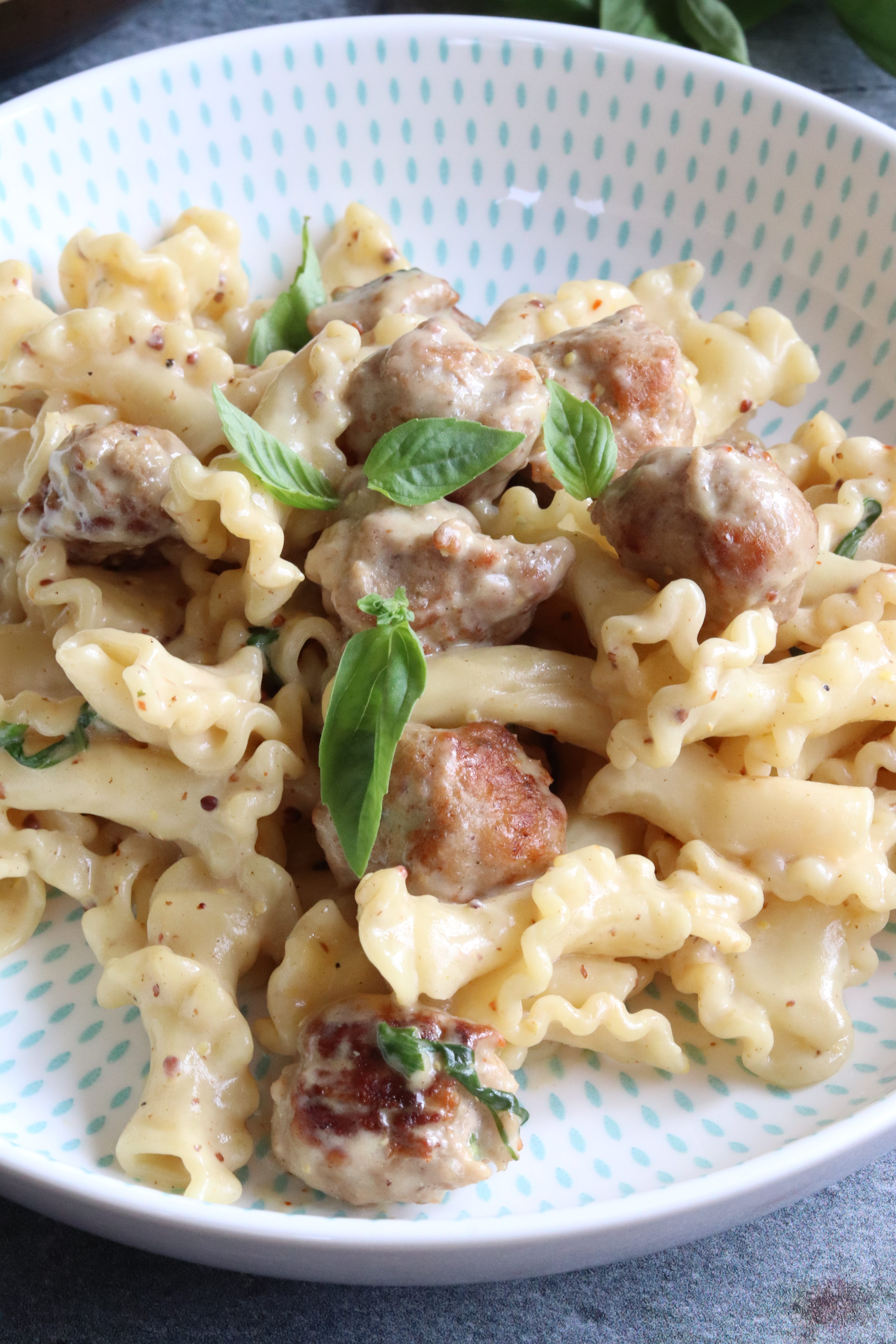 Serves 4
450g pork sausages, de-skinned (6 sausages)
300g pasta
½ tsp sunflower oil
3 tbsp low fat cream cheese
80ml milk
1 tbsp plain flour
250ml chicken stock
½ tsp sea salt
¼ tsp chile flakes
Pinch of black pepper
2 tsp wholegrain mustard
Bunch of basil, sliced
20g parmesan, grated
De-skin the sausages and break them into pieces using your hands. There is no need to roll them into balls
Add the oil to a frying pan over a medium high heat. When hot add the sausage pieces. Cook for approximately 10 minutes until browned and cooked through
Whilst your sausages are cooking, boil the pasta as per the packet instructions in salted boiling water. Once cooked, drain and set aside
Once the sausages are cooked, remove them from the pan and set to once side
In a mini blender/chopper mix together the low fat cream cheese, milk and flour
Turn the frying pan back onto a low heat. Add the cream cheese mixture along with the chicken stock
Whisk the sauce until all of the lumps have disappeared and the sauce is smooth. Keep whisking for a minute or so until it thickens
Add the mustard, chile flakes, salt and pepper and whisk through before adding the sausage back to the pan along with the sliced basil
Add the cooked pasta to the pan along with the grated parmesan. Stir through and serve
Pin for later
Linking to