Deliciously creamy pasta bake which is skinny but you really wouldn't guess it! My Skinny Chicken & Prosciutto Pasta Bake is a tasty meal that all the family will love and a great way to use up leftover chicken.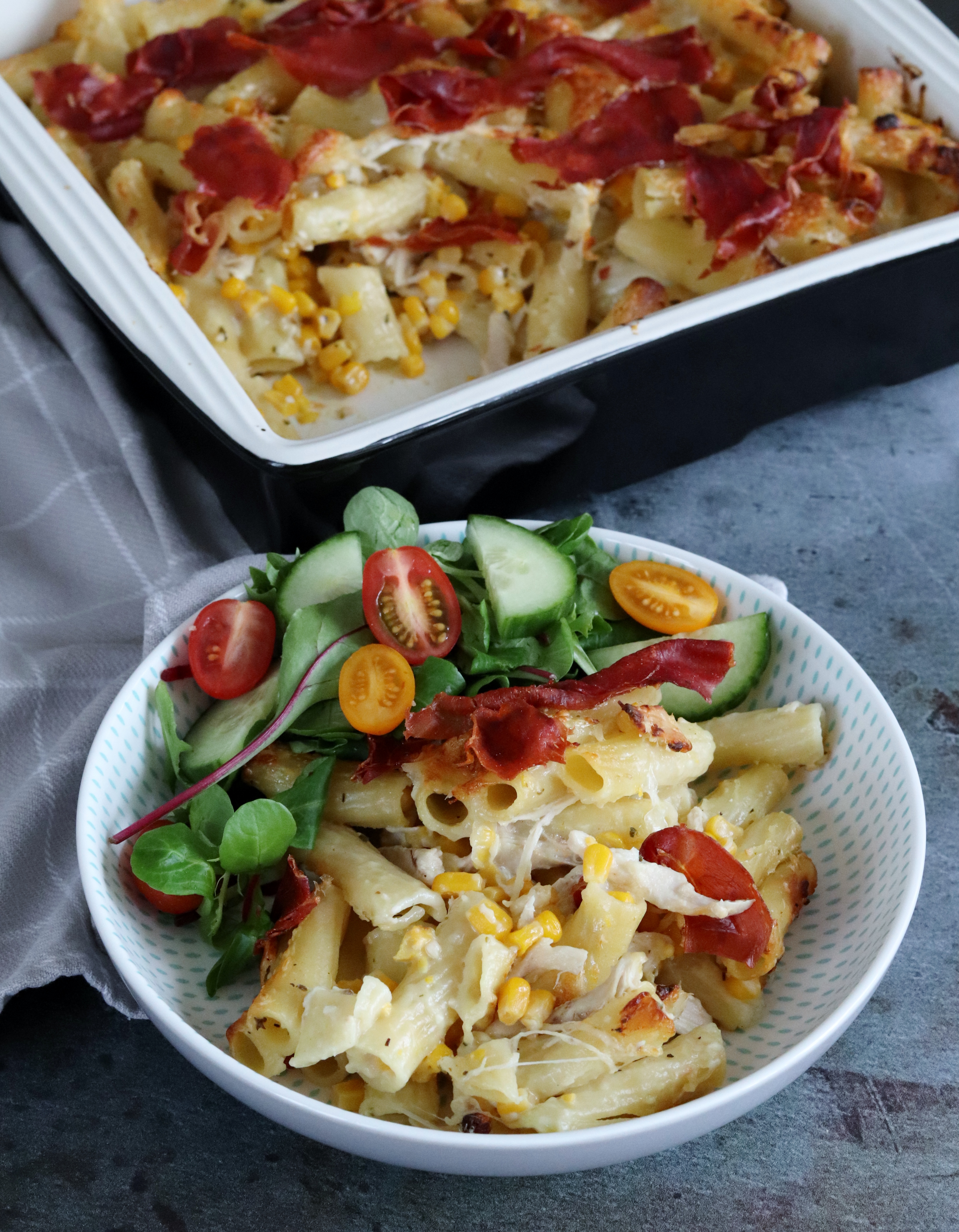 Do you try to eat more healthily in January?
Well it's January again which means the vast majority of us will be trying to make healthier choices. I'm going to try and not use the word 'diet' because personally I am hoping to make a change to my lifestyle which is something more permanent than a diet.
This Skinny Chicken & Prosciutto Pasta Bake is a perfect healthier option which means you don't have to miss out on pasta. I have adapted a recipe from Gimmie Some Oven which has an amazing, healthier, but still deliciously creamy sauce.
I do love a good tuna pasta bake with a creamy white sauce, but when you actually work out how many calories are in the sauce it is quite alarming. This recipe lets you still enjoy a delicious pasta bake, but with fraction of the calories.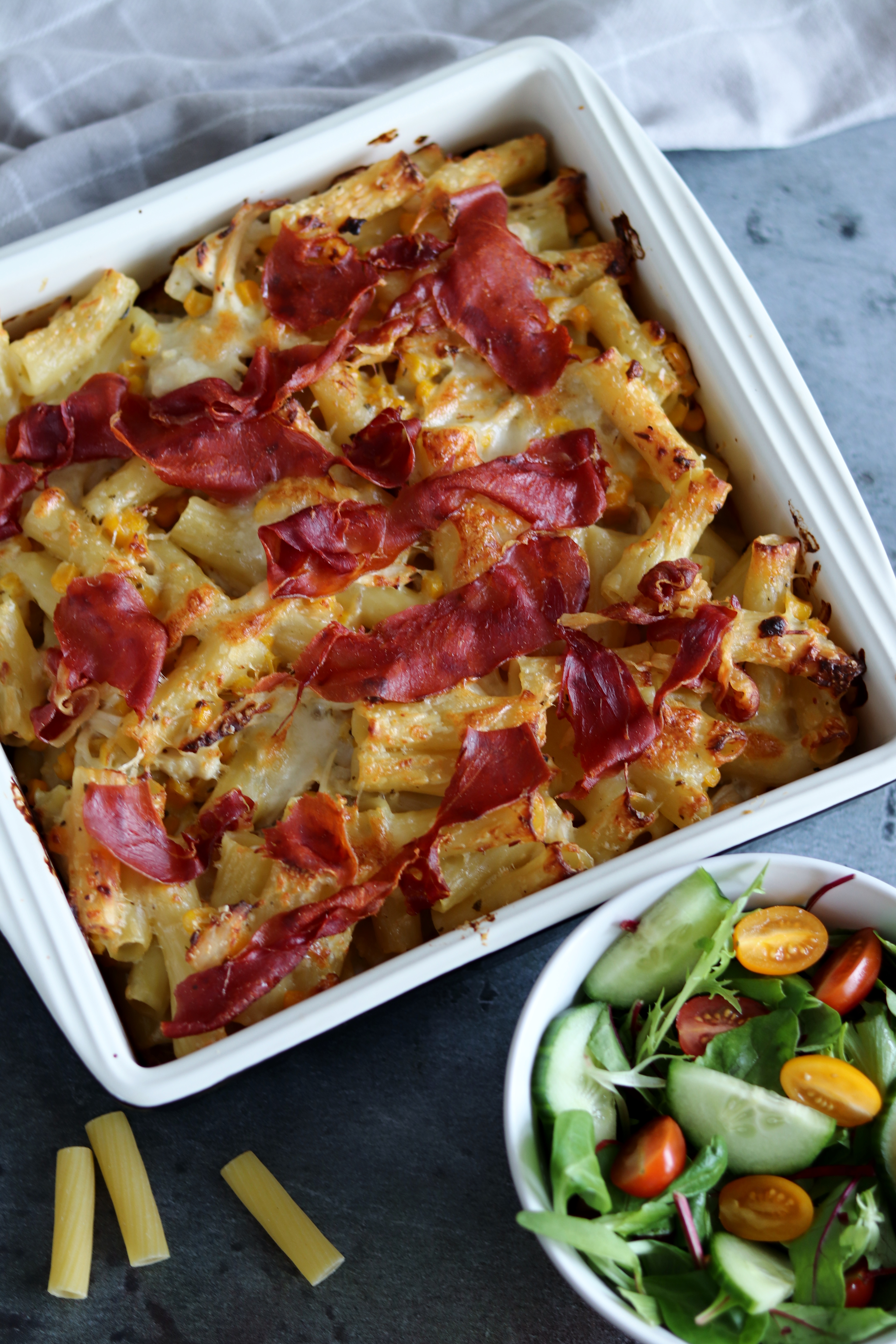 Does 'skinny' mean not as tasty?
Sometimes when recipes are made 'skinny' the taste is compromised to make them lower in calories. This recipe doesn't taste like it is a healthy alternative at all.
Don't get me wrong, pasta is always going to have more calories in it than something like a salad, but this recipe is far healthier than the traditional pasta bakes that most people will have had before.
Instead of butter, this recipe uses olive oil which is a healthier fat to make the base of the sauce rather than the usual butter. It also uses Parmesan and low fat mozzarella which are far healthier choices than the more commonly used cheddar cheese.
The sauce makes a fantastic base for adding other flavours to make it even tastier. The mustard doesn't have a distinct flavour, but it really adds a depth to the sauce which is really delicious.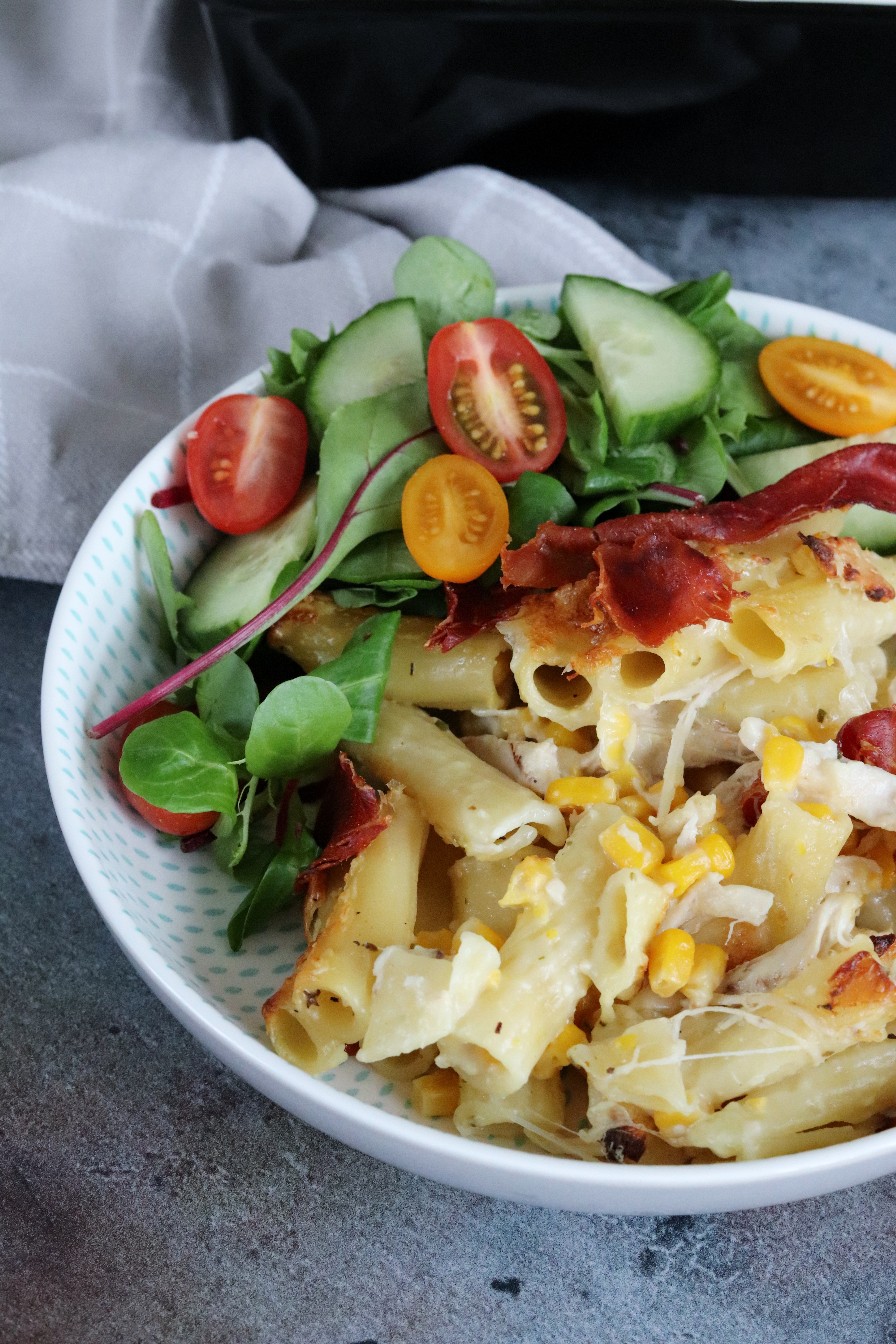 This Skinny Chicken & Prosciutto Pasta Bake is perfect for using up leftovers
This is a great way to use up leftover chicken from your Sunday roast that is a bit more imaginative than a cold chicken sandwich.
If you don't have leftover chicken, do not panic you can still make this recipe! Just season two small chicken breasts with salt and pepper and cook them in the oven at 190ºC for 15-20 minutes until the juices run clear.
Let the chicken cool slightly and then shred it using two forks, or your hands. If you have leftover chicken but fancy something different try my Chicken Chow Mein.
I have made this recipe before by adding around 50g of diced chorizo. It is really tasty, but does add a few calories onto the dish.
So I have since changed the recipe to adding slices of prosciutto (or any other cured ham) to the top. This is far lower in calories and crisps up in the oven which is so delicious.
If you didn't want to use prosciutto, you could always cook some bacon or bacon lardons and add these to the dish.
These won't be as healthy as prosciutto but not everyone is watching what they eat and even if you are, treats are always allowed every now and then!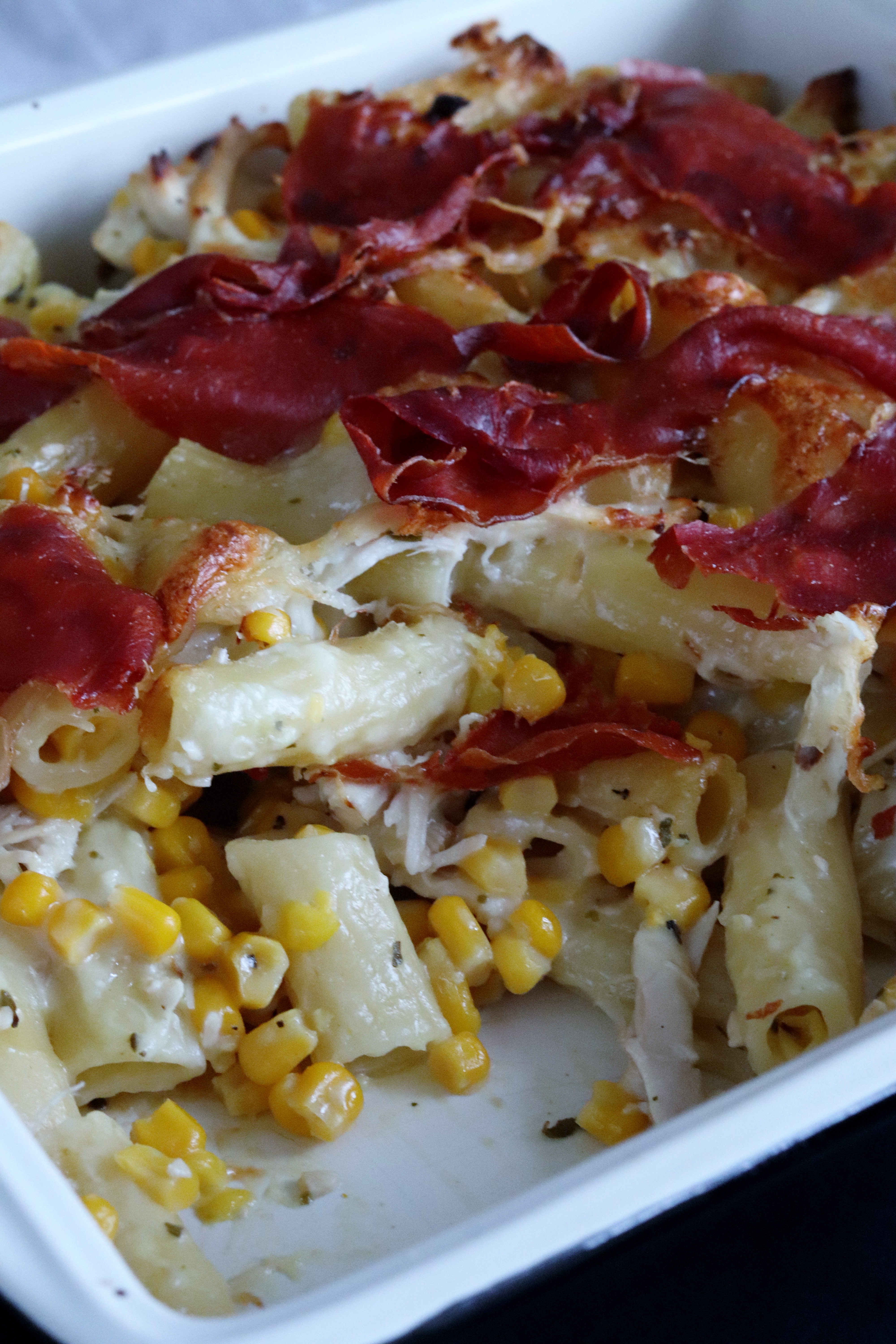 You can use whatever pasta shape you prefer (or happen to have in your cupboard). This recipe is easily made gluten free, just swap to gluten free pasta and flour.
Obviously check any meat you add is gluten free too, but a lot of continental meats do tend to be gluten free.
Got leftovers?
This dish is also great for leftovers – perfect for lunch the next day. I sometimes find when you are trying to be healthy that lunch gets forgotten about and you end up having the same boring, low calorie lunch each day.
I then end up feeling hungry for the rest of the day – maybe this is just me?! Something like this for lunch is great as it helps keep you full without being high in calories.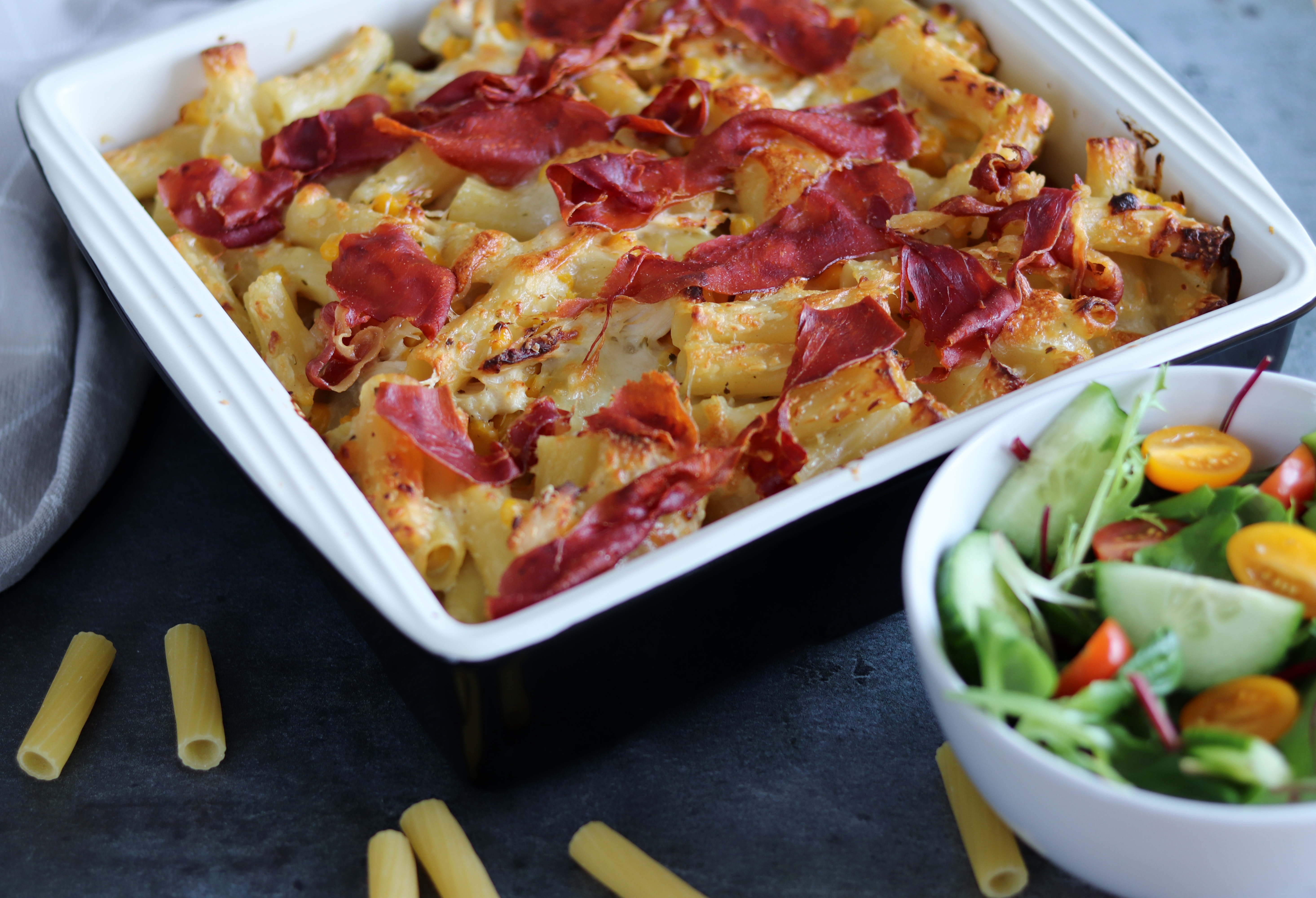 Other recipes you might like
Pin for later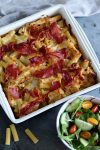 Skinny Chicken & Proscuitto Pasta Bake
Deliciously creamy pasta bake which is skinny but you really wouldn't guess it! My Skinny Chicken & Prosciutto Pasta Bake is a tasty meal that all the family will love and a great way to use up leftover chicken.
Ingredients
340

g

pasta

any shape you like

1 ½

tbsp

olive oil

4

gloves of garlic

minced

3

tbsp

flour

250

ml

chicken stock

250

ml

semi-skimmed milk

you can also use 1% milk

40

g

grated Parmesan cheese

½

tsp

salt

¼

tsp

pepper

¼

tsp

mustard powder

½

tsp

dried oregano

200

g

chicken

cooked and shredded

1

x 340g tin sweetcorn

drained

1

ball of low-fat mozzarella cheese

3-4

slices

of prosciutto
Instructions
Cook the pasta according to the pack' directions making sure it is al dente

While the pasta is cooking, heat the olive oil in a large frying pan over a medium-high heat. Add the minced garlic and saute for a minute or so, stirring occasionally

Add the flour and stir to combine. Saute for another minute or so to cook the flour, again stirring occasionally

Gradually add the chicken stock whisking as you to go combine and create a smooth sauce. Once all the stock is added, whisk in the milk and bring to a simmer.

Allow the sauce to thicken for a minute or so and then stir in the Parmesan cheese before adding in the oregano, mustard powder, salt and pepper

Reduce the heat to low and stir occasionally until the pasta is cooked

Preheat the oven to 190°C (fan assisted or 210°C non fan)

Once the pasta is cooked, add it to the sauce along with the cooked, shredded chicken and sweetcorn. Stir to make sure the pasta is evenly coated in the sauce

Pour half of the pasta into a large baking dish. Sprinkle with half of the mozzarella and then add the rest of the pasta.

Finish by adding the rest of the mozzarella and the prosciutto

Bake for 20-25 minutes until the cheese is melted and starting to turn slightly golden
Nutrition Facts
Skinny Chicken & Proscuitto Pasta Bake
Amount Per Serving
Calories 713
Calories from Fat 162
% Daily Value*
Fat 18g28%
Cholesterol 53mg18%
Sodium 602mg26%
Potassium 449mg13%
Carbohydrates 73g24%
Protein 28g56%
Vitamin A 220IU4%
Vitamin C 0.8mg1%
Calcium 209mg21%
Iron 2mg11%
* Percent Daily Values are based on a 2000 calorie diet.