Making your own Air Fryer Garlic Bread is simple and really delicious. It is a great way of using up leftover bread and homemade garlic butter really can't be beaten!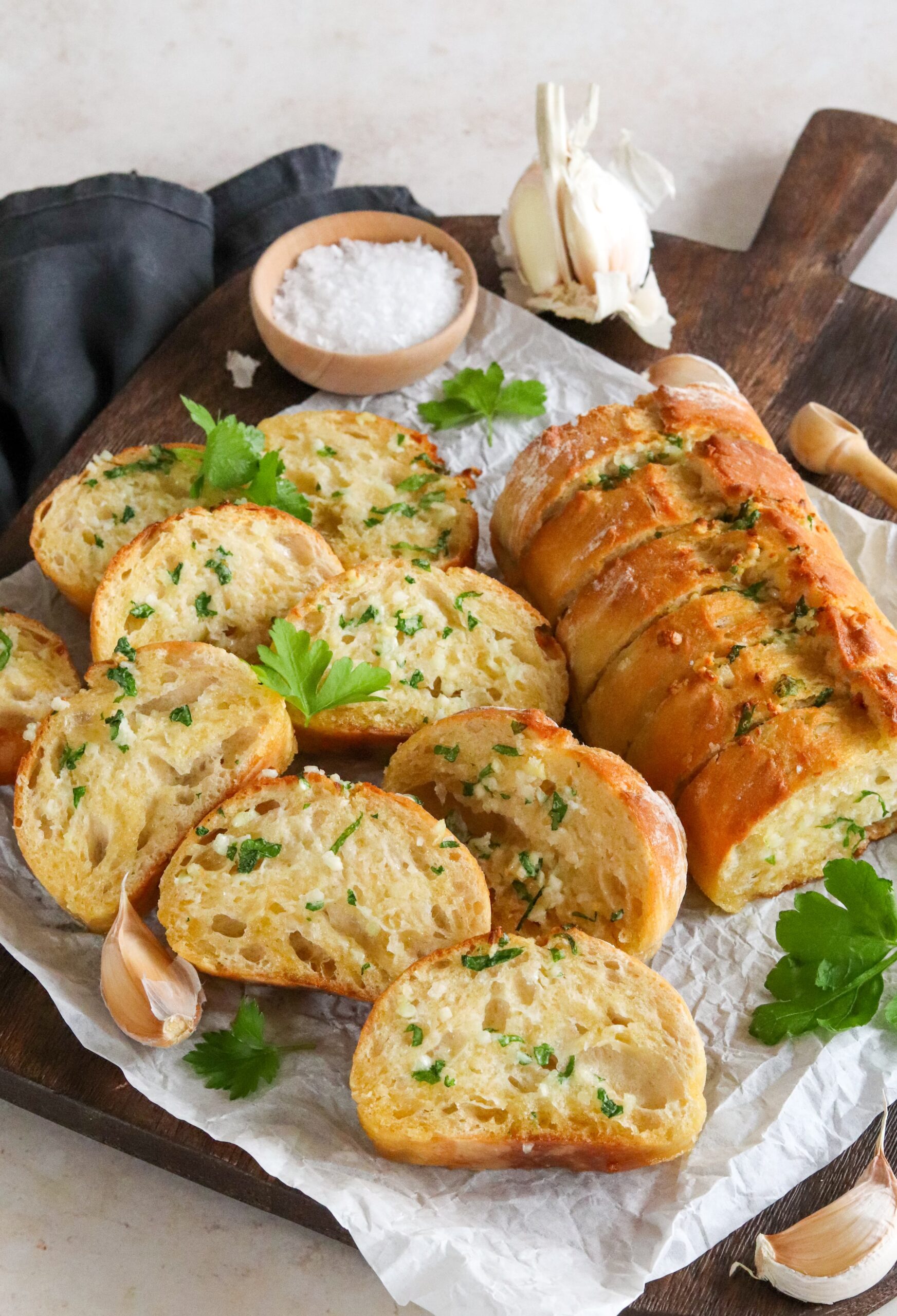 WHY USE AN AIR FRYER AND NOT AN OVEN?
Air fryers cook food quicker than a standard convection oven which is great for saving energy and pennies but also for busy families that want to be able to cook food quickly.
Another advantage is that air fryers are smaller than ovens and grills so you're not heating up a full-sized oven and instead a smaller air fryer. This means you're using less energy because you're heating up a smaller appliance as well as cooking the food faster.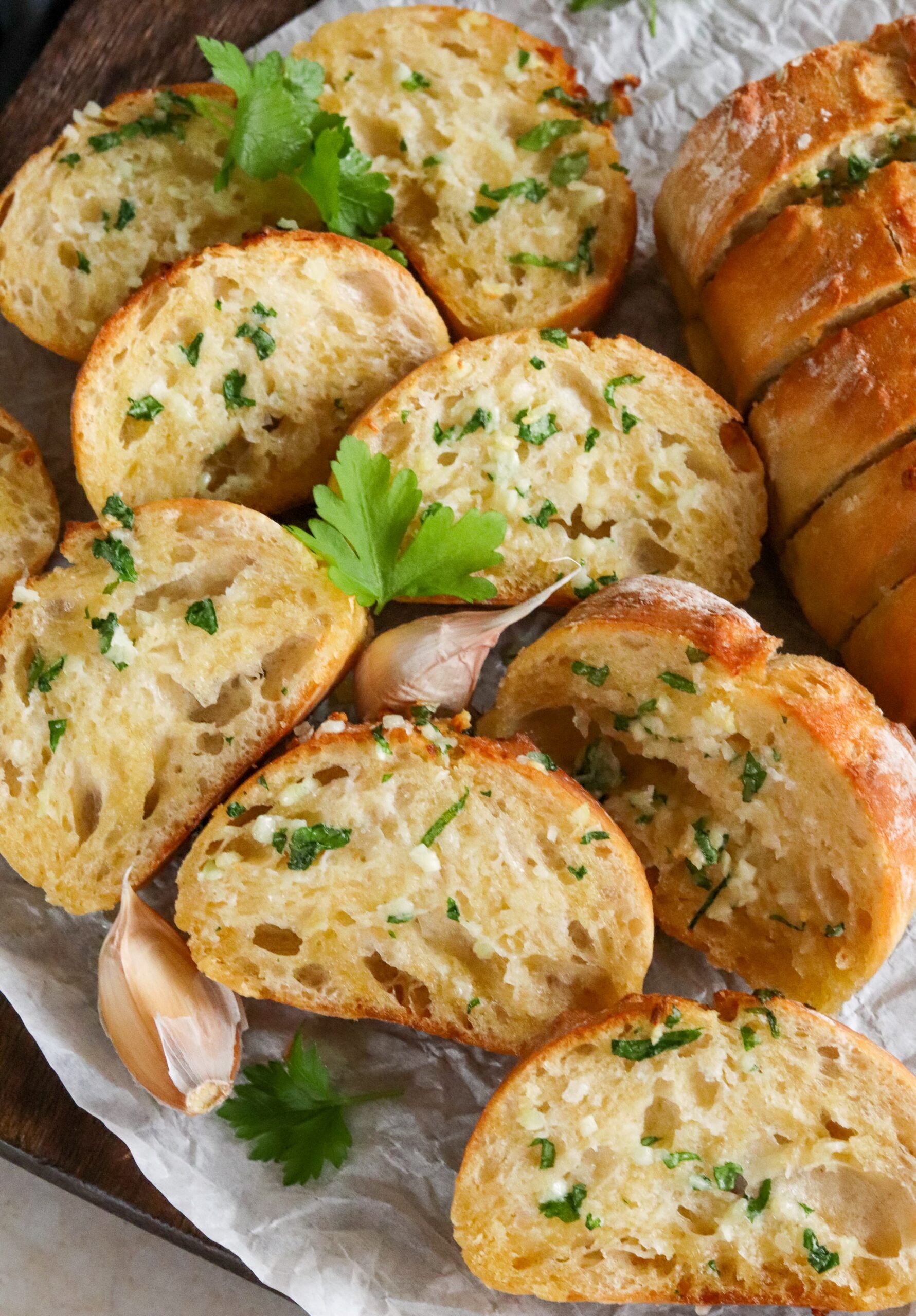 which bread is best to use to make garlic bread?
Garlic bread is a great way to use up bread that isn't at it's peak freshness.
My favourite type of bread to use for garlic bread is a baguette. This is because it not only gives you the iconic garlic bread look, but baguettes also tend to become stale quite quickly.
You can use whichever bread you want for garlic bread, however I would avoid using a standard loaf of bread. Sliced white or brown bread wouldn't work as well for garlic bread.
Bread rolls, sourdough, crusty bread and ciabatta would all work if you don't have a baguette. You can either cut the bread as I do in the recipe below with a baguette, or you can spread the garlic butter on one side of the bread and air fry it.
Depending on the size of the bread you decide to use, you might need to adjust the amount of garlic butter you make.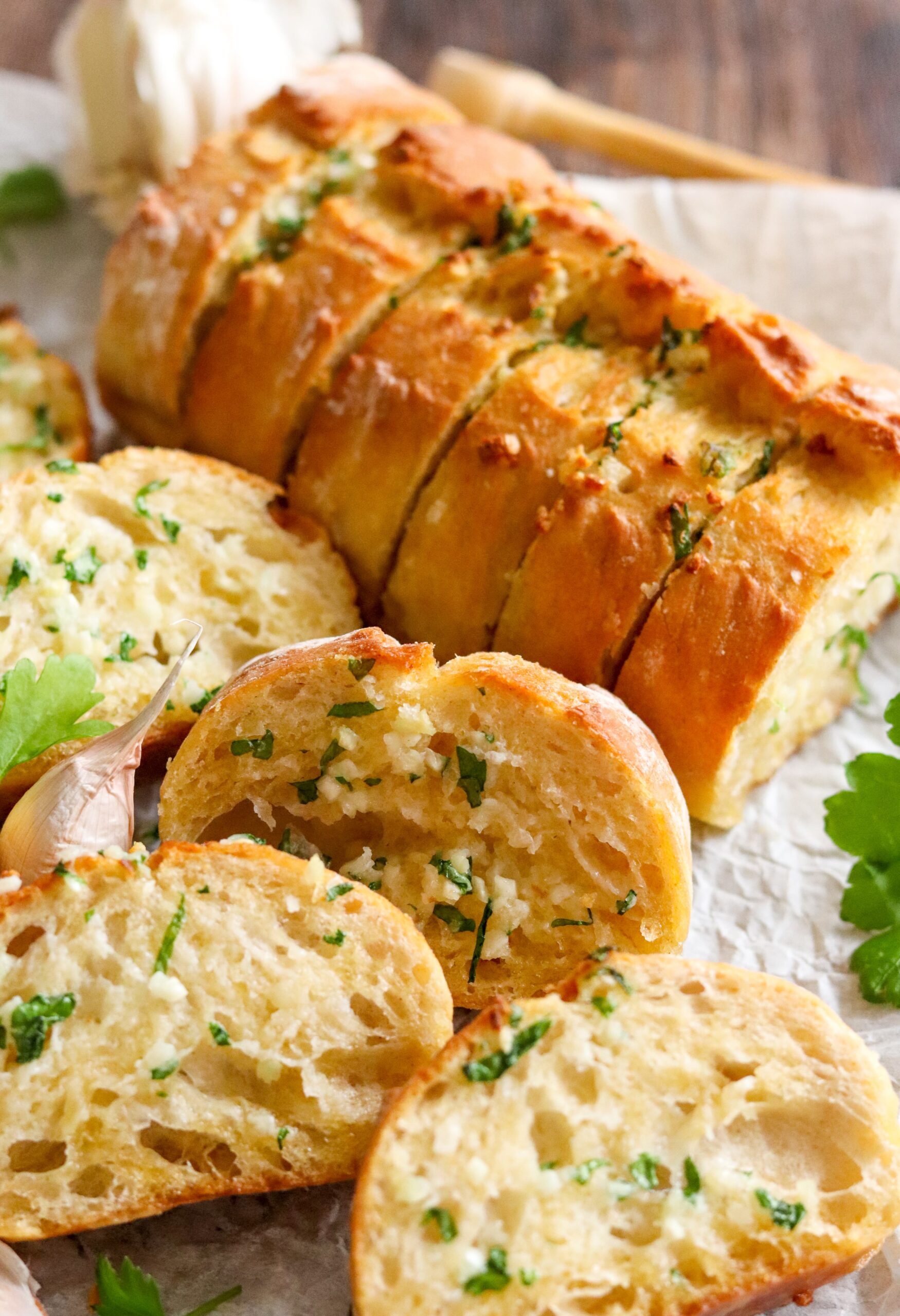 Garlic butter ingredients
Once you have your bread sorted, the only other ingredients you need are for the garlic butter. You can really be quite flexible and you'll probably have everything you need in your fridge and cupboards.
butter
I use unsalted butter when making garlic bread. This is because I always have it in the house because I used it for baking. But also because I like to add the level of salt for my preferences.
If you want to use salted butter you absolutely can. I would recommend either leaving out the additional salt altogether or adding less.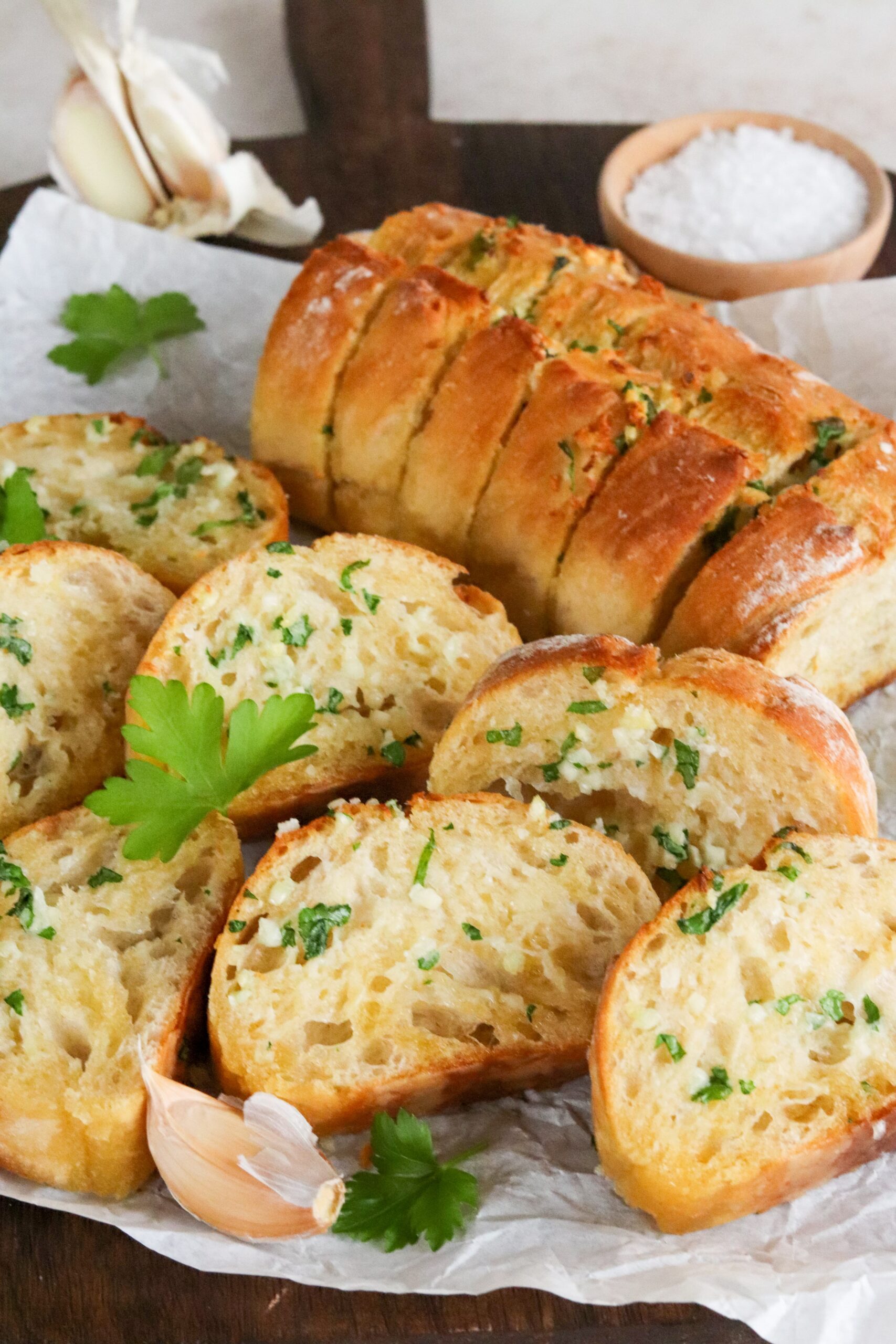 garlic
In the recipe below I have stated to use fresh garlic minced finely. This might surprise you, but I rarely have fresh garlic in my house.
I much prefer using minced or chopped garlic such as 'lazy garlic'. I find peeling garlic really fiddly and jars of garlic are really convenient.
I have also made this garlic bread using garlic granules which work well.
Although all forms of garlic will make delicious garlic bread, I do think the fresh garlic has an edge. But use whichever you have to hand.
Garlic is something that should be measured by your heart so add as much as you deem necessary. The recipe I have written it is quite garlic heavy so feel free to make any adjustments.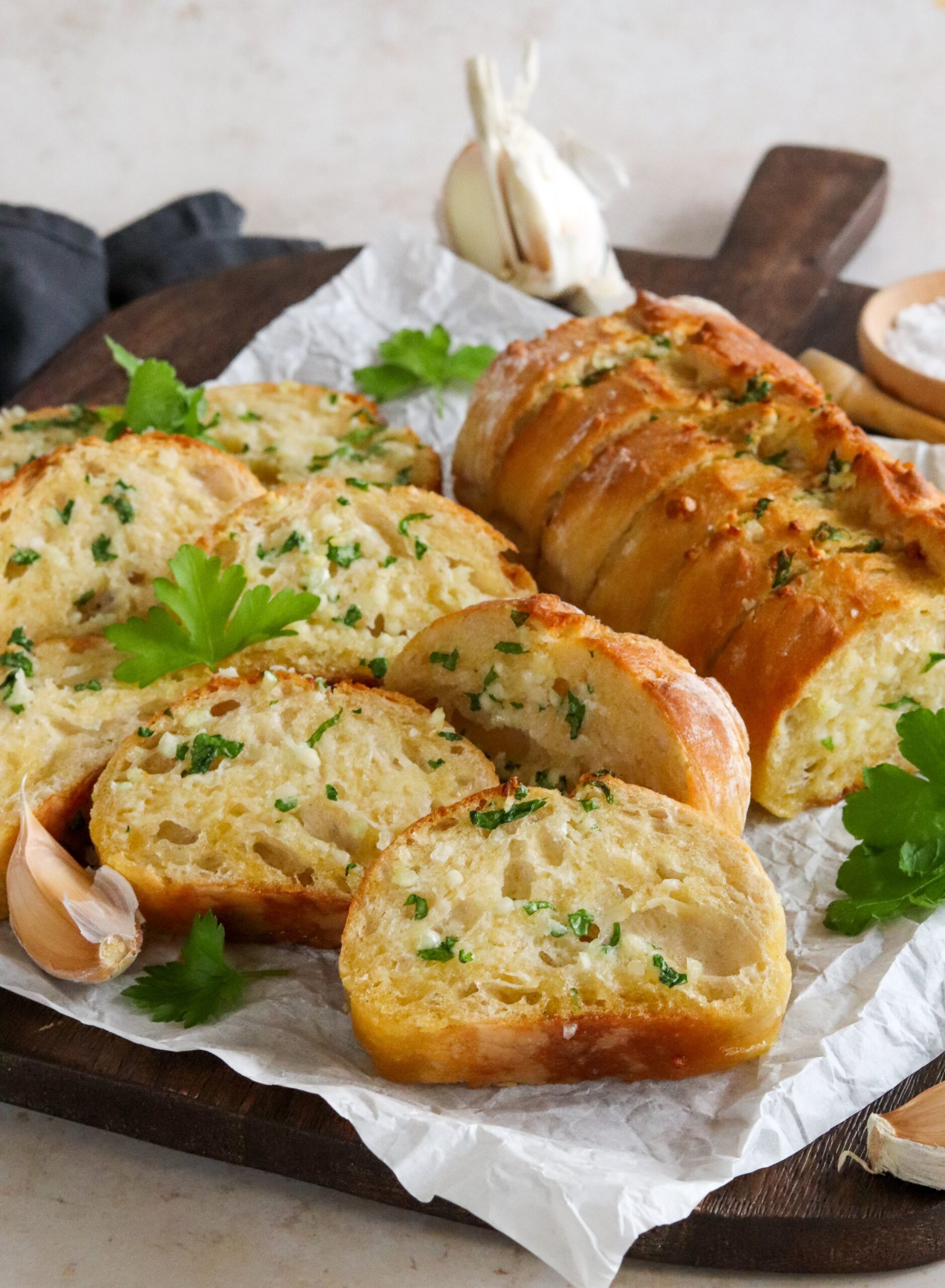 parsley
As someone that doesn't generally like parsley, I think fresh parsley works best in this garlic butter. I prefer flat leaf parsley but you can definitely use curly leaf if that is what you have.
If you don't have any fresh parsley you can use dried instead. I would add slightly less dried parsley as the flavour can be stronger.
You can also leave out the parsley altogether if it offends you like it usually does me!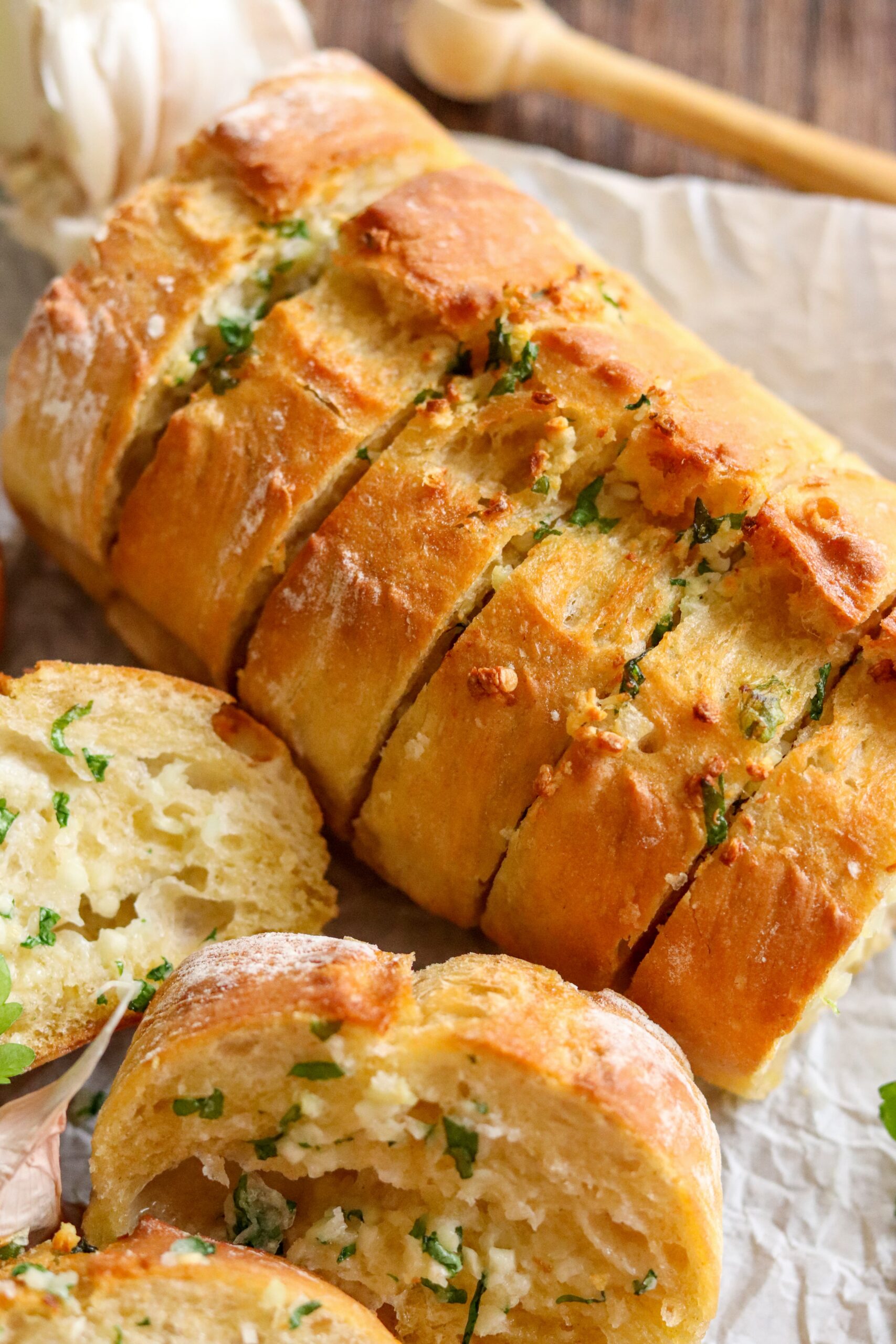 do you need to preheat an air fryer?
That depends on your air fryer, some require preheating whilst others don't. I have a Ninja 7-in-1 multicooker and I have never preheated mine.
If your air fryer does require preheating, check the garlic bread a few minutes sooner than the recipe states. If your air fryer is warm, food is likely to cook a few minutes faster.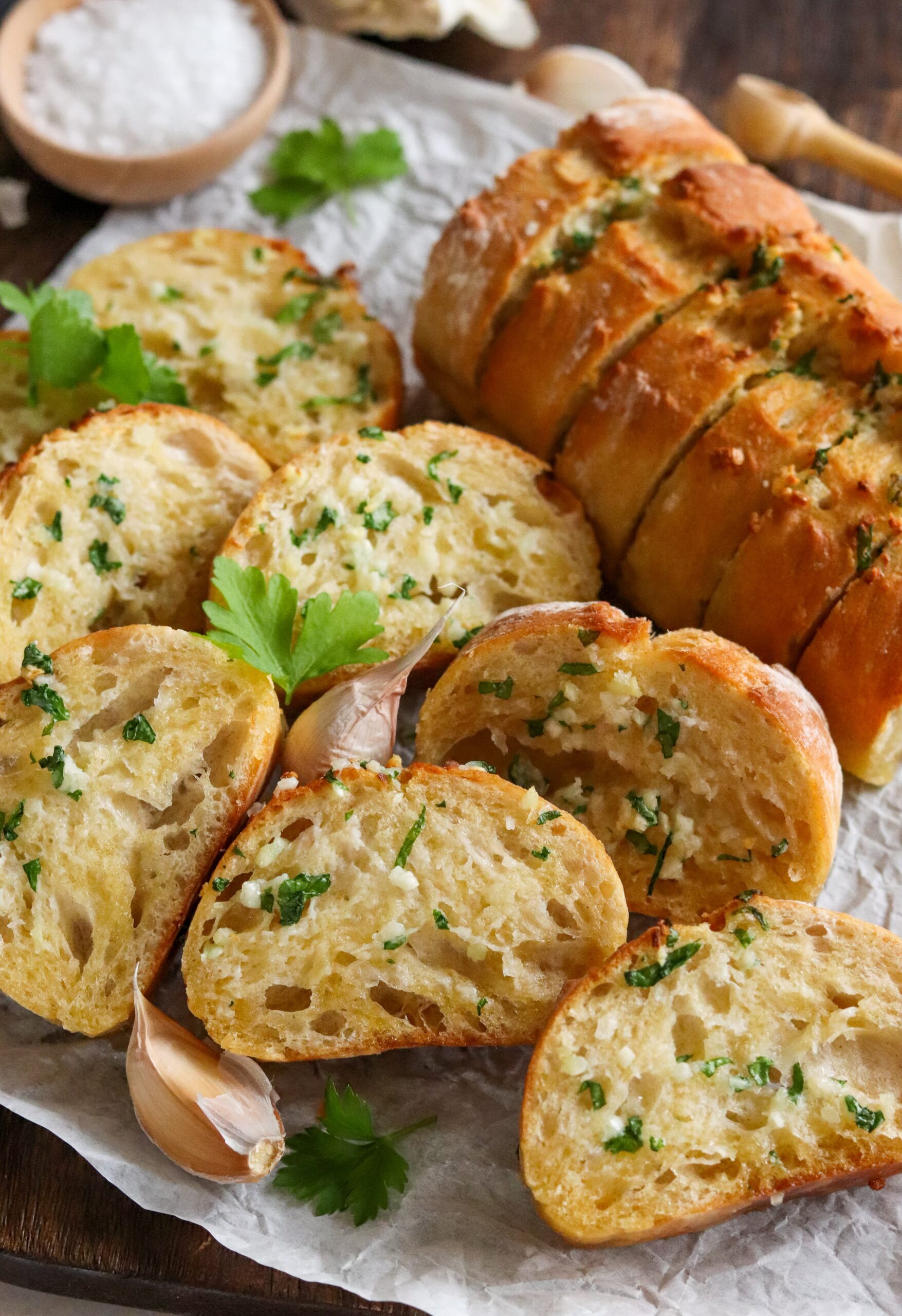 can you use an air fryer liner?
Air fryer liners are a great time saving addition because they are usually easier to wash than the basket of your air fryer.
Personally, I don't use a liner when I make this garlic bread but you can do if you want to. It just might not be as crisp underneath as the bread will sit in any garlic butter that melts.
I've written a whole post on whether you should use an air fryer liner, check it out for more information.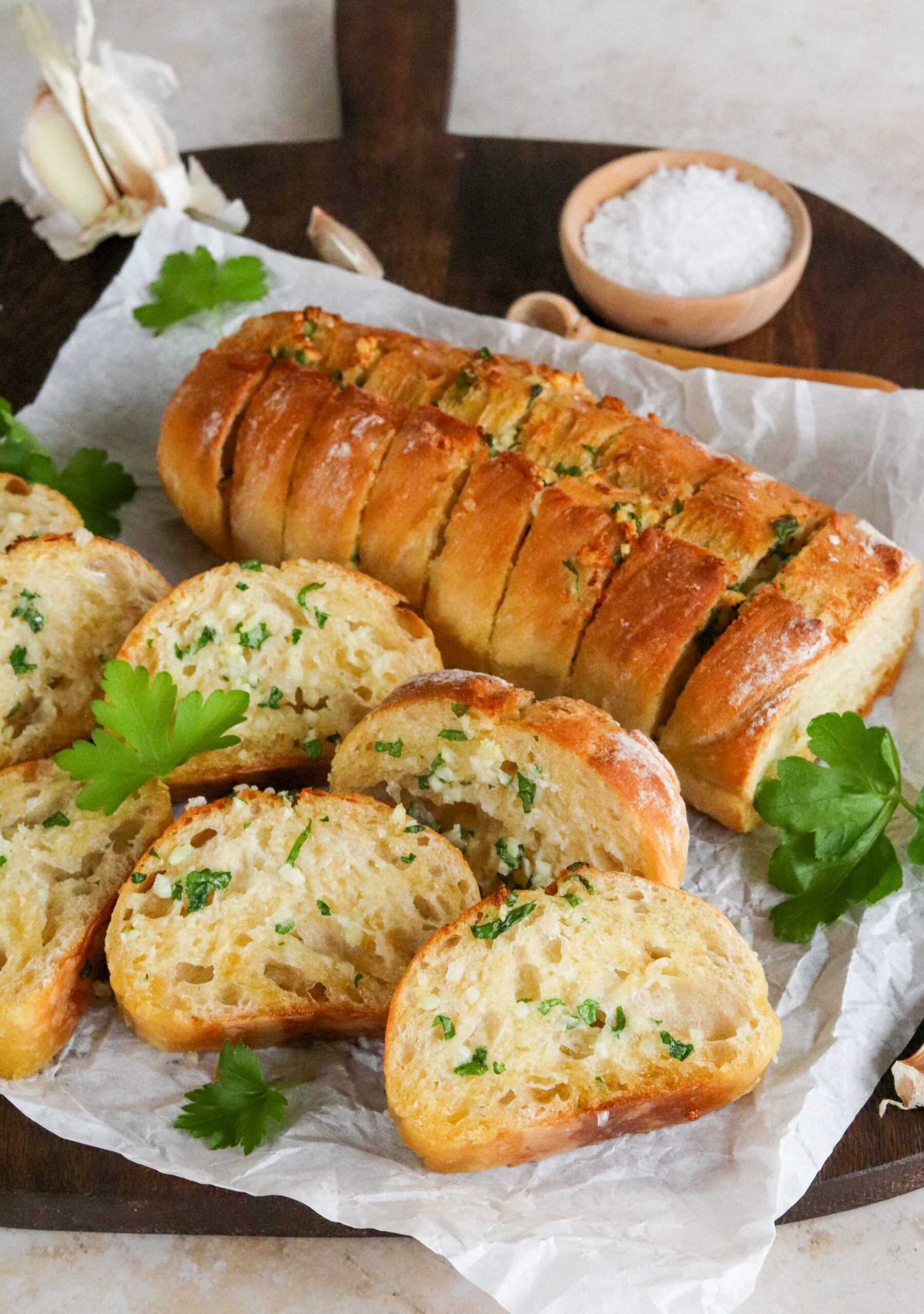 Can you make garlic bread in advance?
You can make the garlic butter and assemble the garlic bread in advance. Keep the garlic butter or the assembled garlic bread in the fridge for a few hours before you are ready to air fry it.
If you have bread that is slightly past it's best that you want to use, you could make the garlic bread and freeze it for a later date.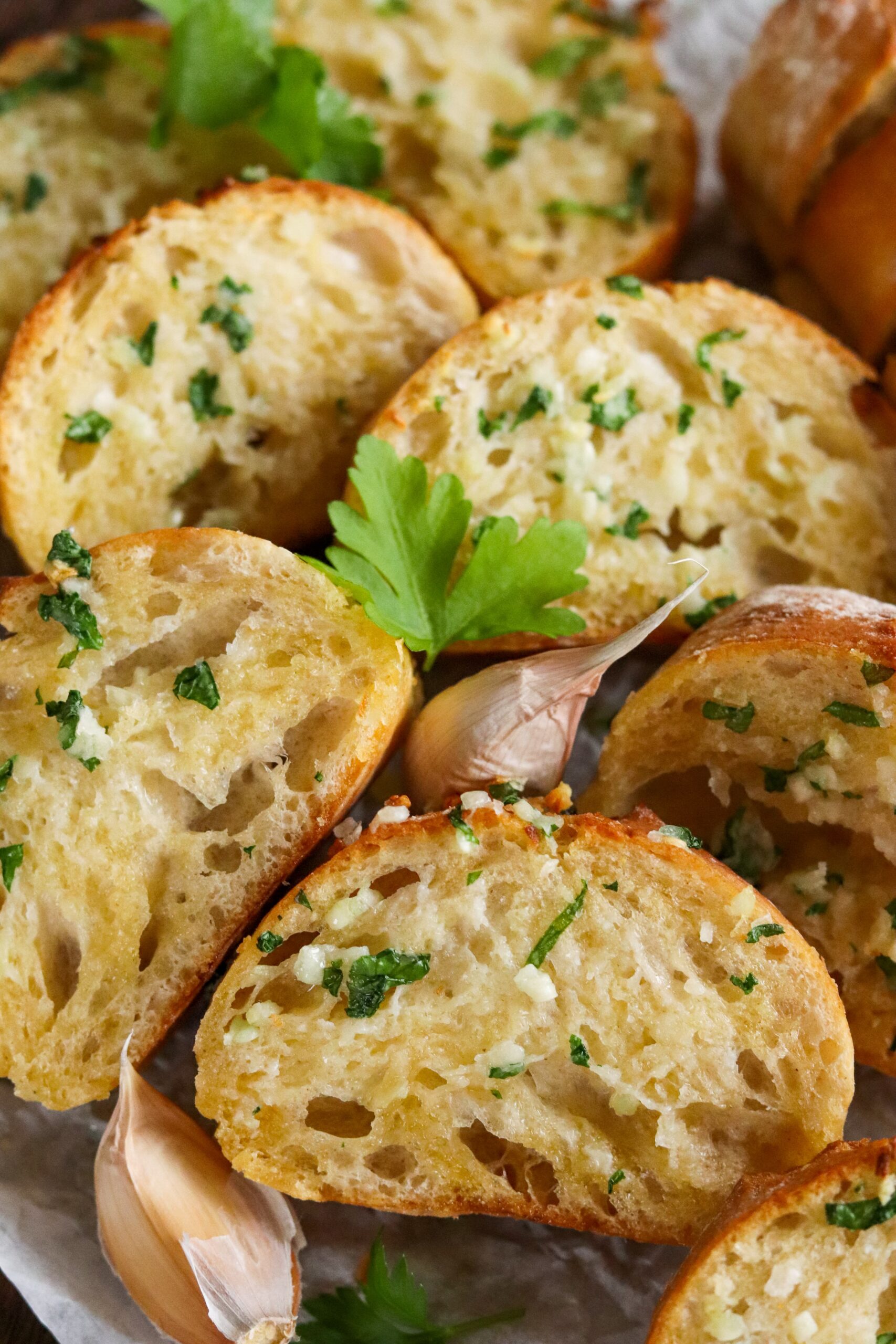 how to freeze garlic bread
Garlic bread is great to make in advance when you have some bread that is beginning to go stale.
Spread your chosen bread with garlic butter and then wrap it thoroughly before putting it in the freezer. You can freeze it for up to three months.
There is no need to defrost the garlic bread before air frying it. It will just take a few minutes longer to cook than if it was fresh.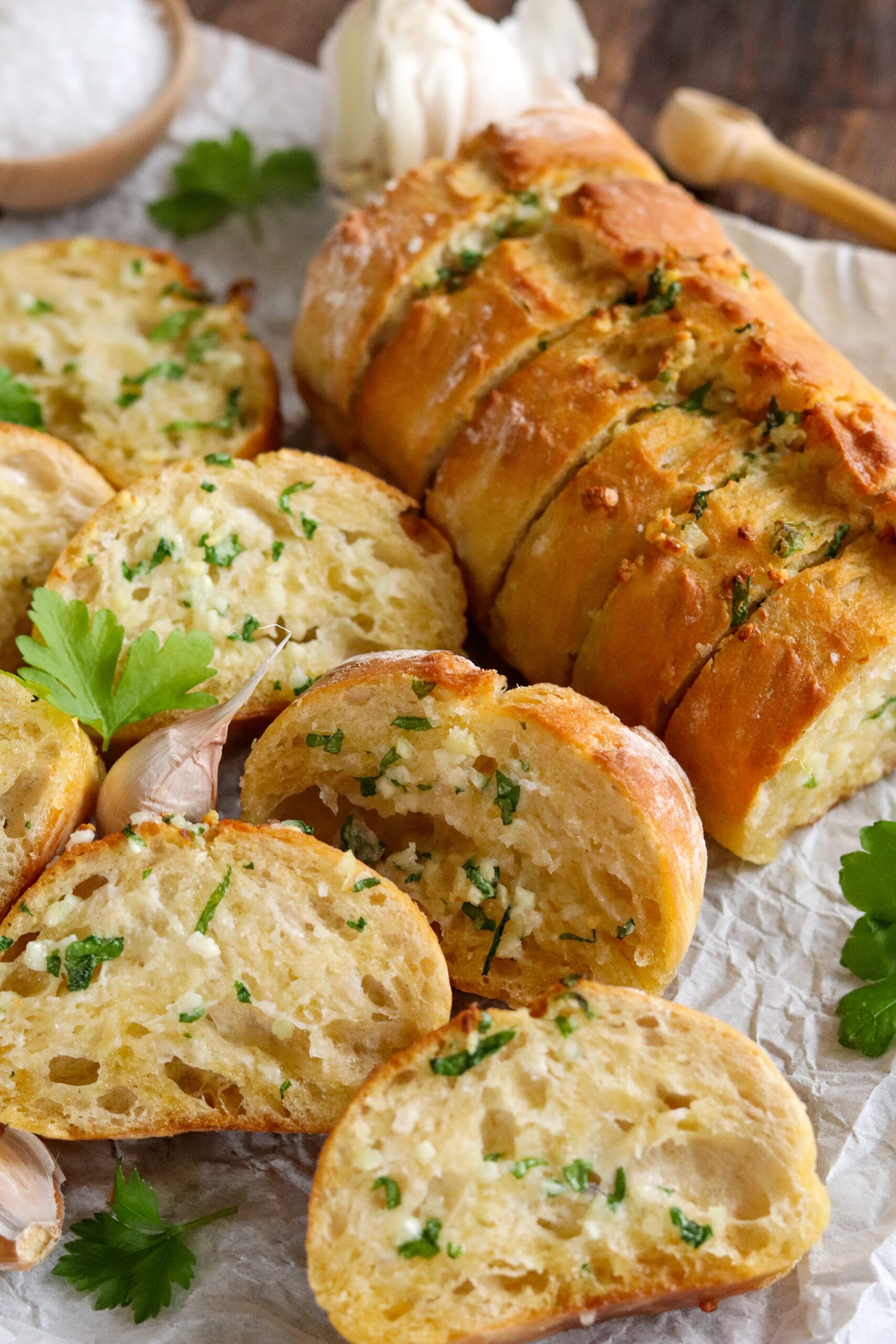 What to serve air fryer garlic bread with
You can serve garlic bread with whatever you want! I am not going to judge you for which meals you add a few slices of garlic bread to.
Some of the obvious options would be pasta dishes like the following:
Air Fryer Garlic Bread would also make a great accompaniment to Chilli Con Carne, Roasted Tomato & Red Pepper Soup or my Spanish Baked Chorizo & Beans.
You could also make my Air Fryer Pizza Bagels into a bigger meal by serving some garlic bread with them.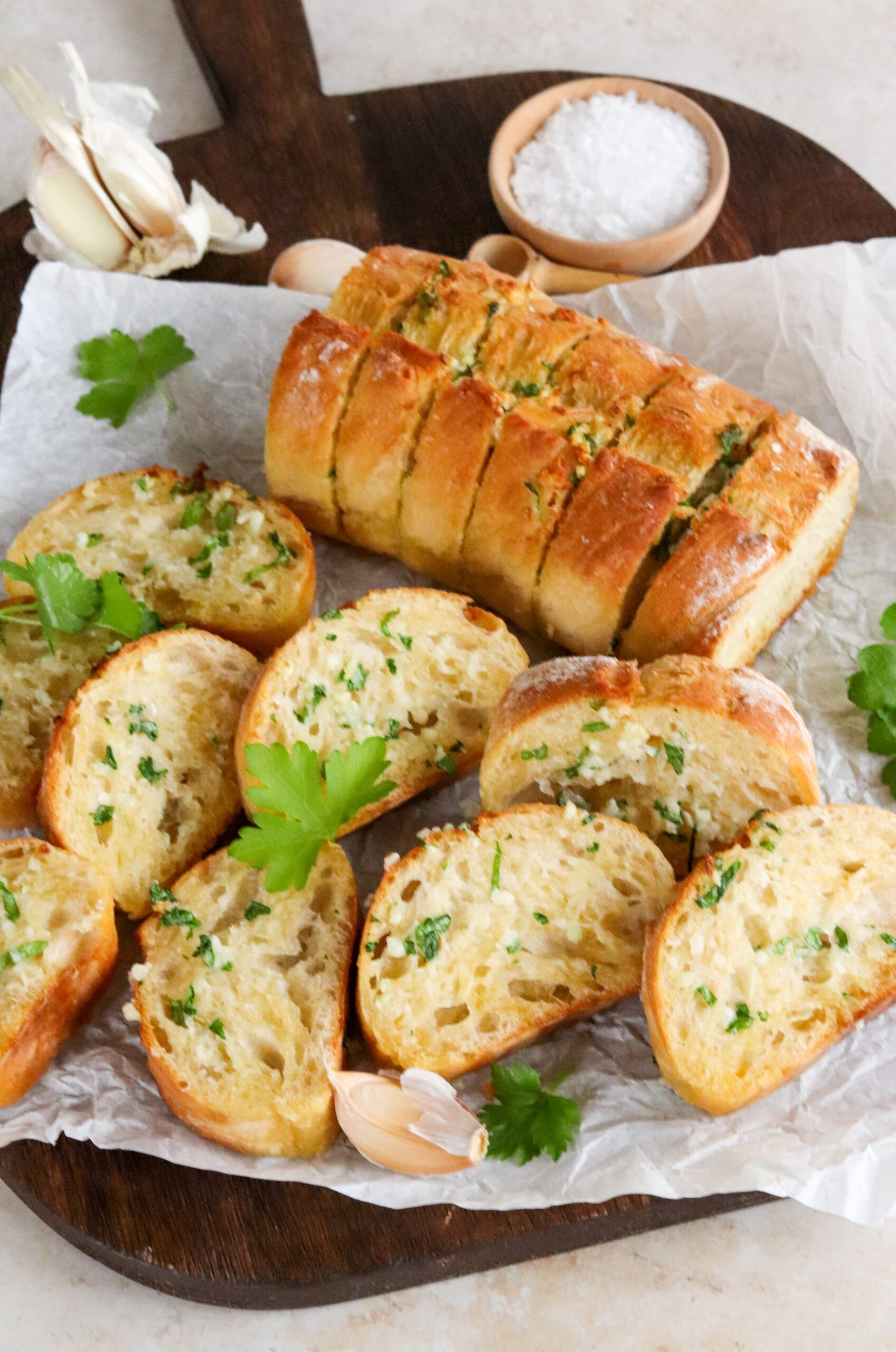 Other recipes you might like
Pin for later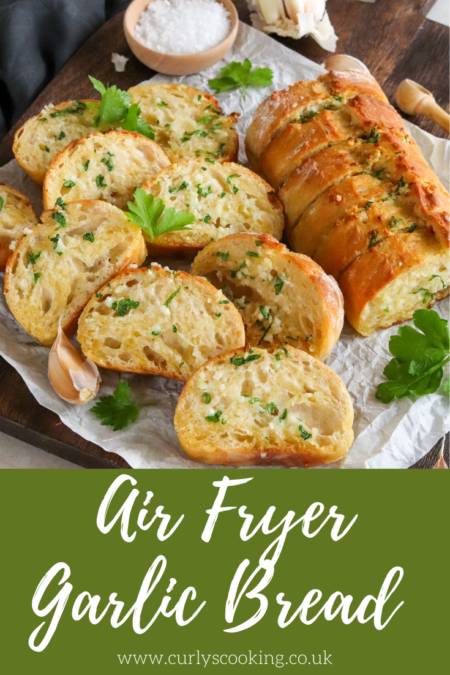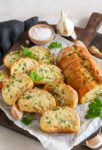 Air Fryer Garlic Bread
Making your own Air Fryer Garlic Bread is simple and really delicious. It is a great way of using up leftover bread and homemade garlic butter really can't be beaten!
Ingredients
1

baguette

(approx 240g)

120

g

unsalted butter

softened

1

tsp

sea salt

4-5

garlic cloves

minced

1½

tbsp

fresh parsley

chopped
Instructions
Preheat your air fryer if required

In a bowl mix together 120g unsalted butter, 1 tsp sea salt, 4-5 cloves minced garlic and 1½ tbsp chopped parsley

Cut the baguette into sections that fit into your air fryer. I had to cut mine in half. Cut slices approximately 2cm apart into the baguette making sure you don't cut right through to the bottom

Spoon the garlic butter liberally into each slit

Cook in the air fryer at 190°C for 5-7 minutes until golden and crisp
Recipe Notes
If your air fryer requires preheating, check the garlic bread a couple of minutes earlier than the recipe states.
Nutritional information is given as a guide only and may vary.
Nutrition Facts
Air Fryer Garlic Bread
Amount Per Serving
Calories 255
Calories from Fat 153
% Daily Value*
Fat 17g26%
Cholesterol 43mg14%
Sodium 648mg28%
Potassium 70mg2%
Carbohydrates 21g7%
Protein 4g8%
Vitamin A 584IU12%
Vitamin C 2mg2%
Calcium 54mg5%
Iron 2mg11%
* Percent Daily Values are based on a 2000 calorie diet.