Creamy and delicious pasta but without the guilt. My Skinny Creamy Chicken Sausage Pasta is full of flavour and healthier than you would expect!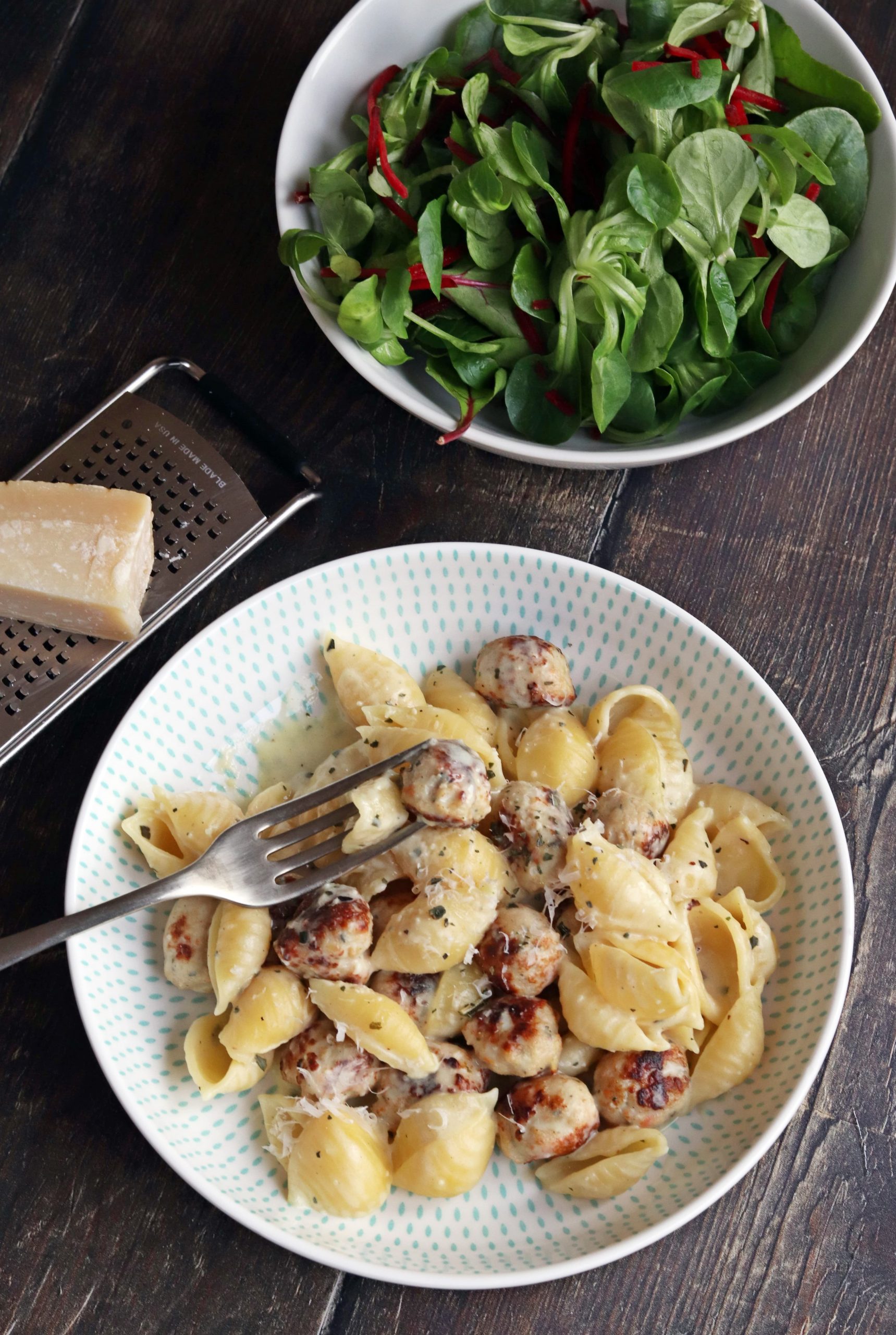 Who doesn't love a good pasta dish?
Pasta is a food many people love for its versatility and speed. It can be used to make so many tasty dishes.
Growing up I didn't really enjoy eating pasta. It wasn't until I left uni that I really started cooking it a more and realising how many delicious meals you can create.
Taking inspiration from alfredo sauce
Alfredo sauce is a pasta sauce popular in America in particular. It is a rich and creamy sauce that combines double/heavy cream and cheese to coat the pasta that is usually fettuccine.
Although a rich and creamy pasta sauce is delicious, it isn't always the healthiest of options.
My Skinny Creamy Chicken Sausage Pasta uses the flavours, but is a healthier and lighter version making it perfect for an everyday meal.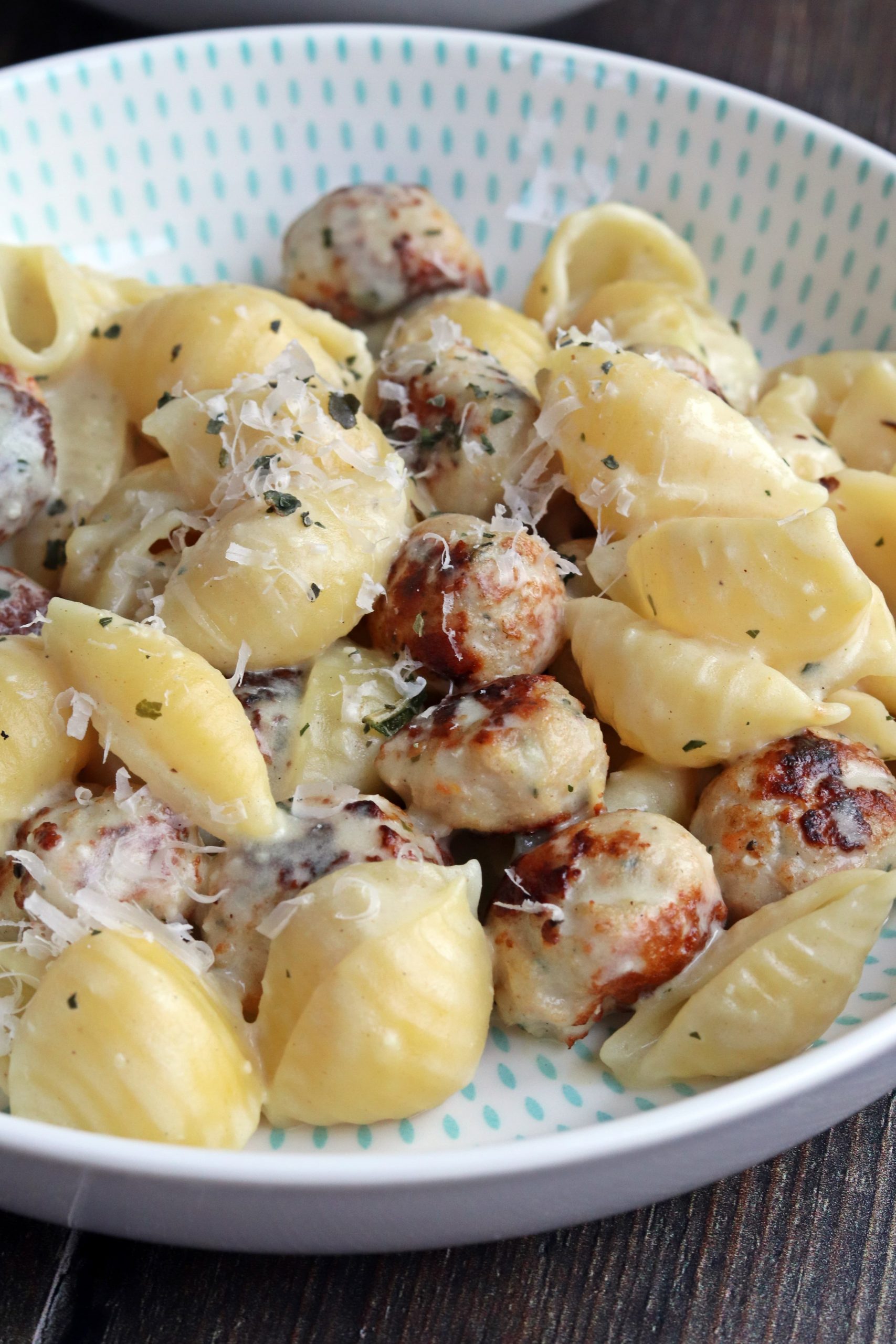 What makes this pasta sauce skinny?
In order to make this Skinny Creamy Chicken Sausage Pasta healthier, I had to find an alternative to cream.
This healthier sauce comes from mixing the low fat cream cheese, semi skimmed milk and flour together. The cream cheese provides the creaminess with the flour keeping the sauce thick so it coats the pasta.
Parmesan is also a great calorie saver as it has far less calories than other cheeses such as cheddar. It also has a strong flavour so you need less to achieve a cheesy flavour.
The really good thing about it is that it doesn't taste 'healthy'. It tastes like it is an indulgent, rich and creamy pasta dish.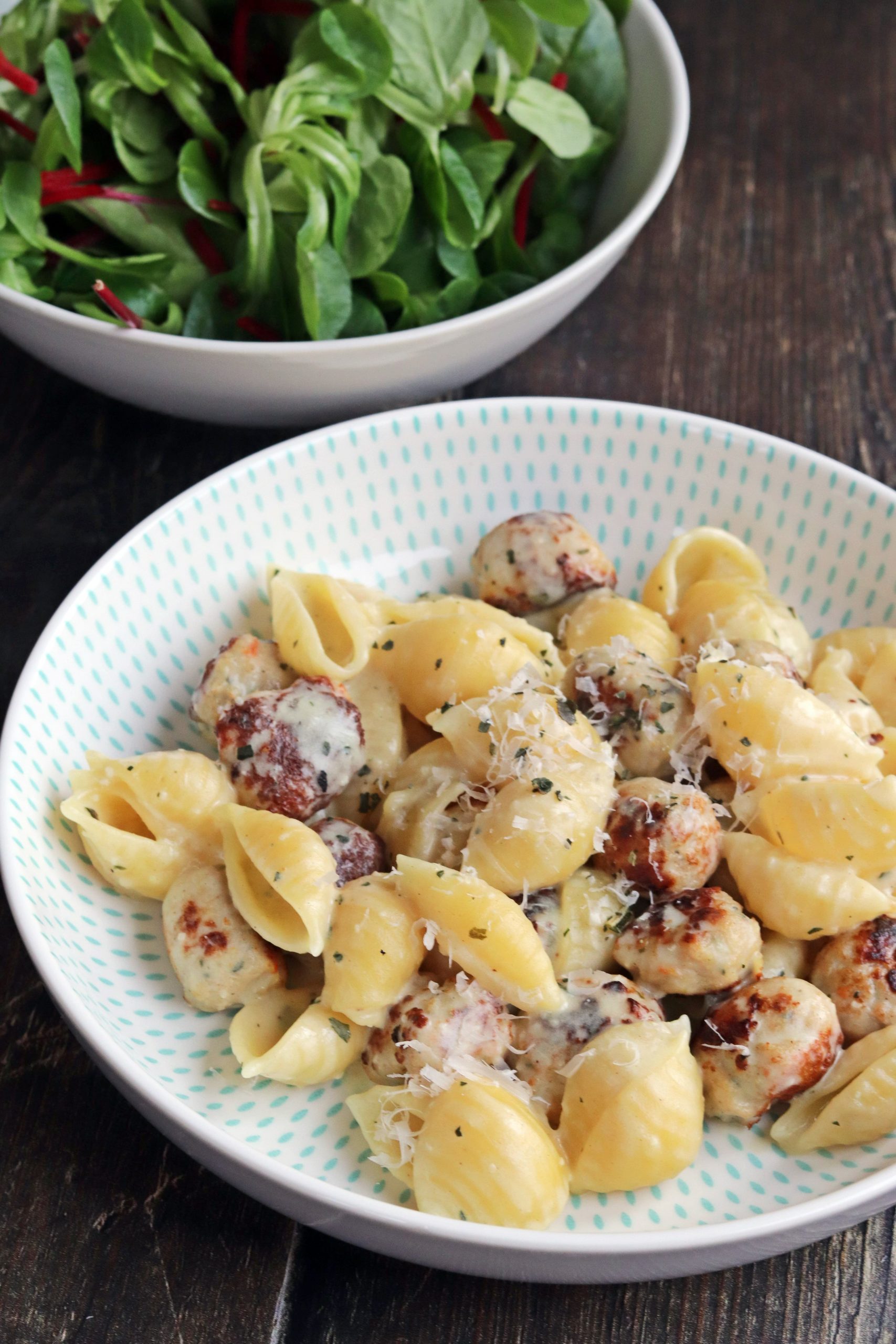 Which type of cream cheese to use?
Cream cheese or soft cheese is an ingredient I always have in my fridge. You will always find a full fat cream cheese in my fridge for baking, and a low fat cream cheese for dishes like this.
Whereas in baking you need to use full fat cream cheese for icing so it holds it's shape, you can use low fat cream cheese when cooking.
There are a few different options of cream cheeses you can buy; full fat, low fat and then there is usually an option in the middle.
I like to use the lowest fat option in this recipe to help keep it healthier and also because it doesn't detract from the flavour of the finished dish.
Why not just use a jar of sauce?
I know jars of pasta sauce are incredibly popular as a quick and easy option; but they tend to have quite a lot of sugar in them as well as not being the healthiest option.
Making your own sauce is healthier and you know exactly what is in the sauce. And it is also really quick and easy to do!
Anyone can make this sauce in a couple of minutes and I can guarantee it will be delicious.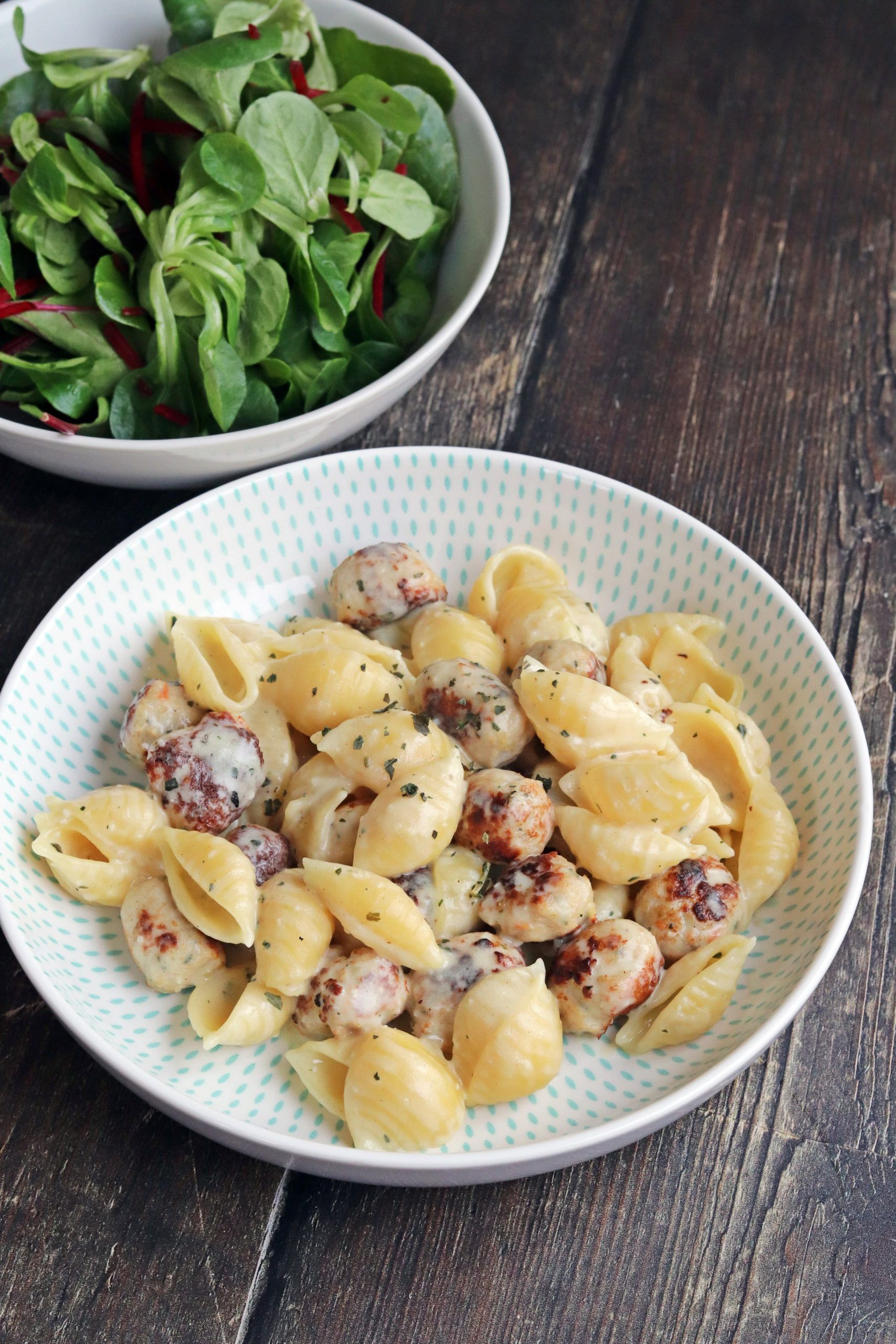 Which chicken sausages are recommended to use?
When I first made this recipe, there was really only one large brand making chicken sausages.
In the last few years chicken sausages have become a lot more popular and there are so many different options out there.
I would recommend using a plain or Italian seasoned chicken sausage as these flavours would work best with the rest of the dish.
If you would prefer not to use chicken sausages, check out my Chicken & Basil Pasta recipe.
The advantages of using frozen or dried basil
Fresh basil is always delicious and great to have. But I wanted this to be a recipe you could make with a few basic ingredients from the fridge and cupboards.
Frozen and dried basil do not have as strong a flavour as fresh basil, but they are a fantastic alternative to have.
If you have fresh basil, you can absolutely use it. However there is absolutely nothing wrong with using frozen or dried basil.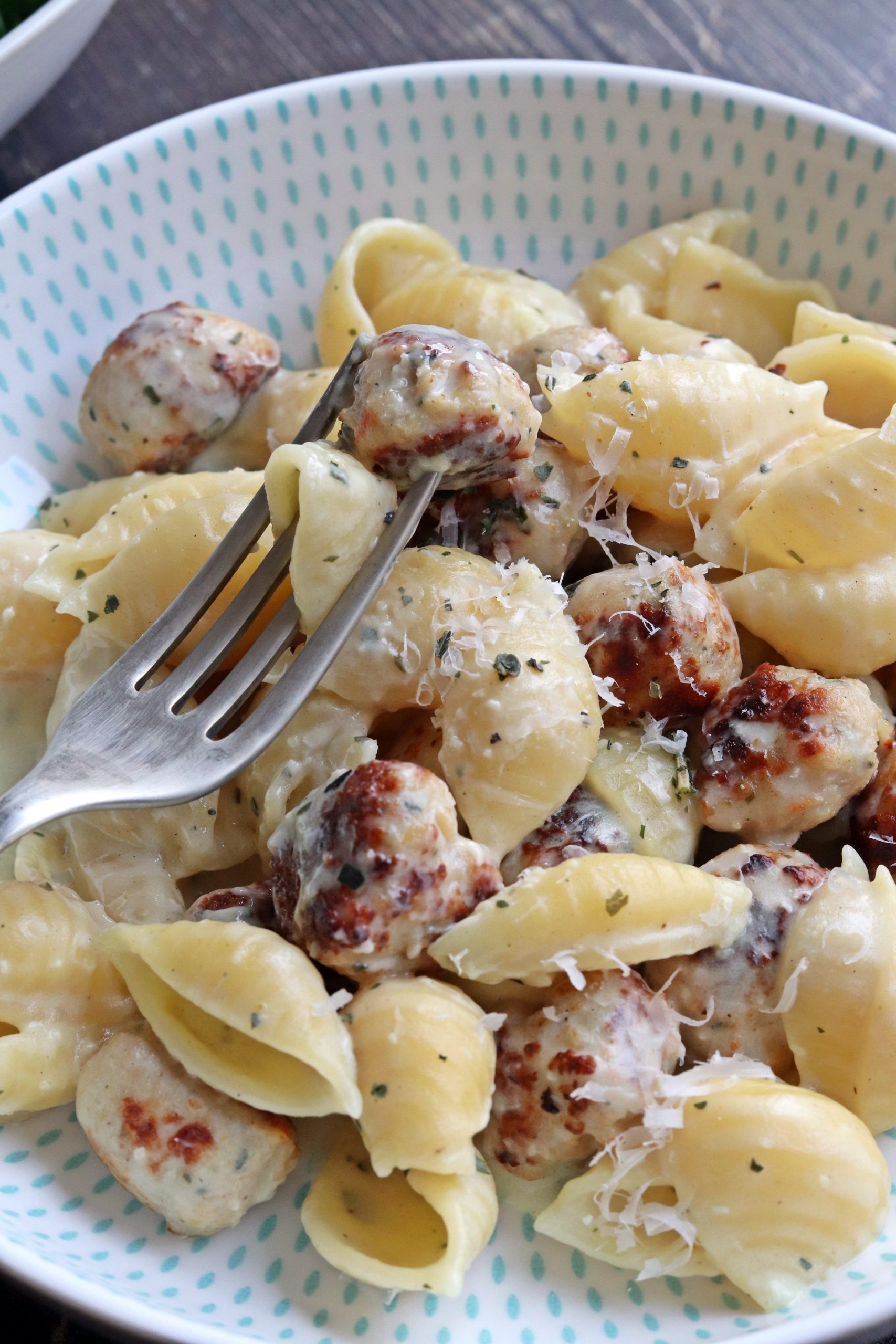 Which type of pasta is best to use?
You can use any shape of dried or fresh pasta for this recipe, it really is up to you. Personally I like to use a pasta shape that will help catch the tasty creamy sauce, like conchiglie. Plus they look pretty too!
It is also up to you whether you use fresh or dried pasta. I think everyone has some dried pasta in the cupboard but you may want to use fresh pasta to make this dish even quicker to cook.
What to serve this pasta with
This Skinny Cream Chicken Sausage Pasta is a complete meal in itself.
However I do like to serve it with a really simple leafy salad. If you want to really escalate this dish, why not make my Garlic & Parsley Dough Balls or Air Fryer Garlic Bread.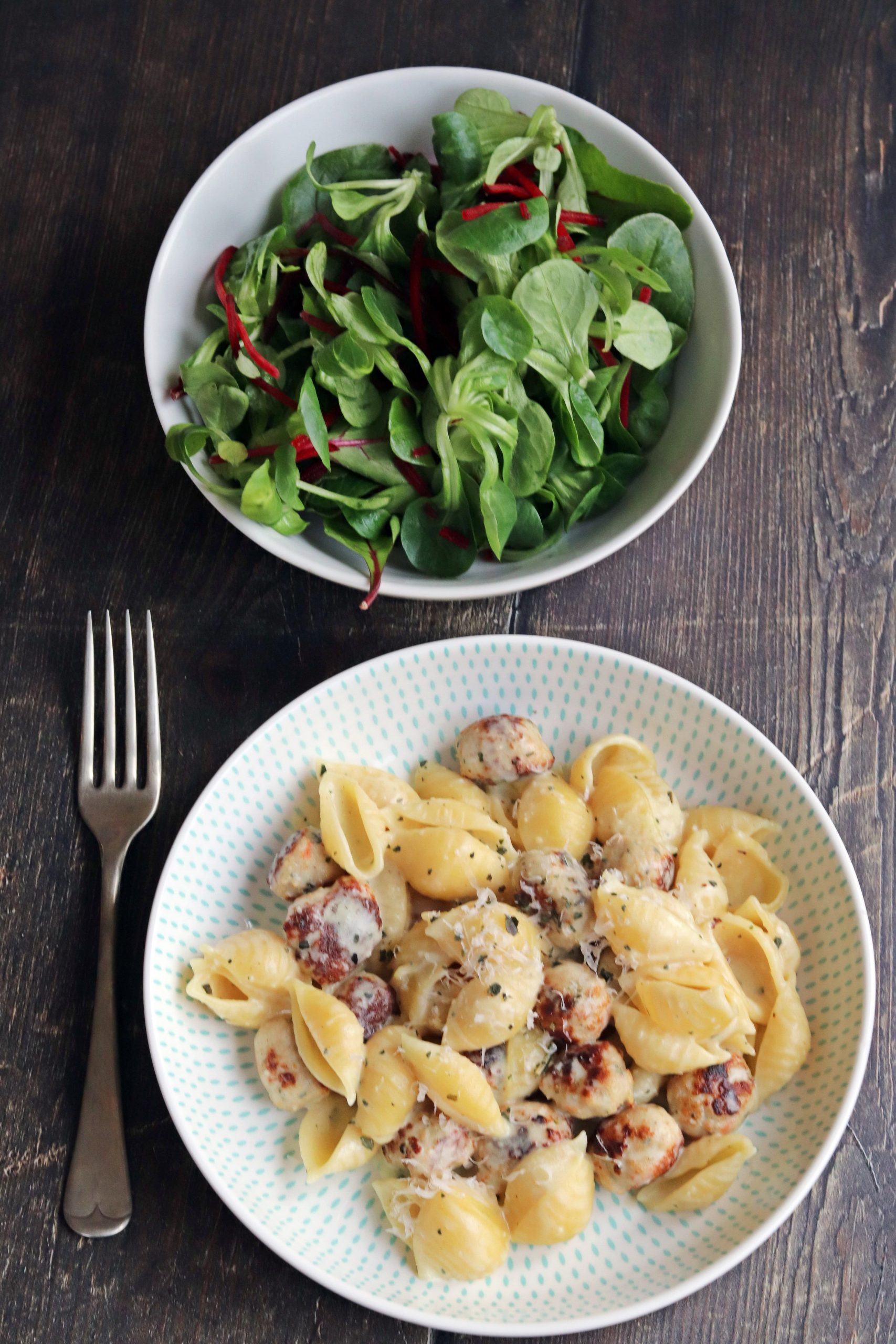 Does this Skinny Creamy Chicken Sausage Pasta make good leftovers?
This recipe is great for leftovers.
I often make the quantities below for Mr and Curly and I for dinner so we have leftovers for lunch the next day.
The pasta will keep covered in the fridge for 2-3 days. I usually reheat this in the microwave as it is the easiest and quickest way to do so. Make sure it it piping hot before serving.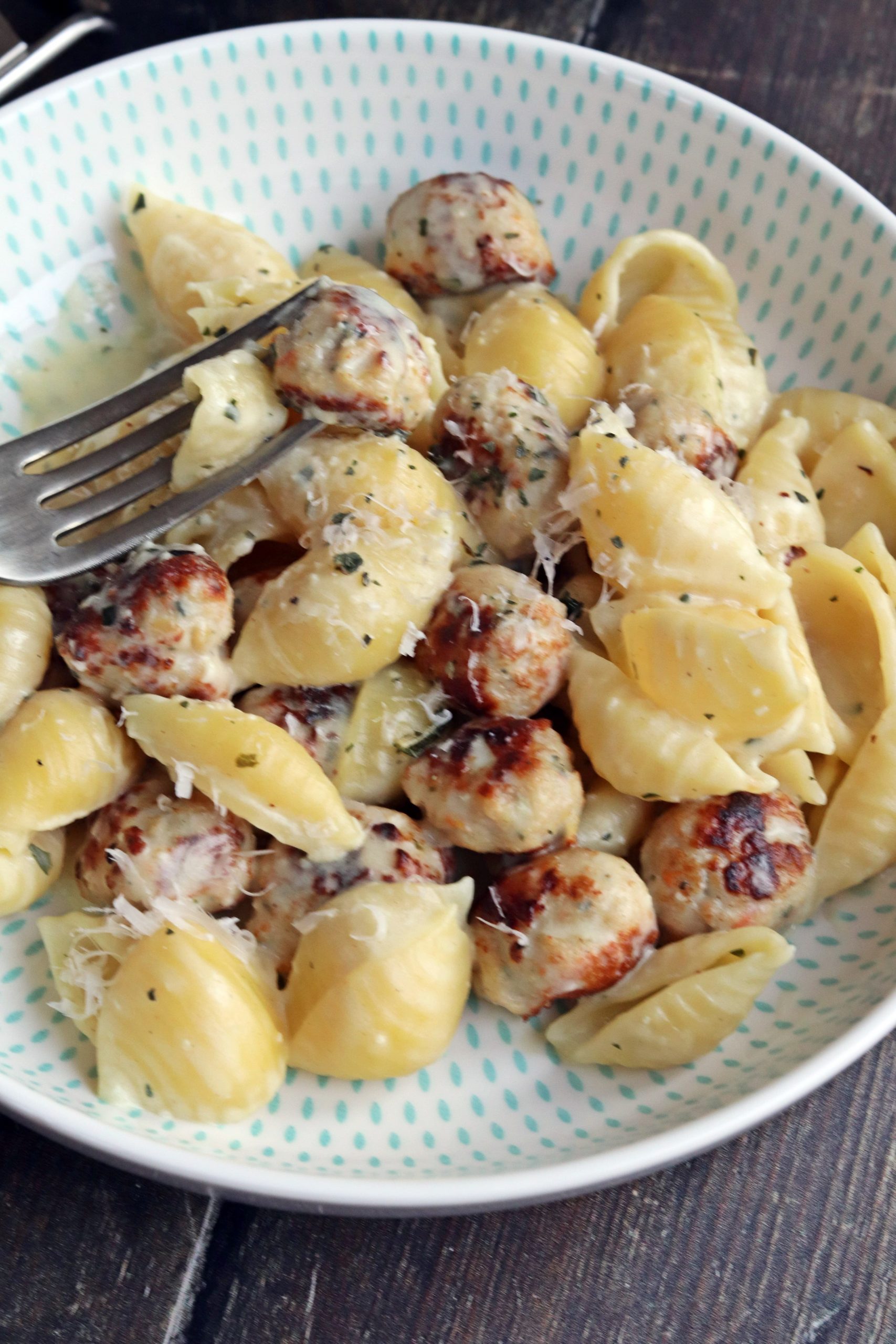 Other recipes you might like
Pin for later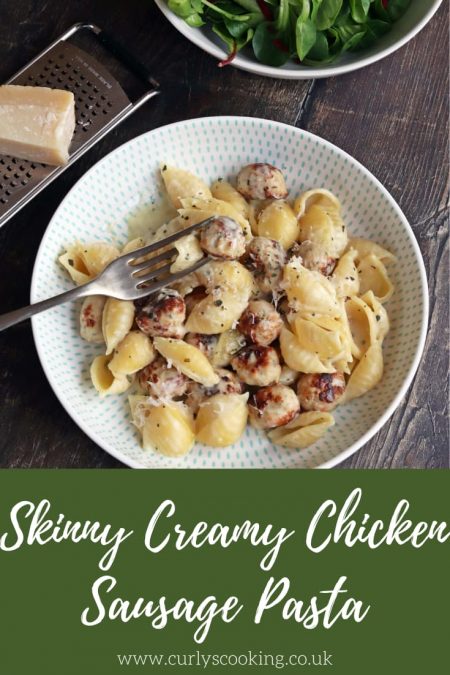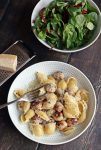 Skinny Creamy Chicken Sausage Pasta
Creamy and delicious pasta but without the guilt. My Skinny Creamy Chicken Sausage Pasta is full of flavour and lower in calories than you would expect!
Ingredients
300

g

pasta

350

g

chicken sausages

de-skinned

½

tsp

sunflower oil

3

tbsp

low fat cream cheese

1

tbsp

plain flour

80

ml

semi skimmed milk

250

ml

chicken stock

¼

tsp

sea salt

½

tsp

garlic granules

1

tbsp

frozen or dried basil

pinch

of black pepper

20

g

parmesan

grated
Instructions
Cook the pasta as per the packet's instructions

Remove the casing from the sausages and split each sausage into roughly four pieces. Roll each piece between your palms to make little balls

Heat the oil in a frying pan on a medium high heat and add the sausage pieces. Cook for around 10 minutes until crisp and brown on the outside and cooked through

Remove the sausage from the pan and set aside

Mix the cream cheese, milk and flour together in a mini food processor

Turn the pan onto a low heat and add the cream cheese mix to the pan along with the stock and whisk to combine. It will look a little lumpy, but keep whisking and it will come together. Keep whisking until it thickens slightly

Add the salt, pepper, garlic granules and basil and stir through

Add the sausage back to the pan and add the drained pasta

Stir through and allow everything to heat through for a couple of minutes

Add the grated parmesan, stir through and serve
Recipe Notes
Nutritional information is given as a guide only and can vary.
Nutrition Facts
Skinny Creamy Chicken Sausage Pasta
Amount Per Serving
Calories 541
Calories from Fat 162
% Daily Value*
Fat 18g28%
Cholesterol 75mg25%
Sodium 1277mg56%
Potassium 289mg8%
Carbohydrates 66g22%
Protein 28g56%
Vitamin A 430IU9%
Vitamin C 1mg1%
Calcium 116mg12%
Iron 2mg11%
* Percent Daily Values are based on a 2000 calorie diet.