This Easy Cheese & Broccoli Pasta is a perfect midweek dinner. It is quick, easy and delicious as well as being packed with cheesy goodness.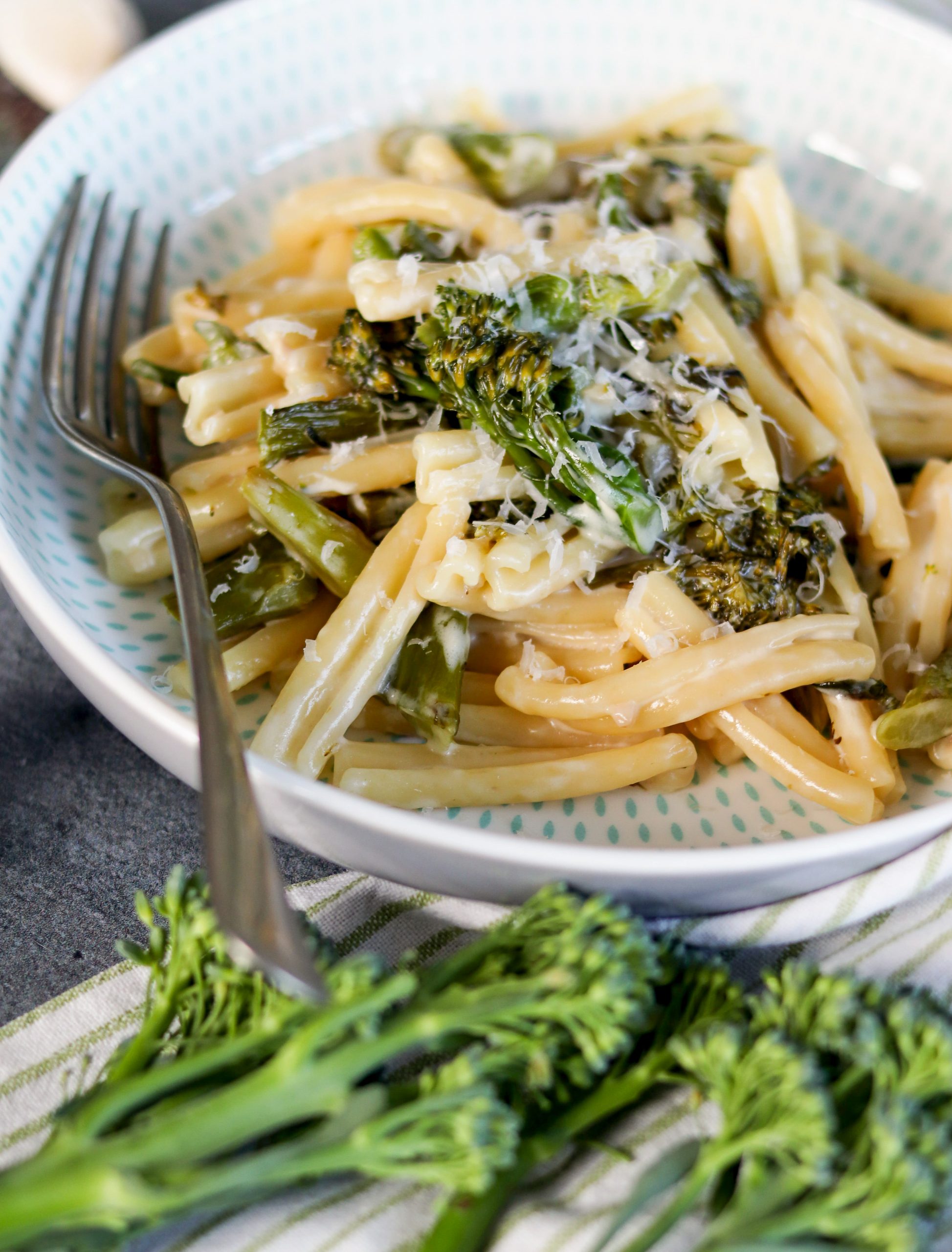 Easy Cheese & Broccoli Pasta makes the perfect midweek meal
We all look for quick and easy dinner options for during the week when things can get a little hectic.
This Cheese & Broccoli Pasta doesn't take long at all to make – you can have it on the table in twenty minutes.
This is a really simple dish which the whole family would enjoy.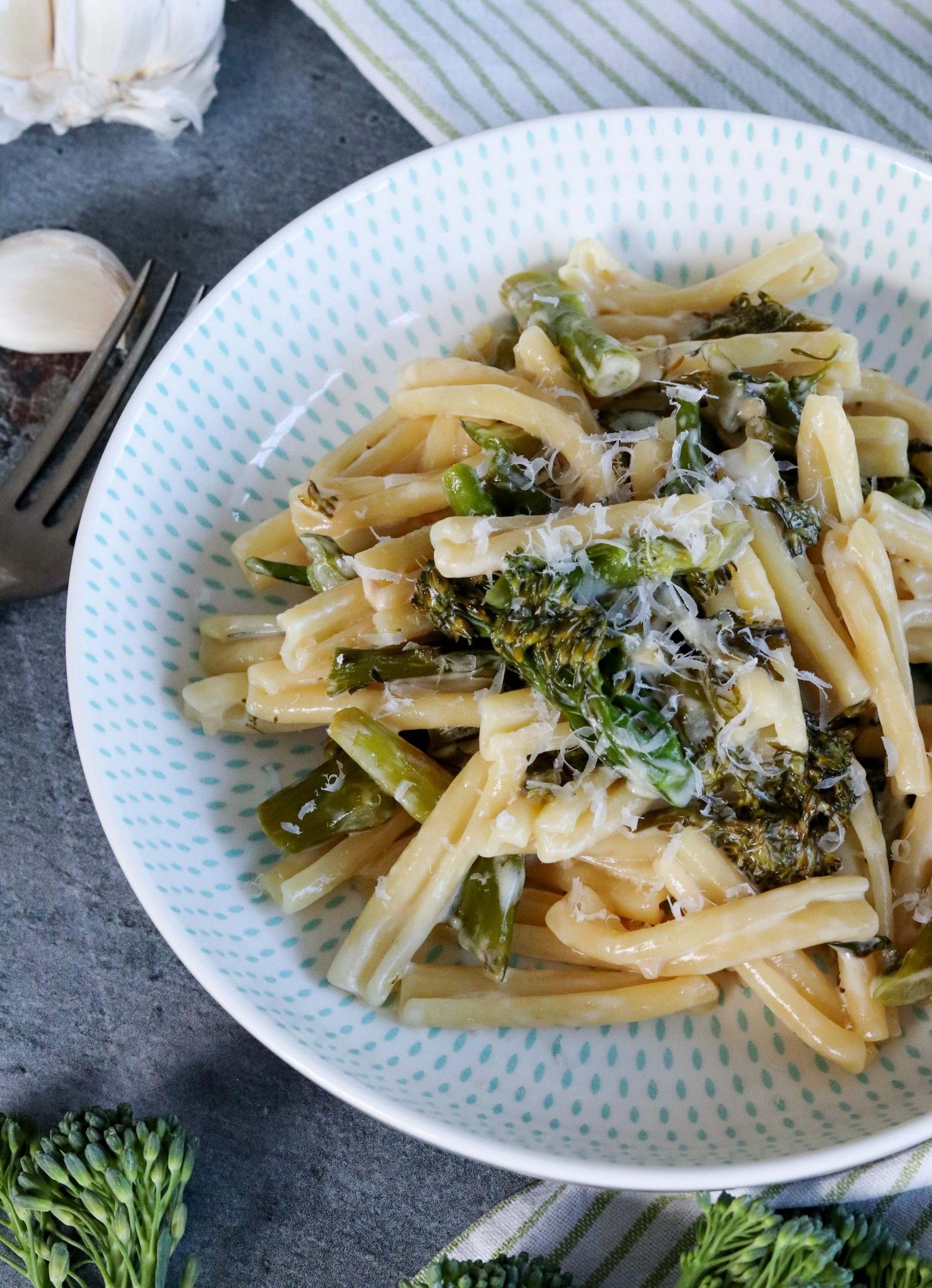 Which pasta can be used?
You can literally use whatever shape or type of pasta you like for this recipe.
I tend to buy a different shaped pasta every time I buy it. There are shapes I prefer and tend to buy more often but they all work well in this recipe.
If you choose something with some ridges like this strozzapreti or conchiglie, it really allows the sauce to cling to the pasta.
You can use whole wheat pasta if you would prefer. If you use gluten free pasta, this Cheese & Broccoli Pasta is completely gluten free.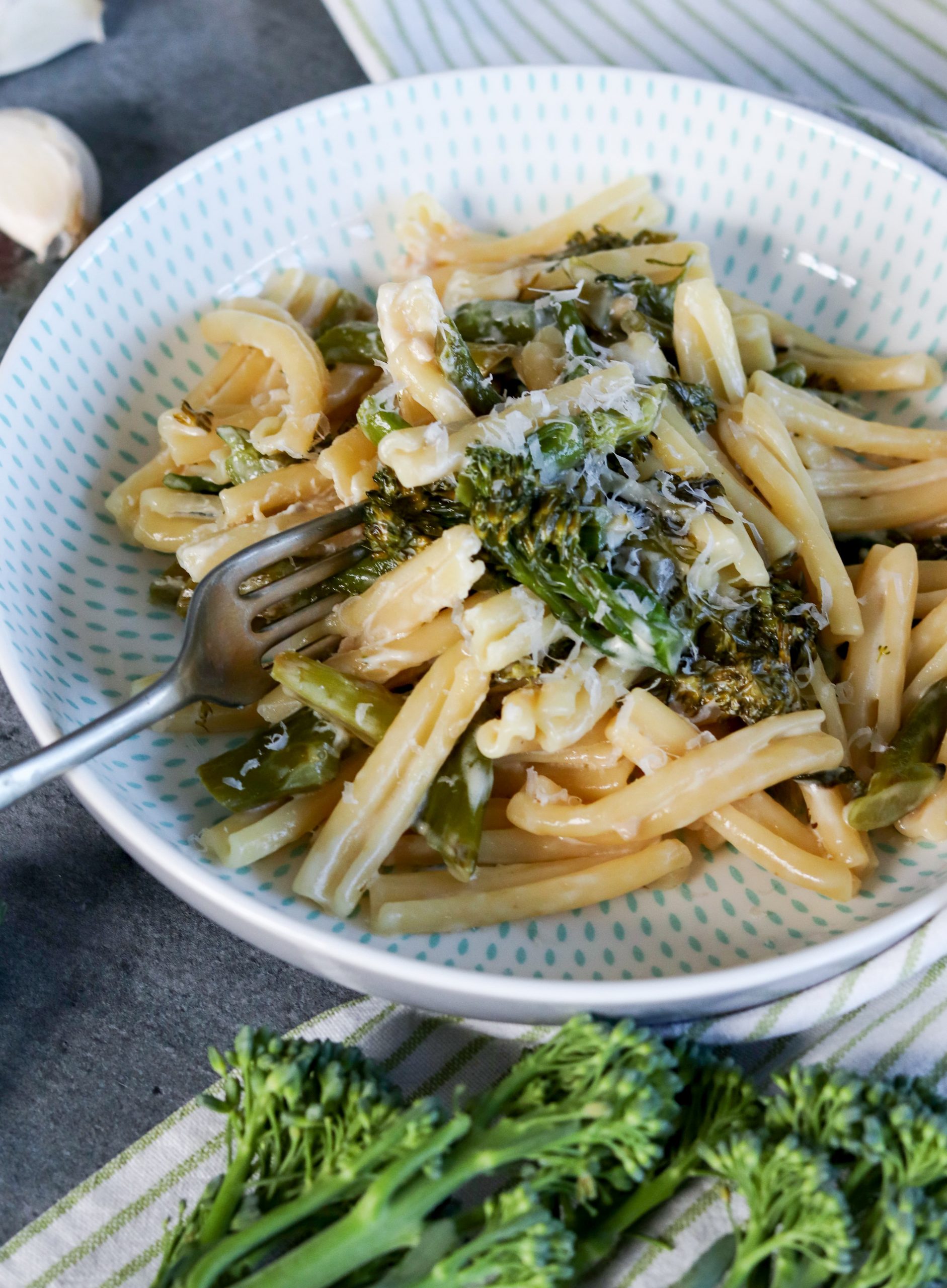 Which broccoli is recommended to use?
I make no secret of my love of Tenderstem broccoli. It is definitely my go-to vegetable.
Tenderstem broccoli or broccolini is a hybrid of broccoli and Chinese kale. Being a hybrid of two superfoods, Tenderstem broccoli is packed full of so many nutrients and vitamins.
Although you can buy Tenderstem broccoli year round, it is in season in the UK from June to November.
If you don't want to use Tenderstem broccoli, you can definitely use standard broccoli. Don't trim off all of the stem because this is just as tasty. I would just make sure you cut the florets down so they are smaller and cook quicker.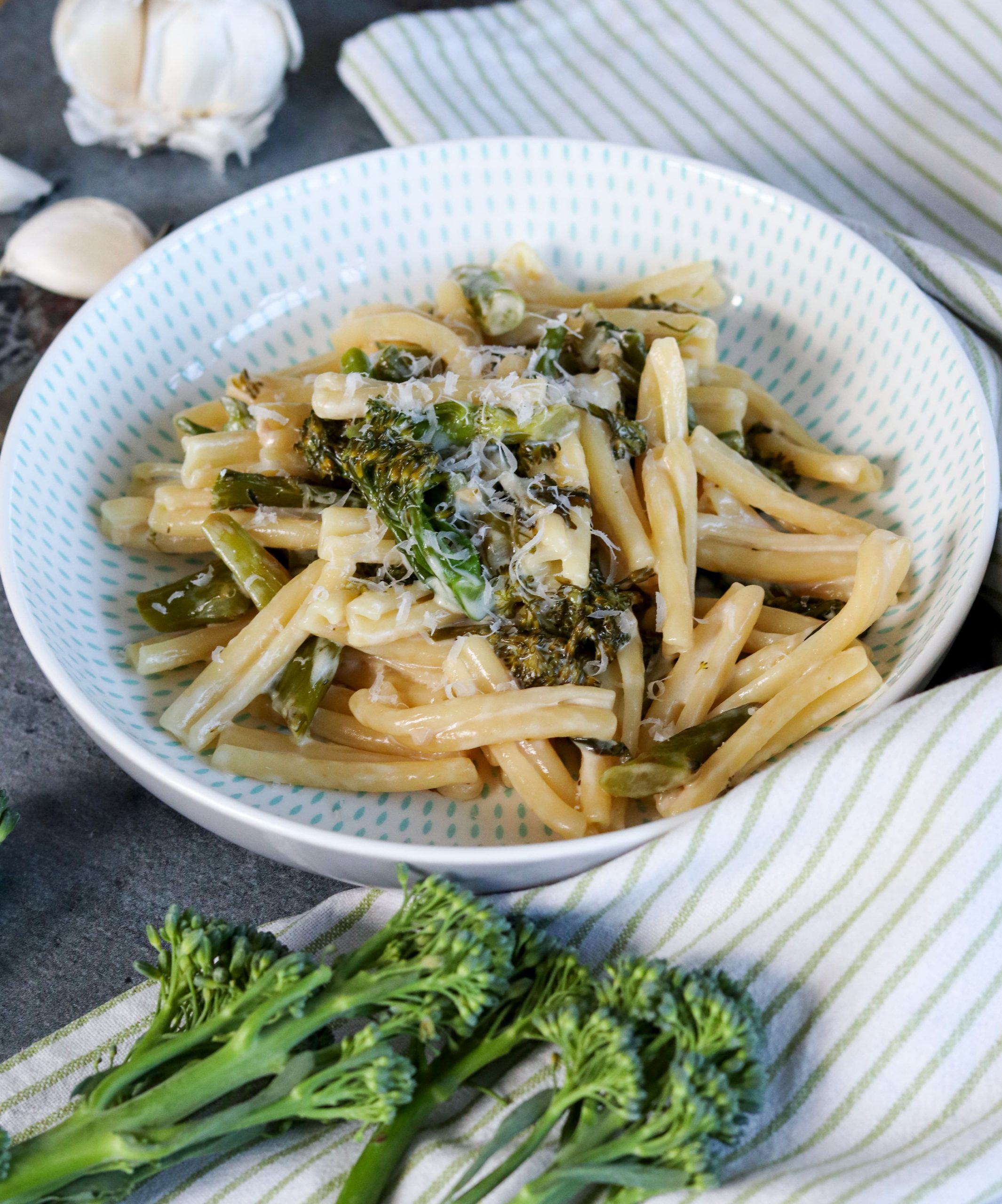 Can other vegetables be used?
Absolutely! If you don't have any broccoli or would prefer not to use if you can definitely use another vegetable.
Asparagus would be a great option to use when it is in season. You could also add a little bit of lemon zest to make it even more delicious and fresh.
I have made this pasta with cavolo nero. Just remove the stalks and slice it up.
Green beans and mushrooms would also work really well. You can also add more then one vegetable – add as many as you like for a delicious vegetable packed meal.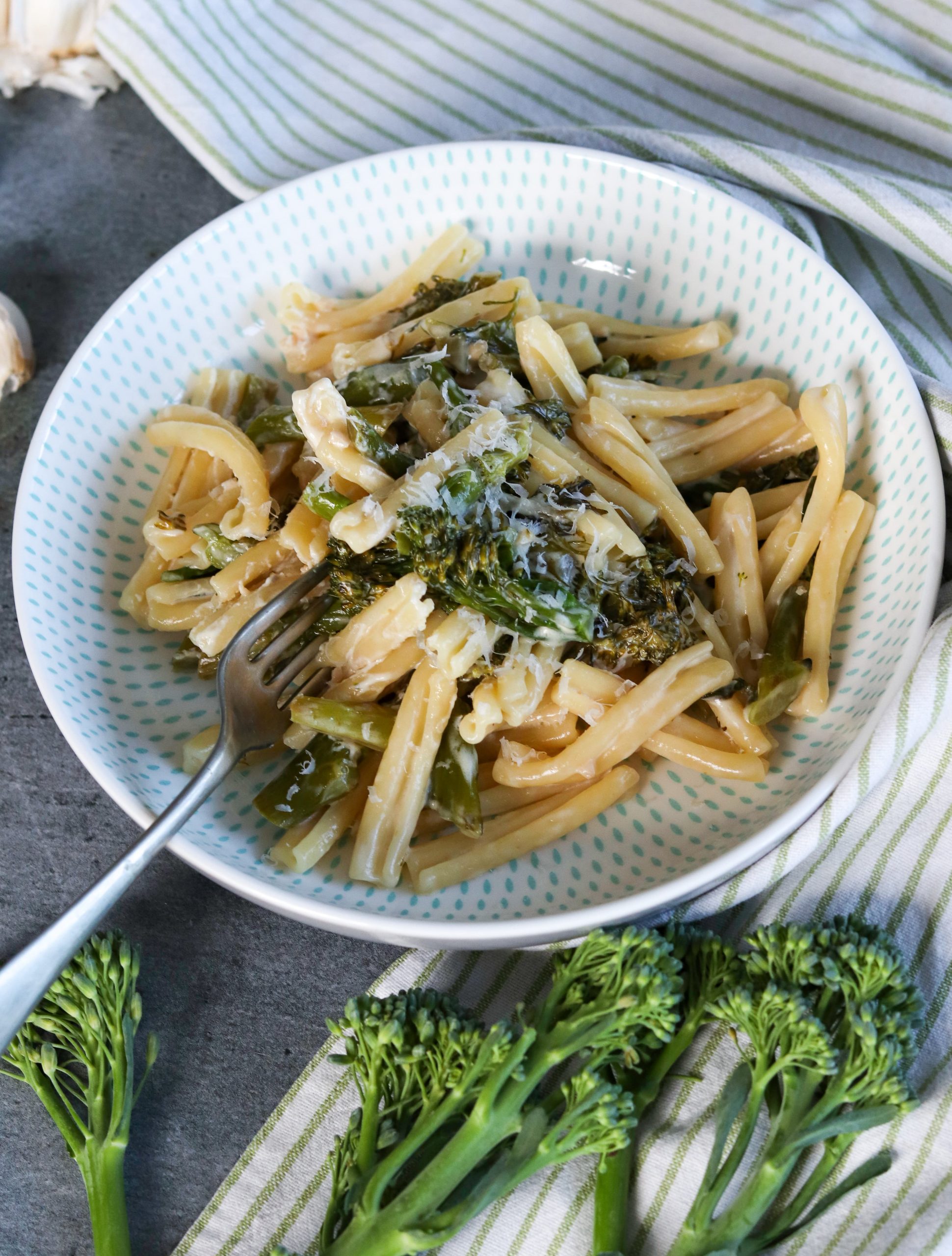 Do you have to use mascarpone?
The creamy sauce for this Easy Cheese & Broccoli Pasta couldn't be easier to make and is a real time saving element. I used mascarpone because I love it's rich, creamy flavour.
I have used both full fat mascarpone and reduced fat mascarpone and both work well.
Alternatively you could use cream cheese if you would prefer. Again either full or reduced fat both work well for this recipe.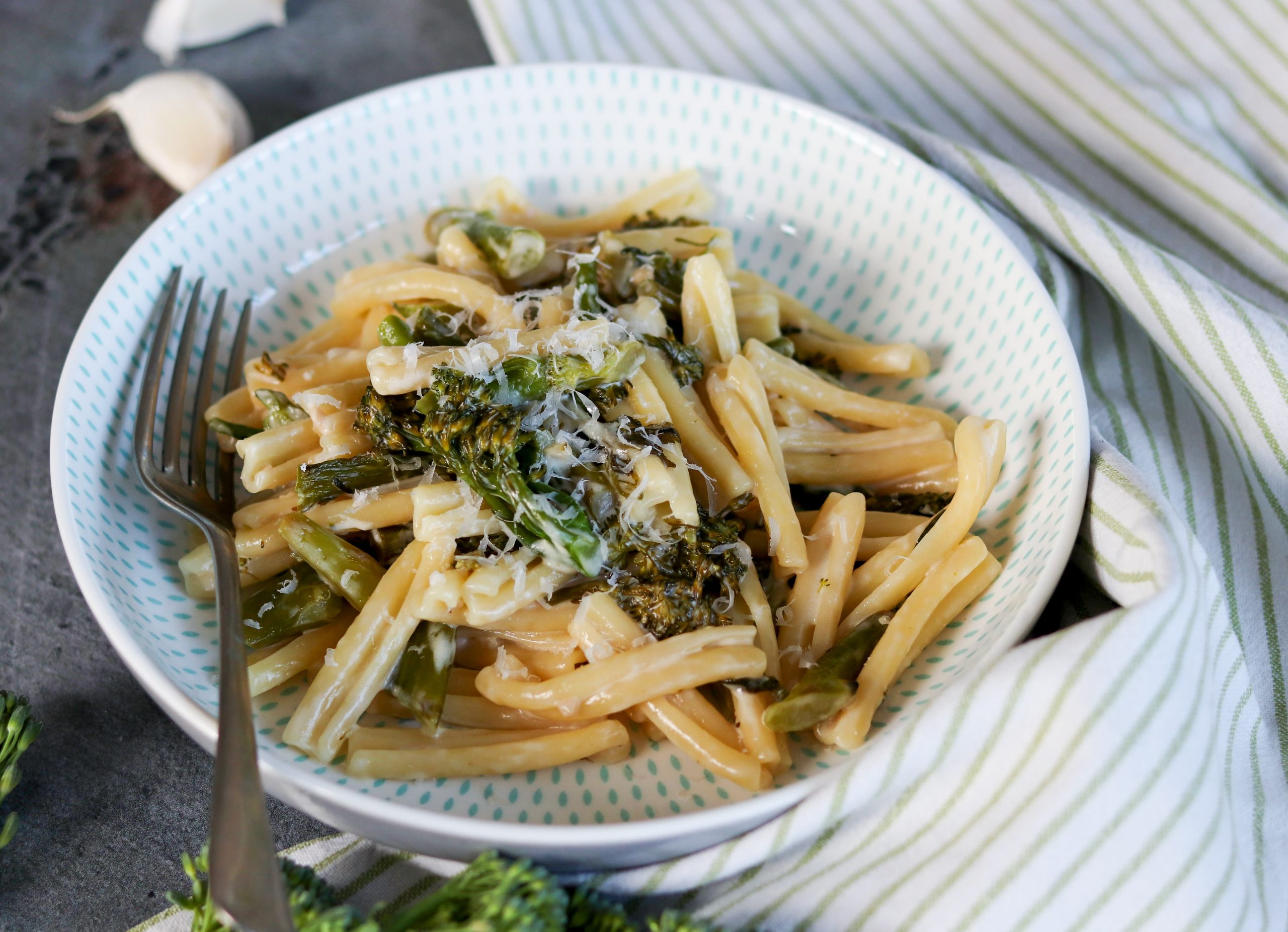 Why use parmesan?
I like to use Parmesan because it has a lovely strong flavour. This means that you need to use less of it to add flavour.
You can use cheddar if you prefer but this will make it a little more indulgent.
If you want to make this Cheese & Broccoli Pasta vegetarian, you will need to make sure you use a vegetarian friendly cheese.
Parmesan isn't suitable for vegetarians because it contains animal rennet. You can either look for a vegetarian alternative or use cheddar.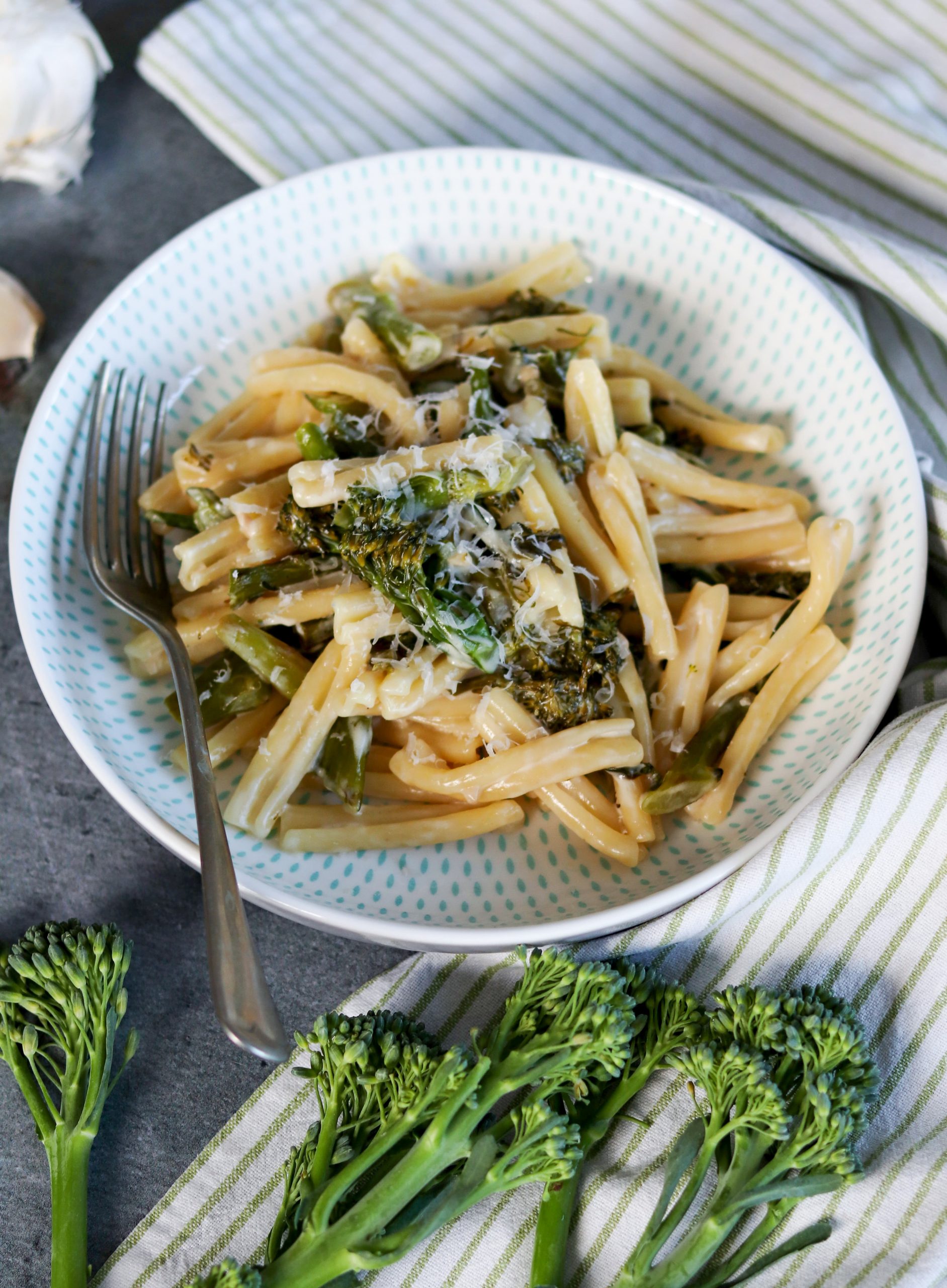 Does it make good leftovers?
This Cheese & Broccoli Pasta doesn't reheat particularly well as the sauce splits slightly. I don't mind this and will still heat it up for lunch the next day.
If you don't fancy the sauce splitting, you can always eat it cold like Mr Curly does.
It will keep in the fridge in an airtight container for up to two days.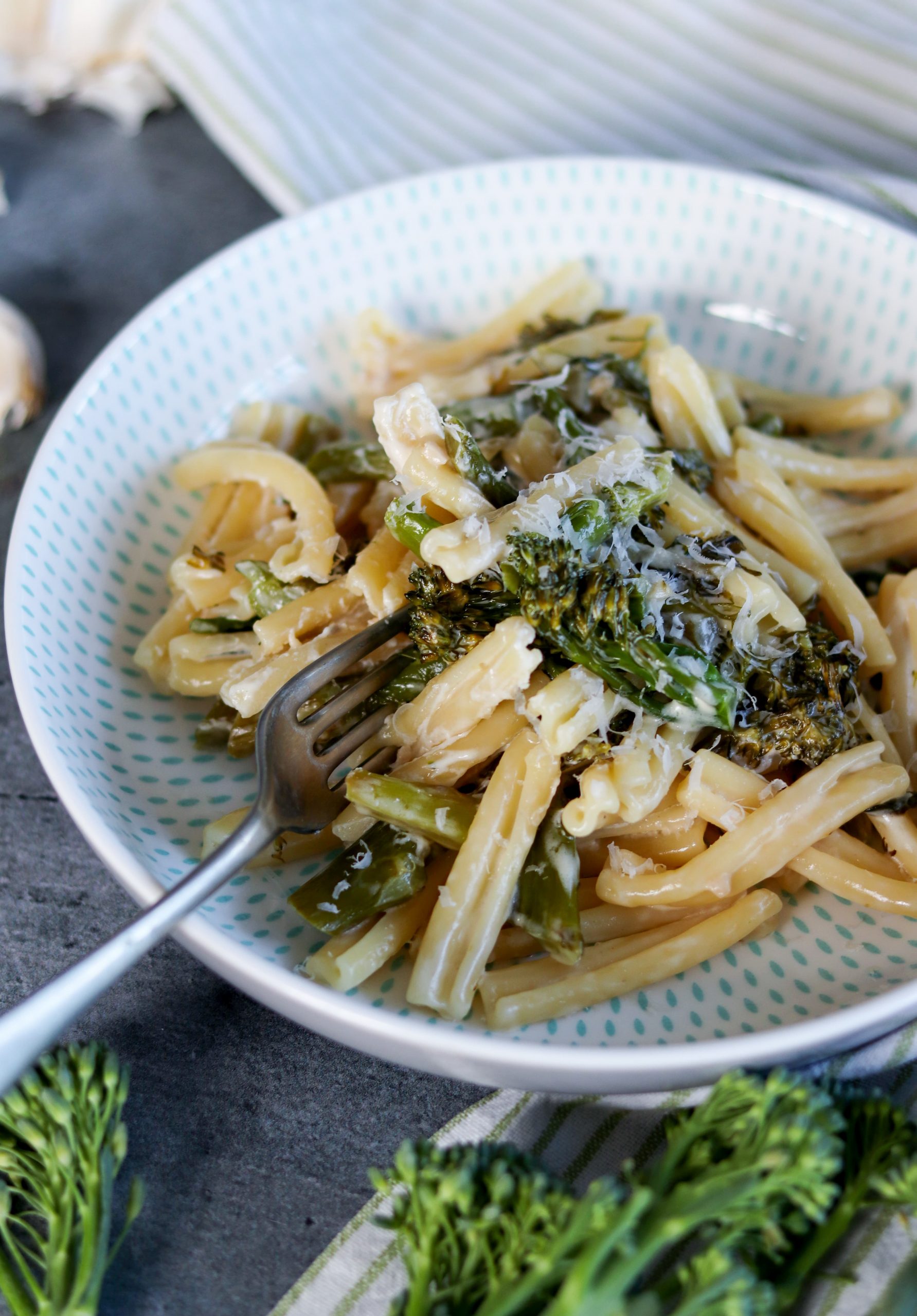 Why use pasta water?
Pasta water is a fantastic ingredient to use when you are making pasta sauces.
When the pasta is cooking, it releases starch into the water. This starchy water then adds thickness to your finished sauce.
So definitely don't drain all of the pasta water down the sink! Whenever I am cooking pasta, I make sure I keep a mugful of the water to add to the sauce if needed.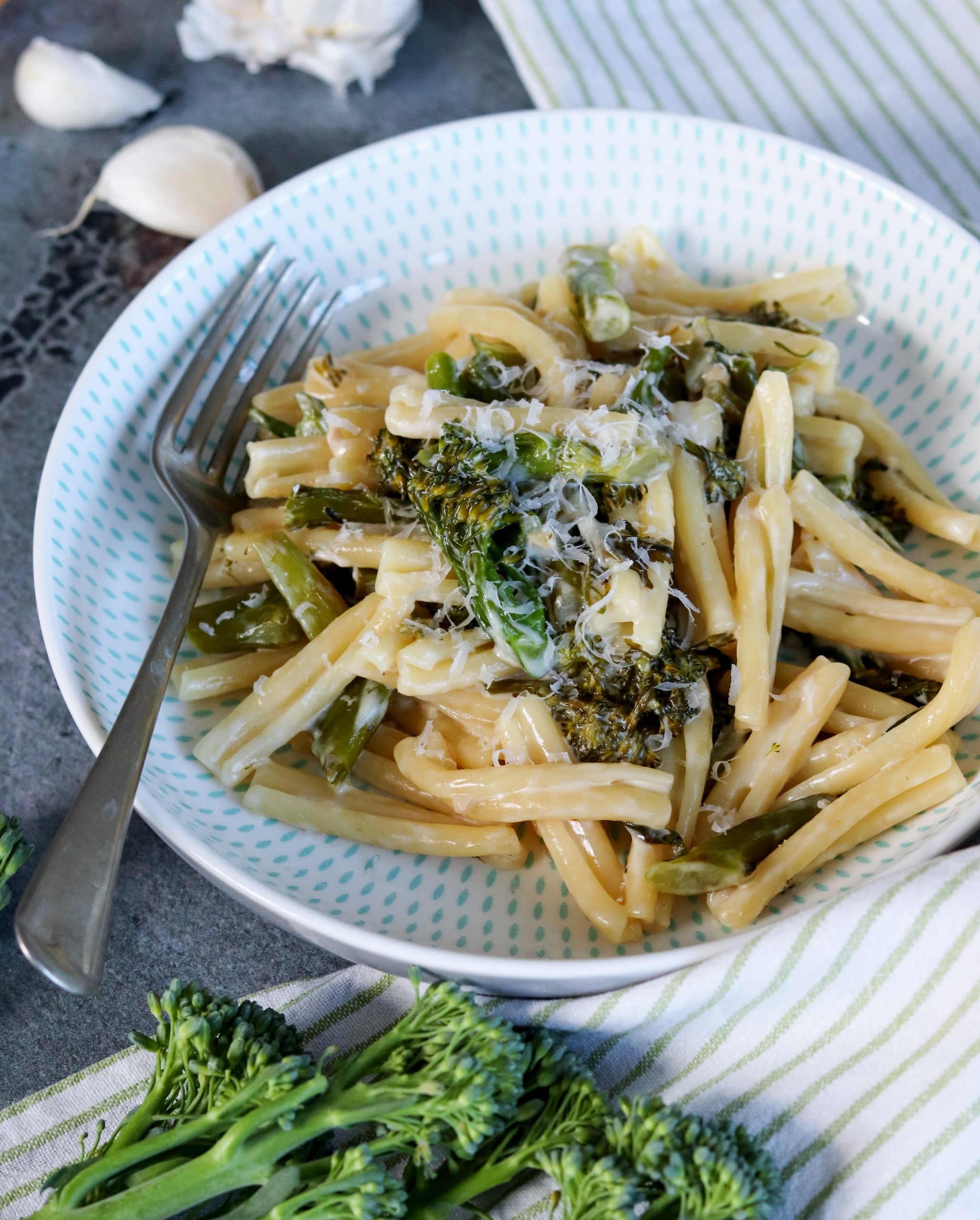 Making this pasta gluten free, vegetarian and vegan
As I have already mentioned, you just need to switch to gluten free pasta to make this gluten free.
To make it vegetarian, you need to switch the Parmesan for a vegetarian suitable alternative, or use cheddar.
If you want to make this vegan, you only need to swap the Parmesan and mascarpone to vegan friendly alternatives. Most dried, packaged pasta these days is already vegan, but just check the label to make sure.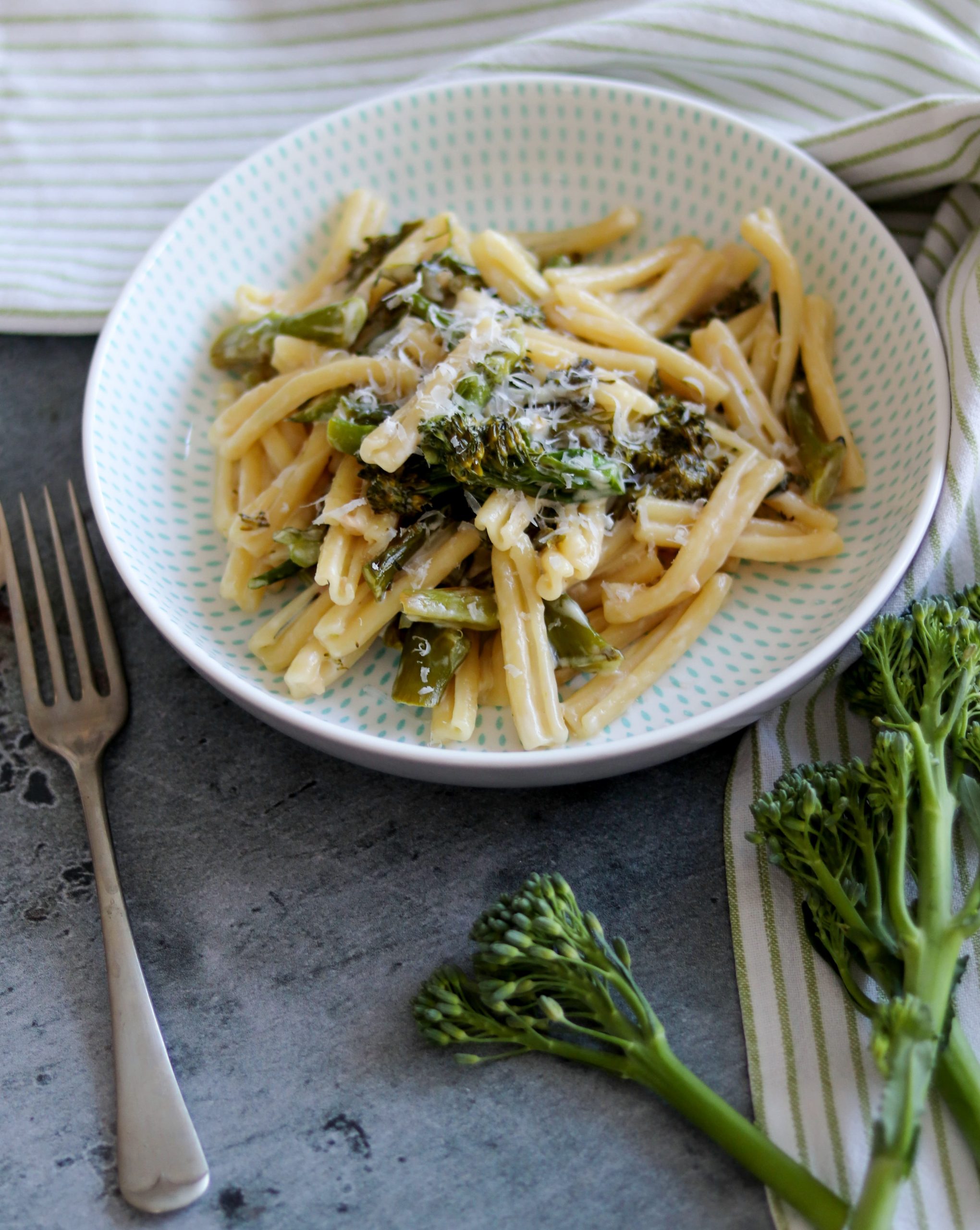 How to serve this Easy Cheese & Broccoli Pasta
This pasta is delicious served just as it is and is the perfect midweek dinner.
If you want to make it a bit more special or into a weekend or dinner party meal you could serve it with Garlic & Parsley Dough Balls or Air Fryer Garlic Bread.
You could also serve my Pear & Rocket Salad either alongside or as a starter to go with this pasta.
Other recipes you might like
Pin for later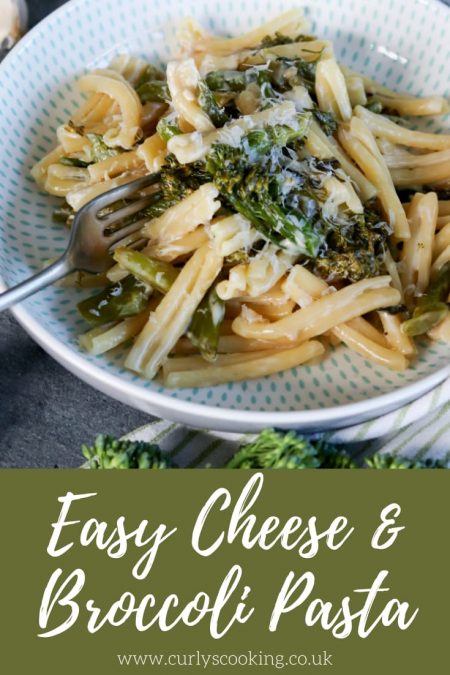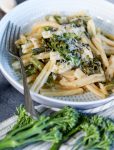 Easy Cheese & Broccoli Pasta
This Easy Cheese & Broccoli Pasta is a perfect midweek dinner. It is quick, easy and delicious as well as being packed with cheesy goodness.
Ingredients
150

g

pasta

1

tsp

sunflower oil

200

g

tenderstem broccoli

2

cloves

garlic

1

tsp

sea salt

100

g

mascarpone

30

ml

semi skimmed milk

20

g

Parmesan

grated

pinch

black pepper

50

ml

pasta water
Instructions
Cook the pasta as per the packet's instructions. Make sure you keep some of the pasta water

While the pasta is cooking, cut the tenderstem broccoli stalks into chunks leaving the florets as they are.

Heat the oil in a frying pan on medium/high heat and add the broccoli stalks. Saute for a couple of minutes before adding the broccoli florets. Add approximately 50ml of the pasta water to the broccoli. Turn the heat down and put a lid on to allow the broccoli to steam.

Mix the mascarpone and milk together. This will take a minute or so to combine thoroughly.

After a couple of minutes, the water will have evaporated from the broccoli. Add the garlic, salt and pepper.

Add the pasta to the broccoli when it is cooked al dente. Then add the mascarpone mix and stir before finally adding the grated Parmesan.
Recipe Notes
Nutritional information is given as a guide only.
Nutrition Facts
Easy Cheese & Broccoli Pasta
Amount Per Serving
Calories 605
Calories from Fat 252
% Daily Value*
Fat 28g43%
Cholesterol 56mg19%
Sodium 1356mg59%
Potassium 167mg5%
Carbohydrates 58g19%
Protein 17g34%
Vitamin A 780IU16%
Vitamin C 0.9mg1%
Calcium 210mg21%
Iron 1mg6%
* Percent Daily Values are based on a 2000 calorie diet.