Sticky, sweet and delicious. This Caramelised Onion Chutney is the perfect addition to any cheese board or sandwich.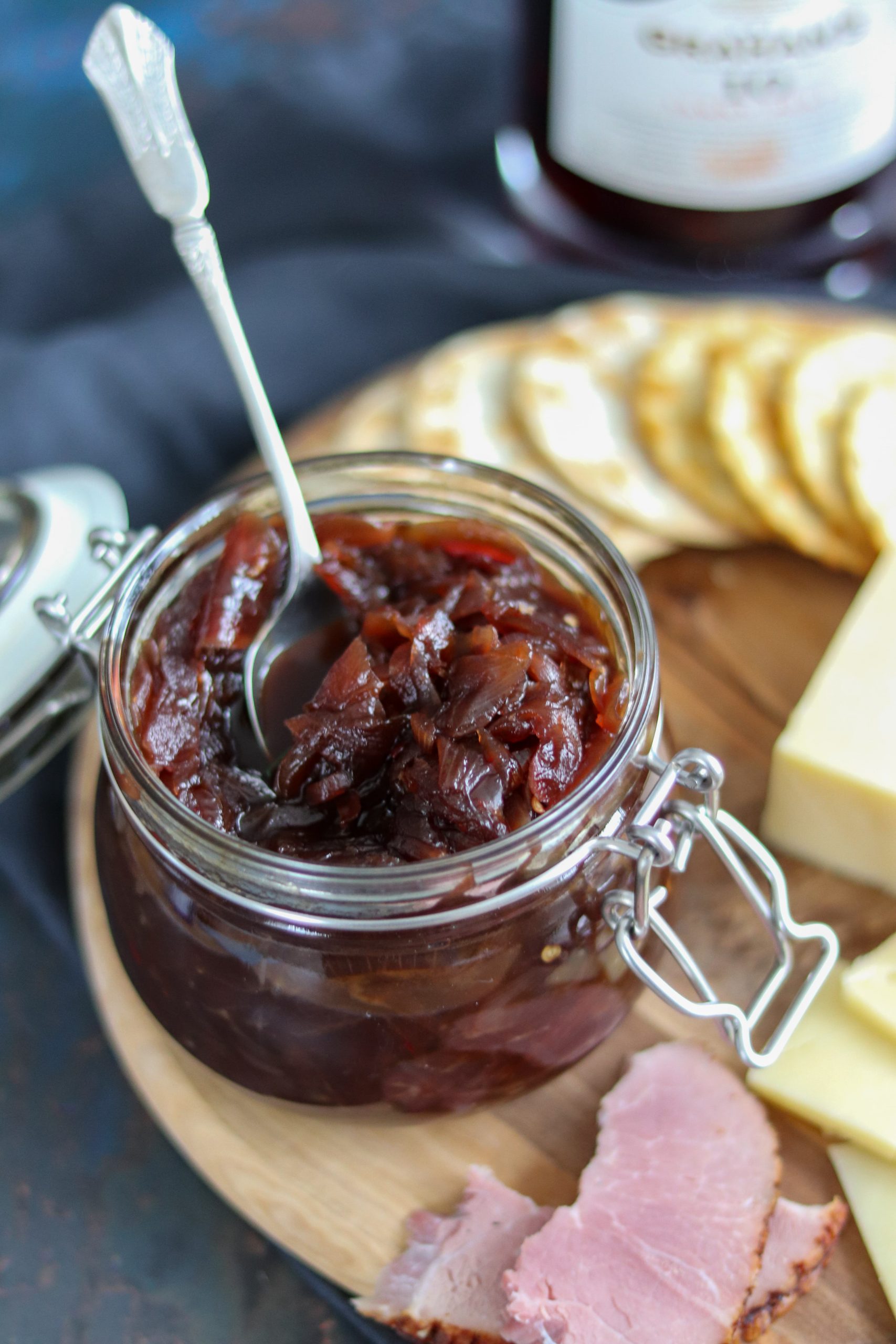 what is caramelised onion chutney?
Caramelised Onion Chutney is red onions that are cooked in red wine vinegar, balsamic vinegar and sugar until they are caramelised and sweet.
The finished chutney should be sticky and thick, coating the softened, sweet onions.
It is a popular chutney to buy here in the UK, but I much prefer to make my own and have been for the last eight years or so.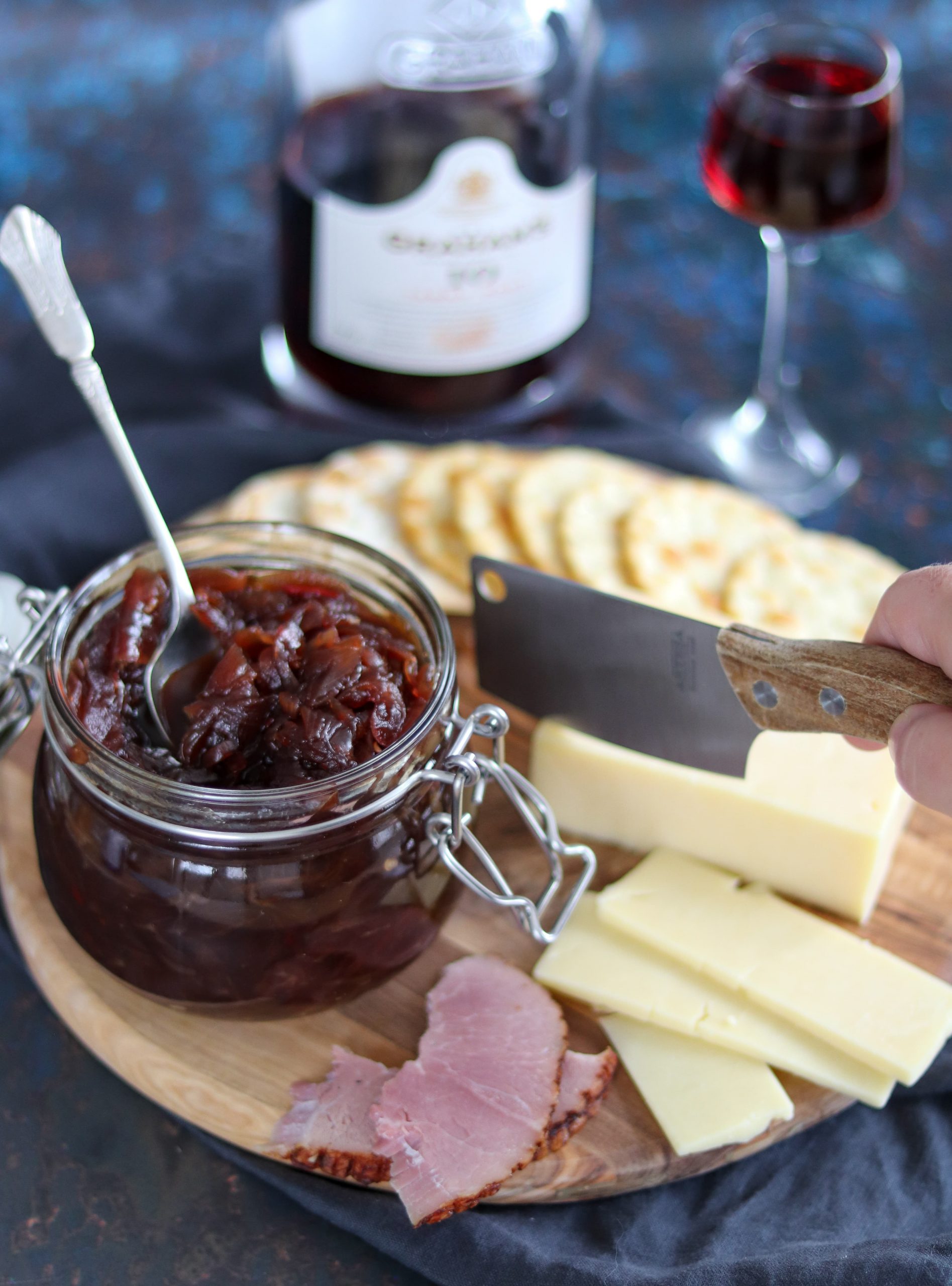 Which onions are best to use?
For this chutney, you need to use red onions. They are considered to be milder and sweeter in flavour that other types which is what you're looking for in this chutney.
One and a half kilos of red onions may sound like a lot, but by the time you've peeled them and they've cooked, they do shrink down.
I think it is easier to give a weight rather than a number of onions as they can vary so much in size. But to give you a very rough idea, you will need eight large red onions.
When I am making this Caramelised Onion Chutney, I often make a double batch. Because of this I buy a sack of red onions from the market. These are all different sizes but a cost effective way rather than buying them from a supermarket.
Do not use yellow/white onions for this recipe, it won't turn out the same at all.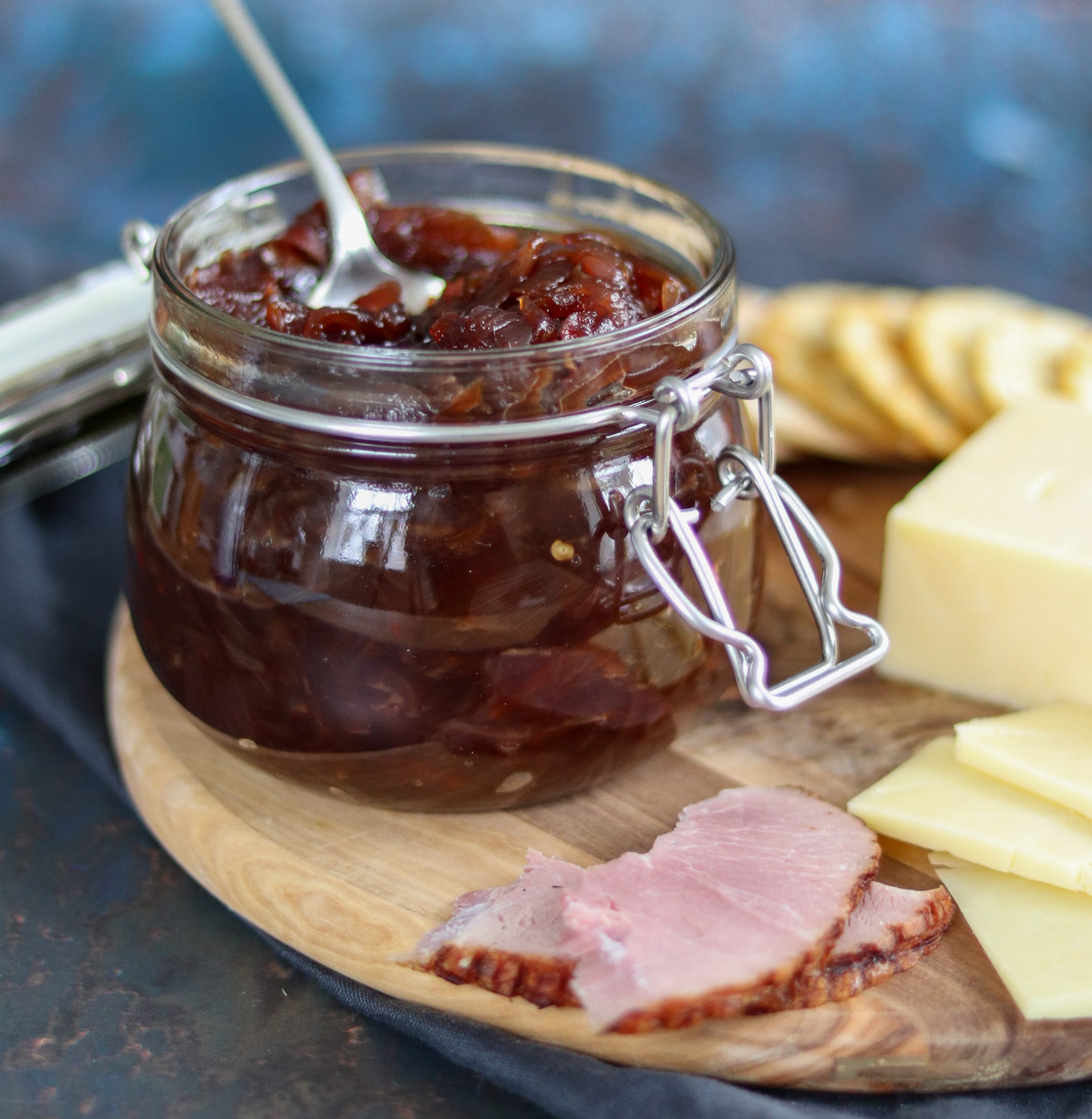 How to prepare the onions
The easiest way by far to prepare the onions is to use a slicing attachment on a food processor. You can have all the onions sliced in minutes!
If you don't have a food processor with a slicing attachment, you can definitely still make this Caramelised Onion Chutney. When I first started making this chutney I didn't have a food processor and made so many jars!
It will obviously take longer to slice the onions by hand. Make sure you try and keep the slices as uniform as possible.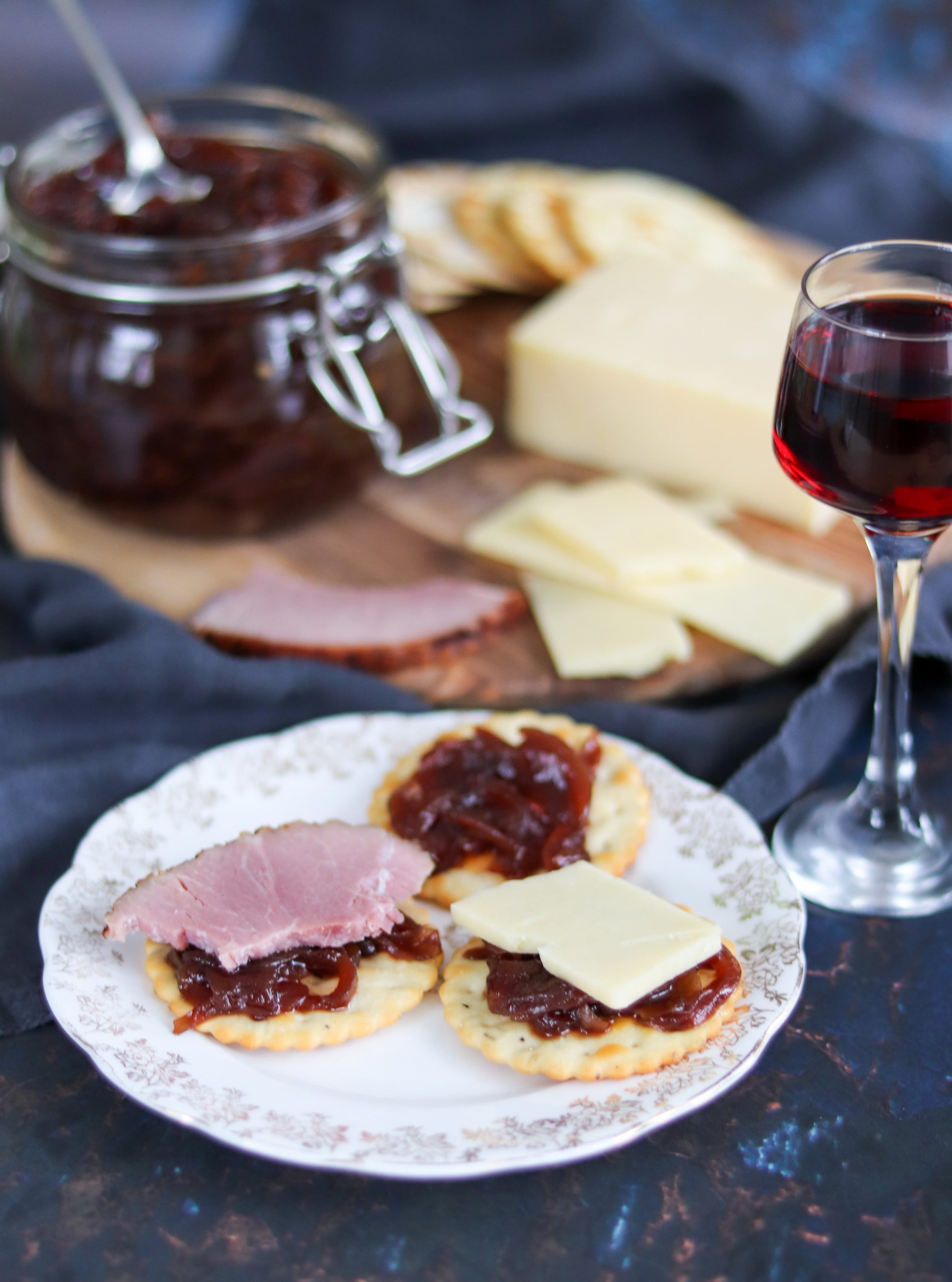 does the chilli make it spicy?
The chilli doesn't make the chutney spicy, but adds a subtle warmth to it. You are looking for a large red chilli which are typically not very hot.
If you are worried about it, you can remove the seeds from the chilli. Alternatively you can leave it out altogether.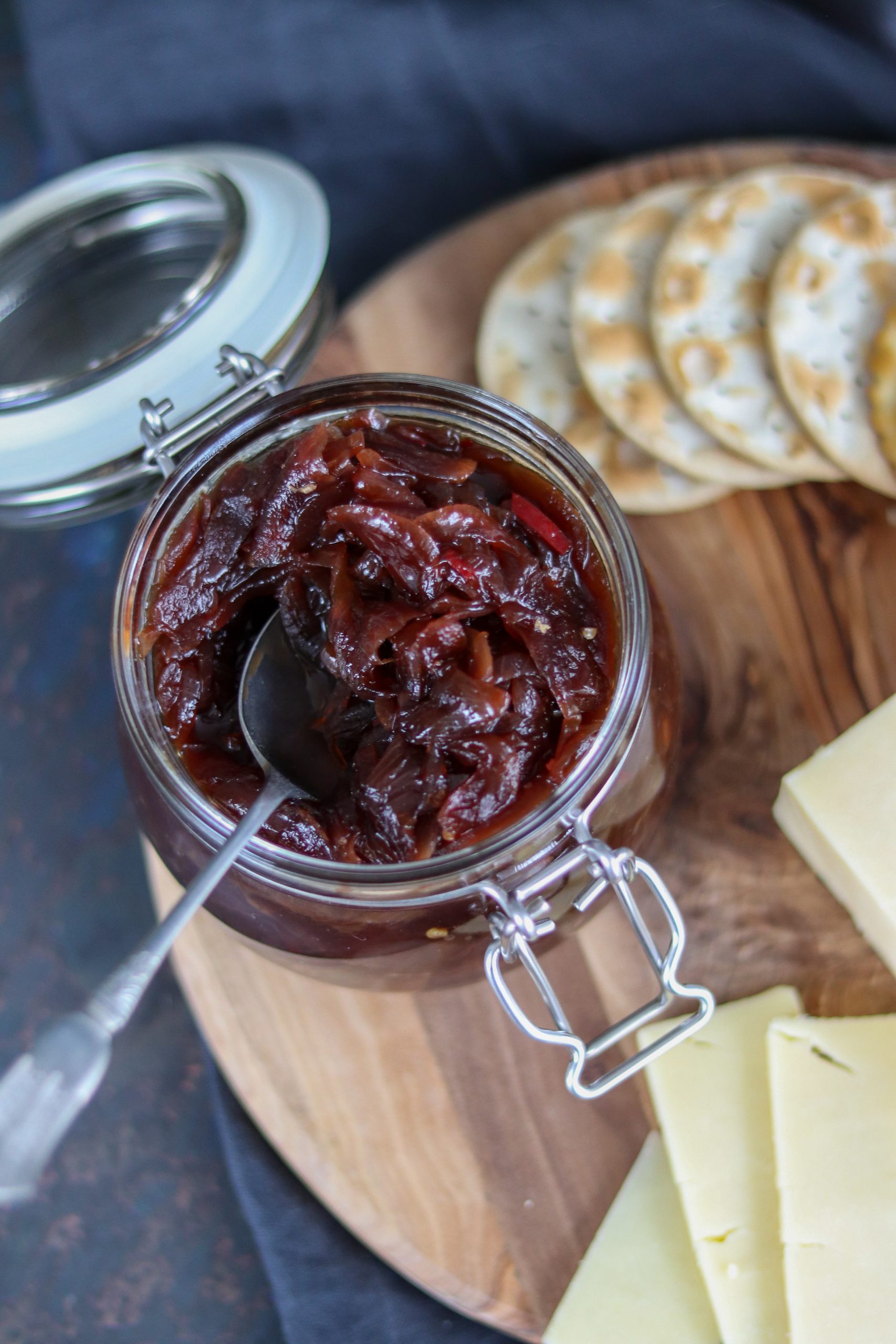 how long does caramelised onion chutney take to cook?
I prefer to cook this chutney at a lower temperature for a longer time. Once all of the ingredients have been added, I like to cook it gently for two hours.
You could turn the heat up so it cooks faster, but this increases the likelihood of it catching and burning on the bottom of the pan.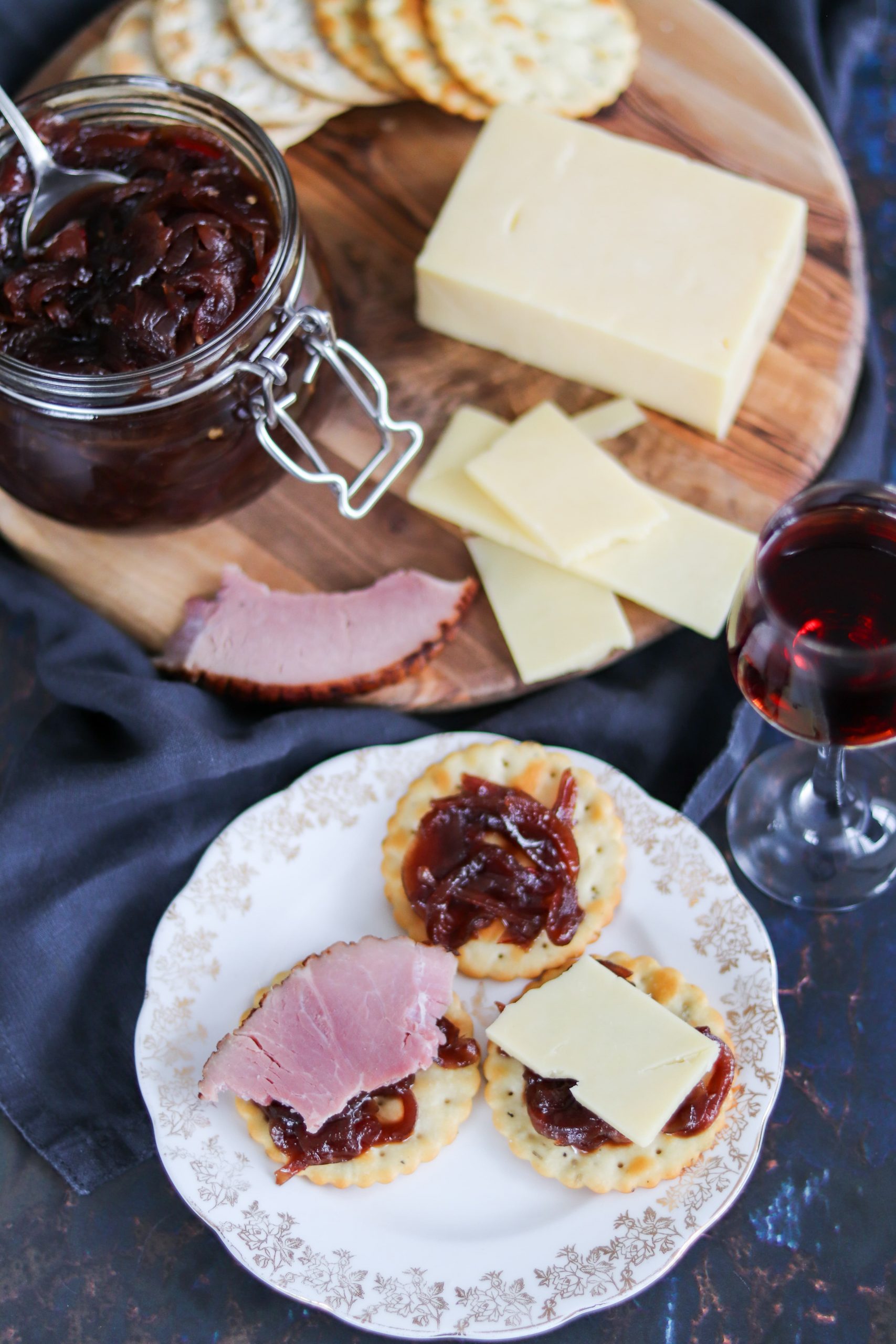 How to STERILISE jars
There is lots of different information about how to sterilise jars when making preserves.
I am not an expert, but I have always used the same method. Firstly, I wash the jars and their lids in the dishwasher and leave them to dry completely when the cycle has finished.
I then put the jars and lids on a baking tray in the oven at 160°C fan for 10 – 15 minutes. I then fill them with warm chutney when the lids are still warm.
There are other methods for how to sterilise jars. I recommend checking out Tin & Thyme's post with lots of information.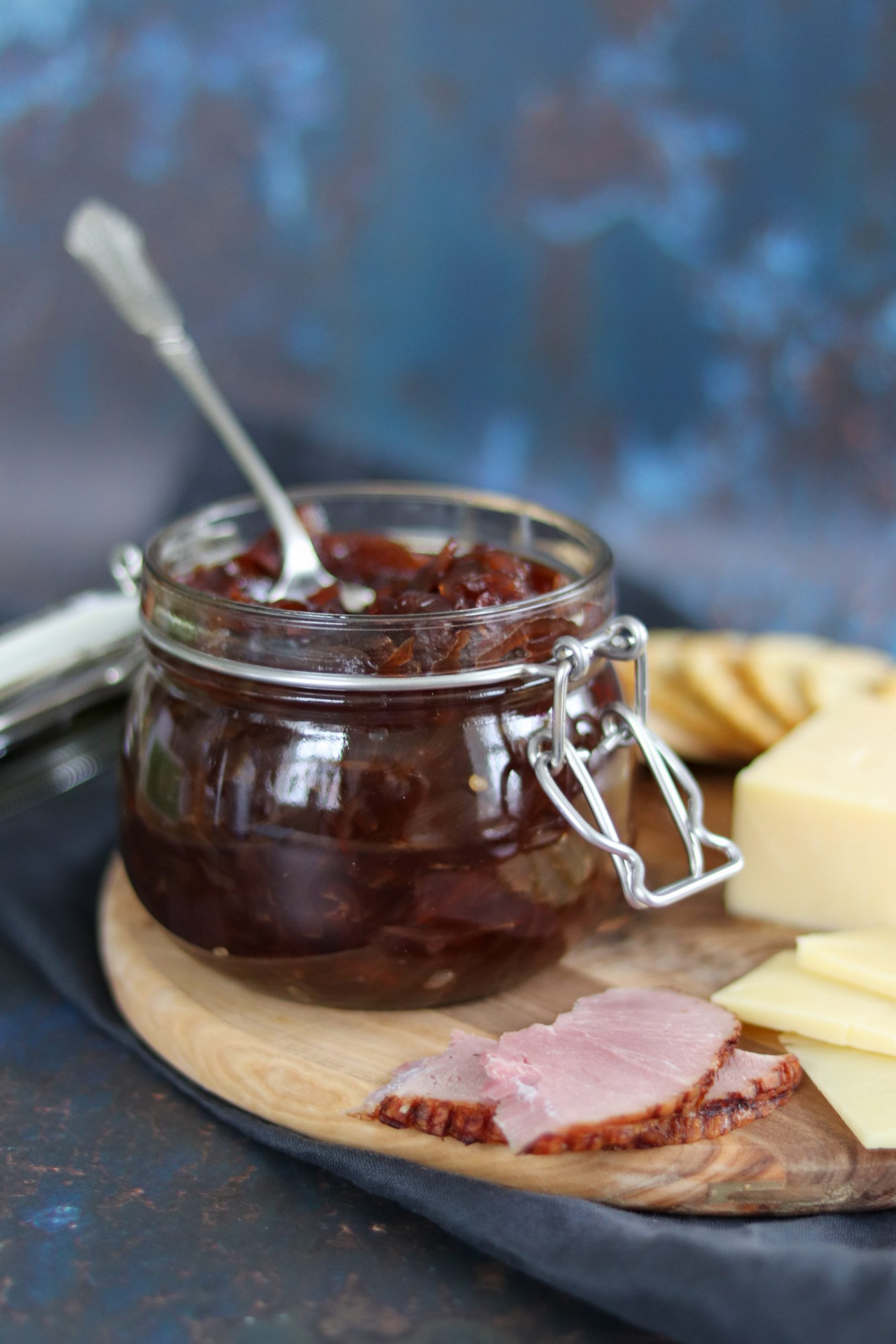 make caramelised onion chutney in advance
Like a lot of chutneys, this tastes even better once the flavours have had time to develop. Once the chutney has been made, leave it for two to three months to get the best flavour from it.
Caramelised Onion Chutney is very popular for Christmas. October is the perfect time to make it as it will have enough time to get even tastier in time. Obviously you can eat this chutney at any time of year, but Christmas is when it is most popular.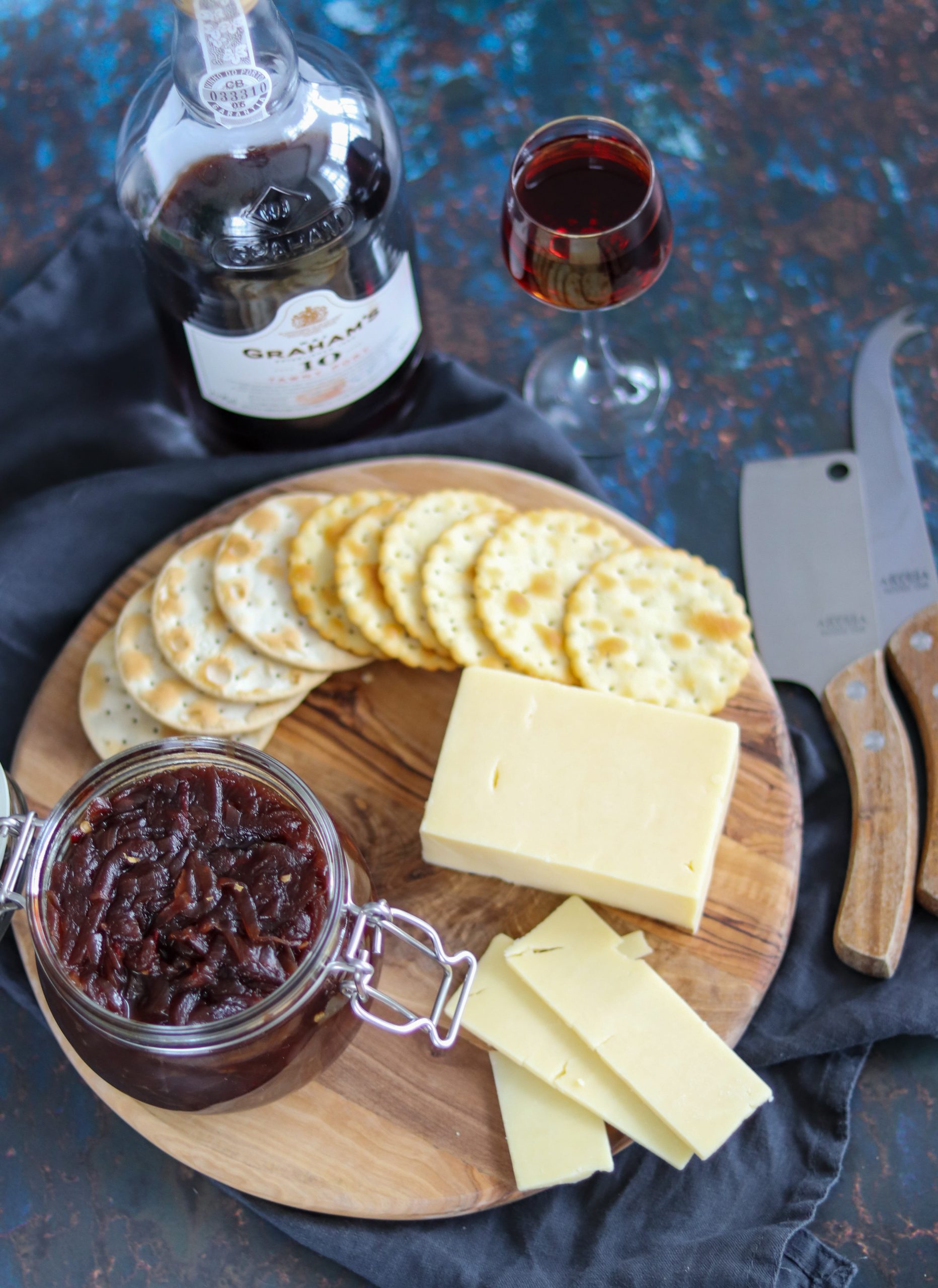 how long will this chutney keep for?
If you store it in a cool, dark cupboard this chutney will keep for a year. I have kept it for longer when I forgot about a jar that I had hidden! Just check it looks and smells ok before tasting.
Once you have opened it, store it in the fridge for up to two months.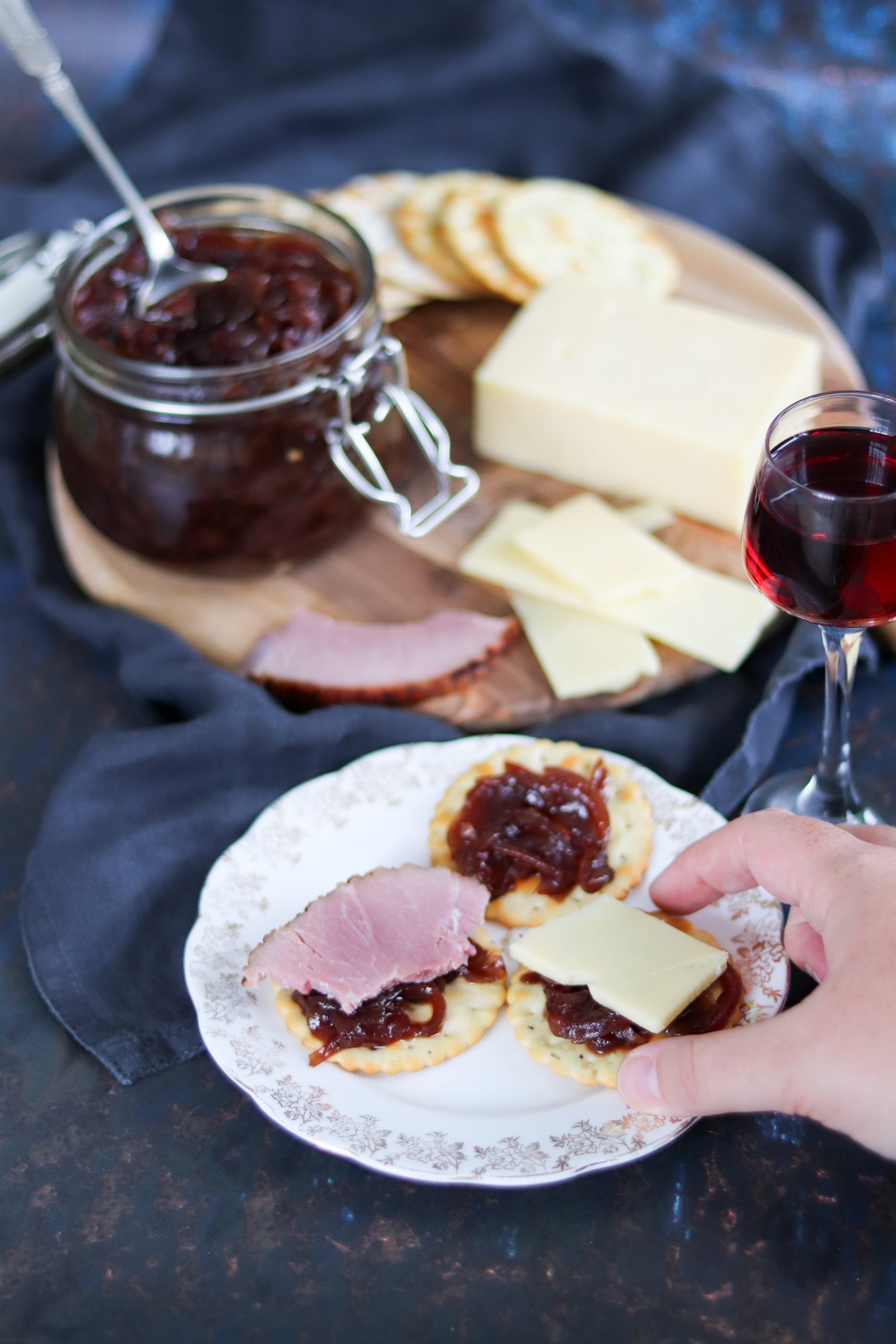 what to serve with onion chutney
The most popular way of eating Caramelised Onion Chutney is as part of a cheese board. Every cheese board needs a good onion chutney and this is better than any store bought chutney I have tried.
It is also the perfect addition to any buffet as it is delicious with cold meats as well as cheese. Make my Rosemary & Salt Fougasse to go with it and you have the perfect spread!
I also love to use it to make my Cheese & Onion Chutney Muffins. They are irresistible!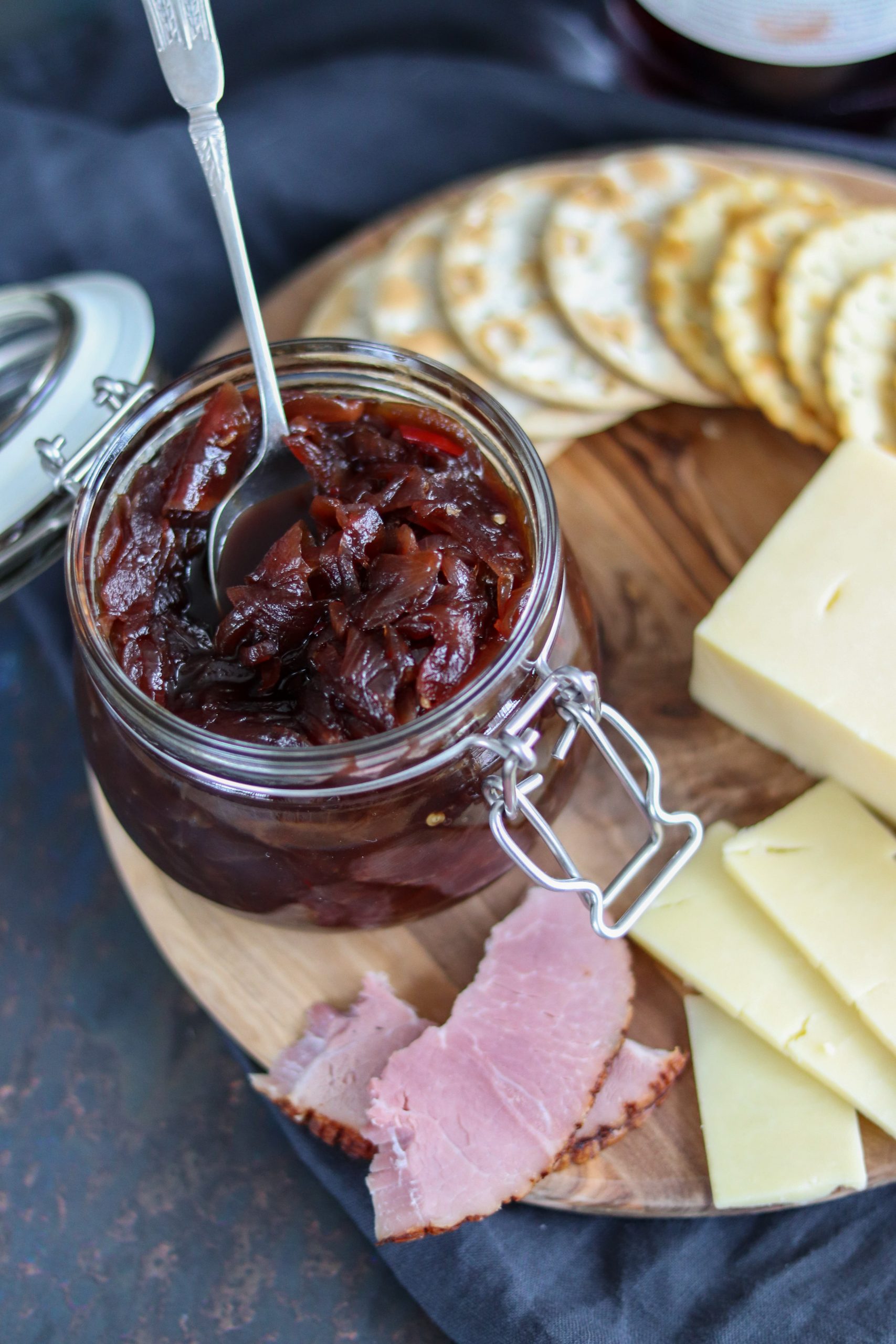 caramelised onion chutney makes a lovely gift
For as long as I have been making this chutney, I have been giving it as Christmas presents. It makes a great gift, especially at Christmas because so many people love a chutney at this time of year.
People really like homemade gifts, especially edible ones I find! I like to make hampers for family members with this chutney along with some home baked cookies. Some of my favourites are Cinnamon Cookies and Peanut Butter Chocolate Crinkle Cookies.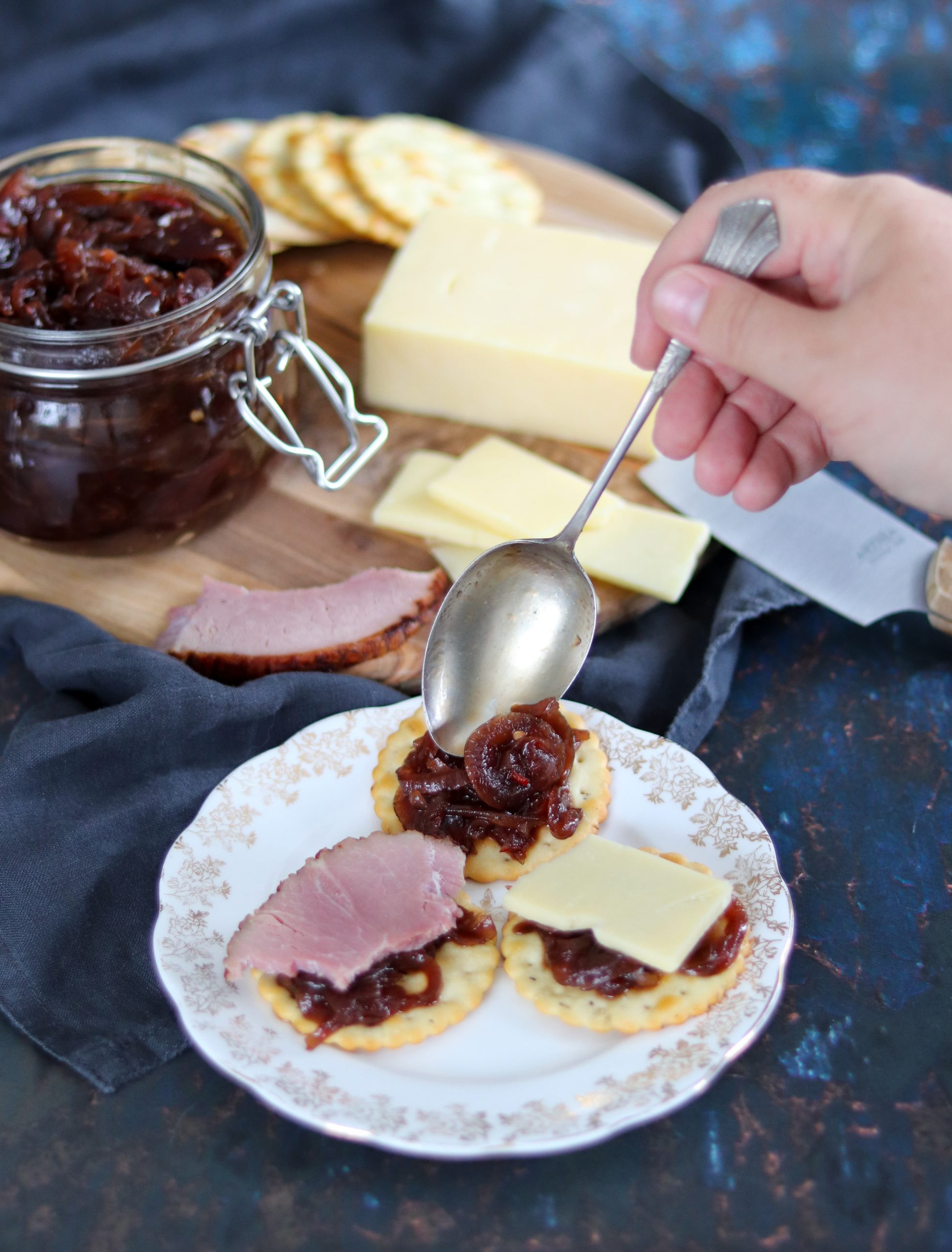 Other recipes you might like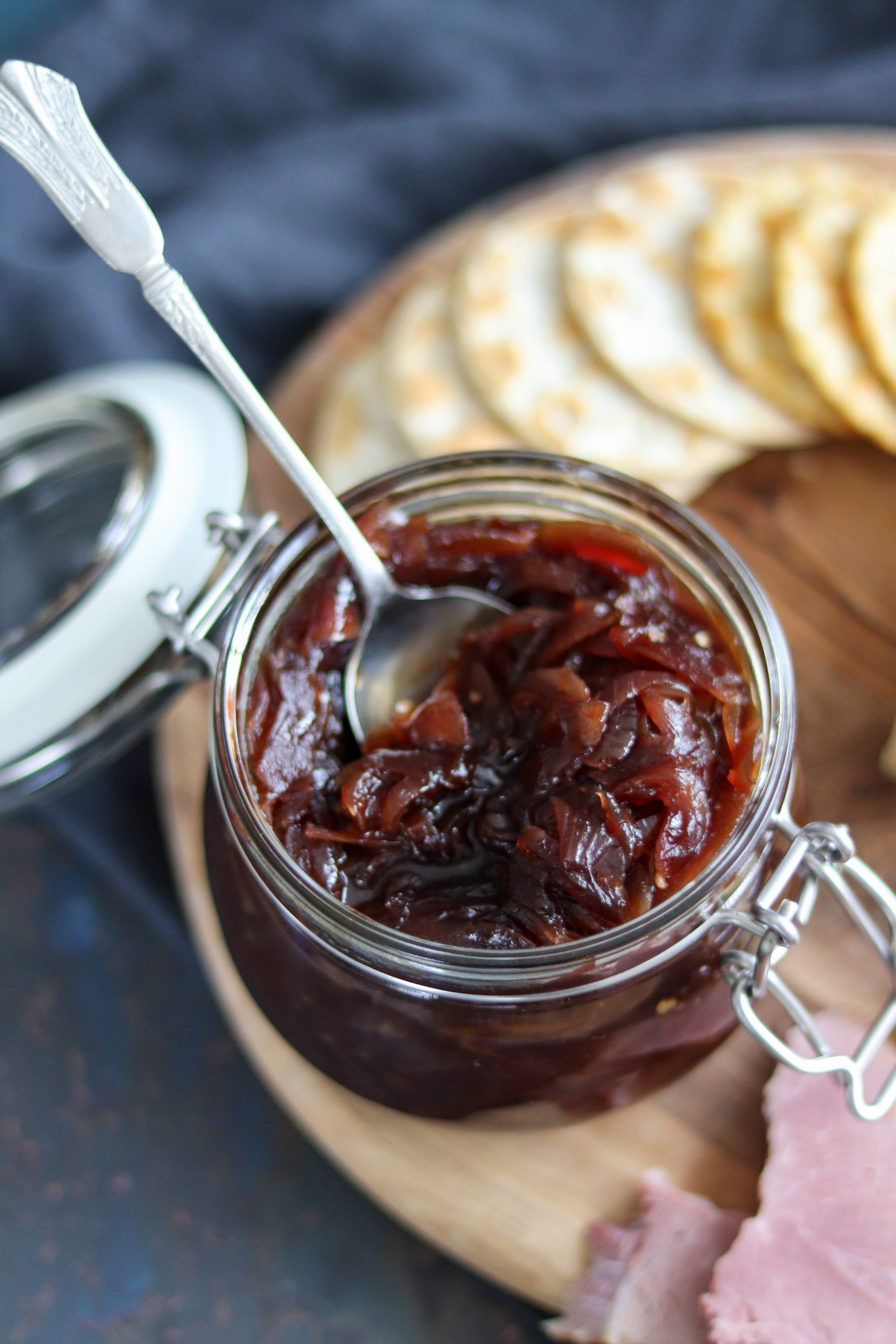 Pin for later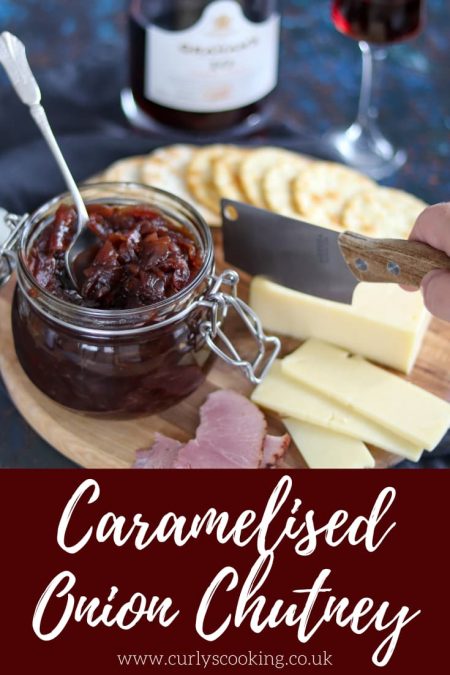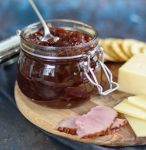 Caramelised Onion Chutney
Sticky, sweet and delicious. This Caramelised Onion Chutney is the perfect addition to any cheese board or sandwich.
Cook Time
2
hours
20
minutes
Ingredients
1.5

kg

red onions

2

tbsp

olive oil

1

red chilli

(seeds removed if preferred)

2

bay leaves

200

g

light brown sugar

200

ml

balsamic vinegar

200

ml

red wine vinegar
Instructions
Peel and thinly slice the onions. The easiest way to do this is by using the slicing attachment on a food processor

Add the oil and finely sliced chilli to a large pan over a medium high heat and add all of the onions. Stir and cook for a few minutes until softened but not coloured

Add the sugar, balsamic vinegar, red wine vinegar and bay leaves and stir to combine

Turn to a low heat and cook so it is barely bubbling for two hours, stirring occasionally to make sure it doesn't stick to the bottom of the pan

Once the chutney is thick and glossy, remove the bay leaves and spoon into sterilised jars. Store somewhere dark for up to six months
Recipe Notes
Use your food processor with a slicing attachment to finely slice the onions.
Make sure you stir the chutney more towards the end of the cooking process so it doesn't stick to the pan.
Be careful, the chutney very hot.
Make sure the jars and chutney are still hot when you fill the jars.
Store in a cool, dark cupboard for up to one year. Once open store in the fridge.
Nutrition Facts
Caramelised Onion Chutney
Amount Per Serving (1 tbsp)
Calories 24
Calories from Fat 63
% Daily Value*
Fat 7g11%
Sodium 46mg2%
Potassium 726mg21%
Carbohydrates 94g31%
Protein 5g10%
Vitamin A 107IU2%
Vitamin C 44mg53%
Calcium 144mg14%
Iron 2mg11%
* Percent Daily Values are based on a 2000 calorie diet.