A salad with a difference! This Za'atar Chicken & Couscous Salad with Tahini Dressing is packed full of Middle Eastern flavours. Who wouldn't want this for lunch?!
Za'atar, zaatar or zatar?
I've seen this delicious Middle Eastern spice blend spelt a number of different ways! I'm not sure which is the 'correct' spelling, but I have opted for za'atar. But what is za'atar? It is a mix of sumac, sesame seeds and dried herbs such as oregano and thyme.
It is quite readily available. I have seen it in Waitrose and Sainsbury's but you may also be able to find it in the ethnic food aisle in other supermarkets.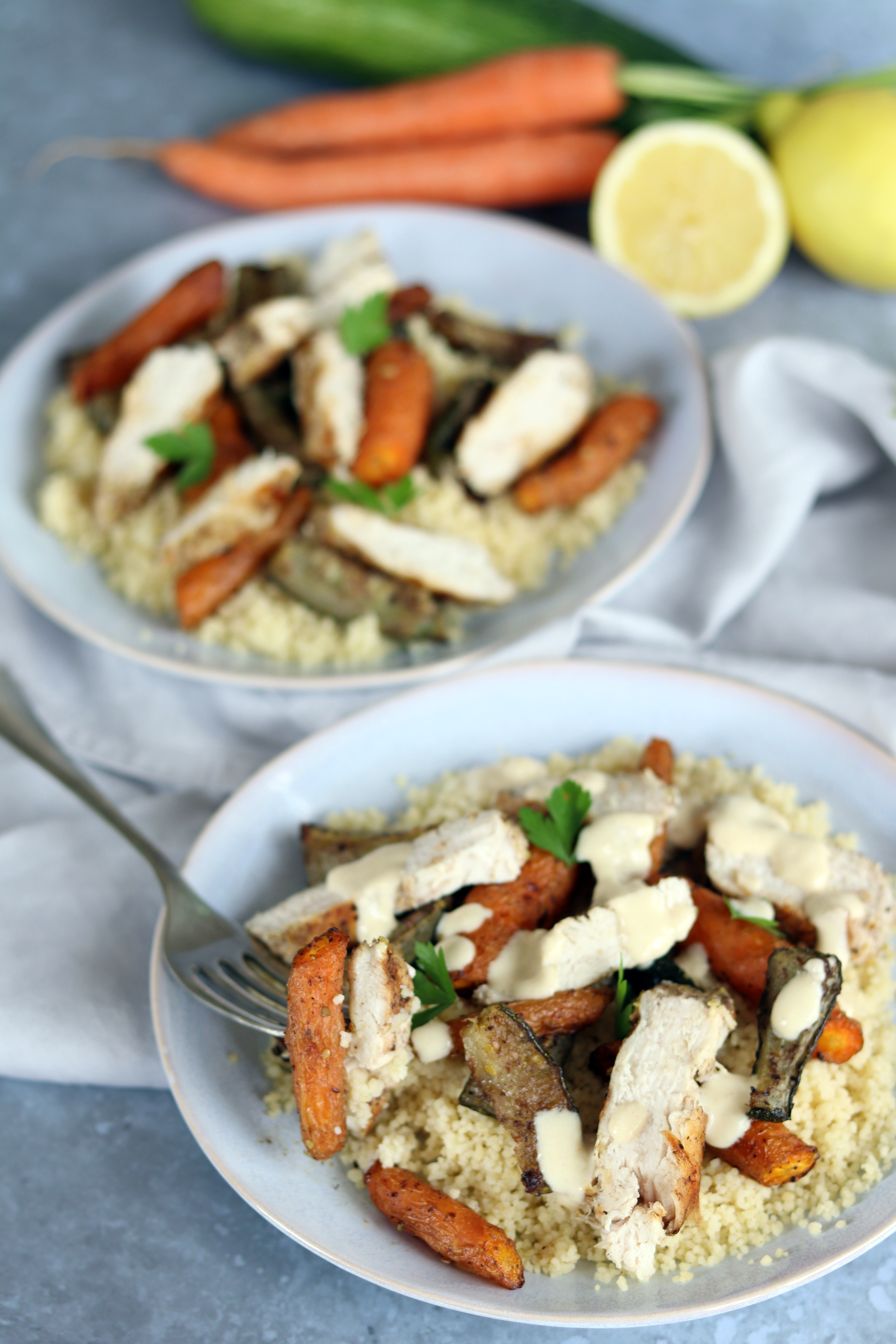 I'd like an exotic salad please
That is what one of my lovely friends said to me when I asked her what she would like for lunch when she came over. Oh and that she would like some chicken to be involved. So my brief was an exotic salad with chicken. Exotic can mean different things to different people so there wasn't just one direction to go in!
After I worked out I was going to use za'atar, I used my organic veg box for inspiration and came up with this Za'atar Chicken & Couscous Salad with Tahini Dressing. I wasn't sure how it was going to turn out to be completely honest. I was really pleased with it and what is even better; my friend Abi loved it.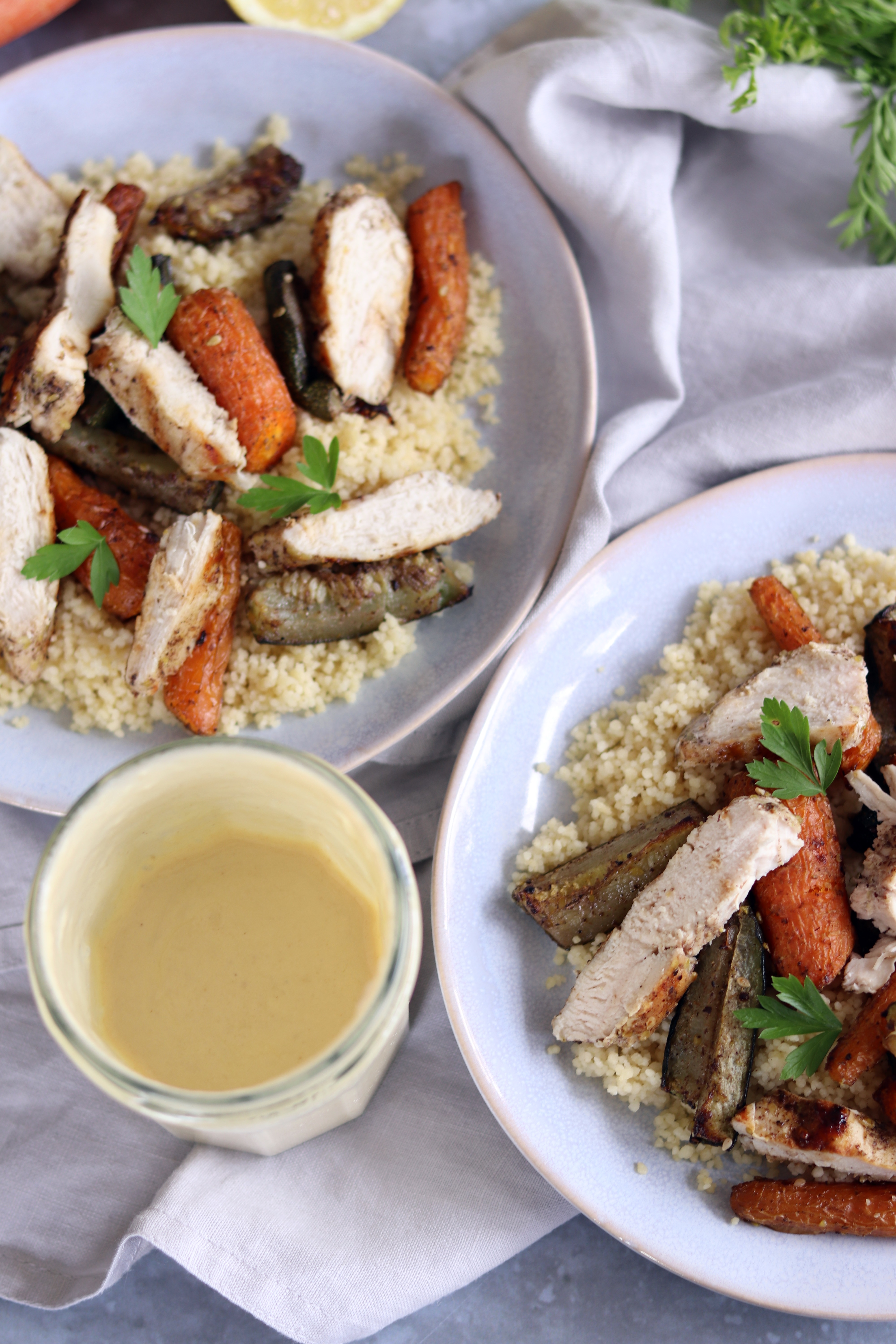 Salads don't have to include lettuce
I don't know about you, but growing up a salad always seemed to have lettuce, tomatoes and cucumber. I'm not knocking these in a salad, but not all salads have to have these. Don't worry you definitely won't miss the lettuce in this Za'atar Chicken & Couscous Salad with Tahini Dressing. Couscous is a fantastic ingredient to add to a salad because it helps to bulk out and keep you fuller for longer.
I chose to use carrots and courgettes because they came in my veg box this week and because they are in season. I got some lovely young carrot with their tops still on. These didn't need peeling, just a quick wash so you don't necessarily have to peel your carrots. You can definitely change these vegetables to what you have in your fridge or what is in season.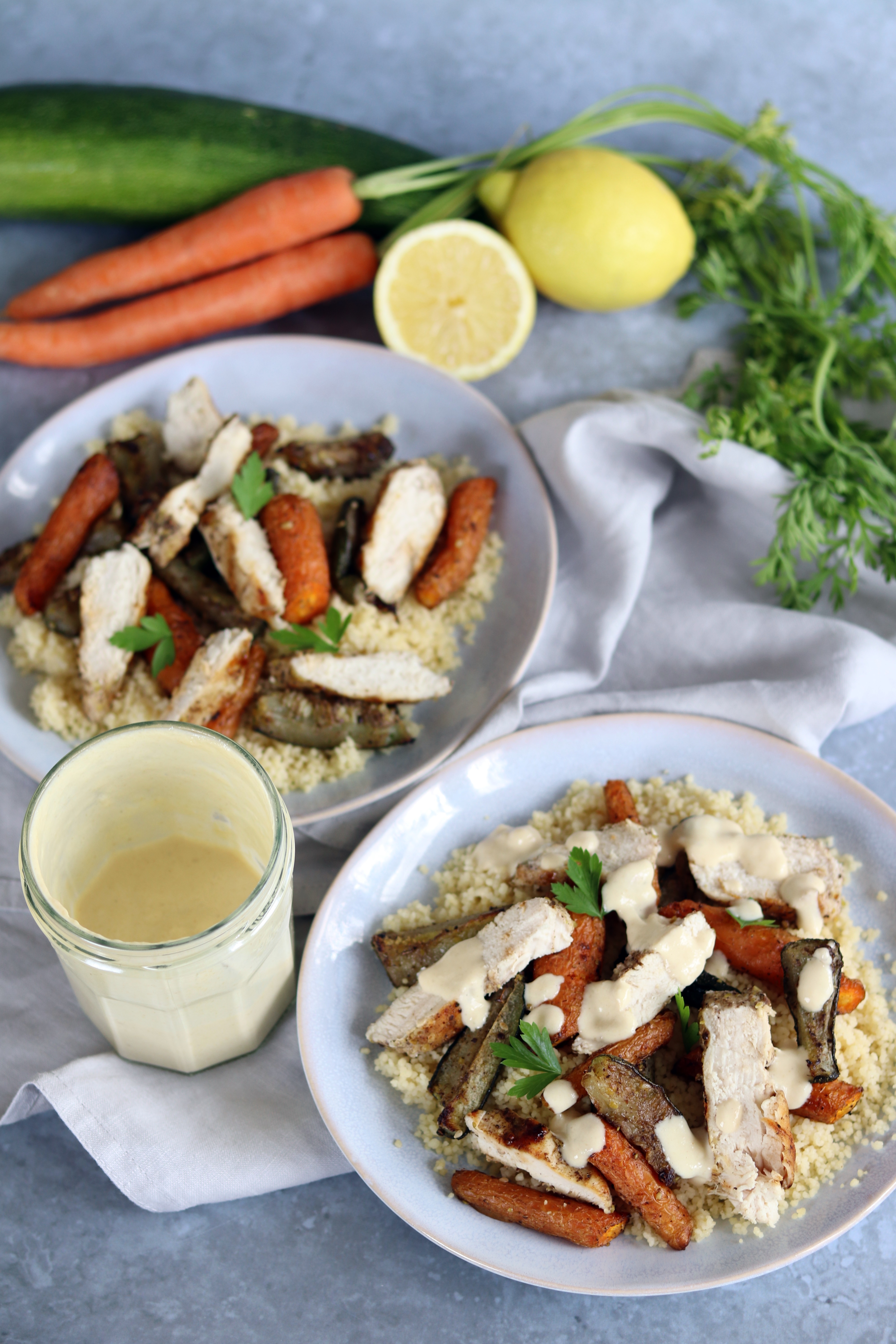 Don't miss out the tahini dressing!
I'll let you in on a little secret; this was my first time using tahini! If you didn't already know, tahini is made from sesame seeds. This made it the perfect ingredient to use in a dressing to combine the flavours from the za'atar. I then kept playing with the flavours until I had the perfect dressing (that is after making it a little too lemony at first!).
This recipe makes enough tahini dressing for two generous portions. If you're anything like us, you'll start off with a modest drizzle and keep adding more and more! I would recommend making the quantity below and if you happen to have any left over it would be great on salad or drizzled over vegetables.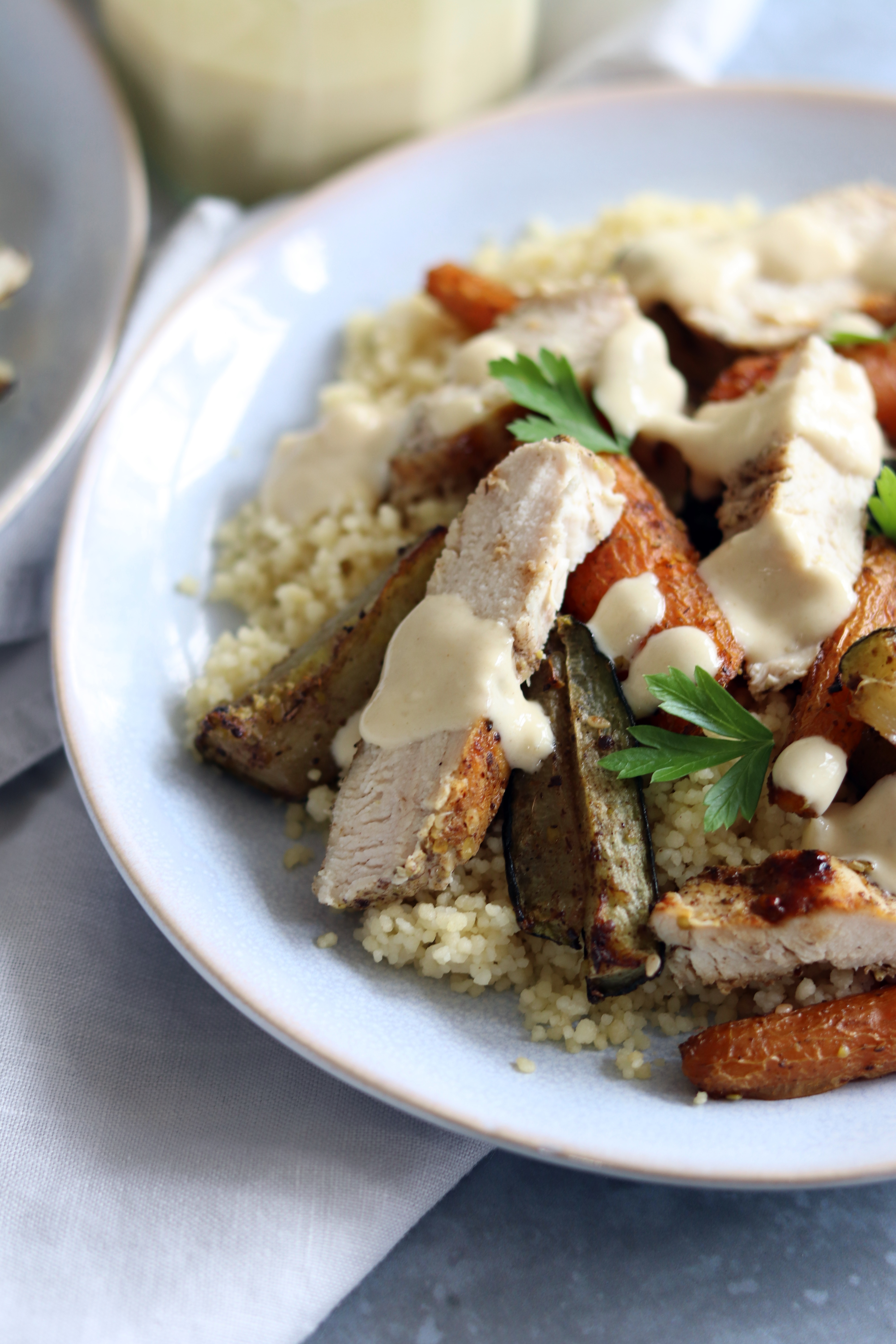 Vegetarian alternative
If unlike Abi you don't want chicken, you can easily make this Za'atar Chicken & Couscous Salad with Tahini Dressing vegetarian! Instead of chicken, some grilled halloumi would work really well. The halloumi would work just as well with the za'atar as it does with the chicken. I used the flavour combination before in my Roasted Halloumi & Za'atar Tray Bake.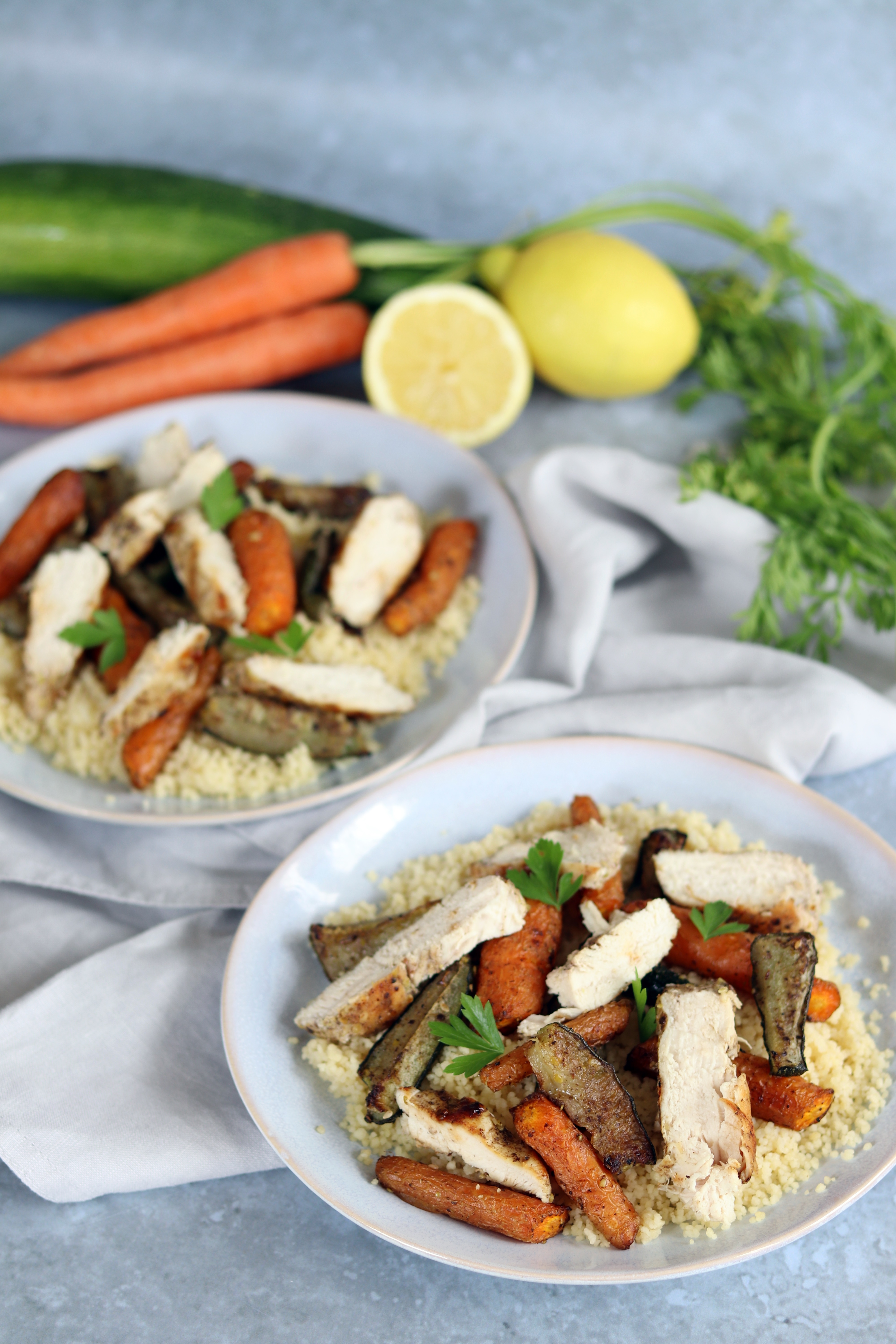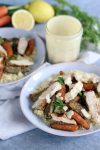 Za'atar Chicken & Cous Cous Salad with Tahini Dressing
Ingredients
For the vegetables
250

g

carrots

1

courgette

(approx 250g)

1

tbsp

olive oil

1

tbsp

Za'atar

¼

tsp

sea salt
For the couscous
100

g

couscous

160

ml

boiled water

½

tsp

concentrated chicken stock

½

tsp

olive oil
For the chicken
1

chicken breast

(approx 200g)

½

tsp

olive oil

½

tbsp

Za'atar

pinch

sea salt
For the tahini dressing
40

g

tahini

30

ml

lemon juice

freshly squeezed

2

tbsp

water

1

tsp

clear honey

1

tbsp

olive oil

pinch

sea salt
Instructions
Preheat the oven to 180°c (fan assisted, 200°c non fan)

Peel the carrots if needed and cut them however you like so they are approx 1cm thick. Cut the courgettes into roughly the same thickness and add them all to a large bowl

Add the olive oil, Za'atar and salt to the bowl with the carrots and courgettes. Mix thoroughly to make sure the vegetables are evenly coated

Tip the vegetables onto a baking tray so they are on one layer. Roast in the oven for 30 minutes, turning over every 10 minutes

While the vegetables are roasting, prepare the rest of the salad

Prepare the chicken by adding it to a bowl. Add the oil, Za'atar and salt and mix until the chicken is completely coated

Heat a pan over a medium high heat and cook the chicken for 5-7 minutes on each side until cooked though. Remove from the pan and leave to one side

Make the dressing by adding the tahini, lemon juice, water, honey, olive oil and salt to a jar. Put the lid on and shake until it is mixed

Assemble the salad by stirring the couscous through with a fork and adding it to a plate. Top the couscous with the roasted carrot and courgette. Slice the chicken and add it to the salad before drizzling with the dressing
Recipe Notes
If you do not have a griddle pan or you would prefer to cook it in the oven you definitely can. I'd put it in with the vegetables and cook for 10-15 minutes depending on the thickness of your chicken.
Nutritional information is given as a guide only.
Nutrition Facts
Za'atar Chicken & Cous Cous Salad with Tahini Dressing
Amount Per Serving
Calories 669
Calories from Fat 279
% Daily Value*
Fat 31g48%
Cholesterol 72mg24%
Sodium 531mg23%
Potassium 1249mg36%
Carbohydrates 64g21%
Protein 37g74%
Vitamin A 21225IU425%
Vitamin C 34.4mg42%
Calcium 159mg16%
Iron 6.3mg35%
* Percent Daily Values are based on a 2000 calorie diet.
Pin for laterLinking to
Cook Blog Share hosted by Monika at Everyday Healthy Recipes