Tender chicken in a glossy sauce packed with flavour. This Slow Cooker Teriyaki Chicken is not only delicious, it is also a really quick dish even in the slow cooker!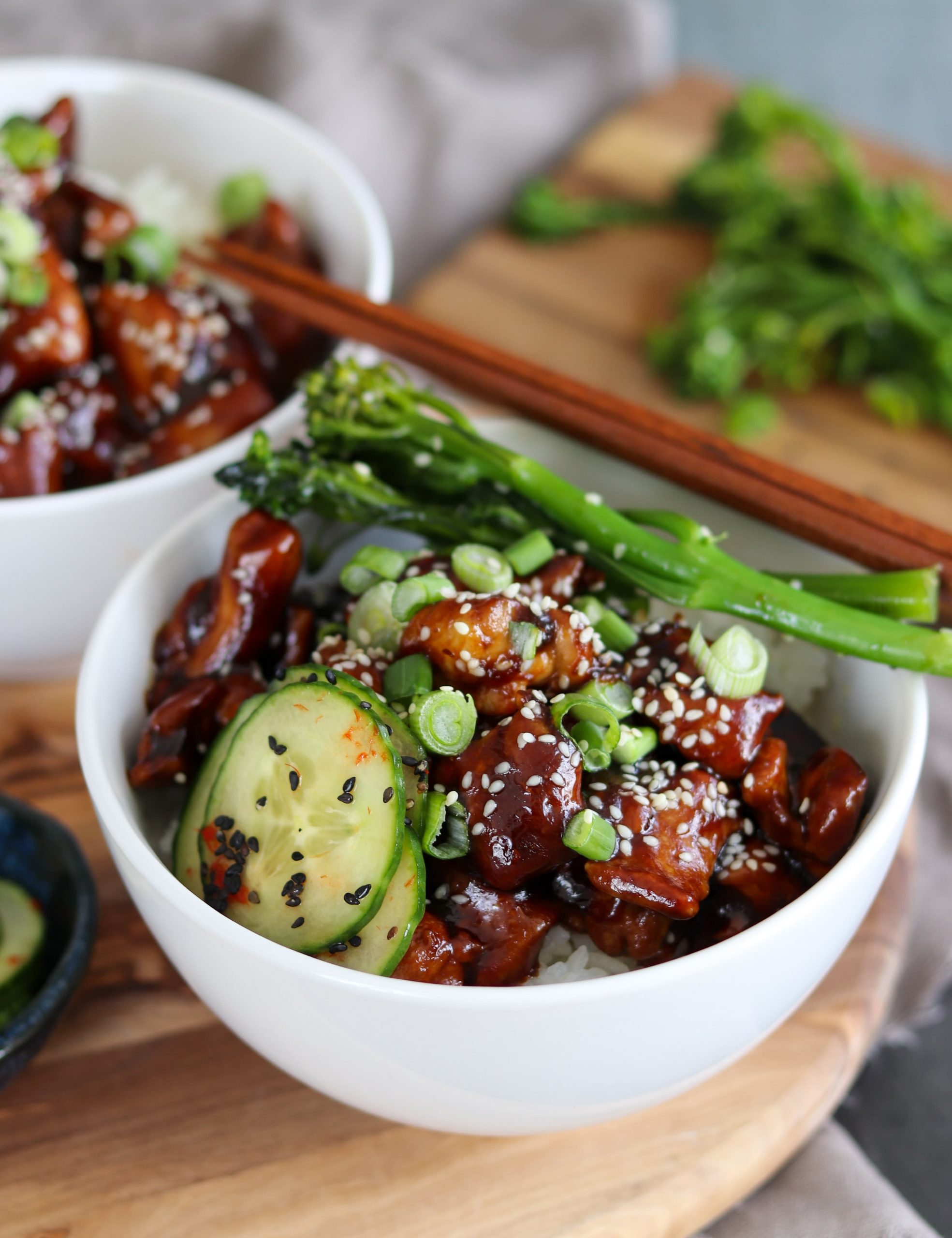 What is teriyaki?
Teriyaki is a traditional Japanese marinade or glaze used to flavour meat or fish. 'Teri' means to glaze and 'yaki' means to grill/cook.
Although teriyaki traditionally refers to the style of cooking, it is more commonly associated with the sauce.
It has a salty sweet taste from the mirin and soy sauce used and is brilliantly glossy.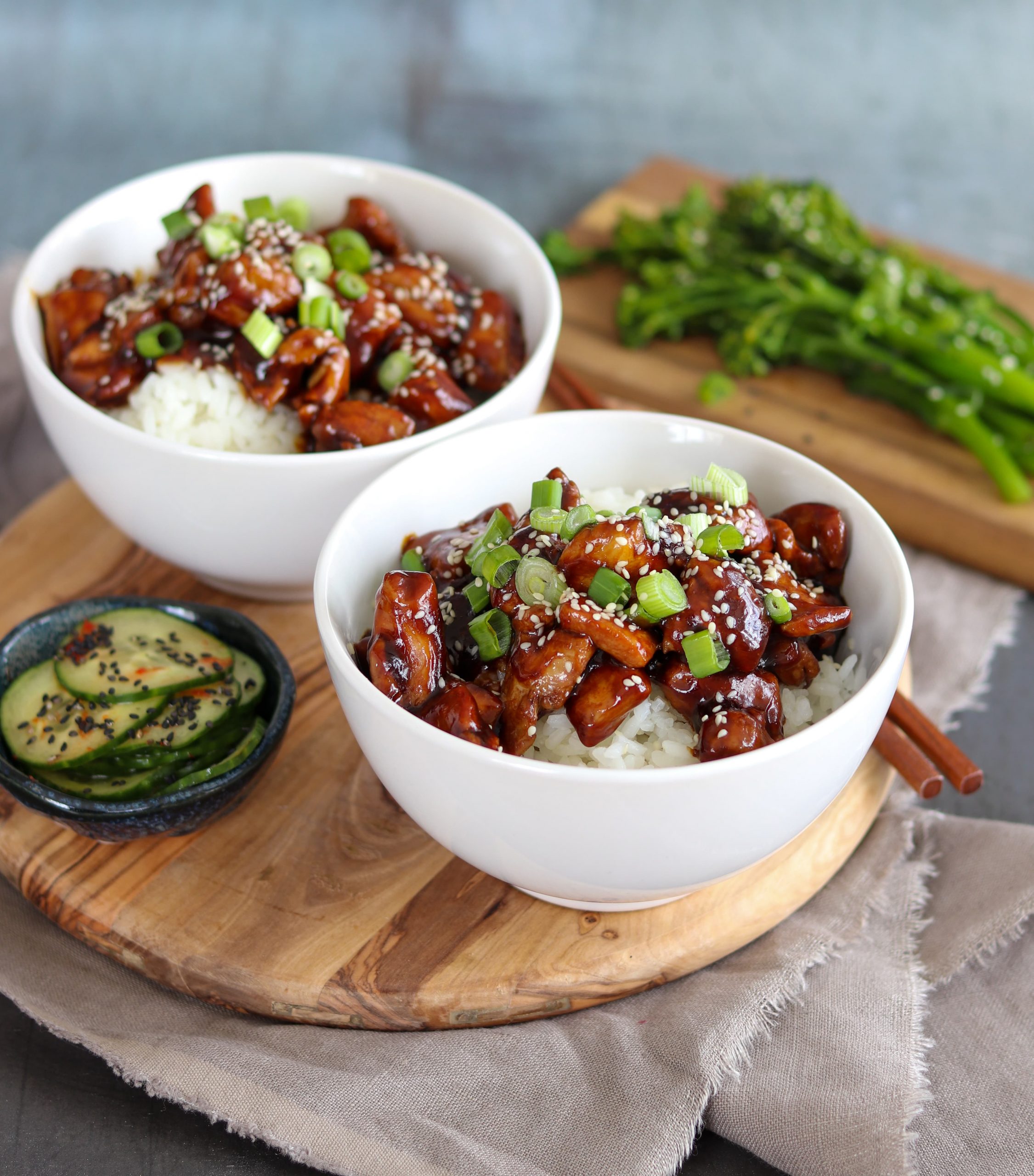 Slow cooker recipes don't have to take hours
Slow cooker recipes are so popular, but they don't all have to cook for hours.
It is commonly thought that slow cooker recipes take hours and hours to cook. However this isn't always the case!
This Slow Cooker Teriyaki Chicken can be cooked for 2 hours on high or 4 hours on low. You don't have to put this in the slow cooker before you go to work.
You can put it all in when you get home; go and walk the dog, go to the gym or whatever else you do and then have this ready to eat when you're finished.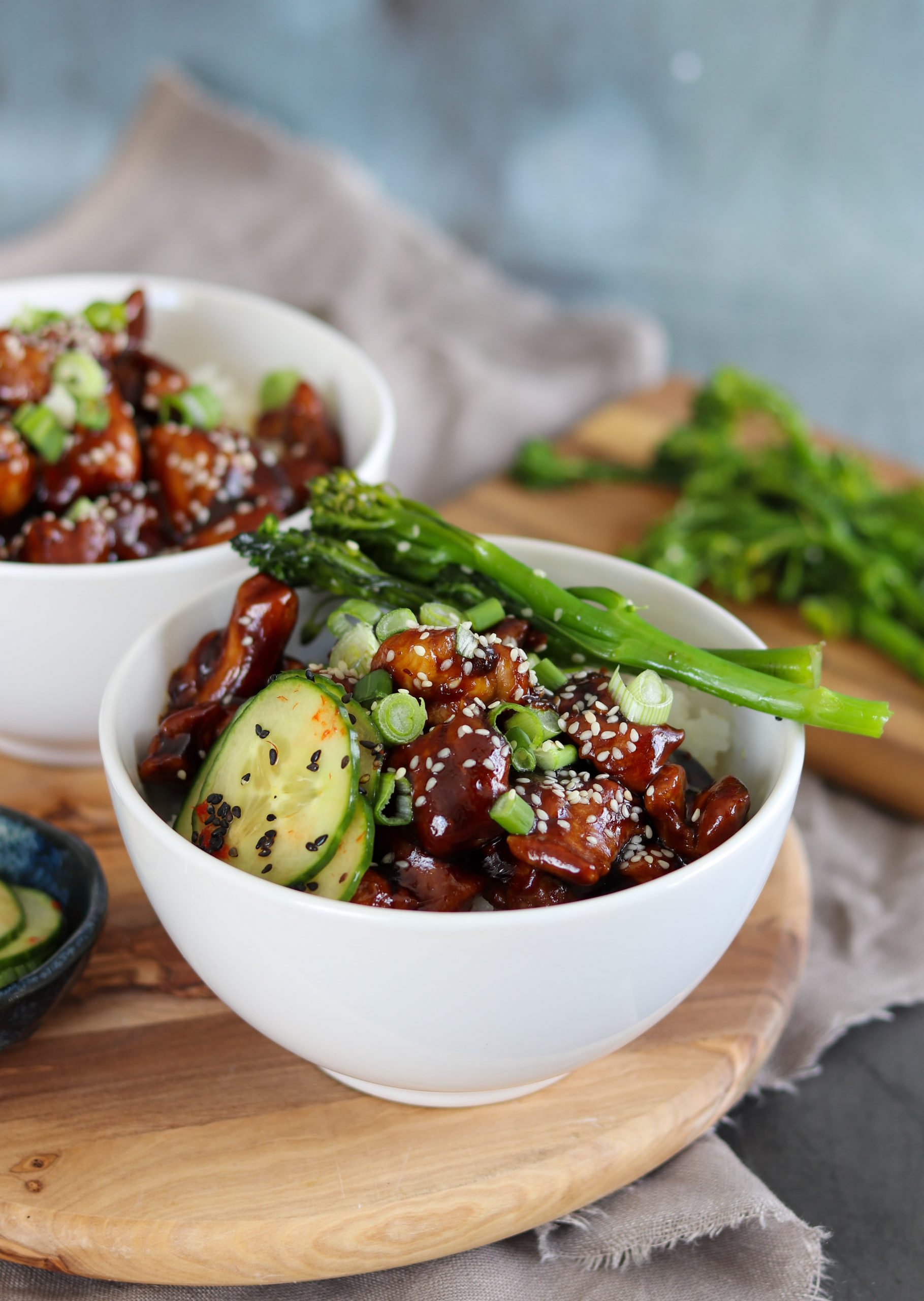 Slow Cooker Teriyaki Chicken is easy to make
Teriyaki Chicken is something I have always liked but never actually made myself. Well I have made it using a jar of sauce in the past, but I'm pretty sure we can't count that!
I assumed that it would be easier to buy a jar rather than make the sauce myself, but I was wrong.
It really is as simple as combining a few ingredients and then your sauce is ready to go! It couldn't be easier.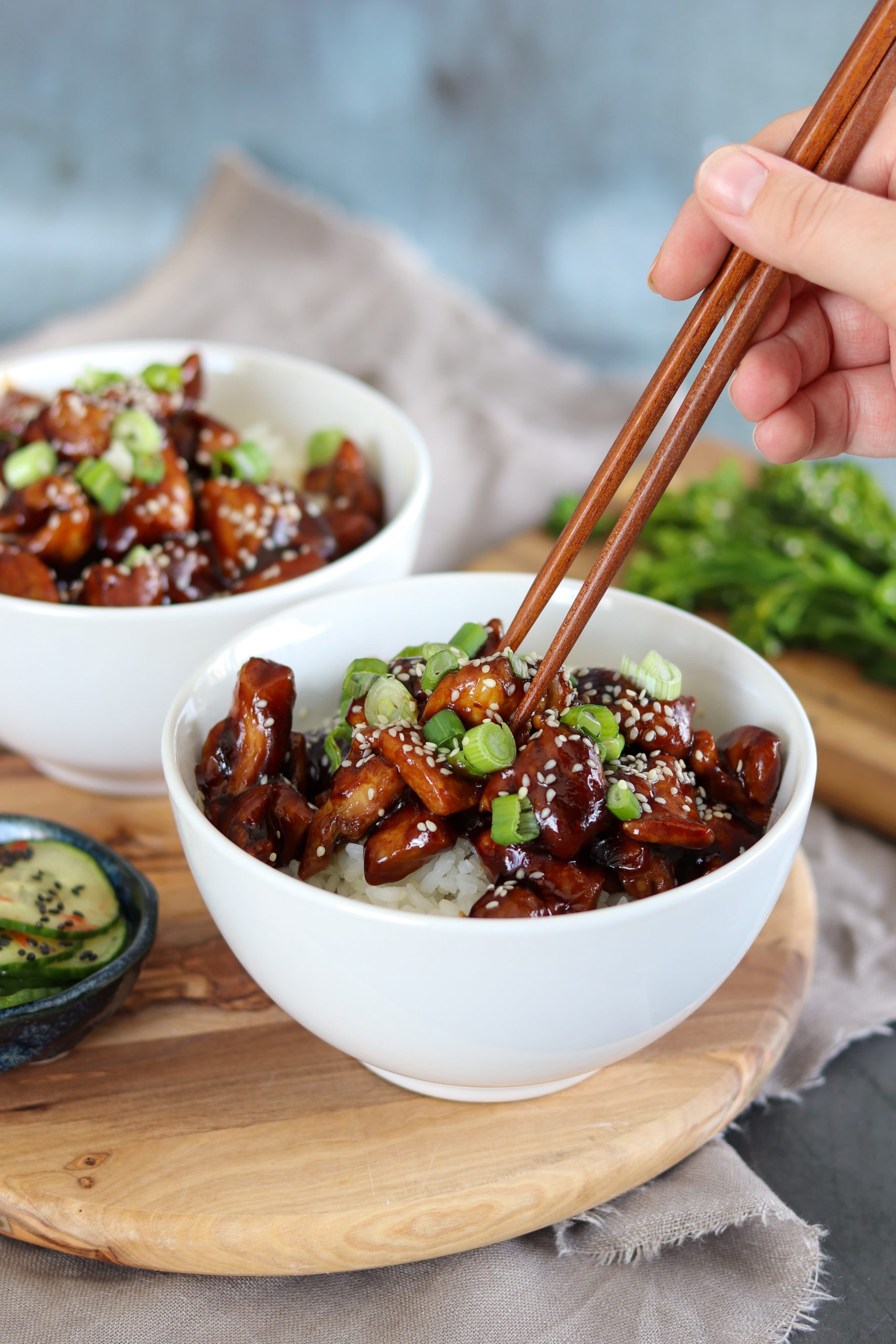 What makes up teriyaki sauce?
Teriyaki sauce is made up of a few simple ingredients that are easy to find in most large supermarkets. I would check the world foods aisle as you may be more likely to find them there.
Personally I prefer to buy the ingredients from my local Asian supermarket because they usually have a larger range of products and can be a bit cheaper.
Mirin – an essential Japanese ingredient. It is a type or rice wine similar to sake but with a lower alcohol content and more sugar. The sugar is formed naturally during the fermenting process and isn't added. If you can't find mirin you could use sake.
Light soy sauce – adds seasoning and flavour to the sauce.
Dark soy sauce – thicker and sweeter than light soy sauce and used to add colour to dishes.
Honey – I used the honey along with the sugar in the recipe to add the sweetness associated with teriyaki sauce. The honey also helps make the sauce extra shiny and glossy.
Cornflour – a great way to thicken the sauce at the end to make the consistency you like.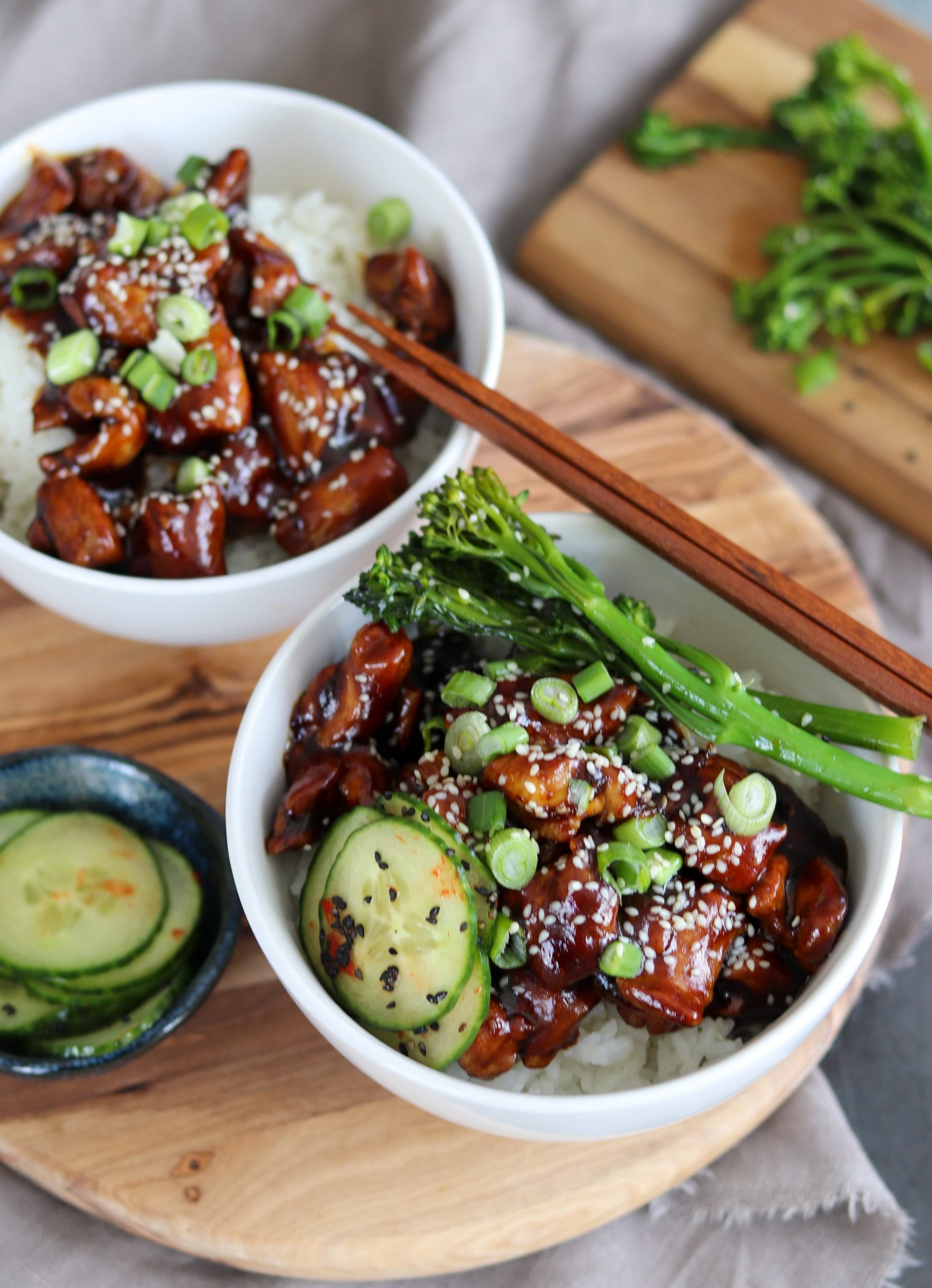 Adapting an existing recipe
I used a recipe by Woks of Life as a base for my Slow Cooker Teriyaki Chicken to get the ratios of my sauce right. I tweaked it by adding the honey and adapted it for a slow cooker.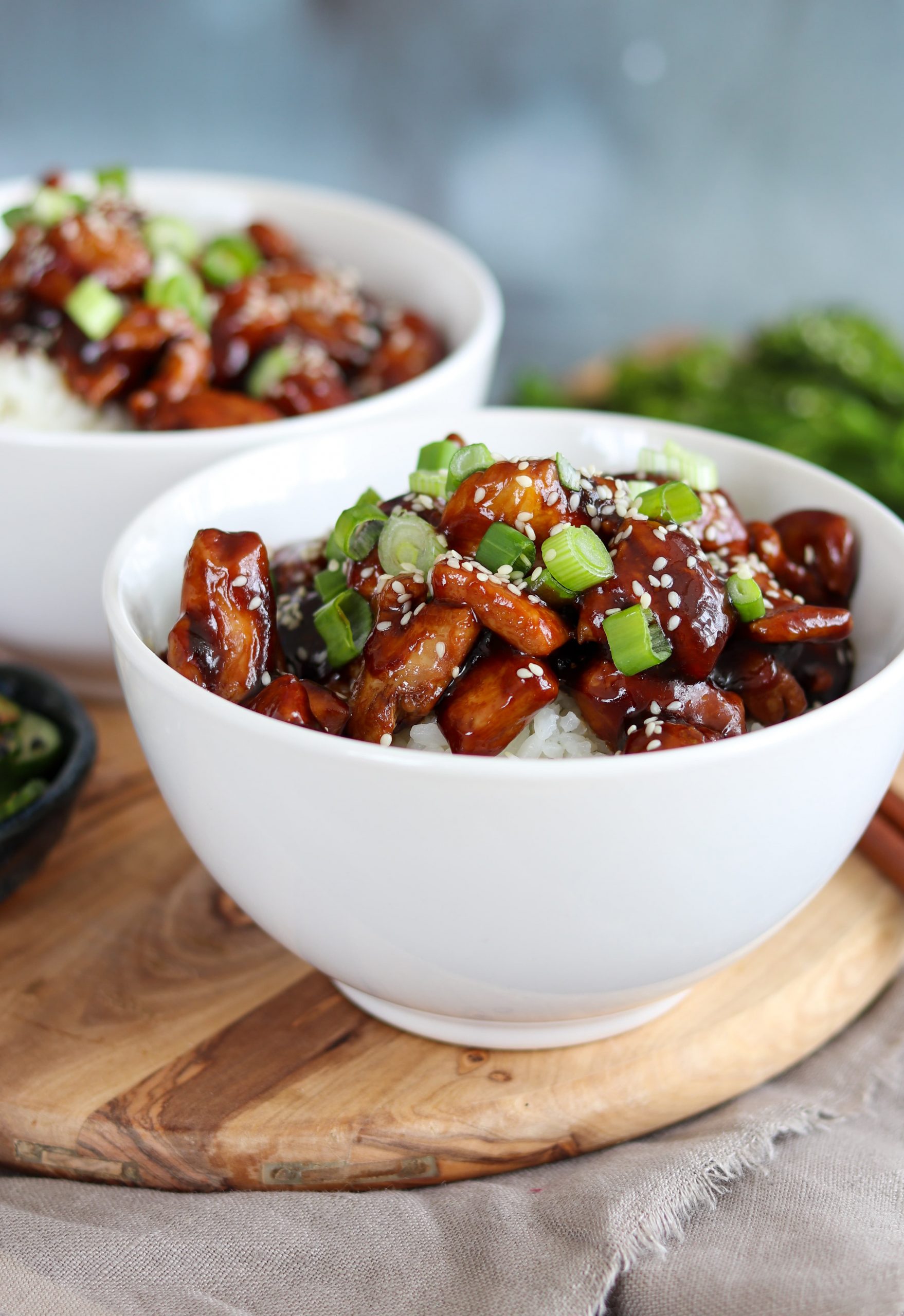 Which cut of chicken is best to use?
I prefer to use boneless, skinless chicken thighs for this Slow Cooker Teriyaki Chicken. This is the more traditional cut of chicken to use.
I think that chicken thighs have more flavour than chicken breasts and are more moist which means they are less likely to dry out.
You can definitely use chicken breasts instead, whichever you prefer.
The chicken also doesn't need to be cut up, you can leave the thighs or breasts whole if you would prefer.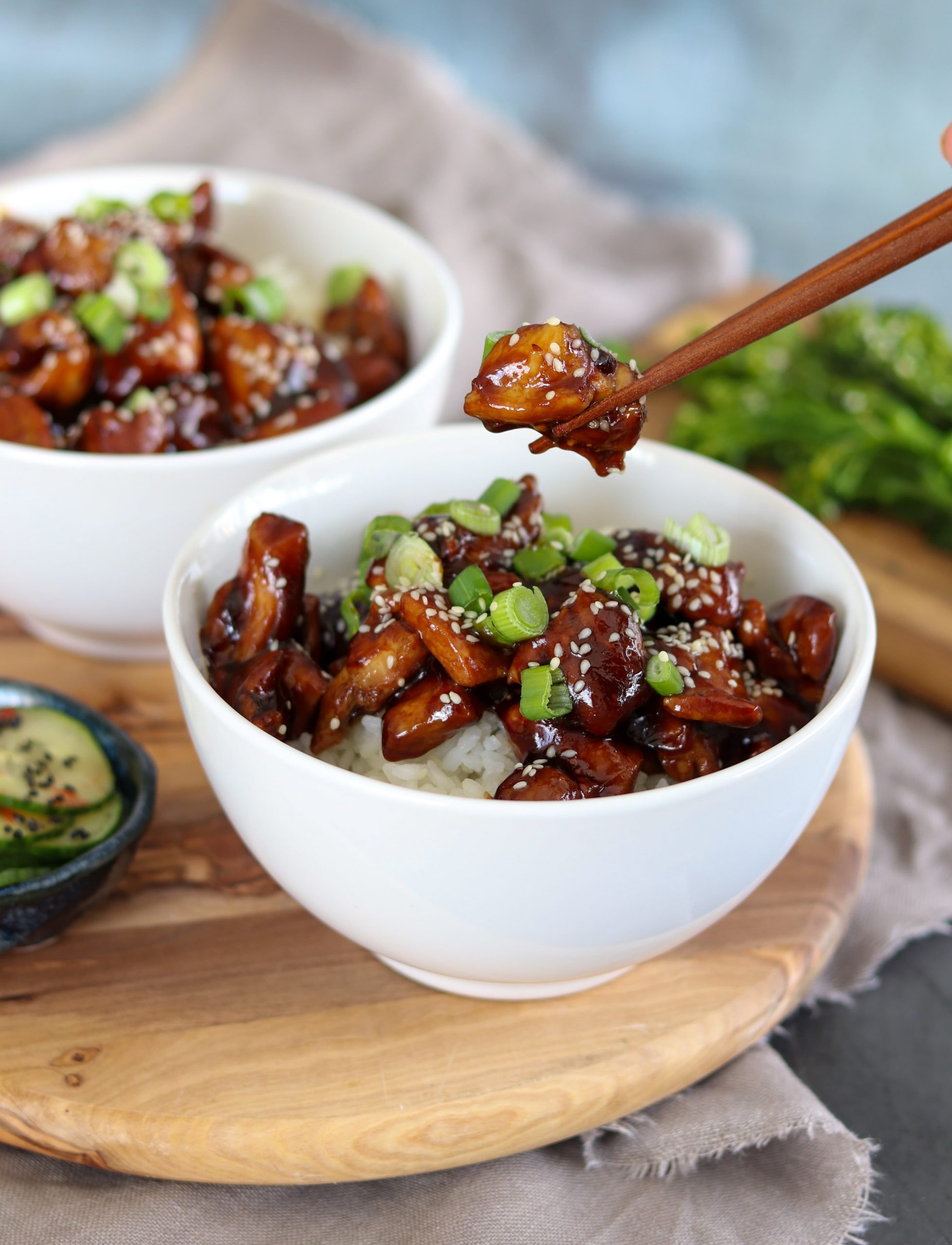 Is chicken teriyaki healthy?
What people consider 'healthy' varies from person to person. This Slow Cooker Chicken Teriyaki isn't a recipe that is particularly healthy but as with all food, it should be enjoyed as part of a balance diet.
If you are worried, you could stretch the sauce below to feed four people. We like to have quite a lot of sauce, but it would feed four people too.
It is absolutely delicious so you definitely should give it a try!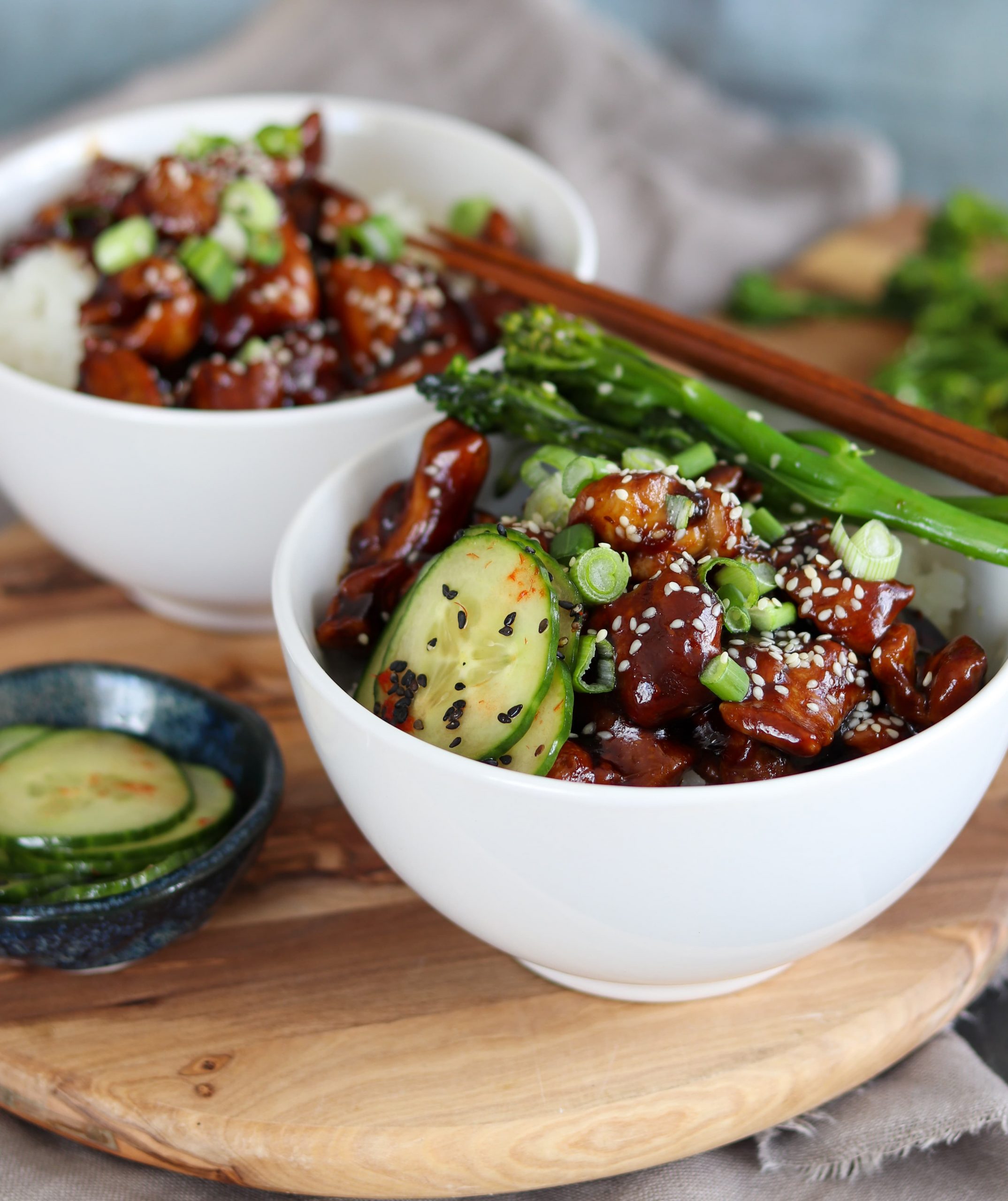 How to serve this Slow Cooker Teriyaki Chicken
My preferred way of serving this Teriyaki Chicken is with sushi rice. After eating this with nearly every meal when we went to Japan I have become a little obsessed with it.
It is now my go-to rice to serve with any Japanese or Chinese dishes.
I also like to serve it with some steamed tenderstem broccoli and my cucumber salad.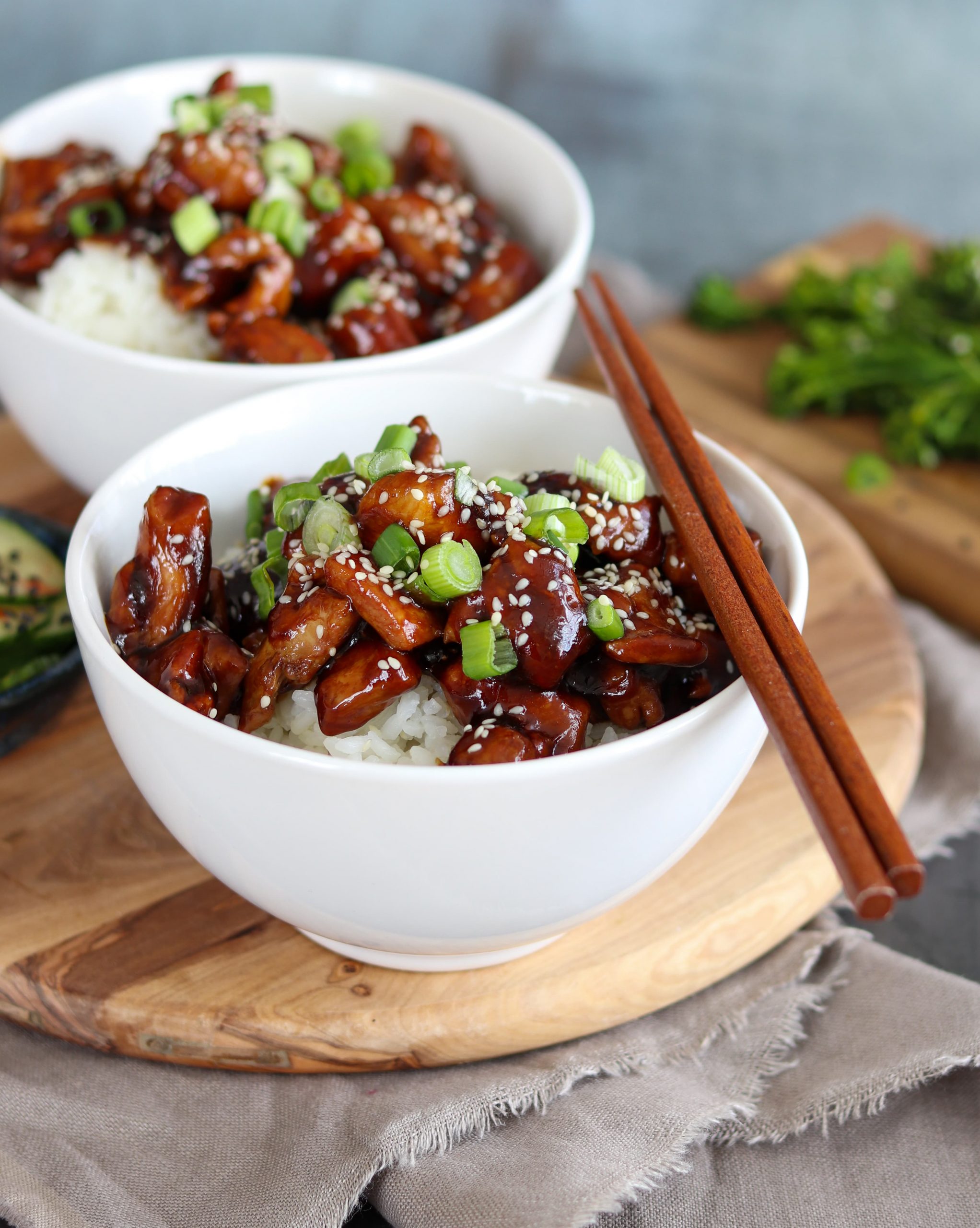 Can I freeze this slow cooker teriyaki chicken?
Yes you can, but believe me you will want to eat the lot!
If you are freezing it, make sure you put any leftovers in the freezer within two hours of it finishing cooking. Once frozen, eat within three months.
To defrost, leave it in the fridge for eight hours. I prefer to reheat on the hob where you can add a splash of water if the sauce is too thick. Make sure the chicken teriyaki is piping hot before serving.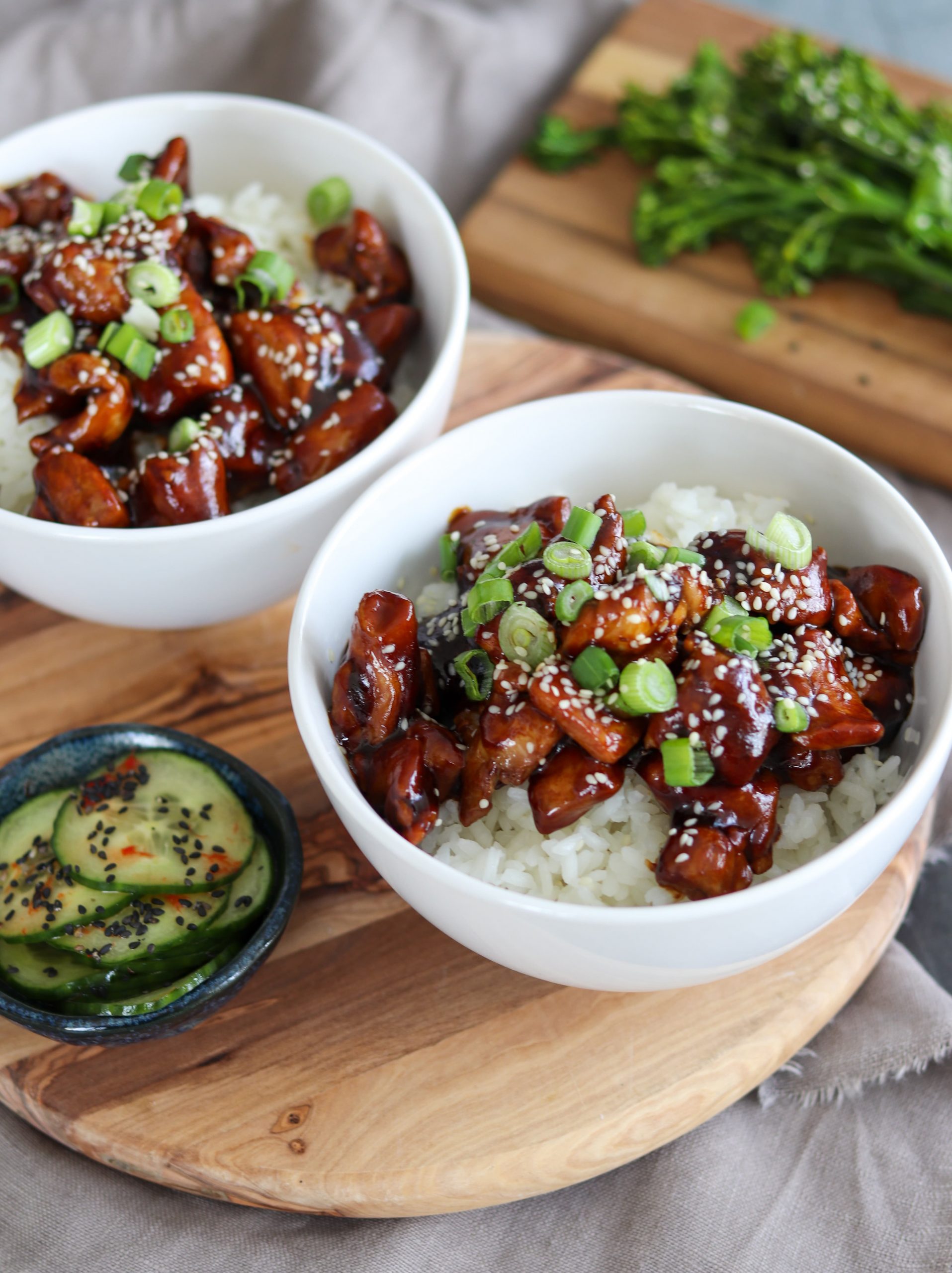 Other recipes you might like
Pin for later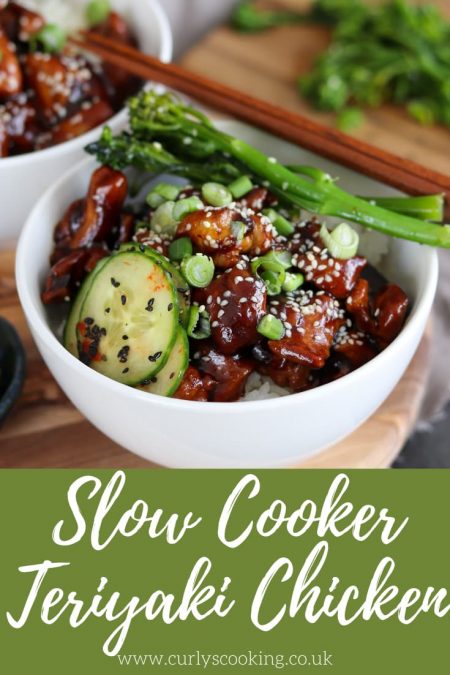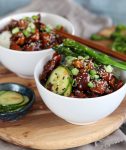 Slow Cooker Teriyaki Chicken
Tender chicken in a glossy sauce packed with flavour. This Slow Cooker Teriyaki Chicken is not only delicious, it is also a really quick dish even in the slow cooker!
Total Time
2
hours
15
minutes
Ingredients
1

kg

chicken thighs

bones and skin removed

3½

tbsp

Mirin

3½

tbsp

light soy sauce

1½

tbsp

dark soy sauce

2

tbsp

light brown sugar

1

tsp

ginger

grated

1½

tbsp

sesame oil

1

tbsp

cornflour

2

tbsp

runny honey

spray oil
To Finish
1

tbsp

cornflour

mixed with water

2

spring onions

sliced

1

tbsp

sesame seeds
Instructions
Remove the skin and bones from the chicken thighs and cut into large chunks.

Brown the chicken thighs in the slow cooker dish on the hob with some spray oil (if you slow cooker allows). If not, do this is in a frying pan.

Mix together all of the sauce ingredients in a jug.

Add the chicken back to the slow cooker and pour the sauce. Stir to coat the chicken in the sauce. Leave to cook for 2 hours on high or 4 hours on low. Stir the chicken once or twice throughout the cooking time.

Ten minutes before serving, mix the remaining cornflour with water and stir through.

Serve with boiled rice sprinkled with sliced spring onions and sesame seeds.
Nutrition Facts
Slow Cooker Teriyaki Chicken
Amount Per Serving
Calories 710
Calories from Fat 423
% Daily Value*
Fat 47g72%
Cholesterol 245mg82%
Sodium 1189mg52%
Potassium 572mg16%
Carbohydrates 26g9%
Protein 42g84%
Vitamin A 255IU5%
Vitamin C 1.2mg1%
Calcium 54mg5%
Iron 2.5mg14%
* Percent Daily Values are based on a 2000 calorie diet.
Linking to