Deliciously soft and fluffy buns filled with tender pork. These Pork Steamed Buns are more simple than they look and worth the little bit of effort.

Steamed Buns aren't as hard as you might think
I remember when I first saw steamed dumplings thinking they looked great, but they would be hard to make. Now I don't claim to be a steamed bun professional, but they really aren't very hard to make at all!
The dough itself could not be easier. It is just self raising flour mixed with water and requires minimal effort. Give them a try and you'll see!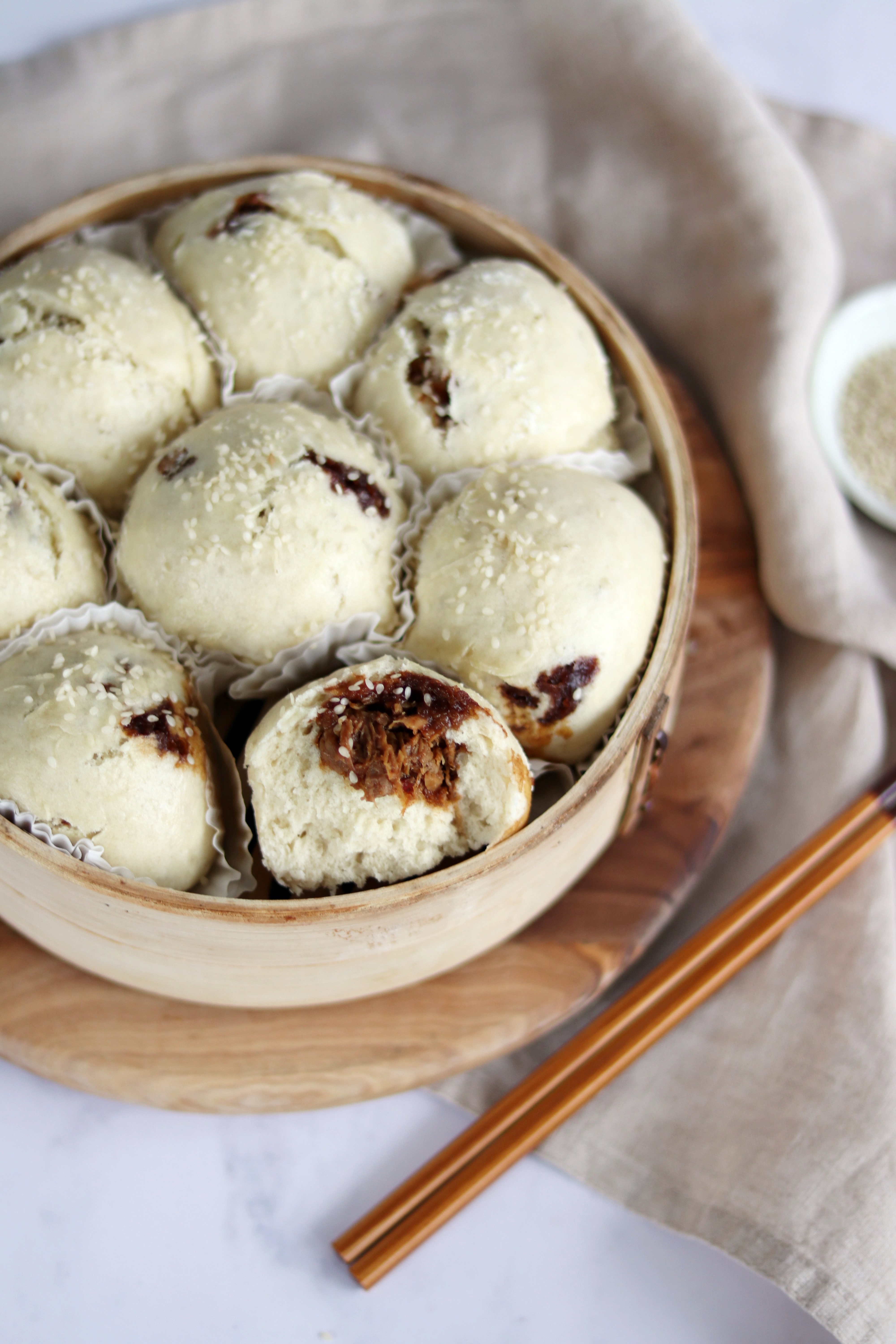 How to make the filling for the Steamed Pork Buns
The filling for these Steamed Pork Buns couldn't be easier. Any cooked pork will work well but I like to use leftovers from my Slow Cooker Pulled Pork.
It is a great way to create another delicious recipe that is completely different from the original.
If you didn't have any leftover pork, you can always use shop bought pulled pork. I have used BBQ pulled pork before which worked quite well. Obviously it was a completely different flavour, but it is an alternative option.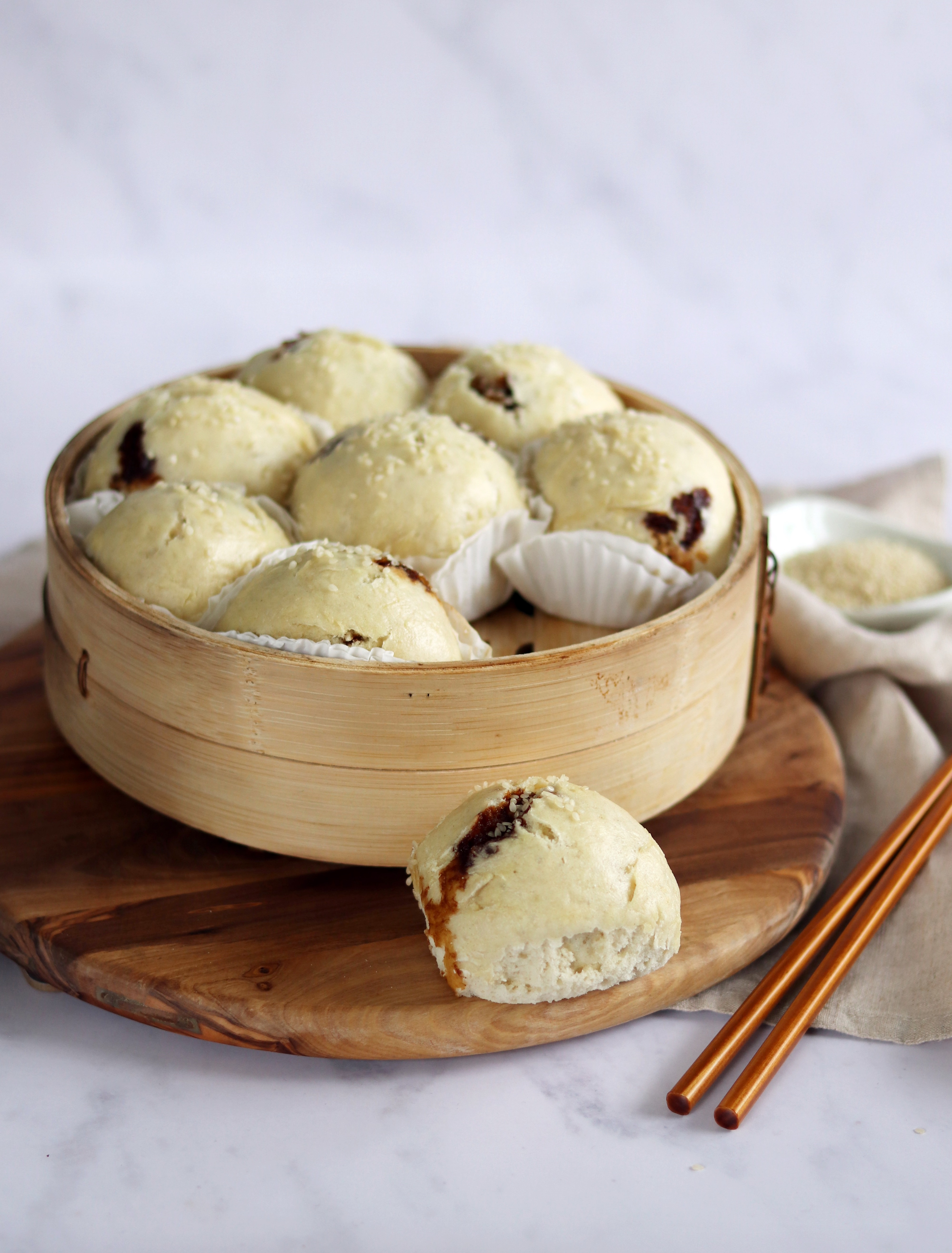 Can I make these vegetarian?
Yes, these steamed buns can definitely be made vegetarian. Linda McCartney does a vegetarian pulled pork and hoisin duck. This comes frozen so I would cook it as per the packet's instructions.
Apart from the oyster sauce, the rest of the filling's ingredients should be suitable for vegetarians. As a substitute to the oyster sauce, you could use a mushroom stir fry sauce which I believe has a similar consistency to oyster sauce.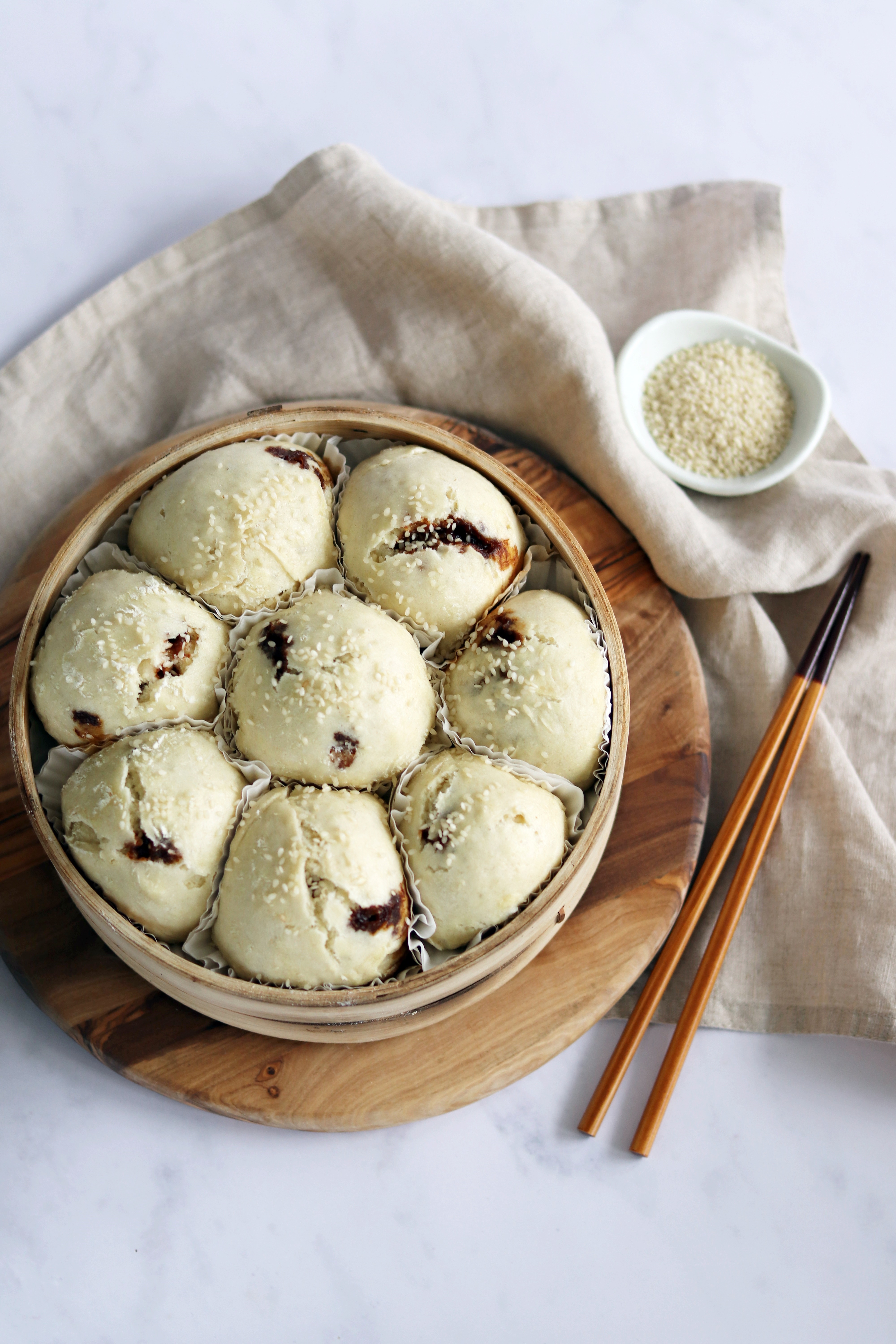 Steamed Pork Buns cooking tips
Perfect looking steamed buns shouldn't necessarily be your goal here. I have made perfect looking Pork Steamed Buns and some that look not so perfect.
I quite like it when the buns split slightly when they are steaming because you can see some of the filling. This adds a bit of colour to them too which stops them looking so pale.
Although it is quite nice when they split slightly, you don't want to overfill them so much so that they split completely. I know it is temping to try and cram as much filling into them as possible, but a teaspoon really is plenty.
Don't add too much of any liquid from the pork as you don't want them to become too soggy.
When steaming the buns, you want the water beneath the steamer to be simmering. This is so it is just bubbling but not boiling. The steamer shouldn't touch the water and you shouldn't let the water evaporate completely. The buns will be plump and fluffy once cooked.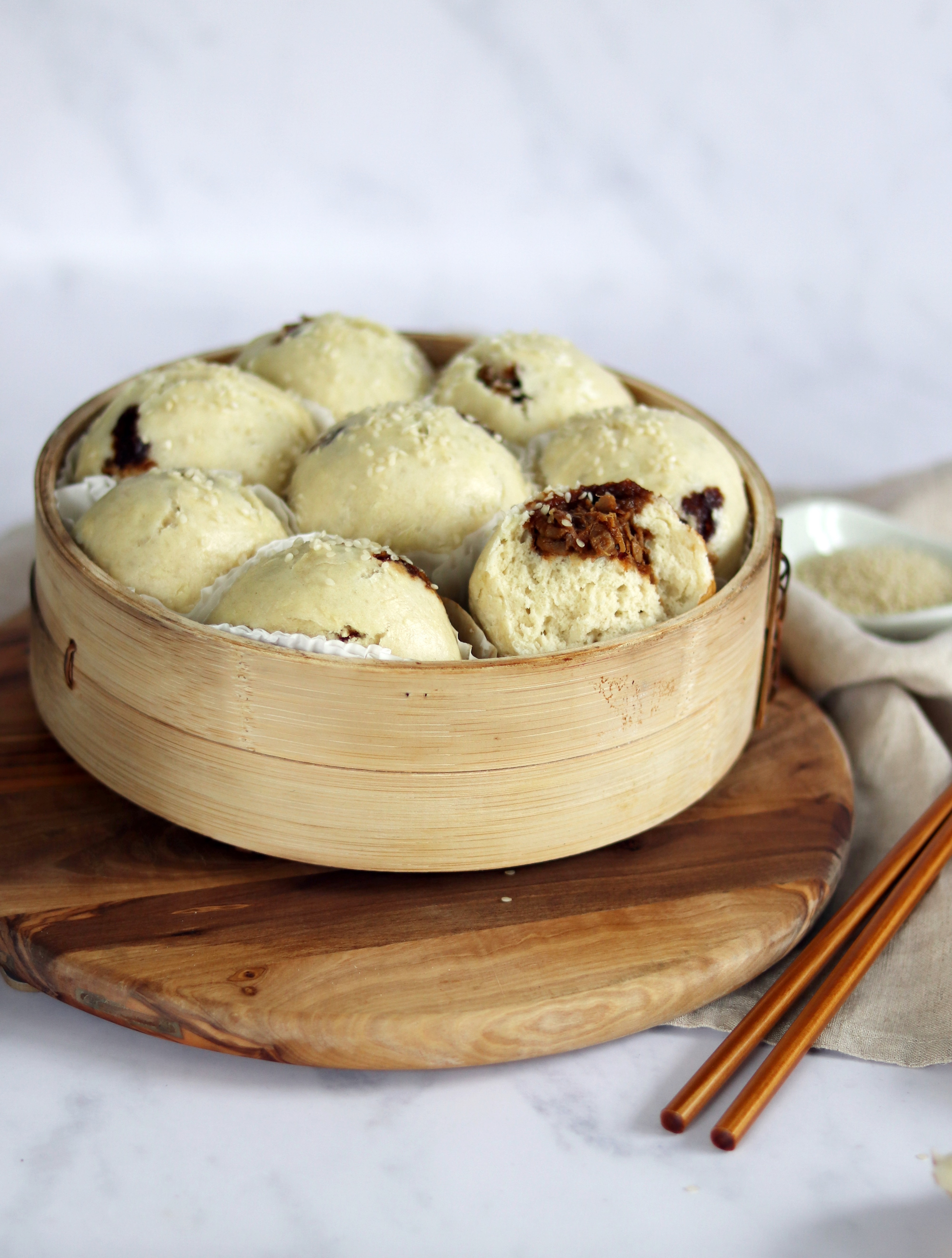 How are these Steamed Pork Buns best eaten?
I prefer to eat these steamed buns while they are still warm. The paper cases will stick to them slightly so don't worry if this happens.
You can reheat the buns if you don't eat them all at once. I would do this by steaming them again for a couple of minutes.
A standard sizes steamer comes with two tiers. Eight buns will fit snugly on each layer so you can double the recipe if you would like to make more buns.
These Steamed Pork Buns are great eaten as a starter or as part of a Chinese meal. They would be very tasty with my Chicken Chow Mein, Vegetable Fried Rice and Baked Sweet & Sour Chicken.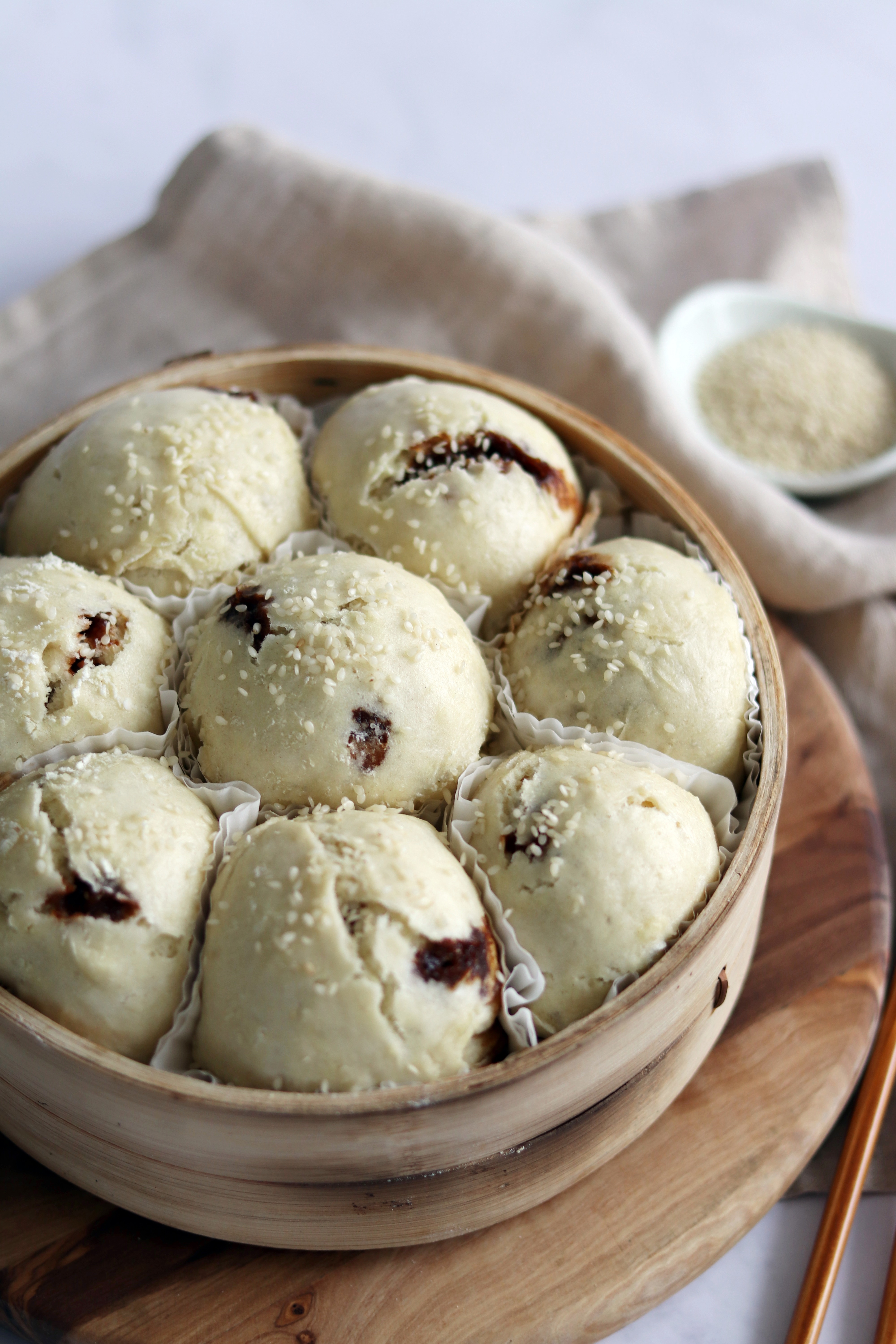 other recipes you might like
Pin for later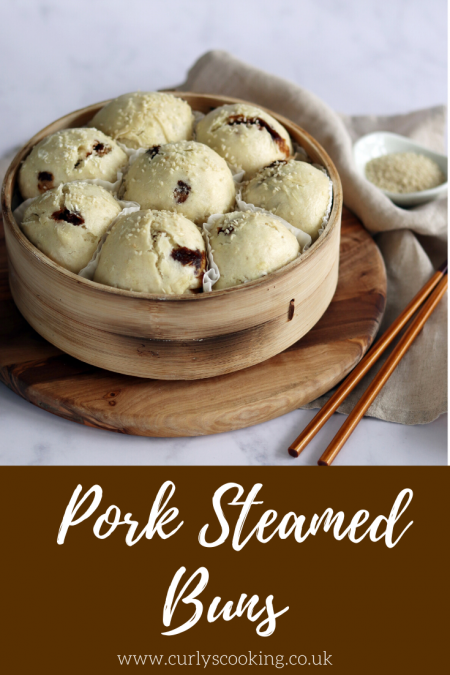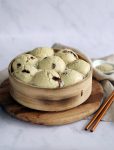 Steamed Pork Buns
Deliciously soft and fluffy buns filled with tender pork. These Pork Steamed Buns are more simple than they look and worth the little bit of effort.


Ingredients
For the filling
90

g

pulled pork

1

tbsp

sesame seeds

2

tbsp

oyster sauce

1

tbsp

light soy sauce

1

tbsp

Shaoxing rice wine

½

tsp

dark soy sauce

¼

tsp

garlic chilli sauce
For the buns
250

g

self raising flour

200

ml

semi-skimmed milk

1

tbsp

sesame seeds
Instructions
Chop up the pork into small pieces and add to a bowl along with the rest of the filling ingredients. Set aside

Put the flour in a bowl and add the milk. Combine until you have a sticky dough

Turn out onto a floured surface and roll into a long sausage shape

Cut into 8 equal pieces. Shape each piece into a circle approximately 5cm in diameter

Spoon a teaspoon of pork into the centre of each circle. Fold one side of the dough over to the other and pinch to close. I then twist the dough slightly to help ensure it is tightly closed

Put each dumpling upside down into a double layer of muffin cases (2 cases) and put in your steamer. Repeat for all 8 dumplings

Pour a couple of centimetres of boiling water into a wok. Put the steamer over the water and steam for 12 minutes

Once steamed, sprinkle the dumplings with sesame seeds
Recipe Notes
Best eaten while warm.
Nutritional information is given as a guide only and my vary.
Nutrition Facts
Steamed Pork Buns
Amount Per Serving
Calories 164
Calories from Fat 27
% Daily Value*
Fat 3g5%
Cholesterol 7mg2%
Sodium 336mg15%
Potassium 82mg2%
Carbohydrates 27g9%
Protein 7g14%
Vitamin A 42IU1%
Vitamin C 1mg1%
Calcium 64mg6%
Iron 1mg6%
* Percent Daily Values are based on a 2000 calorie diet.