This Small Chocolate Layer Cake is a showstopper for chocolate lovers. Chocolate sponge covered in delicious chocolate frosting; it is the perfect cake for slightly smaller occasions.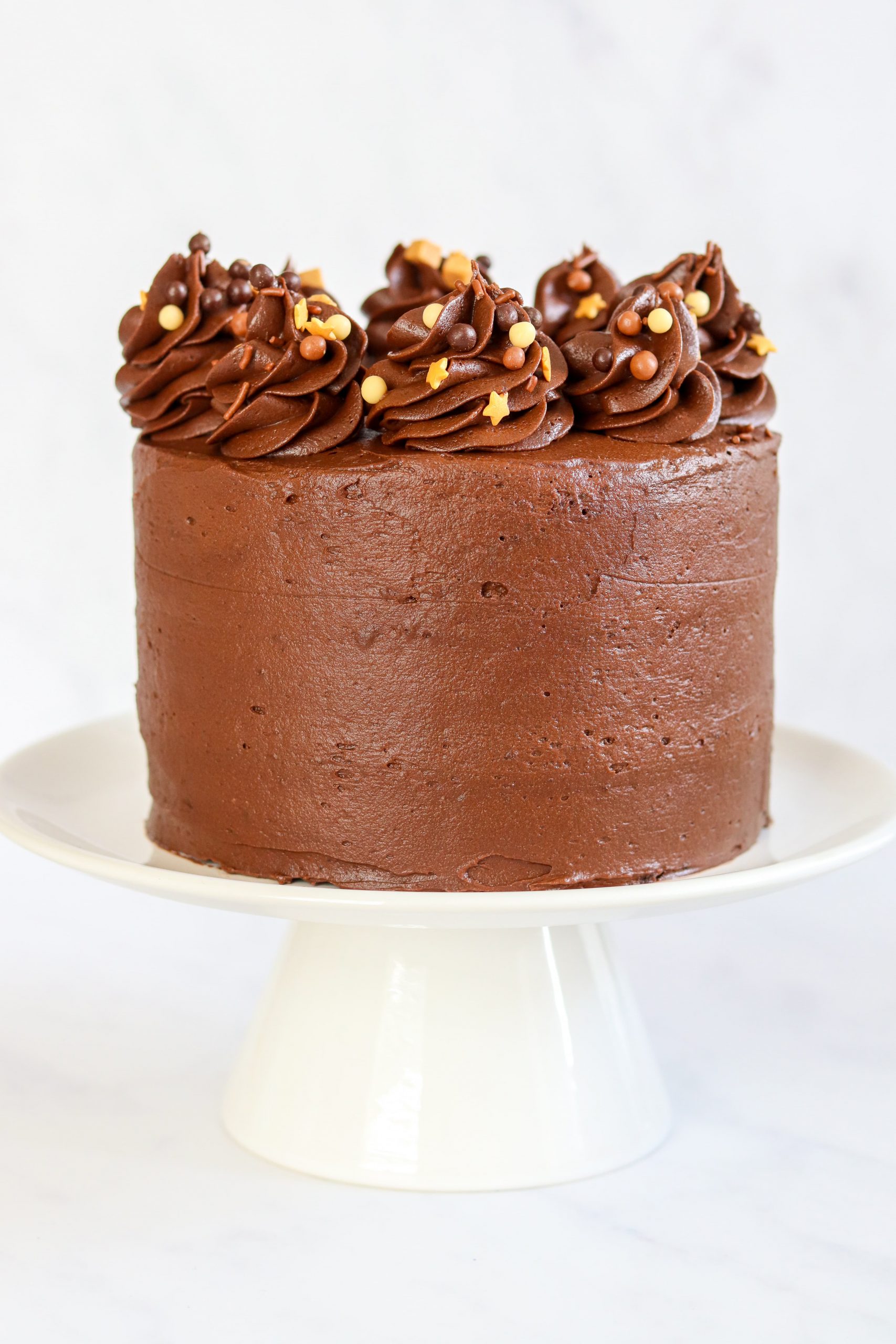 small chocolate layer cakes are perfect for any occasion
This small but eye catching chocolate cake is simple enough to be made for a family picnic; but impressive enough to be served at a small celebration.
It has three 6 inch layers of rich, delicious chocolate cake sandwiched with the tastiest, creamy chocolate frosting.
The cake itself is simple to make and you can be as adventurous or simple as you like with the decorations to suit whichever occasion you are making it for.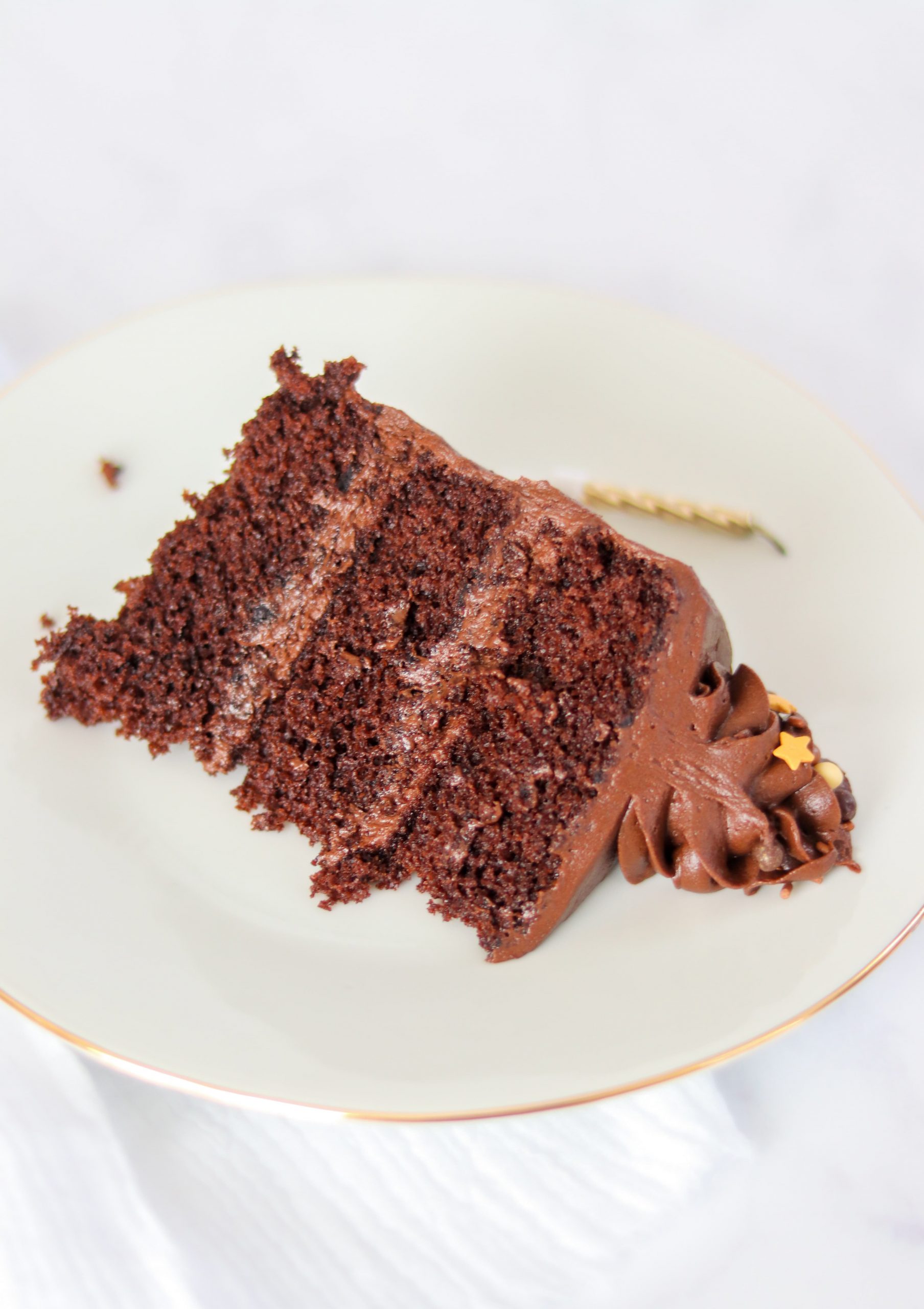 why use six inch tins?
I am a huge fan of smaller but taller cakes. I think a three layer six inch cake looks much more impressive than a two layer eight inch cake.
Obviously you could bake three layers of larger cakes, but this makes the cake quite a bit bigger. Not every occasion needs an abundance of cake – although I know people may disagree!
The actual quantity of cake batter is the same whether you add it to two eight inch tins or three six inch tins.
By using the three layers of smaller cake, I think you are keeping the number of people the cake will serve down whilst also not compromising on the look of the cake.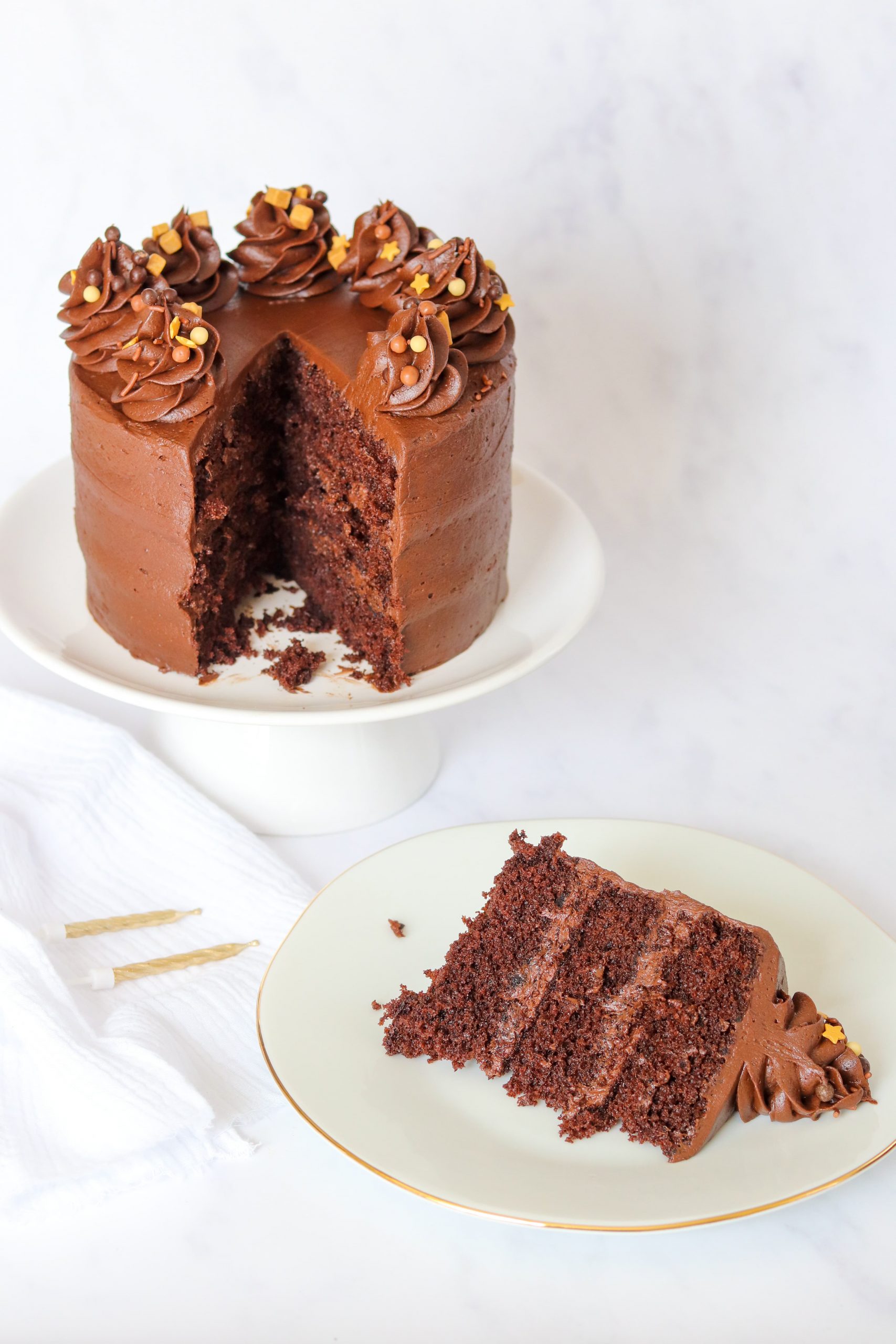 will this cake taste like coffee?
No, definitely not! I don't like coffee but I always add it to my chocolate bakes.
Coffee acts as a flavour enhancer to chocolate and makes it taste even more rich and delicious. You only need to add a small amount but it really does elevate the flavour.
The salt in the recipe also enhances the chocolate flavour. But don't worry you won't taste this either!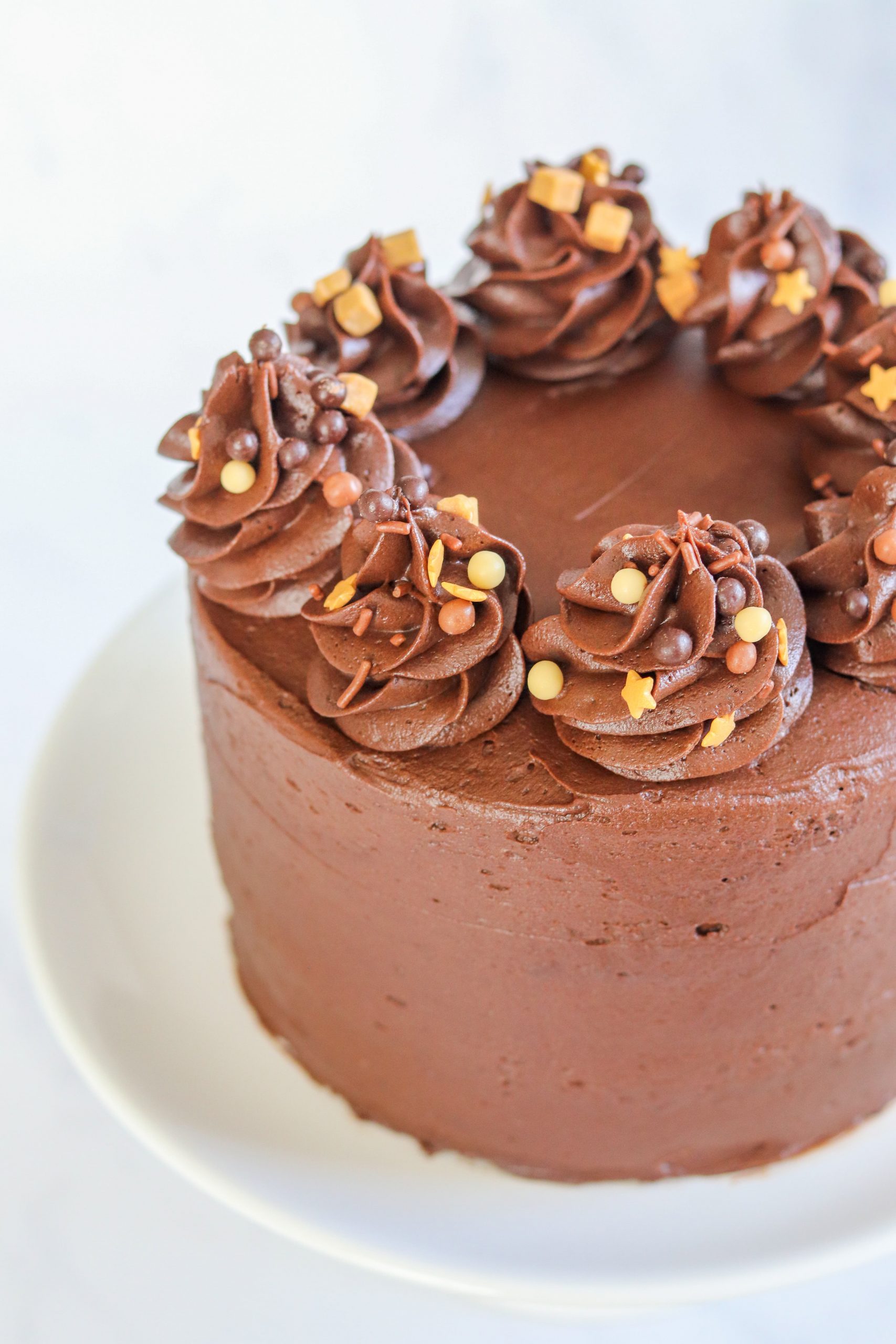 Which cocoa powder is best to use?
Depending on where you live, there are different types of cocoa powder you can buy. The distinction is more obvious in the US where they have Dutch processed and natural cocoa powder.
When making Dutch processed cocoa powder, the cocoa beans are washed in an alkaline solution which reduces the acidity. This means that it doesn't react when mixed with bicarbonate of soda (baking soda).
Natural cocoa powder as the name suggests, is natural. It is acidic and bitter with a more concentrated chocolate flavour. Natural cocoa powder is often used in recipes with bicarbonate of soda as it reacts and helps bakes to rise.
For this Small Chocolate Layer Cake I would use Dutch processed cocoa powder. Read more about Dutch processed vs Natural Cocoa Powder over at Sally's Baking Addiction.
Here in the UK all of our cocoa powder is Dutch processed unless otherwise specifically stated. Natural cocoa powder only tends to be found in speciality and health food stores. So chances are, if you are buying cocoa powder it is Dutch processed.
Just make sure you don't buy drinking chocolate and use cocoa powder found in the baking aisle.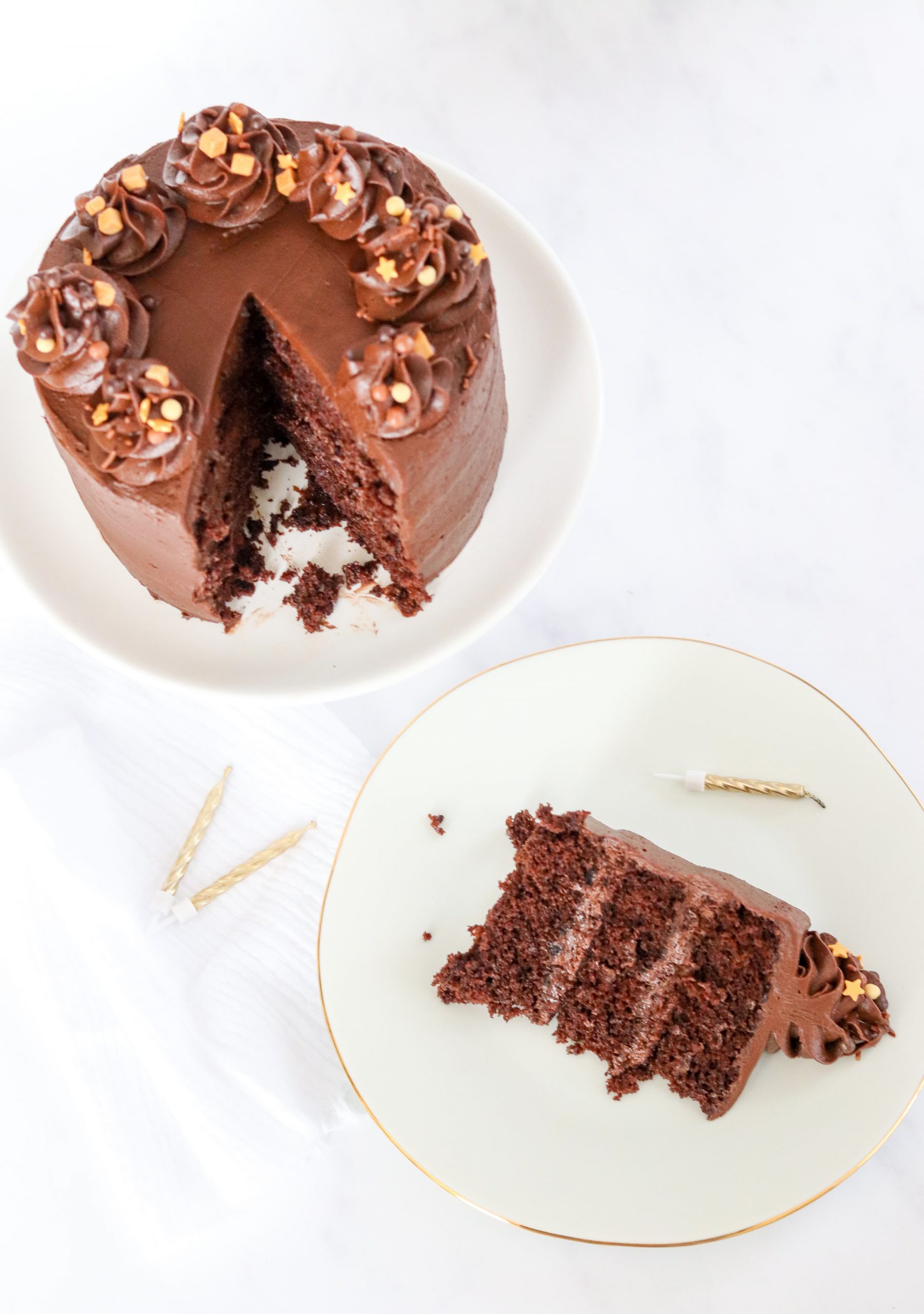 can other sized tins be used?
As I mentioned before, the same quantity of cake batter can be used to make three six inch cakes or two eight inch cakes. You could easily use this recipe to make two eight inch cakes instead.
If you do want to use eight inch tins, they will take slightly longer to bake. I would check them at around 18 minutes but they will probably take around 20 minutes.
Keep an eye on them as you should do when baking any cakes. You'll know they are baked when a cocktail stick comes out clean.
For a larger cake, you might like my American Style Chocolate Fudge Cake.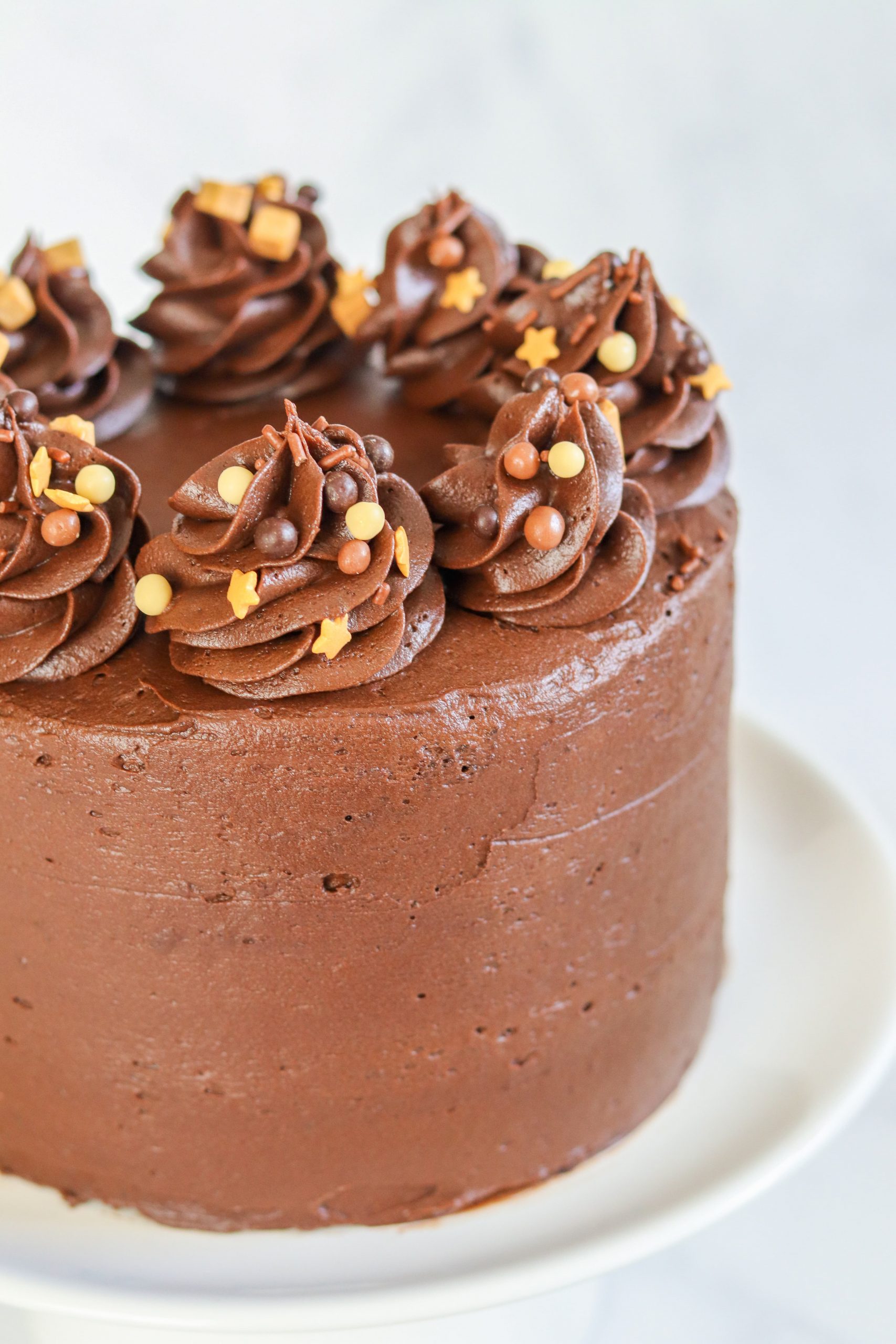 how to make smooth frosting
My top tip to remember when making frosting is to use room temperature butter. Make sure you get the butter out of the fridge plenty of time before you want to make your frosting.
If you are making frosting in the winter or when it is particularly cold, you will need to allow for more time for the butter to soften. On a warmer day in the summer, it will take less time. But watch it because you don't want melted butter!
I also always beat the butter by itself before I add the rest of the ingredients. This helps get rid of any lumps in the butter and makes it as smooth as possible. You can then add the rest of the ingredients and mix until silky smooth.
Add the milk a little at a time because you might not need it all. You want the frosting to be smooth and soft so it is easily spreadable. You don't want it to be so wet that it wants to slide off the cake.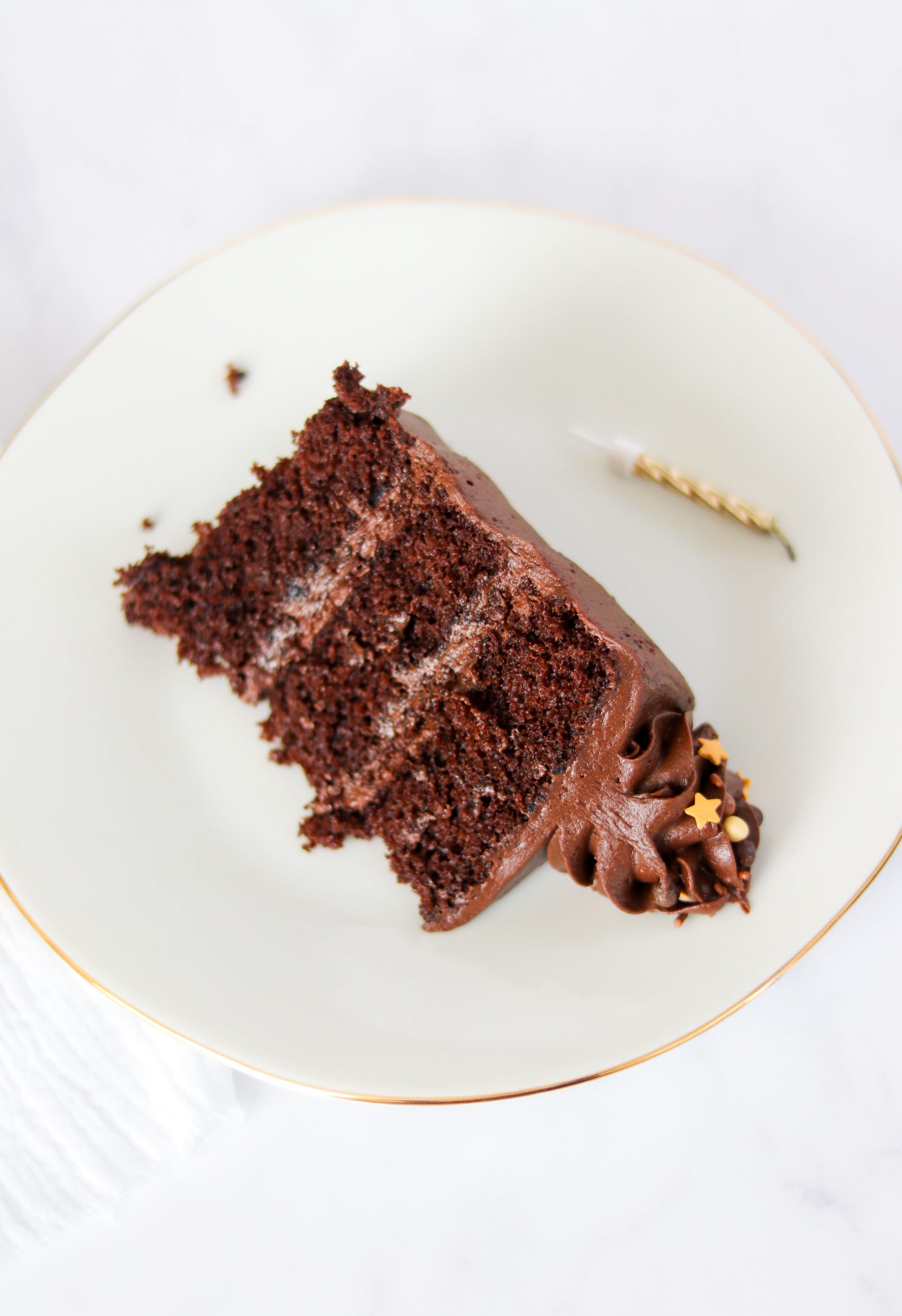 Crumb coating your cake
This Small Chocolate Layer Cake requires a crumb coat to lock the crumbs in so they don't get into the final layer of frosting. This is just a thin layer of frosting that doesn't need to look pretty.
When you are applying the crumb coat, don't dip your spatula back into the frosting as you don't want to get crumbs in the frosting for your final layer.
When it comes to icing cakes I think it is definitely worth investing in a cake turntable. This allows you to smoothly turn the cake backwards and forwards when you're decorating it which is a huge help!
I also recommend using a large off-set spatula to apply the frosting to the cake whilst holding it at a 90° angle. A spatula dipped in hot water and then dried is a great way of getting a smooth finish to the final layer of frosting on your cake.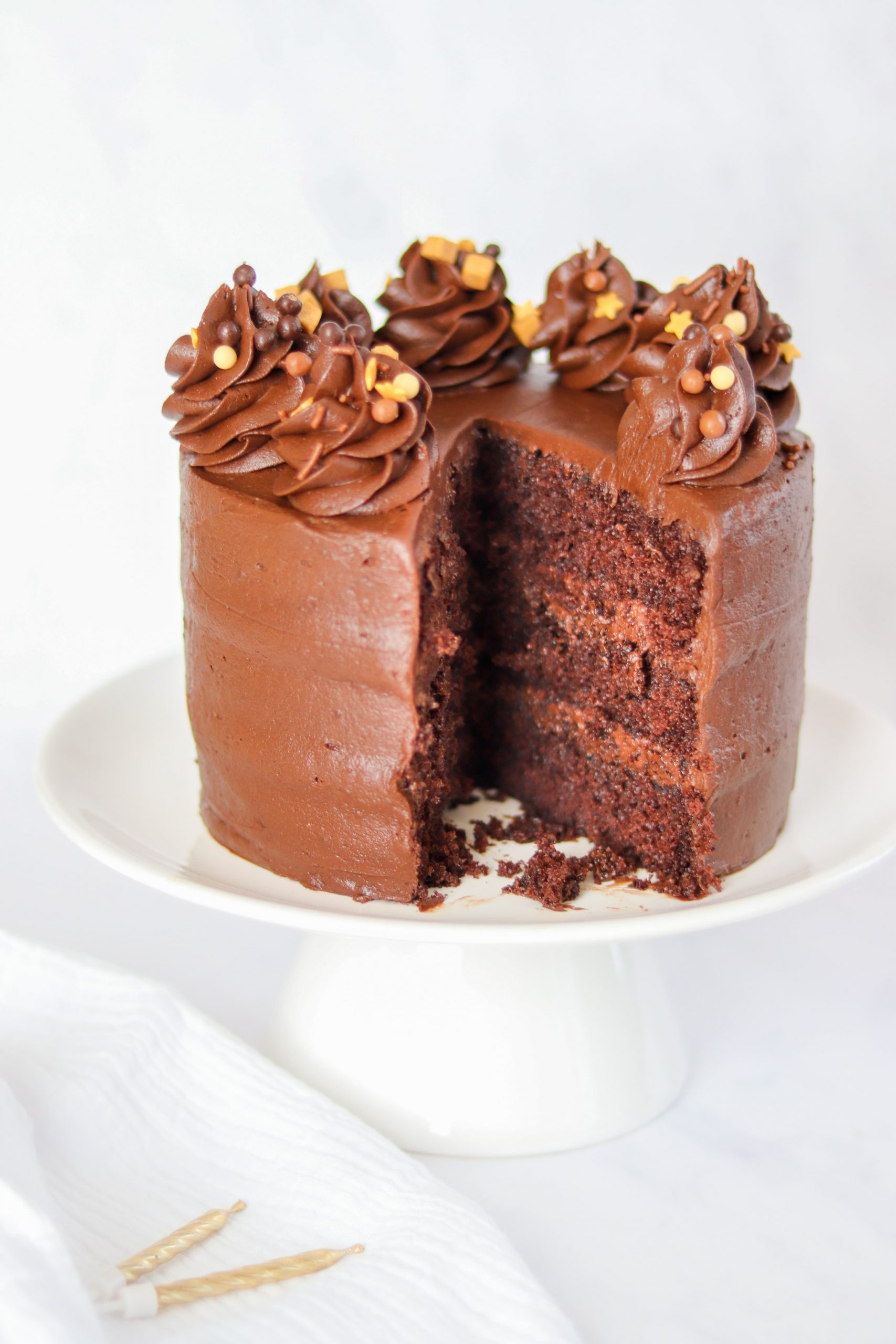 How to decorate your small chocolate layer cake
You can decorate your cake however you like. This cake is something you can really get creative with if you want.
The recipe below has enough frosting to completely coat the cake and also add extra piping decorations on top. I think this is a simple but really effective way of decorating a cake.
If you aren't confident when it comes to decorating cakes but you want to completely cover it in frosting, be brave and give it a go! You don't have to get the frosting perfectly smooth – mine certainly isn't. Make the pattern in the frosting a feature of the cake.
If you would prefer to keep it a bit more simple looking and not completely cover the cake in frosting, reduce the ingredients by a third. You can create a similar look to my Three Layer Lemon Cake with these quantities.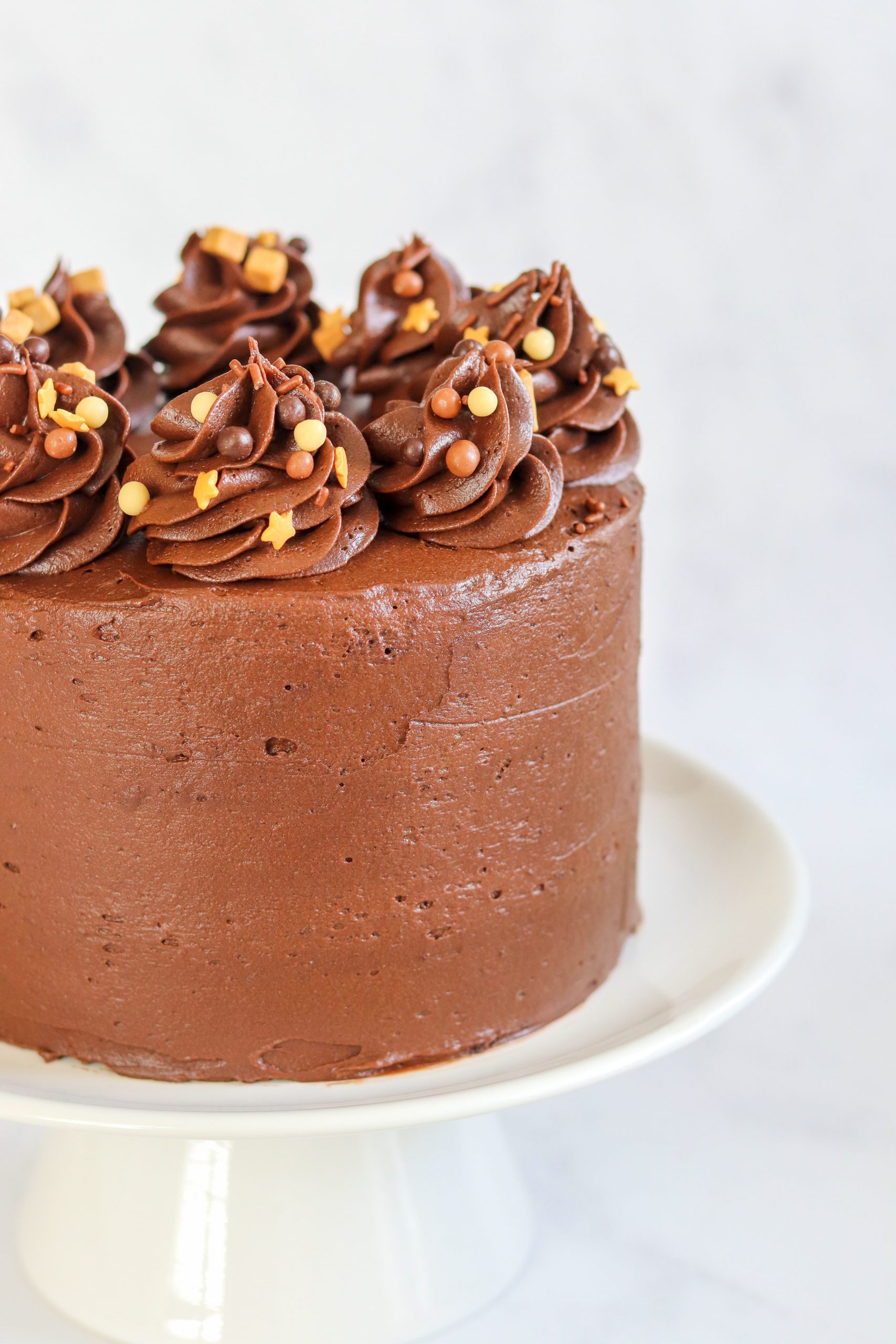 How long will this cake keep for?
This Small Chocolate Layer Cake will keep in an airtight container for 2-3 days. You don't have to keep it in the fridge.
If you wanted to make this cake in advance you could bake the sponges and freeze them. Wrap the sponges really well and freeze them for up to three months. Defrost thoroughly before decorating.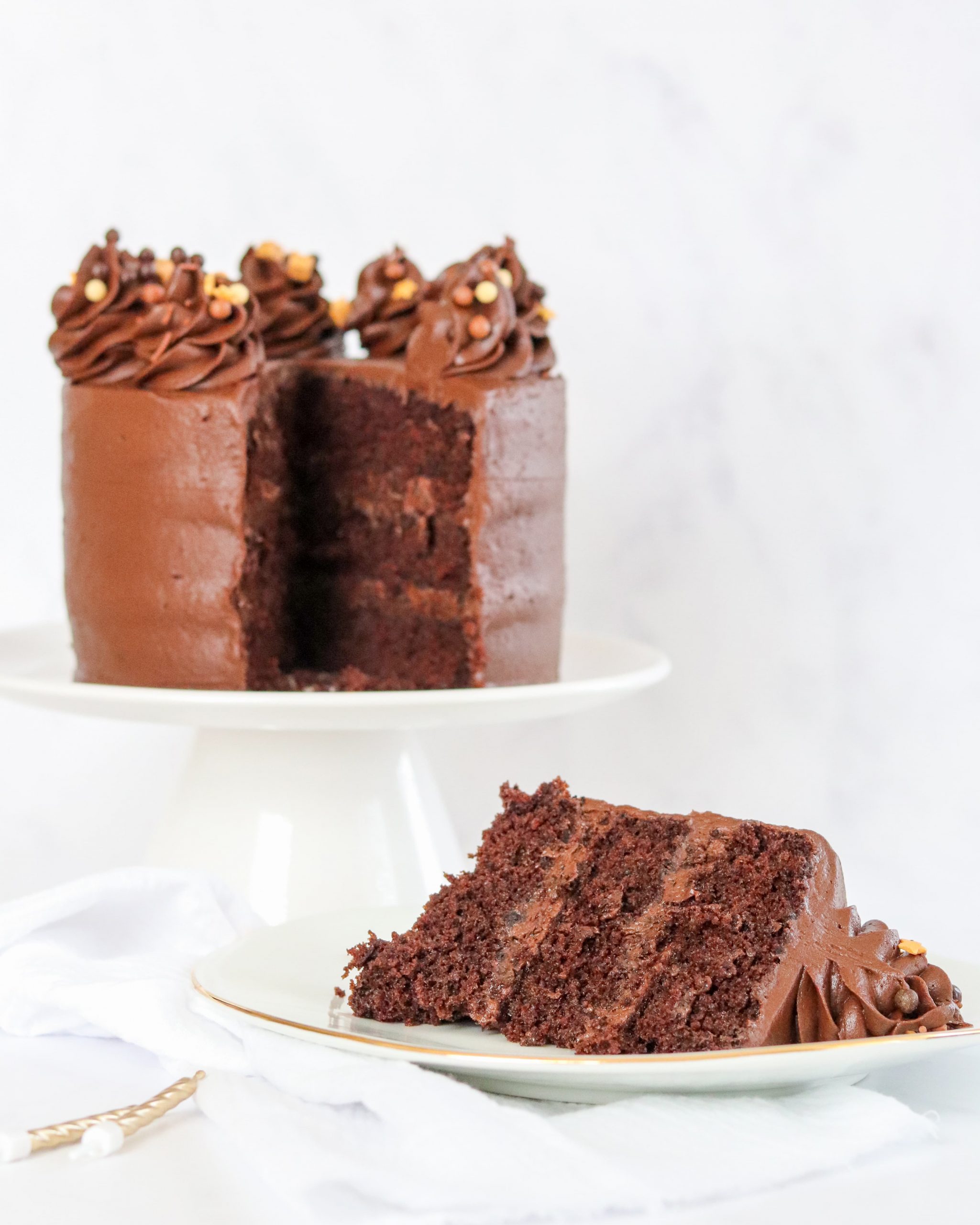 Other recipes you might like
Pin for later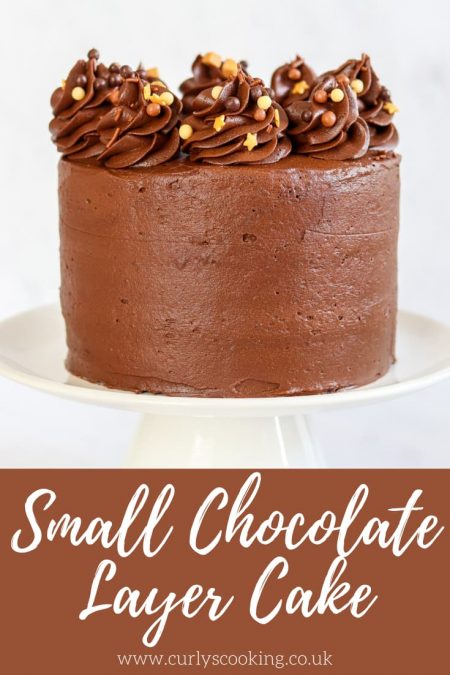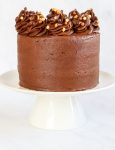 Small Chocolate Layer Cake
This Small Chocolate Layer Cake is a showstopper for chocolate lovers. Chocolate sponge covered in delicious chocolate frosting; it is the perfect cake for slightly smaller occasions.
Decorating time
1
hour
15
minutes
Ingredients
For the cake
40

g

cocoa powder

¼

tsp

instant coffee

4

tbsp

boiled water

3

eggs

175

g

margarine

165

g

caster sugar

115

g

self raising flour

1

tsp

baking powder

pinch

table salt
For the frosting
210

g

unsalted butter

softened

360

g

icing sugar

60

g

cocoa powder

pinch

table salt

6

tbsp

milk

(you may not need it all)
Instructions
Preheat the oven to 160°C (fan assisted, 180°C non fan) and line three 6 inch cake tins

In the bowl of your mixer, add 40g cocoa powder, ¼ tsp instant coffee and 4 tbsp boiled water. Mix until they form a thick paste

Add 3 eggs, 175g margarine, 165g caster sugar, 115g self raising flour, 1 tsp baking powder and pinch table salt and mix until combined

Divide the batter evenly between the three tins

Bake the cakes for 15 minutes or until a cocktail stick comes out clean

Leave to cool in the tins for at least 20 minutes before turning out and leaving to cool completely on a wire rack

When the cakes are completely cooled, make the frosting. Beat 210g unsalted butter until smooth

Add 360g icing sugar, 60g cocoa powder and a pinch of salt and mix until combined

Add 6 tbsp whole milk and beat until the frosting is smooth and completely mixed

Place one cake upside on on your serving plate and spread evenly with frosting

Repeat with the second layer and place the third layer on top

Next crumb coat the cake by spreading a smooth layer of frosting all over the cake. Leave to chill in the fridge for 30-40 mins

Once the crumb coat is set, finish spreading the frosting over the rest of the cake

Add any sprinkles or decorations you like
Recipe Notes
Keep in an airtight container for 2-3 days.
Nutritional information is given as a guide only and may vary.
Nutrition Facts
Small Chocolate Layer Cake
Amount Per Serving
Calories 569
Calories from Fat 306
% Daily Value*
Fat 34g52%
Cholesterol 95mg32%
Sodium 194mg8%
Potassium 249mg7%
Carbohydrates 67g22%
Protein 6g12%
Vitamin A 1237IU25%
Vitamin C 1mg1%
Calcium 60mg6%
Iron 2mg11%
* Percent Daily Values are based on a 2000 calorie diet.