These Poppy & Sesame Seed Bread Rolls will definitely become a favourite in your house! They are so deliciously soft and fluffy that you won't want to wait for them to cool before slathering them in butter!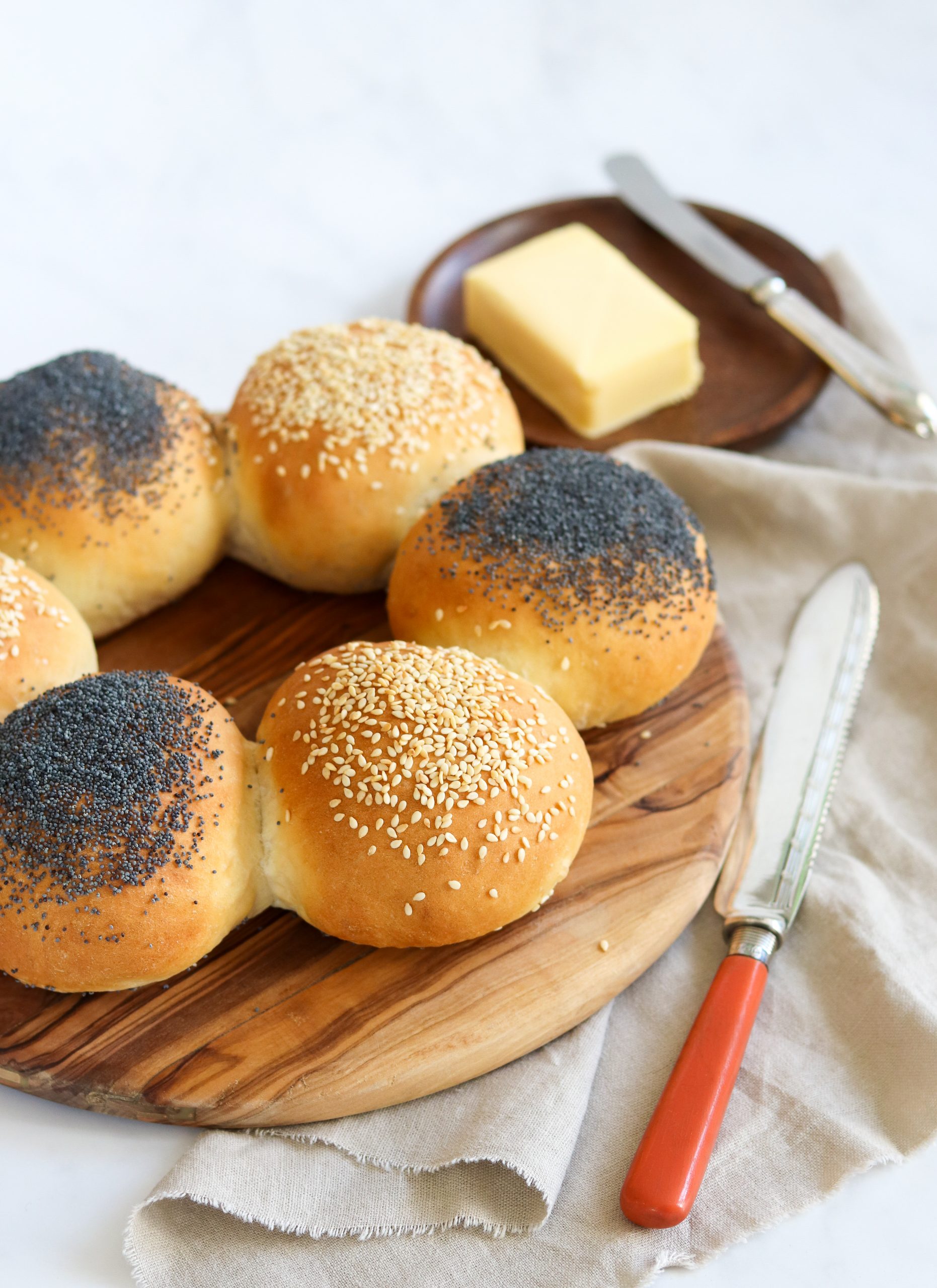 What makes these poppy & sesame seed bread rolls special?
These rolls are my new favourites! They are an enriched dough which creates the fluffiest and most delicious rolls with a soft crust. If you're looking for rolls with a bit more of a crust check out my Bread Rolls.
I have baked a lot of bread in the past year and this is definitely mine and Mr Curly's preference when it comes to bread.
I am also a massive fan of poppy seeds on bread. I love the flavour and extra texture they give to rolls. The poppy seed topped rolls are always the ones I am drawn to most, closely followed by sesame seeds.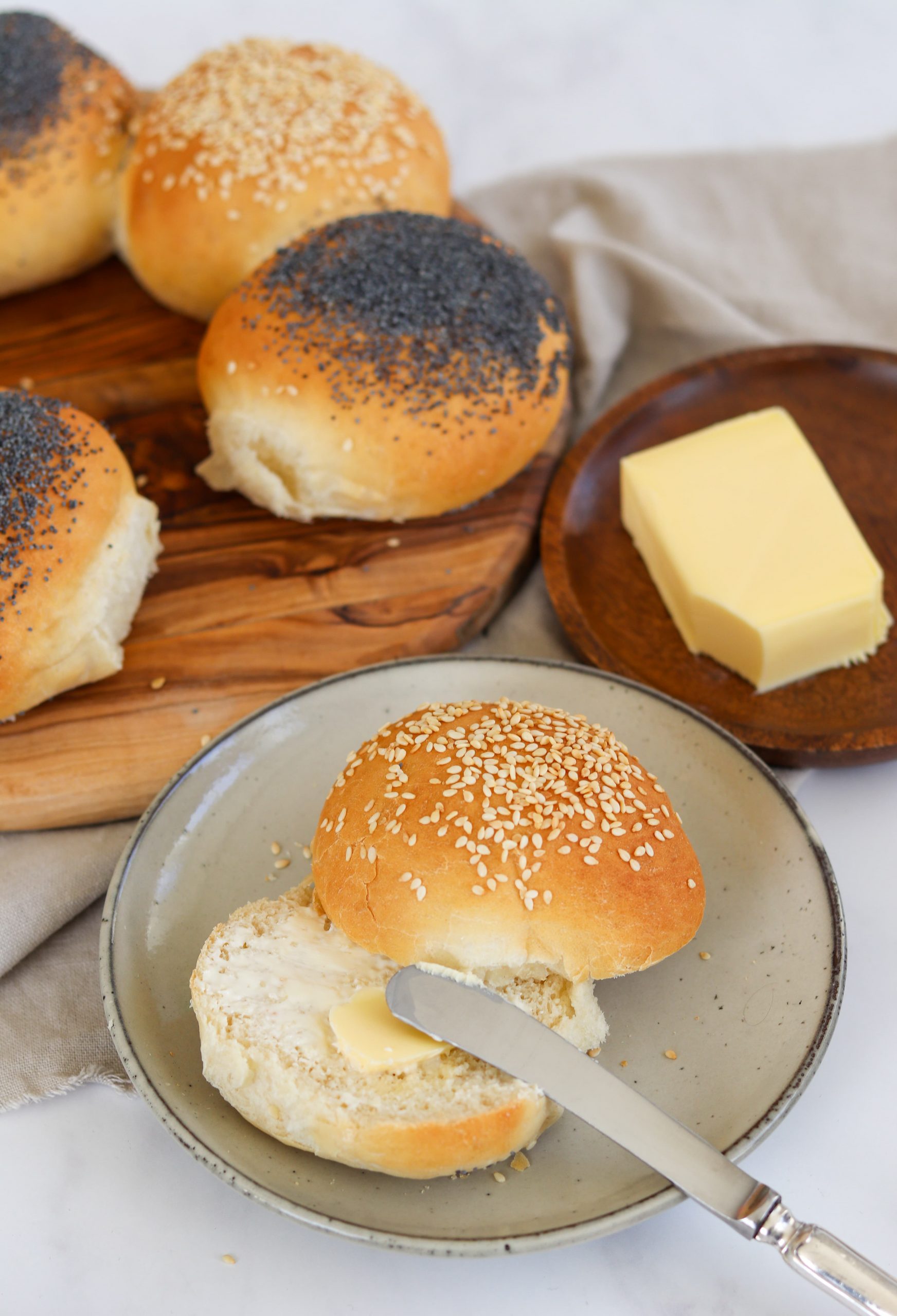 what is enriched dough?
Enriched dough is simply dough that has had fats, sugar and dairy added. These give the finished bread a soft and buttery texture with a soft crust. It is my favourite bread dough!
Enriched doughs do tend to take longer to prove which is why they typically have more yeast than lean doughs (doughs made with water and without dairy).
The enriched dough works really well for these Poppy & Sesame Seed Bread Rolls. They are so light, fluffy and soft – so good!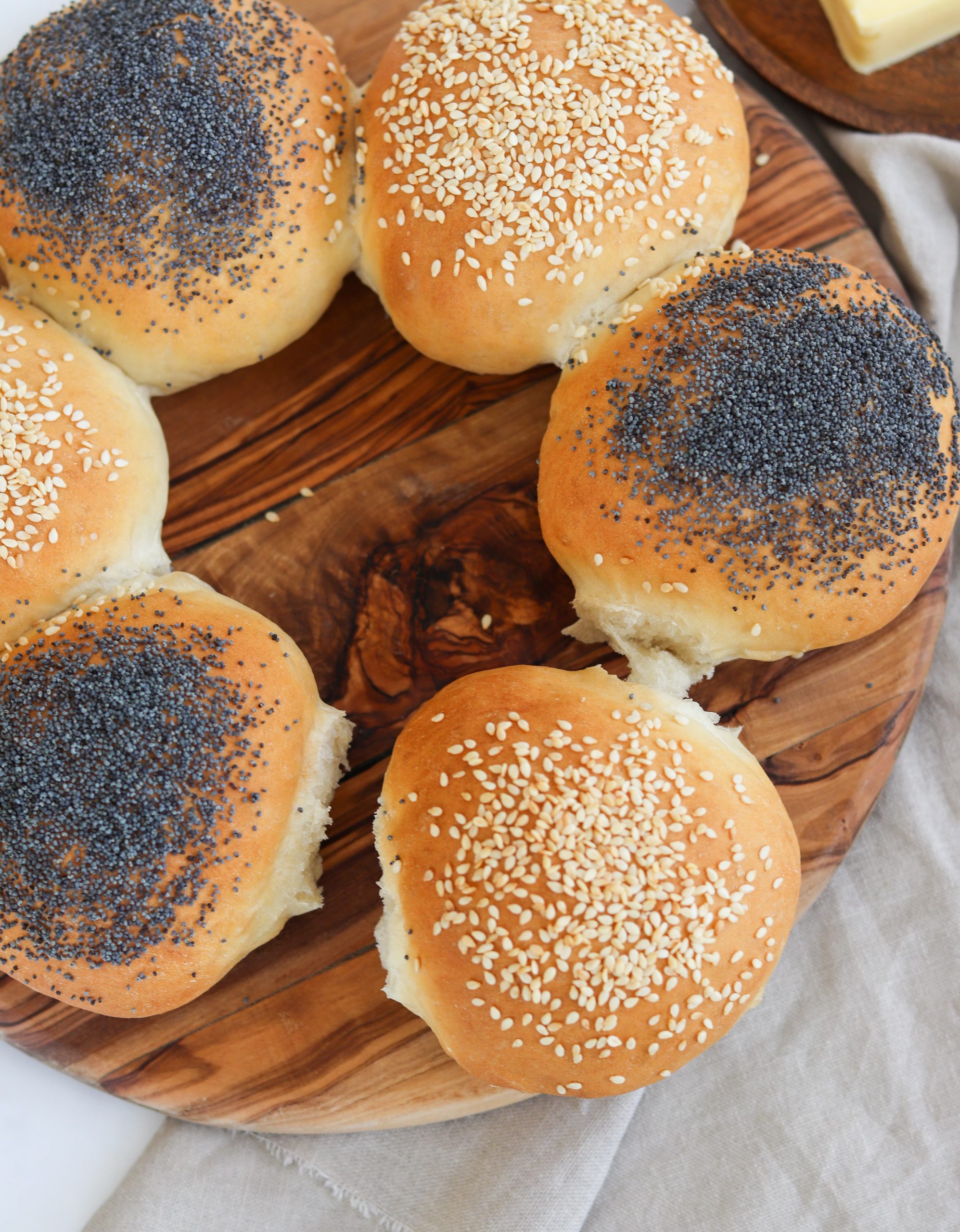 Which kind of yeast can be used for these Poppy & Sesame seed bread rolls?
There are three types of yeast. All could be used for these rolls, but you will need to know how best to use them.
Instant yeast – also sometimes known as easy bake yeast. This is the yeast I always use because I think it is the easiest to use. It is ready to use straight away, you just need to add it with the rest of your ingredients. This is the best yeast to use if you are ever using a bread maker.
Active dry yeast – similar to instant yeast, but it has to be dissolved in water or milk to activate it. Sugar can be added to speed up the activating process. It usually takes 5-10 minutes for it to get nice and bubbly which means it is then ready to use.
Fresh yeast – less commonly used in home baking but very popular in commercial bakeries. Fresh yeast isn't as readily available and has to be kept in the fridge. Whereas instant and active dry yeast have a long shelf life, fresh yeast doesn't. You can't substitute the same amount of fresh yeast as the other two so if a recipe doesn't specify fresh yeast you will need to convert it to work out the amount you need.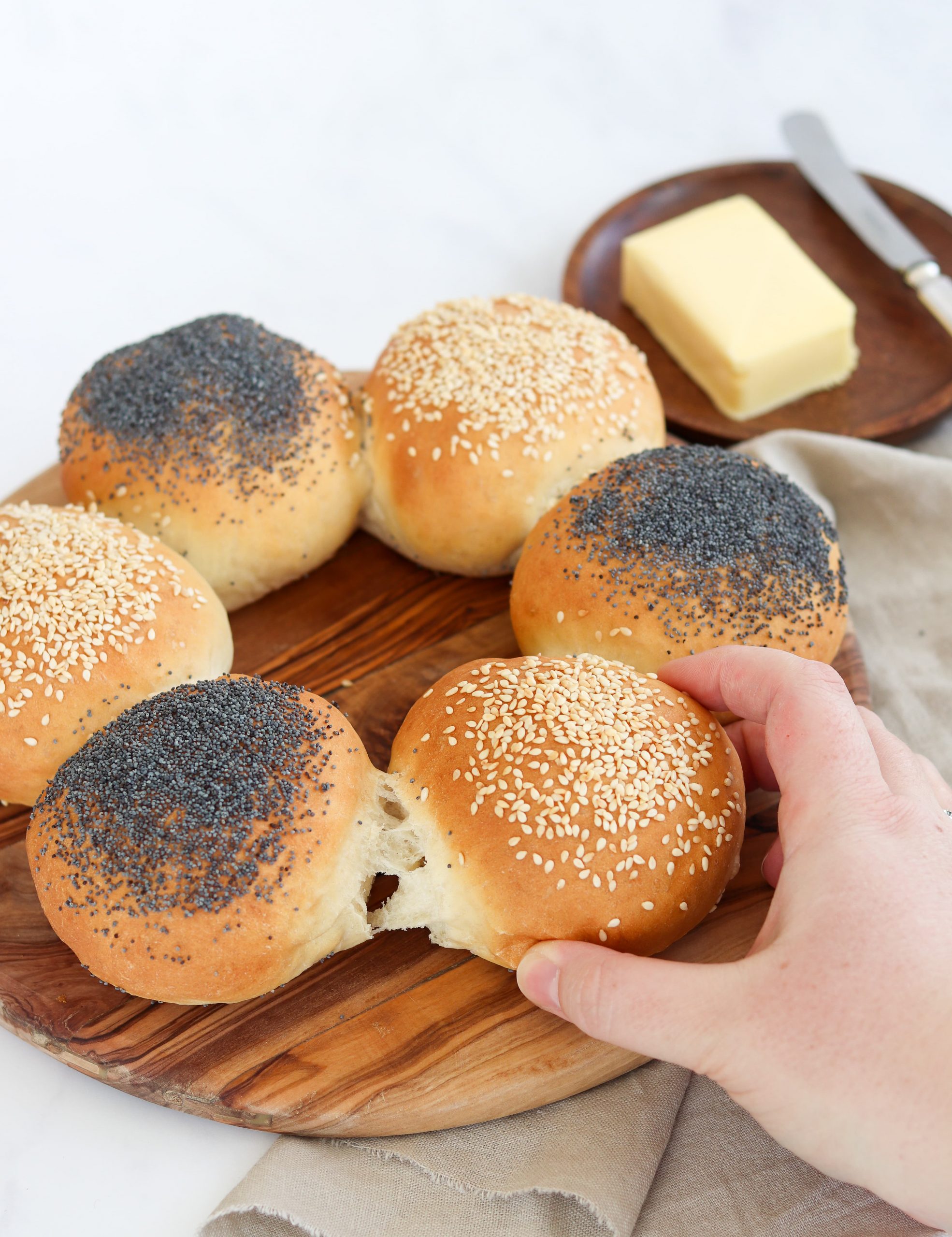 Although I don't pay a huge amount of attention to best before dates, you need to with yeast. Yeast is 'alive' and if it has died, it won't help your bread to rise no matter how long you wait!
If you are ever not sure if your yeast is alive, just add it to some water and leave for 5-10 minutes. If after a few minutes you have bubbles you are good to go; if it doesn't you need to buy more yeast.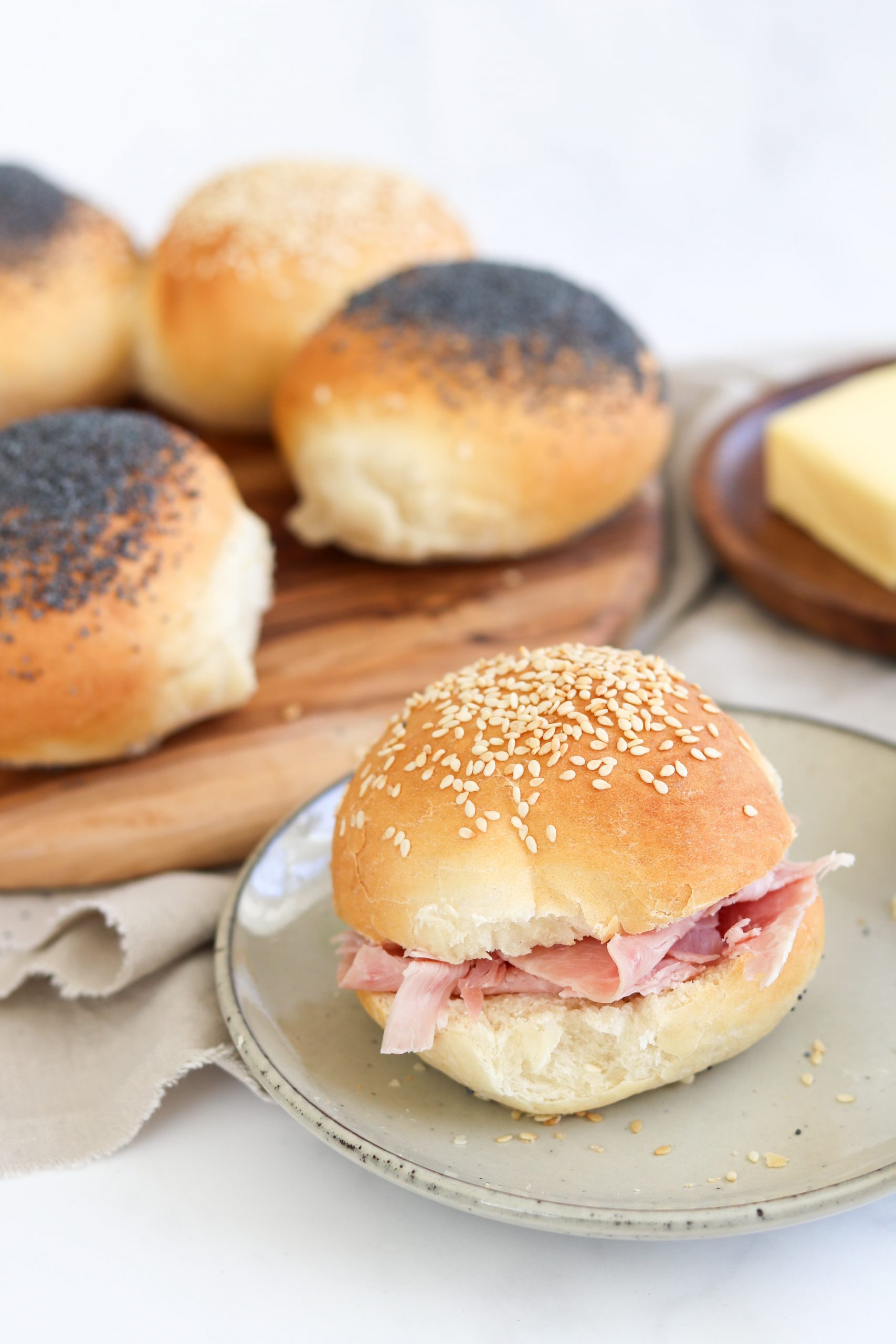 Making and shaping the dough
You definitely don't need a stand mixer or any fancy equipment to make these Poppy & Sesame Seed Bread Rolls.
This is a smaller amount of dough so I actually think it is easier to knead the dough by hand. I have tried using a stand mixer and it doesn't work very well because of the quantity.
I briefly mix the ingredients together in a bowl before tipping them out onto a clean surface and kneading until soft and smooth. If your dough starts to stick you can sprinkle over a small amount of flour; but use sparingly.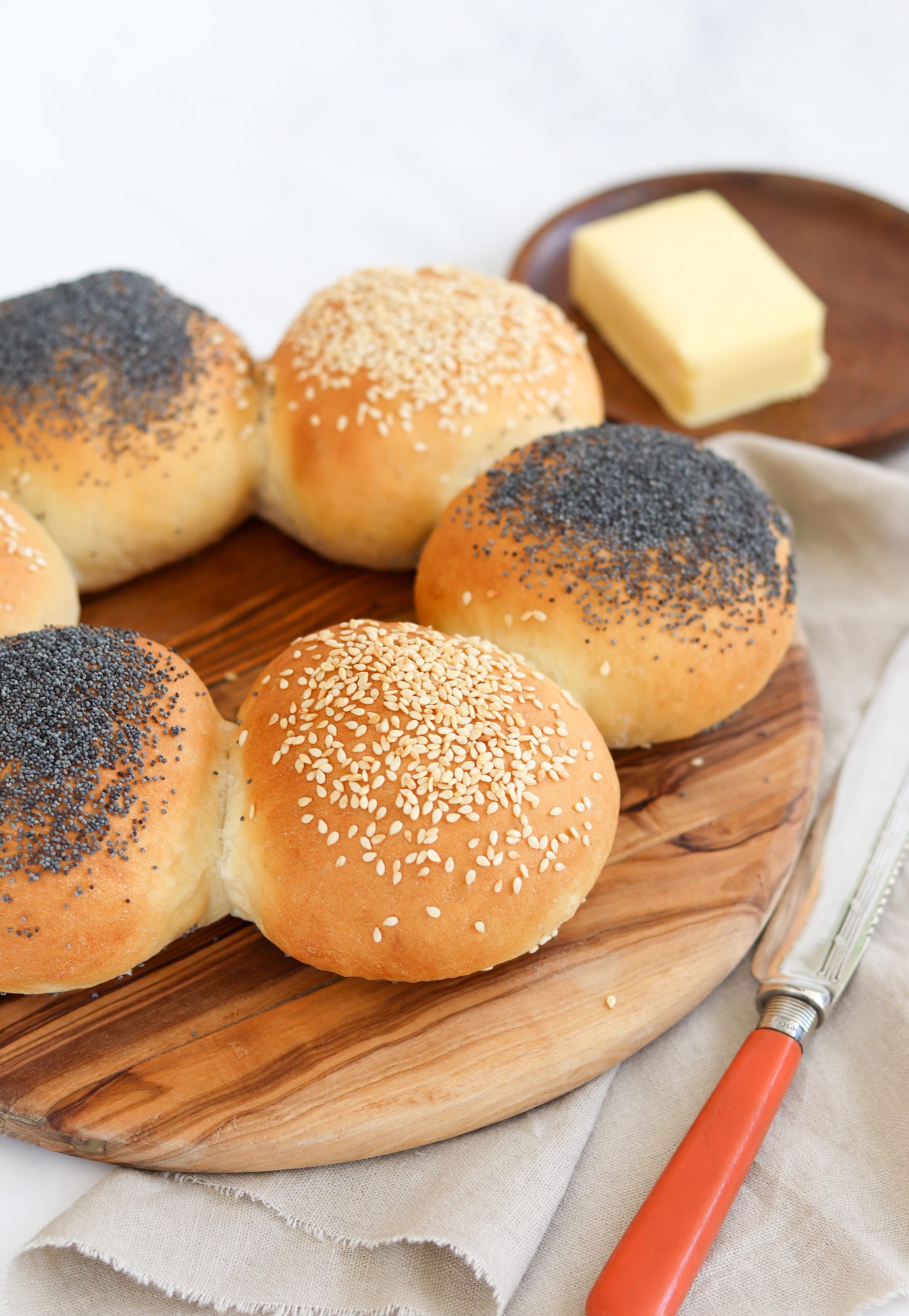 When it comes to shaping the dough, I weigh the dough and then divide this by six. I then shape each piece of dough into a smooth ball.
You can use whichever method works for you, but I tuck the dough under to create a smooth top and then press down gently and twist to even the dough ball. It doesn't matter if they're not perfect, they will still be delicious!
I like to place the rolls in a circle so they make a sort of bread roll wreath. You can arrange them in any shape you like.
However I would recommend putting them no further then 1cm away from each other. This is because when they prove, they will just touch. This is what you're looking for as it helps keep the rolls soft and fluffy when they're baked.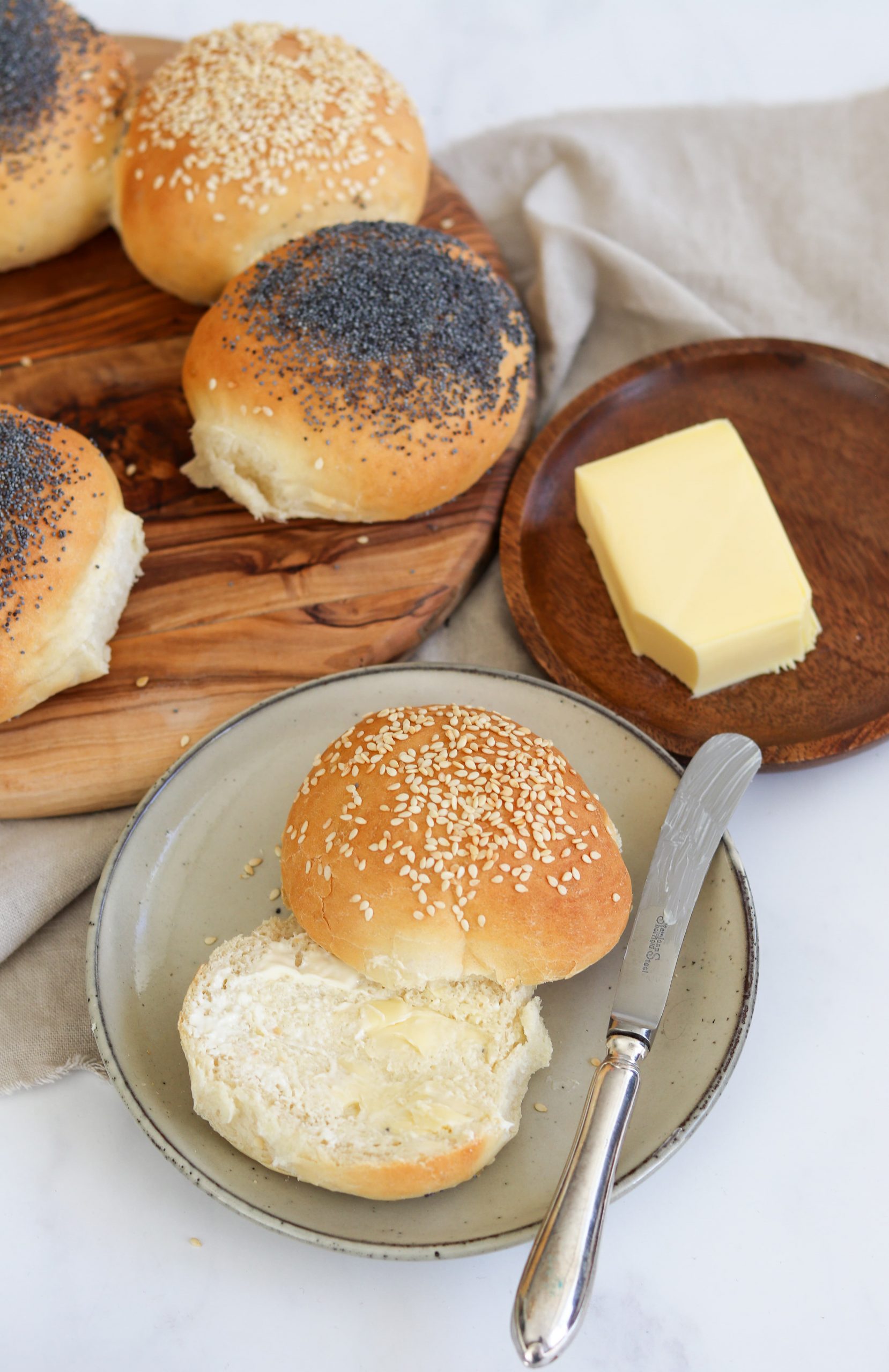 Adapting these Poppy & Sesame Seed Bread Rolls
Although poppy and sesame seeds are personally my favourite seeds, you can use any that you like. Mixed seeds would work well as would something like pumpkin seeds.
You could leave the seeds off altogether if you prefer.
This recipe makes six medium sized rolls. You could double or even triple the recipe if you would like more rolls.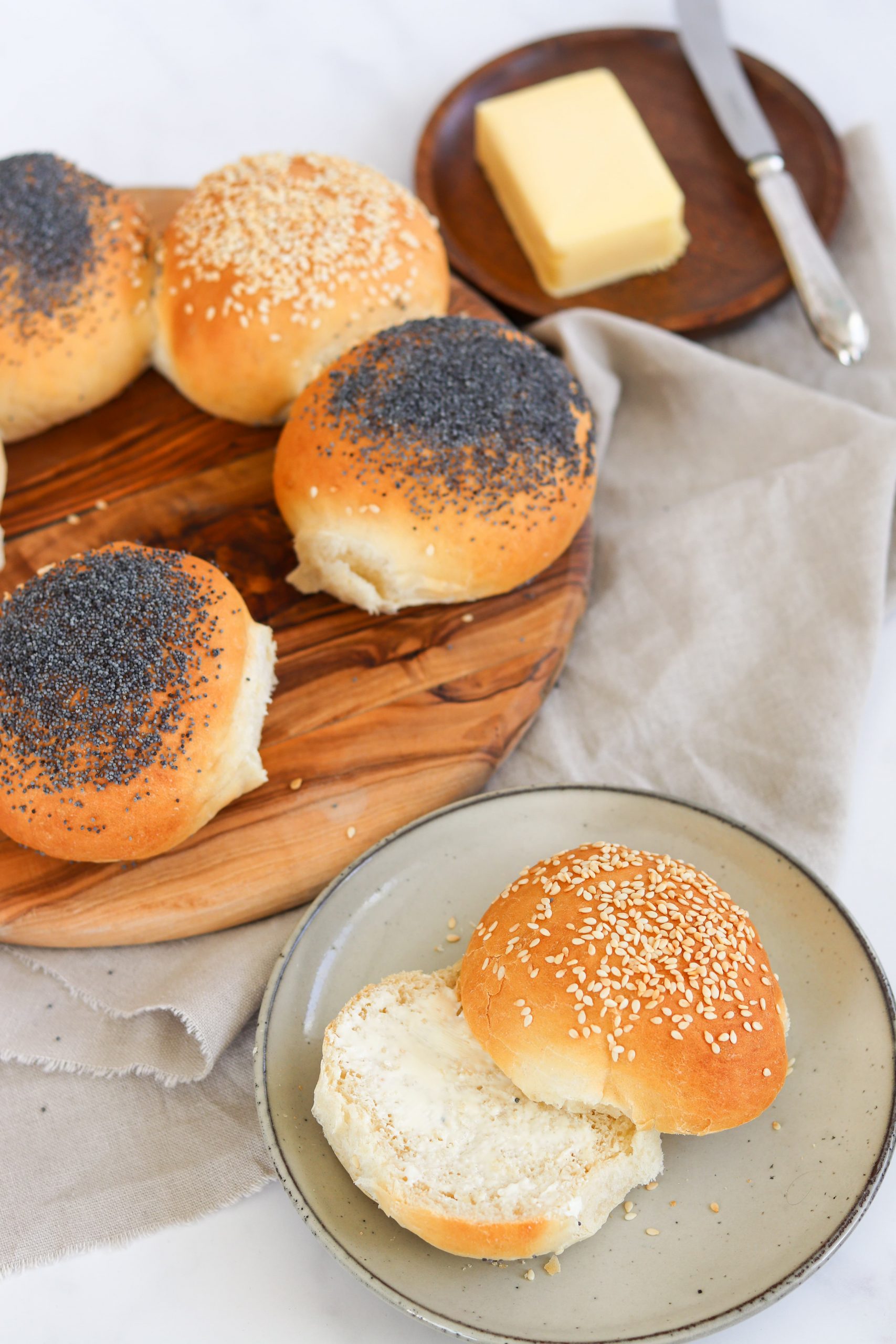 Why do you need to heat the milk?
I heat the milk so it is just warm whenever I am making enriched dough. It helps activate the yeast and it is always better to not use fridge cold ingredients.
You don't want the milk to be hot, just a little warm. I heat it in the microwave for 30 seconds or so just to take the chill off.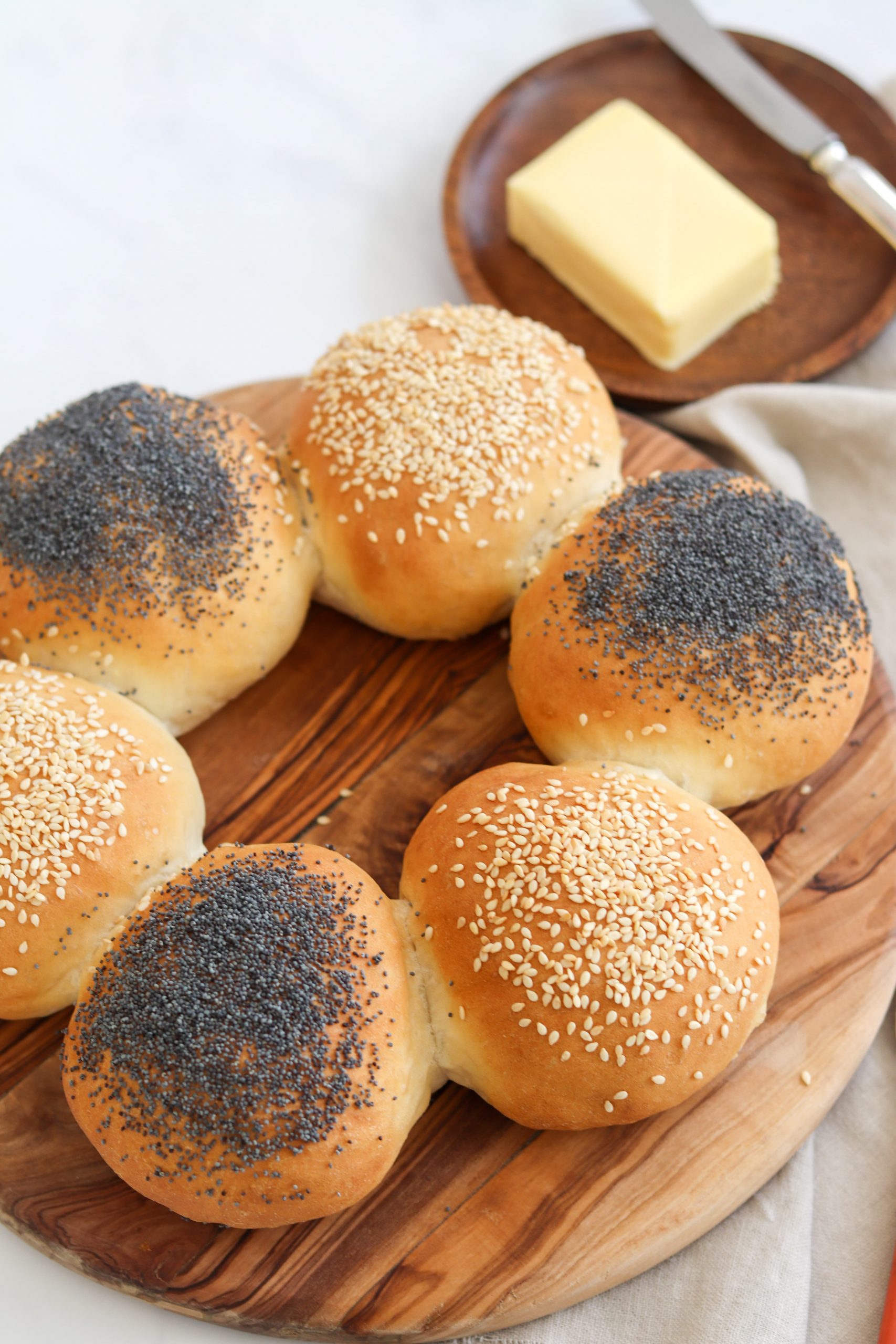 Proving times can vary
Giving a specific proving time is tricky because there are many variables! If your kitchen is warm, your dough can prove more quickly and if it is cold it can be much slower.
For the first prove, you are looking for your dough to double in size. For the warmer months of the year, I cover my dough and leave it to prove on a sunny window sill.
However when it is cold, it needs a bit of help! Turn the light of your oven on only and leave the covered dough in there with the door closed. The light will create a slight warmth which will help speed up the proving process.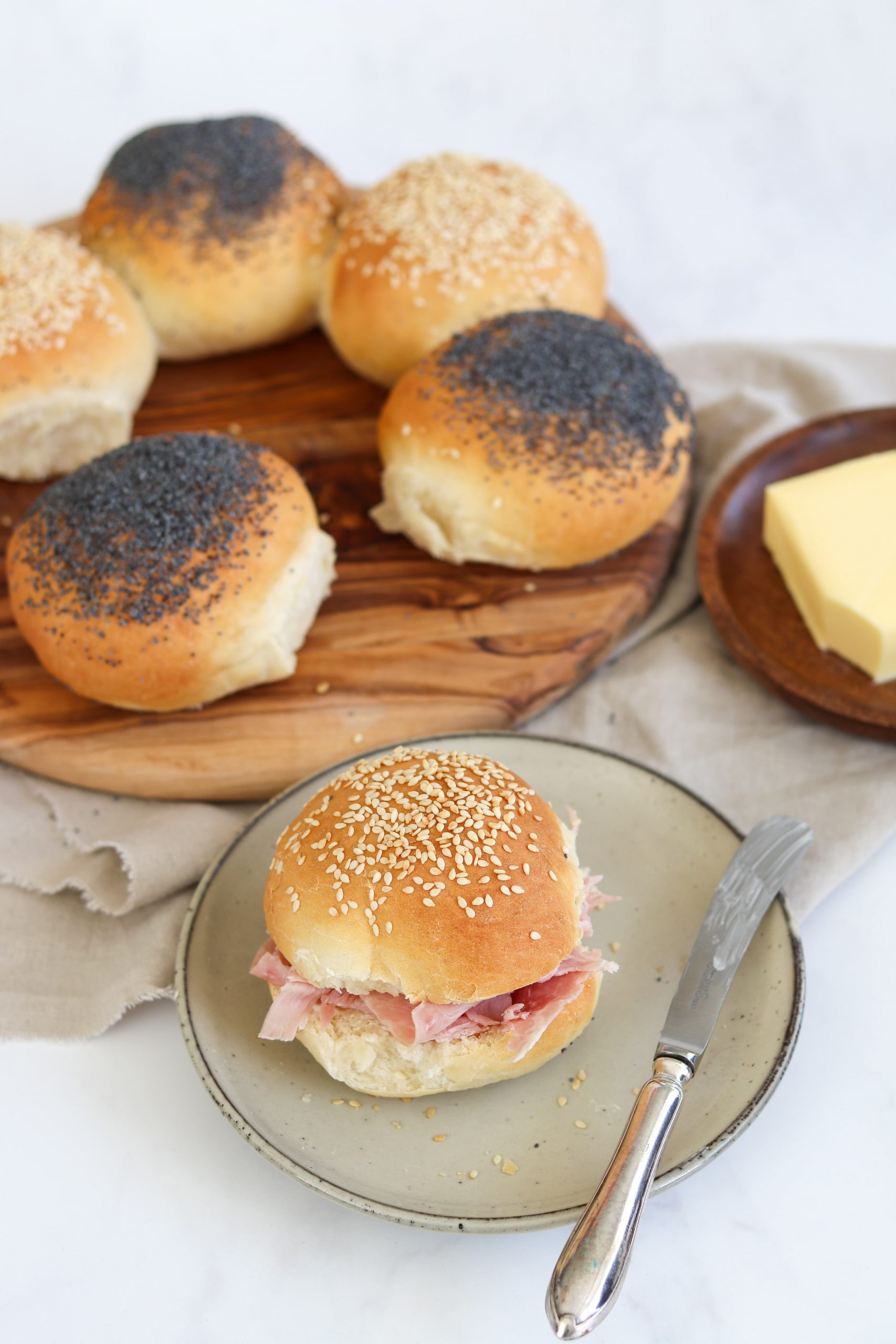 How long will these rolls keep for?
As with most bread, these rolls are at their best the day they are baked or the day after. They will still be good for up to three days but they will become less fluffy.
If you don't think you will eat them all within this time, I would recommend freezing the rolls.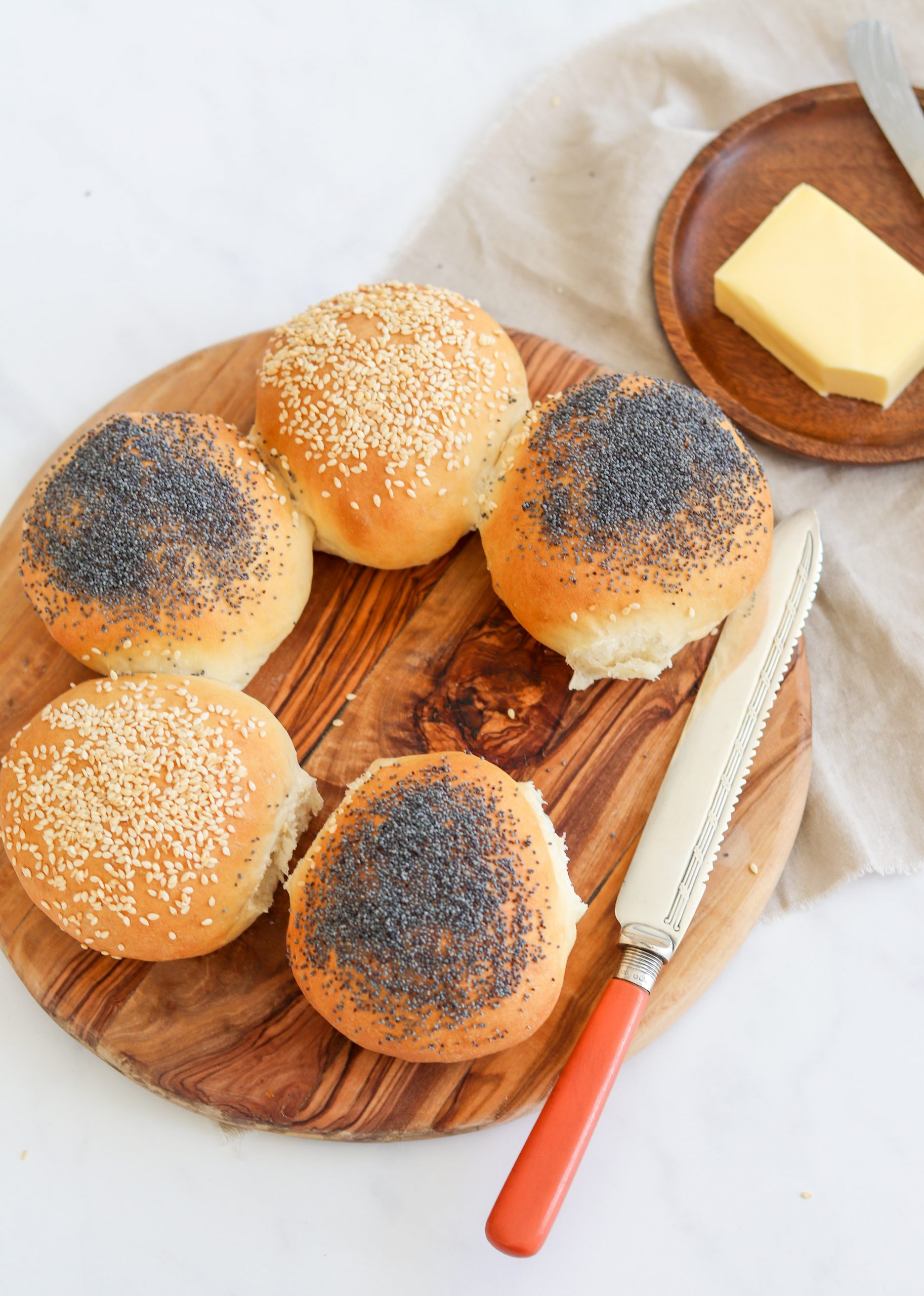 How to freeze these Poppy & Sesame Seed Bread rolls
These rolls couldn't be more simple to freeze and they do freeze very well. However I do think that fresh bread is always that little bit more delicious than bread that has been frozen.
Once they have completely cooled, add them to a container or bag and freeze them for up to three months.
When you are ready to defrost the rolls leave them at room temperature for a couple of hours.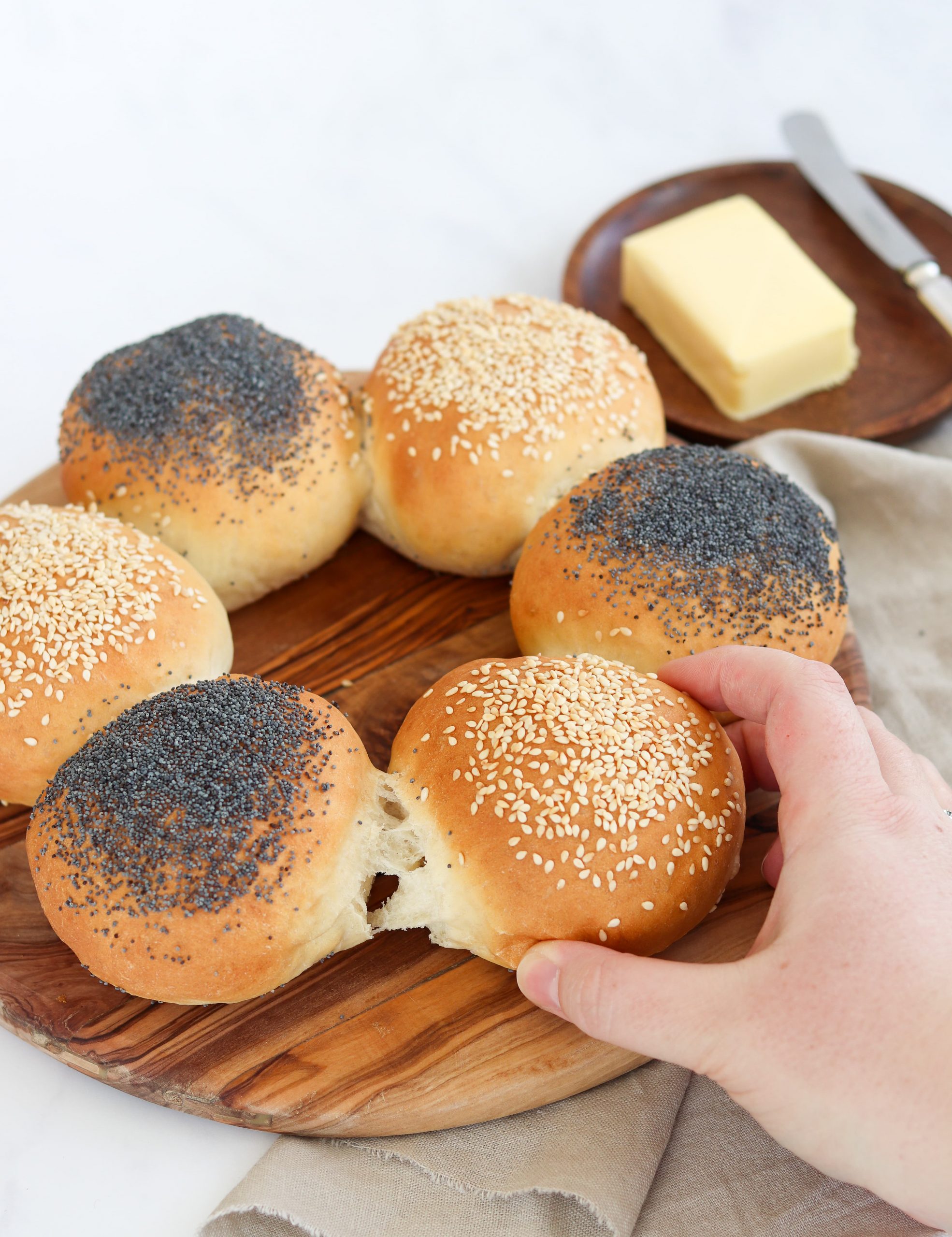 Other recipes you might like
Pin for later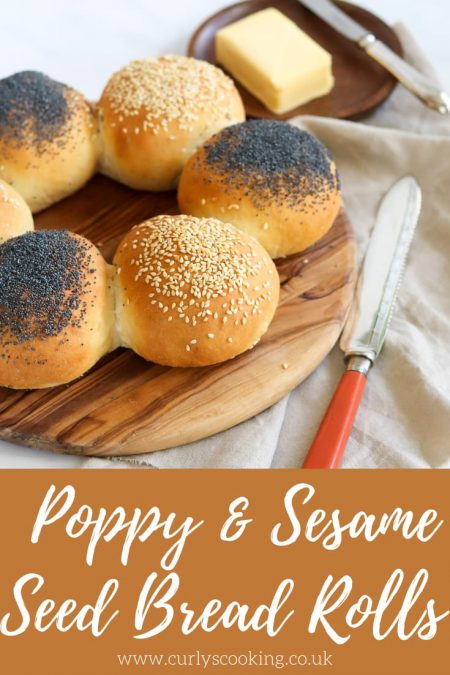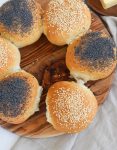 Poppy & Sesame Seed Bread Rolls
These Poppy & Sesame Seed Bread Rolls will definitely become a favourite in your house! They are so deliciously soft and fluffy that you won't want to wait for them to cool before slathering them in butter!
Proving time
1
hour
45
minutes
Total Time
2
hours
30
minutes
Ingredients
250

g

strong white flour

plus extra for dusting

1

tsp

sea salt

7

g

instant yeast

175

ml

semi skimmed milk

slightly warmed

1

tbsp

poppy seeds

1

tbsp

sesame seeds
Instructions
Add 250g strong white flour to a large bowl along with 1 tsp sea salt and 7g instant yeast so they're not touching. Pour in 175ml semi skimmed milk and mix briefly before turning out onto a clean surface lightly dusted with flour

Knead until the dough is soft and smooth – approximately 5 minutes

Cover the dough and leave to prove for 1 hour or until it has doubled in size

Knock back the dough by punching the air out of it. Tip it onto a clean surface lightly dusted with some flour. Divide the dough into 6 balls – approximately 75g each

Shape each piece of dough into a smooth ball. Tuck the dough under to create a smooth top and then press down gently and twist to even the dough ball. Once all the balls are shaped, place them in a circle on a lined baking tray no more than 1cm apart

Cover again and prove for 30-45 minutes until they have doubled in size

Preheat the oven to 180°C (fan assisted, 200°C non fan)

Brush each roll with a light layer of water. Sprinkle alternative rolls with 1 tbsp poppy seeds and 1 tbsp sesame seeds

Bake on the middle shelf for 15 minutes or until the underneath of the rolls sounds hollow when tapped

Leave to cool for at least 20 minutes before cutting
Recipe Notes
Nutritional information is given as a guide and may vary.
Nutrition Facts
Poppy & Sesame Seed Bread Rolls
Amount Per Serving
Calories 184
Calories from Fat 18
% Daily Value*
Fat 2g3%
Cholesterol 2mg1%
Sodium 402mg17%
Potassium 69mg2%
Carbohydrates 3g1%
Protein 2g4%
Vitamin A 30IU1%
Vitamin C 1mg1%
Calcium 70mg7%
Iron 1mg6%
* Percent Daily Values are based on a 2000 calorie diet.