Thick & Fluffy American Pancakes are always the pancakes for me. Deliciously light & fluffy and fantastic accompanied with crispy bacon and maple syrup. These make the most amazing weekend brunch.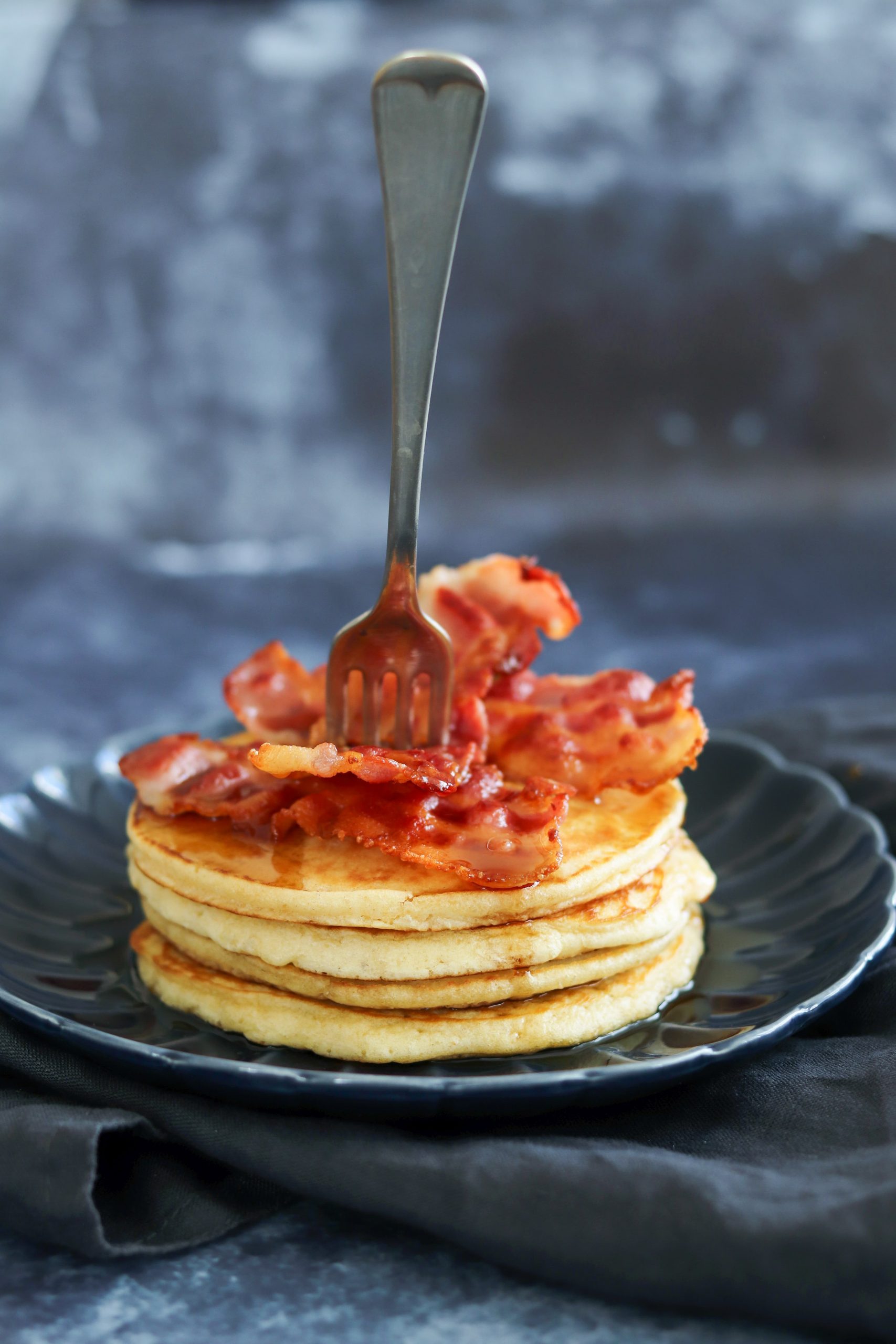 What are American Pancakes?
There is one main difference between American style pancakes and British style pancakes/crepes. This is the raising agent.
With crepes there is no rising agent so they stay perfectly thin which makes them great for stuffing and rolling.
American style pancakes typically have a raising agent which gives them their lovely thick fluffiness.
American pancakes are commonly made into either sweet or savoury pancakes. If I am making savoury pancakes, it will always be Thick & Fluffy American Pancakes.
If you prefer sweet pancakes, try my Blueberry & Lemon American Pancakes.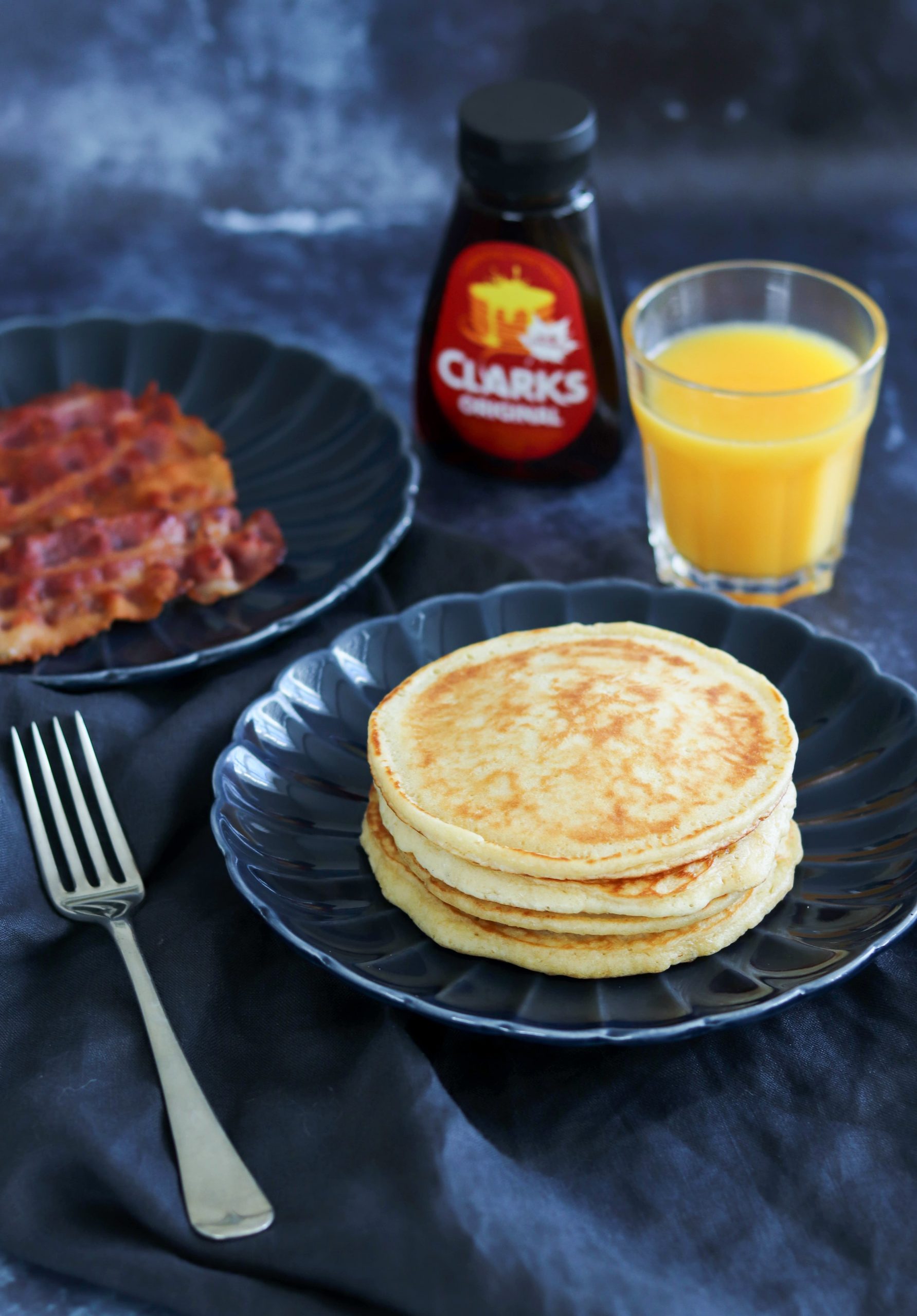 Does the first pancake always end up in the bin?
It is widely considered that the first pancake will always fail and will end up in the bin.
Although I have never binned a pancake, my first can sometimes be not as pretty as the others.
This is more often that not down to practice and not the pancake gods! I find it is usually because I am getting my pan to the right temperature.
Your first might not be your prettiest pancake, but it definitely won't need to go in the bin!
Practice makes perfect, so keep going and I'm sure your next pancakes will look beautiful.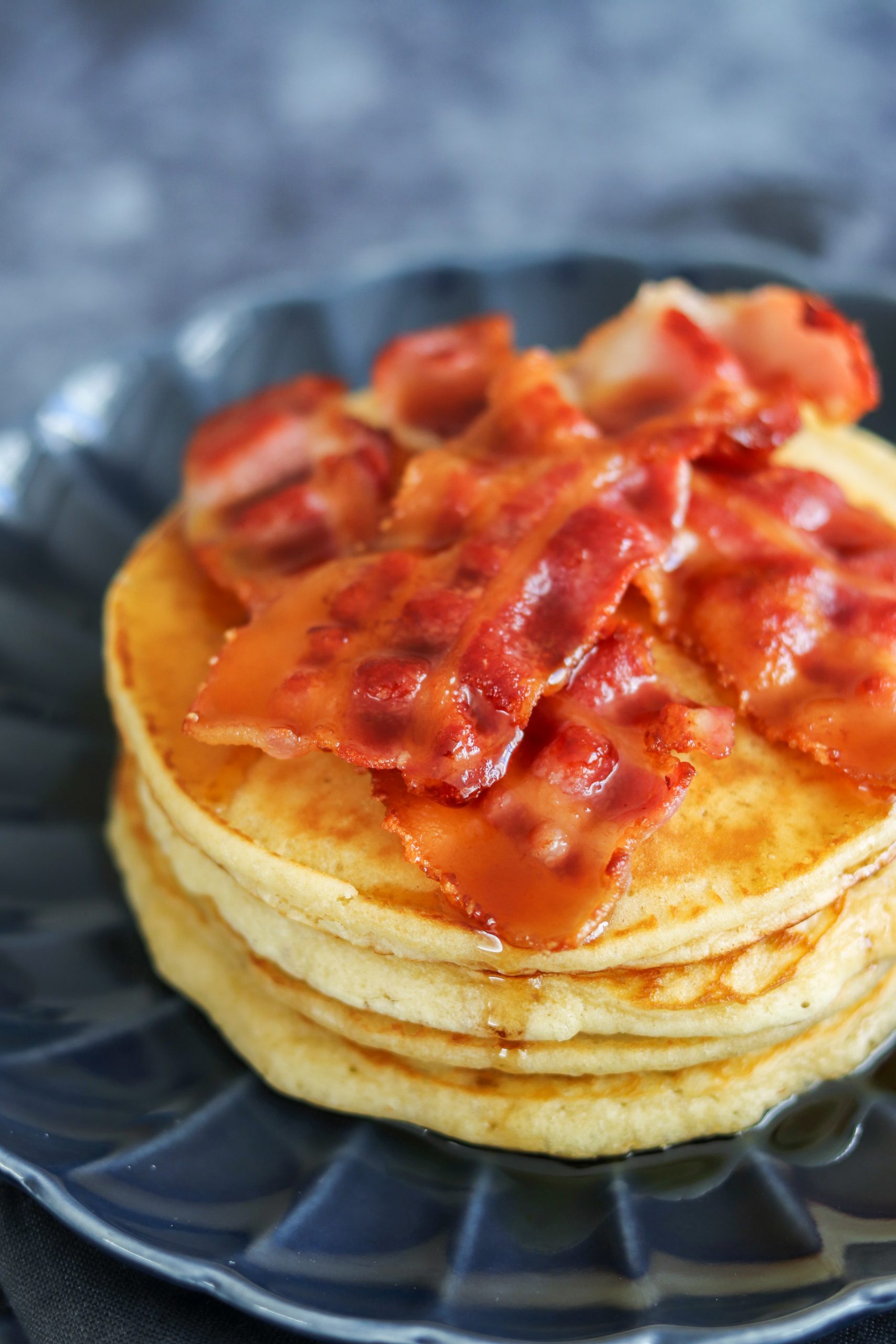 Don't add too much oil/butter to the pan
One easy mistake to make is to add too much butter or oil to the pan and you start to fry the pancakes. This leaves them looking a little greasy and can cause them to become too brown.
You can use spray oil, vegetable/sunflower oil or butter for the pan; just make sure it is only very lightly greased. If you get carried away and add a bit too much, use a piece of kitchen paper to absorb some of the excess.
You need to use a good non stick pan for pancakes. The butter in the batter helps to make sure the pancakes don't stick so the fat you add to the pan is just an extra guarantee.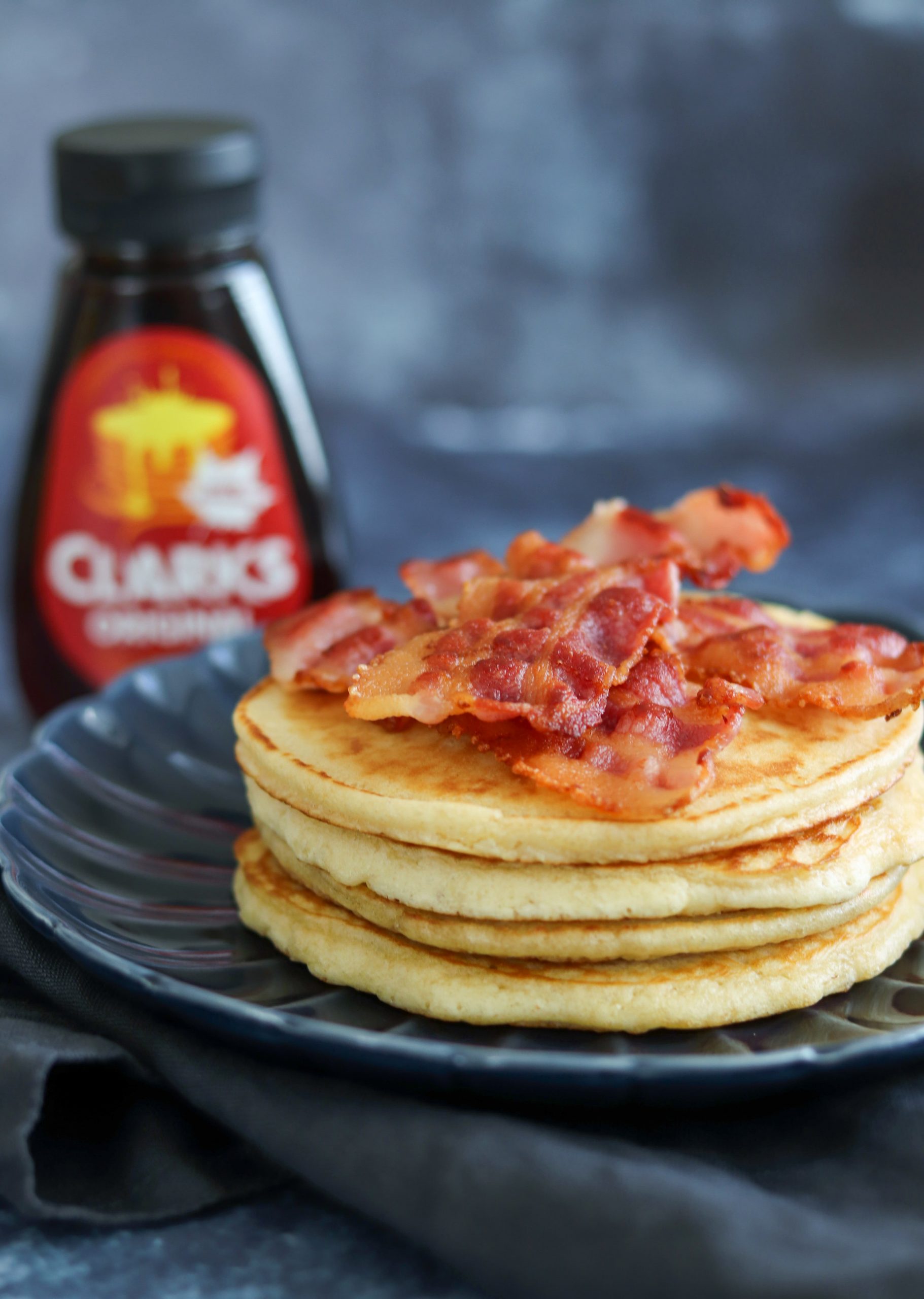 Do you have to let pancake better rest?
I have always let my pancake batter rest, even if it is only for 10-15 minutes. This initially was because it was what my Mum always did; but I have since found the benefits.
Allowing your pancake batter to rest has two advantages:
It allows the flour to absorb the milk. This helps get rid of any remaining lumps that might be in your batter. It also thickens the pancake batter
It allows the baking powder to evenly distribute in the batter and create even, fluffy pancakes
If you are in a rush and don't let your pancake mix rest, your pancakes will still be delicious. Resting is just a way to get them even better.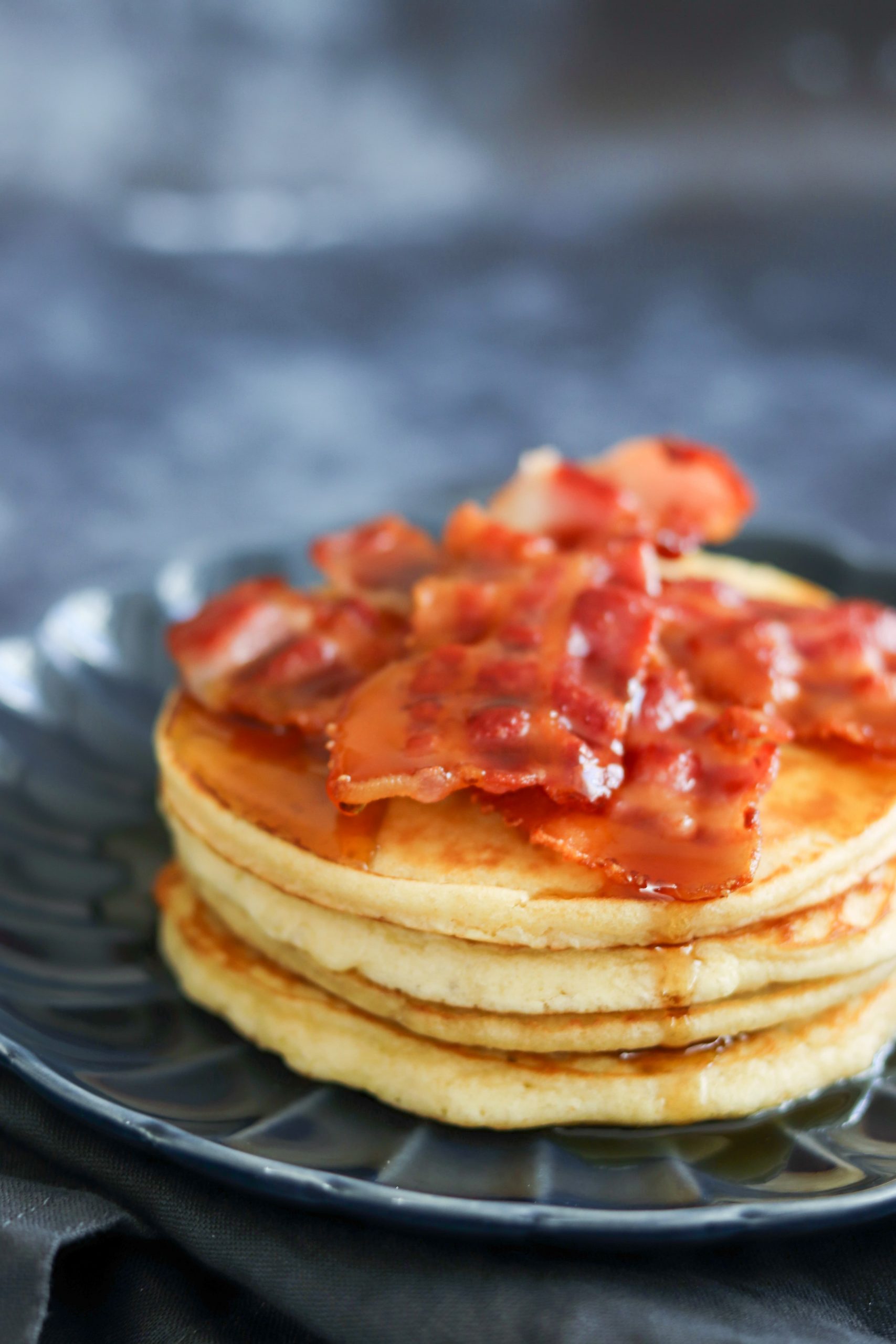 What to serve with Thick & Fluffy American Pancakes
Whenever I make these pancakes, I always serve them with bacon. Pancakes and bacon is such a classic combination that you really must try if you haven't already.
The common accompaniment is maple syrup. The sweetness of the maple syrup works really well with the saltiness of the bacon.
I am really not a fan of maple syrup. Instead I eat mine with tomato ketchup which I know isn't to everyone's taste.
You could serve these pancakes as part of a larger breakfast/brunch with bacon, pancakes and eggs.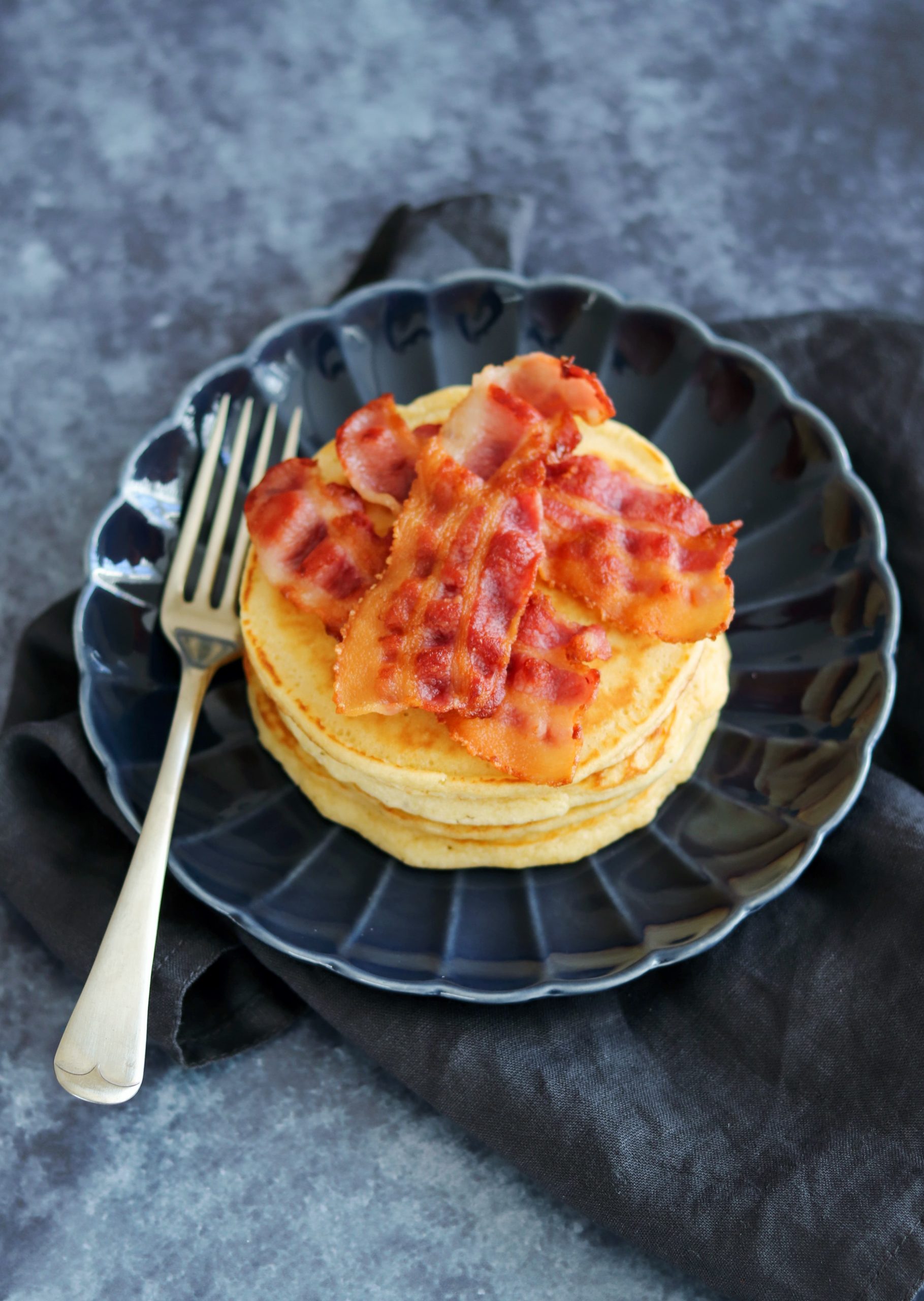 How many pancakes will this make?
There very much depends on how big you make your pancakes!
I like to use my largest mechanical ice cream scoop or an American ¼ cup measure to try and make each pancake as similar in size as possible.
This makes six large pancakes. Obviously if you make them smaller, you will be able to make more pancakes.
I think the recipe below would feed two to three people; depending on how hungry they are! You could very easily double or even triple the recipe to feed more people.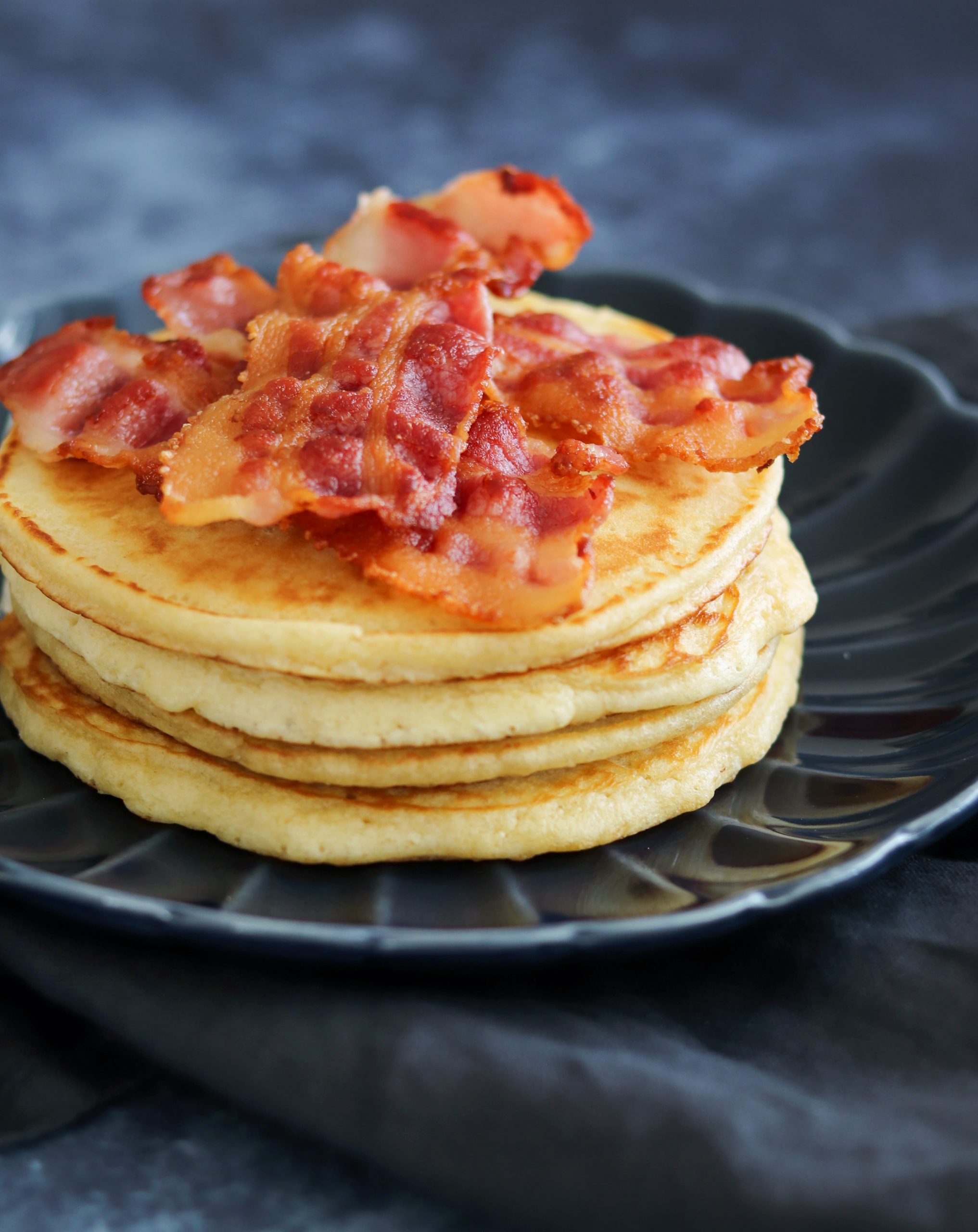 Can you reheat these pancakes?
Even though this recipe doesn't make a huge amount of pancakes, you still might want to eat them all at once.
You can keep them in the fridge for 2-3 days and reheat them when you are ready to eat them. I would lay them in a single layer on a plate and heat in the microwave for 20-30 seconds or until hot.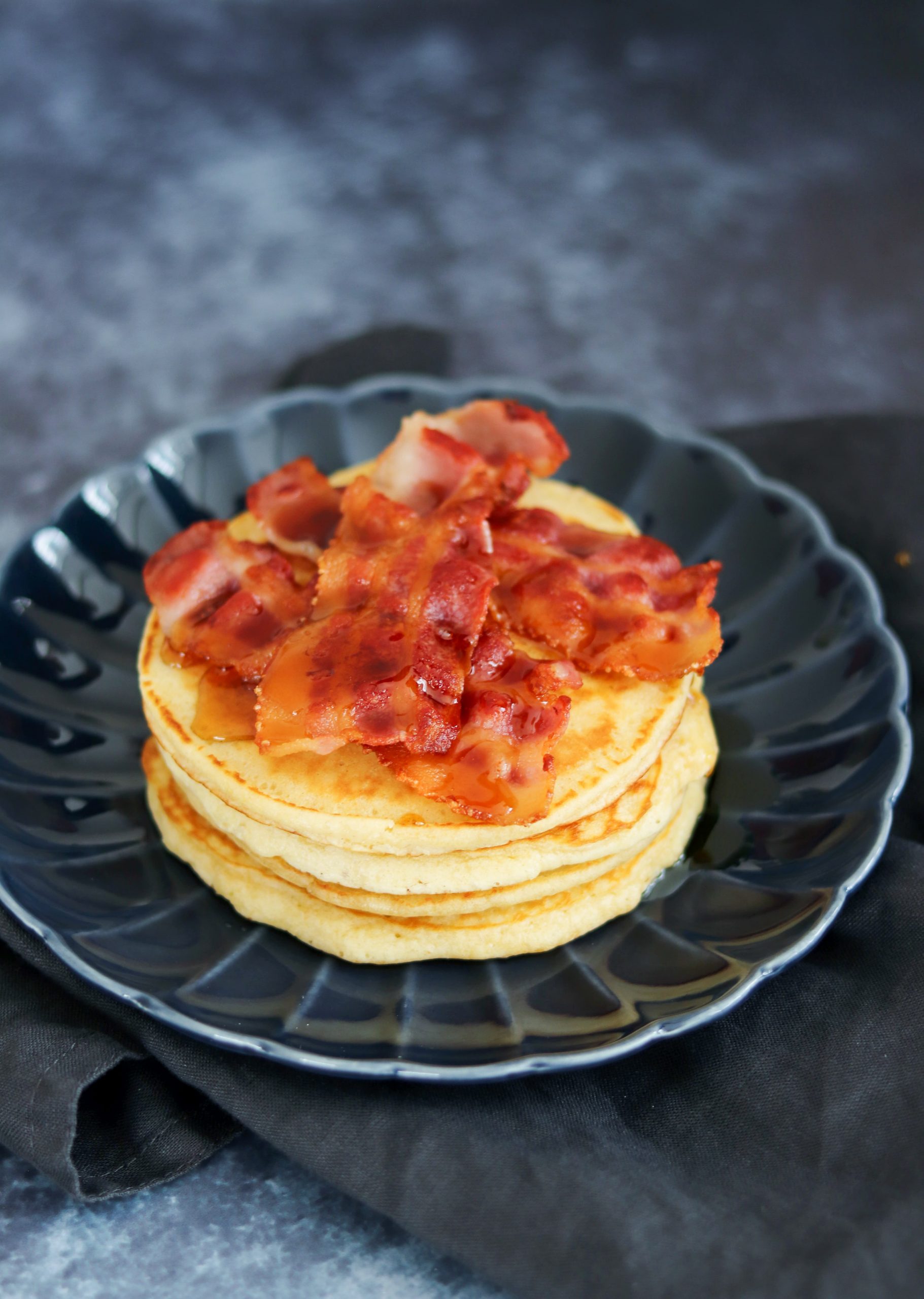 Other recipes you might like
Pin for later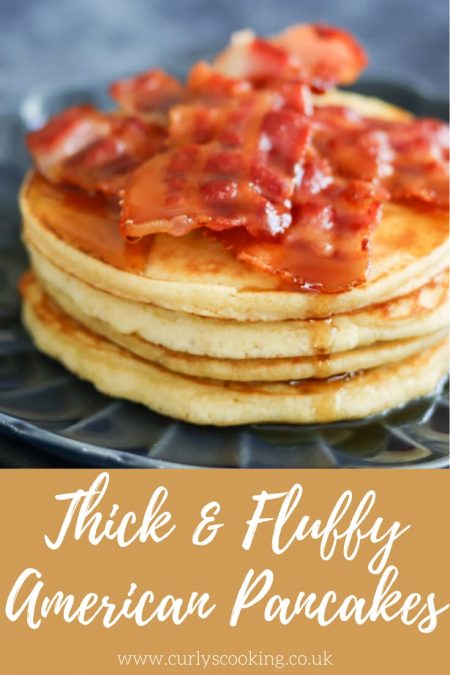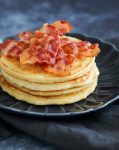 Thick & Fluffy American Pancakes
Thick & Fluffy American Pancakes are always the pancakes for me. Deliciously light & fluffy and fantastic accompanied with crispy bacon and maple syrup. These make the most amazing weekend brunch.
Ingredients
135

g

plain flour

1

tsp

baking powder

½

tsp

salt

2

tbsp

caster sugar

130

ml

milk

1

large

egg

30

g

melted butter

cooled slightly

spray oil
Instructions
Melt the butter in short bursts in the microwave and then set aside to cool slightly

Sift the flour, baking power, salt and caster sugar into a large jug

In another jug whisk together the milk and egg before adding the melted butter and whisking again

Pour the wet mix into the dry mix and whisk until you have a smooth batter. If you have any lumps, just keep whisking until they disappear

Let the batter stand for a approximately 15 minutes

Heat a non-stick frying pan over a medium heat and spray with oil. When the pan is hot, add a ladle of batter to the pan. If your pan is big enough you can add two at the same time

When the top of the pancake begins to form small bubbles, it is ready to flip onto the other side. In total it should cook for roughly a couple of minutes on each side until golden brown

Keep going until you have used up all of the batter making sure you spray the pan with more oil before you add more batter. The cooked pancakes can be kept warm in a low oven or under some kitchen paper
Recipe Notes
Nutritional information is given as a guide only and may vary.
Nutrition Facts
Thick & Fluffy American Pancakes
Amount Per Serving
Calories 476
Calories from Fat 144
% Daily Value*
Fat 16g25%
Cholesterol 142mg47%
Sodium 754mg33%
Potassium 449mg13%
Carbohydrates 68g23%
Protein 12g24%
Vitamin A 615IU12%
Calcium 208mg21%
Iron 3.8mg21%
* Percent Daily Values are based on a 2000 calorie diet.