These Chilli Cheese Straws are a new take on a British Classic. Delicious cheese straws with an added chilli kick. They're easy to make and even easier to eat!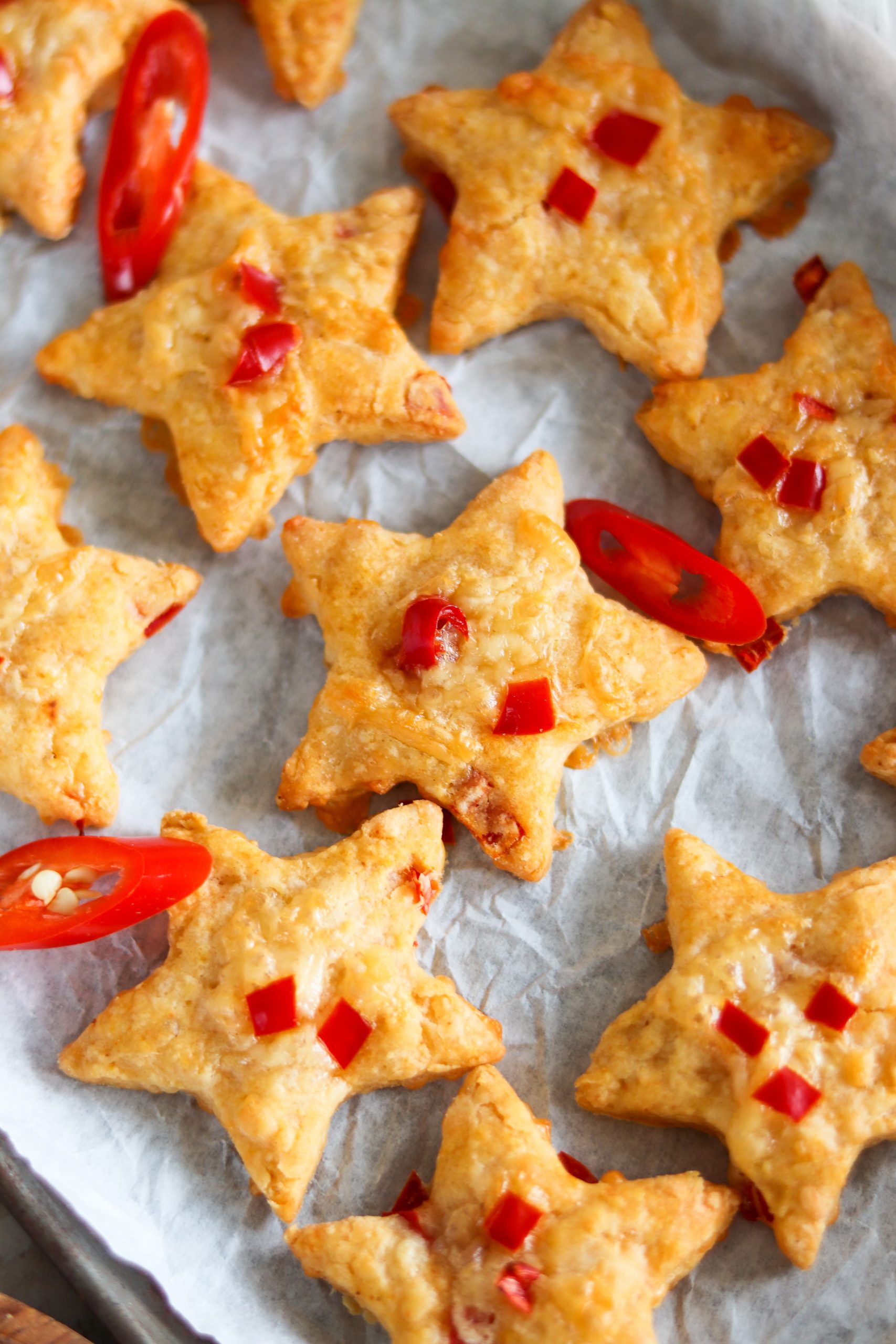 what are Chilli cheese straws?
Cheese Straws are the most delicious thin strips of pastry which are heavily flavoured with cheese. Depending on the recipe, different flavourings are added.
Their origin is unknown but they are popular in the UK and Southern US.
They're flaky, buttery and packed with cheesy goodness making them seriously addictive!
These Chilli Cheese Straws are an adaptation on the classic recipe with added chilli powder and fresh chilli.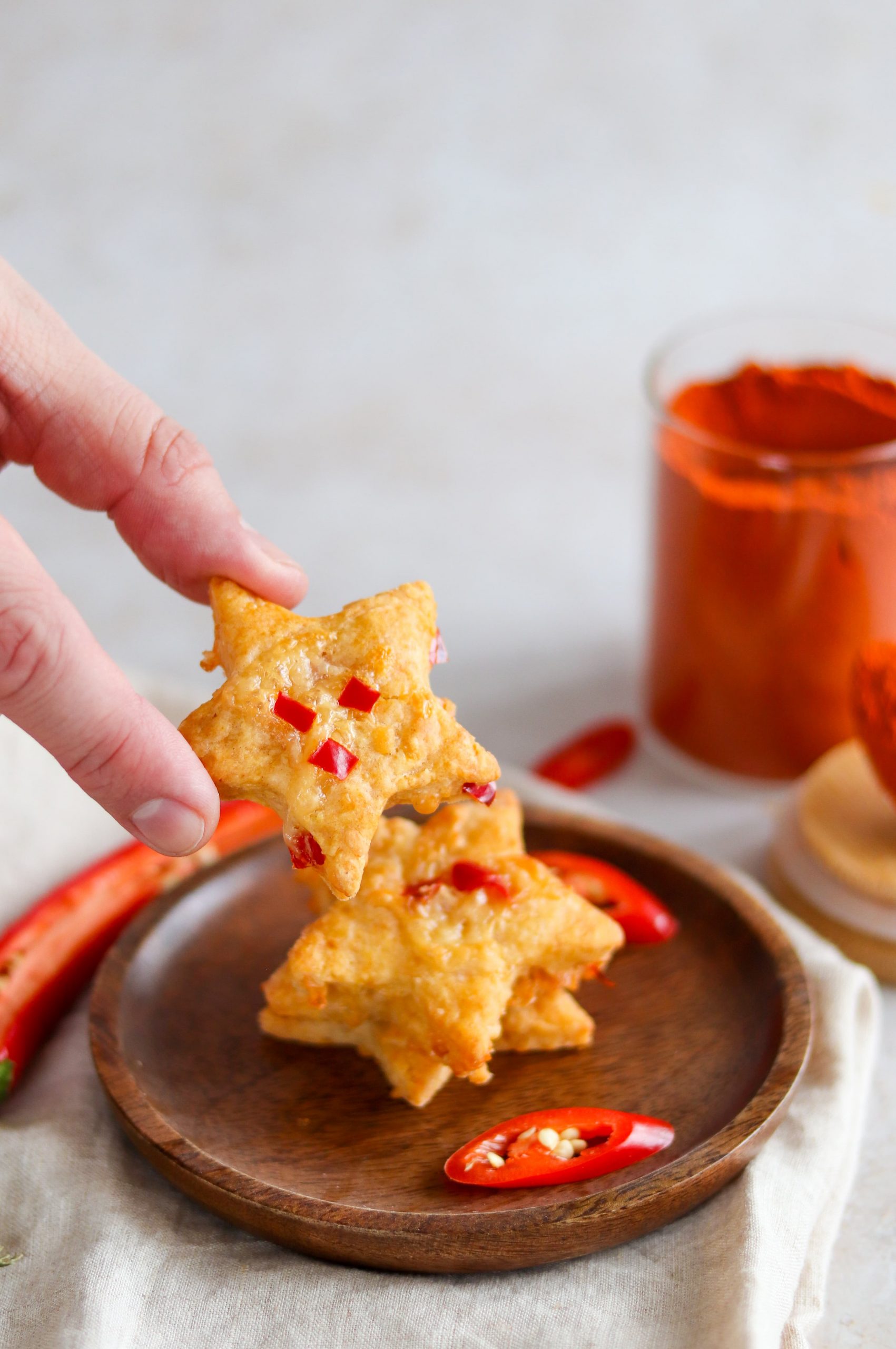 how spicy are these chilli cheese straws?
Although these cheese straws have chilli in them, they should be suitable for most people to enjoy.
They have cayenne pepper, chilli powder and fresh chilli in them which add different levels of flavour. However the recipe as written is quite mild.
You can adjust the level of heat by using mild chilli powder if you want to keep them mild or hot chilli powder if you want a bit of extra spice.
Also you can add more fresh chilli if you would like to increase the spice. I've done this before and it gives them a really delicious kick.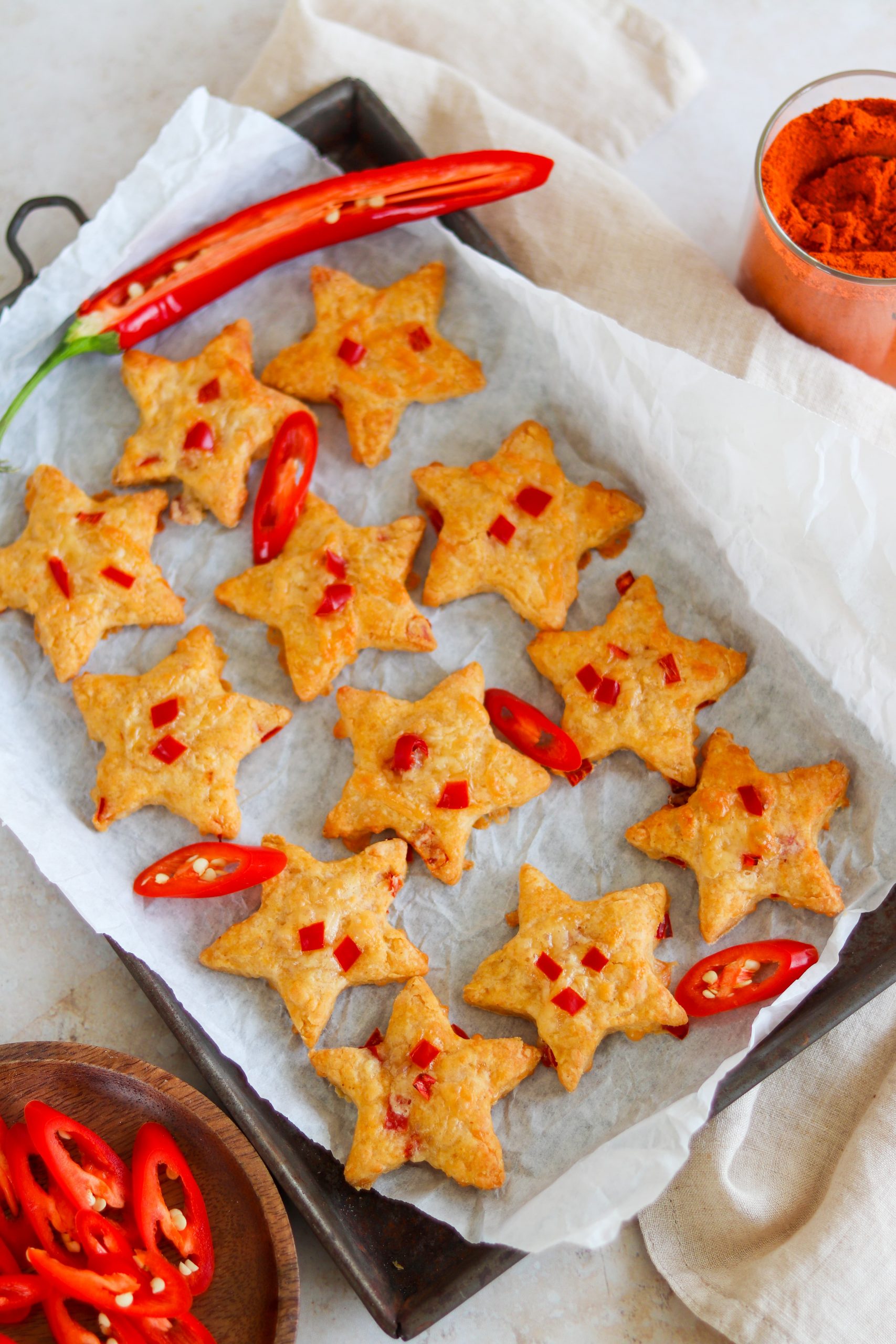 Simple to make and incredibly delicious
I've been making Cheese Straws for as long as I can remember. They were one of the first thing I remember baking as a child.
A good thing about these is how easy they are to make. You don't need a mixer or any fancy equipment which makes them great for children to help out with.
As well as being easy to make, they only take around 10 minutes to bake! This means you have no excuse to whip up a batch when you have a spare few minutes.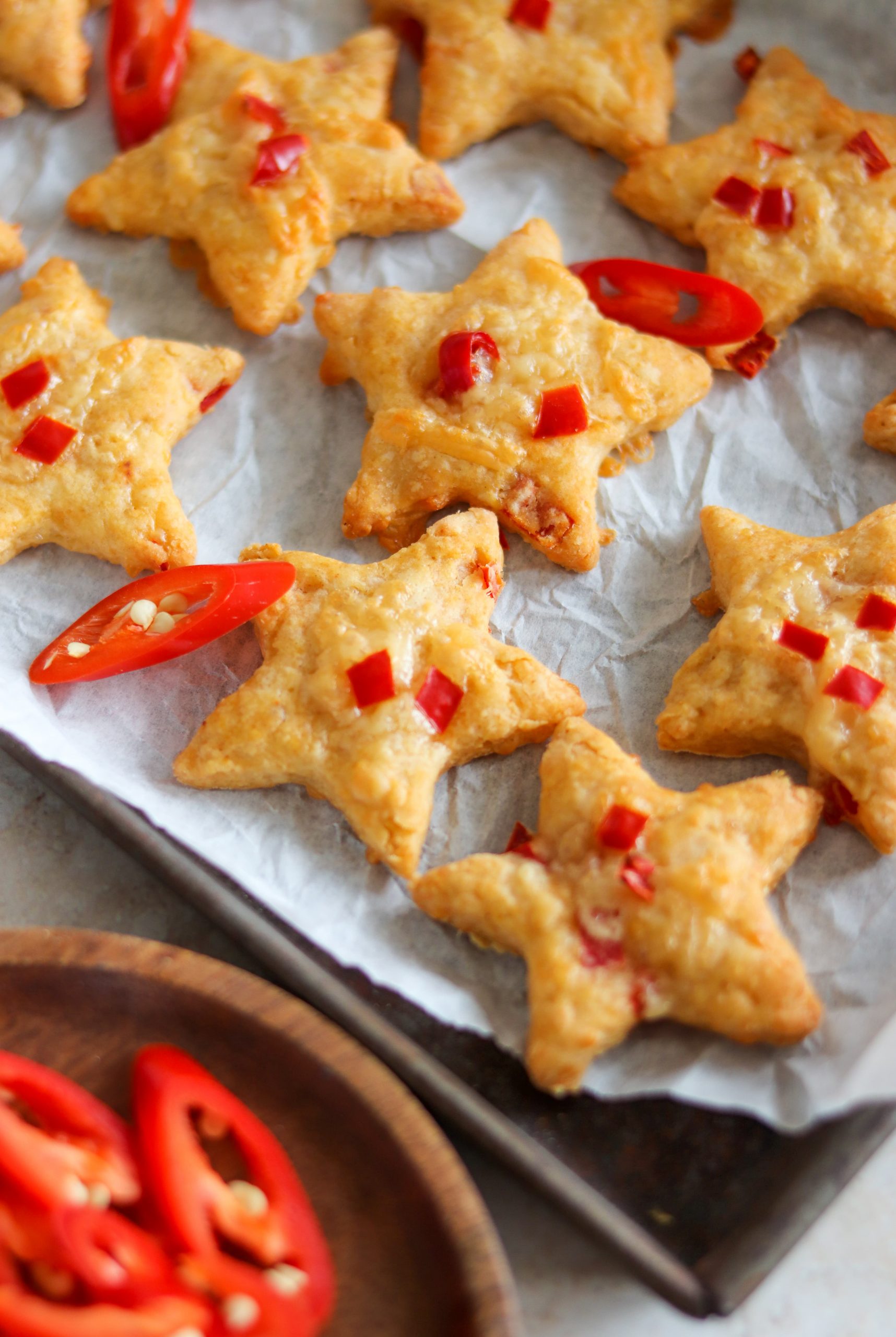 Which cheese is best to use?
I tend to use cheddar cheese for these Chilli Cheese Straws. That is because I always have some in the fridge. My preference is extra mature cheddar because I like the extra saltiness it has.
If you wanted to use another cheese, you could use another hard cheese. Gouda or Gruyere would work well either by themselves or as a mixture with cheddar.
You could also reduce the cheddar amount and add some Parmesan cheese instead. Parmesan has a lovely strong and salty flavour which would work really well.
Any of these cheese would work well with the chilli to give you tasty straws.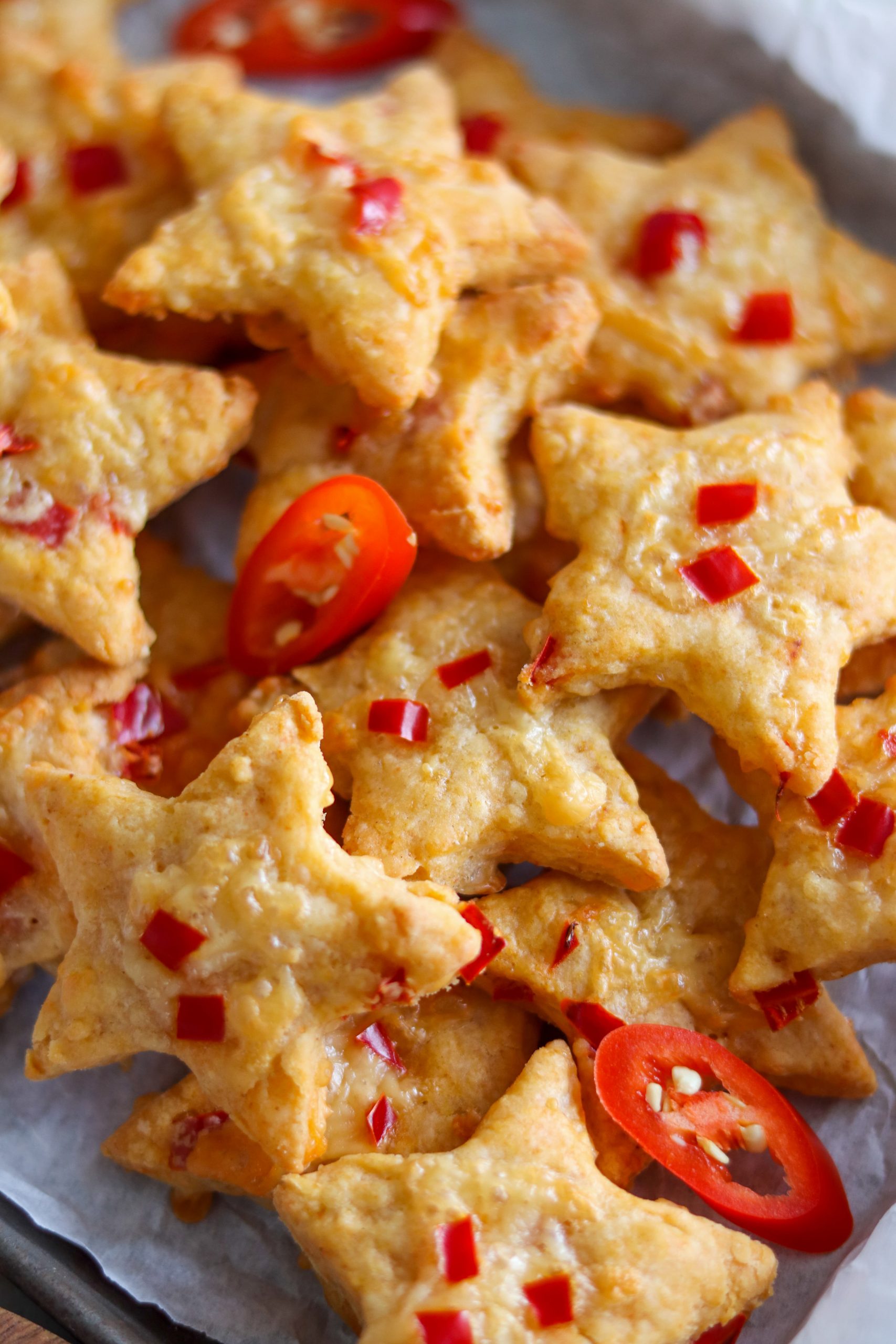 What shape should these chilli cheese straws be?
Any shape you like! You can absolutely make these like standard cheese straws and cut them into strips.
I like to use a cookie cutter to make these Chilli Cheese Straws a bit fancier. My go-to shapes are usually these stars or hearts. The hearts are particularly cute to give as a Valentine's gift!
Although star shapes are great for any time of year, they are especially perfect at Christmas and make a great gift.
Get as creative as you like!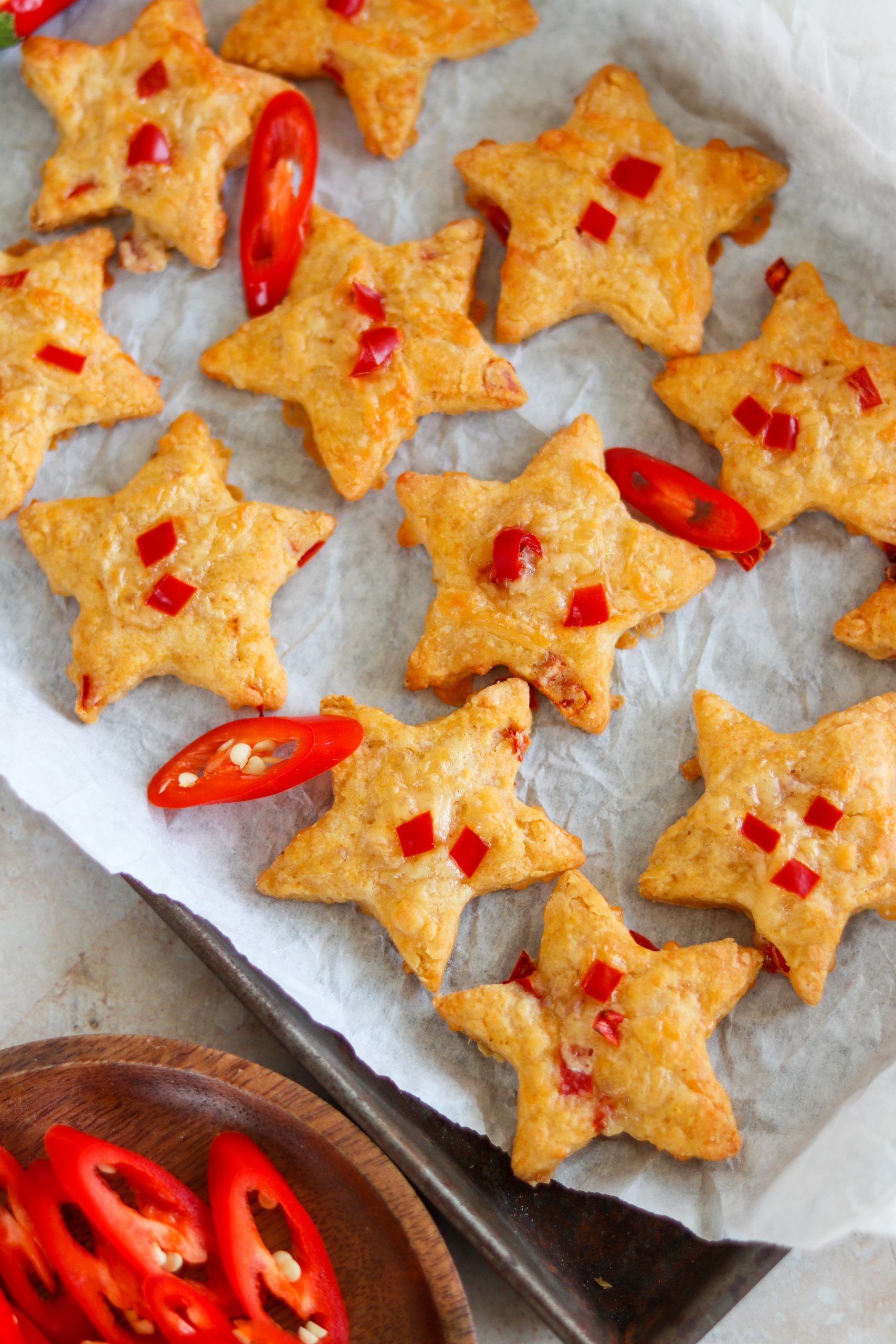 chilli Cheese Straw baking tips
Try to handle the dough as little as possible. When you are bringing the dough together in the bowl, don't try to knead it.
Gently bring all of the breadcrumb like dough together and then turn it out onto the floured surface. Continue being gentle as you are rolling the pastry.
When you turn the dough out onto the floured surface it might feel slightly damp. Don't worry about this because the flour from your work surface will firm the dough up slightly.
Make sure you flour your rolling pin as well as the surface to avoid it sticking. Try to reroll the dough as few times as possible.
Need more cheesy goodness? Check out my Cheese Scones and Cheese & Marmite Palmiers.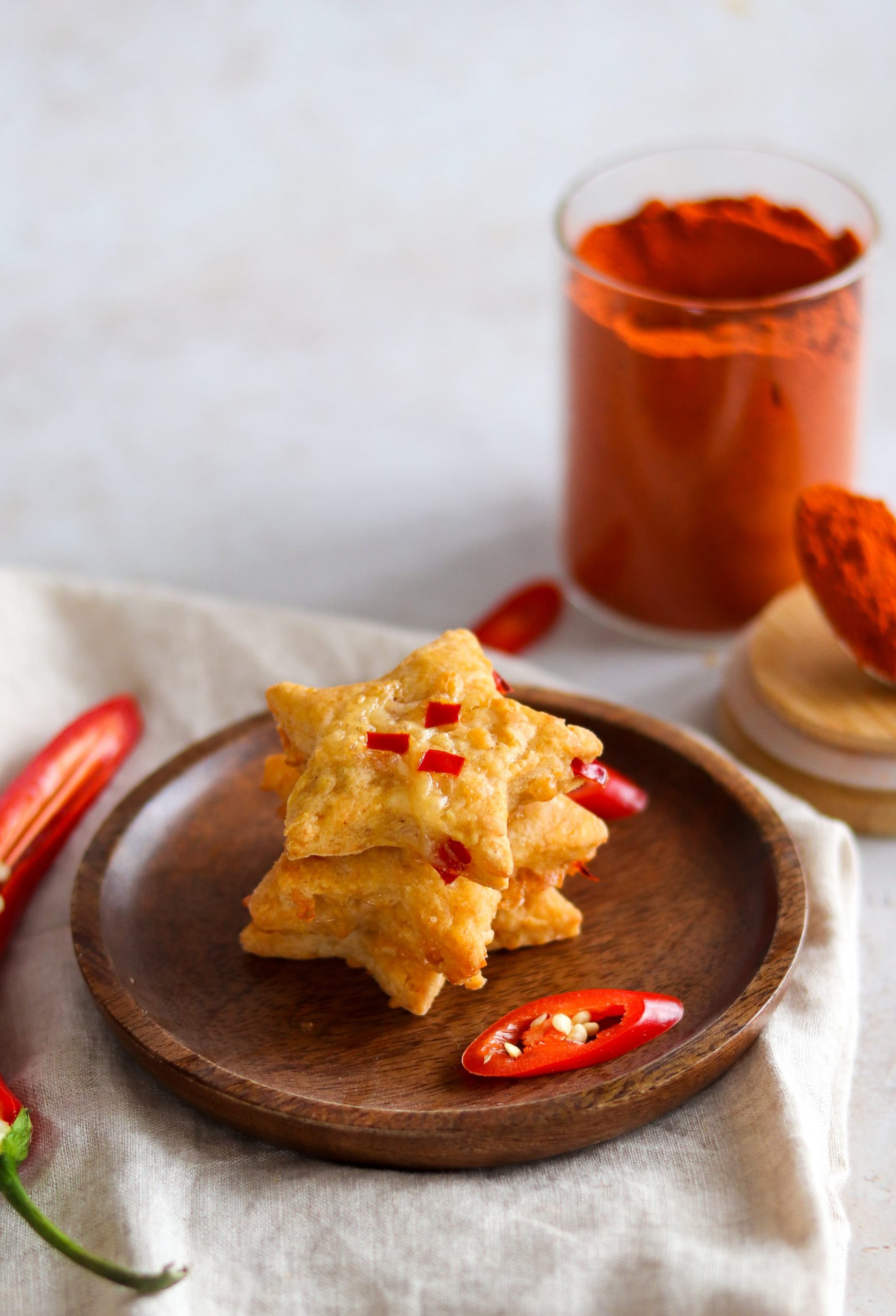 How many chilli cheese straws does this recipe make?
The size of your cutter will obviously dictate how many hearts you will make. I used a medium sized cutter and made 22 stars.
You can use bigger, or smaller sized cutters to make different sized straws. As long as you keep them a couple of millimetres thick, the cooking time shouldn't be affected.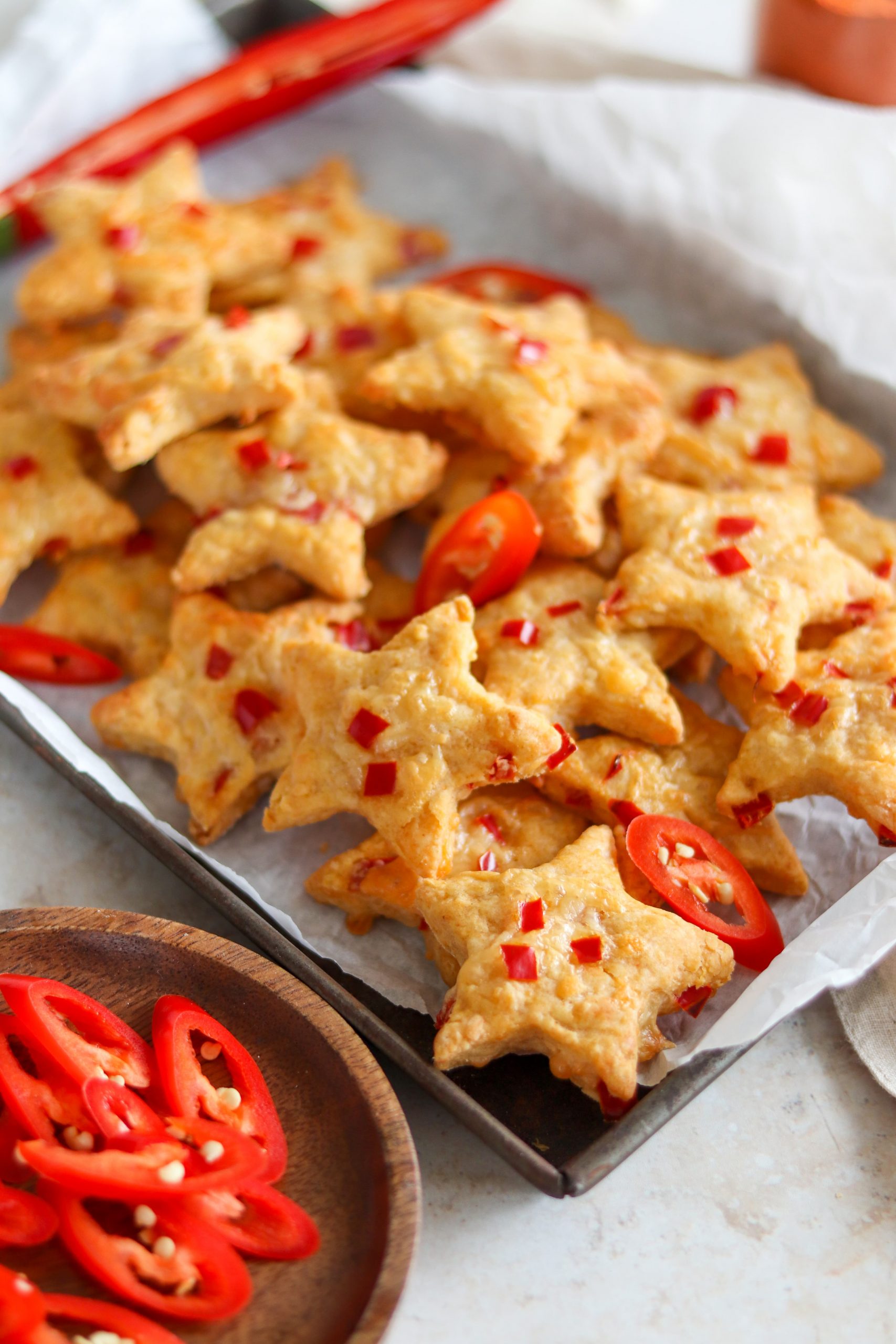 How long will they keep for?
Cheese Straws aren't something I think keep for a long time. Once they're baked, they really are best eaten within two days.
After this they will start to get a little softer and loose their crisp texture. Keeping them in an airtight container helps prevent this.
Being completely honest, if they last longer than two days in your house I will be very surprised. And that applies if you live alone too. They are just too good to not keep eating them!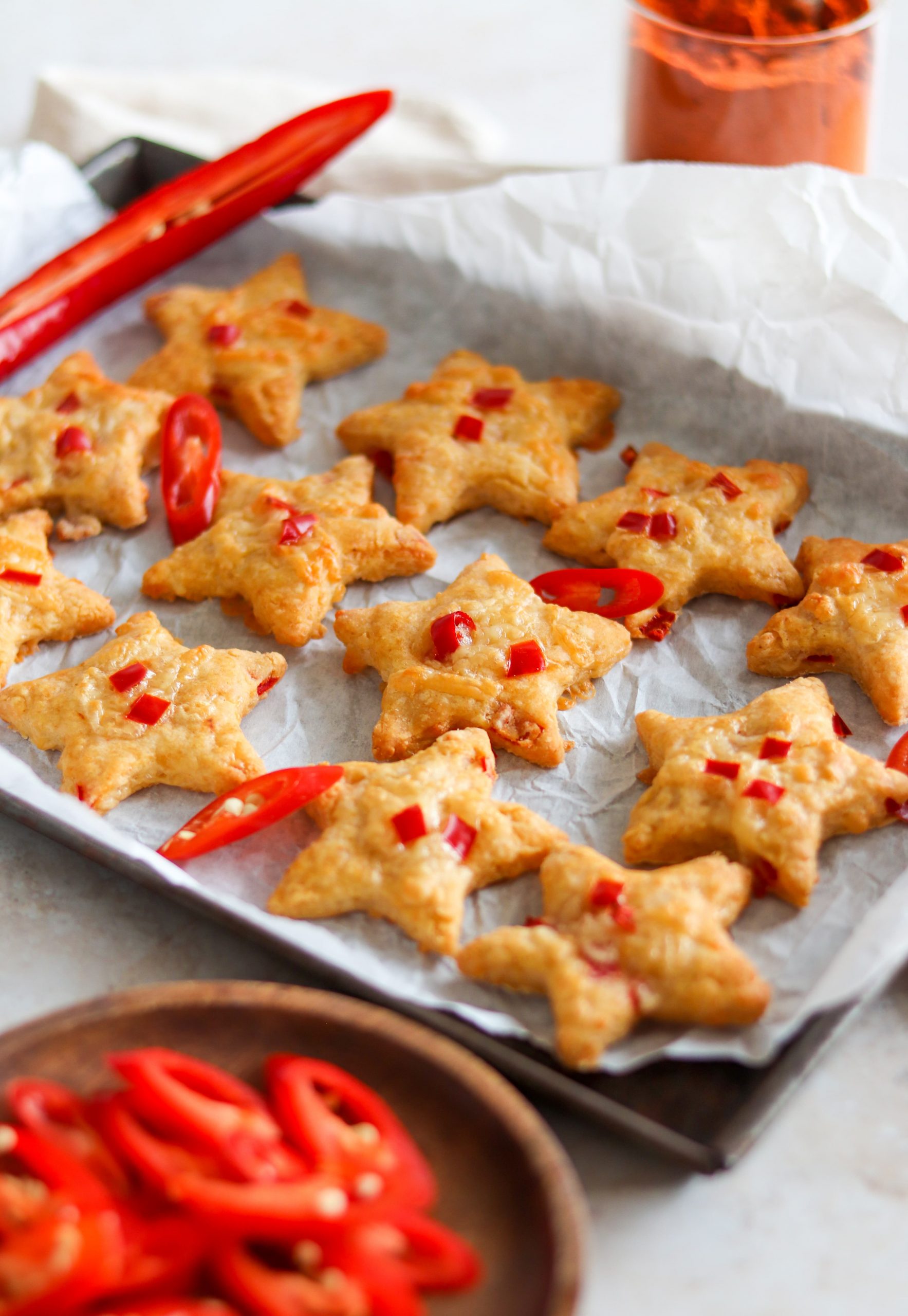 can you Freeze Cheese Straws?
Yes you can freeze these before or after they have been baked. Although freezing them is an option, I always prefer them freshly baked; especially when they take so little time to make.
If you want to freeze them unbaked, place them onto a baking tray and put it in the freezer. After one hour or so they will be firm enough to pack into a container to freeze. You can freeze them for up to 3 months.
When you want to eat them, you can either defrost them before baking or bake them straight from the freezer. If you are baking them from frozen, they will take approximately 5 minutes longer to bake.
You can also freeze the Cheese Straws when they are baked for up to three months. Just make sure they are defrosted before tucking in.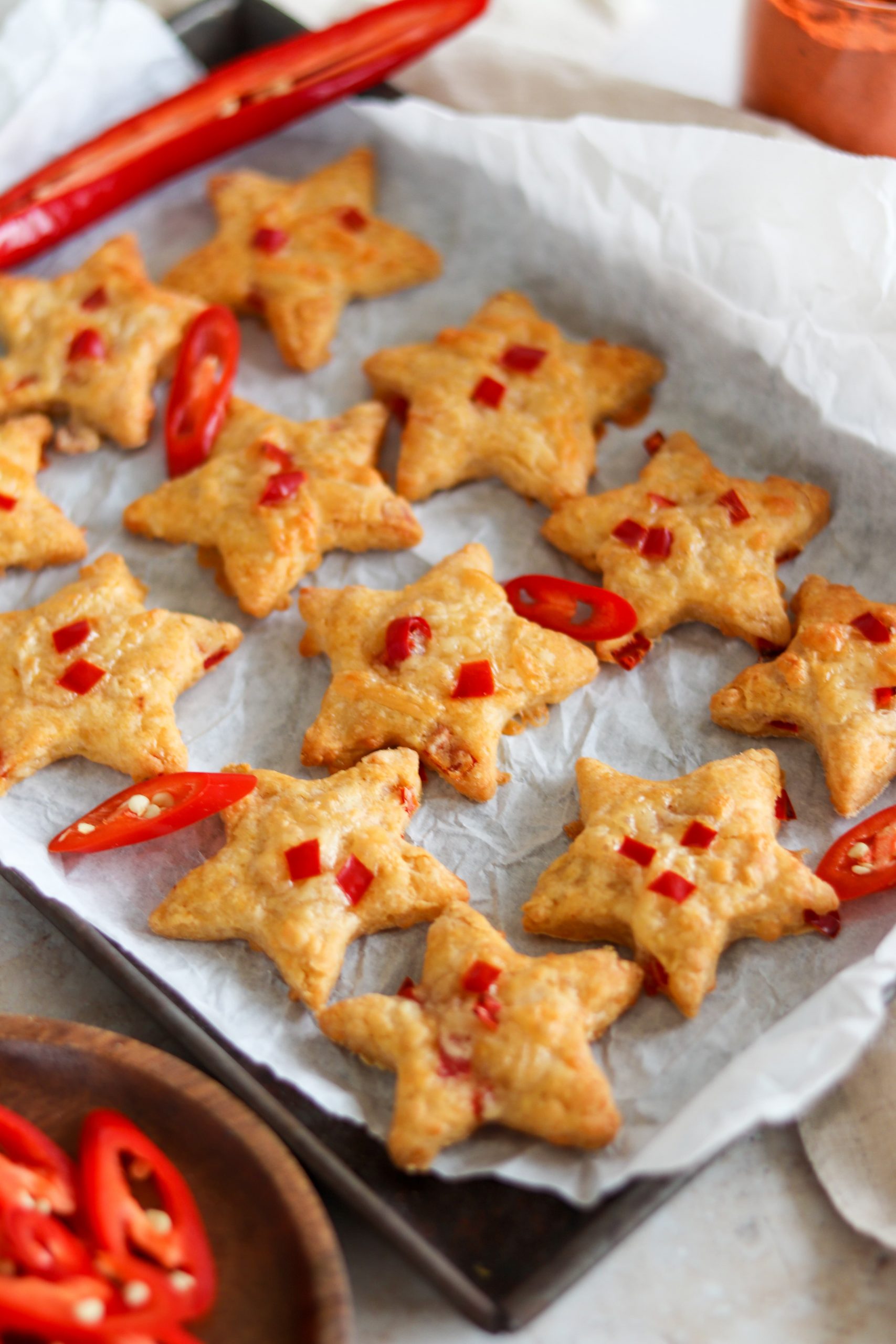 Other recipes you might like
Pin for later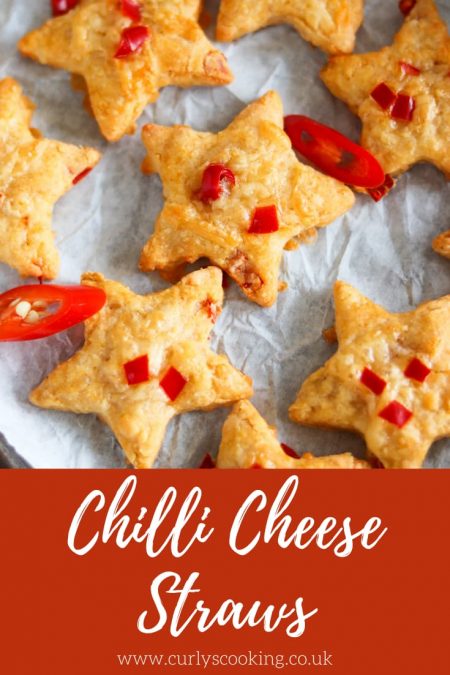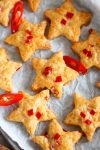 Chilli Cheese Straws
These Chilli Cheese Straws are a new take on a British Classic. Delicious cheese straws with an added chilli kick. They're easy to make and even easier to eat!
Ingredients
100

g

self raising flour

½

tsp

salt

¼

tsp

mustard powder

¼

tsp

cayenne pepper

¼

tsp

chilli powder

50

g

margarine

1

red chilli

finely diced

85

g

cheddar cheese

grated

1

egg
To finish
1

tbsp

semi skimmed milk

15

g

cheddar cheese

grated
Instructions
Heat the oven to 180ºC (fan assisted or 200ºC non fan) and line a baking tray with baking paper or a silicone mat

Mix together 100g self raising flour, ½ tsp salt, ¼ tsp mustard powder, ¼ tsp cayenne pepper and ¼ tsp chilli powder

Add 50g margarine and rub into the flour mix using the tips of your fingers and your thumbs until you get the consistency of breadcrumbs

Stir in ½ red chilli and 85g cheese

Add 1 beaten egg and stir to form a ball

Lightly dust your surface with flour and roll the dough until it is a couple of millimeters thick

Using a cookie cutter, cut out shapes and lay them on the prepared baking tray

Gather up and re-roll the dough as few times as possible but also cutting out as many straws as possible

Once all of the straws are on the baking tray, brush them with 1 tbsp milk

Sprinkle 15g cheese on top of each straw and sprinkle over ½ red chilli

Bake in the oven for 10 minutes or until golden
Recipe Notes
Store in an airtight container. Best eaten on the day they are baked or the next day.
Nutritional information is given as a guide only and may vary.
Nutrition Facts
Chilli Cheese Straws
Amount Per Serving
Calories 55
Calories from Fat 18
% Daily Value*
Fat 2g3%
Cholesterol 7mg2%
Sodium 78mg3%
Potassium 14mg0%
Carbohydrates 4g1%
Protein 1g2%
Vitamin A 129IU3%
Vitamin C 3mg4%
Calcium 2mg0%
Iron 1mg6%
* Percent Daily Values are based on a 2000 calorie diet.