A super easy no bake treat, this Salted Popcorn & Pretzel Rocky Road is the perfect treat if you are a fan of chocolate and salt like I am.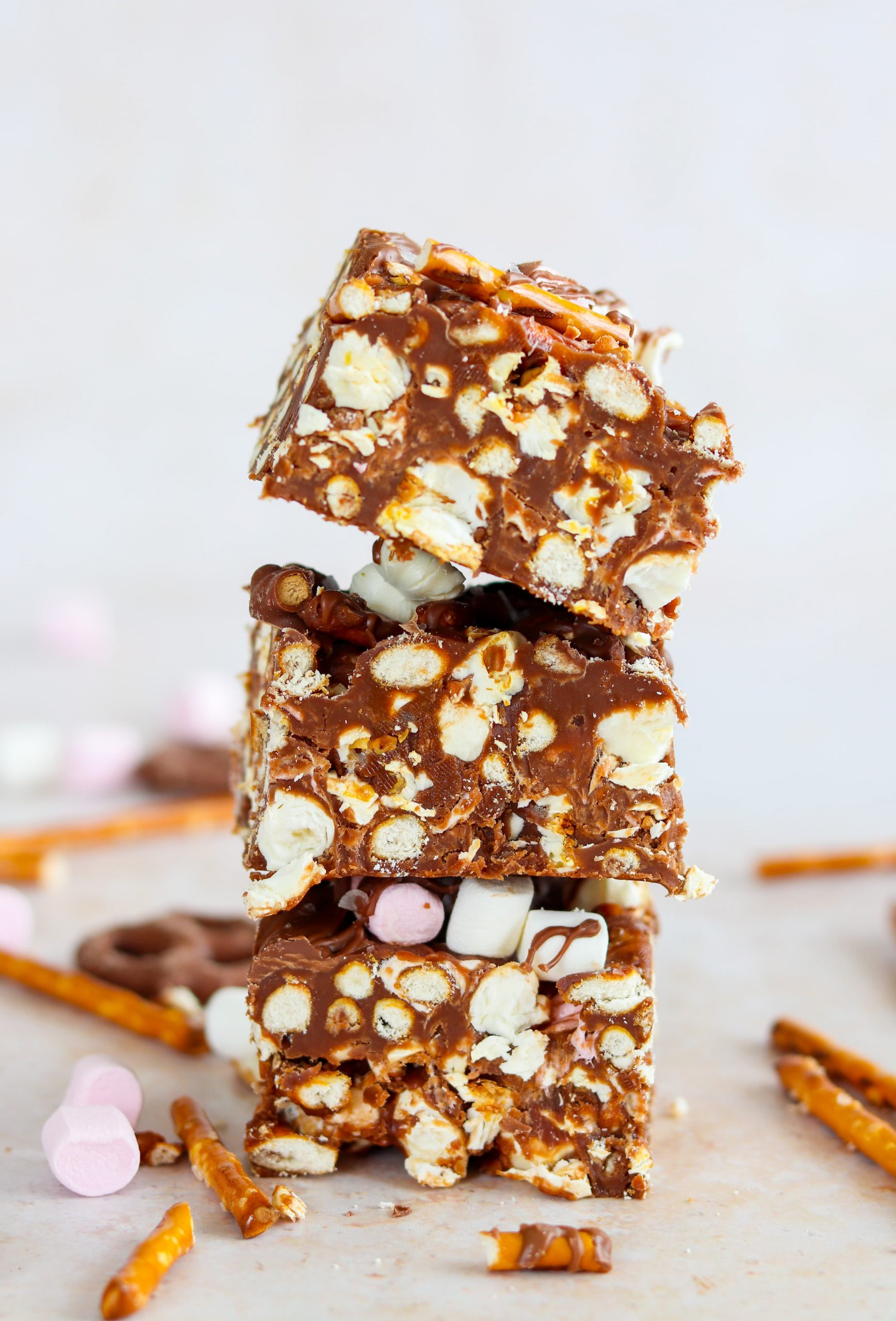 What is rocky road?
Rocky Road is one of those recipes that is referred to by a few different names. As well as rocky road, I have heard it referred to as tiffin and refrigerator cake. Personally, I think Tiffin is different as it doesn't typically have marshmallows in it and rocky road does.
But what actually is rocky road? It is a no bake sweet treat from Australia that usually includes marshmallows, biscuits and chocolate.
This version is a little different because I haven't used biscuits. My Chocolate Orange Rocky Road and Caramel Rocky Road are a little more traditional.
What is included varies from country to country and person to person. There isn't really a wrong way to make rocky road!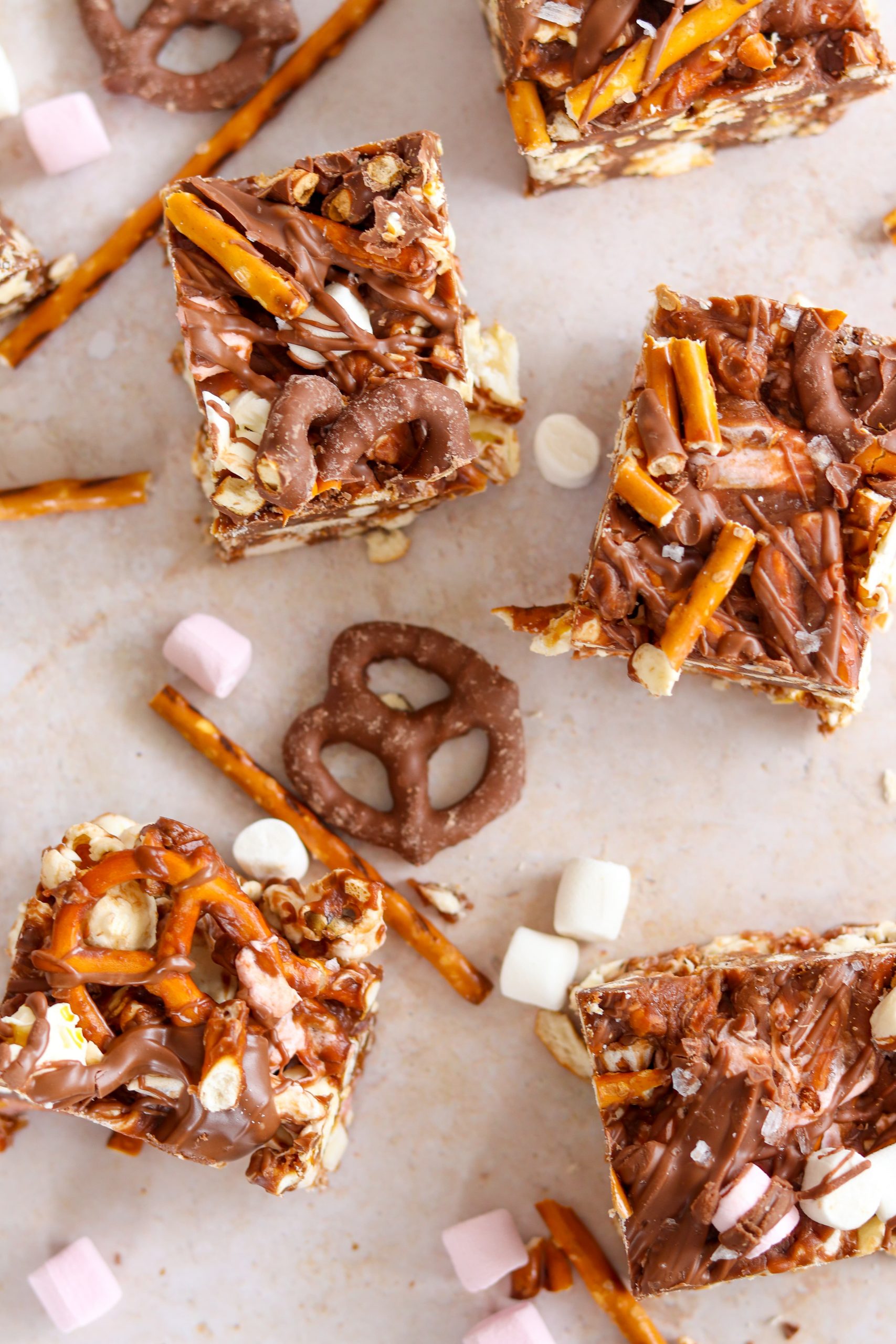 SALT AND CHOCOLATE – THE PERFECT COMBO
I don't know about you, but I absolutely love chocolate and salt together. My Salted Chocolate Chunk Cookies are one of my absolute favourites.
One of my favourite treats is to make salted popcorn and eat it with some milk chocolate. Definitely not the healthiest of snacks, but it is so delicious.
But that is how this Salted Popcorn & Pretzel Rocky Road came about! The saltiness from the popcorn and pretzels is the perfect match to the sweet chocolate.
If you haven't tried salt and chocolate together, you really have to.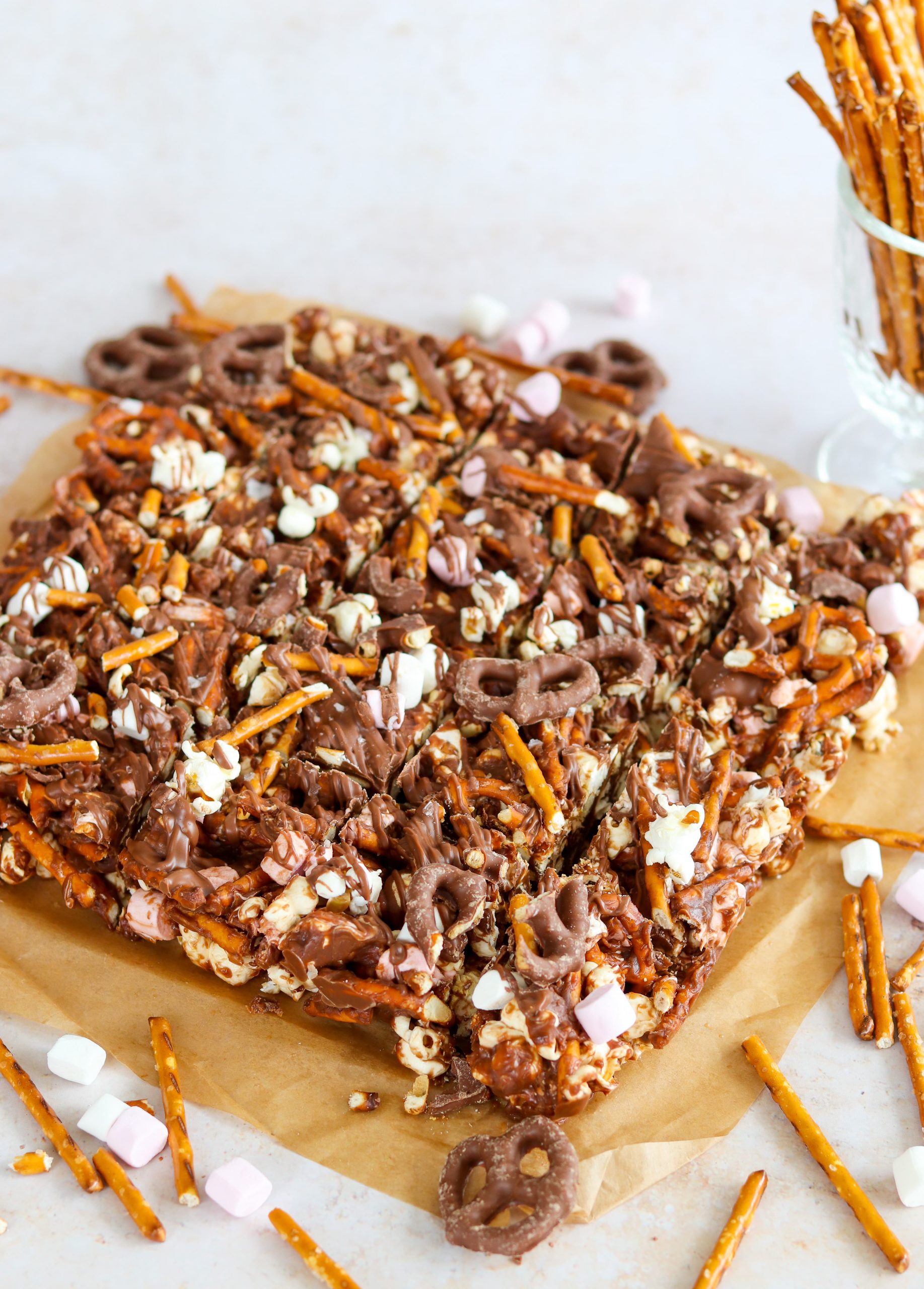 how is best to melt the ingredients
I prefer to melt the chocolate, butter and golden syrup in the microwave. I melt for short bursts and make sure I stir thoroughly in-between.
Heating the ingredients too much may cause the chocolate to split. To avoid this you should stop just before the chocolate is fully melted. As you continue to stir, it will melt fully without that risk of splitting.
If you think the mixture has split, keep stirring and the ingredients should bring themselves back together with no issues.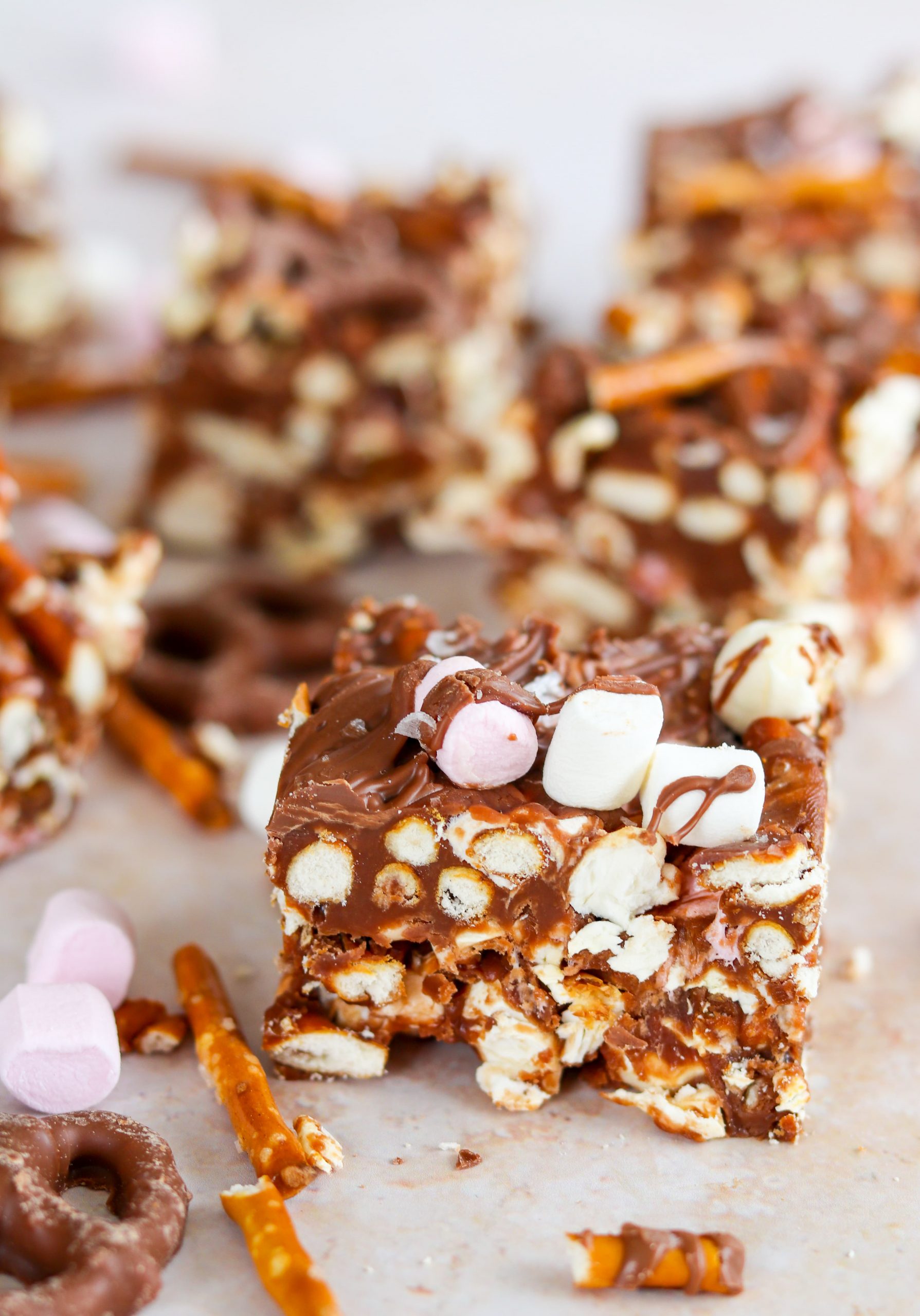 If you are worried about melting the ingredients in the microwave, you can use a double boiler. Add some water to a pan and balance a glass bowl with the ingredients over the simmering water.
Make sure the water doesn't touch the bottom of the pan, and stir so the ingredients melt slowly. This method might take a little bit longer, but it is harder to overheat the chocolate this way.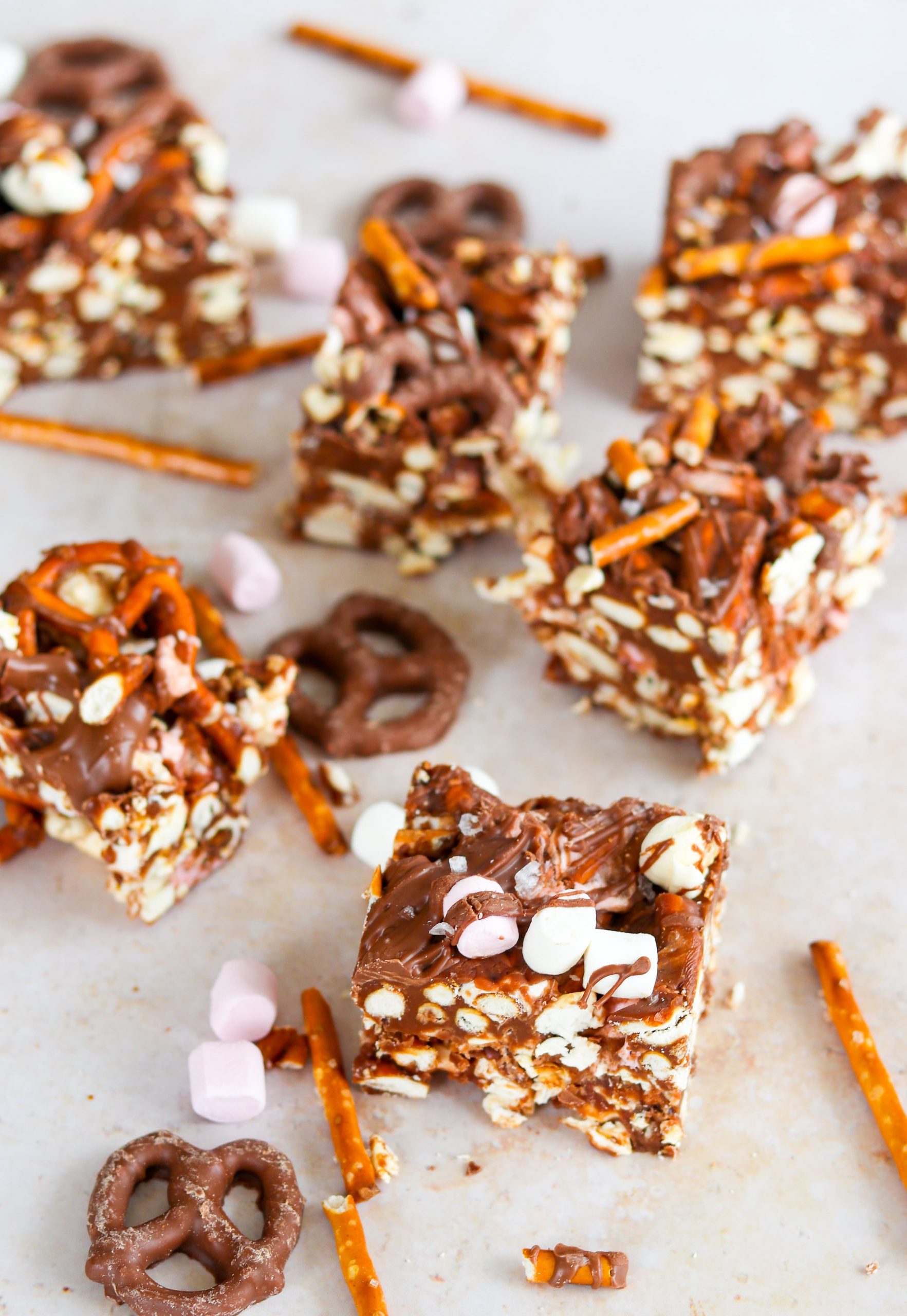 which popcorn is best to use?
I usually make my own popcorn because it is so easy to do! I heat a little oil in a large pan and add a sprinkling of salt.
Throw in a couple of test popcorn kernels and when they pop add in a small handful of kernels. Shake the pan regularly until the popping stops. And there you have it, delicious salted popcorn.
If you don't want to make your own, you can buy packets of ready made salted popcorn. They will work just as well.
Although this rocky road is focussed on the mix between salt and chocolate, you can use sweet and salted popcorn if you prefer. I wouldn't recommend using sweet or butter popcorn for this recipe.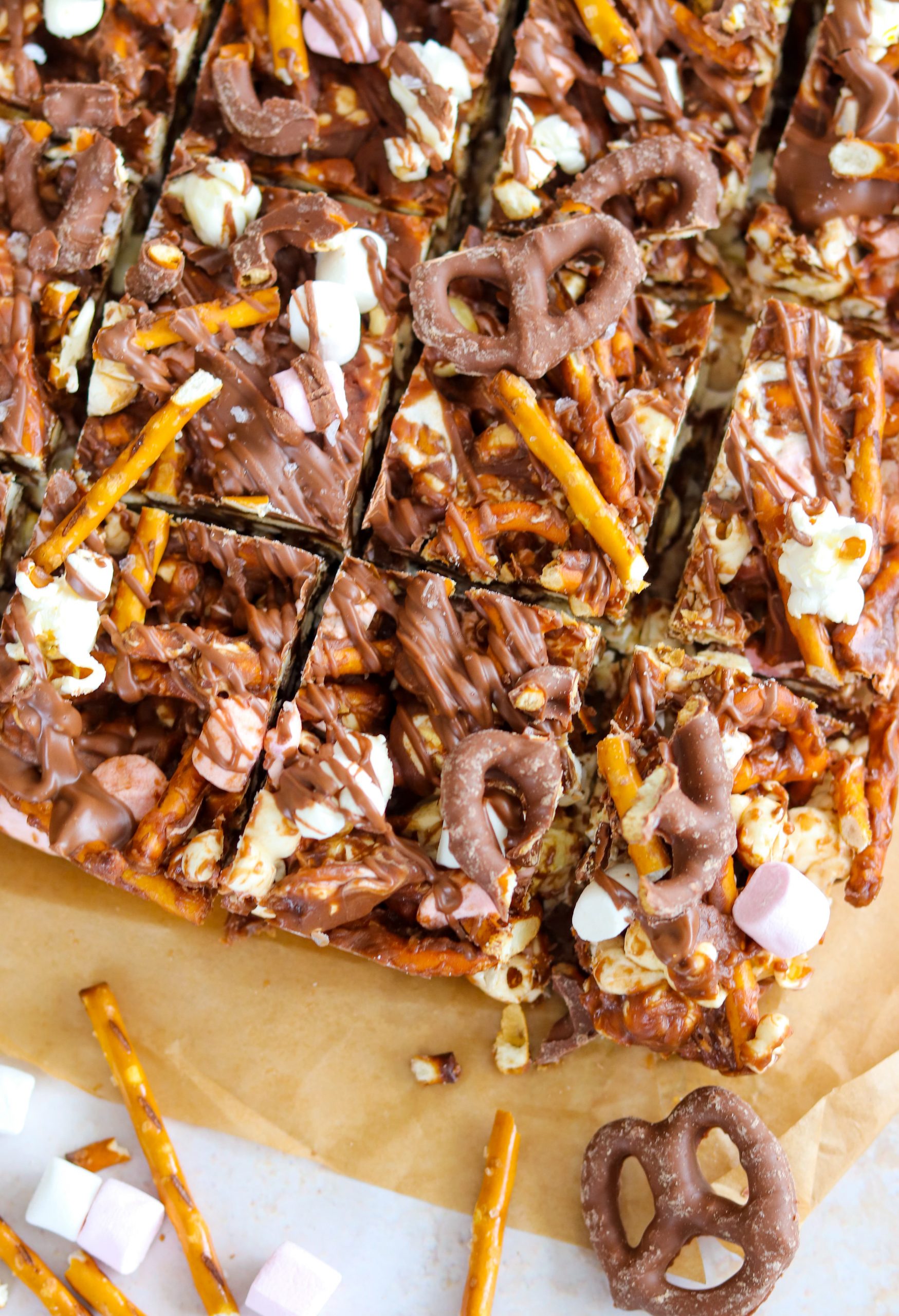 which chocolate is recommended to use?
I like to use milk (semi sweet) chocolate for this Salted Popcorn & Pretzel Rocky Road. This is always my chocolate preference and it works so well with the salted elements.
Dark chocolate would also work really well if you would prefer as it also delicious with salt. If you find milk chocolate too sweet, you could use a mixture of milk and dark chocolate.
I wouldn't recommend using white chocolate, I think it might be a bit too sweet. I'm also not sure how well it goes with salt.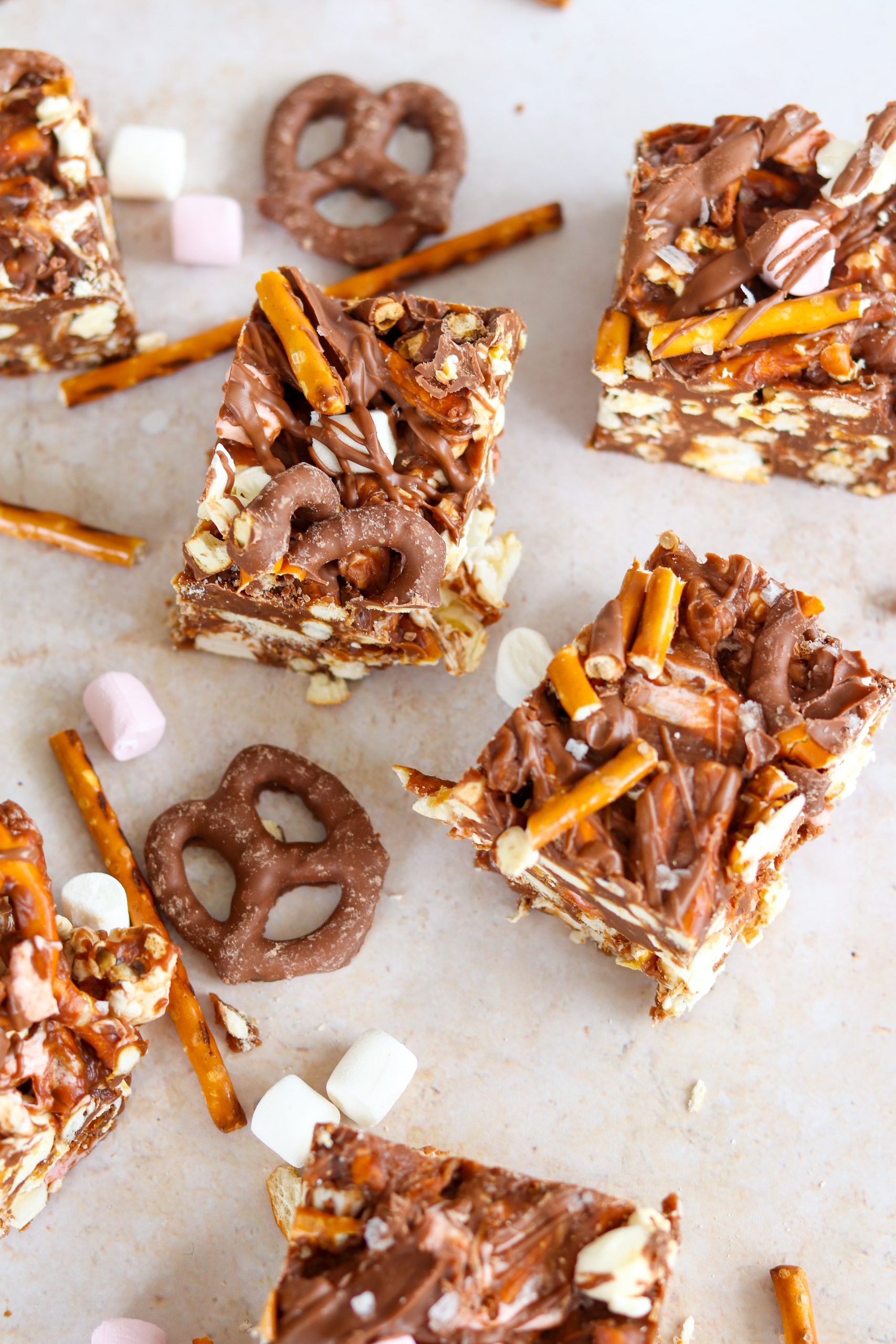 make this rocky road your own
I have used my favourite salted treats for this rocky road; salted popcorn, salted pretzels and chocolate covered pretzels.
These are not written in stone. If you can't find these ingredients, or would just like to use alternatives, please feel free.
I have already mentioned that you could use sweet and salted popcorn. But you could also add some salted peanuts, or any salted nuts, as an alternative.
If you can't find chocolate covered pretzels, just add more salted pretzels or maybe add some chocolate covered peanuts. Its your rocky road so adapt it how you like.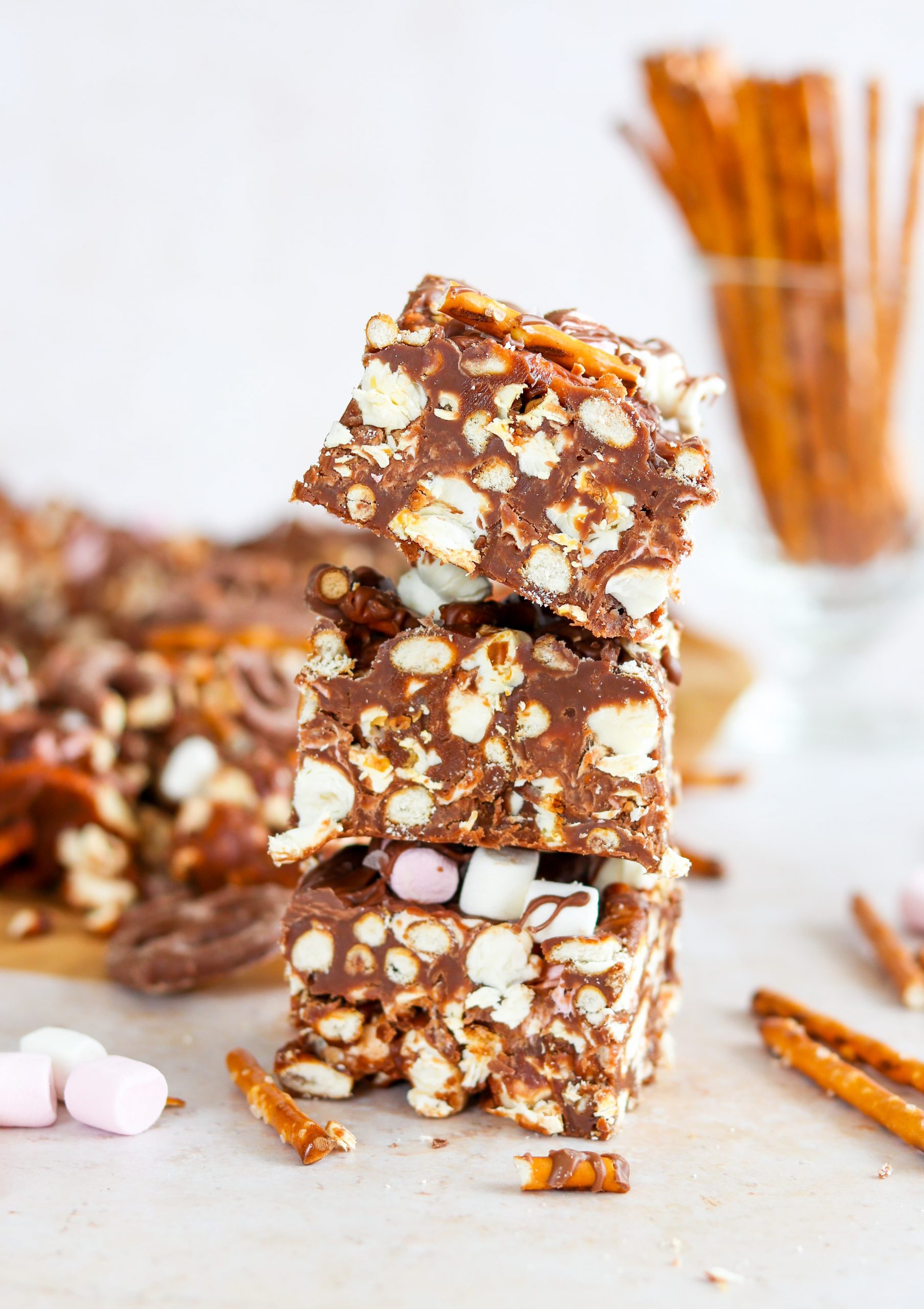 how many pieces does this recipe make?
I tend to cut my rocky road into 20 pieces. These are then usually two to three bites which is a nice size.
You can cut them into as many pieces as you like. If you cut it into smaller pieces it would be great for a party – the perfect bitesize treat.
Rocky road also makes a great gift, especially for Christmas. People love a homemade gift!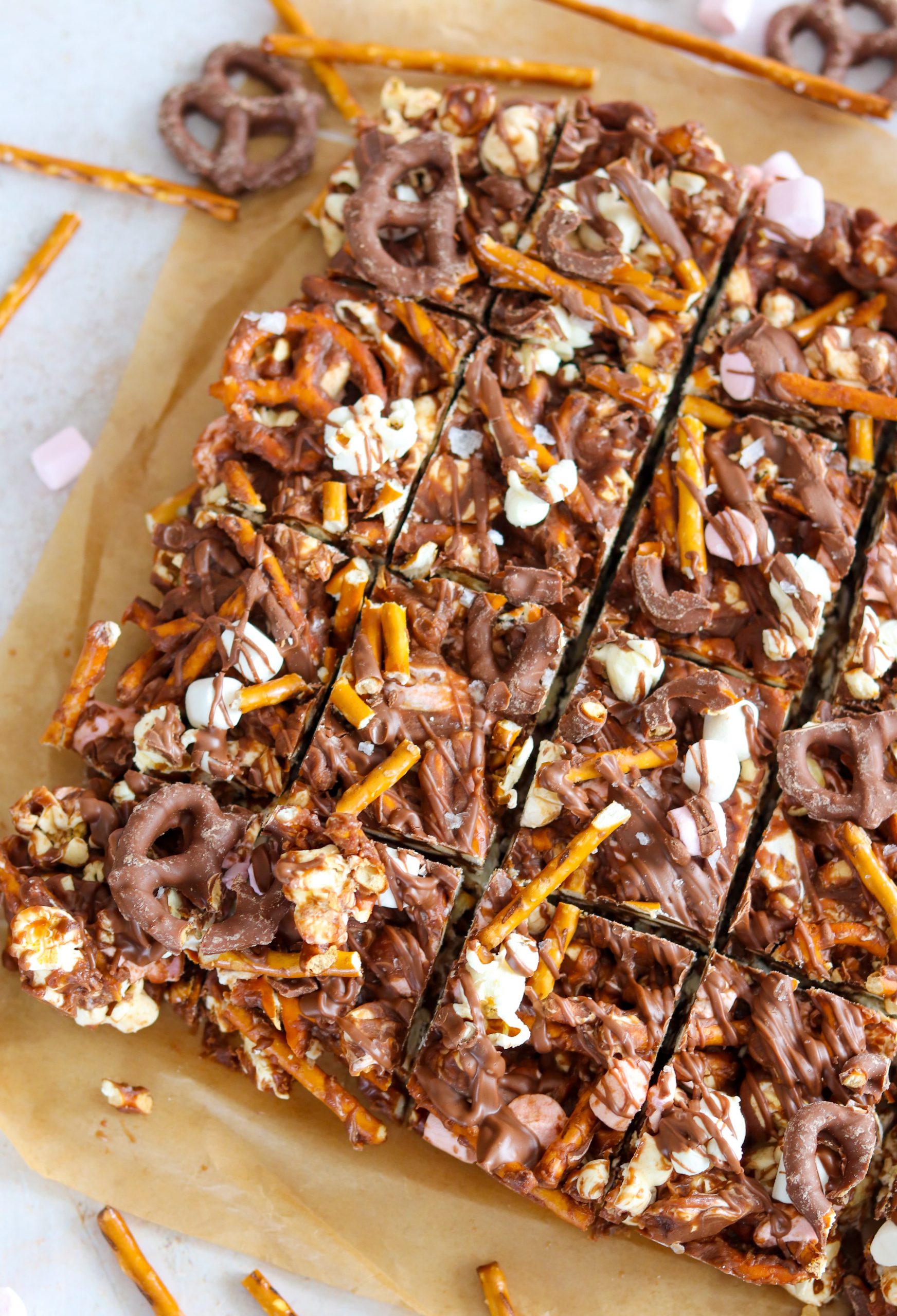 how long will this rocky road keep for?
This rocky road will easily keep in an airtight container in the fridge for 2-3 weeks.
You can also freeze it with baking paper in between the layers of rocky road to prevent sticking. It will keep in the freezer for up to one month.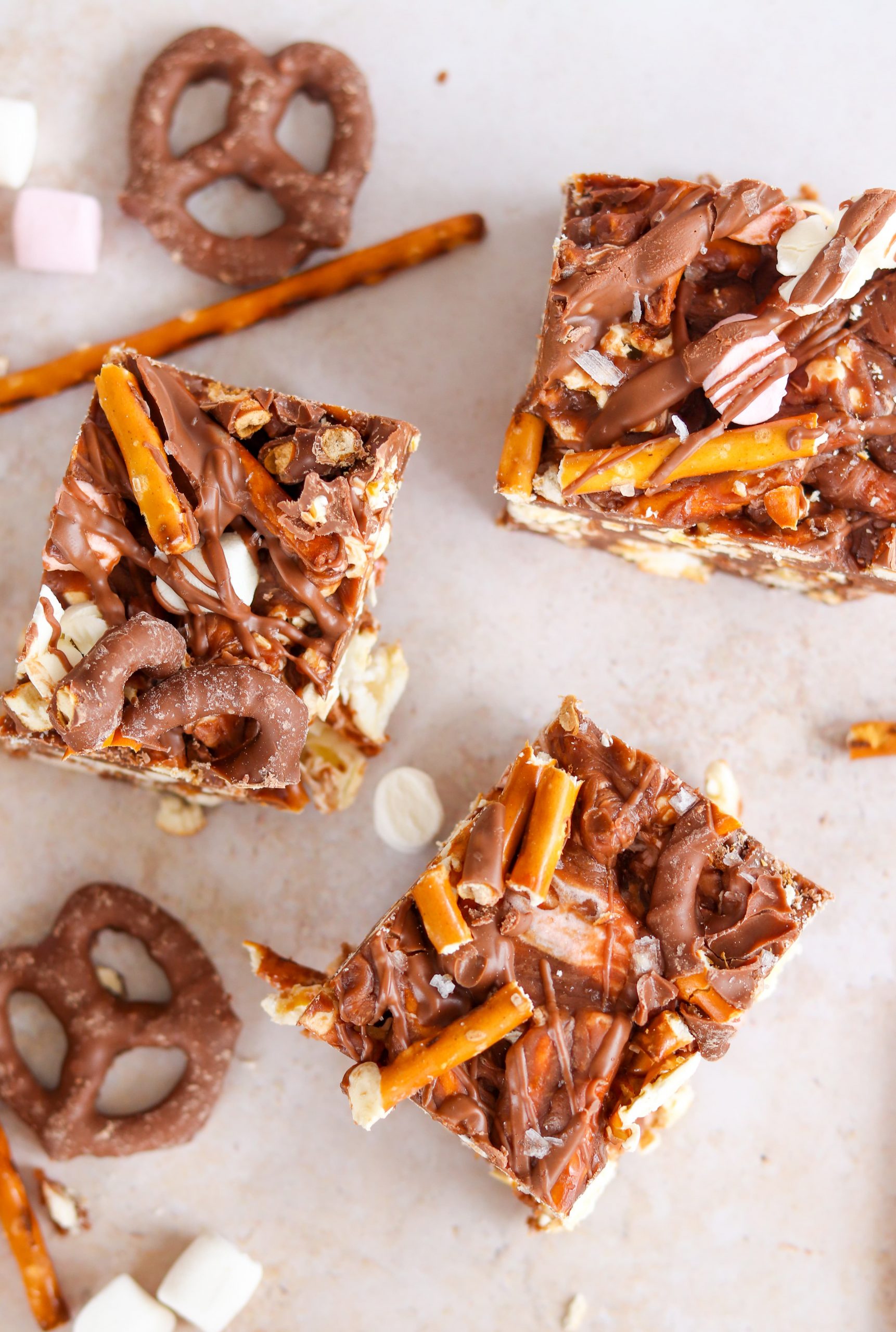 How to make this rocky road vegan and gluten free
This Salted Popcorn & Pretzel Rocky Road is suitable for vegetarians if you make sure you use vegetarian mini marshmallows.
To make it vegan, you will need to use a dairy free margarine. I would strongly recommend using a block style dairy free option rather than a spreadable margarine.
You will need to use a dairy free milk chocolate or dark chocolate as it is vegan friendly. You might struggle to find vegan friendly chocolate covered pretzels so an alternative ingredient might have to be used.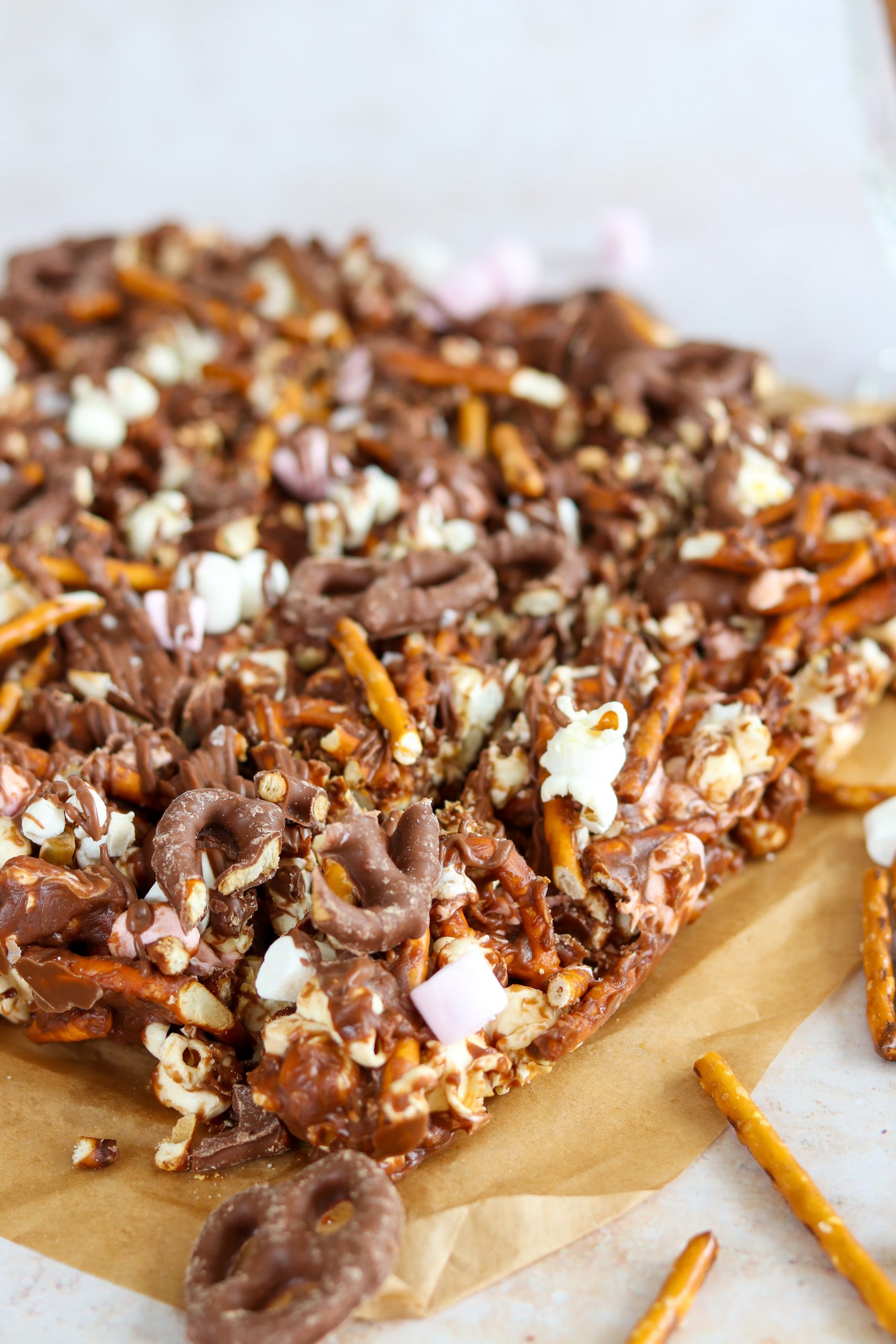 Most pretzels are vegan friendly, but it is always worth checking the package first. You will also need to make sure you use vegan friendly marshmallows.
To make this rocky road gluten free, make sure the chocolate you are using is gluten free. The only other ingredient you will need to swap are the pretzels. Gluten free pretzels should be relatively easy to find in large supermarkets.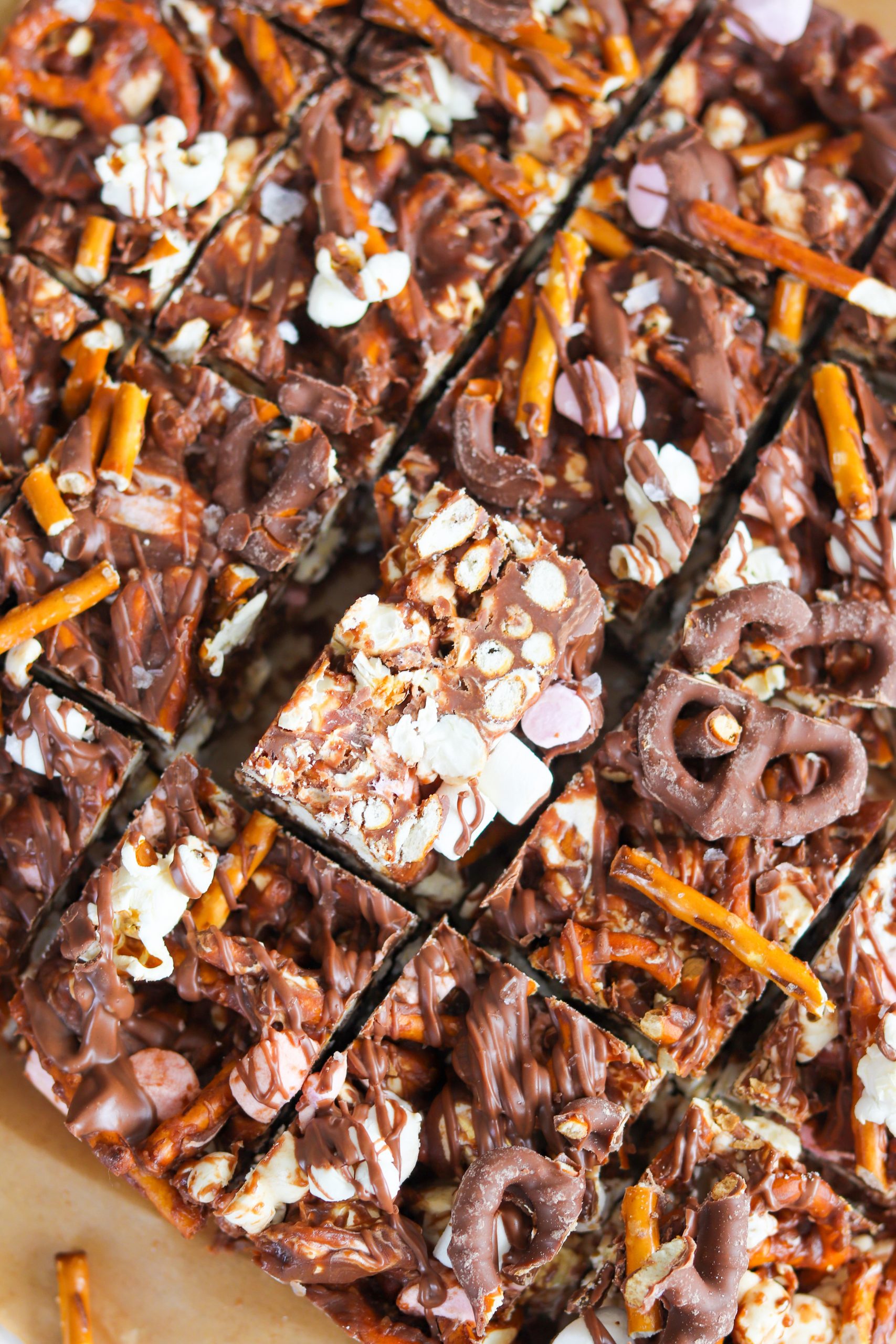 other recipes you might like
Pin for later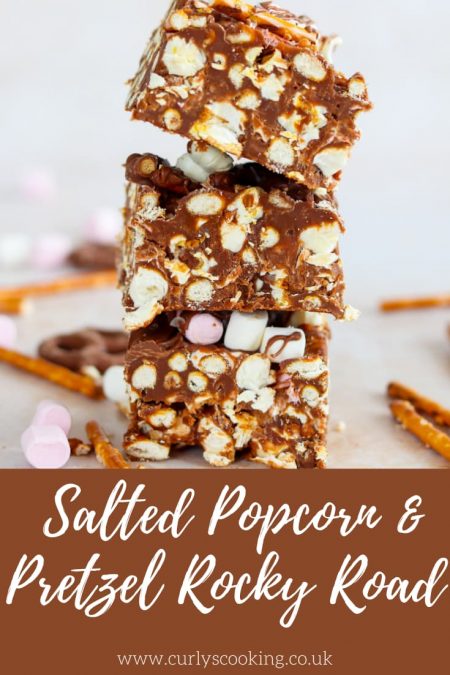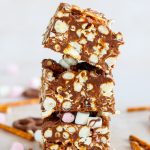 Salted Popcorn & Pretzel Rocky Road
A super easy no bake treat, this Salted Popcorn & Pretzel Rocky Road is the perfect treat if you are a fan of chocolate and salt like I am.
Total Time
4
hours
30
minutes
Ingredients
300

g

milk chocolate

100

g

unsalted butter

150

g

golden syrup

100

g

salted pretzels

40

g

salted popcorn

50

g

mini marshmallows

50

g

chocolate covered pretzels
To finish
50

g

milk chocolate

25

g

chocolate covered pretzels

salted popcorn

salted pretzels

pinch

sea salt
Instructions
Line a square 20x20cm tin with parchment paper and set aside

Add 300g milk chocolate, 100g unsalted butter and 150g golden syrup to a heatproof dish and melt in short bursts in the microwave, stirring between each burst

In a large bowl, add 100g salted pretzels, 40g salted popcorn, 50g mini marshmallows and 50g chocolate covered pretzels

Once the chocolate is fully melted give it a really good stir to fully combine and then add to the dry ingredients and stir through to make sure everything is coated in the chocolate

Tip into the lined tin and spread out evenly

Melt 50g milk chocolate. Drizzle it across the top of the rocky road

Scatter 25g chocolate covered pretzels, a sprinkling of salted popcorn and salted pretzels and a pinch of sea salt

Chill in the fridge for around 4 hours, or even overnight

Once fully chilled, cut into squares. Store in an airtight container in the fridge and it will keep for at least one week
Recipe Notes
Nutritional information is given as a guide only and may vary.
Nutrition Facts
Salted Popcorn & Pretzel Rocky Road
Amount Per Serving
Calories 212
Calories from Fat 90
% Daily Value*
Fat 10g15%
Cholesterol 11mg4%
Sodium 5mg0%
Potassium 52mg1%
Carbohydrates 19g6%
Protein 1g2%
Vitamin A 125IU3%
Calcium 5mg1%
Iron 1mg6%
* Percent Daily Values are based on a 2000 calorie diet.