Christmas isn't Christmas without Chocolate Orange. This Chocolate Orange Rocky Road is the perfect festive treat filled with as much chocolate orange as possible!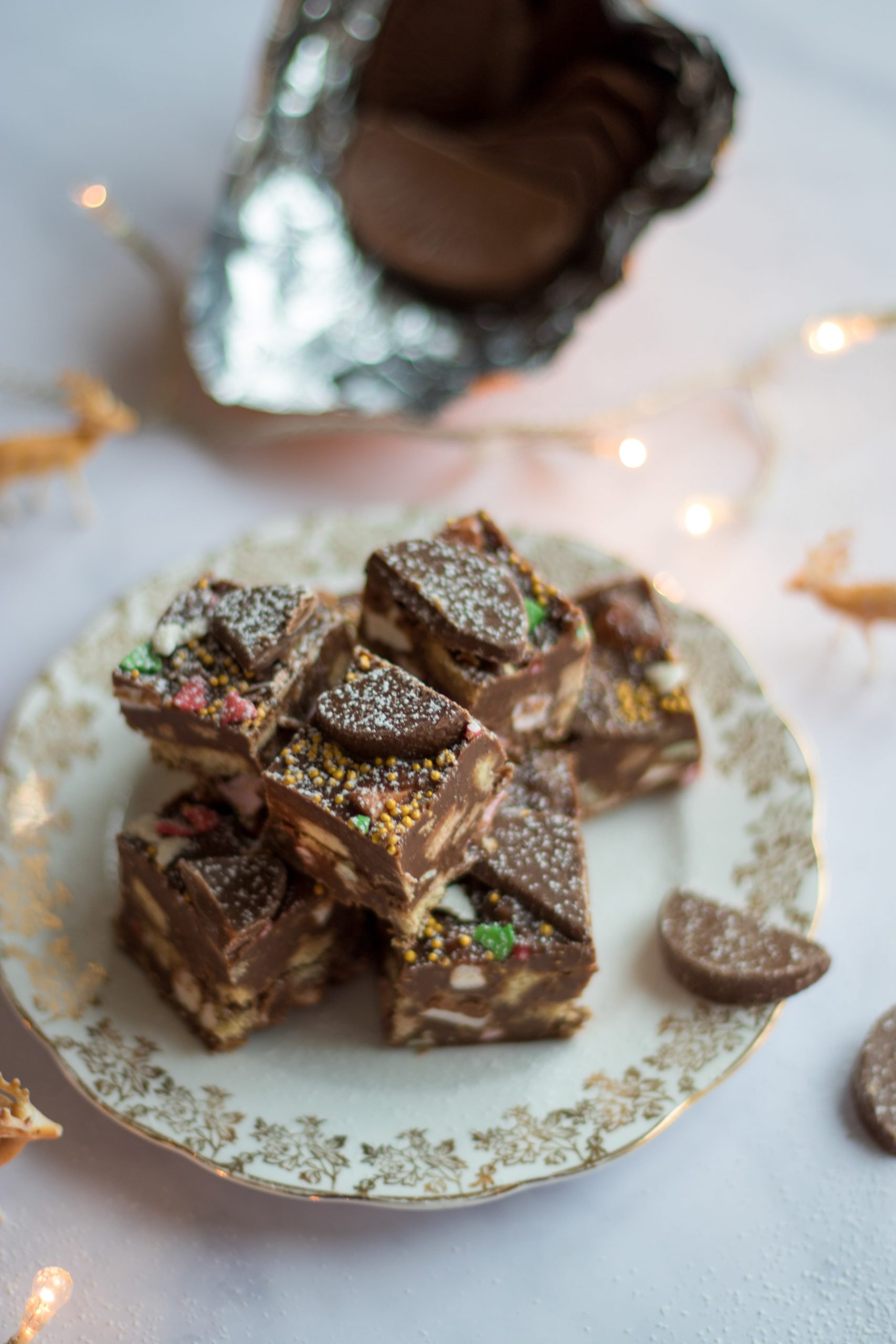 What is rocky road?
Rocky Road is a no bake treat which features chocolate and marshmallows. The addition of marshmallows is what is considered to make rocky road different from Tiffin.
I also always include digestive biscuits in my rocky road, but the rest of the ingredients differ depending on which flavour rocky road I am making.
You can be as creative as you like when it comes to making rocky road which is one of the things I like so much about it.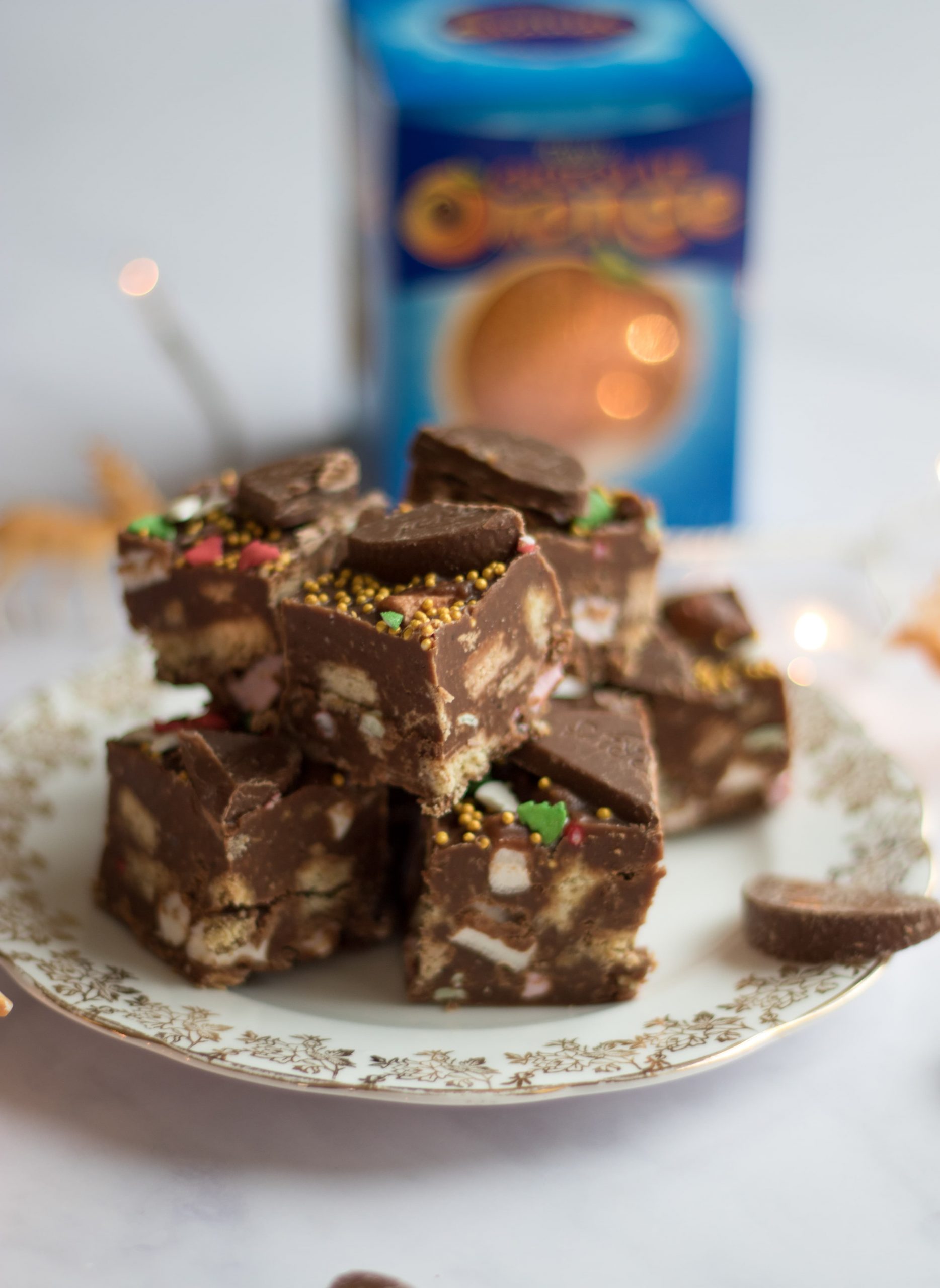 Chocolate Orange Rocky Road means it's Christmas!
Chocolate Orange is delicious anytime of year, but it is almost essential at Christmas. For as long as I can remember, we have always bought my Mum a Terry's Chocolate Orange at Christmas.
Chocolate orange is one of my favourite flavour combinations. I'm not generally a fan of fruit and chocolate but there is definitely something about chocolate orange that makes it irresistible.
Which chocolate orange treats are best to use?
There are lots of chocolate orange flavoured chocolates and biscuits available, even more so around Christmas.
If you can't find one of the ingredients below though, just substitute it with something you fancy or increase the quantities of another ingredient.
You can now buy chocolate orange fingers and bourbons. You could use this instead of the digestives or use half digestives and half chocolate orange biscuits. It really is up to you to use whichever treats you fancy.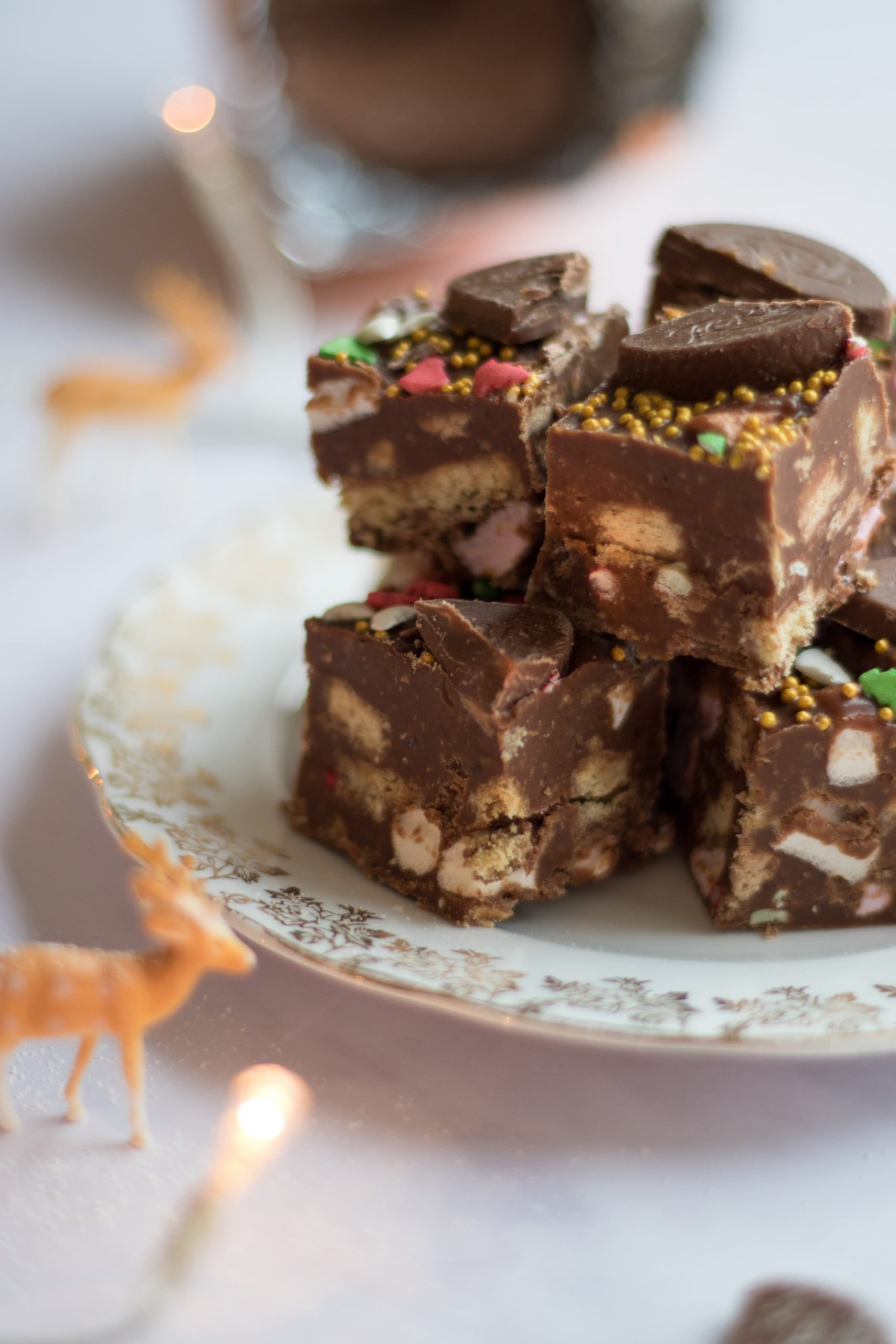 Simple, delicious and great to make ahead of time
Rocky Road is such a simple and delicious treat that anyone can make. This Chocolate Orange Rocky Road is a great recipe for children to help with.
They would only need supervision melting the chocolate as the biscuits can be crushed and broken by hand. It only takes a couple of minutes to assemble and then can be kept in the fridge in an airtight container for at least a week.
This is a great recipe to make when you have a spare minute over Christmas that can be stored ready to bring out when you have guests.
People tend to get a lot of chocolate at Christmas. If like my Mum you get a few chocolate oranges, this is a good way to use them up! That is if you don't just want to sit there and munch your way through them.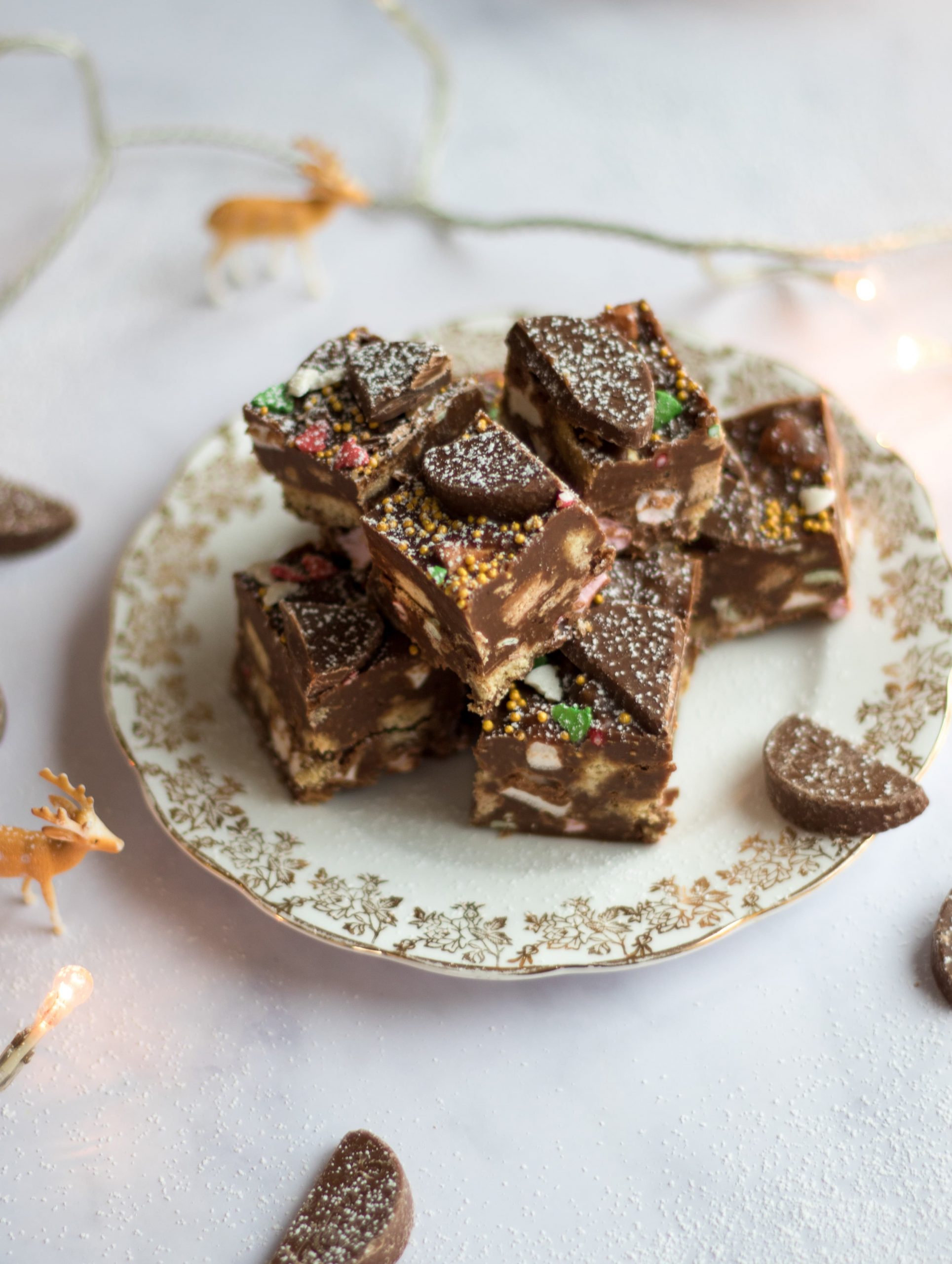 A tasty homemade gift
As well as making a tasty treat over the festive season, this Chocolate Orange Rocky Road makes a great gift for your loved ones. Homemade gifts are becoming increasingly popular and people seem to really love them.
It is a thoughtful present as it typically takes more time and effort which the gift receiver can appreciate. This makes a particularly good gift because it doesn't have to be eaten straight away.
It also means you don't have to rush to make it on the day you want to give it.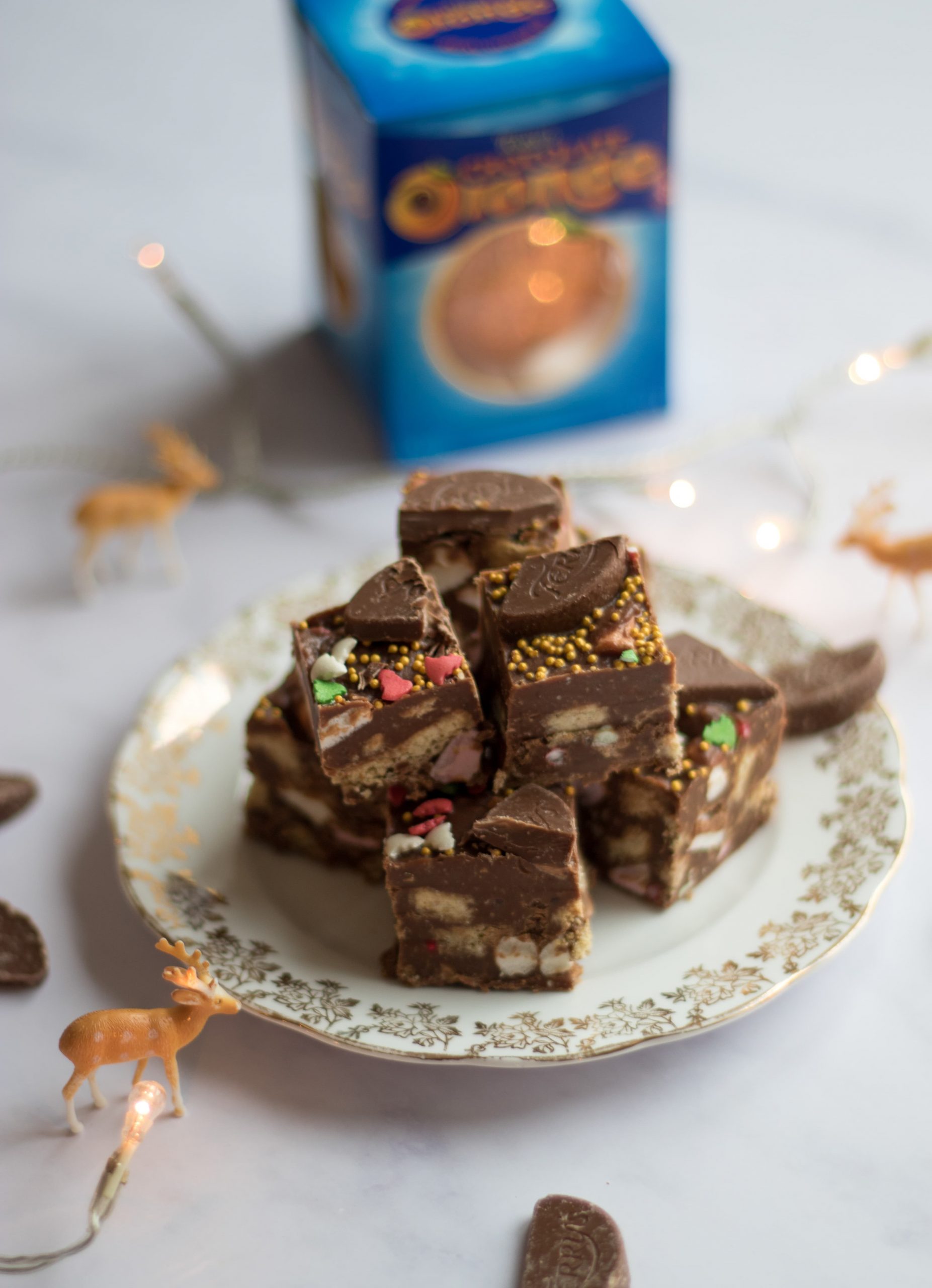 Can this Rocky Road be made gluten free and vegan?
Yes, absolutely.
To make it gluten free, swap the digestives to gluten free biscuits. You will also need to use gluten free chocolate orange. Terry's is the well known brand and this isn't gluten free, but there are gluten free alternatives.
Matchmakers are gluten free so these are suitable to use. I would leave out the KitKats because I am not sure if there is a gluten free alternative and use more digestives in their place.
To make it vegan, use dairy free margarine instead of butter. I would simplify the ingredients to dark chocolate orange which is vegan and vegan marshmallows.
McVities digestives and some supermarket own brands are naturally vegan. Just make sure you check the ingredients.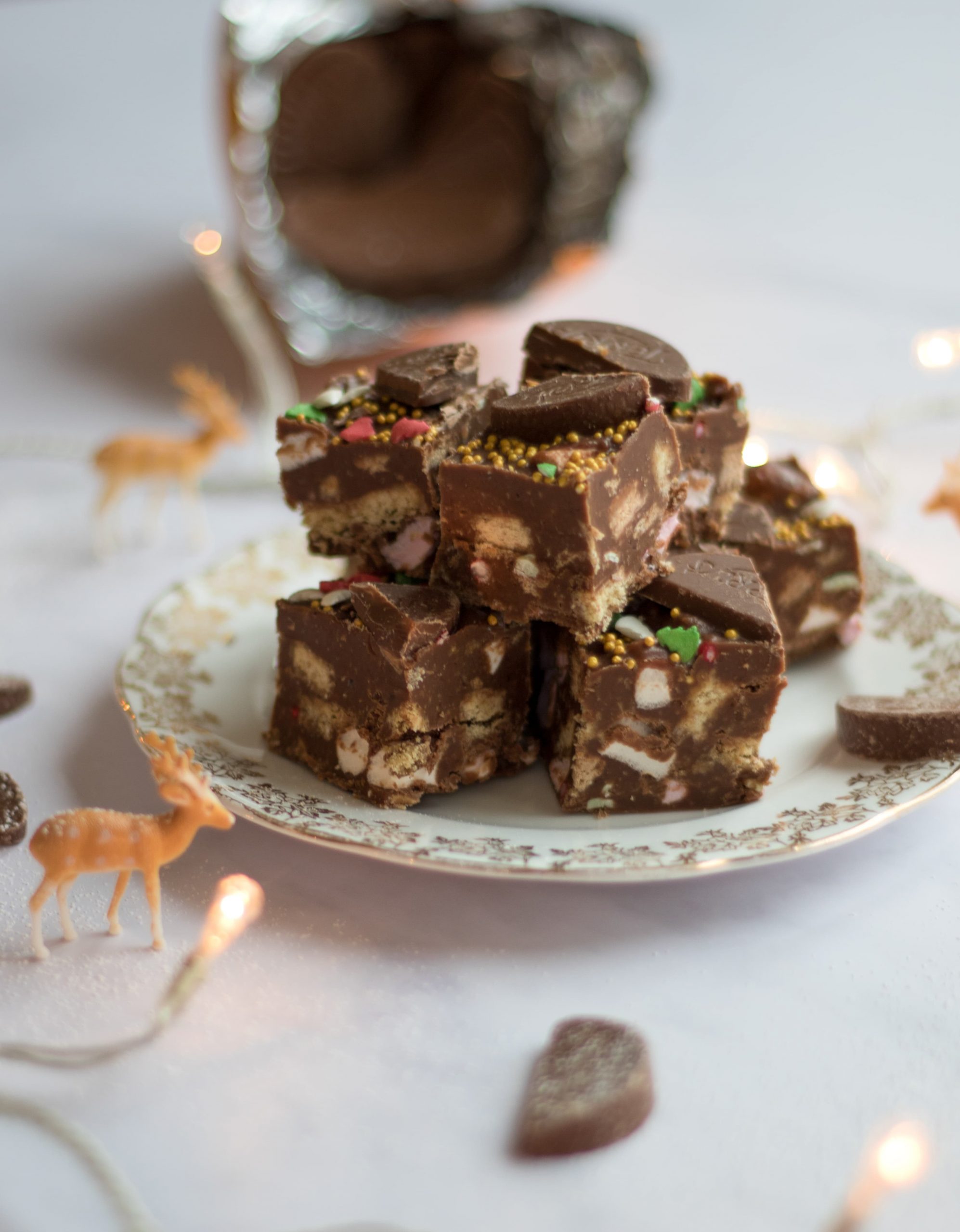 How long does this take to chill?
Once it has been made, I like to leave it in the fridge overnight so it really sets well. This makes it a lot easier to to cut into squares.
If you are in a bit more of a rush, you can cut it after it has been in the fridge for two hours.
How long does this rocky road keep?
It will keep in an airtight container in the fridge for at least a week.
You should keep the rocky road in the fridge and advise people to do this if you give it as gifts. If it is left at room temperature it could start to melt.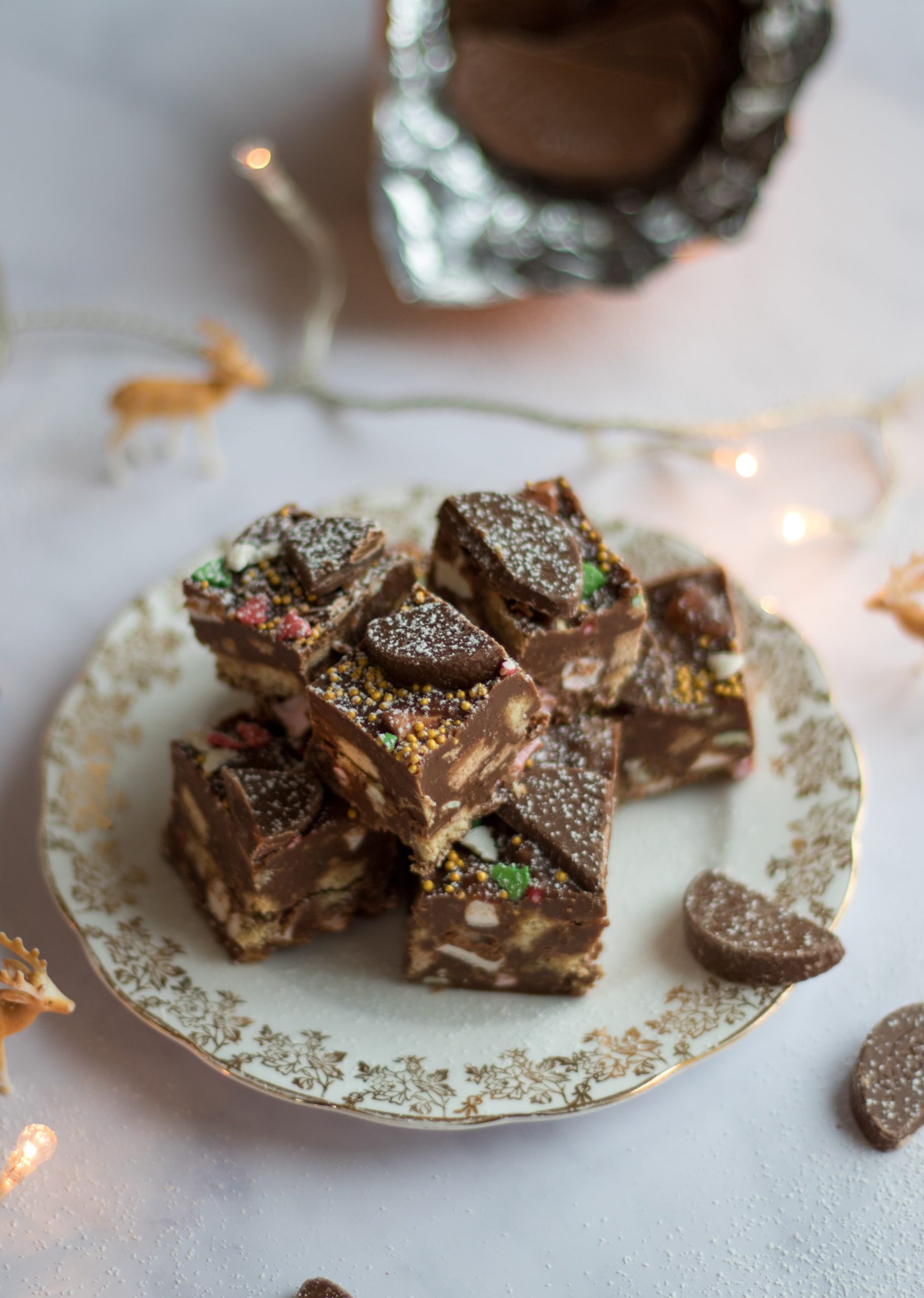 How many pieces does this rocky road make?
That is completely down to how big you cut the pieces!
I like to cut it into quite small pieces as it is quite rich. I would cut this into at least 20 little squares.
You could cut it into bigger pieces if you prefer obviously.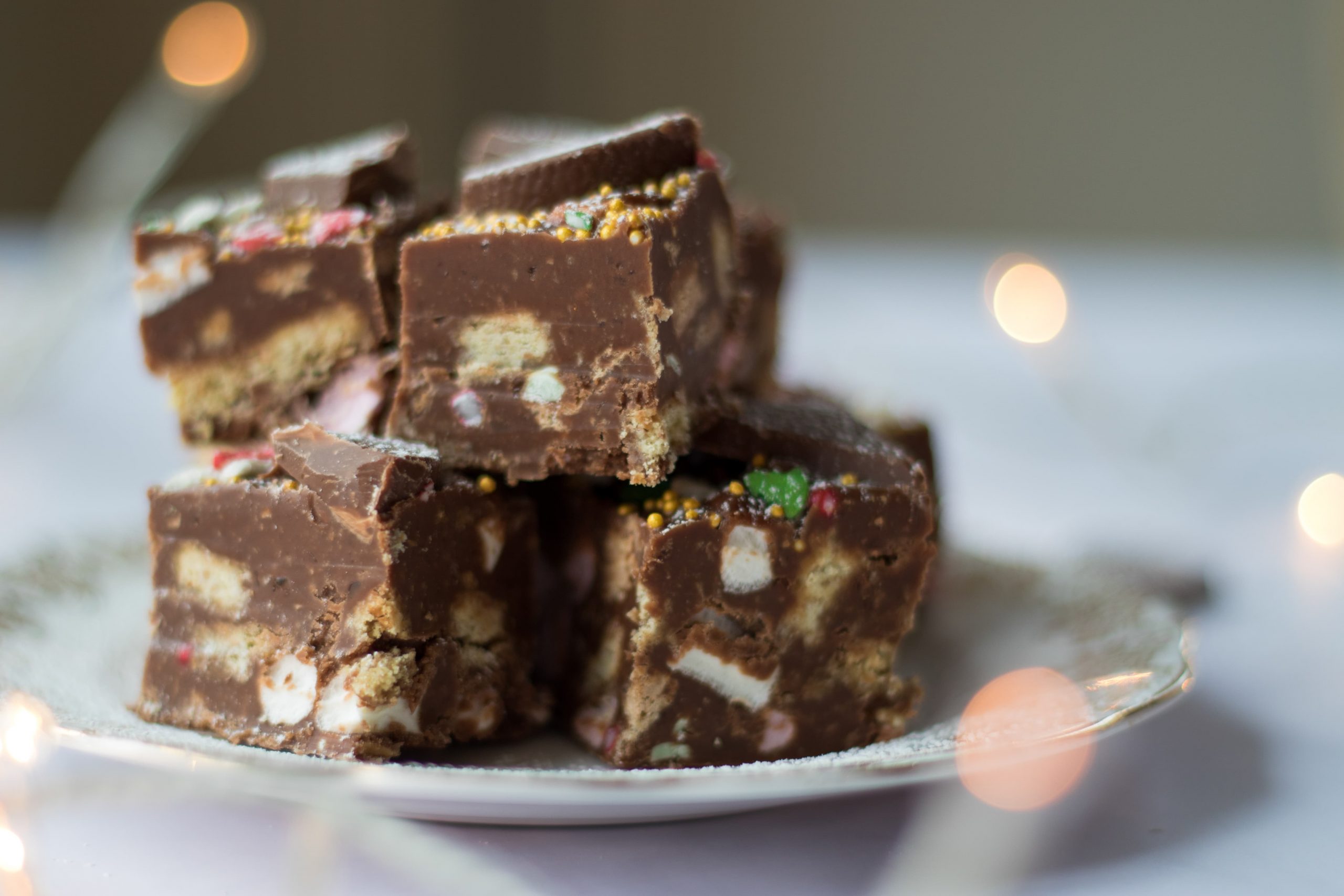 Other recipes you might like
Pin for later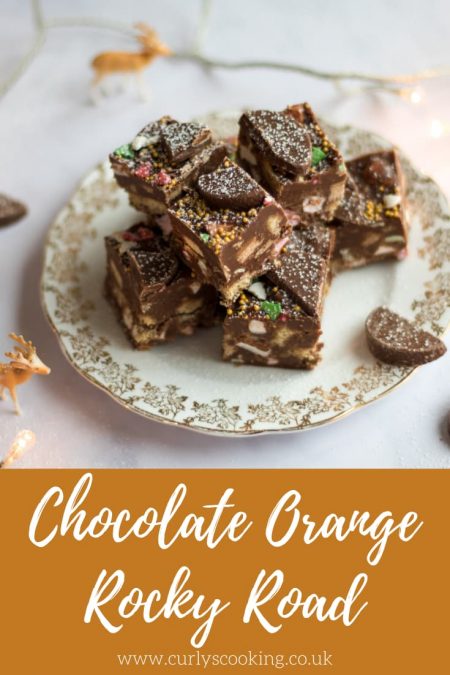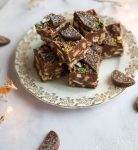 Chocolate Orange Rocky Road
Christmas isn't Christmas without Chocolate Orange. This Chocolate Orange Rocky Road is the perfect festive treat filled with as much chocolate orange as possible!

Total Time
3
hours
30
minutes
Ingredients
200

g

chocolate orange

100

g

milk chocolate

100

g

butter

unsalted

150

g

golden syrup

125

g

chocolate orange KitKats

100

g

orange Matchmakers

100

g

digestive biscuits

50

g

marshmallows

Mini chocolate orange segments and sprinkles to decorate

optional
Instructions
Line a 20x20cm tin with parchment paper and set aside

Add the chocolate orange to a heatproof bowl along with the milk chocolate broken into chunks, the butter and golden syrup

Melt in the microwave in short bursts, stirring after each burst

Cut up the KitKats and Matchmakers into small chunks and break the biscuits up. Add them to a bowl

Add the marshmallows to the cut up chocolate and then pour over the melted chocolate

Mix until everything is covered in the melted chocolate

Tip it all into the prepared tin and level out. Add a few mini orange segments and sprinkles

Put in the fridge to set for at least a couple of hours, or overnight
Recipe Notes
Nutritional information is given as a guide only.
Nutrition Facts
Chocolate Orange Rocky Road
Amount Per Serving
Calories 209
Calories from Fat 54
% Daily Value*
Fat 6g9%
Cholesterol 11mg4%
Sodium 62mg3%
Potassium 21mg1%
Carbohydrates 15g5%
Protein 1g2%
Vitamin A 125IU3%
Calcium 4mg0%
Iron 1mg6%
* Percent Daily Values are based on a 2000 calorie diet.