This Simple Air Fryer Whole Roast Chicken is a quick, easy and tasty way to cook a whole chicken. Deliciously moist meat with perfectly crisp skin – perfection!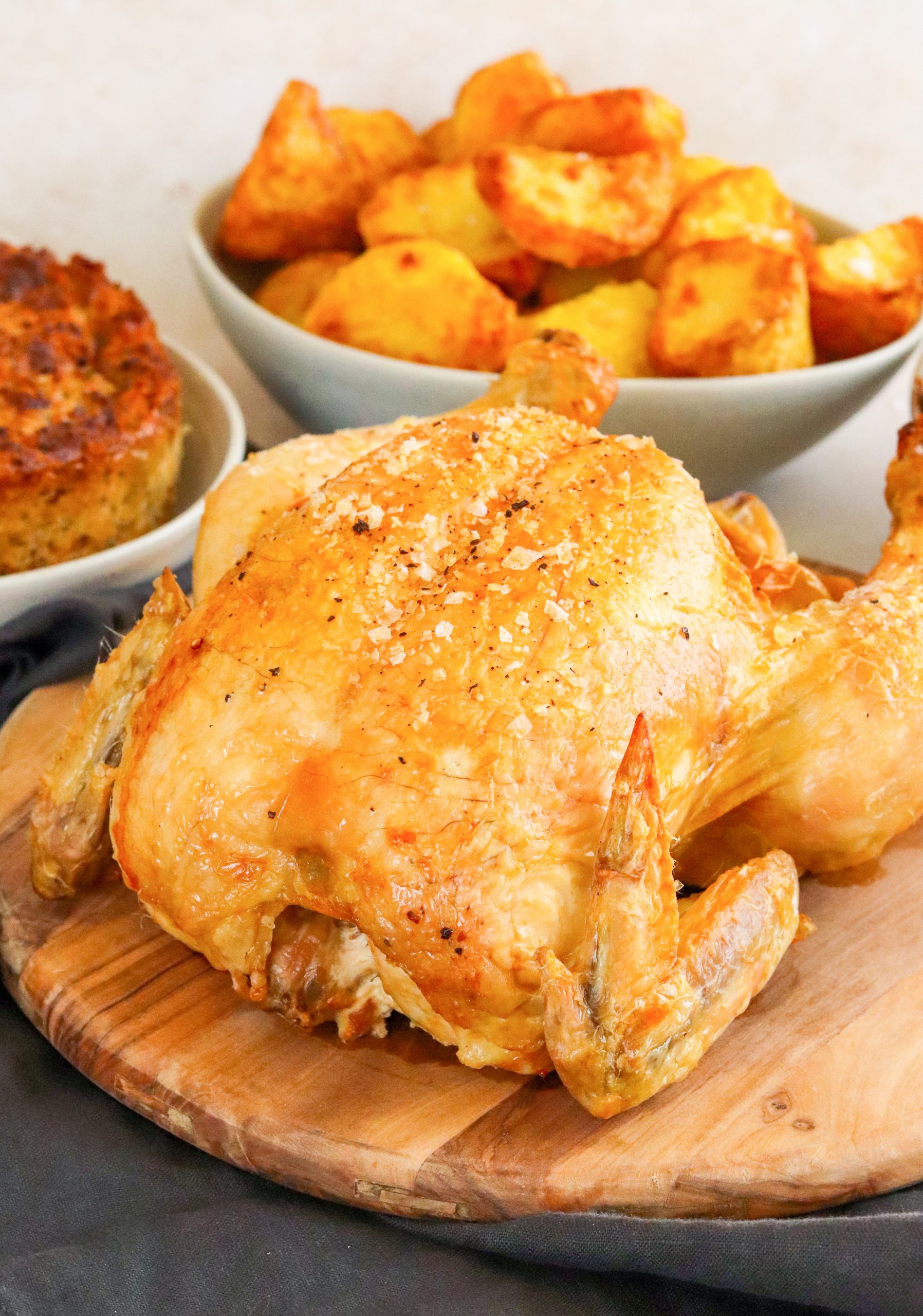 Why air fry a whole chicken?
Air fryers cook food quicker than a standard convection oven which is great for saving energy and pennies but also for busy families that want to be able to make food quickly.
Another advantage is that air fryers are smaller than ovens so you're not heating up a full-sized oven but instead a smaller air fryer. This means you're using less energy because you're heating up a smaller appliance as well as the food cooking quicker.
Air frying a whole chicken is quicker than roasting it in the oven. It produces a delicious, rotisserie style chicken with super juicy meat and deliciously crisp skin.
Cooking a whole chicken in your air fryer is quicker and more cost effective than in the oven meaning you can have a tasty midweek chicken for dinner.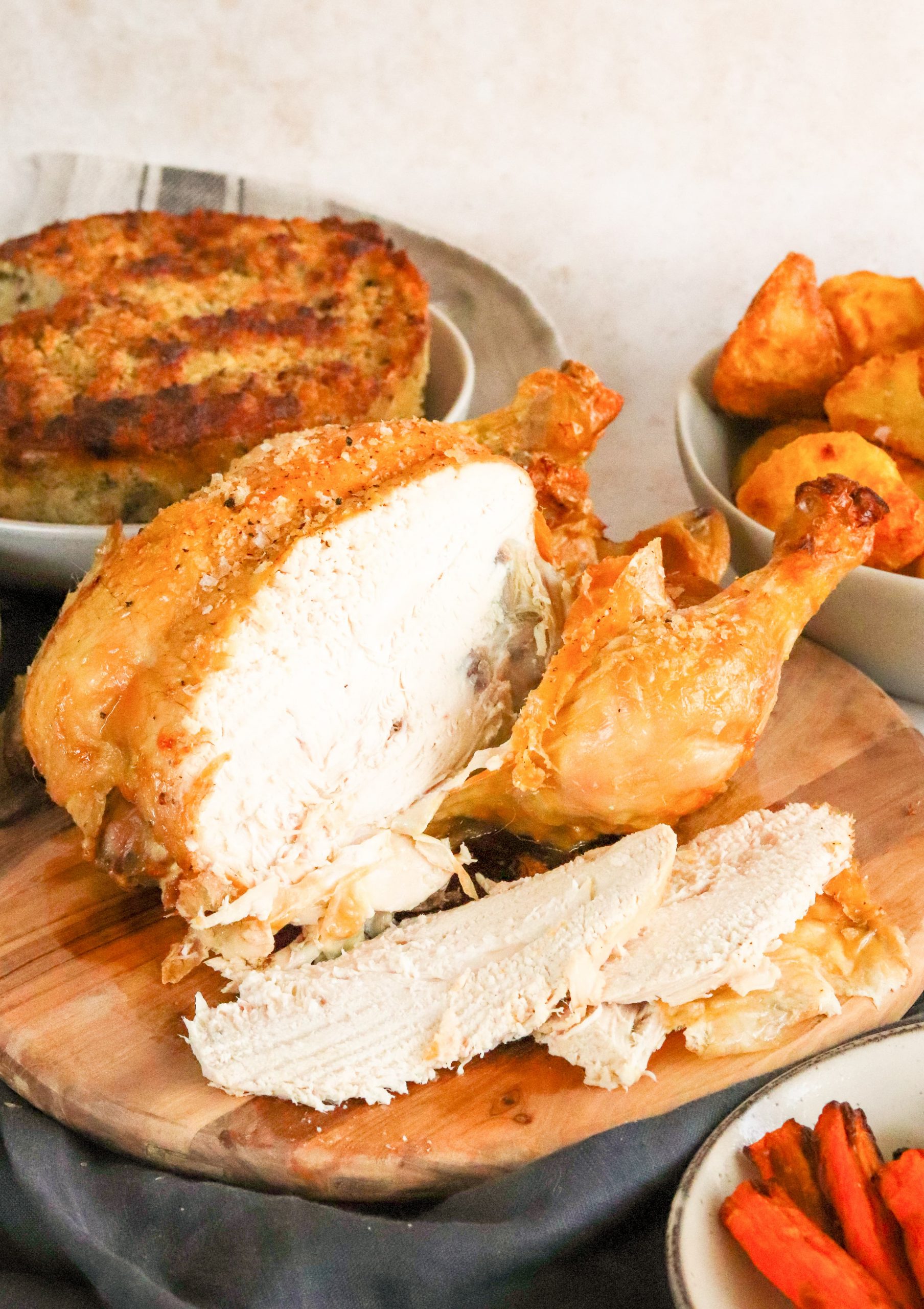 what size chicken to use for this simple air fryer roast chicken
The deciding factor for the size of chicken you can cook is the size of your air fryer.
I have a Ninja 7-in1 multicooker which has a 3.7L air fryer basket. The largest chicken I can comfortably fit in my air fryer is a 1.6kg chicken. This is usually sold as a medium chicken in most supermarkets.
When choosing a chicken you don't want to have to cram it in so there isn't enough space for the air to circulate. But if you have a larger basket in your air fryer, you can definitely cook a larger chicken.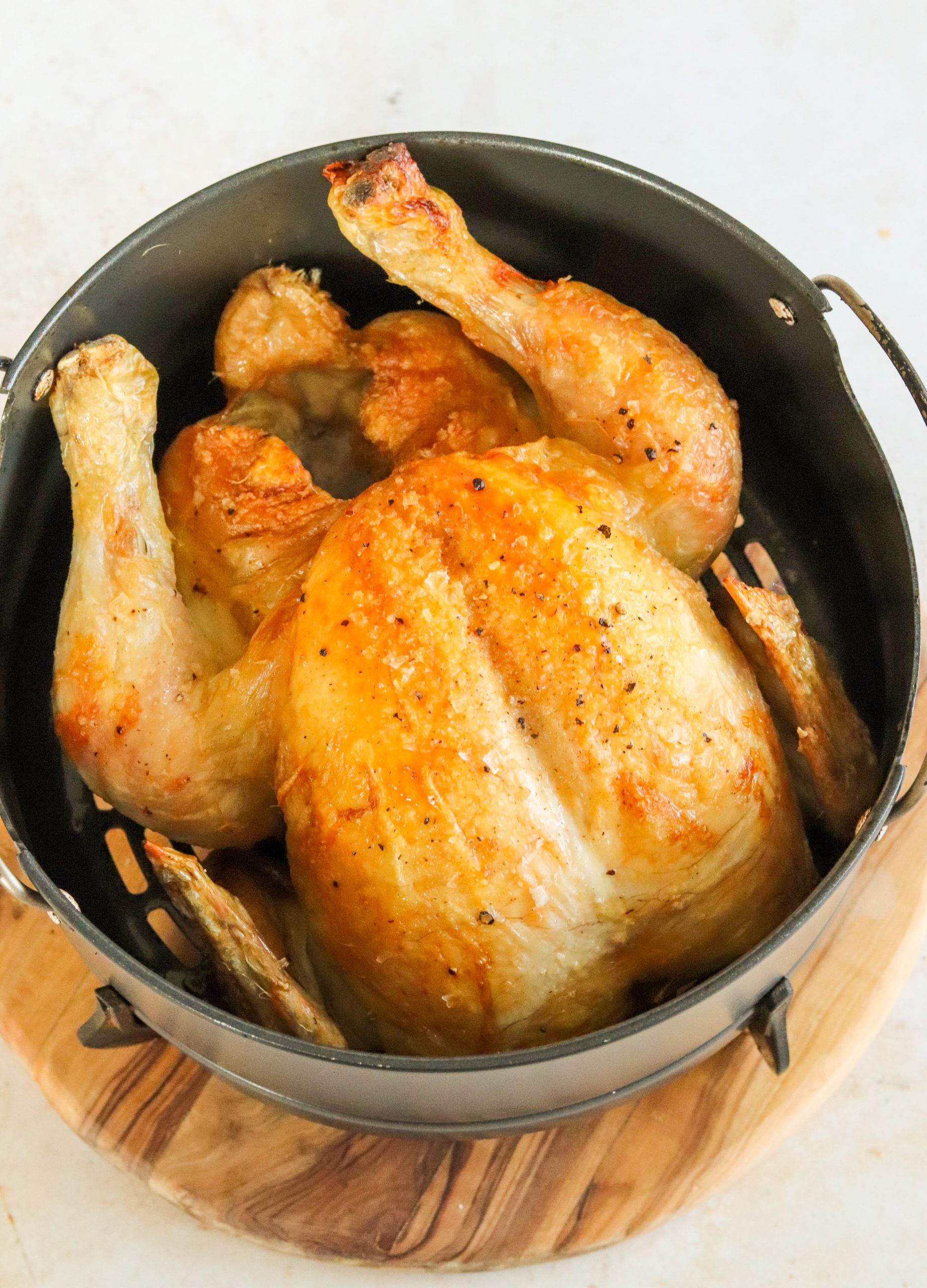 keeping the flavours simple
I have intentionally kept the flavours super simple for this Air Fryer Whole Roast Chicken. I use oil, salt and pepper and that is it.
I always tend to keep my roast chicken flavours really simple so the flavour of the chicken stands out; but also because it is then incredibly versatile with how you can use it.
If you would like to add different flavours and seasonings you absolutely can do, the options are endless.
Here are some suggestions that would work really well:
Fresh or dried rosemary and thyme
Smoked paprika
Garlic
Lemon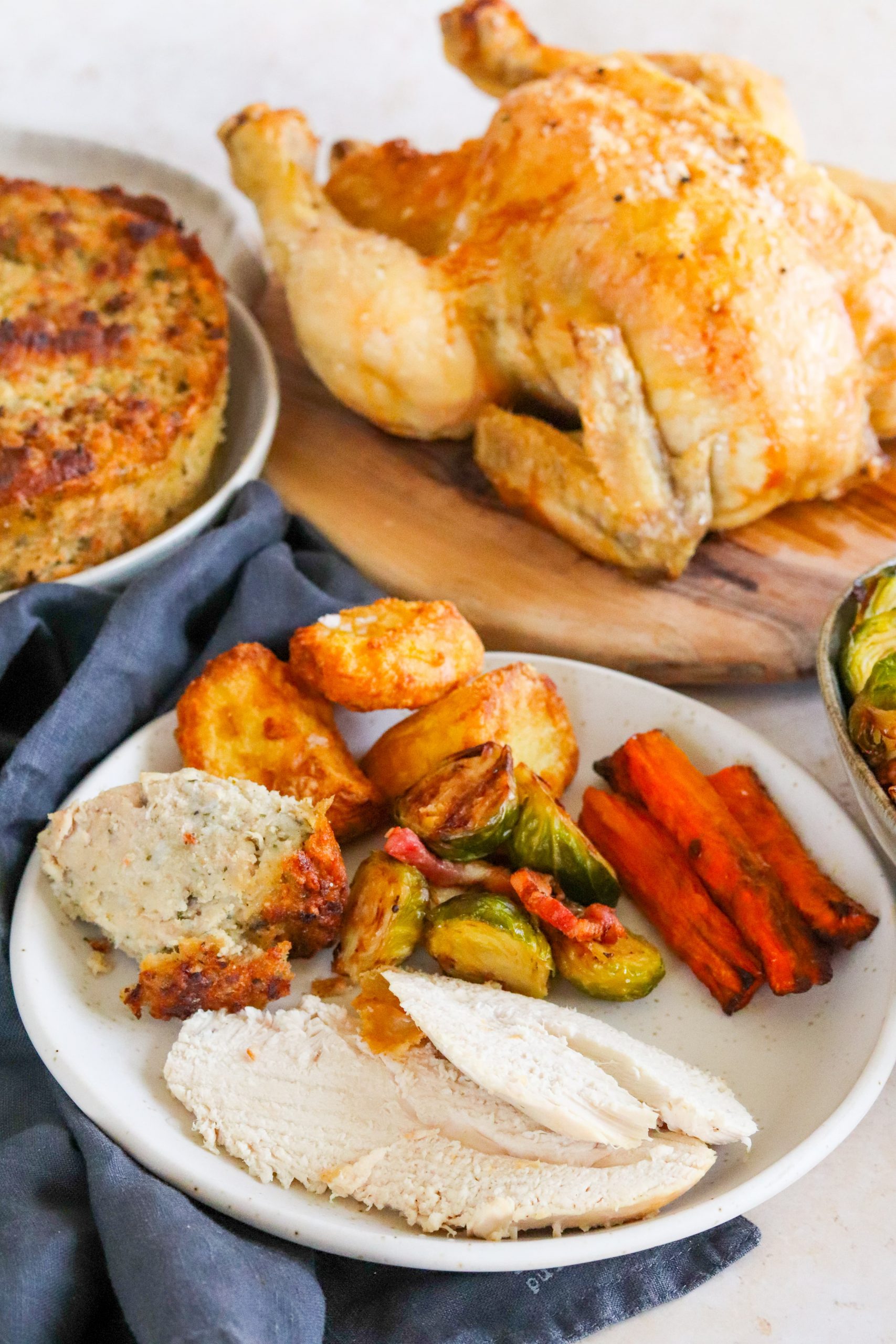 how long to cook the chicken for
I like to start cooking the chicken at a lower temperature to make sure the meat cooks through without the skin becoming too dark.
Then once the chicken is nearly cooked through, increase the temperature to crisp up the skin.
The recipe below is for a 1.6kg chicken. Obviously if the chicken you use is a different weight you will need to adjust the cooking time. The rule to remember is to allow 12-15 minutes per 450g.
I would always recommend testing your chicken is cooked with a meat thermometer. You want the internal temperature to be 75°C.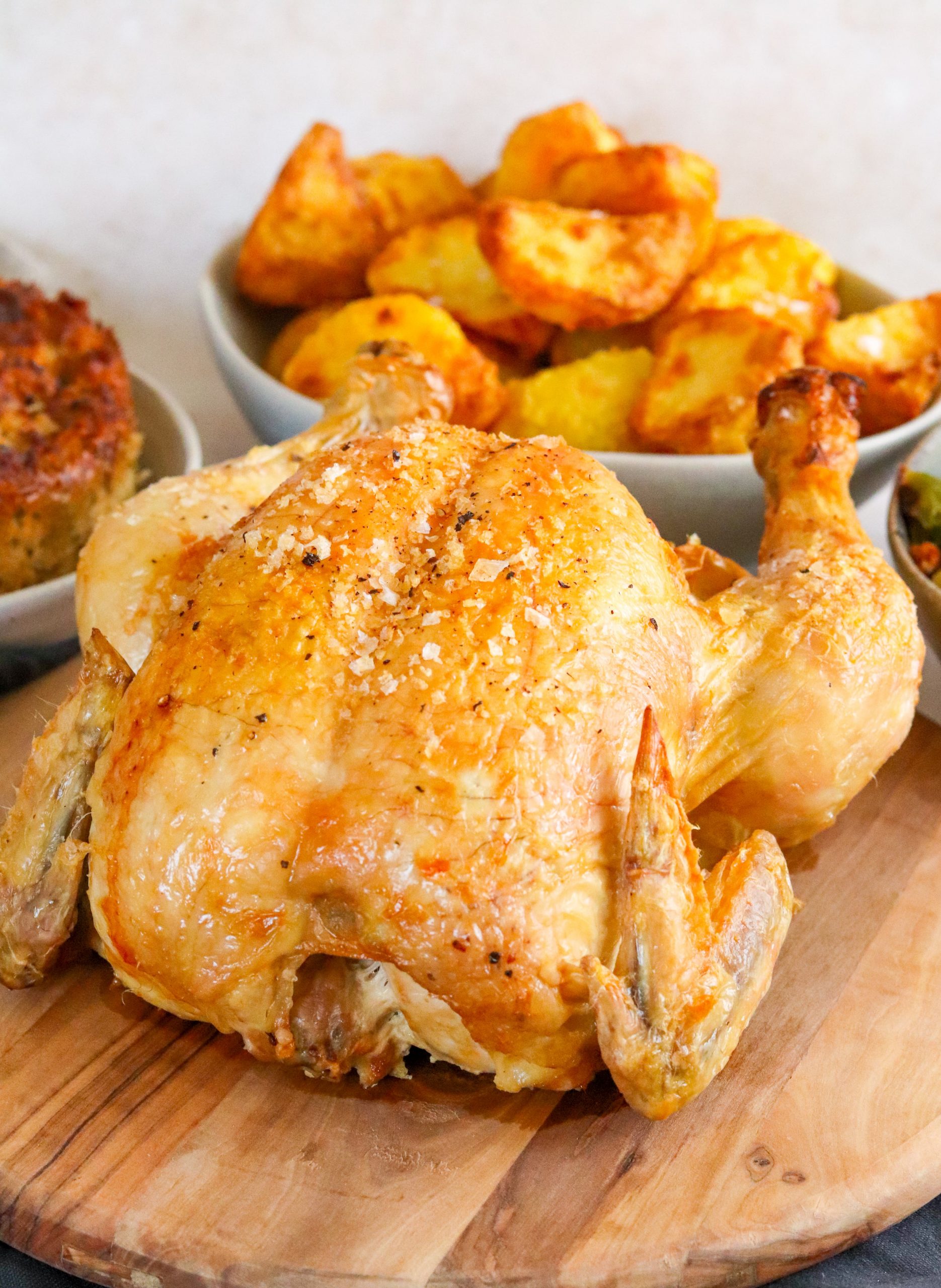 Do you need to turn the chicken over?
A lot of air fryer roast chicken recipes call for the chicken to be placed breast side down for a portion of the cooking time.
You then flip the chicken over and cook it the right way up for the remainder of the cook. This is meant to help keep the meat moist during cooking.
I haven't seen this as a necessary step because the method I use below produces really juicy meat. Also by not cooking the chicken breast side down you don't get any marks from the air fryer basket on the skin of the chicken.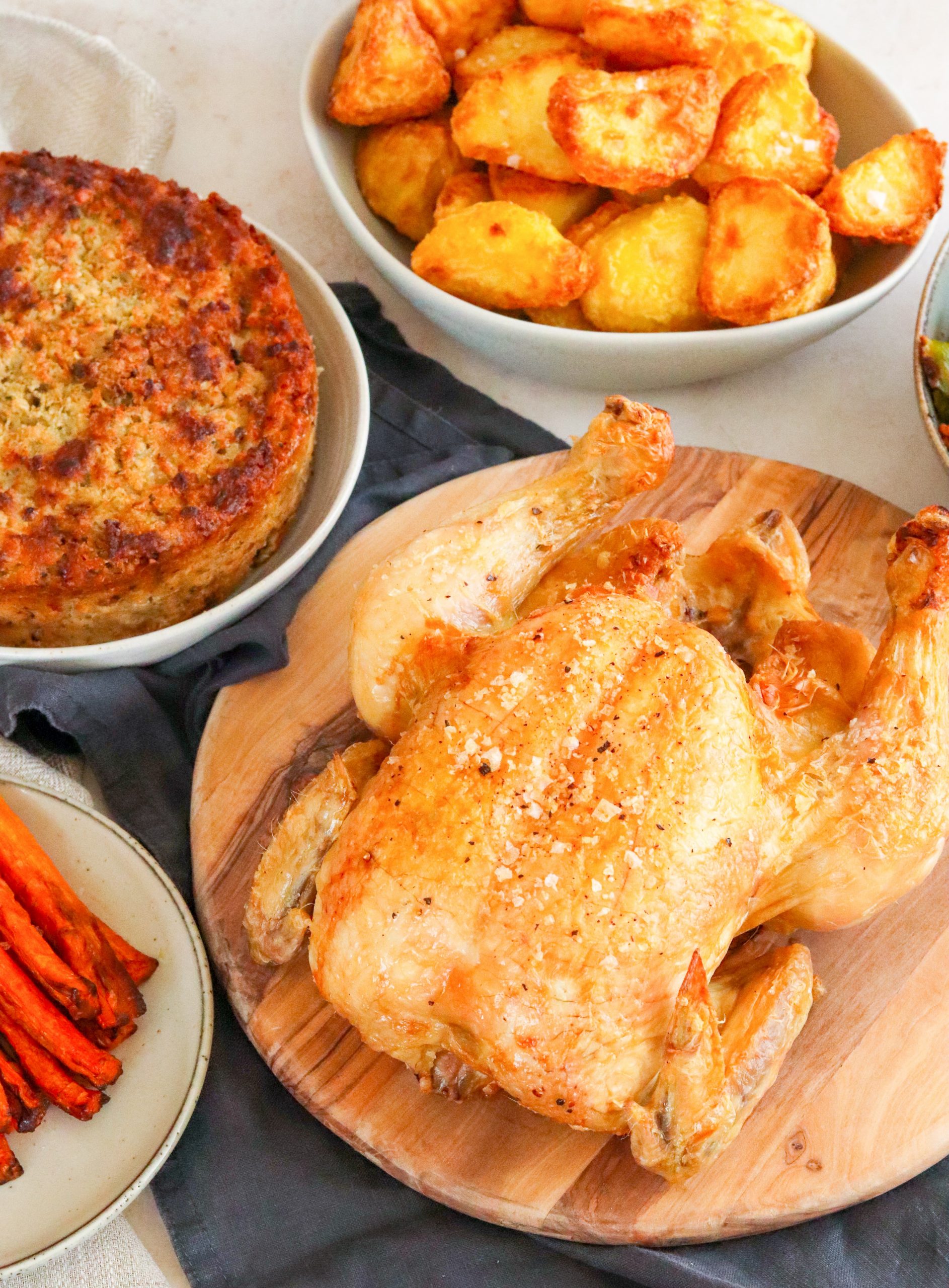 what to serve this air fryer whole roast chicken with
The most obvious way of serving a roast chicken is as part of a roast dinner. This air fryer roast chicken would go perfectly with all of the following:
But this roast chicken has so many other delicious ways to enjoy it. You could serve it with Air Fryer Parmentier Potatoes, Coleslaw and Potato Salad. Because it is flavoured simply it would also work well with my Crunchy Asian Slaw.
There really are so many ways to enjoy this air fryer chicken, especially because it is so easy to make and doesn't take as long as in the oven.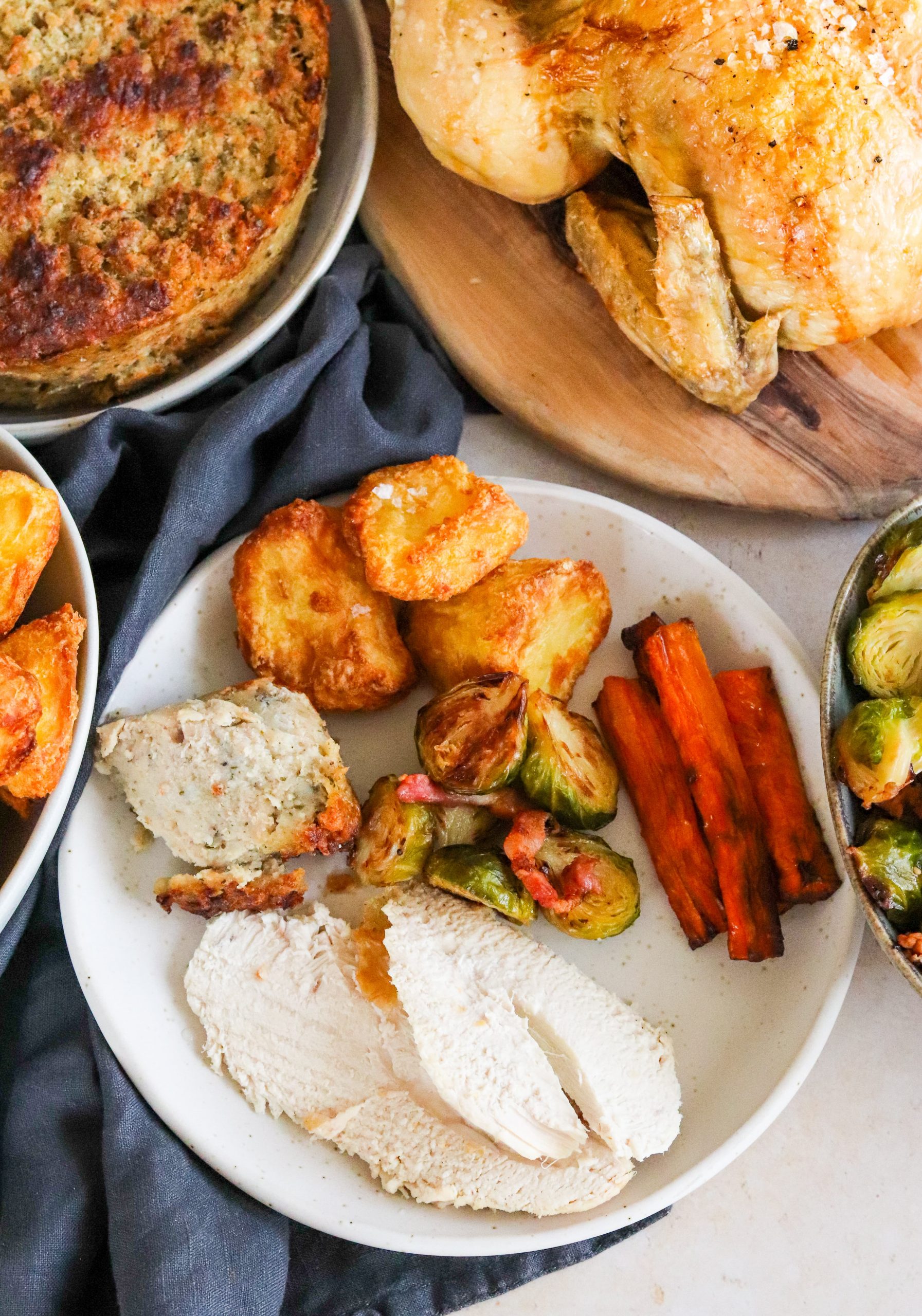 what to do with leftover chicken
One of my favourite reasons to cook a roast chicken is to then have leftovers so I can make other tasty meals.
My number one use for leftover chicken is to make Chicken Chow Mein. I always keep a little stash of cooked chicken in the freezer so I can make it whenever I like.
You can also use leftover chicken to make my Chicken & Ham Hock Filo Pie, Skinny Chicken & Prosciutto Pasta Bake or Chicken Fajita Burrito Bowl.
It is also really delicious served simply with some Air Fryer Chips or in some Bread Rolls.
If you don't want to eat all of the chicken within two days of cooking it, I would recommend freezing it.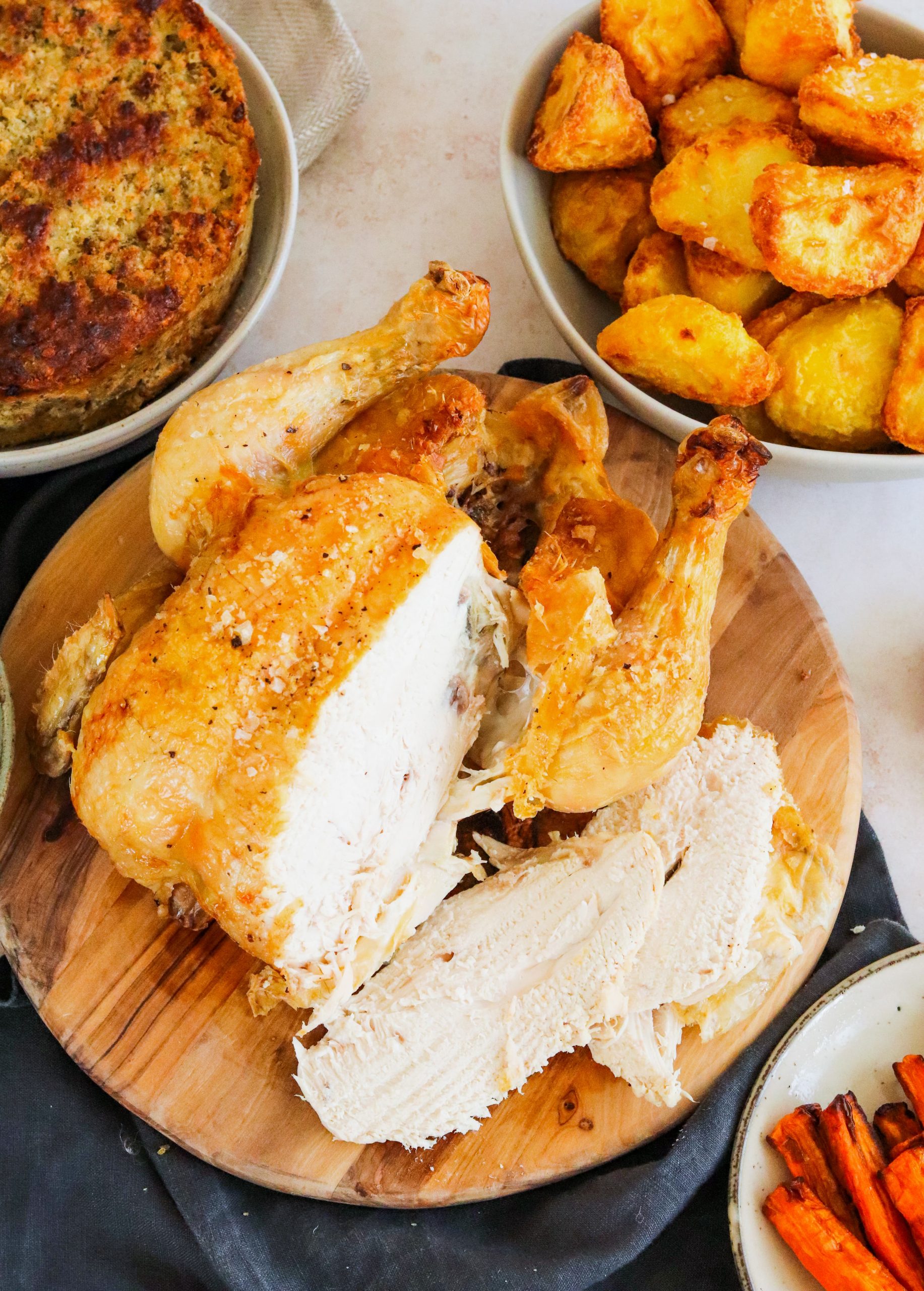 How to freeze leftover roast chicken
Freezing any leftover chicken is a great way to store it to use at a later date.
Once the chicken has cooled, I recommend shredding it before putting it in a zip lock bag or airtight container. I prefer to shred the chicken rather than slice it as I think it defrosts better.
Shredded chicken is also how I tend to use leftover roast chicken in my recipes so it is more convenient.
You can then keep the chicken in the freezer for up to three months. When you want to use it, I recommend defrosting it in the fridge.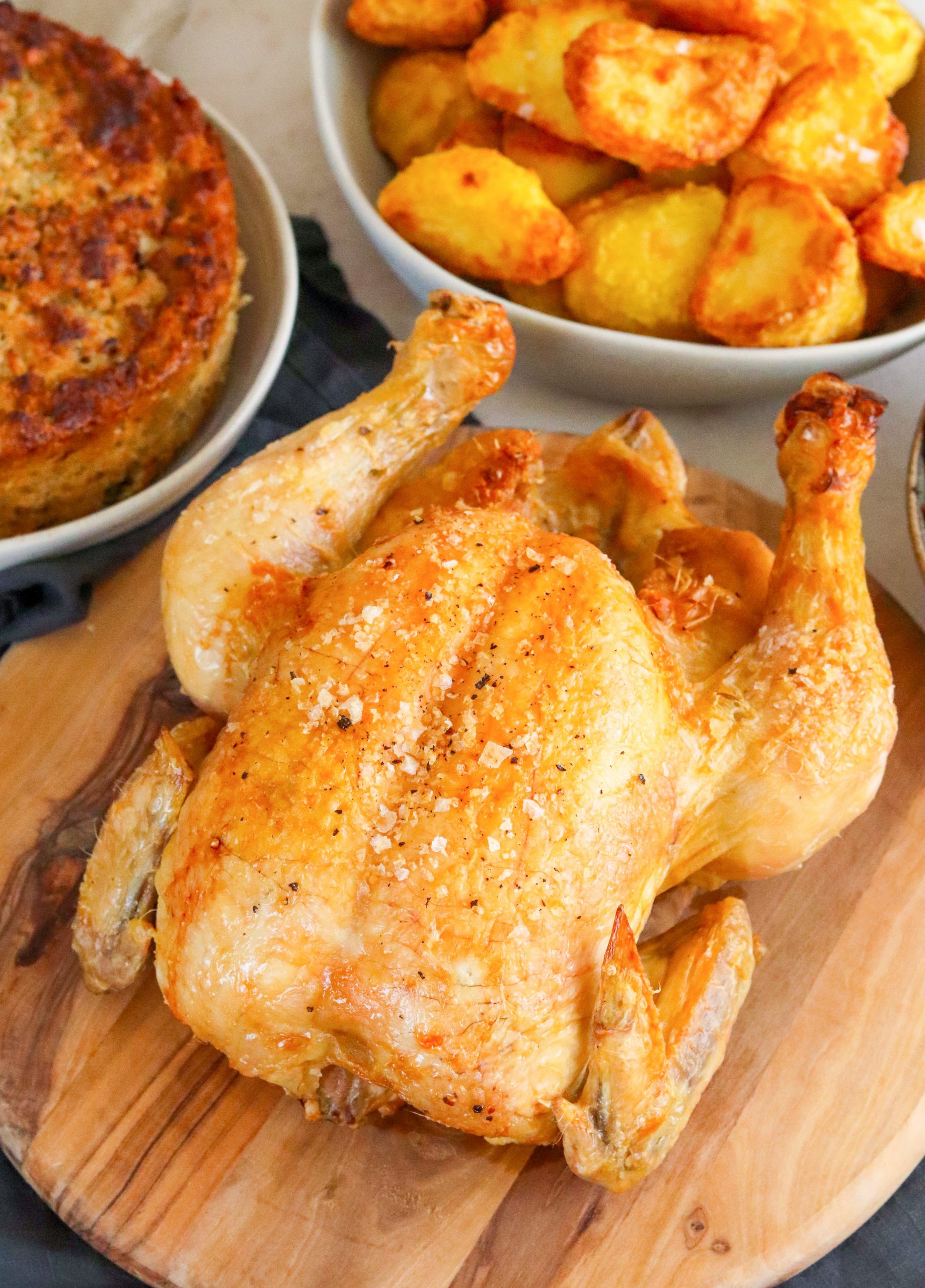 Other recipes you might like
Pin for later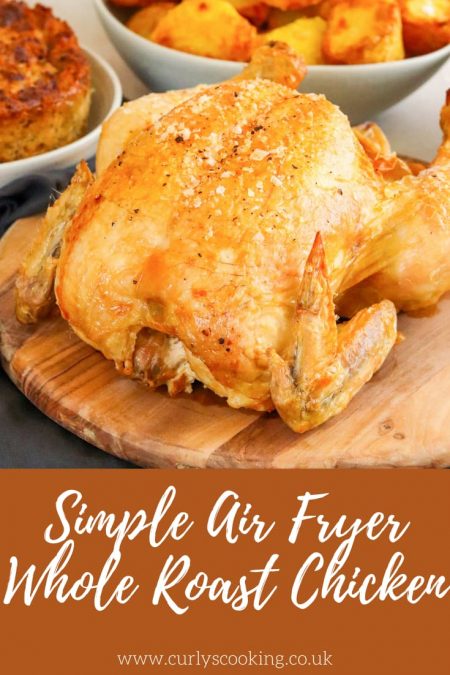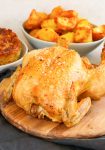 Simple Air Fryer Whole Roast Chicken
This Simple Air Fryer Whole Roast Chicken is a quick, easy and tasty way to cook a whole chicken. Deliciously moist meat with perfectly crisp skin – perfection!
Ingredients
1.6

kg

whole chicken

(medium)

½

tbsp

sunflower oil

½

tsp

sea salt

pinch

black pepper
Instructions
Preheat your air fryer if needed

Add a 1.6kg chicken to the basket of your air fryer, removing any string

Drizzle over ½ tbsp of sunflower oil and rub all over the chicken before adding ½ tsp sea salt and a pinch of black pepper

Air fry for 30 minutes at 170°C

Turn the temperature up to 200°C and cook for a further 15 minutes or until the internal temperature is 75°C

Remove the chicken from the air fryer and allow to cool for at least 10 minutes before carving
Recipe Notes
If you use a different weight chicken base the cooking time on 12-15 minutes per 450g.
Always check the internal temperature of the chicken is 75°C before serving.
Nutritional information is given as a guide only and may vary.
Nutrition Facts
Simple Air Fryer Whole Roast Chicken
Amount Per Serving
Calories 428
Calories from Fat 279
% Daily Value*
Fat 31g48%
Cholesterol 144mg48%
Sodium 425mg18%
Potassium 363mg10%
Protein 36g72%
Vitamin A 269IU5%
Vitamin C 3mg4%
Calcium 21mg2%
Iron 2mg11%
* Percent Daily Values are based on a 2000 calorie diet.