Amazingly delicious cookies that are perfectly soft in the middle. These Chocolate Chip Cookies are simple to make, quick to cook and even easier to eat!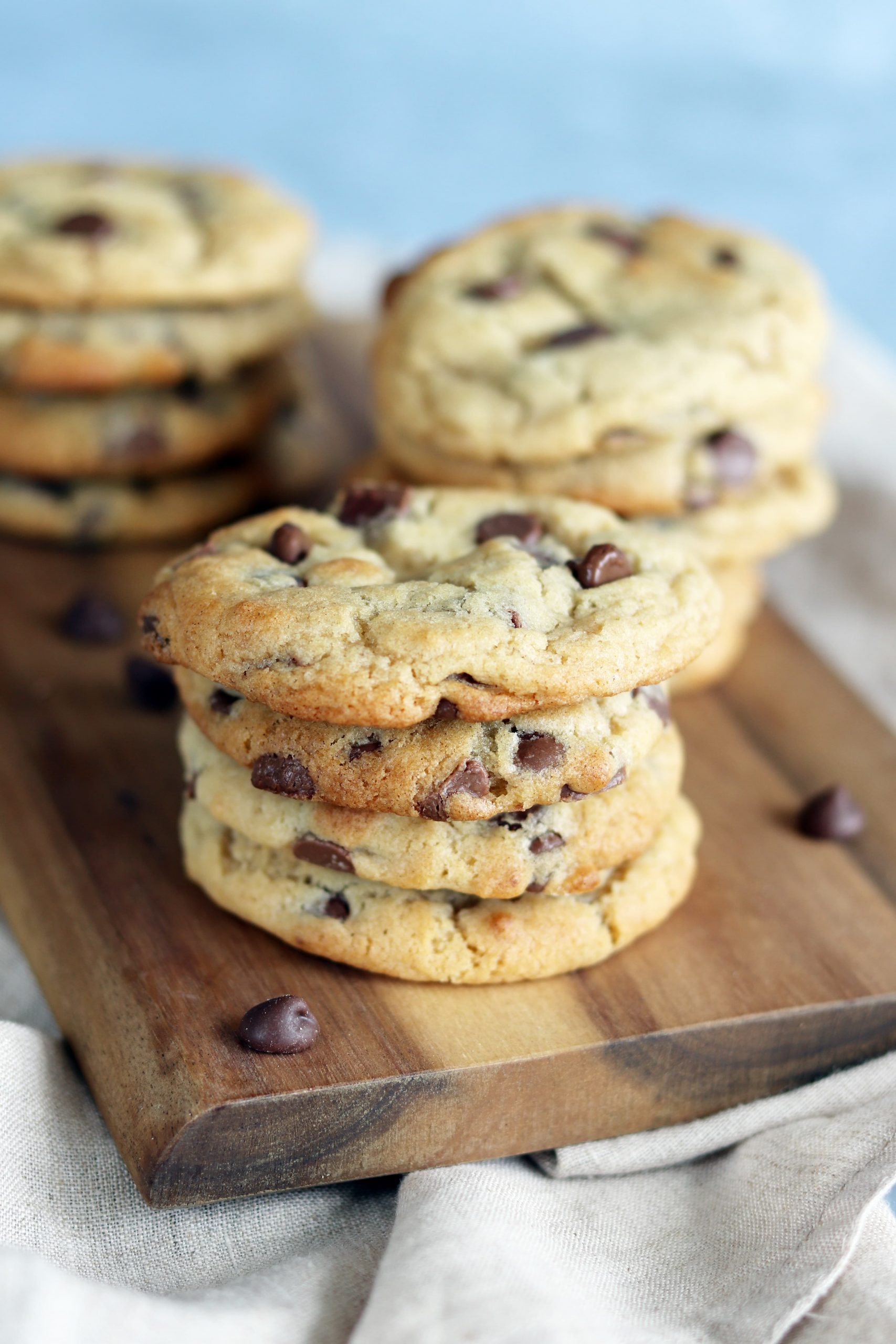 Do you prefer soft of crisp cookies?
This is an incredibly easy question for me. Soft cookies every single time.
There is something about a deliciously soft cookie that I cannot resist. A slight crisp edge is ideal but the centre needs to be perfectly soft.
If you do prefer a crisp cookie, just cook these for 10 minutes. Remember they will firm up as they cool!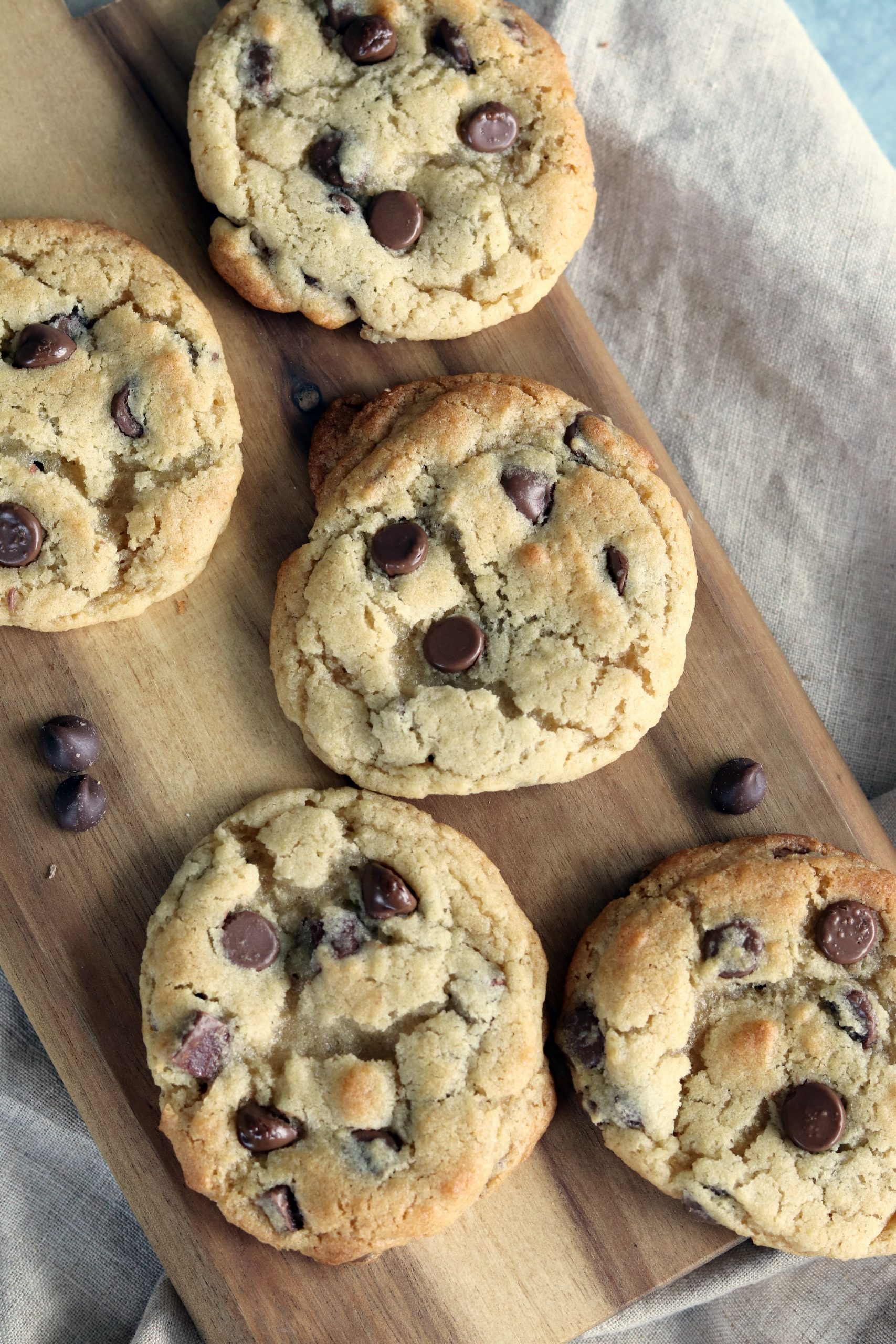 Which chocolate is recommended to use?
You can use milk, white or dark chocolate for these cookies. Whichever you prefer. You could even go crazy and use a combination.
You can use chocolate chips, chunks or even chop up a chocolate bar. If you have chocolate in the house, you can definitely make these!
If you want even more chocolate, check out my Double Chocolate Cookies.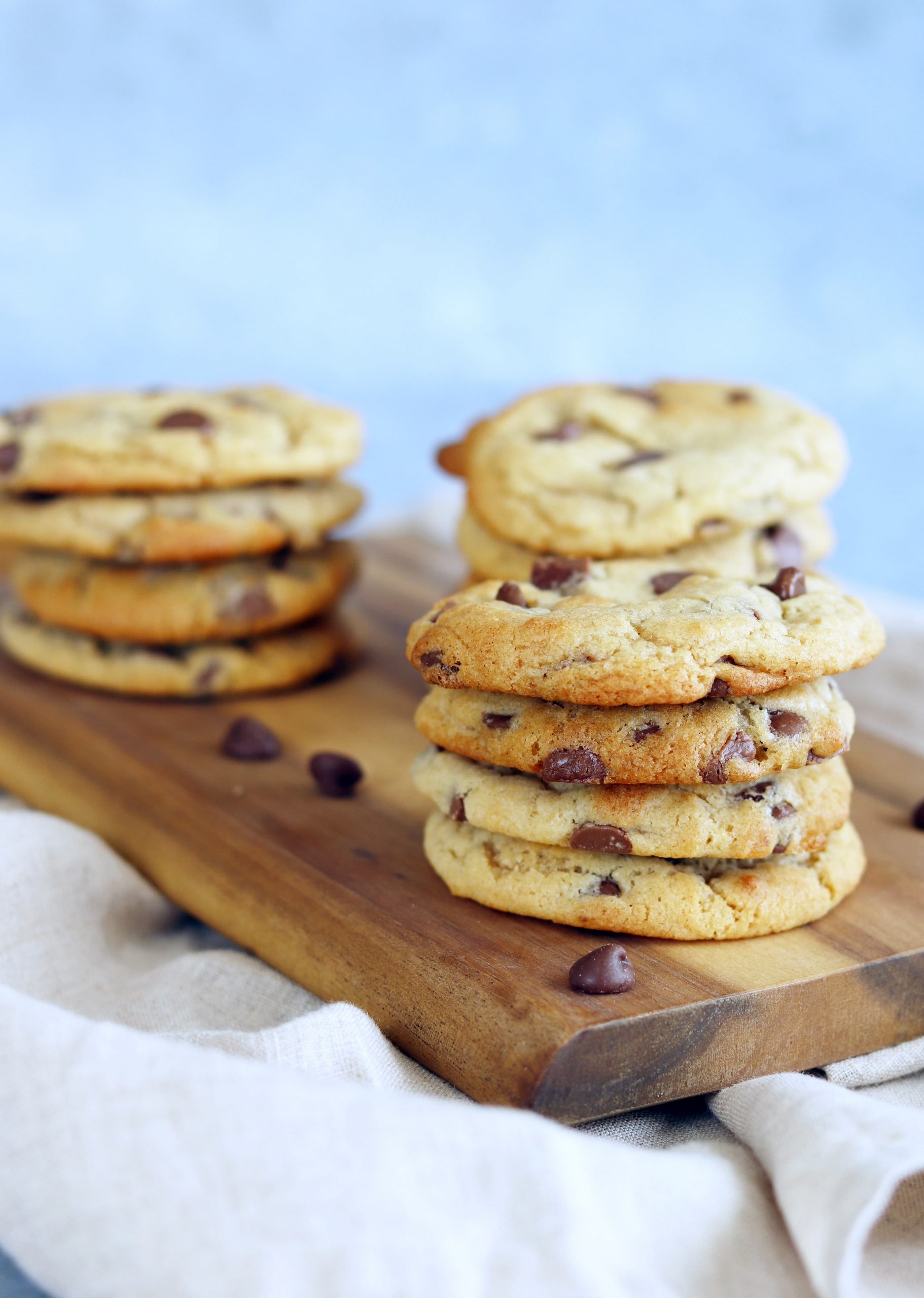 WHat size are these cookies?
I prefer to make these cookies on the smaller side. Probably because I don't feel so bad if I eat more than one then!
You can make these cookies however big or small you would like. The bigger you make them, the longer they will take to cook. But this will only be a few minutes more.
Bake them until they are very light brown and still soft in the middle. Also remember that they do spread when they are baking so don't overcrowd your baking tray!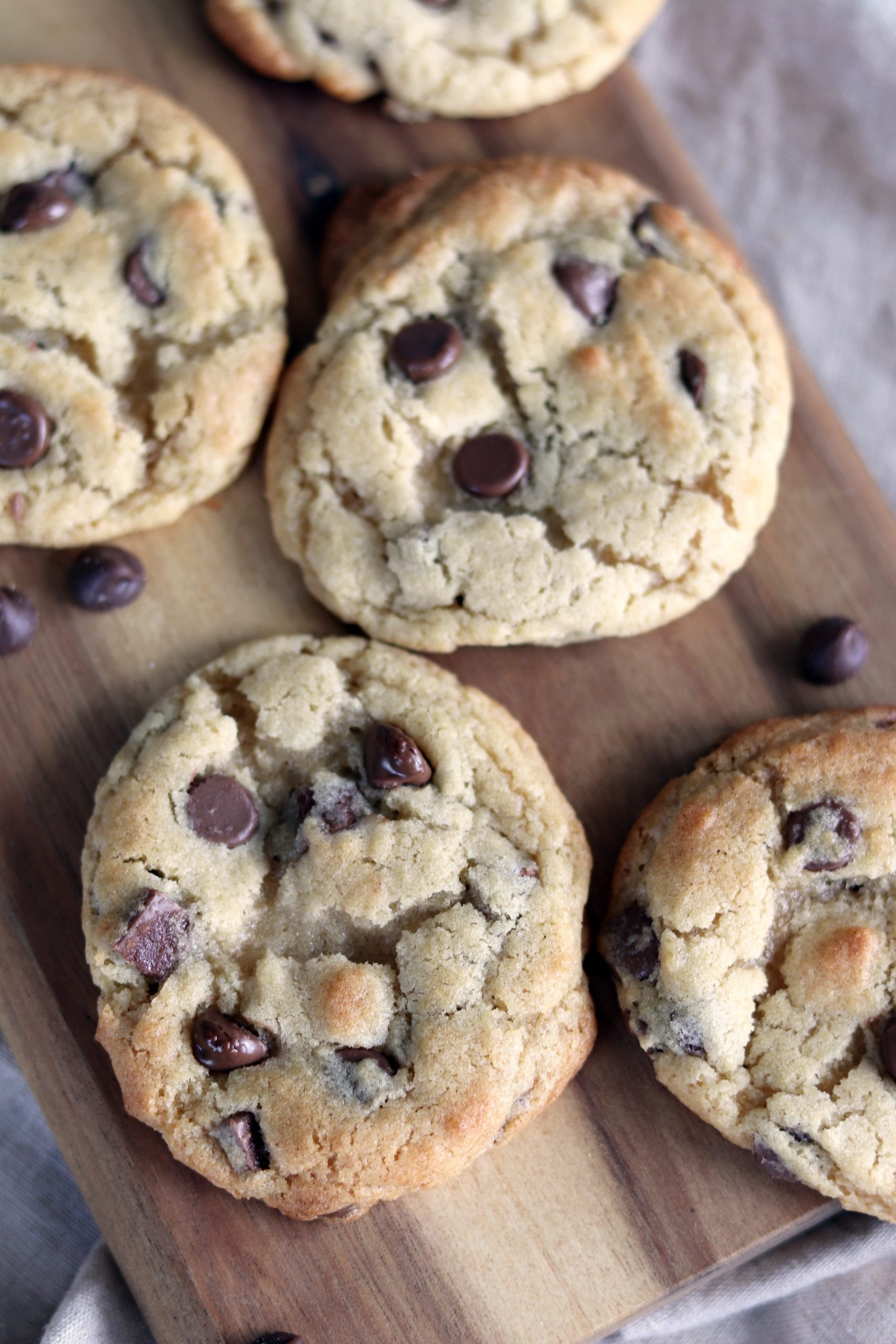 Can you freeze these cookies?
Yes you can. Lay the cookie balls on a baking tray and put them in the freezer for an hour or until they are firm to the touch.
Once they have firmed up, transfer them to a box or bag and put them back in the freezer until you want to eat them.
When you want to eat them, take as many as you'd like out of the freezer and lay them on a lined baking tray. Leave them for 15 to 20 minutes to thaw sightly before baking them as normal.
This is great if you don't want to eat all thirty cookies at once! It also means you can have freshly baked cookies at a moment's notice!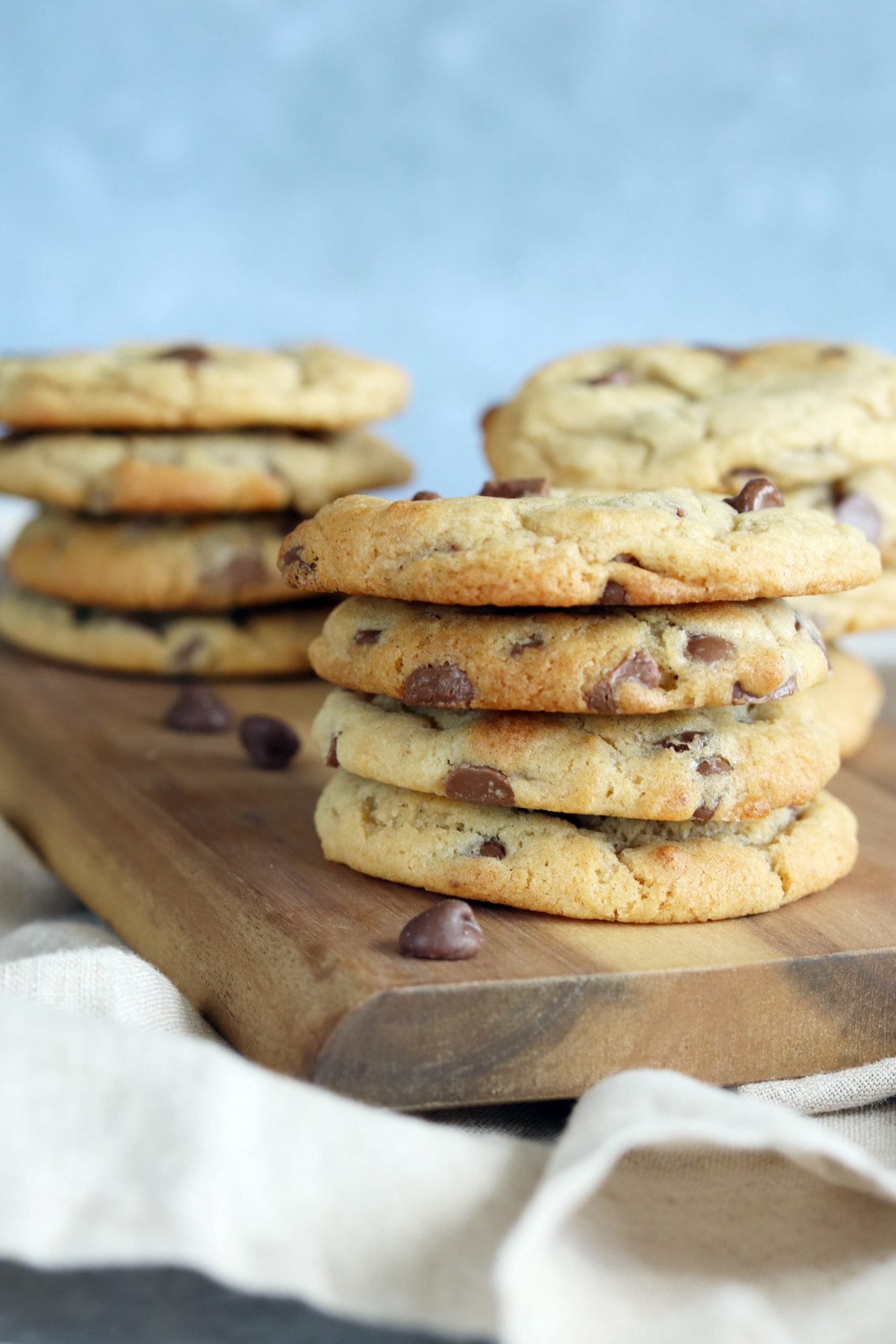 Chocolate Chip Cookie baking tips
There are two main tips to remember when baking these Chocolate Chip Cookies. Don't put them too close together on the baking trays and don't over bake them.
If you put the cookie balls too close together on the baking tray, you run the risk of having one massive cookie. Doesn't sound like the end of the world does it?
It definitely isn't the end of the world, but you will have to cut cookies out of the sheet of cookie rather than having nice circular cookies.
I recommend leaving more room than you think. It is always better to be safe than sorry in my book!
Before they go into the oven, I like to add a few more chocolate chips. This is optional but I think it makes the cookies look even better when they're baked.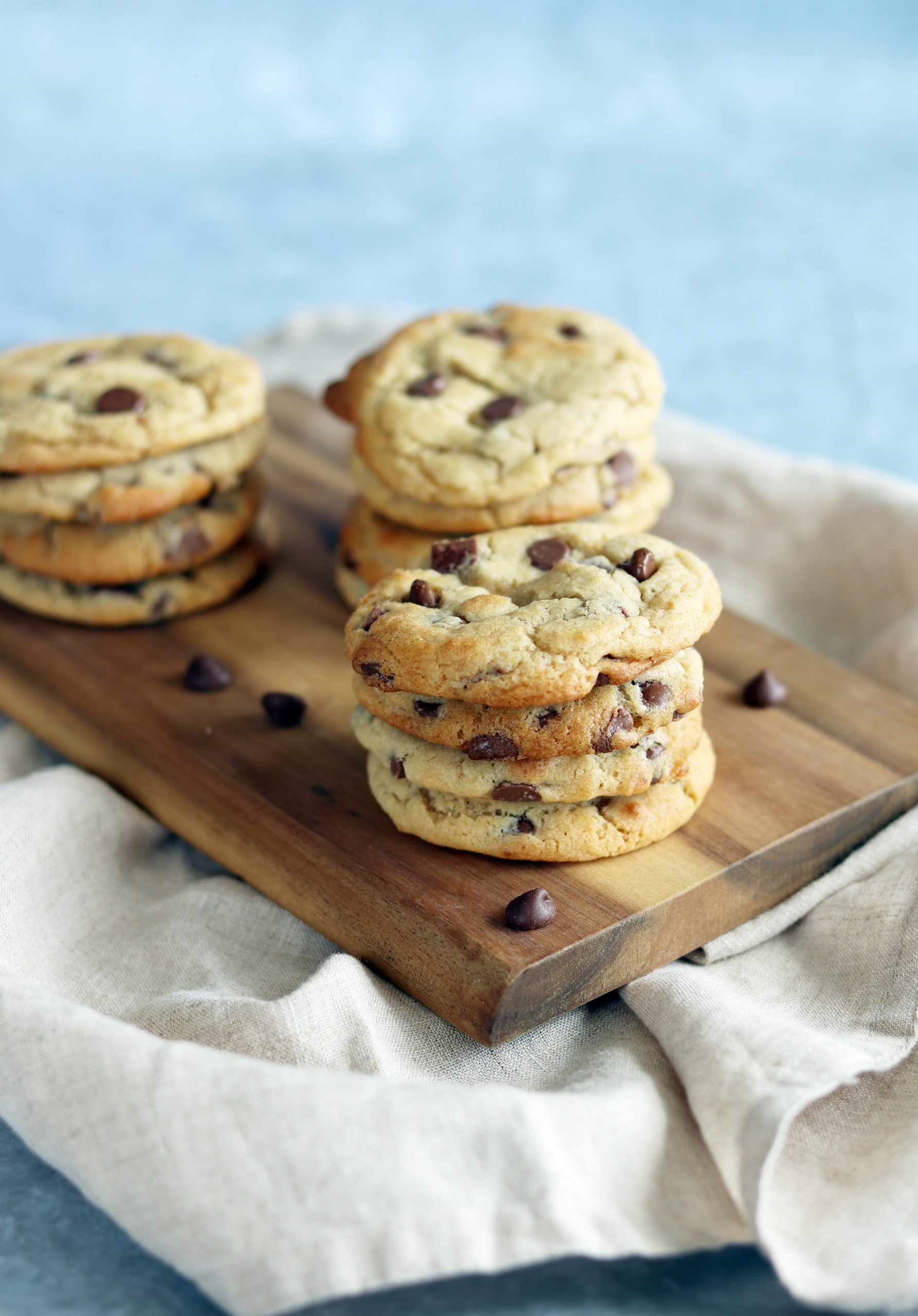 How long to these cookies take to bake?
This depends on how big you have made the cookies. But you are looking for them to be a light brown colour and still slightly soft to the touch.
When you bake cookies, they will appear very soft when they come out of the oven. Don't panic and think they need to go back in the oven! They should be light brown and soft in the middle after they've baked.
The cookies firm up when they cool so definitely don't want them to be firm when they come out of the oven.
Size of the cookies and slight differences in oven temperatures mean that everyone's cookies are likely to be a little different. Check the cookies after 7 minutes and bake for a further 2 minutes if they are still really soft.
You can also really easily bake these cookies in the air fryer. It's a little quicker as you don't have to wait for your oven to preheat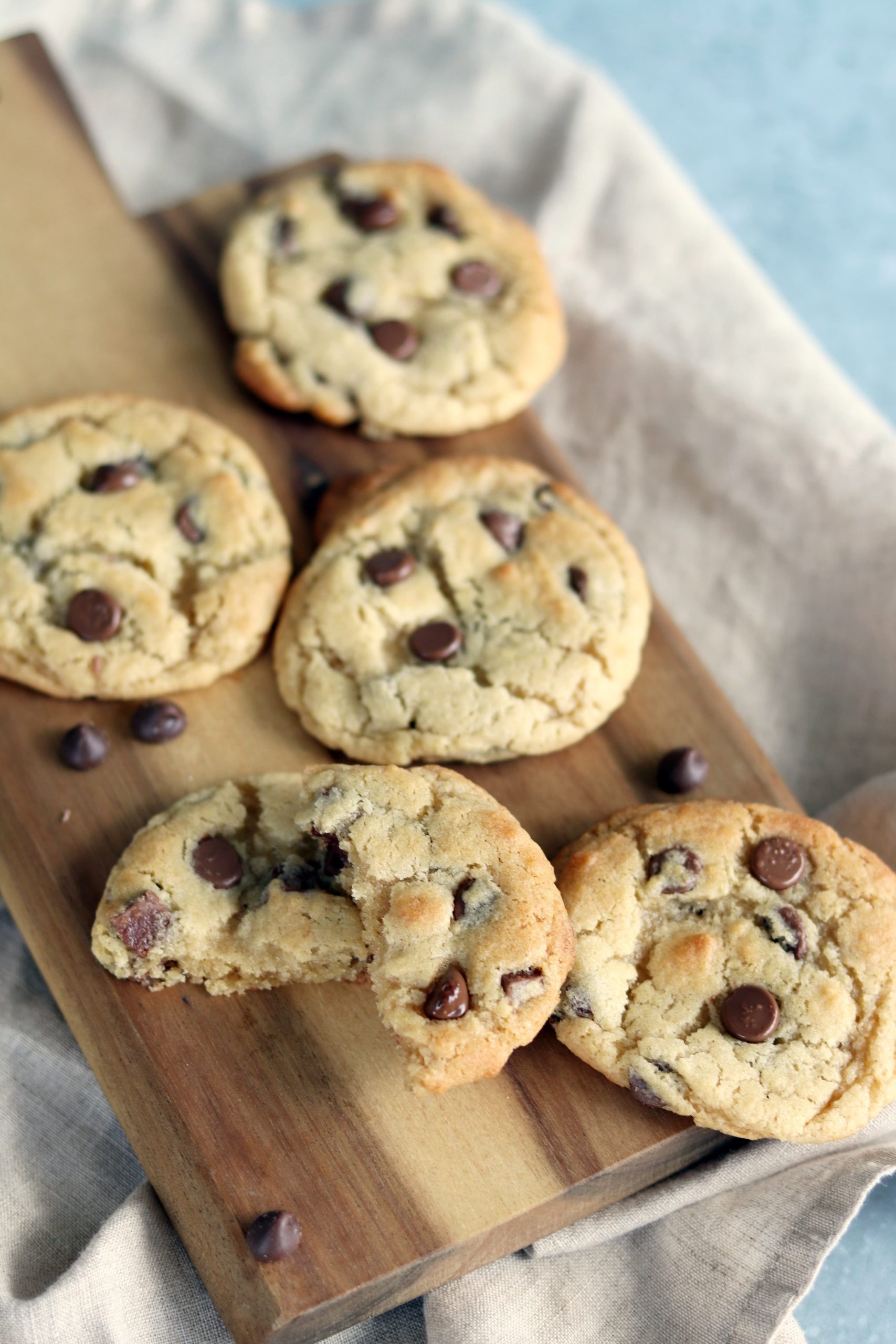 Other recipes you might like
Pin for later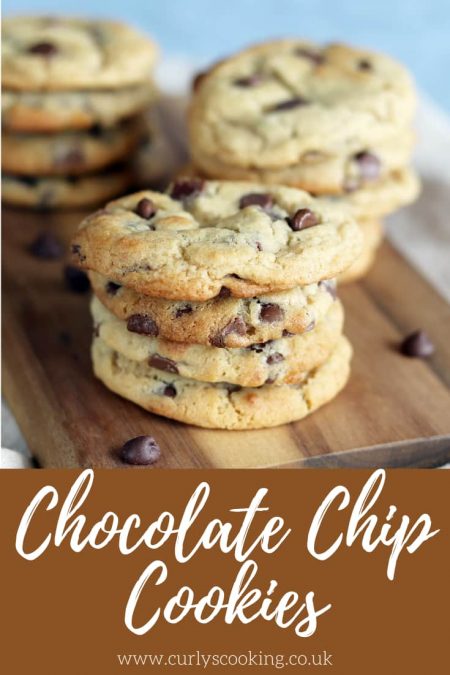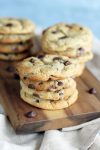 Chocolate Chip Cookies
Amazingly delicious cookies that are perfectly soft in the middle. These Chocolate Chip Cookies are simple to make, quick to cook and even easier to eat!
Ingredients
125

g

margarine

100

g

light brown sugar

125

g

caster sugar

1

egg

1

tsp

vanilla extract

225

g

self raising flour

½

tsp

salt

200

g

chocolate chips
Instructions
Preheat the oven to 180ºC. Line baking trays with greaseproof paper or silicone liners and set aside

Cream the butter and the sugars together until light and fluffy

Add the egg and vanilla and mix until combined

Add in the flour and salt and then add the chocolate chips and mix

Shape into small balls. I do this with my smallest ice cream scoop and they are approx 25g. Place them on the lined trays making sure there is plenty of room between each ball. Add a few extra chocolate chips to each cookie before baking if you like

Bake for 7-9 minutes until light brown

Take them out of the oven and leave them to cool on the tray for 20 minutes or so before moving them to cool completely on a wire rack
Recipe Notes
Keep in an airtight container for 3-4 days.
Nutritional information is given as a guide only and my vary.
Nutrition Facts
Chocolate Chip Cookies
Amount Per Serving
Calories 124
Calories from Fat 45
% Daily Value*
Fat 5g8%
Cholesterol 7mg2%
Sodium 86mg4%
Potassium 16mg0%
Carbohydrates 18g6%
Protein 1g2%
Vitamin A 172IU3%
Vitamin C 1mg1%
Calcium 14mg1%
Iron 1mg6%
* Percent Daily Values are based on a 2000 calorie diet.