Fudgy, soft and oh so delicious, these Double Chocolate Cookies are a must bake. They're quick and easy to make and don't need chilling so you can have freshly baked cookies ready in minutes!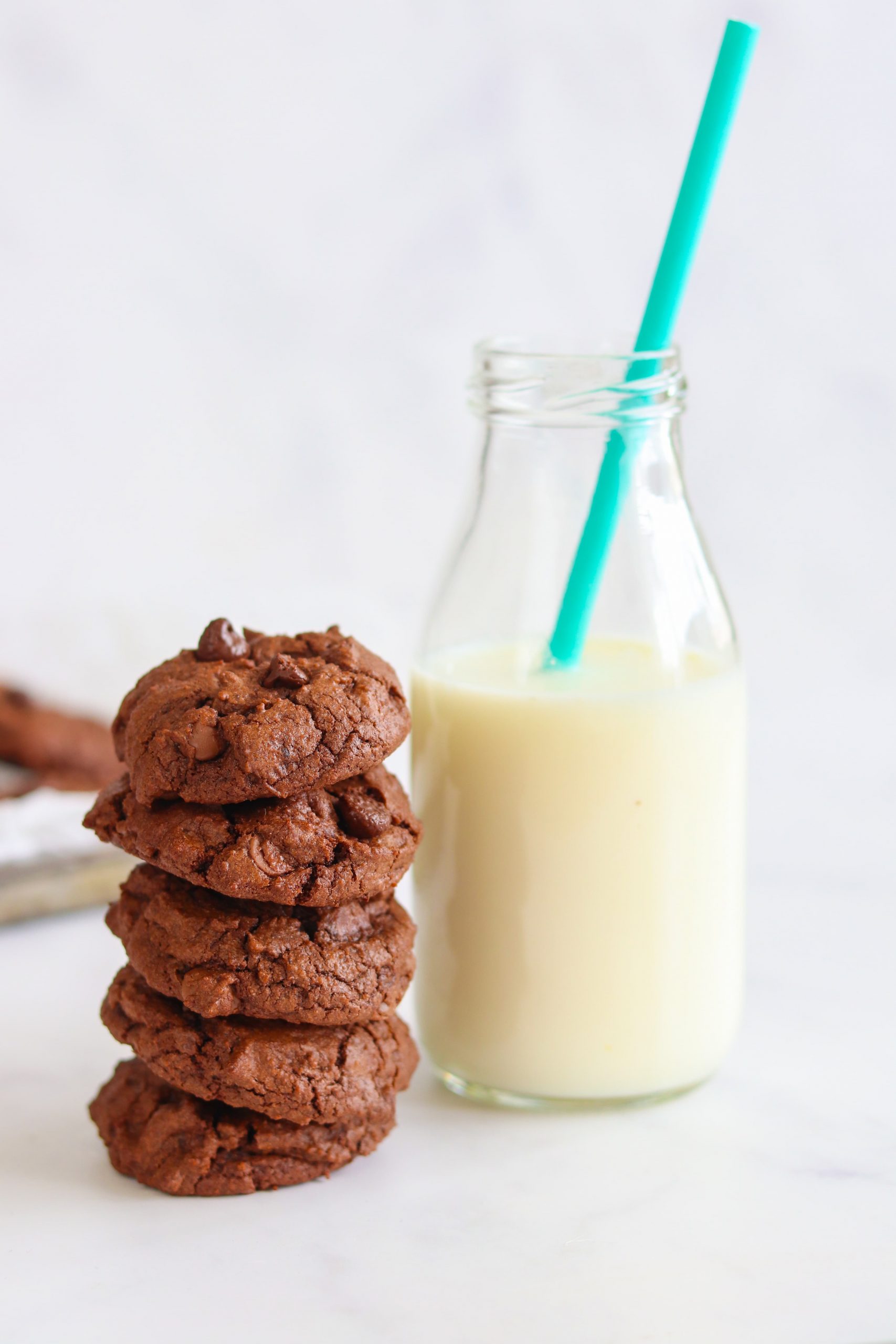 What is better than a chocolate cookie? A double chocolate cookie of course!
I am a huge cookie lover and have so many different cookie and cookie bar recipes here on my blog. But I didn't have an easy double chocolate cookie recipe. So that had to be fixed straight away.
So what is a Double Chocolate Cookie? It is a cookie with chocolate cookie dough which is then packed with chocolate chips too. The perfect cookie for chocolate lovers!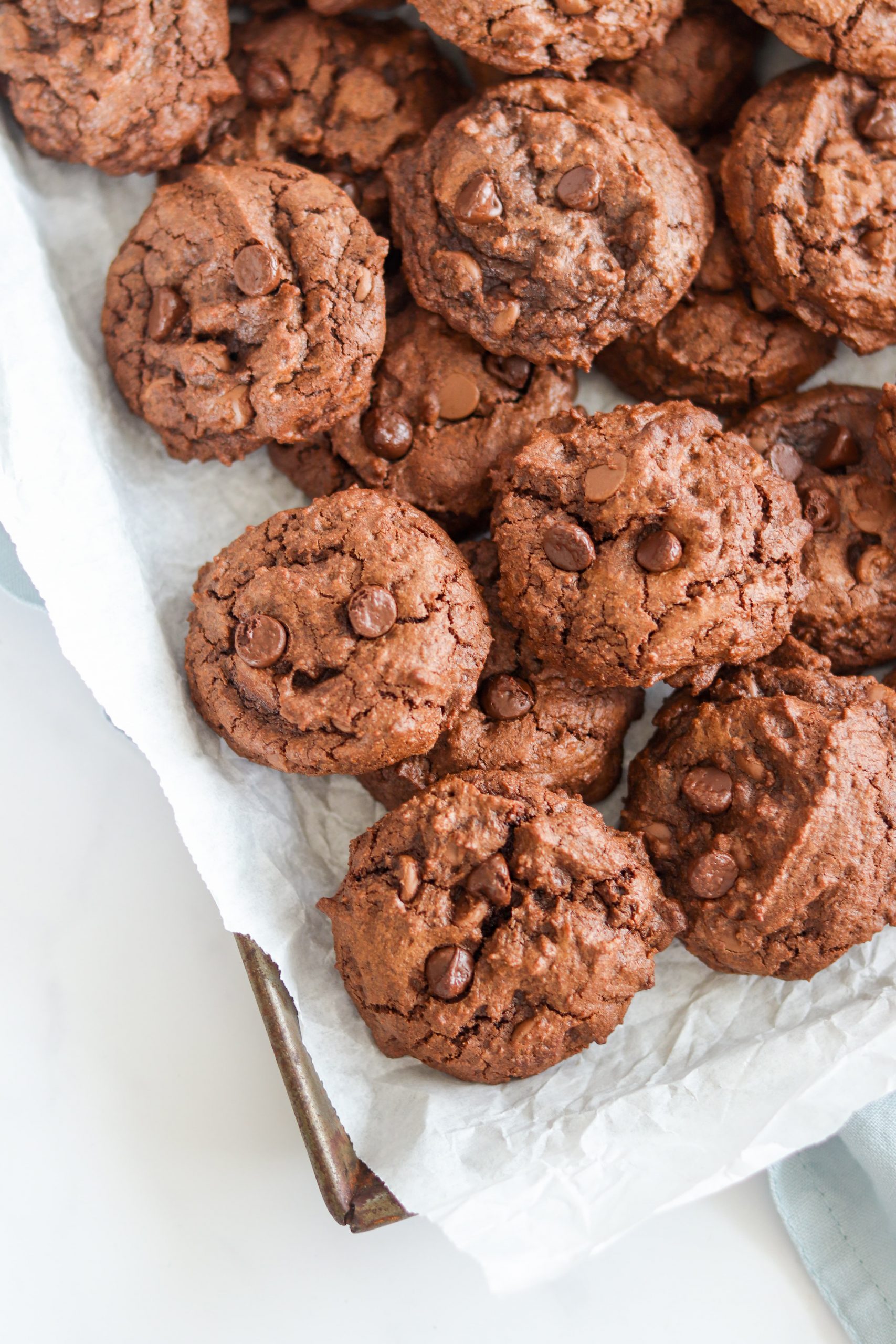 No chill cookie recipe
A lot of cookie recipes I come across have the annoying line of 'chill for one hour before baking'. When I fancy cookies, I want them without having to wait for them!
This Double Chocolate Cookie recipe requires no chilling. Just make the dough and get them straight in the oven.
You will have delicious, fudgy and slightly gooey cookies before you know it.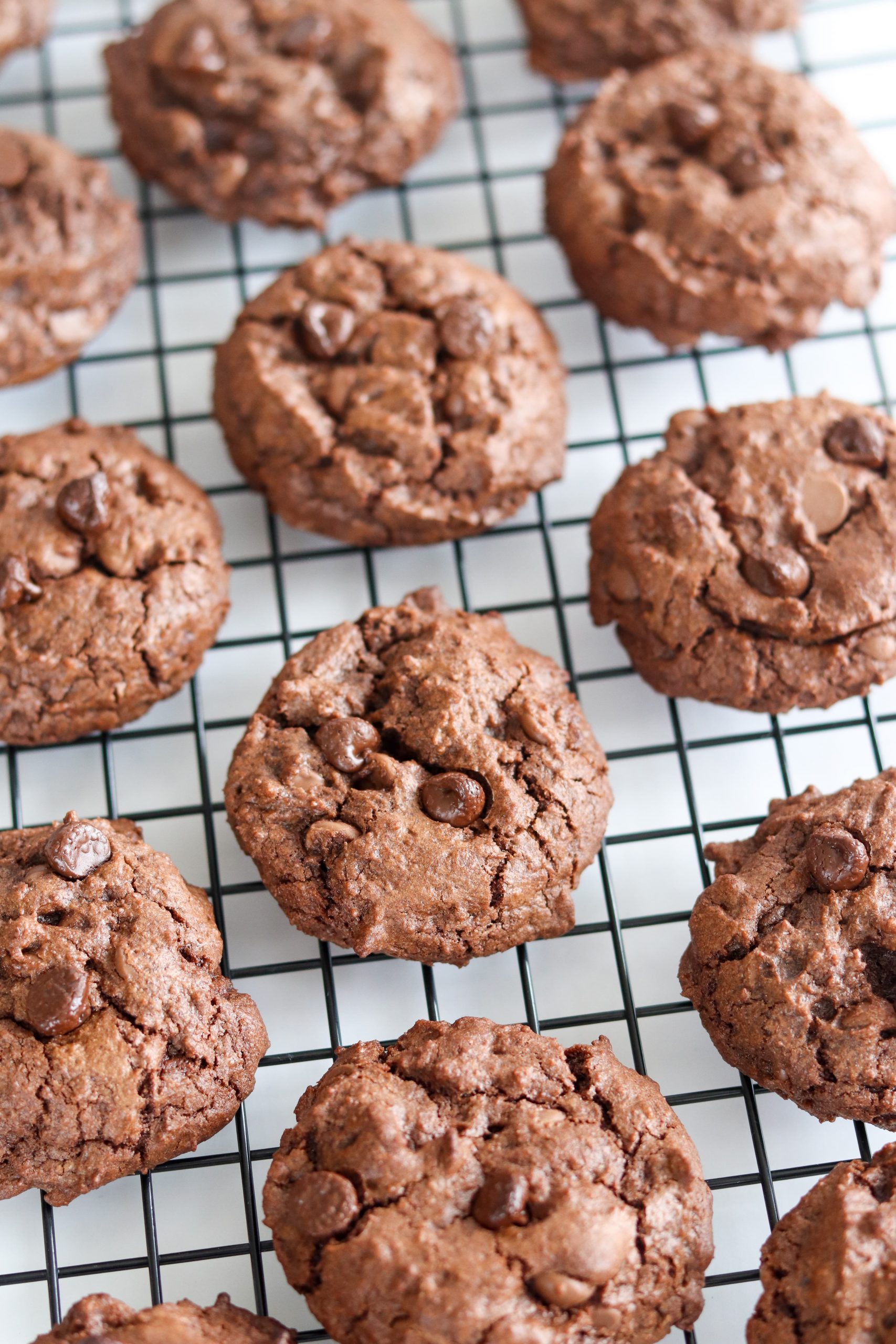 Do you prefer soft of crisp cookies?
This is an incredibly easy question for me. Soft cookies every single time.
There is something about a deliciously soft cookie that I cannot resist. A slight crisp edge is ideal but the centre needs to be perfectly soft.
If you do prefer a crisp cookie, just cook these for 12-14 minutes. Remember they will firm up as they cool so you don't want to bake them until they are firm to the touch.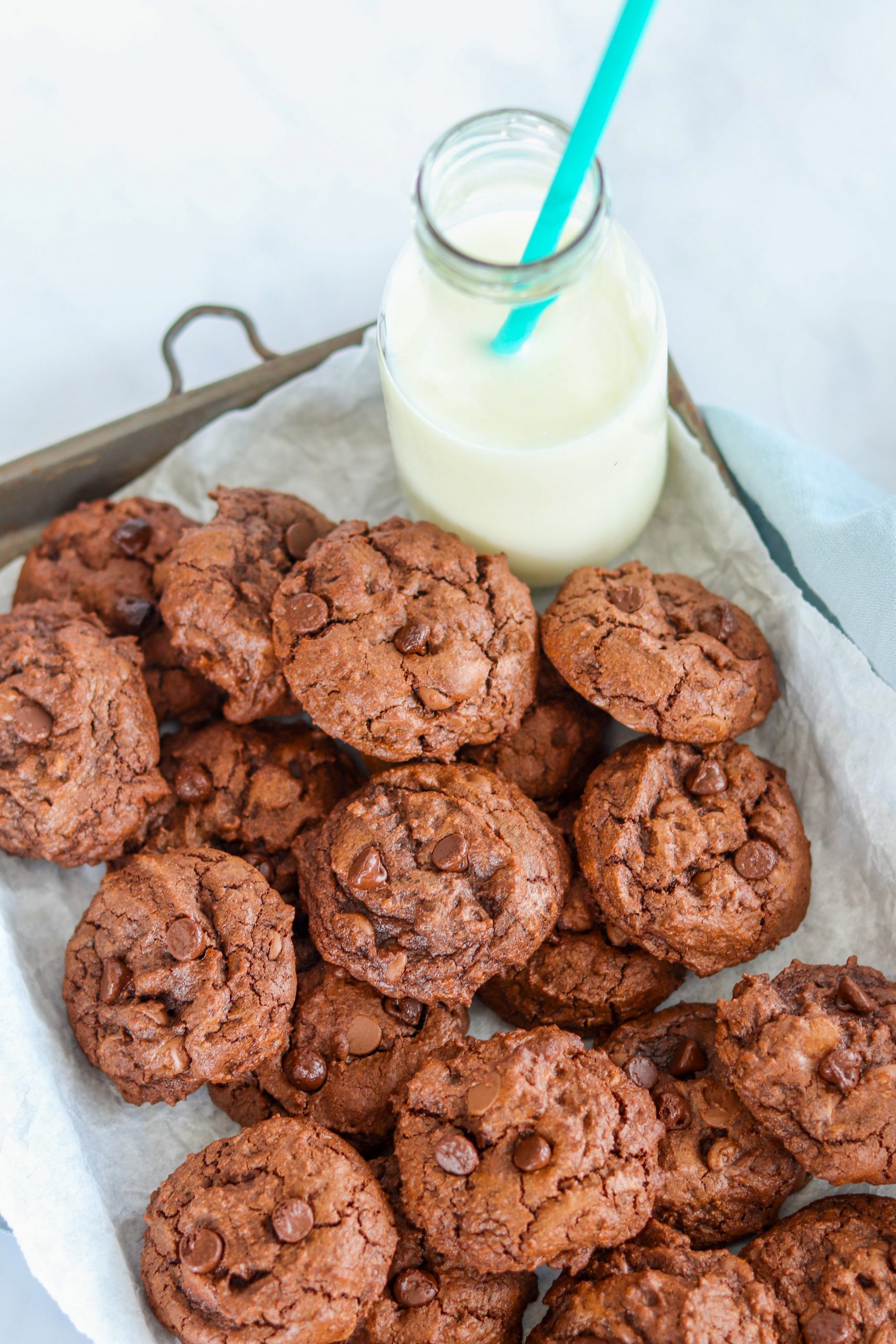 which chocolate is recommended to use?
I have used milk chocolate chips for these Double Chocolate Cookies, but you can change this up really easily.
Instead of milk chocolate chips you could use dark or white chocolate. You could also use a mixture.
Chocolate chunks would work just as well as chips. If you don't have either you could chop up a chocolate bar. Any chocolate you use will be delicious!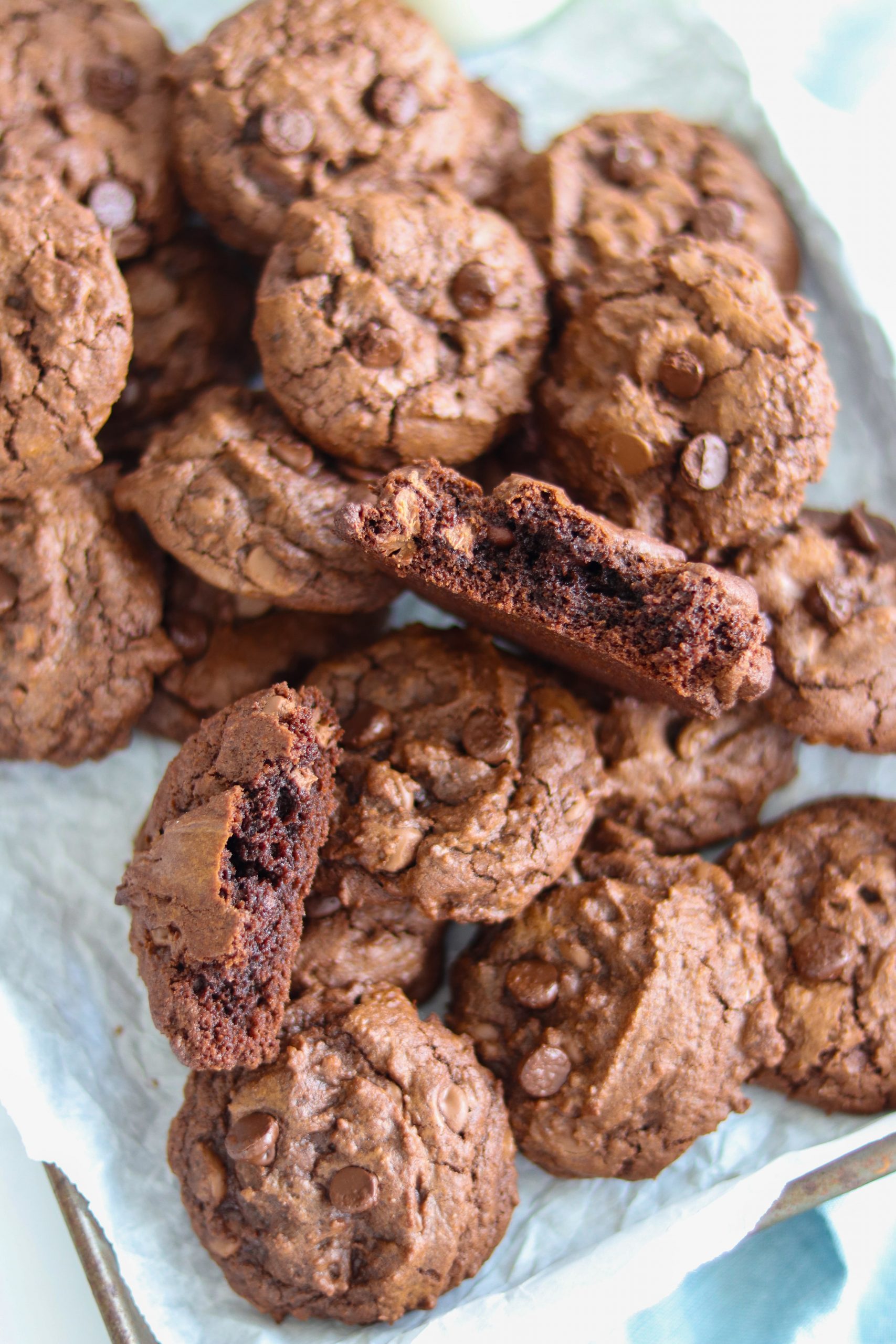 don't put the cookies too close together on the baking tray
This is one of the most common mistakes people make when baking cookies. It is very easy to underestimate how much cookies can spread when baking.
Although these Double Chocolate Cookies keep their shape quite well, they do spread slightly, This means you need to make sure you give them plenty of room on the baking tray.
If you don't leave enough room between each cookie, you will end up with one big cookie instead of individual cookies!
My tip is to always leave more space than you think you'll need. This way you won't get caught out!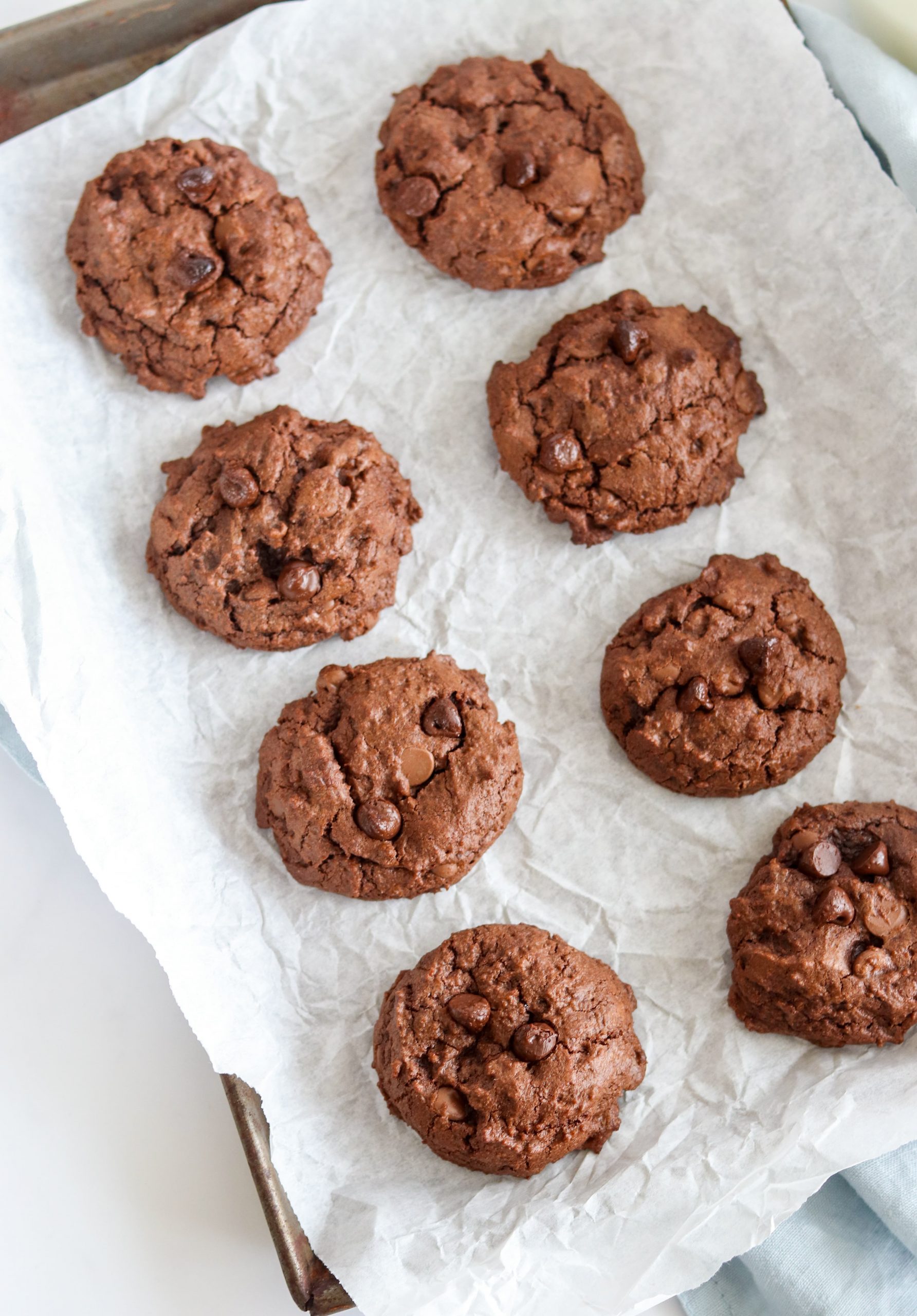 How long to these double chocolate cookies take to bake?
This depends on how big you have made the cookies. But you are looking for them to be slightly soft to the touch.
When you bake cookies, they will appear very soft when they come out of the oven. Don't panic and think they need to go back in the oven because they more than likely don't.
The cookies firm up when they cool so definitely don't want them to be firm when they come out of the oven.
Size of the cookies and slight differences in oven temperatures mean that everyone's cookies are likely to be a little different. Check the cookies after 8 minutes and bake for a further 2 minutes if they are still really soft.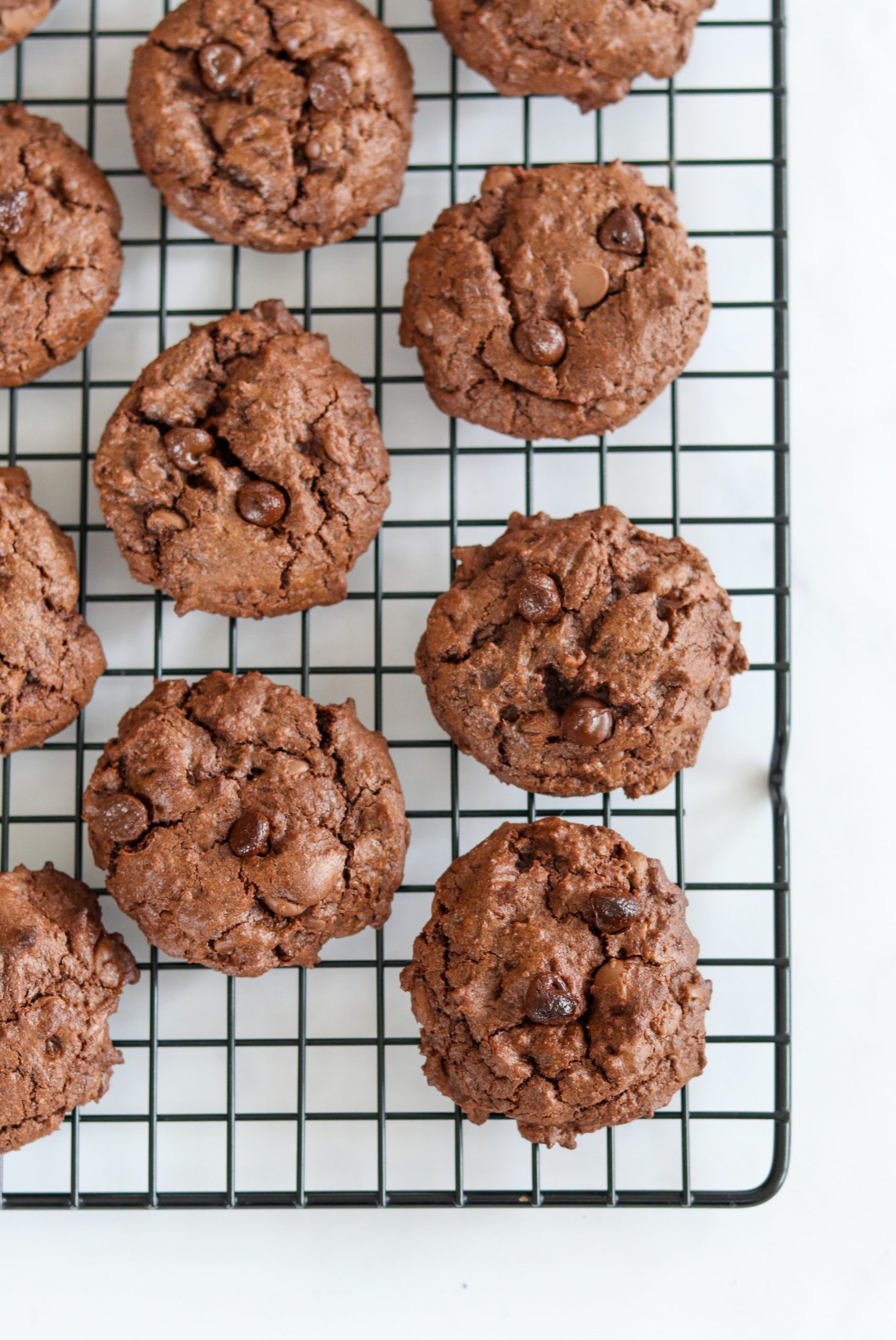 how many cookies does this recipe make?
That depends on how big you make your cookies.
I use a small mechanical scoop which makes balls of dough approximately one tablespoon in size. If you make them this size you will make approximately 28 cookies.
You can make them bigger if you want, but they will take a little bit longer to bake. Just keep checking on them every couple of minutes so you don't overbake them.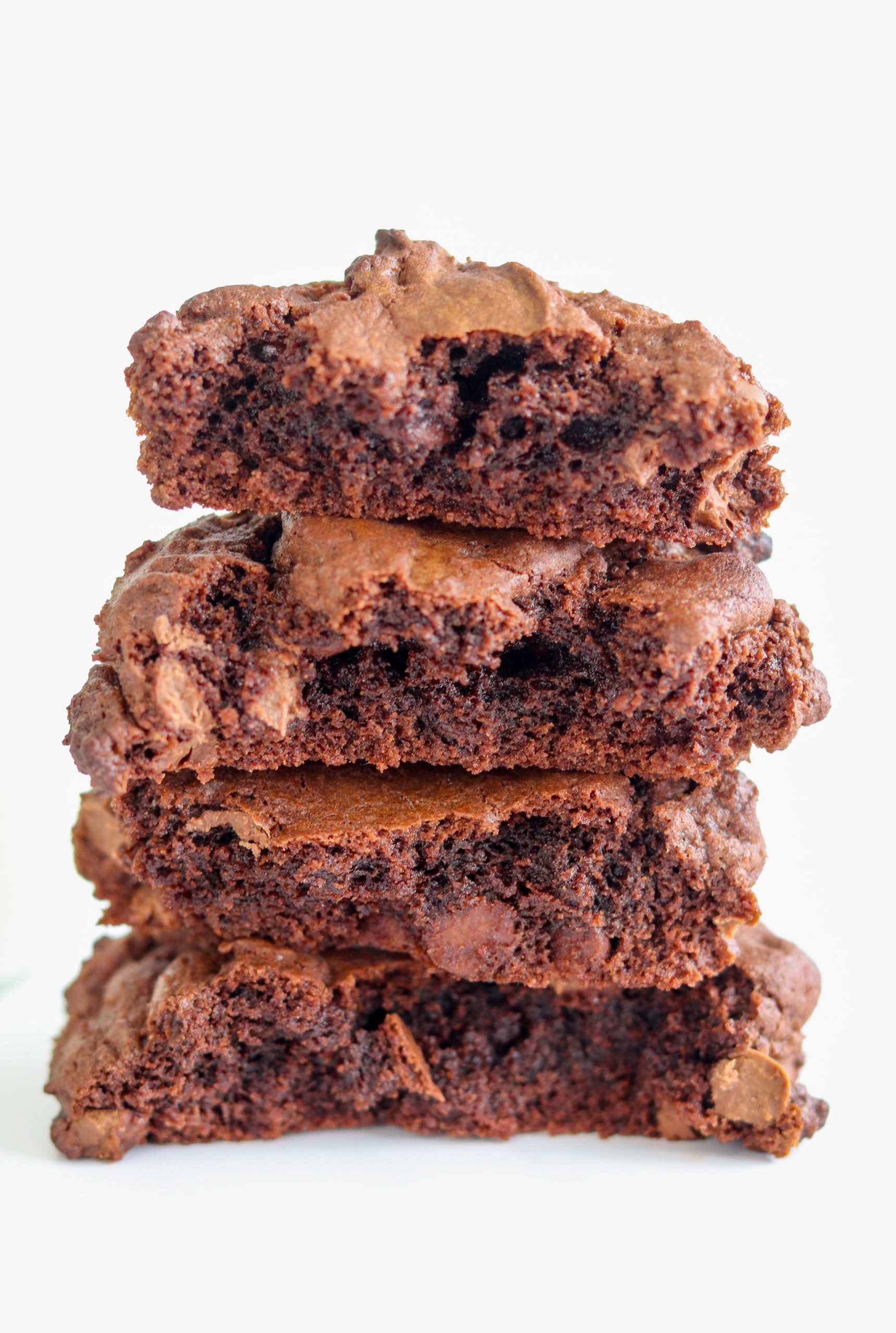 how long will these cookies keep for?
These Double Chocolate Cookies will keep for 4-5 days in an airtight container.
As the days pass, the cookies do become slightly more crisp but they are still delicious.
If you don't want to eat the whole batch in a few days then I would recommend freezing some of the cookie dough for another time.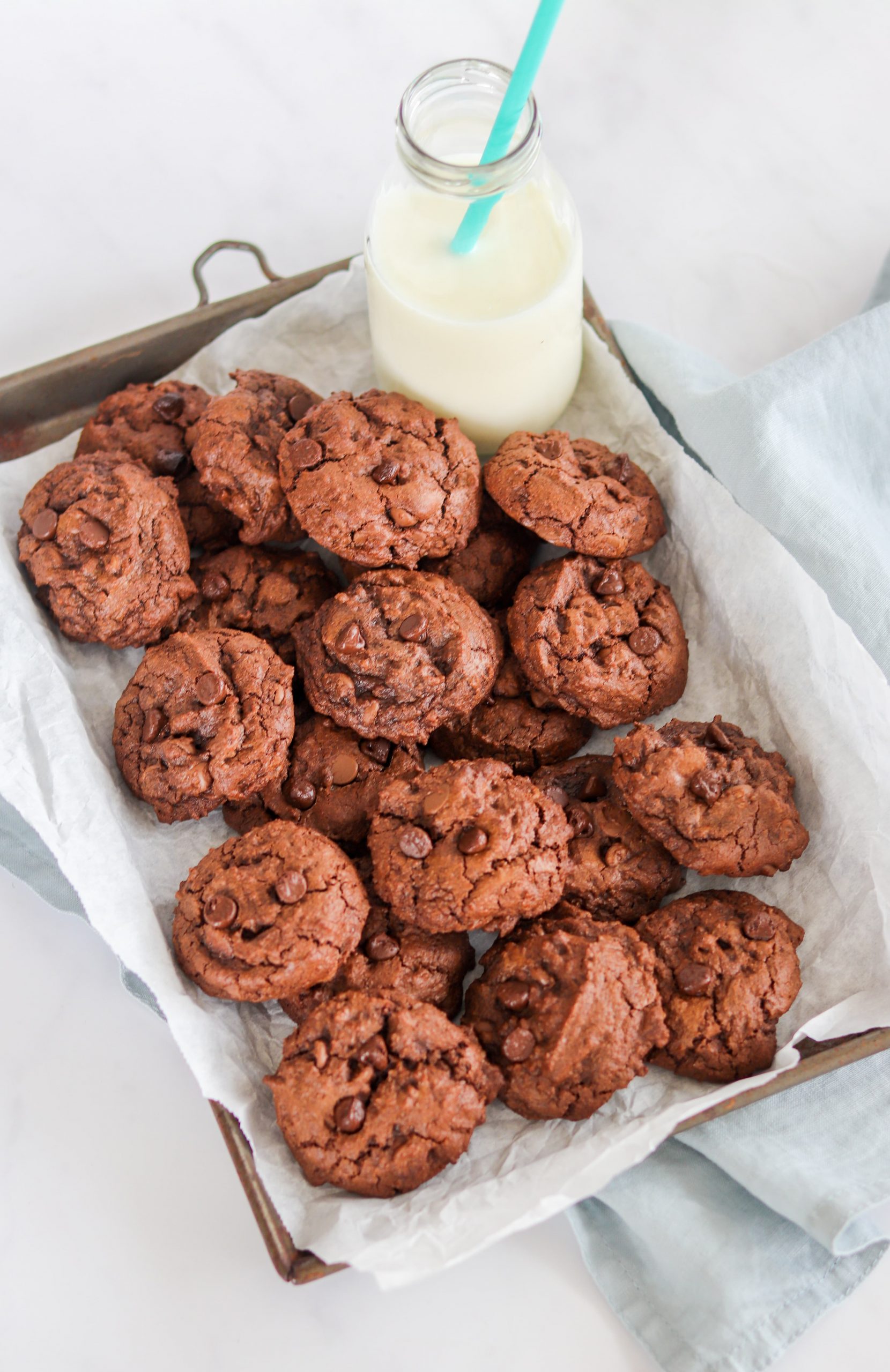 Can you freeze these cookies?
Yes! They freeze really well. Lay the cookie balls on a baking tray and put them in the freezer for an hour or until they are firm to the touch.
Once they have firmed up, transfer them to a box or bag and put them back in the freezer until you want to eat them.
When you want to bake them you have two options. You can put them on a baking tray – making sure you leave room for them to spread; and bake straight away.
They will take up to five minutes longer than the recipe states if you bake them this way and you need to keep an eye on them.
If you aren't feeling confident with this method, leave them to warm up slightly for 10-15 minutes before you bake them. This way they should only need 7-8 minutes until they are baked to perfection.
This is great if you don't want to eat all of the cookies at once! It also means you can have freshly baked cookies at a moment's notice!
I like to keep different flavoured cookie dough in the freezer so I can bake them as and when I want them. This is especially great to do before Christmas when people don't have as much time on their hands.
You can also freeze the cookies once they are baked too. Make sure they are completely cool before packing them into a container. When you want to eat them, let them defrost for an hour or so at room temperature.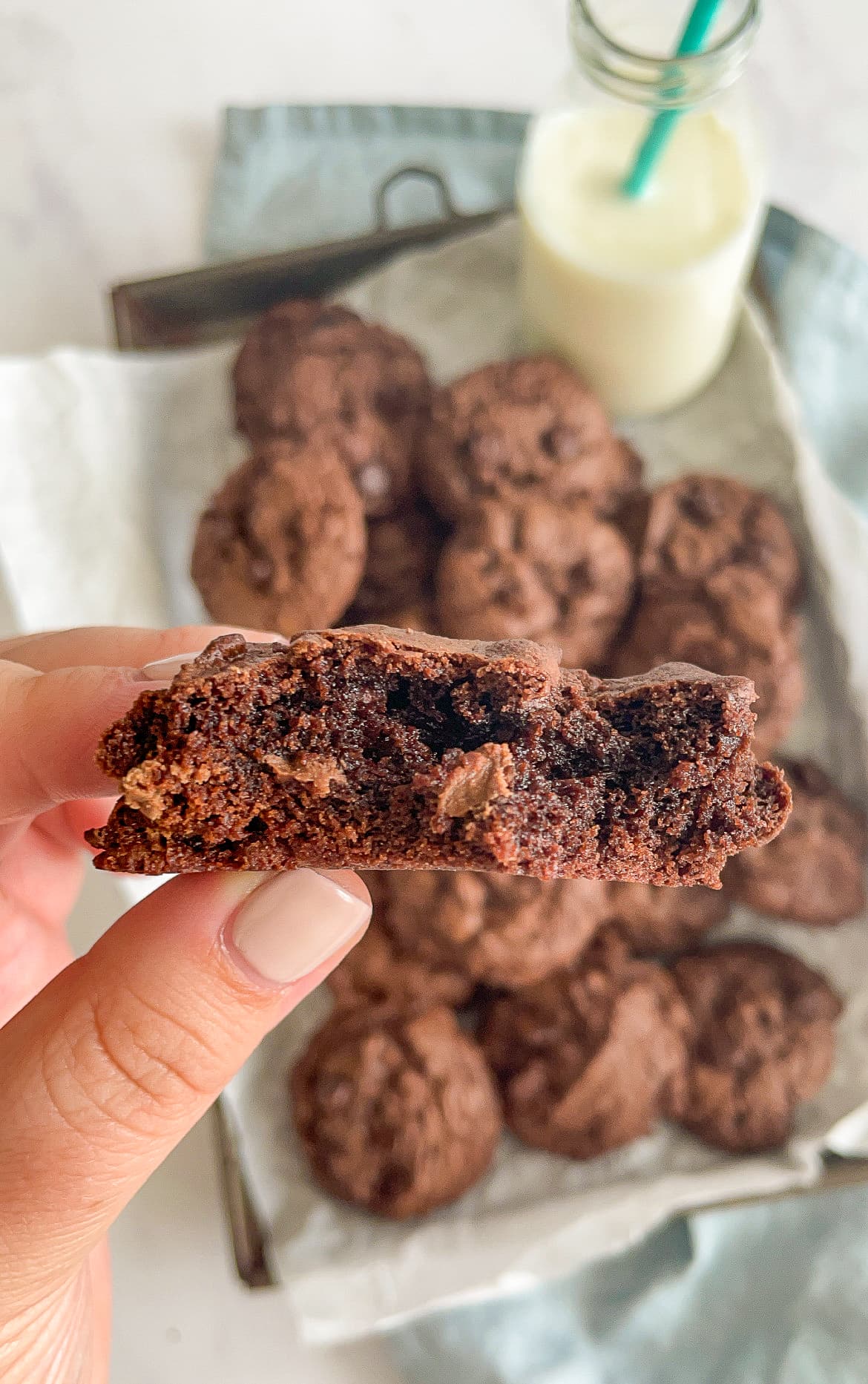 other recipes you might like
Pin for later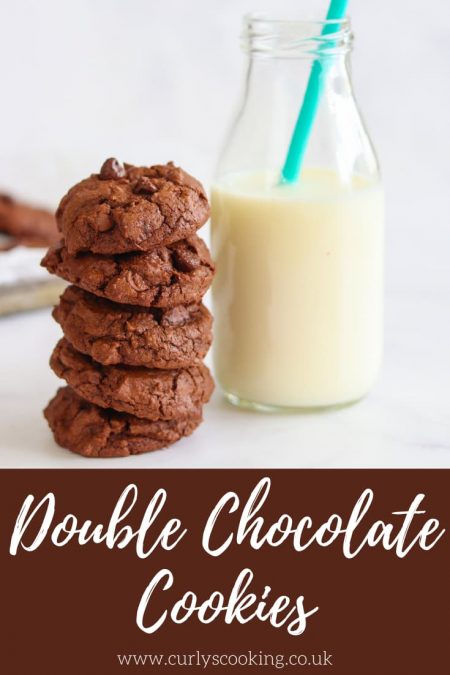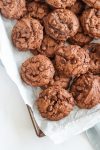 Double Chocolate Cookies
Fudgy, soft and oh so delicious, these Double Chocolate Cookies are a must bake. They're quick and easy to make and don't need chilling so you can have freshly baked cookies ready in minutes!
Ingredients
100

g

margarine

100

g

caster sugar

125

g

light brown sugar

1

egg

½

tsp

vanilla extract

175

g

self raising flour

50

g

cocoa powder

½

tsp

salt

200

g

milk chocolate chips
To finish
1

tbsp

milk chocolate chips
Instructions
Preheat the oven to 180ºC (fan assisted, 200°C non fan). Line baking trays with greaseproof paper or silicone liners and set aside

Cream 100g margarine, 100g caster sugar and 125g light brown sugar together until light and fluffy

Add 1 egg and ½ vanilla extract and mix until combined

Add 175g self raising flour, 50g cocoa powder and ½ tsp salt and mix

Add 200g milk chocolate chips and mix again

Scoop tablespoon sized balls of dough onto the lined trays leaving enough space for the cookies to spread

Top the cookies with 1 tbsp milk chocolate chips

Bake for 8-10 minutes until they are firming up at the sides but soft to touch in the middle

Take them out of the oven and leave them to cool on the tray for 20 minutes or so before moving them to cool completely on a wire rack
Recipe Notes
Nutritional information is given as a guide only and may vary.
Nutrition Facts
Double Chocolate Cookies
Amount Per Serving
Calories 124
Calories from Fat 45
% Daily Value*
Fat 5g8%
Cholesterol 7mg2%
Sodium 84mg4%
Potassium 43mg1%
Carbohydrates 19g6%
Protein 2g4%
Vitamin A 154IU3%
Vitamin C 1mg1%
Calcium 18mg2%
Iron 1mg6%
* Percent Daily Values are based on a 2000 calorie diet.