Thick, creamy cheesecake with a crisp biscuit base. With just a hint of lemon, New York Cheesecake is subtle in flavour but oh so indulgent! This delicious cheesecake will be a roaring success whenever you make it.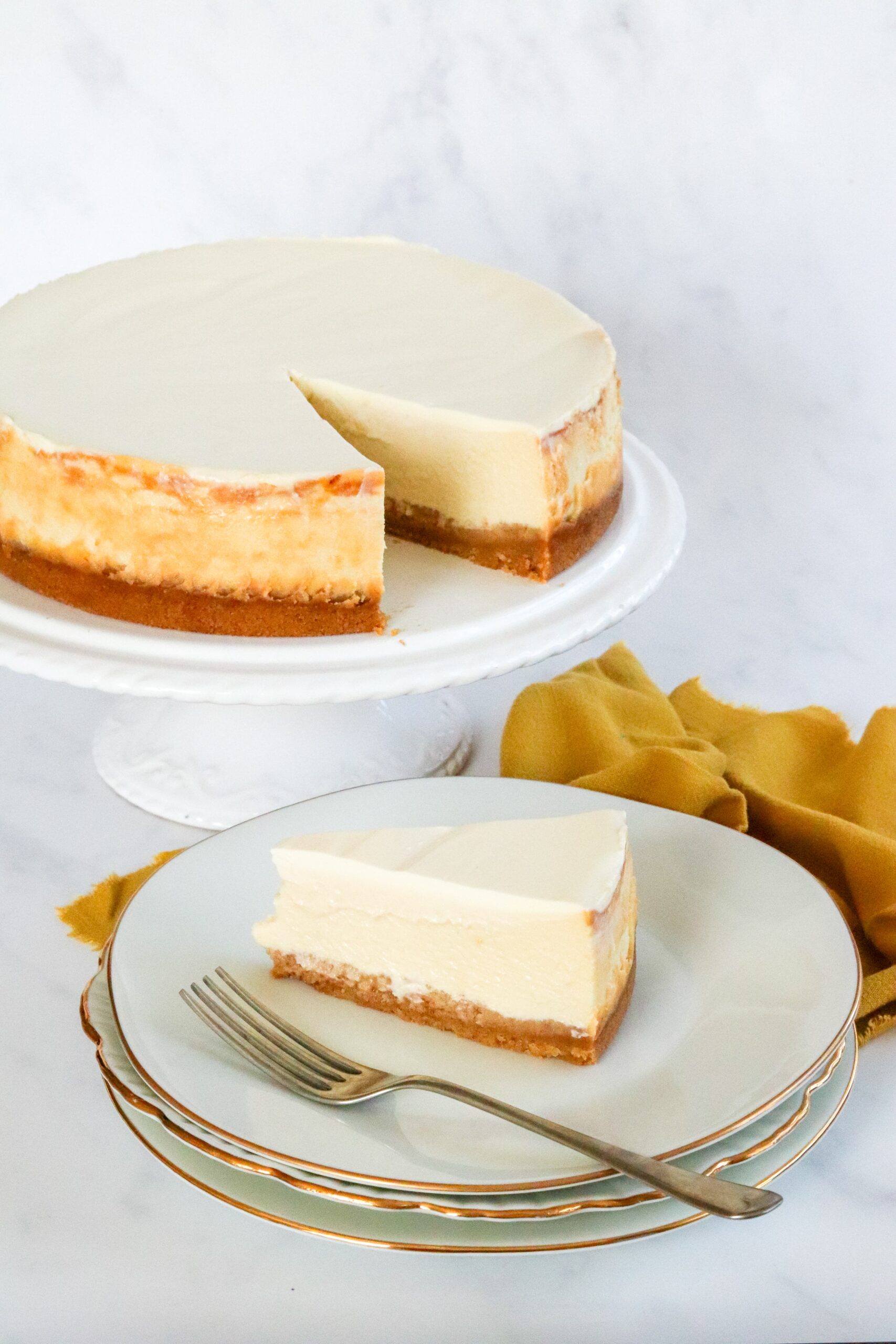 What is a new york cheesecake?
A New York Cheesecake is made using cream cheese and either soured cream or double (heavy) cream. Some varieties include a sour cream layer which is applied once the cheesecake has baked.
These ingredients create a decadent rich and creamy cheesecake that is also dense in texture. This is what we love to much about a New York Cheesecake.
New York Cheesecakes are usually simple with their flavourings with subtle vanilla and lemon being the only additions. The simplicity and dense texture of this cheesecake make it irresistible.
I'm sure cheesecake purists will tell me I'm wrong, but I think this New York Cheesecake is pretty similar to the Original cheesecake from The Cheesecake Factory. My husband has confirmed he likes my recipe better though which is a huge compliment!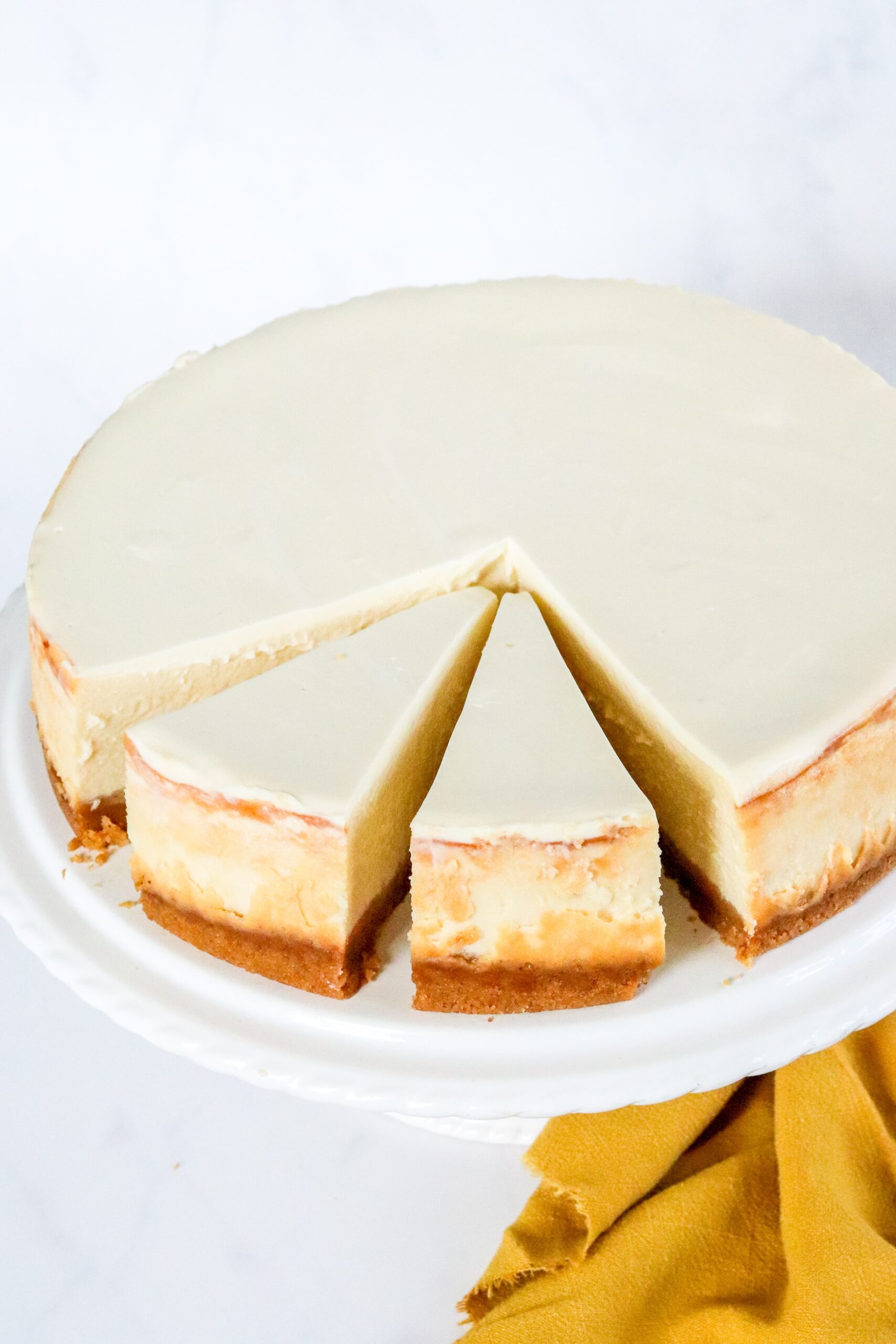 Read the recipe before you start
As with all recipes, I really recommend reading the recipe all the way through before you start.
The recipe does have a few steps, but when you read the recipe in full first and understand the steps, you will have no problems at all. You also then know what to expect further in the recipe so shouldn't have any surprises.
Also if you don't read the recipe all the way through you will probably miss the part about leaving the cheesecake to chill for eight hours or overnight before serving!
This cheesecake isn't something you whip up an hour before an event, so make sure you leave enough time to allow the cheesecake to completely cool.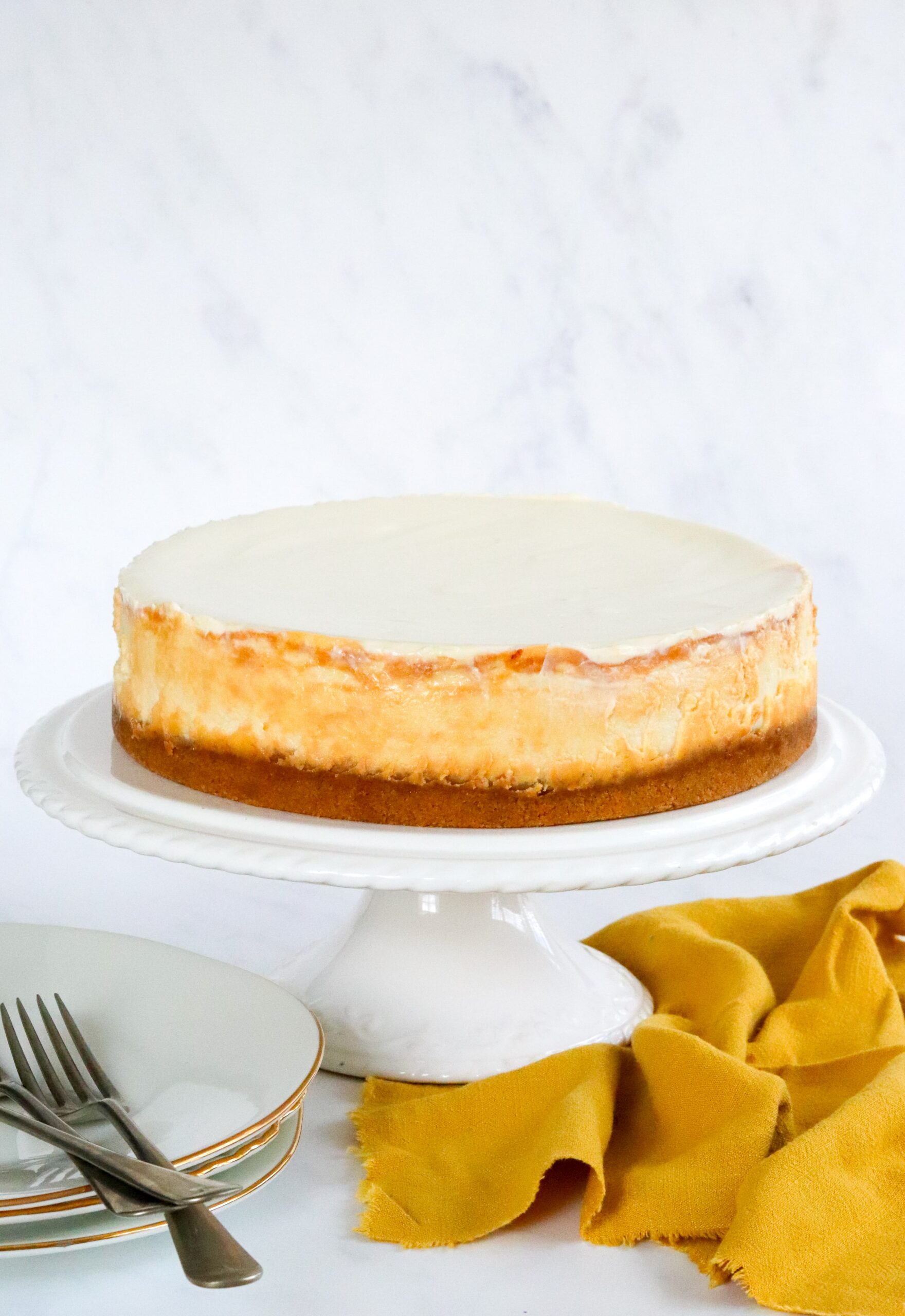 which cream cheese is best to use?
As with all baking, you really need to use full fat cream cheese and sour cream for this cheesecake. The fat free or lighter versions have a higher water content which can affect the texture of the cheesecake.
The higher water content can also prevent the cheesecake from firming up properly during baking. If you want your cheesecake to be deliciously creamy, choose the full fat options.
It is up to you whether you use Philadelphia or a supermarket own brand of cream cheese. I usually opt for the own brand versions which are often called soft cheese.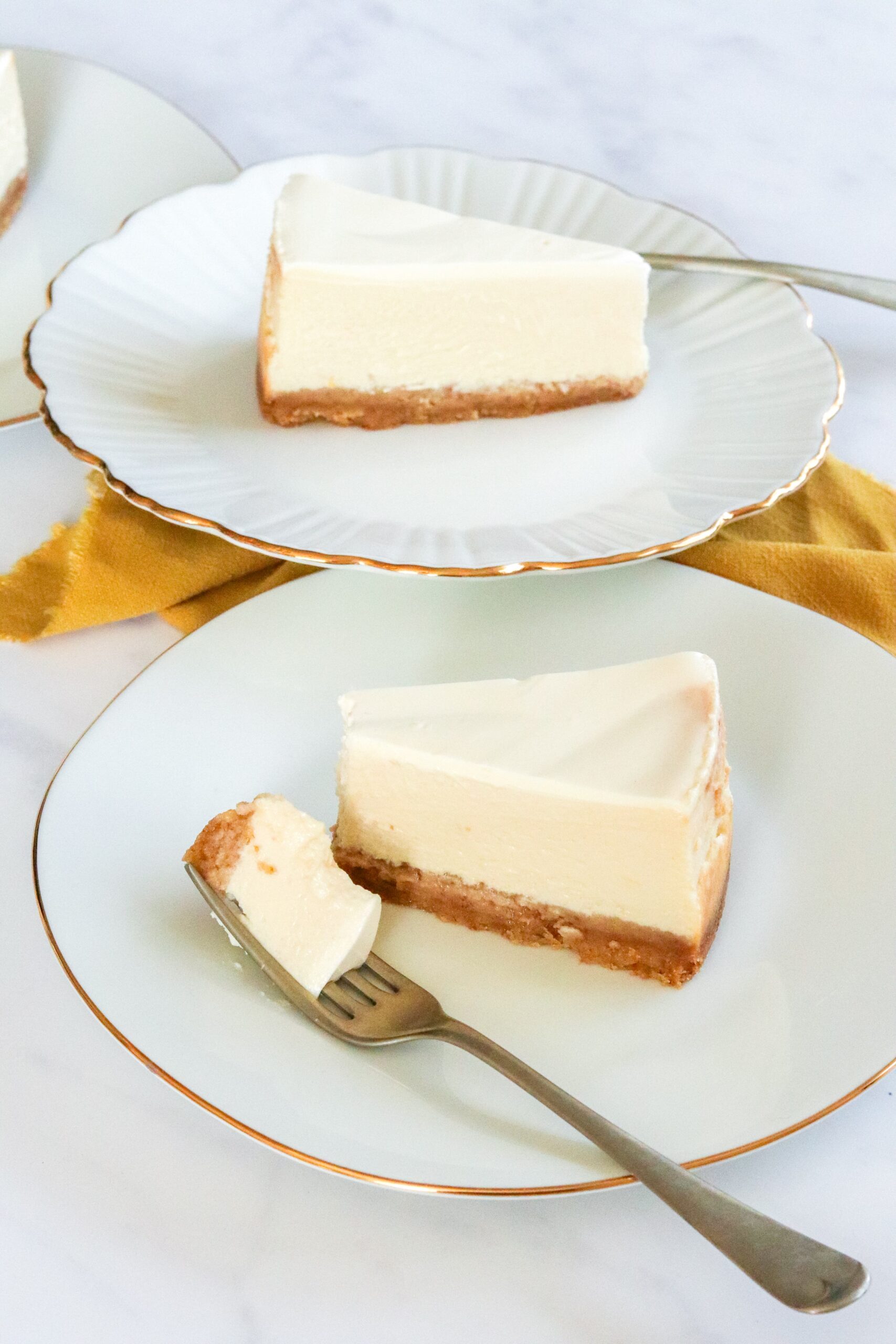 How do you know your cheesecake is baked?
Every oven varies so although I have included timings below, it is definitely beneficial for you to know the signs you are looking for so you know when your cheesecake is baked.
You want your cheesecake to have a slight wobble in the centre when you gently shake the tin. If your cheesecake is rippling across the surface and appears quite liquid still, you need to bake it for longer.
I would always recommend checking the cheesecake every five minutes or so after the initial cooking time. It can start to firm up relatively quickly and you don't want to overbake it too much.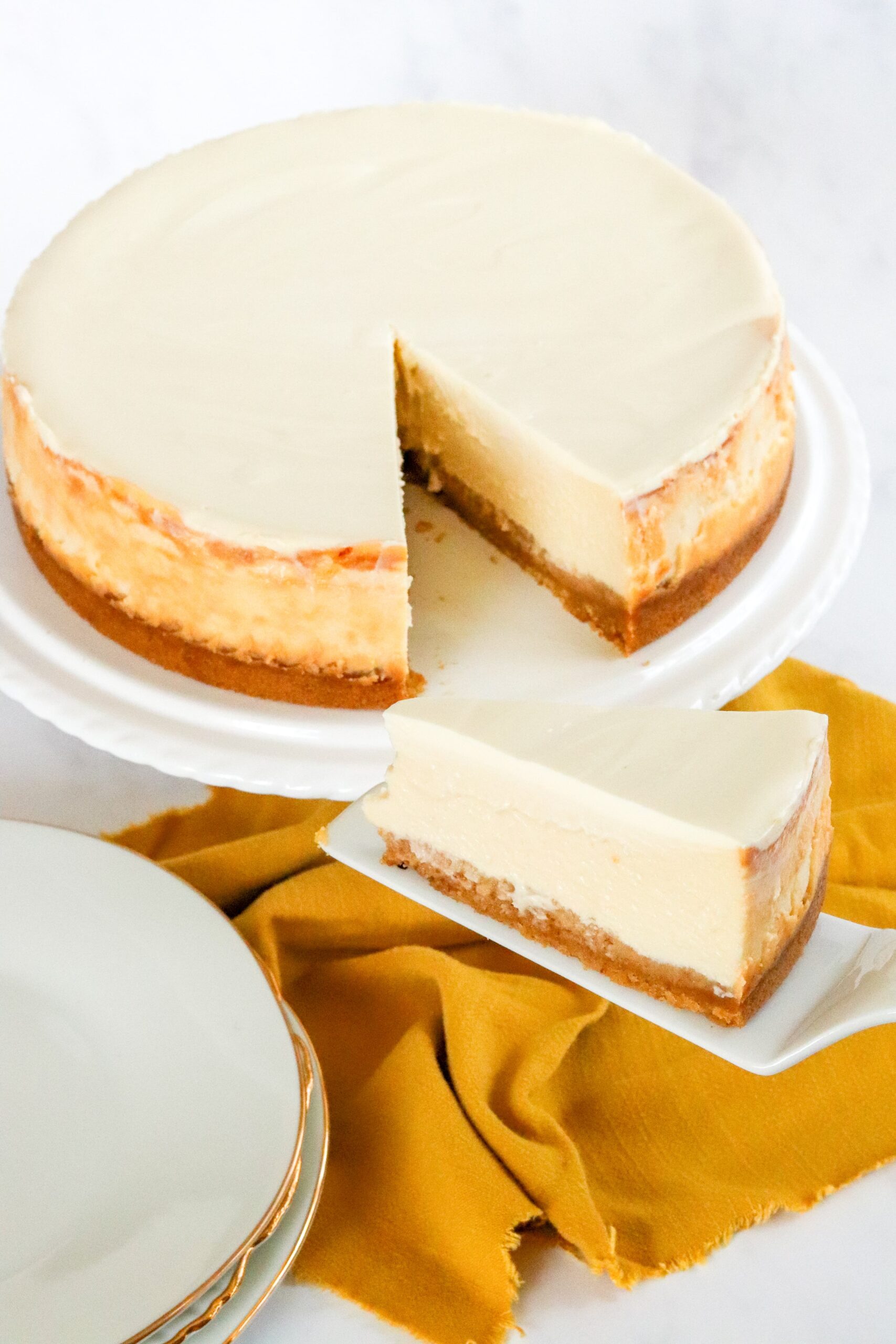 Why do cheesecakes crack?
Cheesecakes can crack if they become a little to dry from being overbaked. But don't panic if yours cracks, it doesn't mean your cheesecake won't be delicious!
Letting your cheesecake cool in the oven is meant to reduce the likelihood of it cracking.
Cheesecakes are quite forgiving so unless you really overbake your cheesecake then you probably won't notice much difference in your finished cheesecake.
When it comes to appearance, if your cheesecake does crack it will be covered with the cream cheese topping. So don't panic, no one needs to know!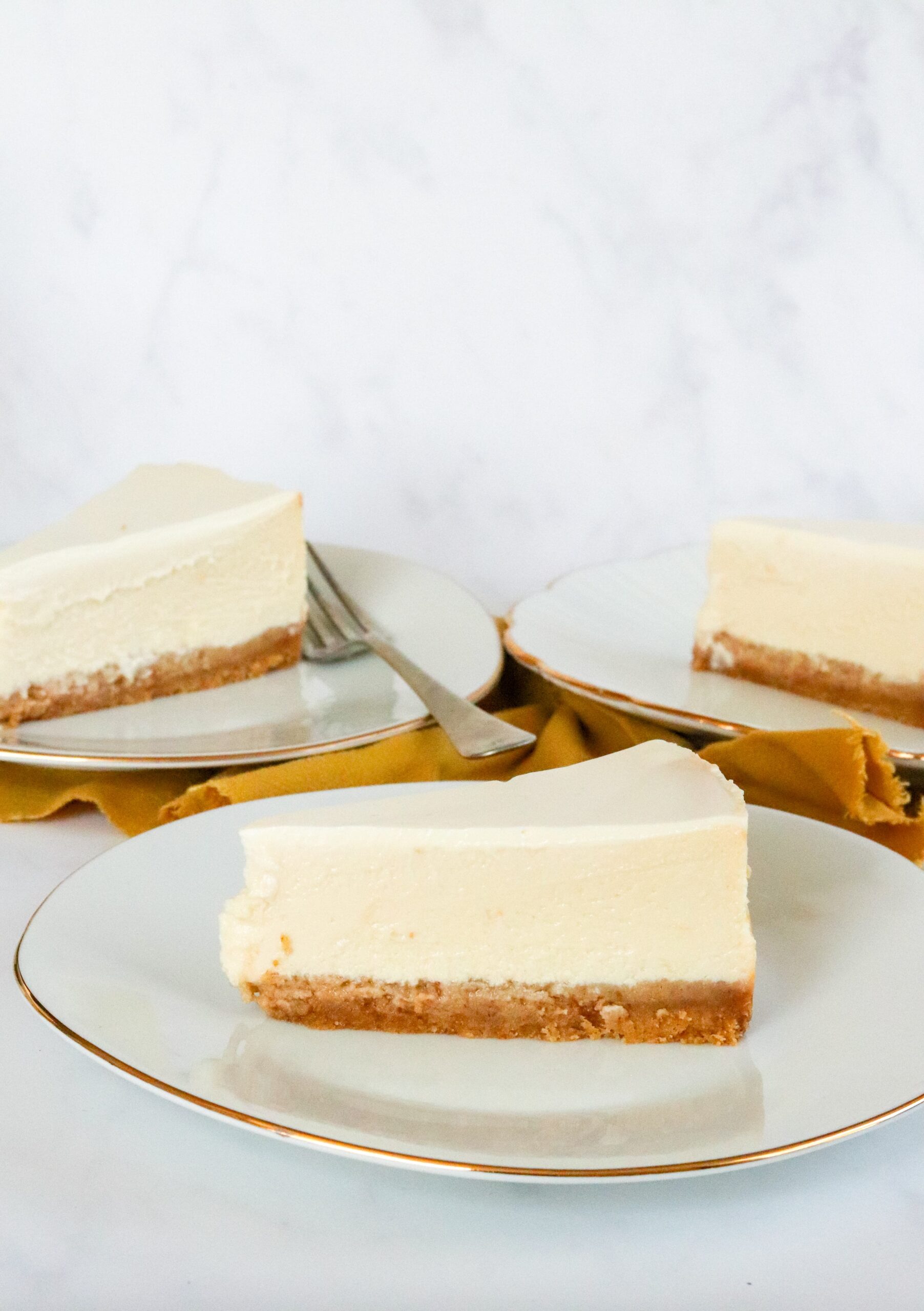 Do you need to use a bain marie?
It is common to use a bain marie (water bath) when baking cheesecakes. It helps to ensure an even baking of the cheesecake.
This New York Cheesecake is one I have adapted over the years from a BBC Food recipe. The original recipe didn't require a bain marie and therefore this isn't something I have ever used.
I have made this cheesecake countless times over the years and I have never had any burnt or unevenly baked cheesecakes from not using a water bath.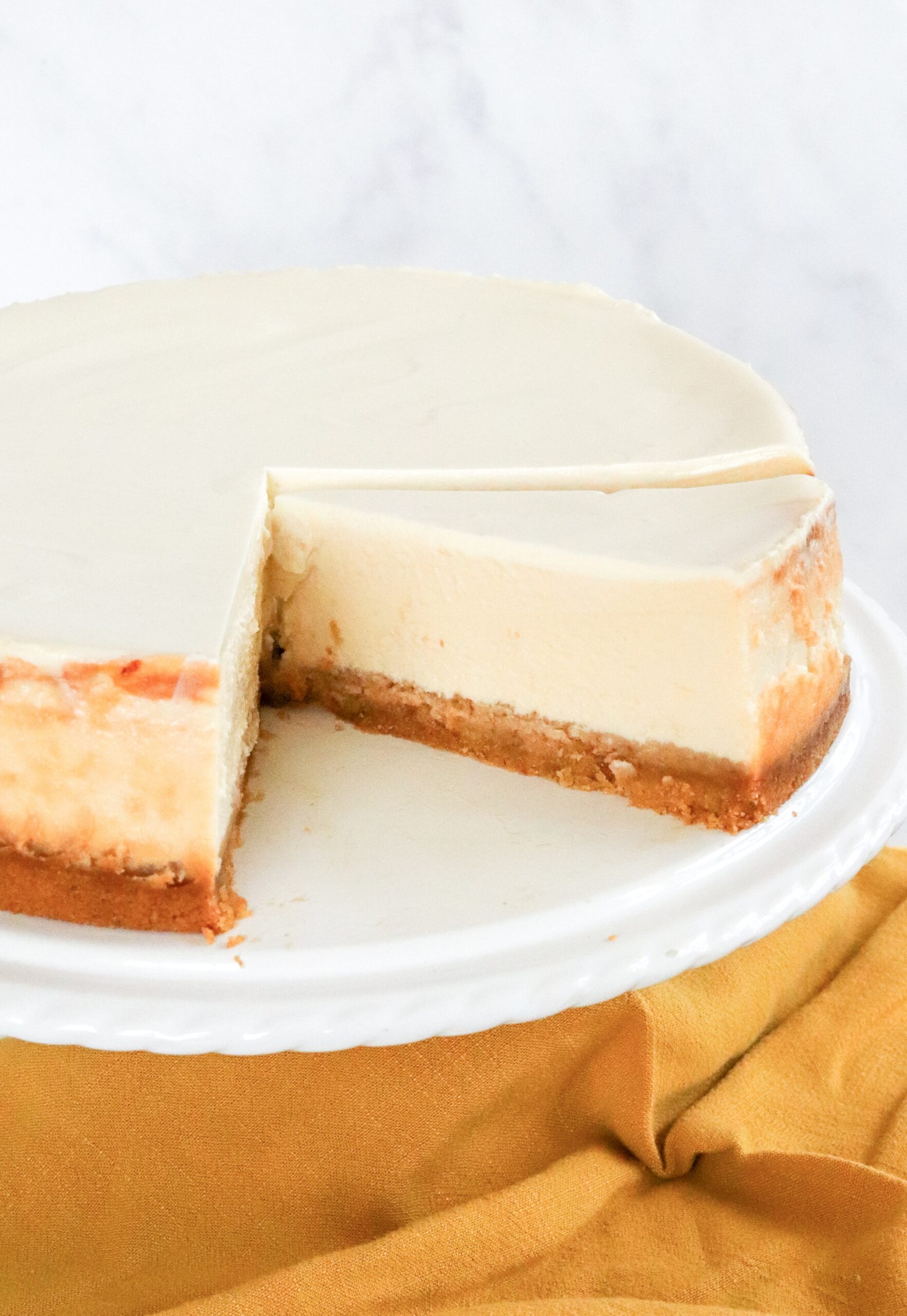 How to serve new york cheesecake
Call me boring, but I like to serve this cheesecake just as it is. To me it is perfect without any additions.
Other people may disagree and you could serve it with some fresh berries such as strawberries, raspberries and blueberries. You could make a quick compote with berries, sugar and a splash of lemon juice if you wanted a fruity sauce to drizzle over the top.
If you wanted to take this cheesecake down a completely different flavour route, you could drizzle over some caramel sauce.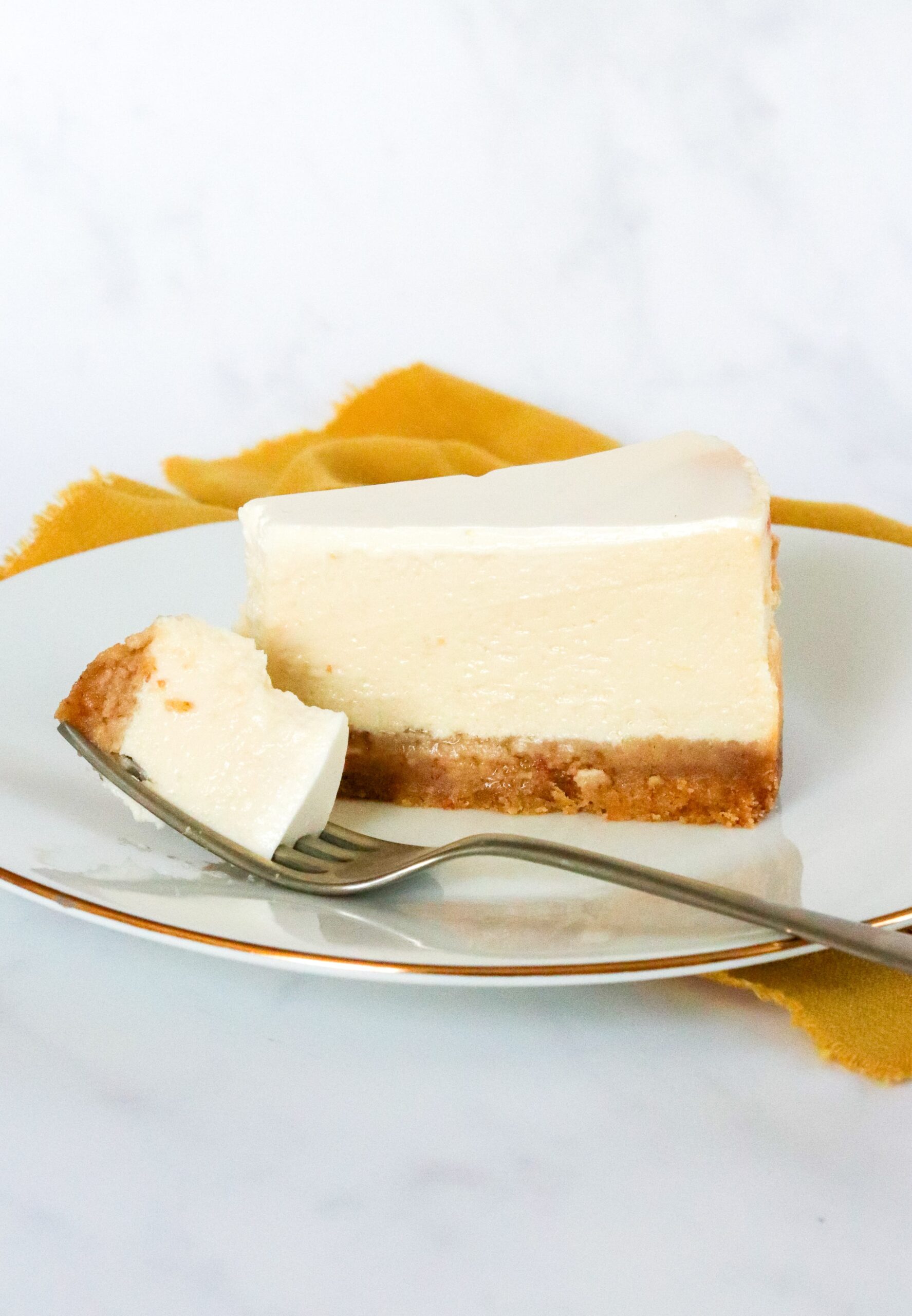 How long will this cheesecake keep for?
This cheesecake will keep in an airtight container in the fridge for up to four days.
Although I haven't tried it myself, some people freeze cheesecake. If I was going to freeze cheesecake this New York cheesecake would be a suitable option as it has a thicker, denser texture which should freeze better than lighter cheesecakes.
If you are going to freeze your cheesecake I would recommend freezing it when it is freshest. I would freeze it in tightly sealing tupperware containers.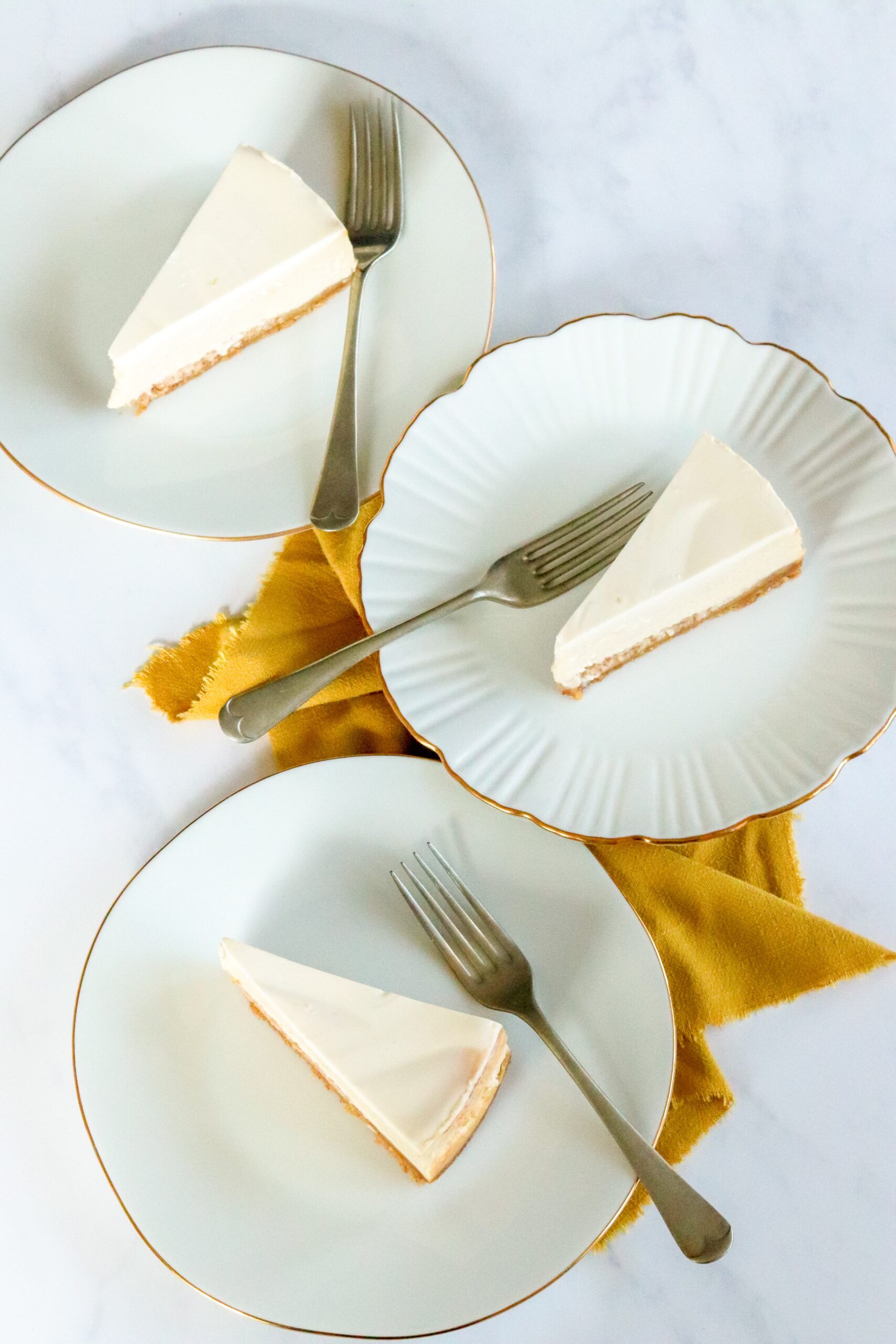 Other recipes you might like
Pin for later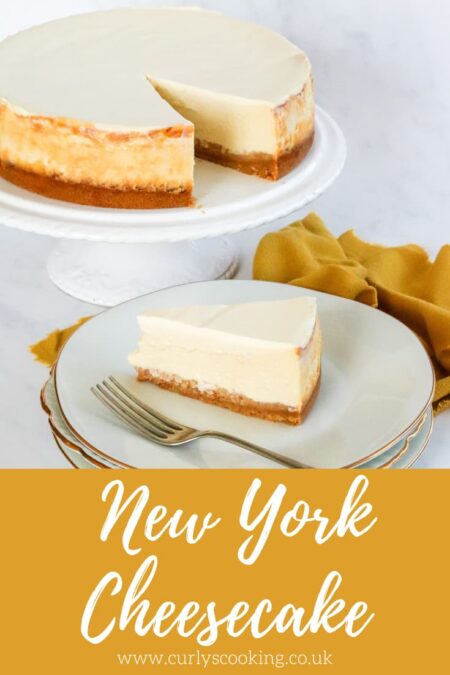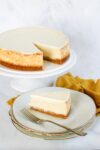 New York Cheesecake
Thick, creamy cheesecake with a crisp biscuit base. With just a hint of lemon, New York Cheesecake is subtle in flavour but oh so indulgent! This delicious cheesecake will be a roaring success whenever you make it.
Total Time
1
hour
40
minutes
Ingredients
For the base
300

g

digestive biscuits

crushed into fine crumbs

115

g

unsalted butter

melted

1

tbsp

caster sugar
For the filling
900

g

full fat cream cheese

250

g

caster sugar

3

tbsp

plain flour

pinch

of salt

1 ½

tsp

vanilla extract

Finely grated zest of ½ lemon

1 ½

tsp

lemon juice

3

large eggs

1

egg yolk

200

ml

soured cream

15

g

unsalted butter

melted
For the topping
225

ml

soured cream

1

tbsp

caster sugar

1-2

tsp

lemon juice
Instructions
Preheat the oven to 160ºC (fan or 180ºC non fan) and set a shelf to the middle. Line the base of a 9 inch (23cm) spring form cake tin with parchment paper.

Blitz 300g digestive biscuits into fine crumbs using a food processor. If you don't have a food processor, put the biscuits into a plastic bag and crush them with a rolling pin until quite fine

Melt 115g unsalted butter in a large bowl in the microwave

Stir in the crushed biscuits and 1 tbsp sugar until the biscuits are evenly coated

Press the biscuit mixture into the bottom of the tin using the back of a spoon or your hands making sure it is an even layer

Bake in the oven for 10 minutes and then allow to cool while you make the filling

Increase the oven temperature to 200ºC (fan or 240ºC non fan). In a mixer with a paddle attachment, beat 900g cream cheese at a medium-low speed for approximately 2 minutes until it is creamy

Reduce the mixer to a low speed and gradually add 250g sugar, 3 tbsp flour and a pinch of salt

Change the paddle to the whisk attachment. Add 1½ tsp vanilla extract, ½ lemon zested and 1½ tsp lemon juice to the cream cheese and mix

Whisk in 3 eggs and 1 egg yolk, one at a time making sure you scrape down the bowl

Add 200ml soured cream and mix on a low speed making sure you don't over beat. The mix should be light and smooth

Brush the sides of the spring form tin with 15g melted butter and put the tin on a baking sheet

Pour the filling into the tin wiggle the tin to help the filling settle flat. Bake for 10 minutes.

After 10 minutes, reduce oven temperature to 90ºC (fan or 110ºC non fan) and bake for 25 – 40 minutes. If you gently shake the tin, the filling should have a slight wobble. Check after 25 minutes and keep baking for a further 5 minutes until you have the slight wobble.

Turn off the oven and open the oven door for a cheesecake that's creamy in the centre, or leave the door closed if you prefer a drier texture. Let cool in the oven for 2 hours.

One the cheesecake is cooled, make the topping. Whisk 225ml soured cream, 1 tbsp sugar and 1 tsp lemon juice together in a jug

Pour over the cheesecake and spread out right to the edges

Cover loosely with foil and refrigerate for at least 8 hours or overnight

When serving, run a pallet knife around the sides of the tin to loosen any stuck edges before unlocking the side
Recipe Notes
Nutritional information is given as a guide only and may vary.
Nutrition Facts
New York Cheesecake
Amount Per Serving
Calories 304
Calories from Fat 135
% Daily Value*
Fat 15g23%
Cholesterol 68mg23%
Sodium 198mg9%
Potassium 84mg2%
Carbohydrates 38g13%
Protein 3g6%
Vitamin A 445IU9%
Vitamin C 0.7mg1%
Calcium 46mg5%
Iron 1.1mg6%
* Percent Daily Values are based on a 2000 calorie diet.