Crispy puff pastry filled with the flavours of Christmas. Delicious as a light lunch or as a nibble to serve to guests at a party, these Turkey & Cranberry Sausage Rolls are really easy which is good because after you've made them once, you'll be asked to make them again and again.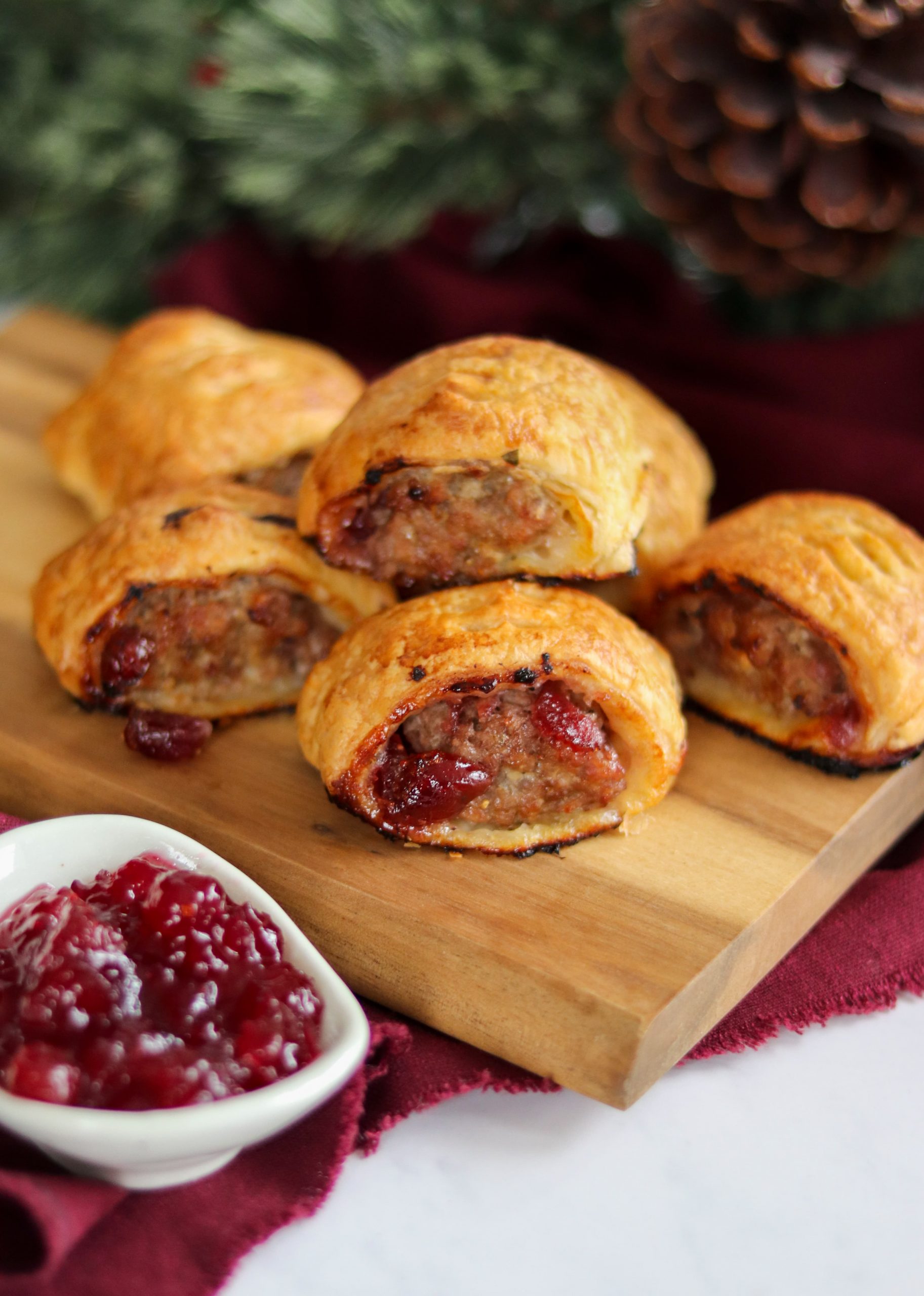 Does anyone else always have sausage rolls at Christmas?
Christmas wouldn't be the same without sausage rolls in my opinion. My Mum made them for as long as I can remember at Christmas and they have always been very popular in my family.
I love traditional sausage rolls made with pork sausage meat, but I also like the idea of making slight tweaks to make them more exciting.
My Mustard & Sage Sausage Rolls are an example of this.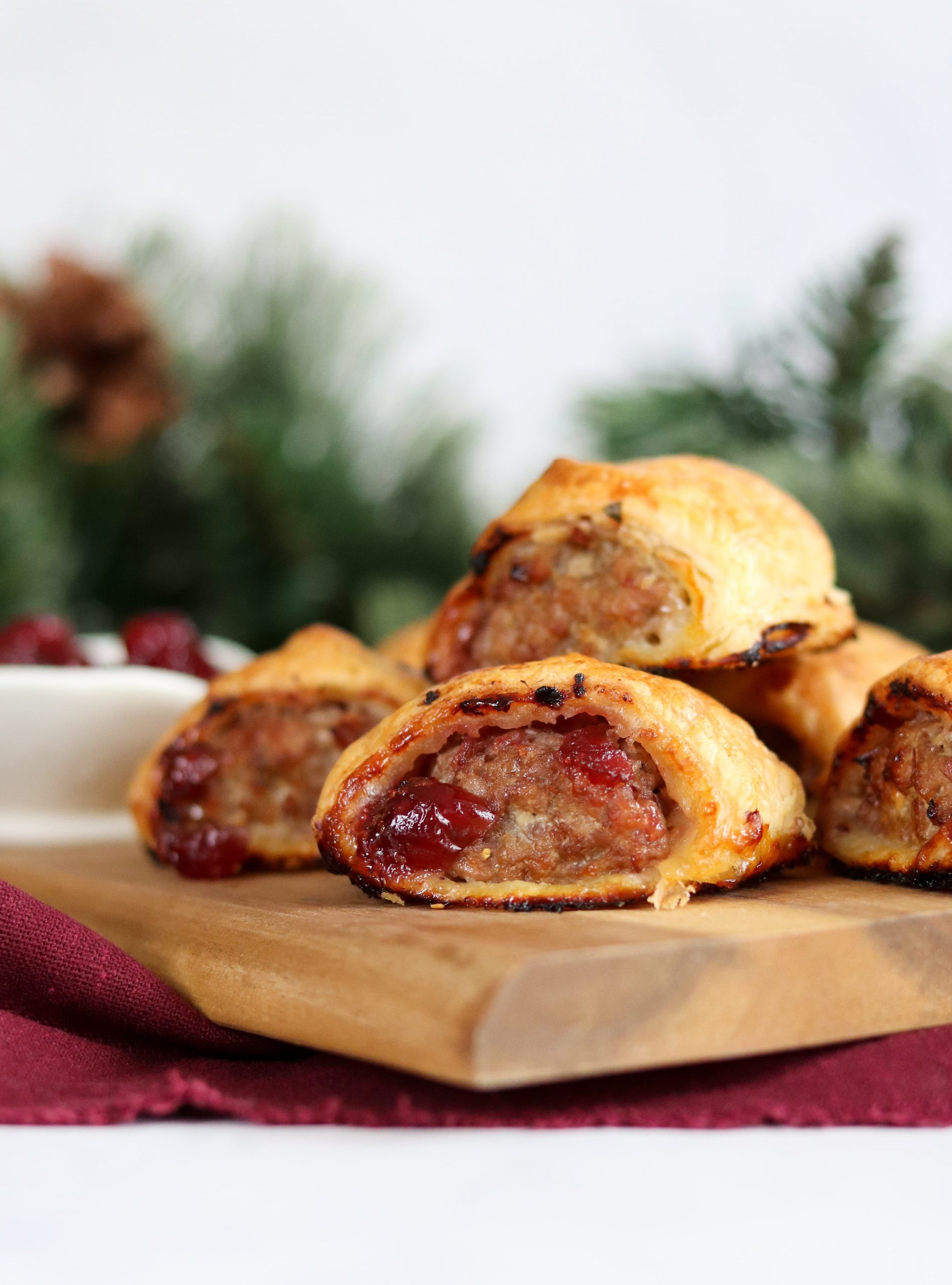 Turkey and cranberry – the perfect Christmas flavours
Who doesn't associate Christmas or Thanksgiving with turkey? And what goes well with turkey – cranberry sauce!
These are classic flavours that are perfect for this time of year. Although these are familiar Holiday flavours, they are very different from the main event turkey so you won't get bored!
Although this isn't a leftover turkey recipe, it is a great way of using up and leftover cranberry sauce that you might have.
Talking about leftover turkey recipes, if that is what you're looking for my Leftover Turkey, Cranberry & Brie Pastries are for you!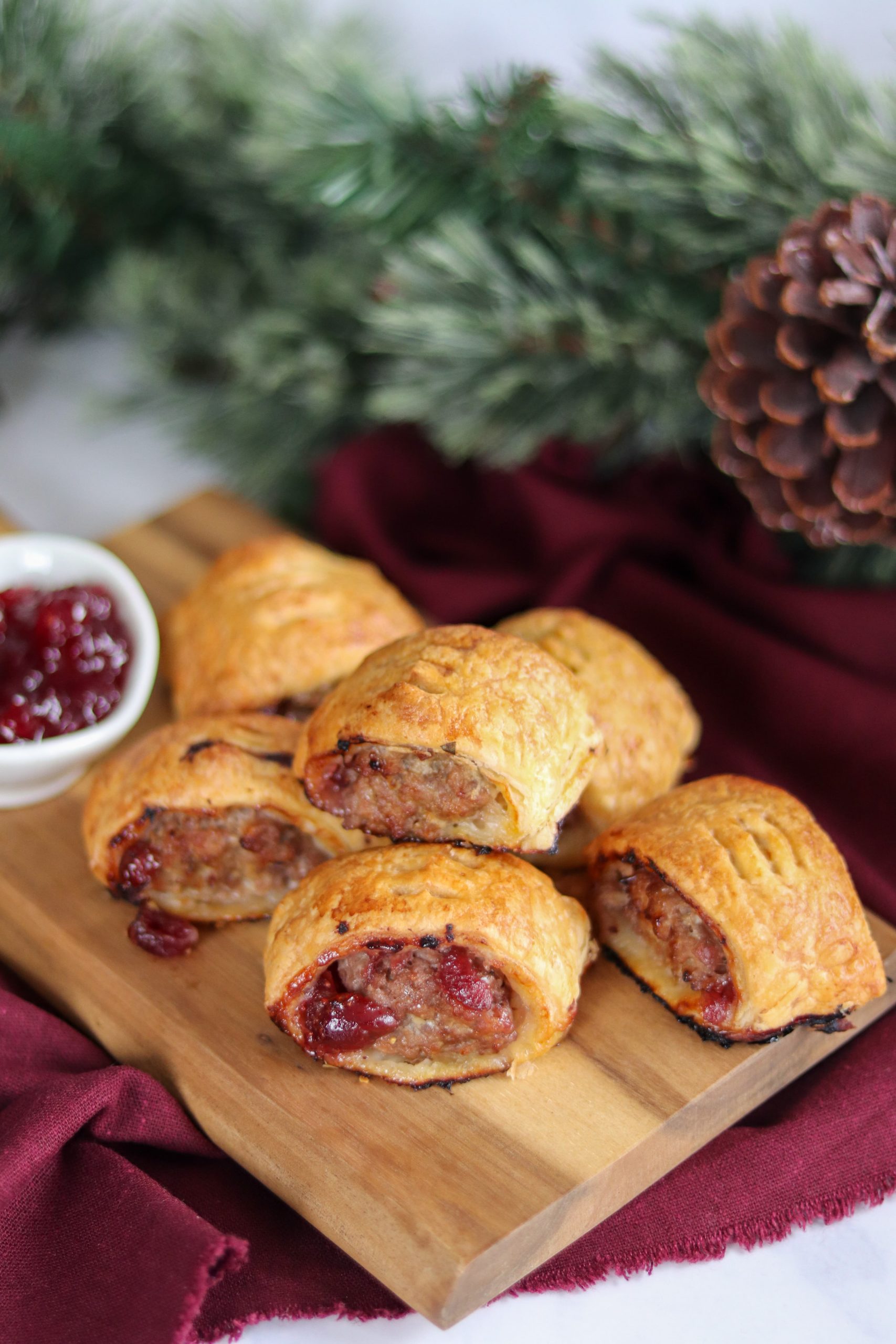 Chop bought pastry is not cheating
I have heard cooks and chefs say too many times that they don't usually make their own pastry. I am all for making your life easier when it comes to pastry!
Not only do I buy my pastry, I buy the ready rolled version. Is it just me that really struggles to roll out pastry?! It always ends up misshapen for me.
That is ok if you're making something like mince pies, but not ideal for sausage rolls!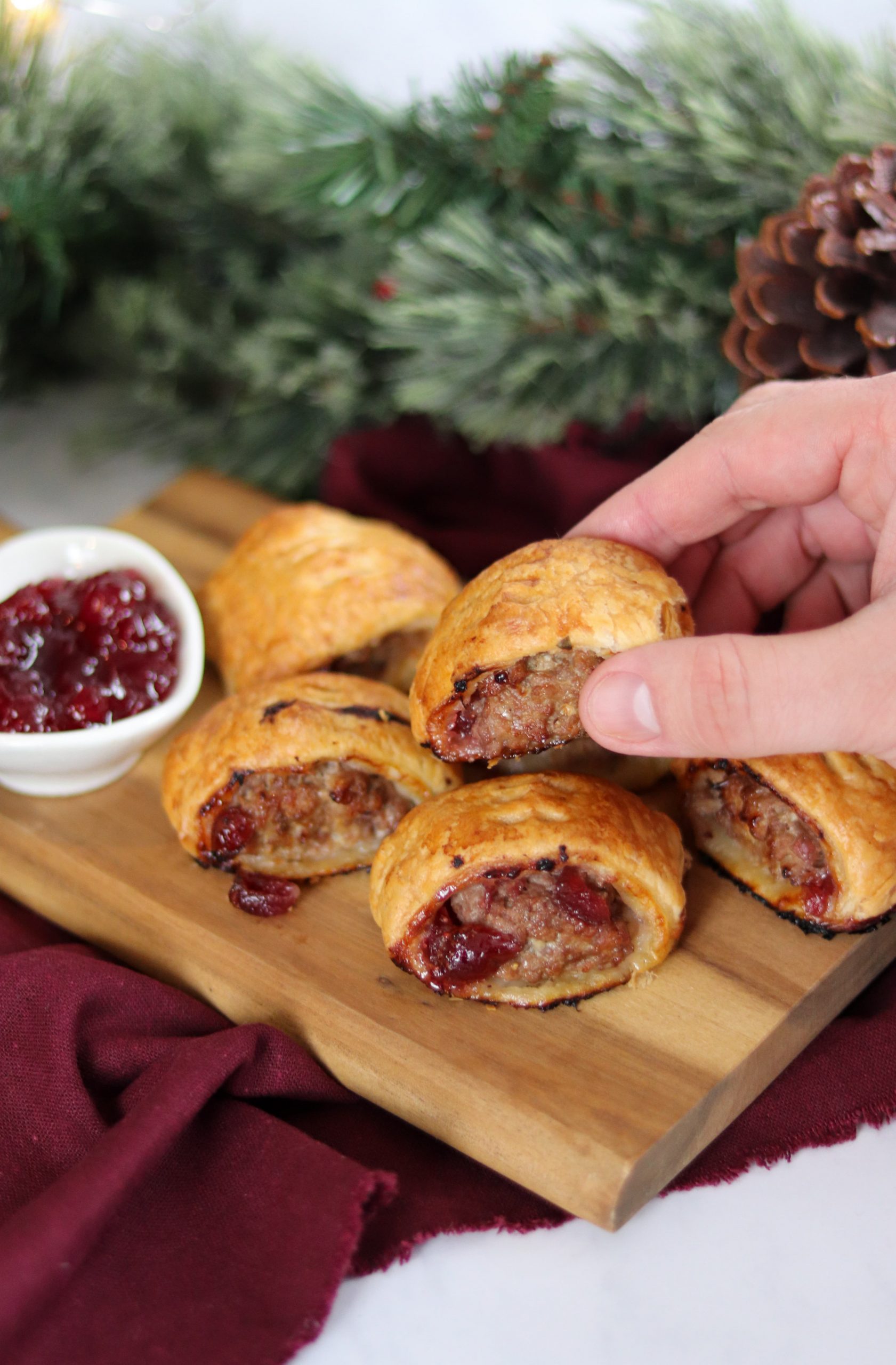 Which turkey mince is best to use?
Most supermarkets sell turkey thigh or breast mince.
Turkey breast mince is leaner at around 3% fat whereas thigh mince has slightly more fat as you would expect and is 7% fat.
You can obviously use whichever you prefer, but personally I would recommend using thigh mince.
Turkey can sometimes be a little bland. So I really think it benefits from having the extra fat content. It also helps keep the mince moist which is always good!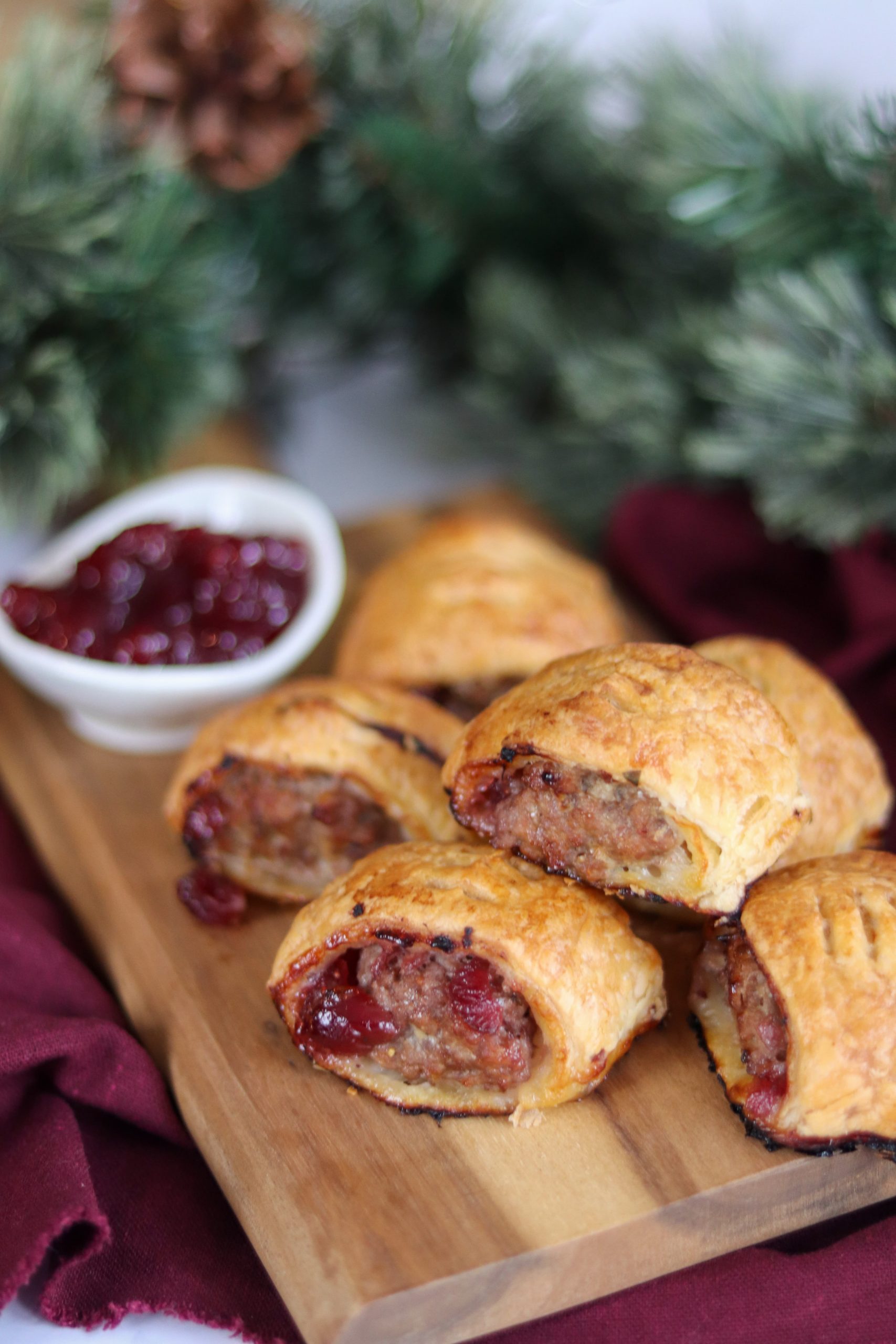 Adding flavour to the sausage rolls
Although turkey is a tasty, I do think it benefits from having flavour added to the mince as well as the cranberry sauce.
I think some fresh herbs and seasoning really elevate the flavour of the turkey. I have used thyme, but rosemary and sage would also work really well.
if you didn't have fresh herbs, you could use dried but make sure you use half the amount as in the recipe. I use dried thyme in my Pork & Apple Sausage Rolls.
As well as thyme, I like to add garlic to the mince. I use garlic powder because it is quick and easy but you would use fresh as well.
I would just make sure you mince it really finely as no one wants a big lump of garlic in their sausage roll.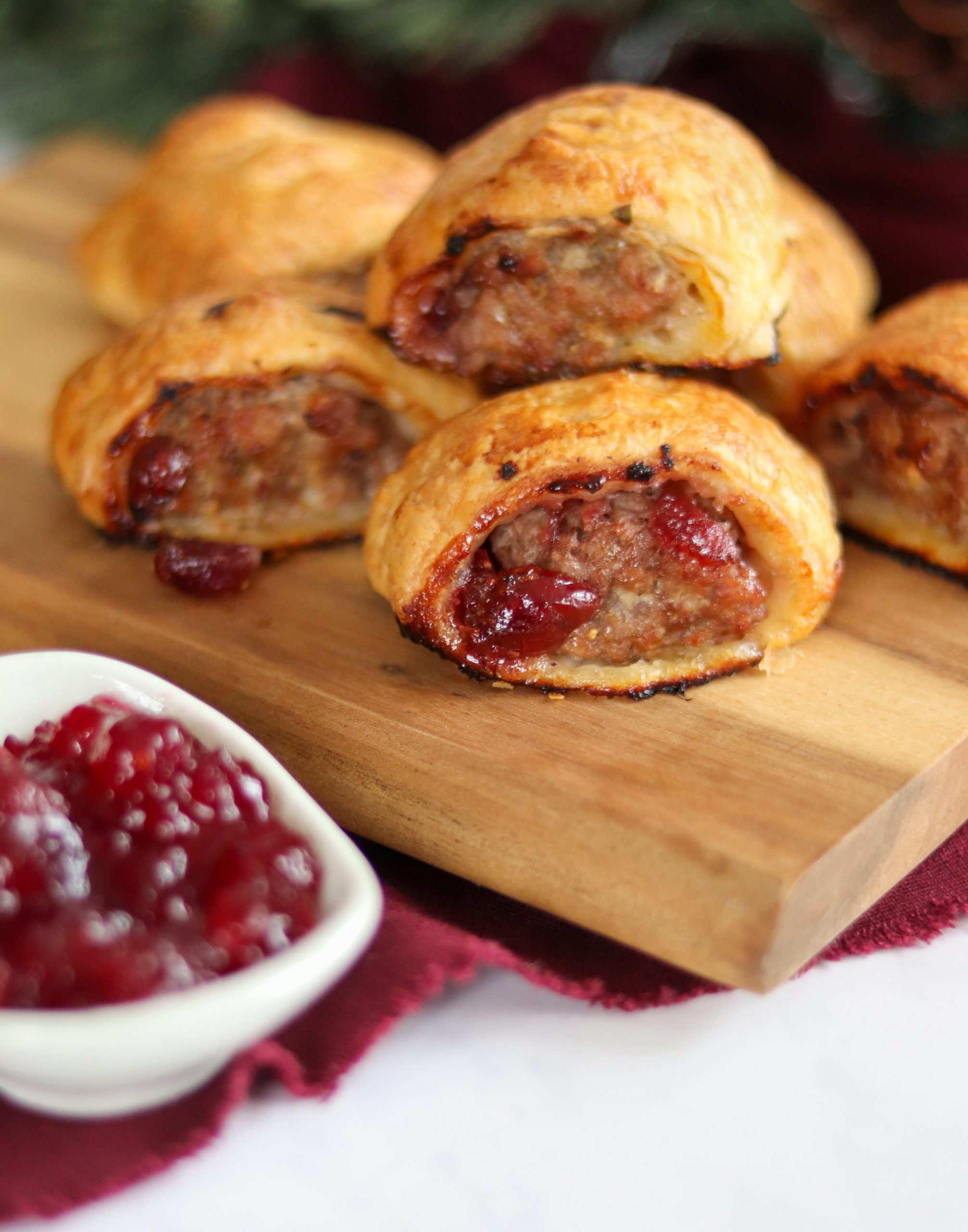 Which cranberry sauce is recommended to use?
I tend to make these Turkey & Cranberry Sausage Rolls even easier and use a shop bought cranberry sauce.
You could definitely make your own. I have my eye on this Smooth Cranberry Sauce which would be perfect for these sausage rolls.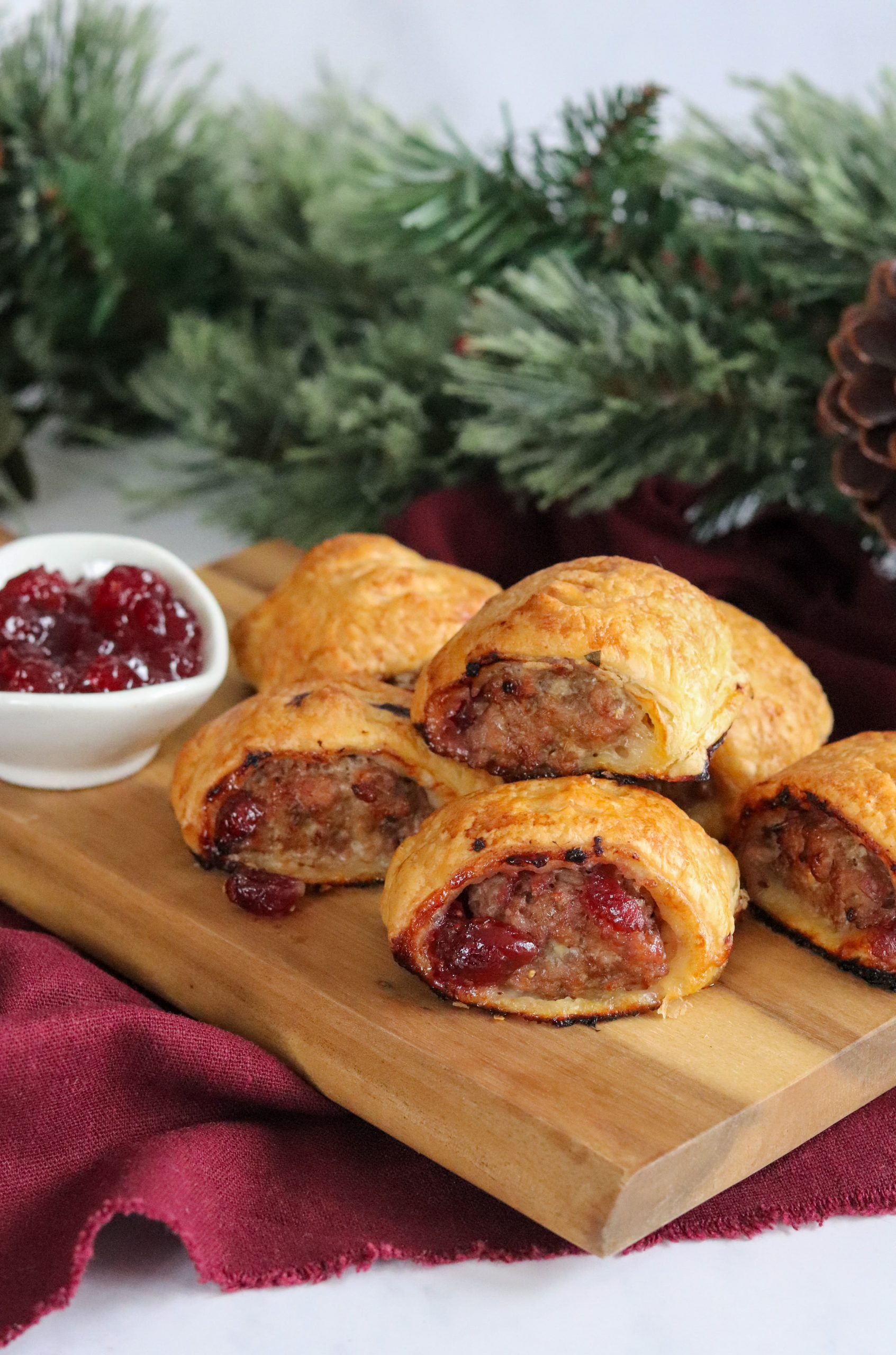 How long will these sausage rolls keep for?
These Turkey Sausage Rolls will keep in an airtight container for up to five days. They are delicious eaten hot or cold.
If you want to reheat them I would put them on a tray in the oven at 180ºC for 10 minutes.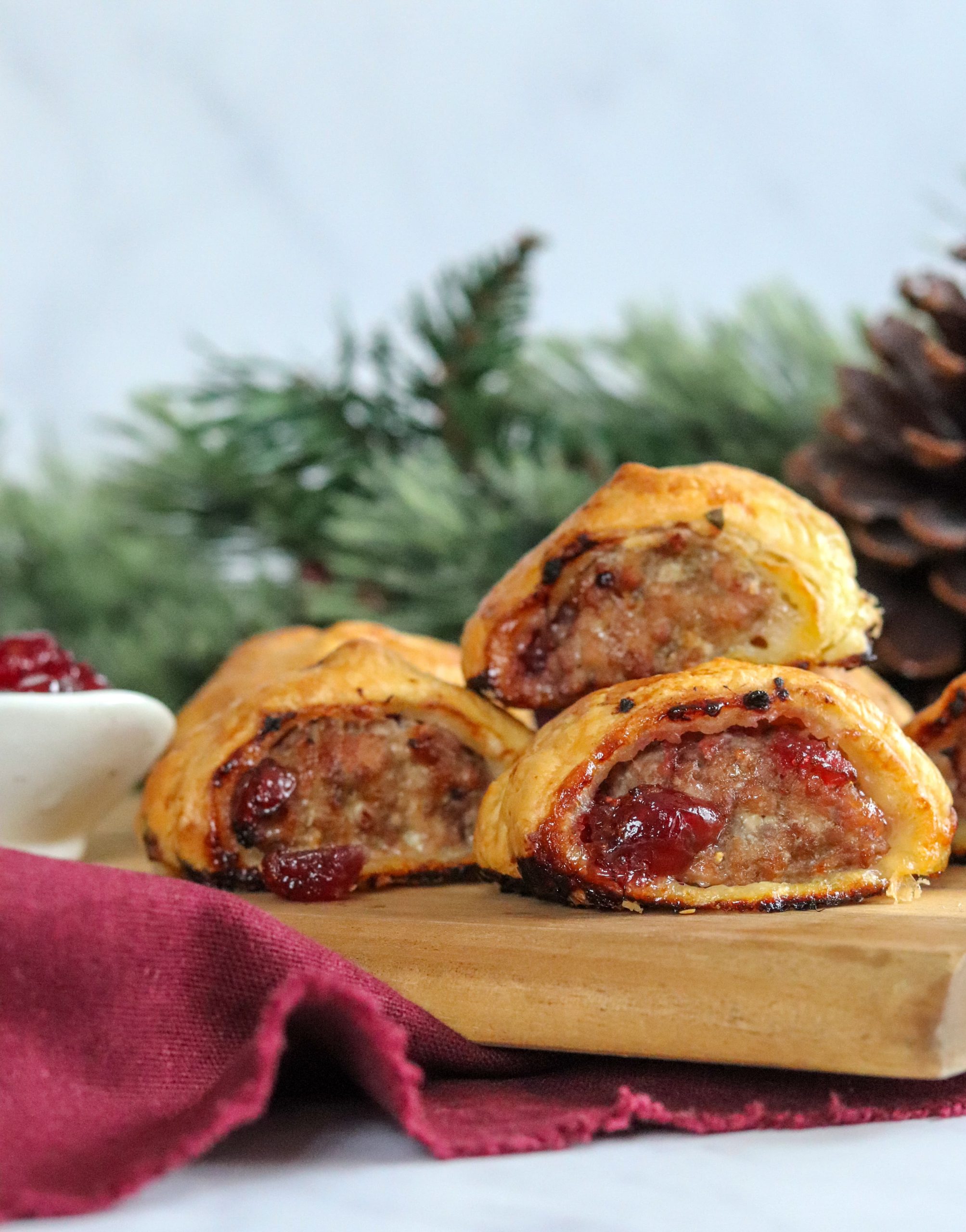 Can you freeze these sausage rolls?
Yes, they freeze really well and this is what I do every year.
Make the sausage rolls as per the instructions below and line them on a baking tray. Don't brush them with milk.
Place the baking tray into the freezer to allow them to firm up for an hour or so. Once they are firm take them off the tray and put them in a container in the freezer to completely freeze.
When you want to cook them, take them straight from the freezer and put them on a baking tray. Brush them with milk and bake them for ten minutes longer than the recipe below.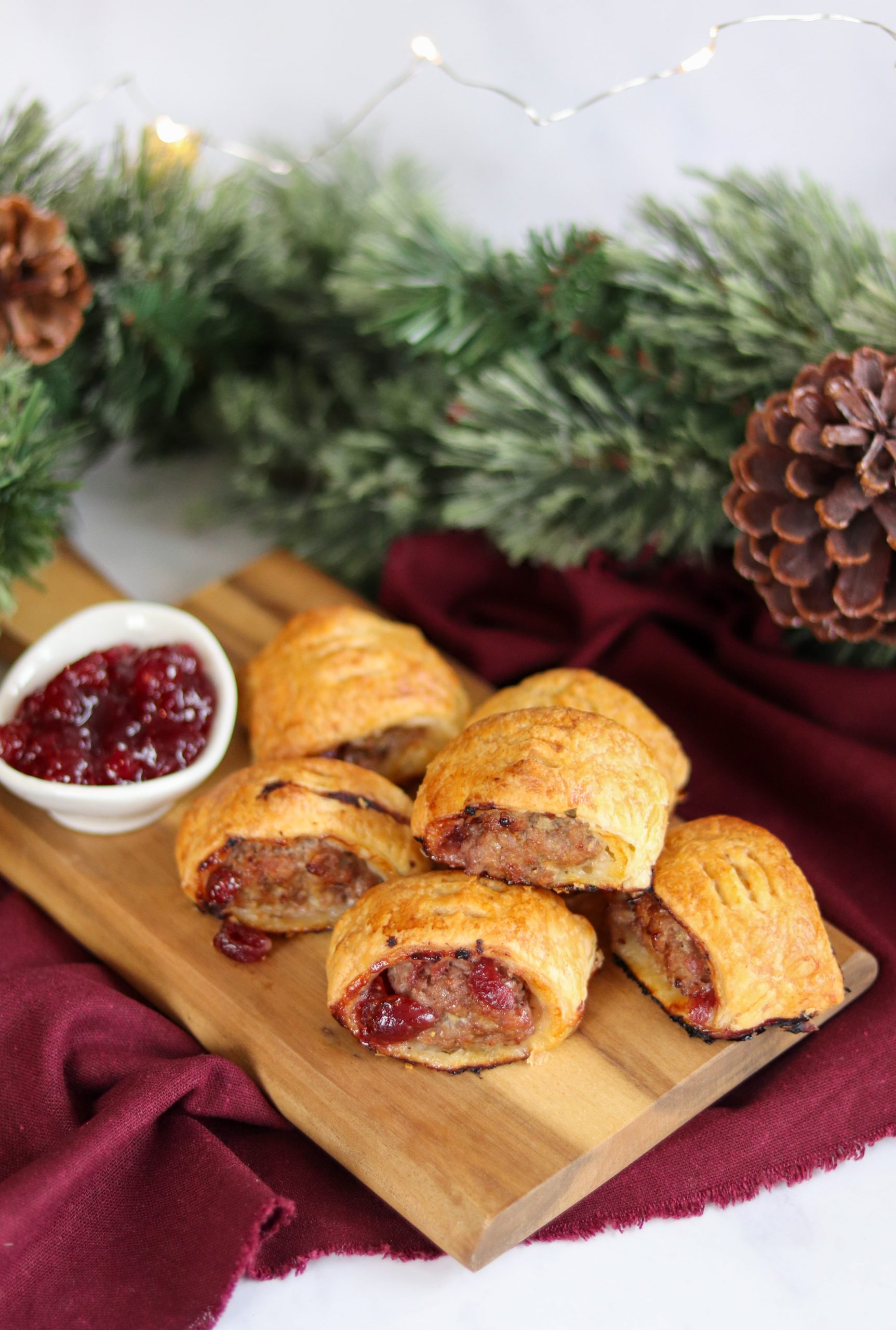 Making these sausage rolls gluten free
It is really easy to make these Turkey & Cranberry Sausage Rolls gluten free.
Gluten free pastry is quite easy to come by these days. It used to only be found in the frozen aisles but recently you can also buy it fresh. Here in the UK Justrol are the brand to look out for if you want gluten free pastry.
The rest of the ingredients are naturally gluten free.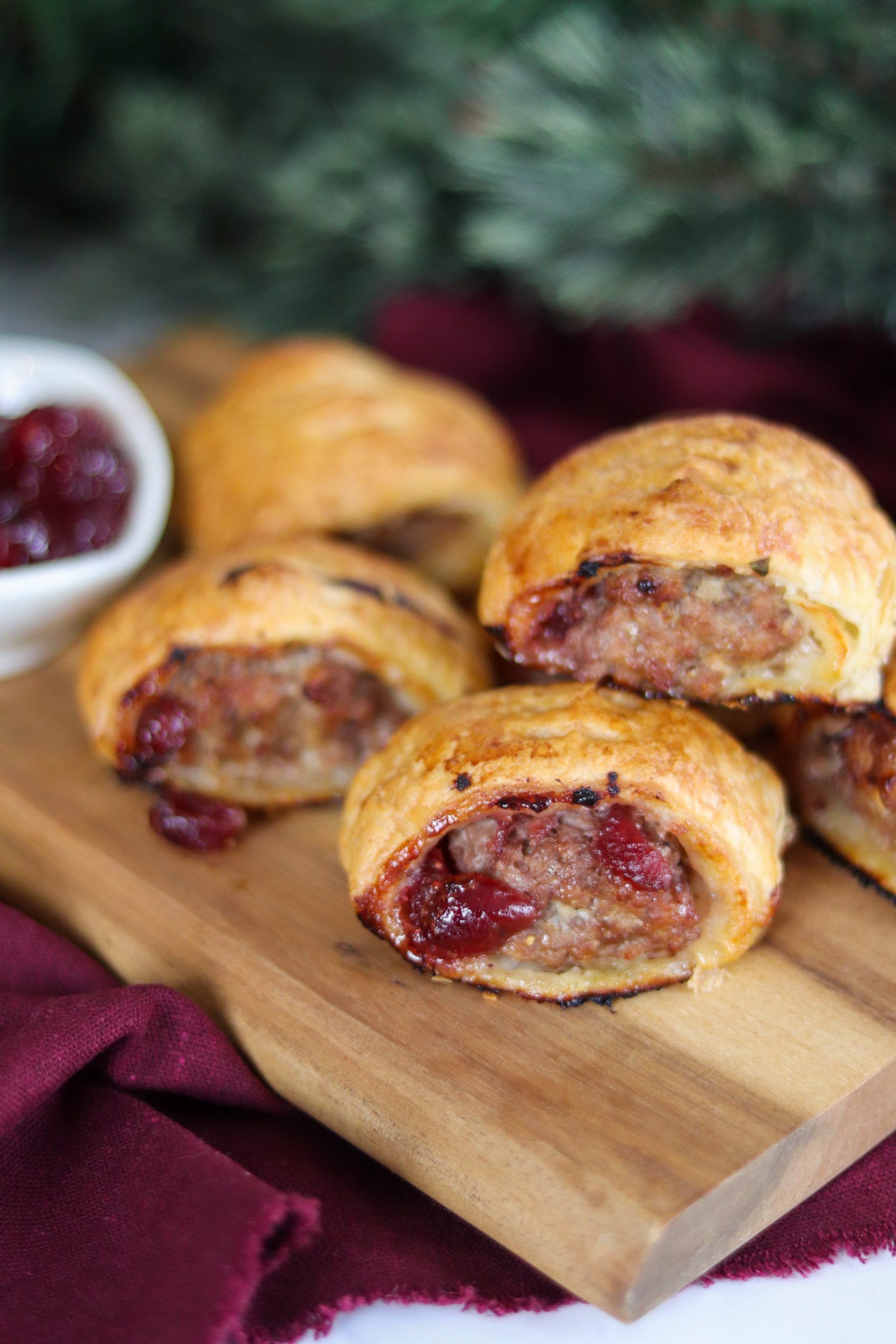 Other recipes you might like
Pin for later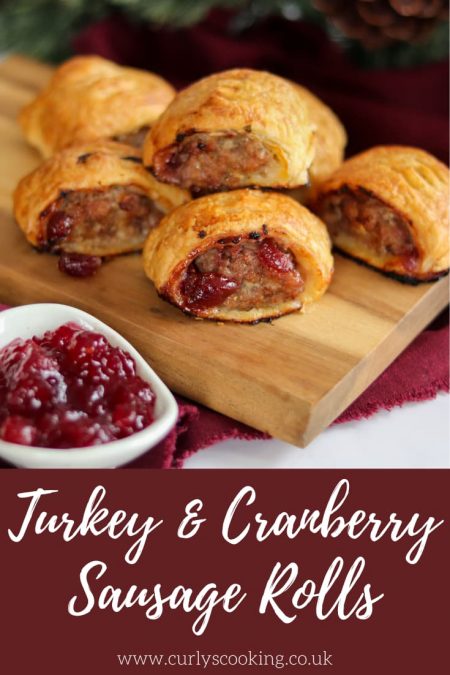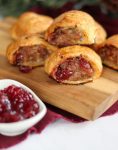 Turkey & Cranberry Sausage Rolls
Crispy puff pastry filled with the flavours of Christmas. Delicious as a light lunch or as a nibble to serve to guests at a party, these Turkey & Cranberry Sausage Rolls are really easy which is good because after you've made them once, you'll be asked to make them again and again.


Ingredients
500

g

turkey mince

1

tbsp

fresh thyme leaves

1

tsp

sea salt

¼

tsp

black pepper

½

tsp

garlic powder

375

g

ready rolled puff pastry

(1 pack)

130

g

cranberry sauce

1

tbsp

milk

Spray oil
Instructions
Preheat the oven to 190ºC (fan assisted or 210ºC non fan)

Add the turkey mince into a large bowl and add the thyme, salt, pepper and garlic powder. Mix thoroughly to distribute the seasonings, I find it easiest to do this with your hands

Unroll the pastry and cut the pastry in half length ways. Spread half of the cranberry sauce down the middle of each strip of pastry

Form the turkey into two long sausage shapes and place on top of the cranberry sauce

Brush one of the long edges of each piece of pastry with the beaten egg or milk

Roll the pastry closest to you tightly under the turkey mince and then roll over so the sealed edge is on the bottom

Cut each long roll of pastry into individual sausage rolls

Spray two baking trays with oil and place the sausage rolls on the tray. Brush each sausage roll with the beaten egg or milk

Using scissors, make roughly three cuts into the top of each sausage roll

Bake in the oven for 20 minutes. Once out of the oven, transfer the sausage rolls onto a wire rack as soon as possible and allow to cool
Recipe Notes
Keep in an airtight container in the fridge for up to 5 days.
Nutritional information is given as a guide only and my vary.
Nutrition Facts
Turkey & Cranberry Sausage Rolls
Amount Per Serving
Calories 173
Calories from Fat 27
% Daily Value*
Fat 3g5%
Cholesterol 23mg8%
Sodium 170mg7%
Potassium 69mg2%
Carbohydrates 3g1%
Protein 6g12%
Vitamin A 47IU1%
Vitamin C 1mg1%
Calcium 9mg1%
Iron 1mg6%
* Percent Daily Values are based on a 2000 calorie diet.