Sticky and sweet sausages with a very slight bite from wholegrain mustard. These Honey & Mustard Cocktail Sausages are very addictive and will disappear very quickly!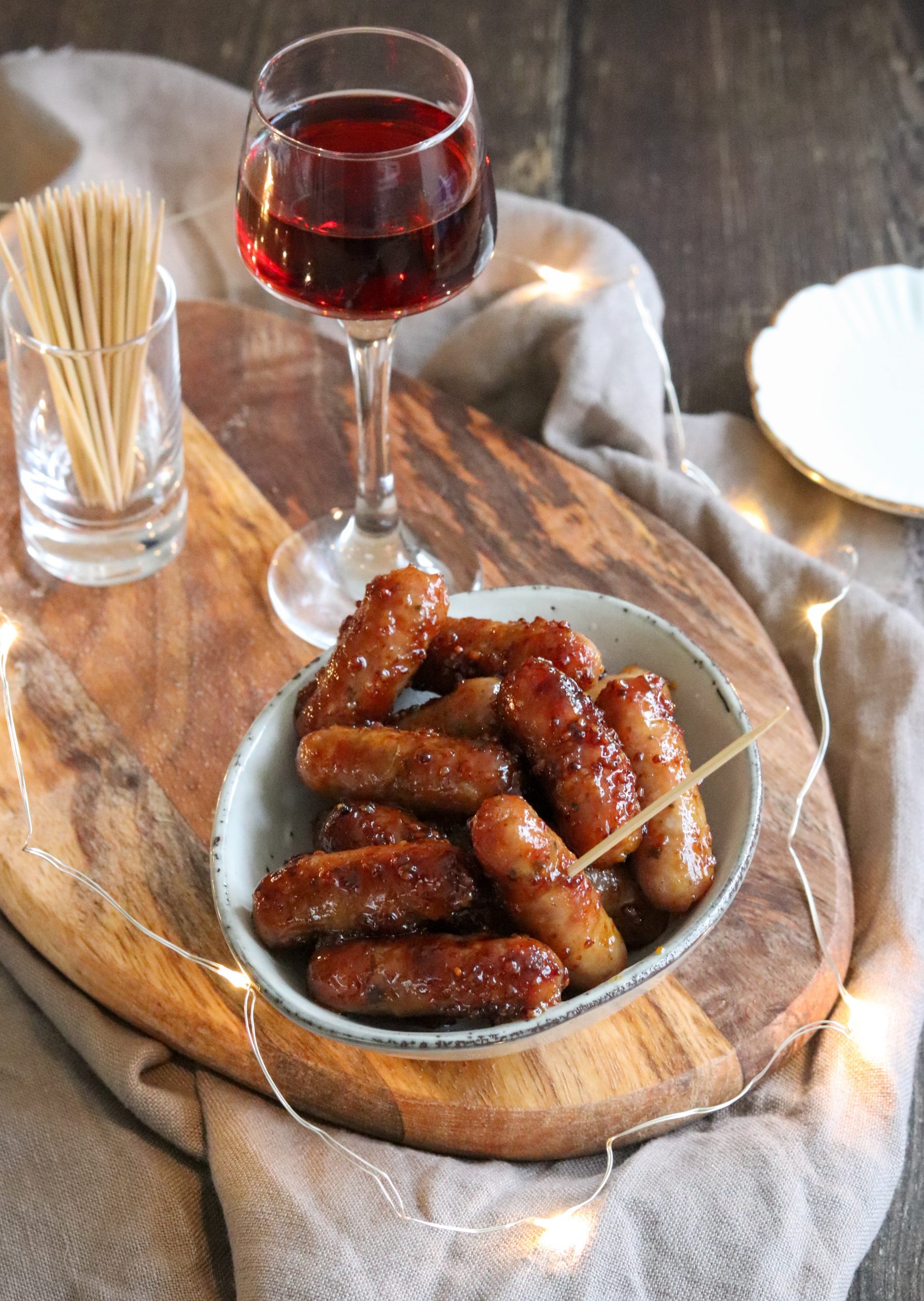 What is your favourite sausage?
I love sausages, and I especially love all of the different flavours and varieties you can buy these days. My all time favourite sausages have to be pork and apple though, there is definitely something about them – what's yours?
I really love the sticky sweetness the apple brings to the sausages which helped inspire this recipe.
Honey and mustard are one of my favourite flavour combinations. Other types of mustard aren't really for me, but wholegrain mustard in recipes is definitely my cup of tea.
It also works really well with the sweetness of the honey which helps it stick to the sausages better. If you like a bit of spice, try my Sticky Korean Cocktail Sausages.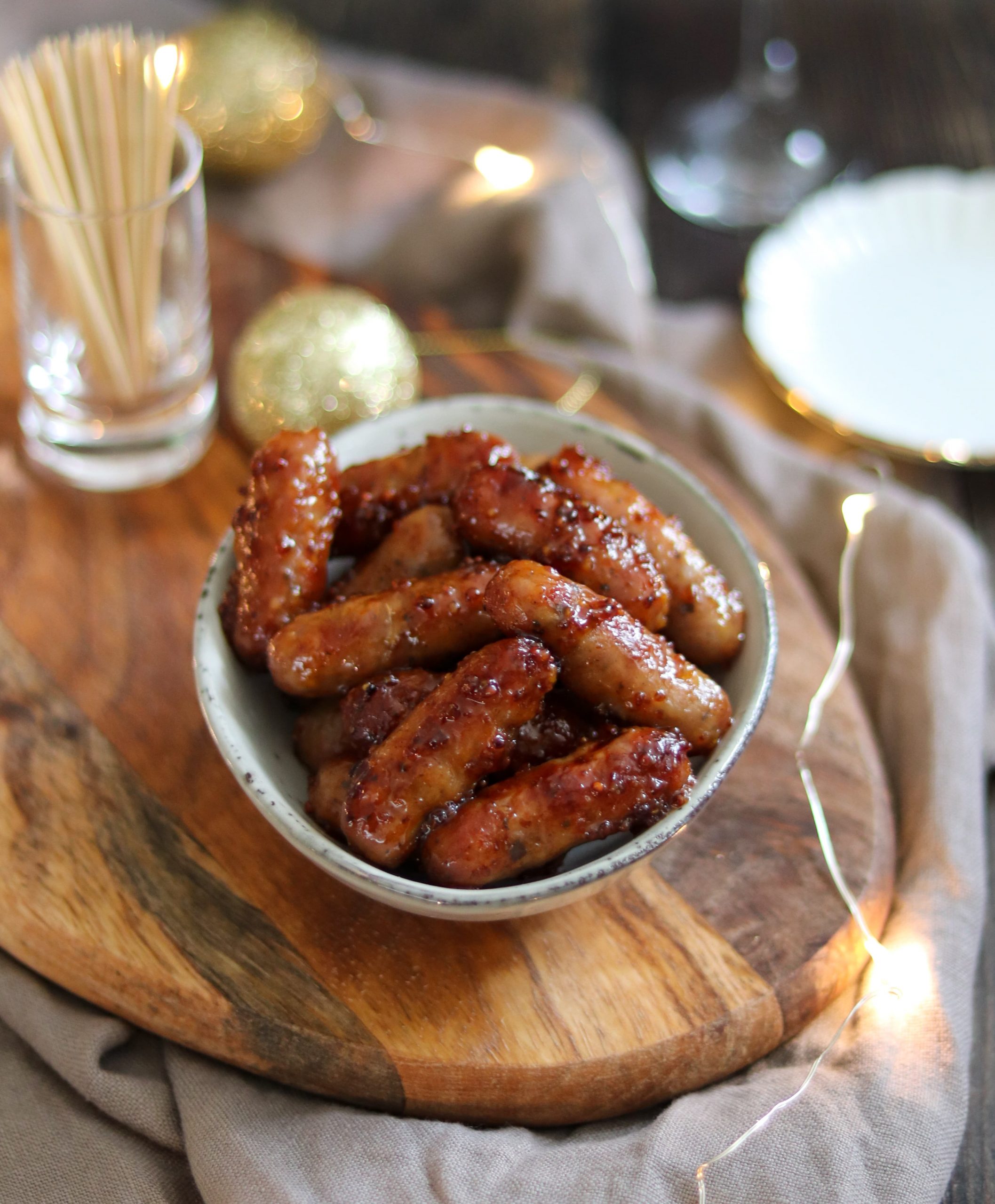 The perfect canape or nibble!
This recipe is ideal for gatherings anytime of year, but especially at Christmas. The days between Christmas and New Year always blend into one and no one really knows which day it is.
I love these days because they are typically days when you graze on food without necessarily having a full meal.
One of the reasons there is a lot of grazing is because these days are typically spent with friends and family and people are already in a bit of a food coma from their Christmas meal days before.
These Honey & Mustard Cocktail Sausages are great to whip up if people want a tasty snack (that isn't a leftover turkey sandwich). They would also be great to serve as part of a buffet for a New Year's Eve gathering.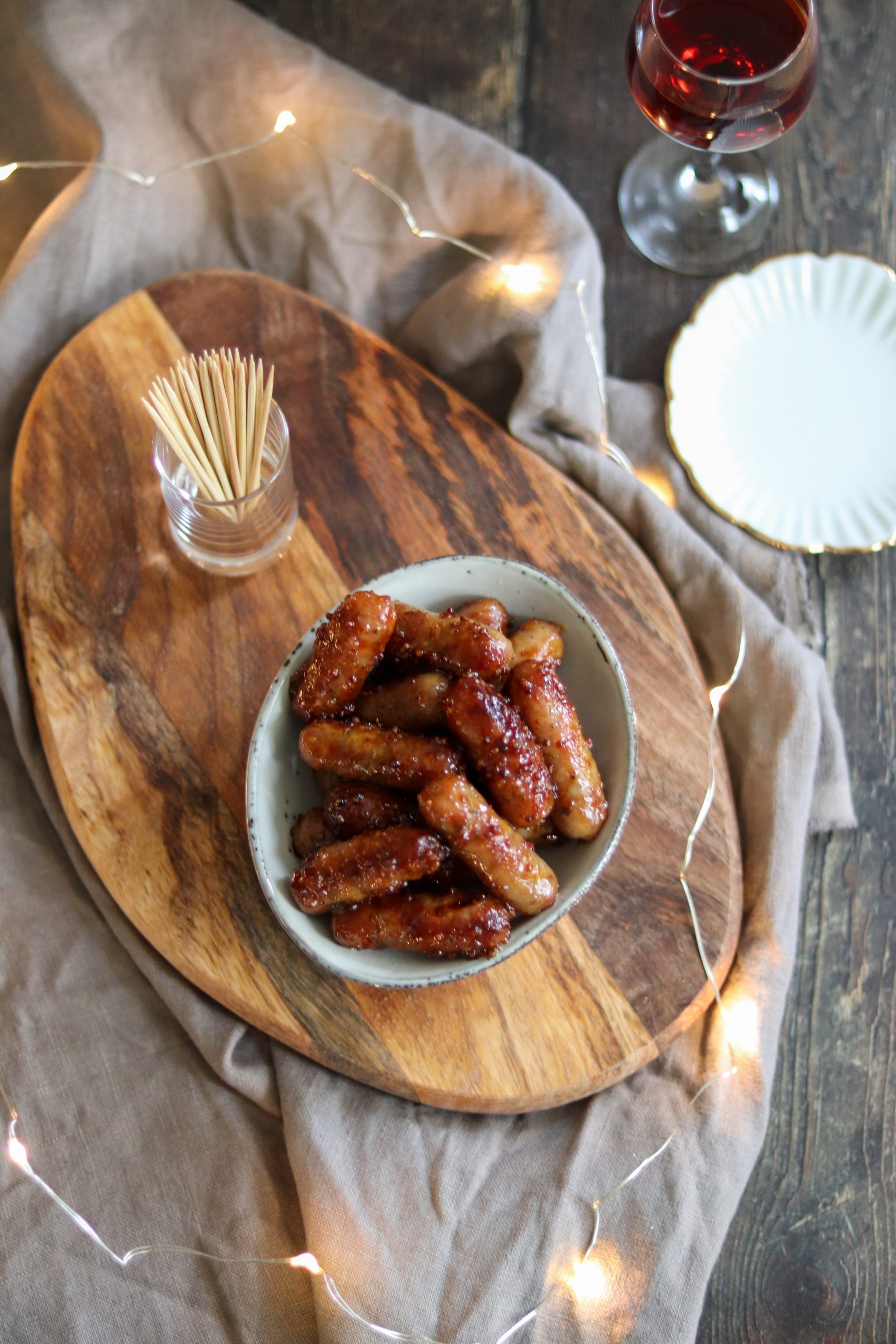 Which sausages are recommended to use?
I recommend using a good quality pork cocktail sausage. Look for ones with a high pork content as these will be more flavoursome.
I would use a plain pork sausage for these Honey & Mustard Cocktail Sausages. The flavour is coming from the glaze and you don't want a strong flavoured sausage that will conflict flavour wise.
Although they wouldn't be my first choice, you could use frozen cocktail sausages. These are very popular over the festive period and readily available. Mix them in the glaze and cook them as per the packet's instructions.
Chicken or vegetarian sausages would work well too.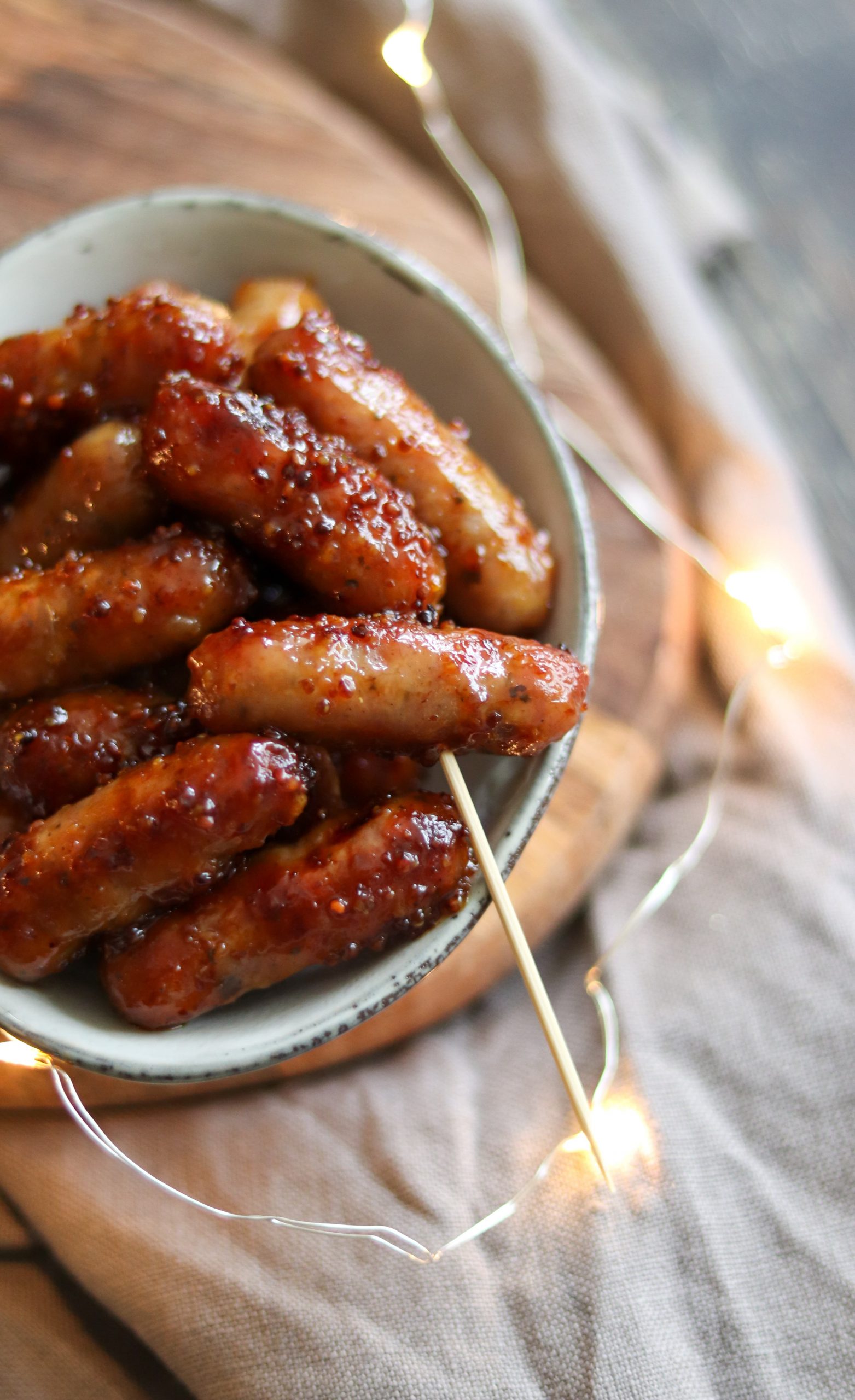 Do you have to use cocktail sausages?
No, you can use whichever sausages you like.
Cocktail sausages are perfect for serving these at a party or part of a buffet. But there is nothing to say you can't use chipolatas or normal sausages for this recipe.
If you use larger sausages, you will probably need to increase the glaze ingredients so you have enough to coat them.
You will also have to increase the cooking time according to the size of sausage you are using.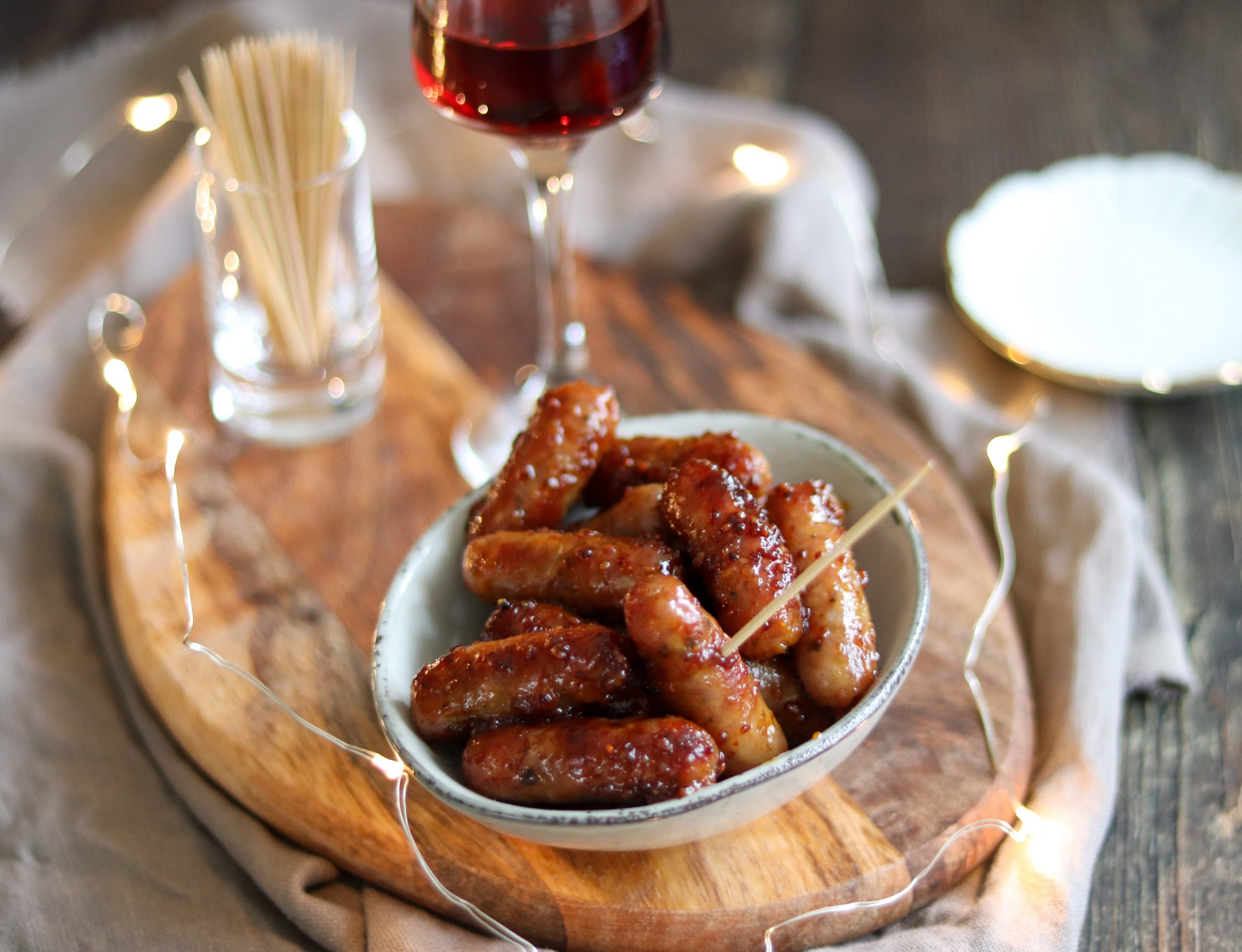 Which mustard is best to use?
My favourite mustard is wholegrain mustard. I love the flavour it provides without being too hot.
If you don't have wholegrain mustard you could use Dijon mustard instead. I have also seen a honey Dijon mustard which is quite mild and tasty which would work here.
You can always add a small amount of mustard to the honey and taste it before you add the sausages to see if you have got the balance right if you use a different mustard.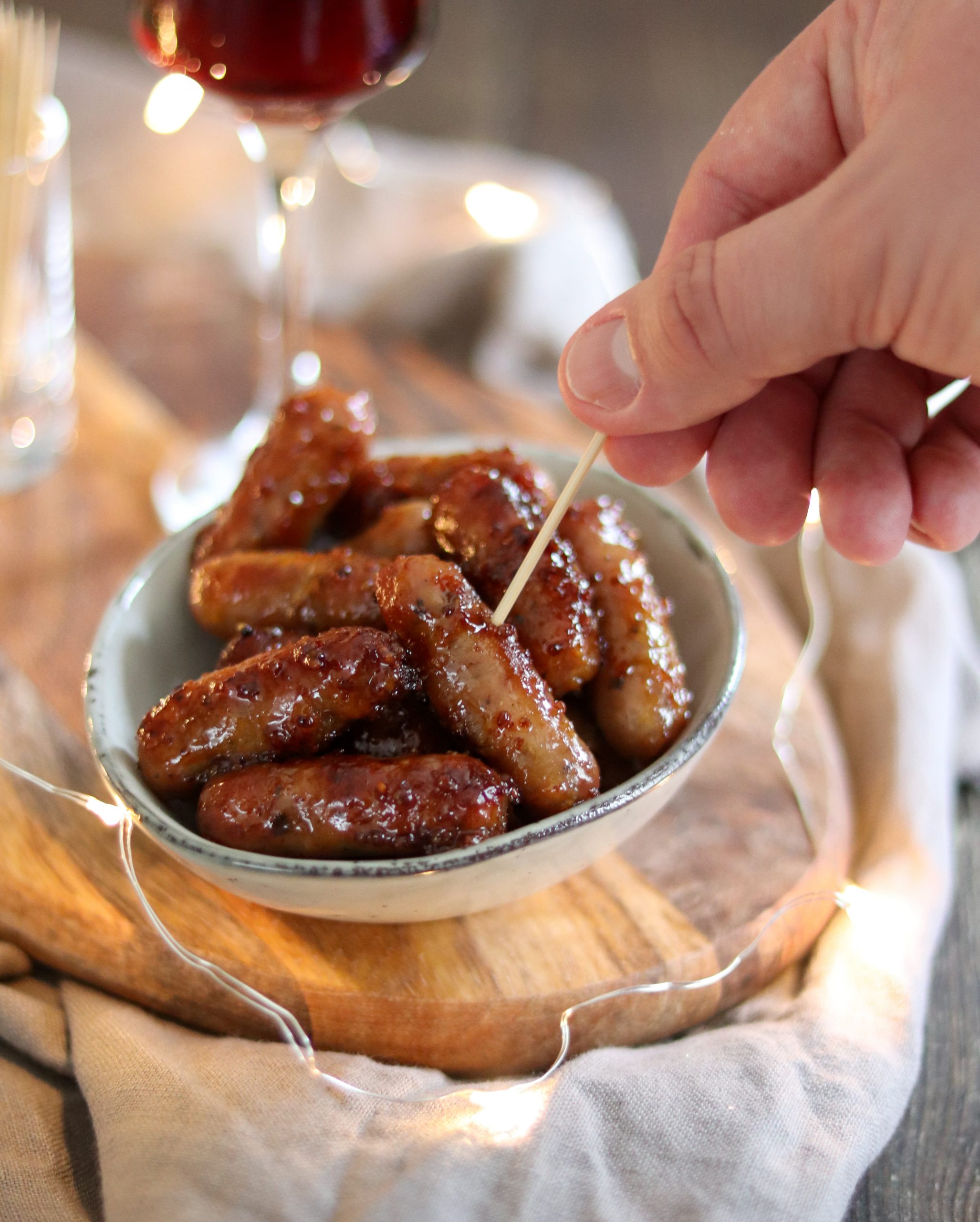 Which Honey is best to use?
You need to use a clear, runny honey for these sausages. Set honey wouldn't be very easy to mix with the mustard to form the glaze.
I wouldn't bother using something a bit fancier like Manuka honey. These are usually more expensive and have delicate flavours.
I don't think you would be able to taste the difference in this recipe so I don't think it would be worth the extra expense.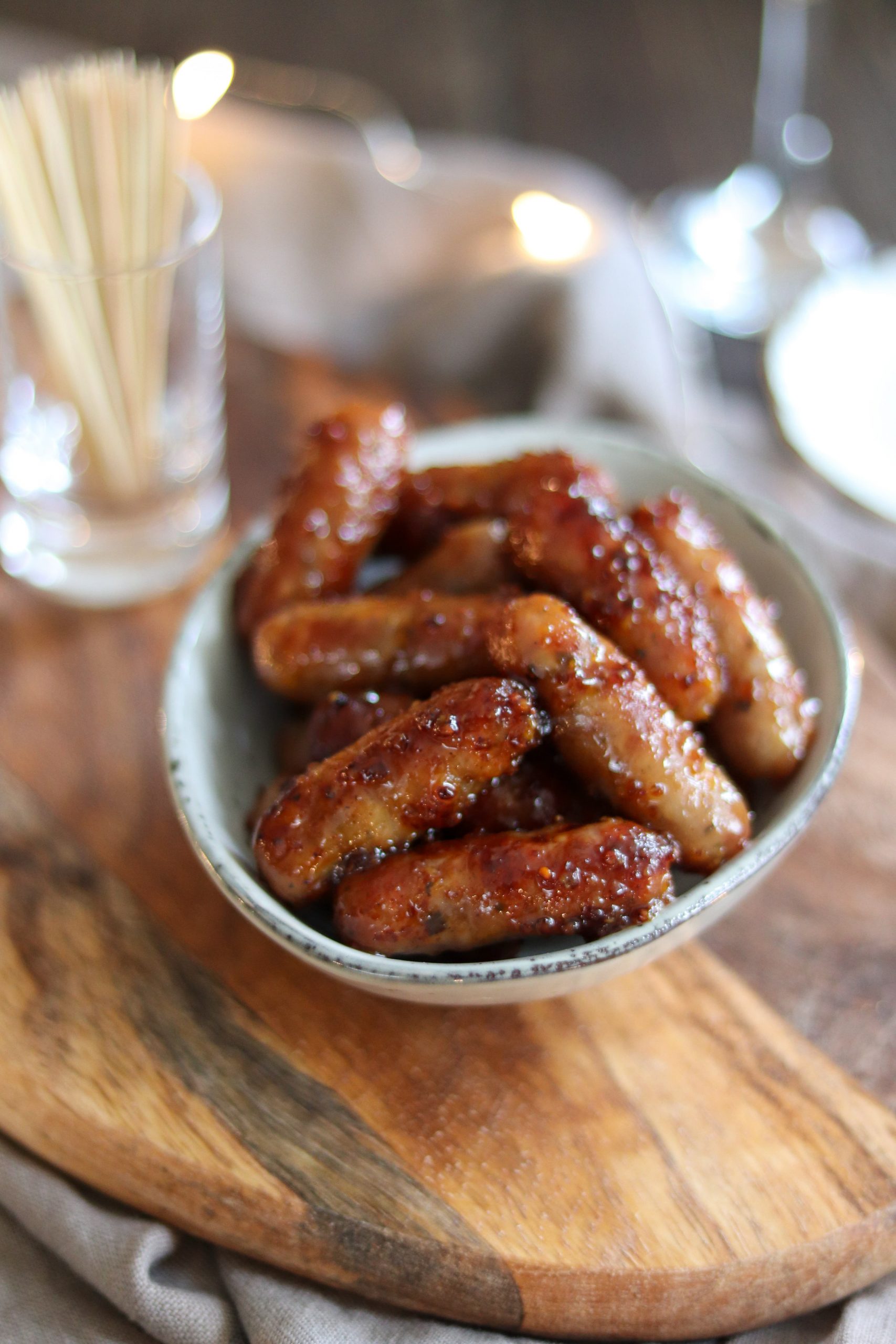 How to serve these Honey & Mustard Cocktail Sausages
These sausages are particularly great for gatherings because they can easily be eaten with a cocktail stick. No cutlery is needed and they also only require one hand which is good because there may be a festive tipple in the other. And also because they are bite size (or two if you're dainty).
These cocktail sausages are also great served hot or at room temperature. This is great because you can cook them in advance of your guests arriving.
For other ideas of the perfect spread check out my 10 Savoury Party Food Recipes.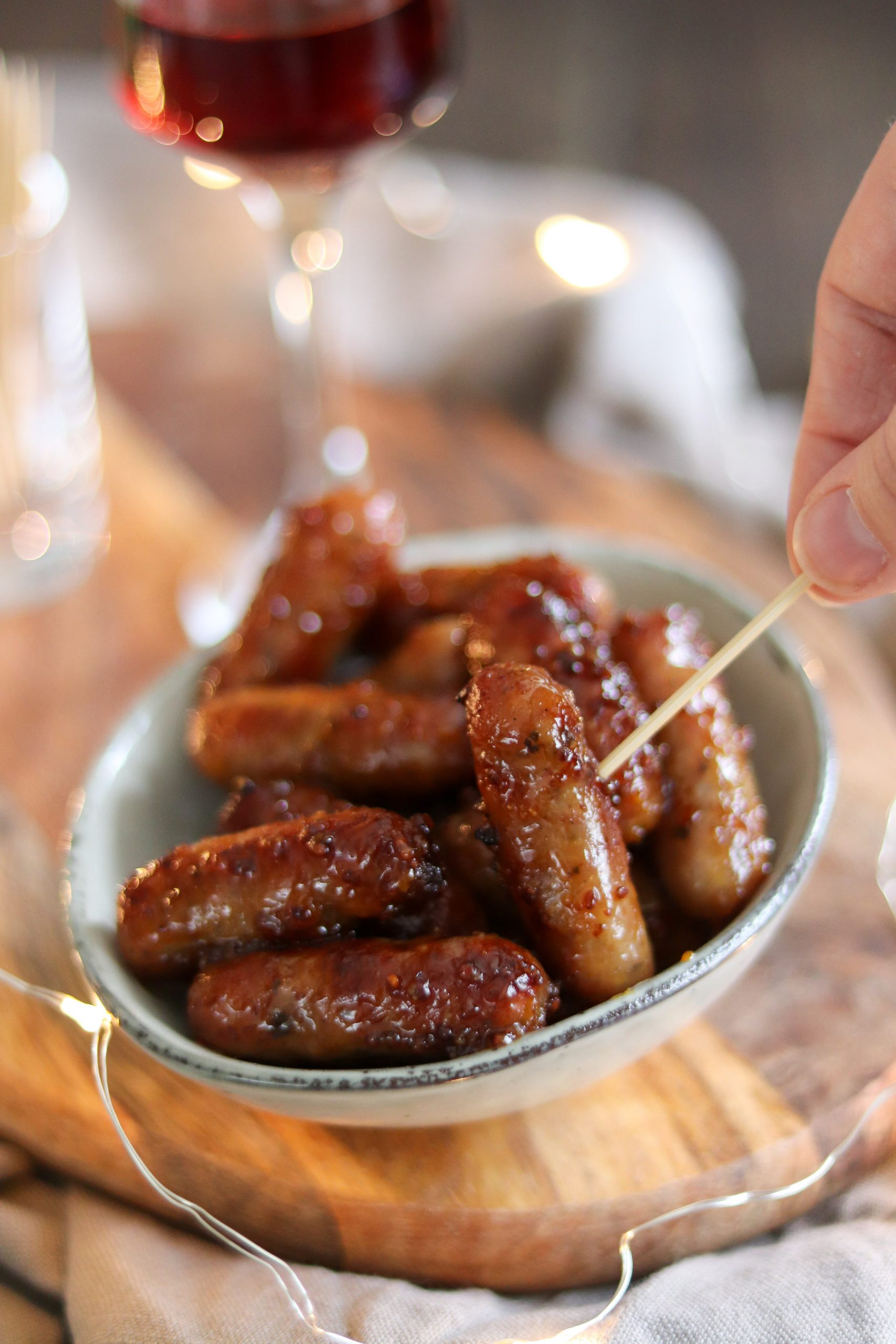 Can these cocktail sausages be made gluten free?
Absolutely!
Make sure you choose gluten free sausages. More sausages are being sold gluten free these days so this should be easy enough to find.
Mustard is naturally gluten free but it can sometimes be thickened with flour. There are lots of gluten free whole grain mustards available so just make sure you check the ingredients.
How long will these sausages keep for?
Once cooked, store any leftover sausages in the fridge for up to three days in an airtight container.
They are delicious eaten cold but you can reheat them if you would prefer.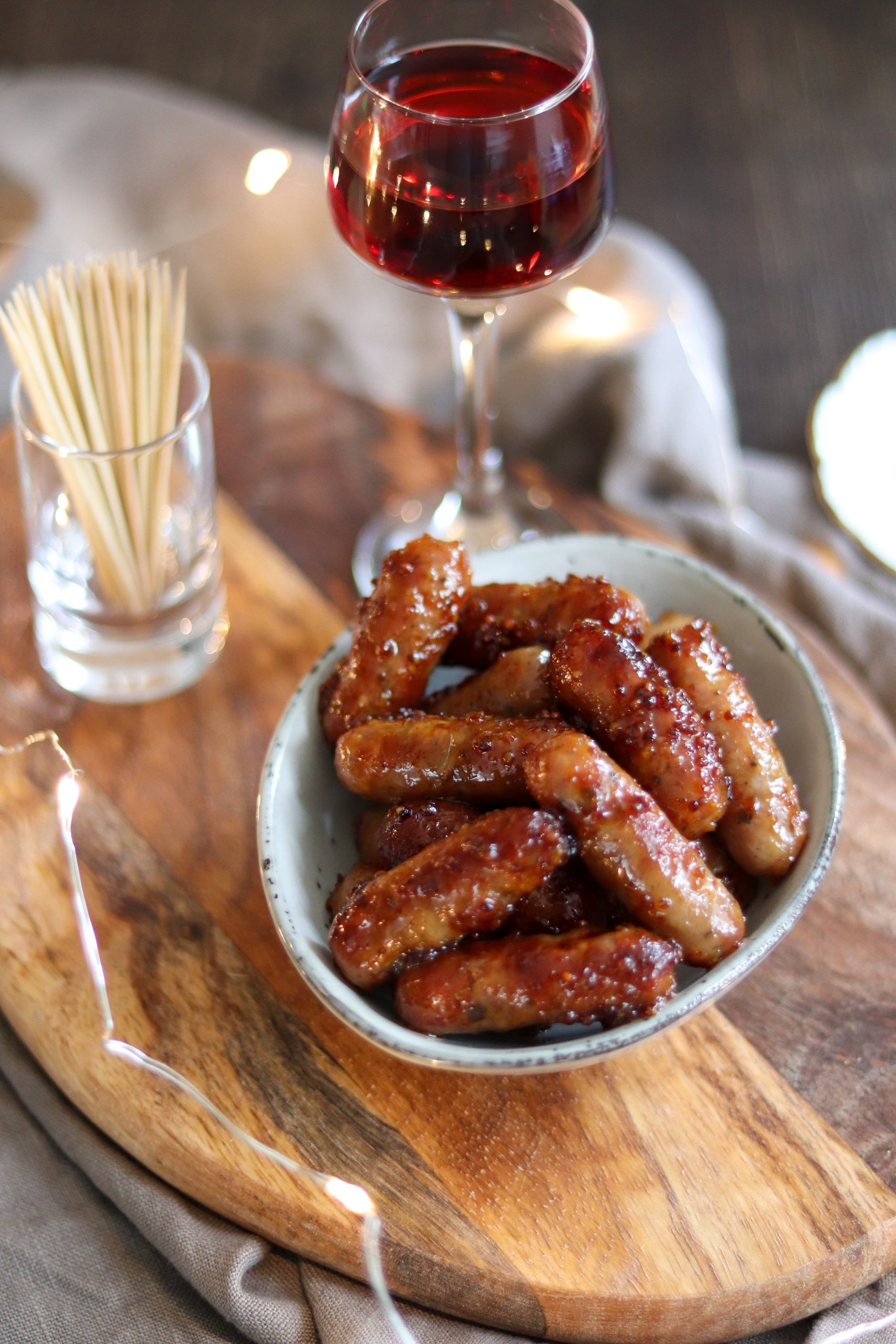 Can you cook these sausages in an air fryer?
These sausages work really well cooked in an air fryer, as do sausages in general.
I would definitely recommend using an air fryer liner to prevent the glaze dripping through the basket and just generally making an awful mess.
The sausages will be cooked after 12 minutes, but I prefer to cook them for longer to get them a nice brown colour and get glaze nice and sticky.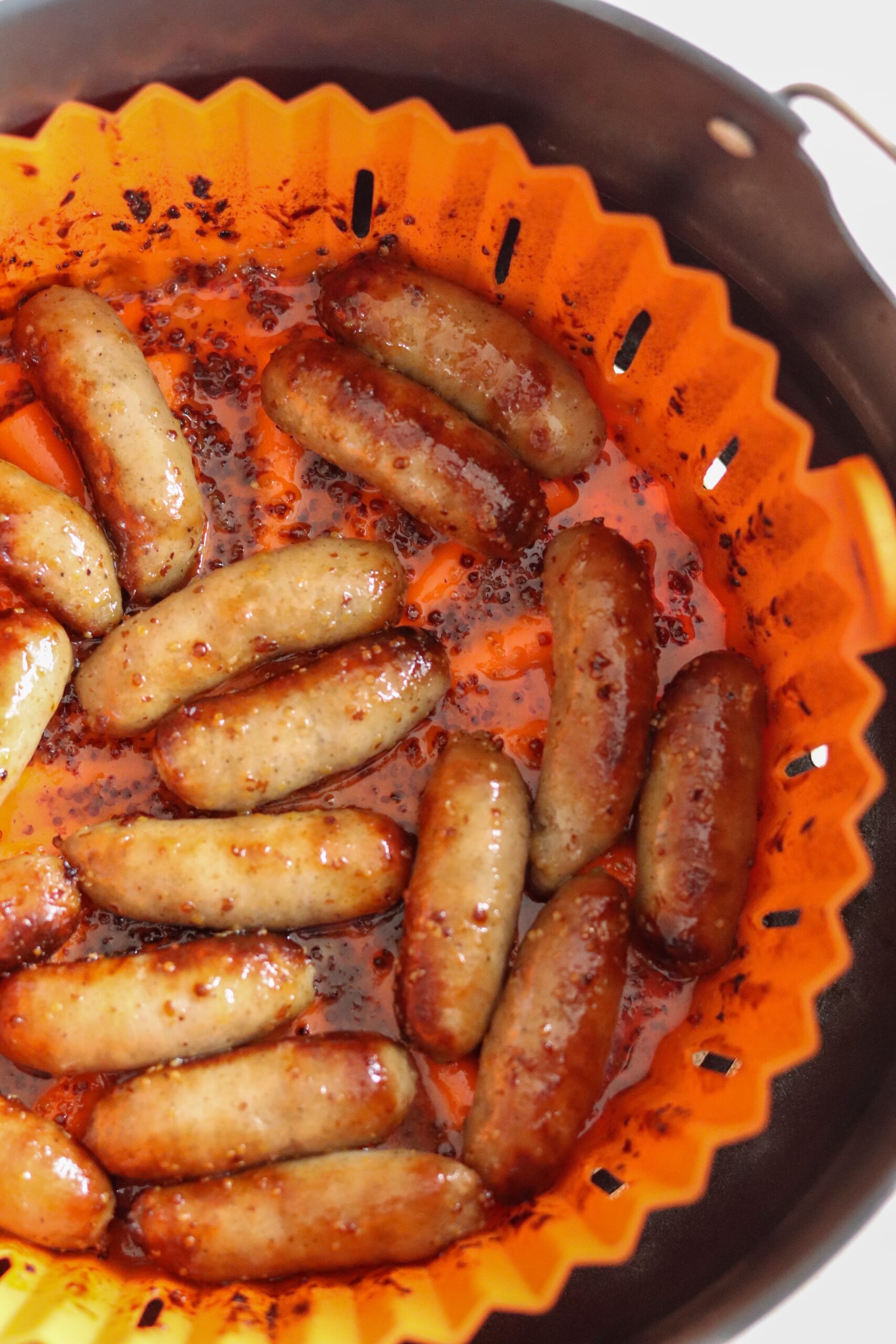 Easy clean up
Honey can be a bit of a pain to clean up, especially when it gets baked onto a tray. I really recommend lining the baking tray with foil for much easier clean up!
You could also use a disposable foil tray if you prefer. I know these are marketed to be disposable but you could definitely wash them and reuse them.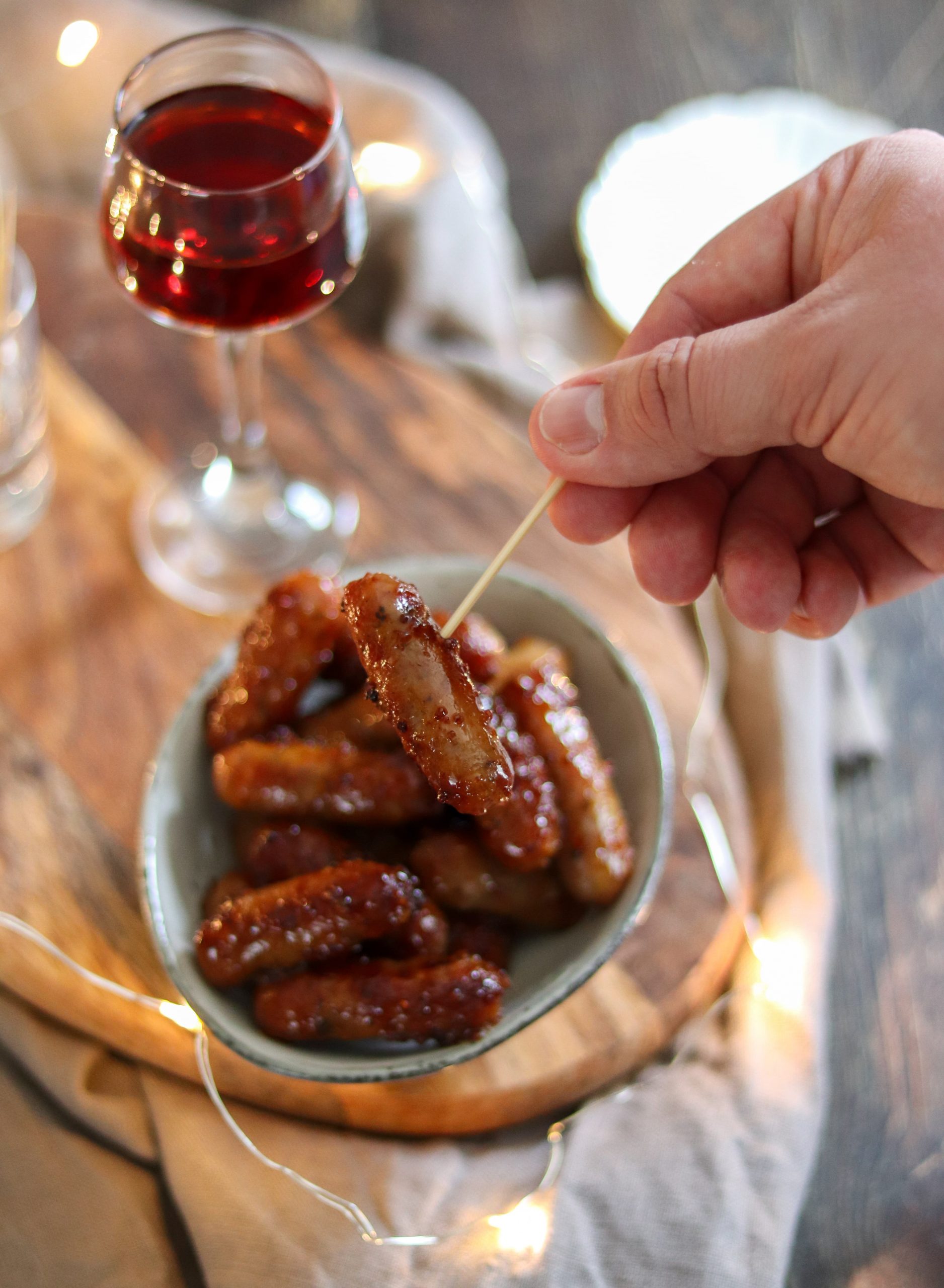 Other recipes you might like
Pin for later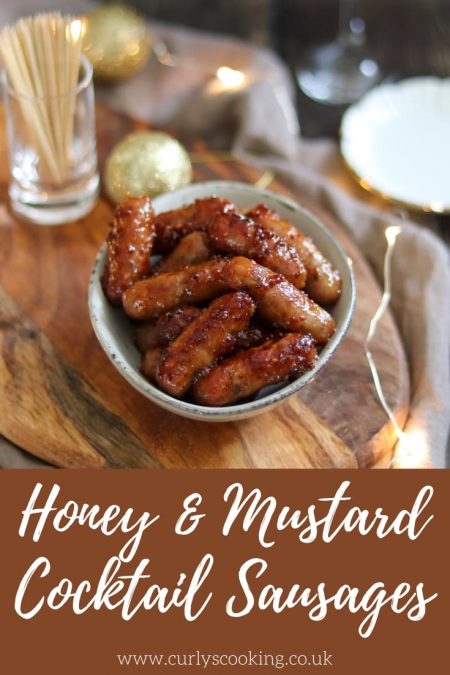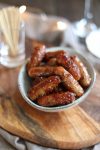 Honey & Mustard Cocktail Sausages
Sticky and sweet sausages with a very slight bite from wholegrain mustard. These Honey & Mustard Cocktail Sausages are very addictive and will disappear very quickly!


Ingredients
270

g

pork cocktail sausages

(18 sausages)

1

tbsp

wholegrain mustard

1 ½

tbsp

runny honey

¼

tsp

sea salt
Instructions
Preheat the oven to 180ºC (fan assisted, 200ºC non fan)

Put the sausages in a bowl and add the mustard, honey and salt. Stir to make sure the sausages are evenly coated in all of the honey and mustard

Lay the sausages onto a baking tray in one layer and spoon all of the mustard and honey mix on top

Cook in the oven for 25 minutes, turning the sausages half way through. Coat the sausages in the juices from the tray when you turn them

To cook in the air fryer cook at 180°C for 13-15 minutes, turning the sausages at least once. I recommend using an air fryer liner
Recipe Notes
Nutritional information is given as a guide only.
Nutrition Facts
Honey & Mustard Cocktail Sausages
Amount Per Serving
Calories 231
Calories from Fat 9
% Daily Value*
Fat 1g2%
Sodium 188mg8%
Carbohydrates 7g2%
Protein 1g2%
Iron 1mg6%
* Percent Daily Values are based on a 2000 calorie diet.