Deliciously rich chocolate cake smothered in silky buttercream and flavoured with orange. This Chocolate Orange Tray Bake is a simple cake to whip up for any occasion.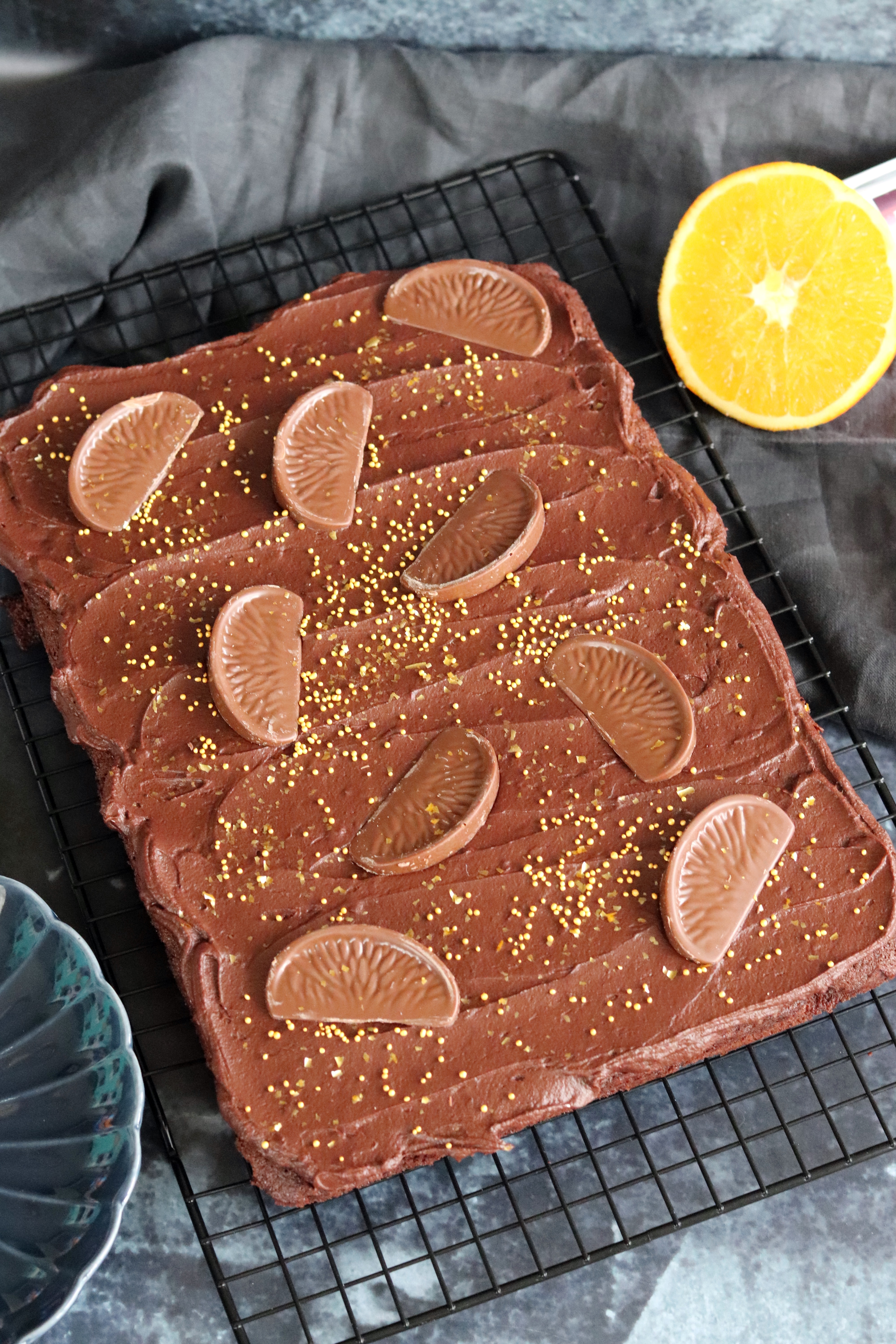 Who doesn't like Chocolate Orange?
I know there will obviously be a few people out there that aren't fans, but chocolate orange is such a well loved and popular flavour combination.
I've already got recipes for Gluten Free & Vegan Chocolate Orange Cupcakes, Chocolate Orange Rocky Road & Chocolate Orange Cookie Bars.
So you can tell I am definitely a fan! But I wanted a cake that was absolutely delicious but simple too.
which type of chocolate orange to use
I like to use milk chocolate orange for this Chocolate Orange Tray Bake because I prefer milk chocolate in general.
Each year they seem to bring out another variation of chocolate orange! You could definitely use a dark chocolate orange instead of milk if you prefer dark chocolate.
You could even use the chocolate orange with popping candy! Go crazy!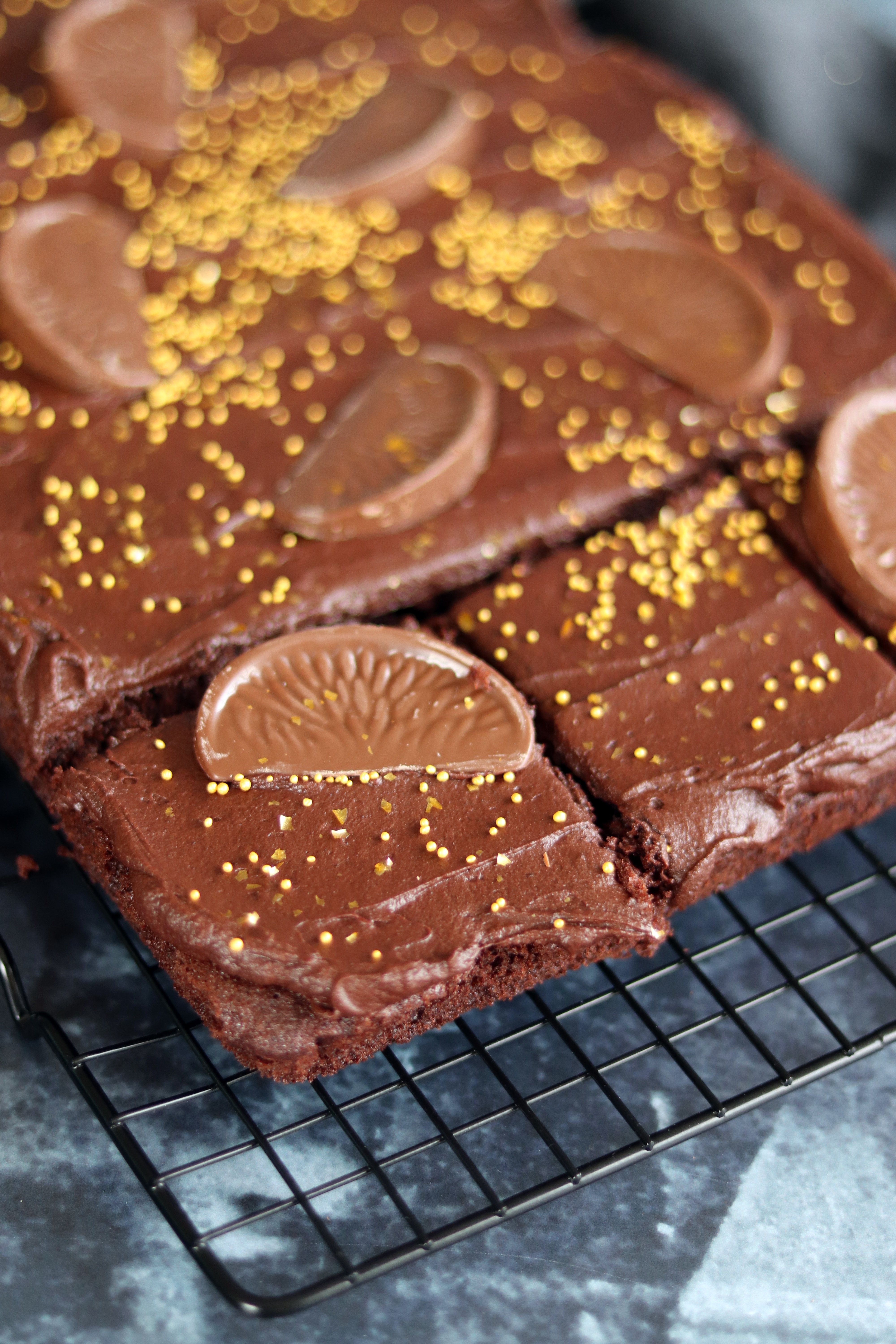 What to use if you can't find a chocolate orange
Terry's Chocolate Orange is an iconic chocolate often associated with Christmas here in the UK.
You can buy them in 'orange form' or you can buy them in packs of the segments. You can use either for this Chocolate Orange Tray Bake.
If you can't find these, any orange flavoured chocolate would work absolutely perfectly. You definitely don't need to use orange segment shaped chocolate for this tray bake!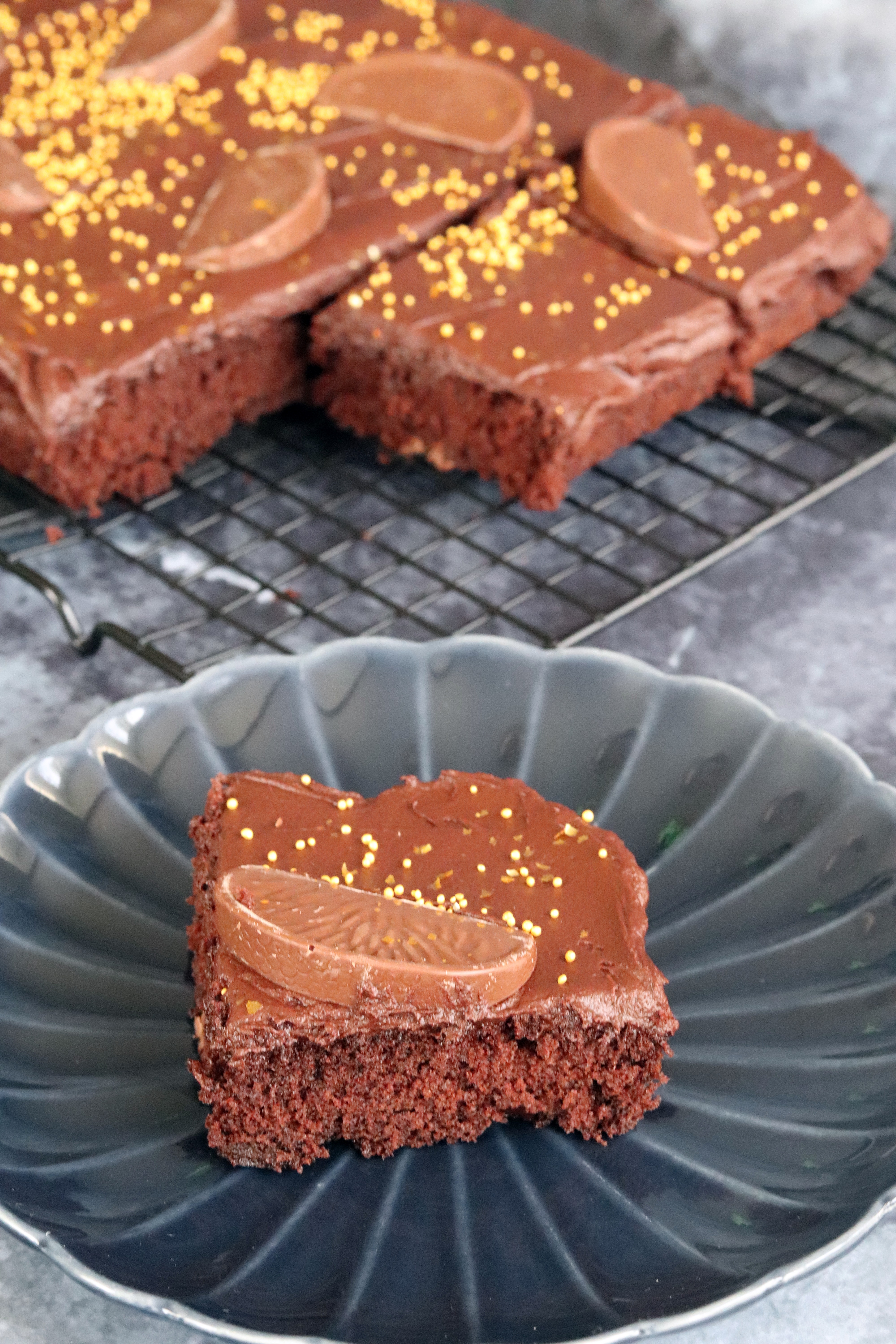 Not a new concept, but a tasty one!
I think most bloggers that bake will have a chocolate orange cake recipe. Like I said it is a well known, delicious combination and we all have our go-to recipes.
What makes this Chocolate Orange Tray Bake my favourite is just how rich and flavoursome it is. I have really packed in the orange flavour which I think is essential.
If something is meant to be orange flavoured then it really needs to taste like orange!
I have also made sure that the buttercream is rich and delicious. Personally, I am very fussy when it comes to buttercream and would usually choose a different frosting – like my Chocolate Cream Cheese Frosting. But I do like chocolate buttercream when it is rich and creamy.
To make this even more creamy, I have used whole milk. You can go the extra mile and use cream, or you could be slightly more reserved and use semi skimmed milk.
Whichever you choose will still be delicious but will slightly change the creaminess.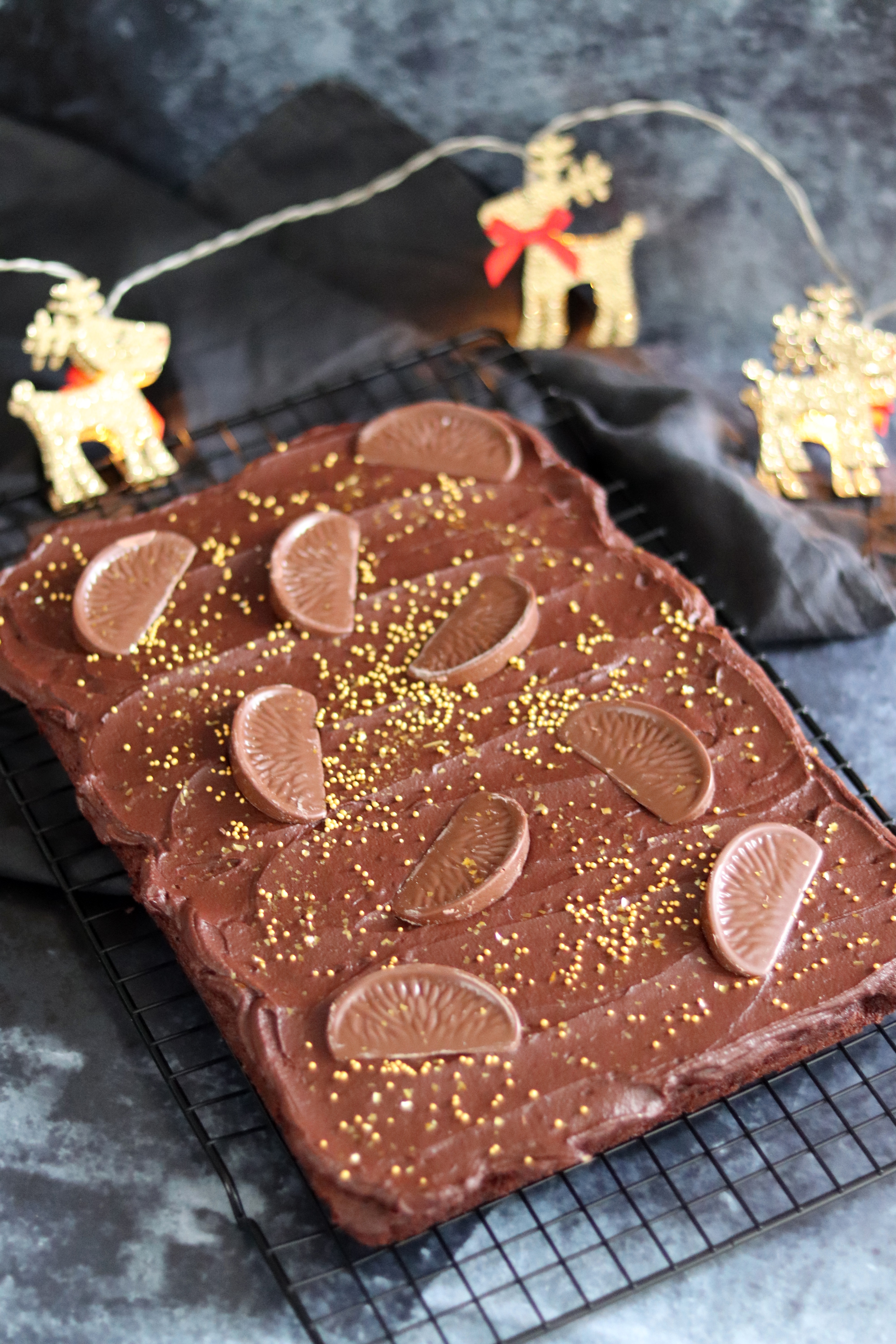 Quick, easy and delicious
Aside from the deliciousness of this cake, the other thing I love about it is how quick and easy it is to make.
Tray bakes are great because you don't have to worry about dividing the cake batter into multiple tins or spooning it into cupcake cases. You just tip the whole lot into your prepared tin and you're ready to go.
It also makes decorating even easier! Instead of messing around with piping bags all you need to do is pile the buttercream on and spread it out – easy! I do like decorating cupcakes and making pretty patterns with my buttercream.
However, there are occasions when you don't have time; Christmas being one of them! This Chocolate Orange Tray Bake is ideal because it requires minimal effort but still looks and tastes great.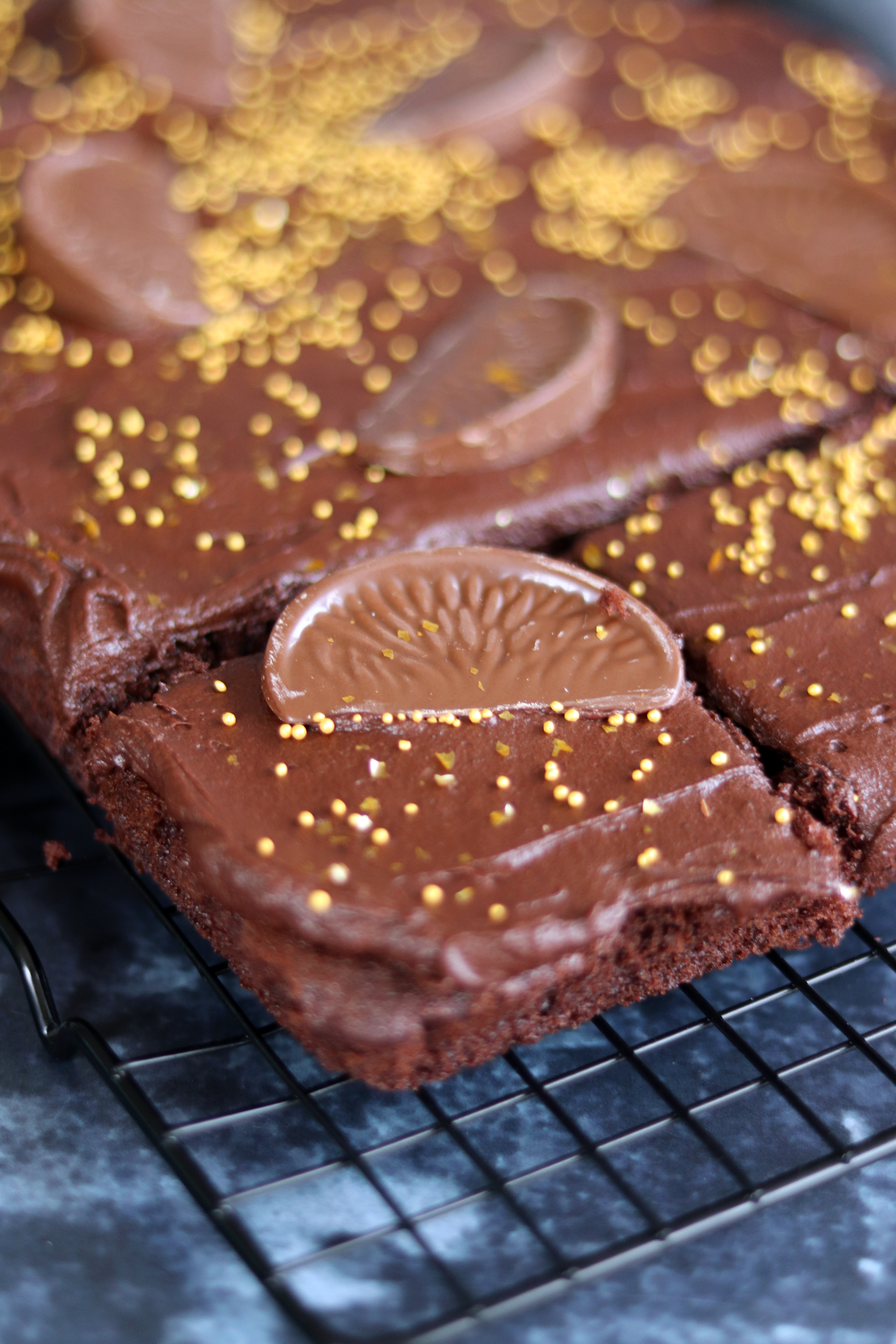 Get creative with your decorating
When I decorated this Chocolate Orange Tray Bake I went for a quite reserved colour scheme. I was trying to be classy with my gold sprinkles and chocolate orange segments.
If I was making this for my friends and family (and not to be photographed on my blog!), I might have added some Christmas sprinkles to make it more festive.
Obviously this cake can be made all year so use whichever sprinkles take your fancy.
For the chocolate orange segments I used the other half of the chocolate orange that hadn't gone in the cake batter.
If you want every slice of cake to have an orange segment on it to avoid arguments (amongst children or adults!) you might want to buy a packet of the smaller segments.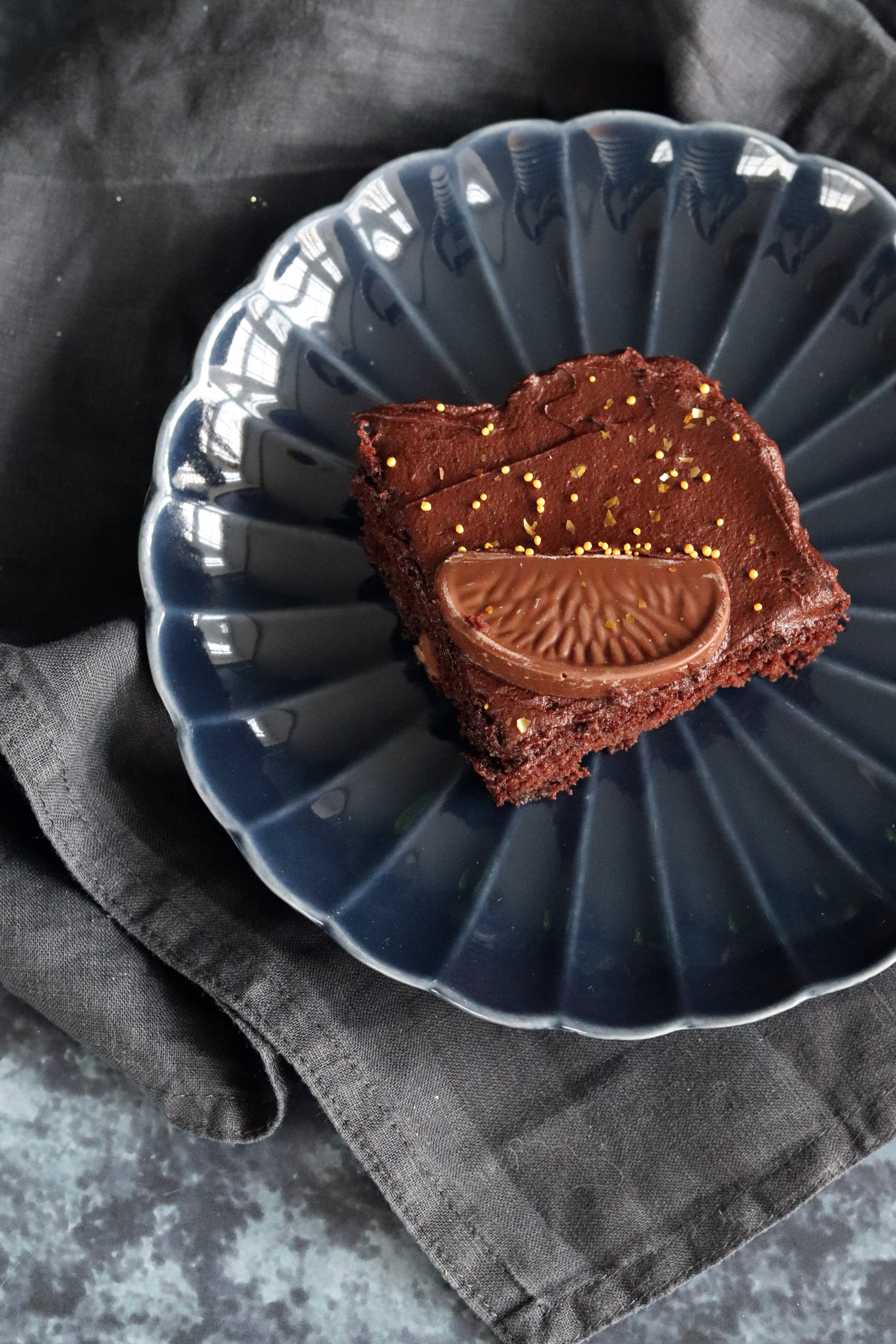 How many people does this serve?
One of the great things about a tray bake is you can cut the pieces as big or small as you like!
If you are particularly hungry, it could feed twelve people. I think it can easily feed sixteen people but you could definitely cut it into smaller pieces and feed more.
For example if you are making this for a birthday party, bake sale or Christmas Fayre you may only need small slices so it could feed a lot more people.
Uses for orange juice
This Chocolate Orange Tray Bake uses quite a bit of orange zest. When you've zested an orange it tends to become hard and unappealing in a day or two.
If you don't want to just juice the orange and drink it like I did, here is some inspiration below of delicious ways to use it.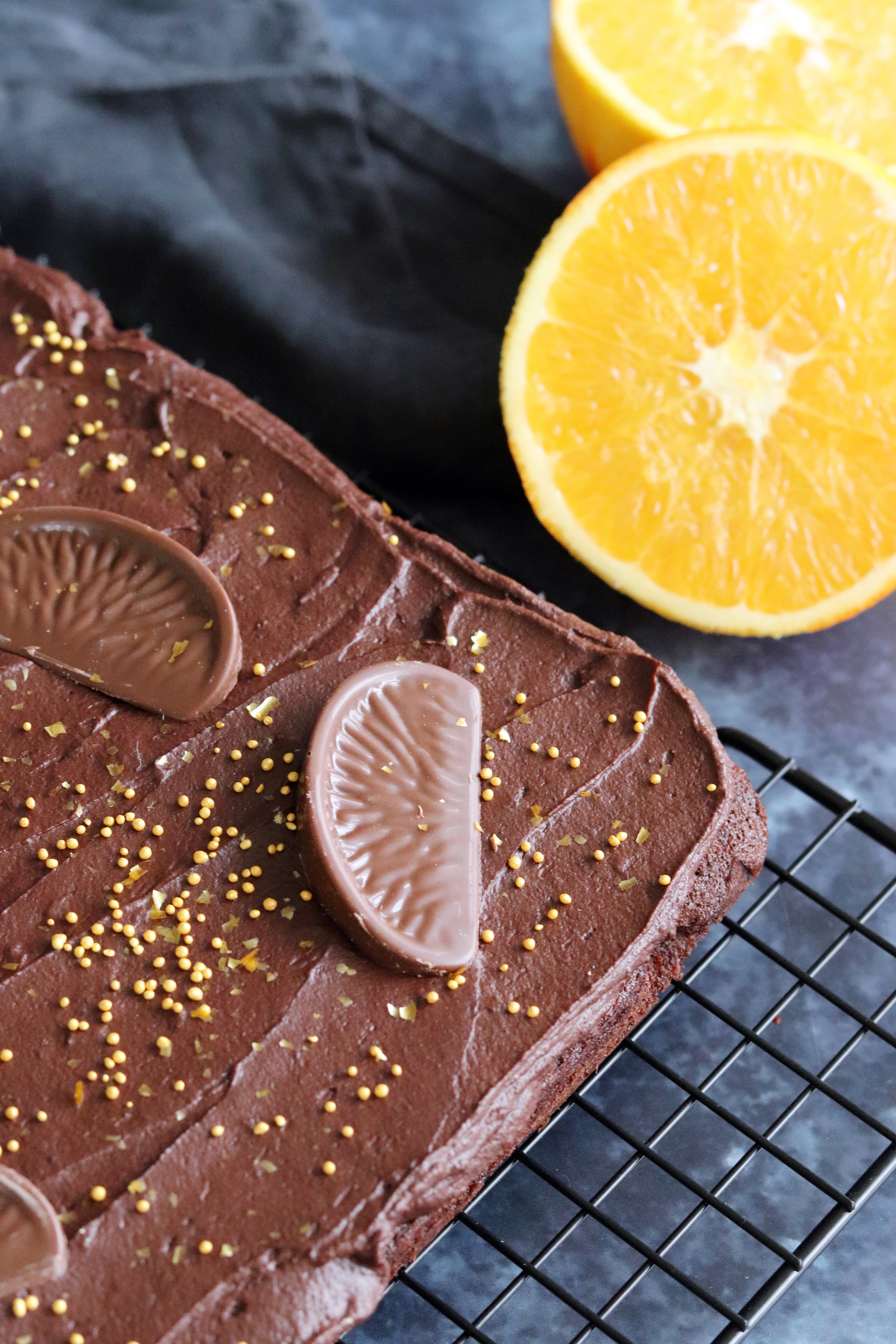 Other Recipes you might enjoy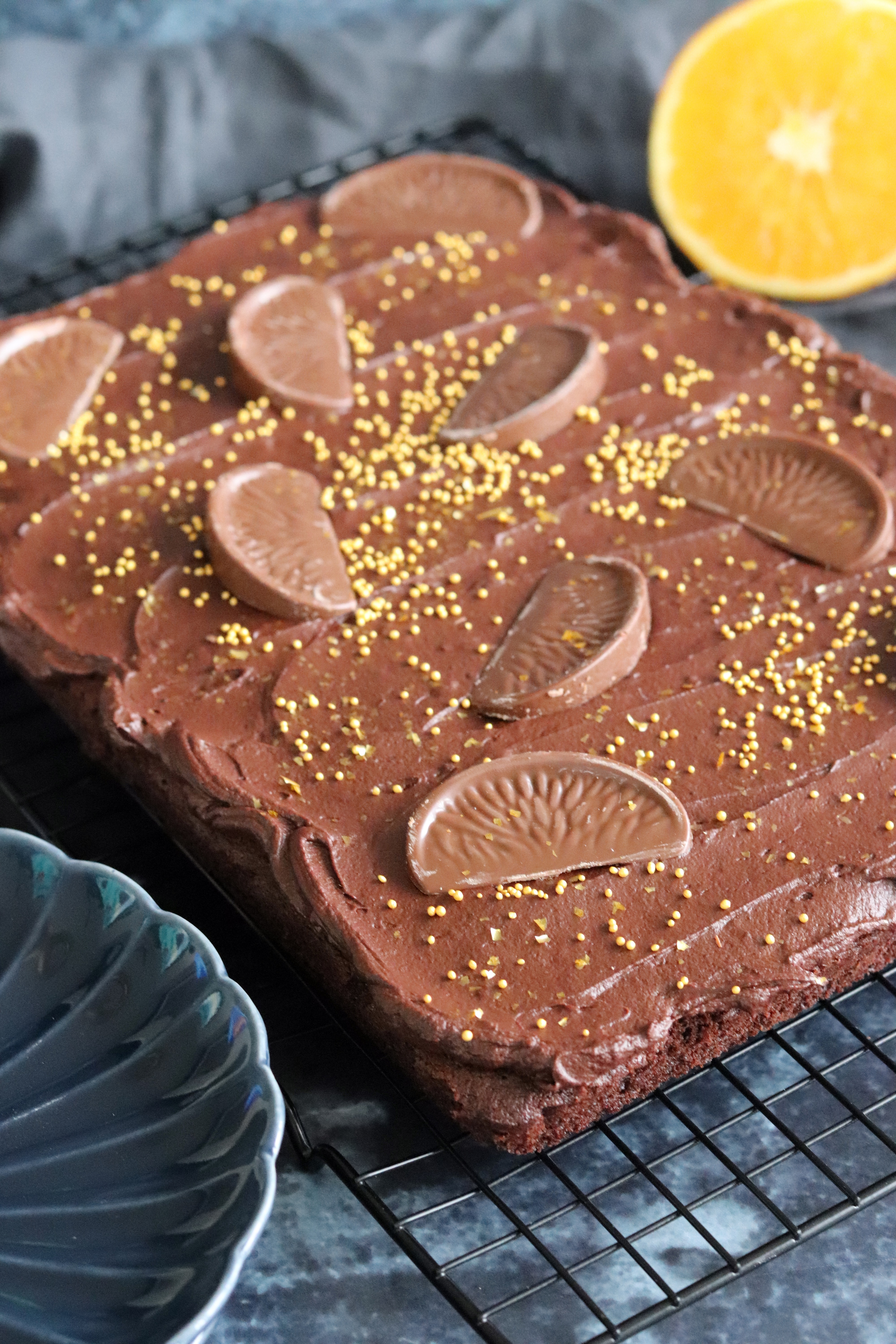 Pin for later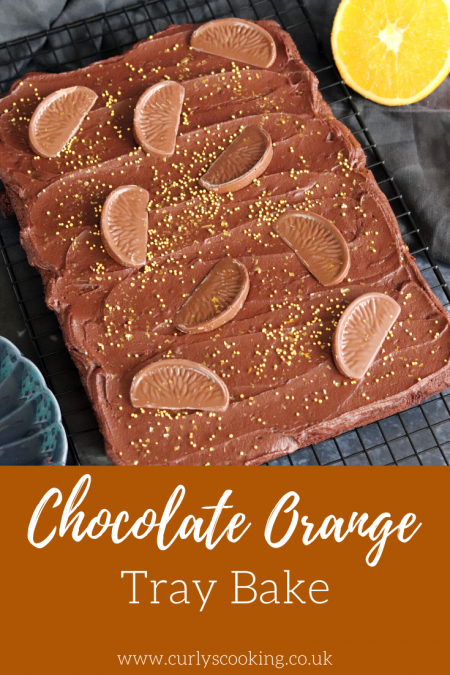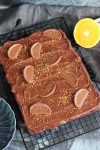 Chocolate Orange Tray Bake
Deliciously rich chocolate cake smothered in silky buttercream and flavoured with orange. This Chocolate Orange Tray Bake is a simple cake to whip up for any occasion.


Ingredients
For the cake
40

g

cocoa powder

¼

tsp

instant coffee

4

tbsp

boiled water

3

eggs

175

g

margarine

165

g

caster sugar

115

g

self raising flour

¼

tsp

salt

1

tsp

baking powder

1

orange zested

(one large or two small oranges)

80

g

milk chocolate orange

(½ chocolate orange), roughly chopped
For the buttercream
100

g

unsalted butter

150

g

icing sugar

50

g

cocoa powder

4

tbsp

whole milk

pinch

salt

80

g

milk chocolate orange

(½ chocolate orange)

sprinkles
Instructions
Preheat the oven to 160°C (fan assisted, 180°C non fan) and line a 20x26cm tin with baking paper

In the bowl of your mixer, add the cocoa powder, instant coffee and boiled water. Mix until they form a thick paste

Add the rest of the cake ingredients apart from the chocolate orange and zest and mix until combined

Scrape the bottom of the bowl with a spatula and add the chopped chocolate orange and orange zest. Mix briefly

Pour into the prepared tin and smooth out

Bake in the oven for 15 minutes or until a cocktail stick comes out clean

Leave to cool in the tin for 30 minutes before transferring to a wire rack to cool completely

When the cake is completely cooled, make the buttercream. Add the butter to the bowl of your mixer and beat until softened

Add the icing sugar, cocoa powder and salt and mix thoroughly. Add enough milk until you get a thick but spreadable consistency

Bet the buttercream until all of the ingredients are completely combined. Spread the buttercream evenly over the cake and finish with sprinkles and the chocolate orange segments
Recipe Notes
Keep in an airtight container for 2-3 days.
Nutritional information is given as a guide only and my vary.
Nutrition Facts
Chocolate Orange Tray Bake
Amount Per Serving
Calories 302
Calories from Fat 144
% Daily Value*
Fat 16g25%
Cholesterol 45mg15%
Sodium 155mg7%
Potassium 145mg4%
Carbohydrates 29g10%
Protein 3g6%
Vitamin A 598IU12%
Calcium 35mg4%
Iron 1mg6%
* Percent Daily Values are based on a 2000 calorie diet.