These Leftover Turkey, Cranberry & Brie Pastries are super simple to make and a delicious way to celebrate festive leftovers. Turn your Christmas or Thanksgiving turkey into something irresistible!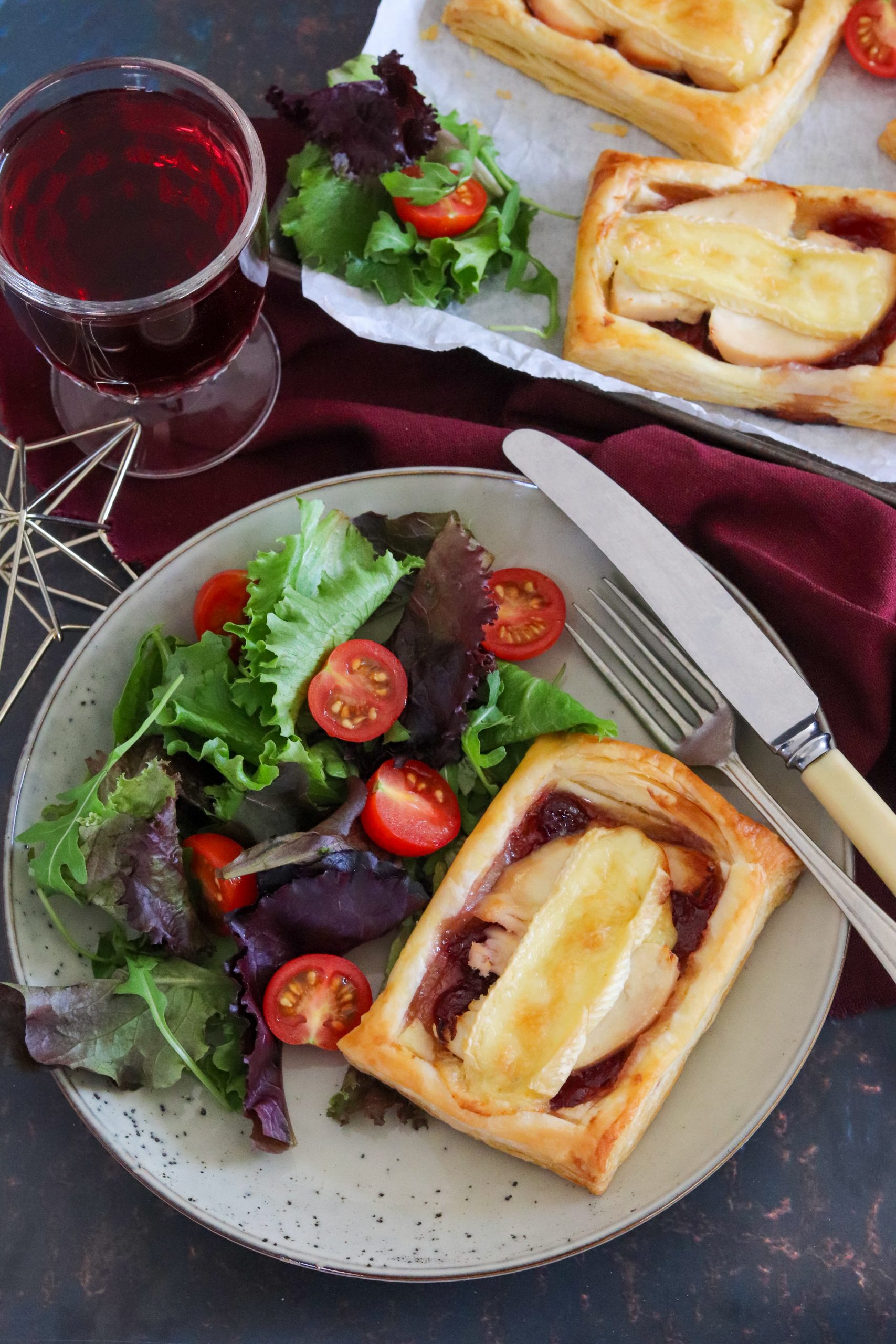 leftover turkey, cranberry & Brie Pastries – The perfect way to use up leftovers
It seems to be human nature to buy a turkey larger than your family could ever possibly eat for Christmas or Thanksgiving. We all seem to have the understanding that it is better to have too much food than not enough.
However, this does tend to leave us all with quite a few leftovers. I am a huge fan of leftovers and you can use you remaining vegetables to make my Bubble & Squeak. But there are only so many turkey curries you can eat.
These Leftover Turkey, Cranberry & Brie Pastries are a simple and delicious way to revamp your roast turkey along with a few other ingredients you are more than likely to already have in your fridge.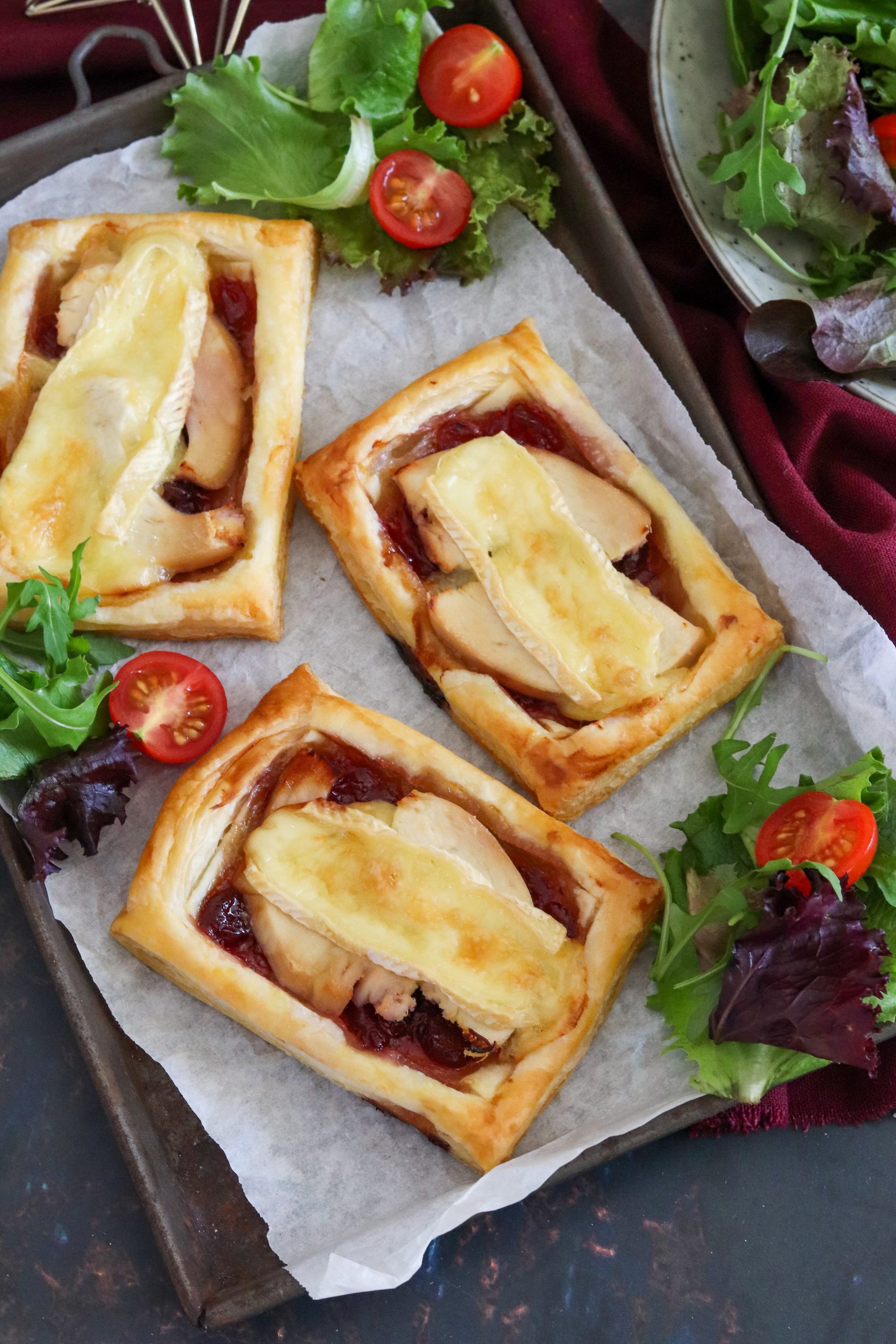 Delicious, festive ingredients
There are ingredients that I think most of us will have in our fridge over the festive season. Puff pastry, turkey, cranberry sauce and brie are staples in my house and I imagine most people's houses.
These pastries aren't just a great way of using leftover turkey, but they are perfect for using up any leftover cranberry sauce and brie you have left too.
It can't be just me that has a half empty jar of cranberry sauce and half a wedge of brie left after Christmas?!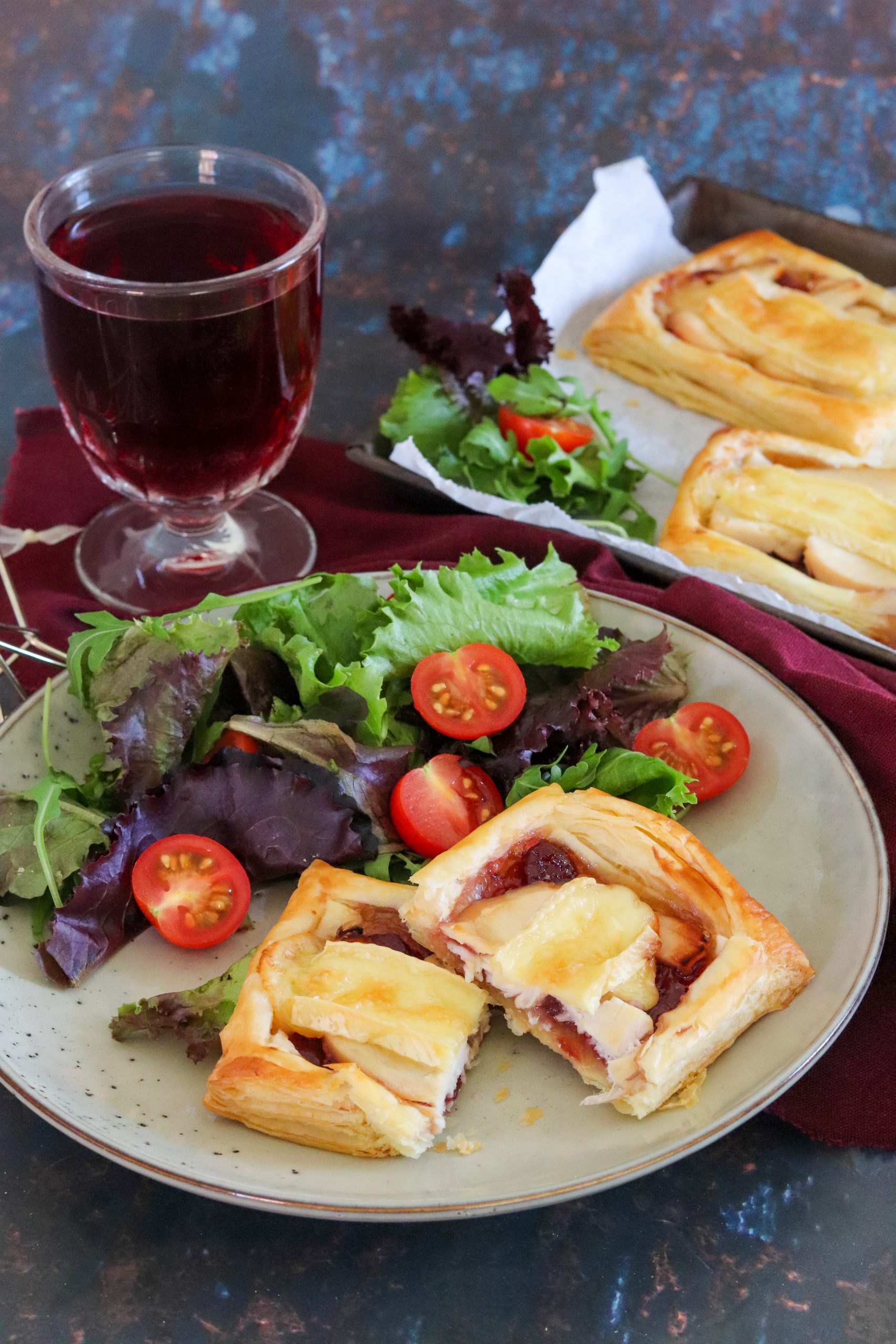 READY ROLLED OR BLOCK PASTRY?
You absolutely can make your own puff pastry. But this is something I don't feel inclined to do; especially over Christmas which is one of the busiest times of year!
Shop bought pastry is nothing to be frowned upon. Many cooks and chefs have owned up to using it because it is such a fantastic time saver.
You can buy pastry ready rolled or in a block. The ready rolled pastry is definitely easier for these turkey pastries because it is already the perfect shape, you just need to cut it into rectangles.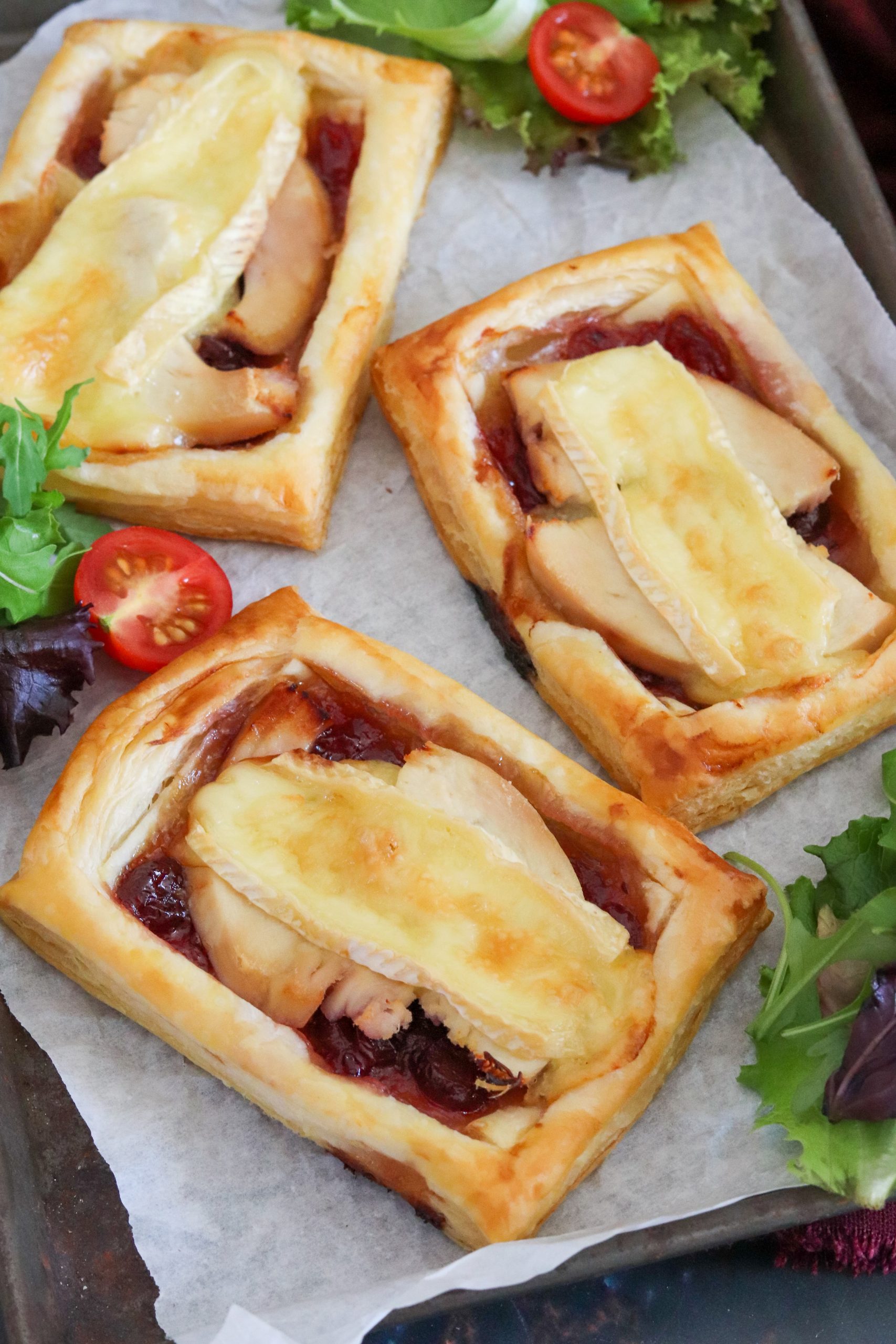 Can you use light puff pastry for this tart?
You can use light puff pastry, but it is a little bit more temperamental.
As it has a lower fat content, it is a bit softer which makes it a little trickier to work with. It also tends to stick to the baking paper it comes on.
You can definitely still use it, but standard puff pastry is easier to work with. Light puff pastry tastes exactly the same in my opinion so it is completely up to which you would prefer to use.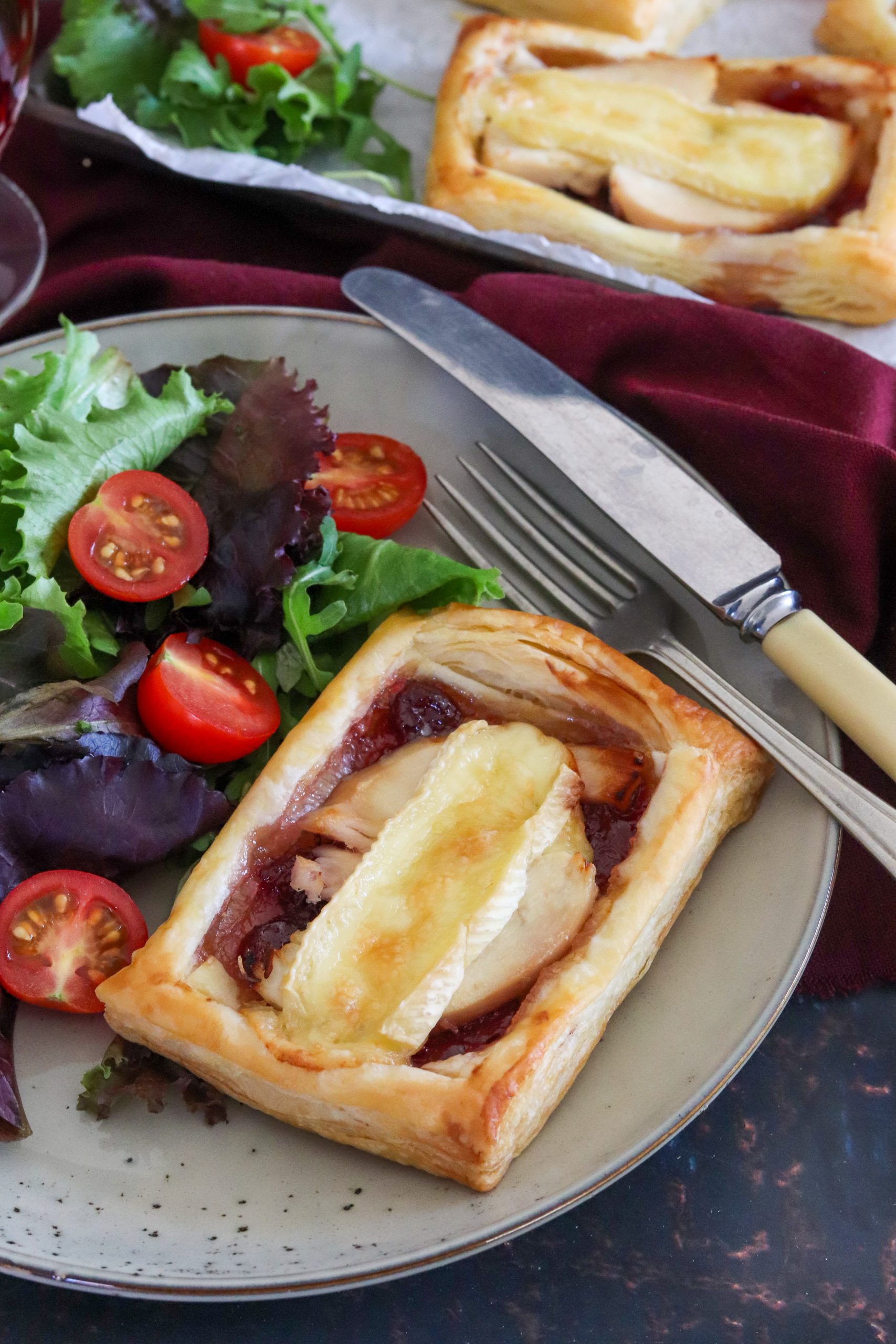 Which cranberry sauce is best to use?
I tend to only use cranberry sauce in these Turkey, Brie & Cranberry Pastries and my Turkey & Cranberry Sausage Rolls. Due to this I do usually buy a good quality cranberry sauce and it works really well.
Obviously you can make your own cranberry sauce which is quick and simple to do. You can add some delicious flavours if you make it yourself like this Easy Cranberry & Red Wine Sauce.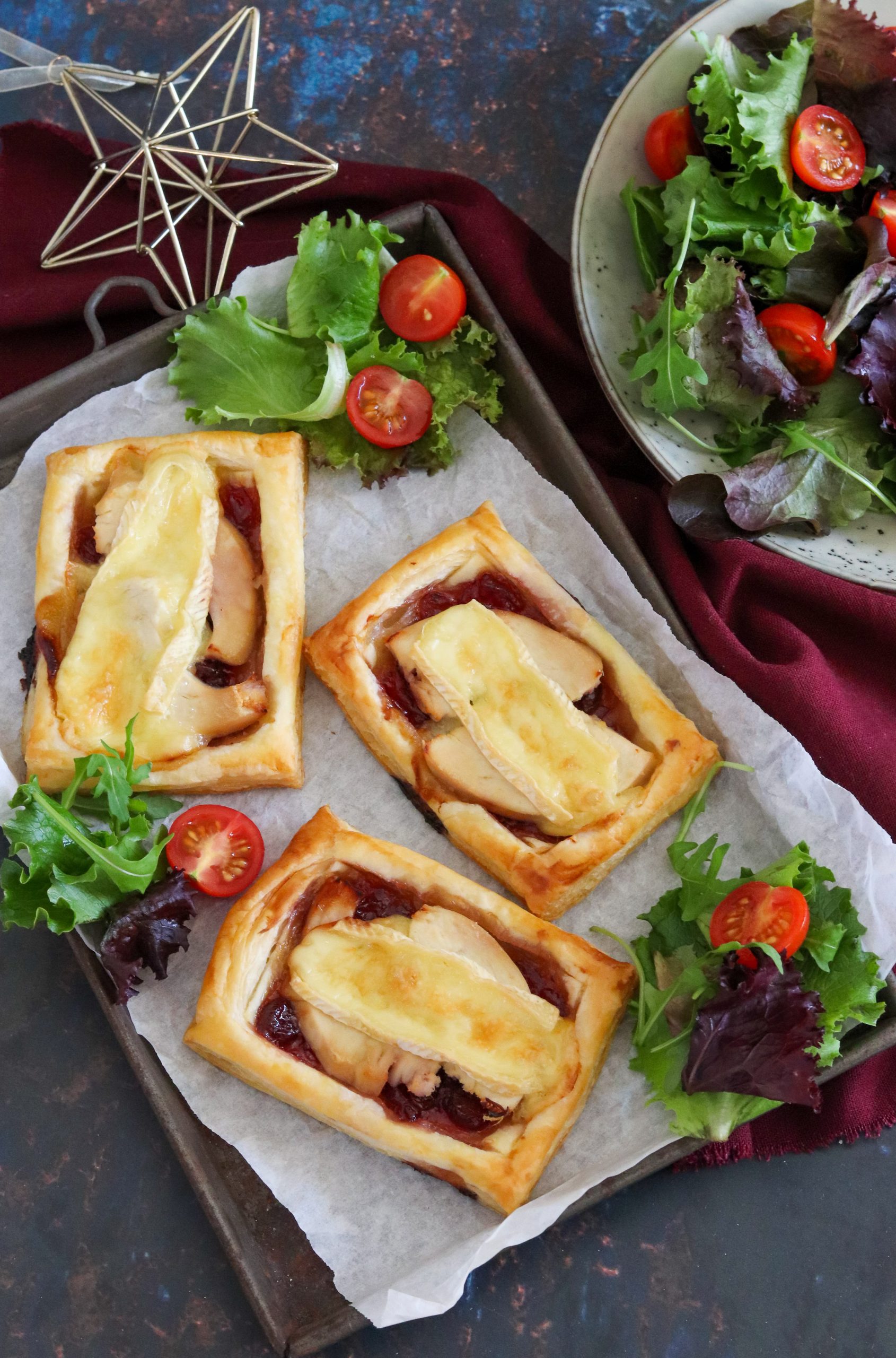 which brie is recommended to use
I like to use a good quality wedge of brie for these pastries. There are so many different types of brie in the shops around Christmas that you can choose whichever you fancy.
When it comes to the brie rind, people are divided. I have never minded it and leave it on in recipes like these pastries and my Thyme & Brie Potatoes. However I know people would prefer to take the rind off.
It is up to you whether you would like to remove the rind or are happy to leave it on. The brie weight in the recipe is including the rind so if you are removing it you might need a bit more cheese.
If you don't have any brie, camembert or any similar soft cheese would work well.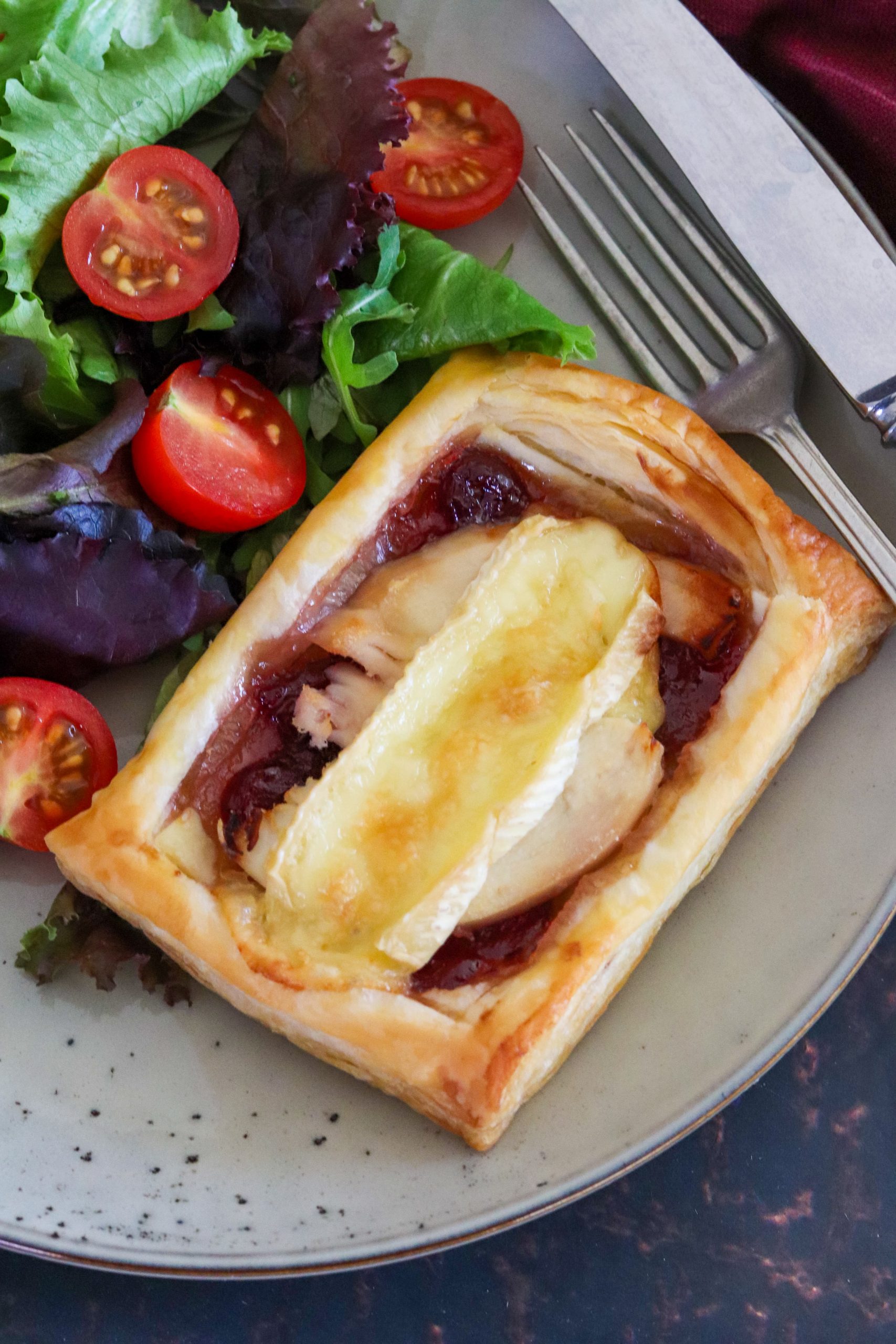 no leftover turkey? no problem
Although these Turkey, Cranberry & Brie Pastries are the perfect way to use leftover turkey, it doesn't mean they can only be made using turkey.
We tend to only have turkey around Thanksgiving and Christmas and these pastries are too tasty to just restrict to a couple of months a year.
Leftover roast chicken would work just as well for this recipe and is something people are more likely to have outside of the festive season.
Also if you don't have any cranberry sauce, any other chutney you think would work with the flavours would be a good swap. My Caramelised Onion Chutney or Sweet Chilli Jam would both be very tasty.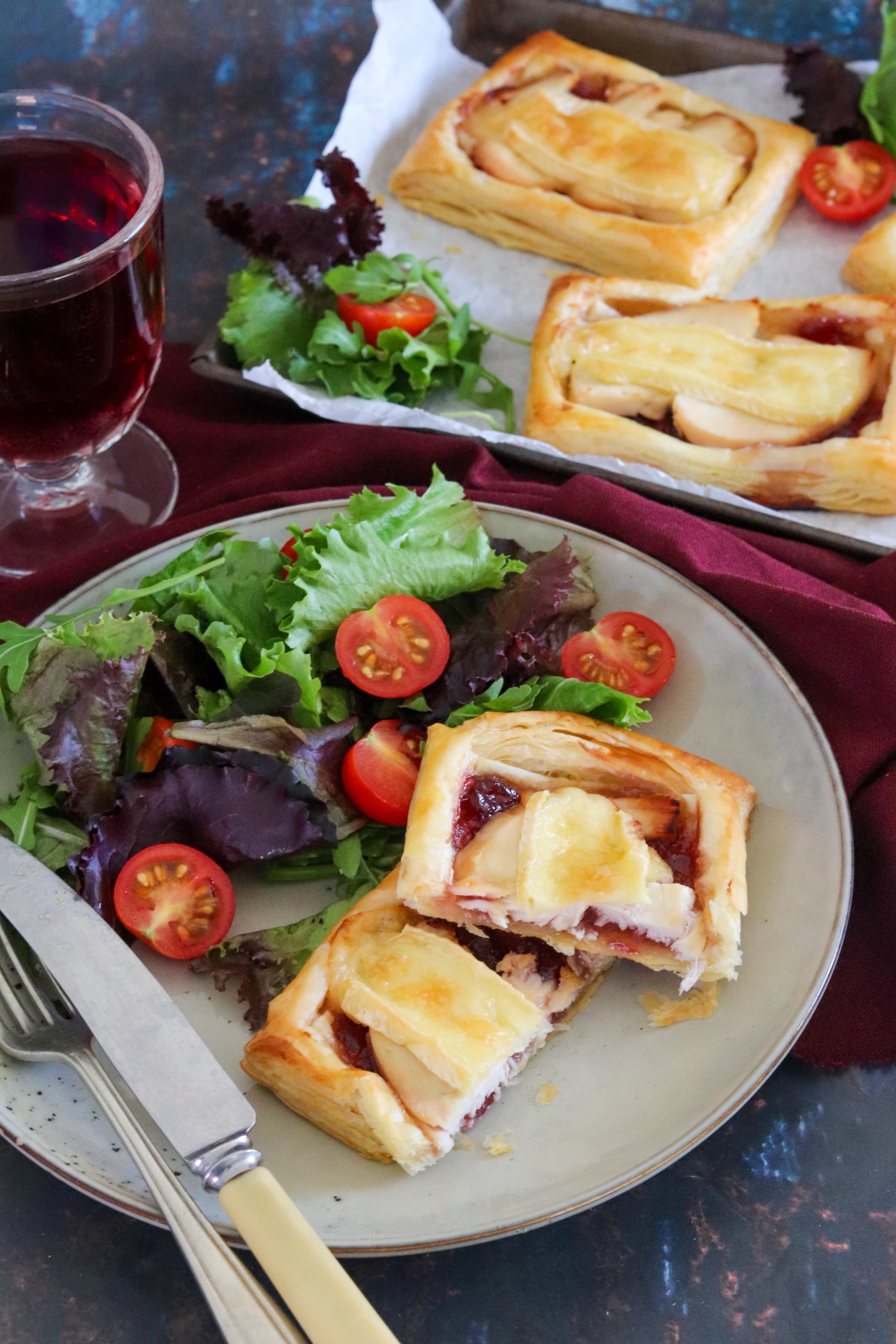 How to make these turkey, cranberry & Brie pastries gluten free, vegetarian or vegan
These pastries are really easy to make gluten free. You just need to use gluten free puff pastry which is becoming a lot more easily available.
If you can't find it in the chilled section of the supermarket, check the freezer aisles. It might not be ready rolled but you should be able to find it in block form.
To make these vegetarian, you would just need to miss out the turkey. If you wanted you could add a meat substitute, but I think they would be delicious with just the cranberry sauce and brie. You might just want to add a bit more brie.
Shop bought puff pastry is usually accidentally vegan as long as it isn't the all butter variety. Instead of the brie you would need to use a vegan friendly option.
If you can't find a vegan brie, vegan camembert or any cheese that melts well will work. Use your favourite plant based milk to brush over the edges of the pastry.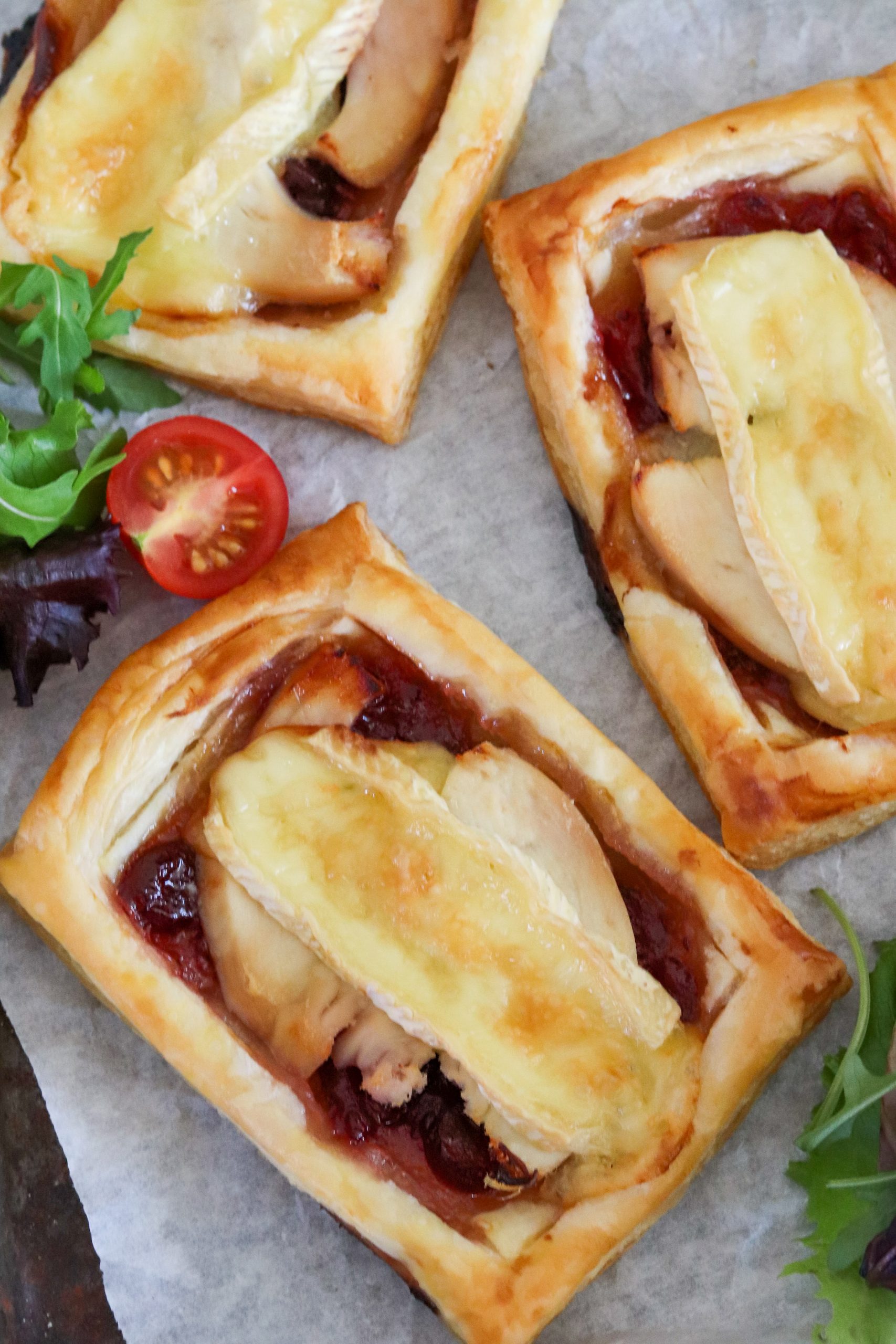 How long will these leftover turkey pastries keep for?
You can keep these in an airtight container in the fridge for two days.
The only thing to keep in mind is you are using turkey that has already been cooked. This means I wouldn't use cooked turkey that had been in the fridge for a few days and then keep them for two more days.
To reheat the pastries, I put them in the oven for around ten minutes to heat through and crisp up. If you don't mind less crisp pastry you could reheat them in the microwave.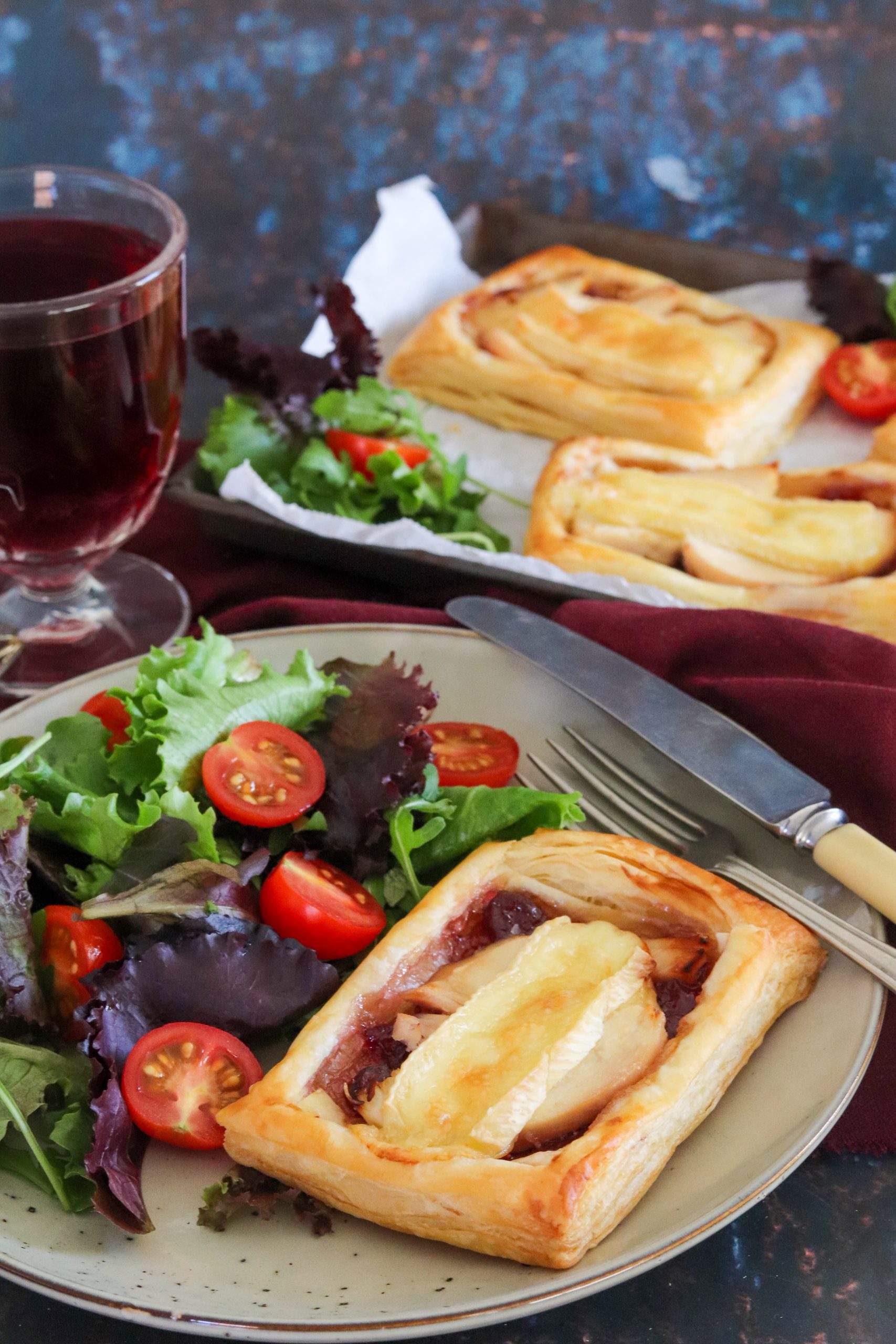 other recipes you might like
Pin for later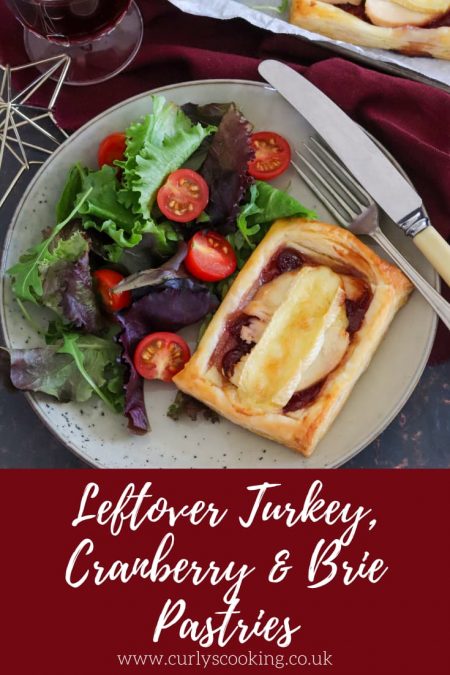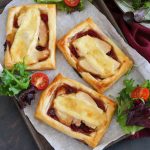 Leftover Turkey, Cranberry & Brie Pastries
These Leftover Turkey, Cranberry & Brie Pastries are super simple to make and a delicious way to celebrate festive flavours. Turn your Christmas or Thanksgiving turkey into something irresistible!
Ingredients
320

g

ready rolled puff pastry

(1 pack)

160

g

cranberry sauce

200

g

cooked turkey

sliced

160

g

brie

(rind on weight)

¼

tsp

sea salt

1

tbsp

milk
Instructions
Preheat the oven to 180°C (fan assisted, 200°C non fan)

Unroll 320g ready rolled puff pastry and divide it into 8 equal rectangles

Score a border 1cm from the edge of each square of pastry. Prick the pastry inside the border with a fork

Divide 160g cranberry sauce between the 8 rectangles and spread out evenly within the border

Slice 200g cooked turkey and lay it over the cranberry sauce. Sprinkle with ¼ tsp sea salt

Slice 160g brie and lay it on top of the turkey

Brush the pastry border with 1 tbsp milk and bake in the oven for 20-25 minutes until the pastry is golden brown
Recipe Notes
Ready rolled puff pastry varies in weight. Supermarket own brand pastry is usually 375g whereas the well known brand Jus-Roll is 320g. Either will work for this recipe.
Nutritional information is given as a guide only and may vary.
Nutrition Facts
Leftover Turkey, Cranberry & Brie Pastries
Amount Per Serving
Calories 328
Calories from Fat 54
% Daily Value*
Fat 6g9%
Cholesterol 20mg7%
Sodium 205mg9%
Potassium 38mg1%
Carbohydrates 8g3%
Protein 4g8%
Vitamin A 130IU3%
Vitamin C 1mg1%
Calcium 40mg4%
Iron 1mg6%
* Percent Daily Values are based on a 2000 calorie diet.