A twist on a delicious classic, these Pork & Apple Sausage Rolls may very well become your new favourite. The sweetness of the apple works perfectly with the pork to create an incredibly delicious puff pastry snack.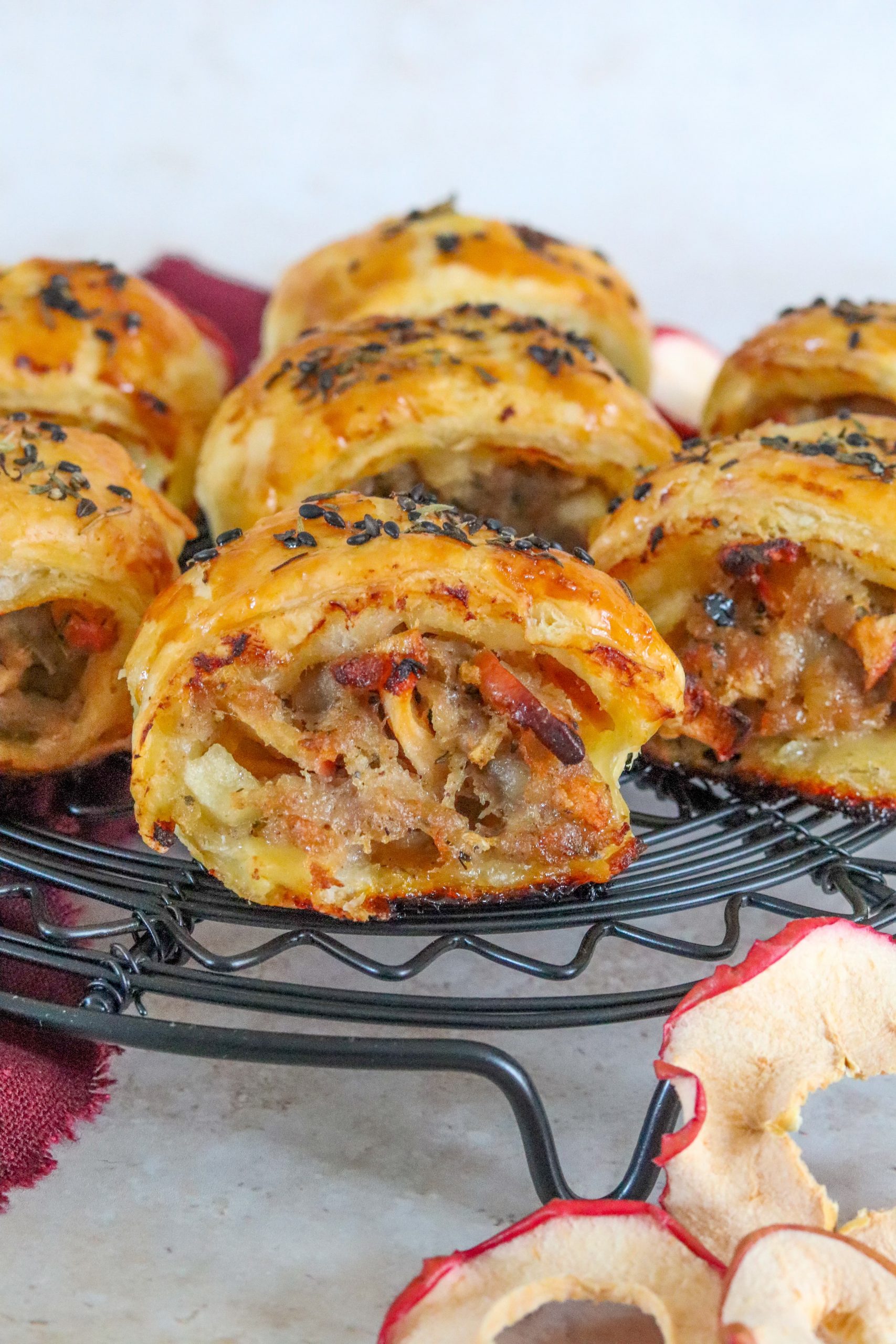 Pork & apple is the perfect flavour combination
Pork and apple has been one of my favourite flavour combinations for as long as I can remember. They are my go-to sausage flavour and I have wanted to make a Pork & Apple Sausage Roll recipe for ages.
But I didn't want to just wrap pork and apple sausages in some pastry. I wanted to go that extra step. If you are looking for something super simple, check out my Quick Sausage Rolls.
Now I'm not going to lie, these sausage rolls took a few attempts to get right. But I really wanted to make sure the flavours were just right. And I am pleased to say I have nailed them!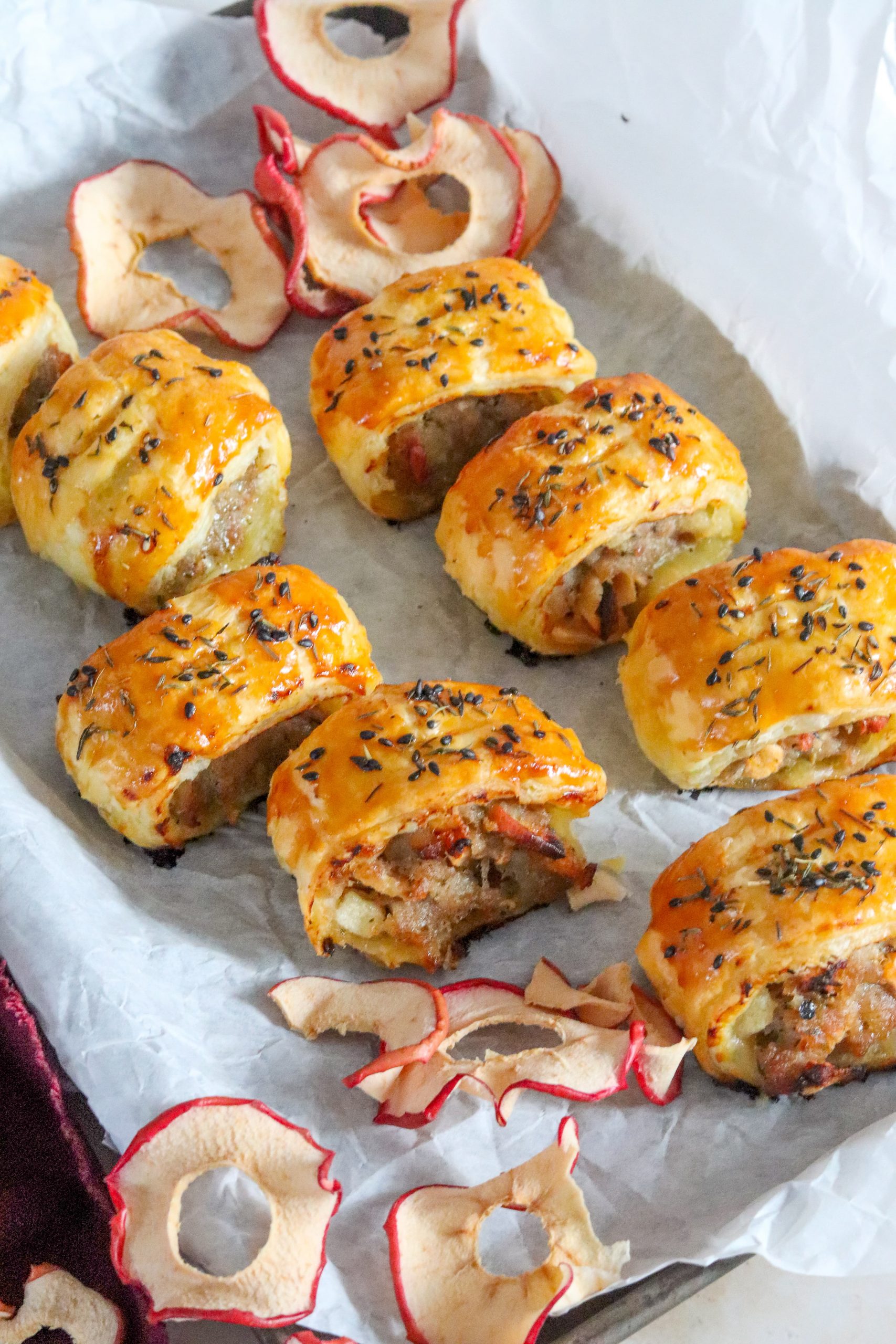 sausages or sausage meat?
You can use either sausages or sausage meat for these Pork & Apple Sausage Rolls.
I prefer to use sausages and remove the skins. This is because I can pick good quality sausages that have a high percentage of pork in them.
Sausage meat usually has a lower percentage of pork unless you are buying it from a butchers. It is a bit quicker to use if you don't want to take the skins of the sausages though!
As we are adding flavours to the sausage meat, I recommend using plain pork sausages or sausage meat. If you were to use sausage meat with extra flavours, they might conflict.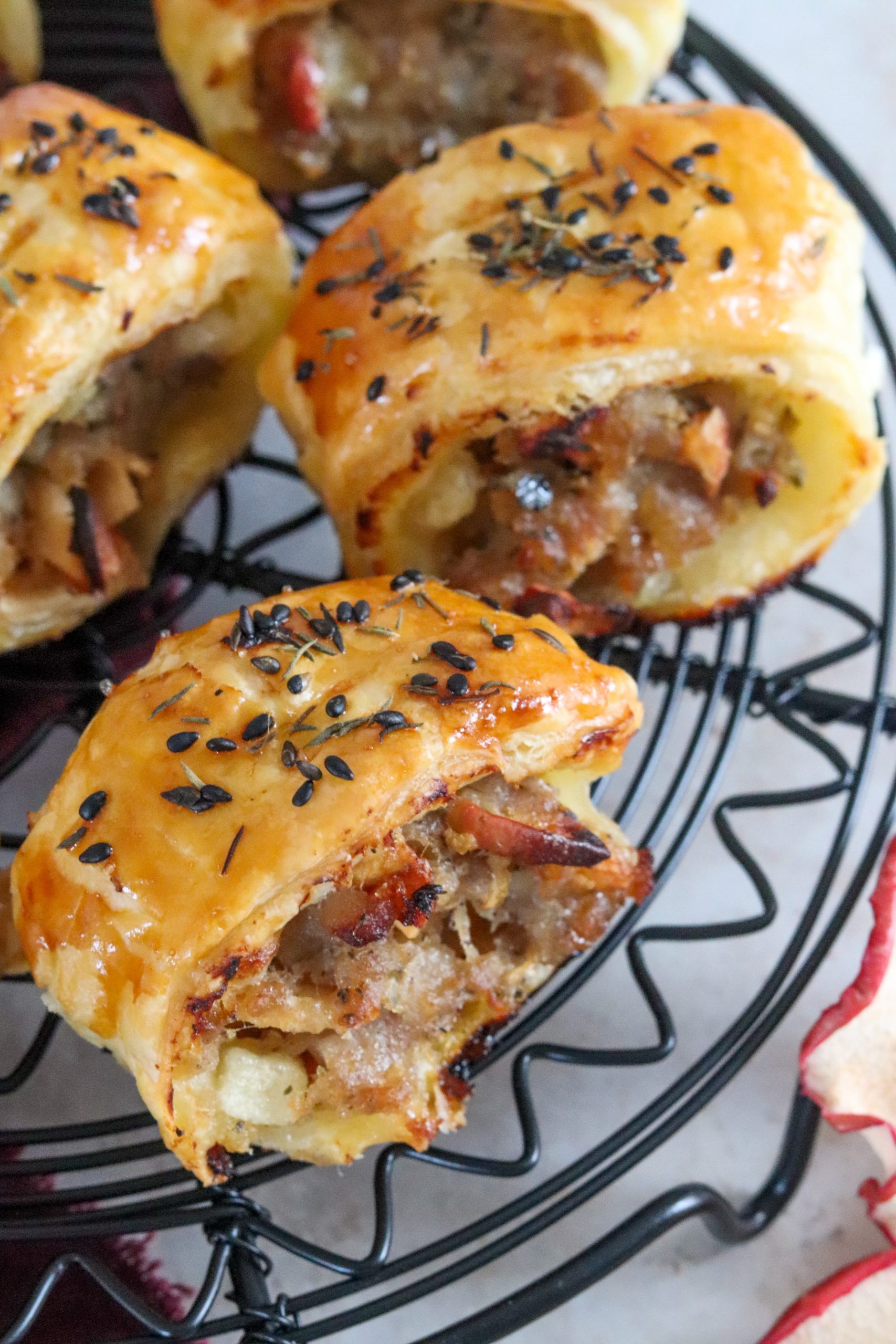 is using shop bought puff pastry cheating?
Definitely not! Well I don't consider it to be cheating anyway. There are certain shortcuts that are really worth taking advantage of.
Not only do I use shop bought pastry, but I use ready rolled shop bought pastry. It is a huge timesaver and is perfect for people like me that are challenged when it comes to rolling pastry into a rectangle!
If you would prefer to make your own puff pastry, you absolutely can do.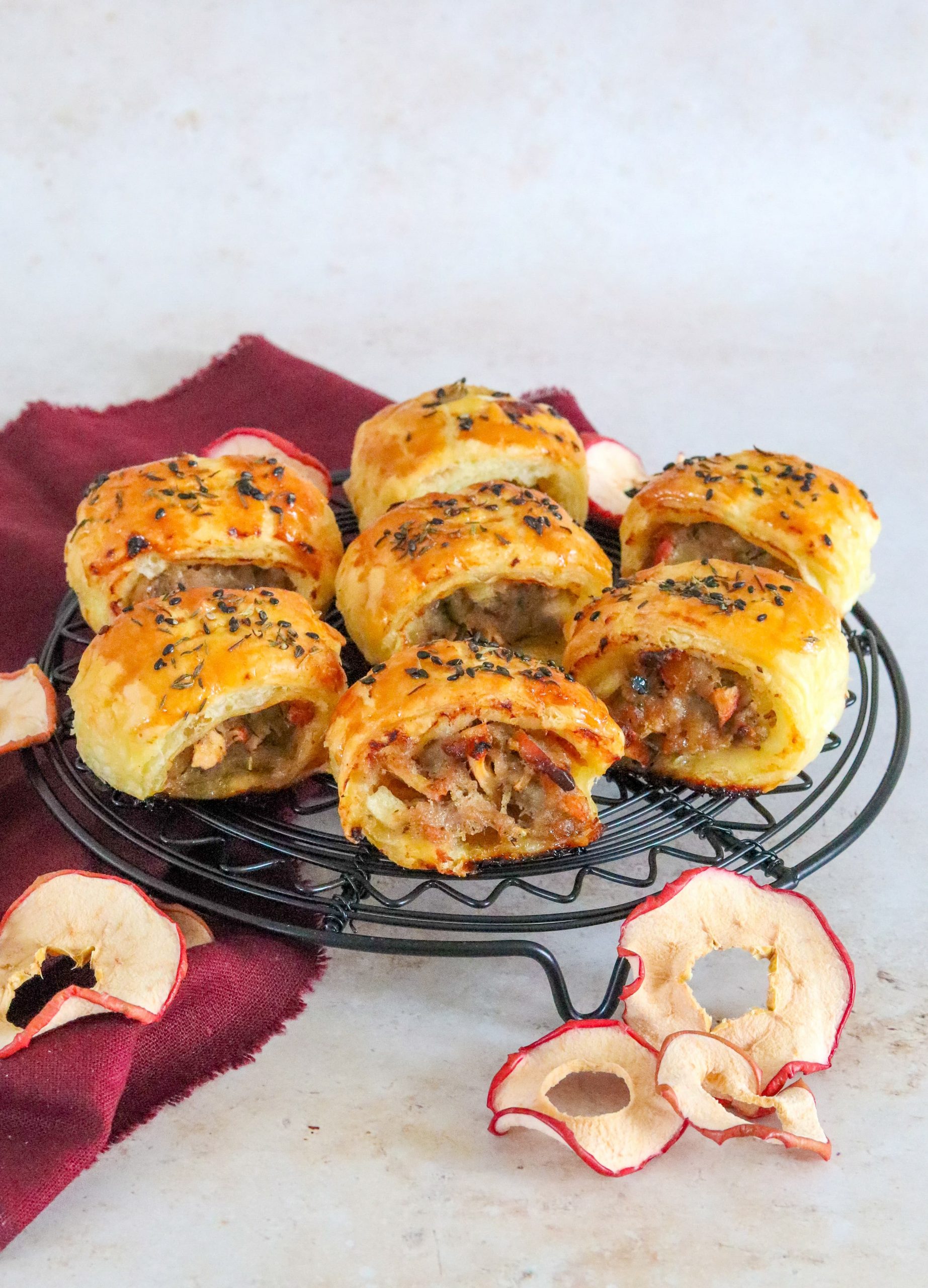 not all shop bought pastry is the same
Although I do recommend using shop bought ready rolled puff pastry, not all pastry is created equal.
Jus-Rol is the big brand name here in the UK which is consistently good. I have started using it more after being let down by alternatives.
Having said that, Tesco, Aldi and Lidl sell good own brand options that I have found to be good quality. Asda on the other hand…I advise you stay well away!
Apart from the quality of the pastry, there is another difference between Jus-Rol and supermarket own brands. A pack of Jus-Rol is 320g whereas own brand alternatives are usually 375g.
This doesn't really affect the sausage rolls, it just means you have to pay more attention to seal the pastry if you are using Jus-Rol. Rolling the pastry is a bit more snug which is something to bear in mind.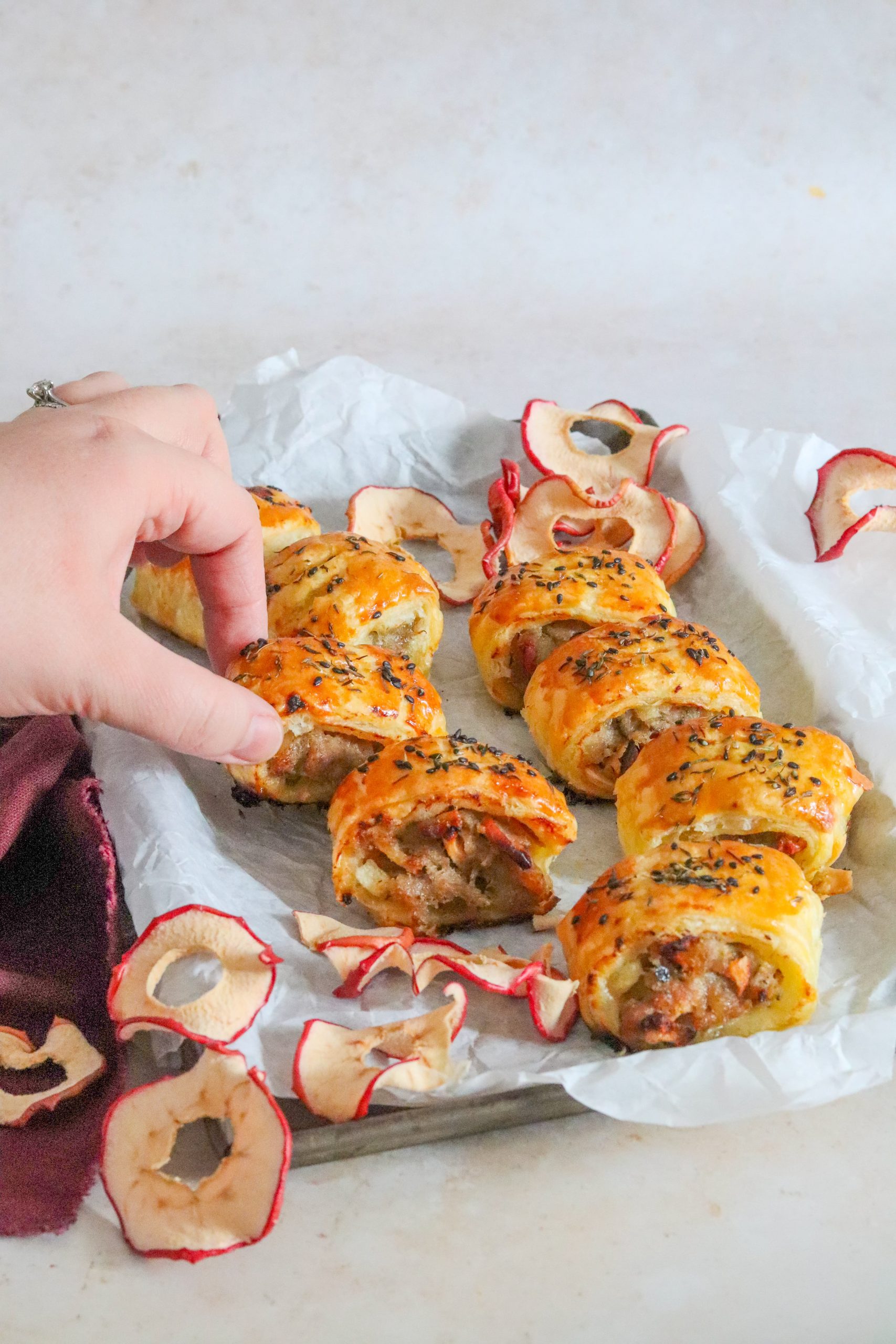 which apples to use
What makes these Pork & Apple Sausages so delicious in my opinion is the combination of the dried apples and apple sauce.
For the dried apples, I obviously recommend making my Oven Dried Apple Slices which couldn't be easier to make! They are much cheaper than buying them, but you can find them in large supermarkets if you would prefer to buy them.
I must admit I do use a jar of apple sauce, but making your own is easy to do and would be really tasty.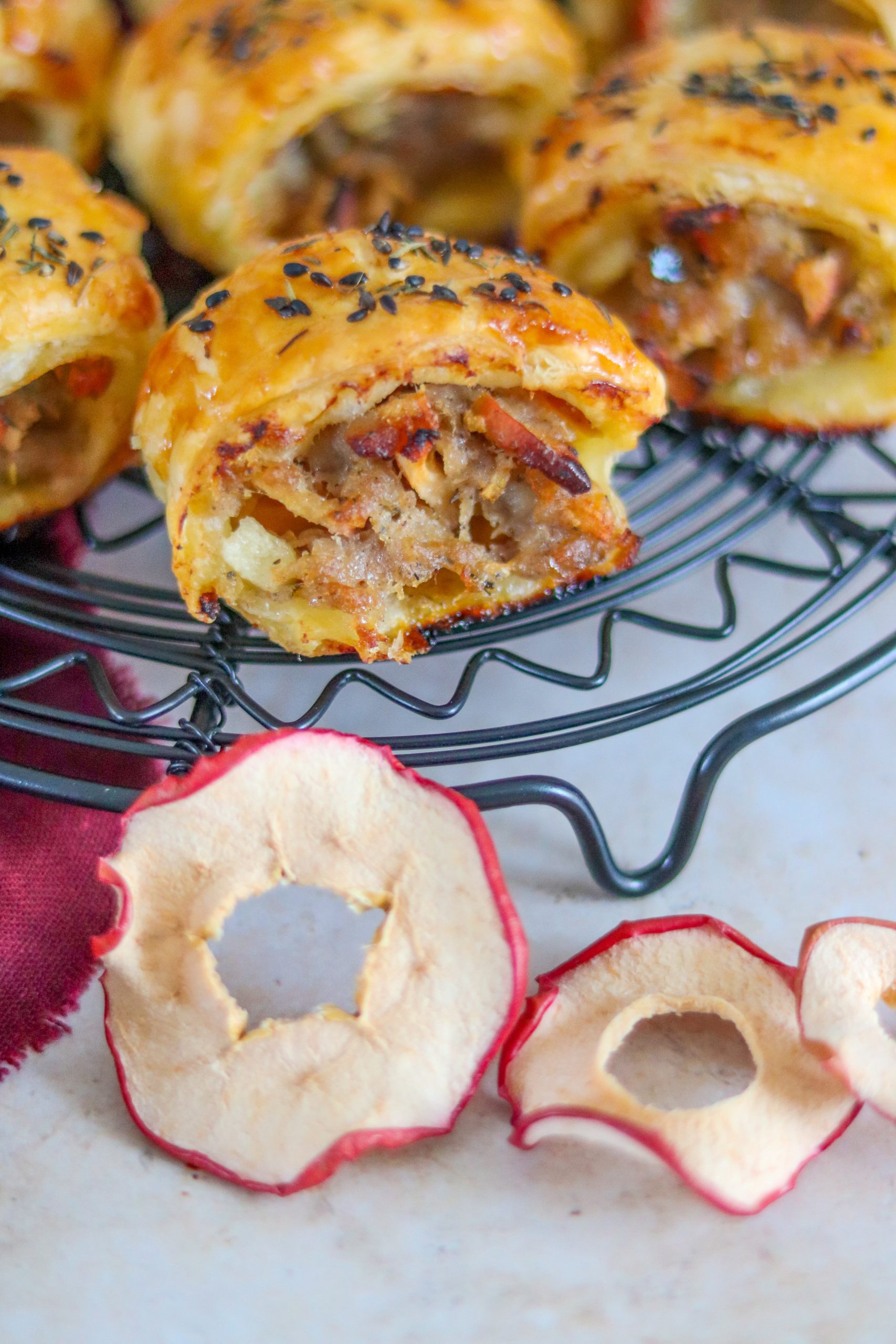 How many sausage rolls does this recipe make?
That depends how big you cut your sausage rolls!
If you are making these to eat as part of a main meal, you would probably want to cut them a lot larger. I would recommend cutting each line into three so you would have six in total.
I like to make these Pork & Apple Sausage Rolls for picnics and parties. Because of this I like to make them smaller so they are a couple of bites each.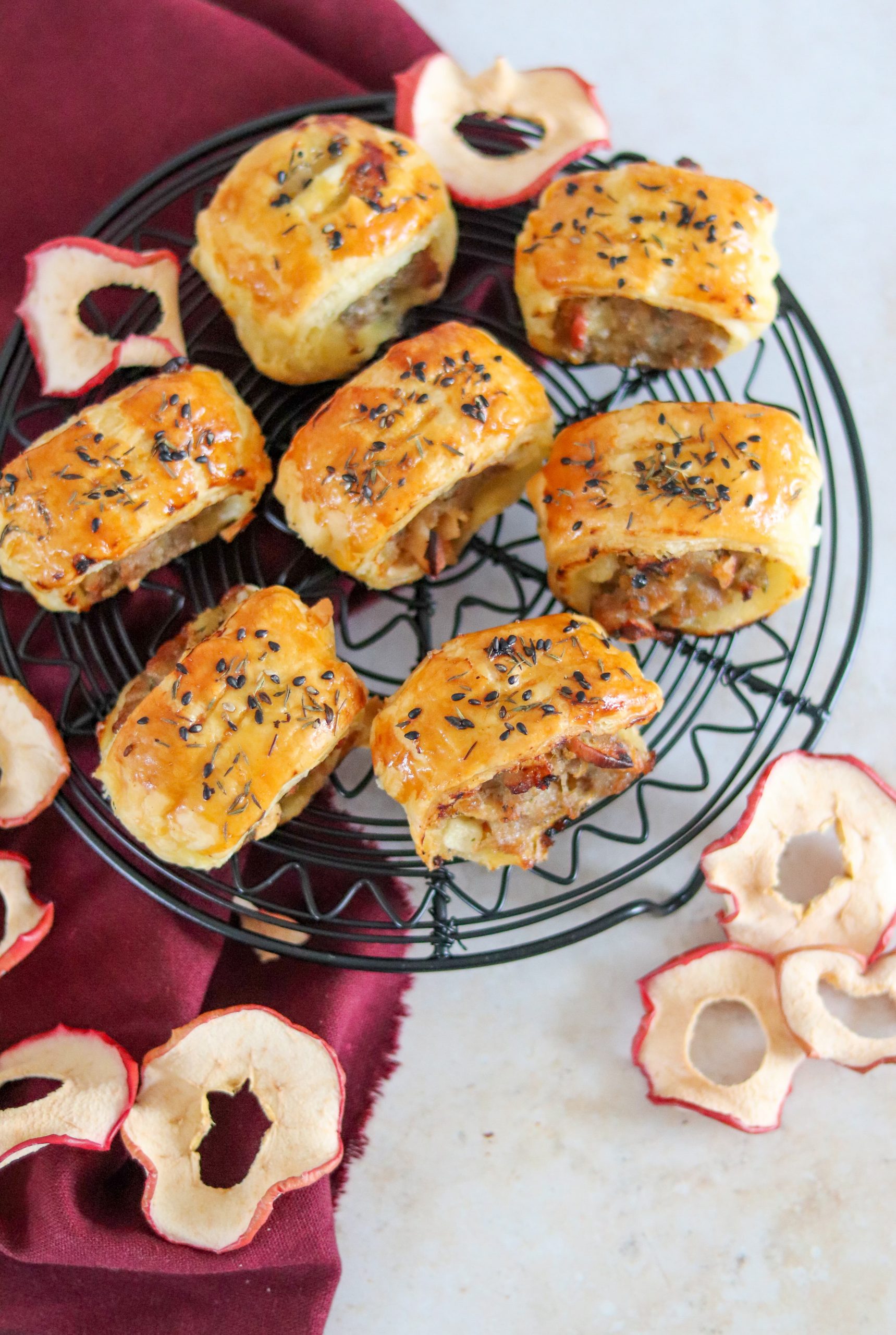 How long will these sausage rolls keep for?
You can cook these sausage rolls in advance and keep them in an airtight container in the fridge for 3-4 days.
If you would like them to be warm, you can reheat them for 5-10 minutes in the oven set to 180ºC. I wouldn't recommend reheating them in the microwave as this will make the pastry become a bit soft.
If you need them to keep longer, I recommend freezing some before you bake them.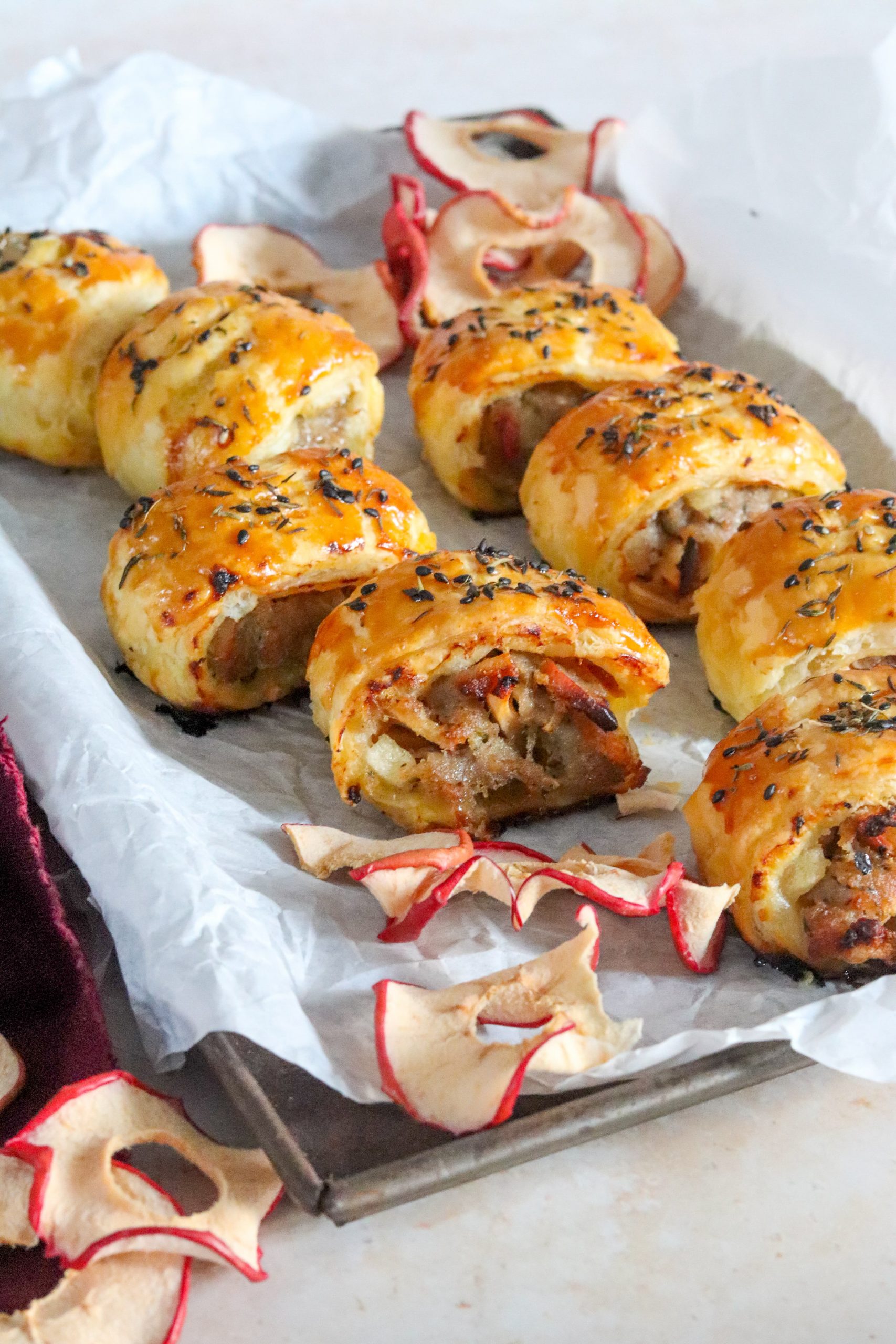 Can you freeze these Sausage Rolls?
Yes, this is a great way to make them in advance and something I do every year for Christmas.
Follow the steps in the recipe but stop before you glaze them. At this stage, place them on a baking tray and put them in the freezer.
Once they have frozen, you can then transfer them to a container until you want to bake them.
Then when you want to cook them, take them straight from the freezer onto a tray. Brush them with egg and add the topping as per the original recipe. When it comes to cooking, bake them for 30 minutes.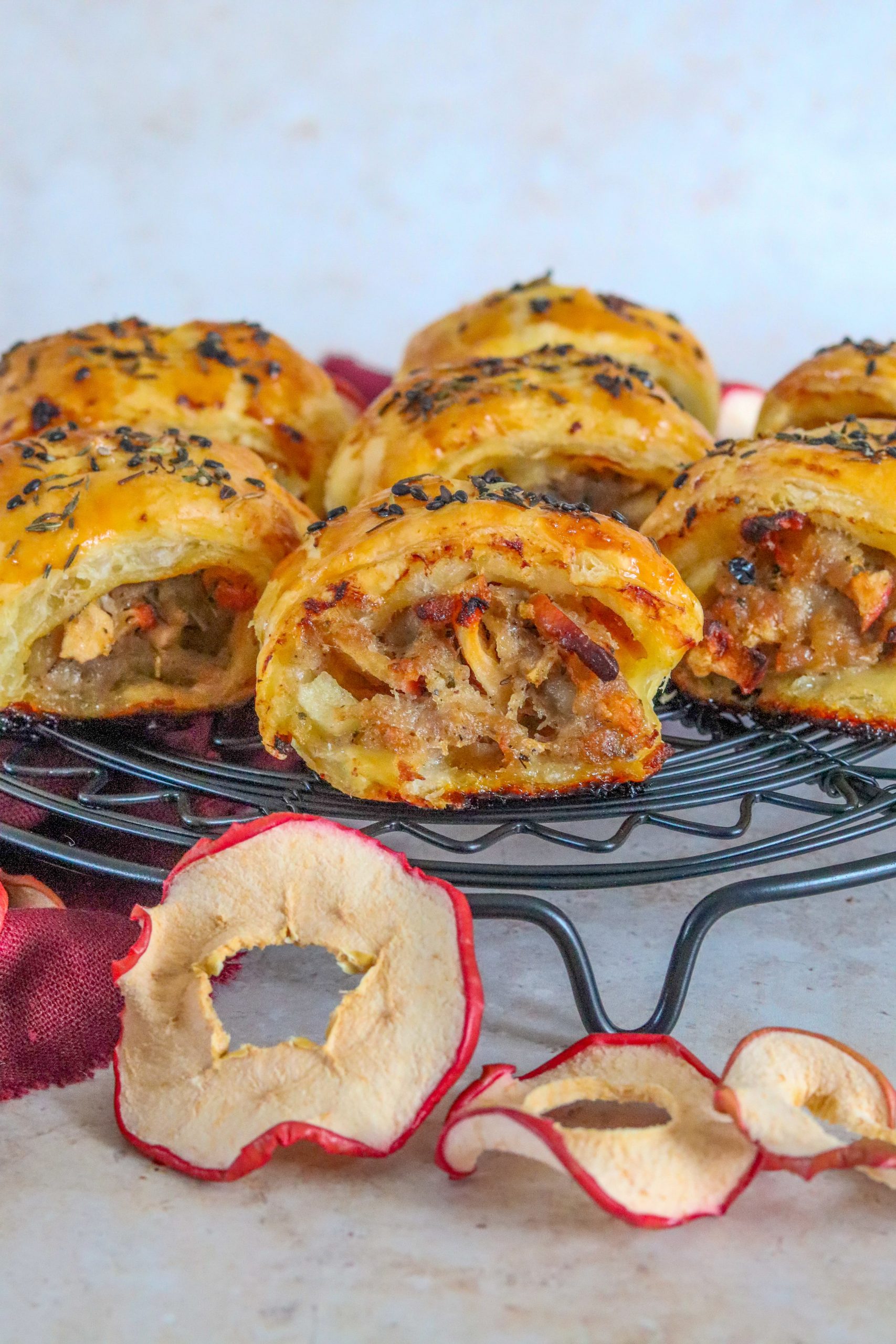 Make these sausage rolls gluten free
Sausage rolls are really easy to make gluten free.
You can readily buy gluten free puff pastry in most supermarkets. If you can't find it in the chilled aisles, check the freezer section. You might not find it ready rolled but you should be able to find a block of pastry.
A lot of sausages are already gluten free, but make sure you check the ingredients to make sure.
Cooking in an air fryer
These Pork & Apple Sausage Rolls can be cooked in an air fryer as well as an oven. They take less time to cook in an air fryer and it is a great way to cook just a few without heating the whole oven.
Make the sausage rolls as per the recipe below and then head over to my Air Fryer Sausage Rolls for the instructions on how to cook them.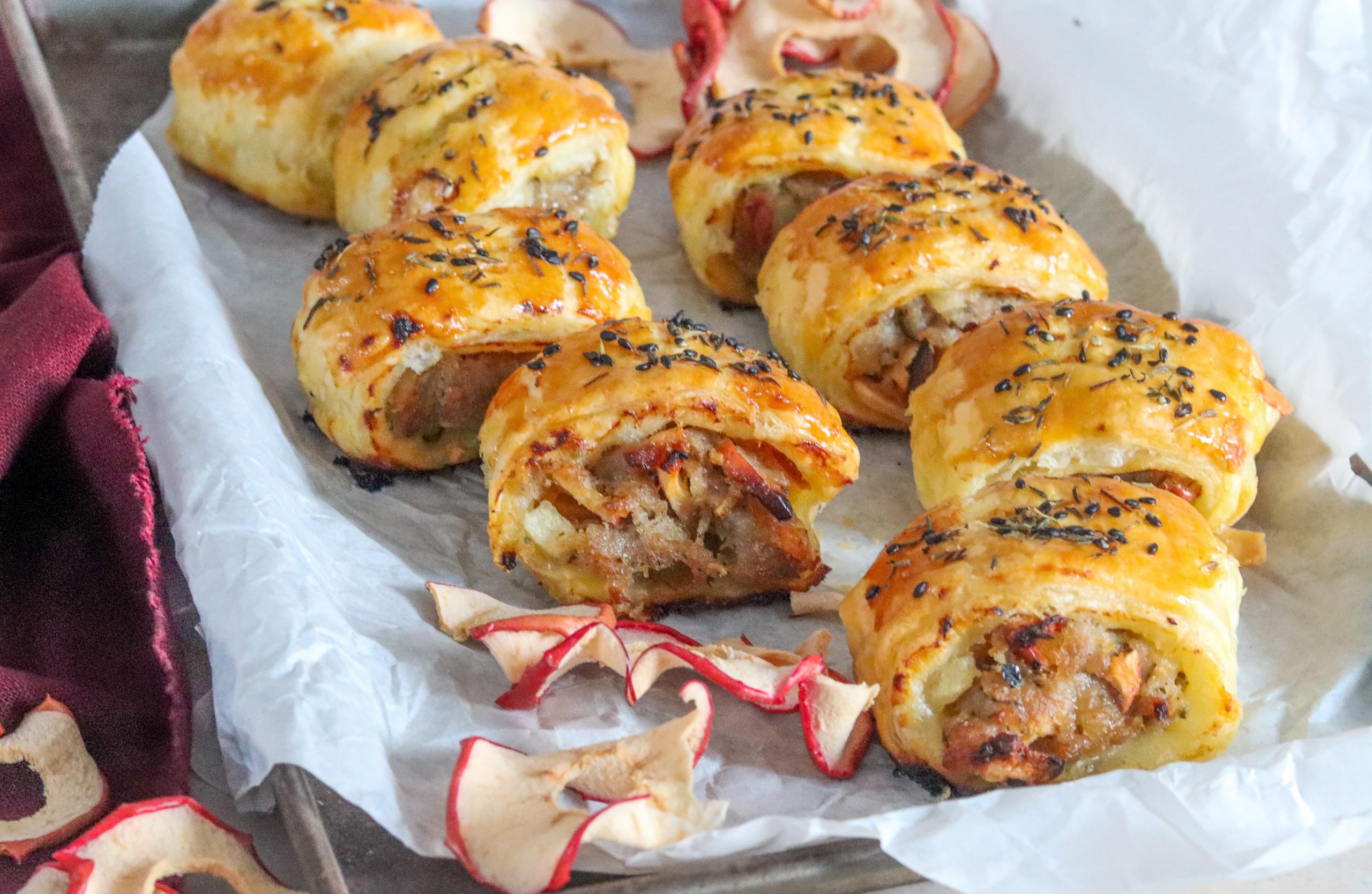 is egg or milk better to glaze the sausage rolls?
Either egg or milk will work well to glaze these sausage rolls.
Beaten egg does undeniably give them a richer, more inviting colour. But sometimes I don't want to use a whole egg when I just need a little.
So I do quite often use milk as a glaze and they do still look great. They just don't look quite as good as if you have used egg.
But it is completely up to you which you prefer to use. The flavour isn't impacted whichever you use.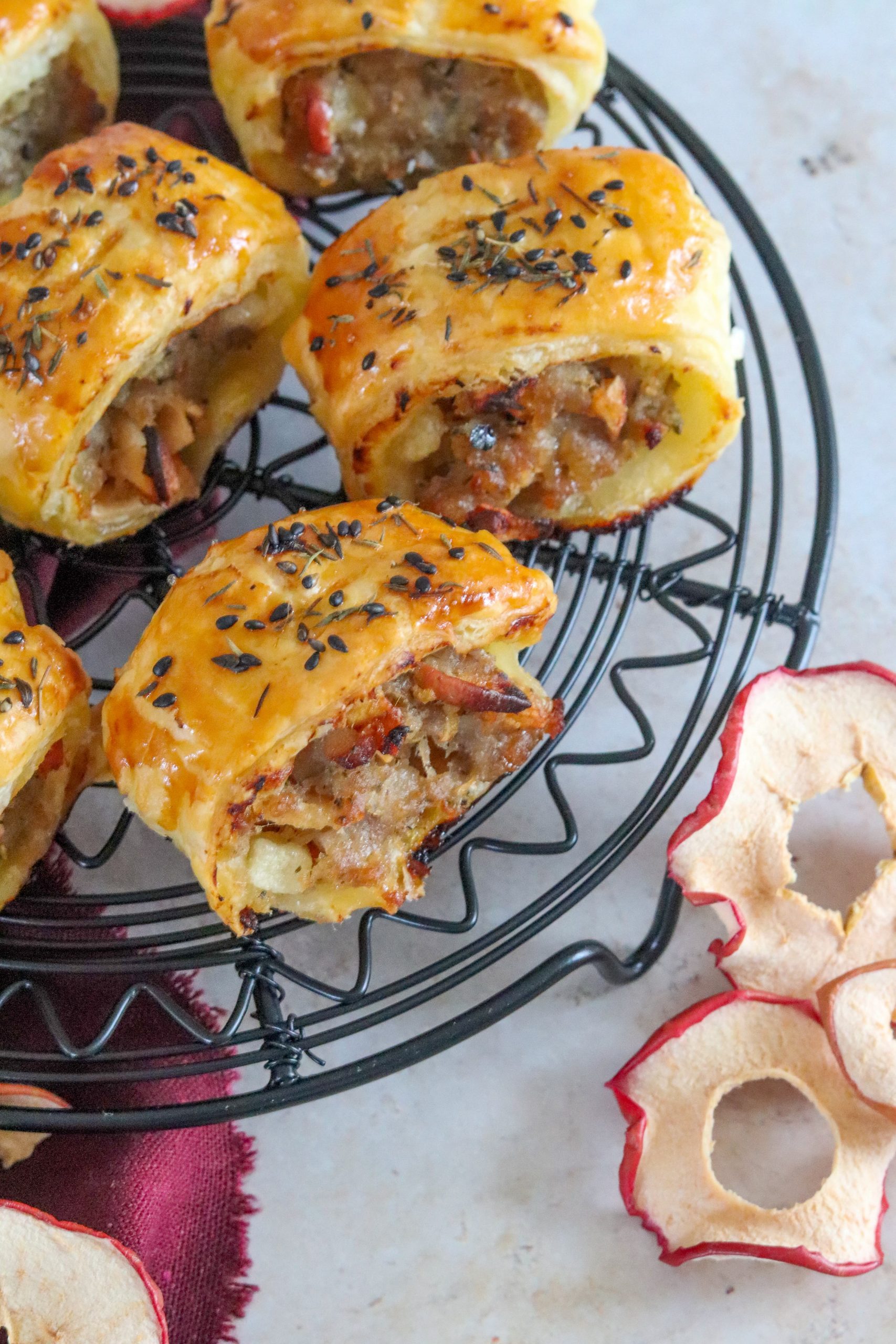 Other recipes you might like
Pin for later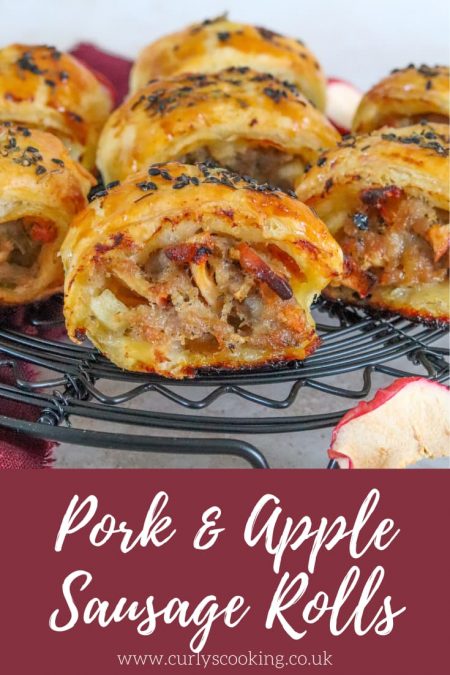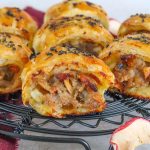 Pork & Apple Sausage Rolls
A twist on a delicious classic, these Pork & Apple Sausage Rolls may very well become your new favourite. The sweetness of the apple works perfectly with the pork to create an incredibly delicious puff pastry snack.
Ingredients
320

g

ready rolled puff pastry

(1 pack)

400

g

pork sausages

(6 sausages)

100

g

apple sauce

20

g

dried apples

1

tsp

dried thyme

¼

tsp

sea salt

1

egg

(beaten)
To finish
1

tsp

sesame seeds

½

tsp

dried thyme
Instructions
Preheat the oven to 190°C (fan assisted, 210°C non fan) and line a baking tray or spray with oil

Remove the casings from 400g pork sausages and add them to a large bowl along with 100g apple sauce, 20g dried apple, 1 tsp dried thyme and ¼ tsp sea salt

Mix everything thoroughly until the ingredients are evenly dispersed

Cut the pastry in half lengthways so you have two long thin strips

Divide the sausage mix in two and make a line of sausage meat in the centre of each strip of pastry

Brush one of the long edges of pastry with 1 beaten egg. Roll the long side of pastry closest to you tightly under the sausage and then keep rolling so the sealed edge is on the bottom

Press down on the seam of the pastry to make sure it is completely sealed

Cut the sausage rolls into lengths as big or small as you like and put them on the baking tray

Brush the sausage rolls with beaten egg and make a few cuts with scissors across the top

Mix together 1 tsp sesame seeds and ½ tsp dried thyme and sprinkle on top of the sausage rolls

Bake in the oven for 20 minutes until golden brown
Recipe Notes
Ready rolled puff pastry varies in weight. Supermarket own brand pastry is usually 375g whereas the well known brand Jus-Roll is 320g. Either will work for this recipe.
Nutritional information is given as a guide only and may vary.
Nutrition Facts
Pork & Apple Sausage Rolls
Amount Per Serving
Calories 131
Calories from Fat 54
% Daily Value*
Fat 6g9%
Cholesterol 23mg8%
Sodium 160mg7%
Potassium 62mg2%
Carbohydrates 1g0%
Protein 3g6%
Vitamin A 31IU1%
Vitamin C 0.3mg0%
Calcium 6mg1%
Iron 0.4mg2%
* Percent Daily Values are based on a 2000 calorie diet.